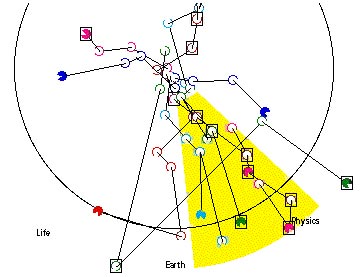 Web IR, topical crawlers, and InfoSpiders
We study Web crawling algorithms. We are particularly interested in adaptive, intelligent agent techniques inspired by ecological and artificial life systems.

InfoSpiders is a class of adaptive multiagent algorithms for autonomous, scalable topical Web crawling. Adaptive Information Retrieval (ch. 7 of Finding Out About by Richard K. Belew) discusses InfoSpiders in the context of adaptive systems for Web IR. InfoSpiders/MySpiders are also featured Web-Searching Agents in AAAI's AI Topics and in UMBC's AgentWeb.
---
Demo movies
Movies of three InfoSpiders runs on the Encyclopaedia Britannica (the EB5 corpus is described in my dissertation and available on the CD-ROM included with the FOA book)
---
People

Former students

Other collaborators
---
More info
---
This material is based upon work supported by the National Science Foundation under CAREER grant No. IIS-0133124/0348940. Any opinions, findings, and conclusions or recommendations expressed in this material are those of the author(s) and do not necessarily reflect the views of the National Science Foundation.