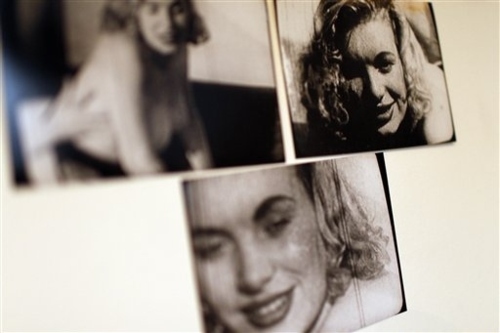 Sorry, there is no Marilyn Monroe sex film here. It was a truthy rumor (something you might believe because you like it to be true) that I started just because I was curious to see how many people would click.
Please note that I do not intend to publish the results, therefore I did not seek IRB approval. However this script does not collect any information that could be used to identify you. It just counts how many people click. If you have a concern please contact me.
To learn more about the diffusion of truty memes visit the Truthy site.
TESTING: NOT RECORDED
Please help this experiment by tweeting, posting, buzzing, and/or sharing this:
Be sure to NOT include the description of this page, only the text above. Also please do not post comments that would give away the experiment. Thank you!
To come back and see the results without being recorded, use this URL: http://carl.cs.indiana.edu/fil/cgi-bin/WebSec/marilyn.cgi?test=1
Thus far 22911 people have clicked:

Sun Jun 22 08:47:52 2014 from (empty referer)
Fri Jun 13 21:56:51 2014 from (empty referer)
Thu May 15 10:49:25 2014 from (empty referer)
Thu Apr 10 06:35:37 2014 from (empty referer)
Fri Jan 10 11:00:27 2014 from (empty referer)
Sun Dec 22 16:07:25 2013 from (empty referer)
Tue Dec  3 05:36:08 2013 from (empty referer)
Sun Dec  1 01:40:48 2013 from (empty referer)
Mon Nov 18 13:55:47 2013 from (empty referer)
Sun Sep 15 05:10:57 2013 from (empty referer)
Sat Aug 17 04:45:42 2013 from (empty referer)
Fri Aug 16 22:58:07 2013 from (empty referer)
Wed Aug 14 08:24:37 2013 from (empty referer)
Sun Aug 11 02:11:51 2013 from (empty referer)
Fri Aug  2 01:26:11 2013 from (empty referer)
Fri Jul 12 15:42:40 2013 from (empty referer)
Sun Jul  7 23:02:58 2013 from (empty referer)
Wed Jun  5 01:12:31 2013 from (empty referer)
Thu May 16 09:32:25 2013 from (empty referer)
Sun Apr 21 17:12:30 2013 from (empty referer)
Sat Apr 20 12:44:49 2013 from (empty referer)
Tue Apr 16 08:33:26 2013 from (empty referer)
Sat Apr  6 11:41:32 2013 from (empty referer)
Sat Mar 23 23:25:58 2013 from (empty referer)
Tue Mar 19 08:37:31 2013 from (empty referer)
Tue Mar 12 19:01:40 2013 from (empty referer)
Thu Mar  7 06:21:21 2013 from (empty referer)
Wed Feb 27 08:26:32 2013 from (empty referer)
Sun Feb 24 04:32:09 2013 from (empty referer)
Tue Feb  5 16:49:54 2013 from (empty referer)
Tue Feb  5 02:30:06 2013 from (empty referer)
Sun Jan 27 13:37:21 2013 from (empty referer)
Tue Jan 22 10:46:52 2013 from (empty referer)
Tue Jan 22 03:09:23 2013 from (empty referer)
Sat Jan 12 16:02:09 2013 from http://yandex.ru/yandsearch?text=sexfilm&lr=213
Fri Jan 11 19:09:51 2013 from (empty referer)
Sat Jan  5 10:30:42 2013 from (empty referer)
Fri Dec 21 12:18:51 2012 from (empty referer)
Mon Dec 17 07:08:50 2012 from (empty referer)
Fri Dec  7 10:45:14 2012 from (empty referer)
Wed Dec  5 03:18:51 2012 from (empty referer)
Sat Dec  1 12:39:36 2012 from (empty referer)
Sun Nov 25 17:30:50 2012 from (empty referer)
Thu Nov 22 13:45:29 2012 from (empty referer)
Wed Nov 21 05:02:24 2012 from (empty referer)
Tue Nov 20 04:05:50 2012 from (empty referer)
Sun Nov 18 23:29:15 2012 from (empty referer)
Sun Nov 18 07:06:31 2012 from (empty referer)
Sat Nov 17 16:34:03 2012 from (empty referer)
Mon Nov 12 11:31:18 2012 from (empty referer)
Sun Nov 11 05:17:52 2012 from (empty referer)
Wed Nov  7 12:48:42 2012 from (empty referer)
Mon Oct 29 23:33:39 2012 from (empty referer)
Mon Oct 29 01:48:49 2012 from (empty referer)
Fri Oct 26 09:40:19 2012 from (empty referer)
Thu Oct 25 12:25:01 2012 from (empty referer)
Mon Oct 22 01:49:55 2012 from (empty referer)
Thu Oct 18 02:10:45 2012 from (empty referer)
Thu Oct 18 01:49:01 2012 from (empty referer)
Wed Oct 17 20:13:00 2012 from http://yandex.ru/yandsearch?text=sexfilm&lr=213
Sun Oct 14 14:43:22 2012 from (empty referer)
Sun Oct 14 08:39:47 2012 from (empty referer)
Sat Oct 13 12:50:12 2012 from (empty referer)
Thu Oct 11 14:49:10 2012 from (empty referer)
Thu Oct 11 02:51:29 2012 from (empty referer)
Tue Oct  9 08:44:41 2012 from (empty referer)
Mon Oct  8 08:05:52 2012 from (empty referer)
Sat Oct  6 21:15:39 2012 from (empty referer)
Fri Oct  5 12:28:27 2012 from (empty referer)
Thu Oct  4 21:59:01 2012 from (empty referer)
Tue Oct  2 14:41:04 2012 from (empty referer)
Tue Oct  2 13:17:03 2012 from (empty referer)
Sun Sep 30 14:48:39 2012 from (empty referer)
Sun Sep 30 02:59:02 2012 from (empty referer)
Thu Sep 27 18:59:39 2012 from (empty referer)
Mon Sep 24 01:48:52 2012 from (empty referer)
Sun Sep 23 19:05:44 2012 from (empty referer)
Sun Sep 23 14:10:43 2012 from (empty referer)
Fri Sep 21 06:44:52 2012 from (empty referer)
Thu Sep 20 22:20:55 2012 from (empty referer)
Tue Sep 18 16:19:55 2012 from (empty referer)
Sun Sep 16 23:34:59 2012 from (empty referer)
Wed Sep  5 10:35:47 2012 from (empty referer)
Tue Sep  4 21:52:25 2012 from (empty referer)
Tue Sep  4 11:08:44 2012 from (empty referer)
Tue Sep  4 05:28:08 2012 from (empty referer)
Fri Aug 31 23:29:47 2012 from (empty referer)
Fri Aug 31 22:57:24 2012 from (empty referer)
Thu Aug 30 10:19:49 2012 from (empty referer)
Sun Aug 26 14:06:48 2012 from (empty referer)
Sun Aug 26 04:07:46 2012 from (empty referer)
Fri Aug 24 11:30:50 2012 from (empty referer)
Fri Aug 24 04:49:06 2012 from (empty referer)
Mon Aug 20 01:39:57 2012 from (empty referer)
Wed Aug 15 17:33:57 2012 from (empty referer)
Mon Aug 13 16:43:54 2012 from (empty referer)
Mon Aug 13 02:46:14 2012 from http://carl.cs.indiana.edu/fil/cgi-bin/WebSec/marilyn.cgi?test=1
Thu Aug  9 05:45:36 2012 from http://carl.cs.indiana.edu/fil/cgi-bin/WebSec/marilyn.cgi?test=1
Wed Aug  8 21:39:18 2012 from (empty referer)
Wed Aug  8 20:11:06 2012 from http://carl.cs.indiana.edu/fil/cgi-bin/WebSec/marilyn.cgi?test=1
Wed Aug  8 04:28:12 2012 from http://carl.cs.indiana.edu/fil/cgi-bin/WebSec/marilyn.cgi?test=1
Tue Aug  7 19:40:37 2012 from http://carl.cs.indiana.edu/fil/cgi-bin/WebSec/marilyn.cgi?test=1
Tue Aug  7 08:43:40 2012 from http://carl.cs.indiana.edu/fil/cgi-bin/WebSec/marilyn.cgi?test=1
Tue Aug  7 03:56:07 2012 from (empty referer)
Mon Aug  6 00:08:33 2012 from http://carl.cs.indiana.edu/fil/cgi-bin/WebSec/marilyn.cgi?test=1
Sat Aug  4 06:01:32 2012 from (empty referer)
Fri Aug  3 17:24:00 2012 from http://www.google.co.id/search?q=click+infospace+ClickHandler&channel=linkdoctor
Fri Aug  3 09:11:10 2012 from http://carl.cs.indiana.edu/fil/cgi-bin/WebSec/marilyn.cgi?test=1
Thu Aug  2 22:13:06 2012 from http://carl.cs.indiana.edu/fil/cgi-bin/WebSec/marilyn.cgi?test=1
Thu Aug  2 04:45:48 2012 from (empty referer)
Thu Aug  2 00:05:03 2012 from http://yandex.ru/yandsearch?text=SexFilm&lr=213
Wed Aug  1 20:37:16 2012 from http://carl.cs.indiana.edu/fil/cgi-bin/WebSec/marilyn.cgi?test=1
Wed Aug  1 18:43:54 2012 from http://carl.cs.indiana.edu/fil/cgi-bin/WebSec/marilyn.cgi?test=1
Wed Aug  1 12:53:52 2012 from http://carl.cs.indiana.edu/fil/cgi-bin/WebSec/marilyn.cgi?test=1
Wed Aug  1 12:31:41 2012 from http://carl.cs.indiana.edu/fil/cgi-bin/WebSec/marilyn.cgi?test=1
Wed Aug  1 09:57:45 2012 from http://carl.cs.indiana.edu/fil/cgi-bin/WebSec/marilyn.cgi?test=1
Wed Aug  1 05:49:59 2012 from http://carl.cs.indiana.edu/fil/cgi-bin/WebSec/marilyn.cgi?test=1
Wed Aug  1 01:24:56 2012 from http://carl.cs.indiana.edu/fil/cgi-bin/WebSec/marilyn.cgi?test=1
Tue Jul 31 16:51:45 2012 from http://carl.cs.indiana.edu/fil/cgi-bin/WebSec/marilyn.cgi?test=1&sourceid=opera&ie=utf-8&oe=utf-8&channel=suggest
Tue Jul 31 11:26:31 2012 from http://carl.cs.indiana.edu/fil/cgi-bin/WebSec/marilyn.cgi?test=1
Tue Jul 31 10:04:03 2012 from http://carl.cs.indiana.edu/fil/cgi-bin/WebSec/marilyn.cgi?test=1
Mon Jul 30 21:06:11 2012 from http://carl.cs.indiana.edu/fil/cgi-bin/WebSec/marilyn.cgi?test=1
Mon Jul 30 17:51:38 2012 from http://carl.cs.indiana.edu/fil/cgi-bin/WebSec/marilyn.cgi?test=1
Mon Jul 30 17:37:03 2012 from http://carl.cs.indiana.edu/fil/cgi-bin/WebSec/marilyn.cgi?test=1
Mon Jul 30 16:56:31 2012 from http://carl.cs.indiana.edu/fil/cgi-bin/WebSec/marilyn.cgi?test=1
Mon Jul 30 04:45:31 2012 from (empty referer)
Mon Jul 30 01:51:40 2012 from (empty referer)
Sun Jul 29 23:57:10 2012 from (empty referer)
Sun Jul 29 16:24:40 2012 from (empty referer)
Sun Jul 29 11:58:21 2012 from (empty referer)
Sun Jul 29 09:43:15 2012 from (empty referer)
Sun Jul 29 04:45:52 2012 from http://carl.cs.indiana.edu/fil/cgi-bin/WebSec/marilyn.cgi?test=1
Sun Jul 29 01:50:14 2012 from (empty referer)
Sat Jul 28 08:15:21 2012 from http://carl.cs.indiana.edu/fil/cgi-bin/WebSec/marilyn.cgi?test=1
Sat Jul 28 07:32:40 2012 from (empty referer)
Sat Jul 28 06:12:09 2012 from (empty referer)
Sat Jul 28 04:59:02 2012 from (empty referer)
Sat Jul 28 03:11:29 2012 from (empty referer)
Fri Jul 27 22:09:14 2012 from http://carl.cs.indiana.edu/fil/cgi-bin/WebSec/marilyn.cgi?test=1
Fri Jul 27 18:38:12 2012 from http://carl.cs.indiana.edu/fil/cgi-bin/WebSec/marilyn.cgi?test=1
Fri Jul 27 17:49:43 2012 from http://carl.cs.indiana.edu/fil/cgi-bin/WebSec/marilyn.cgi?test=1
Fri Jul 27 15:08:14 2012 from (empty referer)
Fri Jul 27 15:08:13 2012 from (empty referer)
Fri Jul 27 14:30:55 2012 from (empty referer)
Fri Jul 27 11:30:45 2012 from (empty referer)
Thu Jul 26 15:08:05 2012 from (empty referer)
Thu Jul 26 13:54:48 2012 from http://carl.cs.indiana.edu/fil/cgi-bin/WebSec/marilyn.cgi?test=1
Thu Jul 26 08:55:21 2012 from http://carl.cs.indiana.edu/fil/cgi-bin/WebSec/marilyn.cgi?test=1
Thu Jul 26 07:50:40 2012 from http://carl.cs.indiana.edu/fil/cgi-bin/WebSec/marilyn.cgi?test=1
Thu Jul 26 05:52:46 2012 from (empty referer)
Thu Jul 26 01:14:59 2012 from (empty referer)
Wed Jul 25 23:11:01 2012 from http://carl.cs.indiana.edu/
Wed Jul 25 22:23:23 2012 from (empty referer)
Wed Jul 25 21:57:06 2012 from (empty referer)
Wed Jul 25 17:34:01 2012 from http://carl.cs.indiana.edu/fil/cgi-bin/WebSec/marilyn.cgi?test=1
Wed Jul 25 11:17:24 2012 from http://carl.cs.indiana.edu/fil/cgi-bin/WebSec/marilyn.cgi?test=1
Wed Jul 25 11:12:15 2012 from (empty referer)
Wed Jul 25 05:45:42 2012 from (empty referer)
Tue Jul 24 23:27:52 2012 from (empty referer)
Tue Jul 24 22:45:12 2012 from http://www.google.cl/url?sa=t&rct=j&q=click%20infospace%20clickhandler&source=web&cd=7&ved=0CGQQFjAG&url=http%3A%2F%2Fcarl.cs.indiana.edu%2Ffil%2Fcgi-bin%2FWebSec%2Fmarilyn.cgi&ei=n10PUP7_Kajv0gHf4IDgCA&usg=AFQjCNHRtbr4ftk_4PyVzN3HuHPJV6LZow
Tue Jul 24 20:14:50 2012 from (empty referer)
Tue Jul 24 19:27:45 2012 from (empty referer)
Tue Jul 24 19:11:37 2012 from (empty referer)
Tue Jul 24 19:11:28 2012 from (empty referer)
Tue Jul 24 18:35:15 2012 from http://carl.cs.indiana.edu/fil/cgi-bin/WebSec/marilyn.cgi?test=1
Tue Jul 24 06:11:01 2012 from (empty referer)
Mon Jul 23 17:46:41 2012 from (empty referer)
Mon Jul 23 17:21:38 2012 from (empty referer)
Mon Jul 23 16:40:32 2012 from http://carl.cs.indiana.edu/fil/cgi-bin/WebSec/marilyn.cgi?test=1
Mon Jul 23 08:44:35 2012 from http://carl.cs.indiana.edu/fil/cgi-bin/WebSec/marilyn.cgi?test=1
Sun Jul 22 17:25:46 2012 from (empty referer)
Sun Jul 22 16:11:55 2012 from http://carl.cs.indiana.edu/fil/cgi-bin/WebSec/marilyn.cgi?test=1
Sat Jul 21 19:19:53 2012 from (empty referer)
Sat Jul 21 10:19:39 2012 from (empty referer)
Sat Jul 21 07:40:21 2012 from http://carl.cs.indiana.edu/fil/cgi-bin/WebSec/marilyn.cgi?test=1
Sat Jul 21 04:46:37 2012 from (empty referer)
Sat Jul 21 04:13:55 2012 from http://www.facebook.com/l.php?u=http%3A%2F%2Fbit.ly%2Fp7zHOT&h=VAQCcSKeS
Sat Jul 21 04:03:33 2012 from http://carl.cs.indiana.edu/fil/cgi-bin/WebSec/marilyn.cgi?test=1
Sat Jul 21 03:19:21 2012 from (empty referer)
Fri Jul 20 23:19:13 2012 from (empty referer)
Fri Jul 20 16:41:34 2012 from http://carl.cs.indiana.edu/fil/cgi-bin/WebSec/marilyn.cgi?test=1
Fri Jul 20 12:48:00 2012 from http://www.google.pt/url?sa=t&rct=j&q=click%20infospace%20clickhandler&source=web&cd=4&ved=0CF0QFjAD&url=http%3A%2F%2Fcarl.cs.indiana.edu%2Ffil%2Fcgi-bin%2FWebSec%2Fmarilyn.cgi&ei=uIsJULCHLKrX0QWWmp3bCg&usg=AFQjCNHRtbr4ftk_4PyVzN3HuHPJV6LZow
Fri Jul 20 12:47:59 2012 from (empty referer)
Fri Jul 20 10:43:24 2012 from http://carl.cs.indiana.edu/fil/cgi-bin/WebSec/marilyn.cgi?test=1
Fri Jul 20 08:39:24 2012 from http://carl.cs.indiana.edu/fil/cgi-bin/WebSec/marilyn.cgi?test=1
Fri Jul 20 07:19:33 2012 from (empty referer)
Fri Jul 20 05:44:10 2012 from http://carl.cs.indiana.edu/fil/cgi-bin/WebSec/marilyn.cgi?test=1
Thu Jul 19 20:55:53 2012 from http://carl.cs.indiana.edu/fil/cgi-bin/WebSec/marilyn.cgi?test=1
Thu Jul 19 19:16:10 2012 from (empty referer)
Thu Jul 19 16:47:45 2012 from (empty referer)
Thu Jul 19 16:46:05 2012 from (empty referer)
Thu Jul 19 14:06:26 2012 from http://carl.cs.indiana.edu/fil/cgi-bin/WebSec/marilyn.cgi?test=1
Thu Jul 19 12:38:20 2012 from (empty referer)
Thu Jul 19 11:35:32 2012 from http://www.google.com/url?sa=t&rct=j&q=click+infospace+ClickHandler&source=web&cd=3&ved=0CFMQFjAC&url=http%3A%2F%2Fcarl.cs.indiana.edu%2Ffil%2Fcgi-bin%2FWebSec%2Fmarilyn.cgi&ei=LCkIUPugBLSU0QXs8O3DBA&usg=AFQjCNHRtbr4ftk_4PyVzN3HuHPJV6LZow
Thu Jul 19 10:29:26 2012 from http://www.google.com/url?sa=t&rct=j&q=click%20infospace%20clickhandler&source=web&cd=3&ved=0CFMQFjAC&url=http%3A%2F%2Fcarl.cs.indiana.edu%2Ffil%2Fcgi-bin%2FWebSec%2Fmarilyn.cgi&ei=uhkIUK3yC9OM4gT7tfGDBA&usg=AFQjCNHRtbr4ftk_4PyVzN3HuHPJV6LZow
Thu Jul 19 10:20:58 2012 from http://www.google.com.tr/url?sa=t&rct=j&q=click+infospace+ClickHandlerzd&source=web&cd=2&ved=0CFcQFjAB&url=http%3A%2F%2Fcarl.cs.indiana.edu%2Ffil%2Fcgi-bin%2FWebSec%2Fmarilyn.cgi&ei=xBcIUMmiONKwhAewncDWAw&usg=AFQjCNHRtbr4ftk_4PyVzN3HuHPJV6LZow
Thu Jul 19 09:42:00 2012 from http://www.google.ro/url?sa=t&rct=j&q=click%20infospace%20clickhandler&source=web&cd=3&ved=0CFIQFjAC&url=http%3A%2F%2Fcarl.cs.indiana.edu%2Ffil%2Fcgi-bin%2FWebSec%2Fmarilyn.cgi&ei=og4IUNLpDs_ysgbftv2oAw&usg=AFQjCNHRtbr4ftk_4PyVzN3HuHPJV6LZow
Thu Jul 19 08:18:36 2012 from http://www.google.co.ma/url?sa=t&rct=j&q=click+infospace+ClickHandler&source=web&cd=5&ved=0CGAQFjAE&url=http%3A%2F%2Fcarl.cs.indiana.edu%2Ffil%2Fcgi-bin%2FWebSec%2Fmarilyn.cgi&ei=EPsHUJuAKNDGtAa5iYXwAg&usg=AFQjCNHRtbr4ftk_4PyVzN3HuHPJV6LZow
Thu Jul 19 08:08:12 2012 from http://www.google.fr/url?sa=t&rct=j&q=click%20infospace%20clickhandler&source=web&cd=4&ved=0CGAQFjAD&url=http%3A%2F%2Fcarl.cs.indiana.edu%2Ffil%2Fcgi-bin%2FWebSec%2Fmarilyn.cgi&ei=o_gHUL-UBs3MtAbWwMHTAw&usg=AFQjCNHRtbr4ftk_4PyVzN3HuHPJV6LZow
Thu Jul 19 01:36:26 2012 from http://carl.cs.indiana.edu/fil/cgi-bin/WebSec/marilyn.cgi?test=1
Wed Jul 18 19:21:47 2012 from (empty referer)
Wed Jul 18 19:21:38 2012 from (empty referer)
Wed Jul 18 16:46:39 2012 from (empty referer)
Wed Jul 18 13:56:38 2012 from http://carl.cs.indiana.edu/fil/cgi-bin/WebSec/marilyn.cgi?test=1
Wed Jul 18 13:25:01 2012 from http://carl.cs.indiana.edu/fil/cgi-bin/WebSec/marilyn.cgi?test=1
Wed Jul 18 08:38:53 2012 from (empty referer)
Tue Jul 17 14:05:20 2012 from http://carl.cs.indiana.edu/fil/cgi-bin/WebSec/marilyn.cgi?test=1&sourceid=opera&ie=utf-8&oe=utf-8&channel=suggest
Tue Jul 17 09:46:37 2012 from http://carl.cs.indiana.edu/fil/cgi-bin/WebSec/marilyn.cgi?test=1&sourceid=opera&ie=utf-8&oe=utf-8&channel=suggest
Mon Jul 16 22:48:03 2012 from http://carl.cs.indiana.edu/fil/cgi-bin/WebSec/marilyn.cgi?test=1&sourceid=opera&ie=utf-8&oe=utf-8&channel=suggest
Mon Jul 16 19:53:58 2012 from http://carl.cs.indiana.edu/fil/cgi-bin/WebSec/marilyn.cgi?test=1&sourceid=opera&ie=utf-8&oe=utf-8&channel=suggest
Mon Jul 16 13:03:59 2012 from (empty referer)
Mon Jul 16 09:46:20 2012 from http://carl.cs.indiana.edu/fil/cgi-bin/WebSec/marilyn.cgi?test=1&sourceid=opera&ie=utf-8&oe=utf-8&channel=suggest
Mon Jul 16 04:41:21 2012 from http://carl.cs.indiana.edu/fil/cgi-bin/WebSec/marilyn.cgi?test=1&sourceid=opera&ie=utf-8&oe=utf-8&channel=suggest
Mon Jul 16 00:59:37 2012 from http://carl.cs.indiana.edu/fil/cgi-bin/WebSec/marilyn.cgi?test=1&sourceid=opera&ie=utf-8&oe=utf-8&channel=suggest
Mon Jul 16 00:34:51 2012 from http://carl.cs.indiana.edu/fil/cgi-bin/WebSec/marilyn.cgi?test=1&sourceid=opera&ie=utf-8&oe=utf-8&channel=suggest
Sun Jul 15 21:55:44 2012 from http://carl.cs.indiana.edu/fil/cgi-bin/WebSec/marilyn.cgi?test=1&sourceid=opera&ie=utf-8&oe=utf-8&channel=suggest
Sun Jul 15 20:06:35 2012 from http://www.google.com/m?client=ms-aff-ucweb&output=xhtml&hl=en&q=http://carl.cs.indiana.edu/fil/cgi-bin/websec
Sun Jul 15 18:20:30 2012 from (empty referer)
Sun Jul 15 14:20:04 2012 from (empty referer)
Sun Jul 15 07:25:02 2012 from http://dsclick.infospace.com/ClickHandler.ashx
Sun Jul 15 06:58:09 2012 from (empty referer)
Sun Jul 15 05:28:42 2012 from http://carl.cs.indiana.edu/fil/cgi-bin/WebSec/marilyn.cgi?test=1&sourceid=opera&ie=utf-8&oe=utf-8&channel=suggest
Sun Jul 15 05:20:10 2012 from (empty referer)
Sun Jul 15 01:20:04 2012 from (empty referer)
Sat Jul 14 22:34:14 2012 from (empty referer)
Sat Jul 14 19:37:41 2012 from http://carl.cs.indiana.edu/fil/cgi-bin/WebSec/marilyn.cgi?test=1&sourceid=opera&ie=utf-8&oe=utf-8&channel=suggest
Sat Jul 14 18:58:51 2012 from http://carl.cs.indiana.edu/fil/cgi-bin/WebSec/marilyn.cgi?test=1&sourceid=opera&ie=utf-8&oe=utf-8&channel=suggest
Sat Jul 14 15:17:32 2012 from (empty referer)
Sat Jul 14 08:25:17 2012 from http://www.google.com/search?q=click+infospace+ClickHandler&channel=linkdoctor
Sat Jul 14 07:35:59 2012 from http://www.google.com/search?q=click+infospace+ClickHandler&channel=linkdoctor
Sat Jul 14 06:40:58 2012 from http://www.google.com.tr/url?sa=t&rct=j&q=click%20infospace%20clickhandler&source=web&cd=4&ved=0CF4QFjAD&url=http%3A%2F%2Fcarl.cs.indiana.edu%2Ffil%2Fcgi-bin%2FWebSec%2Fmarilyn.cgi&ei=rUwBUNLkB6Hi4QStqMGkCA&usg=AFQjCNHRtbr4ftk_4PyVzN3HuHPJV6LZow
Sat Jul 14 05:36:38 2012 from (empty referer)
Sat Jul 14 05:31:42 2012 from (empty referer)
Fri Jul 13 05:40:27 2012 from http://carl.cs.indiana.edu/fil/cgi-bin/WebSec/marilyn.cgi?test=1&sourceid=opera&ie=utf-8&oe=utf-8&channel=suggest
Fri Jul 13 05:35:45 2012 from http://carl.cs.indiana.edu/fil/cgi-bin/WebSec/marilyn.cgi?test=1&sourceid=opera&ie=utf-8&oe=utf-8&channel=suggest
Fri Jul 13 00:18:03 2012 from http://carl.cs.indiana.edu/fil/cgi-bin/WebSec/marilyn.cgi?test=1&sourceid=opera&ie=utf-8&oe=utf-8&channel=suggest
Thu Jul 12 18:06:51 2012 from http://carl.cs.indiana.edu/fil/cgi-bin/WebSec/marilyn.cgi?test=1&sourceid=opera&ie=utf-8&oe=utf-8&channel=suggest
Thu Jul 12 17:36:57 2012 from (empty referer)
Thu Jul 12 16:47:43 2012 from (empty referer)
Thu Jul 12 13:31:03 2012 from http://carl.cs.indiana.edu/fil/cgi-bin/WebSec/marilyn.cgi?test=1&sourceid=opera&ie=utf-8&oe=utf-8&channel=suggest
Thu Jul 12 06:48:50 2012 from http://carl.cs.indiana.edu/fil/cgi-bin/WebSec/marilyn.cgi?test=1&sourceid=opera&ie=utf-8&oe=utf-8&channel=suggest
Thu Jul 12 05:38:20 2012 from http://carl.cs.indiana.edu/fil/cgi-bin/WebSec/marilyn.cgi?test=1&sourceid=opera&ie=utf-8&oe=utf-8&channel=suggest
Thu Jul 12 04:25:18 2012 from (empty referer)
Thu Jul 12 02:09:08 2012 from (empty referer)
Wed Jul 11 19:19:57 2012 from (empty referer)
Wed Jul 11 15:19:57 2012 from (empty referer)
Wed Jul 11 13:35:41 2012 from (empty referer)
Wed Jul 11 12:19:43 2012 from (empty referer)
Wed Jul 11 11:37:51 2012 from http://carl.cs.indiana.edu/fil/cgi-bin/WebSec/marilyn.cgi?test=1&sourceid=opera&ie=utf-8&oe=utf-8&channel=suggest
Wed Jul 11 11:11:56 2012 from http://carl.cs.indiana.edu/fil/cgi-bin/WebSec/marilyn.cgi?test=1&sourceid=opera&ie=utf-8&oe=utf-8&channel=suggest
Wed Jul 11 10:19:41 2012 from (empty referer)
Wed Jul 11 08:19:42 2012 from (empty referer)
Wed Jul 11 05:58:40 2012 from http://carl.cs.indiana.edu/fil/cgi-bin/WebSec/marilyn.cgi?test=1&sourceid=opera&ie=utf-8&oe=utf-8&channel=suggest
Wed Jul 11 03:19:21 2012 from (empty referer)
Wed Jul 11 03:04:37 2012 from http://carl.cs.indiana.edu/fil/cgi-bin/WebSec/marilyn.cgi?test=1&sourceid=opera&ie=utf-8&oe=utf-8&channel=suggest
Tue Jul 10 21:08:41 2012 from http://carl.cs.indiana.edu/fil/cgi-bin/WebSec/marilyn.cgi?test=1&sourceid=opera&ie=utf-8&oe=utf-8&channel=suggest
Tue Jul 10 18:35:12 2012 from http://carl.cs.indiana.edu/fil/cgi-bin/WebSec/marilyn.cgi?test=1&sourceid=opera&ie=utf-8&oe=utf-8&channel=suggest
Tue Jul 10 18:31:47 2012 from http://www.google.tn/url?sa=t&rct=j&q=click%20infospace%20clickhandler&source=web&cd=5&ved=0CF4QFjAE&url=http%3A%2F%2Fcarl.cs.indiana.edu%2Ffil%2Fcgi-bin%2FWebSec%2Fmarilyn.cgi&ei=TK38T5iIBIjS8gPUhJSjBw&usg=AFQjCNHRtbr4ftk_4PyVzN3HuHPJV6LZow
Tue Jul 10 16:19:07 2012 from (empty referer)
Tue Jul 10 16:06:20 2012 from (empty referer)
Tue Jul 10 15:53:23 2012 from http://carl.cs.indiana.edu/fil/cgi-bin/WebSec/marilyn.cgi?test=1&sourceid=opera&ie=utf-8&oe=utf-8&channel=suggest
Tue Jul 10 14:53:31 2012 from http://www.google.com.ph/url?sa=t&rct=j&q=click%20infospace%20clickhandler&source=web&cd=8&ved=0CGUQFjAH&url=http%3A%2F%2Fcarl.cs.indiana.edu%2Ffil%2Fcgi-bin%2FWebSec%2Fmarilyn.cgi&ei=I3r8T--hA6qTiQf4ganPBg&usg=AFQjCNHRtbr4ftk_4PyVzN3HuHPJV6LZow
Tue Jul 10 12:09:09 2012 from http://carl.cs.indiana.edu/fil/cgi-bin/WebSec/marilyn.cgi?test=1&sourceid=opera&ie=utf-8&oe=utf-8&channel=suggest
Tue Jul 10 04:30:07 2012 from http://carl.cs.indiana.edu/fil/cgi-bin/WebSec/marilyn.cgi?test=1&sourceid=opera&ie=utf-8&oe=utf-8&channel=suggest
Tue Jul 10 04:11:37 2012 from (empty referer)
Tue Jul 10 00:50:44 2012 from http://carl.cs.indiana.edu/fil/cgi-bin/WebSec/marilyn.cgi?test=1&sourceid=opera&ie=utf-8&oe=utf-8&channel=suggest
Mon Jul  9 23:14:32 2012 from (empty referer)
Mon Jul  9 13:40:06 2012 from http://carl.cs.indiana.edu/fil/cgi-bin/WebSec/marilyn.cgi
Mon Jul  9 13:19:10 2012 from (empty referer)
Mon Jul  9 08:18:52 2012 from (empty referer)
Mon Jul  9 06:39:39 2012 from http://carl.cs.indiana.edu/fil/cgi-bin/WebSec/marilyn.cgi?test=1&sourceid=opera&ie=utf-8&oe=utf-8&channel=suggest
Mon Jul  9 06:19:01 2012 from (empty referer)
Mon Jul  9 02:18:52 2012 from (empty referer)
Sun Jul  8 21:18:43 2012 from (empty referer)
Sun Jul  8 18:59:49 2012 from http://carl.cs.indiana.edu/fil/cgi-bin/WebSec/marilyn.cgi?test=1&sourceid=opera&ie=utf-8&oe=utf-8&channel=suggest
Sun Jul  8 18:08:56 2012 from http://carl.cs.indiana.edu/fil/cgi-bin/WebSec/marilyn.cgi?test=1&sourceid=opera&ie=utf-8&oe=utf-8&channel=suggest
Sun Jul  8 17:22:47 2012 from (empty referer)
Sun Jul  8 15:04:15 2012 from http://carl.cs.indiana.edu/fil/cgi-bin/WebSec/marilyn.cgi?test=1&sourceid=opera&ie=utf-8&oe=utf-8&channel=suggest
Sun Jul  8 12:18:20 2012 from (empty referer)
Sun Jul  8 10:19:34 2012 from (empty referer)
Sun Jul  8 08:18:18 2012 from (empty referer)
Sun Jul  8 04:38:06 2012 from http://carl.cs.indiana.edu/fil/cgi-bin/WebSec/marilyn.cgi?test=1&sourceid=opera&ie=utf-8&oe=utf-8&channel=suggest
Sun Jul  8 02:54:06 2012 from (empty referer)
Sun Jul  8 00:59:06 2012 from http://carl.cs.indiana.edu/fil/cgi-bin/WebSec/marilyn.cgi?test=1&sourceid=opera&ie=utf-8&oe=utf-8&channel=suggest
Sat Jul  7 22:13:45 2012 from http://carl.cs.indiana.edu/fil/cgi-bin/WebSec/marilyn.cgi?test=1&sourceid=opera&ie=utf-8&oe=utf-8&channel=suggest
Sat Jul  7 17:14:29 2012 from (empty referer)
Sat Jul  7 16:45:43 2012 from (empty referer)
Sat Jul  7 15:39:49 2012 from (empty referer)
Sat Jul  7 11:51:55 2012 from http://carl.cs.indiana.edu/fil/cgi-bin/WebSec/marilyn.cgi?test=1&sourceid=opera&ie=utf-8&oe=utf-8&channel=suggest
Sat Jul  7 03:07:14 2012 from http://carl.cs.indiana.edu/fil/cgi-bin/WebSec/marilyn.cgi?test=1&sourceid=opera&ie=utf-8&oe=utf-8&channel=suggest
Sat Jul  7 01:00:33 2012 from (empty referer)
Sat Jul  7 00:24:32 2012 from http://www.google.co.id/url?sa=t&rct=j&q=click%20infospace%20clickhandler&source=web&cd=6&ved=0CGIQFjAF&url=http%3A%2F%2Fcarl.cs.indiana.edu%2Ffil%2Fcgi-bin%2FWebSec%2Fmarilyn.cgi&ei=77n3T8eGLvCSiAe_j93SBg&usg=AFQjCNHRtbr4ftk_4PyVzN3HuHPJV6LZow
Fri Jul  6 23:43:59 2012 from http://carl.cs.indiana.edu/fil/cgi-bin/WebSec/marilyn.cgi?test=1&sourceid=opera&ie=utf-8&oe=utf-8&channel=suggest
Fri Jul  6 22:06:04 2012 from (empty referer)
Fri Jul  6 18:49:59 2012 from (empty referer)
Fri Jul  6 18:20:52 2012 from (empty referer)
Fri Jul  6 15:33:43 2012 from http://carl.cs.indiana.edu/fil/cgi-bin/WebSec/marilyn.cgi?iframe=true&width=90%2525&height=90%2525
Fri Jul  6 14:14:41 2012 from (empty referer)
Fri Jul  6 12:47:43 2012 from http://carl.cs.indiana.edu/fil/cgi-bin/WebSec/marilyn.cgi?test=1&sourceid=opera&ie=utf-8&oe=utf-8&channel=suggest
Fri Jul  6 00:19:14 2012 from http://carl.cs.indiana.edu/fil/cgi-bin/WebSec/marilyn.cgi?test=1&sourceid=opera&ie=utf-8&oe=utf-8&channel=suggest
Fri Jul  6 00:01:40 2012 from http://carl.cs.indiana.edu/fil/cgi-bin/WebSec/marilyn.cgi?test=1&sourceid=opera&ie=utf-8&oe=utf-8&channel=suggest
Thu Jul  5 23:52:49 2012 from http://carl.cs.indiana.edu/fil/cgi-bin/WebSec/marilyn.cgi?test=1&sourceid=opera&ie=utf-8&oe=utf-8&channel=suggest
Thu Jul  5 23:10:23 2012 from http://carl.cs.indiana.edu/fil/cgi-bin/WebSec/marilyn.cgi?test=1&sourceid=opera&ie=utf-8&oe=utf-8&channel=suggest
Thu Jul  5 21:34:41 2012 from (empty referer)
Thu Jul  5 20:08:53 2012 from http://carl.cs.indiana.edu/fil/cgi-bin/WebSec/marilyn.cgi?test=1&sourceid=opera&ie=utf-8&oe=utf-8&channel=suggest
Thu Jul  5 18:19:39 2012 from (empty referer)
Thu Jul  5 16:46:44 2012 from (empty referer)
Thu Jul  5 13:29:50 2012 from http://carl.cs.indiana.edu/fil/cgi-bin/WebSec/marilyn.cgi?test=1&sourceid=opera&ie=utf-8&oe=utf-8&channel=suggest
Thu Jul  5 09:19:39 2012 from http://carl.cs.indiana.edu/fil/cgi-bin/WebSec/marilyn.cgi?test=1&sourceid=opera&ie=utf-8&oe=utf-8&channel=suggest
Thu Jul  5 09:12:32 2012 from (empty referer)
Thu Jul  5 09:03:23 2012 from http://carl.cs.indiana.edu/fil/cgi-bin/WebSec/marilyn.cgi?test=1&sourceid=opera&ie=utf-8&oe=utf-8&channel=suggest
Thu Jul  5 05:53:42 2012 from (empty referer)
Thu Jul  5 04:36:27 2012 from http://carl.cs.indiana.edu/fil/cgi-bin/WebSec/marilyn.cgi?test=1&sourceid=opera&ie=utf-8&oe=utf-8&channel=suggest
Thu Jul  5 03:26:32 2012 from http://carl.cs.indiana.edu/fil/cgi-bin/WebSec/marilyn.cgi?test=1&sourceid=opera&ie=utf-8&oe=utf-8&channel=suggest
Thu Jul  5 00:36:59 2012 from http://carl.cs.indiana.edu/fil/cgi-bin/WebSec/marilyn.cgi?test=1&sourceid=opera&ie=utf-8&oe=utf-8&channel=suggest
Wed Jul  4 15:59:45 2012 from http://carl.cs.indiana.edu/fil/cgi-bin/WebSec/marilyn.cgi?test=1&sourceid=opera&ie=utf-8&oe=utf-8&channel=suggest
Wed Jul  4 09:02:23 2012 from http://carl.cs.indiana.edu/fil/cgi-bin/WebSec/marilyn.cgi?test=1&sourceid=opera&ie=utf-8&oe=utf-8&channel=suggest
Wed Jul  4 07:10:45 2012 from http://carl.cs.indiana.edu/fil/cgi-bin/WebSec/marilyn.cgi?test=1&sourceid=opera&ie=utf-8&oe=utf-8&channel=suggest
Wed Jul  4 06:33:39 2012 from (empty referer)
Wed Jul  4 05:01:19 2012 from (empty referer)
Tue Jul  3 19:19:16 2012 from (empty referer)
Tue Jul  3 16:18:16 2012 from http://carl.cs.indiana.edu/fil/cgi-bin/WebSec/marilyn.cgi?test=1&sourceid=opera&ie=utf-8&oe=utf-8&channel=suggest
Tue Jul  3 12:52:54 2012 from http://carl.cs.indiana.edu/fil/cgi-bin/WebSec/marilyn.cgi?test=1&sourceid=opera&ie=utf-8&oe=utf-8&channel=suggest
Tue Jul  3 12:48:23 2012 from http://carl.cs.indiana.edu/fil/cgi-bin/WebSec/marilyn.cgi?test=1&sourceid=opera&ie=utf-8&oe=utf-8&channel=suggest
Tue Jul  3 12:47:54 2012 from http://assist.babylon.com/babylonassista/dnsassist/main?domain=cs%20infospace%20ClickHandler%20
Tue Jul  3 12:21:28 2012 from http://carl.cs.indiana.edu/fil/cgi-bin/WebSec/marilyn.cgi?test=1&sourceid=opera&ie=utf-8&oe=utf-8&channel=suggest
Tue Jul  3 10:33:13 2012 from (empty referer)
Tue Jul  3 04:47:54 2012 from (empty referer)
Tue Jul  3 04:30:04 2012 from http://carl.cs.indiana.edu/fil/cgi-bin/WebSec/marilyn.cgi?test=1&sourceid=opera&ie=utf-8&oe=utf-8&channel=suggest
Tue Jul  3 03:49:27 2012 from (empty referer)
Tue Jul  3 01:45:32 2012 from (empty referer)
Mon Jul  2 18:14:38 2012 from http://www.google.com.tr/url?sa=t&rct=j&q=click%20infospace%20clickhandler&source=web&cd=5&ved=0CFwQFjAE&url=http%3A%2F%2Fcarl.cs.indiana.edu%2Ffil%2Fcgi-bin%2FWebSec%2Fmarilyn.cgi&ei=Sh3yT_TcNMXZtAb_oKmPDw&usg=AFQjCNHRtbr4ftk_4PyVzN3HuHPJV6LZow
Mon Jul  2 17:13:43 2012 from http://carl.cs.indiana.edu/fil/cgi-bin/WebSec/marilyn.cgi?test=1&sourceid=opera&ie=utf-8&oe=utf-8&channel=suggest
Mon Jul  2 15:58:42 2012 from http://carl.cs.indiana.edu/fil/cgi-bin/WebSec/marilyn.cgi?test=1&sourceid=opera&ie=utf-8&oe=utf-8&channel=suggest
Mon Jul  2 15:28:40 2012 from (empty referer)
Mon Jul  2 14:51:17 2012 from http://carl.cs.indiana.edu/fil/cgi-bin/WebSec/marilyn.cgi?test=1&sourceid=opera&ie=utf-8&oe=utf-8&channel=suggest
Mon Jul  2 14:28:57 2012 from http://carl.cs.indiana.edu/fil/cgi-bin/WebSec/marilyn.cgi?test=1&sourceid=opera&ie=utf-8&oe=utf-8&channel=suggest
Mon Jul  2 11:43:31 2012 from (empty referer)
Mon Jul  2 10:19:32 2012 from http://carl.cs.indiana.edu/fil/cgi-bin/WebSec/marilyn.cgi?test=1&sourceid=opera&ie=utf-8&oe=utf-8&channel=suggest
Mon Jul  2 09:31:26 2012 from http://carl.cs.indiana.edu/fil/cgi-bin/WebSec/marilyn.cgi?test=1&sourceid=opera&ie=utf-8&oe=utf-8&channel=suggest
Sun Jul  1 19:56:08 2012 from http://carl.cs.indiana.edu/fil/cgi-bin/WebSec/marilyn.cgi?test=1&sourceid=opera&ie=utf-8&oe=utf-8&channel=suggest
Sun Jul  1 17:59:44 2012 from (empty referer)
Sun Jul  1 14:09:26 2012 from http://carl.cs.indiana.edu/fil/cgi-bin/WebSec/marilyn.cgi?test=1&sourceid=opera&ie=utf-8&oe=utf-8&channel=suggest
Sun Jul  1 13:20:13 2012 from http://carl.cs.indiana.edu/fil/cgi-bin/WebSec/marilyn.cgi?test=1&sourceid=opera&ie=utf-8&oe=utf-8&channel=suggest
Sun Jul  1 11:55:27 2012 from (empty referer)
Sun Jul  1 04:37:24 2012 from http://carl.cs.indiana.edu/fil/cgi-bin/WebSec/marilyn.cgi?test=1&sourceid=opera&ie=utf-8&oe=utf-8&channel=suggest
Sat Jun 30 20:38:58 2012 from http://carl.cs.indiana.edu/fil/cgi-bin/WebSec/marilyn.cgi?test=1&sourceid=opera&ie=utf-8&oe=utf-8&channel=suggest
Sat Jun 30 19:57:16 2012 from (empty referer)
Sat Jun 30 19:37:21 2012 from http://carl.cs.indiana.edu/fil/cgi-bin/WebSec/marilyn.cgi?test=1&sourceid=opera&ie=utf-8&oe=utf-8&channel=suggest
Sat Jun 30 18:46:29 2012 from http://carl.cs.indiana.edu/fil/cgi-bin/WebSec/marilyn.cgi?test=1&sourceid=opera&ie=utf-8&oe=utf-8&channel=suggest
Sat Jun 30 16:14:56 2012 from (empty referer)
Sat Jun 30 16:06:58 2012 from (empty referer)
Sat Jun 30 15:05:56 2012 from http://carl.cs.indiana.edu/fil/cgi-bin/WebSec/marilyn.cgi?test=1&sourceid=opera&ie=utf-8&oe=utf-8&channel=suggest
Sat Jun 30 14:12:38 2012 from (empty referer)
Sat Jun 30 13:09:52 2012 from (empty referer)
Sat Jun 30 09:11:13 2012 from http://carl.cs.indiana.edu/fil/cgi-bin/WebSec/marilyn.cgi?test=1&sourceid=opera&ie=utf-8&oe=utf-8&channel=suggest
Sat Jun 30 08:03:48 2012 from (empty referer)
Fri Jun 29 23:47:40 2012 from http://carl.cs.indiana.edu/fil/cgi-bin/WebSec/marilyn.cgi?test=1&sourceid=opera&ie=utf-8&oe=utf-8&channel=suggest
Fri Jun 29 23:02:49 2012 from (empty referer)
Fri Jun 29 21:55:53 2012 from http://carl.cs.indiana.edu/fil/cgi-bin/WebSec/marilyn.cgi?test=1&sourceid=opera&ie=utf-8&oe=utf-8&channel=suggest
Fri Jun 29 20:56:34 2012 from http://carl.cs.indiana.edu/fil/cgi-bin/WebSec/marilyn.cgi?test=1&sourceid=opera&ie=utf-8&oe=utf-8&channel=suggest
Fri Jun 29 19:44:25 2012 from http://carl.cs.indiana.edu/fil/cgi-bin/WebSec/marilyn.cgi?test=1&sourceid=opera&ie=utf-8&oe=utf-8&channel=suggest
Fri Jun 29 17:47:37 2012 from http://www.google.com.tr/url?sa=t&rct=j&q=click+infospace+ClickHandler&source=web&cd=5&ved=0CGAQFjAE&url=http%3A%2F%2Fcarl.cs.indiana.edu%2Ffil%2Fcgi-bin%2FWebSec%2Fmarilyn.cgi&ei=OiLuT97-O8r-4QTnq5D7DQ&usg=AFQjCNHRtbr4ftk_4PyVzN3HuHPJV6LZow
Fri Jun 29 17:28:11 2012 from (empty referer)
Fri Jun 29 16:12:26 2012 from http://carl.cs.indiana.edu/fil/cgi-bin/WebSec/marilyn.cgi?test=1&sourceid=opera&ie=utf-8&oe=utf-8&channel=suggest
Fri Jun 29 12:18:41 2012 from (empty referer)
Fri Jun 29 04:49:48 2012 from http://yandex.ru/msearch?p=1&text=%D1%81%D0%B5%D0%BA%D1%81%20%D1%81%20%D0%BC%D0%B5%D1%80%D0%BB%D0%B8%D0%BD%20%D0%BC%D0%BE%D0%BD%D1%80%D0%BE&clid=46143&s=all&lr=143
Fri Jun 29 02:15:11 2012 from http://carl.cs.indiana.edu/fil/cgi-bin/WebSec/marilyn.cgi?test=1&sourceid=opera&ie=utf-8&oe=utf-8&channel=suggest
Fri Jun 29 00:13:14 2012 from http://carl.cs.indiana.edu/fil/cgi-bin/WebSec/marilyn.cgi?test=1&sourceid=opera&ie=utf-8&oe=utf-8&channel=suggest
Thu Jun 28 22:38:26 2012 from http://carl.cs.indiana.edu/fil/cgi-bin/WebSec/marilyn.cgi?test=1&sourceid=opera&ie=utf-8&oe=utf-8&channel=suggest
Thu Jun 28 15:31:06 2012 from http://www.google.com.tr/url?sa=t&rct=j&q=click+infospace+ClickHandler&source=web&cd=3&ved=0CFoQFjAC&url=http%3A%2F%2Fcarl.cs.indiana.edu%2Ffil%2Fcgi-bin%2FWebSec%2Fmarilyn.cgi&ei=57DsT8C9NYvusgbQsJSNBg&usg=AFQjCNHRtbr4ftk_4PyVzN3HuHPJV6LZow
Thu Jun 28 11:01:23 2012 from (empty referer)
Thu Jun 28 08:27:29 2012 from (empty referer)
Thu Jun 28 08:17:22 2012 from http://carl.cs.indiana.edu/fil/cgi-bin/WebSec/marilyn.cgi?test=1&sourceid=opera&ie=utf-8&oe=utf-8&channel=suggest
Thu Jun 28 08:14:11 2012 from (empty referer)
Thu Jun 28 06:14:08 2012 from http://carl.cs.indiana.edu/fil/cgi-bin/WebSec/marilyn.cgi?test=1&sourceid=opera&ie=utf-8&oe=utf-8&channel=suggest
Thu Jun 28 05:23:51 2012 from (empty referer)
Thu Jun 28 04:51:48 2012 from http://carl.cs.indiana.edu/fil/cgi-bin/WebSec/marilyn.cgi?test=1&sourceid=opera&ie=utf-8&oe=utf-8&channel=suggest
Wed Jun 27 22:56:10 2012 from http://www.google.com/url?sa=t&rct=j&q=http%3A%2F%2Fwww.google.com%2Fsearch%3Fq%3Dhttp%253a%252f%252fwww.google.com%252fsearch%253fq%253dhttp%25253a%25252f%25252fwww.google.com%25252fsearch%25253fq%25253dhttp%2525253a%2525252f%2525252fwww.google.com%2525252fsearch%2525253fq%2525253dhttp%252525253a%252525252f%252525252fwww.facebook.com%252525252fsalwa.ibrahim.39%252525253fsk%252525253dwall%25252526sourceid%2525253dopera%25252526ie%2525253dutf-8%25252526oe%2525253dutf-8%25252526channel%2525253dsuggest%252526sourceid%25253dopera%252526ie%25253dutf-8%252526oe%25253dutf-8%252526channel%25253dsuggest%2526sourceid%253dopera%2526ie%253dutf-8%2526oe%253dutf-8%2526channel%253dsuggest%26sourceid%3Dopera%26ie%3Dutf-8%26oe%3Dutf-8%26channel%3Dsuggest&source=web&cd=1&ved=0CE8QFjAA&url=http%3A%2F%2Fcarl.cs.indiana.edu%2Ffil%2Fcgi-bin%2FWebSec%2Fmarilyn.cgi&ei=scfrT8nNCIeXhQe51-y8BQ&usg=AFQjCNHRtbr4ftk_4PyVzN3HuHPJV6LZow
Wed Jun 27 21:48:16 2012 from (empty referer)
Wed Jun 27 17:50:10 2012 from http://carl.cs.indiana.edu/fil/cgi-bin/WebSec/marilyn.cgi?test=1&sourceid=opera&ie=utf-8&oe=utf-8&channel=suggest
Wed Jun 27 17:15:37 2012 from (empty referer)
Wed Jun 27 17:00:48 2012 from http://www.google.com.sa/search?hl=en&sky=ee&q=http%2Ftubidy.mobi%2Fsearch..php%3Fa%3D18%26Q.MALAYALA%27.SEX&btnG=Search
Wed Jun 27 15:55:31 2012 from http://carl.cs.indiana.edu/fil/cgi-bin/WebSec/marilyn.cgi?test=1&sourceid=opera&ie=utf-8&oe=utf-8&channel=suggest
Wed Jun 27 14:16:36 2012 from http://carl.cs.indiana.edu/fil/cgi-bin/WebSec/marilyn.cgi?test=1&sourceid=opera&ie=utf-8&oe=utf-8&channel=suggest
Wed Jun 27 11:39:33 2012 from (empty referer)
Wed Jun 27 07:21:36 2012 from http://carl.cs.indiana.edu/fil/cgi-bin/WebSec/marilyn.cgi?test=1&sourceid=opera&ie=utf-8&oe=utf-8&channel=suggest
Wed Jun 27 05:35:42 2012 from http://carl.cs.indiana.edu/fil/cgi-bin/WebSec/marilyn.cgi?test=1&sourceid=opera&ie=utf-8&oe=utf-8&channel=suggest
Wed Jun 27 04:46:41 2012 from (empty referer)
Wed Jun 27 04:09:05 2012 from http://carl.cs.indiana.edu/fil/cgi-bin/WebSec/marilyn.cgi?test=1&sourceid=opera&ie=utf-8&oe=utf-8&channel=suggest
Wed Jun 27 03:28:43 2012 from http://carl.cs.indiana.edu/fil/cgi-bin/WebSec/marilyn.cgi?test=1&sourceid=opera&ie=utf-8&oe=utf-8&channel=suggest
Wed Jun 27 02:03:15 2012 from http://carl.cs.indiana.edu/fil/cgi-bin/WebSec/marilyn.cgi?test=1&sourceid=opera&ie=utf-8&oe=utf-8&channel=suggest
Tue Jun 26 17:07:19 2012 from http://carl.cs.indiana.edu/fil/cgi-bin/WebSec/marilyn.cgi?test=1&sourceid=opera&ie=utf-8&oe=utf-8&channel=suggest
Tue Jun 26 15:14:34 2012 from http://carl.cs.indiana.edu/fil/cgi-bin/WebSec/marilyn.cgi?test=1&sourceid=opera&ie=utf-8&oe=utf-8&channel=suggest
Tue Jun 26 15:02:41 2012 from http://carl.cs.indiana.edu/fil/cgi-bin/WebSec/marilyn.cgi?test=1&sourceid=opera&ie=utf-8&oe=utf-8&channel=suggest
Tue Jun 26 12:34:55 2012 from http://www.google.com/url?sa=t&rct=j&q=http%3A%2F%2Fwww.google.com%2Fsearch%3Fq%3Dhttp%253a%252f%252fwww.google.com%252fsearch%253fq%253dhttp%25253a%25252f%25252fredir.opera.com%25252fwww.opera.com%25252fupgrade%25252f%2526sourceid%253dopera%2526ie%253dutf-8%2526oe%253dutf-8%2526channel%253dsuggest%26sourceid%3Dopera%26ie%3Dutf-8%26oe%3Dutf-8%26channel%3Dsuggest&source=web&cd=5&ved=0CE8QFjAE&url=http%3A%2F%2Fcarl.cs.indiana.edu%2Ffil%2Fcgi-bin%2FWebSec%2Fmarilyn.cgi&ei=iuTpT8b-HYSx0AGhhd2hDQ&usg=AFQjCNHRtbr4ftk_4PyVzN3HuHPJV6LZow
Tue Jun 26 07:51:50 2012 from http://carl.cs.indiana.edu/fil/cgi-bin/WebSec/marilyn.cgi?test=1&sourceid=opera&ie=utf-8&oe=utf-8&channel=suggest
Tue Jun 26 07:16:53 2012 from http://carl.cs.indiana.edu/fil/cgi-bin/WebSec/marilyn.cgi?test=1&sourceid=opera&ie=utf-8&oe=utf-8&channel=suggest
Tue Jun 26 06:06:24 2012 from http://carl.cs.indiana.edu/fil/cgi-bin/WebSec/marilyn.cgi?test=1&sourceid=opera&ie=utf-8&oe=utf-8&channel=suggest
Tue Jun 26 04:35:16 2012 from http://carl.cs.indiana.edu/fil/cgi-bin/WebSec/marilyn.cgi?test=1&sourceid=opera&ie=utf-8&oe=utf-8&channel=suggest
Tue Jun 26 01:14:31 2012 from http://www.google.com.tr/url?sa=t&rct=j&q=click%20infospace%20clickhandler&source=web&cd=3&ved=0CFoQFjAC&url=http%3A%2F%2Fcarl.cs.indiana.edu%2Ffil%2Fcgi-bin%2FWebSec%2Fmarilyn.cgi&ei=J0XpT56XDYvktQakzNHHDg&usg=AFQjCNHRtbr4ftk_4PyVzN3HuHPJV6LZow
Mon Jun 25 19:54:52 2012 from (empty referer)
Mon Jun 25 17:15:35 2012 from http://carl.cs.indiana.edu/fil/cgi-bin/WebSec/marilyn.cgi?test=1&sourceid=opera&ie=utf-8&oe=utf-8&channel=suggest
Mon Jun 25 17:04:25 2012 from http://carl.cs.indiana.edu/fil/cgi-bin/WebSec/marilyn.cgi?test=1&sourceid=opera&ie=utf-8&oe=utf-8&channel=suggest
Mon Jun 25 16:30:24 2012 from http://carl.cs.indiana.edu/fil/cgi-bin/WebSec/marilyn.cgi?test=1&sourceid=opera&ie=utf-8&oe=utf-8&channel=suggest
Mon Jun 25 15:20:37 2012 from http://carl.cs.indiana.edu/fil/cgi-bin/WebSec/marilyn.cgi?test=1&sourceid=opera&ie=utf-8&oe=utf-8&channel=suggest
Mon Jun 25 15:04:14 2012 from http://carl.cs.indiana.edu/fil/cgi-bin/WebSec/marilyn.cgi?test=1
Mon Jun 25 14:35:00 2012 from http://carl.cs.indiana.edu/fil/cgi-bin/WebSec/marilyn.cgi?test=1&sourceid=opera&ie=utf-8&oe=utf-8&channel=suggest
Mon Jun 25 11:27:51 2012 from http://carl.cs.indiana.edu/fil/cgi-bin/WebSec/marilyn.cgi?test=1&sourceid=opera&ie=utf-8&oe=utf-8&channel=suggest
Mon Jun 25 11:14:29 2012 from http://carl.cs.indiana.edu/fil/cgi-bin/WebSec/marilyn.cgi?test=1&sourceid=opera&ie=utf-8&oe=utf-8&channel=suggest
Mon Jun 25 08:34:48 2012 from (empty referer)
Mon Jun 25 07:08:31 2012 from http://www.google.co.id/search?q=click+infospace+ClickHandler&channel=linkdoctor
Mon Jun 25 05:34:41 2012 from http://carl.cs.indiana.edu/fil/cgi-bin/WebSec/marilyn.cgi?test=1
Mon Jun 25 00:22:58 2012 from (empty referer)
Sun Jun 24 18:43:56 2012 from (empty referer)
Sun Jun 24 15:48:13 2012 from (empty referer)
Sun Jun 24 14:46:00 2012 from http://carl.cs.indiana.edu/fil/cgi-bin/WebSec/marilyn.cgi?test=1&sourceid=opera&ie=utf-8&oe=utf-8&channel=suggest
Sun Jun 24 12:02:24 2012 from http://carl.cs.indiana.edu/fil/cgi-bin/WebSec/marilyn.cgi?test=1&sourceid=opera&ie=utf-8&oe=utf-8&channel=suggest
Sun Jun 24 12:00:50 2012 from (empty referer)
Sun Jun 24 11:55:59 2012 from http://carl.cs.indiana.edu/fil/cgi-bin/WebSec/marilyn.cgi?test=1&sourceid=opera&ie=utf-8&oe=utf-8&channel=suggest
Sun Jun 24 10:30:11 2012 from http://carl.cs.indiana.edu/fil/cgi-bin/WebSec/marilyn.cgi?test=1&sourceid=opera&ie=utf-8&oe=utf-8&channel=suggest
Sun Jun 24 10:19:13 2012 from (empty referer)
Sun Jun 24 10:09:04 2012 from http://carl.cs.indiana.edu/fil/cgi-bin/WebSec/marilyn.cgi?test=1
Sun Jun 24 09:28:07 2012 from http://carl.cs.indiana.edu/fil/cgi-bin/WebSec/marilyn.cgi?test=1
Sun Jun 24 08:16:08 2012 from (empty referer)
Sun Jun 24 06:38:18 2012 from (empty referer)
Sun Jun 24 06:06:25 2012 from http://carl.cs.indiana.edu/fil/cgi-bin/WebSec/marilyn.cgi
Sun Jun 24 05:51:30 2012 from http://carl.cs.indiana.edu/fil/cgi-bin/WebSec/marilyn.cgi?test=1
Sun Jun 24 03:30:53 2012 from http://carl.cs.indiana.edu/fil/cgi-bin/WebSec/marilyn.cgi?test=1&sourceid=opera&ie=utf-8&oe=utf-8&channel=suggest
Sun Jun 24 01:48:54 2012 from http://carl.cs.indiana.edu/fil/cgi-bin/WebSec/marilyn.cgi?test=1&sourceid=opera&ie=utf-8&oe=utf-8&channel=suggest
Sun Jun 24 01:32:34 2012 from http://carl.cs.indiana.edu/fil/cgi-bin/WebSec/marilyn.cgi?test=1&sourceid=opera&ie=utf-8&oe=utf-8&channel=suggest
Sun Jun 24 00:12:08 2012 from http://carl.cs.indiana.edu/fil/cgi-bin/WebSec/marilyn.cgi?test=1&sourceid=opera&ie=utf-8&oe=utf-8&channel=suggest
Sat Jun 23 22:52:52 2012 from http://carl.cs.indiana.edu/fil/cgi-bin/WebSec/marilyn.cgi?test=1&sourceid=opera&ie=utf-8&oe=utf-8&channel=suggest
Sat Jun 23 20:47:38 2012 from (empty referer)
Sat Jun 23 20:01:48 2012 from http://carl.cs.indiana.edu/fil/cgi-bin/WebSec/marilyn.cgi?test=1&sourceid=opera&ie=utf-8&oe=utf-8&channel=suggest
Sat Jun 23 19:55:54 2012 from http://carl.cs.indiana.edu/fil/cgi-bin/WebSec/marilyn.cgi?test=1&sourceid=opera&ie=utf-8&oe=utf-8&channel=suggest
Sat Jun 23 15:35:12 2012 from (empty referer)
Sat Jun 23 12:53:22 2012 from http://www.google.com/m?client=ms-nokia&q=www.google.com/m/search?site%3Dvideo%26client%3Dms-nokia&cof=nsp&channel=s60&start=30&sa=N
Sat Jun 23 11:52:44 2012 from (empty referer)
Sat Jun 23 11:06:23 2012 from http://carl.cs.indiana.edu/fil/cgi-bin/WebSec/marilyn.cgi?test=1&sourceid=opera&ie=utf-8&oe=utf-8&channel=suggest
Sat Jun 23 10:47:22 2012 from http://carl.cs.indiana.edu/fil/cgi-bin/WebSec/marilyn.cgi?test=1&sourceid=opera&ie=utf-8&oe=utf-8&channel=suggest
Sat Jun 23 10:36:03 2012 from http://www.google.com.sa/search?hl=ar&gl=ae&client=ms-android-samsung&source=android-launcher-widget&action=devloc&q=htt%3A%2F%2Ftubidy.mobi%2Fsearch.php%3Fa%3D18%26q%3Dsex%3A-.%2F.2B18&safe=on&sky=mrdr
Sat Jun 23 10:27:39 2012 from (empty referer)
Sat Jun 23 05:57:37 2012 from (empty referer)
Sat Jun 23 05:14:32 2012 from (empty referer)
Sat Jun 23 04:46:35 2012 from http://carl.cs.indiana.edu/fil/cgi-bin/WebSec/marilyn.cgi?test=1&sourceid=opera&ie=utf-8&oe=utf-8&channel=suggest
Sat Jun 23 04:01:29 2012 from http://carl.cs.indiana.edu/fil/cgi-bin/WebSec/marilyn.cgi?test=1&sourceid=opera&ie=utf-8&oe=utf-8&channel=suggest
Sat Jun 23 02:57:44 2012 from http://www.google.com/url?sa=t&rct=j&q=&esrc=s&source=web&cd=1&ved=0CFAQFjAA&url=http%3A%2F%2Fcarl.cs.indiana.edu%2Ffil%2Fcgi-bin%2FWebSec%2Fmarilyn.cgi&ei=J2jlT9WMJYKG-wb7peG_Cg&usg=AFQjCNHRtbr4ftk_4PyVzN3HuHPJV6LZow&sig2=KLicix4vO6PpyZhKHFZAJQ
Sat Jun 23 02:18:14 2012 from http://carl.cs.indiana.edu/fil/cgi-bin/WebSec/marilyn.cgi?test=1&sourceid=opera&ie=utf-8&oe=utf-8&channel=suggest
Sat Jun 23 01:24:26 2012 from http://carl.cs.indiana.edu/fil/cgi-bin/WebSec/marilyn.cgi?test=1&sourceid=opera&ie=utf-8&oe=utf-8&channel=suggest
Sat Jun 23 00:07:33 2012 from http://carl.cs.indiana.edu/fil/cgi-bin/WebSec/marilyn.cgi?test=1&sourceid=opera&ie=utf-8&oe=utf-8&channel=suggest
Fri Jun 22 22:40:27 2012 from http://carl.cs.indiana.edu/fil/cgi-bin/WebSec/marilyn.cgi?test=1&sourceid=opera&ie=utf-8&oe=utf-8&channel=suggest
Fri Jun 22 19:00:03 2012 from http://carl.cs.indiana.edu/fil/cgi-bin/WebSec/marilyn.cgi?test=1&sourceid=opera&ie=utf-8&oe=utf-8&channel=suggest
Fri Jun 22 18:31:18 2012 from http://carl.cs.indiana.edu/fil/cgi-bin/WebSec/marilyn.cgi?test=1&sourceid=opera&ie=utf-8&oe=utf-8&channel=suggest
Fri Jun 22 17:01:17 2012 from http://carl.cs.indiana.edu/fil/cgi-bin/WebSec/marilyn.cgi?test=1&sourceid=opera&ie=utf-8&oe=utf-8&channel=suggest
Fri Jun 22 13:41:33 2012 from (empty referer)
Fri Jun 22 13:35:26 2012 from http://www.google.com/url?sa=t&rct=j&q=http%3A%2F%2Fwww.google.com%2Fsearch%3Fq%3Dhttp%253A%252F%252Fwww.google.com%252Fsearch%253Fq%253Dhttp%25253A%25252F%25252Fredir.opera.com%25252Fspeeddials%25252Ffacebook%25252F%2526sourceid%253Dopera%2526ie%253Dutf-8%2526oe%253Dutf-8%2526channel%253Dsuggest%26sourceid%3Dopera%26ie%3Dutf-8%26oe%3Dutf-8%26channel%3Dsuggest&source=web&cd=1&ved=0CEoQFjAA&url=http%3A%2F%2Fcarl.cs.indiana.edu%2Ffil%2Fcgi-bin%2FWebSec%2Fmarilyn.cgi&ei=v6zkT6PVAajg4QTI7czCCA&usg=AFQjCNHRtbr4ftk_4PyVzN3HuHPJV6LZow
Fri Jun 22 13:02:29 2012 from http://carl.cs.indiana.edu/fil/cgi-bin/WebSec/marilyn.cgi?test=1&sourceid=opera&ie=utf-8&oe=utf-8&channel=suggest
Fri Jun 22 12:58:18 2012 from (empty referer)
Fri Jun 22 12:22:43 2012 from http://carl.cs.indiana.edu/fil/cgi-bin/WebSec/marilyn.cgi?test=1&sourceid=opera&ie=utf-8&oe=utf-8&channel=suggest
Fri Jun 22 11:02:50 2012 from http://www.google.com/search?q=http://tubid.mob/search.php%3Fa%3D18%C2%A7q%3Dsex&hl=en&sky=ee&prmd=ivns&ei=e4jkT4OrA47rrQeGseyJCQ&start=10&sa=N
Fri Jun 22 11:01:56 2012 from http://carl.cs.indiana.edu/fil/cgi-bin/WebSec/marilyn.cgi?test=1&sourceid=opera&ie=utf-8&oe=utf-8&channel=suggest
Fri Jun 22 09:27:35 2012 from http://carl.cs.indiana.edu/fil/cgi-bin/WebSec/marilyn.cgi?test=1&sourceid=opera&ie=utf-8&oe=utf-8&channel=suggest
Fri Jun 22 06:32:17 2012 from http://carl.cs.indiana.edu/fil/cgi-bin/WebSec/marilyn.cgi?test=1&sourceid=opera&ie=utf-8&oe=utf-8&channel=suggest
Fri Jun 22 06:19:33 2012 from http://carl.cs.indiana.edu/fil/cgi-bin/WebSec/marilyn.cgi?test=1&sourceid=opera&ie=utf-8&oe=utf-8&channel=suggest
Fri Jun 22 03:48:42 2012 from (empty referer)
Fri Jun 22 03:25:31 2012 from http://carl.cs.indiana.edu/fil/cgi-bin/WebSec/marilyn.cgi?test=1&sourceid=opera&ie=utf-8&oe=utf-8&channel=suggest
Fri Jun 22 03:02:09 2012 from (empty referer)
Fri Jun 22 02:36:04 2012 from http://carl.cs.indiana.edu/fil/cgi-bin/WebSec/marilyn.cgi?test=1&sourceid=opera&ie=utf-8&oe=utf-8&channel=suggest
Fri Jun 22 01:06:36 2012 from http://carl.cs.indiana.edu/fil/cgi-bin/WebSec/marilyn.cgi?test=1&sourceid=opera&ie=utf-8&oe=utf-8&channel=suggest
Thu Jun 21 23:18:16 2012 from (empty referer)
Thu Jun 21 23:18:05 2012 from (empty referer)
Thu Jun 21 23:18:02 2012 from (empty referer)
Thu Jun 21 23:16:33 2012 from (empty referer)
Thu Jun 21 23:04:24 2012 from http://carl.cs.indiana.edu/fil/cgi-bin/WebSec/marilyn.cgi?test=1&sourceid=opera&ie=utf-8&oe=utf-8&channel=suggest
Thu Jun 21 21:22:54 2012 from http://carl.cs.indiana.edu/fil/cgi-bin/WebSec/marilyn.cgi?test=1
Thu Jun 21 18:45:18 2012 from http://carl.cs.indiana.edu/fil/cgi-bin/WebSec/marilyn.cgi?test=1&sourceid=opera&ie=utf-8&oe=utf-8&channel=suggest
Thu Jun 21 15:50:17 2012 from http://carl.cs.indiana.edu/fil/cgi-bin/WebSec/marilyn.cgi?test=1&sourceid=opera&ie=utf-8&oe=utf-8&channel=suggest
Thu Jun 21 15:48:43 2012 from (empty referer)
Thu Jun 21 12:56:40 2012 from http://carl.cs.indiana.edu/fil/cgi-bin/WebSec/marilyn.cgi?test=1&sourceid=opera&ie=utf-8&oe=utf-8&channel=suggest
Thu Jun 21 09:10:58 2012 from http://carl.cs.indiana.edu/fil/cgi-bin/WebSec/marilyn.cgi?test=1&sourceid=opera&ie=utf-8&oe=utf-8&channel=suggest
Thu Jun 21 08:24:52 2012 from (empty referer)
Thu Jun 21 03:04:16 2012 from http://www.google.com/m?q=ww.google.com%2Fm%3Fq%3Dindian%2Bsex.com%26client%3Dms-opera-mobile%26channel%3Dnew&client=ms-opera-mobile&channel=new
Thu Jun 21 02:50:53 2012 from http://carl.cs.indiana.edu/fil/cgi-bin/WebSec/marilyn.cgi?test=1&sourceid=opera&ie=utf-8&oe=utf-8&channel=suggest
Thu Jun 21 01:44:59 2012 from http://www.google.com.np/search?q=click+infospace+ClickHandler&channel=linkdoctor
Thu Jun 21 00:12:24 2012 from http://carl.cs.indiana.edu/fil/cgi-bin/WebSec/marilyn.cgi?test=1&sourceid=opera&ie=utf-8&oe=utf-8&channel=suggest
Wed Jun 20 22:24:54 2012 from http://carl.cs.indiana.edu/fil/cgi-bin/WebSec/marilyn.cgi?test=1
Wed Jun 20 20:53:42 2012 from http://carl.cs.indiana.edu/fil/cgi-bin/WebSec/marilyn.cgi?test=1
Wed Jun 20 20:18:58 2012 from http://carl.cs.indiana.edu/fil/cgi-bin/WebSec/marilyn.cgi?test=1
Wed Jun 20 20:16:37 2012 from (empty referer)
Wed Jun 20 19:01:28 2012 from http://carl.cs.indiana.edu/fil/cgi-bin/WebSec/marilyn.cgi?test=1
Wed Jun 20 18:43:30 2012 from http://carl.cs.indiana.edu/fil/cgi-bin/WebSec/marilyn.cgi?test=1
Wed Jun 20 18:41:57 2012 from http://carl.cs.indiana.edu/fil/cgi-bin/WebSec/marilyn.cgi?test=1
Wed Jun 20 18:37:12 2012 from http://www.google.it/url?sa=t&rct=j&q=&esrc=s&source=web&cd=4&ved=0CGMQFjAD&url=http%3A%2F%2Fcarl.cs.indiana.edu%2Ffil%2Fcgi-bin%2FWebSec%2Fmarilyn.cgi&ei=RFDiT-PYJYbXtAbynv1v&usg=AFQjCNHRtbr4ftk_4PyVzN3HuHPJV6LZow
Wed Jun 20 18:21:43 2012 from http://www.google.co.id/url?sa=t&rct=j&q=click%20infospace%20clickhandler&source=web&cd=4&ved=0CF4QFjAD&url=http%3A%2F%2Fcarl.cs.indiana.edu%2Ffil%2Fcgi-bin%2FWebSec%2Fmarilyn.cgi&ei=7UziT-KZKsTorAf09uWUAw&usg=AFQjCNHRtbr4ftk_4PyVzN3HuHPJV6LZow
Wed Jun 20 17:33:47 2012 from http://carl.cs.indiana.edu/fil/cgi-bin/WebSec/marilyn.cgi?test=1
Wed Jun 20 17:08:58 2012 from http://carl.cs.indiana.edu/fil/cgi-bin/WebSec/marilyn.cgi?test=1
Wed Jun 20 16:41:01 2012 from http://www.google.com.sa/search?q=click+infospace+ClickHandler&channel=linkdoctor
Wed Jun 20 16:24:41 2012 from (empty referer)
Wed Jun 20 15:36:48 2012 from http://carl.cs.indiana.edu/fil/cgi-bin/WebSec/marilyn.cgi?test=1
Wed Jun 20 14:59:18 2012 from (empty referer)
Wed Jun 20 14:09:01 2012 from (empty referer)
Wed Jun 20 13:57:31 2012 from http://carl.cs.indiana.edu/fil/cgi-bin/WebSec/marilyn.cgi?test=1
Wed Jun 20 12:02:34 2012 from http://www.google.tn/url?sa=t&rct=j&q=click%20infospace%20clickhandler&source=web&cd=3&ved=0CFoQFjAC&url=http%3A%2F%2Fcarl.cs.indiana.edu%2Ffil%2Fcgi-bin%2FWebSec%2Fmarilyn.cgi&ei=EPThT_GPJsndtAbIo4Bw&usg=AFQjCNHRtbr4ftk_4PyVzN3HuHPJV6LZow
Wed Jun 20 10:43:42 2012 from http://www.google.com/url?sa=t&rct=j&q=http%3A%2F%2Fwww.google.com%2Fsearch%3Fq%3Dhttp%253A%252F%252Fwww.google.com%252Fsearch%253Fq%253Dhttp%25253A%25252F%25252Fwww.google.com%25252Fsearch%25253Fq%25253Dhttp%2525253A%2525252F%2525252Fwww.google.com%2525252Fsearch%2525253Fq%2525253Dhttp%252525253A%252525252F%252525252Fwww.facebook.com%252525252F%25252526sourceid%2525253Dopera%25252526ie%2525253Dutf-8%25252526oe%2525253Dutf-8%25252526channel%2525253Dsuggest%252526sourceid%25253Dopera%252526ie%25253Dutf-8%252526oe%25253Dutf-8%252526channel%25253Dsuggest%2526sourceid%253Dopera%2526ie%253Dutf-8%2526oe%253Dutf-8%2526channel%253Dsuggest%26sourceid%3Dopera%26ie%3Dutf-8%26oe%3Dutf-8%26channel%3Dsuggest&source=web&cd=1&ved=0CE8QFjAA&url=http%3A%2F%2Fcarl.cs.indiana.edu%2Ffil%2Fcgi-bin%2FWebSec%2Fmarilyn.cgi&ei=iuHhT6WRJcWE-wbM6u2gAw&usg=AFQjCNHRtbr4ftk_4PyVzN3HuHPJV6LZow
Wed Jun 20 10:35:56 2012 from http://carl.cs.indiana.edu/fil/cgi-bin/WebSec/marilyn.cgi?test=1
Wed Jun 20 09:46:46 2012 from http://carl.cs.indiana.edu/fil/cgi-bin/WebSec/marilyn.cgi?test=1
Wed Jun 20 09:36:10 2012 from http://carl.cs.indiana.edu/fil/cgi-bin/WebSec/marilyn.cgi?test=1
Wed Jun 20 09:15:44 2012 from http://carl.cs.indiana.edu/fil/cgi-bin/WebSec/marilyn.cgi?test=1
Wed Jun 20 07:26:33 2012 from http://carl.cs.indiana.edu/fil/cgi-bin/WebSec/marilyn.cgi?test=1
Wed Jun 20 06:59:59 2012 from http://carl.cs.indiana.edu/fil/cgi-bin/WebSec/marilyn.cgi?test=1
Wed Jun 20 06:56:40 2012 from http://carl.cs.indiana.edu/fil/cgi-bin/WebSec/marilyn.cgi?test=1
Wed Jun 20 05:51:38 2012 from http://assist.babylon.com/babylonassista/dnsassist/main?domain=cs%20infospace%20
Wed Jun 20 05:48:39 2012 from http://carl.cs.indiana.edu/fil/cgi-bin/WebSec/marilyn.cgi?test=1
Wed Jun 20 05:27:12 2012 from http://carl.cs.indiana.edu/fil/cgi-bin/WebSec/marilyn.cgi?test=1
Wed Jun 20 04:57:28 2012 from http://www.searchplusnetwork.com/?sp=chv&q=click.infospace.comClickHandler.ashx%3Fdu
Wed Jun 20 04:31:52 2012 from http://carl.cs.indiana.edu/fil/cgi-bin/WebSec/marilyn.cgi?test=1
Wed Jun 20 04:05:27 2012 from http://carl.cs.indiana.edu/fil/cgi-bin/WebSec/marilyn.cgi?test=1
Wed Jun 20 02:58:07 2012 from http://carl.cs.indiana.edu/fil/cgi-bin/WebSec/marilyn.cgi?test=1
Wed Jun 20 02:40:40 2012 from http://carl.cs.indiana.edu/fil/cgi-bin/WebSec/marilyn.cgi?test=1
Tue Jun 19 20:49:34 2012 from http://carl.cs.indiana.edu/fil/cgi-bin/WebSec/marilyn.cgi?test=1
Tue Jun 19 20:22:09 2012 from http://carl.cs.indiana.edu/fil/cgi-bin/WebSec/marilyn.cgi?test=1
Tue Jun 19 18:22:26 2012 from (empty referer)
Tue Jun 19 18:14:02 2012 from http://carl.cs.indiana.edu/fil/cgi-bin/WebSec/marilyn.cgi?test=1
Tue Jun 19 18:01:23 2012 from http://carl.cs.indiana.edu/fil/cgi-bin/WebSec/marilyn.cgi?test=1
Tue Jun 19 16:40:12 2012 from http://carl.cs.indiana.edu/fil/cgi-bin/WebSec/marilyn.cgi?test=1
Tue Jun 19 15:49:38 2012 from http://carl.cs.indiana.edu/fil/cgi-bin/WebSec/marilyn.cgi?test=1
Tue Jun 19 15:49:37 2012 from (empty referer)
Tue Jun 19 12:53:40 2012 from http://carl.cs.indiana.edu/fil/cgi-bin/WebSec/marilyn.cgi?test=1
Tue Jun 19 12:43:56 2012 from http://assist.babylon.com/babylonassista/dnsassist/main?domain=cs%20infospace%20ClickHandler%20
Tue Jun 19 12:39:52 2012 from http://carl.cs.indiana.edu/fil/cgi-bin/WebSec/marilyn.cgi?test=1
Tue Jun 19 12:00:51 2012 from (empty referer)
Tue Jun 19 09:20:39 2012 from http://carl.cs.indiana.edu/fil/cgi-bin/WebSec/marilyn.cgi?test=1
Tue Jun 19 08:27:00 2012 from http://carl.cs.indiana.edu/fil/cgi-bin/WebSec/marilyn.cgi?test=1
Tue Jun 19 07:56:59 2012 from http://carl.cs.indiana.edu/fil/cgi-bin/WebSec/marilyn.cgi?test=1
Tue Jun 19 07:47:14 2012 from http://www.google.com/url?sa=t&rct=j&q=http%3A%2F%2Fwww.google.com%2Fsearch%3Fq%3Dhttp%253a%252f%252fwww.google.com%252fsearch%253fq%253dhttp%25253a%25252f%25252fredir.opera.com%25252fspeeddials%25252fportal%25252f%2526sourceid%253dopera%2526ie%253dutf-8%2526oe%253dutf-8%2526channel%253dsuggest%26sourceid%3Dopera%26ie%3Dutf-8%26oe%3Dutf-8%26channel%3Dsuggest&source=web&cd=1&ved=0CFkQFjAA&url=http%3A%2F%2Fcarl.cs.indiana.edu%2Ffil%2Fcgi-bin%2FWebSec%2Fmarilyn.cgi&ei=qmbgT6yGKszotQafwdSACQ&usg=AFQjCNHRtbr4ftk_4PyVzN3HuHPJV6LZow
Tue Jun 19 06:48:54 2012 from http://carl.cs.indiana.edu/fil/cgi-bin/WebSec/marilyn.cgi?test=1
Tue Jun 19 06:45:03 2012 from http://assist.babylon.com/babylonassista/dnsassist/main?domain=cs%20infospace%20ClickHandler%20
Tue Jun 19 04:34:53 2012 from http://carl.cs.indiana.edu/fil/cgi-bin/WebSec/marilyn.cgi?test=1
Mon Jun 18 23:06:20 2012 from http://yandex.ru/yandsearch?text=sex+filmy+sex+filmy
Mon Jun 18 23:00:41 2012 from http://yandex.ru/yandsearch?text=sex+filmy+sex+filmy&lr=213
Mon Jun 18 21:18:30 2012 from http://carl.cs.indiana.edu/fil/cgi-bin/WebSec/marilyn.cgi?test=1
Mon Jun 18 18:43:00 2012 from (empty referer)
Mon Jun 18 18:26:07 2012 from http://carl.cs.indiana.edu/fil/cgi-bin/WebSec/marilyn.cgi?test=1
Mon Jun 18 17:43:57 2012 from http://carl.cs.indiana.edu/fil/cgi-bin/WebSec/marilyn.cgi?test=1
Mon Jun 18 16:31:23 2012 from http://carl.cs.indiana.edu/fil/cgi-bin/WebSec/marilyn.cgi?test=1
Mon Jun 18 16:04:40 2012 from http://carl.cs.indiana.edu/fil/cgi-bin/WebSec/marilyn.cgi?test=1
Mon Jun 18 14:58:06 2012 from http://carl.cs.indiana.edu/fil/cgi-bin/WebSec/marilyn.cgi?test=1
Mon Jun 18 14:56:36 2012 from (empty referer)
Mon Jun 18 14:47:16 2012 from http://carl.cs.indiana.edu/fil/cgi-bin/WebSec/marilyn.cgi?test=1
Mon Jun 18 14:14:50 2012 from http://carl.cs.indiana.edu/fil/cgi-bin/WebSec/marilyn.cgi?test=1
Mon Jun 18 13:23:08 2012 from http://assist.babylon.com/babylonassista/dnsassist/main?domain=cs%20infospace%20ClickHandler%20
Mon Jun 18 12:27:50 2012 from (empty referer)
Mon Jun 18 12:12:37 2012 from http://carl.cs.indiana.edu/fil/cgi-bin/WebSec/marilyn.cgi?test=1
Mon Jun 18 10:28:20 2012 from http://carl.cs.indiana.edu/fil/cgi-bin/WebSec/marilyn.cgi?test=1
Mon Jun 18 08:32:43 2012 from http://www.google.co.in/url?sa=t&rct=j&q=click%20infospace%20clickhandler&source=web&cd=5&ved=0CFoQFjAE&url=http%3A%2F%2Fcarl.cs.indiana.edu%2Ffil%2Fcgi-bin%2FWebSec%2Fmarilyn.cgi&ei=eR3fT-fSBsnPrQehyZTMDQ&usg=AFQjCNHRtbr4ftk_4PyVzN3HuHPJV6LZow
Mon Jun 18 08:21:47 2012 from http://www.google.com.tr/url?sa=t&rct=j&q=click%20infospace%20clickhandler&source=web&cd=3&ved=0CF0QFjAC&url=http%3A%2F%2Fcarl.cs.indiana.edu%2Ffil%2Fcgi-bin%2FWebSec%2Fmarilyn.cgi&ei=Vh3fT4blKcTbtAaspoHZDQ&usg=AFQjCNHRtbr4ftk_4PyVzN3HuHPJV6LZow
Mon Jun 18 07:36:42 2012 from http://carl.cs.indiana.edu/fil/cgi-bin/WebSec/marilyn.cgi?test=1
Mon Jun 18 05:51:15 2012 from http://carl.cs.indiana.edu/fil/cgi-bin/WebSec/marilyn.cgi?test=1
Mon Jun 18 04:03:32 2012 from (empty referer)
Mon Jun 18 03:37:49 2012 from (empty referer)
Mon Jun 18 02:57:20 2012 from http://www.google.com.tr/url?sa=t&rct=j&q=click%20infospace%20clickhandler&source=web&cd=4&ved=0CF8QFjAD&url=http%3A%2F%2Fcarl.cs.indiana.edu%2Ffil%2Fcgi-bin%2FWebSec%2Fmarilyn.cgi&ei=L9HeT7SQO8izhAfTovWKCg&usg=AFQjCNHRtbr4ftk_4PyVzN3HuHPJV6LZow
Mon Jun 18 02:54:37 2012 from http://carl.cs.indiana.edu/fil/cgi-bin/WebSec/marilyn.cgi?test=1
Mon Jun 18 02:06:02 2012 from http://carl.cs.indiana.edu/fil/cgi-bin/WebSec/marilyn.cgi?test=1
Mon Jun 18 01:59:55 2012 from http://carl.cs.indiana.edu/fil/cgi-bin/WebSec/marilyn.cgi?test=1
Mon Jun 18 01:19:34 2012 from http://carl.cs.indiana.edu/fil/cgi-bin/WebSec/marilyn.cgi?test=1
Mon Jun 18 00:22:18 2012 from http://carl.cs.indiana.edu/fil/cgi-bin/WebSec/marilyn.cgi?test=1
Sun Jun 17 23:36:29 2012 from http://carl.cs.indiana.edu/fil/cgi-bin/WebSec/marilyn.cgi?test=1
Sun Jun 17 23:13:31 2012 from http://carl.cs.indiana.edu/fil/cgi-bin/WebSec/marilyn.cgi?test=1
Sun Jun 17 22:42:22 2012 from http://carl.cs.indiana.edu/fil/cgi-bin/WebSec/marilyn.cgi?test=1
Sun Jun 17 19:34:53 2012 from http://carl.cs.indiana.edu/fil/cgi-bin/WebSec/marilyn.cgi?test=1
Sun Jun 17 18:30:22 2012 from http://carl.cs.indiana.edu/fil/cgi-bin/WebSec/marilyn.cgi?test=1
Sun Jun 17 18:28:46 2012 from http://carl.cs.indiana.edu/fil/cgi-bin/WebSec/marilyn.cgi?test=1&sourceid=opera&ie=utf-8&oe=utf-8&channel=suggest
Sun Jun 17 17:45:57 2012 from (empty referer)
Sun Jun 17 17:34:07 2012 from http://carl.cs.indiana.edu/fil/cgi-bin/WebSec/marilyn.cgi?test=1
Sun Jun 17 16:43:53 2012 from http://carl.cs.indiana.edu/fil/cgi-bin/WebSec/marilyn.cgi?test=1
Sun Jun 17 16:21:57 2012 from http://carl.cs.indiana.edu/fil/cgi-bin/WebSec/marilyn.cgi?test=1&sourceid=opera&ie=utf-8&oe=utf-8&channel=suggest
Sun Jun 17 14:48:37 2012 from (empty referer)
Sun Jun 17 14:43:39 2012 from http://carl.cs.indiana.edu/fil/cgi-bin/WebSec/marilyn.cgi?test=1
Sun Jun 17 14:34:44 2012 from (empty referer)
Sun Jun 17 14:03:23 2012 from http://carl.cs.indiana.edu/fil/cgi-bin/WebSec/marilyn.cgi?test=1
Sun Jun 17 12:44:54 2012 from http://carl.cs.indiana.edu/fil/cgi-bin/WebSec/marilyn.cgi?test=1
Sun Jun 17 12:06:29 2012 from http://carl.cs.indiana.edu/fil/cgi-bin/WebSec/marilyn.cgi?test=1
Sun Jun 17 10:08:39 2012 from (empty referer)
Sun Jun 17 10:02:35 2012 from (empty referer)
Sun Jun 17 09:38:32 2012 from (empty referer)
Sun Jun 17 09:05:10 2012 from http://carl.cs.indiana.edu/fil/cgi-bin/WebSec/marilyn.cgi?test=1
Sun Jun 17 08:54:07 2012 from http://carl.cs.indiana.edu/fil/cgi-bin/WebSec/marilyn.cgi?test=1
Sun Jun 17 03:46:57 2012 from http://carl.cs.indiana.edu/fil/cgi-bin/WebSec/marilyn.cgi?test=1
Sun Jun 17 02:48:36 2012 from (empty referer)
Sun Jun 17 02:16:33 2012 from http://carl.cs.indiana.edu/fil/cgi-bin/WebSec/marilyn.cgi?test=1
Sat Jun 16 23:26:54 2012 from http://carl.cs.indiana.edu/fil/cgi-bin/WebSec/marilyn.cgi?test=1
Sat Jun 16 23:15:30 2012 from http://carl.cs.indiana.edu/fil/cgi-bin/WebSec/marilyn.cgi?test=1
Sat Jun 16 21:00:48 2012 from http://carl.cs.indiana.edu/fil/cgi-bin/WebSec/marilyn.cgi?test=1
Sat Jun 16 20:56:07 2012 from http://carl.cs.indiana.edu/fil/cgi-bin/WebSec/marilyn.cgi?test=1
Sat Jun 16 20:32:01 2012 from http://carl.cs.indiana.edu/fil/cgi-bin/WebSec/marilyn.cgi?test=1
Sat Jun 16 20:11:32 2012 from http://carl.cs.indiana.edu/fil/cgi-bin/WebSec/marilyn.cgi?test=1
Sat Jun 16 19:50:12 2012 from http://www.google.com.sa/url?sa=t&rct=j&q=click+infospace+ClickHandler&source=web&cd=5&ved=0CFwQFjAE&url=http%3A%2F%2Fcarl.cs.indiana.edu%2Ffil%2Fcgi-bin%2FWebSec%2Fmarilyn.cgi&ei=oBvdT6fWBcXP-gbzwu37CQ&usg=AFQjCNHRtbr4ftk_4PyVzN3HuHPJV6LZow
Sat Jun 16 18:42:28 2012 from http://carl.cs.indiana.edu/fil/cgi-bin/WebSec/marilyn.cgi?test=1
Sat Jun 16 18:41:59 2012 from http://yandex.com.tr/yandsearch?p=2&text=sexfilm&clid=1817173&lr=103832&tld=com.tr
Sat Jun 16 18:36:41 2012 from http://carl.cs.indiana.edu/fil/cgi-bin/WebSec/marilyn.cgi?test=1
Sat Jun 16 17:50:24 2012 from http://carl.cs.indiana.edu/fil/cgi-bin/WebSec/marilyn.cgi?test=1
Sat Jun 16 17:47:57 2012 from http://carl.cs.indiana.edu/fil/cgi-bin/WebSec/marilyn.cgi?test=1
Sat Jun 16 17:26:18 2012 from http://www.google.com/url?sa=t&rct=j&q=http%3A%2F%2Fwww.google.com%2Fsearch%3Fq%3Dhttp%253A%252F%252Fwww.google.com%252Fsearch%253Fq%253Dgoogle%2526sourceid%253Dopera%2526ie%253Dutf-8%2526oe%253Dutf-8%2526channel%253Dsuggest%26sourceid%3Dopera%26ie%3Dutf-8%26oe%3Dutf-8%26channel%3Dsuggest&source=web&cd=1&ved=0CEIQFjAA&url=http%3A%2F%2Fcarl.cs.indiana.edu%2Ffil%2Fcgi-bin%2FWebSec%2Fmarilyn.cgi&ei=6fncT-vaBKPcmAWDiJytDA&usg=AFQjCNHRtbr4ftk_4PyVzN3HuHPJV6LZow
Sat Jun 16 15:52:07 2012 from http://carl.cs.indiana.edu/fil/cgi-bin/WebSec/marilyn.cgi?test=1
Sat Jun 16 13:53:36 2012 from http://carl.cs.indiana.edu/fil/cgi-bin/WebSec/marilyn.cgi?test=1
Sat Jun 16 13:49:35 2012 from (empty referer)
Sat Jun 16 12:39:05 2012 from http://assist.babylon.com/babylonassista/dnsassist/main?domain=mystart%20incredibar%20mb113%20
Sat Jun 16 11:47:04 2012 from http://carl.cs.indiana.edu/fil/cgi-bin/WebSec/marilyn.cgi?test=1
Sat Jun 16 10:21:09 2012 from http://carl.cs.indiana.edu/fil/cgi-bin/WebSec/marilyn.cgi?test=1
Sat Jun 16 09:00:05 2012 from http://carl.cs.indiana.edu/fil/cgi-bin/WebSec/marilyn.cgi?test=1
Sat Jun 16 08:10:41 2012 from http://carl.cs.indiana.edu/fil/cgi-bin/WebSec/marilyn.cgi?test=1
Sat Jun 16 08:00:59 2012 from http://carl.cs.indiana.edu/fil/cgi-bin/WebSec/marilyn.cgi?test=1
Sat Jun 16 07:11:08 2012 from http://carl.cs.indiana.edu/fil/cgi-bin/WebSec/marilyn.cgi?test=1
Sat Jun 16 06:26:18 2012 from (empty referer)
Sat Jun 16 05:43:27 2012 from http://carl.cs.indiana.edu/fil/cgi-bin/WebSec/marilyn.cgi
Sat Jun 16 05:15:24 2012 from http://carl.cs.indiana.edu/fil/cgi-bin/WebSec/marilyn.cgi?test=1
Sat Jun 16 04:44:46 2012 from http://www.google.com.tr/url?sa=t&rct=j&q=click%20infospace%20clickhandler&source=web&cd=4&ved=0CGAQFjAD&url=http%3A%2F%2Fcarl.cs.indiana.edu%2Ffil%2Fcgi-bin%2FWebSec%2Fmarilyn.cgi&ei=Z0fcT9XDKMLDhAf16_SSCg&usg=AFQjCNHRtbr4ftk_4PyVzN3HuHPJV6LZow
Sat Jun 16 04:24:59 2012 from http://www.google.com.tr/url?sa=t&rct=j&q=click%20infospace%20clickhandler&source=web&cd=3&ved=0CF0QFjAC&url=http%3A%2F%2Fcarl.cs.indiana.edu%2Ffil%2Fcgi-bin%2FWebSec%2Fmarilyn.cgi&ei=skLcT8yeIs2e-Qb15IymCg&usg=AFQjCNHRtbr4ftk_4PyVzN3HuHPJV6LZow
Sat Jun 16 02:06:56 2012 from (empty referer)
Sat Jun 16 01:49:39 2012 from (empty referer)
Fri Jun 15 22:14:54 2012 from http://carl.cs.indiana.edu/fil/cgi-bin/WebSec/marilyn.cgi?test=1
Fri Jun 15 18:13:00 2012 from http://carl.cs.indiana.edu/fil/cgi-bin/WebSec/marilyn.cgi?test=1
Fri Jun 15 18:06:03 2012 from http://carl.cs.indiana.edu/fil/cgi-bin/WebSec/marilyn.cgi?test=1
Fri Jun 15 17:37:44 2012 from http://carl.cs.indiana.edu/fil/cgi-bin/WebSec/marilyn.cgi?test=1
Fri Jun 15 10:30:21 2012 from http://carl.cs.indiana.edu/fil/cgi-bin/WebSec/marilyn.cgi?test=1
Fri Jun 15 09:53:04 2012 from http://carl.cs.indiana.edu/fil/cgi-bin/WebSec/marilyn.cgi?test=1
Fri Jun 15 08:47:57 2012 from http://carl.cs.indiana.edu/fil/cgi-bin/WebSec/marilyn.cgi?test=1
Fri Jun 15 08:20:57 2012 from http://carl.cs.indiana.edu/fil/cgi-bin/WebSec/marilyn.cgi?test=1
Fri Jun 15 08:16:44 2012 from http://carl.cs.indiana.edu/fil/cgi-bin/WebSec/marilyn.cgi?test=1
Fri Jun 15 07:45:54 2012 from http://carl.cs.indiana.edu/fil/cgi-bin/WebSec/marilyn.cgi?test=1
Fri Jun 15 06:07:14 2012 from http://carl.cs.indiana.edu/fil/cgi-bin/WebSec/marilyn.cgi?test=1
Fri Jun 15 05:06:22 2012 from http://carl.cs.indiana.edu/fil/cgi-bin/WebSec/marilyn.cgi?test=1
Fri Jun 15 04:21:37 2012 from http://carl.cs.indiana.edu/fil/cgi-bin/WebSec/marilyn.cgi?test=1
Fri Jun 15 03:59:51 2012 from http://carl.cs.indiana.edu/fil/cgi-bin/WebSec/marilyn.cgi?test=1
Fri Jun 15 02:57:45 2012 from http://www.google.com.tr/url?sa=t&rct=j&q=click%20infospace%20clickhandler&source=web&cd=4&ved=0CGoQFjAD&url=http%3A%2F%2Fcarl.cs.indiana.edu%2Ffil%2Fcgi-bin%2FWebSec%2Fmarilyn.cgi&ei=fNzaT9XRD8fZsgbI0JDGCQ&usg=AFQjCNHRtbr4ftk_4PyVzN3HuHPJV6LZow
Thu Jun 14 22:32:57 2012 from http://carl.cs.indiana.edu/fil/cgi-bin/WebSec/marilyn.cgi?test=1
Thu Jun 14 22:23:19 2012 from http://carl.cs.indiana.edu/fil/cgi-bin/WebSec/marilyn.cgi?test=1
Thu Jun 14 20:33:43 2012 from http://carl.cs.indiana.edu/fil/cgi-bin/WebSec/marilyn.cgi?test=1
Thu Jun 14 19:18:44 2012 from http://carl.cs.indiana.edu/fil/cgi-bin/WebSec/marilyn.cgi?test=1
Thu Jun 14 19:05:25 2012 from http://carl.cs.indiana.edu/fil/cgi-bin/WebSec/marilyn.cgi?test=1
Thu Jun 14 19:00:32 2012 from http://carl.cs.indiana.edu/fil/cgi-bin/WebSec/marilyn.cgi?test=1
Thu Jun 14 18:47:04 2012 from http://carl.cs.indiana.edu/fil/cgi-bin/WebSec/marilyn.cgi?test=1
Thu Jun 14 18:31:42 2012 from http://carl.cs.indiana.edu/fil/cgi-bin/WebSec/marilyn.cgi?test=1
Thu Jun 14 16:41:23 2012 from http://www.google.com.tr/url?sa=t&rct=j&q=click%20infospace%20clickhandler&source=web&cd=3&ved=0CGYQFjAC&url=http%3A%2F%2Fcarl.cs.indiana.edu%2Ffil%2Fcgi-bin%2FWebSec%2Fmarilyn.cgi&ei=bEzaT-KIEcTltQaEo_WDAQ&usg=AFQjCNHRtbr4ftk_4PyVzN3HuHPJV6LZow
Thu Jun 14 16:40:35 2012 from http://www.google.com.tr/url?sa=t&rct=j&q=click%20infospace%20clickhandler&source=web&cd=3&ved=0CGcQFjAC&url=http%3A%2F%2Fcarl.cs.indiana.edu%2Ffil%2Fcgi-bin%2FWebSec%2Fmarilyn.cgi&ei=NkzaT6XULsWP-wbYlMTfAw&usg=AFQjCNHRtbr4ftk_4PyVzN3HuHPJV6LZow
Thu Jun 14 14:46:42 2012 from http://carl.cs.indiana.edu/fil/cgi-bin/WebSec/marilyn.cgi?test=1
Thu Jun 14 12:44:41 2012 from http://carl.cs.indiana.edu/fil/cgi-bin/WebSec/marilyn.cgi?test=1
Thu Jun 14 12:31:11 2012 from http://www.google.com/url?sa=t&rct=j&q=click%20infospace%20clickhandler&source=web&cd=4&ved=0CGMQFjAD&url=http%3A%2F%2Fcarl.cs.indiana.edu%2Ffil%2Fcgi-bin%2FWebSec%2Fmarilyn.cgi&ei=xRHaT8ngJcKIrAe4vbV_&usg=AFQjCNHRtbr4ftk_4PyVzN3HuHPJV6LZow
Thu Jun 14 11:54:14 2012 from http://carl.cs.indiana.edu/fil/cgi-bin/WebSec/marilyn.cgi?test=1
Thu Jun 14 10:53:13 2012 from http://carl.cs.indiana.edu/fil/cgi-bin/WebSec/marilyn.cgi?test=1
Thu Jun 14 07:06:56 2012 from http://carl.cs.indiana.edu/fil/cgi-bin/WebSec/marilyn.cgi?test=1
Thu Jun 14 06:07:39 2012 from http://www.google.com/url?sa=t&rct=j&q=click%20infospace%20clickhandler&source=web&cd=10&ved=0CHUQFjAJ&url=http%3A%2F%2Fcarl.cs.indiana.edu%2Ffil%2Fcgi-bin%2FWebSec%2Fmarilyn.cgi&ei=17fZT7voI8Sq-AbptqiLCA&usg=AFQjCNHRtbr4ftk_4PyVzN3HuHPJV6LZow
Thu Jun 14 02:17:03 2012 from http://carl.cs.indiana.edu/fil/cgi-bin/WebSec/marilyn.cgi?test=1
Wed Jun 13 22:28:04 2012 from http://carl.cs.indiana.edu/fil/cgi-bin/WebSec/marilyn.cgi?test=1
Wed Jun 13 22:20:07 2012 from http://carl.cs.indiana.edu/fil/cgi-bin/WebSec/marilyn.cgi?test=1
Wed Jun 13 22:16:01 2012 from http://carl.cs.indiana.edu/fil/cgi-bin/WebSec/marilyn.cgi?test=1
Wed Jun 13 18:50:18 2012 from http://carl.cs.indiana.edu/fil/cgi-bin/WebSec/marilyn.cgi?test=1
Wed Jun 13 15:53:37 2012 from http://carl.cs.indiana.edu/fil/cgi-bin/WebSec/marilyn.cgi?test=1
Wed Jun 13 13:58:06 2012 from http://carl.cs.indiana.edu/fil/cgi-bin/WebSec/marilyn.cgi?test=1
Wed Jun 13 13:14:31 2012 from http://www.google.com.eg/url?sa=t&rct=j&q=click+infospace+ClickHandler&source=web&cd=6&ved=0CGUQFjAF&url=http%3A%2F%2Fcarl.cs.indiana.edu%2Ffil%2Fcgi-bin%2FWebSec%2Fmarilyn.cgi&ei=TsrYT7bzN8nDtAbh4tidDw&usg=AFQjCNHRtbr4ftk_4PyVzN3HuHPJV6LZow
Wed Jun 13 12:42:08 2012 from http://carl.cs.indiana.edu/fil/cgi-bin/WebSec/marilyn.cgi?test=1
Wed Jun 13 12:32:07 2012 from http://www.google.com.tr/url?sa=t&rct=j&q=click%20infospace%20clickhandler&source=web&cd=2&ved=0CFkQFjAB&url=http%3A%2F%2Fcarl.cs.indiana.edu%2Ffil%2Fcgi-bin%2FWebSec%2Fmarilyn.cgi&ei=gsDYT_j3L-zZ0QXH2sitBA&usg=AFQjCNHRtbr4ftk_4PyVzN3HuHPJV6LZow
Wed Jun 13 11:55:46 2012 from http://www.google.com.tr/url?sa=t&rct=j&q=&esrc=s&source=web&cd=3&ved=0CGYQFjAC&url=http%3A%2F%2Fcarl.cs.indiana.edu%2Ffil%2Fcgi-bin%2FWebSec%2Fmarilyn.cgi&ei=7rfYT9voMozNsgaP8-GbDw&usg=AFQjCNHRtbr4ftk_4PyVzN3HuHPJV6LZow
Wed Jun 13 11:24:41 2012 from http://carl.cs.indiana.edu/fil/cgi-bin/WebSec/marilyn.cgi?test=1
Wed Jun 13 11:02:43 2012 from http://carl.cs.indiana.edu/fil/cgi-bin/WebSec/marilyn.cgi?test=1
Wed Jun 13 08:19:38 2012 from http://www.google.com.sa/url?sa=t&rct=j&q=http%3A%2F%2Ftubidy+mobi%2Fsearch+php%3Fa%3D18%26q%3Dhot%2Bsex&source=web&cd=2&ved=0CFMQFjAB&url=http%3A%2F%2Fcarl.cs.indiana.edu%2Ffil%2Fcgi-bin%2FWebSec%2Fmarilyn.cgi&ei=T4XYT6-tCIKq0QXi1vGjBA&usg=AFQjCNHRtbr4ftk_4PyVzN3HuHPJV6LZow
Wed Jun 13 07:01:59 2012 from http://www.google.com/url?sa=t&rct=j&q=http%3A%2F%2Fwww.google.com%2Fsearch%3Fq%3Dhttp%253a%252f%252fwww.google.com%252fsearch%253fclient%253dopera%2526rls%253den%2526q%253dhttp%25253a%25252f%25252fredir.opera.com%25252fspeeddials%25252ffacebook%25252f%2526sourceid%253dopera%2526ie%253dutf-8%2526oe%253dutf-8%2526channel%253dsuggest%26sourceid%3Dopera%26ie%3Dutf-8%26oe%3Dutf-8%26channel%3Dsuggest&source=web&cd=1&ved=0CFwQFjAA&url=http%3A%2F%2Fcarl.cs.indiana.edu%2Ffil%2Fcgi-bin%2FWebSec%2Fmarilyn.cgi&ei=p3HYT9jwJ5DU4QSnu7T-Ag&usg=AFQjCNHRtbr4ftk_4PyVzN3HuHPJV6LZow
Wed Jun 13 05:56:23 2012 from http://carl.cs.indiana.edu/fil/cgi-bin/WebSec/marilyn.cgi?test=1
Wed Jun 13 05:07:03 2012 from (empty referer)
Wed Jun 13 03:23:09 2012 from http://www.google.com/imgres?imgurl=http://carl.cs.indiana.edu/fil/WebSec/marilyn.jpg&imgrefurl=http://carl.cs.indiana.edu/fil/cgi-bin/WebSec/marilyn.cgi&usg=__PgVUbSSWU7f5jfsjEcVsJgAPNig%3D&h=333&w=500&sz=54&hl=en&start=1&zoom=1&tbnid=ynUan-_9FQYrEM:&tbnh=87&tbnw=130&ei=xT_YT8fXFpSQ4gSdrYjKAw&prev=/search%3Fq%3Dmarilyn%2Bmonroe%2Bsex%2Bfilm%26um%3D1%26hl%3Den%26safe%3Dactive%26sa%3DN%26tbm%3Disch&um=1&itbs=1&gbv=1&sei=2z_YT53nL-ii4gTQhM2GAw
Wed Jun 13 02:38:47 2012 from http://carl.cs.indiana.edu/fil/cgi-bin/WebSec/marilyn.cgi?test=1
Wed Jun 13 01:48:42 2012 from (empty referer)
Wed Jun 13 01:36:19 2012 from http://carl.cs.indiana.edu/fil/cgi-bin/WebSec/marilyn.cgi?test=1
Tue Jun 12 23:59:02 2012 from http://carl.cs.indiana.edu/fil/cgi-bin/WebSec/marilyn.cgi?test=1
Tue Jun 12 21:42:27 2012 from http://carl.cs.indiana.edu/fil/cgi-bin/WebSec/marilyn.cgi?test=1
Tue Jun 12 21:40:54 2012 from http://carl.cs.indiana.edu/fil/cgi-bin/WebSec/marilyn.cgi?test=1
Tue Jun 12 21:39:55 2012 from http://carl.cs.indiana.edu/fil/cgi-bin/WebSec/marilyn.cgi?test=1
Tue Jun 12 19:20:31 2012 from http://carl.cs.indiana.edu/fil/cgi-bin/WebSec/marilyn.cgi?test=1
Tue Jun 12 16:50:51 2012 from http://carl.cs.indiana.edu/fil/cgi-bin/WebSec/marilyn.cgi?test=1
Tue Jun 12 15:24:29 2012 from http://carl.cs.indiana.edu/fil/cgi-bin/WebSec/marilyn.cgi?test=1
Tue Jun 12 14:23:38 2012 from http://carl.cs.indiana.edu/fil/cgi-bin/WebSec/marilyn.cgi?test=1
Tue Jun 12 13:49:46 2012 from (empty referer)
Tue Jun 12 10:46:32 2012 from (empty referer)
Tue Jun 12 10:22:36 2012 from http://carl.cs.indiana.edu/fil/cgi-bin/WebSec/marilyn.cgi?test=1
Tue Jun 12 06:37:39 2012 from http://carl.cs.indiana.edu/fil/cgi-bin/WebSec/marilyn.cgi?test=1
Tue Jun 12 01:49:19 2012 from http://carl.cs.indiana.edu/fil/cgi-bin/WebSec/marilyn.cgi?test=1
Tue Jun 12 00:33:28 2012 from (empty referer)
Mon Jun 11 23:13:37 2012 from http://carl.cs.indiana.edu/fil/cgi-bin/WebSec/marilyn.cgi?test=1
Mon Jun 11 22:26:38 2012 from http://carl.cs.indiana.edu/fil/cgi-bin/WebSec/marilyn.cgi?test=1
Mon Jun 11 22:17:16 2012 from http://carl.cs.indiana.edu/fil/cgi-bin/WebSec/marilyn.cgi?test=1
Mon Jun 11 20:50:04 2012 from http://carl.cs.indiana.edu/fil/cgi-bin/WebSec/marilyn.cgi?test=1
Mon Jun 11 20:48:13 2012 from http://carl.cs.indiana.edu/fil/cgi-bin/WebSec/marilyn.cgi?test=1
Mon Jun 11 18:22:15 2012 from http://carl.cs.indiana.edu/fil/cgi-bin/WebSec/marilyn.cgi?test=1
Mon Jun 11 17:31:03 2012 from http://carl.cs.indiana.edu/fil/cgi-bin/WebSec/marilyn.cgi
Mon Jun 11 17:17:38 2012 from http://www.google.com.co/url?sa=t&rct=j&q=click%20infospace%20clickhandler&source=web&cd=6&ved=0CGgQFjAF&url=http%3A%2F%2Fcarl.cs.indiana.edu%2Ffil%2Fcgi-bin%2FWebSec%2Fmarilyn.cgi&ei=XWDWT5jbEc6N6AHlxpGrDQ&usg=AFQjCNHRtbr4ftk_4PyVzN3HuHPJV6LZow
Mon Jun 11 17:02:07 2012 from http://carl.cs.indiana.edu/fil/cgi-bin/WebSec/marilyn.cgi?test=1
Mon Jun 11 17:00:01 2012 from http://carl.cs.indiana.edu/fil/cgi-bin/WebSec/marilyn.cgi?test=1
Mon Jun 11 16:49:17 2012 from http://carl.cs.indiana.edu/fil/cgi-bin/WebSec/marilyn.cgi?test=1
Mon Jun 11 15:40:05 2012 from (empty referer)
Mon Jun 11 14:26:53 2012 from http://carl.cs.indiana.edu/fil/cgi-bin/WebSec/marilyn.cgi?test=1
Mon Jun 11 13:45:21 2012 from http://www.google.lk/search?q=click+infospace+ClickHandler&channel=linkdoctor
Mon Jun 11 12:11:20 2012 from http://carl.cs.indiana.edu/fil/cgi-bin/WebSec/marilyn.cgi?test=1
Mon Jun 11 09:49:54 2012 from http://carl.cs.indiana.edu/fil/cgi-bin/WebSec/marilyn.cgi?test=1
Mon Jun 11 08:38:40 2012 from http://carl.cs.indiana.edu/fil/cgi-bin/WebSec/marilyn.cgi?test=1
Mon Jun 11 06:42:42 2012 from (empty referer)
Mon Jun 11 05:59:08 2012 from http://carl.cs.indiana.edu/fil/cgi-bin/WebSec/marilyn.cgi?test=1
Mon Jun 11 04:26:04 2012 from (empty referer)
Mon Jun 11 04:24:27 2012 from http://carl.cs.indiana.edu/fil/cgi-bin/WebSec/marilyn.cgi?test=1
Mon Jun 11 03:55:03 2012 from (empty referer)
Mon Jun 11 01:14:06 2012 from http://carl.cs.indiana.edu/fil/cgi-bin/WebSec/marilyn.cgi?test=1
Mon Jun 11 01:14:01 2012 from http://carl.cs.indiana.edu/fil/cgi-bin/WebSec/marilyn.cgi?test=1
Mon Jun 11 00:07:56 2012 from http://www.searchplusnetwork.com/?sp=chv&q=click.infospace.comClickHandler.ashx%3Fdu
Sun Jun 10 23:18:17 2012 from http://carl.cs.indiana.edu/fil/cgi-bin/WebSec/marilyn.cgi?test=1
Sun Jun 10 23:17:15 2012 from http://carl.cs.indiana.edu/fil/cgi-bin/WebSec/marilyn.cgi?test=1
Sun Jun 10 23:09:36 2012 from (empty referer)
Sun Jun 10 20:59:35 2012 from http://carl.cs.indiana.edu/fil/cgi-bin/WebSec/marilyn.cgi?test=1
Sun Jun 10 20:16:52 2012 from http://carl.cs.indiana.edu/fil/cgi-bin/WebSec/marilyn.cgi?test=1
Sun Jun 10 15:01:48 2012 from http://carl.cs.indiana.edu/fil/cgi-bin/WebSec/marilyn.cgi?test=1
Sun Jun 10 13:36:09 2012 from http://carl.cs.indiana.edu/fil/cgi-bin/WebSec/marilyn.cgi?test=1
Sun Jun 10 12:19:07 2012 from http://carl.cs.indiana.edu/fil/cgi-bin/WebSec/marilyn.cgi?test=1
Sun Jun 10 11:13:02 2012 from http://carl.cs.indiana.edu/fil/cgi-bin/WebSec/marilyn.cgi?test=1
Sun Jun 10 11:00:12 2012 from http://carl.cs.indiana.edu/fil/cgi-bin/WebSec/marilyn.cgi?test=1
Sun Jun 10 08:29:34 2012 from http://carl.cs.indiana.edu/fil/cgi-bin/WebSec/marilyn.cgi?test=1
Sun Jun 10 07:51:23 2012 from http://carl.cs.indiana.edu/fil/cgi-bin/WebSec/marilyn.cgi?test=1
Sun Jun 10 07:00:48 2012 from http://carl.cs.indiana.edu/fil/cgi-bin/WebSec/marilyn.cgi?test=1
Sun Jun 10 05:14:24 2012 from http://carl.cs.indiana.edu/fil/cgi-bin/WebSec/marilyn.cgi?test=1
Sun Jun 10 04:10:34 2012 from http://carl.cs.indiana.edu/fil/cgi-bin/WebSec/marilyn.cgi?test=1
Sun Jun 10 04:05:49 2012 from http://carl.cs.indiana.edu/fil/cgi-bin/WebSec/marilyn.cgi?test=1
Sun Jun 10 01:58:53 2012 from http://carl.cs.indiana.edu/fil/cgi-bin/WebSec/marilyn.cgi?test=1
Sun Jun 10 00:04:56 2012 from http://carl.cs.indiana.edu/fil/cgi-bin/WebSec/marilyn.cgi?test=1
Sat Jun  9 23:59:48 2012 from http://www.google.com/m?client=ms-nokia&cof=nsp&channel=s60&q=www.google.com%2fm%2fsearch%3fclient%3dms-nokia%26q%3dwww.google.c
Sat Jun  9 19:55:46 2012 from http://carl.cs.indiana.edu/fil/cgi-bin/WebSec/marilyn.cgi/
Sat Jun  9 19:16:59 2012 from http://carl.cs.indiana.edu/fil/cgi-bin/WebSec/marilyn.cgi?test=1
Sat Jun  9 19:06:39 2012 from http://carl.cs.indiana.edu/fil/cgi-bin/WebSec/marilyn.cgi?test=1
Sat Jun  9 18:12:37 2012 from http://carl.cs.indiana.edu/fil/cgi-bin/WebSec/marilyn.cgi?test=1
Sat Jun  9 16:25:02 2012 from http://assist.babylon.com/babylonassista/dnsassist/main?domain=cs%20infospace%20
Sat Jun  9 15:23:10 2012 from http://carl.cs.indiana.edu/fil/cgi-bin/WebSec/marilyn.cgi?test=1
Sat Jun  9 14:30:17 2012 from (empty referer)
Sat Jun  9 11:08:55 2012 from http://carl.cs.indiana.edu/fil/cgi-bin/WebSec/marilyn.cgi?test=1
Sat Jun  9 10:45:13 2012 from http://carl.cs.indiana.edu/fil/cgi-bin/WebSec/marilyn.cgi?test=1
Sat Jun  9 09:37:30 2012 from http://www.searchplusnetwork.com/?sp=chv&q=click.infospace.comClickHandler.ashx%3Fdu
Sat Jun  9 08:20:29 2012 from http://carl.cs.indiana.edu/fil/cgi-bin/WebSec/marilyn.cgi?test=1
Sat Jun  9 08:20:26 2012 from http://www.google.com.sa/search?hl=ar&site=&source=hp&q=http%3B%2F%2Ftubidy.mobi%2Fsearch.php%3Fa%3D18%26q%3Dsex%2Banal&oq=http%3B%2F%2Ftubidy.mobi%2Fsearch.php%3Fa%3D18%26q%3Dsex%2Banal&aq=f&aqi=&aql=&gs_l=hp.12...12427.408337.0.410256.75.58.17.0.0.0.620.23302.2-1j29j20j7.57.0...0.0.QPhXdnf-mWQ
Sat Jun  9 08:12:44 2012 from http://carl.cs.indiana.edu/fil/cgi-bin/WebSec/marilyn.cgi?test=1
Sat Jun  9 08:04:34 2012 from http://carl.cs.indiana.edu/fil/cgi-bin/WebSec/marilyn.cgi?test=1
Sat Jun  9 03:33:33 2012 from http://www.google.com/m?client=ms-aff-ucweb&output=xhtml&hl=en&q=http%3a%2f%2fwww.google.com%2fm%3fclient%3dms-aff-ucweb%26q%3dfree%2bporno%2bfor%2bmobile.com%26output%3dxhtml%26hl%3den%26start%3d30%26sa%3dn
Sat Jun  9 02:18:48 2012 from http://carl.cs.indiana.edu/fil/cgi-bin/WebSec/marilyn.cgi?test=1
Sat Jun  9 00:56:22 2012 from http://carl.cs.indiana.edu/fil/cgi-bin/WebSec/marilyn.cgi?test=1
Sat Jun  9 00:40:58 2012 from http://carl.cs.indiana.edu/fil/cgi-bin/WebSec/marilyn.cgi?test=1
Fri Jun  8 23:35:09 2012 from http://carl.cs.indiana.edu/fil/cgi-bin/WebSec/marilyn.cgi?test=1
Fri Jun  8 20:00:32 2012 from http://www.google.com.sa/url?url=http://carl.cs.indiana.edu/fil/cgi-bin/WebSec/marilyn.cgi&rct=j&sa=U&ei=LpHST-XSEobz-gbkqe2DBA&ved=0CBIQFjAB&q=http+tubidy+mobi/search.php%3Fa%3D18%26q%3Dsexe&usg=AFQjCNF8tDrzwP7JjOTEiwzKPl_RlLlIuQ
Fri Jun  8 19:59:23 2012 from http://carl.cs.indiana.edu/fil/cgi-bin/WebSec/marilyn.cgi?test=1
Fri Jun  8 18:11:48 2012 from (empty referer)
Fri Jun  8 17:31:15 2012 from http://carl.cs.indiana.edu/fil/cgi-bin/WebSec/marilyn.cgi?test=1
Fri Jun  8 16:23:54 2012 from http://www.google.com.om/m?q=http%3A%2F%2Ftubidy.mobi%2Fsearch.php%3Fa%3D18%26q%3D%25D8%25B3%25D9%2583%25D8%25B3
Fri Jun  8 14:28:43 2012 from (empty referer)
Fri Jun  8 13:15:55 2012 from http://carl.cs.indiana.edu/fil/cgi-bin/WebSec/marilyn.cgi?test=1
Fri Jun  8 13:07:34 2012 from http://carl.cs.indiana.edu/fil/cgi-bin/WebSec/marilyn.cgi?test=1
Fri Jun  8 13:07:26 2012 from http://www.google.co.in/url?sa=t&rct=j&q=click%20infospace%20clickhandler&source=web&cd=3&ved=0CGMQFjAC&url=http%3A%2F%2Fcarl.cs.indiana.edu%2Ffil%2Fcgi-bin%2FWebSec%2Fmarilyn.cgi&ei=RTHST6XaBIa4rAfi8938Dw&usg=AFQjCNHRtbr4ftk_4PyVzN3HuHPJV6LZow
Fri Jun  8 10:26:30 2012 from http://carl.cs.indiana.edu/fil/cgi-bin/WebSec/marilyn.cgi?test=1
Fri Jun  8 09:39:01 2012 from http://carl.cs.indiana.edu/fil/cgi-bin/WebSec/marilyn.cgi?test=1
Fri Jun  8 07:41:29 2012 from http://carl.cs.indiana.edu/fil/cgi-bin/WebSec/marilyn.cgi?test=1
Fri Jun  8 07:24:48 2012 from http://carl.cs.indiana.edu/fil/cgi-bin/WebSec/marilyn.cgi?test=1
Fri Jun  8 07:04:27 2012 from http://carl.cs.indiana.edu/fil/cgi-bin/WebSec/marilyn.cgi
Fri Jun  8 06:50:39 2012 from http://carl.cs.indiana.edu/fil/cgi-bin/WebSec/marilyn.cgi?test=1
Fri Jun  8 06:12:24 2012 from (empty referer)
Fri Jun  8 05:19:30 2012 from (empty referer)
Fri Jun  8 05:07:44 2012 from (empty referer)
Fri Jun  8 04:50:36 2012 from http://carl.cs.indiana.edu/fil/cgi-bin/WebSec/marilyn.cgi?test=1
Fri Jun  8 03:35:52 2012 from http://www.google.com.sa/url?sa=t&rct=j&q=click+infospace+ClickHandler&source=web&cd=5&ved=0CGAQFjAE&url=http%3A%2F%2Fcarl.cs.indiana.edu%2Ffil%2Fcgi-bin%2FWebSec%2Fmarilyn.cgi&ei=FKvRT9aTNM-eiAf5_5yCAw&usg=AFQjCNHRtbr4ftk_4PyVzN3HuHPJV6LZow
Fri Jun  8 02:42:24 2012 from http://carl.cs.indiana.edu/fil/cgi-bin/WebSec/marilyn.cgi?test=1
Fri Jun  8 01:46:11 2012 from http://carl.cs.indiana.edu/fil/cgi-bin/WebSec/marilyn.cgi?test=1
Fri Jun  8 01:29:54 2012 from http://carl.cs.indiana.edu/fil/cgi-bin/WebSec/marilyn.cgi?test=1
Fri Jun  8 00:21:32 2012 from http://carl.cs.indiana.edu/fil/cgi-bin/WebSec/marilyn.cgi?test=1
Thu Jun  7 23:26:22 2012 from http://carl.cs.indiana.edu/fil/cgi-bin/WebSec/marilyn.cgi?test=1
Thu Jun  7 23:16:52 2012 from (empty referer)
Thu Jun  7 22:20:14 2012 from http://carl.cs.indiana.edu/fil/cgi-bin/WebSec/marilyn.cgi?test=1
Thu Jun  7 21:39:23 2012 from http://carl.cs.indiana.edu/fil/cgi-bin/WebSec/marilyn.cgi?test=1
Thu Jun  7 20:36:36 2012 from (empty referer)
Thu Jun  7 19:49:59 2012 from http://carl.cs.indiana.edu/fil/cgi-bin/WebSec/marilyn.cgi?test=1
Thu Jun  7 18:45:31 2012 from http://carl.cs.indiana.edu/fil/cgi-bin/WebSec/marilyn.cgi?test=1
Thu Jun  7 18:37:41 2012 from http://carl.cs.indiana.edu/fil/cgi-bin/WebSec/marilyn.cgi?test=1
Thu Jun  7 16:04:04 2012 from http://www.google.com/m?safe=on&client=ms-nokia&q=Www.google.com.sa&cof=nsp&channel=s60&start=30&sa=N
Thu Jun  7 15:35:16 2012 from http://carl.cs.indiana.edu/fil/cgi-bin/WebSec/marilyn.cgi?test=1
Thu Jun  7 14:59:57 2012 from http://www.google.com/m?client=ms-nokia&cof=nsp&channel=s60&q=tubidy.mobi%2fsearch.php%3fa%3d18%26q%3d%25D8%25B1%25D9%2582%25D8%25B5%2b%25
Thu Jun  7 14:44:04 2012 from http://carl.cs.indiana.edu/fil/cgi-bin/WebSec/marilyn.cgi?test=1
Thu Jun  7 13:56:16 2012 from (empty referer)
Thu Jun  7 13:54:19 2012 from http://www.google.com/m?client=ms-nokia&cof=nsp&channel=s60&q=Tubidy.mobi%2fsearch
Thu Jun  7 13:13:51 2012 from http://www.google.com.sa/search?q=http%3A%2F%2Ftubidy.mobi%2Fsearch.php%3Fa%3D18%26q%3Dwoman%2Bsex&client=mobilesearchapp&safe=active&rlz=1MDAPLA_ar-SASA486&hl=ar&v=1.0.3.9299&channel=iss&source=mobilesearchapp&qscrl=1
Thu Jun  7 12:45:50 2012 from http://carl.cs.indiana.edu/fil/cgi-bin/WebSec/marilyn.cgi?test=1
Thu Jun  7 11:46:29 2012 from http://www.google.com/url?sa=t&rct=j&q=&esrc=s&source=web&cd=2&ved=0CGEQFjAB&url=http%3A%2F%2Fcarl.cs.indiana.edu%2Ffil%2Fcgi-bin%2FWebSec%2Fmarilyn.cgi&ei=vszQT__3M4XNrQfHudisDA&usg=AFQjCNHRtbr4ftk_4PyVzN3HuHPJV6LZow&sig2=gu1_SzdWovxauEJ9QCch7A
Thu Jun  7 10:09:04 2012 from http://carl.cs.indiana.edu/fil/cgi-bin/WebSec/marilyn.cgi?test=1
Thu Jun  7 09:21:56 2012 from (empty referer)
Thu Jun  7 09:20:27 2012 from http://carl.cs.indiana.edu/fil/cgi-bin/WebSec/marilyn.cgi?test=1
Thu Jun  7 08:49:35 2012 from http://carl.cs.indiana.edu/fil/cgi-bin/WebSec/marilyn.cgi?test=1
Thu Jun  7 07:48:18 2012 from http://www.searchplusnetwork.com/?sp=chv&q=click.infospace.comClickHandler.ashx%3Fdu
Thu Jun  7 04:50:09 2012 from http://carl.cs.indiana.edu/fil/cgi-bin/WebSec/marilyn.cgi?test=1
Thu Jun  7 04:15:33 2012 from (empty referer)
Thu Jun  7 02:19:26 2012 from http://carl.cs.indiana.edu/fil/cgi-bin/WebSec/marilyn.cgi?test=1
Thu Jun  7 01:49:46 2012 from (empty referer)
Thu Jun  7 01:48:37 2012 from http://carl.cs.indiana.edu/fil/cgi-bin/WebSec/marilyn.cgi?test=1
Wed Jun  6 23:14:39 2012 from (empty referer)
Wed Jun  6 22:03:47 2012 from http://carl.cs.indiana.edu/fil/cgi-bin/WebSec/marilyn.cgi?test=1
Wed Jun  6 21:07:28 2012 from http://assist.babylon.com/babylonassista/dnsassist/main?domain=cs%20infospace%20ClickHandler%20
Wed Jun  6 19:38:45 2012 from http://carl.cs.indiana.edu/fil/cgi-bin/WebSec/marilyn.cgi?test=1
Wed Jun  6 18:48:14 2012 from http://carl.cs.indiana.edu/fil/cgi-bin/WebSec/marilyn.cgi?test=1
Wed Jun  6 17:57:01 2012 from http://carl.cs.indiana.edu/fil/cgi-bin/WebSec/marilyn.cgi?test=1
Wed Jun  6 17:55:35 2012 from http://carl.cs.indiana.edu/fil/cgi-bin/WebSec/marilyn.cgi?test=1
Wed Jun  6 17:52:02 2012 from http://carl.cs.indiana.edu/fil/cgi-bin/WebSec/marilyn.cgi?test=1
Wed Jun  6 15:06:32 2012 from (empty referer)
Wed Jun  6 14:13:53 2012 from http://carl.cs.indiana.edu/fil/cgi-bin/WebSec/marilyn.cgi?test=1
Wed Jun  6 14:05:30 2012 from http://carl.cs.indiana.edu/fil/cgi-bin/WebSec/marilyn.cgi?test=1
Wed Jun  6 13:49:40 2012 from http://carl.cs.indiana.edu/fil/cgi-bin/WebSec/marilyn.cgi?test=1
Wed Jun  6 12:51:52 2012 from http://carl.cs.indiana.edu/fil/cgi-bin/WebSec/marilyn.cgi?test=1
Wed Jun  6 12:49:10 2012 from http://carl.cs.indiana.edu/fil/cgi-bin/WebSec/marilyn.cgi?test=1
Wed Jun  6 11:02:03 2012 from http://carl.cs.indiana.edu/fil/cgi-bin/WebSec/marilyn.cgi?test=1
Wed Jun  6 10:03:59 2012 from http://carl.cs.indiana.edu/fil/cgi-bin/WebSec/marilyn.cgi?test=1
Wed Jun  6 08:24:39 2012 from http://www.google.com/m/search?site=images&safe=active&client=ms-nokia&cof=nsp&q=tubidy.mobi/search.php?a%3D18%26q%3Dxxx%2Bvideo&channel=s60&start=5&sa=N
Wed Jun  6 08:16:14 2012 from http://www.google.com.sa/url?sa=t&rct=j&q=http%3A%2F%2Ftubidy.mobi%2Fsearch.php%3Fa%3D18%26q%3D+sexe&source=web&cd=2&ved=0CFwQFjAB&url=http%3A%2F%2Fcarl.cs.indiana.edu%2Ffil%2Fcgi-bin%2FWebSec%2Fmarilyn.cgi&ei=uUnPT8_AGtD1-gbQ1tyADA&usg=AFQjCNHRtbr4ftk_4PyVzN3HuHPJV6LZow
Wed Jun  6 05:16:06 2012 from http://carl.cs.indiana.edu/fil/cgi-bin/WebSec/marilyn.cgi?test=1
Wed Jun  6 05:07:00 2012 from http://www.google.com/m?client=ms-nokia&cof=nsp&channel=s60&q=tubidy.mobi%2fsearch.php%3fa%3d18%26q%3d%25D8%25B1%25D9%2582%25D8%25B5%2b%25
Wed Jun  6 04:54:00 2012 from http://carl.cs.indiana.edu/fil/cgi-bin/WebSec/marilyn.cgi?test=1
Wed Jun  6 02:19:19 2012 from http://carl.cs.indiana.edu/fil/cgi-bin/WebSec/marilyn.cgi?test=1
Wed Jun  6 01:28:56 2012 from http://carl.cs.indiana.edu/fil/cgi-bin/WebSec/marilyn.cgi?test=1
Tue Jun  5 18:54:26 2012 from http://assist.babylon.com/babylonassista/dnsassist/main?domain=cs%20infospace%20
Tue Jun  5 18:54:19 2012 from http://carl.cs.indiana.edu/fil/cgi-bin/WebSec/marilyn.cgi
Tue Jun  5 18:42:24 2012 from http://carl.cs.indiana.edu/fil/cgi-bin/WebSec/marilyn.cgi?test=1
Tue Jun  5 16:54:13 2012 from http://carl.cs.indiana.edu/fil/cgi-bin/WebSec/marilyn.cgi?test=1
Tue Jun  5 12:43:31 2012 from (empty referer)
Tue Jun  5 10:01:05 2012 from (empty referer)
Tue Jun  5 10:00:18 2012 from http://carl.cs.indiana.edu/fil/cgi-bin/WebSec/marilyn.cgi?test=1
Tue Jun  5 09:44:50 2012 from http://carl.cs.indiana.edu/fil/cgi-bin/WebSec/marilyn.cgi?test=1
Tue Jun  5 09:41:50 2012 from http://www.google.com/url?sa=t&rct=j&q=click%20infospace%20clickhandler&source=web&cd=2&ved=0CFMQFjAB&url=http%3A%2F%2Fcarl.cs.indiana.edu%2Ffil%2Fcgi-bin%2FWebSec%2Fmarilyn.cgi&ei=AwzOT6aYLMvm-gbKmZTuCw&usg=AFQjCNHRtbr4ftk_4PyVzN3HuHPJV6LZow
Tue Jun  5 09:24:04 2012 from http://carl.cs.indiana.edu/fil/cgi-bin/WebSec/marilyn.cgi?test=1
Tue Jun  5 09:18:38 2012 from http://carl.cs.indiana.edu/fil/cgi-bin/WebSec/marilyn.cgi?test=1
Tue Jun  5 07:04:29 2012 from http://carl.cs.indiana.edu/fil/cgi-bin/WebSec/marilyn.cgi?test=1
Tue Jun  5 07:01:28 2012 from http://www.google.com.sa/url?sa=t&rct=j&q=http%2F%2Ftubidy.mob%2F-search.php%3Fa%3D%25D8%25B1%25D9%2582%25D8%25B5%2B%25D9%2583%25D8%25B3+++++++++&source=web&cd=1&ved=0CFMQFjAA&url=http%3A%2F%2Fcarl.cs.indiana.edu%2Ffil%2Fcgi-bin%2FWebSec%2Fmarilyn.cgi&ei=_ubNT4LZMoGdOsTDiO8L&usg=AFQjCNHRtbr4ftk_4PyVzN3HuHPJV6LZow
Tue Jun  5 05:35:57 2012 from http://carl.cs.indiana.edu/fil/cgi-bin/WebSec/marilyn.cgi?test=1
Tue Jun  5 03:35:20 2012 from http://carl.cs.indiana.edu/fil/cgi-bin/WebSec/marilyn.cgi?test=1
Tue Jun  5 02:49:09 2012 from http://carl.cs.indiana.edu/fil/cgi-bin/WebSec/marilyn.cgi?test=1
Tue Jun  5 02:46:15 2012 from http://carl.cs.indiana.edu/fil/cgi-bin/WebSec/marilyn.cgi?test=1
Tue Jun  5 02:35:10 2012 from http://www.google.com/url?sa=t&rct=j&q=http%3A%2F%2Fwww.google.com%2Fsearch%3Fq%3Dhttp%253A%252F%252Fwww.google.com%252Fsearch%253Fq%253Dhttp%25253A%25252F%25252Fredir.opera.com%25252Fwww.opera.com%25252Fupgrade%25252F%2526sourceid%253Dopera%2526ie%253Dutf-8%2526oe%253Dutf-8%2526channel%253Dsuggest%26sourceid%3Dopera%26ie%3Dutf-8%26oe%3Dutf-8%26channel%3Dsuggest&source=web&cd=1&ved=0CFEQFjAA&url=http%3A%2F%2Fcarl.cs.indiana.edu%2Ffil%2Fcgi-bin%2FWebSec%2Fmarilyn.cgi&ei=Z6jNT5D-HJDJrQfhzaH4Cg&usg=AFQjCNHRtbr4ftk_4PyVzN3HuHPJV6LZow
Tue Jun  5 01:59:18 2012 from http://carl.cs.indiana.edu/fil/cgi-bin/WebSec/marilyn.cgi?test=1
Tue Jun  5 01:18:04 2012 from http://carl.cs.indiana.edu/fil/cgi-bin/WebSec/marilyn.cgi?test=1
Tue Jun  5 00:33:27 2012 from http://www.google.com/url?sa=t&rct=j&q=http%3A%2F%2Fwww.google.com%2Fsearch%3Fq%3Dhttp%253a%252f%252fwww.google.com%252fsearch%253fq%253dhttp%25253a%25252f%25252fredir.opera.com%25252fspeeddials%25252fportal%25252f%2526sourceid%253dopera%2526ie%253dutf-8%2526oe%253dutf-8%2526channel%253dsuggest%26sourceid%3Dopera%26ie%3Dutf-8%26oe%3Dutf-8%26channel%3Dsuggest&source=web&cd=1&ved=0CEgQFjAA&url=http%3A%2F%2Fcarl.cs.indiana.edu%2Ffil%2Fcgi-bin%2FWebSec%2Fmarilyn.cgi&ei=mUTMT8jxB8HUtAbLrrThBg&usg=AFQjCNHRtbr4ftk_4PyVzN3HuHPJV6LZow
Mon Jun  4 23:16:35 2012 from http://carl.cs.indiana.edu/fil/cgi-bin/WebSec/marilyn.cgi?test=1
Mon Jun  4 22:49:21 2012 from http://carl.cs.indiana.edu/fil/cgi-bin/WebSec/marilyn.cgi?test=1
Mon Jun  4 21:48:08 2012 from http://carl.cs.indiana.edu/fil/cgi-bin/WebSec/marilyn.cgi?test=1
Mon Jun  4 21:17:05 2012 from http://images.google.com/imgres?imgurl=http://carl.cs.indiana.edu/fil/WebSec/marilyn.jpg&imgrefurl=http://carl.cs.indiana.edu/fil/cgi-bin/WebSec/marilyn.cgi%3Ftest%3D1&usg=__debfim1SlXdgXJ0DJKeX1qPNvZE=&h=333&w=500&sz=54&hl=en&start=2&zoom=1&tbnid=ynUan-_9FQYrEM:&tbnh=87&tbnw=130&ei=_F3NT8POLYqsrAeb_-X3Cg&prev=/images%3Fq%3Dfacebook.com/ajax/pagelet/generic.php/PhotoViewerInitPagelet%253F__a%253D1%26hl%3Den%26gl%3Did%26tbm%3Disch&itbs=1
Mon Jun  4 21:14:51 2012 from (empty referer)
Mon Jun  4 19:34:35 2012 from http://carl.cs.indiana.edu/fil/cgi-bin/WebSec/marilyn.cgi?test=1
Mon Jun  4 18:30:24 2012 from (empty referer)
Mon Jun  4 18:25:54 2012 from http://www.searchplusnetwork.com/?sp=chv&q=click.infospace.comClickHandler.ashx%3Fdu
Mon Jun  4 18:11:53 2012 from http://carl.cs.indiana.edu/fil/cgi-bin/WebSec/marilyn.cgi?test=1
Mon Jun  4 16:59:47 2012 from http://carl.cs.indiana.edu/fil/cgi-bin/WebSec/marilyn.cgi?test=1
Mon Jun  4 16:45:25 2012 from http://carl.cs.indiana.edu/fil/cgi-bin/WebSec/marilyn.cgi?test=1
Mon Jun  4 15:03:31 2012 from http://carl.cs.indiana.edu/fil/cgi-bin/WebSec/marilyn.cgi?test=1
Mon Jun  4 14:56:43 2012 from http://carl.cs.indiana.edu/fil/cgi-bin/WebSec/marilyn.cgi?test=1
Mon Jun  4 14:05:53 2012 from http://carl.cs.indiana.edu/fil/cgi-bin/WebSec/marilyn.cgi?test=1
Mon Jun  4 14:05:50 2012 from http://carl.cs.indiana.edu/fil/cgi-bin/WebSec/marilyn.cgi?test=1
Mon Jun  4 13:55:08 2012 from http://carl.cs.indiana.edu/fil/cgi-bin/WebSec/marilyn.cgi?test=1
Mon Jun  4 12:54:53 2012 from http://www.google.co.in/search?q=click+infospace+ClickHandler&channel=linkdoctor
Mon Jun  4 12:21:29 2012 from http://carl.cs.indiana.edu/fil/cgi-bin/WebSec/marilyn.cgi?test=1
Mon Jun  4 12:18:03 2012 from http://carl.cs.indiana.edu/fil/cgi-bin/WebSec/marilyn.cgi?test=1
Mon Jun  4 07:12:42 2012 from http://carl.cs.indiana.edu/fil/cgi-bin/WebSec/marilyn.cgi?test=1
Mon Jun  4 06:20:49 2012 from http://carl.cs.indiana.edu/fil/cgi-bin/WebSec/marilyn.cgi?test=1
Mon Jun  4 05:43:54 2012 from http://carl.cs.indiana.edu/fil/cgi-bin/WebSec/marilyn.cgi?test=1
Mon Jun  4 05:21:56 2012 from http://carl.cs.indiana.edu/fil/cgi-bin/WebSec/marilyn.cgi?test=1
Mon Jun  4 05:07:43 2012 from http://carl.cs.indiana.edu/fil/cgi-bin/WebSec/marilyn.cgi?test=1
Mon Jun  4 04:24:10 2012 from http://carl.cs.indiana.edu/fil/cgi-bin/WebSec/marilyn.cgi?test=1
Mon Jun  4 03:47:06 2012 from http://carl.cs.indiana.edu/fil/cgi-bin/WebSec/marilyn.cgi?test=1
Mon Jun  4 03:12:52 2012 from http://carl.cs.indiana.edu/fil/cgi-bin/WebSec/marilyn.cgi?test=1
Mon Jun  4 02:49:35 2012 from http://carl.cs.indiana.edu/fil/cgi-bin/WebSec/marilyn.cgi?test=1
Mon Jun  4 01:07:38 2012 from http://carl.cs.indiana.edu/fil/cgi-bin/WebSec/marilyn.cgi?test=1
Mon Jun  4 00:58:36 2012 from http://carl.cs.indiana.edu/fil/cgi-bin/WebSec/marilyn.cgi?test=1
Mon Jun  4 00:26:36 2012 from http://carl.cs.indiana.edu/fil/cgi-bin/WebSec/marilyn.cgi?test=1
Sun Jun  3 23:35:06 2012 from http://carl.cs.indiana.edu/fil/cgi-bin/WebSec/marilyn.cgi?test=1
Sun Jun  3 22:36:52 2012 from http://carl.cs.indiana.edu/fil/cgi-bin/WebSec/marilyn.cgi?test=1
Sun Jun  3 21:08:02 2012 from http://carl.cs.indiana.edu/fil/cgi-bin/WebSec/marilyn.cgi?test=1
Sun Jun  3 21:01:23 2012 from http://carl.cs.indiana.edu/fil/cgi-bin/WebSec/marilyn.cgi?test=1
Sun Jun  3 20:55:05 2012 from http://carl.cs.indiana.edu/fil/cgi-bin/WebSec/marilyn.cgi?test=1
Sun Jun  3 19:12:22 2012 from http://carl.cs.indiana.edu/fil/cgi-bin/WebSec/marilyn.cgi?test=1
Sun Jun  3 19:09:04 2012 from http://carl.cs.indiana.edu/fil/cgi-bin/WebSec/marilyn.cgi?test=1
Sun Jun  3 17:08:03 2012 from http://carl.cs.indiana.edu/fil/cgi-bin/WebSec/marilyn.cgi?test=1
Sun Jun  3 16:16:54 2012 from http://carl.cs.indiana.edu/fil/cgi-bin/WebSec/marilyn.cgi?test=1
Sun Jun  3 15:12:50 2012 from http://carl.cs.indiana.edu/fil/cgi-bin/WebSec/marilyn.cgi?test=1
Sun Jun  3 15:05:03 2012 from http://carl.cs.indiana.edu/fil/cgi-bin/WebSec/marilyn.cgi?test=1
Sun Jun  3 13:57:09 2012 from http://carl.cs.indiana.edu/fil/cgi-bin/WebSec/marilyn.cgi?test=1
Sun Jun  3 13:49:38 2012 from (empty referer)
Sun Jun  3 13:47:21 2012 from http://carl.cs.indiana.edu/fil/cgi-bin/WebSec/marilyn.cgi?test=1
Sun Jun  3 13:22:12 2012 from http://assist.babylon.com/babylonassista/dnsassist/main?domain=cs%20infospace%20ClickHandler%20
Sun Jun  3 13:13:20 2012 from http://carl.cs.indiana.edu/fil/cgi-bin/WebSec/marilyn.cgi?test=1
Sun Jun  3 11:52:11 2012 from http://carl.cs.indiana.edu/fil/cgi-bin/WebSec/marilyn.cgi?test=1
Sun Jun  3 10:20:20 2012 from http://carl.cs.indiana.edu/fil/cgi-bin/WebSec/marilyn.cgi?test=1
Sun Jun  3 10:15:30 2012 from (empty referer)
Sun Jun  3 09:09:30 2012 from http://www.google.com/url?sa=t&rct=j&q=http%3A%2F%2Fwww.google.com%2Fsearch%3Fq%3Dhttp%253A%252F%252Fwww.google.com%252Fsearch%253Fq%253Dhttp%25253A%25252F%25252Fredir.opera.com%25252Fspeeddials%25252Ffacebook%25252F%2526sourceid%253Dopera%2526ie%253Dutf-8%2526oe%253Dutf-8%2526channel%253Dsuggest%26sourceid%3Dopera%26ie%3Dutf-8%26oe%3Dutf-8%26channel%3Dsuggest&source=web&cd=1&ved=0CFgQFjAA&url=http%3A%2F%2Fcarl.cs.indiana.edu%2Ffil%2Fcgi-bin%2FWebSec%2Fmarilyn.cgi&ei=AWLLT6bSD9K68gPB25XfDw&usg=AFQjCNHRtbr4ftk_4PyVzN3HuHPJV6LZow
Sun Jun  3 09:06:45 2012 from (empty referer)
Sun Jun  3 09:03:29 2012 from http://carl.cs.indiana.edu/fil/cgi-bin/WebSec/marilyn.cgi?test=1
Sun Jun  3 08:57:13 2012 from http://www.google.co.in/m?q=www%252edjmaza%252ecom&client=ms-opera-mini&channel=new
Sun Jun  3 08:53:30 2012 from http://assist.babylon.com/babylonassista/dnsassist/main?domain=cs%20infospace%20
Sun Jun  3 08:42:16 2012 from http://carl.cs.indiana.edu/fil/cgi-bin/WebSec/marilyn.cgi?test=1
Sun Jun  3 07:11:59 2012 from http://carl.cs.indiana.edu/fil/cgi-bin/WebSec/marilyn.cgi?test=1
Sun Jun  3 04:58:53 2012 from http://carl.cs.indiana.edu/fil/cgi-bin/WebSec/marilyn.cgi?test=1
Sun Jun  3 03:35:07 2012 from http://carl.cs.indiana.edu/fil/cgi-bin/WebSec/marilyn.cgi?test=1
Sun Jun  3 02:28:17 2012 from http://carl.cs.indiana.edu/fil/cgi-bin/WebSec/marilyn.cgi?test=1
Sat Jun  2 23:04:40 2012 from http://www.google.com/url?sa=t&rct=j&q=http%3A%2F%2Fcarl.cs.indian.edu%2Ffil%2Fcgi-bin%2Fwebsec%2Fmarilyn.cgi%3Ftest%3D1&source=web&cd=2&ved=0CFEQFjAB&url=http%3A%2F%2Fcarl.cs.indiana.edu%2Ffil%2Fcgi-bin%2FWebSec%2Fmarilyn.cgi&ei=PdTKT86UFM2R0QWc3tjHAQ&usg=AFQjCNHRtbr4ftk_4PyVzN3HuHPJV6LZow
Sat Jun  2 22:50:52 2012 from http://carl.cs.indiana.edu/fil/cgi-bin/WebSec/marilyn.cgi?test=1
Sat Jun  2 22:00:57 2012 from http://carl.cs.indiana.edu/fil/cgi-bin/WebSec/marilyn.cgi?test=1
Sat Jun  2 21:57:50 2012 from http://carl.cs.indiana.edu/fil/cgi-bin/WebSec/marilyn.cgi?test=1
Sat Jun  2 21:22:37 2012 from http://carl.cs.indiana.edu/fil/cgi-bin/WebSec/marilyn.cgi?test=1
Sat Jun  2 21:16:03 2012 from http://carl.cs.indiana.edu/fil/cgi-bin/WebSec/marilyn.cgi?test=1
Sat Jun  2 20:13:42 2012 from http://carl.cs.indiana.edu/fil/cgi-bin/WebSec/marilyn.cgi?test=1
Sat Jun  2 18:44:25 2012 from http://carl.cs.indiana.edu/fil/cgi-bin/WebSec/marilyn.cgi?test=1
Sat Jun  2 18:41:44 2012 from http://carl.cs.indiana.edu/fil/cgi-bin/WebSec/marilyn.cgi?test=1
Sat Jun  2 18:14:52 2012 from http://carl.cs.indiana.edu/fil/cgi-bin/WebSec/marilyn.cgi?test=1
Sat Jun  2 18:08:11 2012 from http://www.searchplusnetwork.com/?sp=chv&q=click.infospace.comClickHandler.ashx%3Fdu
Sat Jun  2 17:05:08 2012 from http://carl.cs.indiana.edu/fil/cgi-bin/WebSec/marilyn.cgi?test=1
Sat Jun  2 16:26:38 2012 from http://carl.cs.indiana.edu/fil/cgi-bin/WebSec/marilyn.cgi?test=1
Sat Jun  2 16:18:42 2012 from http://carl.cs.indiana.edu/fil/cgi-bin/WebSec/marilyn.cgi?test=1
Sat Jun  2 16:05:04 2012 from http://carl.cs.indiana.edu/fil/cgi-bin/WebSec/marilyn.cgi?test=1
Sat Jun  2 15:03:21 2012 from http://carl.cs.indiana.edu/fil/cgi-bin/WebSec/marilyn.cgi?test=1
Sat Jun  2 13:30:23 2012 from http://carl.cs.indiana.edu/fil/cgi-bin/WebSec/marilyn.cgi?test=1
Sat Jun  2 12:38:34 2012 from (empty referer)
Sat Jun  2 11:38:38 2012 from http://www.searchplusnetwork.com/?sp=chv&q=click.infospace.comClickHandler.ashx%3Fdu
Sat Jun  2 11:36:50 2012 from (empty referer)
Sat Jun  2 10:34:50 2012 from http://carl.cs.indiana.edu/fil/cgi-bin/WebSec/marilyn.cgi?test=1
Sat Jun  2 09:34:59 2012 from http://carl.cs.indiana.edu/fil/cgi-bin/WebSec/marilyn.cgi?test=1
Sat Jun  2 07:36:34 2012 from http://carl.cs.indiana.edu/fil/cgi-bin/WebSec/marilyn.cgi?test=1
Sat Jun  2 05:30:24 2012 from http://carl.cs.indiana.edu/fil/cgi-bin/WebSec/marilyn.cgi?test=1
Sat Jun  2 03:07:23 2012 from http://carl.cs.indiana.edu/fil/cgi-bin/WebSec/marilyn.cgi?test=1
Sat Jun  2 02:48:54 2012 from http://carl.cs.indiana.edu/fil/cgi-bin/WebSec/marilyn.cgi?test=1
Sat Jun  2 01:47:41 2012 from (empty referer)
Sat Jun  2 01:41:10 2012 from http://carl.cs.indiana.edu/fil/cgi-bin/WebSec/marilyn.cgi?test=1
Sat Jun  2 00:53:11 2012 from http://carl.cs.indiana.edu/fil/cgi-bin/WebSec/marilyn.cgi?test=1
Sat Jun  2 00:43:55 2012 from (empty referer)
Fri Jun  1 17:54:14 2012 from http://carl.cs.indiana.edu/fil/cgi-bin/WebSec/marilyn.cgi?test=1
Fri Jun  1 17:34:55 2012 from http://www.google.com/xhtml?q=http%3a%2f%2fwww%2egoogle%2ecom%2fxhtml%3fq%3dXxx%20sex%20t%20com&client=ms-opera_mb_no&channel=bh
Fri Jun  1 17:00:05 2012 from http://carl.cs.indiana.edu/fil/cgi-bin/WebSec/marilyn.cgi?test=1
Fri Jun  1 15:48:31 2012 from http://carl.cs.indiana.edu/fil/cgi-bin/WebSec/marilyn.cgi?test=1
Fri Jun  1 15:36:39 2012 from http://carl.cs.indiana.edu/fil/cgi-bin/WebSec/marilyn.cgi?test=1
Fri Jun  1 14:55:44 2012 from http://carl.cs.indiana.edu/fil/cgi-bin/WebSec/marilyn.cgi?test=1
Fri Jun  1 14:49:53 2012 from http://search.bearshare.com/web?hl=tr&q=click+infospace&src=derr&ref=1&page=5
Fri Jun  1 14:42:31 2012 from http://carl.cs.indiana.edu/fil/cgi-bin/WebSec/marilyn.cgi?test=1
Fri Jun  1 13:52:11 2012 from http://carl.cs.indiana.edu/fil/cgi-bin/WebSec/marilyn.cgi?test=1
Fri Jun  1 13:19:52 2012 from http://carl.cs.indiana.edu/fil/cgi-bin/WebSec/marilyn.cgi?test=1
Fri Jun  1 11:59:18 2012 from http://carl.cs.indiana.edu/fil/cgi-bin/WebSec/marilyn.cgi?test=1
Fri Jun  1 11:20:16 2012 from http://carl.cs.indiana.edu/fil/cgi-bin/WebSec/marilyn.cgi?test=1
Fri Jun  1 11:02:44 2012 from http://carl.cs.indiana.edu/fil/cgi-bin/WebSec/marilyn.cgi?test=1
Fri Jun  1 11:00:53 2012 from http://www.google.com/imgres?imgurl=http://carl.cs.indiana.edu/fil/WebSec/marilyn.jpg&imgrefurl=http://carl.cs.indiana.edu/fil/cgi-bin/WebSec/marilyn.cgi%3Ftest%3D1&usg=__debfim1SlXdgXJ0DJKeX1qPNvZE=&h=333&w=500&sz=54&hl=en&start=1&zoom=1&tbnid=ynUan-_9FQYrEM:&tbnh=87&tbnw=130&ei=GNnIT6rgNoKGrAfwyKGmDg&prev=/search%3Fq%3Dhttp://www.google.com/search%253Fq%253Dhttp%25253A%25252F%25252Fwww.google.com%25252Fsearch%25253Fq%25253Dhttp%2525253A%2525252F%2525252Fwww.facebook.com%2525252F%252526sourceid%25253Dopera%252526ie%25253Dutf-8%252526oe%25253Dutf-8%252526channel%25253Dsuggest%2526sourceid%253Dopera%2526ie%253Dutf-8%2526oe%253Dutf-8%2526channel%253Dsuggest%26hl%3Den%26client%3Dopera%26hs%3D4Bp%26sa%3DX%26rls%3Den%26channel%3Dsuggest%26tbm%3Disch%26prmd%3Dimvns&itbs=1
Fri Jun  1 11:00:34 2012 from http://carl.cs.indiana.edu/fil/cgi-bin/WebSec/marilyn.cgi?test=1
Fri Jun  1 10:36:19 2012 from http://www.google.com/url?sa=t&rct=j&q=http%3A%2F%2Fwww.google.com%2Fsearch%3Fq%3Dhttp%253a%252f%252fwww.google.com%252fsearch%253fq%253dhttp%25253a%25252f%25252fredir.opera.com%25252fwww.opera.com%25252fupgrade%25252f%2526sourceid%253dopera%2526ie%253dutf-8%2526oe%253dutf-8%2526channel%253dsuggest%26sourceid%3Dopera%26ie%3Dutf-8%26oe%3Dutf-8%26channel%3Dsuggest&source=web&cd=4&ved=0CEoQFjAD&url=http%3A%2F%2Fcarl.cs.indiana.edu%2Ffil%2Fcgi-bin%2FWebSec%2Fmarilyn.cgi&ei=zdHIT-7YAo7EgAe864Vr&usg=AFQjCNHRtbr4ftk_4PyVzN3HuHPJV6LZow
Fri Jun  1 09:58:31 2012 from http://carl.cs.indiana.edu/fil/cgi-bin/WebSec/marilyn.cgi
Fri Jun  1 09:46:35 2012 from http://carl.cs.indiana.edu/fil/cgi-bin/WebSec/marilyn.cgi?test=1
Fri Jun  1 09:43:54 2012 from http://carl.cs.indiana.edu/fil/cgi-bin/WebSec/marilyn.cgi?test=1
Fri Jun  1 08:29:48 2012 from http://us.yhs4.search.yahoo.com/yhs/search?fr=altavista&itag=ody&q=http://assist.babylon.com/babylonassista/dnsassist/main?domain=search%20mywebsearch%20mywebsearch%20ggmain%20
Fri Jun  1 06:37:43 2012 from http://carl.cs.indiana.edu/fil/cgi-bin/WebSec/marilyn.cgi?test=1
Fri Jun  1 05:31:37 2012 from http://www.google.com/url?sa=t&rct=j&q=click%20infospace%20clickhandler&source=web&cd=5&ved=0CF0QFjAE&url=http%3A%2F%2Fcarl.cs.indiana.edu%2Ffil%2Fcgi-bin%2FWebSec%2Fmarilyn.cgi&ei=04vIT7uQGYaGrAeAvr3BDg&usg=AFQjCNHRtbr4ftk_4PyVzN3HuHPJV6LZow
Fri Jun  1 04:22:52 2012 from (empty referer)
Fri Jun  1 04:22:35 2012 from http://www.google.com/xhtml?client=ms-opera_mb_no&channel=bh&q=2fwwwgoole.com
Fri Jun  1 04:11:18 2012 from (empty referer)
Fri Jun  1 04:11:09 2012 from http://yandex.ru/yandsearch?text=sex+filmy+sex+filmy&lr=213
Fri Jun  1 01:45:47 2012 from http://carl.cs.indiana.edu/fil/cgi-bin/WebSec/marilyn.cgi?test=1
Fri Jun  1 00:08:29 2012 from http://carl.cs.indiana.edu/fil/cgi-bin/WebSec/marilyn.cgi?test=1
Thu May 31 23:08:09 2012 from http://home.allgameshome.com/results.php?category=web&s=http%3A%2F%2Fhome.allgameshome.com%2Fresults.php%3Fcategory%3Dweb
Thu May 31 22:03:11 2012 from http://carl.cs.indiana.edu/fil/cgi-bin/WebSec/marilyn.cgi?test=1
Thu May 31 22:03:07 2012 from http://carl.cs.indiana.edu/fil/cgi-bin/WebSec/marilyn.cgi?test=1
Thu May 31 21:40:14 2012 from (empty referer)
Thu May 31 21:36:38 2012 from http://carl.cs.indiana.edu/fil/cgi-bin/WebSec/marilyn.cgi?test=1
Thu May 31 21:26:01 2012 from http://carl.cs.indiana.edu/fil/cgi-bin/WebSec/marilyn.cgi?test=1
Thu May 31 21:09:46 2012 from http://carl.cs.indiana.edu/fil/cgi-bin/WebSec/marilyn.cgi?test=1
Thu May 31 19:56:04 2012 from http://carl.cs.indiana.edu/fil/cgi-bin/WebSec/marilyn.cgi?test=1
Thu May 31 19:38:34 2012 from http://carl.cs.indiana.edu/fil/cgi-bin/WebSec/marilyn.cgi?test=1
Thu May 31 19:01:36 2012 from http://carl.cs.indiana.edu/fil/cgi-bin/WebSec/marilyn.cgi?test=1
Thu May 31 17:29:24 2012 from http://carl.cs.indiana.edu/fil/cgi-bin/WebSec/marilyn.cgi?test=1
Thu May 31 15:58:52 2012 from http://carl.cs.indiana.edu/fil/cgi-bin/WebSec/marilyn.cgi/
Thu May 31 15:50:32 2012 from http://carl.cs.indiana.edu/fil/cgi-bin/WebSec/marilyn.cgi?test=1
Thu May 31 15:15:49 2012 from http://carl.cs.indiana.edu/fil/cgi-bin/WebSec/marilyn.cgi?test=1
Thu May 31 15:02:51 2012 from http://carl.cs.indiana.edu/fil/cgi-bin/WebSec/marilyn.cgi?test=1
Thu May 31 13:48:41 2012 from (empty referer)
Thu May 31 13:29:30 2012 from (empty referer)
Thu May 31 12:04:47 2012 from (empty referer)
Thu May 31 12:00:47 2012 from (empty referer)
Thu May 31 10:38:47 2012 from http://carl.cs.indiana.edu/fil/cgi-bin/WebSec/marilyn.cgi?test=1
Thu May 31 10:38:12 2012 from http://carl.cs.indiana.edu/fil/cgi-bin/WebSec/marilyn.cgi?test=1
Thu May 31 09:19:32 2012 from http://carl.cs.indiana.edu/fil/cgi-bin/WebSec/marilyn.cgi?test=1
Thu May 31 08:45:44 2012 from http://semstudio.pl
Thu May 31 07:54:21 2012 from http://carl.cs.indiana.edu/fil/cgi-bin/WebSec/marilyn.cgi?test=1
Thu May 31 07:45:11 2012 from (empty referer)
Thu May 31 07:18:07 2012 from (empty referer)
Thu May 31 07:16:37 2012 from http://carl.cs.indiana.edu/fil/cgi-bin/WebSec/marilyn.cgi?test=1
Thu May 31 06:41:35 2012 from http://carl.cs.indiana.edu/fil/cgi-bin/WebSec/marilyn.cgi?test=1
Thu May 31 05:59:25 2012 from (empty referer)
Thu May 31 05:32:42 2012 from (empty referer)
Thu May 31 05:07:57 2012 from http://carl.cs.indiana.edu/fil/cgi-bin/WebSec/marilyn.cgi?test=1
Thu May 31 03:50:21 2012 from (empty referer)
Thu May 31 02:34:14 2012 from http://carl.cs.indiana.edu/fil/cgi-bin/WebSec/marilyn.cgi?test=1
Thu May 31 01:45:29 2012 from http://carl.cs.indiana.edu/fil/cgi-bin/WebSec/marilyn.cgi?test=1
Thu May 31 01:40:59 2012 from http://carl.cs.indiana.edu/fil/cgi-bin/WebSec/marilyn.cgi?test=1
Thu May 31 01:24:22 2012 from http://carl.cs.indiana.edu/fil/cgi-bin/WebSec/marilyn.cgi?test=1
Thu May 31 00:27:47 2012 from http://carl.cs.indiana.edu/fil/cgi-bin/WebSec/marilyn.cgi?test=1
Wed May 30 22:48:49 2012 from http://carl.cs.indiana.edu/fil/cgi-bin/WebSec/marilyn.cgi?test=1
Wed May 30 20:56:32 2012 from (empty referer)
Wed May 30 20:39:31 2012 from (empty referer)
Wed May 30 20:39:10 2012 from (empty referer)
Wed May 30 20:37:31 2012 from (empty referer)
Wed May 30 20:36:23 2012 from (empty referer)
Wed May 30 20:33:50 2012 from (empty referer)
Wed May 30 20:31:24 2012 from (empty referer)
Wed May 30 20:13:23 2012 from http://carl.cs.indiana.edu/fil/cgi-bin/WebSec/marilyn.cgi?test=1
Wed May 30 20:00:28 2012 from http://carl.cs.indiana.edu/fil/cgi-bin/WebSec/marilyn.cgi?test=1
Wed May 30 14:39:02 2012 from http://carl.cs.indiana.edu/fil/cgi-bin/WebSec/marilyn.cgi?test=1
Wed May 30 14:33:27 2012 from (empty referer)
Wed May 30 13:03:52 2012 from http://carl.cs.indiana.edu/fil/cgi-bin/WebSec/marilyn.cgi?test=1
Wed May 30 12:55:38 2012 from http://carl.cs.indiana.edu/fil/cgi-bin/WebSec/marilyn.cgi?test=1
Wed May 30 12:05:07 2012 from http://carl.cs.indiana.edu/fil/cgi-bin/WebSec/marilyn.cgi?test=1
Wed May 30 12:00:14 2012 from http://carl.cs.indiana.edu/fil/cgi-bin/WebSec/marilyn.cgi?test=1
Wed May 30 10:58:52 2012 from http://www.google.com/m?client=ms-nokia&cof=nsp&channel=s60&q=www.google.com%2fhl%3dei
Wed May 30 10:56:44 2012 from (empty referer)
Wed May 30 10:45:40 2012 from http://carl.cs.indiana.edu/fil/cgi-bin/WebSec/marilyn.cgi?test=1
Wed May 30 10:19:56 2012 from http://carl.cs.indiana.edu/fil/cgi-bin/WebSec/marilyn.cgi?test=1
Wed May 30 10:03:07 2012 from http://carl.cs.indiana.edu/fil/cgi-bin/WebSec/marilyn.cgi?test=1
Wed May 30 07:35:43 2012 from http://www.fotografia-slubna-wroclaw.com.pl/
Wed May 30 06:37:42 2012 from (empty referer)
Wed May 30 05:50:24 2012 from (empty referer)
Wed May 30 05:15:15 2012 from http://carl.cs.indiana.edu/fil/cgi-bin/WebSec/marilyn.cgi?test=1
Wed May 30 05:05:50 2012 from http://carl.cs.indiana.edu/fil/cgi-bin/WebSec/marilyn.cgi?test=1
Wed May 30 04:44:15 2012 from http://carl.cs.indiana.edu/fil/cgi-bin/WebSec/marilyn.cgi?test=1
Wed May 30 03:11:55 2012 from http://carl.cs.indiana.edu/fil/cgi-bin/WebSec/marilyn.cgi?test=1
Wed May 30 02:43:07 2012 from http://carl.cs.indiana.edu/fil/cgi-bin/WebSec/marilyn.cgi?test=1
Wed May 30 01:49:40 2012 from (empty referer)
Wed May 30 00:08:12 2012 from (empty referer)
Tue May 29 23:33:15 2012 from http://carl.cs.indiana.edu/fil/cgi-bin/WebSec/marilyn.cgi?test=1
Tue May 29 22:02:09 2012 from http://carl.cs.indiana.edu/fil/cgi-bin/WebSec/marilyn.cgi?test=1
Tue May 29 19:47:18 2012 from http://carl.cs.indiana.edu/fil/cgi-bin/WebSec/marilyn.cgi?test=1
Tue May 29 19:44:38 2012 from http://carl.cs.indiana.edu/fil/cgi-bin/WebSec/marilyn.cgi
Tue May 29 19:08:16 2012 from http://carl.cs.indiana.edu/fil/cgi-bin/WebSec/marilyn.cgi?test=1
Tue May 29 17:23:00 2012 from http://carl.cs.indiana.edu/fil/cgi-bin/WebSec/marilyn.cgi?test=1
Tue May 29 17:16:45 2012 from http://carl.cs.indiana.edu/fil/cgi-bin/WebSec/marilyn.cgi?test=1
Tue May 29 14:39:05 2012 from http://carl.cs.indiana.edu/fil/cgi-bin/WebSec/marilyn.cgi?test=1
Tue May 29 14:11:05 2012 from http://www.google.com/search?client=ms-opera-mini&channel=new&sky=ee&redir_esc=&hl=en&ie=UTF-8&q=opara.com.malayalam.sex.com
Tue May 29 14:07:17 2012 from http://carl.cs.indiana.edu/fil/cgi-bin/WebSec/marilyn.cgi?test=1
Tue May 29 13:54:02 2012 from http://carl.cs.indiana.edu/fil/cgi-bin/WebSec/marilyn.cgi?test=1
Tue May 29 13:38:57 2012 from (empty referer)
Tue May 29 12:58:56 2012 from http://carl.cs.indiana.edu/fil/cgi-bin/WebSec/marilyn.cgi?test=1
Tue May 29 12:36:38 2012 from http://carl.cs.indiana.edu/fil/cgi-bin/WebSec/marilyn.cgi?test=1
Tue May 29 12:23:36 2012 from http://carl.cs.indiana.edu/fil/cgi-bin/WebSec/marilyn.cgi?test=1
Tue May 29 12:13:07 2012 from http://www.searchplusnetwork.com/?sp=chv&q=click.infospace.comClickHandler.ashx%3Fdu
Tue May 29 12:11:57 2012 from http://www.google.com.om/url?sa=t&rct=j&q=http+tubidy+mobi+search.phpa188+hot+sax&source=web&cd=2&ved=0CEcQFjAB&url=http%3A%2F%2Fcarl.cs.indiana.edu%2Ffil%2Fcgi-bin%2FWebSec%2Fmarilyn.cgi&ei=QvXET6OJOonirAfH-pTfCQ&usg=AFQjCNHRtbr4ftk_4PyVzN3HuHPJV6LZow
Tue May 29 12:10:17 2012 from http://carl.cs.indiana.edu/fil/cgi-bin/WebSec/marilyn.cgi?test=1
Tue May 29 12:10:13 2012 from http://www.google.co.in/m?q=www%252edjmajha%252ein%2520com&client=ms-opera-mini&channel=new
Tue May 29 10:42:36 2012 from http://carl.cs.indiana.edu/fil/cgi-bin/WebSec/marilyn.cgi?test=1
Tue May 29 10:30:24 2012 from http://yandex.ru/yandsearch?text=%D0%BC%D0%B5%D1%80%D0%BB%D0%B8%D0%BD+%D1%81%D0%B5%D0%BA%D1%81+%D0%BC%D0%BE%D1%80%D0%B3%D0%B0%D0%BD%D0%BE%D0%B9++%D1%84%D0%B8%D0%BB%D1%8C%D0%BC&lr=37147
Tue May 29 10:29:35 2012 from (empty referer)
Tue May 29 10:01:30 2012 from http://carl.cs.indiana.edu/fil/cgi-bin/WebSec/marilyn.cgi?test=1
Tue May 29 09:11:20 2012 from http://carl.cs.indiana.edu/fil/cgi-bin/WebSec/marilyn.cgi?test=1
Tue May 29 09:06:59 2012 from http://carl.cs.indiana.edu/fil/cgi-bin/WebSec/marilyn.cgi?test=1
Tue May 29 08:48:45 2012 from (empty referer)
Tue May 29 07:55:07 2012 from (empty referer)
Tue May 29 07:31:51 2012 from http://www.google.com/m?hl=en&q=bit.ly%2Fp7zhot+wow
Tue May 29 07:10:23 2012 from (empty referer)
Tue May 29 06:45:19 2012 from http://carl.cs.indiana.edu/fil/cgi-bin/WebSec/marilyn.cgi?test=1
Tue May 29 06:38:53 2012 from (empty referer)
Tue May 29 06:15:33 2012 from http://www.google.com/xhtml?q=www%2egoogle%20sexx&client=ms-opera_mb_no&channel=bh
Tue May 29 06:10:44 2012 from http://www.google.com/xhtml?q=www%2egoogle%20sexx&client=ms-opera_mb_no&channel=bh
Tue May 29 05:59:15 2012 from http://www.results.org/forums/member/9887/
Tue May 29 05:51:02 2012 from http://carl.cs.indiana.edu/fil/cgi-bin/WebSec/marilyn.cgi?test=1
Tue May 29 05:17:43 2012 from (empty referer)
Tue May 29 04:26:40 2012 from http://carl.cs.indiana.edu/fil/cgi-bin/WebSec/marilyn.cgi?test=1
Tue May 29 04:22:29 2012 from http://carl.cs.indiana.edu/fil/cgi-bin/WebSec/marilyn.cgi?test=1
Tue May 29 03:31:31 2012 from http://carl.cs.indiana.edu/fil/cgi-bin/WebSec/marilyn.cgi?test=1
Tue May 29 03:18:46 2012 from (empty referer)
Tue May 29 02:02:53 2012 from http://carl.cs.indiana.edu/fil/cgi-bin/WebSec/marilyn.cgi?test=1
Tue May 29 01:40:48 2012 from http://carl.cs.indiana.edu/fil/cgi-bin/WebSec/marilyn.cgi?test=1
Tue May 29 01:38:35 2012 from http://carl.cs.indiana.edu/fil/cgi-bin/WebSec/marilyn.cgi?test=1
Tue May 29 01:29:17 2012 from http://carl.cs.indiana.edu/fil/cgi-bin/WebSec/marilyn.cgi?test=1
Tue May 29 00:01:29 2012 from (empty referer)
Mon May 28 23:39:56 2012 from http://carl.cs.indiana.edu/fil/cgi-bin/WebSec/marilyn.cgi?test=1
Mon May 28 23:25:12 2012 from (empty referer)
Mon May 28 23:25:10 2012 from http://carl.cs.indiana.edu/fil/cgi-bin/WebSec/marilyn.cgi?test=1
Mon May 28 21:24:33 2012 from http://carl.cs.indiana.edu/fil/cgi-bin/WebSec/marilyn.cgi?test=1
Mon May 28 21:15:49 2012 from http://www.google.com.sa/url?ei=Cz7DT8i4D-Oc0AWMsgE&q=http://carl.cs.indiana.edu/fil/cgi-bin/WebSec/marilyn.cgi&sa=D&ved=0CAYQFjAB&usg=AFQjCNELlRKdbRPzdZ88YDwYen2vuQjCMg
Mon May 28 21:15:02 2012 from http://carl.cs.indiana.edu/fil/cgi-bin/WebSec/marilyn.cgi?test=1
Mon May 28 21:12:49 2012 from http://carl.cs.indiana.edu/fil/cgi-bin/WebSec/marilyn.cgi?test=1
Mon May 28 21:11:03 2012 from http://www.google.com.sa/url?ei=Cz7DT8i4D-Oc0AWMsgE&q=http://carl.cs.indiana.edu/fil/cgi-bin/WebSec/marilyn.cgi&sa=D&ved=0CAYQFjAB&usg=AFQjCNELlRKdbRPzdZ88YDwYen2vuQjCMg
Mon May 28 19:30:55 2012 from http://carl.cs.indiana.edu/fil/cgi-bin/WebSec/marilyn.cgi?test=1
Mon May 28 19:30:45 2012 from http://carl.cs.indiana.edu/fil/cgi-bin/WebSec/marilyn.cgi?test=1
Mon May 28 19:04:47 2012 from http://carl.cs.indiana.edu/fil/cgi-bin/WebSec/marilyn.cgi?test=1
Mon May 28 19:02:17 2012 from http://carl.cs.indiana.edu/fil/cgi-bin/WebSec/marilyn.cgi?test=1
Mon May 28 17:19:49 2012 from http://carl.cs.indiana.edu/fil/cgi-bin/WebSec/marilyn.cgi?test=1
Mon May 28 16:34:22 2012 from http://www.google.com.co/url?sa=t&rct=j&q=click+infospace+ClickHandler&source=web&cd=10&ved=0CHMQFjAJ&url=http%3A%2F%2Fcarl.cs.indiana.edu%2Ffil%2Fcgi-bin%2FWebSec%2Fmarilyn.cgi&ei=EOHDT4O0DI2I8QTTiN2tCw&usg=AFQjCNHRtbr4ftk_4PyVzN3HuHPJV6LZow
Mon May 28 15:36:53 2012 from http://carl.cs.indiana.edu/fil/cgi-bin/WebSec/marilyn.cgi?test=1
Mon May 28 14:49:12 2012 from (empty referer)
Mon May 28 13:49:38 2012 from (empty referer)
Mon May 28 12:35:54 2012 from http://carl.cs.indiana.edu/fil/cgi-bin/WebSec/marilyn.cgi?test=1
Mon May 28 11:25:41 2012 from http://www.google.com/m?client=ms-aff-ucweb&output=xhtml&hl=en&q=Dup%d8%8c.%28O1%29HTTPTUBIDYMOBISERACH.TXT
Mon May 28 10:30:58 2012 from http://carl.cs.indiana.edu/fil/cgi-bin/WebSec/marilyn.cgi?test=1
Mon May 28 10:22:59 2012 from (empty referer)
Mon May 28 08:11:23 2012 from http://carl.cs.indiana.edu/fil/cgi-bin/WebSec/marilyn.cgi?test=1
Mon May 28 06:36:17 2012 from http://www.google.com/url?sa=t&rct=j&q=http%3A%2F%2Fwww.google.com%2Fsearch%3Fq%3Dhttp%253A%252F%252Fwww.google.com%252Fsearch%253Fq%253Dgoogle%2526sourceid%253Dopera%2526ie%253Dutf-8%2526oe%253Dutf-8%2526channel%253Dsuggest%26sourceid%3Dopera%26ie%3Dutf-8%26oe%3Dutf-8%26channel%3Dsuggest&source=web&cd=1&ved=0CEgQFjAA&url=http%3A%2F%2Fcarl.cs.indiana.edu%2Ffil%2Fcgi-bin%2FWebSec%2Fmarilyn.cgi&ei=ElXDT7v_Ac2F-wbl9tWGCg&usg=AFQjCNHRtbr4ftk_4PyVzN3HuHPJV6LZow
Mon May 28 05:51:10 2012 from (empty referer)
Mon May 28 01:52:27 2012 from http://carl.cs.indiana.edu/fil/cgi-bin/WebSec/marilyn.cgi?test=1
Mon May 28 01:51:31 2012 from http://carl.cs.indiana.edu/fil/cgi-bin/WebSec/marilyn.cgi?test=1
Sun May 27 23:21:52 2012 from http://carl.cs.indiana.edu/fil/cgi-bin/WebSec/marilyn.cgi?test=1
Sun May 27 23:19:47 2012 from http://carl.cs.indiana.edu/fil/cgi-bin/WebSec/marilyn.cgi?test=1
Sun May 27 23:06:45 2012 from http://carl.cs.indiana.edu/fil/cgi-bin/WebSec/marilyn.cgi?test=1
Sun May 27 21:08:30 2012 from http://carl.cs.indiana.edu/fil/cgi-bin/WebSec/marilyn.cgi?test=1
Sun May 27 20:13:03 2012 from http://carl.cs.indiana.edu/fil/cgi-bin/WebSec/marilyn.cgi
Sun May 27 20:06:51 2012 from http://carl.cs.indiana.edu/fil/cgi-bin/WebSec/marilyn.cgi?test=1
Sun May 27 17:43:46 2012 from http://carl.cs.indiana.edu/fil/cgi-bin/WebSec/marilyn.cgi?test=1
Sun May 27 17:00:49 2012 from http://carl.cs.indiana.edu/fil/cgi-bin/WebSec/marilyn.cgi?test=1
Sun May 27 16:42:08 2012 from http://carl.cs.indiana.edu/fil/cgi-bin/WebSec/marilyn.cgi?test=1
Sun May 27 15:40:36 2012 from http://www.google.com/search?q=htt/www.google.facebook.org&hl=en&gl=US&sky=ee&prmd=ivnsz&ei=voLCT7LWD-Wg0QWO3Y2nCg&start=30&sa=N
Sun May 27 14:29:23 2012 from http://carl.cs.indiana.edu/fil/cgi-bin/WebSec/marilyn.cgi?test=1
Sun May 27 14:17:01 2012 from http://www.google.pt/url?sa=t&rct=j&q=click%20infospace%20clickhandler&source=web&cd=5&ved=0CGUQFjAE&url=http%3A%2F%2Fcarl.cs.indiana.edu%2Ffil%2Fcgi-bin%2FWebSec%2Fmarilyn.cgi&ei=jm_CT6euG4fcsga76_nkCg&usg=AFQjCNHRtbr4ftk_4PyVzN3HuHPJV6LZow
Sun May 27 13:51:29 2012 from (empty referer)
Sun May 27 13:32:00 2012 from http://www.google.com/url?sa=t&rct=j&q=click+infospace+ClickHandler&source=web&cd=5&ved=0CF0QFjAE&url=http%3A%2F%2Fcarl.cs.indiana.edu%2Ffil%2Fcgi-bin%2FWebSec%2Fmarilyn.cgi&ei=vmTCT8zaJMWd0QWYi6nCCg&usg=AFQjCNHRtbr4ftk_4PyVzN3HuHPJV6LZow
Sun May 27 13:10:10 2012 from http://carl.cs.indiana.edu/fil/cgi-bin/WebSec/marilyn.cgi?test=1
Sun May 27 12:18:42 2012 from http://carl.cs.indiana.edu/fil/cgi-bin/WebSec/marilyn.cgi?test=1
Sun May 27 12:06:43 2012 from http://carl.cs.indiana.edu/fil/cgi-bin/WebSec/marilyn.cgi?test=1
Sun May 27 10:25:41 2012 from http://tcbunch.com/home/index.php?title=User:WalizkiDobre
Sun May 27 08:32:04 2012 from (empty referer)
Sun May 27 07:51:57 2012 from http://carl.cs.indiana.edu/fil/cgi-bin/WebSec/marilyn.cgi?test=1
Sun May 27 07:35:22 2012 from http://www.google.com/imgres?imgurl=http://carl.cs.indiana.edu/fil/WebSec/marilyn.jpg&imgrefurl=http://carl.cs.indiana.edu/fil/cgi-bin/WebSec/marilyn.cgi&usg=__PgVUbSSWU7f5jfsjEcVsJgAPNig=&h=333&w=500&sz=54&hl=en&start=1&zoom=1&tbnid=ynUan-_9FQYrEM:&tbnh=87&tbnw=130&ei=aBHCT9igK4eKhQfSt53fCQ&prev=/search%3Fq%3Dhttp://www.google.com/search%253Fq%253Dhttp%25253A%25252F%25252Fwww.google.com%25252Fsearch%25253Fq%25253Dhttp%2525253A%2525252F%2525252Fredir.opera.com%2525252Fspeeddials%2525252Ffacebook%2525252F%252526sourceid%25253Dopera%252526ie%25253Dutf-8%252526oe%25253Dutf-8%252526channel%25253Dsuggest%2526sourceid%253Dopera%2526ie%253Dutf-8%2526oe%253Dutf-8%2526channel%253Dsuggest%26hl%3Den%26client%3Dopera%26hs%3DVGI%26sa%3DX%26rls%3Den%26channel%3Dsuggest%26biw%3D1366%26bih%3D628%26tbm%3Disch%26prmd%3Dimvns&itbs=1
Sun May 27 06:07:27 2012 from http://carl.cs.indiana.edu/fil/cgi-bin/WebSec/marilyn.cgi?test=1
Sun May 27 05:19:15 2012 from http://carl.cs.indiana.edu/fil/cgi-bin/WebSec/marilyn.cgi?test=1
Sun May 27 03:18:24 2012 from http://carl.cs.indiana.edu/fil/cgi-bin/WebSec/marilyn.cgi?test=1
Sun May 27 03:17:59 2012 from http://carl.cs.indiana.edu/fil/cgi-bin/WebSec/marilyn.cgi?test=1
Sun May 27 01:28:12 2012 from http://carl.cs.indiana.edu/fil/cgi-bin/WebSec/marilyn.cgi?test=1
Sun May 27 01:14:38 2012 from http://carl.cs.indiana.edu/fil/cgi-bin/WebSec/marilyn.cgi?test=1
Sat May 26 23:52:02 2012 from http://carl.cs.indiana.edu/fil/cgi-bin/WebSec/marilyn.cgi
Sat May 26 22:59:46 2012 from http://carl.cs.indiana.edu/fil/cgi-bin/WebSec/marilyn.cgi?test=1
Sat May 26 22:44:53 2012 from http://carl.cs.indiana.edu/fil/cgi-bin/WebSec/marilyn.cgi?test=1
Sat May 26 21:04:38 2012 from http://carl.cs.indiana.edu/fil/cgi-bin/WebSec/marilyn.cgi?test=1
Sat May 26 18:32:42 2012 from http://carl.cs.indiana.edu/fil/cgi-bin/WebSec/marilyn.cgi?test=1
Sat May 26 18:17:13 2012 from http://carl.cs.indiana.edu/fil/cgi-bin/WebSec/marilyn.cgi?test=1
Sat May 26 18:00:26 2012 from http://www.google.dz/url?sa=t&rct=j&q=click%20infospace%20clickhandler&source=web&cd=9&ved=0CHMQFjAI&url=http%3A%2F%2Fcarl.cs.indiana.edu%2Ffil%2Fcgi-bin%2FWebSec%2Fmarilyn.cgi&ei=TVLBT_PNEcrB0QWPm-GmCg&usg=AFQjCNHRtbr4ftk_4PyVzN3HuHPJV6LZow
Sat May 26 17:53:36 2012 from http://carl.cs.indiana.edu/fil/cgi-bin/WebSec/marilyn.cgi?test=1
Sat May 26 17:48:45 2012 from http://carl.cs.indiana.edu/fil/cgi-bin/WebSec/marilyn.cgi?test=1
Sat May 26 16:57:41 2012 from http://carl.cs.indiana.edu/fil/cgi-bin/WebSec/marilyn.cgi?test=1
Sat May 26 16:05:09 2012 from http://carl.cs.indiana.edu/fil/cgi-bin/WebSec/marilyn.cgi?test=1
Sat May 26 15:45:58 2012 from http://carl.cs.indiana.edu/fil/cgi-bin/WebSec/marilyn.cgi?test=1
Sat May 26 14:48:42 2012 from http://carl.cs.indiana.edu/fil/cgi-bin/WebSec/marilyn.cgi?test=1
Sat May 26 14:44:36 2012 from http://carl.cs.indiana.edu/fil/cgi-bin/WebSec/marilyn.cgi?test=1
Sat May 26 13:46:41 2012 from (empty referer)
Sat May 26 13:45:07 2012 from http://www.google.com/url?sa=t&rct=j&q=click%20infospace%20clickhandler&source=web&cd=7&ved=0CGsQFjAG&url=http%3A%2F%2Fcarl.cs.indiana.edu%2Ffil%2Fcgi-bin%2FWebSec%2Fmarilyn.cgi&ei=dxbBT-eQPMXqOeickOAJ&usg=AFQjCNHRtbr4ftk_4PyVzN3HuHPJV6LZow
Sat May 26 13:36:38 2012 from http://carl.cs.indiana.edu/fil/cgi-bin/WebSec/marilyn.cgi?test=1
Sat May 26 13:16:09 2012 from http://carl.cs.indiana.edu/fil/cgi-bin/WebSec/marilyn.cgi?test=1
Sat May 26 13:11:56 2012 from http://carl.cs.indiana.edu/fil/cgi-bin/WebSec/marilyn.cgi?test=1
Sat May 26 11:22:20 2012 from http://carl.cs.indiana.edu/fil/cgi-bin/WebSec/marilyn.cgi?test=1
Sat May 26 10:51:08 2012 from http://carl.cs.indiana.edu/fil/cgi-bin/WebSec/marilyn.cgi?test=1
Sat May 26 10:32:15 2012 from http://search.bearshare.com/web?src=derr&appid=26&systemid=2&q=http://cs.infospace.com/ClickHandler.ashx%3fap%3d8%26app%3d1%26c%3dbabylon.search.a%26coi%3d239137%26cop%3dmain-title%26ep%3d5%26euip%3d117.223.18.12%26npp%3d8%26p%3d0%26pp%3d0%26pvaid%3d853c600328074a96ae88f7095aaca8c7%26ru%3dhttp%253a%252f%252fwww.sexelectric.com%252f%26s%3dbabylon%26sid%3d1409563287.488431775542.1338042650%26vid%3d1409563287.488431775542.1338042650.1%26hash%3d506E8A5584C08872D2536E960F9B7DEF
Sat May 26 10:22:22 2012 from (empty referer)
Sat May 26 10:21:05 2012 from http://carl.cs.indiana.edu/fil/cgi-bin/WebSec/marilyn.cgi?test=1
Sat May 26 09:28:05 2012 from http://carl.cs.indiana.edu/fil/cgi-bin/WebSec/marilyn.cgi?test=1
Sat May 26 08:32:46 2012 from http://carl.cs.indiana.edu/fil/cgi-bin/WebSec/marilyn.cgi?test=1
Sat May 26 08:29:24 2012 from http://carl.cs.indiana.edu/fil/cgi-bin/WebSec/marilyn.cgi?test=1
Sat May 26 08:10:52 2012 from http://carl.cs.indiana.edu/fil/cgi-bin/WebSec/marilyn.cgi?test=1
Sat May 26 08:00:39 2012 from http://www.google.com.pk/url?sa=t&rct=j&q=click+infospace+ClickHandler&source=web&cd=5&ved=0CFwQFjAE&url=http%3A%2F%2Fcarl.cs.indiana.edu%2Ffil%2Fcgi-bin%2FWebSec%2Fmarilyn.cgi&ei=3sXAT66zI8HS0QWondWbCg&usg=AFQjCNHRtbr4ftk_4PyVzN3HuHPJV6LZow
Sat May 26 06:07:49 2012 from http://carl.cs.indiana.edu/fil/cgi-bin/WebSec/marilyn.cgi?test=1
Sat May 26 05:03:37 2012 from http://carl.cs.indiana.edu/fil/cgi-bin/WebSec/marilyn.cgi?test=1
Sat May 26 04:50:41 2012 from http://carl.cs.indiana.edu/fil/cgi-bin/WebSec/marilyn.cgi?test=1
Sat May 26 04:18:59 2012 from (empty referer)
Sat May 26 04:17:52 2012 from http://carl.cs.indiana.edu/fil/cgi-bin/WebSec/marilyn.cgi?test=1
Sat May 26 03:47:18 2012 from http://carl.cs.indiana.edu/fil/cgi-bin/WebSec/marilyn.cgi?test=1
Sat May 26 03:33:47 2012 from http://carl.cs.indiana.edu/fil/cgi-bin/WebSec/marilyn.cgi?test=1
Sat May 26 03:26:17 2012 from (empty referer)
Sat May 26 03:03:25 2012 from http://carl.cs.indiana.edu/fil/cgi-bin/WebSec/marilyn.cgi?test=1
Sat May 26 02:31:05 2012 from (empty referer)
Sat May 26 02:02:52 2012 from http://carl.cs.indiana.edu/
Sat May 26 01:00:39 2012 from http://carl.cs.indiana.edu/fil/cgi-bin/WebSec/marilyn.cgi?test=1
Sat May 26 00:50:40 2012 from http://carl.cs.indiana.edu/fil/cgi-bin/WebSec/marilyn.cgi?test=1
Fri May 25 22:46:57 2012 from http://assist.babylon.com/babylonassista/dnsassist/main?domain=cs%20infospace%20
Fri May 25 22:00:26 2012 from http://carl.cs.indiana.edu/fil/cgi-bin/WebSec/marilyn.cgi?test=1
Fri May 25 21:02:13 2012 from http://assist.babylon.com/babylonassista/dnsassist/main?domain=cs%20infospace%20ClickHandler%20
Fri May 25 20:14:10 2012 from http://carl.cs.indiana.edu/fil/cgi-bin/WebSec/marilyn.cgi?test=1
Fri May 25 18:59:27 2012 from http://carl.cs.indiana.edu/fil/cgi-bin/WebSec/marilyn.cgi?test=1
Fri May 25 18:24:59 2012 from http://carl.cs.indiana.edu/fil/cgi-bin/WebSec/marilyn.cgi?test=1
Fri May 25 18:11:29 2012 from http://carl.cs.indiana.edu/fil/cgi-bin/WebSec/marilyn.cgi?test=1
Fri May 25 18:06:02 2012 from (empty referer)
Fri May 25 18:05:49 2012 from http://carl.cs.indiana.edu/fil/cgi-bin/WebSec/marilyn.cgi?test=1
Fri May 25 17:29:56 2012 from (empty referer)
Fri May 25 16:00:08 2012 from http://carl.cs.indiana.edu/fil/cgi-bin/WebSec/marilyn.cgi?test=1
Fri May 25 15:14:08 2012 from http://www.google.com/imgres?imgurl=http://carl.cs.indiana.edu/fil/WebSec/marilyn.jpg&imgrefurl=http://carl.cs.indiana.edu/fil/cgi-bin/WebSec/marilyn.cgi%3Ftest%3D1&usg=__debfim1SlXdgXJ0DJKeX1qPNvZE=&h=333&w=500&sz=54&hl=fa&start=460&zoom=1&tbnid=ynUan-_9FQYrEM:&tbnh=87&tbnw=130&ei=7dm_T8arDMW0hAfIsdHxCQ&prev=/search%3Fq%3Dmarilyn%2Bmonroe%2Bhot%26start%3D440%26hl%3Dfa%26sa%3DN%26biw%3D1152%26bih%3D626%26tbm%3Disch%26prmd%3Dimvns&itbs=1
Fri May 25 14:24:07 2012 from (empty referer)
Fri May 25 14:10:29 2012 from http://carl.cs.indiana.edu/fil/cgi-bin/WebSec/marilyn.cgi?test=1
Fri May 25 14:04:11 2012 from http://carl.cs.indiana.edu/fil/cgi-bin/WebSec/marilyn.cgi?test=1
Fri May 25 14:00:33 2012 from http://carl.cs.indiana.edu/fil/cgi-bin/WebSec/marilyn.cgi?test=1
Fri May 25 14:00:08 2012 from http://carl.cs.indiana.edu/fil/cgi-bin/WebSec/marilyn.cgi?test=1
Fri May 25 13:59:39 2012 from http://carl.cs.indiana.edu/fil/cgi-bin/WebSec/marilyn.cgi?test=1
Fri May 25 13:52:48 2012 from (empty referer)
Fri May 25 13:51:05 2012 from (empty referer)
Fri May 25 13:51:03 2012 from (empty referer)
Fri May 25 13:50:58 2012 from (empty referer)
Fri May 25 13:50:52 2012 from (empty referer)
Fri May 25 13:50:46 2012 from (empty referer)
Fri May 25 13:49:06 2012 from http://www.google.com/url?sa=t&rct=j&q=click%20infospace%20clickhandler&source=web&cd=5&ved=0CGUQFjAE&url=http%3A%2F%2Fcarl.cs.indiana.edu%2Ffil%2Fcgi-bin%2FWebSec%2Fmarilyn.cgi&ei=98W_T_PkI4OEOvu7uOoJ&usg=AFQjCNHRtbr4ftk_4PyVzN3HuHPJV6LZow
Fri May 25 13:47:38 2012 from (empty referer)
Fri May 25 13:43:24 2012 from http://carl.cs.indiana.edu/fil/cgi-bin/WebSec/marilyn.cgi?test=1
Fri May 25 13:43:10 2012 from http://carl.cs.indiana.edu/fil/cgi-bin/WebSec/marilyn.cgi?test=1
Fri May 25 13:06:27 2012 from http://www.bing.com/search?q=25%2F05%2F2012+18%3A06%3A51&src=IE-SearchBox&FORM=IE8SRC
Fri May 25 12:49:39 2012 from http://www.google.co.in/search?q=click+infospace+ClickHandler&channel=linkdoctor
Fri May 25 12:30:15 2012 from (empty referer)
Fri May 25 12:08:12 2012 from http://carl.cs.indiana.edu/fil/cgi-bin/WebSec/marilyn.cgi?test=1
Fri May 25 10:52:50 2012 from (empty referer)
Fri May 25 10:52:08 2012 from http://www.google.co.in/m?q=www%252etubidy%252ecom&client=ms-opera-mini&channel=new
Fri May 25 10:23:44 2012 from http://carl.cs.indiana.edu/fil/cgi-bin/WebSec/marilyn.cgi?test=1
Fri May 25 10:18:13 2012 from http://carl.cs.indiana.edu/fil/cgi-bin/WebSec/marilyn.cgi?test=1
Fri May 25 09:57:49 2012 from http://carl.cs.indiana.edu/fil/cgi-bin/WebSec/marilyn.cgi?test=1
Fri May 25 09:22:44 2012 from http://www.searchplusnetwork.com/?sp=chv&q=hotsptshld.comgresults.php%3Fc
Fri May 25 07:56:49 2012 from http://carl.cs.indiana.edu/fil/cgi-bin/WebSec/marilyn.cgi?test=1
Fri May 25 07:28:11 2012 from (empty referer)
Fri May 25 06:14:59 2012 from http://carl.cs.indiana.edu/fil/cgi-bin/WebSec/marilyn.cgi?test=1
Fri May 25 05:11:23 2012 from http://startupreason.com/index.php?title=User:KulkiGejszy
Fri May 25 04:16:31 2012 from (empty referer)
Fri May 25 04:09:05 2012 from (empty referer)
Fri May 25 03:53:50 2012 from http://carl.cs.indiana.edu/fil/cgi-bin/WebSec/marilyn.cgi?test=1
Fri May 25 02:52:21 2012 from http://carl.cs.indiana.edu/fil/cgi-bin/WebSec/marilyn.cgi?test=1
Fri May 25 02:49:32 2012 from http://home.allgameshome.com/results.php?category=web&s=http://click.infospace.com/ClickHandler.ashx?du=http%3a%2f%2fwww.facebook.com%2f&ru=http%3a%2f%2fwww.facebook.com%2f&ld=20120525&ap=1&app=1&c=imesh.meta.4&s=imeshmeta4&coi=239137&cop=main-title&euip=123.25.130.4&npp=1&p=0&pp=0&pvaid=4065f3d303784335af3d9e58926739f0&ep=1&mid=9&hash=18568D5C3A3E7DA1EE455B978DEDA58
Fri May 25 02:47:18 2012 from http://carl.cs.indiana.edu/fil/cgi-bin/WebSec/marilyn.cgi?test=1
Fri May 25 02:34:57 2012 from http://assist.babylon.com/babylonassista/dnsassist/main?domain=cs%20infospace%20
Fri May 25 02:16:07 2012 from http://carl.cs.indiana.edu/fil/cgi-bin/WebSec/marilyn.cgi?test=1
Fri May 25 02:07:17 2012 from http://carl.cs.indiana.edu/fil/cgi-bin/WebSec/marilyn.cgi?test=1
Fri May 25 01:48:39 2012 from (empty referer)
Fri May 25 01:14:28 2012 from (empty referer)
Fri May 25 00:16:31 2012 from http://carl.cs.indiana.edu/fil/cgi-bin/WebSec/marilyn.cgi?test=1
Thu May 24 23:18:08 2012 from http://yandex.ru/yandsearch?text=sex+filmy+sex+filmy&lr=213
Thu May 24 22:49:34 2012 from http://carl.cs.indiana.edu/fil/cgi-bin/WebSec/marilyn.cgi?test=1
Thu May 24 22:25:58 2012 from http://carl.cs.indiana.edu/fil/cgi-bin/WebSec/marilyn.cgi?test=1
Thu May 24 22:06:56 2012 from http://www.searchplusnetwork.com/?sp=chv&q=searchplusnetwork.com%2F%3Fsp
Thu May 24 22:05:46 2012 from (empty referer)
Thu May 24 22:00:47 2012 from (empty referer)
Thu May 24 21:25:26 2012 from http://carl.cs.indiana.edu/fil/cgi-bin/WebSec/marilyn.cgi?test=1
Thu May 24 21:11:09 2012 from http://carl.cs.indiana.edu/fil/cgi-bin/WebSec/marilyn.cgi?test=1
Thu May 24 20:37:47 2012 from http://carl.cs.indiana.edu/fil/cgi-bin/WebSec/marilyn.cgi?test=1
Thu May 24 19:50:30 2012 from http://myspace.grusmonacha.org/wiki/index.php?title=User:AdamDildo
Thu May 24 19:14:09 2012 from http://carl.cs.indiana.edu/fil/cgi-bin/WebSec/marilyn.cgi?test=1
Thu May 24 19:01:27 2012 from http://www.google.com/m?hl=ar&gl=sa&client=ms-android-htc-rev&source=android-unknown&action=devloc&q=http%3A+%2F%2F+tubidy.mobi%2Fsearch.+php%3Fa%3D18%3C%26%3Dblack%2B+sex
Thu May 24 18:40:58 2012 from http://www.google.com/m?hl=ar&gl=sa&client=ms-android-htc-rev&source=android-unknown&action=devloc&q=http%3A+%2F%2F+tubidy.mobi%2Fsearch.+php%3Fa%3D18%3C%26%3Dblack%2B+sex
Thu May 24 18:23:29 2012 from (empty referer)
Thu May 24 17:20:54 2012 from (empty referer)
Thu May 24 17:03:51 2012 from http://carl.cs.indiana.edu/fil/cgi-bin/WebSec/marilyn.cgi?test=1
Thu May 24 16:50:06 2012 from http://carl.cs.indiana.edu/fil/cgi-bin/WebSec/marilyn.cgi?test=1
Thu May 24 16:30:34 2012 from http://www.google.com/m?client=ms-nokia&cof=nsp&channel=s60&q=www.google.com%2fgwt%2fx%3fu%3dhttp%253a%252f%252fwww.google.com%2fint
Thu May 24 16:03:41 2012 from http://carl.cs.indiana.edu/fil/cgi-bin/WebSec/marilyn.cgi?test=1
Thu May 24 15:53:15 2012 from http://carl.cs.indiana.edu/fil/cgi-bin/WebSec/marilyn.cgi?test=1
Thu May 24 15:51:10 2012 from (empty referer)
Thu May 24 15:46:58 2012 from http://carl.cs.indiana.edu/fil/cgi-bin/WebSec/marilyn.cgi?test=1
Thu May 24 14:48:36 2012 from (empty referer)
Thu May 24 14:33:39 2012 from http://carl.cs.indiana.edu/fil/cgi-bin/WebSec/marilyn.cgi?test=1
Thu May 24 13:48:39 2012 from (empty referer)
Thu May 24 13:43:14 2012 from http://carl.cs.indiana.edu/fil/cgi-bin/WebSec/marilyn.cgi?test=1
Thu May 24 13:15:40 2012 from http://www.google.co.uk/m?q=www%252exnxx%2520com&client=ms-opera-mini&channel=new&q=www%252exnxx%2520com&client=ms-opera-mini&channel=new
Thu May 24 08:52:36 2012 from http://carl.cs.indiana.edu/fil/cgi-bin/WebSec/marilyn.cgi?test=1
Thu May 24 06:55:54 2012 from (empty referer)
Thu May 24 06:31:48 2012 from http://carl.cs.indiana.edu/fil/cgi-bin/WebSec/marilyn.cgi?test=1
Thu May 24 06:20:02 2012 from http://carl.cs.indiana.edu/fil/cgi-bin/WebSec/marilyn.cgi?test=1
Thu May 24 06:12:44 2012 from http://carl.cs.indiana.edu/fil/cgi-bin/WebSec/marilyn.cgi?test=1
Thu May 24 06:08:43 2012 from http://carl.cs.indiana.edu/fil/cgi-bin/WebSec/marilyn.cgi?test=1
Thu May 24 05:55:06 2012 from http://search.bearshare.com/web?hl=tr&q=click+infospace&src=404&ref=1&page=5
Thu May 24 04:46:42 2012 from http://www.google.com.my/url?sa=t&rct=j&q=click%20infospace%20clickhandler&source=web&cd=5&ved=0CF4QFjAE&url=http%3A%2F%2Fcarl.cs.indiana.edu%2Ffil%2Fcgi-bin%2FWebSec%2Fmarilyn.cgi&ei=L_W9T6yeNsjyrQfTnOS5DQ&usg=AFQjCNHRtbr4ftk_4PyVzN3HuHPJV6LZow
Thu May 24 04:38:21 2012 from http://carl.cs.indiana.edu/fil/cgi-bin/WebSec/marilyn.cgi?test=1
Thu May 24 04:33:19 2012 from http://rajivnarayan.com/wiki/index.php?title=User:portfel275
Thu May 24 04:26:13 2012 from http://www.google.co.uk/m?q=www%252edjmaza%252ein&client=ms-opera-mini&channel=new&q=www%252edjmaza%252ein&client=ms-opera-mini&channel=new
Thu May 24 04:10:36 2012 from (empty referer)
Thu May 24 03:54:37 2012 from http://carl.cs.indiana.edu/fil/cgi-bin/WebSec/marilyn.cgi?test=1
Thu May 24 03:21:15 2012 from http://www.google.co.uk/m?q=www%252edjmaza%252ein&client=ms-opera-mini&channel=new&q=www%252edjmaza%252ein&client=ms-opera-mini&channel=new
Thu May 24 02:03:47 2012 from http://carl.cs.indiana.edu/fil/cgi-bin/WebSec/marilyn.cgi?test=1
Thu May 24 01:48:43 2012 from (empty referer)
Thu May 24 01:19:29 2012 from http://carl.cs.indiana.edu/fil/cgi-bin/WebSec/marilyn.cgi?test=1
Thu May 24 00:16:50 2012 from (empty referer)
Thu May 24 00:04:48 2012 from http://www.google.com/url?sa=t&rct=j&q=&esrc=s&source=web&cd=1&ved=0CE8QFjAA&url=http%3A%2F%2Fcarl.cs.indiana.edu%2Ffil%2Fcgi-bin%2FWebSec%2Fmarilyn.cgi&ei=T7O9T7q1OKiyiQLK3dDfDQ&usg=AFQjCNHRtbr4ftk_4PyVzN3HuHPJV6LZow&sig2=HHRjlaXq93-cen-UwklGkg
Wed May 23 23:23:19 2012 from http://assist.babylon.com/babylonassista/dnsassist/main?domain=cs%20infospace%20
Wed May 23 23:22:37 2012 from http://carl.cs.indiana.edu/fil/cgi-bin/WebSec/marilyn.cgi?test=1
Wed May 23 23:17:25 2012 from http://carl.cs.indiana.edu/fil/cgi-bin/WebSec/marilyn.cgi?test=1
Wed May 23 22:36:19 2012 from http://carl.cs.indiana.edu/fil/cgi-bin/WebSec/marilyn.cgi?test=1
Wed May 23 21:03:56 2012 from (empty referer)
Wed May 23 20:38:32 2012 from http://www.google.com/m?q=www.google.com%2Fm%3Fq%3Dwww.world%2Bsex.com%26client%3Dms-opera-mini%26channel%3Dnew&client=ms-opera-mini&channel=new
Wed May 23 20:23:55 2012 from http://carl.cs.indiana.edu/fil/cgi-bin/WebSec/marilyn.cgi?test=1
Wed May 23 19:55:39 2012 from http://carl.cs.indiana.edu/fil/cgi-bin/WebSec/marilyn.cgi?test=1
Wed May 23 19:46:18 2012 from http://carl.cs.indiana.edu/fil/cgi-bin/WebSec/marilyn.cgi?test=1
Wed May 23 19:03:21 2012 from http://carl.cs.indiana.edu/fil/cgi-bin/WebSec/marilyn.cgi?test=1
Wed May 23 19:00:59 2012 from http://carl.cs.indiana.edu/fil/cgi-bin/WebSec/marilyn.cgi?test=1
Wed May 23 18:44:34 2012 from (empty referer)
Wed May 23 18:05:45 2012 from (empty referer)
Wed May 23 17:12:14 2012 from http://carl.cs.indiana.edu/fil/cgi-bin/WebSec/marilyn.cgi?test=1
Wed May 23 16:02:17 2012 from (empty referer)
Wed May 23 15:41:55 2012 from (empty referer)
Wed May 23 15:35:54 2012 from http://carl.cs.indiana.edu/fil/cgi-bin/WebSec/marilyn.cgi?test=1
Wed May 23 15:10:40 2012 from http://www.google.com/m?client=ms-nokia&cof=nsp&channel=s60&q=tubidy.mobi%2fsearch%3fq%3dhot
Wed May 23 14:47:29 2012 from http://carl.cs.indiana.edu/fil/cgi-bin/WebSec/marilyn.cgi?test=1
Wed May 23 14:27:10 2012 from (empty referer)
Wed May 23 12:58:33 2012 from http://carl.cs.indiana.edu/fil/cgi-bin/WebSec/marilyn.cgi?test=1
Wed May 23 12:18:02 2012 from http://www.google.com.sa/url?sa=t&rct=j&q=http%3A%2F%2Ftubidy.mobi%2Fsearch.php%3Fa%3D18%26q%3Dhot%2Bsex&source=web&cd=2&ved=0CFIQFjAB&url=http%3A%2F%2Fcarl.cs.indiana.edu%2Ffil%2Fcgi-bin%2FWebSec%2Fmarilyn.cgi%2F&ei=jg29T4DSC4GZOrmxmCc&usg=AFQjCNF9tNGa2iM3aGYKAk6Ix4Wx3InCNQ
Wed May 23 11:14:48 2012 from http://carl.cs.indiana.edu/fil/cgi-bin/WebSec/marilyn.cgi?test=1
Wed May 23 10:55:44 2012 from http://carl.cs.indiana.edu/fil/cgi-bin/WebSec/marilyn.cgi?test=1
Wed May 23 09:43:04 2012 from http://assist.babylon.com/babylonassista/dnsassist/main?domain=cs%20infospace%20ClickHandler%20
Wed May 23 09:12:57 2012 from http://www.google.com/url?sa=t&rct=j&q=click%20infospace%20clickhandler&source=web&cd=5&ved=0CF8QFjAE&url=http%3A%2F%2Fcarl.cs.indiana.edu%2Ffil%2Fcgi-bin%2FWebSec%2Fmarilyn.cgi&ei=M-K8T7mHA-Wf0QWj5vEl&usg=AFQjCNHRtbr4ftk_4PyVzN3HuHPJV6LZow
Wed May 23 08:52:46 2012 from http://search.bearshare.com/web?src=derr&appid=281&systemid=2&q=http://cs.infospace.com/ClickHandler.ashx%3fru%3dhttp%253a%252f%252farabporn.com.websitetrafficspy.com%252f%26du%3darabporn.com.websitetrafficspy.com%26ld%3d20120523%26ap%3d3%26app%3d1%26c%3dplaysushi.tbard%26s%3dplaysushi%26coi%3d374914%26cop%3dmain-title%26euip%3d2.186.57.55%26npp%3d3%26p%3d0%26pp%3d0%26pvaid%3d24a945fec2a543289009af78af43283e%26sid%3d440179638.3244991018805.1337777124%26vid%3d440179638.3244991018805.1337774317.2%26fcoi%3d4%26fcop%3dresults-bottom%26fpid%3d2%26ep%3d1%26mid%3d9%26hash%3d847312BC309809DB752004E349E8E481
Wed May 23 08:36:36 2012 from http://carl.cs.indiana.edu/fil/cgi-bin/WebSec/marilyn.cgi?test=1
Wed May 23 08:34:51 2012 from (empty referer)
Wed May 23 08:32:35 2012 from (empty referer)
Wed May 23 07:14:46 2012 from http://carl.cs.indiana.edu/fil/cgi-bin/WebSec/marilyn.cgi?test=1
Wed May 23 06:57:53 2012 from http://www.stecrecords.com/mediawiki/index.php?title=User:plecak563
Wed May 23 05:33:39 2012 from (empty referer)
Wed May 23 04:49:46 2012 from http://carl.cs.indiana.edu/fil/cgi-bin/WebSec/marilyn.cgi?test=1
Wed May 23 04:40:51 2012 from http://carl.cs.indiana.edu/fil/cgi-bin/WebSec/marilyn.cgi?test=1
Wed May 23 03:48:26 2012 from http://carl.cs.indiana.edu/fil/cgi-bin/WebSec/marilyn.cgi?test=1
Wed May 23 02:35:44 2012 from (empty referer)
Wed May 23 02:35:19 2012 from http://carl.cs.indiana.edu/fil/cgi-bin/WebSec/marilyn.cgi?test=1
Wed May 23 01:27:16 2012 from http://carl.cs.indiana.edu/fil/cgi-bin/WebSec/marilyn.cgi?test=1
Wed May 23 00:30:47 2012 from http://carl.cs.indiana.edu/fil/cgi-bin/WebSec/marilyn.cgi?test=1
Wed May 23 00:05:32 2012 from http://carl.cs.indiana.edu/fil/cgi-bin/WebSec/marilyn.cgi?test=1
Tue May 22 23:33:49 2012 from (empty referer)
Tue May 22 23:08:09 2012 from http://www.google.co.id/url?sa=t&rct=j&q=click%20infospace%20clickhandler&source=web&cd=5&ved=0CGIQFjAE&url=http%3A%2F%2Fcarl.cs.indiana.edu%2Ffil%2Fcgi-bin%2FWebSec%2Fmarilyn.cgi&ei=iFS8T635M4P4rQfxhNyqDQ&usg=AFQjCNHRtbr4ftk_4PyVzN3HuHPJV6LZow
Tue May 22 21:44:41 2012 from http://carl.cs.indiana.edu/fil/cgi-bin/WebSec/marilyn.cgi?test=1
Tue May 22 21:24:03 2012 from http://www.google.com/search?q=click+infospace+ClickHandler&channel=linkdoctor
Tue May 22 21:21:30 2012 from http://carl.cs.indiana.edu/fil/cgi-bin/WebSec/marilyn.cgi?test=1
Tue May 22 17:53:05 2012 from http://search.yahoo.com/search?fr=yhs-avg&type=yahoo_avg_hs2-tb-web_us&p=black%2Bgirls.com%26type%3Dyahoo%20avg%20hs2-tb-web%20us%26fr%3Dyhs-avg%26u%3Dhttp%3A%2F%2Fcc.bingj.com%2Fcache.aspx%3Fq%3Dblack%2Bgirls.com%26d%3D4740489135325569%26mkt%3Den-US%26setlang%3Den-US%26w%3Dd4549a9c%2Cb7619e26%26icp%3D1%26.intl%3Dus%26sig%3DN1e3M01x%20c6R69MWCoAMmw--
Tue May 22 17:41:52 2012 from http://carl.cs.indiana.edu/fil/cgi-bin/WebSec/marilyn.cgi?test=1
Tue May 22 16:56:02 2012 from http://carl.cs.indiana.edu/fil/cgi-bin/WebSec/marilyn.cgi?test=1
Tue May 22 15:57:02 2012 from http://www.google.com/m?safe=on&client=ms-nokia&cof=nsp&channel=s60&q=tubidy.mobi%2Fsearch.php%3Fa%3D18%26q%3Dsex%252b18
Tue May 22 15:56:39 2012 from http://www.google.com/search?client=opera&rls=en&q=http%3A%2F%2Fhome.allgameshome.com%2Fresults.php%3Fcategory%3Dweb%26s%3Dhot%2Btube&sourceid=opera&ie=utf-8&oe=utf-8&channel=suggest
Tue May 22 15:40:36 2012 from http://www.google.com.sa/url?sa=t&rct=j&q=http%3Atubidy.mobi%2Fsearch.php%3Fa%3D18%26q%3Dhot%2Bsex&source=web&cd=2&ved=0CFsQFjAB&url=http%3A%2F%2Fcarl.cs.indiana.edu%2Ffil%2Fcgi-bin%2FWebSec%2Fmarilyn.cgi%2F&ei=Ouu7T6rnNoOyrAeygonXDQ&usg=AFQjCNF9tNGa2iM3aGYKAk6Ix4Wx3InCNQ&safe=active
Tue May 22 14:59:14 2012 from http://carl.cs.indiana.edu/fil/cgi-bin/WebSec/marilyn.cgi?test=1
Tue May 22 14:39:04 2012 from http://carl.cs.indiana.edu/fil/cgi-bin/WebSec/marilyn.cgi?test=1
Tue May 22 13:59:01 2012 from http://carl.cs.indiana.edu/fil/cgi-bin/WebSec/marilyn.cgi?test=1
Tue May 22 13:34:11 2012 from (empty referer)
Tue May 22 13:33:10 2012 from http://www.google.co.uk/search?q=http%253atubidy%252ecom&client=ms-opera-mini&channel=new&sky=ee&hl=en&ie=UTF-8&tbm=
Tue May 22 12:44:05 2012 from http://carl.cs.indiana.edu/fil/cgi-bin/WebSec/marilyn.cgi?test=1
Tue May 22 12:39:03 2012 from http://www.searchplusnetwork.com/?sp=chv&q=click.infospace.comClickHandler.ashx%3Fdu
Tue May 22 12:37:00 2012 from http://carl.cs.indiana.edu/fil/cgi-bin/WebSec/marilyn.cgi?test=1
Tue May 22 12:26:50 2012 from http://carl.cs.indiana.edu/fil/cgi-bin/WebSec/marilyn.cgi?test=1
Tue May 22 12:00:11 2012 from (empty referer)
Tue May 22 11:54:40 2012 from http://carl.cs.indiana.edu/fil/cgi-bin/WebSec/marilyn.cgi?test=1
Tue May 22 11:49:54 2012 from (empty referer)
Tue May 22 11:13:15 2012 from http://assist.babylon.com/babylonassista/dnsassist/main?domain=mystart%20incredibar%20mb113%20
Tue May 22 10:34:44 2012 from http://home.allgameshome.com/results.php?category=web&s=http://click.infospace.com/ClickHandler.ashx?du=http%3a%2f%2fmobile-de.ftvplus.com%2f&ru=http%3a%2f%2fmobile-de.ftvplus.com%2f&ld=20120522&ap=5&app=1&c=imesh.meta.4&s=imeshmeta4&coi=239137&cop=main-title&euip=180.242.207.134&npp=5&p=0&pp=0&pvaid=a8c6abc330b8488889bd97ffb25cba1b&ep=5&mid=9&hash=7658AE94E93451017478CE4D93ACCAC
Tue May 22 10:30:13 2012 from http://playsushi.infospace.com/playsushi.tbard/search/web?qsi=11&q=click.infospace.com&fcoid=4&fcop=results-bottom&fpid=2
Tue May 22 10:21:28 2012 from http://carl.cs.indiana.edu/fil/cgi-bin/WebSec/marilyn.cgi?test=1
Tue May 22 10:15:52 2012 from http://carl.cs.indiana.edu/fil/cgi-bin/WebSec/marilyn.cgi?test=1
Tue May 22 10:07:14 2012 from http://search.yahoo.com/404handler;_ylt=A0oGkkc7nbtPICAAtscqk6B4?p=click+infospace+clickhandler&ei=UTF-8&fr=slv502-&url=http%3A%2F%2Fclick.infospace.com%2FClickHandler.ashx%3Fdu%3Dhttp%253a%252f%252fwww.youtube.com%252fwatch%253fv%253duGj94k-yriw%26ru%3Dhttp%253a%252f%252fwww.youtube.com%252fwatch%253fv%253duGj94k-yriw%26ld%3D20120522%26ap%3D1%26app%3D1%26c%3Dfacemoodsv4.1132%26s%3Dfacemoodsv4%26coi%3D372376%26cop%3Dmain-title%26euip%3D120.165.12.121%26npp%3D1%26p%3D0%26pp%3D0%26pvaid%3D74393351c3354152a3471c72d9ea9356%26ep%3D2%26mid%3D9%26hash%3D76CE89DEF8FEAD6B757800DAF56023C5&src=toolbar&nrd=1&xargs=0&pstart=1&b=11
Tue May 22 09:50:58 2012 from http://carl.cs.indiana.edu/fil/cgi-bin/WebSec/marilyn.cgi?test=1
Tue May 22 09:15:23 2012 from http://www.google.co.uk/search?q=http%253a%252f%252fwww%252egoogle%252ecom%252e%252e%252e&hl=en&client=ms-opera-mini&channel=new&sky=ee&ie=UTF-8&tbm=
Tue May 22 07:59:19 2012 from http://carl.cs.indiana.edu/fil/cgi-bin/WebSec/marilyn.cgi?test=1
Tue May 22 07:55:11 2012 from http://carl.cs.indiana.edu/fil/cgi-bin/WebSec/marilyn.cgi?test=1
Tue May 22 06:36:00 2012 from http://carl.cs.indiana.edu/fil/cgi-bin/WebSec/marilyn.cgi?test=1
Tue May 22 06:00:06 2012 from http://carl.cs.indiana.edu/fil/cgi-bin/WebSec/marilyn.cgi?test=1
Tue May 22 05:49:13 2012 from http://carl.cs.indiana.edu/fil/cgi-bin/WebSec/marilyn.cgi?test=1
Tue May 22 05:46:35 2012 from http://carl.cs.indiana.edu/fil/cgi-bin/WebSec/marilyn.cgi?test=1
Tue May 22 05:39:35 2012 from http://carl.cs.indiana.edu/fil/cgi-bin/WebSec/marilyn.cgi?test=1
Tue May 22 05:38:16 2012 from http://carl.cs.indiana.edu/fil/cgi-bin/WebSec/marilyn.cgi?test=1
Tue May 22 05:37:49 2012 from http://carl.cs.indiana.edu/fil/cgi-bin/WebSec/marilyn.cgi?test=1
Tue May 22 05:33:31 2012 from http://carl.cs.indiana.edu/fil/cgi-bin/WebSec/marilyn.cgi?test=1
Tue May 22 05:09:58 2012 from (empty referer)
Tue May 22 02:20:28 2012 from http://assist.babylon.com/babylonassista/dnsassist/main?domain=cs%20infospace%20ClickHandler%20
Tue May 22 00:54:46 2012 from http://www.searchplusnetwork.com/?sp=chv&q=http%3A%2F%2Fassist.babylon.com%2Fbabylonassista%2Fdnsassist%2Fmain%3Fdomain
Mon May 21 22:46:47 2012 from (empty referer)
Mon May 21 19:48:15 2012 from http://www.google.com.ph/url?sa=t&rct=j&q=click%20infospace%20clickhandler&source=web&cd=5&ved=0CGMQFjAE&url=http%3A%2F%2Fcarl.cs.indiana.edu%2Ffil%2Fcgi-bin%2FWebSec%2Fmarilyn.cgi&ei=MdS6T7LBCKvymAWr3LzrBw&usg=AFQjCNHRtbr4ftk_4PyVzN3HuHPJV6LZow
Mon May 21 19:36:03 2012 from http://search.iminent.com/SearchTheWeb/v2/1033/404error/Result.aspx
Mon May 21 19:31:15 2012 from (empty referer)
Mon May 21 18:08:19 2012 from (empty referer)
Mon May 21 15:26:19 2012 from (empty referer)
Mon May 21 14:58:08 2012 from http://bit.ly/p7zHOT
Mon May 21 12:10:35 2012 from http://www.google.co.uk/m?q=www%252eadult%2520videos%252ecom&client=ms-opera-mini&channel=new&q=www%252eadult%2520videos%252ecom&client=ms-opera-mini&channel=new
Mon May 21 11:40:41 2012 from (empty referer)
Mon May 21 11:10:30 2012 from (empty referer)
Mon May 21 11:10:00 2012 from http://www.searchplusnetwork.com/?sp=chv&q=click.infospace.comClickHandler.ashx%3Fdu
Mon May 21 06:34:39 2012 from http://www.roxy-bedding.org
Mon May 21 06:29:32 2012 from http://www.google.co.uk/m?q=www%252etubidy%252ecom&client=ms-opera-mini&channel=new&q=www%252etubidy%252ecom&client=ms-opera-mini&channel=new
Mon May 21 03:48:37 2012 from http://search.chatzum.com/?q=http%3A%2F%2Fclick.infospace.com%2FClickHandler.ashx%3Fdu%3Dhttp%3A%2F%2Ffr-fr.facebook.com%2F&s=web&as=0&dns=1
Mon May 21 02:11:11 2012 from (empty referer)
Sun May 20 22:37:58 2012 from (empty referer)
Sun May 20 21:19:11 2012 from http://wiki.live4vibez.co.uk/index.php?title=User:KulkiGejszy
Sun May 20 18:47:33 2012 from (empty referer)
Sun May 20 16:28:59 2012 from http://www.google.co.th/url?sa=t&rct=j&q=anonymous%20hacked%20into%20auction%20site%20and%20posted%20sex%20film%20of%20marilyn%20monroe%20here%3A%20http%3A%2F%2Fbit.ly%2Fp7zhot&source=web&cd=1&ved=0CDEQFjAA&url=http%3A%2F%2Fcarl.cs.indiana.edu%2Ffil%2Fcgi-bin%2FWebSec%2Fmarilyn.cgi&ei=9VO5T4DVM8-ErAfm27GzCw&usg=AFQjCNHRtbr4ftk_4PyVzN3HuHPJV6LZow
Sun May 20 15:59:37 2012 from (empty referer)
Sun May 20 15:35:08 2012 from (empty referer)
Sun May 20 14:19:50 2012 from http://www.google.com/search?client=opera&rls=fr&q=http%3A%2F%2Fwww.google.com%2Fsearch%3Fq%3Dhttp%253A%252F%252Fwww.google.dz%252Fsearch%253Fq%253Dfacebook%2526sourceid%253Dopera%2526ie%253Dutf-8%2526oe%253Dutf-8%2526channel%253Dsuggest%26sourceid%3Dopera%26ie%3Dutf-8%26oe%3Dutf-8%26channel%3Dsuggest&sourceid=opera&ie=utf-8&oe=utf-8&channel=suggest
Sun May 20 13:50:13 2012 from (empty referer)
Sun May 20 13:21:17 2012 from http://assist.babylon.com/babylonassista/dnsassist/main?domain=cs%20infospace%20
Sun May 20 12:16:37 2012 from (empty referer)
Sun May 20 12:14:36 2012 from http://www.google.pl/url?sa=t&rct=j&q=http%3A%2F%2Fcarl.cs.indiana.edu%2Ffil%2Fcgi-bin%2Fwebsec%2Fmarilyn.cgi&source=web&cd=1&ved=0CGgQFjAA&url=http%3A%2F%2Fcarl.cs.indiana.edu%2Ffil%2Fcgi-bin%2FWebSec%2Fmarilyn.cgi&ei=DM6qT43QNufU4QSP_e2aBg&usg=AFQjCNHRtbr4ftk_4PyVzN3HuHPJV6LZow
Sun May 20 07:33:23 2012 from (empty referer)
Sun May 20 06:50:53 2012 from (empty referer)
Sun May 20 06:42:55 2012 from (empty referer)
Sun May 20 05:53:28 2012 from http://www.google.com.ph/url?sa=t&rct=j&q=click%20infospace%20clickhandler&source=web&cd=5&ved=0CGMQFjAE&url=http%3A%2F%2Fcarl.cs.indiana.edu%2Ffil%2Fcgi-bin%2FWebSec%2Fmarilyn.cgi&ei=D7-4T823Hq-5iAfexLSCCQ&usg=AFQjCNHRtbr4ftk_4PyVzN3HuHPJV6LZow
Sun May 20 04:30:29 2012 from (empty referer)
Sun May 20 03:45:03 2012 from http://assist.babylon.com/babylonassista/dnsassist/main?domain=cs%20infospace%20ClickHandler%20
Sun May 20 02:18:10 2012 from (empty referer)
Sun May 20 01:42:02 2012 from http://www.google.co.in/m?q=www%252exnxx%2520sex%2520video%252ecom&client=ms-opera-mini&channel=new
Sun May 20 01:39:49 2012 from http://www.google.co.in/m?q=www%252exnxx%2520sex%2520video%252ecom&client=ms-opera-mini&channel=new
Sat May 19 22:35:41 2012 from (empty referer)
Sat May 19 22:19:19 2012 from http://www.google.de/url?sa=t&rct=j&q=click+infospace+ClickHandler&source=web&cd=6&ved=0CGsQFjAF&url=http%3A%2F%2Fcarl.cs.indiana.edu%2Ffil%2Fcgi-bin%2FWebSec%2Fmarilyn.cgi&ei=RlS4T4DDLKWTiQf-7JiJCQ&usg=AFQjCNHRtbr4ftk_4PyVzN3HuHPJV6LZow&cad=rjt
Sat May 19 19:32:01 2012 from http://www.google.com/search?q=Http://tubidy.mobi/search.php%3Fa%3D18%26q%3Dhotd&hl=en&safe=active&sky=ee&prmd=ivns&ei=SC24T-zuF8bj8QP9ysm4Cg&start=20&sa=N
Sat May 19 16:29:25 2012 from (empty referer)
Sat May 19 12:49:01 2012 from http://assist.babylon.com/babylonassista/dnsassist/main?domain=cs%20infospace%20ClickHandler%20
Sat May 19 11:33:08 2012 from http://www.searchplusnetwork.com/?q=facebook.com%2Fajax%2Fpagelet%2Fgeneric.php%2FPhotoViewerInitPagelet%3F__a&x=0&y=0
Sat May 19 09:04:22 2012 from http://www.google.com.tr/url?sa=t&rct=j&q=click%20infospace%20clickhandler&source=web&cd=5&ved=0CGUQFjAE&url=http%3A%2F%2Fcarl.cs.indiana.edu%2Ffil%2Fcgi-bin%2FWebSec%2Fmarilyn.cgi&ei=UJq3T-iPGcbLtAauhu2pCA&usg=AFQjCNHRtbr4ftk_4PyVzN3HuHPJV6LZow
Sat May 19 08:43:00 2012 from http://www.google.com/xhtml?site=universal&safe=strict&client=ms-opera_mb_no&q=http://www.google.com/m/search?client%3Dms-opera_mb_no&gwt=off&channel=bh&hl=en&start=40&sa=N
Sat May 19 07:17:19 2012 from (empty referer)
Sat May 19 05:55:28 2012 from http://www.google.com/search?q=click+infospace+ClickHandler&channel=linkdoctor&oq=click+infospace+ClickHandler&aq=f&aqi=&aql=&gs_l=serp.12...0.0.0.3590.0.0.0.0.0.0.0.0..0.0...0.0.WjktyhoOACM
Sat May 19 04:36:56 2012 from (empty referer)
Sat May 19 00:06:41 2012 from (empty referer)
Fri May 18 18:48:25 2012 from (empty referer)
Fri May 18 18:35:40 2012 from (empty referer)
Fri May 18 18:16:00 2012 from (empty referer)
Fri May 18 17:38:06 2012 from http://www.google.com/m?q=www.google.com%2Fm%2Fsearch%3Fsite%3Dimages%26client%3Dms-opera-mini%26q%3Dhot%2Bgirls%26channel%3Dnew%26start%3D10%26sa%3DN&client=ms-opera-mini&channel=new
Fri May 18 17:17:46 2012 from http://blekko.com/ws/?source=1dda2667&q=http%3A%2F%2Fsearch.conduit.com%2FResults.aspx%3Fq%3Dhot+sex
Fri May 18 15:42:23 2012 from http://www.google.com/m/search?source=mobilesearchapp&v=1.00%2815%29&qttime=595&uaction=T&rlz=1MBGGLE_arSA484&ltime=1337380828905&q=Anonymous%20hacked%20into%20auction%20site%20and%20posted%20sex%20film%20of%20Marilyn%20Monroe%20here%3A%20h&urlload=cmd
Fri May 18 14:16:28 2012 from (empty referer)
Fri May 18 13:19:50 2012 from http://www.google.com/search?q=click+infospace+ClickHandler&channel=linkdoctor
Fri May 18 12:27:41 2012 from (empty referer)
Fri May 18 11:25:25 2012 from http://www.google.com/m?client=ms-aff-ucweb&q=Mobi/search.php?a%3D18%26q%3D%2Bhot+sex&output=xhtml&hl=en&start=10&sa=N
Fri May 18 11:21:24 2012 from http://assist.babylon.com/babylonassista/dnsassist/main?domain=cs%20infospace%20ClickHandler%20
Fri May 18 06:47:33 2012 from http://blekko.com/ws/?source=1dda2667&q=http%3A%2F%2Fsearch.conduit.com%2FResults.aspx%3Fq%3Dplayboy+slow+sex
Fri May 18 06:46:21 2012 from http://assist.babylon.com/babylonassista/dnsassist/main?domain=cs%20infospace%20ClickHandler%20
Fri May 18 05:02:19 2012 from http://www.searchplusnetwork.com/?sp=chv&q=facebook.com%2Fajax%2Fpagelet%2Fgeneric.php%2FPhotoViewerInitPagelet%3F__a
Fri May 18 04:29:36 2012 from (empty referer)
Fri May 18 03:30:59 2012 from (empty referer)
Fri May 18 03:15:42 2012 from (empty referer)
Fri May 18 02:36:35 2012 from http://www.google.co.in/m?q=www%252ewapday%252ecom&client=ms-opera-mini&channel=new
Fri May 18 02:15:32 2012 from http://www.google.co.in/m?q=www%252ewapday%252ecom&client=ms-opera-mini&channel=new
Fri May 18 02:08:10 2012 from (empty referer)
Fri May 18 01:36:06 2012 from (empty referer)
Thu May 17 23:28:23 2012 from http://yandex.ru/yandsearch?text=sex+filmy+sex+filmy
Thu May 17 21:58:09 2012 from (empty referer)
Thu May 17 19:57:14 2012 from http://www.google.com/url?sa=t&rct=j&q=http%3A%2F%2Fwww.search-results.com%2Fweb%3Fqsrc%3D2417%26o%3D15896%26l%3Ddis%26q%3Dxnxxcom&source=web&cd=1&ved=0CFcQFjAA&url=http%3A%2F%2Fcarl.cs.indiana.edu%2Ffil%2Fcgi-bin%2FWebSec%2Fmarilyn.cgi&ei=N5C1T-j4BYnMhAe2vPSqDg&usg=AFQjCNHRtbr4ftk_4PyVzN3HuHPJV6LZow
Thu May 17 19:18:19 2012 from (empty referer)
Thu May 17 16:08:32 2012 from http://www.google.com/search?client=opera&rls=en&q=http%3A%2F%2Fhome.allgameshome.com%2Fresults.php%3Fs%3D%26category%3Dweb%26start%3D1&sourceid=opera&ie=utf-8&oe=utf-8&channel=suggest
Thu May 17 15:28:21 2012 from (empty referer)
Thu May 17 09:35:00 2012 from (empty referer)
Thu May 17 06:53:30 2012 from http://www.google.com.my/url?sa=t&rct=j&q=click%20infospace%20clickhandler&source=web&cd=5&ved=0CF8QFjAE&url=http%3A%2F%2Fcarl.cs.indiana.edu%2Ffil%2Fcgi-bin%2FWebSec%2Fmarilyn.cgi&ei=idi0T6XOJIzirAe6uqCCDA&usg=AFQjCNHRtbr4ftk_4PyVzN3HuHPJV6LZow
Thu May 17 05:07:04 2012 from http://search.imesh.com/web?hl=en&q=click+infospace&src=derr&ref=1&page=5
Thu May 17 03:16:19 2012 from http://search.chatzum.com/?page=3&ipp=10&q=youporn+&s=web&as=0
Thu May 17 00:09:57 2012 from http://plus.url.google.com/url?sa=z&n=1337227797016&url=http%3A%2F%2Fbit.ly%2Fp7zHOT&usg=8FTYHWCNeSZ8TAIX6pU9tVjvNVA.
Wed May 16 22:47:40 2012 from http://www.yandex.ru/
Wed May 16 19:57:19 2012 from (empty referer)
Wed May 16 19:43:12 2012 from http://blekko.com/ws/?source=1dda2667&q=http%3A%2F%2Fassist.babylon.com%2Fbabylonassista%2Fdnsassist%2Fmain%3Fdomain%3Dwwww+xnxx+
Wed May 16 18:14:27 2012 from (empty referer)
Wed May 16 17:58:27 2012 from (empty referer)
Wed May 16 15:23:37 2012 from http://bb.nsmb.com/member.php?u=53660
Wed May 16 08:17:06 2012 from http://www.searchplusnetwork.com/?sp=chv&q=click.infospace.comClickHandler.ashx%3Fdu
Wed May 16 05:59:33 2012 from (empty referer)
Wed May 16 04:22:05 2012 from (empty referer)
Wed May 16 03:55:21 2012 from (empty referer)
Wed May 16 02:50:28 2012 from http://www.google.com/url?sa=t&rct=j&q=http%3A%2F%2Ftubidy.mobi%2Fsearch.php%3Fa%3D18%26q%3Dhot%2Bsex&source=web&cd=2&ved=0CFIQFjAB&url=http%3A%2F%2Fcarl.cs.indiana.edu%2Ffil%2Fcgi-bin%2FWebSec%2Fmarilyn.cgi%2F&ei=LE6zT9bZJe2S0QXnmPWMCQ&usg=AFQjCNF9tNGa2iM3aGYKAk6Ix4Wx3InCNQ
Wed May 16 02:20:47 2012 from http://www.baidu.com/s?wd=sex.xxx.hot.sain&tn=chinacnc_hlj_zd
Wed May 16 01:25:04 2012 from (empty referer)
Wed May 16 01:11:45 2012 from http://www.searchplusnetwork.com/?sp=chv&q=click.infospace.comClickHandler.ashx%3Fdu
Tue May 15 16:53:23 2012 from http://www.google.com/m?client=ms-nokia&cof=nsp&channel=s60&q=http%3atubidy%2520mobi%2520search%20sex
Tue May 15 15:26:30 2012 from (empty referer)
Tue May 15 14:47:32 2012 from (empty referer)
Tue May 15 12:47:45 2012 from http://forums.popphoto.com/member.php?63115-maxenno
Tue May 15 12:40:48 2012 from http://www.google.co.in/search?q=www%252esexy%2520vidoe%2520com&hl=en&client=ms-opera-mini&channel=new&sky=ee&prmd=ivns&ei=BoeyT5fQD6Kk4gTDvMHLCQ&start=10&sa=N
Tue May 15 11:52:41 2012 from http://www.searchplusnetwork.com/?sp=chv&q=click.infospace.comClickHandler.ashx%3Fdu
Tue May 15 05:31:10 2012 from http://carl.cs.indiana.edu/fil/cgi-bin/WebSec/marilyn.cgi?test=1/
Tue May 15 05:11:58 2012 from (empty referer)
Tue May 15 04:19:39 2012 from (empty referer)
Tue May 15 02:20:03 2012 from (empty referer)
Tue May 15 01:28:30 2012 from (empty referer)
Mon May 14 20:09:21 2012 from http://nadine.helmholtz-eos.de/forum/user/profile/12344.page
Mon May 14 18:07:29 2012 from (empty referer)
Mon May 14 17:23:11 2012 from (empty referer)
Mon May 14 16:04:11 2012 from (empty referer)
Mon May 14 14:51:06 2012 from http://www.sztuka-artykuly.waw.pl/2012/05/sprowadzanie-produktw-seksualnych/
Mon May 14 14:02:24 2012 from http://search.bearshare.com/web?q=cs%20infospace&hl=tr&page=1&src=404&ref=1
Mon May 14 12:11:08 2012 from (empty referer)
Mon May 14 08:28:06 2012 from http://www.google.co.in/m?q=www%252etubidy%252ecom&client=ms-opera-mini&channel=new
Mon May 14 07:25:31 2012 from (empty referer)
Mon May 14 06:54:39 2012 from (empty referer)
Mon May 14 06:54:34 2012 from http://carl.cs.indiana.edu/fil/cgi-bin/WebSec/marilyn.cgi?test=1
Mon May 14 06:03:42 2012 from (empty referer)
Mon May 14 02:18:40 2012 from (empty referer)
Sun May 13 22:53:50 2012 from (empty referer)
Sun May 13 21:11:12 2012 from http://sharky.opole.pl/2012/04/18/cwiczenia-dla-kobiet/
Sun May 13 18:37:47 2012 from http://search.bearshare.com/web?src=derr&appid=0&systemid=2&v=0&q=http://cs.infospace.com/ClickHandler.ashx%3fru%3dhttp%253a%252f%252fwww.megep.meb.gov.tr%252fmodulson%252fmoduller.htm%26ld%3d20120513%26ap%3d1%26app%3d1%26c%3dinsp%26s%3dispace%26coi%3d239138%26cop%3dmain-title%26euip%3d88.229.52.164%26npp%3d1%26p%3d0%26pp%3d0%26pvaid%3d58d863ed12294163ac98b648880b5b36%26sid%3d782563570.3511486642900.1336948552%26vid%3d782563570.3511486642900.1336948552.1%26fcoi%3d417%26fcop%3dtopnav%26fpid%3d27%26ep%3d1%26hash%3dE358DAA6A66410A47B1B9465244E31A6
Sun May 13 17:47:50 2012 from (empty referer)
Sun May 13 13:54:18 2012 from http://www.elecard.com/forum/index.php?action=profile;u=94102;sa=summary
Sun May 13 12:19:10 2012 from (empty referer)
Sun May 13 07:31:36 2012 from (empty referer)
Sun May 13 05:49:01 2012 from http://www.premierjunkremoval.com/louisiana/junk-removal-hornbeck-la/
Sun May 13 04:12:13 2012 from http://www.google.com.sa/search?q=%EF%BB%BFhttp://tubidy.mobi/search.php%3Fa%3D18%26q%3Dhot%2Bsex&hl=en&safe=active&client=ms-android-samsung&gl=us&source=android-browser-type&sky=mrdr&prmd=imvns&ei=UGyvT7HFOJGe-QbI4bmBCQ&start=10&sa=N&biw=480&bih=295
Sun May 13 03:13:58 2012 from (empty referer)
Sun May 13 02:11:32 2012 from http://cc.bingj.com/cache.aspx?q=http%2f%2fvuclip.com%2fw%3fcid%3d229007763%26z%3d1108%26frm%3ds&d=4562737600139942&mkt=en-xa&setlang=en-xa&w=784aa863,8ff4ff5
Sun May 13 02:08:08 2012 from http://search.chatzum.com/?q=www.google.co.in%2Fsearch%3Fsclient%3Dpsy-ab%26hl%3Den%26site%3D%26source%3Dhp%26q%3Drailways+rev%26btnK%3DGoogle+Search&s=web&as=0
Sun May 13 01:54:58 2012 from (empty referer)
Sun May 13 00:58:24 2012 from (empty referer)
Sat May 12 22:27:51 2012 from http://www.google.es/url?sa=t&rct=j&q=start%20allgameshome.com%20&source=web&cd=9&ved=0CHEQFjAI&url=http%3A%2F%2Fcarl.cs.indiana.edu%2Ffil%2Fcgi-bin%2FWebSec%2Fmarilyn.cgi&ei=HhyvT5DeDoGo8gSA7fHTCA&usg=AFQjCNHRtbr4ftk_4PyVzN3HuHPJV6LZow
Sat May 12 20:45:12 2012 from (empty referer)
Sat May 12 19:17:28 2012 from (empty referer)
Sat May 12 19:12:00 2012 from (empty referer)
Sat May 12 19:11:50 2012 from (empty referer)
Sat May 12 18:53:30 2012 from (empty referer)
Sat May 12 14:23:19 2012 from http://www.google.com/m/imgres?safe=on&client=ms-nokia&cof=nsp&q=httptubidymobisearch.txt&imgtype&channel=s60&start=17&site=images&imgid=ANd9GcSKhTTP3xdm2D45mFYPuSSyWvr5WR-nLtKNbPdi0QuZXJ36YWJkxeHs3SmT&imgsz=54326&imgurl=http://carl.cs.indiana.edu/fil/WebSec/marilyn.jpg&imgrefurl=http://carl.cs.indiana.edu/fil/cgi-bin/WebSec/marilyn.cgi&ht=333&wd=500&tbnh=87&tbnw=130&ei=YKquT4DHEorZ8APmXg&ved=0CA0Q9QEwAzgO
Sat May 12 12:59:59 2012 from http://www.google.com/url?sa=t&rct=j&q=http%3A%2F%2Fcarl.cs.indiana.edu%2Ffil%2Fcgi-bin%2Fwebsec%2Fmarilyn.cgi%3Ftest%3D1&source=web&cd=2&ved=0CFYQFjAB&url=http%3A%2F%2Fcarl.cs.indiana.edu%2Ffil%2Fcgi-bin%2FWebSec%2Fmarilyn.cgi&ei=65WuT9jQKsjqrAeap42GBA&usg=AFQjCNHRtbr4ftk_4PyVzN3HuHPJV6LZow
Sat May 12 12:58:03 2012 from http://www.google.co.uk/m?q=www%252etubidy%252ecom&client=ms-opera-mini&channel=new
Sat May 12 08:14:00 2012 from http://www.google.com.pk/url?sa=t&rct=j&q=click%20infospace%20clickhandler&source=web&cd=4&ved=0CFUQFjAD&url=http%3A%2F%2Fcarl.cs.indiana.edu%2Ffil%2Fcgi-bin%2FWebSec%2Fmarilyn.cgi&ei=AlSuT5_tK4r2sgbhlMXPBg&usg=AFQjCNHRtbr4ftk_4PyVzN3HuHPJV6LZow
Sat May 12 07:30:07 2012 from (empty referer)
Sat May 12 07:06:20 2012 from (empty referer)
Sat May 12 06:17:21 2012 from (empty referer)
Sat May 12 05:47:32 2012 from http://www.google.co.uk/m?q=www%252etubidy%252ecom&client=ms-opera-mini&channel=new&q=www%252etubidy%252ecom&client=ms-opera-mini&channel=new
Sat May 12 03:02:13 2012 from http://www.google.com.sa/search?hl=en&gl=us&client=ms-android-samsung&source=android-unknown&action=devloc&q=httptubidy...isearch.txt+you.tube+li+e&safe=on&sky=mrdr
Sat May 12 02:54:12 2012 from http://www.clinicalgeriatrics.com/users/izak221
Sat May 12 02:06:51 2012 from (empty referer)
Fri May 11 22:56:50 2012 from (empty referer)
Fri May 11 18:42:42 2012 from (empty referer)
Fri May 11 16:02:23 2012 from http://www.google.co.in/search?client=ms-opera-mini&channel=new&sky=ee&hl=en&q=www%252esexy%2520video%252ecom%252ein
Fri May 11 14:21:33 2012 from http://www.google.com/m/search?safe=on&client=ms-aff-ucweb&output=xhtml&hl=en&sa=2&q=htt%3a%2f%2ftubidy.mobi%2fsearch.php%3fa%3d18%26q%3dsex%2bbikini&site=images
Fri May 11 14:20:03 2012 from http://www.google.com/m/search?client=ms-aff-ucweb&q=htt://tubidy.mobi/search.php?a%3D18%26q%3Dsex%2Bbikini&output=xhtml&hl=en&site=images&tab=wi&ei=OlitT8jhK6Ki2wWkcw&sa=N&ei=OlitT8jhK6Ki2wWkcw&ved=0CAMQ1wY
Fri May 11 13:54:45 2012 from http://home.allgameshome.com/results.php?category=web&s=http://click.infospace.com/ClickHandler.ashx?du=http%3a%2f%2fwww.aanr.com%2fjoin-renew&ru=http%3a%2f%2fwww.aanr.com%2fjoin-renew&ld=20120511&ap=5&app=1&c=imesh.meta.4&s=imeshmeta4&coi=239137&cop=main-title&euip=180.254.208.121&npp=5&p=0&pp=0&pvaid=f8737fe1540e493d98cbba46fd315d1e&ep=5&mid=9&hash=6C3FB954745EA0C30382BF798CD4B1D
Fri May 11 13:35:34 2012 from http://www.brobible.com/member/147516
Fri May 11 13:29:35 2012 from http://www.google.com.sa/search?hl=en&safe=active&client=ms-android-samsung&source=android-launcher-widget&v=133247963&sa=X&ei=AkytT8GnItDm8QPHh5TQCg&ved=0CCgQvwUoAQ&q=http%3D+//tubidy.mob+mobi/search.php%3Fa%3D18%26q%3D%25D8%25B1%25D9%2582%25D8%25B1%25D9%2582%25D8%25B5%2B%25D9%2583%25D8%25B3&spell=1&biw=320&bih=401
Fri May 11 12:25:22 2012 from http://www.google.com/url?sa=t&rct=j&q=http%3A%2F%2Fwww.google.com%2Fsearch%3Fq%3Dhttp%253a%252f%252fwww.google.com%252fsearch%253fq%253dhttp%25253a%25252f%25252fredir.opera.com%25252fspeeddials%25252ffacebook%25252f%2526sourceid%253dopera%2526ie%253dutf-8%2526oe%253dutf-8%2526channel%253dsuggest%26sourceid%3Dopera%26ie%3Dutf-8%26oe%3Dutf-8%26channel%3Dsuggest&source=web&cd=4&ved=0CFwQFjAD&url=http%3A%2F%2Fcarl.cs.indiana.edu%2Ffil%2Fcgi-bin%2FWebSec%2Fmarilyn.cgi&ei=LT2tT96IGsm3hAfW7Ki2DA&usg=AFQjCNHRtbr4ftk_4PyVzN3HuHPJV6LZow
Fri May 11 11:58:28 2012 from (empty referer)
Fri May 11 11:22:54 2012 from http://www.google.com/m?client=ms-nokia&cof=nsp&channel=s60&q=ccarl.cs.indiana.edu%2ffil%2fcgi-bin%2fWebSec%2fmarilyn.cgi%3fte
Fri May 11 11:22:38 2012 from http://www.google.com/m?client=ms-nokia&cof=nsp&channel=s60&q=ccarl.cs.indiana.edu%2ffil%2fcgi-bin%2fWebSec%2fmarilyn.cgi%3fte
Fri May 11 09:44:08 2012 from http://www.hairdirect.com/community/members/daro799.aspx
Fri May 11 08:44:33 2012 from (empty referer)
Fri May 11 07:53:47 2012 from http://www.searchplusnetwork.com/?sp=chv&q=click.infospace.comClickHandler.ashx%3Fdu
Fri May 11 06:38:32 2012 from (empty referer)
Fri May 11 05:51:29 2012 from http://search.bearshare.com/web?hl=tr&q=click+infospace&src=404&ref=1&page=5
Fri May 11 04:32:09 2012 from http://www.google.com.sa/url?sa=t&rct=j&q=http%3A%2F%2Ftubidy.mobi%2Fsearch.php%3Fa%3D18%26q%3Dsex%252B18&source=web&cd=2&ved=0CC4QFjAB&url=http%3A%2F%2Fcarl.cs.indiana.edu%2Ffil%2Fcgi-bin%2FWebSec%2Fmarilyn.cgi&ei=as6sT_7yOIWU-wa_jaGaDA&usg=AFQjCNHRtbr4ftk_4PyVzN3HuHPJV6LZow
Fri May 11 03:26:42 2012 from http://www.searchplusnetwork.com/?sp=chv&q=click.infospace.comClickHandler.ashx%3Fdu
Fri May 11 02:58:43 2012 from http://home.allgameshome.com/results.php?category=web&s=http://click.infospace.com/ClickHandler.ashx?du=http%3a%2f%2fwww.facebook.com%2f&ru=http%3a%2f%2fwww.facebook.com%2f&ld=20120511&ap=1&app=1&c=imesh.meta.4&s=imeshmeta4&coi=239137&cop=main-title&euip=113.171.159.54&npp=1&p=0&pp=0&pvaid=6f1c363804a34c09945889cdf06e9f12&ep=1&mid=9&hash=0D45AEC88E1821B2293A19F069AF270
Thu May 10 23:27:54 2012 from (empty referer)
Thu May 10 23:15:35 2012 from http://www.google.com.sa/search?q=htt://tubidy+.mobi/search+.php%3Fa+18%26q%3D&hl=ar&safe=active&client=ms-android-samsung&gl=ae&source=android-unknown&sky=mrdr&prmd=imvns&ei=84KsT6KII8z14QTLsaXfAw&start=10&sa=N&biw=320&bih=508
Thu May 10 20:54:10 2012 from (empty referer)
Thu May 10 20:54:08 2012 from http://carl.cs.indiana.edu/fil/cgi-bin/WebSec/marilyn.cgi?test=1
Thu May 10 16:16:26 2012 from http://www.searchcanvas.com/web?ot=2&q=click.infospace.comClickHandler.ashx?du=http%3a%2f%2fwww.youporn.com%2f&ru=http%3a%2f%2fwww.youporn.com%2f&ld=20120510&ap=1&app=1&c=blingee.de.ieredir&s=blingee&coi=211&cop=SiteMatch&euip=93.200.248.207&npp=1&p=0&pp=0&pvaid=398ed3159df1467491bf7604b1ca746c&ep=1&mid=5&hash=332782F3915BFACF8D6236F33983B3F8
Thu May 10 15:06:57 2012 from http://www.bing.com/search?q=hotsptshld.com%252Fg%252Fresults.php&PQ=&SP=2&QS=HS&SK=HS1&sc=8-32&form=NP24SH&pc=NP24
Thu May 10 13:32:27 2012 from (empty referer)
Thu May 10 11:01:11 2012 from http://www.google.com/url?sa=t&rct=j&q=http%3A%2F%2Fwww.google.com%2Fsearch%3Fq%3Dhttp%253a%252f%252fwww.google.com%252fsearch%253fq%253dhttp%25253a%25252f%25252fwww.facebook.com%25252f%2526sourceid%253dopera%2526ie%253dutf-8%2526oe%253dutf-8%2526channel%253dsuggest%26sourceid%3Dopera%26ie%3Dutf-8%26oe%3Dutf-8%26channel%3Dsuggest&source=web&cd=1&ved=0CFYQFjAA&url=http%3A%2F%2Fcarl.cs.indiana.edu%2Ffil%2Fcgi-bin%2FWebSec%2Fmarilyn.cgi&ei=LNirT6-QBo774QTo7vXUCA&usg=AFQjCNHRtbr4ftk_4PyVzN3HuHPJV6LZow
Thu May 10 07:23:36 2012 from http://www.google.com/search?client=opera&rls=en&q=http%3A%2F%2Fhome.myplaycity.com%2Fresults.php%3Fcategory%3Dweb%26s%3Dhort%2Bgirls&sourceid=opera&ie=utf-8&oe=utf-8&channel=suggest
Thu May 10 07:16:29 2012 from http://dealbd.mystart.com/search.php?type=dealbd1_3mshp_04&q=cs.infospace.comClickHandler.ashx%3Fru
Thu May 10 07:04:46 2012 from http://www.google.com/url?sa=t&rct=j&q=http%3A%2F%2Fwww.google.com%2Fsearch%3Fq%3Dhttp%253A%252F%252Fwww.google.com%252Fsearch%253Fclient%253Dopera%2526rls%253Den%2526q%253Dhttp%25253A%25252F%25252Ffacebook.com%25252F%2526sourceid%253Dopera%2526ie%253Dutf-8%2526oe%253Dutf-8%2526channel%253Dsuggest%26sourceid%3Dopera%26ie%3Dutf-8%26oe%3Dutf-8%26channel%3Dsuggest&source=web&cd=1&ved=0CEUQFjAA&url=http%3A%2F%2Fcarl.cs.indiana.edu%2Ffil%2Fcgi-bin%2FWebSec%2Fmarilyn.cgi&ei=UlCqT73uEY_4mAX2k83hBA&usg=AFQjCNHRtbr4ftk_4PyVzN3HuHPJV6LZow
Thu May 10 05:08:06 2012 from http://www.google.com/m?client=ms-opera-mini&q=http://tubidy.mobi/search.php?a%3D18%26q%3DFucking&channel=new&start=20&sa=N
Thu May 10 04:13:08 2012 from http://www.google.com.pk/url?sa=t&rct=j&q=click%20infospace%20clickhandler&source=web&cd=4&ved=0CFoQFjAD&url=http%3A%2F%2Fcarl.cs.indiana.edu%2Ffil%2Fcgi-bin%2FWebSec%2Fmarilyn.cgi&ei=jXirT47ABujb4QTxz_3gAg&usg=AFQjCNHRtbr4ftk_4PyVzN3HuHPJV6LZow
Thu May 10 02:34:59 2012 from http://www.google.com/url?sa=t&rct=j&q=http%3A%2F%2Fwww.google.com%2Fsearch%3Fq%3Dhttp%253a%252f%252fwww.google.com%252fsearch%253fq%253dhttp%25253a%25252f%25252fwww.facebook.com%25252f%2526sourceid%253dopera%2526ie%253dutf-8%2526oe%253dutf-8%2526channel%253dsuggest%26sourceid%3Dopera%26ie%3Dutf-8%26oe%3Dutf-8%26channel%3Dsuggest&source=web&cd=1&ved=0CF8QFjAA&url=http%3A%2F%2Fcarl.cs.indiana.edu%2Ffil%2Fcgi-bin%2FWebSec%2Fmarilyn.cgi&ei=DZOqT8qoIYrqrQeA25Un&usg=AFQjCNHRtbr4ftk_4PyVzN3HuHPJV6LZow
Wed May  9 20:51:44 2012 from http://www.google.com/search?client=opera&rls=en&q=http%3A%2F%2Fwww.google.com%2Fsearch%3Fq%3Dhttp%253A%252F%252Fwww.google.com%252Fsearch%253Fq%253Dhttp%25253A%25252F%25252Fwww.facebook.com%25252F%2526sourceid%253Dopera%2526ie%253Dutf-8%2526oe%253Dutf-8%2526channel%253Dsuggest%26sourceid%3Dopera%26ie%3Dutf-8%26oe%3Dutf-8%26channel%3Dsuggest&sourceid=opera&ie=utf-8&oe=utf-8&channel=suggest
Wed May  9 19:42:22 2012 from http://www.google.com/url?sa=t&rct=j&q=&esrc=s&source=web&cd=5&ved=0CG8QFjAE&url=http%3A%2F%2Fcarl.cs.indiana.edu%2Ffil%2Fcgi-bin%2FWebSec%2Fmarilyn.cgi&ei=ugCrT4WlConMtgebn8jCBw&usg=AFQjCNHRtbr4ftk_4PyVzN3HuHPJV6LZow&sig2=Qww9tMhditpYDIrxmO6yHg
Wed May  9 19:34:05 2012 from (empty referer)
Wed May  9 18:38:23 2012 from http://carl.cs.indiana.edu/fil/cgi-bin/WebSec/marilyn.cgi
Wed May  9 16:05:36 2012 from http://www.google.pl/url?sa=t&rct=j&q=http%3A%2F%2Fcarl.cs.indiana.edu%2Ffil%2Fcgi-bin%2Fwebsec%2Fmarilyn.cgi&source=web&cd=1&ved=0CGgQFjAA&url=http%3A%2F%2Fcarl.cs.indiana.edu%2Ffil%2Fcgi-bin%2FWebSec%2Fmarilyn.cgi&ei=DM6qT43QNufU4QSP_e2aBg&usg=AFQjCNHRtbr4ftk_4PyVzN3HuHPJV6LZow
Wed May  9 15:58:00 2012 from (empty referer)
Wed May  9 15:51:01 2012 from http://www.bing.com/search?q=www.ask.com%2Fweb%3Fq%3DFilm%2BSix%26qsrc%3D6%26o%3D15187%26l%3Ddis%26tpr%3D5&src=IE-SearchBox&FORM=IE8SRC
Wed May  9 14:28:51 2012 from http://www.centerfieldproductions.com/member/38512/
Wed May  9 12:34:28 2012 from (empty referer)
Wed May  9 12:26:08 2012 from (empty referer)
Wed May  9 12:01:12 2012 from (empty referer)
Wed May  9 12:00:30 2012 from (empty referer)
Wed May  9 11:46:20 2012 from (empty referer)
Wed May  9 10:35:50 2012 from http://www.google.co.in/m?q=www%252e%2532%2530%2535%2530%2520sex%252ecom&client=ms-opera-mini&channel=new
Wed May  9 10:20:14 2012 from (empty referer)
Wed May  9 10:19:40 2012 from (empty referer)
Wed May  9 09:20:57 2012 from http://carl.cs.indiana.edu/fil/cgi-bin/WebSec/marilyn.cgi?test=1
Wed May  9 08:03:14 2012 from (empty referer)
Wed May  9 07:56:16 2012 from http://www.google.co.uk/search?q=http%3A%2F%2Fbit.ly%2Fp7zHOT+Wow%21&hl=en&site=&safe=active&surl=1
Wed May  9 07:37:38 2012 from (empty referer)
Wed May  9 07:37:23 2012 from (empty referer)
Wed May  9 07:36:51 2012 from http://www.google.com/url?sa=t&rct=j&q=http%3A%2F%2Fwww.google.com%2Fsearch%3Fq%3Dhttp%253a%252f%252fwww.google.com%252fsearch%253fq%253dhttp%25253a%25252f%25252fwww.facebook.com%2526sourceid%253dopera%2526ie%253dutf-8%2526oe%253dutf-8%2526channel%253dsuggest%26sourceid%3Dopera%26ie%3Dutf-8%26oe%3Dutf-8%26channel%3Dsuggest&source=web&cd=1&ved=0CFcQFjAA&url=http%3A%2F%2Fcarl.cs.indiana.edu%2Ffil%2Fcgi-bin%2FWebSec%2Fmarilyn.cgi&ei=tFaqT7XAI8Pm4QTA9OibCQ&usg=AFQjCNHRtbr4ftk_4PyVzN3HuHPJV6LZow
Wed May  9 07:15:18 2012 from http://www.google.co.in/search?q=click+infospace+ClickHandler&channel=linkdoctor
Wed May  9 06:51:33 2012 from http://www.google.com.pk/url?sa=t&rct=j&q=click%20infospace%20clickhandler&source=web&cd=4&ved=0CFoQFjAD&url=http%3A%2F%2Fcarl.cs.indiana.edu%2Ffil%2Fcgi-bin%2FWebSec%2Fmarilyn.cgi&ei=GkyqT7-jF_LU4QTI56jNCQ&usg=AFQjCNHRtbr4ftk_4PyVzN3HuHPJV6LZow
Wed May  9 06:51:32 2012 from http://www.google.com.pk/url?sa=t&rct=j&q=click%20infospace%20clickhandler&source=web&cd=4&ved=0CFoQFjAD&url=http%3A%2F%2Fcarl.cs.indiana.edu%2Ffil%2Fcgi-bin%2FWebSec%2Fmarilyn.cgi&ei=GkyqT7-jF_LU4QTI56jNCQ&usg=AFQjCNHRtbr4ftk_4PyVzN3HuHPJV6LZow
Wed May  9 06:30:42 2012 from http://www.google.com.sa/url?sa=t&rct=j&q=click+infospace+clickhandler&source=web&cd=4&ved=0CF0QFjAD&url=http%3A%2F%2Fcarl.cs.indiana.edu%2Ffil%2Fcgi-bin%2FWebSec%2Fmarilyn.cgi&ei=S0eqT5WNMc2KhQeHubgk&usg=AFQjCNHRtbr4ftk_4PyVzN3HuHPJV6LZow
Wed May  9 04:01:50 2012 from http://www.google.co.in/url?sa=t&rct=j&q=click+infospace+ClickHandler&source=web&cd=5&ved=0CHIQFjAE&url=http%3A%2F%2Fcarl.cs.indiana.edu%2Ffil%2Fcgi-bin%2FWebSec%2Fmarilyn.cgi&ei=YSSqT_6xAcPZrQfc2aU3&usg=AFQjCNHRtbr4ftk_4PyVzN3HuHPJV6LZow
Wed May  9 03:21:01 2012 from http://www.google.com/url?sa=t&rct=j&q=click+infospace+ClickHandler&source=web&cd=4&ved=0CFoQFjAD&url=http%3A%2F%2Fcarl.cs.indiana.edu%2Ffil%2Fcgi-bin%2FWebSec%2Fmarilyn.cgi&ei=1hqqT8bOE9HP4QT4p_CACQ&usg=AFQjCNHRtbr4ftk_4PyVzN3HuHPJV6LZow
Tue May  8 23:27:00 2012 from http://carl.cs.indiana.edu/fil/cgi-bin/WebSec/marilyn.cgi
Tue May  8 23:26:57 2012 from http://carl.cs.indiana.edu/fil/cgi-bin/WebSec/marilyn.cgi
Tue May  8 23:26:54 2012 from http://carl.cs.indiana.edu/fil/cgi-bin/WebSec/marilyn.cgi
Tue May  8 23:08:26 2012 from http://www.google.com/url?sa=t&rct=j&q=http%3A%2F%2Fwww.google.com%2Fsearch%3Fq%3Dhttp%253a%252f%252fwww.google.com%252fsearch%253fq%253dhttps%25253a%25252f%25252fwww.facebook.com%25252f%2526sourceid%253dopera%2526ie%253dutf-8%2526oe%253dutf-8%2526channel%253dsuggest%26sourceid%3Dopera%26ie%3Dutf-8%26oe%3Dutf-8%26channel%3Dsuggest&source=web&cd=1&ved=0CFEQFjAA&url=http%3A%2F%2Fcarl.cs.indiana.edu%2Ffil%2Fcgi-bin%2FWebSec%2Fmarilyn.cgi&ei=cN-pT_zeGoTprQfMqsWSAg&usg=AFQjCNHRtbr4ftk_4PyVzN3HuHPJV6LZow
Tue May  8 22:21:47 2012 from http://carl.cs.indiana.edu/fil/cgi-bin/WebSec/marilyn.cgi
Tue May  8 21:42:07 2012 from (empty referer)
Tue May  8 18:15:39 2012 from http://www.google.com/url?sa=t&rct=j&q=click%20infospace%20clickhandler&source=web&cd=4&ved=0CFoQFjAD&url=http%3A%2F%2Fcarl.cs.indiana.edu%2Ffil%2Fcgi-bin%2FWebSec%2Fmarilyn.cgi&ei=-JqpT6WQBIbm4QSlnODFCA&usg=AFQjCNHRtbr4ftk_4PyVzN3HuHPJV6LZow
Tue May  8 16:56:36 2012 from http://www.google.com/url?sa=t&rct=j&q=http:%2F%2Fbit.iy%2Fp7zHot+wow!&source=web&cd=1&ved=0CD0QFjAA&url=http%3A%2F%2Fcarl.cs.indiana.edu%2Ffil%2Fcgi-bin%2FWebSec%2Fmarilyn.cgi&ei=MYipT6DHAtHa4QSe2InQCA&usg=AFQjCNHRtbr4ftk_4PyVzN3HuHPJV6LZow
Tue May  8 15:03:45 2012 from (empty referer)
Tue May  8 14:47:39 2012 from http://www.google.com/url?sa=t&rct=j&q=&esrc=s&source=web&cd=1&ved=0CFsQFjAA&url=http%3A%2F%2Fcarl.cs.indiana.edu%2Ffil%2Fcgi-bin%2FWebSec%2Fmarilyn.cgi&ei=8WmpT7LyOLDa4QTx8_WyAQ&usg=AFQjCNHRtbr4ftk_4PyVzN3HuHPJV6LZow&sig2=WULWGkdLjnEqC0eIlXBKdA
Tue May  8 13:54:29 2012 from http://www.google.com.sa/url?sa=t&rct=j&q=http%3b%2f%2fBIT.1Y%2fp7zhot&source=web&cd=1&ved=0CEgQFjAA&url=http%3A%2F%2Fcarl.cs.indiana.edu%2Ffil%2Fcgi-bin%2FWebSec%2Fmarilyn.cgi&ei=zl2pT9nSIc2g8gOWkZCVDw&usg=AFQjCNHRtbr4ftk_4PyVzN3HuHPJV6LZow
Tue May  8 11:14:36 2012 from (empty referer)
Tue May  8 03:22:15 2012 from http://carl.cs.indiana.edu/fil/cgi-bin/WebSec/marilyn.cgi
Tue May  8 03:22:12 2012 from http://carl.cs.indiana.edu/fil/cgi-bin/WebSec/marilyn.cgi
Tue May  8 03:22:10 2012 from http://carl.cs.indiana.edu/fil/cgi-bin/WebSec/marilyn.cgi
Tue May  8 02:41:50 2012 from http://www.google.com/url?sa=t&rct=j&q=&esrc=s&source=web&cd=1&ved=0CFsQFjAA&url=http%3A%2F%2Fcarl.cs.indiana.edu%2Ffil%2Fcgi-bin%2FWebSec%2Fmarilyn.cgi&ei=F8CoT_CXK4yXOo33tKcD&usg=AFQjCNHRtbr4ftk_4PyVzN3HuHPJV6LZow&sig2=7JDzwJks1JSxb9iOo9h-Jg
Tue May  8 01:27:24 2012 from http://www.google.co.in/url?sa=t&rct=j&q=click%20infospace%20clickhandler&source=web&cd=4&ved=0CGAQFjAD&url=http%3A%2F%2Fcarl.cs.indiana.edu%2Ffil%2Fcgi-bin%2FWebSec%2Fmarilyn.cgi&ei=nq6oT5y2HonWrQe9-6HUAQ&usg=AFQjCNHRtbr4ftk_4PyVzN3HuHPJV6LZow
Tue May  8 00:20:43 2012 from http://www.google.com/url?sa=t&rct=j&q=http%3A%2F%2Fwww.google.com%2Fsearch%3Fq%3Dhttp%253a%252f%252fwww.google.com%252fsearch%253fq%253dgoogle%2526sourceid%253dopera%2526ie%253dutf-8%2526oe%253dutf-8%2526channel%253dsuggest%26sourceid%3Dopera%26ie%3Dutf-8%26oe%3Dutf-8%26channel%3Dsuggest&source=web&cd=1&ved=0CEwQFjAA&url=http%3A%2F%2Fcarl.cs.indiana.edu%2Ffil%2Fcgi-bin%2FWebSec%2Fmarilyn.cgi&ei=BJ-oT5i2KPOO4gT56L25CQ&usg=AFQjCNHRtbr4ftk_4PyVzN3HuHPJV6LZow
Mon May  7 23:03:22 2012 from http://carl.cs.indiana.edu/fil/cgi-bin/WebSec/marilyn.cgi
Mon May  7 22:56:08 2012 from http://carl.cs.indiana.edu/fil/cgi-bin/WebSec/marilyn.cgi
Mon May  7 22:56:04 2012 from http://carl.cs.indiana.edu/fil/cgi-bin/WebSec/marilyn.cgi
Mon May  7 22:55:59 2012 from http://carl.cs.indiana.edu/fil/cgi-bin/WebSec/marilyn.cgi
Mon May  7 22:46:16 2012 from http://www.google.co.in/url?sa=t&rct=j&q=click%20infospace%20clickhandler&source=web&cd=4&ved=0CF8QFjAD&url=http%3A%2F%2Fcarl.cs.indiana.edu%2Ffil%2Fcgi-bin%2FWebSec%2Fmarilyn.cgi&ei=xoioT7igBNOhiQeD7oWxAw&usg=AFQjCNHRtbr4ftk_4PyVzN3HuHPJV6LZow
Mon May  7 22:00:12 2012 from http://assist.babylon.com/babylonassista/dnsassist/main?domain=cs%20infospace%20ClickHandler%20
Mon May  7 19:47:29 2012 from (empty referer)
Mon May  7 19:45:49 2012 from http://scoot.net/faq/User:Agencjarek3
Mon May  7 19:37:47 2012 from http://www.google.com/search?q=http://www.google.com/search%3Fq%3Dhttp://www.shahvani.com%26sourceid%3Dopera%26ie%3Dutf-8%26oe%3Dutf-8%26channel%3Dsuggest&hl=fa&client=opera&hs=iIt&rls=en&channel=suggest&prmd=imvns&filter=0
Mon May  7 18:22:50 2012 from http://playsushi.infospace.com/playsushi.tbard/search/web?q=cs.infospace.com
Mon May  7 18:16:13 2012 from (empty referer)
Mon May  7 17:51:16 2012 from (empty referer)
Mon May  7 17:30:51 2012 from http://search.bearshare.com/web?src=404&appid=0&systemid=2&q=http://cs.infospace.com/ClickHandler.ashx%3fru%3dhttp%253a%252f%252fwww.freeyouporn.net%252fhayvanlasex-sex49609.html%26ld%3d20120507%26ap%3d1%26app%3d1%26c%3dinsp%26s%3dispace%26coi%3d239137%26cop%3dmain-title%26euip%3d78.164.150.21%26npp%3d1%26p%3d0%26pp%3d0%26pvaid%3d14f3178f568b4c0ab3fef2a5ab0ddf94%26sid%3d782563570.1404305117198.1336424968%26vid%3d782563570.1404305117198.1336424968.1%26fcoi%3d114%26fcop%3dtopnav%26fpid%3d2%26ep%3d1%26hash%3d20CE37E9112CB3219687D23D0A48AF69
Mon May  7 17:15:06 2012 from (empty referer)
Mon May  7 17:03:15 2012 from http://search.imesh.com/web?src=404&appid=1083&systemid=1&q=http%3A%2F%2Fcarl.cs.indiana.edu%2Ffil%2Fcgi-bin%2FWebSec%2Fmarilyn.cgi%253Ftest%253D1
Mon May  7 15:12:22 2012 from (empty referer)
Mon May  7 14:23:36 2012 from (empty referer)
Mon May  7 08:16:55 2012 from http://www.searchplusnetwork.com/?sp=chv&q=click.infospace.comClickHandler.ashx%3Fdu
Mon May  7 07:01:04 2012 from http://www.google.com/search?q=click+infospace+ClickHandler&channel=linkdoctor
Mon May  7 07:00:41 2012 from http://www.google.com/search?q=click+infospace+ClickHandler&channel=linkdoctor
Mon May  7 06:05:28 2012 from http://carl.cs.indiana.edu/fil/cgi-bin/WebSec/marilyn.cgi
Mon May  7 06:05:22 2012 from http://carl.cs.indiana.edu/fil/cgi-bin/WebSec/marilyn.cgi?test=1
Mon May  7 04:02:49 2012 from http://carl.cs.indiana.edu/fil/cgi-bin/WebSec/marilyn.cgi
Mon May  7 04:02:46 2012 from http://carl.cs.indiana.edu/fil/cgi-bin/WebSec/marilyn.cgi
Mon May  7 04:02:44 2012 from http://carl.cs.indiana.edu/fil/cgi-bin/WebSec/marilyn.cgi
Mon May  7 03:24:39 2012 from (empty referer)
Mon May  7 03:24:04 2012 from (empty referer)
Mon May  7 03:21:50 2012 from http://lexicon.fsgamedesign.com/wiki/index.php?title=User:agenne8
Mon May  7 01:39:29 2012 from (empty referer)
Sun May  6 23:50:00 2012 from http://carl.cs.indiana.edu/fil/cgi-bin/WebSec/marilyn.cgi
Sun May  6 22:04:27 2012 from http://www.google.co.in/url?sa=t&rct=j&q=click%20infospace%20clickhandler&source=web&cd=4&ved=0CDYQFjAD&url=http%3A%2F%2Fcarl.cs.indiana.edu%2Ffil%2Fcgi-bin%2FWebSec%2Fmarilyn.cgi&ei=YSaYT_CfBY23rAf9yqiuAQ&usg=AFQjCNHRtbr4ftk_4PyVzN3HuHPJV6LZow
Sun May  6 20:16:53 2012 from (empty referer)
Sun May  6 20:14:07 2012 from (empty referer)
Sun May  6 20:08:32 2012 from http://www.google.com/m?client=ms-nokia&cof=nsp&channel=s60&q=Http%3a%2f%2ftubidy.mobi%2fsearch.php%3fa%3d18%26%3d%25d8%25b1%25d9%2582%25d8%25b5%2b%25d9%2583%25d8%25b3
Sun May  6 18:54:24 2012 from http://www.google.com/m/search?client=ms-nokia&cof=nsp&q=http://tubidy.mobi/search.php?a%3D18%26q%3D%25D8%25B1%25D9%2582%25D8%25B5%2B%25D9%2583%25&channel=s60&tbs=img:1
Sun May  6 18:12:22 2012 from http://mediawiki.p118474.mittwaldserver.info/index.php?title=User:agenne8
Sun May  6 15:59:14 2012 from http://carl.cs.indiana.edu/fil/cgi-bin/WebSec/marilyn.cgi
Sun May  6 15:17:44 2012 from (empty referer)
Sun May  6 13:48:19 2012 from http://carl.cs.indiana.edu/fil/cgi-bin/WebSec/marilyn.cgi?test=1/
Sun May  6 12:37:35 2012 from (empty referer)
Sun May  6 08:09:29 2012 from http://www.google.com/search?client=opera&rls=en&q=http%3A%2F%2Fcarl.cs.indiana.edu%2Ffil%2Fcgi-bin%2FWebSec%2Fmarilyn.cgi%3Ftest%3D1&sourceid=opera&ie=utf-8&oe=utf-8&channel=suggest
Sun May  6 06:48:52 2012 from http://assist.babylon.com/babylonassista/dnsassist/main?domain=cs%20infospace%20
Sun May  6 02:16:55 2012 from (empty referer)
Sat May  5 22:13:28 2012 from (empty referer)
Sat May  5 22:12:21 2012 from (empty referer)
Sat May  5 19:24:08 2012 from http://search.bearshare.com/web?hl=tr&q=click+infospace&src=404&ref=1&page=5
Sat May  5 17:33:38 2012 from http://carl.cs.indiana.edu/fil/cgi-bin/WebSec/marilyn.cgi
Sat May  5 14:04:40 2012 from http://www.searchplusnetwork.com/?sp=chv&q=searchplusnetwork.com%2F%3Fsp
Sat May  5 10:37:16 2012 from http://www.searchplusnetwork.com/?sp=chv&q=click.infospace.comClickHandler.ashx%3Fdu
Sat May  5 06:18:34 2012 from http://delicious.com/ecnarret/Pozycjonowanie%20Rzesz%C3%B3w
Sat May  5 06:04:00 2012 from http://og41wiki.com/index.php?title=User:foto678
Sat May  5 05:15:13 2012 from http://www.e-medycznie.eu
Sat May  5 05:08:32 2012 from http://www.google.com/gwt/x?client=ms-sonyericsson&q=http://www.google.com/gwt/x/e?client%3Dms-sonyericsson&output=wml&channel=bs&ei=5O2kT8jWBZCViAf3GA&ved=0CBcQFjAJOAo&start=10&hl=en-GB&source=m&rd=1&u=http://carl.cs.indiana.edu/fil/cgi-bin/WebSec/marilyn.cgi
Sat May  5 01:57:41 2012 from http://www.google.com.sa/search?q=htt://tubidy.mobi/search.php%3Fa%3D18%26q%3D%25d8%25b1%25d9%2582%25d8%25b5%2B%25d9%2583%25d8%25b3&hl=en&safe=active&client=ms-android-samsung&gl=gb&source=android-launcher-widget&sky=mrdr&prmd=imvns&ei=q8CkT7LZKYjT-gb53pzzAg&start=0&sa=N&biw=320&bih=455
Sat May  5 01:50:38 2012 from (empty referer)
Sat May  5 00:11:22 2012 from http://www.searchplusnetwork.com/?sp=chv&q=click.infospace.comClickHandler.ashx%3Fdu
Fri May  4 18:57:41 2012 from http://carl.cs.indiana.edu/fil/cgi-bin/WebSec/marilyn.cgi
Fri May  4 16:22:52 2012 from (empty referer)
Fri May  4 16:09:58 2012 from (empty referer)
Fri May  4 15:28:05 2012 from http://www.searchplusnetwork.com/?sp=chv&q=click.infospace.comClickHandler.ashx%3Fdu
Fri May  4 14:35:48 2012 from (empty referer)
Fri May  4 14:13:39 2012 from http://carl.cs.indiana.edu/fil/cgi-bin/WebSec/marilyn.cgi?test=1
Fri May  4 13:52:49 2012 from http://home.allgameshome.com/results.php?category=web&s=http%3A%2F%2Fwebsearch.4shared.com+to+http%3A%2F%2Fhome.allgameshome.com%2F
Fri May  4 13:46:26 2012 from http://www.searchplusnetwork.com/?sp=chv&q=click.infospace.comClickHandler.ashx%3Fdu
Fri May  4 12:30:04 2012 from (empty referer)
Fri May  4 12:26:42 2012 from (empty referer)
Fri May  4 11:52:50 2012 from (empty referer)
Fri May  4 10:32:29 2012 from (empty referer)
Fri May  4 10:32:16 2012 from (empty referer)
Fri May  4 07:23:52 2012 from (empty referer)
Fri May  4 07:01:50 2012 from (empty referer)
Fri May  4 05:56:17 2012 from http://www.searchplusnetwork.com/?sp=chv&q=facebook.com%2Fajax%2Fpagelet%2Fgeneric.php%2FPhotoViewerInitPagelet%3F__a
Fri May  4 05:42:28 2012 from http://www.searchplusnetwork.com/?sp=chv&q=search.mywebsearch.commywebsearchredirect.jhtml%3Fcb
Fri May  4 05:17:51 2012 from http://www.google.com/url?sa=t&rct=j&q=http%3A%2F%2Fwww.google.com%2Fsearch%3Fq%3Dhttp%253a%252f%252fwww.google.com%252fsearch%253fclient%253dopera%2526rls%253den%2526q%253dhttp%25253a%25252f%25252fredir.opera.com%25252fspeeddials%25252ffacebook%25252f%2526sourceid%253dopera%2526ie%253dutf-8%2526oe%253dutf-8%2526channel%253dsuggest%26sourceid%3Dopera%26ie%3Dutf-8%26oe%3Dutf-8%26channel%3Dsuggest&source=web&cd=1&ved=0CGMQFjAA&url=http%3A%2F%2Fcarl.cs.indiana.edu%2Ffil%2Fcgi-bin%2FWebSec%2Fmarilyn.cgi&ei=sZ6jT4-HAYHIrQeU0bmNBg&usg=AFQjCNHRtbr4ftk_4PyVzN3HuHPJV6LZow
Fri May  4 00:58:18 2012 from (empty referer)
Fri May  4 00:26:53 2012 from (empty referer)
Thu May  3 20:16:10 2012 from (empty referer)
Thu May  3 19:41:24 2012 from (empty referer)
Thu May  3 18:48:48 2012 from http://www.1pozycja.net/kultura,i,sztuka/blog,ulicznipoeci,s,2256/
Thu May  3 16:45:30 2012 from http://www.google.com/m?client=ms-opera-mini&channel=new&q=www.google.com%2Fm%3Fclient%3Dms-opera-mini%26channe
Thu May  3 16:21:24 2012 from http://carl.cs.indiana.edu/fil/cgi-bin/WebSec/marilyn.cgi
Thu May  3 16:21:21 2012 from http://carl.cs.indiana.edu/fil/cgi-bin/WebSec/marilyn.cgi
Thu May  3 16:21:17 2012 from http://carl.cs.indiana.edu/fil/cgi-bin/WebSec/marilyn.cgi
Thu May  3 14:15:48 2012 from http://www.google.co.uk/m?q=www%252etubidy%252ecom&client=ms-opera-mini&channel=new
Thu May  3 13:49:51 2012 from http://plus.google.com/url?sa=z&n=1311818063197&url=http%3A%2F%2Fbit.ly%2Fp7zHOT&usg=5DDSKxNN4H5bh-PP40FuzV3XHyY
Thu May  3 13:29:09 2012 from (empty referer)
Thu May  3 13:29:07 2012 from (empty referer)
Thu May  3 12:04:58 2012 from (empty referer)
Thu May  3 07:52:01 2012 from (empty referer)
Thu May  3 05:40:06 2012 from (empty referer)
Thu May  3 05:39:55 2012 from (empty referer)
Thu May  3 02:45:39 2012 from http://www.google.co.id/url?sa=t&rct=j&q=click%20infospace%20clickhandler&source=web&cd=5&ved=0CEkQFjAE&url=http%3A%2F%2Fcarl.cs.indiana.edu%2Ffil%2Fcgi-bin%2FWebSec%2Fmarilyn.cgi&ei=USmiT-urL8LsrAfQ7LWMBw&usg=AFQjCNHRtbr4ftk_4PyVzN3HuHPJV6LZow
Thu May  3 02:03:18 2012 from (empty referer)
Wed May  2 22:52:06 2012 from (empty referer)
Wed May  2 21:00:14 2012 from (empty referer)
Wed May  2 19:35:56 2012 from http://www.access-southwest.co.uk/index.php/member/1479/
Wed May  2 17:17:58 2012 from http://www.google.com.br/url?sa=t&rct=j&q=click+infospace+ClickHandler&source=web&cd=10&ved=0CHUQFjAJ&url=http%3A%2F%2Fcarl.cs.indiana.edu%2Ffil%2Fcgi-bin%2FWebSec%2Fmarilyn.cgi&ei=dKShT_PQJ5Ki8ASY7cjzCA&usg=AFQjCNHRtbr4ftk_4PyVzN3HuHPJV6LZow
Wed May  2 15:38:58 2012 from http://www.google.com.pk/url?sa=t&rct=j&q=click%20infospace%20clickhandler&source=web&cd=5&ved=0CEEQFjAE&url=http%3A%2F%2Fcarl.cs.indiana.edu%2Ffil%2Fcgi-bin%2FWebSec%2Fmarilyn.cgi&ei=QI2hT73JOcbnrAeJpZizBw&usg=AFQjCNHRtbr4ftk_4PyVzN3HuHPJV6LZow
Wed May  2 13:00:02 2012 from http://www.google.com/m/imgres?safe=on&client=ms-nokia&cof=nsp&q=httptubidymobisearch+Txt&channel=s60&start=17&site=images&imgid=ANd9GcSKhTTP3xdm2D45mFYPuSSyWvr5WR-nLtKNbPdi0QuZXJ36YWJkxeHs3SmT&imgsz=54326&imgurl=http://carl.cs.indiana.edu/fil/WebSec/marilyn.jpg&imgrefurl=http://carl.cs.indiana.edu/fil/cgi-bin/WebSec/marilyn.cgi&ht=333&wd=500&tbnh=87&tbnw=130&ei=_mehT6DvD8Py8QOkpgE&ved=0CA4Q9QEwAzgO
Wed May  2 12:16:29 2012 from (empty referer)
Wed May  2 12:11:52 2012 from (empty referer)
Wed May  2 03:38:49 2012 from http://eurousa.net/index.php/member/2556/
Wed May  2 03:14:07 2012 from http://carl.cs.indiana.edu/fil/cgi-bin/WebSec/marilyn.cgi
Wed May  2 01:15:37 2012 from (empty referer)
Tue May  1 18:36:27 2012 from (empty referer)
Tue May  1 15:58:09 2012 from (empty referer)
Tue May  1 15:22:27 2012 from (empty referer)
Tue May  1 12:59:03 2012 from http://www.google.com/m?client=ms-nokia&cof=nsp&channel=s60&q=http%3a%2f%2ftubidy.mobi%2fsearch.php%3fa%3d18%26q%3d%25D8%25B1%25D9%2582%25D8%25B5%2b%25D9%2583%25D8%25B3
Tue May  1 12:01:51 2012 from http://www.google.com/m/search?safe=on&hl=en&sa=2&q=http%3A%2F%2Ftubid.mobi%2Fsearch.php%3Fa%3D18%26q%3Dhot+sex&site=universal
Tue May  1 11:19:28 2012 from http://carl.cs.indiana.edu/fil/cgi-bin/WebSec/marilyn.cgi
Tue May  1 11:00:36 2012 from (empty referer)
Tue May  1 09:02:55 2012 from (empty referer)
Tue May  1 07:28:19 2012 from http://carl.cs.indiana.edu/fil/cgi-bin/WebSec/marilyn.cgi
Tue May  1 06:31:06 2012 from (empty referer)
Tue May  1 06:07:49 2012 from (empty referer)
Tue May  1 05:07:21 2012 from http://www.google.com/url?sa=t&rct=j&q=http%3A%2F%2Fwww.google.com%2Fsearch%3Fq%3Dhttp%253a%252f%252fwww.google.com%252fsearch%253fq%253dhttp%25253a%25252f%25252fwww.facebook.com%25252f%2526sourceid%253dopera%2526ie%253dutf-8%2526oe%253dutf-8%2526channel%253dsuggest%26sourceid%3Dopera%26ie%3Dutf-8%26oe%3Dutf-8%26channel%3Dsuggest&source=web&cd=1&ved=0CCIQFjAA&url=http%3A%2F%2Fcarl.cs.indiana.edu%2Ffil%2Fcgi-bin%2FWebSec%2Fmarilyn.cgi&ei=uaefT7D_IozN4QTbko2MAw&usg=AFQjCNHRtbr4ftk_4PyVzN3HuHPJV6LZow
Tue May  1 04:25:14 2012 from (empty referer)
Tue May  1 04:16:03 2012 from (empty referer)
Tue May  1 02:28:03 2012 from http://www.google.com.pk/m?q=isearch.babylon.sex.com&start=10&sa=N
Tue May  1 02:19:28 2012 from http://www.google.com.pk/url?sa=t&rct=j&q=click%20infospace%20clickhandler&source=web&cd=4&ved=0CDMQFjAD&url=http%3A%2F%2Fcarl.cs.indiana.edu%2Ffil%2Fcgi-bin%2FWebSec%2Fmarilyn.cgi&ei=XYCfT4LQCeiP4gTN6-zCAw&usg=AFQjCNHRtbr4ftk_4PyVzN3HuHPJV6LZow
Tue May  1 01:34:14 2012 from (empty referer)
Tue May  1 00:14:55 2012 from (empty referer)
Mon Apr 30 23:26:48 2012 from (empty referer)
Mon Apr 30 22:05:06 2012 from (empty referer)
Mon Apr 30 20:54:22 2012 from http://www.google.com/m?safe=on&hl=en&q=http%3A%2F%2Ftubid.mobi%2Fsearch.php%3Fa%3D18%26q%3Dhot+sex
Mon Apr 30 18:20:05 2012 from http://www.google.com/m?client=ms-nokia&cof=nsp&channel=s60&q=tubidy.mobi%2fsearch.php%3fa%3d18%26q%3d%25D8%25B1%25D9%2582%25D8%25B5%2b%25
Mon Apr 30 17:23:26 2012 from (empty referer)
Mon Apr 30 17:19:41 2012 from (empty referer)
Mon Apr 30 17:08:11 2012 from (empty referer)
Mon Apr 30 15:34:18 2012 from (empty referer)
Mon Apr 30 15:20:30 2012 from (empty referer)
Mon Apr 30 13:10:09 2012 from (empty referer)
Mon Apr 30 12:02:45 2012 from http://www.google.com/m?client=ms-nokia&cof=nsp&channel=s60&q=carl.cs.indiana.edu%2ffil%2fcgi-bin%2fWebSec%2fmarilyn.cgi
Mon Apr 30 10:57:00 2012 from http://www.google.com.sa/url?sa=t&rct=j&q=http%3B%2F%2Ftubidy.mobile+search.php%3Fa%3D188Q%3Dindia%2Bhot&source=web&cd=1&ved=0CCkQFjAA&url=http%3A%2F%2Fcarl.cs.indiana.edu%2Ffil%2Fcgi-bin%2FWebSec%2Fmarilyn.cgi&ei=s6eeT5yvAsqDOsCu2PsB&usg=AFQjCNHRtbr4ftk_4PyVzN3HuHPJV6LZow
Mon Apr 30 10:49:00 2012 from http://www.searchplusnetwork.com/?sp=chv&q=facebook.com%2Fajax%2Fpagelet%2Fgeneric.php%2FPhotoViewerInitPagelet%3F__a
Mon Apr 30 08:05:48 2012 from (empty referer)
Mon Apr 30 07:53:39 2012 from http://www.google.ru/url?sa=t&rct=j&q=http%2F%2Ftubid.mobi.search.php%3Dhot%2Bsex&source=web&cd=135&ved=0CE0QFjAEOIIB&url=http%3A%2F%2Fcarl.cs.indiana.edu%2Ffil%2Fcgi-bin%2FWebSec%2Fmarilyn.cgi%3Fiframe%3Dtrue%26width%3D80%25%26height%3D80%25&ei=Nn2eT8WAIIGAOuT5yPsB&usg=AFQjCNE7JD9xSrOi5_c4GAQObQquXyuwVQ&cad=rjt
Mon Apr 30 07:08:55 2012 from http://carl.cs.indiana.edu/fil/cgi-bin/WebSec/marilyn.cgi
Mon Apr 30 07:08:49 2012 from http://carl.cs.indiana.edu/fil/cgi-bin/WebSec/marilyn.cgi
Mon Apr 30 07:06:49 2012 from http://carl.cs.indiana.edu/fil/cgi-bin/WebSec/marilyn.cgi
Mon Apr 30 07:06:42 2012 from http://carl.cs.indiana.edu/fil/cgi-bin/WebSec/marilyn.cgi
Mon Apr 30 07:06:35 2012 from http://carl.cs.indiana.edu/fil/cgi-bin/WebSec/marilyn.cgi
Mon Apr 30 04:19:22 2012 from (empty referer)
Mon Apr 30 02:59:36 2012 from http://home.allgameshome.com/results.php?category=web&s=searchplusnetwork.com/?sp=chv&q=www.sex89.com.m
Sun Apr 29 17:47:48 2012 from http://www.google.com/m?client=ms-nokia&cof=nsp&channel=s60&q=carl.cs.indiana.edu%2Ffil%2Fcgi-bin%2FWebSec%2Fmarilyn.cgi
Sun Apr 29 16:04:52 2012 from (empty referer)
Sun Apr 29 09:49:45 2012 from http://www.google.com.pk/url?sa=t&rct=j&q=click%20infospace%20clickhandler&source=web&cd=4&ved=0CD0QFjAD&url=http%3A%2F%2Fcarl.cs.indiana.edu%2Ffil%2Fcgi-bin%2FWebSec%2Fmarilyn.cgi&ei=7kadT5m9C5HE4gTAwtypDg&usg=AFQjCNHRtbr4ftk_4PyVzN3HuHPJV6LZow
Sun Apr 29 08:29:22 2012 from http://www.google.com/url?sa=t&rct=j&q=click+infospace+ClickHandler&source=web&cd=8&ved=0CGkQFjAH&url=http%3A%2F%2Fcarl.cs.indiana.edu%2Ffil%2Fcgi-bin%2FWebSec%2Fmarilyn.cgi&ei=GzSdT-qKNYyUOpW4qfsB&usg=AFQjCNHRtbr4ftk_4PyVzN3HuHPJV6LZow
Sun Apr 29 07:56:30 2012 from http://uczelnie-poznan.edu.pl/
Sun Apr 29 05:57:20 2012 from (empty referer)
Sat Apr 28 22:04:54 2012 from http://www.google.com/search?client=opera&rls=en&q=http%3A%2F%2Fwww.google.com%2Fsearch%3Fq%3Dhttp%253A%252F%252Fwww.google.com%252Fsearch%253Fq%253Dhttp%25253A%25252F%25252Fhome.myplaycity.com%25252F%2526sourceid%253Dopera%2526ie%253Dutf-8%2526oe%253Dutf-8%2526channel%253Dsuggest%26sourceid%3Dopera%26ie%3Dutf-8%26oe%3Dutf-8%26channel%3Dsuggest&sourceid=opera&ie=utf-8&oe=utf-8&channel=suggest
Sat Apr 28 19:35:58 2012 from http://www.google.com/search?client=opera&rls=en&q=http%3A%2F%2Fwww.google.com%2Fsearch%3Fq%3Dhttp%253A%252F%252Fwww.google.com%252Fsearch%253Fq%253Dhttp%25253A%25252F%25252Fwww.facebook.com%25252F%2526sourceid%253Dopera%2526ie%253Dutf-8%2526oe%253Dutf-8%2526channel%253Dsuggest%26sourceid%3Dopera%26ie%3Dutf-8%26oe%3Dutf-8%26channel%3Dsuggest&sourceid=opera&ie=utf-8&oe=utf-8&channel=suggest
Sat Apr 28 18:15:24 2012 from http://www.google.com/url?sa=t&rct=j&q=click%20infospace%20clickhandler&source=web&cd=4&ved=0CD4QFjAD&url=http%3A%2F%2Fcarl.cs.indiana.edu%2Ffil%2Fcgi-bin%2FWebSec%2Fmarilyn.cgi&ei=kGKcT73SKcTe4QS2xvipDg&usg=AFQjCNHRtbr4ftk_4PyVzN3HuHPJV6LZow
Sat Apr 28 17:02:17 2012 from (empty referer)
Sat Apr 28 16:16:57 2012 from (empty referer)
Sat Apr 28 16:09:58 2012 from (empty referer)
Sat Apr 28 16:03:41 2012 from (empty referer)
Sat Apr 28 15:57:12 2012 from (empty referer)
Sat Apr 28 15:55:43 2012 from (empty referer)
Sat Apr 28 15:35:25 2012 from (empty referer)
Sat Apr 28 13:46:12 2012 from http://www.google.com.pk/url?sa=t&rct=j&q=click%20infospace%20clickhandler&source=web&cd=4&ved=0CDMQFjAD&url=http%3A%2F%2Fcarl.cs.indiana.edu%2Ffil%2Fcgi-bin%2FWebSec%2Fmarilyn.cgi&ei=3iycT9zTLMrCswat4IyQAQ&usg=AFQjCNHRtbr4ftk_4PyVzN3HuHPJV6LZow
Sat Apr 28 13:39:30 2012 from http://www.google.com.hk/url?url=http://carl.cs.indiana.edu/fil/cgi-bin/WebSec/marilyn.cgi&rct=j&sa=X&ei=RiucT6LmDYqhiQexpJm9Dg&ved=0CGAQ2wQ&q=http://isearch.babylon.com/&usg=AFQjCNFqzIbt_J3t0NGr4k6B1hczoasxPQ
Sat Apr 28 12:14:52 2012 from (empty referer)
Sat Apr 28 11:57:18 2012 from http://www.google.com/search?q=click+infospace+ClickHandler&channel=linkdoctor
Sat Apr 28 11:44:22 2012 from (empty referer)
Sat Apr 28 09:45:59 2012 from (empty referer)
Sat Apr 28 09:18:13 2012 from http://www.google.com/url?sa=t&rct=j&q=http%3A%2F%2Fwww.google.com%2Fsearch%3Fq%3Dhttp%253A%252F%252Fwww.google.com%252Fsearch%253Fq%253Dhttp%25253A%25252F%25252Fwww.facebook.com%25252F%2526sourceid%253Dopera%2526ie%253Dutf-8%2526oe%253Dutf-8%2526channel%253Dsuggest%26sourceid%3Dopera%26ie%3Dutf-8%26oe%3Dutf-8%26channel%3Dsuggest&source=web&cd=1&ved=0CCoQFjAA&url=http%3A%2F%2Fcarl.cs.indiana.edu%2Ffil%2Fcgi-bin%2FWebSec%2Fmarilyn.cgi&ei=--2bT9DxI6fU0QWSjb3zDg&usg=AFQjCNHRtbr4ftk_4PyVzN3HuHPJV6LZow
Sat Apr 28 08:56:49 2012 from http://www.google.com/xhtml?client=ms-opera_mb_no&channel=bh&q=http%3A%2F%2Fwww.google.com%2Fxhtml%3Fclient%3Dms-opera_mb_no%26channel%3Dbh%26q
Sat Apr 28 08:18:13 2012 from http://www.chorobotworcze.eu
Sat Apr 28 05:30:07 2012 from http://www.google.com/search?client=opera&rls=fr&q=http%3A%2F%2Fwww.google.com%2Fsearch%3Fq%3Dhttp%253A%252F%252Fwww.google.com%252Fsearch%253Fq%253Dhttp%25253A%25252F%25252Fwww.facebook.com%25252F%2526sourceid%253Dopera%2526ie%253Dutf-8%2526oe%253Dutf-8%2526channel%253Dsuggest%26sourceid%3Dopera%26ie%3Dutf-8%26oe%3Dutf-8%26channel%3Dsuggest&sourceid=opera&ie=utf-8&oe=utf-8&channel=suggest
Sat Apr 28 05:16:18 2012 from http://www.google.com.pk/url?sa=t&rct=j&q=click%20infospace%20clickhandler&source=web&cd=4&ved=0CD0QFjAD&url=http%3A%2F%2Fcarl.cs.indiana.edu%2Ffil%2Fcgi-bin%2FWebSec%2Fmarilyn.cgi&ei=XLWbT6ifI-ySiQfYxd3cDg&usg=AFQjCNHRtbr4ftk_4PyVzN3HuHPJV6LZow&cad=rjt
Sat Apr 28 04:23:20 2012 from (empty referer)
Sat Apr 28 02:49:13 2012 from http://assist.babylon.com/babylonassista/dnsassist/main?domain=mystart%20incredibar%20mb113%20
Sat Apr 28 02:05:11 2012 from http://www.google.co.in/url?sa=t&rct=j&q=click%20infospace%20clickhandler&source=web&cd=4&ved=0CDYQFjAD&url=http%3A%2F%2Fcarl.cs.indiana.edu%2Ffil%2Fcgi-bin%2FWebSec%2Fmarilyn.cgi&ei=goibT_mtJcrTrQe6j-lO&usg=AFQjCNHRtbr4ftk_4PyVzN3HuHPJV6LZow
Fri Apr 27 23:40:53 2012 from http://www.google.com.my/url?sa=t&rct=j&q=click%20infospace%20clickhandler&source=web&cd=5&ved=0CEcQFjAE&url=http%3A%2F%2Fcarl.cs.indiana.edu%2Ffil%2Fcgi-bin%2FWebSec%2Fmarilyn.cgi&ei=MmabT7yeN4bNrQe9-ORM&usg=AFQjCNHRtbr4ftk_4PyVzN3HuHPJV6LZow
Fri Apr 27 23:38:37 2012 from http://www.google.com.my/url?sa=t&rct=j&q=click%20infospace%20clickhandler&source=web&cd=5&ved=0CEcQFjAE&url=http%3A%2F%2Fcarl.cs.indiana.edu%2Ffil%2Fcgi-bin%2FWebSec%2Fmarilyn.cgi&ei=MmabT7yeN4bNrQe9-ORM&usg=AFQjCNHRtbr4ftk_4PyVzN3HuHPJV6LZow
Fri Apr 27 19:36:23 2012 from http://www.google.co.uk/m?q=www%252etubidy%252e%2520com&client=ms-opera-mini&channel=new
Fri Apr 27 17:52:58 2012 from http://www.google.com.tr/url?sa=t&rct=j&q=click%20infospace&source=web&cd=10&ved=0CHUQFjAJ&url=http%3A%2F%2Fcarl.cs.indiana.edu%2Ffil%2Fcgi-bin%2FWebSec%2Fmarilyn.cgi&ei=MRWbT-uKNKeH4gTorPypDg&usg=AFQjCNHRtbr4ftk_4PyVzN3HuHPJV6LZow
Fri Apr 27 17:24:47 2012 from http://carl.cs.indiana.edu/fil/cgi-bin/WebSec/marilyn.cgi
Fri Apr 27 16:24:08 2012 from http://www.google.com.do/url?sa=t&rct=j&q=click%20infospace%20clickhandler&source=web&cd=9&ved=0CGgQFjAI&url=http%3A%2F%2Fcarl.cs.indiana.edu%2Ffil%2Fcgi-bin%2FWebSec%2Fmarilyn.cgi&ei=RQCbT4C9FsGztwfR6KGmBA&usg=AFQjCNHRtbr4ftk_4PyVzN3HuHPJV6LZow
Fri Apr 27 15:33:48 2012 from (empty referer)
Fri Apr 27 15:20:06 2012 from http://www.google.com/m?client=ms-nokia&cof=nsp&channel=s60&q=tubidy.mobi%2fsehttp%3a%2f%2farch.php%3fa%3d18%26q%3dhot
Fri Apr 27 13:59:53 2012 from http://www.google.com.sa/url?url=http://carl.cs.indiana.edu/fil/cgi-bin/WebSec/marilyn.cgi&rct=j&sa=U&ei=kd6aT6-xKouz8QP5xdCFDw&ved=0CBQQFjAA&q=http+//tubidy.mobile/search.php%3Fa%3D18%26q%3Dhot&usg=AFQjCNHSdBgI6iSWXnu0L2OfukKffdo5MA
Fri Apr 27 13:12:13 2012 from http://www.google.com/url?sa=t&rct=j&q=http%3A%2F%2Fwww.google.com%2Fsearch%3Fq%3Dhttp%253a%252f%252fwww.google.com%252fsearch%253fq%253dhttp%25253a%25252f%25252fredir.opera.com%25252fspeeddials%25252fkayak%25252f%2526sourceid%253dopera%2526ie%253dutf-8%2526oe%253dutf-8%2526channel%253dsuggest%26sourceid%3Dopera%26ie%3Dutf-8%26oe%3Dutf-8%26channel%3Dsuggest&source=web&cd=1&ved=0CCIQFjAA&url=http%3A%2F%2Fcarl.cs.indiana.edu%2Ffil%2Fcgi-bin%2FWebSec%2Fmarilyn.cgi&ei=GseaT86RNMrMrQfZns2jDg&usg=AFQjCNHRtbr4ftk_4PyVzN3HuHPJV6LZow
Fri Apr 27 12:54:52 2012 from http://www.google.com/url?sa=t&rct=j&q=&esrc=s&source=web&cd=1&ved=0CCMQFjAA&url=http%3A%2F%2Fcarl.cs.indiana.edu%2Ffil%2Fcgi-bin%2FWebSec%2Fmarilyn.cgi&ei=Ks-aT9TMCYTwrQfQ_Yy9Dg&usg=AFQjCNHRtbr4ftk_4PyVzN3HuHPJV6LZow&sig2=wj1Enjrzw9unTD6FbnnTpQ
Fri Apr 27 12:52:12 2012 from (empty referer)
Fri Apr 27 10:53:49 2012 from http://www.google.co.uk/m?q=www%252etubidy%252ecom&client=ms-opera-mini&channel=new
Fri Apr 27 10:49:28 2012 from (empty referer)
Fri Apr 27 09:14:49 2012 from http://www.google.com/url?sa=t&rct=j&q=http%3A%2F%2Fwww.google.com%2Fsearch%3Fq%3Dhttp%253A%252F%252Fwww.google.com.pk%252Fsearch%253Fq%253DSearch%2526sourceid%253Dopera%2526ie%253Dutf-8%2526oe%253Dutf-8%2526channel%253Dsuggest%26sourceid%3Dopera%26ie%3Dutf-8%26oe%3Dutf-8%26channel%3Dsuggest&source=web&cd=1&ved=0CCIQFjAA&url=http%3A%2F%2Fcarl.cs.indiana.edu%2Ffil%2Fcgi-bin%2FWebSec%2Fmarilyn.cgi&ei=wpuaT7m4E4n34QTUpcHnDg&usg=AFQjCNHRtbr4ftk_4PyVzN3HuHPJV6LZow
Fri Apr 27 07:54:17 2012 from http://www.google.com/m?client=ms-nokia&cof=nsp&channel=s60&q=www.googlewww.com%2fm%3fclient%3dms-nokia%26cof%3dnsp%26channel%3ds
Fri Apr 27 04:16:08 2012 from http://www.google.com.pk/url?sa=t&rct=j&q=click%20infospace%20clickhandler&source=web&cd=4&ved=0CDMQFjAD&url=http%3A%2F%2Fcarl.cs.indiana.edu%2Ffil%2Fcgi-bin%2FWebSec%2Fmarilyn.cgi&ei=vlWaT4fYB9PS4QTtt4HsDg&usg=AFQjCNHRtbr4ftk_4PyVzN3HuHPJV6LZow
Fri Apr 27 02:37:59 2012 from http://www.google.com.my/url?sa=t&rct=j&q=click%20infospace%20clickhandler&source=web&cd=1&ved=0CCMQFjAA&url=http%3A%2F%2Fcarl.cs.indiana.edu%2Ffil%2Fcgi-bin%2FWebSec%2Fmarilyn.cgi&ei=wj6aT7OqBIS8rAeY7ey1Dg&usg=AFQjCNHRtbr4ftk_4PyVzN3HuHPJV6LZow
Fri Apr 27 02:32:46 2012 from http://www.google.com.ph/search?q=click+infospace+ClickHandler&channel=linkdoctor
Fri Apr 27 02:31:18 2012 from http://www.google.com.ph/search?q=click+infospace+ClickHandler&channel=linkdoctor
Fri Apr 27 01:04:55 2012 from (empty referer)
Thu Apr 26 23:36:48 2012 from http://www.google.com.hk/url?sa=t&rct=j&q=click+infospace+ClickHandler&source=web&cd=5&ved=0CEcQFjAE&url=http%3A%2F%2Fcarl.cs.indiana.edu%2Ffil%2Fcgi-bin%2FWebSec%2Fmarilyn.cgi&ei=OxSaT4_JA4auiQfHnfjIDg&usg=AFQjCNHRtbr4ftk_4PyVzN3HuHPJV6LZow
Thu Apr 26 23:27:17 2012 from http://www.google.co.in/m?q=www%252etubidy%252ecom&client=ms-opera-mini&channel=new
Thu Apr 26 19:59:05 2012 from (empty referer)
Thu Apr 26 19:38:12 2012 from http://www.google.co.in/url?sa=t&rct=j&q=click%20infospace%20clickhandler&source=web&cd=4&ved=0CDYQFjAD&url=http%3A%2F%2Fcarl.cs.indiana.edu%2Ffil%2Fcgi-bin%2FWebSec%2Fmarilyn.cgi&ei=R9yZT5DPCo23rAevkrzrDA&usg=AFQjCNHRtbr4ftk_4PyVzN3HuHPJV6LZow
Thu Apr 26 18:24:39 2012 from http://carl.cs.indiana.edu/fil/cgi-bin/WebSec/marilyn.cgi
Thu Apr 26 17:27:15 2012 from http://carl.cs.indiana.edu/fil/cgi-bin/WebSec/marilyn.cgi
Thu Apr 26 17:27:08 2012 from http://carl.cs.indiana.edu/fil/cgi-bin/WebSec/marilyn.cgi
Thu Apr 26 17:26:58 2012 from http://carl.cs.indiana.edu/fil/cgi-bin/WebSec/marilyn.cgi
Thu Apr 26 16:14:41 2012 from (empty referer)
Thu Apr 26 16:05:56 2012 from http://www.google.com.sa/url?sa=t&rct=j&q=http%3B//tubidy.mobi/index.php%3F9%3D18&source=web&cd=3&ved=0CC8QFjAC&url=http%3A%2F%2Fcarl.cs.indiana.edu%2Ffil%2Fcgi-bin%2FWebSec%2Fmarilyn.cgi%3Fiframe%3Dtrue%26width%3D80%25%26height%3D80%25&ei=zKmZT-fHF5SO4gSfg4zFBg&usg=AFQjCNE7JD9xSrOi5_c4GAQObQquXyuwVQ
Thu Apr 26 14:09:41 2012 from (empty referer)
Thu Apr 26 11:49:24 2012 from (empty referer)
Thu Apr 26 10:26:13 2012 from (empty referer)
Thu Apr 26 09:43:19 2012 from (empty referer)
Thu Apr 26 09:32:37 2012 from http://www.google.com/url?sa=t&rct=j&q=click%20infospace%20clickhandler&source=web&cd=5&ved=0CEcQFjAE&url=http%3A%2F%2Fcarl.cs.indiana.edu%2Ffil%2Fcgi-bin%2FWebSec%2Fmarilyn.cgi&ei=Z06ZT5zpAcTg0QHA44WcCg&usg=AFQjCNHRtbr4ftk_4PyVzN3HuHPJV6LZow
Thu Apr 26 08:49:58 2012 from (empty referer)
Thu Apr 26 08:49:05 2012 from (empty referer)
Thu Apr 26 08:16:32 2012 from (empty referer)
Thu Apr 26 06:50:02 2012 from http://www.google.co.id/url?sa=t&rct=j&q=&esrc=s&source=web&cd=5&ved=0CF0QFjAE&url=http%3A%2F%2Fcarl.cs.indiana.edu%2Ffil%2Fcgi-bin%2FWebSec%2Fmarilyn.cgi&ei=MyiZT4epIajBiQfb8cnoBQ&usg=AFQjCNHRtbr4ftk_4PyVzN3HuHPJV6LZow&sig2=UbWUpY6wmnUpo9pz3NeGbw
Thu Apr 26 05:37:44 2012 from http://carl.cs.indiana.edu/fil/cgi-bin/WebSec/marilyn.cgi?test=1++Result:+page+too+large
Thu Apr 26 04:52:52 2012 from (empty referer)
Thu Apr 26 04:48:44 2012 from http://carl.cs.indiana.edu/fil/cgi-bin/WebSec/marilyn.cgi
Thu Apr 26 03:47:16 2012 from http://www.google.com/m?client=ms-nokia&cof=nsp&channel=s60&q=www.goo%40gle.com%2fm%2fsearch%3fclient%3dms-nokia%26cof%3dnsp%26q
Thu Apr 26 02:53:27 2012 from http://www.google.com/url?sa=t&rct=j&q=http%3A%2F%2Fwww.google.com%2Fsearch%3Fq%3Dhttp%253a%252f%252fwww.google.com%252fsearch%253fq%253dhttp%25253a%25252f%25252fredir.opera.com%25252fspeeddials%25252ffacebook%25252f%2526sourceid%253dopera%2526ie%253dutf-8%2526oe%253dutf-8%2526channel%253dsuggest%26sourceid%3Dopera%26ie%3Dutf-8%26oe%3Dutf-8%26channel%3Dsuggest&source=web&cd=4&ved=0CDYQFjAD&url=http%3A%2F%2Fcarl.cs.indiana.edu%2Ffil%2Fcgi-bin%2FWebSec%2Fmarilyn.cgi&ei=OOaYT7-LL7PSiAK26aTlDw&usg=AFQjCNHRtbr4ftk_4PyVzN3HuHPJV6LZow
Thu Apr 26 02:20:22 2012 from (empty referer)
Thu Apr 26 02:10:20 2012 from http://www.google.com/url?sa=t&rct=j&q=&esrc=s&source=web&cd=1&ved=0CDMQFjAA&url=http%3A%2F%2Fcarl.cs.indiana.edu%2Ffil%2Fcgi-bin%2FWebSec%2Fmarilyn.cgi&ei=weaYT4zwJMvrrQeg7OjYAQ&usg=AFQjCNHRtbr4ftk_4PyVzN3HuHPJV6LZow&sig2=7LqPpVnRuMKoNHw925l8AA
Thu Apr 26 01:38:39 2012 from (empty referer)
Thu Apr 26 01:37:38 2012 from (empty referer)
Thu Apr 26 00:57:04 2012 from http://www.isesfeel.com/engsearch.php?title=Www+youtube+com+results+search+query+porn+Film+oq+porn+Film+aq+f&action=search
Thu Apr 26 00:18:06 2012 from http://www.searchplusnetwork.com/?sp=chv&q=facebook.com%2Fajax%2Fpagelet%2Fgeneric.php%2FPhotoViewerInitPagelet%3F__a
Thu Apr 26 00:14:28 2012 from http://www.google.com/url?sa=t&rct=j&q=&esrc=s&source=web&cd=1&ved=0CCQQFjAA&url=http%3A%2F%2Fcarl.cs.indiana.edu%2Ffil%2Fcgi-bin%2FWebSec%2Fmarilyn.cgi&ei=ksqYT9ShHc3B8QO99On-BQ&usg=AFQjCNHRtbr4ftk_4PyVzN3HuHPJV6LZow&sig2=oE8Zow5uEjH_ixRkZ4f-2A
Wed Apr 25 22:54:35 2012 from (empty referer)
Wed Apr 25 21:20:10 2012 from (empty referer)
Wed Apr 25 20:36:43 2012 from http://www.google.co.in/m?q=www%252etubidy%252ecom&client=ms-opera-mini&channel=new
Wed Apr 25 20:36:02 2012 from http://www.google.co.in/m?q=www%252etubidy%252ecom&client=ms-opera-mini&channel=new
Wed Apr 25 19:34:51 2012 from (empty referer)
Wed Apr 25 17:53:34 2012 from http://www.google.com/m?client=ms-nokia&cof=nsp&channel=s60&q=Http%3a%2f%2fTUBIDY.MOBI%2fSEARCH.PHP%3fA%3d18%26%3f%3dSEXE
Wed Apr 25 17:48:09 2012 from (empty referer)
Wed Apr 25 17:47:30 2012 from http://www.google.com/url?sa=t&rct=j&q=search%20babylon%20web%20google%20porno&source=web&cd=5&ved=0CDwQFjAE&url=http%3A%2F%2Fcarl.cs.indiana.edu%2Ffil%2Fcgi-bin%2FWebSec%2Fmarilyn.cgi&ei=7m6YT8D2J4LG0QX9wKiQBg&usg=AFQjCNHRtbr4ftk_4PyVzN3HuHPJV6LZow
Wed Apr 25 17:41:54 2012 from (empty referer)
Wed Apr 25 16:48:50 2012 from (empty referer)
Wed Apr 25 16:06:25 2012 from http://www.google.com/m?client=ms-nokia&cof=nsp&channel=s60&q=carl.cs.indiana.edu%2ffil%2fcgi-bin%2fWebSec%2fmarilyn.cgi
Wed Apr 25 14:51:37 2012 from (empty referer)
Wed Apr 25 14:15:33 2012 from (empty referer)
Wed Apr 25 13:47:25 2012 from http://www.google.com.sa/search?q=Http://tubid.mobi/index.php%3F:18%22&hl=en&safe=active&client=ms-android-samsung&gl=gb&source=android-unknown&sky=mrdr&gbv=1&prmd=imvns&ei=mziYT4fCA4jS0QW07KnxBQ&start=70&sa=N
Wed Apr 25 13:38:47 2012 from (empty referer)
Wed Apr 25 13:33:01 2012 from (empty referer)
Wed Apr 25 13:32:11 2012 from (empty referer)
Wed Apr 25 12:29:28 2012 from http://www.google.co.in/url?sa=t&rct=j&q=click%20infospace%20clickhandler&source=web&cd=4&ved=0CDYQFjAD&url=http%3A%2F%2Fcarl.cs.indiana.edu%2Ffil%2Fcgi-bin%2FWebSec%2Fmarilyn.cgi&ei=YSaYT_CfBY23rAf9yqiuAQ&usg=AFQjCNHRtbr4ftk_4PyVzN3HuHPJV6LZow
Wed Apr 25 12:26:49 2012 from http://www.google.com/url?sa=t&rct=j&q=click%20infospace%20clickhandler&source=web&cd=4&ved=0CDsQFjAD&url=http%3A%2F%2Fcarl.cs.indiana.edu%2Ffil%2Fcgi-bin%2FWebSec%2Fmarilyn.cgi&ei=xSWYT5LxAcieOt3Y5MIG&usg=AFQjCNHRtbr4ftk_4PyVzN3HuHPJV6LZow
Wed Apr 25 12:17:47 2012 from http://www.google.com/url?sa=t&rct=j&q=click%20infospace%20clickhandler&source=web&cd=4&ved=0CDsQFjAD&url=http%3A%2F%2Fcarl.cs.indiana.edu%2Ffil%2Fcgi-bin%2FWebSec%2Fmarilyn.cgi&ei=jSOYT7SYAYiUOo3zhNAG&usg=AFQjCNHRtbr4ftk_4PyVzN3HuHPJV6LZow
Wed Apr 25 11:24:44 2012 from (empty referer)
Wed Apr 25 10:49:56 2012 from http://www.google.com.pk/url?sa=t&rct=j&q=click+infospace+ClickHandler&source=web&cd=4&ved=0CDMQFjAD&url=http%3A%2F%2Fcarl.cs.indiana.edu%2Ffil%2Fcgi-bin%2FWebSec%2Fmarilyn.cgi&ei=Bg-YT-umMMvFtAalp4XZAQ&usg=AFQjCNHRtbr4ftk_4PyVzN3HuHPJV6LZow
Wed Apr 25 10:29:05 2012 from http://assist.babylon.com/babylonassista/dnsassist/main?domain=mystart%20incredibar%20mb113%20
Wed Apr 25 10:15:53 2012 from http://www.google.com/m?client=ms-nokia&cof=nsp&channel=s60&q=www.google.com%2fm%2fsearch%3fclient%3dms-nokia%26cof%3dnsp%26q%3d
Wed Apr 25 10:12:08 2012 from http://www.google.com/m?client=ms-nokia&cof=nsp&channel=s60&q=carl.cs.indiana.edu%2ffil%2fcgi-bin%2fWebSec%2fmarilyn.cgi
Wed Apr 25 10:09:30 2012 from http://www.google.com/m?client=ms-nokia&cof=nsp&channel=s60&q=www.google.com%2fm%2fsearch%3fclient%3dms-nokia%26cof%3dnsp%26q%3d
Wed Apr 25 09:20:00 2012 from (empty referer)
Wed Apr 25 09:07:27 2012 from (empty referer)
Wed Apr 25 08:48:14 2012 from http://www.google.com.ph/url?sa=t&rct=j&q=click%20infospace%20clickhandler&source=web&cd=5&ved=0CEsQFjAE&url=http%3A%2F%2Fcarl.cs.indiana.edu%2Ffil%2Fcgi-bin%2FWebSec%2Fmarilyn.cgi&ei=gPKXT5H-KZCtiQekhbGMBg&usg=AFQjCNHRtbr4ftk_4PyVzN3HuHPJV6LZow
Wed Apr 25 07:58:31 2012 from (empty referer)
Wed Apr 25 07:16:56 2012 from http://www.google.com/url?sa=t&rct=j&q=click%20infospace%20clickhandler&source=web&cd=4&ved=0CDQQFjAD&url=http%3A%2F%2Fcarl.cs.indiana.edu%2Ffil%2Fcgi-bin%2FWebSec%2Fmarilyn.cgi&ei=D92XT4e6LsrYrQfJrqG5AQ&usg=AFQjCNHRtbr4ftk_4PyVzN3HuHPJV6LZow
Wed Apr 25 06:13:24 2012 from (empty referer)
Wed Apr 25 04:04:49 2012 from http://www.google.com/url?sa=t&rct=j&q=click%20infospace%20clickhandler&source=web&cd=4&ved=0CDsQFjAD&url=http%3A%2F%2Fcarl.cs.indiana.edu%2Ffil%2Fcgi-bin%2FWebSec%2Fmarilyn.cgi&ei=BLCXT9fZEY-l-gaX6tXMBg&usg=AFQjCNHRtbr4ftk_4PyVzN3HuHPJV6LZow
Wed Apr 25 03:43:37 2012 from (empty referer)
Wed Apr 25 03:42:48 2012 from (empty referer)
Wed Apr 25 03:16:26 2012 from http://pozycjonowanie-stron.opoczno.pl/2012/04/18/podrbki/
Wed Apr 25 03:06:09 2012 from (empty referer)
Wed Apr 25 01:39:33 2012 from (empty referer)
Wed Apr 25 00:27:46 2012 from http://www.google.com/url?sa=t&rct=j&q=&esrc=s&source=web&cd=1&ved=0CCMQFjAA&url=http%3A%2F%2Fcarl.cs.indiana.edu%2Ffil%2Fcgi-bin%2FWebSec%2Fmarilyn.cgi&ei=KX2XT-i8L6jImAXWpLGvBg&usg=AFQjCNHRtbr4ftk_4PyVzN3HuHPJV6LZow&sig2=Gr_Ni53CjQN0yDhEigNANg
Wed Apr 25 00:14:05 2012 from http://www.google.com/search?client=opera&rls=en&q=http%3A%2F%2Fwww.google.com%2Fsearch%3Fq%3Dhttp%253A%252F%252Fwww.google.com%252Fsearch%253Fq%253DSearch%2526sourceid%253Dopera%2526ie%253Dutf-8%2526oe%253Dutf-8%2526channel%253Dsuggest%26sourceid%3Dopera%26ie%3Dutf-8%26oe%3Dutf-8%26channel%3Dsuggest&sourceid=opera&ie=utf-8&oe=utf-8&channel=suggest
Tue Apr 24 23:20:45 2012 from http://www.google.com/url?sa=t&rct=j&q=http%3A%2F%2Fwww.google.com%2Fsearch%3Fq%3Dhttp%253a%252f%252fwww.google.com%252fsearch%253fq%253dhttps%25253a%25252f%25252fwww.facebook.com%25252f%2526sourceid%253dopera%2526ie%253dutf-8%2526oe%253dutf-8%2526channel%253dsuggest%26sourceid%3Dopera%26ie%3Dutf-8%26oe%3Dutf-8%26channel%3Dsuggest&source=web&cd=1&ved=0CCMQFjAA&url=http%3A%2F%2Fcarl.cs.indiana.edu%2Ffil%2Fcgi-bin%2FWebSec%2Fmarilyn.cgi&ei=hG2XT-FA4pbZBe6_wIEO&usg=AFQjCNHRtbr4ftk_4PyVzN3HuHPJV6LZow
Tue Apr 24 22:13:02 2012 from http://www.google.com.my/url?sa=t&rct=j&q=click%20infospace%20clickhandler&source=web&cd=5&ved=0CEcQFjAE&url=http%3A%2F%2Fcarl.cs.indiana.edu%2Ffil%2Fcgi-bin%2FWebSec%2Fmarilyn.cgi&ei=n1SXT5_uE4LxrQfZx4G0AQ&usg=AFQjCNHRtbr4ftk_4PyVzN3HuHPJV6LZow
Tue Apr 24 21:40:56 2012 from http://www.google.com.mx/url?sa=t&rct=j&q=&esrc=s&frm=1&source=web&cd=3&ved=0CDUQFjAC&url=http%3A%2F%2Fcarl.cs.indiana.edu%2Ffil%2Fcgi-bin%2FWebSec%2Fmarilyn.cgi%3Fiframe%3Dtrue%26width%3D90%25%26height%3D90%25&ei=GVaXT4n_Dsi42wWb-PGMDg&usg=AFQjCNF1YRHwwX8j7f5VE5Zthzm_YadtXg
Tue Apr 24 20:40:37 2012 from http://www.google.com/url?sa=t&rct=j&q=http%3A%2F%2Fwww.google.com%2Fsearch%3Fq%3Dhttp%253A%252F%252Fwww.google.com%252Fsearch%253Fq%253Dhttp%25253A%25252F%25252Fwww.facebook.com%25252F%2526sourceid%253Dopera%2526ie%253Dutf-8%2526oe%253Dutf-8%2526channel%253Dsuggest%26sourceid%3Dopera%26ie%3Dutf-8%26oe%3Dutf-8%26channel%3Dsuggest&source=web&cd=1&ved=0CCIQFjAA&url=http%3A%2F%2Fcarl.cs.indiana.edu%2Ffil%2Fcgi-bin%2FWebSec%2Fmarilyn.cgi&ei=-0eXT4HmEYySOviu9dUN&usg=AFQjCNHRtbr4ftk_4PyVzN3HuHPJV6LZow
Tue Apr 24 19:42:46 2012 from http://www.google.com.sa/m/search?q=sear+ch.php?a+%3D18%26amp;q%3Dhot&nfpr=1&ei=VTqXT6ieN4rR8gO03QE&ved=0CAUQvgUoAQ
Tue Apr 24 19:00:10 2012 from http://carl.cs.indiana.edu/fil/cgi-bin/WebSec/marilyn.cgi
Tue Apr 24 19:00:03 2012 from http://carl.cs.indiana.edu/fil/cgi-bin/WebSec/marilyn.cgi
Tue Apr 24 18:09:33 2012 from http://carl.cs.indiana.edu/fil/cgi-bin/WebSec/marilyn.cgi
Tue Apr 24 18:09:28 2012 from (empty referer)
Tue Apr 24 17:41:05 2012 from (empty referer)
Tue Apr 24 16:14:06 2012 from http://www.google.com/m?client=ms-nokia&cof=nsp&channel=s60&q=le.com%2fm%3fwclient%3dms-nokia%26cof%3dnsp%26channel%3ds60%26q%3dww
Tue Apr 24 15:46:45 2012 from http://www.google.com.sa/m?q=http%3A%2F%2Fwww.google.com.sa%2Fm%3Fq%3D
Tue Apr 24 15:34:35 2012 from http://www.google.com/m?client=ms-nokia&cof=nsp&channel=s60&q=www.google.com.sa%2fm%3fq%3d
Tue Apr 24 12:30:34 2012 from http://carl.cs.indiana.edu/fil/cgi-bin/WebSec/marilyn.cgi
Tue Apr 24 12:11:31 2012 from (empty referer)
Tue Apr 24 12:06:26 2012 from (empty referer)
Tue Apr 24 10:47:25 2012 from http://yandex.ru/yandsearch?text=lolitacams.blogspot.com&clid=9403&lr=11168
Tue Apr 24 08:39:58 2012 from (empty referer)
Tue Apr 24 07:52:21 2012 from http://www.google.com/url?sa=t&rct=j&q=&esrc=s&source=web&cd=1&ved=0CCIQFjAA&url=http%3A%2F%2Fcarl.cs.indiana.edu%2Ffil%2Fcgi-bin%2FWebSec%2Fmarilyn.cgi&ei=wJOWT7yvDs3E-gbZoYXKBA&usg=AFQjCNHRtbr4ftk_4PyVzN3HuHPJV6LZow&sig2=FAP_Ob-RAOw7VyCde1gGTQ
Tue Apr 24 07:01:18 2012 from http://www.google.com.sa/search?hl=en&safe=active&client=ms-android-samsung&gl=gb&source=android-launcher-widget&sky=mrdr&q=htt%3A%2F%2Ftubidy.mobi+search+php%3Fa%3D18%26q%3Dsex%2Bhot&oq=htt%3A%2F%2Ftubidy.mobi+search+php%3Fa%3D18%26q%3Dsex%2Bhot&aq=f&aqi=&aql=&gs_nf=1&gs_l=mobile-gws-serp.12...0.0.0.24696.0.0.0.0.0.0.0.0..0.0.&mvs=1
Tue Apr 24 06:34:08 2012 from (empty referer)
Tue Apr 24 06:32:26 2012 from http://www.google.com/search?client=ms-opera-mini&channel=new&sky=ee&hl=en&q=www.google.com.pk%2Fsearch%3Fsky%3Dee%26hl%3De
Tue Apr 24 06:27:44 2012 from (empty referer)
Tue Apr 24 06:27:42 2012 from http://carl.cs.indiana.edu/fil/cgi-bin/WebSec/marilyn.cgi?test=1++Result:+page+too+large
Tue Apr 24 06:17:22 2012 from http://www.google.com/m?client=ms-nokia&cof=nsp&channel=s60&q=http%3A%2F%2Ftubidy.mobi%2Fsearc.php%3Fa%3D18%26q%3D%25d8%25d8%25d8%25d8%25b1%25d9%2582%25d9%25b5%25%2B%25d9%2583%25d8%2583
Tue Apr 24 04:26:30 2012 from https://www.google.co.in/
Tue Apr 24 04:22:50 2012 from http://www.google.com/imgres?hl=en&client=opera&sa=X&rls=en&channel=suggest&sout=0&tbm=isch&prmd=imvns&tbnid=ynUan-_9FQYrEM:&imgrefurl=http://carl.cs.indiana.edu/fil/cgi-bin/WebSec/marilyn.cgi&docid=hMMAQwJMLA2rwM&imgurl=http://carl.cs.indiana.edu/fil/WebSec/marilyn.jpg&w=500&h=333&ei=q2KWT8K4FcSphAf2tZjXDQ&zoom=1&iact=rc&dur=2&sig=117278969943874972187&page=1&tbnh=114&tbnw=152&start=0&ndsp=1&ved=1t:429,r:0,s:0,i:70&tx=30&ty=43&biw=942&bih=593
Tue Apr 24 04:17:22 2012 from https://www.google.co.in/
Tue Apr 24 04:12:03 2012 from http://www.google.com/url?sa=t&rct=j&q=click%20infospace%20clickhandler&source=web&cd=4&ved=0CDQQFjAD&url=http%3A%2F%2Fcarl.cs.indiana.edu%2Ffil%2Fcgi-bin%2FWebSec%2Fmarilyn.cgi&ei=SmCWT-j2B8TnrAeXy7jKDQ&usg=AFQjCNHRtbr4ftk_4PyVzN3HuHPJV6LZow
Tue Apr 24 03:47:31 2012 from http://www.google.com/url?sa=t&rct=j&q=click+infospace+ClickHandler&source=web&cd=4&ved=0CDQQFjAD&url=http%3A%2F%2Fcarl.cs.indiana.edu%2Ffil%2Fcgi-bin%2FWebSec%2Fmarilyn.cgi&ei=f1qWT9nVGMX5sgah0KzhDQ&usg=AFQjCNHRtbr4ftk_4PyVzN3HuHPJV6LZow
Tue Apr 24 03:39:17 2012 from http://www.google.com.pk/url?sa=t&rct=j&q=click%20infospace%20clickhandler&source=web&cd=4&ved=0CDMQFjAD&url=http%3A%2F%2Fcarl.cs.indiana.edu%2Ffil%2Fcgi-bin%2FWebSec%2Fmarilyn.cgi&ei=oFiWT8eOBsixsAbetvmfAQ&usg=AFQjCNHRtbr4ftk_4PyVzN3HuHPJV6LZow
Tue Apr 24 03:09:42 2012 from http://www.google.com/url?sa=t&rct=j&q=click%20infospace%20clickhandler&source=web&cd=4&ved=0CDQQFjAD&url=http%3A%2F%2Fcarl.cs.indiana.edu%2Ffil%2Fcgi-bin%2FWebSec%2Fmarilyn.cgi&ei=pVGWT-HtOITzrQec7bXGDQ&usg=AFQjCNHRtbr4ftk_4PyVzN3HuHPJV6LZow
Tue Apr 24 01:52:10 2012 from http://url.org/bookmarks/ecnarret/pozycjonowanie%20stron/
Tue Apr 24 01:27:12 2012 from (empty referer)
Mon Apr 23 21:11:23 2012 from http://carl.cs.indiana.edu/fil/cgi-bin/WebSec/marilyn.cgi
Mon Apr 23 21:11:17 2012 from http://carl.cs.indiana.edu/fil/cgi-bin/WebSec/marilyn.cgi
Mon Apr 23 21:11:08 2012 from http://carl.cs.indiana.edu/fil/cgi-bin/WebSec/marilyn.cgi
Mon Apr 23 19:18:55 2012 from http://www.google.com/url?sa=t&rct=j&q=http%3A%2F%2Fwww.google.com%2Fsearch%3Fq%3Dhttp%253a%252f%252fwww.google.com%252fsearch%253fq%253dhttp%25253a%25252f%25252fwww.facebook.com%25252f%2526sourceid%253dopera%2526ie%253dutf-8%2526oe%253dutf-8%2526channel%253dsuggest%26sourceid%3Dopera%26ie%3Dutf-8%26oe%3Dutf-8%26channel%3Dsuggest&source=web&cd=1&ved=0CCIQFjAA&url=http%3A%2F%2Fcarl.cs.indiana.edu%2Ffil%2Fcgi-bin%2FWebSec%2Fmarilyn.cgi&ei=6VCVT42TM4XnrAefneT8BA&usg=AFQjCNHRtbr4ftk_4PyVzN3HuHPJV6LZow
Mon Apr 23 18:54:34 2012 from http://ecnarret.buzznet.com/user/links/2940399/pozycjonowanie/
Mon Apr 23 18:39:00 2012 from (empty referer)
Mon Apr 23 17:56:21 2012 from (empty referer)
Mon Apr 23 14:36:28 2012 from http://www.google.com/m/search?site=universal&client=ms-nokia&cof=nsp&q=Http://tubidy.mobi/search.php?a%3D18%26q%3D%25d8%25b1%25d9%2582%25d8%25b5%2B%25d9%2583%25d8%25b3&channel=s60&start=40&sa=N
Mon Apr 23 14:06:15 2012 from https://www.google.com.ph/
Mon Apr 23 14:05:49 2012 from (empty referer)
Mon Apr 23 13:37:09 2012 from http://www.google.com/search?q=http%3A%2F%2Fwww.google.com%2F%3Fsp%3Dhp
Mon Apr 23 12:53:16 2012 from http://www.oneview.com/url/40857172/
Mon Apr 23 11:24:40 2012 from http://www.google.com/m?safe=on&client=ms-nokia&cof=nsp&q=maps.google.com.sa/m/search?safe%3Don%26hl%3Den%26sa%3D2%26q%3Ds&channel=s60&start=0&sa=N
Mon Apr 23 11:19:52 2012 from http://www.google.com/url?sa=t&rct=j&q=http%3A%2F%2Fwww.google.com%2Fsearch%3Fq%3Dhttp%253a%252f%252fwww.google.com%252fsearch%253fq%253dhttp%25253a%25252f%25252fwww.facebook.com%25252flogout.php%2526sourceid%253dopera%2526ie%253dutf-8%2526oe%253dutf-8%2526channel%253dsuggest%26sourceid%3Dopera%26ie%3Dutf-8%26oe%3Dutf-8%26channel%3Dsuggest&source=web&cd=1&ved=0CDAQFjAA&url=http%3A%2F%2Fcarl.cs.indiana.edu%2Ffil%2Fcgi-bin%2FWebSec%2Fmarilyn.cgi&ei=ynKVT4ePJ8zJrAfZ4anqBA&usg=AFQjCNHRtbr4ftk_4PyVzN3HuHPJV6LZow
Mon Apr 23 11:03:50 2012 from (empty referer)
Mon Apr 23 10:44:21 2012 from http://www.google.com/url?sa=t&rct=j&q=click%20infospace%20clickhandler&source=web&cd=4&ved=0CDsQFjAD&url=http%3A%2F%2Fcarl.cs.indiana.edu%2Ffil%2Fcgi-bin%2FWebSec%2Fmarilyn.cgi&ei=E1OVT5vnH4aXOtCG0IsE&usg=AFQjCNHRtbr4ftk_4PyVzN3HuHPJV6LZow
Mon Apr 23 09:42:47 2012 from (empty referer)
Mon Apr 23 09:40:41 2012 from http://www.google.co.in/url?sa=t&rct=j&q=click%20infospace%20clickhandler&source=web&cd=4&ved=0CDYQFjAD&url=http%3A%2F%2Fcarl.cs.indiana.edu%2Ffil%2Fcgi-bin%2FWebSec%2Fmarilyn.cgi&ei=fVuVT4TZCNHMrQe4-Ln0BA&usg=AFQjCNHRtbr4ftk_4PyVzN3HuHPJV6LZow
Mon Apr 23 09:38:14 2012 from (empty referer)
Mon Apr 23 09:03:40 2012 from http://www.google.com/url?sa=t&rct=j&q=click%20infospace%20clickhandler&source=web&cd=4&ved=0CDsQFjAD&url=http%3A%2F%2Fcarl.cs.indiana.edu%2Ffil%2Fcgi-bin%2FWebSec%2Fmarilyn.cgi&ei=E1OVT5vnH4aXOtCG0IsE&usg=AFQjCNHRtbr4ftk_4PyVzN3HuHPJV6LZow
Mon Apr 23 08:28:49 2012 from (empty referer)
Mon Apr 23 08:17:18 2012 from http://www.google.com.pk/url?sa=t&rct=j&q=home%20allgameshome%20results%20new2&source=web&cd=8&ved=0CEwQFjAH&url=http%3A%2F%2Fcarl.cs.indiana.edu%2Ffil%2Fcgi-bin%2FWebSec%2Fmarilyn.cgi&ei=M0iVT4HNI4OWOu-pxfoD&usg=AFQjCNHRtbr4ftk_4PyVzN3HuHPJV6LZow
Mon Apr 23 08:06:24 2012 from (empty referer)
Mon Apr 23 07:17:34 2012 from (empty referer)
Mon Apr 23 07:13:21 2012 from http://www.google.com/url?sa=t&rct=j&q=http%3A%2F%2Fwww.google.com%2Fsearch%3Fq%3Dhttp%253a%252f%252fwww.google.com%252fsearch%253fq%253dhttp%25253a%25252f%25252fredir.opera.com%25252fspeeddials%25252fportal%25252f%2526sourceid%253dopera%2526num%253d0%2526ie%253dutf-8%2526oe%253dutf-8%2526channel%253dsuggest%26sourceid%3Dopera%26num%3D0%26ie%3Dutf-8%26oe%3Dutf-8%26channel%3Dsuggest&source=web&cd=1&ved=0CCIQFjAA&url=http%3A%2F%2Fcarl.cs.indiana.edu%2Ffil%2Fcgi-bin%2FWebSec%2Fmarilyn.cgi&ei=QDmVT8-OKoHtsgb3x-TABA&usg=AFQjCNHRtbr4ftk_4PyVzN3HuHPJV6LZow
Mon Apr 23 06:50:51 2012 from http://www.google.co.in/search?q=home+allgameshome+results+new2&channel=linkdoctor
Mon Apr 23 06:43:56 2012 from http://www.google.co.in/url?sa=t&rct=j&q=home%20allgameshome%20results%20new2&source=web&cd=10&ved=0CFwQFjAJ&url=http%3A%2F%2Fcarl.cs.indiana.edu%2Ffil%2Fcgi-bin%2FWebSec%2Fmarilyn.cgi&ei=VTKVT-r8Fc2mrAeh9IWgBQ&usg=AFQjCNHRtbr4ftk_4PyVzN3HuHPJV6LZow
Mon Apr 23 06:20:21 2012 from http://www.google.co.in/url?sa=t&rct=j&q=home+allgameshome+results+new2&source=web&cd=10&ved=0CFwQFjAJ&url=http%3A%2F%2Fcarl.cs.indiana.edu%2Ffil%2Fcgi-bin%2FWebSec%2Fmarilyn.cgi&ei=zyyVT-q9A8q4rAf2sdWhBQ&usg=AFQjCNHRtbr4ftk_4PyVzN3HuHPJV6LZow
Mon Apr 23 06:06:43 2012 from (empty referer)
Mon Apr 23 05:55:56 2012 from http://www.google.com.bh/url?sa=t&rct=j&q=home%20allgameshome%20results%20new2&source=web&cd=7&ved=0CFMQFjAG&url=http%3A%2F%2Fcarl.cs.indiana.edu%2Ffil%2Fcgi-bin%2FWebSec%2Fmarilyn.cgi&ei=BCeVT8PLPOnK0QXH2omFAg&usg=AFQjCNHRtbr4ftk_4PyVzN3HuHPJV6LZow
Mon Apr 23 05:55:55 2012 from http://www.google.com.bh/url?sa=t&rct=j&q=home%20allgameshome%20results%20new2&source=web&cd=7&ved=0CFMQFjAG&url=http%3A%2F%2Fcarl.cs.indiana.edu%2Ffil%2Fcgi-bin%2FWebSec%2Fmarilyn.cgi&ei=BCeVT8PLPOnK0QXH2omFAg&usg=AFQjCNHRtbr4ftk_4PyVzN3HuHPJV6LZow
Mon Apr 23 05:27:29 2012 from http://www.google.co.in/url?sa=t&rct=j&q=home+allgameshome+results+new2&source=web&cd=10&ved=0CFwQFjAJ&url=http%3A%2F%2Fcarl.cs.indiana.edu%2Ffil%2Fcgi-bin%2FWebSec%2Fmarilyn.cgi&ei=YCCVT_36BILorQf6n835BA&usg=AFQjCNHRtbr4ftk_4PyVzN3HuHPJV6LZow
Mon Apr 23 05:24:29 2012 from http://www.google.co.in/imgres?q=home+allgameshome+results+new2&start=298&hl=hi&sa=X&biw=1024&bih=677&tbm=isch&prmd=imvns&tbnid=ynUan-_9FQYrEM:&imgrefurl=http://carl.cs.indiana.edu/fil/cgi-bin/WebSec/marilyn.cgi&docid=hMMAQwJMLA2rwM&imgurl=http://carl.cs.indiana.edu/fil/WebSec/marilyn.jpg&w=500&h=333&ei=rR-VT8TIM8PYrQev25HoBA&zoom=1&iact=hc&vpx=510&vpy=383&dur=1631&hovh=183&hovw=275&tx=50&ty=137&sig=114120928383567901215&page=18&tbnh=147&tbnw=213&ndsp=16&ved=1t:429,r:6,s:298,i:18
Mon Apr 23 05:24:20 2012 from http://www.google.co.in/imgres?q=home+allgameshome+results+new2&start=298&hl=hi&sa=X&biw=1024&bih=677&tbm=isch&prmd=imvns&tbnid=ynUan-_9FQYrEM:&imgrefurl=http://carl.cs.indiana.edu/fil/cgi-bin/WebSec/marilyn.cgi&docid=hMMAQwJMLA2rwM&imgurl=http://carl.cs.indiana.edu/fil/WebSec/marilyn.jpg&w=500&h=333&ei=rR-VT8TIM8PYrQev25HoBA&zoom=1&iact=hc&vpx=510&vpy=383&dur=1631&hovh=183&hovw=275&tx=50&ty=137&sig=114120928383567901215&page=18&tbnh=147&tbnw=213&ndsp=16&ved=1t:429,r:6,s:298,i:18
Mon Apr 23 05:08:41 2012 from http://www.google.co.in/search?q=home+allgameshome+results+new2&channel=linkdoctor
Mon Apr 23 04:35:36 2012 from http://wiki.inside-irc.net/index.php?title=User:AliSklep3
Mon Apr 23 04:04:29 2012 from https://www.google.co.in/
Mon Apr 23 01:54:45 2012 from http://www.google.co.in/url?sa=t&rct=j&q=click%20infospace%20clickhandler&source=web&cd=4&ved=0CDYQFjAD&url=http%3A%2F%2Fcarl.cs.indiana.edu%2Ffil%2Fcgi-bin%2FWebSec%2Fmarilyn.cgi&ei=h-6UT97sB8OtrAft0sSCBQ&usg=AFQjCNHRtbr4ftk_4PyVzN3HuHPJV6LZow
Sun Apr 22 18:54:21 2012 from (empty referer)
Sun Apr 22 16:35:43 2012 from (empty referer)
Sun Apr 22 15:09:49 2012 from http://www.google.com/search?hl=en&safe=active&sky=ee&q=http%3A%2F%2Fwww.tubid.mobi%2Fsearch.php%3Fa%3D18%26q%3D%25d8%25B1%25d9%2582%25d8%25b5%25%2B%25d9%2583%25d8%25b3.com&btnG=Search
Sun Apr 22 15:07:38 2012 from http://carl.cs.indiana.edu/fil/cgi-bin/WebSec/marilyn.cgi
Sun Apr 22 14:35:01 2012 from (empty referer)
Sun Apr 22 14:15:04 2012 from http://www.google.com.my/url?sa=t&rct=j&q=click+infospace+ClickHandler&source=web&cd=5&ved=0CEcQFjAE&url=http%3A%2F%2Fcarl.cs.indiana.edu%2Ffil%2Fcgi-bin%2FWebSec%2Fmarilyn.cgi&ei=oUqUT8eOM4vRrQeqmu37BA&usg=AFQjCNHRtbr4ftk_4PyVzN3HuHPJV6LZow
Sun Apr 22 13:44:38 2012 from (empty referer)
Sun Apr 22 13:33:08 2012 from http://carl.cs.indiana.edu/fil/cgi-bin/WebSec/marilyn.cgi
Sun Apr 22 12:44:16 2012 from http://carl.cs.indiana.edu/fil/cgi-bin/WebSec/marilyn.cgi
Sun Apr 22 12:27:21 2012 from (empty referer)
Sun Apr 22 11:02:17 2012 from (empty referer)
Sun Apr 22 10:55:38 2012 from http://start.allgameshome.com/results.php?category=web&s=http://click.infospace.com/ClickHandler.ashx?du=https%3a%2f%2flogin.yahoo.com%2fconfig%2flogin&ru=https%3a%2f%2flogin.yahoo.com%2fconfig%2flogin&ld=20120422&ap=6&app=1&c=aghstart&s=aghstart&coi=239138&cop=main-title&euip=112.215.66.65&npp=6&p=0&pp=0&pvaid=e93c1e1126584ed2b676902c6af0f4f0&ep=6&mid=9&hash=FB20C2FCAED1FC55A7860A46948851E
Sun Apr 22 10:42:06 2012 from (empty referer)
Sun Apr 22 10:42:02 2012 from (empty referer)
Sun Apr 22 09:24:59 2012 from (empty referer)
Sun Apr 22 08:14:48 2012 from http://www.google.com/url?sa=t&rct=j&q=http%3A%2F%2Fwww.google.com%2Fsearch%3Fq%3Dhttp%253a%252f%252fwww.google.com%252fsearch%253fq%253dhttp%25253a%25252f%25252fwww.facebook.com%25252f%2526sourceid%253dopera%2526ie%253dutf-8%2526oe%253dutf-8%2526channel%253dsuggest%26sourceid%3Dopera%26ie%3Dutf-8%26oe%3Dutf-8%26channel%3Dsuggest&source=web&cd=1&ved=0CCIQFjAA&url=http%3A%2F%2Fcarl.cs.indiana.edu%2Ffil%2Fcgi-bin%2FWebSec%2Fmarilyn.cgi&ei=K_aTT4ahLYurrAfkvYn0BA&usg=AFQjCNHRtbr4ftk_4PyVzN3HuHPJV6LZow
Sun Apr 22 07:46:38 2012 from http://www.google.com/m?q=google.com%2Fm%3Fq%3Dtube8%2B%26client%3Dms-opera-mini%26channel%3Dnew.&client=ms-opera-mini-android&channel=new
Sun Apr 22 07:45:42 2012 from http://www.google.com/m?q=google.com%2Fm%3Fq%3Dtube8%2B%26client%3Dms-opera-mini%26channel%3Dnew.&client=ms-opera-mini-android&channel=new
Sun Apr 22 07:43:40 2012 from (empty referer)
Sun Apr 22 07:42:03 2012 from (empty referer)
Sun Apr 22 06:48:03 2012 from http://www.google.com/m?client=ms-aff-ucweb&output=xhtml&hl=en&q=http%3a%2f%2fclick.infospace.com%2fClickHandler.ashx%3fdu%3dwww.sex-porno.es
Sun Apr 22 06:14:20 2012 from (empty referer)
Sun Apr 22 03:37:19 2012 from http://www.google.com/m?client=ms-nokia&cof=nsp&channel=s60&q=carl.xvid.edu%2Ffil%2Fcgi-bin%2FWebSec%2Fmarilyn.cgi%3Ftest%3D1
Sun Apr 22 03:36:28 2012 from http://www.google.com/m?client=ms-nokia&cof=nsp&channel=s60&q=carl.xvid.edu%2Ffil%2Fcgi-bin%2FWebSec%2Fmarilyn.cgi%3Ftest%3D1
Sun Apr 22 02:26:24 2012 from http://www.google.com/m?client=ms-nokia&cof=nsp&channel=s60&q=carl.cs.indiana.edu%2ffil%2fcgi-bin%2fWebSec%2fmarilyn.cgi
Sun Apr 22 01:49:07 2012 from (empty referer)
Sat Apr 21 20:27:28 2012 from http://www.google.com/url?sa=t&rct=j&q=click%20infospace%20clickhandler&source=web&cd=5&ved=0CEcQFjAE&url=http%3A%2F%2Fcarl.cs.indiana.edu%2Ffil%2Fcgi-bin%2FWebSec%2Fmarilyn.cgi&ei=TVCTT_jDNMTUiAKb9tkV&usg=AFQjCNHRtbr4ftk_4PyVzN3HuHPJV6LZow
Sat Apr 21 20:27:07 2012 from http://www.google.com/url?sa=t&rct=j&q=click%20infospace%20clickhandler&source=web&cd=5&ved=0CEcQFjAE&url=http%3A%2F%2Fcarl.cs.indiana.edu%2Ffil%2Fcgi-bin%2FWebSec%2Fmarilyn.cgi&ei=TVCTT_jDNMTUiAKb9tkV&usg=AFQjCNHRtbr4ftk_4PyVzN3HuHPJV6LZow
Sat Apr 21 20:09:14 2012 from http://www.vt.sakura.ne.jp/~ticra/cgi-bin/access/access/accview.cgi
Sat Apr 21 19:03:24 2012 from http://www.searchplusnetwork.com/?sp=chv&q=click.infospace.comClickHandler.ashx%3Fdu
Sat Apr 21 18:21:39 2012 from (empty referer)
Sat Apr 21 15:25:55 2012 from http://www.google.com.sa/url?sa=t&rct=j&q=tubidy.mobi/search.php%3Fa%3D18%26q%3Dsex%2Bt&source=web&cd=29&ved=0CFMQFjAIOBQ&url=http%3A%2F%2Fcarl.cs.indiana.edu%2Ffil%2Fcgi-bin%2FWebSec%2Fmarilyn.cgi%2F&ei=uAmTT4f3LcGbOqbYyY8E&usg=AFQjCNF9tNGa2iM3aGYKAk6Ix4Wx3InCNQ
Sat Apr 21 13:20:45 2012 from http://www.bostonherald.com/blogs/entertainment/disney_days/index.php/2010/02/11/more-on-the-magic-kingdom-expansion/
Sat Apr 21 12:29:57 2012 from http://start.allgameshome.com/results.php?category=web&s=http://click.infospace.com/ClickHandler.ashx?du=http%3a%2f%2fwww.redtube.com%2f24704&ru=http%3a%2f%2fwww.redtube.com%2f24704&ld=20120421&ap=17&app=1&c=aghstart&s=aghstart&coi=372376&cop=main-title&euip=111.223.146.119&npp=17&p=0&pp=0&pvaid=267192925ca94f71bd12ce8d72bb409b&ep=17&mid=9&hash=519A2786F78AC63DCE8CF09BCF1D9B8
Sat Apr 21 11:05:56 2012 from (empty referer)
Sat Apr 21 10:56:47 2012 from (empty referer)
Sat Apr 21 08:04:31 2012 from http://carl.cs.indiana.edu/fil/cgi-bin/WebSec/marilyn.cgi
Sat Apr 21 07:44:43 2012 from http://www.finnfestusa.org/forum/user/profile/10083.page
Sat Apr 21 06:23:39 2012 from (empty referer)
Sat Apr 21 04:40:00 2012 from http://www.google.co.in/url?sa=t&rct=j&q=click%20infospace%20clickhandler&source=web&cd=4&ved=0CDYQFjAD&url=http%3A%2F%2Fcarl.cs.indiana.edu%2Ffil%2Fcgi-bin%2FWebSec%2Fmarilyn.cgi&ei=QnKST7vfItDprQf0sbXuBA&usg=AFQjCNHRtbr4ftk_4PyVzN3HuHPJV6LZow
Sat Apr 21 03:43:27 2012 from (empty referer)
Sat Apr 21 02:19:19 2012 from http://www.wheretobuybacklinks.com
Sat Apr 21 01:38:37 2012 from (empty referer)
Fri Apr 20 21:55:09 2012 from http://www.google.com/m?client=ms-google-mmkt&channel=mf-x-gtj-all-gtj-x-1&q=Pornhub++ashx
Fri Apr 20 19:33:16 2012 from http://www.skynewswire.com/modules/profile/userinfo.php?uid=2971
Fri Apr 20 17:43:03 2012 from http://www.google.com/m?client=ms-nokia&cof=nsp&channel=s60&q=www.google.co.in%2fm%3fq%3dm.sex%2btv.com
Fri Apr 20 17:26:23 2012 from (empty referer)
Fri Apr 20 17:24:20 2012 from (empty referer)
Fri Apr 20 17:14:06 2012 from http://www.google.com.sa/search?q=tubidy.mobi/search.php%3Fa%3D18%26q%3Dsex%2Bt&hl=ar&safe=active&client=ms-android-samsung&source=android-search-app&v=133247963&prmd=imvns&ei=ItGRT9fINIigOqqx_PUD&start=20&sa=N&biw=320&bih=401
Fri Apr 20 17:08:17 2012 from (empty referer)
Fri Apr 20 16:45:48 2012 from (empty referer)
Fri Apr 20 16:34:40 2012 from (empty referer)
Fri Apr 20 16:34:23 2012 from (empty referer)
Fri Apr 20 15:38:39 2012 from http://www.seomarketingservicesonline.com
Fri Apr 20 14:12:26 2012 from http://www.google.com/m?q=http%3a%2f%2fwww%2egoogle%2ecom%2fm%3fq%3dhttp%3a%2f%2fwww%2egoogle%2ecom%2fm%3fq%3dwww%2e%26client%3dms%2dopera%2dmini%26channel%3dnew%26client%3dms%2dopera%2dmini%26channel%3dnew&client=ms-opera-mini&channel=new
Fri Apr 20 13:28:47 2012 from http://carl.cs.indiana.edu/fil/cgi-bin/WebSec/marilyn.cgi
Fri Apr 20 12:09:08 2012 from http://www.google.com/url?sa=t&rct=j&q=click%20infospace%20clickhandler&source=web&cd=5&ved=0CEsQFjAE&url=http%3A%2F%2Fcarl.cs.indiana.edu%2Ffil%2Fcgi-bin%2FWebSec%2Fmarilyn.cgi&ei=FoqRT-HUH8X_4QTMz7T2DA&usg=AFQjCNHRtbr4ftk_4PyVzN3HuHPJV6LZow
Fri Apr 20 12:09:07 2012 from http://www.google.com/url?sa=t&rct=j&q=click%20infospace%20clickhandler&source=web&cd=5&ved=0CEsQFjAE&url=http%3A%2F%2Fcarl.cs.indiana.edu%2Ffil%2Fcgi-bin%2FWebSec%2Fmarilyn.cgi&ei=FoqRT-HUH8X_4QTMz7T2DA&usg=AFQjCNHRtbr4ftk_4PyVzN3HuHPJV6LZow
Fri Apr 20 12:01:08 2012 from http://www.google.com/url?sa=t&rct=j&q=http%3A%2F%2Fwww.google.com%2Fsearch%3Fq%3Dhttp%253A%252F%252Fwww.google.com%252Fsearch%253Fq%253Dhttp%25253A%25252F%25252Fredir.opera.com%2526sourceid%253Dopera%2526ie%253Dutf-8%2526oe%253Dutf-8%2526channel%253Dsuggest%26sourceid%3Dopera%26ie%3Dutf-8%26oe%3Dutf-8%26channel%3Dsuggest&source=web&cd=1&ved=0CCAQFjAA&url=http%3A%2F%2Fcarl.cs.indiana.edu%2Ffil%2Fcgi-bin%2FWebSec%2Fmarilyn.cgi&ei=1IKRT87nFNLS4QSj49CcBA&usg=AFQjCNHRtbr4ftk_4PyVzN3HuHPJV6LZow
Fri Apr 20 09:01:25 2012 from http://www.google.com/url?sa=t&rct=j&q=http%3A%2F%2Fwww.google.com%2Fsearch%3Fq%3Dhttp%253a%252f%252fwww.google.com%252fsearch%253fq%253dhttp%25253a%25252f%25252fwww.youtube.com%25252f%2526sourceid%253dopera%2526ie%253dutf-8%2526oe%253dutf-8%2526channel%253dsuggest%26sourceid%3Dopera%26ie%3Dutf-8%26oe%3Dutf-8%26channel%3Dsuggest&source=web&cd=1&ved=0CDEQFjAA&url=http%3A%2F%2Fcarl.cs.indiana.edu%2Ffil%2Fcgi-bin%2FWebSec%2Fmarilyn.cgi&ei=BV6RT4qKB8bNrQe0uoD9BA&usg=AFQjCNHRtbr4ftk_4PyVzN3HuHPJV6LZow
Fri Apr 20 08:42:15 2012 from http://www.google.com/url?sa=t&rct=j&q=http%3A%2F%2Fwww.google.com%2Fsearch%3Fq%3Dhttp%253a%252f%252fwww.google.com%252fsearch%253fq%253dhttp%25253a%25252f%25252fgoogle.com%25252f%2526sourceid%253dopera%2526ie%253dutf-8%2526oe%253dutf-8%2526channel%253dsuggest%26sourceid%3Dopera%26ie%3Dutf-8%26oe%3Dutf-8%26channel%3Dsuggest&source=web&cd=1&ved=0CCwQFjAA&url=http%3A%2F%2Fcarl.cs.indiana.edu%2Ffil%2Fcgi-bin%2FWebSec%2Fmarilyn.cgi&ei=nlmRT4O4IsrZrQf95931BA&usg=AFQjCNHRtbr4ftk_4PyVzN3HuHPJV6LZow
Fri Apr 20 07:40:55 2012 from http://www.searchplusnetwork.com/?sp=chv&q=facebook.com%2Fajax%2Fpagelet%2Fgeneric.php%2FPhotoViewerInitPagelet%3F__a
Fri Apr 20 06:59:32 2012 from http://www.google.co.in/url?sa=t&rct=j&q=home%20allgameshome%20results%20new2&source=web&cd=9&ved=0CFUQFjAI&url=http%3A%2F%2Fcarl.cs.indiana.edu%2Ffil%2Fcgi-bin%2FWebSec%2Fmarilyn.cgi&ei=g0GRT4aeMIfprAf-3sX3BA&usg=AFQjCNHRtbr4ftk_4PyVzN3HuHPJV6LZow
Fri Apr 20 06:32:33 2012 from https://www.google.com/
Fri Apr 20 06:11:12 2012 from http://carl.cs.indiana.edu/fil/cgi-bin/WebSec/marilyn.cgi?test=1/
Fri Apr 20 06:10:35 2012 from http://carl.cs.indiana.edu/fil/cgi-bin/WebSec/marilyn.cgi?test=1/
Fri Apr 20 06:09:22 2012 from http://carl.cs.indiana.edu/fil/cgi-bin/WebSec/marilyn.cgi?test=1/
Fri Apr 20 04:51:27 2012 from http://www.google.com/url?sa=t&rct=j&q=&esrc=s&source=web&cd=1&ved=0CDMQFjAA&url=http%3A%2F%2Fcarl.cs.indiana.edu%2Ffil%2Fcgi-bin%2FWebSec%2Fmarilyn.cgi&ei=JSGRT_HuBcXQrQfC1rznBA&usg=AFQjCNHRtbr4ftk_4PyVzN3HuHPJV6LZow&sig2=gnRo5DwiY_sX6lVjxScRuA
Fri Apr 20 04:42:48 2012 from http://www.google.com/url?sa=t&rct=j&q=&esrc=s&source=web&cd=1&ved=0CDMQFjAA&url=http%3A%2F%2Fcarl.cs.indiana.edu%2Ffil%2Fcgi-bin%2FWebSec%2Fmarilyn.cgi&ei=JSGRT_HuBcXQrQfC1rznBA&usg=AFQjCNHRtbr4ftk_4PyVzN3HuHPJV6LZow&sig2=gnRo5DwiY_sX6lVjxScRuA
Fri Apr 20 04:23:24 2012 from http://www.google.co.id/url?sa=t&rct=j&q=click+infospace+ClickHandler&source=web&cd=5&ved=0CEIQFjAE&url=http%3A%2F%2Fcarl.cs.indiana.edu%2Ffil%2Fcgi-bin%2FWebSec%2Fmarilyn.cgi&ei=0hyRT7XWLsWxrAfRofyCBQ&usg=AFQjCNHRtbr4ftk_4PyVzN3HuHPJV6LZow
Fri Apr 20 01:33:25 2012 from http://www.google.com.ph/url?sa=t&rct=j&q=click%20infospace%20clickhandler&source=web&cd=5&ved=0CEMQFjAE&url=http%3A%2F%2Fcarl.cs.indiana.edu%2Ffil%2Fcgi-bin%2FWebSec%2Fmarilyn.cgi&ei=DfWQT42MJYq9iAfYm7CvBA&usg=AFQjCNHRtbr4ftk_4PyVzN3HuHPJV6LZow
Fri Apr 20 01:29:13 2012 from (empty referer)
Fri Apr 20 01:13:38 2012 from http://www.google.com/m?safe=on&client=ms-nokia&q=8Http://tubidy.mobi/index.php?a%3D18&cof=nsp&channel=s60&start=150&sa=N
Fri Apr 20 00:10:48 2012 from http://www.google.com/url?sa=t&rct=j&q=http%3A%2F%2Fwww.google.com%2Fsearch%3Fq%3Dhttp%253a%252f%252fwww.google.com%252fsearch%253fq%253dhttp%25253a%25252f%25252fwww.facebook.com%25252f%2526sourceid%253dopera%2526ie%253dutf-8%2526oe%253dutf-8%2526channel%253dsuggest%26sourceid%3Dopera%26ie%3Dutf-8%26oe%3Dutf-8%26channel%3Dsuggest&source=web&cd=1&ved=0CDEQFjAA&url=http%3A%2F%2Fcarl.cs.indiana.edu%2Ffil%2Fcgi-bin%2FWebSec%2Fmarilyn.cgi&ei=w8aQT5-QGM6IrAe6-PiWBQ&usg=AFQjCNHRtbr4ftk_4PyVzN3HuHPJV6LZow
Thu Apr 19 22:16:08 2012 from http://www.google.com/url?sa=t&rct=j&q=http%3A%2F%2Fwww.google.com%2Fsearch%3Fq%3Dhttp%253a%252f%252fwww.google.com%252fsearch%253fq%253dhttp%25253a%25252f%25252fwww.facebook.com%25252f%2526sourceid%253dopera%2526ie%253dutf-8%2526oe%253dutf-8%2526channel%253dsuggest%26sourceid%3Dopera%26ie%3Dutf-8%26oe%3Dutf-8%26channel%3Dsuggest&source=web&cd=1&ved=0CDEQFjAA&url=http%3A%2F%2Fcarl.cs.indiana.edu%2Ffil%2Fcgi-bin%2FWebSec%2Fmarilyn.cgi&ei=w8aQT5-QGM6IrAe6-PiWBQ&usg=AFQjCNHRtbr4ftk_4PyVzN3HuHPJV6LZow
Thu Apr 19 22:03:30 2012 from http://www.google.co.id/url?sa=t&rct=j&q=click%20infospace%20clickhandler&source=web&cd=5&ved=0CEcQFjAE&url=http%3A%2F%2Fcarl.cs.indiana.edu%2Ffil%2Fcgi-bin%2FWebSec%2Fmarilyn.cgi&ei=4sOQT9WILNHqrQfm1unpBA&usg=AFQjCNHRtbr4ftk_4PyVzN3HuHPJV6LZow
Thu Apr 19 19:46:01 2012 from http://www.google.com.om/url?sa=t&rct=j&q=http://tubidy.mobi/search.php%3Fa%3D18%26q%3D%25E2%2580%258F%2Bnew%2Bsex&source=web&cd=2&ved=0CCcQFjAB&url=http%3A%2F%2Fcarl.cs.indiana.edu%2Ffil%2Fcgi-bin%2FWebSec%2Fmarilyn.cgi&ei=r6OQT92bIc3yrQe_2KyTBQ&usg=AFQjCNHRtbr4ftk_4PyVzN3HuHPJV6LZow
Thu Apr 19 19:16:41 2012 from (empty referer)
Thu Apr 19 17:36:58 2012 from https://www.google.com/
Thu Apr 19 17:11:31 2012 from http://www.google.com/search?client=opera&rls=en&q=http%3A%2F%2Fwww.google.com%2Fsearch%3Fq%3Dhttp%253A%252F%252Fwww.google.com.pk%252Fsearch%253Fq%253DSearch%2526sourceid%253Dopera%2526ie%253Dutf-8%2526oe%253Dutf-8%2526channel%253Dsuggest%26sourceid%3Dopera%26ie%3Dutf-8%26oe%3Dutf-8%26channel%3Dsuggest&sourceid=opera&ie=utf-8&oe=utf-8&channel=suggest
Thu Apr 19 13:58:42 2012 from http://www.seomarketingservicesonline.com
Thu Apr 19 13:34:06 2012 from (empty referer)
Thu Apr 19 13:31:46 2012 from (empty referer)
Thu Apr 19 13:30:51 2012 from (empty referer)
Thu Apr 19 13:29:14 2012 from (empty referer)
Thu Apr 19 13:27:51 2012 from (empty referer)
Thu Apr 19 13:07:43 2012 from http://www.google.com/url?sa=t&rct=j&q=click%20infospace%20clickhandler&source=web&cd=5&ved=0CEsQFjAE&url=http%3A%2F%2Fcarl.cs.indiana.edu%2Ffil%2Fcgi-bin%2FWebSec%2Fmarilyn.cgi&ei=T0WQT8qqE8mBhQf2g8CSBA&usg=AFQjCNHRtbr4ftk_4PyVzN3HuHPJV6LZow
Thu Apr 19 12:18:04 2012 from http://start.allgameshome.com/results.php?category=web&s=http://click.infospace.com/ClickHandler.ashx?du=http%3a%2f%2fwww.xvideos.com%2fvideo237011%2fshakeela_hot_sex&ru=http%3a%2f%2fwww.xvideos.com%2fvideo237011%2fshakeela_hot_sex&ld=20120419&ap=6&app=1&c=aghstart&s=aghstart&coi=239137&cop=main-title&euip=203.189.186.106&npp=6&p=0&pp=0&pvaid=9db03c30f8e749768c84009e9c6fcc6c&ep=3&mid=9&hash=0CC2EBB2D62CD1BEB998C9C1E5CD704
Thu Apr 19 12:14:37 2012 from http://www.google.co.in/search?q=click+infospace+ClickHandler&channel=linkdoctor
Thu Apr 19 11:34:40 2012 from (empty referer)
Thu Apr 19 11:21:23 2012 from (empty referer)
Thu Apr 19 07:29:03 2012 from http://www.google.co.in/url?sa=t&rct=j&q=home%20allgameshome%20results%20new2&source=web&cd=10&ved=0CFwQFjAJ&url=http%3A%2F%2Fcarl.cs.indiana.edu%2Ffil%2Fcgi-bin%2FWebSec%2Fmarilyn.cgi&ei=2_aPT5qCE8HRrQfunfWbBQ&usg=AFQjCNHRtbr4ftk_4PyVzN3HuHPJV6LZow
Thu Apr 19 05:07:25 2012 from (empty referer)
Thu Apr 19 03:09:28 2012 from http://carl.cs.indiana.edu/fil/cgi-bin/WebSec/marilyn.cgi
Thu Apr 19 01:20:06 2012 from (empty referer)
Thu Apr 19 00:55:56 2012 from (empty referer)
Wed Apr 18 23:32:27 2012 from (empty referer)
Wed Apr 18 20:07:02 2012 from (empty referer)
Wed Apr 18 18:14:50 2012 from (empty referer)
Wed Apr 18 17:00:47 2012 from http://www.wheretobuybacklinks.com
Wed Apr 18 16:14:37 2012 from http://carl.cs.indiana.edu/fil/cgi-bin/WebSec/marilyn.cgi
Wed Apr 18 15:56:49 2012 from http://www.google.com.mx/search?q=click+infospace+ClickHandler&hl=es&prmd=ivns&ei=YhyPT5_aE8f-2QW62MT7Cw&start=10&sa=N
Wed Apr 18 15:44:58 2012 from http://start.allgameshome.com/results.php?category=web&s=http://click.infospace.com/ClickHandler.ashx?du=http%3a%2f%2fwww.youporn.com%2fcategory%2f32%2fteen%2f&ru=http%3a%2f%2fwww.youporn.com%2fcategory%2f32%2fteen%2f&ld=20120418&ap=1&app=1&c=aghstart&s=aghstart&coi=239138&cop=main-title&euip=114.79.16.144&npp=1&p=0&pp=0&pvaid=efecd8f9362a43d2adda7be6d039ad37&ep=1&mid=9&hash=4A52F07C41C392F0FBD665EF59846BE
Wed Apr 18 15:41:01 2012 from (empty referer)
Wed Apr 18 12:39:12 2012 from https://www.google.com.ph/
Wed Apr 18 11:40:31 2012 from http://www.searchplusnetwork.com/?sp=chv&q=facebook.com%2Fajax%2Fhome%2Fgeneric.php%3F__a
Wed Apr 18 10:16:01 2012 from http://www.google.com/url?sa=t&rct=j&q=http%3A%2F%2Fwww.google.com%2Fsearch%3Fq%3Dhttp%253a%252f%252fwww.google.com%252fsearch%253fq%253dhttp%25253a%25252f%25252fwww.facebook.com%25252f%2526sourceid%253dopera%2526ie%253dutf-8%2526oe%253dutf-8%2526channel%253dsuggest%26sourceid%3Dopera%26ie%3Dutf-8%26oe%3Dutf-8%26channel%3Dsuggest&source=web&cd=1&ved=0CDIQFjAA&url=http%3A%2F%2Fcarl.cs.indiana.edu%2Ffil%2Fcgi-bin%2FWebSec%2Fmarilyn.cgi&ei=ksyOT9SCJ4PIrQfxuuGZCQ&usg=AFQjCNHRtbr4ftk_4PyVzN3HuHPJV6LZow
Wed Apr 18 09:57:11 2012 from http://www.google.com.my/url?sa=t&rct=j&q=click%20infospace%20clickhandler&source=web&cd=5&ved=0CEQQFjAE&url=http%3A%2F%2Fcarl.cs.indiana.edu%2Ffil%2Fcgi-bin%2FWebSec%2Fmarilyn.cgi&ei=KMiOT9_rLonprQegzoCbCQ&usg=AFQjCNHRtbr4ftk_4PyVzN3HuHPJV6LZow
Wed Apr 18 08:51:58 2012 from http://www.google.com/url?sa=t&rct=j&q=click%20infospace%20clickhandler&source=web&cd=5&ved=0CEUQFjAE&url=http%3A%2F%2Fcarl.cs.indiana.edu%2Ffil%2Fcgi-bin%2FWebSec%2Fmarilyn.cgi&ei=17iOT9biAomr0QWc4MTcDA&usg=AFQjCNHRtbr4ftk_4PyVzN3HuHPJV6LZow
Wed Apr 18 07:37:18 2012 from (empty referer)
Wed Apr 18 07:02:42 2012 from http://www.google.com/m?client=ms-opera-mini&channel=new&q=http%3A%2F%2Fwww.google.com%2Fm%3Fq%3Dhttp%3A%2F%2Fwww.google.com%2Fm%3Fq%3Dhttp%3A%2F%2Fwww.google.com%2Fm%3Fq%3D%26client%3Dms-opera-mini%26channel%3Dnew%26client%3Dms-opera-mini%26channel%3Dnew%26client%3Dms-opera-mini%26channel%3Dnew
Wed Apr 18 06:51:29 2012 from (empty referer)
Wed Apr 18 05:33:36 2012 from http://www.google.com/url?sa=t&rct=j&q=http%3A%2F%2Fhome.allgameshome.com%2F&source=web&cd=10&ved=0CFkQFjAJ&url=http%3A%2F%2Fcarl.cs.indiana.edu%2Ffil%2Fcgi-bin%2FWebSec%2Fmarilyn.cgi&ei=aIqOT-v4GceRswbry8mqCQ&usg=AFQjCNHRtbr4ftk_4PyVzN3HuHPJV6LZow
Wed Apr 18 04:52:01 2012 from http://www.girlzgonewilder.com
Wed Apr 18 03:45:44 2012 from (empty referer)
Wed Apr 18 02:56:39 2012 from http://www.google.co.in/search?q=carl+indiana+fil+WebSec+marilyn&channel=linkdoctor
Wed Apr 18 02:21:32 2012 from http://www.google.co.in/url?sa=t&rct=j&q=click%20infospace%20clickhandler&source=web&cd=5&ved=0CEYQFjAE&url=http%3A%2F%2Fcarl.cs.indiana.edu%2Ffil%2Fcgi-bin%2FWebSec%2Fmarilyn.cgi&ei=V12OT6z8IMbnrAfG1_m_CQ&usg=AFQjCNHRtbr4ftk_4PyVzN3HuHPJV6LZow
Wed Apr 18 01:46:04 2012 from http://www.searchplusnetwork.com/?sp=chv&q=facebook.com%2Fajax%2Fpagelet%2Fgeneric.php%2FPhotoViewerInitPagelet%3F__a
Wed Apr 18 01:21:15 2012 from (empty referer)
Wed Apr 18 01:21:06 2012 from http://carl.cs.indiana.edu/fil/cgi-bin/WebSec/marilyn.cgi?test=1
Tue Apr 17 20:58:38 2012 from http://www.google.co.id/url?sa=t&rct=j&q=click+infospace+ClickHandler&source=web&cd=5&ved=0CEoQFjAE&url=http%3A%2F%2Fcarl.cs.indiana.edu%2Ffil%2Fcgi-bin%2FWebSec%2Fmarilyn.cgi&ei=qw6OT_DdM8L3rQfZrYCiCQ&usg=AFQjCNHRtbr4ftk_4PyVzN3HuHPJV6LZow
Tue Apr 17 20:54:53 2012 from http://carl.cs.indiana.edu/fil/cgi-bin/WebSec/marilyn.cgi
Tue Apr 17 18:26:14 2012 from http://www.skeetermultispeciesboats.com/member/2430
Tue Apr 17 17:59:55 2012 from (empty referer)
Tue Apr 17 17:13:46 2012 from (empty referer)
Tue Apr 17 16:31:33 2012 from http://carl.cs.indiana.edu/fil/cgi-bin/WebSec/marilyn.cgi/
Tue Apr 17 13:59:04 2012 from http://www.google.com/url?sa=t&rct=j&q=http%3A%2F%2Fwww.google.com%2Fsearch%3Fq%3Dhttp%253a%252f%252fwww.google.com%252fsearch%253fq%253dhttp%25253a%25252f%25252fwww.facebook.com%25252f%2526sourceid%253dopera%2526ie%253dutf-8%2526oe%253dutf-8%2526channel%253dsuggest%26sourceid%3Dopera%26ie%3Dutf-8%26oe%3Dutf-8%26channel%3Dsuggest&source=web&cd=1&ved=0CCIQFjAA&url=http%3A%2F%2Fcarl.cs.indiana.edu%2Ffil%2Fcgi-bin%2FWebSec%2Fmarilyn.cgi&ei=B4yNT8mJO6-V0QXmtKTVDA&usg=AFQjCNHRtbr4ftk_4PyVzN3HuHPJV6LZow
Tue Apr 17 13:42:50 2012 from (empty referer)
Tue Apr 17 13:39:51 2012 from http://www.google.com/url?sa=t&rct=j&q=http%3A%2F%2Fwww.google.com%2Fsearch%3Fq%3Dhttp%253a%252f%252fwww.google.com%252fsearch%253fq%253dhttp%25253a%25252f%25252fwww.facebook.com%25252f%2526sourceid%253dopera%2526ie%253dutf-8%2526oe%253dutf-8%2526channel%253dsuggest%26sourceid%3Dopera%26ie%3Dutf-8%26oe%3Dutf-8%26channel%3Dsuggest&source=web&cd=1&ved=0CCIQFjAA&url=http%3A%2F%2Fcarl.cs.indiana.edu%2Ffil%2Fcgi-bin%2FWebSec%2Fmarilyn.cgi&ei=xaqNT4OmKaaP4gSI_c3EDw&usg=AFQjCNHRtbr4ftk_4PyVzN3HuHPJV6LZow
Tue Apr 17 13:15:53 2012 from http://www.google.com/url?sa=t&rct=j&q=&esrc=s&source=web&cd=4&ved=0CD8QFjAD&url=http%3A%2F%2Fcarl.cs.indiana.edu%2Ffil%2Fcgi-bin%2FWebSec%2Fmarilyn.cgi&ei=MKWNT6qYK8PoggeQiIGlDg&usg=AFQjCNHRtbr4ftk_4PyVzN3HuHPJV6LZow
Tue Apr 17 12:50:17 2012 from http://www.google.com/url?sa=t&rct=j&q=http%3A%2F%2Fwww.google.com%2Fsearch%3Fq%3Dhttp%253a%252f%252fwww.google.com%252fsearch%253fq%253dhttp%25253a%25252f%25252fredir.opera.com%25252fspeeddials%25252ffacebook%25252f%2526sourceid%253dopera%2526ie%253dutf-8%2526oe%253dutf-8%2526channel%253dsuggest%26sourceid%3Dopera%26ie%3Dutf-8%26oe%3Dutf-8%26channel%3Dsuggest&source=web&cd=4&ved=0CDYQFjAD&url=http%3A%2F%2Fcarl.cs.indiana.edu%2Ffil%2Fcgi-bin%2FWebSec%2Fmarilyn.cgi&ei=c5aNT52AMtTZ4QTYlpSrDw&usg=AFQjCNHRtbr4ftk_4PyVzN3HuHPJV6LZow
Tue Apr 17 09:22:55 2012 from http://cita.eap.edu/moodle/user/profile.php?id=5824
Tue Apr 17 08:54:25 2012 from (empty referer)
Tue Apr 17 07:52:48 2012 from http://www.google.com/imgres?imgurl=http://carl.cs.indiana.edu/fil/WebSec/marilyn.jpg&imgrefurl=http://carl.cs.indiana.edu/fil/cgi-bin/WebSec/marilyn.cgi&usg=__PgVUbSSWU7f5jfsjEcVsJgAPNig=&h=333&w=500&sz=54&hl=ar&start=1&zoom=1&tbnid=ynUan-_9FQYrEM:&tbnh=87&tbnw=130&ei=f1mNT6jGE4774QTRydicDw&prev=/search%3Fq%3Dhttp://www.google.com/search%253Fq%253Dhttp%25253A%25252F%25252Fwww.google.com%25252Fsearch%25253Fq%25253Dhttp%2525253A%2525252F%2525252Fredir.opera.com%2525252Fspeeddials%2525252Fportal%2525252F%252526sourceid%25253Dopera%252526ie%25253Dutf-8%252526oe%25253Dutf-8%252526channel%25253Dsuggest%2526sourceid%253Dopera%2526ie%253Dutf-8%2526oe%253Dutf-8%2526channel%253Dsuggest%26hl%3Dar%26client%3Dopera%26hs%3Dq67%26sa%3DX%26rls%3Den%26channel%3Dsuggest%26tbm%3Disch%26prmd%3Dimvns&itbs=1
Tue Apr 17 01:18:47 2012 from http://www.google.com/url?sa=t&rct=j&q=http%3A%2F%2Fwww.google.com%2Fsearch%3Fq%3Dhttp%253a%252f%252fwww.google.com%252fsearch%253fq%253dhttp%25253a%25252f%25252fredir.opera.com%25252fspeeddials%25252fportal%25252f%2526sourceid%253dopera%2526ie%253dutf-8%2526oe%253dutf-8%2526channel%253dsuggest%26sourceid%3Dopera%26ie%3Dutf-8%26oe%3Dutf-8%26channel%3Dsuggest&source=web&cd=4&ved=0CDQQFjAD&url=http%3A%2F%2Fcarl.cs.indiana.edu%2Ffil%2Fcgi-bin%2FWebSec%2Fmarilyn.cgi&ei=D_2MT_6UHaHk4QTHqIiNDw&usg=AFQjCNHRtbr4ftk_4PyVzN3HuHPJV6LZow
Tue Apr 17 01:17:29 2012 from (empty referer)
Tue Apr 17 01:17:23 2012 from (empty referer)
Tue Apr 17 01:17:20 2012 from (empty referer)
Tue Apr 17 00:49:20 2012 from (empty referer)
Mon Apr 16 23:37:18 2012 from http://carl.cs.indiana.edu/fil/cgi-bin/WebSec/marilyn.cgi
Mon Apr 16 23:09:01 2012 from (empty referer)
Mon Apr 16 18:52:55 2012 from http://www.google.com/m?safe=on&q=Http//tubidy.mobi/search.php?a%3D18+%26%3D%25D8%25B1%25D9%2582%25D8%25B5%2B%25D9%2583%25D8%25B3&hl=en&start=10&spell=1&sa=N
Mon Apr 16 18:51:34 2012 from http://www.google.com/m?safe=on&hl=en&q=Http//tubidy.mobi/search.php?a%3D18+%26amp;%3D%25D8%25B1%25D9%2582%25D8%25B5%2B%25D9%2583%25D8%25B3&spell=1&ei=NqCMT_CKDKbW0QWlhwE&ved=0CAcQBSgA
Mon Apr 16 16:28:35 2012 from (empty referer)
Mon Apr 16 14:07:27 2012 from (empty referer)
Mon Apr 16 13:31:35 2012 from http://www.google.com.sa/search?q=http://+tubidy.mobi/search.php%3Fa%3D18%26q%3D%25d8%25b1%25d9%2582%25d8%25b5%2B%25d9%2583%25d8%25b3&hl=ar&safe=active&prmd=imvns&ei=YFeMT6uVIeHk4QTQqKGeCw&start=10&sa=N&biw=400&bih=534
Mon Apr 16 12:32:37 2012 from http://www.google.as/url?sa=t&rct=j&q=htt%2Ftubidy.mobi%2Fsearch.php%3Fa%3D18%26q%3Dhot%2Bsex&source=web&cd=28&ved=0CEQQFjAHOBQ&url=http%3A%2F%2Fcarl.cs.indiana.edu%2Ffil%2Fcgi-bin%2FWebSec%2Fmarilyn.cgi&ei=mEmMT9meMsmBOr7pmLUJ&usg=AFQjCNHRtbr4ftk_4PyVzN3HuHPJV6LZow
Mon Apr 16 10:13:23 2012 from http://carl.cs.indiana.edu/fil/cgi-bin/WebSec/marilyn.cgi
Mon Apr 16 10:02:15 2012 from (empty referer)
Mon Apr 16 07:13:38 2012 from (empty referer)
Mon Apr 16 06:49:16 2012 from http://www.google.com/url?sa=t&rct=j&q=http%3A%2F%2Fwww.google.com%2Fsearch%3Fq%3Dhttp%253a%252f%252fwww.google.com%252fsearch%253fq%253dhttp%25253a%25252f%25252fwww.facebook.com%25252f%2526sourceid%253dopera%2526ie%253dutf-8%2526oe%253dutf-8%2526channel%253dsuggest%26sourceid%3Dopera%26ie%3Dutf-8%26oe%3Dutf-8%26channel%3Dsuggest&source=web&cd=1&ved=0CCIQFjAA&url=http%3A%2F%2Fcarl.cs.indiana.edu%2Ffil%2Fcgi-bin%2FWebSec%2Fmarilyn.cgi&ei=sviLT-e2EuLP4QTMg5m6CQ&usg=AFQjCNHRtbr4ftk_4PyVzN3HuHPJV6LZow
Mon Apr 16 06:15:18 2012 from http://www.google.com/url?sa=t&rct=j&q=http%3A%2F%2Fwww.google.com%2Fsearch%3Fq%3Dhttp%253a%252f%252fwww.google.com%252fsearch%253fq%253dhttps%25253a%25252f%25252fwww.facebook.com%25252f%2526sourceid%253dopera%2526ie%253dutf-8%2526oe%253dutf-8%2526channel%253dsuggest%26sourceid%3Dopera%26ie%3Dutf-8%26oe%3Dutf-8%26channel%3Dsuggest&source=web&cd=1&ved=0CCIQFjAA&url=http%3A%2F%2Fcarl.cs.indiana.edu%2Ffil%2Fcgi-bin%2FWebSec%2Fmarilyn.cgi&ei=vuOLT8OoJITR8gPdodT1CQ&usg=AFQjCNHRtbr4ftk_4PyVzN3HuHPJV6LZow
Mon Apr 16 00:15:32 2012 from http://www.searchplusnetwork.com/?sp=chv&q=click.infospace.comClickHandler.ashx%3Fdu
Sun Apr 15 23:52:33 2012 from http://www.searchplusnetwork.com/?q=facebook.com%2Fajax%2Fpagelet%2Fgeneric.php%2FPhotoViewerInitPagelet%3F__a&x=0&y=0
Sun Apr 15 23:50:58 2012 from http://www.seomarketingservicesonline.com
Sun Apr 15 22:49:50 2012 from (empty referer)
Sun Apr 15 22:33:44 2012 from http://www.empowernetwork.com/rodmellsto/blog/mlm-success-its-time-you-heard-the-truth/
Sun Apr 15 20:48:13 2012 from (empty referer)
Sun Apr 15 19:06:48 2012 from (empty referer)
Sun Apr 15 18:29:13 2012 from http://www.google.com/search?hl=en&client=ms-opera-mini&channel=new&sky=ee2&ei=y0qLT_iLCYeR0AXl-OzMCQ&q=www.google.com/m%3Fq%3Dsex%26client%3Dms-opera-mini%26channel%3Dnew&start=10&sa=N
Sun Apr 15 18:10:52 2012 from http://ecnarret.multiply.com/journal/item/338/Kulki_gejszy
Sun Apr 15 14:16:29 2012 from (empty referer)
Sun Apr 15 14:16:16 2012 from http://start.allgameshome.com/results.php?category=web&s=http://click.infospace.com/ClickHandler.ashx?du=http%3a%2f%2fwww.youjizz.com%2ftop-rated%2f1.html&ru=http%3a%2f%2fwww.youjizz.com%2ftop-rated%2f1.html&ld=20120415&ap=3&app=1&c=aghstart&s=aghstart&coi=239138&cop=main-title&euip=114.79.3.133&npp=3&p=0&pp=0&pvaid=19cd13142ef741c5b218baf88544f707&ep=3&mid=9&hash=EA60D1055B03C6BBEC966D8549CC7AC
Sun Apr 15 13:37:41 2012 from http://start.allgameshome.com/results.php?category=web&s=http://click.infospace.com/ClickHandler.ashx?du=http%3a%2f%2fwww.porntube.com%2fvideos%2fdirty-old-man-happily-fucks-amai-lius-tight-teen-pussy-behind_946128&ru=http%3a%2f%2fwww.porntube.com%2fvideos%2fdirty-old-man-happily-fucks-amai-lius-tight-teen-pussy-behind_946128&ld=20120415&ap=1&app=1&c=aghstart&s=aghstart&coi=239137&cop=main-title&euip=180.253.255.90&npp=1&p=0&pp=0&pvaid=3dbd144d795840a6840d32a85e6661ed&ep=1&mid=9&hash=FC6C7778B7A8C58AC3B41CD22822068
Sun Apr 15 11:37:22 2012 from (empty referer)
Sun Apr 15 11:11:13 2012 from (empty referer)
Sun Apr 15 09:57:50 2012 from (empty referer)
Sun Apr 15 06:24:00 2012 from http://www.jumptags.com/jump/a7184ed4-cb7c-476e-ae68-c11b281d53de/
Sun Apr 15 05:49:31 2012 from (empty referer)
Sun Apr 15 05:41:05 2012 from (empty referer)
Sun Apr 15 02:55:14 2012 from (empty referer)
Sun Apr 15 01:35:35 2012 from (empty referer)
Sun Apr 15 00:50:32 2012 from http://perfectvpn.net/index.php?page=several
Sun Apr 15 00:50:11 2012 from http://bit.ly/p7zHOT
Sun Apr 15 00:49:49 2012 from http://bit.ly/p7zHOT
Sun Apr 15 00:49:32 2012 from http://bit.ly/p7zHOT
Sat Apr 14 21:24:44 2012 from http://www.searchplusnetwork.com/?sp=chv&q=click.infospace.comClickHandler.ashx%3Fdu
Sat Apr 14 20:21:27 2012 from http://www.wirefan.com/diggs-2639562
Sat Apr 14 18:10:54 2012 from http://us.yhs.search.yahoo.com/if?p=Www.search-results.com%2Fweb%3Fqsrc%3D2352%26o%3D15914%26l%3Ddis%26dm%3D%26q%3Dwww.sex&partnerid=yhs-if-vendio&fr=yhs-if-vendio
Sat Apr 14 17:23:36 2012 from http://search.chatzum.com/?q=www.google.com.sa%2Fsearch%3Fhl%3Den%26safe%3Dactive%26site%3D%26source%3Dhp%26q%3Dwww.sexy+nude+girls.com%26btnK%3DGoogle+Search%26rlz%3D1W1ACAW_enSA475%26oq%3D%26aq%3D%26aqi%3D%26aql%3D%26gs_l%3D&s=web
Sat Apr 14 17:13:42 2012 from http://www.searchplusnetwork.com/?sp=chv&q=facebook.com%2Fajax%2Fpagelet%2Fgeneric.php%2FPhotoViewerInitPagelet%3F__a
Sat Apr 14 13:56:27 2012 from http://www.hotklix.com/submit/Lifestyle/Sex-Relationship/Kulki-gejszy
Sat Apr 14 09:38:23 2012 from (empty referer)
Sat Apr 14 08:10:29 2012 from (empty referer)
Sat Apr 14 07:38:10 2012 from https://www.google.ch/
Sat Apr 14 07:09:25 2012 from (empty referer)
Sat Apr 14 06:27:59 2012 from http://www.google.com/url?sa=t&rct=j&q=http%3A%2F%2Fwww.google.com%2Fsearch%3Fq%3Dhttp%253a%252f%252fwww.google.com%252fsearch%253fq%253dhttp%25253a%25252f%25252fredir.opera.com%25252fwww.opera.com%25252ffirstrun%25252f%2526sourceid%253dopera%2526ie%253dutf-8%2526oe%253dutf-8%2526channel%253dsuggest%26sourceid%3Dopera%26ie%3Dutf-8%26oe%3Dutf-8%26channel%3Dsuggest&source=web&cd=4&ved=0CD0QFjAD&url=http%3A%2F%2Fcarl.cs.indiana.edu%2Ffil%2Fcgi-bin%2FWebSec%2Fmarilyn.cgi&ei=FlGJT-foGI3JrQeOvMHcCw&usg=AFQjCNHRtbr4ftk_4PyVzN3HuHPJV6LZow
Sat Apr 14 06:23:42 2012 from (empty referer)
Sat Apr 14 06:22:34 2012 from http://www.google.com.ph/search?hl=en&gl=ph&client=ms-android-samsung&source=android-browser-type&q=youjizz%26sky%3Dmrdr&sky=mrdr
Sat Apr 14 05:49:05 2012 from (empty referer)
Sat Apr 14 04:55:28 2012 from http://isearch.babylon.com/?babsrc=tcp&affID=19318&q=http://click.infospace.com/ClickHandler.ashx?du=www.xxx.com&ru=http%3a%2f%2fwww.xxx.com%2f&ld=20120414&ap=2&app=1&c=babylon2.hp.row&s=babylon2&coi=374914&cop=main-title&euip=49.244.169.225&npp=2&p=0&pp=0&pvaid=b230e86ac3b04725baa706fc874f3032&ep=2&mid=9&hash=AC61F96934CF2E75A21BABB8226EBAD
Sat Apr 14 04:22:05 2012 from http://www.zps-jg.pl/uslugi-slusarskie-tokarskie-i-spawalnicze,8.html
Sat Apr 14 04:11:38 2012 from http://www.google.com/url?sa=t&rct=j&q=http%3A%2F%2Fwww.google.com%2Fsearch%3Fq%3Dhttp%253a%252f%252fwww.google.com%252fsearch%253fq%253dhttp%25253a%25252f%25252fwww.facebook.com%2526sourceid%253dopera%2526ie%253dutf-8%2526oe%253dutf-8%2526channel%253dsuggest%26sourceid%3Dopera%26ie%3Dutf-8%26oe%3Dutf-8%26channel%3Dsuggest&source=web&cd=1&ved=0CC0QFjAA&url=http%3A%2F%2Fcarl.cs.indiana.edu%2Ffil%2Fcgi-bin%2FWebSec%2Fmarilyn.cgi&ei=JCqJT5nAJeXTiAKf_J37AQ&usg=AFQjCNHRtbr4ftk_4PyVzN3HuHPJV6LZow
Sat Apr 14 03:43:48 2012 from http://www.google.mn/url?sa=t&rct=j&q=click+infospace+ClickHandler&source=web&cd=5&ved=0CD0QFjAE&url=http%3A%2F%2Fcarl.cs.indiana.edu%2Ffil%2Fcgi-bin%2FWebSec%2Fmarilyn.cgi&ei=qSqJT53JB8bPrQeKk4jTCw&usg=AFQjCNHRtbr4ftk_4PyVzN3HuHPJV6LZow
Sat Apr 14 00:16:47 2012 from http://carl.cs.indiana.edu/fil/cgi-bin/WebSec/marilyn.cgi
Sat Apr 14 00:11:10 2012 from (empty referer)
Fri Apr 13 23:01:46 2012 from (empty referer)
Fri Apr 13 23:01:19 2012 from http://www.google.com/m/search?client=ms-ucweb&q=Tubidy+xxx+sex&spell=1&ei=neeIT_ilEIrXiALMJQ&ved=0CAgQvwUoAA
Fri Apr 13 21:24:27 2012 from (empty referer)
Fri Apr 13 20:57:01 2012 from (empty referer)
Fri Apr 13 19:41:25 2012 from http://www.searchplusnetwork.com/?sp=chv&q=click.infospace.comClickHandler.ashx%3Fdu
Fri Apr 13 19:04:56 2012 from http://search.chatzum.com/?q=search.chatzum.com+xnxx
Fri Apr 13 18:01:33 2012 from http://www.zps-jg.pl/szkolenia,34.html
Fri Apr 13 14:41:49 2012 from (empty referer)
Fri Apr 13 14:37:23 2012 from http://www.google.com.pk/url?sa=t&rct=j&q=click+infospace+ClickHandler&source=web&cd=5&ved=0CEQQFjAE&url=http%3A%2F%2Fcarl.cs.indiana.edu%2Ffil%2Fcgi-bin%2FWebSec%2Fmarilyn.cgi&ei=UXKIT_fcEcX44QSEodnoCQ&usg=AFQjCNHRtbr4ftk_4PyVzN3HuHPJV6LZow
Fri Apr 13 14:18:21 2012 from (empty referer)
Fri Apr 13 12:44:19 2012 from http://home.allgameshome.com/results.php?category=web&s=http%3A%2F%2Fclick.infospace.com%2FClickHandler.ashx%3Fdu%3Dhttp%253a%252f%252fwww.facebook.com%252f
Fri Apr 13 11:33:25 2012 from http://www.google.com/url?sa=t&rct=j&q=&esrc=s&source=web&cd=5&ved=0CEoQFjAE&url=http%3A%2F%2Fcarl.cs.indiana.edu%2Ffil%2Fcgi-bin%2FWebSec%2Fmarilyn.cgi&ei=OEeIT_aILOT42gWmqdy1CQ&usg=AFQjCNHRtbr4ftk_4PyVzN3HuHPJV6LZow
Fri Apr 13 11:22:37 2012 from http://www.google.co.th/url?sa=t&rct=j&q=click+infospace+click+handler&source=web&cd=9&ved=0CG0QFjAI&url=http%3A%2F%2Fcarl.cs.indiana.edu%2Ffil%2Fcgi-bin%2FWebSec%2Fmarilyn.cgi&ei=skSIT_fkK4rVrQfW6ujdCg&usg=AFQjCNHRtbr4ftk_4PyVzN3HuHPJV6LZow
Fri Apr 13 11:05:17 2012 from http://www.nopcommerce.pl/funkcjonalnosc.aspx
Fri Apr 13 10:13:00 2012 from http://www.google.com/url?sa=t&rct=j&q=http%3A%2F%2Fwww.google.com%2Fsearch%3Fq%3Dhttp%253a%252f%252fwww.google.com%252fsearch%253fq%253dhttp%25253a%25252f%25252fredir.opera.com%25252fspeeddials%25252fmyopera%25252f%2526sourceid%253dopera%2526ie%253dutf-8%2526oe%253dutf-8%2526channel%253dsuggest%26sourceid%3Dopera%26ie%3Dutf-8%26oe%3Dutf-8%26channel%3Dsuggest&source=web&cd=4&ved=0CDUQFjAD&url=http%3A%2F%2Fcarl.cs.indiana.edu%2Ffil%2Fcgi-bin%2FWebSec%2Fmarilyn.cgi&ei=RDSIT-3uN-ai0QW61LDACQ&usg=AFQjCNHRtbr4ftk_4PyVzN3HuHPJV6LZow
Fri Apr 13 08:29:26 2012 from http://www.searchplusnetwork.com/?sp=chv&q=searchplusnetwork.com%2F%3Fsp
Fri Apr 13 08:22:51 2012 from http://www.google.com/url?sa=t&rct=j&q=http://search.yahoo.com/search%3Fp%3Dhttp%253A%252F%252Fisearch.babylon.com%252F%253Fbabsrc%253Dhome&source=web&cd=8&ved=0CEMQFjAH&url=http%3A%2F%2Fcarl.cs.indiana.edu%2Ffil%2Fcgi-bin%2FWebSec%2Fmarilyn.cgi%3Fiframe%3Dtrue%26width%3D90%25%26height%3D90%25&ei=4Q5jT_--B-is0QWlh5yTCA&usg=AFQjCNF1YRHwwX8j7f5VE5Zthzm_YadtXg
Fri Apr 13 07:50:27 2012 from (empty referer)
Fri Apr 13 07:17:37 2012 from (empty referer)
Fri Apr 13 06:58:27 2012 from (empty referer)
Fri Apr 13 06:56:18 2012 from (empty referer)
Fri Apr 13 05:49:07 2012 from http://www.google.com/m?q=www.google.com%2Fm%3Fq%3Dwww.indian%2Bsex%26client%3Dms-opera-mini%26channel%3Dnew&client=ms-opera-mini&channel=new
Fri Apr 13 04:59:12 2012 from http://www.google.com/url?sa=t&rct=j&q=http%3A%2F%2Fwww.google.com%2Fsearch%3Fq%3Dhttp%253A%252F%252Fwww.google.com%252Fsearch%253Fq%253Dhttp%25253A%25252F%25252Fredir.opera.com%25252Fspeeddials%25252Fmyopera%25252F%2526sourceid%253Dopera%2526ie%253Dutf-8%2526oe%253Dutf-8%2526channel%253Dsuggest%26sourceid%3Dopera%26ie%3Dutf-8%26oe%3Dutf-8%26channel%3Dsuggest&source=web&cd=4&ved=0CEMQFjAD&url=http%3A%2F%2Fcarl.cs.indiana.edu%2Ffil%2Fcgi-bin%2FWebSec%2Fmarilyn.cgi&ei=yeqHT7nZM4rqrQe0oq3aCg&usg=AFQjCNHRtbr4ftk_4PyVzN3HuHPJV6LZow
Fri Apr 13 04:54:47 2012 from http://www.google.com.sa/url?sa=t&rct=j&q=http://bit.ly/p7zHOT+Wow!&source=web&cd=1&ved=0CCIQFjAA&url=http%3A%2F%2Fcarl.cs.indiana.edu%2Ffil%2Fcgi-bin%2FWebSec%2Fmarilyn.cgi&ei=RyZ6T5zBLqf-4QT2spXqDg&usg=AFQjCNHRtbr4ftk_4PyVzN3HuHPJV6LZow
Fri Apr 13 04:53:26 2012 from (empty referer)
Fri Apr 13 03:07:46 2012 from (empty referer)
Fri Apr 13 01:42:21 2012 from http://www.google.com/m?client=ms-nokia&cof=nsp&channel=s60&q=www.tubidy%2520mobi.com
Thu Apr 12 22:41:08 2012 from (empty referer)
Thu Apr 12 21:40:55 2012 from (empty referer)
Thu Apr 12 20:03:40 2012 from http://www.google.com/url?sa=t&rct=j&q=http%3A%2F%2Fwww.google.com%2Fsearch%3Fq%3Dhttp%253a%252f%252fwww.google.com%252fsearch%253fq%253dhttp%25253a%25252f%25252fwww.facebook.com%25252f%2526sourceid%253dopera%2526ie%253dutf-8%2526oe%253dutf-8%2526channel%253dsuggest%26sourceid%3Dopera%26ie%3Dutf-8%26oe%3Dutf-8%26channel%3Dsuggest&source=web&cd=1&ved=0CCIQFjAA&url=http%3A%2F%2Fcarl.cs.indiana.edu%2Ffil%2Fcgi-bin%2FWebSec%2Fmarilyn.cgi&ei=K22HT8b2EImT0QXGsInEBw&usg=AFQjCNHRtbr4ftk_4PyVzN3HuHPJV6LZow
Thu Apr 12 19:05:40 2012 from http://carl.cs.indiana.edu/fil/cgi-bin/WebSec/marilyn.cgi
Thu Apr 12 18:22:44 2012 from http://www.searchplusnetwork.com/?sp=chv&q=facebook.com%2Fajax%2Fpagelet%2Fgeneric.php%2FPhotoViewerInitPagelet%3F__a
Thu Apr 12 18:10:45 2012 from (empty referer)
Thu Apr 12 18:05:31 2012 from (empty referer)
Thu Apr 12 17:34:43 2012 from http://www.google.com/url?sa=t&rct=j&q=&esrc=s&source=web&cd=4&ved=0CDYQFjAD&url=http%3A%2F%2Fcarl.cs.indiana.edu%2Ffil%2Fcgi-bin%2FWebSec%2Fmarilyn.cgi&ei=L0SHT93dNY6eiAehyZCDBA&usg=AFQjCNHRtbr4ftk_4PyVzN3HuHPJV6LZow&sig2=yYFpLuo8MOjbr_WKVQgCqw
Thu Apr 12 16:48:52 2012 from http://www.google.com.tr/url?sa=t&rct=j&q=click%20infospace%20clickhandler&source=web&cd=8&ved=0CGEQFjAH&url=http%3A%2F%2Fcarl.cs.indiana.edu%2Ffil%2Fcgi-bin%2FWebSec%2Fmarilyn.cgi&ei=MD-HT9DIAa-Q4gTp853BBw&usg=AFQjCNHRtbr4ftk_4PyVzN3HuHPJV6LZow
Thu Apr 12 16:48:45 2012 from http://www.google.com/url?sa=t&rct=j&q=click%20infospace%20clickhandler&source=web&cd=5&ved=0CEQQFjAE&url=http%3A%2F%2Fcarl.cs.indiana.edu%2Ffil%2Fcgi-bin%2FWebSec%2Fmarilyn.cgi&ei=pD-HT_rUFc2S8gOF35m3Bw&usg=AFQjCNHRtbr4ftk_4PyVzN3HuHPJV6LZow
Thu Apr 12 16:47:57 2012 from http://www.google.co.ma/url?sa=t&rct=j&q=click%20infospace%20clickhandler&source=web&cd=8&ved=0CGMQFjAH&url=http%3A%2F%2Fcarl.cs.indiana.edu%2Ffil%2Fcgi-bin%2FWebSec%2Fmarilyn.cgi&ei=bj-HT7eZG8L80QXV0pSpBw&usg=AFQjCNHRtbr4ftk_4PyVzN3HuHPJV6LZow
Thu Apr 12 14:50:57 2012 from http://www.google.com/m/search?safe=on&client=ms-nokia&cof=nsp&q=h+ttp://tubidy+.mobi+/search+.php+?a%3D18%26q+%3Dhot%2Bsex+&channel=s60&site=universal&tab=iw&ei=8SOHT4jBIdSf8gO0JA&sa=N&ei=8SOHT4jBIdSf8gO0JA&ved=0CAQQ1wY
Thu Apr 12 14:16:24 2012 from http://www.google.com/url?sa=t&rct=j&q=http:%2F%2Fwww.google.com%2Fsearch%3Fq%3Dhttp%253A%252F%252Fwww.google.com%252Fsearch%253Fq%253Dhttps%25253A%25252F%25252Fwww.facebook.com%25252F%2526sourceid%253Dopera%2526ie%253Dutf-8%2526oe%253Dutf-8%2526channel%253Dsuggest%26sourceid%3Dopera%26ie%3Dutf-8%26oe%3Dutf-8%26channel%3Dsuggest&source=web&cd=1&ved=0CCoQFjAA&url=http%3A%2F%2Fcarl.cs.indiana.edu%2Ffil%2Fcgi-bin%2FWebSec%2Fmarilyn.cgi&ei=6RuHT_SDDObImQXLoPjOBw&usg=AFQjCNHRtbr4ftk_4PyVzN3HuHPJV6LZow
Thu Apr 12 12:47:33 2012 from http://isearch.babylon.com/?babsrc=tcp&affID=19318&q=http://click.infospace.com/ClickHandler.ashx?du=www.tube8.com&ru=http%3a%2f%2fwww.tube8.com%2f&ld=20120412&ap=1&app=1&c=babylon2.hp.row&s=babylon2&coi=374914&cop=main-title&euip=49.244.246.55&npp=1&p=0&pp=0&pvaid=c91c77c2c7f84aeb92523774975b1066&ep=1&mid=9&hash=55A75567D30A90ACCA48160CB4A3BA5
Thu Apr 12 12:25:46 2012 from (empty referer)
Thu Apr 12 12:25:44 2012 from (empty referer)
Thu Apr 12 10:02:31 2012 from http://www.google.co.in/url?sa=t&rct=j&q=click%20infospace%20clickhandler&source=web&cd=5&ved=0CEUQFjAE&url=http%3A%2F%2Fcarl.cs.indiana.edu%2Ffil%2Fcgi-bin%2FWebSec%2Fmarilyn.cgi&ei=99-GT8LQKcTorAeAhYjJBg&usg=AFQjCNHRtbr4ftk_4PyVzN3HuHPJV6LZow
Thu Apr 12 08:25:45 2012 from (empty referer)
Thu Apr 12 07:05:25 2012 from http://www.google.com/url?sa=t&rct=j&q=http%3A%2F%2Fwww.google.com%2Fsearch%3Fq%3Dhttp%253a%252f%252fwww.google.com%252fsearch%253fq%253dhttp%25253a%25252f%25252fwww.facebook.com%25252f%2526sourceid%253dopera%2526ie%253dutf-8%2526oe%253dutf-8%2526channel%253dsuggest%26sourceid%3Dopera%26ie%3Dutf-8%26oe%3Dutf-8%26channel%3Dsuggest&source=web&cd=1&ved=0CCEQFjAA&url=http%3A%2F%2Fcarl.cs.indiana.edu%2Ffil%2Fcgi-bin%2FWebSec%2Fmarilyn.cgi&ei=6LaGT6DVB8nLtAbIkOyeAQ&usg=AFQjCNHRtbr4ftk_4PyVzN3HuHPJV6LZow
Thu Apr 12 05:10:19 2012 from http://www.google.com/url?sa=t&rct=j&q=&esrc=s&source=web&cd=1&ved=0CDIQFjAA&url=http%3A%2F%2Fcarl.cs.indiana.edu%2Ffil%2Fcgi-bin%2FWebSec%2Fmarilyn.cgi&ei=zZuGT6eZD4vprQeFtrS4Bg&usg=AFQjCNHRtbr4ftk_4PyVzN3HuHPJV6LZow&sig2=2vkSGk-9VaKmSLs_Jx3fAQ
Thu Apr 12 05:09:17 2012 from (empty referer)
Thu Apr 12 05:06:15 2012 from (empty referer)
Thu Apr 12 04:50:58 2012 from (empty referer)
Thu Apr 12 04:23:09 2012 from http://www.google.com/url?sa=t&rct=j&q=http%3A%2F%2Fhome.myplaycity.com%2Fresults.php%3Fcategory%3Dweb%26s%3Dxnxx.com.pl&source=web&cd=1&ved=0CCMQFjAA&url=http%3A%2F%2Fcarl.cs.indiana.edu%2Ffil%2Fcgi-bin%2FWebSec%2Fmarilyn.cgi&ei=5pCGT4GcHa_U4QSC4aSmBw&usg=AFQjCNHRtbr4ftk_4PyVzN3HuHPJV6LZow
Thu Apr 12 03:09:53 2012 from (empty referer)
Thu Apr 12 02:42:00 2012 from (empty referer)
Thu Apr 12 02:36:25 2012 from (empty referer)
Thu Apr 12 02:21:31 2012 from http://yandex.com.tr/yandsearch?p=3&text=sex+film&lr=11501&tld=com.tr
Thu Apr 12 02:11:49 2012 from http://www.google.com/url?sa=t&rct=j&q=http%3A%2F%2Fwww.google.com%2Fsearch%3Fq%3Dhttp%253a%252f%252fwww.google.com%252fsearch%253fq%253dhttp%25253a%25252f%25252fwww.facebook.com%25252f%2526sourceid%253dopera%2526ie%253dutf-8%2526oe%253dutf-8%2526channel%253dsuggest%26sourceid%3Dopera%26ie%3Dutf-8%26oe%3Dutf-8%26channel%3Dsuggest&source=web&cd=1&ved=0CCIQFjAA&url=http%3A%2F%2Fcarl.cs.indiana.edu%2Ffil%2Fcgi-bin%2FWebSec%2Fmarilyn.cgi&ei=EXKGT63lEYfusgbmgvSdAQ&usg=AFQjCNHRtbr4ftk_4PyVzN3HuHPJV6LZow
Thu Apr 12 00:57:44 2012 from http://www.google.com/url?sa=t&rct=j&q=http%3A%2F%2Fwww.google.com%2Fsearch%3Fq%3Dhttp%253a%252f%252fwww.google.com%252fsearch%253fq%253dhttp%25253a%25252f%25252fwww.facebook.com%25252f%2526sourceid%253dopera%2526ie%253dutf-8%2526oe%253dutf-8%2526channel%253dsuggest%26sourceid%3Dopera%26ie%3Dutf-8%26oe%3Dutf-8%26channel%3Dsuggest&source=web&cd=1&ved=0CC0QFjAA&url=http%3A%2F%2Fcarl.cs.indiana.edu%2Ffil%2Fcgi-bin%2FWebSec%2Fmarilyn.cgi&ei=nmCGT9EOgrKsB5yM8dUG&usg=AFQjCNHRtbr4ftk_4PyVzN3HuHPJV6LZow
Wed Apr 11 18:42:06 2012 from (empty referer)
Wed Apr 11 18:32:24 2012 from http://home.allgameshome.com/results.php?category=web&s=http://click.infospace.com/ClickHandler.ashx?du=xpornz.com%2fKhmer%2bstudent%2bhot%2bsex&ru=http%3a%2f%2fxpornz.com%2fKhmer%2bstudent%2bhot%2bsex%2f&ld=20120411&ap=7&app=1&c=acpro16.ggl&s=acpro16&coi=374914&cop=main-title&euip=203.189.139.17&npp=7&p=0&pp=0&pvaid=180bbbb13dce45c2960a51ee73cf2077&ep=7&mid=9&hash=58D8BAEB4343FBDB0999356CA5EB8D7
Wed Apr 11 16:33:45 2012 from (empty referer)
Wed Apr 11 16:28:10 2012 from http://assist.babylon.com/babylonassista/dnsassist/main?domain=mystart%20incredibar%20mb113%20
Wed Apr 11 16:26:28 2012 from http://assist.babylon.com/babylonassista/dnsassist/main?domain=mystart%20incredibar%20mb113%20
Wed Apr 11 16:04:04 2012 from (empty referer)
Wed Apr 11 15:45:28 2012 from http://www.google.com/search?q=click+infospace+ClickHandler&channel=linkdoctor
Wed Apr 11 15:43:27 2012 from http://www.achahistory.waw.pl
Wed Apr 11 15:42:22 2012 from http://www.google.com/m?client=ms-nokia&cof=nsp&channel=s60&q=tubidy.mobi%2fsearch.php%3fa%3d18%26q%3d%25D8%25B1%25D9%2582%25D8%25B5%2b%25
Wed Apr 11 15:15:46 2012 from (empty referer)
Wed Apr 11 15:15:33 2012 from http://www.google.com/url?sa=t&rct=j&q=http%3A%2F%2Fwww.google.com%2Fsearch%3Fq%3Dhttp%253A%252F%252Fwww.google.com%252Fsearch%253Fq%253Dhttp%25253A%25252F%25252Fwww.facebook.com%25252F%2526sourceid%253Dopera%2526ie%253Dutf-8%2526oe%253Dutf-8%2526channel%253Dsuggest%26sourceid%3Dopera%26ie%3Dutf-8%26oe%3Dutf-8%26channel%3Dsuggest&source=web&cd=1&ved=0CCkQFjAA&url=http%3A%2F%2Fcarl.cs.indiana.edu%2Ffil%2Fcgi-bin%2FWebSec%2Fmarilyn.cgi&ei=TtiFT4HLFMeP0AWQyt3ABw&usg=AFQjCNHRtbr4ftk_4PyVzN3HuHPJV6LZow
Wed Apr 11 13:23:06 2012 from http://www.google.com.kw/imgres?q=malayalam+sexfilme&hl=en&sa=X&biw=1024&bih=677&tbm=isch&prmd=imvns&tbnid=ynUan-_9FQYrEM:&imgrefurl=http://carl.cs.indiana.edu/fil/cgi-bin/WebSec/marilyn.cgi&docid=hMMAQwJMLA2rwM&imgurl=http://carl.cs.indiana.edu/fil/WebSec/marilyn.jpg&w=500&h=333&ei=nL2FT7jRLY3jrAeS0ZziBg&zoom=1&iact=hc&vpx=708&vpy=292&dur=495&hovh=183&hovw=275&tx=192&ty=102&sig=116781764500271018071&page=3&tbnh=135&tbnw=196&start=32&ndsp=19&ved=1t:429,r:3,s:32,i:147
Wed Apr 11 13:08:27 2012 from (empty referer)
Wed Apr 11 13:04:49 2012 from http://www.google.com/search?client=safari&rls=en&q=click.infospace.com&ie=UTF-8&oe=UTF-8
Wed Apr 11 12:55:55 2012 from http://www.searchplusnetwork.com/?sp=chv&q=hotsptshld.comgresults.php%3Fc
Wed Apr 11 12:50:56 2012 from (empty referer)
Wed Apr 11 12:43:52 2012 from http://www.google.com.sa/url?sa=t&rct=j&q=http%3A%2F%2Fhotsptshld.com%2Fg%2Fresults.php%3Fc%3De%26err%3D404%26h%3D1%26q%3Dhttp%3A%2F%2Fhotsptshld.com%2Fg%2Fresults.php%3Fc%3De%26err%3D404%26h%3D1%26q%3Dhttp%3A%2F%2Fwww.google.com.sa%2Furl%3Fsa%3Dt%26rct%3Dj%26q%3D%25D8%25B3%25D9%258A%25D8%25B1%25D8%25A9%2B%25D8%25A7%25D9%2584%25D8%25B1%25D8%25B3%25D9%2588%25D9%2584%2B%25D9%2583%25D8%25A7%25D9%2585%25D9%2584%25D8%25A9%26source%3Dweb%26cd%3D8%26ved%3D0CFwQrAIoAjAH%26url%3Dhttp%253A%252F%252Fwww.t555t.com%252Fvb%252Ft33515.html%26ei%3DvbOFT_KMIcGdOuHcwbcI%26usg%3DAFQjCNHIK6PodRsR_1KqFNxWaMABu_JtBQ%26h%3D1%26h%3D1&source=web&cd=1&ved=0CCIQFjAA&url=http%3A%2F%2Fcarl.cs.indiana.edu%2Ffil%2Fcgi-bin%2FWebSec%2Fmarilyn.cgi&ei=xLSFT_O5LIqSOvWcjNUI&usg=AFQjCNHRtbr4ftk_4PyVzN3HuHPJV6LZow
Wed Apr 11 12:13:42 2012 from http://home.allgameshome.com/results.php?category=web&s=http://click.infospace.com/ClickHandler.ashx?du=http%3a%2f%2fi-love-teen.com%2f&ru=http%3a%2f%2fi-love-teen.com%2f&ld=20120411&ap=1&app=1&c=imesh.meta.4&s=imeshmeta4&coi=239137&cop=main-title&euip=180.248.58.231&npp=1&p=0&pp=0&pvaid=14928cbad33c4469ab7cf3ce5f626bab&ep=1&mid=9&hash=B6A82ACEC46BE1822DAAD9993AA48FD
Wed Apr 11 11:06:22 2012 from (empty referer)
Wed Apr 11 10:52:36 2012 from (empty referer)
Wed Apr 11 09:49:27 2012 from http://www.google.com/url?sa=t&rct=j&q=click+infospace+ClickHandler&source=web&cd=5&ved=0CEQQFjAE&url=http%3A%2F%2Fcarl.cs.indiana.edu%2Ffil%2Fcgi-bin%2FWebSec%2Fmarilyn.cgi&ei=1ouFT6KgN4qltwf-yt39Bw&usg=AFQjCNHRtbr4ftk_4PyVzN3HuHPJV6LZow
Wed Apr 11 09:13:13 2012 from http://ziomalek.pl/rozrywka,hobby/sex,shop,s,3158/
Wed Apr 11 08:27:46 2012 from http://www.google.com.hk/url?sa=t&rct=j&q=click+infospace+ClickHandler&source=web&cd=10&ved=0CGcQFjAJ&url=http%3A%2F%2Fcarl.cs.indiana.edu%2Ffil%2Fcgi-bin%2FWebSec%2Fmarilyn.cgi&ei=qHiFT_nWFseciAfcpO2wBw&usg=AFQjCNHRtbr4ftk_4PyVzN3HuHPJV6LZow
Wed Apr 11 07:57:59 2012 from (empty referer)
Wed Apr 11 07:32:40 2012 from http://www.wheretobuybacklinks.com
Wed Apr 11 07:17:12 2012 from http://carl.cs.indiana.edu/fil/cgi-bin/WebSec/marilyn.cgi
Wed Apr 11 06:35:52 2012 from http://www.google.com/url?sa=t&rct=j&q=http%3A%2F%2Fwww.google.com%2Fsearch%3Fq%3Dhttp%253a%252f%252fwww.google.com%252fsearch%253fq%253dhttp%25253a%25252f%25252fredir.opera.com%25252fspeeddials%25252ffacebook%25252f%2526sourceid%253dopera%2526ie%253dutf-8%2526oe%253dutf-8%2526channel%253dsuggest%26sourceid%3Dopera%26ie%3Dutf-8%26oe%3Dutf-8%26channel%3Dsuggest&source=web&cd=4&ved=0CDYQFjAD&url=http%3A%2F%2Fcarl.cs.indiana.edu%2Ffil%2Fcgi-bin%2FWebSec%2Fmarilyn.cgi&ei=eV6FT4_bLKLk4QSpu-XWBw&usg=AFQjCNHRtbr4ftk_4PyVzN3HuHPJV6LZow
Wed Apr 11 06:25:04 2012 from http://www.google.com/url?sa=t&rct=j&q=http%3A%2F%2Fwww.google.com%2Fsearch%3Fq%3Dhttp%253A%252F%252Fwww.google.com%252Fsearch%253Fq%253Dhttp%25253A%25252F%25252Fwww.facebook.com%2526sourceid%253Dopera%2526ie%253Dutf-8%2526oe%253Dutf-8%2526channel%253Dsuggest%26sourceid%3Dopera%26ie%3Dutf-8%26oe%3Dutf-8%26channel%3Dsuggest&source=web&cd=1&ved=0CCIQFjAA&url=http%3A%2F%2Fcarl.cs.indiana.edu%2Ffil%2Fcgi-bin%2FWebSec%2Fmarilyn.cgi&ei=nluFT6nIHMzIsgbv89jkBg&usg=AFQjCNHRtbr4ftk_4PyVzN3HuHPJV6LZow
Wed Apr 11 05:48:47 2012 from http://www.google.com.sa/search?hl=en&gl=gb&client=ms-android-samsung&source=android-launcher-widget&action=devloc&q=http%2F%2Ftubidy.mobi%2Fseach.php%3Fa%3D18%26q%3Dindia%2Bsex&sky=mrdr
Wed Apr 11 05:01:38 2012 from http://home.allgameshome.com/results.php?category=web&s=http://click.infospace.com/ClickHandler.ashx?du=www.euroxxxmovies.com&ru=http%3a%2f%2fwww.euroxxxmovies.com%2f&ld=20120411&ap=3&app=1&c=imesh.meta.4&s=imeshmeta4&coi=374914&cop=main-title&euip=117.214.189.249&npp=3&p=0&pp=0&pvaid=ae1b6f6d757d49b4a3288b7d1b3c3a7d&ep=1&mid=9&hash=7EB86D345CE3EE74D96E1C8AFAB1C87
Wed Apr 11 05:00:33 2012 from http://www.google.com/url?sa=t&rct=j&q=http%3A%2F%2Fwww.google.com%2Fsearch%3Fq%3Dhttp%253A%252F%252Fwww.google.com%252Fsearch%253Fq%253Dhttp%25253A%25252F%25252Fwww.facebook.com%25252F%2526sourceid%253Dopera%2526ie%253Dutf-8%2526oe%253Dutf-8%2526channel%253Dsuggest%26sourceid%3Dopera%26ie%3Dutf-8%26oe%3Dutf-8%26channel%3Dsuggest&source=web&cd=1&ved=0CCMQFjAA&url=http%3A%2F%2Fcarl.cs.indiana.edu%2Ffil%2Fcgi-bin%2FWebSec%2Fmarilyn.cgi&ei=OUWFT5S2Jsbtsgagq_XZBg&usg=AFQjCNHRtbr4ftk_4PyVzN3HuHPJV6LZow
Wed Apr 11 03:59:22 2012 from (empty referer)
Wed Apr 11 03:53:41 2012 from http://www.google.com/xhtml?client=ms-opera_mb_no&channel=bh&q=www.google.com%2Fm%2Fsearch%3Fsite%3Dimages%26client%3Dms-opera_mb_no%26channel%3Dbh%26q%3Dhttp%3A%2F%2Fwww.opera.com%2F
Wed Apr 11 03:10:40 2012 from (empty referer)
Wed Apr 11 01:18:38 2012 from http://start.allgameshome.com/results.php?category=web&s=http://click.infospace.com/ClickHandler.ashx?du=http%3a%2f%2ffreshxxxtube.com%2ff%2fmassage%2f&ru=http%3a%2f%2ffreshxxxtube.com%2ff%2fmassage%2f&ld=20120411&ap=3&app=1&c=aghstart&s=aghstart&coi=239138&cop=main-title&euip=180.242.22.26&npp=3&p=0&pp=0&pvaid=b7dae5a2a63f4af09c6f3f00f5d3f622&ep=3&mid=9&hash=FBBA38C2D4940FCA4891D194CD945EE
Wed Apr 11 00:41:34 2012 from (empty referer)
Wed Apr 11 00:31:52 2012 from http://www.google.co.in/m?q=www%252eadult%2520video%252ecom&client=ms-opera-mini&channel=new
Tue Apr 10 22:21:04 2012 from http://www.searchplusnetwork.com/?sp=chv&q=facebook.com%2Fajax%2Fpagelet%2Fgeneric.php%2FPhotoViewerInitPagelet%3F__a
Tue Apr 10 19:53:22 2012 from http://www.google.com.my/url?sa=t&rct=j&q=click%20infospace%20clickhandler&source=web&cd=8&ved=0CFYQFjAH&url=http%3A%2F%2Fcarl.cs.indiana.edu%2Ffil%2Fcgi-bin%2FWebSec%2Fmarilyn.cgi&ei=3MeET_OQAYG4rAfkraDaBg&usg=AFQjCNHRtbr4ftk_4PyVzN3HuHPJV6LZow
Tue Apr 10 18:06:42 2012 from http://www.google.com.sa/url?sa=t&rct=j&q=http%3A%2F%2Ftubidy.mobi%2Fsearch.php%3Fa%3D18%26q%3Dmalayalam.sex&source=web&cd=8&ved=0CFEQFjAH&url=http%3A%2F%2Fcarl.cs.indiana.edu%2Ffil%2Fcgi-bin%2FWebSec%2Fmarilyn.cgi&ei=l66ET6y4MsufOpPt3b0I&usg=AFQjCNHRtbr4ftk_4PyVzN3HuHPJV6LZow
Tue Apr 10 17:35:39 2012 from (empty referer)
Tue Apr 10 16:49:06 2012 from http://start.allgameshome.com/results.php?category=web&s=http://click.infospace.com/ClickHandler.ashx?du=http%3a%2f%2fwww.efficient.ws%2fbuilding%2fdesain%2520plafon%2520rumah&ru=http%3a%2f%2fwww.efficient.ws%2fbuilding%2fdesain%2520plafon%2520rumah&ld=20120410&ap=2&app=1&c=aghstart&s=aghstart&coi=239137&cop=main-title&euip=110.136.240.99&npp=2&p=0&pp=0&pvaid=2de9dd9736de4e8da37db941c88441b1&ep=1&mid=9&hash=546D26EF9477AC4D9855E6C5AB8B146
Tue Apr 10 16:33:03 2012 from http://carl.cs.indiana.edu/fil/cgi-bin/WebSec/marilyn.cgi?test=1
Tue Apr 10 16:17:34 2012 from http://www.google.com.sa/search?hl=ar&safe=active&client=ms-android-samsung&gl=ae&source=android-unknown&sky=mrdr&sa=X&ei=QpWET6WLI8Wj8QOB0cTWBw&ved=0CBYQBSgA&q=http%3A//tubidy.mobi/search.php%3Fa%3D18%26q%3Dindian%2Bsex&spell=1&biw=533&bih=295
Tue Apr 10 16:06:49 2012 from http://www.google.com/url?sa=t&rct=j&q=http%3A%2F%2Fwww.google.com%2Fsearch%3Fq%3Dhttp%253a%252f%252fwww.google.com%252fsearch%253fq%253dhttp%25253a%25252f%25252fwww.facebook.com%25252f%2526sourceid%253dopera%2526ie%253dutf-8%2526oe%253dutf-8%2526channel%253dsuggest%26sourceid%3Dopera%26ie%3Dutf-8%26oe%3Dutf-8%26channel%3Dsuggest&source=web&cd=1&ved=0CCIQFjAA&url=http%3A%2F%2Fcarl.cs.indiana.edu%2Ffil%2Fcgi-bin%2FWebSec%2Fmarilyn.cgi&ei=x5KET4mzOIaKhQftvaykCA&usg=AFQjCNHRtbr4ftk_4PyVzN3HuHPJV6LZow
Tue Apr 10 15:52:49 2012 from http://www.google.com.om/search?q=http+tubidy.mobi+index.php+a+18&hl=ar&client=ms-android-samsung&gl=ae&source=android-unknown&sky=mrdr&prmd=imvns&ei=R4-ET82YMc-diAfGwKy7Bw&start=80&sa=N&biw=320&bih=508
Tue Apr 10 15:14:24 2012 from http://www.google.com/url?sa=t&rct=j&q=&esrc=s&source=web&cd=1&ved=0CCIQFjAA&url=http%3A%2F%2Fcarl.cs.indiana.edu%2Ffil%2Fcgi-bin%2FWebSec%2Fmarilyn.cgi&ei=gIaET-DBM5CdOrHtrdAI&usg=AFQjCNHRtbr4ftk_4PyVzN3HuHPJV6LZow&sig2=_Ayo7-CJMOzKluNrO1Lb6w
Tue Apr 10 14:30:56 2012 from http://www.google.com/
Tue Apr 10 13:55:30 2012 from http://www.google.com/m?client=ms-nokia&q=youtube+tub+i+u+sax&cof=nsp&channel=s60&start=170&sa=N
Tue Apr 10 13:17:24 2012 from (empty referer)
Tue Apr 10 10:45:45 2012 from (empty referer)
Tue Apr 10 10:32:24 2012 from http://perfectvpn.net/index.php?page=reseller
Tue Apr 10 10:15:55 2012 from http://home.allgameshome.com/results.php?category=web&s=bd.allgameshome.com
Tue Apr 10 09:30:28 2012 from (empty referer)
Tue Apr 10 08:38:28 2012 from http://www.poezia.org/phorum/index.php?showuser=1806719
Tue Apr 10 05:13:47 2012 from (empty referer)
Tue Apr 10 03:12:25 2012 from http://home.allgameshome.com/results.php?category=web&s=searchplusnetwork.com/?sp=chv&q=animalsex.co
Tue Apr 10 02:26:15 2012 from http://www.google.com/url?sa=t&rct=j&q=http%3A%2F%2Fwww.google.com%2Fsearch%3Fq%3Dhttp%253A%252F%252Fwww.google.com%252Fsearch%253Fq%253Dhttp%25253A%25252F%25252Fwww.facebook.com%25252F%2526sourceid%253Dopera%2526ie%253Dutf-8%2526oe%253Dutf-8%2526channel%253Dsuggest%26sourceid%3Dopera%26ie%3Dutf-8%26oe%3Dutf-8%26channel%3Dsuggest&source=web&cd=1&ved=0CDAQFjAA&url=http%3A%2F%2Fcarl.cs.indiana.edu%2Ffil%2Fcgi-bin%2FWebSec%2Fmarilyn.cgi&ei=fbd6T66gMcSzrAfGkZCDAg&usg=AFQjCNHRtbr4ftk_4PyVzN3HuHPJV6LZow
Tue Apr 10 01:48:45 2012 from http://www.google.co.uk/m?client=ms-opera-mini&channel=new&q=www%252esexy%2520viedo%252ecom
Tue Apr 10 01:23:52 2012 from https://www.google.com.pk/
Mon Apr  9 21:58:23 2012 from http://start.allgameshome.com/results.php?category=web&s=http://click.infospace.com/ClickHandler.ashx?du=http%3a%2f%2fceritadewasax.blogspot.com%2f&ru=http%3a%2f%2fceritadewasax.blogspot.com%2f&ld=20120410&ap=1&app=1&c=aghstart&s=aghstart&coi=239137&cop=main-title&euip=180.214.233.69&npp=1&p=0&pp=0&pvaid=02b39054595b437d864b93dc1f2166cd&ep=1&mid=9&hash=973722090F639CD6F2AC7C805DFD4E6
Mon Apr  9 21:34:45 2012 from (empty referer)
Mon Apr  9 18:46:08 2012 from http://www.smoq.com.pl/zakupy-online/
Mon Apr  9 18:45:20 2012 from http://www.wheretobuybacklinks.com
Mon Apr  9 16:12:54 2012 from http://www.lumena.waw.pl/2012/03/24/emancypacja-kobiet/
Mon Apr  9 15:48:39 2012 from http://carl.cs.indiana.edu/fil/cgi-bin/WebSec/marilyn.cgi
Mon Apr  9 15:24:33 2012 from http://carl.cs.indiana.edu/fil/cgi-bin/WebSec/marilyn.cgi?iframe=true&width=90%&height=90%
Mon Apr  9 10:44:37 2012 from http://home.allgameshome.com/results.php?s=assist.babylon.com%2Fbabylonassista%2Fdnsassist%2Fmain%3Fdomain%3Dhome+allgameshome
Mon Apr  9 10:13:46 2012 from http://www.searchplusnetwork.com/?sp=chv&q=facebook.com%2Fajax%2Fhome%2Fgeneric.php%3F__a
Mon Apr  9 09:48:49 2012 from (empty referer)
Mon Apr  9 07:38:19 2012 from (empty referer)
Mon Apr  9 06:57:46 2012 from http://www.google.com/url?sa=t&rct=j&q=www.google.com%2Fsearch%3Fhl%3Den+indain%2520xxx&source=web&cd=1&ved=0CBYQFjAA&url=http%3A%2F%2Fcarl.cs.indiana.edu%2Ffil%2Fcgi-bin%2FWebSec%2Fmarilyn.cgi&ei=jcCCT6OfNsPlrAe51ZHLBQ&usg=AFQjCNHRtbr4ftk_4PyVzN3HuHPJV6LZow
Mon Apr  9 05:05:16 2012 from (empty referer)
Mon Apr  9 04:24:23 2012 from (empty referer)
Mon Apr  9 04:22:37 2012 from http://www.google.co.uk/m?q=www%252esex%2520video%2520com%252e&client=ms-opera-mini&channel=new&q=www%252esex%2520video%2520com%252e&client=ms-opera-mini&channel=new
Mon Apr  9 04:04:00 2012 from http://www.google.com/url?sa=t&rct=j&q=http%3A%2F%2Fwww.google.com%2Fsearch%3Fq%3Dhttp%253a%252f%252fwww.google.com%252fsearch%253fq%253dhttp%25253a%25252f%25252fredir.opera.com%25252fspeeddials%25252ffacebook%25252f%2526sourceid%253dopera%2526ie%253dutf-8%2526oe%253dutf-8%2526channel%253dsuggest%26sourceid%3Dopera%26ie%3Dutf-8%26oe%3Dutf-8%26channel%3Dsuggest&source=web&cd=4&ved=0CDYQFjAD&url=http%3A%2F%2Fcarl.cs.indiana.edu%2Ffil%2Fcgi-bin%2FWebSec%2Fmarilyn.cgi&ei=5ZeCT5DfBMugOsvjoPwG&usg=AFQjCNHRtbr4ftk_4PyVzN3HuHPJV6LZow
Mon Apr  9 01:22:38 2012 from http://www.searchplusnetwork.com/?q=facebook.com%2Fajax%2Fpagelet%2Fgeneric.php%2FPhotoViewerInitPagelet%3F__a&x=0&y=0
Mon Apr  9 01:21:38 2012 from http://www.google.com/m?client=ms-nokia&cof=nsp&channel=s60&q=carl.cs.indiana.edu%2ffil%2fcgi-bin%2fWebSec%2fmarilyn.cgi
Sun Apr  8 23:45:16 2012 from (empty referer)
Sun Apr  8 21:17:21 2012 from http://start.allgameshome.com/results.php?category=web&s=http://click.infospace.com/ClickHandler.ashx?du=http%3a%2f%2fwww.beatmybox.com%2fniches%2fbig-naturals.php&ru=http%3a%2f%2fwww.beatmybox.com%2fniches%2fbig-naturals.php&ld=20120409&ap=1&app=1&c=aghstart&s=aghstart&coi=239138&cop=main-title&euip=110.137.175.221&npp=1&p=0&pp=0&pvaid=157db4a515324fbd865c7992f2d0fd56&ep=1&mid=9&hash=9A3B71B19B7B4CD82F59578FDF838BF
Sun Apr  8 20:50:15 2012 from (empty referer)
Sun Apr  8 17:46:52 2012 from http://www.google.com/m?safe=on&hl=en&q=http%3A%2F%2Ftubidy.mobi%2Fsearch.php%3Fa%3D18%26q%3Dwoman%2Bsex
Sun Apr  8 15:49:01 2012 from (empty referer)
Sun Apr  8 15:48:59 2012 from http://carl.cs.indiana.edu/fil/cgi-bin/WebSec/marilyn.cgi?test=1
Sun Apr  8 15:11:29 2012 from http://www.onesuffolk.co.uk/instantforum32/userinfo.aspx?id=151323
Sun Apr  8 15:08:41 2012 from http://www.google.com.br/url?sa=t&rct=j&q=http%3A%2F%2Fwww.google.com.br%2Fsearch%3Fq%3Dhttp%253A%252F%252Fwww.google.com.br%252Fsearch%253Fq%253Dhttp%25253A%25252F%25252Fwww.google.com.br%25252F%2526rls%253Dcom.microsoft%253Apt-br%253AIE-SearchBox%2526ie%253DUTF-8%2526oe%253DUTF-8%2526sourceid%253Die7%2526rlz%253D1I7ADFA_pt-BRBR471%2526redir_esc%253D%2526ei%253D19-BT9O6M4aW8gS9yoTSBw%26rls%3Dcom.microsoft%3Apt-br%3AIE-SearchBox%26ie%3DUTF-8%26oe%3DUTF-8%26sourceid%3Die7%26rlz%3D1I7ADFA_pt-BRBR471%26redir_esc%3D%26ei%3D5d-BT7fDK4Si8QTEwLXMBw&source=web&cd=1&ved=0CCUQFjAA&url=http%3A%2F%2Fcarl.cs.indiana.edu%2Ffil%2Fcgi-bin%2FWebSec%2Fmarilyn.cgi&ei=w-CBT4jYMoOO8wTz3_nDBw&usg=AFQjCNHRtbr4ftk_4PyVzN3HuHPJV6LZow
Sun Apr  8 14:55:24 2012 from (empty referer)
Sun Apr  8 13:21:25 2012 from (empty referer)
Sun Apr  8 10:19:04 2012 from http://carl.cs.indiana.edu/fil/cgi-bin/WebSec/marilyn.cgi
Sun Apr  8 09:04:22 2012 from http://www.google.com/m?client=ms-nokia&cof=nsp&channel=s60&q=www.com%2fm%3fclient%3dms-nokia%26cof%3dnsp%26channel%3ds60%26q%3dww
Sun Apr  8 06:34:28 2012 from http://www.google.com/m?q=www%2egoogle%2ecom%2fm%3fq%3dwww%2efacebook%2ecom%26client%3dms%2dopera%2dmini%26channel%3dnew&client=ms-opera-mini&channel=new
Sun Apr  8 06:04:19 2012 from (empty referer)
Sun Apr  8 04:30:39 2012 from (empty referer)
Sun Apr  8 03:56:12 2012 from http://www.searchplusnetwork.com/?sp=chv&q=click.infospace.comClickHandler.ashx%3Fdu
Sun Apr  8 03:14:03 2012 from (empty referer)
Sun Apr  8 03:09:46 2012 from http://home.myplaycity.com/results.php?s=http%3A%2F%2Fhome.myplaycity.com&category=web&start=1&x=63&y=10
Sun Apr  8 02:45:36 2012 from (empty referer)
Sun Apr  8 00:54:55 2012 from http://www.google.com.sa/url?sa=t&rct=j&q=www,tubidy.mobi%5Csearch.php%3F%3D18+and+g%3Dsex%252b18&source=web&cd=2&ved=0CCcQFjAB&url=http%3A%2F%2Fcarl.cs.indiana.edu%2Ffil%2Fcgi-bin%2FWebSec%2Fmarilyn.cgi&ei=DxqBT9L7EOqi4gSH5ommBw&usg=AFQjCNHRtbr4ftk_4PyVzN3HuHPJV6LZow
Sat Apr  7 20:22:53 2012 from http://kb.globalscape.com/UserInfo4954.aspx
Sat Apr  7 19:23:15 2012 from http://www.positivedesign.eu/wieczor-panienski-i-prezenty/
Sat Apr  7 18:16:45 2012 from (empty referer)
Sat Apr  7 16:52:23 2012 from http://www.google.com/url?sa=t&rct=j&q=&esrc=s&source=web&cd=1&ved=0CDIQFjAA&url=http%3A%2F%2Fcarl.cs.indiana.edu%2Ffil%2Fcgi-bin%2FWebSec%2Fmarilyn.cgi&ei=A6iAT4SwDsXorQeGlfz0BQ&usg=AFQjCNHRtbr4ftk_4PyVzN3HuHPJV6LZow&sig2=fwmb0WYp-JRzYx6eEhFEzA
Sat Apr  7 16:33:07 2012 from http://www.google.com/m?q=http%3a%2f%2fwww%2egoogle%2ecom%2fm%3fclient%3dms%2dopera%2dmini%26channel%3dnew%26q%3dwww%2exvideo&client=ms-opera-mini&channel=new
Sat Apr  7 14:53:50 2012 from http://www.google.com/url?sa=t&rct=j&q=http%3A%2F%2Fwww.google.com%2Fsearch%3Fq%3Dhttp%253a%252f%252fwww.google.hu%252fsearch%253fq%253dgoogle%2526sourceid%253dopera%2526ie%253dutf-8%2526oe%253dutf-8%2526channel%253dsuggest%26sourceid%3Dopera%26ie%3Dutf-8%26oe%3Dutf-8%26channel%3Dsuggest&source=web&cd=1&ved=0CCMQFjAA&url=http%3A%2F%2Fcarl.cs.indiana.edu%2Ffil%2Fcgi-bin%2FWebSec%2Fmarilyn.cgi&ei=2YaAT-yuKYjCswbfyZDKBA&usg=AFQjCNHRtbr4ftk_4PyVzN3HuHPJV6LZow
Sat Apr  7 13:44:15 2012 from (empty referer)
Sat Apr  7 13:06:14 2012 from http://home.allgameshome.com/results.php?category=web&s=http://click.infospace.com/ClickHandler.ashx?du=http%3a%2f%2fsecure.vivid.com%2ftrack%2fMTMxMTgxLjEuMS4xLjAuMC4wLjAuMA&ru=http%3a%2f%2fsecure.vivid.com%2ftrack%2fMTMxMTgxLjEuMS4xLjAuMC4wLjAuMA&ld=20120407&ap=2&app=1&c=imesh.meta.4&s=imeshmeta4&coi=239137&cop=main-title&euip=180.254.158.201&npp=2&p=0&pp=0&pvaid=ce5079d136884d639b6eaffda5d4f8b4&ep=4&mid=9&hash=AC48020C784DD216E1B06A48EC46CD6
Sat Apr  7 12:55:26 2012 from (empty referer)
Sat Apr  7 12:54:08 2012 from http://www.google.com/m?q=www.google.com%2Fm%3Fq%3Dwww.tube8.com%26client%3Dms-opera-mini%26channel%3Dnew&client=ms-opera-mini&channel=new
Sat Apr  7 12:36:00 2012 from http://www.google.com/m?q=www.google.com%2Fm%3Fq%3Dwww.yahoo.com.br%26client%3Dms-opera-mini%26channel%3Dnew&client=ms-opera-mini&channel=new
Sat Apr  7 10:10:22 2012 from http://forums.amquake.eu/profile.php?id=9514
Sat Apr  7 09:38:23 2012 from http://www.anestezjologia2010.pl/wyjazdy-zagraniczne/
Sat Apr  7 09:12:29 2012 from (empty referer)
Sat Apr  7 08:15:47 2012 from (empty referer)
Sat Apr  7 06:10:34 2012 from http://www.radiotorun.pl/prezenty-kupowane-sieci/
Sat Apr  7 05:16:41 2012 from (empty referer)
Sat Apr  7 02:47:24 2012 from http://www.google.com/m?q=www.google.com%2Fm%3Fq%3Dwww.%25D8%25B1%25D9%2582%25D8%25B5%2B%25D9%2585%25D8%25BA%25D8%25B1%25D8%25A8%25D9%258A%26client%3Dms-opera-mini%26channel%3Dnew&client=ms-opera-mini&channel=new
Sat Apr  7 01:44:17 2012 from (empty referer)
Sat Apr  7 01:28:22 2012 from (empty referer)
Sat Apr  7 01:25:33 2012 from http://www.google.com/m/search
Fri Apr  6 23:58:24 2012 from (empty referer)
Fri Apr  6 23:33:29 2012 from http://www.google.com.sa/search?hl=en&gl=gb&client=ms-android-samsung&source=android-launcher-widget&q=http%3A%2F%2Ftubidy.mobi%2Fsearch.php.%3Fa%3D18%26q%3D%25D8%25B1%25D9%2582%25D8%25B5%2BD9%258.+3%25D8%25B3&sky=mrdr
Fri Apr  6 23:27:45 2012 from http://assist.babylon.com/babylonassista/dnsassist/main?domain=mystart%20incredibar%20mb113%20
Fri Apr  6 22:35:58 2012 from http://assist.babylon.com/babylonassista/dnsassist/main?domain=mystart%20incredibar%20mb113%20
Fri Apr  6 20:45:51 2012 from http://www.google.com/url?sa=t&rct=j&q=http%3A%2F%2Fwww.google.com%2Fsearch%3Fq%3Dhttp%253a%252f%252fwww.google.com%252fsearch%253fq%253dhttp%25253a%25252f%25252fwww.facebook.com%25252flogout.php%2526sourceid%253dopera%2526ie%253dutf-8%2526oe%253dutf-8%2526channel%253dsuggest%26sourceid%3Dopera%26ie%3Dutf-8%26oe%3Dutf-8%26channel%3Dsuggest&source=web&cd=1&ved=0CC8QFjAA&url=http%3A%2F%2Fcarl.cs.indiana.edu%2Ffil%2Fcgi-bin%2FWebSec%2Fmarilyn.cgi&ei=Ko5_T_r8NM-xrAfTv_zUBQ&usg=AFQjCNHRtbr4ftk_4PyVzN3HuHPJV6LZow
Fri Apr  6 20:45:48 2012 from http://www.google.com/url?sa=t&rct=j&q=http%3A%2F%2Fwww.google.com%2Fsearch%3Fq%3Dhttp%253a%252f%252fwww.google.com%252fsearch%253fq%253dhttp%25253a%25252f%25252fwww.facebook.com%25252flogout.php%2526sourceid%253dopera%2526ie%253dutf-8%2526oe%253dutf-8%2526channel%253dsuggest%26sourceid%3Dopera%26ie%3Dutf-8%26oe%3Dutf-8%26channel%3Dsuggest&source=web&cd=1&ved=0CC8QFjAA&url=http%3A%2F%2Fcarl.cs.indiana.edu%2Ffil%2Fcgi-bin%2FWebSec%2Fmarilyn.cgi&ei=Ko5_T_r8NM-xrAfTv_zUBQ&usg=AFQjCNHRtbr4ftk_4PyVzN3HuHPJV6LZow
Fri Apr  6 18:49:57 2012 from http://www.google.com/m?q=%2Fm%3Fq%3Dfree%2Berotik%2Bsex%26client%3Dms-&client=ms-opera-mobile&channel=new
Fri Apr  6 18:41:46 2012 from http://www.google.com/url?sa=t&rct=j&q=http%3A%2F%2Fwww.google.com%2Fsearch%3Fq%3Dhttp%253a%252f%252fwww.google.com%252fsearch%253fq%253dhttp%25253a%25252f%25252fwww.google.com%25252fsearch%25253fq%25253dhttp%2525253a%2525252f%2525252fwww.google.si%2525252f%252526sourceid%25253dopera%252526ie%25253dutf-8%252526oe%25253dutf-8%252526channel%25253dsuggest%2526sourceid%253dopera%2526ie%253dutf-8%2526oe%253dutf-8%2526channel%253dsuggest%26sourceid%3Dopera%26ie%3Dutf-8%26oe%3Dutf-8%26channel%3Dsuggest&source=web&cd=1&ved=0CCIQFjAA&url=http%3A%2F%2Fcarl.cs.indiana.edu%2Ffil%2Fcgi-bin%2FWebSec%2Fmarilyn.cgi&ei=BHF_T9LmHq_54QTkv8TwBw&usg=AFQjCNHRtbr4ftk_4PyVzN3HuHPJV6LZow
Fri Apr  6 17:38:46 2012 from http://www.google.com/m?q=google.com%2Fclient%3Dms-opera-mini%26channel%3Dnew%26q%3Dnudity&client=ms-opera-mini&channel=new
Fri Apr  6 16:17:13 2012 from http://www.google.com/m?cx=partner-mb-pub-6630117049886772:7963048852&ie=utf8&hl=en&q=www.tubidy%2520vidio%2520search/
Fri Apr  6 16:16:47 2012 from http://www.google.com/m?cx=partner-mb-pub-6630117049886772:7963048852&ie=utf8&hl=en&q=www.tubidy%2520vidio%2520search/
Fri Apr  6 16:16:25 2012 from http://www.google.com/m?cx=partner-mb-pub-6630117049886772:7963048852&ie=utf8&hl=en&q=www.tubidy%2520vidio%2520search/
Fri Apr  6 15:24:27 2012 from (empty referer)
Fri Apr  6 12:21:24 2012 from (empty referer)
Fri Apr  6 12:12:08 2012 from (empty referer)
Fri Apr  6 10:08:10 2012 from http://carl.cs.indiana.edu/fil/cgi-bin/WebSec/marilyn.cgi?test=1
Fri Apr  6 06:56:09 2012 from http://www.bluenote.kaszuby.pl/internet,i,komputery/akcesoria,erotyczne,dla,kobiet,s,830/
Fri Apr  6 06:04:47 2012 from (empty referer)
Fri Apr  6 05:34:11 2012 from http://www.gcx.pl/akcesoria-dla-kobiety-s-5855/
Fri Apr  6 03:11:22 2012 from (empty referer)
Fri Apr  6 00:08:50 2012 from (empty referer)
Thu Apr  5 21:46:42 2012 from http://www.google.com/url?sa=t&rct=j&q=click%20infospace%20clickhandler&source=web&cd=6&ved=0CFIQFjAF&url=http%3A%2F%2Fcarl.cs.indiana.edu%2Ffil%2Fcgi-bin%2FWebSec%2Fmarilyn.cgi&ei=EDpyT7jiHuGi2gWFyt3iDg&usg=AFQjCNHRtbr4ftk_4PyVzN3HuHPJV6LZow
Thu Apr  5 21:05:27 2012 from http://www.google.com.om/search?q=htt://tubidy.mobi/search.php.a%3D18%26.%3Dsrx&hl=en&client=ms-android-samsung&sky=mrdr&site=webhp&prmd=imvns&ei=hUB-T8-QGIWHrAfE_ZSzDg&start=54&sa=N&biw=320&bih=508
Thu Apr  5 21:00:31 2012 from http://www.google.com.om/search?q=htt://tubidy.mobi/search.php.a%3D18%26.%3Dsrx&hl=en&client=ms-android-samsung&sky=mrdr&site=webhp&prmd=imvns&ei=LD9-T4LBGY7rrQe-yrn_DQ&start=40&sa=N&biw=320&bih=508
Thu Apr  5 15:45:50 2012 from http://www.google.com/url?sa=t&rct=j&q=click%20infospace%20clickhandler&source=web&cd=5&ved=0CEYQFjAE&url=http%3A%2F%2Fcarl.cs.indiana.edu%2Ffil%2Fcgi-bin%2FWebSec%2Fmarilyn.cgi&ei=WvZ9T6G0DomN0AWvyNS5Dg&usg=AFQjCNHRtbr4ftk_4PyVzN3HuHPJV6LZow
Thu Apr  5 15:10:59 2012 from (empty referer)
Thu Apr  5 15:09:48 2012 from (empty referer)
Thu Apr  5 14:28:43 2012 from http://www.google.com/url?sa=t&rct=j&q=http%3A%2F%2Fwww.google.com%2Fsearch%3Fq%3Dhttp%253A%252F%252Fwww.google.com%252Fsearch%253Fq%253Dhttp%25253A%25252F%25252Fredir.opera.com%25252Fspeeddials%25252Ffacebook%25252F%2526sourceid%253Dopera%2526ie%253Dutf-8%2526oe%253Dutf-8%2526channel%253Dsuggest%26sourceid%3Dopera%26ie%3Dutf-8%26oe%3Dutf-8%26channel%3Dsuggest&source=web&cd=4&ved=0CEQQFjAD&url=http%3A%2F%2Fcarl.cs.indiana.edu%2Ffil%2Fcgi-bin%2FWebSec%2Fmarilyn.cgi&ei=NuR9T4faHYztrQfs4cnyDA&usg=AFQjCNHRtbr4ftk_4PyVzN3HuHPJV6LZow
Thu Apr  5 14:18:14 2012 from (empty referer)
Thu Apr  5 13:34:17 2012 from http://www.poradnik24h.pl/problemy/seks-erotyka/page/2
Thu Apr  5 12:50:13 2012 from (empty referer)
Thu Apr  5 12:46:13 2012 from http://www.google.com.pk/search?q=click+infospace+ClickHandler&channel=linkdoctor
Thu Apr  5 11:49:50 2012 from http://www.google.com.sa/url?sa=t&rct=j&q=click+infospace+ClickHandler&source=web&cd=5&ved=0CEEQFjAE&url=http%3A%2F%2Fcarl.cs.indiana.edu%2Ffil%2Fcgi-bin%2FWebSec%2Fmarilyn.cgi&ei=2759T_HMBcKF4gS77L2PDQ&usg=AFQjCNHRtbr4ftk_4PyVzN3HuHPJV6LZow
Thu Apr  5 10:49:10 2012 from http://www.google.com.sa/search?hl=en&site=&source=hp&q=http%3A%2F%2Fwww.tubidy.mobi%2Fsearch.php%3F@%3D18q%3Dindia%2Bsex&btnK=Google+Search&oq=&aq=&aqi=&aql=&gs_l=
Thu Apr  5 10:44:23 2012 from (empty referer)
Thu Apr  5 10:44:13 2012 from (empty referer)
Thu Apr  5 10:43:25 2012 from http://www.google.com.au/url?sa=t&source=web&cd=10&ved=0CFoQFjAJ&url=http%3A%2F%2Fcarl.cs.indiana.edu%2Ffil%2Fcgi-bin%2FWebSec%2Fmarilyn.cgi&rct=j&q=gl%3A%2F%2Fwww.google.com.au%2Fwebhp%3Fclient%3Dms-android-google%26source%3Dandroid-home%26sky%3Dmrdr&ei=ExR9T4TOMNHyrQeF0vHVDA&usg=AFQjCNHRtbr4ftk_4PyVzN3HuHPJV6LZow
Thu Apr  5 10:38:23 2012 from http://www.google.com/url?sa=t&rct=j&q=click%20infospace%20clickhandler&source=web&cd=5&ved=0CD4QFjAE&url=http%3A%2F%2Fcarl.cs.indiana.edu%2Ffil%2Fcgi-bin%2FWebSec%2Fmarilyn.cgi&ei=Uq59T8ylEY6qrAeF7LyEDQ&usg=AFQjCNHRtbr4ftk_4PyVzN3HuHPJV6LZow
Thu Apr  5 10:32:36 2012 from http://www.google.com.my/url?sa=t&rct=j&q=click%20infospace%20clickhandler&source=web&cd=5&ved=0CEMQFjAE&url=http%3A%2F%2Fcarl.cs.indiana.edu%2Ffil%2Fcgi-bin%2FWebSec%2Fmarilyn.cgi&ei=_ax9T77YFsPXrQfw9PT8DA&usg=AFQjCNHRtbr4ftk_4PyVzN3HuHPJV6LZow
Thu Apr  5 09:44:20 2012 from (empty referer)
Thu Apr  5 09:38:33 2012 from (empty referer)
Thu Apr  5 08:51:55 2012 from http://carl.cs.indiana.edu/fil/cgi-bin/WebSec/marilyn.cgi
Thu Apr  5 07:45:59 2012 from http://www.google.com/url?sa=t&rct=j&q=click%20infospace%20clickhandler&source=web&cd=5&ved=0CD4QFjAE&url=http%3A%2F%2Fcarl.cs.indiana.edu%2Ffil%2Fcgi-bin%2FWebSec%2Fmarilyn.cgi&ei=7IV9T4uAPMTusgbi9KTPCQ&usg=AFQjCNHRtbr4ftk_4PyVzN3HuHPJV6LZow
Thu Apr  5 07:35:37 2012 from http://www.google.com.sa/search?q=htt/tubidy.mobi/search.php%3Fa%3D18%26q%3Dsexs&hl=ar&safe=active&client=ms-android-samsung&gl=ae&source=android-launcher-widget&sky=mrdr&prmd=imvns&ei=CIN9T5qoLImXOu3xycYM&start=40&sa=N&biw=320&bih=508
Thu Apr  5 07:19:17 2012 from (empty referer)
Thu Apr  5 07:07:48 2012 from (empty referer)
Thu Apr  5 06:50:30 2012 from http://www.google.com/search?q=click+infospace+ClickHandler&channel=linkdoctor
Thu Apr  5 05:29:07 2012 from (empty referer)
Thu Apr  5 04:45:14 2012 from (empty referer)
Thu Apr  5 04:39:55 2012 from http://www.google.com/search?client=opera&rls=en&q=http%3A%2F%2Fwww.google.com%2Fsearch%3Fq%3Dhttp%253A%252F%252Fwww.google.com%252Fsearch%253Fq%253Dhttp%25253A%25252F%25252Fwww.facebook.com%25252F%2526sourceid%253Dopera%2526ie%253Dutf-8%2526oe%253Dutf-8%2526channel%253Dsuggest%26sourceid%3Dopera%26ie%3Dutf-8%26oe%3Dutf-8%26channel%3Dsuggest&sourceid=opera&ie=utf-8&oe=utf-8&channel=suggest
Thu Apr  5 04:24:01 2012 from (empty referer)
Thu Apr  5 02:39:37 2012 from http://www.google.com/url?sa=t&rct=j&q=http%3A%2F%2Fwww.google.com%2Fsearch%3Fq%3Dhttp%253a%252f%252fwww.google.com%252fsearch%253fq%253dhttp%25253a%25252f%25252fredir.opera.com%25252fspeeddials%25252ffacebook%25252f%2526sourceid%253dopera%2526ie%253dutf-8%2526oe%253dutf-8%2526channel%253dsuggest%26sourceid%3Dopera%26ie%3Dutf-8%26oe%3Dutf-8%26channel%3Dsuggest&source=web&cd=4&ved=0CDYQFjAD&url=http%3A%2F%2Fcarl.cs.indiana.edu%2Ffil%2Fcgi-bin%2FWebSec%2Fmarilyn.cgi&ei=HD59T7SjEIrtrAesmJHuDA&usg=AFQjCNHRtbr4ftk_4PyVzN3HuHPJV6LZow
Thu Apr  5 02:38:57 2012 from http://www.fame-monster.com
Thu Apr  5 02:31:51 2012 from (empty referer)
Thu Apr  5 01:46:42 2012 from http://terryfelke.com.pl/internet,i,komputery/artykuly,erotyczne,dla,kobiet,s,2775/
Thu Apr  5 01:42:50 2012 from http://www.fame-monster.com
Wed Apr  4 23:55:20 2012 from http://www.google.com.sa/url?sa=t&rct=j&q=http%3B%2F%2Ftubidy.mobi%2Fsearch.php.a%3D18+q%3Dmalayalam.sex&source=web&cd=1&ved=0CCQQFjAA&url=http%3A%2F%2Fcarl.cs.indiana.edu%2Ffil%2Fcgi-bin%2FWebSec%2Fmarilyn.cgi&ei=Y_53T9qmCOrj4QTivaXjDg&usg=AFQjCNHRtbr4ftk_4PyVzN3HuHPJV6LZow
Wed Apr  4 23:20:24 2012 from http://www.google.com/url?sa=t&rct=j&q=http%3A%2F%2Fwww.google.com%2Fsearch%3Fq%3Dhttp%253a%252f%252fwww.google.com%252fsearch%253fq%253dhttp%25253a%25252f%25252fwww.facebook.com%25252f%2526sourceid%253dopera%2526ie%253dutf-8%2526oe%253dutf-8%2526channel%253dsuggest%26sourceid%3Dopera%26ie%3Dutf-8%26oe%3Dutf-8%26channel%3Dsuggest&source=web&cd=1&ved=0CCIQFjAA&url=http%3A%2F%2Fcarl.cs.indiana.edu%2Ffil%2Fcgi-bin%2FWebSec%2Fmarilyn.cgi&ei=Xg99T7KgAc6mrAfGgtj7DA&usg=AFQjCNHRtbr4ftk_4PyVzN3HuHPJV6LZow
Wed Apr  4 23:05:44 2012 from (empty referer)
Wed Apr  4 21:14:54 2012 from http://www.google.com.my/url?sa=t&rct=j&q=click%20infospace%20clickhandler&source=web&cd=5&ved=0CEMQFjAE&url=http%3A%2F%2Fcarl.cs.indiana.edu%2Ffil%2Fcgi-bin%2FWebSec%2Fmarilyn.cgi&ei=6PF8T7eCK8bSrQf61JTjDA&usg=AFQjCNHRtbr4ftk_4PyVzN3HuHPJV6LZow
Wed Apr  4 21:06:14 2012 from http://www.google.com/search?q=http://+tubidy.+mobi/+index.+php%3Fa%3D+18&hl=en&safe=active&rlz=1T4GGHP_enSA437SA453&prmd=ivns&ei=vu18T4exCZDa0QWF1-W8DQ&start=50&sa=N
Wed Apr  4 20:03:03 2012 from (empty referer)
Wed Apr  4 17:57:57 2012 from (empty referer)
Wed Apr  4 16:52:18 2012 from http://www.google.com/url?sa=t&rct=j&q=http%3A%2F%2Fwww.google.com%2Fsearch%3Fq%3Dhttp%253a%252f%252fwww.google.com%252fsearch%253fq%253dhttp%25253a%25252f%25252fwww.facebook.com%25252f%2526sourceid%253dopera%2526ie%253dutf-8%2526oe%253dutf-8%2526channel%253dsuggest%26sourceid%3Dopera%26ie%3Dutf-8%26oe%3Dutf-8%26channel%3Dsuggest&source=web&cd=1&ved=0CDAQFjAA&url=http%3A%2F%2Fcarl.cs.indiana.edu%2Ffil%2Fcgi-bin%2FWebSec%2Fmarilyn.cgi&ei=drR8T7apKYjwrQfano3UDA&usg=AFQjCNHRtbr4ftk_4PyVzN3HuHPJV6LZow
Wed Apr  4 16:02:28 2012 from http://www.google.com/m?safe=on&client=ms-aff-ucweb&q=Http://tubidy.mobi/search.php?a%3D18%26q%3Dhot%2Bsex&output=xhtml&hl=en&start=10&sa=N
Wed Apr  4 16:02:08 2012 from http://www.google.com/m?safe=on&client=ms-aff-ucweb&q=Http://tubidy.mobi/search.php?a%3D18%26q%3Dhot%2Bsex&output=xhtml&hl=en&start=10&sa=N
Wed Apr  4 14:29:30 2012 from http://assist.babylon.com/babylonassista/dnsassist/main?domain=assist%20babylo%20babylonassista%20dnsassist%20main%20
Wed Apr  4 14:29:20 2012 from http://www.google.co.in/url?sa=t&rct=j&q=www.reliancenetconnect.co.in%2Fsearch.php%3Fq%3Dyou%2Btube.com%26channel%3Dui_new%26sa%3DWeb%2BSearch&source=web&cd=8&ved=0CGAQFjAH&url=http%3A%2F%2Fcarl.cs.indiana.edu%2Ffil%2Fcgi-bin%2FWebSec%2Fmarilyn.cgi%3Fiframe%3Dtrue%26width%3D90%25%26height%3D90%25&ei=tpJ8T6H7K8O4rAf-hYXnDA&usg=AFQjCNF1YRHwwX8j7f5VE5Zthzm_YadtXg
Wed Apr  4 14:20:29 2012 from (empty referer)
Wed Apr  4 14:17:48 2012 from http://www.google.com/url?sa=t&rct=j&q=http%3A%2F%2Fwww.google.com%2Fsearch%3Fq%3Dhttp%253A%252F%252Fwww.google.com.eg%252Fsearch%253Fq%253Dg%2526sourceid%253Dopera%2526ie%253Dutf-8%2526oe%253Dutf-8%2526channel%253Dsuggest%26sourceid%3Dopera%26ie%3Dutf-8%26oe%3Dutf-8%26channel%3Dsuggest&source=web&cd=1&ved=0CCkQFjAA&url=http%3A%2F%2Fcarl.cs.indiana.edu%2Ffil%2Fcgi-bin%2FWebSec%2Fmarilyn.cgi&ei=R5B8T8j4FYObOqnI3L8M&usg=AFQjCNHRtbr4ftk_4PyVzN3HuHPJV6LZow
Wed Apr  4 14:08:39 2012 from (empty referer)
Wed Apr  4 14:05:55 2012 from http://www.google.com.sa/search?hl=en&safe=active&client=ms-android-sonyericsson&gl=us&source=android-launcher-widget&sky=mrdr&nfpr=1&sa=X&ei=Do18T9LiLsbQhAfz6-StDA&ved=0CCgQBSgA&q=http%3A//tubidy.mobi/search.php.%3Fa%3D18%26q%3Dindian%2Bsex&spell=1&biw=320&bih=544
Wed Apr  4 14:01:45 2012 from http://www.google.com/url?sa=t&rct=j&q=click%20infospace%20clickhandler&source=web&cd=4&ved=0CDQQFjAD&url=http%3A%2F%2Fcarl.cs.indiana.edu%2Ffil%2Fcgi-bin%2FWebSec%2Fmarilyn.cgi&ei=9It8T43aC8vdsgbI4rXPCQ&usg=AFQjCNHRtbr4ftk_4PyVzN3HuHPJV6LZow
Wed Apr  4 13:31:15 2012 from (empty referer)
Wed Apr  4 12:43:53 2012 from http://carl.cs.indiana.edu/fil/cgi-bin/WebSec/marilyn.cgi
Wed Apr  4 12:23:50 2012 from http://www.facebook.com/l.php?u=http%3A%2F%2Fbit.ly%2Fp7zHOT&h=vAQA0fT6Q
Wed Apr  4 12:21:37 2012 from http://www.google.com/m?hl=en&q=http%3A%2F%2Ftubidy.mobi%2Fsearch.ph%3Fa%3D18%26q%3Dmalayalam.sex
Wed Apr  4 12:14:09 2012 from http://www.google.co.in/search?q=click+infospace+ClickHandler&channel=linkdoctor
Wed Apr  4 11:50:23 2012 from http://www.google.com/url?sa=t&rct=j&q=http%3A%2F%2Fwww.google.com%2Fsearch%3Fq%3Dhttp%253A%252F%252Fwww.google.com%252Fsearch%253Fq%253Dhttp%25253A%25252F%25252Fwww.facebook.com%25252F%2526sourceid%253Dopera%2526ie%253Dutf-8%2526oe%253Dutf-8%2526channel%253Dsuggest%26sourceid%3Dopera%26ie%3Dutf-8%26oe%3Dutf-8%26channel%3Dsuggest&source=web&cd=1&ved=0CCMQFjAA&url=http%3A%2F%2Fcarl.cs.indiana.edu%2Ffil%2Fcgi-bin%2FWebSec%2Fmarilyn.cgi&ei=rm18T6KLBKrE0QXr9721DQ&usg=AFQjCNHRtbr4ftk_4PyVzN3HuHPJV6LZow
Wed Apr  4 10:23:47 2012 from http://www.google.com/m?cx=partner-mb-pub-6630117049886772:7963048852&ie=utf8&hl=en&q=http%3B//tubidy.mobi/search.php%3F%3D18%26q%3Dmalayalam.sex
Wed Apr  4 10:23:45 2012 from http://www.google.com/m?cx=partner-mb-pub-6630117049886772:7963048852&ie=utf8&hl=en&q=http%3B//tubidy.mobi/search.php%3F%3D18%26q%3Dmalayalam.sex
Wed Apr  4 10:11:26 2012 from http://www.google.com/url?sa=t&rct=j&q=click%20infospace%20clickhandler&source=web&cd=5&ved=0CEYQFjAE&url=http%3A%2F%2Fcarl.cs.indiana.edu%2Ffil%2Fcgi-bin%2FWebSec%2Fmarilyn.cgi&ei=clZ8T_3hLYiy0QX1jOm8DQ&usg=AFQjCNHRtbr4ftk_4PyVzN3HuHPJV6LZow
Wed Apr  4 10:07:08 2012 from http://www.google.com/url?sa=t&rct=j&q=http%3A%2F%2Fwww.google.com%2Fsearch%3Fq%3Dhttp%253a%252f%252fwww.google.com%252fsearch%253fq%253dfree%252bgame%2526sourceid%253dopera%2526ie%253dutf-8%2526oe%253dutf-8%2526channel%253dsuggest%26sourceid%3Dopera%26ie%3Dutf-8%26oe%3Dutf-8%26channel%3Dsuggest&source=web&cd=1&ved=0CDAQFjAA&url=http%3A%2F%2Fcarl.cs.indiana.edu%2Ffil%2Fcgi-bin%2FWebSec%2Fmarilyn.cgi&ei=YVV8T7XYBMmu8APO_-mcDQ&usg=AFQjCNHRtbr4ftk_4PyVzN3HuHPJV6LZow
Wed Apr  4 09:41:18 2012 from http://www.google.com/url?sa=t&rct=j&q=click%20infospace%20clickhandler&source=web&cd=5&ved=0CEYQFjAE&url=http%3A%2F%2Fcarl.cs.indiana.edu%2Ffil%2Fcgi-bin%2FWebSec%2Fmarilyn.cgi&ei=eE98T4mqDcrO4QS669TCDA&usg=AFQjCNHRtbr4ftk_4PyVzN3HuHPJV6LZow
Wed Apr  4 09:40:44 2012 from http://www.google.com/m?q=www.wex.mobi.google.com.my%2Fnews%2Fi%3Fclient%3Dhp-opera-mini&client=ms-opera-mini&channel=new
Wed Apr  4 08:13:56 2012 from http://www.google.com/search?client=opera&rls=en&q=http%3A%2F%2Fwww.google.com%2Fsearch%3Fq%3Dhttp%253A%252F%252Fwww.google.com%252Fsearch%253Fq%253Dhttps%25253A%25252F%25252Fwww.facebook.com%25252F%2526sourceid%253Dopera%2526ie%253Dutf-8%2526oe%253Dutf-8%2526channel%253Dsuggest%26sourceid%3Dopera%26ie%3Dutf-8%26oe%3Dutf-8%26channel%3Dsuggest&sourceid=opera&ie=utf-8&oe=utf-8&channel=suggest
Wed Apr  4 07:49:52 2012 from (empty referer)
Wed Apr  4 07:48:30 2012 from http://www.google.com/url?sa=t&rct=j&q=http%3A%2F%2Fwww.google.com%2Fsearch%3Fq%3Dhttp%253a%252f%252fwww.google.com%252fsearch%253fq%253dhttp%25253a%25252f%25252fredir.opera.com%25252fspeeddials%25252ffacebook%25252f%2526sourceid%253dopera%2526ie%253dutf-8%2526oe%253dutf-8%2526channel%253dsuggest%26sourceid%3Dopera%26ie%3Dutf-8%26oe%3Dutf-8%26channel%3Dsuggest&source=web&cd=4&ved=0CEQQFjAD&url=http%3A%2F%2Fcarl.cs.indiana.edu%2Ffil%2Fcgi-bin%2FWebSec%2Fmarilyn.cgi&ei=4TR8T8_VKKiWiQeNuPCwCQ&usg=AFQjCNHRtbr4ftk_4PyVzN3HuHPJV6LZow
Wed Apr  4 06:32:27 2012 from (empty referer)
Wed Apr  4 05:29:59 2012 from (empty referer)
Wed Apr  4 05:02:01 2012 from http://www.google.com.sa/url?sa=t&rct=j&q=http%3B%2F%2Ftubidy.mobi%2Fsearch.php%3Fa%3D18%26q%3D%25d9%2585%25d8%2585&source=web&cd=2&ved=0CC4QFjAB&url=http%3A%2F%2Fcarl.cs.indiana.edu%2Ffil%2Fcgi-bin%2FWebSec%2Fmarilyn.cgi%3Fiframe%3Dtrue%26width%3D90%25%26height%3D90%25&ei=PQx8T4XFIO3Q4QTw7qH3DA&usg=AFQjCNF1YRHwwX8j7f5VE5Zthzm_YadtXg
Wed Apr  4 03:31:44 2012 from http://www.google.ru/url?sa=t&rct=j&q=click%20infospace%20clickhandler&source=web&cd=9&ved=0CGcQFjAI&url=http%3A%2F%2Fcarl.cs.indiana.edu%2Ffil%2Fcgi-bin%2FWebSec%2Fmarilyn.cgi&ei=1fh7T_rWOMagOpek7MUM&usg=AFQjCNHRtbr4ftk_4PyVzN3HuHPJV6LZow&sig2=oMf-Qh0YmGfW1sao-vaUVw&cad=rjt
Wed Apr  4 03:20:42 2012 from http://www.google.co.in/url?sa=t&rct=j&q=click%20infospace%20clickhandler&source=web&cd=5&ved=0CEQQFjAE&url=http%3A%2F%2Fcarl.cs.indiana.edu%2Ffil%2Fcgi-bin%2FWebSec%2Fmarilyn.cgi&ei=PfZ7T776NMujiQePiYDNCQ&usg=AFQjCNHRtbr4ftk_4PyVzN3HuHPJV6LZow
Wed Apr  4 00:46:28 2012 from http://carl.cs.indiana.edu/fil/cgi-bin/WebSec/marilyn.cgi
Tue Apr  3 19:51:32 2012 from (empty referer)
Tue Apr  3 19:45:46 2012 from http://www.google.com/m?client=ms-nokia&cof=nsp&channel=s60&q=http%3a%2ftubidy.mobi%2fsearch.php%3fa%3d18%26q%3dmalayalam.sex
Tue Apr  3 19:10:36 2012 from http://www.google.com/url?sa=D&q=http://carl.cs.indiana.edu/fil/cgi-bin/WebSec/marilyn.cgi&usg=AFQjCNFyiG1j0iVnh9zV0pOszXCmr-fdTg
Tue Apr  3 17:52:59 2012 from (empty referer)
Tue Apr  3 17:43:17 2012 from http://www.google.com/url?sa=t&rct=j&q=click%20infospace%20clickhandler&source=web&cd=5&ved=0CD4QFjAE&url=http%3A%2F%2Fcarl.cs.indiana.edu%2Ffil%2Fcgi-bin%2FWebSec%2Fmarilyn.cgi&ei=y257T8WmDYbQtAajxJGrBg&usg=AFQjCNHRtbr4ftk_4PyVzN3HuHPJV6LZow
Tue Apr  3 17:35:06 2012 from http://www.google.com.sa/url?sa=t&rct=j&q=http://tubidy.mobi/search.php%3Fa%3D18%26q%3Dsex%252B18&source=web&cd=8&ved=0CEUQFjAH&url=http%3A%2F%2Fcarl.cs.indiana.edu%2Ffil%2Fcgi-bin%2FWebSec%2Fmarilyn.cgi%2F&ei=dmx7T6q5Fojh4QTDxZSIBA&usg=AFQjCNF9tNGa2iM3aGYKAk6Ix4Wx3InCNQ
Tue Apr  3 17:07:17 2012 from http://www.google.com.om/search?q=http://tubidy.mobi/search.php%3Fa%3D18%26q%3Dsex&hl=ar&prmd=imvns&ei=dGZ7T5rZDojprAex0eH9AQ&start=77&sa=N&biw=320&bih=508
Tue Apr  3 17:06:46 2012 from http://www.google.com.om/search?q=http://tubidy.mobi/search.php%3Fa%3D18%26q%3Dsex&hl=ar&prmd=imvns&ei=NmV7T52JD5GHrAfyt4SZAg&start=80&sa=N&biw=320&bih=508
Tue Apr  3 17:02:27 2012 from http://www.google.com.om/search?q=http://tubidy.mobi/search.php%3Fa%3D18%26q%3Dsex&hl=ar&prmd=imvns&ei=NmV7T52JD5GHrAfyt4SZAg&start=70&sa=N&biw=320&bih=508
Tue Apr  3 16:42:16 2012 from http://carl.cs.indiana.edu/fil/cgi-bin/WebSec/marilyn.cgi
Tue Apr  3 15:21:26 2012 from http://www.google.com/m/search?client=ms-nokia-meego&q=tubidy.mobi/search.php?q%253Dsexy%253D
Tue Apr  3 15:06:43 2012 from http://www.google.com/url?sa=t&rct=j&q=http%3A%2F%2Fwww.google.com%2Fsearch%3Fq%3Dhttp%253a%252f%252fwww.google.com%252fsearch%253fq%253dhttp%25253a%25252f%25252fredir.opera.com%25252fspeeddials%25252fportal%25252f%2526sourceid%253dopera%2526ie%253dutf-8%2526oe%253dutf-8%2526channel%253dsuggest%26sourceid%3Dopera%26ie%3Dutf-8%26oe%3Dutf-8%26channel%3Dsuggest&source=web&cd=4&ved=0CDQQFjAD&url=http%3A%2F%2Fcarl.cs.indiana.edu%2Ffil%2Fcgi-bin%2FWebSec%2Fmarilyn.cgi&ei=O0p7T4f4E8mY8gPRsfGhCA&usg=AFQjCNHRtbr4ftk_4PyVzN3HuHPJV6LZow
Tue Apr  3 12:53:36 2012 from http://www.google.com/url?sa=t&rct=j&q=http%3A%2F%2Fwww.google.com%2Fsearch%3Fq%3Dhttp%253a%252f%252fwww.google.com%252fsearch%253fq%253dhttp%25253a%25252f%25252fwww.facebook.com%25252f%2526sourceid%253dopera%2526ie%253dutf-8%2526oe%253dutf-8%2526channel%253dsuggest%26sourceid%3Dopera%26ie%3Dutf-8%26oe%3Dutf-8%26channel%3Dsuggest&source=web&cd=1&ved=0CCwQFjAA&url=http%3A%2F%2Fcarl.cs.indiana.edu%2Ffil%2Fcgi-bin%2FWebSec%2Fmarilyn.cgi&ei=BCt7T_uRDMikiQL8rqQf&usg=AFQjCNHRtbr4ftk_4PyVzN3HuHPJV6LZow
Tue Apr  3 12:11:25 2012 from (empty referer)
Tue Apr  3 09:29:26 2012 from (empty referer)
Tue Apr  3 05:52:28 2012 from (empty referer)
Tue Apr  3 04:48:33 2012 from http://carl.cs.indiana.edu/fil/cgi-bin/WebSec/marilyn.cgi
Tue Apr  3 04:48:07 2012 from http://carl.cs.indiana.edu/fil/cgi-bin/WebSec/marilyn.cgi
Tue Apr  3 03:58:40 2012 from http://www.google.com/url?sa=t&rct=j&q=http%3A%2F%2Fwww.google.com%2Fsearch%3Fq%3Dhttp%253a%252f%252fwww.google.co.id%252fsearch%253fq%253dg%2526sourceid%253dopera%2526ie%253dutf-8%2526oe%253dutf-8%2526channel%253dsuggest%26sourceid%3Dopera%26ie%3Dutf-8%26oe%3Dutf-8%26channel%3Dsuggest&source=web&cd=1&ved=0CC8QFjAA&url=http%3A%2F%2Fcarl.cs.indiana.edu%2Ffil%2Fcgi-bin%2FWebSec%2Fmarilyn.cgi&ei=dK16T6uVHKejiAeey9z9Ag&usg=AFQjCNHRtbr4ftk_4PyVzN3HuHPJV6LZow
Tue Apr  3 03:35:05 2012 from http://www.google.co.th/url?sa=t&rct=j&q=click%20infospace%20clickhandler&source=web&cd=5&ved=0CD8QFjAE&url=http%3A%2F%2Fcarl.cs.indiana.edu%2Ffil%2Fcgi-bin%2FWebSec%2Fmarilyn.cgi&ei=Cqh6T72aGoLrrQe-qcmXAg&usg=AFQjCNHRtbr4ftk_4PyVzN3HuHPJV6LZow
Tue Apr  3 02:58:28 2012 from http://www.google.com/search?client=opera&rls=en&q=http%3A%2F%2Fwww.google.com%2Fsearch%3Fq%3Dhttp%253A%252F%252Fwww.google.com%252Fsearch%253Fq%253Dhttp%25253A%25252F%25252Fwww.facebook.com%25252F%2526sourceid%253Dopera%2526ie%253Dutf-8%2526oe%253Dutf-8%2526channel%253Dsuggest%26sourceid%3Dopera%26ie%3Dutf-8%26oe%3Dutf-8%26channel%3Dsuggest&sourceid=opera&ie=utf-8&oe=utf-8&channel=suggest
Tue Apr  3 01:54:29 2012 from http://www.google.com/url?sa=t&rct=j&q=http%3A%2F%2Fwww.google.com%2Fsearch%3Fq%3Dhttp%253a%252f%252fwww.google.com%252fsearch%253fq%253dhttp%25253a%25252f%25252fwww.facebook.com%25252f%2526sourceid%253dopera%2526ie%253dutf-8%2526oe%253dutf-8%2526channel%253dsuggest%26sourceid%3Dopera%26ie%3Dutf-8%26oe%3Dutf-8%26channel%3Dsuggest&source=web&cd=1&ved=0CCIQFjAA&url=http%3A%2F%2Fcarl.cs.indiana.edu%2Ffil%2Fcgi-bin%2FWebSec%2Fmarilyn.cgi&ei=eJB6T7Fvx-asB5zYhf8B&usg=AFQjCNHRtbr4ftk_4PyVzN3HuHPJV6LZow
Mon Apr  2 23:12:29 2012 from (empty referer)
Mon Apr  2 18:30:04 2012 from (empty referer)
Mon Apr  2 18:26:05 2012 from (empty referer)
Mon Apr  2 18:20:59 2012 from http://www.google.com.sa/url?sa=t&rct=j&q=http://bit.ly/p7zHOT+Wow!&source=web&cd=1&ved=0CCIQFjAA&url=http%3A%2F%2Fcarl.cs.indiana.edu%2Ffil%2Fcgi-bin%2FWebSec%2Fmarilyn.cgi&ei=RyZ6T5zBLqf-4QT2spXqDg&usg=AFQjCNHRtbr4ftk_4PyVzN3HuHPJV6LZow
Mon Apr  2 18:13:25 2012 from http://www.google.com.sa/search?q=click+infospace+ClickHandler&channel=linkdoctor
Mon Apr  2 18:02:35 2012 from (empty referer)
Mon Apr  2 17:47:24 2012 from (empty referer)
Mon Apr  2 17:47:03 2012 from http://www.google.com/m/search?site=universal&safe=on&q=http://tubidy.mobi/search.PHP?a%3D18%26q%3D%25D8%25B1%25D9%2582%25D8%25B5%2B%25D9%2583%25D8%25B3&hl=en&start=10&sa=N
Mon Apr  2 15:10:48 2012 from http://bostoneers.org/member/148221
Mon Apr  2 14:56:25 2012 from (empty referer)
Mon Apr  2 14:51:20 2012 from http://www.google.com.sa/search?q=htt://tubidy.mobi/search.php%3Fa%3D18%26q%3D%25d8%25b1%25d9%2582%25d8%25b5%2B%25d9%2583%25d8%25b3&hl=en&safe=active&client=ms-android-samsung&gl=gb&source=android-launcher-widget&sky=mrdr&prmd=imvns&ei=evR5T-XlJpPV4QSpq_zgDg&start=10&sa=N&biw=320&bih=455
Mon Apr  2 14:35:32 2012 from (empty referer)
Mon Apr  2 14:19:53 2012 from (empty referer)
Mon Apr  2 13:35:48 2012 from http://www.searchplusnetwork.com/?sp=chv&q=click.infospace.comClickHandler.ashx%3Fdu
Mon Apr  2 13:27:46 2012 from (empty referer)
Mon Apr  2 13:23:01 2012 from (empty referer)
Mon Apr  2 11:37:33 2012 from http://www.google.com.my/url?sa=t&rct=j&q=click%20infospace%20clickhandler&source=web&cd=5&ved=0CEgQFjAE&url=http%3A%2F%2Fcarl.cs.indiana.edu%2Ffil%2Fcgi-bin%2FWebSec%2Fmarilyn.cgi&ei=ucd5T46dBYnYrQeSiuWKDQ&usg=AFQjCNHRtbr4ftk_4PyVzN3HuHPJV6LZow
Mon Apr  2 10:06:55 2012 from (empty referer)
Mon Apr  2 09:53:07 2012 from http://carl.cs.indiana.edu/fil/cgi-bin/WebSec/marilyn.cgi/
Mon Apr  2 09:33:04 2012 from http://www.google.com/url?sa=t&rct=j&q=http%3A%2F%2Fwww.google.com%2Fsearch%3Fq%3Dhttp%253a%252f%252fwww.google.com%252fsearch%253fq%253dhttp%25253a%25252f%25252fgoogle.hu%25252f%2526sourceid%253dopera%2526ie%253dutf-8%2526oe%253dutf-8%2526channel%253dsuggest%26sourceid%3Dopera%26ie%3Dutf-8%26oe%3Dutf-8%26channel%3Dsuggest&source=web&cd=1&ved=0CCIQFjAA&url=http%3A%2F%2Fcarl.cs.indiana.edu%2Ffil%2Fcgi-bin%2FWebSec%2Fmarilyn.cgi&ei=Gqp5T8DWN4rOsgaTm93ABA&usg=AFQjCNHRtbr4ftk_4PyVzN3HuHPJV6LZow
Mon Apr  2 09:08:14 2012 from http://search.bearshare.com/web?hl=tr&q=click+infospace&src=404&ref=1&page=10
Mon Apr  2 08:42:58 2012 from http://search.imesh.com/web?hl=tr&q=click+infospace&src=404&ref=1&page=10
Mon Apr  2 08:12:31 2012 from http://www.google.co.in/url?sa=t&rct=j&q=click%20infospace%20clickhandler&source=web&cd=8&ved=0CFYQFjAH&url=http%3A%2F%2Fcarl.cs.indiana.edu%2Ffil%2Fcgi-bin%2FWebSec%2Fmarilyn.cgi&ei=hZd5T6OjCIvLrQeOq9WFDQ&usg=AFQjCNHRtbr4ftk_4PyVzN3HuHPJV6LZow
Mon Apr  2 07:55:57 2012 from http://www.google.com/m?q=http%3a%2f%2fwww%2egoogle%2ecom%2fm%3fclient%3dms%2dopera%2dmini%26channel%3dnew%26q%3d&client=ms-opera-mini&channel=new
Mon Apr  2 07:22:05 2012 from http://www.google.com/m?client=ms-nokia&q=tubidy.mobi/search.php?a%3D18%26q%3D%25D8%25B1%25D9%2582%25D8%25B5%2B%25&cof=nsp&channel=s60&start=30&sa=N
Mon Apr  2 07:15:18 2012 from http://search.bearshare.com/web?hl=tr&q=click+infospace&src=404&ref=1&page=10
Mon Apr  2 06:36:52 2012 from (empty referer)
Mon Apr  2 06:28:06 2012 from http://www.google.com/url?sa=t&rct=j&q=click%20infospace%20clickhandler&source=web&cd=9&ved=0CFcQFjAI&url=http%3A%2F%2Fcarl.cs.indiana.edu%2Ffil%2Fcgi-bin%2FWebSec%2Fmarilyn.cgi&ei=In95T8PAD6LcmAXk14HpDw&usg=AFQjCNHRtbr4ftk_4PyVzN3HuHPJV6LZow
Mon Apr  2 06:15:39 2012 from http://www.google.com/url?sa=t&rct=j&q=http://www.google.com/search%3Fq%3Dhttp%253A%252F%252Fwww.google.com%252Fsearch%253Fq%253D%2526sourceid%253Dopera%2526ie%253Dutf-8%2526oe%253Dutf-8%2526channel%253Dsuggest%26sourceid%3Dopera%26ie%3Dutf-8%26oe%3Dutf-8%26channel%3Dsuggest&source=web&cd=1&ved=0CDgQFjAA&url=http%3A%2F%2Fcarl.cs.indiana.edu%2Ffil%2Fcgi-bin%2FWebSec%2Fmarilyn.cgi&ei=NXx5T7mWKcLXsgaO3MDDBA&usg=AFQjCNHRtbr4ftk_4PyVzN3HuHPJV6LZow
Mon Apr  2 05:52:59 2012 from (empty referer)
Mon Apr  2 04:45:48 2012 from http://myamericommerce.com/members/daffi11.aspx
Mon Apr  2 04:36:05 2012 from (empty referer)
Mon Apr  2 02:41:39 2012 from http://www.google.com/url?sa=t&rct=j&q=http%3A%2F%2Fwww.google.com%2Fsearch%3Fq%3Dhttp%253A%252F%252Fwww.google.com%252Fsearch%253Fq%253Dhttp%25253A%25252F%25252Fredir.opera.com%25252Fspeeddials%25252Famazon%25252F%2526sourceid%253Dopera%2526ie%253Dutf-8%2526oe%253Dutf-8%2526channel%253Dsuggest%26sourceid%3Dopera%26ie%3Dutf-8%26oe%3Dutf-8%26channel%3Dsuggest&source=web&cd=1&ved=0CCwQFjAA&url=http%3A%2F%2Fcarl.cs.indiana.edu%2Ffil%2Fcgi-bin%2FWebSec%2Fmarilyn.cgi&ei=7kl5T4iYHIGxiQLg18GnDg&usg=AFQjCNHRtbr4ftk_4PyVzN3HuHPJV6LZow
Mon Apr  2 01:23:19 2012 from http://www.google.co.in/m?q=www.google.co.inm%2Fi%3Fclient%3Dhp-opera-mini&client=ms-opera-mini&channel=new
Mon Apr  2 01:03:59 2012 from http://www.google.com/url?sa=t&rct=j&q=http%3A%2F%2Fwww.google.com%2Fsearch%3Fq%3Dhttp%253A%252F%252Fwww.google.com%252Fsearch%253Fq%253D%2526sourceid%253Dopera%2526ie%253Dutf-8%2526oe%253Dutf-8%2526channel%253Dsuggest%26sourceid%3Dopera%26ie%3Dutf-8%26oe%3Dutf-8%26channel%3Dsuggest&source=web&cd=1&ved=0CCIQFjAA&url=http%3A%2F%2Fcarl.cs.indiana.edu%2Ffil%2Fcgi-bin%2FWebSec%2Fmarilyn.cgi&ei=ADN5T9f-AdDQrQeG86S5DQ&usg=AFQjCNHRtbr4ftk_4PyVzN3HuHPJV6LZow
Sun Apr  1 23:55:10 2012 from http://www.google.com/url?sa=t&rct=j&q=http%3A%2F%2Fwww.google.com%2Fsearch%3Fq%3Dhttp%253a%252f%252fwww.google.com%252fsearch%253fq%253dhttp%25253a%25252f%25252fredir.opera.com%25252fspeeddials%25252ffacebook%25252f%2526sourceid%253dopera%2526ie%253dutf-8%2526oe%253dutf-8%2526channel%253dsuggest%26sourceid%3Dopera%26ie%3Dutf-8%26oe%3Dutf-8%26channel%3Dsuggest&source=web&cd=4&ved=0CD8QFjAD&url=http%3A%2F%2Fcarl.cs.indiana.edu%2Ffil%2Fcgi-bin%2FWebSec%2Fmarilyn.cgi&ei=_yJ5T9bLBM3nrAf88MGqDQ&usg=AFQjCNHRtbr4ftk_4PyVzN3HuHPJV6LZow
Sun Apr  1 17:50:01 2012 from http://search.bearshare.com/web?hl=tr&q=click+infospace&src=404&ref=1&page=10
Sun Apr  1 17:04:27 2012 from (empty referer)
Sun Apr  1 16:53:28 2012 from http://www.low-carb-diet-recipes.com/forum/user-22789.html
Sun Apr  1 16:04:16 2012 from http://carl.cs.indiana.edu/fil/cgi-bin/WebSec/marilyn.cgi
Sun Apr  1 15:43:08 2012 from http://www.google.com/m?client=ms-aff-ucweb&q=+http://tubidy.mobi/search.php?a%3D18%26q%3D%25D8%25B1%25D9%2582%25D8%25B5%2B%25D9%2583%25D8%25B3&output=xhtml&hl=en&start=10&sa=N
Sun Apr  1 14:56:47 2012 from http://www.google.com.sa/url?sa=t&rct=j&q=%26amp%3Breferer%3Dhttp%253A%2F%2Fwww.xnxx.com%2F&source=web&cd=8&ved=0CEwQFjAH&url=http%3A%2F%2Fcarl.cs.indiana.edu%2Ffil%2Fcgi-bin%2FWebSec%2Fmarilyn.cgi&ei=o6R4T4efK9DFtAbzlJ2NBA&usg=AFQjCNHRtbr4ftk_4PyVzN3HuHPJV6LZow&sig2=ytMQ79WbEYdtFHp5QQotxQ
Sun Apr  1 14:24:44 2012 from (empty referer)
Sun Apr  1 12:31:34 2012 from http://www.google.com/m?client=ms-nokia&cof=nsp&channel=s60&q=www.google.malayalamcom%2fm%3fclient%3dms-nokia%26cof%3dnsp%26
Sun Apr  1 11:23:56 2012 from http://www.ocacblogs.com/index.php/member/195037/
Sun Apr  1 10:52:36 2012 from (empty referer)
Sun Apr  1 10:42:56 2012 from http://www.google.com.ph/url?sa=t&rct=j&q=click%20infospace%20clickhandler&source=web&cd=9&ved=0CGwQFjAI&url=http%3A%2F%2Fcarl.cs.indiana.edu%2Ffil%2Fcgi-bin%2FWebSec%2Fmarilyn.cgi&ei=P2l4T4PuN-bImQWx5oXqDw&usg=AFQjCNHRtbr4ftk_4PyVzN3HuHPJV6LZow
Sun Apr  1 10:42:55 2012 from http://www.google.com.ph/url?sa=t&rct=j&q=click%20infospace%20clickhandler&source=web&cd=9&ved=0CGwQFjAI&url=http%3A%2F%2Fcarl.cs.indiana.edu%2Ffil%2Fcgi-bin%2FWebSec%2Fmarilyn.cgi&ei=P2l4T4PuN-bImQWx5oXqDw&usg=AFQjCNHRtbr4ftk_4PyVzN3HuHPJV6LZow
Sun Apr  1 10:17:47 2012 from (empty referer)
Sun Apr  1 10:11:11 2012 from http://www.google.com/m?client=ms-nokia&cof=nsp&channel=s60&q=http%3a%2f%2ftubidy.mobi%2fsearch.php%3fa%3d18%26q%3dmalayalam.sex
Sun Apr  1 09:39:29 2012 from http://www.google.com.pk/url?sa=t&rct=j&q=carl%20indiana%20fil%20websec%20marilyn&source=web&cd=1&ved=0CCEQFjAA&url=http%3A%2F%2Fcarl.cs.indiana.edu%2Ffil%2Fcgi-bin%2FWebSec%2Fmarilyn.cgi&ei=hFp4T6-8IJDA8QOwpJydDQ&usg=AFQjCNHRtbr4ftk_4PyVzN3HuHPJV6LZow
Sun Apr  1 09:31:16 2012 from http://www.google.co.tz/m?client=ms-opera-mini&channel=new&q=www%252eoperamin%2520%2534
Sun Apr  1 08:34:55 2012 from http://www.google.com/url?sa=t&rct=j&q=click%20infospace%20clickhandler&source=web&cd=5&ved=0CEcQFjAE&url=http%3A%2F%2Fcarl.cs.indiana.edu%2Ffil%2Fcgi-bin%2FWebSec%2Fmarilyn.cgi&ei=JUt4T-DrL5CHrAeUn4CUDQ&usg=AFQjCNHRtbr4ftk_4PyVzN3HuHPJV6LZow
Sun Apr  1 07:10:29 2012 from (empty referer)
Sun Apr  1 07:10:27 2012 from http://carl.cs.indiana.edu/fil/cgi-bin/WebSec/marilyn.cgi/
Sun Apr  1 05:32:34 2012 from (empty referer)
Sun Apr  1 05:32:33 2012 from (empty referer)
Sun Apr  1 05:21:41 2012 from http://carl.cs.indiana.edu/fil/cgi-bin/WebSec/marilyn.cgi
Sun Apr  1 03:07:18 2012 from http://www.google.com.sa/url?sa=t&rct=j&q=http%3B%2F%2Ftubidy.mobi%2Fsearch.php.a%3D18+q%3Dmalayalam.sex&source=web&cd=1&ved=0CCQQFjAA&url=http%3A%2F%2Fcarl.cs.indiana.edu%2Ffil%2Fcgi-bin%2FWebSec%2Fmarilyn.cgi&ei=Y_53T9qmCOrj4QTivaXjDg&usg=AFQjCNHRtbr4ftk_4PyVzN3HuHPJV6LZow
Sun Apr  1 02:57:22 2012 from http://www.google.com.sa/url?sa=t&rct=j&q=http%3B%2F%2Ftubidy.mobi%2Fsearch.php.a%3D18+q%3Dmalayalam.sex&source=web&cd=1&ved=0CCQQFjAA&url=http%3A%2F%2Fcarl.cs.indiana.edu%2Ffil%2Fcgi-bin%2FWebSec%2Fmarilyn.cgi&ei=Q_x3T5epN6yL4gTupfyvDw&usg=AFQjCNHRtbr4ftk_4PyVzN3HuHPJV6LZow
Sun Apr  1 01:36:34 2012 from http://www.google.com/url?sa=t&rct=j&q=http%3A%2F%2Fwww.google.com%2Fsearch%3Fq%3Dhttp%253a%252f%252fwww.google.com%252fsearch%253fq%253dhttps%25253a%25252f%25252fwww.facebook.com%25252f%2526sourceid%253dopera%2526ie%253dutf-8%2526oe%253dutf-8%2526channel%253dsuggest%26sourceid%3Dopera%26ie%3Dutf-8%26oe%3Dutf-8%26channel%3Dsuggest&source=web&cd=1&ved=0CCIQFjAA&url=http%3A%2F%2Fcarl.cs.indiana.edu%2Ffil%2Fcgi-bin%2FWebSec%2Fmarilyn.cgi&ei=Vul3T--GHqq3iQeW1JzYBA&usg=AFQjCNHRtbr4ftk_4PyVzN3HuHPJV6LZow
Sun Apr  1 00:57:41 2012 from http://www.google.com/url?sa=t&rct=j&q=http%3A%2F%2Fwww.google.com%2Fsearch%3Fq%3Dhttp%253a%252f%252fwww.google.com%252fsearch%253fq%253dhttp%25253a%25252f%25252fwww.facebook.com%25252f%2526sourceid%253dopera%2526ie%253dutf-8%2526oe%253dutf-8%2526channel%253dsuggest%26sourceid%3Dopera%26ie%3Dutf-8%26oe%3Dutf-8%26channel%3Dsuggest&source=web&cd=1&ved=0CDAQFjAA&url=http%3A%2F%2Fcarl.cs.indiana.edu%2Ffil%2Fcgi-bin%2FWebSec%2Fmarilyn.cgi&ei=OeB3T-vPF8TlrAet6oCXDQ&usg=AFQjCNHRtbr4ftk_4PyVzN3HuHPJV6LZow
Sat Mar 31 17:00:59 2012 from http://www.google.com/search?q=http%3A%2F%2Fclick.infospace.com%2FClickHandler.ashx%3Fdu%3Dhttp%3A%2F%2Fwww.videos-xxx-porno.net%2F
Sat Mar 31 16:32:25 2012 from http://www.google.com/url?sa=t&rct=j&q=http%3A%2F%2Fwww.google.com%2Fsearch%3Fq%3Dhttp%253A%252F%252Fwww.google.com%252Fsearch%253Fq%253Dhttp%25253A%25252F%25252Fredir.opera.com%25252Fspeeddials%25252Ffacebook%25252F%2526sourceid%253Dopera%2526num%253D0%2526ie%253Dutf-8%2526oe%253Dutf-8%2526channel%253Dsuggest%26sourceid%3Dopera%26num%3D0%26ie%3Dutf-8%26oe%3Dutf-8%26channel%3Dsuggest&source=web&cd=8&ved=0CEsQFjAH&url=http%3A%2F%2Fcarl.cs.indiana.edu%2Ffil%2Fcgi-bin%2FWebSec%2Fmarilyn.cgi&ei=-Gh3T5_hOcThrAfKtOGYDQ&usg=AFQjCNHRtbr4ftk_4PyVzN3HuHPJV6LZow
Sat Mar 31 16:29:31 2012 from http://www.google.com/url?sa=t&rct=j&q=http%3A%2F%2Fwww.google.com%2Fsearch%3Fq%3Dhttp%253A%252F%252Fwww.google.com%252Fsearch%253Fq%253Dhttp%25253A%25252F%25252Fredir.opera.com%25252Fspeeddials%25252Ffacebook%25252F%2526sourceid%253Dopera%2526num%253D0%2526ie%253Dutf-8%2526oe%253Dutf-8%2526channel%253Dsuggest%26sourceid%3Dopera%26num%3D0%26ie%3Dutf-8%26oe%3Dutf-8%26channel%3Dsuggest&source=web&cd=8&ved=0CEsQFjAH&url=http%3A%2F%2Fcarl.cs.indiana.edu%2Ffil%2Fcgi-bin%2FWebSec%2Fmarilyn.cgi&ei=-Gh3T5_hOcThrAfKtOGYDQ&usg=AFQjCNHRtbr4ftk_4PyVzN3HuHPJV6LZow
Sat Mar 31 13:05:36 2012 from http://www.google.com.sa/url?sa=t&rct=j&q=bitly+p7zhot+wow&source=web&cd=1&ved=0CCcQFjAA&url=http%3A%2F%2Fcarl.cs.indiana.edu%2Ffil%2Fcgi-bin%2FWebSec%2Fmarilyn.cgi&ei=Vzl3T5y4GMPmtQa0vYS6BA&usg=AFQjCNHRtbr4ftk_4PyVzN3HuHPJV6LZow
Sat Mar 31 10:29:45 2012 from http://www.google.co.in/url?sa=t&rct=j&q=click+infospace+ClickHandler&source=web&cd=5&ved=0CEQQFjAE&url=http%3A%2F%2Fcarl.cs.indiana.edu%2Ffil%2Fcgi-bin%2FWebSec%2Fmarilyn.cgi&ei=uhR3T7LLIuuYiAeqzK35BA&usg=AFQjCNHRtbr4ftk_4PyVzN3HuHPJV6LZow
Sat Mar 31 09:38:43 2012 from (empty referer)
Sat Mar 31 08:44:13 2012 from http://www.google.com/imgres?imgurl=http://carl.cs.indiana.edu/fil/WebSec/marilyn.jpg&imgrefurl=http://carl.cs.indiana.edu/fil/cgi-bin/WebSec/marilyn.cgi&usg=__PgVUbSSWU7f5jfsjEcVsJgAPNig=&h=333&w=500&sz=54&hl=en&start=551&zoom=1&tbnid=ynUan-_9FQYrEM:&tbnh=87&tbnw=130&ei=A_x2T-O5C4bhiAKliq2nDg&prev=/search%3Fq%3Dwww.sex.com%26start%3D546%26hl%3Den%26client%3Dms-nokia%26sa%3DN%26nomo%3D1%26tbm%3Disch&itbs=1
Sat Mar 31 07:43:14 2012 from http://www.google.com/url?sa=t&rct=j&q=facebook.com%2Fajax%2Fhome%2Fgeneric.php%3F__a%3D1&source=web&cd=86&ved=0CEIQFjAFOFA&url=http%3A%2F%2Fcarl.cs.indiana.edu%2Ffil%2Fcgi-bin%2FWebSec%2Fmarilyn.cgi%3Fiframe%3Dtrue%26width%3D90%25%26height%3D90%25&ei=Ge12T_SnD4HQrQfQuv27DQ&usg=AFQjCNF1YRHwwX8j7f5VE5Zthzm_YadtXg
Sat Mar 31 06:16:53 2012 from http://www.google.ro/search?q=click+infospace+ClickHandler&channel=linkdoctor
Sat Mar 31 05:27:52 2012 from http://www.google.pl/url?sa=t&rct=j&q=marylyn%20monroe%20sex&source=web&cd=10&ved=0CHEQFjAJ&url=http%3A%2F%2Fcarl.cs.indiana.edu%2Ffil%2Fcgi-bin%2FWebSec%2Fmarilyn.cgi&ei=2Mt2T6GHCcnXsgabnOmuBA&usg=AFQjCNHRtbr4ftk_4PyVzN3HuHPJV6LZow
Sat Mar 31 05:03:39 2012 from http://www.google.com/search?client=opera&rls=en&q=http%3A%2F%2Fwww.google.com%2Fsearch%3Fq%3Dhttp%253A%252F%252Fwww.google.com.pk%252Fsearch%253Fq%253DSearch%2526sourceid%253Dopera%2526ie%253Dutf-8%2526oe%253Dutf-8%2526channel%253Dsuggest%26sourceid%3Dopera%26ie%3Dutf-8%26oe%3Dutf-8%26channel%3Dsuggest&sourceid=opera&ie=utf-8&oe=utf-8&channel=suggest
Sat Mar 31 04:29:01 2012 from (empty referer)
Sat Mar 31 04:03:45 2012 from (empty referer)
Sat Mar 31 02:23:54 2012 from http://nadine.helmholtz-eos.de/forum/user/profile/105893.page
Sat Mar 31 02:03:35 2012 from http://www.google.com/m?q=Sex%20film%20and%20post&client=ms-opera-mini&channel=new
Sat Mar 31 01:41:42 2012 from (empty referer)
Sat Mar 31 00:45:15 2012 from http://www.google.com/url?sa=t&rct=j&q=click+infospace+ClickHandler&source=web&cd=6&ved=0CEQQFjAF&url=http%3A%2F%2Fcarl.cs.indiana.edu%2Ffil%2Fcgi-bin%2FWebSec%2Fmarilyn.cgi&ei=z4t2T_XmLaeTiQeL7rDGBA&usg=AFQjCNHRtbr4ftk_4PyVzN3HuHPJV6LZow
Fri Mar 30 22:55:45 2012 from http://www.city.eusport.pl/11610/Optymalizacja-stron-WWW-to-strategia-reklamowa/artykul.html
Fri Mar 30 21:24:13 2012 from (empty referer)
Fri Mar 30 21:23:10 2012 from (empty referer)
Fri Mar 30 20:48:24 2012 from http://www.sputnikmusic.com/forums/member.php?u=696841
Fri Mar 30 18:13:56 2012 from http://nadine.helmholtz-eos.de/forum/user/profile/105893.page
Fri Mar 30 15:38:06 2012 from http://www.google.com.sa/url?sa=t&rct=j&q=http://tubidy.mobi/search.php%3Fa%3D18%26q%3Dxxx%2B%E2%80%8E&source=web&cd=3&ved=0CDoQFjAC&url=http%3A%2F%2Fcarl.cs.indiana.edu%2Ffil%2Fcgi-bin%2FWebSec%2Fmarilyn.cgi%3Fiframe%3Dtrue%26width%3D80%25%26height%3D80%25&ei=lAt2T_GWM6rl4QT-4PnVDg&usg=AFQjCNE7JD9xSrOi5_c4GAQObQquXyuwVQ
Fri Mar 30 15:21:40 2012 from http://www.google.com/m?q=carl%2ecs%2eindiana%2eedu%2ffil%2fcgi%2dbin%2fWebSec%2fmarilyn%2ecgi%3ftest%3d%31&client=ms-opera-mini&channel=new
Fri Mar 30 15:10:37 2012 from (empty referer)
Fri Mar 30 13:28:02 2012 from http://carl.cs.indiana.edu/fil/cgi-bin/WebSec/marilyn.cgi
Fri Mar 30 10:26:51 2012 from (empty referer)
Fri Mar 30 09:21:48 2012 from (empty referer)
Fri Mar 30 09:21:32 2012 from (empty referer)
Fri Mar 30 09:15:40 2012 from (empty referer)
Fri Mar 30 09:15:20 2012 from (empty referer)
Fri Mar 30 05:39:58 2012 from http://images.search.yahoo.com/images/view;_ylt=A0PDoYAIfnVPnSoAjLqJzbkF;_ylu=X3oDMTBlMTQ4cGxyBHNlYwNzcgRzbGsDaW1n?back=http%3A%2F%2Fimages.search.yahoo.com%2Fsearch%2Fimages%3Fp%3Dxxnx%26n%3D30%26ei%3Dutf-8%26y%3DSearch%26fr%3Dyfp-t-701-8%26tab%3Dorganic%26ri%3D0&w=800&h=1026&imgurl=3.bp.blogspot.com%2F-36A2zopj5bM%2FTcLST0T22GI%2FAAAAAAAAEqY%2FwA0_wnLt4-Y%2Fs1600%2Fxnxx-xxnx-9.jpg&rurl=http%3A%2F%2Fsiegelordseye.geekshavefeelings.com%2Fupyhbos%2Fxxnx-photo.html&size=187.4+KB&name=Xxnx+photo&p=xxnx&oid=b3e9d890ba23347e9fc9d4b786a5d7ed&fr2=&fr=yfp-t-701-8&tt=Xxnx%2Bphoto&b=0&ni=96&no=0&tab=organic&ts=&sigr=122590vm4&sigb=13a4vo5l8&sigi=12os6idgk&.crumb=GaQyHA4wvm0
Fri Mar 30 05:19:17 2012 from http://www.google.com/url?sa=t&rct=j&q=&esrc=s&source=web&cd=2&ved=0CCsQFjAB&url=http%3A%2F%2Fcarl.cs.indiana.edu%2Ffil%2Fcgi-bin%2FWebSec%2Fmarilyn.cgi&ei=LXp1T_avHo2Z8gPDnrm_Dw&usg=AFQjCNHRtbr4ftk_4PyVzN3HuHPJV6LZow&sig2=1YNEdGMA8vyiCeWEzgzqTQ
Fri Mar 30 05:18:24 2012 from http://www.google.com/url?sa=t&rct=j&q=&esrc=s&source=web&cd=2&ved=0CCsQFjAB&url=http%3A%2F%2Fcarl.cs.indiana.edu%2Ffil%2Fcgi-bin%2FWebSec%2Fmarilyn.cgi&ei=LXp1T_avHo2Z8gPDnrm_Dw&usg=AFQjCNHRtbr4ftk_4PyVzN3HuHPJV6LZow&sig2=1YNEdGMA8vyiCeWEzgzqTQ
Fri Mar 30 04:54:11 2012 from http://carl.cs.indiana.edu/fil/cgi-bin/WebSec/marilyn.cgi
Fri Mar 30 03:33:36 2012 from (empty referer)
Fri Mar 30 03:29:48 2012 from http://pereplut.eu/2012/03/16/korzystanie-z-promocji-w-internecie/
Fri Mar 30 03:27:45 2012 from (empty referer)
Fri Mar 30 02:53:08 2012 from http://www.google.com/search?hl=en&safe=active&sky=ee8&ei=EFR1T4_dFtKZhQf3hpGmDQ&q=http%22/tubidy.mobi/search.php%3Fa%3D18%26q%3Dhot&start=20&sa=N
Fri Mar 30 02:37:57 2012 from http://www.google.com/search?hl=en&safe=active&sky=ee8&ei=hlR1T4StD4bQhAettcSWDQ&q=http%22/tubidy.mobi/search.php%3Fa%3D18%26q%3Dhot&start=50&sa=N
Thu Mar 29 23:46:30 2012 from (empty referer)
Thu Mar 29 22:19:22 2012 from http://carl.cs.indiana.edu/fil/cgi-bin/WebSec/marilyn.cgi
Thu Mar 29 19:33:08 2012 from (empty referer)
Thu Mar 29 18:18:17 2012 from http://www.google.com/url?sa=t&rct=j&q=http%3A%2F%2Fwww.google.com%2Fsearch%3Fq%3Dhttp%253a%252f%252fwww.google.com%252fsearch%253fq%253dhttp%25253a%25252f%25252fmail.google.com%25252fmail%25252f%2526sourceid%253dopera%2526ie%253dutf-8%2526oe%253dutf-8%2526channel%253dsuggest%26sourceid%3Dopera%26ie%3Dutf-8%26oe%3Dutf-8%26channel%3Dsuggest&source=web&cd=1&ved=0CDAQFjAA&url=http%3A%2F%2Fcarl.cs.indiana.edu%2Ffil%2Fcgi-bin%2FWebSec%2Fmarilyn.cgi&ei=f990T8mRE-6I0QG436DYDQ&usg=AFQjCNHRtbr4ftk_4PyVzN3HuHPJV6LZow
Thu Mar 29 18:06:04 2012 from http://www.google.com/url?sa=t&rct=j&q=http%3A%2F%2Fwww.google.com%2Fsearch%3Fq%3Dhttp%253a%252f%252fwww.google.com%252fsearch%253fq%253dhttps%25253a%25252f%25252fwww.google.com.br%25252f%2526sourceid%253dopera%2526ie%253dutf-8%2526oe%253dutf-8%2526channel%253dsuggest%26sourceid%3Dopera%26ie%3Dutf-8%26oe%3Dutf-8%26channel%3Dsuggest&source=web&cd=1&ved=0CCMQFjAA&url=http%3A%2F%2Fcarl.cs.indiana.edu%2Ffil%2Fcgi-bin%2FWebSec%2Fmarilyn.cgi&ei=P9x0T4yJOI_K0AG1jIm3DQ&usg=AFQjCNHRtbr4ftk_4PyVzN3HuHPJV6LZow
Thu Mar 29 16:49:14 2012 from http://www.itsthebigspot.com
Thu Mar 29 16:40:45 2012 from http://siful.eu/2012/03/16/korzystanie-z-wyprzedazy-w-internecie/
Thu Mar 29 15:28:38 2012 from http://www.google.co.id/imgres?q=WWWFASHION+GOOGELCOM&hl=id&client=firefox-a&hs=7og&sa=X&rls=org.mozilla:id:official&biw=1024&bih=595&tbm=isch&prmd=imvns&tbnid=ynUan-_9FQYrEM:&imgrefurl=http://carl.cs.indiana.edu/fil/cgi-bin/WebSec/marilyn.cgi&docid=hMMAQwJMLA2rwM&itg=1&imgurl=http://carl.cs.indiana.edu/fil/WebSec/marilyn.jpg&w=500&h=333&ei=2bd0T87qLoX3rQfy0f3OCg&zoom=1&iact=hc&vpx=265&vpy=148&dur=1125&hovh=183&hovw=275&tx=123&ty=78&sig=116271406572236550451&page=1&tbnh=120&tbnw=167&start=0&ndsp=16&ved=1t:429,r:1,s:0
Thu Mar 29 14:36:36 2012 from http://yandex.com.tr/yandsearch?text=marilyn+monroe+sex&clid=1816696&tld=com.tr&lr=11508
Thu Mar 29 13:48:03 2012 from http://pereplut.eu/2012/03/16/korzystanie-z-promocji-w-internecie/
Thu Mar 29 12:54:44 2012 from (empty referer)
Thu Mar 29 10:33:38 2012 from (empty referer)
Thu Mar 29 10:31:43 2012 from (empty referer)
Thu Mar 29 10:12:10 2012 from http://nrmrwib.org/index.php/member/39550/
Thu Mar 29 10:00:50 2012 from (empty referer)
Thu Mar 29 09:34:38 2012 from http://images.search.yahoo.com/images/view;_ylt=A0PDoX5vZHRPS1oAvbWJzbkF;_ylu=X3oDMTBlMTQ4cGxyBHNlYwNzcgRzbGsDaW1n?back=http%3A%2F%2Fimages.search.yahoo.com%2Fsearch%2Fimages%3Fp%3Dxxnx%26fr%3Dyfp-t-742%26fr2%3Dxpl%26tab%3Dorganic%26ri%3D323&w=500&h=333&imgurl=carl.cs.indiana.edu%2Ffil%2FWebSec%2Fmarilyn.jpg&rurl=http%3A%2F%2Fcarl.cs.indiana.edu%2Ffil%2Fcgi-bin%2FWebSec%2Fmarilyn.cgi&size=53.1+KB&name=marilyn+monroe+sex+film&p=xxnx&oid=0797e86930e4ae2cf519e65cc361fc1c&fr2=xpl&fr=yfp-t-742&tt=marilyn%2Bmonroe%2Bsex%2Bfilm&b=301&ni=320&no=323&tab=organic&ts=&sigr=11pbdjgin&sigb=12rqt338o&sigi=11ag4dbb4&.crumb=15FEpEDtAsI
Thu Mar 29 09:19:52 2012 from (empty referer)
Thu Mar 29 09:19:38 2012 from (empty referer)
Thu Mar 29 09:16:39 2012 from (empty referer)
Thu Mar 29 09:16:10 2012 from http://www.google.com/url?sa=t&rct=j&q=http%3A%2F%2Fwww.google.com%2Fsearch%3Fq%3Dhttp%253a%252f%252fwww.google.com%252fsearch%253fq%253dhttp%25253a%25252f%25252fwww.google.com.pk%25252f%2526sourceid%253dopera%2526ie%253dutf-8%2526oe%253dutf-8%2526channel%253dsuggest%26sourceid%3Dopera%26ie%3Dutf-8%26oe%3Dutf-8%26channel%3Dsuggest&source=web&cd=1&ved=0CCIQFjAA&url=http%3A%2F%2Fcarl.cs.indiana.edu%2Ffil%2Fcgi-bin%2FWebSec%2Fmarilyn.cgi&ei=lWB0T_eSFoeDOr3JuEw&usg=AFQjCNHRtbr4ftk_4PyVzN3HuHPJV6LZow
Thu Mar 29 08:52:45 2012 from http://www.google.com/url?sa=t&rct=j&q=http%3A%2F%2Fwww.google.com%2Fsearch%3Fq%3Dhttp%253a%252f%252fwww.google.com%252fsearch%253fq%253dhttp%25253a%25252f%25252fwww.yahoomail.com%25252f%2526sourceid%253dopera%2526ie%253dutf-8%2526oe%253dutf-8%2526channel%253dsuggest%26sourceid%3Dopera%26ie%3Dutf-8%26oe%3Dutf-8%26channel%3Dsuggest&source=web&cd=1&ved=0CCIQFjAA&url=http%3A%2F%2Fcarl.cs.indiana.edu%2Ffil%2Fcgi-bin%2FWebSec%2Fmarilyn.cgi&ei=Elt0T5GaOOHF0QX33sT6Dw&usg=AFQjCNHRtbr4ftk_4PyVzN3HuHPJV6LZow
Thu Mar 29 08:05:03 2012 from (empty referer)
Thu Mar 29 07:45:47 2012 from http://www.clinicalgeriatrics.com/users/kajman11
Thu Mar 29 06:51:56 2012 from http://www.google.com/url?sa=t&rct=j&q=http%3A%2F%2Fwww.google.com%2Fsearch%3Fq%3Dhttp%253a%252f%252fwww.google.com%252fsearch%253fq%253dhttp%25253a%25252f%25252fwww.facebook.com%25252f%2526sourceid%253dopera%2526ie%253dutf-8%2526oe%253dutf-8%2526channel%253dsuggest%26sourceid%3Dopera%26ie%3Dutf-8%26oe%3Dutf-8%26channel%3Dsuggest&source=web&cd=1&ved=0CDAQFjAA&url=http%3A%2F%2Fcarl.cs.indiana.edu%2Ffil%2Fcgi-bin%2FWebSec%2Fmarilyn.cgi&ei=uT50T9HXI8TYsgbhsIzCDQ&usg=AFQjCNHRtbr4ftk_4PyVzN3HuHPJV6LZow
Thu Mar 29 06:25:01 2012 from (empty referer)
Thu Mar 29 05:18:14 2012 from http://www.searchplusnetwork.com/?sp=chv&q=facebook.com%2Fajax%2Fpagelet%2Fgeneric.php%2FPhotoViewerInitPagelet%3F__a
Thu Mar 29 04:46:51 2012 from http://www.google.com/url?sa=t&rct=j&q=&esrc=s&source=web&cd=2&ved=0CEIQFjAB&url=http%3A%2F%2Fcarl.cs.indiana.edu%2Ffil%2Fcgi-bin%2FWebSec%2Fmarilyn.cgi&ei=6SB0T8uSHInqrAe487zRDQ&usg=AFQjCNHRtbr4ftk_4PyVzN3HuHPJV6LZow&sig2=SCzfwdPia7dg_ZYxhj_0Ug
Thu Mar 29 04:16:27 2012 from http://assist.babylon.com/babylonassista/dnsassist/main?domain=mystart%20incredibar%20mb113%20
Thu Mar 29 02:17:03 2012 from (empty referer)
Thu Mar 29 00:40:42 2012 from http://www.google.com/url?sa=t&rct=j&q=http%3A%2F%2Fwww.google.com%2Fsearch%3Fq%3Dhttp%253a%252f%252fwww.google.com%252fsearch%253fq%253dhttp%25253a%25252f%25252fwww.facebook.com%25252f%2526sourceid%253dopera%2526ie%253dutf-8%2526oe%253dutf-8%2526channel%253dsuggest%26sourceid%3Dopera%26ie%3Dutf-8%26oe%3Dutf-8%26channel%3Dsuggest&source=web&cd=4&ved=0CDQQFjAD&url=http%3A%2F%2Fcarl.cs.indiana.edu%2Ffil%2Fcgi-bin%2FWebSec%2Fmarilyn.cgi&ei=CQAyT8iUOcvp8QOLyPSNBw&usg=AFQjCNHRtbr4ftk_4PyVzN3HuHPJV6LZow&kb=1
Thu Mar 29 00:07:35 2012 from http://www.bing.com/search?q=click%2520infospace&FORM=HPNTBG&PC=HPNTDF&QS=n
Wed Mar 28 21:06:34 2012 from http://www.clinicalgeriatrics.com/users/kajman11
Wed Mar 28 18:15:41 2012 from http://www.google.com/m?q=http://+tubidy.mobi/+search.php?a%3D18%26q%3Dsexe&hl=en&start=70&sa=N
Wed Mar 28 17:39:53 2012 from http://www.media-box.co.uk/forum/user/31238/
Wed Mar 28 16:52:35 2012 from http://www.google.com/xhtml?q=http%3a%2f%2fcarl%2ecs%2eindiana%2eedu%2ffil%2fcgi%2dbin%2fWebSec%2fmarilyn%2ecgi%3ftest%3d%31&client=ms-opera_mb_no&channel=bh
Wed Mar 28 16:08:35 2012 from http://www.sandiegozooglobal.org/member/154788/
Wed Mar 28 15:58:31 2012 from http://carl.cs.indiana.edu/fil/cgi-bin/WebSec/marilyn.cgi
Wed Mar 28 14:27:49 2012 from (empty referer)
Wed Mar 28 13:44:47 2012 from (empty referer)
Wed Mar 28 13:25:39 2012 from (empty referer)
Wed Mar 28 12:54:07 2012 from http://www.google.com/url?sa=t&rct=j&q=http%3A%2F%2Fhome.allgameshome.com%2Fresults.php%3Fcategory%3Dweb%26s%3Dsex%2Bclip%2Bvideo&source=web&cd=1&ved=0CCIQFjAA&url=http%3A%2F%2Fcarl.cs.indiana.edu%2Ffil%2Fcgi-bin%2FWebSec%2Fmarilyn.cgi&ei=dT1zT73aLsPyrQfEqJDkDQ&usg=AFQjCNHRtbr4ftk_4PyVzN3HuHPJV6LZow
Wed Mar 28 12:47:03 2012 from http://www.seurl.info/index.php?q=sexshop-dlakobiet.pl
Wed Mar 28 11:45:35 2012 from (empty referer)
Wed Mar 28 10:45:44 2012 from (empty referer)
Wed Mar 28 10:41:31 2012 from (empty referer)
Wed Mar 28 10:02:51 2012 from http://www.v4d-zimbabwe.com/wikizim/index.php?title=User:portfele
Wed Mar 28 09:51:13 2012 from http://www.bccanyoneers.com/wiki/index.php?title=User:portfele
Wed Mar 28 09:37:49 2012 from http://blognorthfork.eastendbuzz.com/index.php?title=User:portfele
Wed Mar 28 07:07:08 2012 from http://www.google.com/url?sa=t&rct=j&q=http%3A%2F%2Fwww.google.com%2Fsearch%3Fq%3Dhttp%253a%252f%252fwww.google.com%252fsearch%253fq%253dhttp%25253a%25252f%25252fwww.facebook.com%25252f%2526sourceid%253dopera%2526ie%253dutf-8%2526oe%253dutf-8%2526channel%253dsuggest%26sourceid%3Dopera%26ie%3Dutf-8%26oe%3Dutf-8%26channel%3Dsuggest&source=web&cd=1&ved=0CCsQFjAA&url=http%3A%2F%2Fcarl.cs.indiana.edu%2Ffil%2Fcgi-bin%2FWebSec%2Fmarilyn.cgi&ei=zPByT5n_CY_PrQfHppDHDQ&usg=AFQjCNHRtbr4ftk_4PyVzN3HuHPJV6LZow
Wed Mar 28 05:08:16 2012 from http://directory.jtob.com/search.html?q=sexshop-dlakobiet.pl
Wed Mar 28 04:43:12 2012 from (empty referer)
Wed Mar 28 04:42:55 2012 from (empty referer)
Wed Mar 28 04:36:49 2012 from (empty referer)
Wed Mar 28 04:36:26 2012 from (empty referer)
Wed Mar 28 04:03:56 2012 from http://www.google.com/url?sa=t&rct=j&q=http%3A%2F%2Fwww.google.com%2Fsearch%3Fq%3Dhttp%253a%252f%252fwww.google.com%252fsearch%253fq%253dhttp%25253a%25252f%25252fwww.google.com.pk%25252f%2526sourceid%253dopera%2526ie%253dutf-8%2526oe%253dutf-8%2526channel%253dsuggest%26sourceid%3Dopera%26ie%3Dutf-8%26oe%3Dutf-8%26channel%3Dsuggest&source=web&cd=1&ved=0CCIQFjAA&url=http%3A%2F%2Fcarl.cs.indiana.edu%2Ffil%2Fcgi-bin%2FWebSec%2Fmarilyn.cgi&ei=BlJvT-3bLeWu0QXw7K2NAg&usg=AFQjCNHRtbr4ftk_4PyVzN3HuHPJV6LZow
Wed Mar 28 02:46:47 2012 from (empty referer)
Wed Mar 28 02:27:19 2012 from http://www.google.com/url?sa=t&rct=j&q=http%3A%2F%2Fhome.allgameshome.com%2Fresults.php%3Fcategory%3Dweb%26s%3D&source=web&cd=2&ved=0CCgQFjAB&url=http%3A%2F%2Fcarl.cs.indiana.edu%2Ffil%2Fcgi-bin%2FWebSec%2Fmarilyn.cgi&ei=LK9yT8SJJ-qR0AXphtEX&usg=AFQjCNHRtbr4ftk_4PyVzN3HuHPJV6LZow
Wed Mar 28 01:09:05 2012 from http://www.google.com/url?sa=t&rct=j&q=http%3A%2F%2Fwww.google.com%2Fsearch%3Fq%3Dhttp%253a%252f%252fwww.google.com%252fsearch%253fq%253dhttp%25253a%25252f%25252fwww.facebook.com%25252f%2526sourceid%253dopera%2526ie%253dutf-8%2526oe%253dutf-8%2526channel%253dsuggest%26sourceid%3Dopera%26ie%3Dutf-8%26oe%3Dutf-8%26channel%3Dsuggest&source=web&cd=1&ved=0CCIQFjAA&url=http%3A%2F%2Fcarl.cs.indiana.edu%2Ffil%2Fcgi-bin%2FWebSec%2Fmarilyn.cgi&ei=hZxyT9_JFc_pOYjt7dEO&usg=AFQjCNHRtbr4ftk_4PyVzN3HuHPJV6LZow
Wed Mar 28 00:43:29 2012 from http://www.google.com/url?sa=t&rct=j&q=http%3A%2F%2Fclick.infospace.com%2Fclickhandler.ashx%3Fdu%3Dhttp%3A%2F%2Fwww.google.com%2F&source=web&cd=2&ved=0CDEQFjAB&url=http%3A%2F%2Fcarl.cs.indiana.edu%2Ffil%2Fcgi-bin%2FWebSec%2Fmarilyn.cgi&ei=zJZyT7aaKcHnrAf53qjCDQ&usg=AFQjCNHRtbr4ftk_4PyVzN3HuHPJV6LZow
Wed Mar 28 00:25:51 2012 from http://search.seznam.cz/svet?q=zabynip.com&sId=16sI5fFkwwHeEkiNTc8B
Wed Mar 28 00:07:33 2012 from http://www.google.co.in/url?sa=t&rct=j&q=click%20infospace%20clickhandler&source=web&cd=5&ved=0CEUQFjAE&url=http%3A%2F%2Fcarl.cs.indiana.edu%2Ffil%2Fcgi-bin%2FWebSec%2Fmarilyn.cgi&ei=ZI5yT-_FLtDMrQeh6YnIDQ&usg=AFQjCNHRtbr4ftk_4PyVzN3HuHPJV6LZow
Tue Mar 27 22:04:45 2012 from http://www.google.co.id/url?sa=t&rct=j&q=click%20infospace%20clickhandler&source=web&cd=7&ved=0CFwQFjAG&url=http%3A%2F%2Fcarl.cs.indiana.edu%2Ffil%2Fcgi-bin%2FWebSec%2Fmarilyn.cgi&ei=f3FyT4CpLoaimQWbxfW_Dw&usg=AFQjCNHRtbr4ftk_4PyVzN3HuHPJV6LZow
Tue Mar 27 21:45:52 2012 from http://www.google.com.ph/url?sa=t&rct=j&q=click%20infospace%20clickhandler&source=web&cd=5&ved=0CEIQFjAE&url=http%3A%2F%2Fcarl.cs.indiana.edu%2Ffil%2Fcgi-bin%2FWebSec%2Fmarilyn.cgi&ei=SW1yT5OWKvGRiQfg4MTkDw&usg=AFQjCNHRtbr4ftk_4PyVzN3HuHPJV6LZow
Tue Mar 27 21:15:30 2012 from http://search.bearshare.com/web?hl=tr&q=click+infospace&src=404&ref=1&page=9
Tue Mar 27 20:47:34 2012 from http://www.google.fr/url?sa=t&rct=j&q=click%20infospace%20clickhandler&source=web&cd=9&ved=0CHQQFjAI&url=http%3A%2F%2Fcarl.cs.indiana.edu%2Ffil%2Fcgi-bin%2FWebSec%2Fmarilyn.cgi&ei=1V5yT9CBOsSm0QXJoZH2Dw&usg=AFQjCNHRtbr4ftk_4PyVzN3HuHPJV6LZow
Tue Mar 27 20:26:04 2012 from http://www.google.com/url?sa=t&rct=j&q=http%3A%2F%2Fwww.google.com%2Fsearch%3Fq%3Dhttp%253a%252f%252fwww.google.com%252fsearch%253fq%253dhttp%25253a%25252f%25252fwww.facebook.com%25252f%2526sourceid%253dopera%2526ie%253dutf-8%2526oe%253dutf-8%2526channel%253dsuggest%26sourceid%3Dopera%26ie%3Dutf-8%26oe%3Dutf-8%26channel%3Dsuggest&source=web&cd=1&ved=0CCIQFjAA&url=http%3A%2F%2Fcarl.cs.indiana.edu%2Ffil%2Fcgi-bin%2FWebSec%2Fmarilyn.cgi&ei=jFpyT-m5Fo3RrQeih43ADQ&usg=AFQjCNHRtbr4ftk_4PyVzN3HuHPJV6LZow
Tue Mar 27 19:29:17 2012 from http://www.google.fr/url?sa=t&rct=j&q=click%20infospace%20clickhandler&source=web&cd=9&ved=0CHEQFjAI&url=http%3A%2F%2Fcarl.cs.indiana.edu%2Ffil%2Fcgi-bin%2FWebSec%2Fmarilyn.cgi&ei=LE1yT7NpgdLyA_Co7C0&usg=AFQjCNHRtbr4ftk_4PyVzN3HuHPJV6LZow
Tue Mar 27 18:49:25 2012 from http://kamienie.es/
Tue Mar 27 18:43:58 2012 from http://dildo.sex.pl/
Tue Mar 27 18:29:29 2012 from http://dildo.sex.pl/
Tue Mar 27 18:09:21 2012 from (empty referer)
Tue Mar 27 18:08:04 2012 from http://www.google.com/url?sa=t&rct=j&q=click%20infospace%20clickhandler&source=web&cd=6&ved=0CFIQFjAF&url=http%3A%2F%2Fcarl.cs.indiana.edu%2Ffil%2Fcgi-bin%2FWebSec%2Fmarilyn.cgi&ei=EDpyT7jiHuGi2gWFyt3iDg&usg=AFQjCNHRtbr4ftk_4PyVzN3HuHPJV6LZow
Tue Mar 27 17:22:25 2012 from http://www.google.com/url?sa=t&rct=j&q=http%3A%2F%2Fclick.infospace.com%2Fclickhandler.ashx%3Fdu%3Dtranslate.google.ae&source=web&cd=1&ved=0CCsQFjAA&url=http%3A%2F%2Fcarl.cs.indiana.edu%2Ffil%2Fcgi-bin%2FWebSec%2Fmarilyn.cgi&ei=iC9yT5i_NMat8gOqq4FA&usg=AFQjCNHRtbr4ftk_4PyVzN3HuHPJV6LZow
Tue Mar 27 16:55:43 2012 from http://www.hotele.producentprezerwatyw.pl/tansza-bizuteria-w-sklepach/
Tue Mar 27 16:05:56 2012 from http://www.google.com.br/url?sa=t&rct=j&q=click%20infospace%20clickhandler&source=web&cd=7&ved=0CGAQFjAG&url=http%3A%2F%2Fcarl.cs.indiana.edu%2Ffil%2Fcgi-bin%2FWebSec%2Fmarilyn.cgi&ei=gx1yT_SlJIn1ggfHvdxH&usg=AFQjCNHRtbr4ftk_4PyVzN3HuHPJV6LZow
Tue Mar 27 15:44:15 2012 from (empty referer)
Tue Mar 27 14:24:46 2012 from http://www.google.com/url?sa=t&rct=j&q=http%3A%2F%2Fwww.google.com%2Fsearch%3Fq%3Dhttp%253a%252f%252fwww.google.com%252fsearch%253fq%253dhttp%25253a%25252f%25252fwww.facebook.com%25252f%2526sourceid%253dopera%2526ie%253dutf-8%2526oe%253dutf-8%2526channel%253dsuggest%26sourceid%3Dopera%26ie%3Dutf-8%26oe%3Dutf-8%26channel%3Dsuggest&source=web&cd=1&ved=0CCMQFjAA&url=http%3A%2F%2Fcarl.cs.indiana.edu%2Ffil%2Fcgi-bin%2FWebSec%2Fmarilyn.cgi&ei=4AVyT9n9O8SM4gTH5t3HDw&usg=AFQjCNHRtbr4ftk_4PyVzN3HuHPJV6LZow
Tue Mar 27 12:49:27 2012 from http://www.ask.com/web?l=dis&o=14976&qsrc=2870&gct=dns&gc=1&q=click.infospace.com/ClickHandler.ashx?du=http://www.myplaycity.com/
Tue Mar 27 11:48:09 2012 from http://images.search.yahoo.com/images/view;_ylt=A0PDoS4M3nFPQhoAQN2JzbkF;_ylu=X3oDMTBlMTQ4cGxyBHNlYwNzcgRzbGsDaW1n?back=http%3A%2F%2Fimages.search.yahoo.com%2Fsearch%2Fimages%3Fp%3Dxxnx%26fr2%3Dxpl%26tab%3Dorganic%26ri%3D257&w=800&h=991&imgurl=3.bp.blogspot.com%2F_TepjJ9iDJ2Q%2FSxD-VJNw9OI%2FAAAAAAAANio%2FnAGcORNGr-E%2Fs1600%2Fkruthikharbandha102.jpg&rurl=http%3A%2F%2Fklub.co.in%2FWallpapers_search.asp%3Ft%3D6XM9EsIiaq197M%253A%26amp%3Bq%3Darmpit%2Bof%2Bneetu%2Bsingh%2Bxxnx%2Bcruel%2Blessons%2Bpussy%2Baqua%2Bcell%2Badult%2Bswim%2Bbelt%2Bcanadian%2Bconsensus%2Bon%2Bmenopause&size=156.9+KB&name=armpit+neetu+singh+xxnx+cruel+lessons+pussy+aqua+cell+adult+Download+...&p=xxnx&oid=c8af5c1c7f744f6364cf927ee645c14c&fr2=xpl&fr=&tt=armpit%2Bneetu%2Bsingh%2Bxxnx%2Bcruel%2Blessons%2Bpussy%2Baqua%2Bcell%2Badult%2BDownload%2B...&b=241&ni=128&no=257&tab=organic&ts=&sigr=15apb32dn&sigb=12ehblui2&sigi=130538uuc&.crumb=hXPrlYrs2cO
Tue Mar 27 10:14:11 2012 from http://yandex.ru/yandsearch?text=sex+marilin+monroe
Tue Mar 27 07:35:37 2012 from http://www.google.com/url?sa=t&rct=j&q=http%3A%2F%2Fwww.google.com%2Fsearch%3Fq%3Dhttp%253a%252f%252fwww.google.com%252fsearch%253fq%253dhttp%25253a%25252f%25252fwww.youtube.com%25252f%2526sourceid%253dopera%2526ie%253dutf-8%2526oe%253dutf-8%2526channel%253dsuggest%26sourceid%3Dopera%26ie%3Dutf-8%26oe%3Dutf-8%26channel%3Dsuggest&source=web&cd=1&ved=0CCIQFjAA&url=http%3A%2F%2Fcarl.cs.indiana.edu%2Ffil%2Fcgi-bin%2FWebSec%2Fmarilyn.cgi&ei=4aVxT_S3Ks-cOtDXoLoO&usg=AFQjCNHRtbr4ftk_4PyVzN3HuHPJV6LZow
Tue Mar 27 05:46:59 2012 from http://www.google.co.in/search?q=click+infospace+ClickHandler&channel=linkdoctor
Tue Mar 27 05:28:20 2012 from http://www.google.com.pk/url?sa=t&rct=j&q=click%20infospace%20clickhandler&source=web&cd=4&ved=0CDMQFjAD&url=http%3A%2F%2Fcarl.cs.indiana.edu%2Ffil%2Fcgi-bin%2FWebSec%2Fmarilyn.cgi&ei=K4hxT_XUA8jOrQe_zPnZDQ&usg=AFQjCNHRtbr4ftk_4PyVzN3HuHPJV6LZow
Tue Mar 27 05:19:52 2012 from http://assist.babylon.com/babylonassista/dnsassist/main?domain=mystart%20incredibar%20mb113%20
Tue Mar 27 05:04:15 2012 from (empty referer)
Tue Mar 27 03:31:10 2012 from http://www.google.com.au/xhtml?site=search&safe=high&client=ms-optus-au&hl=en&q=www.sex.film.
Tue Mar 27 03:21:01 2012 from http://www.ask.com/web?qsrc=2417&o=14088&l=dis&q=www.sex+film.com
Tue Mar 27 02:20:14 2012 from http://www.google.com/url?sa=t&rct=j&q=http%3A%2F%2Fwww.google.com%2Fsearch%3Fq%3Dhttp%253a%252f%252fwww.google.com%252fsearch%253fq%253dhttp%25253a%25252f%25252fwww.facebook.com%25252f%2526sourceid%253dopera%2526ie%253dutf-8%2526oe%253dutf-8%2526channel%253dsuggest%26sourceid%3Dopera%26ie%3Dutf-8%26oe%3Dutf-8%26channel%3Dsuggest&source=web&cd=1&ved=0CCIQFjAA&url=http%3A%2F%2Fcarl.cs.indiana.edu%2Ffil%2Fcgi-bin%2FWebSec%2Fmarilyn.cgi&ei=FFxxT9n2LcTRrQf_3u3fDQ&usg=AFQjCNHRtbr4ftk_4PyVzN3HuHPJV6LZow
Tue Mar 27 01:51:05 2012 from http://www.google.com.ly/url?sa=t&rct=j&q=click+infospace+ClickHandler&source=web&cd=9&ved=0CGAQFjAI&url=http%3A%2F%2Fcarl.cs.indiana.edu%2Ffil%2Fcgi-bin%2FWebSec%2Fmarilyn.cgi&ei=-1RxT-aSEOG_0QX_idTuDw&usg=AFQjCNHRtbr4ftk_4PyVzN3HuHPJV6LZow
Tue Mar 27 00:51:12 2012 from http://www.google.com/m?client=ms-nokia&cof=nsp&channel=s60&q=carl.cs.indiana.edu%2ffil%2fcgi-bin%2fWebSec%2fmarilyn.cgi
Tue Mar 27 00:46:49 2012 from http://www.google.com/url?sa=t&rct=j&q=&esrc=s&source=web&cd=1&ved=0CCIQFjAA&url=http%3A%2F%2Fcarl.cs.indiana.edu%2Ffil%2Fcgi-bin%2FWebSec%2Fmarilyn.cgi&ei=KEZxT77iF6HX0QXmmJwZ&usg=AFQjCNHRtbr4ftk_4PyVzN3HuHPJV6LZow&sig2=XIjNqvlw6DYYDKqlBZOzvw
Mon Mar 26 23:23:45 2012 from http://assist.babylon.com/babylonassista/dnsassist/main?domain=mystart%20incredibar%20mb113%20
Mon Mar 26 19:05:16 2012 from http://yandex.ru/yandsearch?text=sex+marilin+monroe
Mon Mar 26 18:52:07 2012 from http://www.plecaki.de/
Mon Mar 26 17:56:52 2012 from http://carl.cs.indiana.edu/fil/cgi-bin/WebSec/marilyn.cgi
Mon Mar 26 17:17:52 2012 from (empty referer)
Mon Mar 26 16:46:48 2012 from http://www.google.com/url?sa=t&rct=j&q=http%3A%2F%2Fwww.google.com%2Fsearch%3Fq%3Dhttp%253a%252f%252fwww.google.com%252fsearch%253fq%253dhttp%25253a%25252f%25252fwww.google.pl%25252f%2526sourceid%253dopera%2526ie%253dutf-8%2526oe%253dutf-8%2526channel%253dsuggest%26sourceid%3Dopera%26ie%3Dutf-8%26oe%3Dutf-8%26channel%3Dsuggest&source=web&cd=1&ved=0CCYQFjAA&url=http%3A%2F%2Fcarl.cs.indiana.edu%2Ffil%2Fcgi-bin%2FWebSec%2Fmarilyn.cgi&ei=QdVwT_SYIMfCswbu2ay-Ag&usg=AFQjCNHRtbr4ftk_4PyVzN3HuHPJV6LZow
Mon Mar 26 15:24:06 2012 from http://www.google.com/url?sa=t&rct=j&q=http%3A%2F%2Fwww.google.com%2Fsearch%3Fq%3Dhttp%253a%252f%252fwww.google.com%252fsearch%253fq%253dhttp%25253a%25252f%25252fwww.www.yahoo.com%25252f%2526sourceid%253dopera%2526ie%253dutf-8%2526oe%253dutf-8%2526channel%253dsuggest%26sourceid%3Dopera%26ie%3Dutf-8%26oe%3Dutf-8%26channel%3Dsuggest&source=web&cd=1&ved=0CCIQFjAA&url=http%3A%2F%2Fcarl.cs.indiana.edu%2Ffil%2Fcgi-bin%2FWebSec%2Fmarilyn.cgi&ei=KcJwT5_sMOuO4gSJp9W_Ag&usg=AFQjCNHRtbr4ftk_4PyVzN3HuHPJV6LZow
Mon Mar 26 14:41:13 2012 from (empty referer)
Mon Mar 26 14:18:47 2012 from (empty referer)
Mon Mar 26 14:08:58 2012 from http://us.yhs.search.yahoo.com/if?p=Www.ask.com%2Fweb%3Fq%3Dnokia%26search%3D%26qsrc%3D0%26o%3Dapn10280%26l%3Ddis%26apn_dbr%3D&partnerid=yhs-if-vendio&fr=yhs-if-vendio
Mon Mar 26 14:04:43 2012 from (empty referer)
Mon Mar 26 13:59:41 2012 from (empty referer)
Mon Mar 26 13:57:50 2012 from http://www.search-results.com/web?qsrc=2417&o=14896&l=dis&atb=sysid%3D1%3Aappid%3D222%3Auid%3D751363d254e996e4%3Auc%3D1330045775%3Ab%3DiMesh%3Asrc%3Dhmp%3Ao%3D14896%3Aq%3Dhttp%253A%252F%252Fwww.brazzersnetwork.com%252Fmembers&q=http%3A%2F%2Fwww.brazzersnetwork.com
Mon Mar 26 13:17:18 2012 from http://www.google.co.in/url?sa=t&rct=j&q=click%20infospace%20clickhandler&source=web&cd=5&ved=0CEUQFjAE&url=http%3A%2F%2Fcarl.cs.indiana.edu%2Ffil%2Fcgi-bin%2FWebSec%2Fmarilyn.cgi&ei=kqRwT_emDNDLrQffztS2Dg&usg=AFQjCNHRtbr4ftk_4PyVzN3HuHPJV6LZow
Mon Mar 26 12:55:38 2012 from (empty referer)
Mon Mar 26 12:34:27 2012 from http://www.google.com/search?client=opera&rls=en&q=http%3A%2F%2Fwww.google.com%2Fsearch%3Fq%3Dhttp%253A%252F%252Fwww.google.com%252Fsearch%253Fq%253Dhttp%25253A%25252F%25252Fwww.gmail.com%25252F%2526sourceid%253Dopera%2526ie%253Dutf-8%2526oe%253Dutf-8%2526channel%253Dsuggest%26sourceid%3Dopera%26ie%3Dutf-8%26oe%3Dutf-8%26channel%3Dsuggest&sourceid=opera&ie=utf-8&oe=utf-8&channel=suggest
Mon Mar 26 12:17:39 2012 from http://www.google.com/url?sa=t&rct=j&q=http%3A%2F%2Fwww.google.com%2Fsearch%3Fq%3Dhttp%253A%252F%252Fwww.google.com%252Fsearch%253Fq%253Dhttp%25253A%25252F%25252Fwww.facebook.com%25252F%2526sourceid%253Dopera%2526ie%253Dutf-8%2526oe%253Dutf-8%2526channel%253Dsuggest%26sourceid%3Dopera%26ie%3Dutf-8%26oe%3Dutf-8%26channel%3Dsuggest&source=web&cd=1&ved=0CCIQFjAA&url=http%3A%2F%2Fcarl.cs.indiana.edu%2Ffil%2Fcgi-bin%2FWebSec%2Fmarilyn.cgi&ei=gZZwT5zbKM7jrAfGkLigDg&usg=AFQjCNHRtbr4ftk_4PyVzN3HuHPJV6LZow
Mon Mar 26 12:01:59 2012 from http://www.google.com/search?client=opera&rls=en&q=http%3A%2F%2Fwww.google.com%2Fsearch%3Fq%3Dhttp%253A%252F%252Fwww.google.com%252Fsearch%253Fq%253Dhttp%25253A%25252F%25252Fwww.facebook.com%25252F%2526sourceid%253Dopera%2526ie%253Dutf-8%2526oe%253Dutf-8%2526channel%253Dsuggest%26sourceid%3Dopera%26ie%3Dutf-8%26oe%3Dutf-8%26channel%3Dsuggest&sourceid=opera&ie=utf-8&oe=utf-8&channel=suggest&safe=active
Mon Mar 26 12:01:50 2012 from (empty referer)
Mon Mar 26 12:00:22 2012 from http://www.google.com/m?client=ms-nokia&cof=nsp&channel=s60&q=carl.cs.indiana.edu%2ffil%2fcgi-bin%2fWebSec%2fmarilyn.cgi
Mon Mar 26 11:23:46 2012 from http://www.ksiegowosckielce.eu
Mon Mar 26 10:56:02 2012 from http://www.ask.com/web?l=dis&o=101796&qsrc=2870&gct=dns&gc=1&q=home.allgameshome.com/results.php?category=web
Mon Mar 26 08:30:20 2012 from http://www.google.com/url?sa=t&rct=j&q=http%3A%2F%2Fwww.google.com%2Fsearch%3Fq%3Dhttp%253A%252F%252Fwww.google.com%252Fsearch%253Fq%253Dhttp%25253A%25252F%25252Ffacebook.com%25252F%2526sourceid%253Dopera%2526ie%253Dutf-8%2526oe%253Dutf-8%2526channel%253Dsuggest%26sourceid%3Dopera%26ie%3Dutf-8%26oe%3Dutf-8%26channel%3Dsuggest&source=web&cd=1&ved=0CCIQFjAA&url=http%3A%2F%2Fcarl.cs.indiana.edu%2Ffil%2Fcgi-bin%2FWebSec%2Fmarilyn.cgi&ei=NGBwT_OjOcOGrAf49KGgDg&usg=AFQjCNHRtbr4ftk_4PyVzN3HuHPJV6LZow
Mon Mar 26 07:47:30 2012 from http://www.google.com/url?sa=t&rct=j&q=http%3A%2F%2Fwww.google.com%2Fsearch%3Fq%3Dhttp%253a%252f%252fwww.google.com%252fsearch%253fq%253dhttp%25253a%25252f%25252fwww.yahoo.com%25252f%2526sourceid%253dopera%2526ie%253dutf-8%2526oe%253dutf-8%2526channel%253dsuggest%26sourceid%3Dopera%26ie%3Dutf-8%26oe%3Dutf-8%26channel%3Dsuggest&source=web&cd=1&ved=0CCIQFjAA&url=http%3A%2F%2Fcarl.cs.indiana.edu%2Ffil%2Fcgi-bin%2FWebSec%2Fmarilyn.cgi&ei=XutuT_P1IuuiiAfq0uGCBg&usg=AFQjCNHRtbr4ftk_4PyVzN3HuHPJV6LZow
Mon Mar 26 07:47:27 2012 from http://www.google.com/url?sa=t&rct=j&q=http%3A%2F%2Fwww.google.com%2Fsearch%3Fq%3Dhttp%253a%252f%252fwww.google.com%252fsearch%253fq%253dhttp%25253a%25252f%25252fwww.yahoo.com%25252f%2526sourceid%253dopera%2526ie%253dutf-8%2526oe%253dutf-8%2526channel%253dsuggest%26sourceid%3Dopera%26ie%3Dutf-8%26oe%3Dutf-8%26channel%3Dsuggest&source=web&cd=1&ved=0CCIQFjAA&url=http%3A%2F%2Fcarl.cs.indiana.edu%2Ffil%2Fcgi-bin%2FWebSec%2Fmarilyn.cgi&ei=XutuT_P1IuuiiAfq0uGCBg&usg=AFQjCNHRtbr4ftk_4PyVzN3HuHPJV6LZow
Mon Mar 26 07:47:11 2012 from http://www.ecogame.pl
Mon Mar 26 07:19:09 2012 from http://www.google.com/search?client=opera&rls=en&q=http%3A%2F%2Fwww.google.com%2Fsearch%3Fq%3Dhttp%253A%252F%252Fwww.google.com%252Fsearch%253Fq%253Dhttp%25253A%25252F%25252Fwww.sex%25252F%2526sourceid%253Dopera%2526ie%253Dutf-8%2526oe%253Dutf-8%2526channel%253Dsuggest%26sourceid%3Dopera%26ie%3Dutf-8%26oe%3Dutf-8%26channel%3Dsuggest&sourceid=opera&ie=utf-8&oe=utf-8&channel=suggest
Mon Mar 26 05:37:34 2012 from http://home.allgameshome.com/results.php?category=web&s=http://click.infospace.com/ClickHandler.ashx?du=http%3a%2f%2fedmodo.com.websiterecord.com%2f&ru=http%3a%2f%2fedmodo.com.websiterecord.com%2f&ld=20120326&ap=1&app=1&c=imesh.meta.4&s=imeshmeta4&coi=239137&cop=main-title&euip=110.137.1.175&npp=1&p=0&pp=0&pvaid=e5c371ded2044b2199521531042056cc&ep=1&mid=9&hash=77EAF990F54D44BDFB01AF07560BAD9
Mon Mar 26 04:51:26 2012 from http://yandex.ru/yandsearch?text=sex+marilin+monroe
Mon Mar 26 04:20:27 2012 from http://www.google.com/url?sa=t&rct=j&q=http%3A%2F%2Fwww.google.com%2Fsearch%3Fq%3Dhttp%253a%252f%252fwww.google.com%252fsearch%253fq%253dgoogle%2526sourceid%253dopera%2526ie%253dutf-8%2526oe%253dutf-8%2526channel%253dsuggest%26sourceid%3Dopera%26ie%3Dutf-8%26oe%3Dutf-8%26channel%3Dsuggest&source=web&cd=1&ved=0CCYQFjAA&url=http%3A%2F%2Fcarl.cs.indiana.edu%2Ffil%2Fcgi-bin%2FWebSec%2Fmarilyn.cgi&ei=vSZwT7rfJYik4gSF5aC_Ag&usg=AFQjCNHRtbr4ftk_4PyVzN3HuHPJV6LZow
Mon Mar 26 03:39:31 2012 from (empty referer)
Mon Mar 26 03:31:36 2012 from http://carl.cs.indiana.edu/fil/cgi-bin/WebSec/marilyn.cgi
Mon Mar 26 03:01:42 2012 from http://www.google.co.uk/m?q=www.+www.+Http%253A%252F%252Ftubidy.mobi%252Fsearch.php%253Fa%253D18%2526q%253Dsex&client=ms-opera-mini&channel=new&q=www.+www.+Http%253A%252F%252Ftubidy.mobi%252Fsearch.php%253Fa%253D18%2526q%253Dsex&client=ms-opera-mini&channel=new
Mon Mar 26 02:45:31 2012 from http://www.google.co.in/url?sa=t&rct=j&q=click%20infospace%20clickhandler&source=web&cd=4&ved=0CDYQFjAD&url=http%3A%2F%2Fcarl.cs.indiana.edu%2Ffil%2Fcgi-bin%2FWebSec%2Fmarilyn.cgi&ei=gxBwT8yjHYbjrAfyteGhDg&usg=AFQjCNHRtbr4ftk_4PyVzN3HuHPJV6LZow
Mon Mar 26 01:27:16 2012 from http://seomarketingservicesonline.com/link_building_prices.php
Mon Mar 26 01:15:49 2012 from (empty referer)
Mon Mar 26 01:13:23 2012 from http://www.google.com/m?q=3Dms-opera-mini%2526q%25&client=ms-opera-mini&channel=new
Mon Mar 26 00:56:48 2012 from http://carl.cs.indiana.edu/fil/cgi-bin/WebSec/marilyn.cgi
Mon Mar 26 00:08:28 2012 from (empty referer)
Sun Mar 25 23:37:03 2012 from (empty referer)
Sun Mar 25 20:55:01 2012 from (empty referer)
Sun Mar 25 20:51:32 2012 from (empty referer)
Sun Mar 25 18:00:10 2012 from http://www.google.com/url?sa=t&rct=j&q=click%20infospace%20clickhandler&source=web&cd=5&ved=0CEMQFjAE&url=http%3A%2F%2Fcarl.cs.indiana.edu%2Ffil%2Fcgi-bin%2FWebSec%2Fmarilyn.cgi&ei=YpVvT5jfN4HYtAaggenOAg&usg=AFQjCNHRtbr4ftk_4PyVzN3HuHPJV6LZow
Sun Mar 25 17:34:59 2012 from http://www.squidoo.com/best-rated-electric-toothbrush
Sun Mar 25 15:23:27 2012 from (empty referer)
Sun Mar 25 13:54:37 2012 from (empty referer)
Sun Mar 25 13:40:11 2012 from http://www.google.com/url?sa=t&rct=j&q=http%3A%2F%2Fwww.google.com%2Fsearch%3Fq%3Dhttp%253a%252f%252fwww.google.com%252fsearch%253fq%253dhttp%25253a%25252f%25252ffacebook.com%25252f%2526sourceid%253dopera%2526ie%253dutf-8%2526oe%253dutf-8%2526channel%253dsuggest%26sourceid%3Dopera%26ie%3Dutf-8%26oe%3Dutf-8%26channel%3Dsuggest&source=web&cd=1&ved=0CCIQFjAA&url=http%3A%2F%2Fcarl.cs.indiana.edu%2Ffil%2Fcgi-bin%2FWebSec%2Fmarilyn.cgi&ei=cFhvT--ADuTS0QXG3vWNAg&usg=AFQjCNHRtbr4ftk_4PyVzN3HuHPJV6LZow
Sun Mar 25 12:57:40 2012 from http://carl.cs.indiana.edu/fil/cgi-bin/WebSec/marilyn.cgi
Sun Mar 25 12:57:39 2012 from http://www.google.com/url?sa=t&rct=j&q=click%20infospace%20clickhandler&source=web&cd=5&ved=0CEoQFjAE&url=http%3A%2F%2Fcarl.cs.indiana.edu%2Ffil%2Fcgi-bin%2FWebSec%2Fmarilyn.cgi&ei=bk5vT4bgJ4vQsgbaj43MAg&usg=AFQjCNHRtbr4ftk_4PyVzN3HuHPJV6LZow
Sun Mar 25 12:48:21 2012 from http://www.google.com/url?sa=t&rct=j&q=click%20infospace%20clickhandler&source=web&cd=5&ved=0CEMQFjAE&url=http%3A%2F%2Fcarl.cs.indiana.edu%2Ffil%2Fcgi-bin%2FWebSec%2Fmarilyn.cgi&ei=SExvT8-sAY7V4QSC_-C_Ag&usg=AFQjCNHRtbr4ftk_4PyVzN3HuHPJV6LZow
Sun Mar 25 11:38:56 2012 from http://www.google.com/url?sa=t&rct=j&q=http%3A%2F%2Fclick.infospace.com%2Fclickhandler.ashx%3Fdu%3Dhttp%3A%2F%2Fwww.brazzersnetwork.com%2F&source=web&cd=3&ved=0CC4QFjAC&url=http%3A%2F%2Fcarl.cs.indiana.edu%2Ffil%2Fcgi-bin%2FWebSec%2Fmarilyn.cgi&ei=DDxvT6a5OousrAfhiKGgDg&usg=AFQjCNHRtbr4ftk_4PyVzN3HuHPJV6LZow
Sun Mar 25 11:16:13 2012 from http://www.google.com.hk/url?sa=t&rct=j&q=click+infospace+ClickHandler&source=web&cd=5&ved=0CEsQFjAE&url=http%3A%2F%2Fcarl.cs.indiana.edu%2Ffil%2Fcgi-bin%2FWebSec%2Fmarilyn.cgi&ei=qDZvT7LyGuGjiAeh1IzcBQ&usg=AFQjCNHRtbr4ftk_4PyVzN3HuHPJV6LZow
Sun Mar 25 11:05:48 2012 from (empty referer)
Sun Mar 25 10:52:49 2012 from http://seomarketingservicesonline.com/link_building_prices.php
Sun Mar 25 10:41:13 2012 from http://www.google.com/url?sa=t&rct=j&q=http%3A%2F%2Fwww.google.com%2Fsearch%3Fq%3Dhttp%253a%252f%252fwww.google.com%252fsearch%253fq%253dhttps%25253a%25252f%25252fwww.dateinasia.com%25252f%2526sourceid%253dopera%2526ie%253dutf-8%2526oe%253dutf-8%2526channel%253dsuggest%26sourceid%3Dopera%26ie%3Dutf-8%26oe%3Dutf-8%26channel%3Dsuggest&source=web&cd=1&ved=0CC8QFjAA&url=http%3A%2F%2Fcarl.cs.indiana.edu%2Ffil%2Fcgi-bin%2FWebSec%2Fmarilyn.cgi&ei=Vy5vT9q3NOewiQLDhKmbBQ&usg=AFQjCNHRtbr4ftk_4PyVzN3HuHPJV6LZow
Sun Mar 25 10:15:28 2012 from http://www.google.com/search?client=opera&rls=en&q=http%3A%2F%2Fwww.google.com%2Fsearch%3Fq%3Dhttp%253A%252F%252Fwww.google.com%252Fsearch%253Fq%253Dhttp%25253A%25252F%25252Fwww.facebook.com%25252F%2526sourceid%253Dopera%2526ie%253Dutf-8%2526oe%253Dutf-8%2526channel%253Dsuggest%26sourceid%3Dopera%26ie%3Dutf-8%26oe%3Dutf-8%26channel%3Dsuggest&sourceid=opera&ie=utf-8&oe=utf-8&channel=suggest
Sun Mar 25 09:22:03 2012 from (empty referer)
Sun Mar 25 08:34:17 2012 from http://www.google.com/url?sa=t&rct=j&q=http%3A%2F%2Fwww.google.com%2Fsearch%3Fq%3Dhttp%253a%252f%252fwww.google.com.ph%252fsearch%253fq%253dsex%252bvideo%2526sourceid%253dopera%2526ie%253dutf-8%2526oe%253dutf-8%2526channel%253dsuggest%26sourceid%3Dopera%26ie%3Dutf-8%26oe%3Dutf-8%26channel%3Dsuggest&source=web&cd=1&ved=0CCIQFjAA&url=http%3A%2F%2Fcarl.cs.indiana.edu%2Ffil%2Fcgi-bin%2FWebSec%2Fmarilyn.cgi&ei=uhBvT__jOKK3iQf-98HZBQ&usg=AFQjCNHRtbr4ftk_4PyVzN3HuHPJV6LZow
Sun Mar 25 08:17:35 2012 from (empty referer)
Sun Mar 25 07:52:11 2012 from (empty referer)
Sun Mar 25 07:44:52 2012 from http://www.google.com/url?sa=t&rct=j&q=http%3A%2F%2Fwww.google.com%2Fsearch%3Fq%3Dhttp%253a%252f%252fwww.google.com%252fsearch%253fq%253df%2526sourceid%253dopera%2526ie%253dutf-8%2526oe%253dutf-8%2526channel%253dsuggest%26sourceid%3Dopera%26ie%3Dutf-8%26oe%3Dutf-8%26channel%3Dsuggest&source=web&cd=1&ved=0CCIQFjAA&url=http%3A%2F%2Fcarl.cs.indiana.edu%2Ffil%2Fcgi-bin%2FWebSec%2Fmarilyn.cgi&ei=KgVvT-HGLqOf0QXUmOmMAg&usg=AFQjCNHRtbr4ftk_4PyVzN3HuHPJV6LZow
Sun Mar 25 07:38:03 2012 from (empty referer)
Sun Mar 25 06:38:24 2012 from (empty referer)
Sun Mar 25 06:26:30 2012 from http://www.google.co.uk/url?sa=t&rct=j&q=click%20infospace%20clickhandler&source=web&cd=5&ved=0CEUQFjAE&url=http%3A%2F%2Fcarl.cs.indiana.edu%2Ffil%2Fcgi-bin%2FWebSec%2Fmarilyn.cgi&ei=xvJuT-a-FImN0AX_lLGOAg&usg=AFQjCNHRtbr4ftk_4PyVzN3HuHPJV6LZow
Sun Mar 25 06:24:03 2012 from http://www.google.com/url?sa=t&rct=j&q=http%3A%2F%2Fwww.google.com%2Fsearch%3Fq%3Dhttp%253A%252F%252Fwww.google.com%252Fsearch%253Fq%253Dgoogle%2526sourceid%253Dopera%2526ie%253Dutf-8%2526oe%253Dutf-8%2526channel%253Dsuggest%26sourceid%3Dopera%26ie%3Dutf-8%26oe%3Dutf-8%26channel%3Dsuggest&source=web&cd=1&ved=0CCMQFjAA&url=http%3A%2F%2Fcarl.cs.indiana.edu%2Ffil%2Fcgi-bin%2FWebSec%2Fmarilyn.cgi&ei=HPBuT5-EJ8XV0QWioP2NAg&usg=AFQjCNHRtbr4ftk_4PyVzN3HuHPJV6LZow
Sun Mar 25 05:59:13 2012 from (empty referer)
Sun Mar 25 05:26:23 2012 from http://www.google.com/url?sa=t&rct=j&q=http%3A%2F%2Fwww.google.ge%2Fsearch%3Fq%3Dmyi%2Bvideo%26sourceid%3Dopera%26ie%3Dutf-8%26oe%3Dutf-8%26channel%3Dsuggest&source=web&cd=1&ved=0CCIQFjAA&url=http%3A%2F%2Fcarl.cs.indiana.edu%2Ffil%2Fcgi-bin%2FWebSec%2Fmarilyn.cgi&ei=ueRuT_KbAcXWtAb8sPWjAg&usg=AFQjCNHRtbr4ftk_4PyVzN3HuHPJV6LZow
Sun Mar 25 04:55:23 2012 from (empty referer)
Sun Mar 25 03:35:19 2012 from http://www.searchplusnetwork.com/?sp=chv&q=facebook.com%2Fajax%2Fpagelet%2Fgeneric.php%2FPhotoViewerInitPagelet%3F__a
Sun Mar 25 02:37:49 2012 from http://www.google.com/url?sa=t&rct=j&q=http%3A%2F%2Fwww.google.com%2Fsearch%3Fq%3Dhttp%253a%252f%252fwww.google.com%252fsearch%253fq%253dhttp%25253a%25252f%25252fgoogle.com%25252f%2526sourceid%253dopera%2526ie%253dutf-8%2526oe%253dutf-8%2526channel%253dsuggest%26sourceid%3Dopera%26ie%3Dutf-8%26oe%3Dutf-8%26channel%3Dsuggest&source=web&cd=1&ved=0CCIQFjAA&url=http%3A%2F%2Fcarl.cs.indiana.edu%2Ffil%2Fcgi-bin%2FWebSec%2Fmarilyn.cgi&ei=47huT9CzAYWq0QXx8bGNAg&usg=AFQjCNHRtbr4ftk_4PyVzN3HuHPJV6LZow
Sun Mar 25 00:32:29 2012 from (empty referer)
Sun Mar 25 00:10:55 2012 from (empty referer)
Sat Mar 24 21:46:05 2012 from (empty referer)
Sat Mar 24 20:25:43 2012 from (empty referer)
Sat Mar 24 19:03:35 2012 from http://www.google.com/url?sa=t&rct=j&q=click%20infospace%20clickhandler&source=web&cd=5&ved=0CEQQFjAE&url=http%3A%2F%2Fcarl.cs.indiana.edu%2Ffil%2Fcgi-bin%2FWebSec%2Fmarilyn.cgi&ei=qVJuT8SJEaP42QXi9PnxAQ&usg=AFQjCNHRtbr4ftk_4PyVzN3HuHPJV6LZow
Sat Mar 24 15:56:16 2012 from http://www.bazardekoracji.pl/pol_m_MULINY-686.html
Sat Mar 24 14:42:20 2012 from (empty referer)
Sat Mar 24 14:30:35 2012 from http://carl.cs.indiana.edu/fil/cgi-bin/WebSec/marilyn.cgi
Sat Mar 24 14:24:12 2012 from http://www.google.com/search?q=click+infospace+ClickHandler&channel=linkdoctor
Sat Mar 24 13:57:27 2012 from (empty referer)
Sat Mar 24 13:22:51 2012 from (empty referer)
Sat Mar 24 13:00:07 2012 from http://www.google.com.bd/url?sa=t&rct=j&q=click%20infospace%20clickhandler&source=web&cd=5&ved=0CD8QFjAE&url=http%3A%2F%2Fcarl.cs.indiana.edu%2Ffil%2Fcgi-bin%2FWebSec%2Fmarilyn.cgi&ei=gP1tT7HTBoqQiQexmvyqDQ&usg=AFQjCNHRtbr4ftk_4PyVzN3HuHPJV6LZow&cad=rjt
Sat Mar 24 12:16:46 2012 from (empty referer)
Sat Mar 24 11:57:01 2012 from (empty referer)
Sat Mar 24 11:53:51 2012 from http://www.google.com/xhtml?q=http%3a%2f%2fwww%2egoogle%2ecom%2fxhtml%3fq%3dwww%2e%26client%3dms%2dopera_mb_no%26channel%3dbh&client=ms-opera_mb_no&channel=bh
Sat Mar 24 10:57:20 2012 from (empty referer)
Sat Mar 24 10:56:37 2012 from (empty referer)
Sat Mar 24 10:56:23 2012 from (empty referer)
Sat Mar 24 10:54:09 2012 from http://www.google.com/m?q=www%2egoogle%2ecom%2fm%3fq%3dhttp%3a%2f%2fm%2eadult%2ecom%20%20%26client%3dms%2dopera%2dmini%26channel%3dnew&client=ms-opera-mini&channel=new
Sat Mar 24 10:22:27 2012 from http://www.google.com.sa/url?sa=t&rct=j&q=httb+%2F%2Ftubidy.mobisearch..php%3Fa%3D188q%3D&source=web&cd=1&ved=0CC0QFjAA&url=http%3A%2F%2Fcarl.cs.indiana.edu%2Ffil%2Fcgi-bin%2FWebSec%2Fmarilyn.cgi&ei=d9htT7FNz-o53OeV8QU&usg=AFQjCNHRtbr4ftk_4PyVzN3HuHPJV6LZow
Sat Mar 24 10:21:49 2012 from http://www.google.com.sa/url?sa=t&rct=j&q=httb+%2F%2Ftubidy.mobisearch..php%3Fa%3D188q%3D&source=web&cd=1&ved=0CC0QFjAA&url=http%3A%2F%2Fcarl.cs.indiana.edu%2Ffil%2Fcgi-bin%2FWebSec%2Fmarilyn.cgi&ei=d9htT7FNz-o53OeV8QU&usg=AFQjCNHRtbr4ftk_4PyVzN3HuHPJV6LZow
Sat Mar 24 08:01:56 2012 from http://www.google.co.in/imgres?q=home+allgameshome+results&um=1&hl=en&sa=N&biw=1024&bih=673&tbm=isch&prmd=imvns&tbnid=ynUan-_9FQYrEM:&imgrefurl=http://carl.cs.indiana.edu/fil/cgi-bin/WebSec/marilyn.cgi&docid=hMMAQwJMLA2rwM&imgurl=http://carl.cs.indiana.edu/fil/WebSec/marilyn.jpg&w=500&h=333&ei=CLZtT8z0O5CGrAfo_vmfDg&zoom=1&iact=hc&vpx=708&vpy=255&dur=688&hovh=183&hovw=275&tx=149&ty=93&sig=117804250703878538971&page=5&tbnh=148&tbnw=197&start=64&ndsp=16&ved=1t:429,r:3,s:64
Sat Mar 24 08:01:42 2012 from http://www.google.co.in/imgres?q=home+allgameshome+results&um=1&hl=en&sa=N&biw=1024&bih=673&tbm=isch&prmd=imvns&tbnid=ynUan-_9FQYrEM:&imgrefurl=http://carl.cs.indiana.edu/fil/cgi-bin/WebSec/marilyn.cgi&docid=hMMAQwJMLA2rwM&imgurl=http://carl.cs.indiana.edu/fil/WebSec/marilyn.jpg&w=500&h=333&ei=CLZtT8z0O5CGrAfo_vmfDg&zoom=1&iact=hc&vpx=708&vpy=255&dur=688&hovh=183&hovw=275&tx=149&ty=93&sig=117804250703878538971&page=5&tbnh=148&tbnw=197&start=64&ndsp=16&ved=1t:429,r:3,s:64
Sat Mar 24 07:55:41 2012 from http://www.google.co.in/imgres?q=home+allgameshome+results&um=1&hl=en&sa=N&biw=1024&bih=673&tbm=isch&prmd=imvns&tbnid=ynUan-_9FQYrEM:&imgrefurl=http://carl.cs.indiana.edu/fil/cgi-bin/WebSec/marilyn.cgi&docid=hMMAQwJMLA2rwM&imgurl=http://carl.cs.indiana.edu/fil/WebSec/marilyn.jpg&w=500&h=333&ei=CLZtT8z0O5CGrAfo_vmfDg&zoom=1&iact=hc&vpx=708&vpy=255&dur=688&hovh=183&hovw=275&tx=149&ty=93&sig=117804250703878538971&page=5&tbnh=148&tbnw=197&start=64&ndsp=16&ved=1t:429,r:3,s:64
Sat Mar 24 07:55:11 2012 from http://www.google.co.in/imgres?q=home+allgameshome+results&um=1&hl=en&sa=N&biw=1024&bih=673&tbm=isch&prmd=imvns&tbnid=ynUan-_9FQYrEM:&imgrefurl=http://carl.cs.indiana.edu/fil/cgi-bin/WebSec/marilyn.cgi&docid=hMMAQwJMLA2rwM&imgurl=http://carl.cs.indiana.edu/fil/WebSec/marilyn.jpg&w=500&h=333&ei=CLZtT8z0O5CGrAfo_vmfDg&zoom=1&iact=hc&vpx=708&vpy=232&dur=1414&hovh=183&hovw=275&tx=83&ty=88&sig=117804250703878538971&page=5&tbnh=148&tbnw=197&start=64&ndsp=16&ved=1t:429,r:3,s:64
Sat Mar 24 06:56:30 2012 from http://www.searchplusnetwork.com/?q=http%3A%2F%2Fclick.infospace.com%2FClickHandler.ashx%3Fdu&sp=chv&p=3
Sat Mar 24 06:49:46 2012 from (empty referer)
Sat Mar 24 06:48:30 2012 from http://www.google.com/url?sa=t&rct=j&q=http%3A%2F%2Fwww.google.com%2Fsearch%3Fq%3Dhttp%253a%252f%252fwww.google.com%252fsearch%253fq%253dhttp%25253a%25252f%25252fwww.facebook.com%25252f%2526sourceid%253dopera%2526ie%253dutf-8%2526oe%253dutf-8%2526channel%253dsuggest%26sourceid%3Dopera%26ie%3Dutf-8%26oe%3Dutf-8%26channel%3Dsuggest&source=web&cd=1&ved=0CCIQFjAA&url=http%3A%2F%2Fcarl.cs.indiana.edu%2Ffil%2Fcgi-bin%2FWebSec%2Fmarilyn.cgi&ei=CVZrT9O2FoinrAe89qzCAg&usg=AFQjCNHRtbr4ftk_4PyVzN3HuHPJV6LZow
Sat Mar 24 06:33:36 2012 from http://yandex.by/yandsearch?text=sex+marilin+monroe+&clid=155842&lr=153
Sat Mar 24 06:29:51 2012 from (empty referer)
Sat Mar 24 05:21:21 2012 from http://www.google.co.in/url?sa=t&rct=j&q=home%20allgameshome%20results&source=web&cd=9&ved=0CGIQFjAI&url=http%3A%2F%2Fcarl.cs.indiana.edu%2Ffil%2Fcgi-bin%2FWebSec%2Fmarilyn.cgi&ei=ApJtT-r9HIqurAeau5SgDg&usg=AFQjCNHRtbr4ftk_4PyVzN3HuHPJV6LZow
Sat Mar 24 05:06:03 2012 from http://www.google.com/url?sa=t&rct=j&q=click%20infospace%20clickhandler&source=web&cd=5&ved=0CEoQFjAE&url=http%3A%2F%2Fcarl.cs.indiana.edu%2Ffil%2Fcgi-bin%2FWebSec%2Fmarilyn.cgi&ei=RY5tT4H7KMSu0QW4zt2NAg&usg=AFQjCNHRtbr4ftk_4PyVzN3HuHPJV6LZow
Sat Mar 24 04:45:04 2012 from http://images.google.com/imgres?q=http://home.allgameshome.com/results.php%3Fcategory%3Dweb&hl=en&gl=in&biw=1280&bih=520&tbm=isch&tbnid=ynUan-_9FQYrEM:&imgrefurl=http://carl.cs.indiana.edu/fil/cgi-bin/WebSec/marilyn.cgi&docid=hMMAQwJMLA2rwM&imgurl=http://carl.cs.indiana.edu/fil/WebSec/marilyn.jpg&w=500&h=333&ei=d4ltT4OoCsPUrQeoqsmgDg&zoom=1&iact=hc&vpx=727&vpy=224&dur=2373&hovh=183&hovw=275&tx=132&ty=104&sig=110227387617894470167&page=2&tbnh=151&tbnw=192&start=10&ndsp=15&ved=1t:429,r:3,s:10
Sat Mar 24 03:24:22 2012 from http://www.google.com.hk/url?sa=t&rct=j&q=click+infospace+ClickHandler&source=web&cd=5&ved=0CEQQFjAE&url=http%3A%2F%2Fcarl.cs.indiana.edu%2Ffil%2Fcgi-bin%2FWebSec%2Fmarilyn.cgi&ei=iXZtT-POEsyXiQeZgZXqBQ&usg=AFQjCNHRtbr4ftk_4PyVzN3HuHPJV6LZow
Sat Mar 24 01:45:29 2012 from (empty referer)
Sat Mar 24 00:27:02 2012 from (empty referer)
Sat Mar 24 00:15:45 2012 from (empty referer)
Fri Mar 23 23:32:26 2012 from (empty referer)
Fri Mar 23 22:54:31 2012 from http://www.google.com/gwt/x?client=ms-sonyericsson&q=http://www.google.com/gwt/x/e?client%3Dms-sonyericsson&output=wml&channel=bs&ei=HDdtT4i-IsrprAe63gE&ved=0CBEQFjAG&hl=en-GB&source=m&rd=1&u=http://carl.cs.indiana.edu/fil/cgi-bin/WebSec/marilyn.cgi
Fri Mar 23 22:53:47 2012 from (empty referer)
Fri Mar 23 21:32:10 2012 from (empty referer)
Fri Mar 23 21:04:56 2012 from (empty referer)
Fri Mar 23 20:36:47 2012 from http://www.google.com/m?client=ms-opera-mini&q=http://www.google.com/m?q%3Dwww.%26client%3Dms-opera-mini%26channel%3Dnew&channel=new&start=10&sa=N
Fri Mar 23 20:13:24 2012 from (empty referer)
Fri Mar 23 20:04:17 2012 from http://www.google.com/m?q=www.google.com%2Fm%3Fq%3Dwww.facebook.%26client%3Dms-opera-mini%26channel%3Dnew&client=ms-opera-mini&channel=new
Fri Mar 23 19:55:42 2012 from (empty referer)
Fri Mar 23 19:53:07 2012 from (empty referer)
Fri Mar 23 19:52:28 2012 from http://www.google.com/search?client=opera&rls=en&q=http%3A%2F%2Fwww.google.com.gh%2Fsearch%3Fq%3Dfree%2Bonline%2Bsex%2Bvideo%26sourceid%3Dopera%26ie%3Dutf-8%26oe%3Dutf-8%26channel%3Dsuggest&sourceid=opera&ie=utf-8&oe=utf-8&channel=suggest
Fri Mar 23 19:39:21 2012 from (empty referer)
Fri Mar 23 19:33:37 2012 from http://sexshop-dlakobiet.pl/category/wibratory
Fri Mar 23 17:30:37 2012 from http://www.google.com/url?sa=t&rct=j&q=click%20infospace%20clickhandler&source=web&cd=5&ved=0CEMQFjAE&url=http%3A%2F%2Fcarl.cs.indiana.edu%2Ffil%2Fcgi-bin%2FWebSec%2Fmarilyn.cgi&ei=MutsT6X3F-KO4gThoYnAAg&usg=AFQjCNHRtbr4ftk_4PyVzN3HuHPJV6LZow
Fri Mar 23 15:49:41 2012 from http://home.myplaycity.com/results.php?category=web&s=http://click.infospace.com/ClickHandler.ashx?du=http%3a%2f%2fwww.facebook.com%2f&ru=http%3a%2f%2fwww.facebook.com%2f&ld=20120323&ap=1&app=1&c=imesh.meta.4&s=imeshmeta4&coi=239137&cop=main-title&euip=195.24.193.34&npp=1&p=0&pp=0&pvaid=ff1a5ac72e074bcea99ef442db835fc9&ep=1&mid=9&hash=83986433B7D672F19E068F5B8D0B0C2
Fri Mar 23 15:43:48 2012 from http://www.google.com/url?sa=t&rct=j&q=http%3A%2F%2Fwww.google.com%2Fsearch%3Fq%3Dhttp%253a%252f%252fwww.google.com%252fsearch%253fq%253dhttp%25253a%25252f%25252fwww.bing.com%25252f%2526sourceid%253dopera%2526ie%253dutf-8%2526oe%253dutf-8%2526channel%253dsuggest%26sourceid%3Dopera%26ie%3Dutf-8%26oe%3Dutf-8%26channel%3Dsuggest&source=web&cd=1&ved=0CCwQFjAA&url=http%3A%2F%2Fcarl.cs.indiana.edu%2Ffil%2Fcgi-bin%2FWebSec%2Fmarilyn.cgi&ei=0cxsT7Zpz5s6q7mR8gU&usg=AFQjCNHRtbr4ftk_4PyVzN3HuHPJV6LZow
Fri Mar 23 15:02:33 2012 from http://www.google.com/search?client=opera&rls=en&q=http%3A%2F%2Fwww.google.com%2Fsearch%3Fq%3Dhttp%253A%252F%252Fwww.google.com%252Fsearch%253Fq%253Dhttp%25253A%25252F%25252Fwww.google.com.eg%25252F%2526sourceid%253Dopera%2526ie%253Dutf-8%2526oe%253Dutf-8%2526channel%253Dsuggest%26sourceid%3Dopera%26ie%3Dutf-8%26oe%3Dutf-8%26channel%3Dsuggest&sourceid=opera&ie=utf-8&oe=utf-8&channel=suggest
Fri Mar 23 12:25:42 2012 from (empty referer)
Fri Mar 23 12:23:59 2012 from http://www.google.co.uk/m/url?channel=new&client=ms-opera-mini&ei=jKNsT6LdFeGr0QW59gE&q=http://carl.cs.indiana.edu/fil/cgi-bin/WebSec/marilyn.cgi?test%3D1&safe=active&ved=0CAsQFjABOAo&usg=AFQjCNHgAl5jl4idZBzCleeUixdlvruYKg
Fri Mar 23 07:13:58 2012 from (empty referer)
Fri Mar 23 07:12:04 2012 from (empty referer)
Fri Mar 23 06:34:43 2012 from http://www.google.com.ph/url?sa=t&rct=j&q=click%20infospace%20clickhandler&source=web&cd=7&ved=0CE8QFjAG&url=http%3A%2F%2Fcarl.cs.indiana.edu%2Ffil%2Fcgi-bin%2FWebSec%2Fmarilyn.cgi&ei=p1FsT7KQOsGZiAfL9YX5BQ&usg=AFQjCNHRtbr4ftk_4PyVzN3HuHPJV6LZow
Fri Mar 23 04:35:59 2012 from http://www.google.com/url?sa=t&rct=j&q=http%3A%2F%2Fwww.google.com%2Fsearch%3Fq%3Dhttp%253A%252F%252Fwww.google.com%252Fsearch%253Fq%253Dhttp%25253A%25252F%25252Fwww.yahoo.com%25252F%2526sourceid%253Dopera%2526ie%253Dutf-8%2526oe%253Dutf-8%2526channel%253Dsuggest%26sourceid%3Dopera%26ie%3Dutf-8%26oe%3Dutf-8%26channel%3Dsuggest&source=web&cd=1&ved=0CCIQFjAA&url=http%3A%2F%2Fcarl.cs.indiana.edu%2Ffil%2Fcgi-bin%2FWebSec%2Fmarilyn.cgi&ei=4DVsT4iYBIKsrAeypoWOAg&usg=AFQjCNHRtbr4ftk_4PyVzN3HuHPJV6LZow
Fri Mar 23 03:58:40 2012 from (empty referer)
Fri Mar 23 03:58:22 2012 from (empty referer)
Fri Mar 23 03:57:32 2012 from http://www.buybacklinkservices.com
Fri Mar 23 03:57:14 2012 from (empty referer)
Fri Mar 23 03:56:34 2012 from (empty referer)
Fri Mar 23 03:55:58 2012 from (empty referer)
Fri Mar 23 02:12:24 2012 from (empty referer)
Fri Mar 23 02:10:38 2012 from http://www.google.com/url?sa=t&rct=j&q=click%20infospace%20clickhandler&source=web&cd=9&ved=0CF4QFjAI&url=http%3A%2F%2Fcarl.cs.indiana.edu%2Ffil%2Fcgi-bin%2FWebSec%2Fmarilyn.cgi&ei=YRNsT_bHJInKrAfR9fidAg&usg=AFQjCNHRtbr4ftk_4PyVzN3HuHPJV6LZow
Fri Mar 23 02:04:15 2012 from http://carl.cs.indiana.edu/fil/cgi-bin/WebSec/marilyn.cgi
Fri Mar 23 01:42:40 2012 from http://www.searchplusnetwork.com/?sp=chv&q=click.infospace.comClickHandler.ashx%3Fdu
Fri Mar 23 00:54:00 2012 from (empty referer)
Fri Mar 23 00:52:16 2012 from http://www.google.com/url?sa=t&rct=j&q=http%3A%2F%2Fclick.infospace.com%2Fclickhandler.ashx%3Fdu%3Dhttp%3A%2F%2Fwww.facebook.com%2F&source=web&cd=1&ved=0CCsQFjAA&url=http%3A%2F%2Fcarl.cs.indiana.edu%2Ffil%2Fcgi-bin%2FWebSec%2Fmarilyn.cgi&ei=fQFsT9fAFZDirAfor4GyAg&usg=AFQjCNHRtbr4ftk_4PyVzN3HuHPJV6LZow
Thu Mar 22 23:16:37 2012 from (empty referer)
Thu Mar 22 23:03:06 2012 from http://www.searchplusnetwork.com/?sp=chv&q=facebook.com%2Fajax%2Fpagelet%2Fgeneric.php%2FPhotoViewerInitPagelet%3F__a
Thu Mar 22 20:06:27 2012 from http://www.google.com.sa/url?sa=t&rct=j&q=sex+film+google&source=web&cd=6&ved=0CE8QFjAF&url=http%3A%2F%2Fcarl.cs.indiana.edu%2Ffil%2Fcgi-bin%2FWebSec%2Fmarilyn.cgi&ei=L75rT9buIZCO4gSQ5ujwBQ&usg=AFQjCNHRtbr4ftk_4PyVzN3HuHPJV6LZow
Thu Mar 22 19:37:45 2012 from (empty referer)
Thu Mar 22 18:27:18 2012 from (empty referer)
Thu Mar 22 17:49:02 2012 from http://www.google.co.in/m?q=www%252exnxx%2520anemal%2520sex%252ecom&client=ms-opera-mini&channel=new
Thu Mar 22 15:49:50 2012 from (empty referer)
Thu Mar 22 15:23:06 2012 from http://home.allgameshome.com/results.php?category=web&s=http://search.speedbit.com/Search.aspx?site=web&aff=&q=www.sunnyleone.co
Thu Mar 22 15:05:09 2012 from http://www.google.com/m?hl=en&q=anonymous.hackedinto+auctionsite%26posted+sex+film+of+marilyn+monroe-here+http%3A%2F%2Fbitly%2Fp7zhot
Thu Mar 22 15:04:47 2012 from http://www.google.com/search?client=opera&rls=en&q=http%3A%2F%2Fwww.google.com%2Fsearch%3Fq%3Dhttp%253A%252F%252Fwww.google.com%252Fsearch%253Fq%253Dhttp%25253A%25252F%25252Fwww.google.hr%25252F%2526sourceid%253Dopera%2526ie%253Dutf-8%2526oe%253Dutf-8%2526channel%253Dsuggest%26sourceid%3Dopera%26ie%3Dutf-8%26oe%3Dutf-8%26channel%3Dsuggest&sourceid=opera&ie=utf-8&oe=utf-8&channel=suggest
Thu Mar 22 14:50:17 2012 from (empty referer)
Thu Mar 22 14:47:01 2012 from (empty referer)
Thu Mar 22 14:38:57 2012 from http://www.google.com/url?sa=t&rct=j&q=&esrc=s&source=web&cd=1&ved=0CCQQFjAA&url=http%3A%2F%2Fcarl.cs.indiana.edu%2Ffil%2Fcgi-bin%2FWebSec%2Fmarilyn.cgi&ei=vHFrT5WMIeOL0AX7ncXhBg&usg=AFQjCNHRtbr4ftk_4PyVzN3HuHPJV6LZow&sig2=GovCrDlJKIgEKfUcSSKL0w
Thu Mar 22 14:37:28 2012 from http://www.google.com/m?client=ms-nokia&q=tubidy.mobi/search.php?q%3DSex:new&cof=nsp&channel=s60&start=10&sa=N
Thu Mar 22 13:42:58 2012 from http://www.google.com/url?sa=t&rct=j&q=http%3A%2F%2Fwww.google.com%2Fsearch%3Fq%3Dhttp%253a%252f%252fwww.google.com%252fsearch%253fq%253dhttp%25253a%25252f%25252fgoogle%25252f%2526sourceid%253dopera%2526ie%253dutf-8%2526oe%253dutf-8%2526channel%253dsuggest%26sourceid%3Dopera%26ie%3Dutf-8%26oe%3Dutf-8%26channel%3Dsuggest&source=web&cd=1&ved=0CCIQFjAA&url=http%3A%2F%2Fcarl.cs.indiana.edu%2Ffil%2Fcgi-bin%2FWebSec%2Fmarilyn.cgi&ei=k2RrT7P4AeGT0QXI1d3VBg&usg=AFQjCNHRtbr4ftk_4PyVzN3HuHPJV6LZow
Thu Mar 22 13:29:23 2012 from http://www.google.co.in/m?client=ms-opera-mini&q=www%252esex%252ecom&channel=new&start=10&sa=N
Thu Mar 22 12:23:45 2012 from http://www.google.com/m?q=http%3a%2f%2fwww%2egoogle%2ecom%2fm%3fclient%3dms%2dopera%2dmini%26channel%3dnew%26q%3d&client=ms-opera-mini&channel=new
Thu Mar 22 10:52:40 2012 from (empty referer)
Thu Mar 22 10:52:25 2012 from (empty referer)
Thu Mar 22 10:45:41 2012 from http://www.google.com/m?hl=en&q=anonymous.hackedinto+auctionsite%26posted+sex+film+of+marilyn+monroe-here+http%3A%2F%2Fbitly%2Fp7zhot
Thu Mar 22 10:35:09 2012 from (empty referer)
Thu Mar 22 10:03:59 2012 from http://assist.babylon.com/babylonassista/dnsassist/main?domain=mystart%20incredibar%20mb113%20
Thu Mar 22 09:58:02 2012 from (empty referer)
Thu Mar 22 08:50:20 2012 from http://www.google.com/url?sa=t&rct=j&q=click%20infospace%20clickhandler&source=web&cd=6&sqi=2&ved=0CFAQFjAF&url=http%3A%2F%2Fcarl.cs.indiana.edu%2Ffil%2Fcgi-bin%2FWebSec%2Fmarilyn.cgi&ei=6B9rT9aIM8-4iAfT3sz3BQ&usg=AFQjCNHRtbr4ftk_4PyVzN3HuHPJV6LZow
Thu Mar 22 08:39:02 2012 from http://assist.babylon.com/babylonassista/dnsassist/main?domain=mystart%20incredibar%20mb113%20
Thu Mar 22 08:18:15 2012 from http://www.bing.com/search?q=http%3A%2F%2Ftubidy.sexy&src=IE-SearchBox&FORM=IE8SRC
Thu Mar 22 08:12:15 2012 from (empty referer)
Thu Mar 22 07:39:04 2012 from http://www.google.com/url?sa=t&rct=j&q=http%3A%2F%2Fwww.google.com%2Fsearch%3Fq%3Dhttp%253a%252f%252fwww.google.com%252fsearch%253fq%253dhttp%25253a%25252f%25252fwww.facebook.com%25252f%2526sourceid%253dopera%2526ie%253dutf-8%2526oe%253dutf-8%2526channel%253dsuggest%26sourceid%3Dopera%26ie%3Dutf-8%26oe%3Dutf-8%26channel%3Dsuggest&source=web&cd=1&ved=0CCwQFjAA&url=http%3A%2F%2Fcarl.cs.indiana.edu%2Ffil%2Fcgi-bin%2FWebSec%2Fmarilyn.cgi&ei=MQ9rT_SINMnO0QXg4JTXBg&usg=AFQjCNHRtbr4ftk_4PyVzN3HuHPJV6LZow
Thu Mar 22 07:32:31 2012 from (empty referer)
Thu Mar 22 07:07:23 2012 from http://www.google.com/imgres?q=http://www.ask.com/%3Fl%3Ddis%26o%3D101916&hl=zh-TW&sa=X&rls=com.microsoft:zh-hk:IE-SearchBox&rlz=1I7ACAW_enHK353HK356&tbm=isch&prmd=imvns&tbnid=ynUan-_9FQYrEM:&imgrefurl=http://carl.cs.indiana.edu/fil/cgi-bin/WebSec/marilyn.cgi&docid=hMMAQwJMLA2rwM&imgurl=http://carl.cs.indiana.edu/fil/WebSec/marilyn.jpg&w=500&h=333&ei=4AdrT5XAGqeWiQeSq8HsBQ&zoom=1&iact=rc&dur=289&sig=116645786891383593502&page=1&tbnh=130&tbnw=188&start=0&ndsp=10&ved=1t:429,r:3,s:0&tx=131&ty=82&biw=1366&bih=643
Thu Mar 22 07:00:54 2012 from http://www.searchplusnetwork.com/?q=http%3A%2F%2Fclick.infospace.com%2FClickHandler.ashx%3Fdu&sp=chv&p=3
Thu Mar 22 03:23:58 2012 from (empty referer)
Thu Mar 22 00:41:59 2012 from http://www.google.com/m?safe=on&client=ms-nokia&cof=nsp&q=,http://tubidy.mobi/search.php?a%3D18%26q%3Dsexe&channel=s60&start=20&sa=N
Thu Mar 22 00:23:35 2012 from (empty referer)
Wed Mar 21 23:26:07 2012 from http://www.google.com/xhtml?q=http%3a%2f%2fwww%2egoogle%2ecom%2fxhtml%3fq%3dwww%20%2d%32%26client%3dms%2dopera_mb_no%26channel%3dbh&client=ms-opera_mb_no&channel=bh
Wed Mar 21 22:52:11 2012 from (empty referer)
Wed Mar 21 22:51:44 2012 from (empty referer)
Wed Mar 21 22:45:50 2012 from (empty referer)
Wed Mar 21 22:45:44 2012 from (empty referer)
Wed Mar 21 19:28:21 2012 from http://search.bearshare.com/web?hl=tr&q=click+infospace&src=404&ref=1&page=8
Wed Mar 21 16:38:32 2012 from http://home.allgameshome.com/results.php?category=web&s=http://home.allgameshome.com/results.php?category=web&s=http://home.allgameshome.com/results.php?category=web&s=http://home.allgameshome.com/results.php?category=web&s=http://home.allgameshome.com/results.php?category=web&s=http://home.allgameshome.com/results.php?category=web&s=http://home.allgameshome.com/results.php?category=web&s=http://assist.babylon.com/babylonassista/dnsassist/main?domain=home%20allgameshome%20res
Wed Mar 21 16:38:28 2012 from http://home.allgameshome.com/results.php?category=web&s=http://home.allgameshome.com/results.php?category=web&s=http://home.allgameshome.com/results.php?category=web&s=http://home.allgameshome.com/results.php?category=web&s=http://home.allgameshome.com/results.php?category=web&s=http://home.allgameshome.com/results.php?category=web&s=http://home.allgameshome.com/results.php?category=web&s=http://assist.babylon.com/babylonassista/dnsassist/main?domain=home%20allgameshome%20res
Wed Mar 21 16:38:27 2012 from http://home.allgameshome.com/results.php?category=web&s=http://home.allgameshome.com/results.php?category=web&s=http://home.allgameshome.com/results.php?category=web&s=http://home.allgameshome.com/results.php?category=web&s=http://home.allgameshome.com/results.php?category=web&s=http://home.allgameshome.com/results.php?category=web&s=http://home.allgameshome.com/results.php?category=web&s=http://assist.babylon.com/babylonassista/dnsassist/main?domain=home%20allgameshome%20res
Wed Mar 21 16:32:59 2012 from http://www.google.com.eg/search?client=opera&rls=en&q=Fri+Feb+17+22:19:20+2012+from+http://home.allgameshome.com/results.php?category=web%26s=http://click.infospace.com/ClickHandler.ashx?du=&sourceid=opera&ie=utf-8&oe=utf-8&channel=suggest
Wed Mar 21 16:32:37 2012 from http://www.google.com.eg/search?client=opera&rls=en&q=Fri+Feb+17+22:19:20+2012+from+http://home.allgameshome.com/results.php?category=web%26s=http://click.infospace.com/ClickHandler.ashx?du=&sourceid=opera&ie=utf-8&oe=utf-8&channel=suggest
Wed Mar 21 15:13:58 2012 from http://carl.cs.indiana.edu/fil/cgi-bin/WebSec/marilyn.cgi
Wed Mar 21 15:05:21 2012 from (empty referer)
Wed Mar 21 14:03:11 2012 from http://www.google.co.in/m?q=www%252esexy%2520com&client=ms-opera-mini&channel=new
Wed Mar 21 13:57:31 2012 from (empty referer)
Wed Mar 21 13:52:53 2012 from (empty referer)
Wed Mar 21 13:33:37 2012 from (empty referer)
Wed Mar 21 13:28:53 2012 from http://www.searchplusnetwork.com/?sp=chv&q=facebook.com%2Fajax%2Fpagelet%2Fgeneric.php%2FPhotoViewerInitPagelet%3F__a
Wed Mar 21 13:22:55 2012 from http://www.google.co.in/m?q=www%252esexy%2520porn%2520videos%252ecom&client=ms-opera-mini&channel=new
Wed Mar 21 09:58:58 2012 from (empty referer)
Wed Mar 21 09:22:53 2012 from (empty referer)
Wed Mar 21 08:34:23 2012 from http://www.google.co.in/url?sa=t&rct=j&q=+sexe+filem&source=web&cd=8&ved=0CFUQFjAH&url=http%3A%2F%2Fcarl.cs.indiana.edu%2Ffil%2Fcgi-bin%2FWebSec%2Fmarilyn.cgi&ei=IcppT66MG4ftrAfZhPzgBw&usg=AFQjCNHRtbr4ftk_4PyVzN3HuHPJV6LZow
Wed Mar 21 06:19:49 2012 from http://www.google.com/m?client=ms-nokia&q=www.google.com/m?client%3Dms-nokia%26cof%3Dnsp%26channel%3Ds&cof=nsp&channel=s60&start=10&sa=N
Wed Mar 21 06:14:17 2012 from http://www.searchplusnetwork.com/?sp=chv&q=facebook.com%2Fajax%2Fpagelet%2Fgeneric.php%2FPhotoViewerInitPagelet%3F__a
Wed Mar 21 06:14:06 2012 from http://www.searchplusnetwork.com/?sp=chv&q=facebook.com%2Fajax%2Fpagelet%2Fgeneric.php%2FPhotoViewerInitPagelet%3F__a
Wed Mar 21 03:24:55 2012 from http://isearch.babylon.com/?babsrc=tcp&affID=19318&q=http://click.infospace.com/ClickHandler.ashx?du=www.pornhub.com&ru=http%3a%2f%2fwww.pornhub.com%2f&ld=20120321&ap=1&app=1&c=babylon2.hp.row&s=babylon2&coi=374914&cop=main-title&euip=49.244.95.75&npp=1&p=0&pp=0&pvaid=337e1849496b45a0a58b0b0fae59768b&ep=1&mid=9&hash=98BC3FD9D0E136404BF0C2FE4A05A89
Wed Mar 21 03:15:42 2012 from (empty referer)
Wed Mar 21 02:54:15 2012 from (empty referer)
Wed Mar 21 02:34:55 2012 from http://search.yahoo.com/search?ei=utf-8&fr=slv8-&p=2ftubidy&type=
Wed Mar 21 02:21:21 2012 from (empty referer)
Wed Mar 21 02:01:06 2012 from http://www.google.com/url?sa=t&rct=j&q=http%3A%2F%2Fwww.google.com%2Fsearch%3Fq%3Dhttp%253A%252F%252Fwww.google.com%252Fsearch%253Fq%253Dhttp%25253A%25252F%25252Fwww.google.com%25252Fsearch%25253Fq%25253Dwww.4sahre.com%252526sourceid%25253Dopera%252526ie%25253Dutf-8%252526oe%25253Dutf-8%252526channel%25253Dsuggest%2526sourceid%253Dopera%2526ie%253Dutf-8%2526oe%253Dutf-8%2526channel%253Dsuggest%26sourceid%3Dopera%26ie%3Dutf-8%26oe%3Dutf-8%26channel%3Dsuggest&source=web&cd=1&ved=0CCMQFjAA&url=http%3A%2F%2Fcarl.cs.indiana.edu%2Ffil%2Fcgi-bin%2FWebSec%2Fmarilyn.cgi&ei=mW5pT_2jHs7MrQeb2pXqBw&usg=AFQjCNHRtbr4ftk_4PyVzN3HuHPJV6LZow
Wed Mar 21 01:13:32 2012 from http://www.google.co.in/m?client=ms-opera-mini&q=www%252esex%2520video%2520com&channel=new&start=10&sa=N
Wed Mar 21 01:13:14 2012 from http://www.bing.com/search?q=http%3a%2f%2fwww.plusnetwork.com%2f%3fsp%3dhp&src=IE-SearchBox&first=11&FORM=PERE
Tue Mar 20 23:45:38 2012 from http://www.google.com/url?sa=t&rct=j&q=http%3A%2F%2Fwww.google.com%2Fsearch%3Fq%3Dhttp%253A%252F%252Fwww.google.com%252Fsearch%253Fq%253Dhttp%25253A%25252F%25252Fwww.facebook.com%25252F%2526sourceid%253Dopera%2526ie%253Dutf-8%2526oe%253Dutf-8%2526channel%253Dsuggest%26sourceid%3Dopera%26ie%3Dutf-8%26oe%3Dutf-8%26channel%3Dsuggest&source=web&cd=1&ved=0CDAQFjAA&url=http%3A%2F%2Fcarl.cs.indiana.edu%2Ffil%2Fcgi-bin%2FWebSec%2Fmarilyn.cgi&ei=e05pT82oK8XVrQeNj5mQCA&usg=AFQjCNHRtbr4ftk_4PyVzN3HuHPJV6LZow
Tue Mar 20 23:26:48 2012 from (empty referer)
Tue Mar 20 21:39:52 2012 from (empty referer)
Tue Mar 20 19:50:42 2012 from (empty referer)
Tue Mar 20 18:40:51 2012 from (empty referer)
Tue Mar 20 16:47:37 2012 from http://www.google.com/m?client=ms-nokia&cof=nsp&channel=s60&q=http%3a%2f%2fgoogle.com%2fm%2fig%3fclient%3dms-nokia%26cof%3dnsp%26channel%3dh
Tue Mar 20 16:36:00 2012 from (empty referer)
Tue Mar 20 15:37:47 2012 from (empty referer)
Tue Mar 20 15:17:52 2012 from http://www.google.com/m?client=ms-nokia&cof=nsp&q=tubidy.mobi/search.php?a%3D.18%26q%3Dsex%2Bporn&channel=s60&start=20&sa=N
Tue Mar 20 14:46:49 2012 from http://www.google.com/m/search?site=universal&client=ms-nokia&q=www.google.com/m?client%3Dms-nokia%26cof%3Dnsp%26channel%3Ds&cof=nsp&channel=s60&start=10&sa=N
Tue Mar 20 14:21:11 2012 from http://www.google.com/url?sa=t&rct=j&q=http://www.google.com/search?q=http%253A%252F%252Fwww.google.com%252Fsearch%253Fq%253Dgoogle%2526sourceid%253Dopera%2526ie%253Dutf-8%2526oe%253Dutf-8%2526channel%253Dsuggest%26sourceid=opera%26ie=utf-8%26oe=utf-8%26channel=suggest&source=web&cd=1&ved=0CCIQFjAA&url=http%3A%2F%2Fcarl.cs.indiana.edu%2Ffil%2Fcgi-bin%2FWebSec%2Fmarilyn.cgi&ei=kMpoT-epK8OfOsik2aoK&usg=AFQjCNHRtbr4ftk_4PyVzN3HuHPJV6LZow
Tue Mar 20 12:58:32 2012 from http://www.searchplusnetwork.com/?sp=chv&q=facebook.com%2Fajax%2Fpagelet%2Fgeneric.php%2FPhotoViewerInitPagelet%3F__a
Tue Mar 20 12:27:03 2012 from http://www.searchplusnetwork.com/?sp=chv&q=facebook.com%2Fajax%2Fpagelet%2Fgeneric.php%2FPhotoViewerInitPagelet%3F__a
Tue Mar 20 11:46:52 2012 from http://www.google.com/url?sa=t&rct=j&q=http%3A%2F%2Fwww.google.com%2Fsearch%3Fq%3Dhttp%253a%252f%252fwww.google.com%252fsearch%253fq%253dsex%252bporn%2526sourceid%253dopera%2526ie%253dutf-8%2526oe%253dutf-8%2526channel%253dsuggest%26sourceid%3Dopera%26ie%3Dutf-8%26oe%3Dutf-8%26channel%3Dsuggest&source=web&cd=1&ved=0CCIQFjAA&url=http%3A%2F%2Fcarl.cs.indiana.edu%2Ffil%2Fcgi-bin%2FWebSec%2Fmarilyn.cgi&ei=ZKZoT53lO8ueOrK4tJQK&usg=AFQjCNHRtbr4ftk_4PyVzN3HuHPJV6LZow
Tue Mar 20 11:46:21 2012 from (empty referer)
Tue Mar 20 11:25:46 2012 from http://www.searchplusnetwork.com/?sp=chv&q=facebook.com%2Fajax%2Fpagelet%2Fgeneric.php%2FPhotoViewerInitPagelet%3F__a
Tue Mar 20 11:25:45 2012 from http://www.searchplusnetwork.com/?sp=chv&q=facebook.com%2Fajax%2Fpagelet%2Fgeneric.php%2FPhotoViewerInitPagelet%3F__a
Tue Mar 20 11:04:58 2012 from (empty referer)
Tue Mar 20 10:44:39 2012 from http://www.google.com/url?sa=t&rct=j&q=http%3A%2F%2Fclick.infospace.com%2FClickHandler.ashx%3Fdu%3Dhttp%3A%2F%2Far-ar.facebook.com%2F&source=web&cd=1&ved=0CCMQFjAA&url=http%3A%2F%2Fcarl.cs.indiana.edu%2Ffil%2Fcgi-bin%2FWebSec%2Fmarilyn.cgi&ei=zZdoT5KwD8fOmAX9vfWNCQ&usg=AFQjCNHRtbr4ftk_4PyVzN3HuHPJV6LZow
Tue Mar 20 09:53:48 2012 from http://www.google.com/search?client=opera&rls=en&q=http%3A%2F%2Fwww.google.com%2Fsearch%3Fq%3Dhttp%253A%252F%252Fwww.google.com%252Fsearch%253Fq%253Dhttp%25253A%25252F%25252Fwww.facebook.com%25252F%2526sourceid%253Dopera%2526ie%253Dutf-8%2526oe%253Dutf-8%2526channel%253Dsuggest%26sourceid%3Dopera%26ie%3Dutf-8%26oe%3Dutf-8%26channel%3Dsuggest&sourceid=opera&ie=utf-8&oe=utf-8&channel=suggest
Tue Mar 20 09:38:32 2012 from (empty referer)
Tue Mar 20 06:40:02 2012 from http://www.google.co.in/url?sa=t&rct=j&q=http://www.google.co.in/search?client=opera%26rls=en%26q=wwww,%26sourceid=opera%26ie=utf-8%26oe=utf-8%26channel=suggest&source=web&cd=8&ved=0CF8QFjAH&url=http%3A%2F%2Fcarl.cs.indiana.edu%2Ffil%2Fcgi-bin%2FWebSec%2Fmarilyn.cgi&ei=V15oT9z4AofprQfineHuBw&usg=AFQjCNHRtbr4ftk_4PyVzN3HuHPJV6LZow
Tue Mar 20 06:30:36 2012 from http://www.google.com/search?client=opera&rls=en&q=http%3A%2F%2Fwww.google.com%2Fsearch%3Fq%3Dhttp%253A%252F%252Fwww.google.com%252Fsearch%253Fq%253DGOOGLE%2526sourceid%253Dopera%2526ie%253Dutf-8%2526oe%253Dutf-8%2526channel%253Dsuggest%26sourceid%3Dopera%26ie%3Dutf-8%26oe%3Dutf-8%26channel%3Dsuggest&sourceid=opera&ie=utf-8&oe=utf-8&channel=suggest
Tue Mar 20 04:52:45 2012 from (empty referer)
Tue Mar 20 04:22:14 2012 from (empty referer)
Tue Mar 20 04:11:59 2012 from (empty referer)
Tue Mar 20 03:25:23 2012 from (empty referer)
Tue Mar 20 01:55:02 2012 from http://www.google.com/search?client=opera&rls=en&q=http%3A%2F%2Fwww.google.com%2Fsearch%3Fq%3Dhttp%253A%252F%252Fwww.google.com%252Fsearch%253Fq%253Dhttp%25253A%25252F%25252Fwww.facebook.com%25252F%2526sourceid%253Dopera%2526ie%253Dutf-8%2526oe%253Dutf-8%2526channel%253Dsuggest%26sourceid%3Dopera%26ie%3Dutf-8%26oe%3Dutf-8%26channel%3Dsuggest&sourceid=opera&ie=utf-8&oe=utf-8&channel=suggest
Tue Mar 20 01:54:22 2012 from http://www.google.com/search?client=opera&rls=en&q=http%3A%2F%2Fwww.google.com%2Fsearch%3Fq%3Dhttp%253A%252F%252Fwww.google.com%252Fsearch%253Fq%253Dhttp%25253A%25252F%25252Fwww.facebook.com%25252F%2526sourceid%253Dopera%2526ie%253Dutf-8%2526oe%253Dutf-8%2526channel%253Dsuggest%26sourceid%3Dopera%26ie%3Dutf-8%26oe%3Dutf-8%26channel%3Dsuggest&sourceid=opera&ie=utf-8&oe=utf-8&channel=suggest
Mon Mar 19 23:55:46 2012 from http://www.google.com/url?sa=t&rct=j&q=http%3A%2F%2Fclick.infospace.com%2Fclickhandler.ashx%3Fdu%3Dwww.xvideos.com&source=web&cd=1&ved=0CCMQFjAA&url=http%3A%2F%2Fcarl.cs.indiana.edu%2Ffil%2Fcgi-bin%2FWebSec%2Fmarilyn.cgi&ei=LgplT_n0O5OXhQetsIirBA&usg=AFQjCNHRtbr4ftk_4PyVzN3HuHPJV6LZow
Mon Mar 19 23:33:54 2012 from http://www.google.co.in/m?q=youtube%252evideo%252esaxy&client=ms-opera-mini&channel=new
Mon Mar 19 23:28:09 2012 from (empty referer)
Mon Mar 19 23:21:38 2012 from (empty referer)
Mon Mar 19 20:08:56 2012 from (empty referer)
Mon Mar 19 19:51:37 2012 from (empty referer)
Mon Mar 19 19:39:06 2012 from (empty referer)
Mon Mar 19 16:06:06 2012 from http://carl.cs.indiana.edu/fil/cgi-bin/WebSec/marilyn.cgi
Mon Mar 19 14:57:49 2012 from http://www.google.com/search?client=opera&rls=en&q=http%3A%2F%2Fwww.google.com%2Fsearch%3Fq%3Dhttp%253A%252F%252Fwww.google.com%252Fsearch%253Fq%253Dhttp%25253A%25252F%25252Fwww.yahoo.com%25252F%2526sourceid%253Dopera%2526ie%253Dutf-8%2526oe%253Dutf-8%2526channel%253Dsuggest%26sourceid%3Dopera%26ie%3Dutf-8%26oe%3Dutf-8%26channel%3Dsuggest&sourceid=opera&ie=utf-8&oe=utf-8&channel=suggest
Mon Mar 19 14:44:31 2012 from http://www.google.com/m/search?client=ms-opera-mini&q=www.google.com/m?client%3Dms-opera-mini%26channel%3Dnew%26q%3D%25D8%25B5%25D9%2582%25D8%25B0%25D8%25A8&channel=new&site=images&tab=wi&ei=dH5nT9jNIoLa8AO07wE&sa=N&ei=dH5nT9jNIoLa8AO07wE&ved=0CAMQ1wY
Mon Mar 19 14:32:38 2012 from http://www.searchplusnetwork.com/?sp=chv&q=click.infospace.comClickHandler.ashx%3Fdu
Mon Mar 19 12:26:39 2012 from http://assist.babylon.com/babylonassista/dnsassist/main?domain=mystart%20incredibar%20mb113%20
Mon Mar 19 08:05:47 2012 from (empty referer)
Mon Mar 19 07:01:45 2012 from (empty referer)
Mon Mar 19 06:04:36 2012 from http://isearch.babylon.com/?babsrc=tcp&affID=19318&q=http://click.infospace.com/ClickHandler.ashx?du=www.tube8.com&ru=http%3a%2f%2fwww.tube8.com%2f&ld=20120319&ap=3&app=1&c=babylon2.hp.row&s=babylon2&coi=374914&cop=main-title&euip=119.30.45.57&npp=3&p=0&pp=0&pvaid=90e257a72c994992bfac82c6d751ae17&ep=3&mid=9&hash=D60CFA1F55C013214792AFCF10AC569
Mon Mar 19 06:03:16 2012 from http://isearch.babylon.com/?babsrc=tcp&affID=19318&q=http://click.infospace.com/ClickHandler.ashx?du=www.tube8.com&ru=http%3a%2f%2fwww.tube8.com%2f&ld=20120319&ap=3&app=1&c=babylon2.hp.row&s=babylon2&coi=374914&cop=main-title&euip=119.30.45.57&npp=3&p=0&pp=0&pvaid=90e257a72c994992bfac82c6d751ae17&ep=3&mid=9&hash=D60CFA1F55C013214792AFCF10AC569
Mon Mar 19 04:10:20 2012 from (empty referer)
Mon Mar 19 03:51:05 2012 from http://www.google.com/url?sa=t&rct=j&q=http%3A%2F%2Fwww.google.com%2Fsearch%3Fq%3Dhttp%253A%252F%252Fwww.google.com%252Fsearch%253Fq%253Dhttp%25253A%25252F%25252Fwww.google.iq%25252F%2526sourceid%253Dopera%2526ie%253Dutf-8%2526oe%253Dutf-8%2526channel%253Dsuggest%26sourceid%3Dopera%26ie%3Dutf-8%26oe%3Dutf-8%26channel%3Dsuggest&source=web&cd=1&ved=0CCkQFjAA&url=http%3A%2F%2Fcarl.cs.indiana.edu%2Ffil%2Fcgi-bin%2FWebSec%2Fmarilyn.cgi&ei=ZOVmT7a1A83ltQbWmZHqBQ&usg=AFQjCNHRtbr4ftk_4PyVzN3HuHPJV6LZow
Mon Mar 19 02:37:44 2012 from http://www.google.com/url?sa=t&rct=j&q=&esrc=s&source=web&cd=1&ved=0CCQQFjAA&url=http%3A%2F%2Fcarl.cs.indiana.edu%2Ffil%2Fcgi-bin%2FWebSec%2Fmarilyn.cgi&ei=INRmT_msJ6vDmQXp1OSFCA&usg=AFQjCNHRtbr4ftk_4PyVzN3HuHPJV6LZow&sig2=UUjSei5_OtFB6ejYKH6Jug
Mon Mar 19 02:17:40 2012 from (empty referer)
Mon Mar 19 02:15:46 2012 from http://www.searchplusnetwork.com/?sp=chv&q=facebook.com%2Fajax%2Fpagelet%2Fgeneric.php%2FPhotoViewerInitPagelet%3F__a
Mon Mar 19 01:04:23 2012 from (empty referer)
Mon Mar 19 01:02:24 2012 from http://www.google.com/gwt/x?client=ms-sonyericsson&q=http://www.google.com/gwt/x/e?client%3Dms-sonyericsson&output=wml&channel=bs&ei=w71mT-DZK4yzrAfjlAE&ved=0CAcQFjABOAw&start=12&hl=en-GB&source=m&rd=1&u=http://carl.cs.indiana.edu/fil/cgi-bin/WebSec/marilyn.cgi
Mon Mar 19 01:02:04 2012 from (empty referer)
Mon Mar 19 00:46:28 2012 from http://us.yhs.search.yahoo.com/if?p=Www.google.co.in%2Furl%3Fsa%3Dt%26rct%3Dj%26q%3Dindian+Porn+Videos%26source%3Dweb%26&fr=yhs-if-vendio&partnerid=yhs-if-vendio&YST_b=11
Mon Mar 19 00:44:13 2012 from http://www.google.com/url?sa=t&rct=j&q=http%3A%2F%2Fwww.google.com%2Fsearch%3Fq%3Dhttp%253A%252F%252Fwww.google.com%252Fsearch%253Fq%253Dhttp%25253A%25252F%25252Fwww.facebook.com%25252F%2526sourceid%253Dopera%2526ie%253Dutf-8%2526oe%253Dutf-8%2526channel%253Dsuggest%26sourceid%3Dopera%26ie%3Dutf-8%26oe%3Dutf-8%26channel%3Dsuggest&source=web&cd=1&ved=0CCIQFjAA&url=http%3A%2F%2Fcarl.cs.indiana.edu%2Ffil%2Fcgi-bin%2FWebSec%2Fmarilyn.cgi&ei=grlmT7e5Moqs0QWaqPCpCA&usg=AFQjCNHRtbr4ftk_4PyVzN3HuHPJV6LZow
Mon Mar 19 00:25:53 2012 from http://www.buybacklinkservices.com
Sun Mar 18 23:35:23 2012 from http://www.searchplusnetwork.com/?sp=chv&q=facebook.com%2Fajax%2Fpagelet%2Fgeneric.php%2FPhotoViewerInitPagelet%3F__a
Sun Mar 18 22:05:06 2012 from http://www.alepozycje.pl/internet-i-komputery/sklep-z-bagazem,a,1877.html
Sun Mar 18 20:23:51 2012 from (empty referer)
Sun Mar 18 17:54:48 2012 from (empty referer)
Sun Mar 18 16:47:01 2012 from http://www.google.com.sa/url?sa=t&rct=j&q=http%3A//tubidy.mobi/search.php%3F%3D18%3Dwoman%2Bsex&source=web&cd=1&ved=0CCsQFjAA&url=http%3A%2F%2Fcarl.cs.indiana.edu%2Ffil%2Fcgi-bin%2FWebSec%2Fmarilyn.cgi&ei=OUhmT9CwA86gOqTv0JAI&usg=AFQjCNHRtbr4ftk_4PyVzN3HuHPJV6LZow
Sun Mar 18 16:45:30 2012 from http://www.google.com.sa/url?sa=t&rct=j&q=http%3A//tubidy.mobi/search.php%3F%3D18%3Dwoman%2Bsex&source=web&cd=1&ved=0CCsQFjAA&url=http%3A%2F%2Fcarl.cs.indiana.edu%2Ffil%2Fcgi-bin%2FWebSec%2Fmarilyn.cgi&ei=OUhmT9CwA86gOqTv0JAI&usg=AFQjCNHRtbr4ftk_4PyVzN3HuHPJV6LZow
Sun Mar 18 16:44:56 2012 from http://search.imesh.com/web?hl=tr&q=click+infospace&src=404&ref=1&page=8
Sun Mar 18 16:20:37 2012 from (empty referer)
Sun Mar 18 15:13:45 2012 from http://www.google.co.in/m?q=www%252esex%2520xxx&client=ms-opera-mini&channel=new
Sun Mar 18 15:00:26 2012 from http://yandex.ru/yandsearch?text=lolitacams.blogspot.com&lr=10754
Sun Mar 18 14:38:59 2012 from http://www.google.com/gwt/x?client=ms-sonyericsson&q=http://www.google.com/gwt/x/e?client%3Dms-sonyericsson&output=wml&channel=bs&ei=sCtmT7DAD87rrQfMWQ&ved=0CAkQFjACOAo&start=10&hl=en-GB&source=m&rd=1&u=http://carl.cs.indiana.edu/fil/cgi-bin/WebSec/marilyn.cgi
Sun Mar 18 14:38:46 2012 from (empty referer)
Sun Mar 18 14:10:27 2012 from http://carl.cs.indiana.edu/fil/cgi-bin/WebSec/marilyn.cgi
Sun Mar 18 14:07:06 2012 from http://www.searchplusnetwork.com/?sp=chv&q=hotsptshld.comgresults.php%3Fc
Sun Mar 18 12:20:54 2012 from http://www.google.co.id/url?sa=t&rct=j&q=click%20infospace%20clickhandler&source=web&cd=6&ved=0CFQQFjAF&url=http%3A%2F%2Fcarl.cs.indiana.edu%2Ffil%2Fcgi-bin%2FWebSec%2Fmarilyn.cgi&ei=UQtmT_jdOIjzrQflp9S9Bw&usg=AFQjCNHRtbr4ftk_4PyVzN3HuHPJV6LZow
Sun Mar 18 12:13:15 2012 from http://www.bing.com/search?q=%3F+search.imesh.com%2Fvideos%3Fsrc%3Dtlbvw%26v%3D4.6.1.01%26q%3D%25D8%25B3%25D9%2583%25D8%25B3%26systemid%3D1%26appid%3D573&form=SPLBR1&pc=SPLH
Sun Mar 18 11:55:17 2012 from (empty referer)
Sun Mar 18 11:21:38 2012 from http://www.google.com/gwt/x?client=ms-sonyericsson&q=http://www.google.com/gwt/x/e?client%3Dms-sonyericsson&output=wml&channel=bs&ei=Zf1lT-D0IvGZiAezag&ved=0CAUQFjAAOAw&start=12&hl=en-GB&source=m&rd=1&u=http://carl.cs.indiana.edu/fil/cgi-bin/WebSec/marilyn.cgi
Sun Mar 18 11:21:24 2012 from (empty referer)
Sun Mar 18 10:52:41 2012 from http://www.google.com/url?sa=t&rct=j&q=http%3A%2F%2Fwww.google.com%2Fsearch%3Fq%3Dhttp%253a%252f%252fwww.google.com%252fsearch%253fq%253dgoogle%2526sourceid%253dopera%2526ie%253dutf-8%2526oe%253dutf-8%2526channel%253dsuggest%26sourceid%3Dopera%26ie%3Dutf-8%26oe%3Dutf-8%26channel%3Dsuggest&source=web&cd=1&ved=0CCIQFjAA&url=http%3A%2F%2Fcarl.cs.indiana.edu%2Ffil%2Fcgi-bin%2FWebSec%2Fmarilyn.cgi&ei=pvZlT8KOMdGZhQfmvpSFDw&usg=AFQjCNHRtbr4ftk_4PyVzN3HuHPJV6LZow
Sun Mar 18 10:26:37 2012 from (empty referer)
Sun Mar 18 10:22:41 2012 from http://home.allgameshome.com/results.php?s=assist.babylon.com%2Fbabylonassista%2Fdnsassist%2Fmain%3Fdomain%3Dhome+allgameshome+&category=web&start=1&x=26&y=19
Sun Mar 18 10:22:38 2012 from http://home.allgameshome.com/results.php?s=assist.babylon.com%2Fbabylonassista%2Fdnsassist%2Fmain%3Fdomain%3Dhome+allgameshome+&category=web&start=1&x=26&y=19
Sun Mar 18 09:46:27 2012 from http://www.google.co.id/url?sa=t&rct=j&q=click%20infospace%20clickhandler&source=web&cd=6&ved=0CF0QFjAF&url=http%3A%2F%2Fcarl.cs.indiana.edu%2Ffil%2Fcgi-bin%2FWebSec%2Fmarilyn.cgi&ei=IudlT_LLC8yHrAeg7a29Bw&usg=AFQjCNHRtbr4ftk_4PyVzN3HuHPJV6LZow&sig2=bPs68_yLDaYPmIBpfV1vdg
Sun Mar 18 09:44:08 2012 from http://home.allgameshome.com/results.php?category=web&s=home.allgameshome+hote+sexi.com%2Fresults.php%3Fs%3Dwww.hote%2Bsexe.com.pk%252F%2523hl%253Den%2526sugexp%253Dfrgbld%2526gs_nf%253D1%2526cp%253D1%2526gs_id%253D2%2526xhr%253Dt%2526q%253Dyoutube%2526pf%253Dp%2526output%253Dsearch%2526sclient%253Dpsy-ab%2526oq%253Dy%2526aq%253D0%2526aqi%253Dg4%2526aql%253D%2526gs_sm%253D%2526gs_upl%253D%2526gs_l%253D%2526pbx%253D1%2526bav%253Don.2%252Cor.r_gc.r_pw.r_qf.%252Ccf.osb%2526fp%253D1a4cb98f9b1b4c86%2526biw%253D1024%2526bih%253D641%26category%3Dvideo%26start%3D1
Sun Mar 18 09:21:04 2012 from (empty referer)
Sun Mar 18 08:58:52 2012 from http://www.google.com/url?sa=t&rct=j&q=http%3A%2F%2Fhome.allgameshome.com%2Fresults.php%3Fcategory%3Dweb%26s%3Dx%2Bsex%2Bvideo&source=web&cd=1&ved=0CCIQFjAA&url=http%3A%2F%2Fcarl.cs.indiana.edu%2Ffil%2Fcgi-bin%2FWebSec%2Fmarilyn.cgi&ei=Mv1kT9uANs-VOveX6PAH&usg=AFQjCNHRtbr4ftk_4PyVzN3HuHPJV6LZow
Sun Mar 18 08:51:09 2012 from http://www.google.com/url?sa=t&rct=j&q=http%3A%2F%2Fwww.google.com%2Fsearch%3Fq%3Dhttp%253A%252F%252Fwww.google.com%252Fsearch%253Fq%253Dhttp%25253A%25252F%25252Fmail.yahoo.com%25252F%2526sourceid%253Dopera%2526ie%253Dutf-8%2526oe%253Dutf-8%2526channel%253Dsuggest%26sourceid%3Dopera%26ie%3Dutf-8%26oe%3Dutf-8%26channel%3Dsuggest&source=web&cd=1&ved=0CCIQFjAA&url=http%3A%2F%2Fcarl.cs.indiana.edu%2Ffil%2Fcgi-bin%2FWebSec%2Fmarilyn.cgi&ei=HNplT-uELcbz8gOfqMHoBw&usg=AFQjCNHRtbr4ftk_4PyVzN3HuHPJV6LZow
Sun Mar 18 08:35:46 2012 from http://search.imesh.com/web?hl=tr&q=click+infospace&src=404&ref=1&page=8
Sun Mar 18 07:14:28 2012 from (empty referer)
Sun Mar 18 06:49:59 2012 from http://www.google.com/url?sa=t&rct=j&q=click%20infospace%20clickhandler&source=web&cd=5&ved=0CEUQFjAE&url=http%3A%2F%2Fcarl.cs.indiana.edu%2Ffil%2Fcgi-bin%2FWebSec%2Fmarilyn.cgi&ei=qb1lT-TDM8yRiQeYndHxBQ&usg=AFQjCNHRtbr4ftk_4PyVzN3HuHPJV6LZow&cad=rjt
Sun Mar 18 05:34:02 2012 from http://www.google.com/url?sa=t&rct=j&q=http%3A%2F%2Fwww.google.com%2Fsearch%3Fq%3Dhttp%253a%252f%252fwww.google.com%252fsearch%253fq%253dhttp%25253a%25252f%25252fwww.facebook.com%25252f%2526sourceid%253dopera%2526ie%253dutf-8%2526oe%253dutf-8%2526channel%253dsuggest%26sourceid%3Dopera%26ie%3Dutf-8%26oe%3Dutf-8%26channel%3Dsuggest&source=web&cd=1&ved=0CCIQFjAA&url=http%3A%2F%2Fcarl.cs.indiana.edu%2Ffil%2Fcgi-bin%2FWebSec%2Fmarilyn.cgi&ei=A6xlT66dCYmKhQeX3fyeCA&usg=AFQjCNHRtbr4ftk_4PyVzN3HuHPJV6LZow
Sun Mar 18 04:32:29 2012 from http://www.google.co.id/url?sa=t&rct=j&q=click%20infospace%20clickhandler&source=web&cd=6&ved=0CF0QFjAF&url=http%3A%2F%2Fcarl.cs.indiana.edu%2Ffil%2Fcgi-bin%2FWebSec%2Fmarilyn.cgi&ei=WJ1lT82yDdHKrAe-0KS9Bw&usg=AFQjCNHRtbr4ftk_4PyVzN3HuHPJV6LZow
Sun Mar 18 02:43:06 2012 from (empty referer)
Sun Mar 18 02:07:58 2012 from http://www.google.com/url?sa=t&rct=j&q=http%3A%2F%2Fwww.bing.com%2Fsearch%3Fq%3Dhttp%253A%252F%252Fwww.google.co.za%252F%26src%3DIE-SearchBox%26FORM%3DIE8SRC&source=web&cd=1&ved=0CCIQFjAA&url=http%3A%2F%2Fcarl.cs.indiana.edu%2Ffil%2Fcgi-bin%2FWebSec%2Fmarilyn.cgi&ei=sHtlT9jZK4LP0QWfhsiLCA&usg=AFQjCNHRtbr4ftk_4PyVzN3HuHPJV6LZow
Sun Mar 18 02:07:57 2012 from http://www.google.com/url?sa=t&rct=j&q=http%3A%2F%2Fwww.bing.com%2Fsearch%3Fq%3Dhttp%253A%252F%252Fwww.google.co.za%252F%26src%3DIE-SearchBox%26FORM%3DIE8SRC&source=web&cd=1&ved=0CCIQFjAA&url=http%3A%2F%2Fcarl.cs.indiana.edu%2Ffil%2Fcgi-bin%2FWebSec%2Fmarilyn.cgi&ei=sHtlT9jZK4LP0QWfhsiLCA&usg=AFQjCNHRtbr4ftk_4PyVzN3HuHPJV6LZow
Sun Mar 18 01:11:06 2012 from http://www.google.com/url?sa=t&rct=j&q=http%3A%2F%2Fwww.google.com%2Fsearch%3Fq%3Dhttp%253a%252f%252fwww.google.com%252fsearch%253fq%253dhttp%25253a%25252f%25252fwww.google.com.pk%25252f%2526sourceid%253dopera%2526ie%253dutf-8%2526oe%253dutf-8%2526channel%253dsuggest%26sourceid%3Dopera%26ie%3Dutf-8%26oe%3Dutf-8%26channel%3Dsuggest&source=web&cd=1&ved=0CCIQFjAA&url=http%3A%2F%2Fcarl.cs.indiana.edu%2Ffil%2Fcgi-bin%2FWebSec%2Fmarilyn.cgi&ei=W25lT6XlKsnc8QPg6cG3CA&usg=AFQjCNHRtbr4ftk_4PyVzN3HuHPJV6LZow
Sun Mar 18 00:45:48 2012 from http://www.fashion-man.pl/internet-i-komputery/walizki-i-plecaki,i,1515.php
Sun Mar 18 00:22:15 2012 from http://www.google.com/url?sa=t&rct=j&q=http%3A%2F%2Fwww.google.com%2Fsearch%3Fq%3Dhttp%253a%252f%252fwww.google.com%252fsearch%253fq%253dhttp%25253a%25252f%25252fwww.facebook.com%25252f%2526sourceid%253dopera%2526ie%253dutf-8%2526oe%253dutf-8%2526channel%253dsuggest%26sourceid%3Dopera%26ie%3Dutf-8%26oe%3Dutf-8%26channel%3Dsuggest&source=web&cd=1&ved=0CCIQFjAA&url=http%3A%2F%2Fcarl.cs.indiana.edu%2Ffil%2Fcgi-bin%2FWebSec%2Fmarilyn.cgi&ei=bIdVT-vcH8fYrQffvNWUBw&usg=AFQjCNHRtbr4ftk_4PyVzN3HuHPJV6LZow
Sun Mar 18 00:12:11 2012 from (empty referer)
Sat Mar 17 23:53:53 2012 from http://www.google.co.in/m?q=www%252esexy%2520%2520videos%252ecom&client=ms-opera-mini&channel=new
Sat Mar 17 23:09:46 2012 from (empty referer)
Sat Mar 17 22:05:36 2012 from http://carl.cs.indiana.edu/fil/cgi-bin/WebSec/marilyn.cgi
Sat Mar 17 20:38:09 2012 from http://www.google.com/m?client=ms-nokia&cof=nsp&channel=s60&q=carl.cs.indiana.edu%2ffil%2fcgi-bin%2fWebSec%2fmarilyn.cgi
Sat Mar 17 20:00:40 2012 from (empty referer)
Sat Mar 17 19:51:02 2012 from (empty referer)
Sat Mar 17 19:23:11 2012 from (empty referer)
Sat Mar 17 18:04:48 2012 from http://www.google.com/url?sa=t&rct=j&q=http%3A%2F%2Fclick.infospace.com%2Fclickhandler.ashx%3Fdu%3Dwww.xvideos.com&source=web&cd=1&ved=0CCMQFjAA&url=http%3A%2F%2Fcarl.cs.indiana.edu%2Ffil%2Fcgi-bin%2FWebSec%2Fmarilyn.cgi&ei=LgplT_n0O5OXhQetsIirBA&usg=AFQjCNHRtbr4ftk_4PyVzN3HuHPJV6LZow
Sat Mar 17 16:09:42 2012 from http://www.google.co.in/url?sa=t&rct=j&q=click%20infospace%20clickhandler&source=web&cd=4&ved=0CDYQFjAD&url=http%3A%2F%2Fcarl.cs.indiana.edu%2Ffil%2Fcgi-bin%2FWebSec%2Fmarilyn.cgi&ei=fO9kT9q6HYPIrQe55qy9Bw&usg=AFQjCNHRtbr4ftk_4PyVzN3HuHPJV6LZow
Sat Mar 17 15:23:15 2012 from http://www.google.hr/url?sa=t&rct=j&q=click%20infospace%20clickhandler&source=web&cd=5&ved=0CEoQFjAE&url=http%3A%2F%2Fcarl.cs.indiana.edu%2Ffil%2Fcgi-bin%2FWebSec%2Fmarilyn.cgi&ei=iuRkT4riD5DPsgb5g4XwBQ&usg=AFQjCNHRtbr4ftk_4PyVzN3HuHPJV6LZow
Sat Mar 17 15:06:38 2012 from http://www.google.co.id/url?sa=t&rct=j&q=click%20infospace%20clickhandler&source=web&cd=6&ved=0CFQQFjAF&url=http%3A%2F%2Fcarl.cs.indiana.edu%2Ffil%2Fcgi-bin%2FWebSec%2Fmarilyn.cgi&ei=sOBkT_XnEITIrQfOiLy9Bw&usg=AFQjCNHRtbr4ftk_4PyVzN3HuHPJV6LZow
Sat Mar 17 14:40:58 2012 from (empty referer)
Sat Mar 17 14:20:09 2012 from http://www.google.com/url?sa=t&rct=j&q=http%3A%2F%2Fwww.google.com%2Fsearch%3Fq%3Dhttp%253a%252f%252fwww.google.com%252fsearch%253fq%253dhttp%25253a%25252f%25252fwww.facebook.com%25252f%2526sourceid%253dopera%2526ie%253dutf-8%2526oe%253dutf-8%2526channel%253dsuggest%26sourceid%3Dopera%26ie%3Dutf-8%26oe%3Dutf-8%26channel%3Dsuggest&source=web&cd=1&ved=0CC8QFjAA&url=http%3A%2F%2Fcarl.cs.indiana.edu%2Ffil%2Fcgi-bin%2FWebSec%2Fmarilyn.cgi&ei=bNBkT9KIMYHRrQf29dm8Bw&usg=AFQjCNHRtbr4ftk_4PyVzN3HuHPJV6LZow
Sat Mar 17 14:19:34 2012 from http://www.google.com.au/url?sa=t&rct=j&q=click%20infospace%20clickhandler&source=web&cd=4&ved=0CDYQFjAD&url=http%3A%2F%2Fcarl.cs.indiana.edu%2Ffil%2Fcgi-bin%2FWebSec%2Fmarilyn.cgi&ei=mNVkT8x4rsiZBfvQiYEI&usg=AFQjCNHRtbr4ftk_4PyVzN3HuHPJV6LZow
Sat Mar 17 13:44:32 2012 from http://www.google.com/url?sa=t&rct=j&q=http%3A%2F%2Fcarl.cs.indiana.edu%2Ffil%2Fcgi-bin%2FWebSec%2Fmarilyn.cg&source=web&cd=1&ved=0CCIQFjAA&url=http%3A%2F%2Fcarl.cs.indiana.edu%2Ffil%2Fcgi-bin%2FWebSec%2Fmarilyn.cgi&ei=W81kT97SOcHO4QTiwuj2Bw&usg=AFQjCNHRtbr4ftk_4PyVzN3HuHPJV6LZow
Sat Mar 17 12:48:47 2012 from http://www.google.com/url?sa=t&rct=j&q=&esrc=s&source=web&cd=1&ved=0CCMQFjAA&url=http%3A%2F%2Fcarl.cs.indiana.edu%2Ffil%2Fcgi-bin%2FWebSec%2Fmarilyn.cgi&ei=WMBkT9bBHYrqOYSQiIAI&usg=AFQjCNHRtbr4ftk_4PyVzN3HuHPJV6LZow&sig2=YodI1uRniWbynZDGMGCluA
Sat Mar 17 12:34:00 2012 from (empty referer)
Sat Mar 17 11:23:28 2012 from http://www.searchplusnetwork.com/?sp=chv&q=facebook.com%2Fajax%2Fpagelet%2Fgeneric.php%2FPhotoViewerInitPagelet%3F__a
Sat Mar 17 10:50:58 2012 from (empty referer)
Sat Mar 17 09:46:53 2012 from (empty referer)
Sat Mar 17 09:29:14 2012 from (empty referer)
Sat Mar 17 08:50:21 2012 from http://www.fiorelli.pl/internet,i,komputery/sklep,z,walizkami,s,10021/
Sat Mar 17 07:54:56 2012 from (empty referer)
Sat Mar 17 06:09:49 2012 from http://www.google.com.sa/url?sa=t&rct=j&q=click+infospace+ClickHandler&source=web&cd=7&ved=0CFcQFjAG&url=http%3A%2F%2Fcarl.cs.indiana.edu%2Ffil%2Fcgi-bin%2FWebSec%2Fmarilyn.cgi&ei=NmJkT5f7NtHY4QTP5dSsCA&usg=AFQjCNHRtbr4ftk_4PyVzN3HuHPJV6LZow&sig2=FltRhRoSZZKznMtNypY0qA
Sat Mar 17 06:06:59 2012 from http://www.google.com.sa/url?sa=t&rct=j&q=click+infospace+ClickHandler&source=web&cd=7&ved=0CFcQFjAG&url=http%3A%2F%2Fcarl.cs.indiana.edu%2Ffil%2Fcgi-bin%2FWebSec%2Fmarilyn.cgi&ei=NmJkT5f7NtHY4QTP5dSsCA&usg=AFQjCNHRtbr4ftk_4PyVzN3HuHPJV6LZow&sig2=FltRhRoSZZKznMtNypY0qA
Sat Mar 17 05:32:18 2012 from http://www.google.com/m?client=ms-nokia&cof=nsp&channel=s60&q=www.google.com%2fm%3fclient%3dms-nokia%27%e2%80%9d%26cof%3dnsp%26channel
Sat Mar 17 04:55:41 2012 from (empty referer)
Sat Mar 17 04:51:21 2012 from http://www.google.com.hk/url?sa=t&rct=j&q=click.infospace.com&source=web&cd=3&ved=0CEcQFjAC&url=http%3A%2F%2Fcarl.cs.indiana.edu%2Ffil%2Fcgi-bin%2FWebSec%2Fmarilyn.cgi&ei=cVBkT774Aa6OiAf3lK34BQ&usg=AFQjCNHRtbr4ftk_4PyVzN3HuHPJV6LZow
Sat Mar 17 04:38:05 2012 from http://www.google.com.my/url?sa=t&rct=j&q=click%20infospace%20clickhandler&source=web&cd=10&ved=0CG4QFjAJ&url=http%3A%2F%2Fcarl.cs.indiana.edu%2Ffil%2Fcgi-bin%2FWebSec%2Fmarilyn.cgi&ei=PE1kT9H0IIyIrAe1i8G8Bw&usg=AFQjCNHRtbr4ftk_4PyVzN3HuHPJV6LZow
Sat Mar 17 03:38:33 2012 from http://www.google.com/url?sa=t&rct=j&q=&esrc=s&source=web&cd=1&ved=0CCMQFjAA&url=http%3A%2F%2Fcarl.cs.indiana.edu%2Ffil%2Fcgi-bin%2FWebSec%2Fmarilyn.cgi&ei=cD9kT628HYeFsAK4zLi2Dw&usg=AFQjCNHRtbr4ftk_4PyVzN3HuHPJV6LZow&sig2=Ag8SUzZgmV-0SZtncAp-bw
Sat Mar 17 02:35:35 2012 from http://carl.cs.indiana.edu/fil/cgi-bin/WebSec/marilyn.cgi
Sat Mar 17 01:47:29 2012 from http://www.google.com/url?sa=t&rct=j&q=&esrc=s&source=web&cd=1&ved=0CCIQFjAA&url=http%3A%2F%2Fcarl.cs.indiana.edu%2Ffil%2Fcgi-bin%2FWebSec%2Fmarilyn.cgi&ei=rSRkT-DlJeaAsgLi--G2Dw&usg=AFQjCNHRtbr4ftk_4PyVzN3HuHPJV6LZow
Sat Mar 17 01:10:50 2012 from http://www.google.com/search?client=opera&rls=en&q=http%3A%2F%2Fwww.google.com%2Fsearch%3Fq%3Dhttp%253A%252F%252Fwww.google.com%252Fsearch%253Fq%253Dhttp%25253A%25252F%25252Fwww.adult.com%25252F%2526sourceid%253Dopera%2526ie%253Dutf-8%2526oe%253Dutf-8%2526channel%253Dsuggest%26sourceid%3Dopera%26ie%3Dutf-8%26oe%3Dutf-8%26channel%3Dsuggest&sourceid=opera&ie=utf-8&oe=utf-8&channel=suggest
Sat Mar 17 00:17:06 2012 from http://www.google.com/url?sa=t&rct=j&q=http%3A%2F%2Fwww.google.com%2Fsearch%3Fq%3Dhttp%253a%252f%252fwww.google.com%252fsearch%253fq%253dhttps%25253a%25252f%25252fwww.facebook.com%25252f%2526sourceid%253dopera%2526ie%253dutf-8%2526oe%253dutf-8%2526channel%253dsuggest%26sourceid%3Dopera%26ie%3Dutf-8%26oe%3Dutf-8%26channel%3Dsuggest&source=web&cd=1&ved=0CCIQFjAA&url=http%3A%2F%2Fcarl.cs.indiana.edu%2Ffil%2Fcgi-bin%2FWebSec%2Fmarilyn.cgi&ei=LhBkT4OGC8OwiQev0ZzBBQ&usg=AFQjCNHRtbr4ftk_4PyVzN3HuHPJV6LZow
Fri Mar 16 22:47:53 2012 from (empty referer)
Fri Mar 16 20:44:37 2012 from (empty referer)
Fri Mar 16 20:19:42 2012 from http://www.google.com/url?sa=t&rct=j&q=www.tuob+xnx.com%2F%3Fsp%3Dhp&source=web&cd=1&ved=0CCQQFjAA&url=http%3A%2F%2Fcarl.cs.indiana.edu%2Ffil%2Fcgi-bin%2FWebSec%2Fmarilyn.cgi&ei=gNhjT-aKPNC1hAe6ivXmBA&usg=AFQjCNHRtbr4ftk_4PyVzN3HuHPJV6LZow
Fri Mar 16 17:26:35 2012 from (empty referer)
Fri Mar 16 16:11:19 2012 from http://www.google.com/url?sa=t&rct=j&q=http%3A%2F%2Fwww.google.com%2Fsearch%3Fq%3Dhttp%253a%252f%252fwww.google.com%252fsearch%253fq%253dhttp%25253a%25252f%25252fwww.facebook.com%25252f%2526sourceid%253dopera%2526ie%253dutf-8%2526oe%253dutf-8%2526channel%253dsuggest%26sourceid%3Dopera%26ie%3Dutf-8%26oe%3Dutf-8%26channel%3Dsuggest&source=web&cd=1&ved=0CCIQFjAA&url=http%3A%2F%2Fcarl.cs.indiana.edu%2Ffil%2Fcgi-bin%2FWebSec%2Fmarilyn.cgi&ei=leliT7KCOZGcOoLKiaAI&usg=AFQjCNHRtbr4ftk_4PyVzN3HuHPJV6LZow
Fri Mar 16 15:46:40 2012 from http://www.google.com.tr/url?sa=t&rct=j&q=http%3A%2F%2Fwww.plusnetwork.com%2F%3Fsp%3Dhp&source=web&cd=2&ved=0CCkQFjAB&url=http%3A%2F%2Fcarl.cs.indiana.edu%2Ffil%2Fcgi-bin%2FWebSec%2Fmarilyn.cgi&ei=W5hjT9HLGIfSsgbu4Zi6BQ&usg=AFQjCNHRtbr4ftk_4PyVzN3HuHPJV6LZow&cad=rja
Fri Mar 16 15:44:18 2012 from http://www.google.com/url?sa=t&rct=j&q=http%3A%2F%2Fwww.google.com%2Fsearch%3Fq%3Dhttp%253A%252F%252Fwww.google.com%252Fsearch%253Fq%253Dhttp%25253A%25252F%25252Fwww.googel.com%25252F%2526sourceid%253Dopera%2526ie%253Dutf-8%2526oe%253Dutf-8%2526channel%253Dsuggest%26sourceid%3Dopera%26ie%3Dutf-8%26oe%3Dutf-8%26channel%3Dsuggest&source=web&cd=1&ved=0CCIQFjAA&url=http%3A%2F%2Fcarl.cs.indiana.edu%2Ffil%2Fcgi-bin%2FWebSec%2Fmarilyn.cgi&ei=tpdjT9W7JqfP4QS6lq2VCA&usg=AFQjCNHRtbr4ftk_4PyVzN3HuHPJV6LZow
Fri Mar 16 15:00:14 2012 from (empty referer)
Fri Mar 16 14:47:19 2012 from http://search.imesh.com/web?hl=en&q=click+infospace&src=404&ref=1&page=8
Fri Mar 16 14:08:23 2012 from http://www.google.com/url?sa=t&rct=j&q=http%3A%2F%2Fwww.google.com%2Fsearch%3Fq%3Dhttp%253A%252F%252Fwww.google.com%252Fse++++++++++++++++++++++++++++++++++++++++++++++++++++++++++++++++++++++++++++++++++++++++++++++++++++++++++++++++++++++++++++++++++++++++arch%253Fq%253Dhttp%25253A%25252F%25252Fwww.google.com.pk%25252F%2526sourceid%253Dopera%2526ie%253Dutf-8%2526oe%253Dutf-8%2526channel%253Dsuggest%26sourceid%3Dopera%26ie%3Dutf-8%26oe%3Dutf-8%26channel%3Dsuggest&source=web&cd=1&ved=0CCIQFjAA&url=http%3A%2F%2Fcarl.cs.indiana.edu%2Ffil%2Fcgi-bin%2FWebSec%2Fmarilyn.cgi&ei=ioFjT7z7NpSYhQfLzbCPCA&usg=AFQjCNHRtbr4ftk_4PyVzN3HuHPJV6LZow
Fri Mar 16 13:30:59 2012 from http://www.google.com/search?client=opera&rls=en&q=http%3A%2F%2Fwww.google.com%2Fsearch%3Fq%3Dhttp%253A%252F%252Fwww.google.com%252Fsearch%253Fq%253Dhttp%25253A%25252F%25252Fwww.facebook.com%25252F%2526sourceid%253Dopera%2526ie%253Dutf-8%2526oe%253Dutf-8%2526channel%253Dsuggest%26sourceid%3Dopera%26ie%3Dutf-8%26oe%3Dutf-8%26channel%3Dsuggest&sourceid=opera&ie=utf-8&oe=utf-8&channel=suggest
Fri Mar 16 12:18:35 2012 from (empty referer)
Fri Mar 16 11:27:48 2012 from http://search.imesh.com/web?hl=tr&q=click+infospace&src=404&ref=1&page=8
Fri Mar 16 11:05:39 2012 from (empty referer)
Fri Mar 16 10:44:29 2012 from (empty referer)
Fri Mar 16 08:38:59 2012 from http://www.google.com/url?sa=t&rct=j&q=http%3A%2F%2Fwww.google.com%2Fsearch%3Fq%3Dhttp%253a%252f%252fwww.google.com.pk%252fsearch%253fq%253dsearch%2526sourceid%253dopera%2526ie%253dutf-8%2526oe%253dutf-8%2526channel%253dsuggest%26sourceid%3Dopera%26ie%3Dutf-8%26oe%3Dutf-8%26channel%3Dsuggest&source=web&cd=1&ved=0CCIQFjAA&url=http%3A%2F%2Fcarl.cs.indiana.edu%2Ffil%2Fcgi-bin%2FWebSec%2Fmarilyn.cgi&ei=oTNjT7eSIYHQrQfOk-S8Bw&usg=AFQjCNHRtbr4ftk_4PyVzN3HuHPJV6LZow
Fri Mar 16 08:38:26 2012 from http://search.bearshare.com/web?hl=tr&q=click+infospace&src=404&ref=1&page=8
Fri Mar 16 08:35:59 2012 from http://www.google.com/url?sa=t&rct=j&q=http%3A%2F%2Fwww.google.com%2Fsearch%3Fq%3Dhttp%253a%252f%252fwww.google.com.pk%252fsearch%253fq%253dsearch%2526sourceid%253dopera%2526ie%253dutf-8%2526oe%253dutf-8%2526channel%253dsuggest%26sourceid%3Dopera%26ie%3Dutf-8%26oe%3Dutf-8%26channel%3Dsuggest&source=web&cd=1&ved=0CCIQFjAA&url=http%3A%2F%2Fcarl.cs.indiana.edu%2Ffil%2Fcgi-bin%2FWebSec%2Fmarilyn.cgi&ei=oTNjT7eSIYHQrQfOk-S8Bw&usg=AFQjCNHRtbr4ftk_4PyVzN3HuHPJV6LZow
Fri Mar 16 08:28:38 2012 from http://www.google.com/m?q=www.sex+laef.com&start=10&sa=N
Fri Mar 16 07:48:56 2012 from http://www.google.co.id/url?sa=t&rct=j&q=filem%20bfhttp%3A%2F%2Fwebsearch.4shared.com%2F&source=web&cd=2&ved=0CCkQFjAB&url=http%3A%2F%2Fcarl.cs.indiana.edu%2Ffil%2Fcgi-bin%2FWebSec%2Fmarilyn.cgi%3Fiframe%3Dtrue%26width%3D80%25%26height%3D80%25&ei=QShjT4HJNtHJrAeSndy9Bw&usg=AFQjCNE7JD9xSrOi5_c4GAQObQquXyuwVQ
Fri Mar 16 07:47:23 2012 from http://www.google.co.id/url?sa=t&rct=j&q=filem%20bfhttp%3A%2F%2Fwebsearch.4shared.com%2F&source=web&cd=2&ved=0CCkQFjAB&url=http%3A%2F%2Fcarl.cs.indiana.edu%2Ffil%2Fcgi-bin%2FWebSec%2Fmarilyn.cgi%3Fiframe%3Dtrue%26width%3D80%25%26height%3D80%25&ei=QShjT4HJNtHJrAeSndy9Bw&usg=AFQjCNE7JD9xSrOi5_c4GAQObQquXyuwVQ
Fri Mar 16 06:44:45 2012 from (empty referer)
Fri Mar 16 06:44:44 2012 from (empty referer)
Fri Mar 16 06:01:23 2012 from http://www.google.com/url?sa=t&rct=j&q=http://search.yahoo.com/search%3Fp%3Dhttp%253A%252F%252Fisearch.babylon.com%252F%253Fbabsrc%253Dhome&source=web&cd=8&ved=0CEMQFjAH&url=http%3A%2F%2Fcarl.cs.indiana.edu%2Ffil%2Fcgi-bin%2FWebSec%2Fmarilyn.cgi%3Fiframe%3Dtrue%26width%3D90%25%26height%3D90%25&ei=4Q5jT_--B-is0QWlh5yTCA&usg=AFQjCNF1YRHwwX8j7f5VE5Zthzm_YadtXg
Fri Mar 16 05:59:11 2012 from http://www.google.com/url?sa=t&rct=j&q=http://search.yahoo.com/search%3Fp%3Dhttp%253A%252F%252Fisearch.babylon.com%252F%253Fbabsrc%253Dhome&source=web&cd=8&ved=0CEMQFjAH&url=http%3A%2F%2Fcarl.cs.indiana.edu%2Ffil%2Fcgi-bin%2FWebSec%2Fmarilyn.cgi%3Fiframe%3Dtrue%26width%3D90%25%26height%3D90%25&ei=4Q5jT_--B-is0QWlh5yTCA&usg=AFQjCNF1YRHwwX8j7f5VE5Zthzm_YadtXg
Fri Mar 16 05:59:10 2012 from http://www.google.com/url?sa=t&rct=j&q=http://search.yahoo.com/search%3Fp%3Dhttp%253A%252F%252Fisearch.babylon.com%252F%253Fbabsrc%253Dhome&source=web&cd=8&ved=0CEMQFjAH&url=http%3A%2F%2Fcarl.cs.indiana.edu%2Ffil%2Fcgi-bin%2FWebSec%2Fmarilyn.cgi%3Fiframe%3Dtrue%26width%3D90%25%26height%3D90%25&ei=4Q5jT_--B-is0QWlh5yTCA&usg=AFQjCNF1YRHwwX8j7f5VE5Zthzm_YadtXg
Fri Mar 16 05:25:21 2012 from http://www.google.be/url?sa=t&rct=j&q=http%3A%2F%2Feu.ask.com%2F%3Fl%3Ddis%26o%3D101916&source=web&cd=2&ved=0CC0QFjAB&url=http%3A%2F%2Fcarl.cs.indiana.edu%2Ffil%2Fcgi-bin%2FWebSec%2Fmarilyn.cgi&ei=ewZjT6fwO4HW0QWfyKmYCA&usg=AFQjCNHRtbr4ftk_4PyVzN3HuHPJV6LZow
Fri Mar 16 02:43:20 2012 from (empty referer)
Fri Mar 16 00:51:42 2012 from http://home.allgameshome.com/results.php?category=web&s=google.co.in/search?complete/search?client=hp&hl=en&sugexp=frgbld&gs_nf=1&cp=3&gs_id=f&xhr=t&q=env&ech=3&psi=FsJiT_ngHdHJrAfpmc2KCA.1331873230119.1&emsg=NCSR&noj=1&ei=FsJiT_ngHdHJrAfpmc2KC
Fri Mar 16 00:51:13 2012 from http://www.google.co.in/m?q=www%252exxx%2520sex%252ein&client=ms-opera-mini&channel=new
Thu Mar 15 22:06:01 2012 from http://www.google.com/url?sa=t&rct=j&q=3http%3A%2F%2Fwww.google.com%2Fsearch%3Fsafe%3Dactive%26q%3Dyhttp%253A%252F%252Fwww.google.com%252F&source=web&cd=6&ved=0CEQQFjAF&url=http%3A%2F%2Fcarl.cs.indiana.edu%2Ffil%2Fcgi-bin%2FWebSec%2Fmarilyn.cgi&ei=9p9iT5uKE8aeiALy9uCGCQ&usg=AFQjCNHRtbr4ftk_4PyVzN3HuHPJV6LZow
Thu Mar 15 22:00:00 2012 from http://www.google.com/url?sa=t&rct=j&q=http%3A%2F%2Fstart.allgameshome.com%2Fresults.php%3Fcategory%3Dweb%26s%3Dfacebook&source=web&cd=1&ved=0CCYQFjAA&url=http%3A%2F%2Fcarl.cs.indiana.edu%2Ffil%2Fcgi-bin%2FWebSec%2Fmarilyn.cgi&ei=X55iT9eoNpTpgAfQqIjVAg&usg=AFQjCNHRtbr4ftk_4PyVzN3HuHPJV6LZow
Thu Mar 15 21:05:04 2012 from http://www.google.gy/url?sa=t&rct=j&q=click+infospace+ClickHandler&source=web&cd=5&ved=0CD8QFjAE&url=http%3A%2F%2Fcarl.cs.indiana.edu%2Ffil%2Fcgi-bin%2FWebSec%2Fmarilyn.cgi&ei=sZFiT-GYKYKkgwetvr2hAg&usg=AFQjCNHRtbr4ftk_4PyVzN3HuHPJV6LZow
Thu Mar 15 21:02:42 2012 from (empty referer)
Thu Mar 15 20:57:15 2012 from (empty referer)
Thu Mar 15 20:48:47 2012 from http://www.google.com/url?sa=t&rct=j&q=&esrc=s&source=web&cd=5&ved=0CEQQFjAE&url=http%3A%2F%2Fcarl.cs.indiana.edu%2Ffil%2Fcgi-bin%2FWebSec%2Fmarilyn.cgi&ei=2o1iT7-sJKOciAeMmanmBQ&usg=AFQjCNHRtbr4ftk_4PyVzN3HuHPJV6LZow&sig2=ywefVbUratOQlpTP3qJQ6A
Thu Mar 15 19:22:54 2012 from (empty referer)
Thu Mar 15 18:22:40 2012 from (empty referer)
Thu Mar 15 18:08:22 2012 from (empty referer)
Thu Mar 15 18:00:13 2012 from (empty referer)
Thu Mar 15 17:46:39 2012 from (empty referer)
Thu Mar 15 17:33:24 2012 from http://www.google.com/url?sa=t&rct=j&q=www.php%3Fu%3D18%26q%3D%25d8%25b3&source=web&cd=10&ved=0CFoQFjAJ&url=http%3A%2F%2Fcarl.cs.indiana.edu%2Ffil%2Fcgi-bin%2FWebSec%2Fmarilyn.cgi&ei=E2BiT6jFE8LP4QT0z4ziBw&usg=AFQjCNHRtbr4ftk_4PyVzN3HuHPJV6LZow
Thu Mar 15 17:18:08 2012 from http://www.ferommok.com/search.php?search=Www+youtube+com+results+search+query+pron+oq+pron+aq+f+aqi+aql&action=search
Thu Mar 15 15:42:04 2012 from http://www.google.com/m?client=ms-nokia&cof=nsp&channel=s60&q=www.com%2fm%3fclient%3dms-nokia%26cof%3dnsp%26channel%3ds60%26q%3dww
Thu Mar 15 15:42:01 2012 from http://www.google.com/m?client=ms-nokia&cof=nsp&channel=s60&q=www.com%2fm%3fclient%3dms-nokia%26cof%3dnsp%26channel%3ds60%26q%3dww
Thu Mar 15 15:28:02 2012 from (empty referer)
Thu Mar 15 15:09:26 2012 from (empty referer)
Thu Mar 15 14:53:00 2012 from http://www.google.com.sa/search?q=http%3A%2F%2Fbit.ly%2Fp7zHot%20wow%21&client=mobilesearchapp&safe=images&rlz=1MDAPLA_en-BB__473&hl=en&v=1.0.1.8464&channel=iss&source=mobilesearchapp&qscrl=1
Thu Mar 15 14:38:45 2012 from http://www.google.com/url?sa=t&rct=j&q=http%3A%2F%2Fwww.google.com%2Fsearch%3Fq%3Dhttp%253a%252f%252fwww.google.com%252fsearch%253fq%253dhttp%25253a%25252f%25252fwww.google.com.mx%25252f%2526sourceid%253dopera%2526ie%253dutf-8%2526oe%253dutf-8%2526channel%253dsuggest%26sourceid%3Dopera%26ie%3Dutf-8%26oe%3Dutf-8%26channel%3Dsuggest&source=web&cd=1&ved=0CCIQFjAA&url=http%3A%2F%2Fcarl.cs.indiana.edu%2Ffil%2Fcgi-bin%2FWebSec%2Fmarilyn.cgi&ei=KTdiT7fJO5T-sQKCvY2kDA&usg=AFQjCNHRtbr4ftk_4PyVzN3HuHPJV6LZow
Thu Mar 15 14:23:36 2012 from http://www.google.com/url?sa=t&rct=j&q=http%3A%2F%2Fwww.google.com%2Fsearch%3Fq%3Dhttp%253a%252f%252fwww.google.com%252fsearch%253fq%253dhttp%25253a%25252f%25252fwww.google.cl%25252f%2526sourceid%253dopera%2526ie%253dutf-8%2526oe%253dutf-8%2526channel%253dsuggest%26sourceid%3Dopera%26ie%3Dutf-8%26oe%3Dutf-8%26channel%3Dsuggest&source=web&cd=1&ved=0CCMQFjAA&url=http%3A%2F%2Fcarl.cs.indiana.edu%2Ffil%2Fcgi-bin%2FWebSec%2Fmarilyn.cgi&ei=njNiT7HqIeHb0QHfzZ27CA&usg=AFQjCNHRtbr4ftk_4PyVzN3HuHPJV6LZow
Thu Mar 15 13:51:26 2012 from (empty referer)
Thu Mar 15 13:16:16 2012 from http://www.google.com/url?sa=t&rct=j&q=http%3A%2F%2Fwww.google.com%2Fsearch%3Fq%3Dhttp%253A%252F%252Fwww.google.com%252Fsearch%253Fq%253Dhttp%25253A%25252F%25252Fwww.google.com%25252Fsearch%25253Fq%25253D-8%252525252526oe%25252525253Dutf-8%252525252526channel%25252525253Dsuggest%2525252526sourceid%252525253Dopera%2525252526ie%252525253Dutf-8%2525252526oe%252525253Dutf-8%2525252526channel%252525253Dsuggest%25252526sourceid%2525253Dopera%25252526ie%2525253Dutf-8%25252526oe%2525253Dutf-8%25252526channel%2525253Dsuggest%252526sourceid%25253Dopera%252526ie%25253Dutf-8%252526oe%25253Dutf-8%252526channel%25253Dsuggest%2526sourceid%253Dopera%2526ie%253Dutf-8%2526oe%253Dutf-8%2526channel%253Dsuggest%26sourceid%3Dopera%26ie%3Dutf-8%26oe%3Dutf-8%26channel%3Dsuggest&source=web&cd=2&ved=0CCcQFjAB&url=http%3A%2F%2Fcarl.cs.indiana.edu%2Ffil%2Fcgi-bin%2FWebSec%2Fmarilyn.cgi%3Fiframe%3Dtrue%26width%3D90%25%26height%3D90%25&ei=2SNiT6bfNIKJhQeq4721CA&usg=AFQjCNF1YRHwwX8j7f5VE5Zthzm_YadtXg
Thu Mar 15 12:47:27 2012 from http://www.google.com/url?sa=t&rct=j&q=click%20infospace%20clickhandler&source=web&cd=9&ved=0CF8QFjAI&url=http%3A%2F%2Fcarl.cs.indiana.edu%2Ffil%2Fcgi-bin%2FWebSec%2Fmarilyn.cgi&ei=EB1iT8ilOtDNrQeOwsyICA&usg=AFQjCNHRtbr4ftk_4PyVzN3HuHPJV6LZow
Thu Mar 15 12:14:29 2012 from http://www.google.com/xhtml?q=www%2esex%20fhlm&client=ms-opera_mb_no&channel=bh
Thu Mar 15 12:14:24 2012 from http://www.google.co.in/search?q=click+infospace+ClickHandler&channel=linkdoctor
Thu Mar 15 10:34:04 2012 from http://www.google.com.sa/url?sa=t&rct=j&q=http%3A%2F%2Ftubidy.mobi%2Fsearch.php%3Fa%3D18%26q%3Dsexe&source=web&cd=10&ved=0CIQBEBYwCQ&url=http%3A%2F%2Fcarl.cs.indiana.edu%2Ffil%2Fcgi-bin%2FWebSec%2Fmarilyn.cgi&ei=wP1hT5jhAY-bOtvCsIII&usg=AFQjCNHRtbr4ftk_4PyVzN3HuHPJV6LZow
Thu Mar 15 09:56:06 2012 from (empty referer)
Thu Mar 15 08:37:02 2012 from http://assist.babylon.com/babylonassista/dnsassist/main?domain=mystart%20incredibar%20mb113%20
Thu Mar 15 06:16:25 2012 from http://www.google.com/m?dc=gorganic&source=mobileproducts&q=sexfilm+for+mobail&start=20&sa=N
Thu Mar 15 06:15:53 2012 from http://www.google.com/m?dc=gorganic&source=mobileproducts&q=sexfilm+for+mobail&start=20&sa=N
Thu Mar 15 04:10:10 2012 from http://www.google.com/url?sa=t&rct=j&q=http%3A%2F%2Fwww.google.com%2Fsearch%3Fq%3Dhttp%253a%252f%252fwww.google.co.in%252fsearch%253fq%253dsearch%2526sourceid%253dopera%2526ie%253dutf-8%2526oe%253dutf-8%2526channel%253dsuggest%26sourceid%3Dopera%26ie%3Dutf-8%26oe%3Dutf-8%26channel%3Dsuggest&source=web&cd=1&ved=0CC8QFjAA&url=http%3A%2F%2Fcarl.cs.indiana.edu%2Ffil%2Fcgi-bin%2FWebSec%2Fmarilyn.cgi&ei=2KNhT4GAE4jZrQeb4LWDCA&usg=AFQjCNHRtbr4ftk_4PyVzN3HuHPJV6LZow
Thu Mar 15 03:50:44 2012 from (empty referer)
Thu Mar 15 02:42:52 2012 from http://www.google.com/m?safe=on&q=http;//tubidy.mobi/search.php?a%3D18%26q%3Dhot+&hl=en&start=30&sa=N
Thu Mar 15 02:21:39 2012 from http://assist.babylon.com/babylonassista/dnsassist/main?domain=mystart%20incredibar%20mb113%20
Thu Mar 15 01:51:13 2012 from (empty referer)
Thu Mar 15 01:26:13 2012 from (empty referer)
Wed Mar 14 23:09:30 2012 from (empty referer)
Wed Mar 14 20:08:39 2012 from http://www.google.cl/url?sa=t&rct=j&q=click%20infospace%20clickhandler&source=web&cd=8&sqi=2&ved=0CGQQFjAH&url=http%3A%2F%2Fcarl.cs.indiana.edu%2Ffil%2Fcgi-bin%2FWebSec%2Fmarilyn.cgi&ei=6TJhT8PkMOa80AHmzsDGBw&usg=AFQjCNHRtbr4ftk_4PyVzN3HuHPJV6LZow
Wed Mar 14 18:57:23 2012 from (empty referer)
Wed Mar 14 18:57:21 2012 from http://carl.cs.indiana.edu/fil/cgi-bin/WebSec/marilyn.cgi?test=1
Wed Mar 14 16:49:56 2012 from http://www.google.com.om/url?sa=t&rct=j&q=tubidy.mobi/search/php%3Fa%3D18%26q%3D%25D8%25B3%25D9%2583%25D8%25B3&source=web&cd=56&ved=0CD0QFjAFODI&url=http%3A%2F%2Fcarl.cs.indiana.edu%2Ffil%2Fcgi-bin%2FWebSec%2Fmarilyn.cgi%2F&ei=bARhT9a9IYHorQfi8In8BQ&usg=AFQjCNF9tNGa2iM3aGYKAk6Ix4Wx3InCNQ
Wed Mar 14 15:43:13 2012 from (empty referer)
Wed Mar 14 15:35:16 2012 from (empty referer)
Wed Mar 14 15:34:41 2012 from http://www.google.com/m?safe=on&q=Http://tubidy.mobi/search.pho?a%3D18%26q%3Dhot&hl=en&start=70
Wed Mar 14 15:27:49 2012 from http://www.google.com/m?client=ms-nokia&cof=nsp&channel=s60&q=mail.google.cohttp%3a%2f%2fwww.google.com%2fgwt%2fn%3fu%3dhttps%253a%252f%25
Wed Mar 14 14:59:47 2012 from http://www.google.com/url?sa=t&rct=j&q=click%20infospace%20clickhandler&source=web&cd=5&ved=0CEMQFjAE&url=http%3A%2F%2Fcarl.cs.indiana.edu%2Ffil%2Fcgi-bin%2FWebSec%2Fmarilyn.cgi&ei=cOpgT8m7PMOdOpK5kIMI&usg=AFQjCNHRtbr4ftk_4PyVzN3HuHPJV6LZow
Wed Mar 14 14:42:10 2012 from (empty referer)
Wed Mar 14 13:39:42 2012 from http://search.bearshare.com/web?hl=tr&q=click+infospace&src=404&ref=1&page=9
Wed Mar 14 13:35:13 2012 from http://search.bearshare.com/web?hl=tr&q=click+infospace&src=404&ref=1&page=9
Wed Mar 14 13:26:14 2012 from http://www.searchplusnetwork.com/?q=http%3A%2F%2Fclick.infospace.com%2FClickHandler.ashx%3Fdu&sp=chv&p=3
Wed Mar 14 13:13:38 2012 from http://www.google.com/url?sa=t&rct=j&q=click%20infospace%20clickhandler&source=web&cd=5&ved=0CEMQFjAE&url=http%3A%2F%2Fcarl.cs.indiana.edu%2Ffil%2Fcgi-bin%2FWebSec%2Fmarilyn.cgi&ei=sNFgT7eyOIjhtQaKxYmkBg&usg=AFQjCNHRtbr4ftk_4PyVzN3HuHPJV6LZow
Wed Mar 14 13:11:48 2012 from (empty referer)
Wed Mar 14 11:52:31 2012 from http://www.google.com/m?client=ms-nokia&cof=nsp&q=tubidy.mobi/search.php?q%3D%25D8%25B1%25D9%2582%25D8%25&channel=s60&start=60&sa=N
Wed Mar 14 08:49:18 2012 from http://www.google.co.in/url?sa=t&rct=j&q=click%20infospace%20clickhandler&source=web&cd=5&ved=0CEUQFjAE&url=http%3A%2F%2Fcarl.cs.indiana.edu%2Ffil%2Fcgi-bin%2FWebSec%2Fmarilyn.cgi&ei=wpNgT8CTO-iUiAfasdBN&usg=AFQjCNHRtbr4ftk_4PyVzN3HuHPJV6LZow
Wed Mar 14 08:44:00 2012 from http://home.allgameshome.com/results.php?category=web&s=google.co.in/search?complete/search?client=hp&hl=en&gs_nf=1&cp=22&gs_id=11y&xhr=t&q=download%20title%20song%20of%20jamuna%20par%20%20(mp3%20skull)&ech=25&psi=oo1gT6L8HcqmrAeiqqDzBQ.1331727784320.21&emsg=NCSR&noj=1&ei=-ZFgT_eKHYPIrQeIlsT8B
Wed Mar 14 08:38:28 2012 from http://www.google.com/url?sa=t&rct=j&q=http%3A%2F%2Fclick.infospace.com%2Fclickhandler.ashx%3Fdu%3Dhttp%3A%2F%2Fwww.facebook.com%2F&source=web&cd=1&ved=0CCsQFjAA&url=http%3A%2F%2Fcarl.cs.indiana.edu%2Ffil%2Fcgi-bin%2FWebSec%2Fmarilyn.cgi&ei=OpFgT87zOY7LmAXW-8zwBw&usg=AFQjCNHRtbr4ftk_4PyVzN3HuHPJV6LZow
Wed Mar 14 07:58:54 2012 from http://www.google.com.om/url?sa=t&rct=j&q=http+%3B%2F%2Ftubidy.mobi%2Fsearch.php.a%3D18%26q%3Dsex&source=web&cd=1&ved=0CDAQFjAA&url=http%3A%2F%2Fcarl.cs.indiana.edu%2Ffil%2Fcgi-bin%2FWebSec%2Fmarilyn.cgi&ei=4IdgT8_DAsLyrQeO-OWPBg&usg=AFQjCNHRtbr4ftk_4PyVzN3HuHPJV6LZow
Wed Mar 14 07:48:19 2012 from http://www.google.com/url?sa=t&rct=j&q=http%3A%2F%2Fwww.google.com%2Fsearch%3Fq%3Dhttp%253a%252f%252fwww.google.com%252fsearch%253fq%253dhttp%25253a%25252f%25252fwww.facebook.com%25252f%2526sourceid%253dopera%2526ie%253dutf-8%2526oe%253dutf-8%2526channel%253dsuggest%26sourceid%3Dopera%26ie%3Dutf-8%26oe%3Dutf-8%26channel%3Dsuggest&source=web&cd=4&ved=0CDMQFjAD&url=http%3A%2F%2Fcarl.cs.indiana.edu%2Ffil%2Fcgi-bin%2FWebSec%2Fmarilyn.cgi&ei=HIRgT66HNcabOpKW1IMI&usg=AFQjCNHRtbr4ftk_4PyVzN3HuHPJV6LZow
Wed Mar 14 07:38:41 2012 from (empty referer)
Wed Mar 14 07:17:20 2012 from (empty referer)
Wed Mar 14 06:39:28 2012 from (empty referer)
Wed Mar 14 05:24:50 2012 from (empty referer)
Wed Mar 14 05:08:12 2012 from (empty referer)
Wed Mar 14 04:53:28 2012 from http://www.google.com/m?client=ms-nokia&cof=nsp&channel=s60&q=www.google.com%2fxxx%2520video
Wed Mar 14 04:05:07 2012 from (empty referer)
Wed Mar 14 03:33:36 2012 from (empty referer)
Wed Mar 14 03:04:27 2012 from (empty referer)
Wed Mar 14 02:56:27 2012 from http://search.bearshare.com/web?hl=tr&q=click+infospace&src=derr&ref=1&page=10
Wed Mar 14 02:04:26 2012 from http://www.google.com.pk/url?sa=t&rct=j&q=home.allgameshome.com%2Fresults.php%3Fcategory%3Dweb%26s%3Dsaxophon&source=web&cd=1&ved=0CCEQFjAA&url=http%3A%2F%2Fcarl.cs.indiana.edu%2Ffil%2Fcgi-bin%2FWebSec%2Fmarilyn.cgi&ei=yzRgT-amHsXpOZKTrYII&usg=AFQjCNHRtbr4ftk_4PyVzN3HuHPJV6LZow
Wed Mar 14 01:11:34 2012 from (empty referer)
Wed Mar 14 01:09:55 2012 from (empty referer)
Tue Mar 13 21:37:55 2012 from (empty referer)
Tue Mar 13 21:31:55 2012 from http://www.google.co.id/url?sa=t&rct=j&q=click+infospace+ClickHandler&source=web&cd=6&ved=0CFIQFjAF&url=http%3A%2F%2Fcarl.cs.indiana.edu%2Ffil%2Fcgi-bin%2FWebSec%2Fmarilyn.cgi&ei=0_RfT8PoAoOeiQe_wLTYBw&usg=AFQjCNHRtbr4ftk_4PyVzN3HuHPJV6LZow
Tue Mar 13 20:49:46 2012 from http://Addie1208.multiply.com/journal
Tue Mar 13 19:59:44 2012 from (empty referer)
Tue Mar 13 19:27:20 2012 from http://www.searchplusnetwork.com/?sp=chv&q=facebook.com%2Fajax%2Fpagelet%2Fgeneric.php%2FPhotoViewerInitPagelet%3F__a
Tue Mar 13 17:33:30 2012 from http://www.google.com/url?sa=t&rct=j&q=http%3A%2F%2Fwww.google.com%2Fsearch%3Fq%3Dhttp%253a%252f%252fwww.google.com%252fsearch%253fq%253dhttp%25253a%25252f%25252fwww.facebook.com%25252f%2526sourceid%253dopera%2526ie%253dutf-8%2526oe%253dutf-8%2526channel%253dsuggest%26sourceid%3Dopera%26ie%3Dutf-8%26oe%3Dutf-8%26channel%3Dsuggest&source=web&cd=3&ved=0CDkQFjAC&url=http%3A%2F%2Fcarl.cs.indiana.edu%2Ffil%2Fcgi-bin%2FWebSec%2Fmarilyn.cgi&ei=GL1fT_-2H87MsgavzJivBg&usg=AFQjCNHRtbr4ftk_4PyVzN3HuHPJV6LZow
Tue Mar 13 17:13:32 2012 from http://search.imesh.com/web?hl=tr&q=click+infospace&src=404&ref=1&page=9
Tue Mar 13 15:07:05 2012 from http://www.google.com/url?sa=t&rct=j&q=&esrc=s&source=web&cd=1&cts=1331665609099&ved=0CC8QFjAA&url=http%3A%2F%2Fcarl.cs.indiana.edu%2Ffil%2Fcgi-bin%2FWebSec%2Fmarilyn.cgi&ei=yZpfT_q4J4bagAe9mrSmCA&usg=AFQjCNHRtbr4ftk_4PyVzN3HuHPJV6LZow&sig2=vY0r-evlvnDk-1OupWLR8A
Tue Mar 13 14:48:07 2012 from http://www.google.com.sa/url?sa=t&rct=j&q=http://tubidy.mobi/search.php%3Fa%3D18%26q%3D%25d8%25b1%25d9%2582%25d8%25b5%2B%25d9%2583%25d8%25b3&source=web&cd=51&ved=0CCAQFjAAODI&url=http%3A%2F%2Fcarl.cs.indiana.edu%2Ffil%2Fcgi-bin%2FWebSec%2Fmarilyn.cgi%3Fiframe%3Dtrue%26width%3D90%25%26height%3D90%25&ei=XZZfT4TBIsGSOraWzfkH&usg=AFQjCNF1YRHwwX8j7f5VE5Zthzm_YadtXg
Tue Mar 13 14:45:55 2012 from (empty referer)
Tue Mar 13 14:15:30 2012 from (empty referer)
Tue Mar 13 13:44:05 2012 from (empty referer)
Tue Mar 13 13:36:10 2012 from http://www.google.co.in/search?q=click+infospace+ClickHandler&channel=linkdoctor
Tue Mar 13 11:36:59 2012 from http://carl.cs.indiana.edu/fil/cgi-bin/WebSec/marilyn.cgi
Tue Mar 13 11:32:32 2012 from http://www.google.co.in/url?sa=t&rct=j&q=click%20infospace%20clickhandler&source=web&cd=8&ved=0CFsQFjAH&url=http%3A%2F%2Fcarl.cs.indiana.edu%2Ffil%2Fcgi-bin%2FWebSec%2Fmarilyn.cgi&ei=6mdfT7PsMpHqrQeHuqj0BQ&usg=AFQjCNHRtbr4ftk_4PyVzN3HuHPJV6LZow
Tue Mar 13 10:06:32 2012 from http://carl.cs.indiana.edu/fil/cgi-bin/WebSec/marilyn.cgi
Tue Mar 13 09:46:21 2012 from http://www.searchplusnetwork.com/?sp=chv&q=click.infospace.comClickHandler.ashx%3Fdu
Tue Mar 13 07:58:20 2012 from (empty referer)
Tue Mar 13 07:56:36 2012 from (empty referer)
Tue Mar 13 07:36:37 2012 from http://www.google.com/m?client=ms-nokia&cof=nsp&channel=s60&q=www.google.com%2f%3dnsp%26channel%3ds60%26q%3dhttps%253A
Tue Mar 13 07:36:10 2012 from http://www.google.com/m?client=ms-nokia&cof=nsp&channel=s60&q=www.google.com%2f%3dnsp%26channel%3ds60%26q%3dhttps%253A
Tue Mar 13 07:34:22 2012 from http://www.google.com/m?client=ms-nokia&cof=nsp&channel=s60&q=www.google.com%2f%3dnsp%26channel%3ds60%26q%3dhttps%253A
Tue Mar 13 07:28:46 2012 from http://www.google.com/url?sa=t&rct=j&q=click%20infospace%20clickhandler&source=web&cd=5&ved=0CEQQFjAE&url=http%3A%2F%2Fcarl.cs.indiana.edu%2Ffil%2Fcgi-bin%2FWebSec%2Fmarilyn.cgi&ei=XS9fT52TBaar0AHQ37jRBw&usg=AFQjCNHRtbr4ftk_4PyVzN3HuHPJV6LZow
Tue Mar 13 06:39:05 2012 from (empty referer)
Tue Mar 13 06:37:58 2012 from (empty referer)
Tue Mar 13 06:36:16 2012 from http://www.google.com.sa/search?hl=ar&source=hp&q=tubidy.mobi%2Fsearch.php%3Fa%3D18%26q%3Dhot%2Bsex&btnG=%D8%A8%D8%AD%D8%AB+Google%E2%80%8F&gbv=2&oq=&aq=&aqi=&aql=&gs_sm=&gs_upl=
Tue Mar 13 06:36:04 2012 from (empty referer)
Tue Mar 13 06:09:43 2012 from (empty referer)
Tue Mar 13 02:30:15 2012 from (empty referer)
Tue Mar 13 02:02:46 2012 from (empty referer)
Tue Mar 13 02:02:23 2012 from (empty referer)
Mon Mar 12 23:43:18 2012 from http://www.google.com.eg/url?sa=t&rct=j&q=www.google.com+src%253Dhmp%253Ao%253D15914%253Aq%253D%2525D8%2525B3%2525D9%252583%2525D8%2525B3%252520%2525D9%252585%2525D8%2525AD%2525D8%2525A7%2525D8%2525B1%2525D9%252585&source=web&cd=5&ved=0CDEQFjAE&url=http%3A%2F%2Fcarl.cs.indiana.edu%2Ffil%2Fcgi-bin%2FWebSec%2Fmarilyn.cgi%3Fiframe%3Dtrue%26width%3D80%25%26height%3D80%25&ei=SsJeT5HhOanS0QXcho2TBw&usg=AFQjCNE7JD9xSrOi5_c4GAQObQquXyuwVQ
Mon Mar 12 17:59:42 2012 from http://www.google.com/url?sa=t&rct=j&q=http%3A%2F%2Fwww.google.com%2Fsearch%3Fq%3Dhttp%253a%252f%252fwww.google.com%252fsearch%253fq%253dhttp%25253a%25252f%25252fwww.google.nl%25252f%2526sourceid%253dopera%2526ie%253dutf-8%2526oe%253dutf-8%2526channel%253dsuggest%26sourceid%3Dopera%26ie%3Dutf-8%26oe%3Dutf-8%26channel%3Dsuggest&source=web&cd=1&ved=0CCwQFjAA&url=http%3A%2F%2Fcarl.cs.indiana.edu%2Ffil%2Fcgi-bin%2FWebSec%2Fmarilyn.cgi&ei=w3FeT4f3Bs-VOvbygfkM&usg=AFQjCNHRtbr4ftk_4PyVzN3HuHPJV6LZow
Mon Mar 12 17:40:28 2012 from (empty referer)
Mon Mar 12 17:36:17 2012 from http://www.google.com/url?sa=t&rct=j&q=http%3A%2F%2Fhotsptshld.com%2Fg%2Fresults.php%3Fc%3De%26err%3D404%26h%3D2%26q%3D&source=web&cd=2&ved=0CCgQFjAB&url=http%3A%2F%2Fcarl.cs.indiana.edu%2Ffil%2Fcgi-bin%2FWebSec%2Fmarilyn.cgi&ei=QWxeT8y1MsaWOtzNjacO&usg=AFQjCNHRtbr4ftk_4PyVzN3HuHPJV6LZow
Mon Mar 12 17:17:43 2012 from (empty referer)
Mon Mar 12 17:05:37 2012 from (empty referer)
Mon Mar 12 16:52:25 2012 from (empty referer)
Mon Mar 12 16:11:01 2012 from http://www.scabenga.co.uk
Mon Mar 12 16:01:57 2012 from http://www.google.com/m?hl=en&q=htp%3A%2F%2Ftubidy.mobi%2Fsearc.ph%3Fa%3D18%26q%3Dsex
Mon Mar 12 15:58:40 2012 from http://www.google.com/m?client=ms-aff-ucweb&output=xhtml&hl=en&q=http%3a%2f%2ftubidy.mobi%2fsearch.php%3fa%3d18%26q%3d%25d8%25b1%25d9%2582%25d8%25b5%2b%25
Mon Mar 12 15:48:04 2012 from http://www.google.com/m?hl=en&q=htp%3A%2F%2Ftubidy.mobi%2Fsearc.ph%3Fa%3D18%26q%3Dsex
Mon Mar 12 15:33:29 2012 from http://search.bearshare.com/web?hl=tr&q=click+infospace&src=derr&ref=1&page=7
Mon Mar 12 15:08:46 2012 from http://www.google.com.sa/search?q=http%3A%2F%2Fbit.ly%2Fp7zHot%20wow%21&client=mobilesearchapp&safe=images&rlz=1MDAPLA_en-BB__473&hl=en&v=1.0.1.8464&channel=iss&source=mobilesearchapp&qscrl=1
Mon Mar 12 15:00:31 2012 from http://www.google.co.in/url?sa=t&rct=j&q=click+infospace+ClickHandler&source=web&cd=9&ved=0CF4QFjAI&url=http%3A%2F%2Fcarl.cs.indiana.edu%2Ffil%2Fcgi-bin%2FWebSec%2Fmarilyn.cgi&ei=rUdeT8DLDsf3rQfZsI2SDA&usg=AFQjCNHRtbr4ftk_4PyVzN3HuHPJV6LZow
Mon Mar 12 14:52:39 2012 from http://www.google.com.om/url?sa=t&rct=j&q=http%20%3B%2F%2Ftubidy.mobi%2Fsearch.php.a%3D18%26q%3Dsex&source=web&cd=22&ved=0CDIQFjABOBQ&url=http%3A%2F%2Fcarl.cs.indiana.edu%2Ffil%2Fcgi-bin%2FWebSec%2Fmarilyn.cgi&ei=7kVeT_GkIMPlrAfz-dXuCw&usg=AFQjCNHRtbr4ftk_4PyVzN3HuHPJV6LZow
Mon Mar 12 14:37:13 2012 from http://www.google.com/url?sa=t&rct=j&q=http%3A%2F%2Fwww.google.com%2Fsearch%3Fq%3Dhttp%253a%252f%252fwww.google.com%252fsearch%253fq%253dhttp%25253a%25252f%25252fwww.facebook.com%25252f%2526sourceid%253dopera%2526ie%253dutf-8%2526oe%253dutf-8%2526channel%253dsuggest%26sourceid%3Dopera%26ie%3Dutf-8%26oe%3Dutf-8%26channel%3Dsuggest&source=web&cd=2&ved=0CCYQFjAB&url=http%3A%2F%2Fcarl.cs.indiana.edu%2Ffil%2Fcgi-bin%2FWebSec%2Fmarilyn.cgi&ei=RkJeT-3-L8HoOcWQiZIN&usg=AFQjCNHRtbr4ftk_4PyVzN3HuHPJV6LZow
Mon Mar 12 13:56:56 2012 from (empty referer)
Mon Mar 12 13:25:50 2012 from http://www.searchplusnetwork.com/?q=facebook.com%2Fajax%2Fpagelet%2Fgeneric.php%2FPhotoViewerInitPagelet%3F__a&x=0&y=0
Mon Mar 12 11:29:53 2012 from http://www.google.com/url?sa=t&rct=j&q=&esrc=s&source=web&cd=1&cts=1331571333244&ved=0CDEQFjAA&url=http%3A%2F%2Fcarl.cs.indiana.edu%2Ffil%2Fcgi-bin%2FWebSec%2Fmarilyn.cgi&ei=LhZeT92GFpHirAfq8_jCCg&usg=AFQjCNHRtbr4ftk_4PyVzN3HuHPJV6LZow&sig2=jF4nEkYVX5xZ7hhfsIHBTA
Mon Mar 12 10:56:17 2012 from http://www.google.com/url?sa=t&rct=j&q=http%3A%2F%2Fwww.google.com%2Fsearch%3Fq%3Dhttp%253a%252f%252fwww.google.com%252fsearch%253fq%253dhttp%25253a%25252f%25252fwww.xxx.com%25252f%2526sourceid%253dopera%2526ie%253dutf-8%2526oe%253dutf-8%2526channel%253dsuggest%26sourceid%3Dopera%26ie%3Dutf-8%26oe%3Dutf-8%26channel%3Dsuggest&source=web&cd=1&ved=0CCIQFjAA&url=http%3A%2F%2Fcarl.cs.indiana.edu%2Ffil%2Fcgi-bin%2FWebSec%2Fmarilyn.cgi&ei=5ApeT7qzOcGgOufjtIQN&usg=AFQjCNHRtbr4ftk_4PyVzN3HuHPJV6LZow
Mon Mar 12 09:57:22 2012 from http://www.google.co.in/url?sa=t&rct=j&q=click%20infospace%20clickhandler&source=web&cd=8&ved=0CFsQFjAH&url=http%3A%2F%2Fcarl.cs.indiana.edu%2Ffil%2Fcgi-bin%2FWebSec%2Fmarilyn.cgi&ei=OwBeT8TpEo3RrQea17DLBg&usg=AFQjCNHRtbr4ftk_4PyVzN3HuHPJV6LZow
Mon Mar 12 08:56:21 2012 from (empty referer)
Mon Mar 12 07:17:54 2012 from http://www.searchplusnetwork.com/?q=facebook.com%2Fajax%2Fpagelet%2Fgeneric.php%2FPhotoViewerInitPagelet%3F__a&x=0&y=0
Mon Mar 12 07:16:53 2012 from (empty referer)
Mon Mar 12 07:16:19 2012 from http://www.google.com/url?sa=t&rct=j&q=http%3A%2F%2Fwww.google.com%2Fsearch%3Fq%3Dhttp%253a%252f%252fwww.google.com%252fsearch%253fq%253dhttp%25253a%25252f%25252fmail.google.com%25252fmail%25252f%2526sourceid%253dopera%2526ie%253dutf-8%2526oe%253dutf-8%2526channel%253dsuggest%26sourceid%3Dopera%26ie%3Dutf-8%26oe%3Dutf-8%26channel%3Dsuggest&source=web&cd=1&ved=0CC8QFjAA&url=http%3A%2F%2Fcarl.cs.indiana.edu%2Ffil%2Fcgi-bin%2FWebSec%2Fmarilyn.cgi&ei=-dpdT6PaFsTqrQe6iLmaDA&usg=AFQjCNHRtbr4ftk_4PyVzN3HuHPJV6LZow
Mon Mar 12 05:38:18 2012 from http://www.google.co.in/url?sa=t&rct=j&q=click%20infospace%20clickhandler&source=web&cd=8&ved=0CF0QFjAH&url=http%3A%2F%2Fcarl.cs.indiana.edu%2Ffil%2Fcgi-bin%2FWebSec%2Fmarilyn.cgi&ei=88NdT_ruMs3rrQei7LH9Cw&usg=AFQjCNHRtbr4ftk_4PyVzN3HuHPJV6LZow
Mon Mar 12 05:08:09 2012 from http://www.google.com/m?client=ms-nokia&cof=nsp&channel=s60&q=www.google.com%2fm%2fnews%3fclient%3dms-nokia%26q%3dwww.googl.
Mon Mar 12 05:07:41 2012 from http://www.google.com/m?client=ms-nokia&cof=nsp&channel=s60&q=www.google.com%2fm%2fnews%3fclient%3dms-nokia%26q%3dwww.googl.
Mon Mar 12 04:46:55 2012 from http://www.google.com/url?sa=t&rct=j&q=http%3A%2F%2Fwww.google.com%2Fsearch%3Fq%3Dhttp%253a%252f%252fwww.google.com%252fsearch%253fq%253dhome%2526sourceid%253dopera%2526ie%253dutf-8%2526oe%253dutf-8%2526channel%253dsuggest%26sourceid%3Dopera%26ie%3Dutf-8%26oe%3Dutf-8%26channel%3Dsuggest&source=web&cd=1&ved=0CCMQFjAA&url=http%3A%2F%2Fcarl.cs.indiana.edu%2Ffil%2Fcgi-bin%2FWebSec%2Fmarilyn.cgi&ei=7bddT-25NO724QT92ejLDw&usg=AFQjCNHRtbr4ftk_4PyVzN3HuHPJV6LZow
Mon Mar 12 01:04:31 2012 from (empty referer)
Sun Mar 11 23:57:19 2012 from http://www.searchplusnetwork.com/?q=facebook.com%2Fajax%2Fpagelet%2Fgeneric.php%2FPhotoViewerInitPagelet%3F__a&x=0&y=0
Sun Mar 11 21:35:41 2012 from http://www.searchplusnetwork.com/?sp=chv&q=facebook.com%2Fajax%2Fpagelet%2Fgeneric.php%2FPhotoViewerInitPagelet%3F__a
Sun Mar 11 20:15:51 2012 from (empty referer)
Sun Mar 11 19:04:32 2012 from http://www.google.com/url?sa=t&rct=j&q=http%3A%2F%2Fwww.google.com%2Fsearch%3Fq%3Dhttp%253a%252f%252fwww.google.com%252fsearch%253fq%253dhttp%25253a%25252f%25252fwww.youporn.com%2526sourceid%253dopera%2526ie%253dutf-8%2526oe%253dutf-8%2526channel%253dsuggest%26sourceid%3Dopera%26ie%3Dutf-8%26oe%3Dutf-8%26channel%3Dsuggest&source=web&cd=1&ved=0CCIQFjAA&url=http%3A%2F%2Fcarl.cs.indiana.edu%2Ffil%2Fcgi-bin%2FWebSec%2Fmarilyn.cgi&ei=ci9dT7jfAanS0QXs0tHTDQ&usg=AFQjCNHRtbr4ftk_4PyVzN3HuHPJV6LZow
Sun Mar 11 17:04:02 2012 from http://isearch.babylon.com/?s=web&babsrc=SP_ss&q=www.facebook.com+2flogin.php&rs=81
Sun Mar 11 16:05:32 2012 from (empty referer)
Sun Mar 11 15:49:59 2012 from (empty referer)
Sun Mar 11 15:33:23 2012 from http://www.google.com.sa/url?sa=t&rct=j&q=http%3A%2F%2Ftubidy%2Fsearch.php%3Fa%3D18%26q%3Dhot+sex&source=web&cd=4&ved=0CDYQFjAD&url=http%3A%2F%2Fcarl.cs.indiana.edu%2Ffil%2Fcgi-bin%2FWebSec%2Fmarilyn.cgi&ei=7f1cT6i_F4WgOrqE4YwN&usg=AFQjCNHRtbr4ftk_4PyVzN3HuHPJV6LZow
Sun Mar 11 15:17:48 2012 from (empty referer)
Sun Mar 11 15:12:22 2012 from http://www.google.com/search?client=opera&rls=en&q=Anonymous+hacked+into+auction+site+and+posted+sex+film+of+Marilyn+Monroe+here:+http://bit.ly/p7zHOT+Wow!&sourceid=opera&ie=utf-8&oe=utf-8&channel=suggest
Sun Mar 11 15:01:23 2012 from http://www.google.com/m?client=ms-nokia&cof=nsp&channel=s60&q=%3dnsp%26channel%3ds60%26q%3dsex%2520%2520viedeo
Sun Mar 11 13:53:49 2012 from http://www.google.com/m?client=ms-nokia&cof=nsp&channel=s60&q=carl.cs.indiana.edu%2ffil%2fcgi-bin%2fWebSec%2fmarilyn.cgi
Sun Mar 11 13:49:27 2012 from (empty referer)
Sun Mar 11 12:26:58 2012 from (empty referer)
Sun Mar 11 12:05:48 2012 from http://www.searchplusnetwork.com/?q=http%3A%2F%2Fclick.infospace.com%2FClickHandler.ashx%3Fdu&sp=chv&p=3
Sun Mar 11 10:06:19 2012 from (empty referer)
Sun Mar 11 09:11:54 2012 from http://www.google.com/search?q=http%3A%2F%2Fisearch.babylon%2F%3Fq%3Dporntube.com%26s%3D&hl=fr&source=hp&gbv=2&gs_sm=12&gs_upl=0l0l0l25172l0l0l0l0l0l0l0l0ll0l0&oq=http%3A%2F%2Fisearch.babylon%2F%3Fq%3Dporntube.com%26s%3D&aq=f&aqi=&aql=
Sun Mar 11 08:59:54 2012 from (empty referer)
Sun Mar 11 07:12:31 2012 from http://assist.babylon.com/babylonassista/dnsassist/main?domain=mystart%20incredibar%20mb113%20
Sun Mar 11 06:14:30 2012 from (empty referer)
Sun Mar 11 05:29:29 2012 from (empty referer)
Sun Mar 11 04:33:13 2012 from (empty referer)
Sun Mar 11 03:16:55 2012 from http://www.google.com/m?client=ms-nokia&cof=nsp&channel=s60&q=http%3a%2f%2fwww.google.com%2fm%2fsearch%3fclient%3dms-nokia%26q%3dhot%2band%2bsexy%2bau
Sun Mar 11 01:29:13 2012 from (empty referer)
Sun Mar 11 00:48:21 2012 from (empty referer)
Sat Mar 10 22:13:14 2012 from (empty referer)
Sat Mar 10 22:11:43 2012 from http://www.google.com/url?sa=t&rct=j&q=http%3A%2F%2Fwww.google.com%2Fsearch%3Fq%3Dhttp%253a%252f%252fwww.google.com%252fsearch%253fq%253dhttp%25253a%25252f%25252fwww.yahoo.com%25252f%2526sourceid%253dopera%2526ie%253dutf-8%2526oe%253dutf-8%2526channel%253dsuggest%26sourceid%3Dopera%26ie%3Dutf-8%26oe%3Dutf-8%26channel%3Dsuggest&source=web&cd=1&ved=0CCAQFjAA&url=http%3A%2F%2Fcarl.cs.indiana.edu%2Ffil%2Fcgi-bin%2FWebSec%2Fmarilyn.cgi&ei=6xdcT9noEMShOtmRiY8N&usg=AFQjCNHRtbr4ftk_4PyVzN3HuHPJV6LZow
Sat Mar 10 20:42:47 2012 from http://www.google.com.sa/search?q=http%3B%2F%2Ftubidy.mobi%2Fsearch.php%3Fa%3D18%26q%3Dhot+sex&hl=ar&source=hp&gbv=2&gs_sm=3&gs_upl=2614l2614l0l4286l1l1l0l0l0l0l470l470l4-1l1l0&safe=on&oq=http%3B%2F%2Ftubidy.mobi%2Fsearch.php%3Fa%3D18%26q%3Dhot+sex&aq=f&aqi=&aql=
Sat Mar 10 19:53:12 2012 from (empty referer)
Sat Mar 10 19:52:00 2012 from (empty referer)
Sat Mar 10 19:51:47 2012 from http://www.google.com/m?safe=on&client=ms-nokia&cof=nsp&channel=s60&q=htt.%2F%2Ftubidy.mobi%2Fsearch+php%3Fa%3D18%26q%3Dhot%2Bsex
Sat Mar 10 19:45:59 2012 from http://www.google.com/m?safe=on&client=ms-nokia&cof=nsp&channel=s60&q=htt.%2F%2Ftubidy.mobi%2Fsearch+php%3Fa%3D18%26q%3Dhot%2Bsex
Sat Mar 10 17:53:05 2012 from http://www.google.com/m?client=ms-nokia&cof=nsp&channel=s60&q=carl.s.indiana.edu%2ffil%2fcgi-bin%2fWebSec%2fmarilyn.cgi%3f
Sat Mar 10 17:48:50 2012 from http://www.google.com/url?sa=t&rct=j&q=http%3A%2F%2Fwww.google.com%2Fsearch%3Fq%3Dhttp%253a%252f%252fwww.google.com%252fsearch%253fq%253dhttps%25253a%25252f%25252fwww.facebook.com%25252f%2526sourceid%253dopera%2526ie%253dutf-8%2526oe%253dutf-8%2526channel%253dsuggest%26sourceid%3Dopera%26ie%3Dutf-8%26oe%3Dutf-8%26channel%3Dsuggest&source=web&cd=1&ved=0CC8QFjAA&url=http%3A%2F%2Fcarl.cs.indiana.edu%2Ffil%2Fcgi-bin%2FWebSec%2Fmarilyn.cgi&ei=_thbT4SZJMTf4QSApqnGDw&usg=AFQjCNHRtbr4ftk_4PyVzN3HuHPJV6LZow
Sat Mar 10 15:15:00 2012 from (empty referer)
Sat Mar 10 14:42:28 2012 from (empty referer)
Sat Mar 10 13:12:15 2012 from http://www.google.com/m?q=+H%2b%2bp.'%2f%2f+tubidy.mobi%2fsearch.php%3fa%3d+18%26q%3dhot&client=ms-nokia&cof=nsp&channel=s40&hl=en
Sat Mar 10 12:30:59 2012 from http://www.google.com/search?q=http://www.google.com/search%3Fq%3Dhttp%253A%252F%252Fwww.google.com%252Fsearch%253Fq%253Dnokia%2526sourceid%253Dopera%2526ie%253Dutf-8%2526oe%253Dutf-8%2526channel%253Dsuggest%26sourceid%3Dopera%26ie%3Dutf-8%26oe%3Dutf-8%26channel%3Dsuggest&hl=en&client=opera&hs=9Z6&rls=en&channel=suggest&biw=1280&bih=678&tbm=vid&prmd=imvns&filter=0
Sat Mar 10 12:28:35 2012 from (empty referer)
Sat Mar 10 11:10:07 2012 from http://www.google.com/search?client=opera&rls=en&q=http%3A%2F%2Fwww.google.com%2Fsearch%3Fq%3Dwww.facebook.com%26sourceid%3Dopera%26ie%3Dutf-8%26oe%3Dutf-8%26channel%3Dsuggest&sourceid=opera&ie=utf-8&oe=utf-8&channel=suggest
Sat Mar 10 09:56:34 2012 from http://www.google.com/url?sa=t&rct=j&q=http%3A%2F%2Fwww.google.com%2Fsearch%3Fq%3Dwww.yahoo.com%26sourceid%3Dopera%26ie%3Dutf-8%26oe%3Dutf-8%26channel%3Dsuggest&source=web&cd=6&ved=0CF4QFjAF&url=http%3A%2F%2Fcarl.cs.indiana.edu%2Ffil%2Fcgi-bin%2FWebSec%2Fmarilyn.cgi&ei=e2tbT5aaEc6IrAeztInvCw&usg=AFQjCNHRtbr4ftk_4PyVzN3HuHPJV6LZow
Sat Mar 10 09:52:08 2012 from (empty referer)
Sat Mar 10 09:24:34 2012 from (empty referer)
Sat Mar 10 08:44:59 2012 from (empty referer)
Sat Mar 10 08:08:49 2012 from (empty referer)
Sat Mar 10 06:22:34 2012 from http://www.google.com/m?client=ms-nokia&cof=nsp&channel=s60&q=nokia%26cof%20xxx
Sat Mar 10 05:45:09 2012 from http://www.google.com/url?sa=t&rct=j&q=click%20infospace%20clickhandler&source=web&cd=8&ved=0CGIQFjAH&url=http%3A%2F%2Fcarl.cs.indiana.edu%2Ffil%2Fcgi-bin%2FWebSec%2Fmarilyn.cgi&ei=lDBbT_qpNcPOrQeW79TrCw&usg=AFQjCNHRtbr4ftk_4PyVzN3HuHPJV6LZow
Sat Mar 10 05:40:32 2012 from http://www.google.com/url?sa=t&rct=j&q=http%3A%2F%2Fwww.google.it%2Fsearch%3Fq%3Dsesso%2Bvideo%26sourceid%3Dopera%26ie%3Dutf-8%26oe%3Dutf-8%26channel%3Dsuggest&source=web&cd=1&ved=0CDEQFjAA&url=http%3A%2F%2Fcarl.cs.indiana.edu%2Ffil%2Fcgi-bin%2FWebSec%2Fmarilyn.cgi&ei=hS9bT7ThLcaXOrCTvYcN&usg=AFQjCNHRtbr4ftk_4PyVzN3HuHPJV6LZow
Sat Mar 10 04:14:30 2012 from http://www.google.com/url?sa=t&rct=j&q=http%3A%2F%2Fwww.google.com%2Fsearch%3Fq%3Dhttp%253A%252F%252Fwww.reliancenetconnect.co.in%252F%26sourceid%3Dopera%26ie%3Dutf-8%26oe%3Dutf-8%26channel%3Dsuggest&source=web&cd=1&ved=0CC8QFjAA&url=http%3A%2F%2Fcarl.cs.indiana.edu%2Ffil%2Fcgi-bin%2FWebSec%2Fmarilyn.cgi&ei=-RdbT76VPMXYrQfWrrmDDA&usg=AFQjCNHRtbr4ftk_4PyVzN3HuHPJV6LZow
Sat Mar 10 04:14:25 2012 from http://www.google.com/url?sa=t&rct=j&q=http%3A%2F%2Fwww.google.com%2Fsearch%3Fq%3Dhttp%253A%252F%252Fwww.reliancenetconnect.co.in%252F%26sourceid%3Dopera%26ie%3Dutf-8%26oe%3Dutf-8%26channel%3Dsuggest&source=web&cd=1&ved=0CC8QFjAA&url=http%3A%2F%2Fcarl.cs.indiana.edu%2Ffil%2Fcgi-bin%2FWebSec%2Fmarilyn.cgi&ei=-RdbT76VPMXYrQfWrrmDDA&usg=AFQjCNHRtbr4ftk_4PyVzN3HuHPJV6LZow
Sat Mar 10 04:13:44 2012 from (empty referer)
Sat Mar 10 03:53:23 2012 from (empty referer)
Sat Mar 10 03:47:38 2012 from http://www.google.com/m?q=http%3a%2f%2fwww%2egoogle%2ecom%2fm%3fq%3dhttp%3a%2f%2fwww%2egoogle%2ecom%2fm%3fq%3dwww%2esex%2e%26client%3dms%2dopera%2dmini%26channel%3dnew%26client%3dms%2dopera%2dmini%26channel%3dnew&client=ms-opera-mini&channel=new
Sat Mar 10 03:39:46 2012 from http://www.google.com/m?q=http%3a%2f%2fwww%2egoogle%2ecom%2fm%3fclient%3dms%2dopera%2dmini%26channel%3dnew%26q%3dNude%20sex%20dog%20and%20woman&client=ms-opera-mini&channel=new
Sat Mar 10 02:47:15 2012 from (empty referer)
Sat Mar 10 02:26:47 2012 from http://www.google.com/url?sa=t&rct=j&q=http%3A%2F%2Fwww.google.com%2Fsearch%3Fq%3Dhttp%253a%252f%252fwww.google.com%252fsearch%253fq%253dhttp%25253a%25252f%25252ffacebook.com%25252f%2526sourceid%253dopera%2526ie%253dutf-8%2526oe%253dutf-8%2526channel%253dsuggest%26sourceid%3Dopera%26ie%3Dutf-8%26oe%3Dutf-8%26channel%3Dsuggest&source=web&cd=1&ved=0CCIQFjAA&url=http%3A%2F%2Fcarl.cs.indiana.edu%2Ffil%2Fcgi-bin%2FWebSec%2Fmarilyn.cgi&ei=MgJbT9y2CoOIrAfXpaWGDA&usg=AFQjCNHRtbr4ftk_4PyVzN3HuHPJV6LZow
Sat Mar 10 01:49:14 2012 from http://www.google.co.in/search?q=click+infospace+ClickHandler&channel=linkdoctor
Fri Mar  9 23:37:11 2012 from (empty referer)
Fri Mar  9 23:09:41 2012 from http://www.google.com/m?client=ms-opera-mini&channel=new&q=www.google.com%2Fm%3Fq%3Dwww.%2BGames%2B%26client%3Dms-opera-mini%26channel%3Dnew
Fri Mar  9 22:48:14 2012 from (empty referer)
Fri Mar  9 21:31:31 2012 from http://www.google.co.in/m?q=www%252edjmaza%252ecom&client=ms-opera-mini&channel=new
Fri Mar  9 18:30:17 2012 from http://www.google.com/m?client=ms-nokia&cof=nsp&channel=s60&q=l%253ds60%2526q%253dmobile
Fri Mar  9 17:56:27 2012 from (empty referer)
Fri Mar  9 16:46:31 2012 from http://carl.cs.indiana.edu/fil/cgi-bin/WebSec/marilyn.cgi
Fri Mar  9 16:15:32 2012 from (empty referer)
Fri Mar  9 15:15:13 2012 from http://www.google.com/search?client=opera&rls=it&q=http%3A%2F%2Fwww.google.com%2Fsearch%3Fq%3Dhttp%253A%252F%252Fwww.google.com%252Fsearch%253Fq%253Dhttp%25253A%25252F%25252Fwww.google.com%25252Fsearch%25253Fq%25253Dhttp%2525253A%2525252F%2525252Fgoogle.com%252526sourceid%25253Dopera%252526ie%25253Dutf-8%252526oe%25253Dutf-8%252526channel%25253Dsuggest%2526sourceid%253Dopera%2526ie%253Dutf-8%2526oe%253Dutf-8%2526channel%253Dsuggest%26sourceid%3Dopera%26ie%3Dutf-8%26oe%3Dutf-8%26channel%3Dsuggest&sourceid=opera&ie=utf-8&oe=utf-8&channel=suggest
Fri Mar  9 15:14:43 2012 from http://www.google.com/m?q=www.google.com%2Fm%3Fq%3Dtubidy.mobi%252Findex.php%253Fa%253D18%26client%3Dms-opera-mini%26channel%3Dnew&client=ms-opera-mini&channel=new
Fri Mar  9 14:18:51 2012 from http://www.google.com/m?q=www.google.com%2Fm%3Fq%3Dtubidy.mobi%252Findex.php%253Fa%253D18%26client%3Dms-opera-mini%26channel%3Dnew&client=ms-opera-mini&channel=new
Fri Mar  9 13:59:11 2012 from http://www.google.com/m?client=ms-aff-ucweb&output=xhtml&hl=en&q=http%3a%2f%2ftubidy.mobi%2fsearch.php%3fa%3d18%26q%3d%25d8%25b1%25d9%2582%25d8%25b5%2b%25
Fri Mar  9 13:26:50 2012 from http://www.sogou.com/sogou?query=http%3A%2F%2Fsesxc.com%2Fin.cgi%3F8&czgd=0&pid=
Fri Mar  9 13:23:34 2012 from http://www.google.com/xhtml?q=http%3a%2f%2fwww%2egoogle%2ecom%2fxhtml%3fq%3dhttp%3a%2f%2fwww%2exnxx%2ecom%2f%26client%3dms%2dopera_mb_no%26channel%3dbh&client=ms-opera_mb_no&channel=b
Fri Mar  9 12:52:16 2012 from http://www.google.com/xhtml?q=http%3a%2f%2fwww%2egoogle%2ecom%2fxhtml%3fq%3dwww%2e%26client%3dms%2dopera_mb_no%26channel%3dbh&client=ms-opera_mb_no&channel=bh
Fri Mar  9 12:13:43 2012 from http://www.google.com.hk/url?sa=t&rct=j&q=click+infospace+ClickHandler&source=web&cd=10&ved=0CHUQFjAJ&url=http%3A%2F%2Fcarl.cs.indiana.edu%2Ffil%2Fcgi-bin%2FWebSec%2Fmarilyn.cgi&ei=3jlaT8zyBY-viQf90YnRDQ&usg=AFQjCNHRtbr4ftk_4PyVzN3HuHPJV6LZow
Fri Mar  9 11:53:06 2012 from http://carl.cs.indiana.edu/fil/cgi-bin/WebSec/marilyn.cgi
Fri Mar  9 11:35:55 2012 from http://www.google.com/xhtml?q=http%3a%2f%2fwww%2egoogle%2ecom%2fxhtml%3fq%3dVedio%20of%20porn%2e%26client%3dms%2dopera_mb_no%26channel%3dbh&client=ms-opera_mb_no&channel=bh
Fri Mar  9 10:41:15 2012 from (empty referer)
Fri Mar  9 10:13:39 2012 from (empty referer)
Fri Mar  9 10:12:37 2012 from (empty referer)
Fri Mar  9 09:59:29 2012 from http://www.google.com/search?q=http%3A%2F%2Fclick.infospace.com%2FClickHandler.ashx%3Fdu%3Dhttp%3A%2F%2Fmail.yahoo.com%2F
Fri Mar  9 09:49:06 2012 from (empty referer)
Fri Mar  9 09:48:53 2012 from http://www.google.com/m?q=www.google.com%2Fm%3Fq%3Dwww.%26client%3Dms-opera-mini%26channel%3Dnew&client=ms-opera-mini&channel=new
Fri Mar  9 09:30:17 2012 from http://www.google.co.in/url?sa=t&rct=j&q=click%20infospace%20clickhandler&source=web&cd=8&ved=0CFsQFjAH&url=http%3A%2F%2Fcarl.cs.indiana.edu%2Ffil%2Fcgi-bin%2FWebSec%2Fmarilyn.cgi&ei=0xNaT_POLsbIrQeU9bX7Cw&usg=AFQjCNHRtbr4ftk_4PyVzN3HuHPJV6LZow
Fri Mar  9 08:13:29 2012 from http://www.google.com/xhtml?q=www%2egoogle%2eco%2eil%2fm%3fq%3dXnxx&client=ms-opera_mb_no&channel=bh
Fri Mar  9 08:04:45 2012 from (empty referer)
Fri Mar  9 07:19:40 2012 from http://www.google.com/url?sa=t&rct=j&q=http%3A%2F%2Fwww.google.com%2Fsearch%3Fq%3Dhttp%253a%252f%252fwww.google.com%252fsearch%253fq%253dhttp%25253a%25252f%25252fwww.google.com.pk%25252f%2526sourceid%253dopera%2526ie%253dutf-8%2526oe%253dutf-8%2526channel%253dsuggest%26sourceid%3Dopera%26ie%3Dutf-8%26oe%3Dutf-8%26channel%3Dsuggest&source=web&cd=1&ved=0CCIQFjAA&url=http%3A%2F%2Fcarl.cs.indiana.edu%2Ffil%2Fcgi-bin%2FWebSec%2Fmarilyn.cgi&ei=P_VZT6yHGYTG0QWS-NzFDQ&usg=AFQjCNHRtbr4ftk_4PyVzN3HuHPJV6LZow
Fri Mar  9 06:33:10 2012 from (empty referer)
Fri Mar  9 06:10:46 2012 from http://www.searchplusnetwork.com/?sp=chv&q=www%252Esearchplusnetwork%252Ecom%252F%253Fsp%253Dchv%2526q%253Dfacebook
Fri Mar  9 05:41:03 2012 from http://www.google.com/xhtml?q=http%3a%2f%2fwww%2egoogle%2ecom%2fxhtml%3fclient%3dms%2dopera_mb_no%26q%3dw%26channel%3dbh%26start%3d%31%30%26sa%3dN&client=ms-opera_mb_no&channel=bh
Fri Mar  9 05:28:09 2012 from http://www.google.com/url?sa=t&rct=j&q=&esrc=s&source=web&cd=1&cts=1331288886967&ved=0CC8QFjAA&url=http%3A%2F%2Fcarl.cs.indiana.edu%2Ffil%2Fcgi-bin%2FWebSec%2Fmarilyn.cgi&ei=KdtZT-m_LMiJrAfgl4X5Cw&usg=AFQjCNHRtbr4ftk_4PyVzN3HuHPJV6LZow&sig2=p-C_ze_p_fzOVCVTw1Egvg
Fri Mar  9 03:45:14 2012 from http://www.google.co.th/url?sa=t&rct=j&q=click%20infospace%20clickhandler&source=web&cd=9&ved=0CGoQFjAI&url=http%3A%2F%2Fcarl.cs.indiana.edu%2Ffil%2Fcgi-bin%2FWebSec%2Fmarilyn.cgi&ei=CsNZT6PABoOGrAeX6d2RDA&usg=AFQjCNHRtbr4ftk_4PyVzN3HuHPJV6LZow
Fri Mar  9 03:44:41 2012 from http://www.google.com.hk/url?sa=t&rct=j&q=click+infospace+ClickHandler&source=web&cd=9&ved=0CGIQFjAI&url=http%3A%2F%2Fcarl.cs.indiana.edu%2Ffil%2Fcgi-bin%2FWebSec%2Fmarilyn.cgi&ei=5cJZT8egNYK6iQf_rYHKDQ&usg=AFQjCNHRtbr4ftk_4PyVzN3HuHPJV6LZow
Fri Mar  9 03:43:56 2012 from http://www.google.co.in/url?sa=t&rct=j&q=click%20infospace%20clickhandler&source=web&cd=7&ved=0CFIQFjAG&url=http%3A%2F%2Fcarl.cs.indiana.edu%2Ffil%2Fcgi-bin%2FWebSec%2Fmarilyn.cgi&ei=vsJZT-CVKoarrAfv9PHyCw&usg=AFQjCNHRtbr4ftk_4PyVzN3HuHPJV6LZow
Fri Mar  9 03:41:38 2012 from (empty referer)
Fri Mar  9 02:32:04 2012 from (empty referer)
Fri Mar  9 02:29:35 2012 from http://www.google.com/m?q=www%2egoogle%2ecom%2fm%3fclient%3dms%2dopera%2dmini%26q%3dwww%2esex%2ecom%26channel%3dnew%26start%3d%31%30%26sa%3dN&client=ms-opera-mini&channel=new
Fri Mar  9 02:04:58 2012 from http://www.google.com/url?sa=t&rct=j&q=http%3A%2F%2Fwww.google.com%2Fsearch%3Fq%3Dhttp%253a%252f%252fwww.google.com%252fsearch%253fq%253dhttp%25253a%25252f%25252fwww.google.com.pk%25252f%2526sourceid%253dopera%2526ie%253dutf-8%2526oe%253dutf-8%2526channel%253dsuggest%26sourceid%3Dopera%26ie%3Dutf-8%26oe%3Dutf-8%26channel%3Dsuggest&source=web&cd=1&ved=0CCIQFjAA&url=http%3A%2F%2Fcarl.cs.indiana.edu%2Ffil%2Fcgi-bin%2FWebSec%2Fmarilyn.cgi&ei=LKtZT565K4qdOv7t0YwN&usg=AFQjCNHRtbr4ftk_4PyVzN3HuHPJV6LZow
Fri Mar  9 02:04:37 2012 from http://www.google.com/url?sa=t&rct=j&q=http%3A%2F%2Fwww.google.com%2Fsearch%3Fq%3Dhttp%253a%252f%252fwww.google.com%252fsearch%253fq%253dhttp%25253a%25252f%25252fwww.google.com.pk%25252f%2526sourceid%253dopera%2526ie%253dutf-8%2526oe%253dutf-8%2526channel%253dsuggest%26sourceid%3Dopera%26ie%3Dutf-8%26oe%3Dutf-8%26channel%3Dsuggest&source=web&cd=1&ved=0CCIQFjAA&url=http%3A%2F%2Fcarl.cs.indiana.edu%2Ffil%2Fcgi-bin%2FWebSec%2Fmarilyn.cgi&ei=LKtZT565K4qdOv7t0YwN&usg=AFQjCNHRtbr4ftk_4PyVzN3HuHPJV6LZow
Fri Mar  9 02:03:35 2012 from http://www.google.com/url?sa=t&rct=j&q=http%3A%2F%2Fwww.google.com%2Fsearch%3Fq%3Dhttp%253a%252f%252fwww.google.com%252fsearch%253fq%253dhttp%25253a%25252f%25252fwww.google.com.pk%25252f%2526sourceid%253dopera%2526ie%253dutf-8%2526oe%253dutf-8%2526channel%253dsuggest%26sourceid%3Dopera%26ie%3Dutf-8%26oe%3Dutf-8%26channel%3Dsuggest&source=web&cd=1&ved=0CCIQFjAA&url=http%3A%2F%2Fcarl.cs.indiana.edu%2Ffil%2Fcgi-bin%2FWebSec%2Fmarilyn.cgi&ei=LKtZT565K4qdOv7t0YwN&usg=AFQjCNHRtbr4ftk_4PyVzN3HuHPJV6LZow
Fri Mar  9 01:35:54 2012 from http://carl.cs.indiana.edu/fil/cgi-bin/WebSec/marilyn.cgi
Fri Mar  9 01:34:20 2012 from http://www.google.co.in/m?q=www%252edjmaza%252ecom&client=ms-opera-mini&channel=new
Fri Mar  9 00:55:31 2012 from http://www.google.com/url?sa=t&rct=j&q=click%20infospace%20clickhandler&source=web&cd=8&ved=0CFoQFjAH&url=http%3A%2F%2Fcarl.cs.indiana.edu%2Ffil%2Fcgi-bin%2FWebSec%2Fmarilyn.cgi&ei=G5tZT8ygOePUiALM3fXdCw&usg=AFQjCNHRtbr4ftk_4PyVzN3HuHPJV6LZow
Fri Mar  9 00:29:44 2012 from (empty referer)
Fri Mar  9 00:23:28 2012 from (empty referer)
Thu Mar  8 23:37:49 2012 from http://carl.cs.indiana.edu/fil/cgi-bin/WebSec/marilyn.cgi
Thu Mar  8 23:30:26 2012 from http://www.google.com/m?client=ms-nokia&cof=nsp&channel=s60&q=I+LOVE+YOU+m/m?client%3Dms-nokia%26amp;cof%3Dnsp%26amp;channel%3Ds60%26amp;q%3D&spell=1&ei=KYdZT9DxCc_irAfdiQE&ved=0CAcQBSgA
Thu Mar  8 22:31:55 2012 from http://www.google.com/m?q=www.google.com%2Fm%3Fq%3Dwww.%26client%3Dms-opera-mini%26channel%3Dnew&client=ms-opera-mini&channel=new
Thu Mar  8 22:31:22 2012 from (empty referer)
Thu Mar  8 21:24:11 2012 from (empty referer)
Thu Mar  8 21:06:59 2012 from (empty referer)
Thu Mar  8 19:23:52 2012 from (empty referer)
Thu Mar  8 19:23:51 2012 from (empty referer)
Thu Mar  8 18:09:48 2012 from (empty referer)
Thu Mar  8 16:06:48 2012 from http://www.google.com/m?q=http://TUBIDY.MOBI/SEARCH.PHP?A%3D18%26%3DXXX%2BVIDEO&start=20&sa=N
Thu Mar  8 15:35:07 2012 from (empty referer)
Thu Mar  8 15:29:07 2012 from (empty referer)
Thu Mar  8 15:28:43 2012 from http://www.google.com/m?q=www.google.com%2Fm%3Fq%3Dwww.xxxindianxxx.com%26client%3Dms-opera-mini%26channel%3Dnew&client=ms-opera-mini&channel=new
Thu Mar  8 15:25:31 2012 from http://www.google.com/m?client=ms-nokia&cof=nsp&channel=s60&q=www.google.ae%2fm%3fq%3d
Thu Mar  8 15:24:45 2012 from http://www.google.com/url?sa=t&rct=j&q=http%3A%2F%2Fwww.google.com%2Fsearch%3Fq%3Dhttp%253a%252f%252fwww.google.com%252fsearch%253fq%253dhttp%25253a%25252f%25252fwww.gmail.com%25252f%2526sourceid%253dopera%2526ie%253dutf-8%2526oe%253dutf-8%2526channel%253dsuggest%26sourceid%3Dopera%26ie%3Dutf-8%26oe%3Dutf-8%26channel%3Dsuggest&source=web&cd=1&ved=0CC8QFjAA&url=http%3A%2F%2Fcarl.cs.indiana.edu%2Ffil%2Fcgi-bin%2FWebSec%2Fmarilyn.cgi&ei=vdpXT_LBGcrYrQf7qLCPDA&usg=AFQjCNHRtbr4ftk_4PyVzN3HuHPJV6LZow
Thu Mar  8 14:54:40 2012 from (empty referer)
Thu Mar  8 14:39:09 2012 from http://www.google.com/url?sa=t&rct=j&q=http.%2F%2Ftubidy.mobi%2Fsearch.php%3Fa%3D18%26q%3Dsexe&source=web&cd=57&ved=0CEYQFjAGODI&url=http%3A%2F%2Fcarl.cs.indiana.edu%2Ffil%2Fcgi-bin%2FWebSec%2Fmarilyn.cgi%3Fiframe%3Dtrue%26width%3D90%25%26height%3D90%25&ei=0QpZT7CEDcio0AX_2bjIDQ&usg=AFQjCNF1YRHwwX8j7f5VE5Zthzm_YadtXg
Thu Mar  8 13:51:57 2012 from http://www.google.com/url?sa=t&rct=j&q=http%3A%2F%2Fwww.google.com%2Fsearch%3Fq%3Dhttp%253a%252f%252fwww.google.com%252fsearch%253fq%253dhttps%25253a%25252f%25252fwww.facebook.com%25252f%2526sourceid%253dopera%2526ie%253dutf-8%2526oe%253dutf-8%2526channel%253dsuggest%26sourceid%3Dopera%26ie%3Dutf-8%26oe%3Dutf-8%26channel%3Dsuggest&source=web&cd=1&ved=0CCMQFjAA&url=http%3A%2F%2Fcarl.cs.indiana.edu%2Ffil%2Fcgi-bin%2FWebSec%2Fmarilyn.cgi&ei=tP9YT7TfDMf44QS-08S2Dw&usg=AFQjCNHRtbr4ftk_4PyVzN3HuHPJV6LZow
Thu Mar  8 12:47:58 2012 from http://www.google.com/search?client=opera&rls=en&q=http%3A%2F%2Fwww.google.com%2Fsearch%3Fq%3Dhttp%253A%252F%252Fwww.google.com%252Fsearch%253Fq%253Dhttp%25253A%25252F%25252Fwww.facebook.com%25252F%2526sourceid%253Dopera%2526ie%253Dutf-8%2526oe%253Dutf-8%2526channel%253Dsuggest%26sourceid%3Dopera%26ie%3Dutf-8%26oe%3Dutf-8%26channel%3Dsuggest&sourceid=opera&ie=utf-8&oe=utf-8&channel=suggest
Thu Mar  8 12:38:19 2012 from (empty referer)
Thu Mar  8 12:17:48 2012 from http://www.google.com/m?q=www.google.com%2Fm%3Fq%3Dwww%2Btube8.com%26client%3Dms-opera-mini%26channel%3Dnew&client=ms-opera-mini&channel=new
Thu Mar  8 12:12:23 2012 from (empty referer)
Thu Mar  8 12:02:39 2012 from (empty referer)
Thu Mar  8 11:28:38 2012 from http://www.searchplusnetwork.com/?sp=chv&q=click.infospace.comClickHandler.ashx%3Fdu
Thu Mar  8 10:46:05 2012 from (empty referer)
Thu Mar  8 09:39:26 2012 from http://www.google.com/xhtml?q=http%3a%2f%2fwww%2egoogle%2ecom%2fxhtml%3fq%3dwww%2e%26client%3dms%2dopera_mb_no%26channel%3dbh&client=ms-opera_mb_no&channel=bh
Thu Mar  8 09:33:25 2012 from (empty referer)
Thu Mar  8 08:57:13 2012 from http://search.bearshare.com/web?hl=tr&q=click+infospace&src=derr&ref=1&page=7
Thu Mar  8 08:55:35 2012 from http://www.google.com.sa/search?q=http%3B//tubidymobi/search.php%3Fa:18%26q:sexe&hl=en&safe=active&client=ms-android-samsung&source=android-home&sky=mrdr&site=webhp&prmd=imvns&ei=wLlYT9ydINGl8gPv7o3QDg&start=60&sa=N&biw=320&bih=508
Thu Mar  8 08:36:01 2012 from (empty referer)
Thu Mar  8 08:16:57 2012 from http://www.google.iq/url?sa=t&rct=j&q=www+yasni+de+ext+php+sex&source=web&cd=97&ved=0CEEQFjAGOFo&url=http%3A%2F%2Fcarl.cs.indiana.edu%2Ffil%2Fcgi-bin%2FWebSec%2Fmarilyn.cgi&ei=VbBYT_2jJMOy8gPw8uD8Dg&usg=AFQjCNHRtbr4ftk_4PyVzN3HuHPJV6LZow
Thu Mar  8 07:57:03 2012 from (empty referer)
Thu Mar  8 07:35:25 2012 from (empty referer)
Thu Mar  8 06:28:51 2012 from http://www.google.com/url?sa=t&rct=j&q=&esrc=s&source=web&cd=1&cts=1331206130597&ved=0CCYQFjAA&url=http%3A%2F%2Fcarl.cs.indiana.edu%2Ffil%2Fcgi-bin%2FWebSec%2Fmarilyn.cgi&ei=2pdYT57rIYrjtQb1_dCzDA&usg=AFQjCNHRtbr4ftk_4PyVzN3HuHPJV6LZow&sig2=KRLbyFjv5AeN_LYiNzcN2A
Thu Mar  8 06:20:29 2012 from http://www.google.com/url?sa=t&rct=j&q=http%3A%2F%2Fwww.google.com%2Fsearch%3Fq%3Dhttp%253A%252F%252Fwww.google.com%252Fsearch%253Fq%253Dhttp%25253A%25252F%25252Fwww.google.com.tr%25252F%2526sourceid%253Dopera%2526ie%253Dutf-8%2526oe%253Dutf-8%2526channel%253Dsuggest%26sourceid%3Dopera%26ie%3Dutf-8%26oe%3Dutf-8%26channel%3Dsuggest&source=web&cd=2&ved=0CCgQFjAB&url=http%3A%2F%2Fcarl.cs.indiana.edu%2Ffil%2Fcgi-bin%2FWebSec%2Fmarilyn.cgi&ei=s5VYT4iTNouq8AOVzZWLDw&usg=AFQjCNHRtbr4ftk_4PyVzN3HuHPJV6LZow
Thu Mar  8 05:43:44 2012 from (empty referer)
Thu Mar  8 05:14:05 2012 from http://isearch.babylon.com/?babsrc=tcp&affID=19318&q=click.infospace.comClickHandler.ashx?du=fr-fr.facebook.com&ru=http%3a%2f%2ffr-fr.facebook.com%2f&ld=20120308&ap=1&app=1&c=babylon2.hp.row&s=babylon2&coi=374914&cop=main-title&euip=78.245.210.87&npp=1&p=0&pp=0&pvaid=5072eb7cab6c4941bab94753042af12d&ep=1&mid=9&hash=D5EDC6194C8F87C6760C1EA55E22082A
Thu Mar  8 04:46:51 2012 from http://www.google.com/url?sa=t&rct=j&q=http%3A%2F%2Fwww.google.com%2Fsearch%3Fq%3Dhttp%253a%252f%252fwww.google.co.id%252fsearch%253fq%253dyahoo%2526sourceid%253dopera%2526ie%253dutf-8%2526oe%253dutf-8%2526channel%253dsuggest%26sourceid%3Dopera%26ie%3Dutf-8%26oe%3Dutf-8%26channel%3Dsuggest&source=web&cd=1&ved=0CCIQFjAA&url=http%3A%2F%2Fcarl.cs.indiana.edu%2Ffil%2Fcgi-bin%2FWebSec%2Fmarilyn.cgi&ei=BoBYT-XCNMW4rAefvNX5Cw&usg=AFQjCNHRtbr4ftk_4PyVzN3HuHPJV6LZow
Thu Mar  8 03:42:09 2012 from http://www.google.co.in/url?sa=t&rct=j&q=click+infospace+ClickHandler&source=web&cd=10&ved=0CGgQFjAJ&url=http%3A%2F%2Fcarl.cs.indiana.edu%2Ffil%2Fcgi-bin%2FWebSec%2Fmarilyn.cgi&ei=WXBYT4yMIIjsrAer1IigDA&usg=AFQjCNHRtbr4ftk_4PyVzN3HuHPJV6LZow
Thu Mar  8 03:15:26 2012 from http://www.google.com/url?sa=t&rct=j&q=http%3A%2F%2Fwww.google.com%2Fsearch%3Fq%3Dhttp%253a%252f%252fwww.google.com%252fsearch%253fq%253d*%2526sourceid%253dopera%2526ie%253dutf-8%2526oe%253dutf-8%2526channel%253dsuggest%26sourceid%3Dopera%26ie%3Dutf-8%26oe%3Dutf-8%26channel%3Dsuggest&source=web&cd=1&ved=0CCoQFjAA&url=http%3A%2F%2Fcarl.cs.indiana.edu%2Ffil%2Fcgi-bin%2FWebSec%2Fmarilyn.cgi&ei=mmpYT6bBMInA8QPtjfH7Dg&usg=AFQjCNHRtbr4ftk_4PyVzN3HuHPJV6LZow
Thu Mar  8 03:09:49 2012 from http://www.google.com/url?sa=t&rct=j&q=click%20infospace%20clickhandler&source=web&cd=8&ved=0CFYQFjAH&url=http%3A%2F%2Fcarl.cs.indiana.edu%2Ffil%2Fcgi-bin%2FWebSec%2Fmarilyn.cgi&ei=BmlYT_D8LqnM0QXx_Zm_DQ&usg=AFQjCNHRtbr4ftk_4PyVzN3HuHPJV6LZow
Thu Mar  8 02:59:29 2012 from (empty referer)
Thu Mar  8 02:36:27 2012 from http://www.google.co.in/url?sa=t&rct=j&q=click%20infospace%20clickhandler&source=web&cd=10&ved=0CGgQFjAJ&url=http%3A%2F%2Fcarl.cs.indiana.edu%2Ffil%2Fcgi-bin%2FWebSec%2Fmarilyn.cgi&ei=V2FYT9u1JIzOrQfX_8XsCw&usg=AFQjCNHRtbr4ftk_4PyVzN3HuHPJV6LZow
Thu Mar  8 02:17:31 2012 from http://www.google.co.in/m?q=www%252edjmaza%252ecom&client=ms-opera-mini&channel=new
Thu Mar  8 01:40:19 2012 from (empty referer)
Thu Mar  8 01:33:00 2012 from http://www.google.com/xhtml?q=http%3a%2f%2fwww%2egoogle%2ecom%2fxhtml%3fq%3dsex%2e%26client%3dms%2dopera_mb_no%26channel%3dbh&client=ms-opera_mb_no&channel=bh
Thu Mar  8 01:13:31 2012 from (empty referer)
Thu Mar  8 01:12:45 2012 from http://www.google.com/url?sa=t&rct=j&q=http%3A%2F%2Fwww.google.co.in%2Fsearch%3Fq%3Dwww.facbook.com%26sourceid%3Dopera%26ie%3Dutf-8%26oe%3Dutf-8%26channel%3Dsuggest&source=web&cd=5&ved=0CEsQFjAE&url=http%3A%2F%2Fcarl.cs.indiana.edu%2Ffil%2Fcgi-bin%2FWebSec%2Fmarilyn.cgi&ei=xk1YT9f0GcPHrQfXkunuCw&usg=AFQjCNHRtbr4ftk_4PyVzN3HuHPJV6LZow
Wed Mar  7 21:58:15 2012 from http://www.google.com/xhtml?q=http%3a%2f%2fwww%2egoogle%2ecom%2fxhtml%3fq%3dwww%2e%26client%3dms%2dopera_mb_no%26channel%3dbh&client=ms-opera_mb_no&channel=bh
Wed Mar  7 20:00:15 2012 from http://www.google.co.in/m?q=www%252edjmaza%252ein&client=ms-opera-mini&channel=new
Wed Mar  7 19:55:17 2012 from http://www.google.com/m/search?client=ms-aff-ucweb&output=xhtml&hl=en&sa=2&q=http://www.google.com/m/url?client=ms-aff-ucweb&ei=igJYT9CgJOXs2AWO_AE&hl=en&output=xhtml&q=http://www.pornhub.com/&ved=0CAkQFjAA&usg=AFQjCNFLnx8sHPFaTmf49J5QrpBAHhgXnQ&site=universal
Wed Mar  7 19:20:19 2012 from http://www.bing.com/search?q=http%3Awww.search-results.comweb%3Fqsrc%3D0%26o%3D15896%26l%3Ddis%26q%3D%20%EF%BF%BD%EF%BF%BD%EF%BF%BD%EF%BF%BD%EF%BF%BD%20%EF%BF%BD%EF%BF%BD%EF%BF%BD%EF%BF%BD%EF%BF%BD%EF%BF%BD%20%EF%BF%BD%EF%BF%BD%EF%BF%BD%EF%BF%BD%EF%BF%BD%20%EF%BF%BD%EF%BF%BD%EF%BF%BD%20%EF%BF%BD%EF%BF%BD%EF%BF%BD%20%EF%BF%BD%EF%BF%BD%20%EF%BF%BD%EF%BF%BD%EF%BF%BD%EF%BF%BD%EF%BF%BD%EF%BF%BD%EF%BF%BD%20%26fhp%3D1%26qsrc%3D0&pc=conduit&ptag=A48AD53B66B344737A6F&form=CONWEB&conlogo=CT2883808&ShowAppsUI=1
Wed Mar  7 18:54:19 2012 from http://www.google.com/url?sa=t&rct=j&q=allgameshome.xnxxx&source=web&cd=1&ved=0CCMQFjAA&url=http%3A%2F%2Fcarl.cs.indiana.edu%2Ffil%2Fcgi-bin%2FWebSec%2Fmarilyn.cgi&ei=I_VXT9S3EKWG0AWNv_nYCA&usg=AFQjCNHRtbr4ftk_4PyVzN3HuHPJV6LZow
Wed Mar  7 18:13:04 2012 from http://www.bing.com/search?q=PhotoViewerInitPagelet&form=B8DFDF&pc=B8DF&src=IE-SearchBox
Wed Mar  7 17:45:30 2012 from (empty referer)
Wed Mar  7 16:01:18 2012 from http://www.google.com.sa/url?sa=t&rct=j&q=qooqle.com%2F%3Fbabsrc%3Dhome&source=web&cd=1&ved=0CCIQFjAA&url=http%3A%2F%2Fcarl.cs.indiana.edu%2Ffil%2Fcgi-bin%2FWebSec%2Fmarilyn.cgi&ei=j8xXT468JpT44QSUhJzjDw&usg=AFQjCNHRtbr4ftk_4PyVzN3HuHPJV6LZow
Wed Mar  7 15:45:51 2012 from http://www.google.com/xhtml?q=http%3a%2f%2fwww%2egoogle%2ecom%2fxhtml%3fq%3dwww%2e%26client%3dms%2dopera_mb_no%26channel%3dbh&client=ms-opera_mb_no&channel=bh
Wed Mar  7 15:08:14 2012 from http://www.google.com.sa/search?q=http%3A%2F%2Ftubidy.mobi%2Fsearch.php%3Fq&hl=ar&source=hp&gbv=2&gs_sm=13&gs_upl=21843l22453l0l28156l3l3l0l0l0l0l625l625l5-1l1l0&safe=active&oq=http%3B%2F%2Ftu&aq=7C&aqi=g-C10&aql=
Wed Mar  7 14:20:10 2012 from (empty referer)
Wed Mar  7 14:12:33 2012 from http://www.google.com/m?q=www.google.com%2Fm%3Fq%3Dwww%2Bgoogal%2Bcom%26client%3Dms-opera-mini%26channel%3Dnew&client=ms-opera-mini&channel=new
Wed Mar  7 13:35:42 2012 from http://home.allgameshome.com/results.php?category=web&s=http://click.infospace.com/ClickHandler.ashx?du=http%3a%2f%2fcreatives.livejasmin.com%2f&ru=http%3a%2f%2fcreatives.livejasmin.com%2f&ld=20120307&ap=1&app=1&c=imesh.meta.4&s=imeshmeta4&coi=239137&cop=main-title&euip=175.157.110.149&npp=1&p=0&pp=0&pvaid=adb071f101254f9cabbea972547f7779&ep=1&mid=9&hash=2397BA416B648CA6A3C96E2CC62A087
Wed Mar  7 13:32:29 2012 from (empty referer)
Wed Mar  7 13:14:31 2012 from http://www.google.com.sa/search?sourceid=navclient&aq=f&oq=http.%2f%2ftubidy.mobi%2fsearch.php%3fa%3d18%26q%3dsexe&ie=UTF-8&rlz=1T4FTSF_en___SA411&q=http.%2f%2ftubidy.mobi%2fsearch.php%3fa%3d18%26q%3dsexe&gs_upl=0l0l1l418023lllllllllll0
Wed Mar  7 12:32:01 2012 from (empty referer)
Wed Mar  7 12:17:10 2012 from http://start.funmoods.com/results.php?f=4&a=fmtgl&q=search.chatzum.comhttp%3A%2F%2Fwww.pinoytvmax.com%2Fnode%2F192
Wed Mar  7 11:39:27 2012 from http://www.google.com/url?sa=t&rct=j&q=http%3A%2F%2Fwww.google.com%2Fsearch%3Fq%3Dhttp%253a%252f%252fwww.google.com%252fsearch%253fq%253dhttp%25253a%25252f%25252fwww.facebook.com%25252f%2526sourceid%253dopera%2526ie%253dutf-8%2526oe%253dutf-8%2526channel%253dsuggest%26sourceid%3Dopera%26ie%3Dutf-8%26oe%3Dutf-8%26channel%3Dsuggest&source=web&cd=1&ved=0CCoQFjAA&url=http%3A%2F%2Fcarl.cs.indiana.edu%2Ffil%2Fcgi-bin%2FWebSec%2Fmarilyn.cgi&ei=NI9XT9uOC4vMsgb6qv2EDA&usg=AFQjCNHRtbr4ftk_4PyVzN3HuHPJV6LZow
Wed Mar  7 11:39:01 2012 from (empty referer)
Wed Mar  7 11:38:43 2012 from http://www.google.com/url?sa=t&rct=j&q=http%3A%2F%2Fwww.google.com%2Fsearch%3Fq%3Dhttp%253A%252F%252Fwww.google.com%252Fsearch%253Fq%253Dhttp%25253A%25252F%25252Fportal.opera.com%25252F%2526sourceid%253Dopera%2526ie%253Dutf-8%2526oe%253Dutf-8%2526channel%253Dsuggest%26sourceid%3Dopera%26ie%3Dutf-8%26oe%3Dutf-8%26channel%3Dsuggest&source=web&cd=4&ved=0CEAQFjAD&url=http%3A%2F%2Fcarl.cs.indiana.edu%2Ffil%2Fcgi-bin%2FWebSec%2Fmarilyn.cgi&ei=8I5XT9LHLMn3rQfP8IicDA&usg=AFQjCNHRtbr4ftk_4PyVzN3HuHPJV6LZow
Wed Mar  7 11:28:12 2012 from (empty referer)
Wed Mar  7 11:08:25 2012 from http://www.google.com/m?client=ms-opera-mini&q=http://www.google.com/m?q%3D%26client%3Dms-opera-mini%26channel%3Dnew&channel=new&start=10&sa=N
Wed Mar  7 11:05:02 2012 from (empty referer)
Wed Mar  7 10:46:22 2012 from http://www.google.com/m?q=www.google.com%2Fm%3Fq%3Dwww.tube%2B.2012%2Bcom%26client%3Dms-opera-mini%26channel%3Dnew&client=ms-opera-mini&channel=new
Wed Mar  7 10:41:43 2012 from (empty referer)
Wed Mar  7 10:31:48 2012 from (empty referer)
Wed Mar  7 10:20:04 2012 from http://www.google.com/m?q=www.google.com%2Fm%3Fq%3Dwww.tube8.com%26client%3Dms-opera-mini%26channel%3Dnew&client=ms-opera-mini&channel=new
Wed Mar  7 10:14:46 2012 from http://www.google.com/url?sa=t&rct=j&q=http%3A%2F%2Ftubidy.mobi%2Fsearch.php%3Fa%3D18%26q%3Dsexe&source=web&cd=23&ved=0CCsQFjACOBQ&url=http%3A%2F%2Fcarl.cs.indiana.edu%2Ffil%2Fcgi-bin%2FWebSec%2Fmarilyn.cgi&ei=SXtXT8y6O8bT4QTrxKiYDw&usg=AFQjCNHRtbr4ftk_4PyVzN3HuHPJV6LZow
Wed Mar  7 09:34:08 2012 from (empty referer)
Wed Mar  7 09:23:56 2012 from http://assist.babylon.com/babylonassista/dnsassist/main?domain=mystart%20incredibar%20mb113%20
Wed Mar  7 09:06:48 2012 from http://www.google.com/url?sa=t&rct=j&q=http%3A%2F%2Fwww.google.com%2Fsearch%3Fq%3Dhttp%253a%252f%252fwww.google.com%252fsearch%253fq%253dhttp%25253a%25252f%25252fwww.facebook.com%25252f%2526sourceid%253dopera%2526ie%253dutf-8%2526oe%253dutf-8%2526channel%253dsuggest%26sourceid%3Dopera%26ie%3Dutf-8%26oe%3Dutf-8%26channel%3Dsuggest&source=web&cd=1&ved=0CCIQFjAA&url=http%3A%2F%2Fcarl.cs.indiana.edu%2Ffil%2Fcgi-bin%2FWebSec%2Fmarilyn.cgi&ei=amtXT6mkMsKzrAfPpsWXDA&usg=AFQjCNHRtbr4ftk_4PyVzN3HuHPJV6LZow
Wed Mar  7 08:53:15 2012 from (empty referer)
Wed Mar  7 08:22:38 2012 from http://carl.cs.indiana.edu/fil/cgi-bin/WebSec/marilyn.cgi
Wed Mar  7 07:46:47 2012 from http://www.google.com/xhtml?q=http%3a%2f%2fwww%2egoogle%2ecom%2fxhtml%3fq%3dwww%2e%26client%3dms%2dopera_mb_no%26channel%3dbh&client=ms-opera_mb_no&channel=bh
Wed Mar  7 06:38:21 2012 from http://www.google.com/xhtml?client=ms-opera_mb_no&q=http://www.google.com/xhtml?q%3Dwww.%26client%3Dms-opera_mb_no%26channel%3Dbh&channel=bh&start=10&sa=N
Wed Mar  7 06:29:51 2012 from http://www.google.com/url?sa=t&rct=j&q=http%3A%2F%2Fwww.google.com%2Fsearch%3Fq%3Dhttp%253a%252f%252fwww.google.com%252fsearch%253fq%253dxxx%2526sourceid%253dopera%2526ie%253dutf-8%2526oe%253dutf-8%2526channel%253dsuggest%26sourceid%3Dopera%26ie%3Dutf-8%26oe%3Dutf-8%26channel%3Dsuggest&source=web&cd=1&ved=0CCIQFjAA&url=http%3A%2F%2Fcarl.cs.indiana.edu%2Ffil%2Fcgi-bin%2FWebSec%2Fmarilyn.cgi&ei=qkZXT7GeJ5T68QPj1ZXqDg&usg=AFQjCNHRtbr4ftk_4PyVzN3HuHPJV6LZow
Wed Mar  7 06:29:12 2012 from (empty referer)
Wed Mar  7 06:20:41 2012 from http://www.google.com/url?sa=t&rct=j&q=http%20%2F%2Ftubidy.modi%2Fsearck.php%3Fa%3D18%26q%3Dhot%2Bsex&source=web&cd=4&sqi=2&ved=0CEEQFjAD&url=http%3A%2F%2Fcarl.cs.indiana.edu%2Ffil%2Fcgi-bin%2FWebSec%2Fmarilyn.cgi&ei=LURXT83yCoPpOYasmPQM&usg=AFQjCNHRtbr4ftk_4PyVzN3HuHPJV6LZow
Wed Mar  7 05:27:39 2012 from http://www.searchplusnetwork.com/?sp=chv&q=facebook.com%2Fajax%2Fpagelet%2Fgeneric.php%2FPhotoViewerInitPagelet%3F__a
Wed Mar  7 05:13:18 2012 from http://www.google.com/url?sa=t&rct=j&q=tf-8%2526oe%253dutf-8%2526channel%253dsuggest%26sourceid%3Dopera%26ie%3Dutf-8%26oe%3Dutf-8%26channel%3Dsuggest&source=web&cd=1&sqi=2&ved=0CCAQFjAA&url=http%3A%2F%2Fcarl.cs.indiana.edu%2Ffil%2Fcgi-bin%2FWebSec%2Fmarilyn.cgi&ei=tDRXT-bpIovQmAW1qJDFDw&usg=AFQjCNHRtbr4ftk_4PyVzN3HuHPJV6LZow
Wed Mar  7 05:02:12 2012 from http://www.google.com/url?sa=t&rct=j&q=&esrc=s&frm=1&source=web&cd=1&cts=1331114538062&ved=0CCMQFjAA&url=http%3A%2F%2Fcarl.cs.indiana.edu%2Ffil%2Fcgi-bin%2FWebSec%2Fmarilyn.cgi&ei=EjJXT7nXA8-TtweT5u2HDw&usg=AFQjCNHRtbr4ftk_4PyVzN3HuHPJV6LZow&sig2=FaVYcZcRtbVpEzKgRlmPlQ
Wed Mar  7 03:45:11 2012 from http://carl.cs.indiana.edu/fil/cgi-bin/WebSec/marilyn.cgi
Wed Mar  7 02:15:01 2012 from http://www.google.com/search?q=http%3A%2F%2Fclick.infospace.com%2FClickHandler.ashx%3Fdu%3Dhttp%3A%2F%2Far-ar.facebook.com%2Fr.php
Wed Mar  7 02:13:21 2012 from http://search.imesh.com/web?hl=fr&q=click+infospace&src=404&ref=1&page=8
Wed Mar  7 01:52:45 2012 from http://www.google.com.vn/imgres?q=ma+rilyn+mon+roe+nude+xvideo&hl=vi&biw=1360&bih=677&gbv=2&tbm=isch&tbnid=ynUan-_9FQYrEM:&imgrefurl=http://carl.cs.indiana.edu/fil/cgi-bin/WebSec/marilyn.cgi&docid=hMMAQwJMLA2rwM&imgurl=http://carl.cs.indiana.edu/fil/WebSec/marilyn.jpg&w=500&h=333&ei=iwNXT8mZO-ji2AWlrpnYDg&zoom=1&iact=hc&vpx=747&vpy=164&dur=5181&hovh=183&hovw=275&tx=80&ty=70&sig=106237495843665347640&page=1&tbnh=153&tbnw=204&start=0&ndsp=21&ved=1t:429,r:4,s:0
Wed Mar  7 01:49:52 2012 from (empty referer)
Wed Mar  7 01:34:14 2012 from http://www.searchplusnetwork.com/?sp=chv&q=facebook.com%2Fajax%2Fpagelet%2Fgeneric.php%2FPhotoViewerInitPagelet%3F__a
Wed Mar  7 01:29:12 2012 from http://www.protectedsearch.com/WebSearchResults.aspx?q=click.infospace.com/ClickHandler.ashx?du=http%3a%2f%2fpl-pl.facebook.com%2f&ru=http%3a%2f%2fpl-pl.facebook.com%2f&ld=20120307&ap=2&app=1&c=acpro16.ggl5&s=acpro16&coi=239138&cop=main-title&euip=89.77.236.58&npp=2&p=0&pp=0&pvaid=346d7bd0a280470585acc9443ee751aa&ep=1&mid=9&hash=991E1E3E4D247CCD8160F4E14BA1E9D9
Wed Mar  7 01:20:58 2012 from http://www.google.com/search?q=http%3A%2F%2Fclick.infospace.com%2FClickHandler.ashx%3Fdu%3Dhttps%3A%2F%2Fwww.facebook.com%2Flogin.php
Wed Mar  7 00:45:50 2012 from http://www.google.com/m?q=www.google.com%2Fm%3Fq%3Dwww.%26client%3Dms-opera-mini%26channel%3Dnew&client=ms-opera-mini&channel=new
Tue Mar  6 23:52:18 2012 from (empty referer)
Tue Mar  6 21:27:01 2012 from http://link.orangeworld.co.uk/10283/mobile?q=http%253A%252F%252Ftubidy&brand=omo&tab=web&tok=Uj01MDE3Zjk0NS1kOGM3LTQ2MDEtYTJiYS0wNWQzNTlhYWYwMTI1&offset=0
Tue Mar  6 20:47:48 2012 from (empty referer)
Tue Mar  6 20:45:25 2012 from http://carl.cs.indiana.edu/fil/cgi-bin/WebSec/marilyn.cgi
Tue Mar  6 20:05:46 2012 from (empty referer)
Tue Mar  6 19:57:13 2012 from http://carl.cs.indiana.edu/fil/cgi-bin/WebSec/marilyn.cgi
Tue Mar  6 18:50:14 2012 from http://www.google.com/search?q=http://tubidy.mobi/search.php%3Fa%3D18%26q%3D%25d8%25b3%25d9%2583%25d8%25b&hl=en&client=safari&prmd=imvns&filter=0&biw=320&bih=417
Tue Mar  6 18:17:45 2012 from (empty referer)
Tue Mar  6 18:08:19 2012 from (empty referer)
Tue Mar  6 16:41:10 2012 from http://www.google.com/m?q=www.google.com%2Fm%3Fq%3Dwww.all%2Bsex%26client%3Dms-opera-mini%26channel%3Dnew&client=ms-opera-mini&channel=new
Tue Mar  6 15:16:47 2012 from (empty referer)
Tue Mar  6 14:31:17 2012 from http://www.plusnetwork.com/?q=sex+free%26sp%3Dchv&sp=chv
Tue Mar  6 14:04:44 2012 from (empty referer)
Tue Mar  6 13:49:57 2012 from http://www.google.com/m?client=ms-opera-mini&channel=new&q=carl.cs.indiana.edu%2Ffil%2Fcgi-bin%2FWebSec%2Fmarilyn.cgi
Tue Mar  6 13:48:35 2012 from http://www.google.com/m?q=www.google.com%2Fm%3Fq%3Dwwwsex.%26client%3Dms-opera-mini%26channel%3Dnew&client=ms-opera-mini&channel=new
Tue Mar  6 13:03:26 2012 from http://www.google.com/url?sa=t&rct=j&q=http%3A%2F%2Fwww.google.com%2Fsearch%3Fq%3Dhttp%253a%252f%252fwww.google.com%252fsearch%253fq%253dhttp%25253a%25252f%25252fwww.youtube.com%25252f%2526sourceid%253dopera%2526ie%253dutf-8%2526oe%253dutf-8%2526channel%253dsuggest%26sourceid%3Dopera%26ie%3Dutf-8%26oe%3Dutf-8%26channel%3Dsuggest&source=web&cd=1&ved=0CCIQFjAA&url=http%3A%2F%2Fcarl.cs.indiana.edu%2Ffil%2Fcgi-bin%2FWebSec%2Fmarilyn.cgi&ei=JVFWT9-COLGZ0QXDg_GBCg&usg=AFQjCNHRtbr4ftk_4PyVzN3HuHPJV6LZow
Tue Mar  6 12:13:37 2012 from http://www.google.com/m?client=ms-nokia&cof=nsp&channel=s60&q=www.google.com%2fm%3fclient%3dms-nokia%26cof%3dnsp%26channel%3ds
Tue Mar  6 12:09:48 2012 from (empty referer)
Tue Mar  6 12:00:07 2012 from (empty referer)
Tue Mar  6 11:35:45 2012 from http://www.google.com/m?q=www.google.com%2Fm%3Fclient%3Dms-opera-mini%26channel%3Dnew%26q%3Dwww.tube.com&client=ms-opera-mini&channel=new
Tue Mar  6 11:35:17 2012 from (empty referer)
Tue Mar  6 11:32:35 2012 from http://www.google.it/search?q=http%3A%2F%2Fwww.plusnetwork.com%2F%3Fsp%3Dhp&rls=com.microsoft:it:IE-SearchBox&ie=UTF-8&oe=UTF-8&sourceid=ie7&rlz=1I7WZPC_it&redir_esc=&ei=_ztWT87sDojf4QSc7-WDCg
Tue Mar  6 11:20:18 2012 from http://www.google.com/search?client=opera&rls=en&q=http%3A%2F%2Fwww.google.com%2Fsearch%3Fq%3Dhttp%253A%252F%252Fwww.google.com%252Fsearch%253Fq%253Dhttp%25253A%25252F%25252Fwww.google.co.id%25252F%2526sourceid%253Dopera%2526ie%253Dutf-8%2526oe%253Dutf-8%2526channel%253Dsuggest%26sourceid%3Dopera%26ie%3Dutf-8%26oe%3Dutf-8%26channel%3Dsuggest&sourceid=opera&ie=utf-8&oe=utf-8&channel=suggest
Tue Mar  6 11:15:02 2012 from http://www.google.com/url?sa=t&rct=j&q=http%3A%2F%2Fwww.google.com%2Fsearch%3Fq%3Dhttp%253a%252f%252fwww.google.com%252fsearch%253fq%253dhttp%25253a%25252f%25252fwww.facebook.com%25252f%2526sourceid%253dopera%2526ie%253dutf-8%2526oe%253dutf-8%2526channel%253dsuggest%26sourceid%3Dopera%26ie%3Dutf-8%26oe%3Dutf-8%26channel%3Dsuggest&source=web&cd=1&ved=0CCMQFjAA&url=http%3A%2F%2Fcarl.cs.indiana.edu%2Ffil%2Fcgi-bin%2FWebSec%2Fmarilyn.cgi&ei=jTdWT_nQGMm10QX8-tHgCQ&usg=AFQjCNHRtbr4ftk_4PyVzN3HuHPJV6LZow
Tue Mar  6 10:36:25 2012 from http://www.google.com/url?sa=t&rct=j&q=http%3A%2F%2Fwww.google.com%2Fsearch%3Fq%3Dhttp%253a%252f%252fwww.google.com%252fsearch%253fq%253dhttp%25253a%25252f%25252ffacebook.com%25252f%2526sourceid%253dopera%2526ie%253dutf-8%2526oe%253dutf-8%2526channel%253dsuggest%26sourceid%3Dopera%26ie%3Dutf-8%26oe%3Dutf-8%26channel%3Dsuggest&source=web&cd=1&ved=0CCIQFjAA&url=http%3A%2F%2Fcarl.cs.indiana.edu%2Ffil%2Fcgi-bin%2FWebSec%2Fmarilyn.cgi&ei=oi5WT8TkCo3orQeY5JiuBw&usg=AFQjCNHRtbr4ftk_4PyVzN3HuHPJV6LZow
Tue Mar  6 10:03:38 2012 from (empty referer)
Tue Mar  6 09:55:53 2012 from (empty referer)
Tue Mar  6 09:45:13 2012 from http://www.searchplusnetwork.com/?sp=chv&q=click.infospace.comClickHandler.ashx%3Fdu
Tue Mar  6 08:54:34 2012 from http://carl.cs.indiana.edu/fil/cgi-bin/WebSec/marilyn.cgi
Tue Mar  6 08:17:08 2012 from http://www.google.co.in/url?sa=t&rct=j&q=click%20infospace%20clickhandler&source=web&cd=10&ved=0CGcQFjAJ&url=http%3A%2F%2Fcarl.cs.indiana.edu%2Ffil%2Fcgi-bin%2FWebSec%2Fmarilyn.cgi&ei=SA5WT-yCI4jqrQfUxpWMBw&usg=AFQjCNHRtbr4ftk_4PyVzN3HuHPJV6LZow
Tue Mar  6 08:07:15 2012 from (empty referer)
Tue Mar  6 08:06:52 2012 from (empty referer)
Tue Mar  6 07:01:09 2012 from (empty referer)
Tue Mar  6 07:00:19 2012 from http://www.google.com/url?sa=t&rct=j&q=http%3A%2F%2Fwww.google.com%2Fsearch%3Fq%3Dhttp%253A%252F%252Fwww.google.com.eg%252Fsearch%253Fq%253Dwww.facebook.com%2526sourceid%253Dopera%2526ie%253Dutf-8%2526oe%253Dutf-8%2526channel%253Dsuggest%26sourceid%3Dopera%26ie%3Dutf-8%26oe%3Dutf-8%26channel%3Dsuggest&source=web&cd=1&ved=0CCkQFjAA&url=http%3A%2F%2Fcarl.cs.indiana.edu%2Ffil%2Fcgi-bin%2FWebSec%2Fmarilyn.cgi&ei=NPxVT9v6L9CcOvjagb8I&usg=AFQjCNHRtbr4ftk_4PyVzN3HuHPJV6LZow
Tue Mar  6 06:59:38 2012 from http://www.google.com/m?q=www.google.com%2Fm%3Fq%3Dwww.sex%2Bdog.com%26client%3Dms-opera-mini%26channel%3Dnew.&client=ms-opera-mini&channel=new
Tue Mar  6 06:58:07 2012 from http://www.searchplusnetwork.com/?sp=chv&q=http%3A%2F%2Fsearch.speedbit.com%2FSearch.aspx%3Fsite
Tue Mar  6 06:00:58 2012 from http://www.google.co.in/url?sa=t&rct=j&q=click%20infospace%20clickhandler&source=web&cd=10&ved=0CGkQFjAJ&url=http%3A%2F%2Fcarl.cs.indiana.edu%2Ffil%2Fcgi-bin%2FWebSec%2Fmarilyn.cgi&ei=Se5VT-zeB8zhrAecybGVBw&usg=AFQjCNHRtbr4ftk_4PyVzN3HuHPJV6LZow
Tue Mar  6 05:51:55 2012 from http://www.google.com/url?sa=t&rct=j&q=http:%2F%2Fwww.google.com%2Fsearch%3Fq%3Dhttp%253A%252F%252Fwww.google.com%252Fsearch%253Fq%253Dhttp%25253A%25252F%25252Fwww.ideacellular.com%25252F%2526sourceid%253Dopera%2526ie%253Dutf-8%2526oe%253Dutf-8%2526channel%253Dsuggest%26sourceid%3Dopera%26ie%3Dutf-8%26oe%3Dutf-8%26channel%3Dsuggest&source=web&cd=1&ved=0CC0QFjAA&url=http%3A%2F%2Fcarl.cs.indiana.edu%2Ffil%2Fcgi-bin%2FWebSec%2Fmarilyn.cgi&ei=xOtVT6zUBtDnrAeHl4mZBw&usg=AFQjCNHRtbr4ftk_4PyVzN3HuHPJV6LZow
Tue Mar  6 05:49:57 2012 from http://www.google.com/url?sa=t&rct=j&q=http:%2F%2Fwww.google.com%2Fsearch%3Fq%3Dhttp%253A%252F%252Fwww.google.com%252Fsearch%253Fq%253Dhttp%25253A%25252F%25252Fwww.ideacellular.com%25252F%2526sourceid%253Dopera%2526ie%253Dutf-8%2526oe%253Dutf-8%2526channel%253Dsuggest%26sourceid%3Dopera%26ie%3Dutf-8%26oe%3Dutf-8%26channel%3Dsuggest&source=web&cd=1&ved=0CC0QFjAA&url=http%3A%2F%2Fcarl.cs.indiana.edu%2Ffil%2Fcgi-bin%2FWebSec%2Fmarilyn.cgi&ei=xOtVT6zUBtDnrAeHl4mZBw&usg=AFQjCNHRtbr4ftk_4PyVzN3HuHPJV6LZow
Tue Mar  6 05:29:58 2012 from (empty referer)
Tue Mar  6 05:03:03 2012 from (empty referer)
Tue Mar  6 04:05:54 2012 from http://www.google.com/url?sa=t&rct=j&q=http%3A%2F%2Fwww.google.com%2Fsearch%3Fq%3Dhttp%253a%252f%252fwww.google.com%252fsearch%253fq%253dhttp%25253a%25252f%25252fwww.google.com.pk%2526sourceid%253dopera%2526ie%253dutf-8%2526oe%253dutf-8%2526channel%253dsuggest%26sourceid%3Dopera%26ie%3Dutf-8%26oe%3Dutf-8%26channel%3Dsuggest&source=web&cd=1&ved=0CCIQFjAA&url=http%3A%2F%2Fcarl.cs.indiana.edu%2Ffil%2Fcgi-bin%2FWebSec%2Fmarilyn.cgi&ei=7nZVT9zrEubI0QXW8ozvDg&usg=AFQjCNHRtbr4ftk_4PyVzN3HuHPJV6LZow
Tue Mar  6 02:43:40 2012 from http://www.google.com/url?sa=t&rct=j&q=&esrc=s&source=web&cd=1&cts=1331019882698&ved=0CCIQFjAA&url=http%3A%2F%2Fcarl.cs.indiana.edu%2Ffil%2Fcgi-bin%2FWebSec%2Fmarilyn.cgi&ei=JMBVT_eiNuit0QXz2L3pCQ&usg=AFQjCNHRtbr4ftk_4PyVzN3HuHPJV6LZow&sig2=F5KBbewdWS4xhw6GFmGKEQ
Tue Mar  6 01:17:57 2012 from http://www.google.com/url?sa=t&rct=j&q=http%3A%2F%2Fwww.google.com%2Fsearch%3Fq%3Dhttp%253a%252f%252fwww.google.com.pk%252fsearch%253fq%253dsearch%2526sourceid%253dopera%2526ie%253dutf-8%2526oe%253dutf-8%2526channel%253dsuggest%26sourceid%3Dopera%26ie%3Dutf-8%26oe%3Dutf-8%26channel%3Dsuggest&source=web&cd=1&ved=0CCAQFjAA&url=http%3A%2F%2Fcarl.cs.indiana.edu%2Ffil%2Fcgi-bin%2FWebSec%2Fmarilyn.cgi&ei=BaxVT5nuHaOl0AWqqJHrCQ&usg=AFQjCNHRtbr4ftk_4PyVzN3HuHPJV6LZow
Tue Mar  6 01:16:17 2012 from http://home.allgameshome.com/results.php?s=imeshmeta4&category=web&start=1&x=84&y=27
Tue Mar  6 01:03:27 2012 from http://www.google.com/url?sa=t&rct=j&q=http%3A%2F%2Fwww.google.com%2Fsearch%3Fq%3Dhttp%253a%252f%252fwww.google.com%252fsearch%253fq%253dhttp%25253a%25252f%25252fgoogle.com%25252f%2526sourceid%253dopera%2526ie%253dutf-8%2526oe%253dutf-8%2526channel%253dsuggest%26sourceid%3Dopera%26ie%3Dutf-8%26oe%3Dutf-8%26channel%3Dsuggest&source=web&cd=1&ved=0CCIQFjAA&url=http%3A%2F%2Fcarl.cs.indiana.edu%2Ffil%2Fcgi-bin%2FWebSec%2Fmarilyn.cgi&ei=oKhVT6mQEIeyrAf_9aWCBw&usg=AFQjCNHRtbr4ftk_4PyVzN3HuHPJV6LZow
Tue Mar  6 00:09:50 2012 from (empty referer)
Tue Mar  6 00:09:05 2012 from (empty referer)
Tue Mar  6 00:08:35 2012 from (empty referer)
Mon Mar  5 23:21:33 2012 from http://www.google.com/url?sa=t&rct=j&q=&esrc=s&source=web&cd=1&cts=1331007690300&ved=0CCMQFjAA&url=http%3A%2F%2Fcarl.cs.indiana.edu%2Ffil%2Fcgi-bin%2FWebSec%2Fmarilyn.cgi&ei=d49VT5TGLIfpOZqC0ckI&usg=AFQjCNHRtbr4ftk_4PyVzN3HuHPJV6LZow&sig2=eBz1U2SD7qeFyFxci3QwNQ
Mon Mar  5 23:03:23 2012 from (empty referer)
Mon Mar  5 21:17:24 2012 from (empty referer)
Mon Mar  5 20:51:08 2012 from http://www.google.com/url?sa=t&rct=j&q=http%3A%2F%2Fwww.google.com%2Fsearch%3Fq%3Dhttp%253a%252f%252fwww.google.com%252fsearch%253fq%253dhttp%25253a%25252f%25252fwww.facebook.com%25252f%2526sourceid%253dopera%2526ie%253dutf-8%2526oe%253dutf-8%2526channel%253dsuggest%26sourceid%3Dopera%26ie%3Dutf-8%26oe%3Dutf-8%26channel%3Dsuggest&source=web&cd=1&ved=0CCsQFjAA&url=http%3A%2F%2Fcarl.cs.indiana.edu%2Ffil%2Fcgi-bin%2FWebSec%2Fmarilyn.cgi&ei=fm1VT4r9G4mQiAfAivjAAg&usg=AFQjCNHRtbr4ftk_4PyVzN3HuHPJV6LZow
Mon Mar  5 19:03:42 2012 from http://www.google.com/gwt/x?client=ms-sonyericsson&q=http://www.google.com/m/search?client%3Dms-sonyericsson&channel=sk&ei=MlRVT6D3NqKl0QXNhwE&ved=0CBsQFjAIOAo&start=10&hl=fr&source=m&rd=1&u=http://carl.cs.indiana.edu/fil/cgi-bin/WebSec/marilyn.cgi
Mon Mar  5 19:03:30 2012 from (empty referer)
Mon Mar  5 18:20:20 2012 from (empty referer)
Mon Mar  5 17:49:09 2012 from (empty referer)
Mon Mar  5 17:48:08 2012 from (empty referer)
Mon Mar  5 17:19:40 2012 from (empty referer)
Mon Mar  5 17:08:19 2012 from (empty referer)
Mon Mar  5 17:02:46 2012 from (empty referer)
Mon Mar  5 17:02:35 2012 from (empty referer)
Mon Mar  5 17:01:33 2012 from http://www.google.com/m?client=ms-nokia&cof=nsp&channel=s60&q=www%5b.google.com%2fm%2ftrends%3fclient%3dms-nokia%26q%3d%2b%26cof%3dn
Mon Mar  5 16:59:59 2012 from http://www.google.com/m?client=ms-nokia&cof=nsp&channel=s60&q=www%5b.google.com%2fm%2ftrends%3fclient%3dms-nokia%26q%3d%2b%26cof%3dn
Mon Mar  5 15:31:53 2012 from (empty referer)
Mon Mar  5 14:51:55 2012 from http://www.google.com/url?sa=t&rct=j&q=home.allgameshome.com%2Fresults.php%3Fcategory%3Dweb%26s%3Dwww%252Eallgameshome%252Ecom%252F&source=web&cd=1&ved=0CCMQFjAA&url=http%3A%2F%2Fcarl.cs.indiana.edu%2Ffil%2Fcgi-bin%2FWebSec%2Fmarilyn.cgi&ei=5RhVT5q0DMSo4gT2zLjiDQ&usg=AFQjCNHRtbr4ftk_4PyVzN3HuHPJV6LZow
Mon Mar  5 14:04:40 2012 from http://www.google.com/m?client=ms-nokia&cof=nsp&channel=s60&q=orld.du.aeom%2fm%3fclient%3dms-nokia%26cof%3dnsp%26channel%3ds60
Mon Mar  5 13:58:16 2012 from http://home.allgameshome.com/results.php?category=web&s=http://click.infospace.com/ClickHandler.ashx?du=http%3a%2f%2fwww.youngleafs.com%2ftgp.shtml&ru=http%3a%2f%2fwww.youngleafs.com%2ftgp.shtml&ld=20120305&ap=2&app=1&c=imesh.meta.4&s=imeshmeta4&coi=239137&cop=main-title&euip=175.157.213.251&npp=2&p=0&pp=0&pvaid=b428414a598a403dba019dd31ae4e2cd&ep=2&mid=9&hash=B20FCB80CE1253B877C41C0D1B1AF31
Mon Mar  5 12:38:10 2012 from http://carl.cs.indiana.edu/fil/cgi-bin/WebSec/marilyn.cgi
Mon Mar  5 12:23:48 2012 from (empty referer)
Mon Mar  5 12:23:17 2012 from http://www.google.com/search?client=opera&rls=fr&q=http%3A%2F%2Fwww.google.com%2Fsearch%3Fq%3Dhttp%253A%252F%252Fwww.google.com%252Fsearch%253Fq%253Dhttp%25253A%25252F%25252Fwww.facebook.com%25252F%2526sourceid%253Dopera%2526ie%253Dutf-8%2526oe%253Dutf-8%2526channel%253Dsuggest%26sourceid%3Dopera%26ie%3Dutf-8%26oe%3Dutf-8%26channel%3Dsuggest&sourceid=opera&ie=utf-8&oe=utf-8&channel=suggest
Mon Mar  5 12:02:59 2012 from http://www.google.com/url?sa=t&rct=j&q=http%3A%2F%2Fwww.google.com%2Fsearch%3Fq%3Dhttp%253a%252f%252fwww.google.com%252fsearch%253fq%253dhttp%25253a%25252f%25252fwww.yahoo.com%25252f%2526sourceid%253dopera%2526ie%253dutf-8%2526oe%253dutf-8%2526channel%253dsuggest%26sourceid%3Dopera%26ie%3Dutf-8%26oe%3Dutf-8%26channel%3Dsuggest&source=web&cd=1&ved=0CCIQFjAA&url=http%3A%2F%2Fcarl.cs.indiana.edu%2Ffil%2Fcgi-bin%2FWebSec%2Fmarilyn.cgi&ei=tPFUT-ylMoiOmQXa-uGlCg&usg=AFQjCNHRtbr4ftk_4PyVzN3HuHPJV6LZow
Mon Mar  5 12:02:08 2012 from http://www.google.com/url?sa=t&rct=j&q=http%3A%2F%2Fwww.google.com%2Fsearch%3Fq%3Dhttp%253a%252f%252fwww.google.com%252fsearch%253fq%253dhttp%25253a%25252f%25252fwww.yahoo.com%25252f%2526sourceid%253dopera%2526ie%253dutf-8%2526oe%253dutf-8%2526channel%253dsuggest%26sourceid%3Dopera%26ie%3Dutf-8%26oe%3Dutf-8%26channel%3Dsuggest&source=web&cd=1&ved=0CCIQFjAA&url=http%3A%2F%2Fcarl.cs.indiana.edu%2Ffil%2Fcgi-bin%2FWebSec%2Fmarilyn.cgi&ei=hvFUT4qvA-zsmAWck4C1Cg&usg=AFQjCNHRtbr4ftk_4PyVzN3HuHPJV6LZow
Mon Mar  5 11:48:50 2012 from (empty referer)
Mon Mar  5 10:54:19 2012 from (empty referer)
Mon Mar  5 10:44:37 2012 from http://www.google.com/url?sa=t&rct=j&q=http%3A%2F%2Fwww.google.com%2Fsearch%3Fq%3Dhttp%253A%252F%252Fwww.google.com%252Fsearch%253Fq%253Dhttp%25253A%25252F%25252Fwww.facebook.com%2526sourceid%253Dopera%2526ie%253Dutf-8%2526oe%253Dutf-8%2526channel%253Dsuggest%26sourceid%3Dopera%26ie%3Dutf-8%26oe%3Dutf-8%26channel%3Dsuggest&source=web&cd=1&ved=0CCMQFjAA&url=http%3A%2F%2Fcarl.cs.indiana.edu%2Ffil%2Fcgi-bin%2FWebSec%2Fmarilyn.cgi&ei=T99UT_uaCo_68QOAorHwBQ&usg=AFQjCNHRtbr4ftk_4PyVzN3HuHPJV6LZow
Mon Mar  5 10:43:01 2012 from (empty referer)
Mon Mar  5 10:42:03 2012 from http://www.google.com/m?q=www.google.com%2Fm%3Fq%3Dwww.sex%26client%3Dms-opera-mini%26channel%3Dnew&client=ms-opera-mini&channel=new
Mon Mar  5 10:40:36 2012 from (empty referer)
Mon Mar  5 10:40:06 2012 from http://www.google.com/m?q=www.google.com%2Fm%3Fq%3Dwww.xxx.com%26client%3Dms-opera-mini%26channel%3Dnew&client=ms-opera-mini&channel=new
Mon Mar  5 10:34:20 2012 from http://www.google.com/m?q=www.google.com%2Fm%3Fq%3Dwww.hot%2Bsex.com%26client%3Dms-opera-mini%26channel%3Dnew&client=ms-opera-mini&channel=new
Mon Mar  5 10:04:38 2012 from http://www.google.com/m?client=ms-nokia&cof=nsp&channel=s60&q=carl.cs.indiana.edu%2ffil%2fcgi-bin%2fWebSec%2fmarilyn.cgi
Mon Mar  5 09:46:37 2012 from (empty referer)
Mon Mar  5 09:21:24 2012 from (empty referer)
Mon Mar  5 07:44:43 2012 from http://www.google.com/url?sa=t&rct=j&q=http%3A%2F%2Fwww.google.com%2Fsearch%3Fq%3Dhttp%253a%252f%252fwww.google.com%252fsearch%253fq%253dwww%2526sourceid%253dopera%2526ie%253dutf-8%2526oe%253dutf-8%2526channel%253dsuggest%26sourceid%3Dopera%26ie%3Dutf-8%26oe%3Dutf-8%26channel%3Dsuggest&source=web&cd=1&ved=0CCsQFjAA&url=http%3A%2F%2Fcarl.cs.indiana.edu%2Ffil%2Fcgi-bin%2FWebSec%2Fmarilyn.cgi&ei=G7VUT6bPOo3yrQe7rIW6DQ&usg=AFQjCNHRtbr4ftk_4PyVzN3HuHPJV6LZow
Mon Mar  5 07:44:41 2012 from http://www.google.com/url?sa=t&rct=j&q=http%3A%2F%2Fwww.google.com%2Fsearch%3Fq%3Dhttp%253a%252f%252fwww.google.com%252fsearch%253fq%253dwww%2526sourceid%253dopera%2526ie%253dutf-8%2526oe%253dutf-8%2526channel%253dsuggest%26sourceid%3Dopera%26ie%3Dutf-8%26oe%3Dutf-8%26channel%3Dsuggest&source=web&cd=1&ved=0CCsQFjAA&url=http%3A%2F%2Fcarl.cs.indiana.edu%2Ffil%2Fcgi-bin%2FWebSec%2Fmarilyn.cgi&ei=G7VUT6bPOo3yrQe7rIW6DQ&usg=AFQjCNHRtbr4ftk_4PyVzN3HuHPJV6LZow
Mon Mar  5 07:33:20 2012 from http://www.google.com/m?q=www.google.com%2Fm%3Fq%3Dwww.Game.com%26client%3Dms-opera-mini%26channel%3Dnew&client=ms-opera-mini&channel=new
Mon Mar  5 07:15:33 2012 from http://www.google.com/url?sa=t&rct=j&q=http%3A%2F%2Fwww.google.com%2Fsearch%3Fq%3Dhttp%253a%252f%252fwww.google.com%252fsearch%253fq%253dhttp%25253a%25252f%25252fwww.youtube.com%25252f%2526sourceid%253dopera%2526ie%253dutf-8%2526oe%253dutf-8%2526channel%253dsuggest%26sourceid%3Dopera%26ie%3Dutf-8%26oe%3Dutf-8%26channel%3Dsuggest&source=web&cd=1&ved=0CCIQFjAA&url=http%3A%2F%2Fcarl.cs.indiana.edu%2Ffil%2Fcgi-bin%2FWebSec%2Fmarilyn.cgi&ei=Na5UT5CNC8m3rAex_tiqDQ&usg=AFQjCNHRtbr4ftk_4PyVzN3HuHPJV6LZow
Mon Mar  5 07:14:57 2012 from http://www.google.com/url?sa=t&rct=j&q=http%3A%2F%2Fwww.google.com%2Fsearch%3Fq%3Dhttp%253a%252f%252fwww.google.com%252fsearch%253fq%253dhttp%25253a%25252f%25252fwww.youtube.com%25252f%2526sourceid%253dopera%2526ie%253dutf-8%2526oe%253dutf-8%2526channel%253dsuggest%26sourceid%3Dopera%26ie%3Dutf-8%26oe%3Dutf-8%26channel%3Dsuggest&source=web&cd=1&ved=0CCIQFjAA&url=http%3A%2F%2Fcarl.cs.indiana.edu%2Ffil%2Fcgi-bin%2FWebSec%2Fmarilyn.cgi&ei=Na5UT5CNC8m3rAex_tiqDQ&usg=AFQjCNHRtbr4ftk_4PyVzN3HuHPJV6LZow
Mon Mar  5 06:54:29 2012 from http://www.sogou.com/sohu?query=eporne&p=01040100&w=01999999&_asf=www.sohu.com&_ast=1330949288&md=&name=&rturl=&dtype=&ds=&provider=&key=
Mon Mar  5 06:52:32 2012 from http://www.sogou.com/sohu?query=eporne&p=01040100&w=01999999&_asf=www.sohu.com&_ast=1330949288&md=&name=&rturl=&dtype=&ds=&provider=&key=
Mon Mar  5 06:51:40 2012 from http://www.sogou.com/sohu?query=eporne&p=01040100&w=01999999&_asf=www.sohu.com&_ast=1330949288&md=&name=&rturl=&dtype=&ds=&provider=&key=
Mon Mar  5 06:38:12 2012 from (empty referer)
Mon Mar  5 06:32:46 2012 from http://www.google.com/m?client=ms-nokia&cof=nsp&channel=s60&q=www.google.co.in%2fm%3fq%3d
Mon Mar  5 06:11:10 2012 from http://www.google.co.za/url?sa=t&rct=j&q=http%3A%2F%2Fhome.allgameshome.com&source=web&cd=13&ved=0CGkQFjAM&url=http%3A%2F%2Fcarl.cs.indiana.edu%2Ffil%2Fcgi-bin%2FWebSec%2Fmarilyn.cgi&ei=_Z5UT7S8O4qs0QXBy6TpCw&usg=AFQjCNHRtbr4ftk_4PyVzN3HuHPJV6LZow
Mon Mar  5 06:09:51 2012 from http://www.google.com/search?client=opera&rls=en&q=http%3A%2F%2Fwww.google.com%2Fsearch%3Fq%3Dhttp%253A%252F%252Fwww.google.com%252Fsearch%253Fq%253Dhttp%25253A%25252F%25252Fwww.google.com.ng%25252F%2526sourceid%253Dopera%2526ie%253Dutf-8%2526oe%253Dutf-8%2526channel%253Dsuggest%26sourceid%3Dopera%26ie%3Dutf-8%26oe%3Dutf-8%26channel%3Dsuggest&sourceid=opera&ie=utf-8&oe=utf-8&channel=suggest
Mon Mar  5 04:41:44 2012 from http://www.searchplusnetwork.com/?sp=chv&q=www%252Eplusnetwork%252Ecom%252F%253Fsp%253Dchv
Mon Mar  5 04:26:54 2012 from http://www.google.com/url?sa=t&rct=j&q=http%3A%2F%2Fwww.google.com%2Fsearch%3Fq%3Dhttp%253a%252f%252fwww.google.com%252fsearch%253fq%253dhttp%25253a%25252f%25252fwww.facebook.com%25252f%2526sourceid%253dopera%2526ie%253dutf-8%2526oe%253dutf-8%2526channel%253dsuggest%26sourceid%3Dopera%26ie%3Dutf-8%26oe%3Dutf-8%26channel%3Dsuggest&source=web&cd=1&ved=0CCMQFjAA&url=http%3A%2F%2Fcarl.cs.indiana.edu%2Ffil%2Fcgi-bin%2FWebSec%2Fmarilyn.cgi&ei=wYZUT4nhH7GZ0QWj2_nlAg&usg=AFQjCNHRtbr4ftk_4PyVzN3HuHPJV6LZow
Mon Mar  5 04:02:58 2012 from (empty referer)
Mon Mar  5 02:16:27 2012 from http://www.google.co.in/url?sa=t&rct=j&q=click%20infospace%20clickhandler&source=web&cd=10&ved=0CGkQFjAJ&url=http%3A%2F%2Fcarl.cs.indiana.edu%2Ffil%2Fcgi-bin%2FWebSec%2Fmarilyn.cgi&ei=IGhUT4DnJ4TwrQfHio2qDQ&usg=AFQjCNHRtbr4ftk_4PyVzN3HuHPJV6LZow
Mon Mar  5 02:15:51 2012 from http://www.google.co.in/url?sa=t&rct=j&q=click%20infospace%20clickhandler&source=web&cd=10&ved=0CGkQFjAJ&url=http%3A%2F%2Fcarl.cs.indiana.edu%2Ffil%2Fcgi-bin%2FWebSec%2Fmarilyn.cgi&ei=IGhUT4DnJ4TwrQfHio2qDQ&usg=AFQjCNHRtbr4ftk_4PyVzN3HuHPJV6LZow
Mon Mar  5 02:15:50 2012 from http://www.google.co.in/url?sa=t&rct=j&q=click%20infospace%20clickhandler&source=web&cd=10&ved=0CGkQFjAJ&url=http%3A%2F%2Fcarl.cs.indiana.edu%2Ffil%2Fcgi-bin%2FWebSec%2Fmarilyn.cgi&ei=IGhUT4DnJ4TwrQfHio2qDQ&usg=AFQjCNHRtbr4ftk_4PyVzN3HuHPJV6LZow
Mon Mar  5 01:34:35 2012 from (empty referer)
Mon Mar  5 01:34:25 2012 from (empty referer)
Mon Mar  5 01:33:38 2012 from (empty referer)
Mon Mar  5 01:21:22 2012 from http://www.google.co.in/search?q=click+infospace+ClickHandler&channel=linkdoctor
Mon Mar  5 01:10:35 2012 from (empty referer)
Mon Mar  5 01:08:18 2012 from http://www.google.com/url?sa=t&rct=j&q=http%3A%2F%2Fwww.google.com%2Fsearch%3Fq%3Dhttp%253A%252F%252Fwww.google.com%252Fsearch%253Fq%253Dhttp%25253A%25252F%25252Fwww.facebook.com%25252F%2526sourceid%253Dopera%2526ie%253Dutf-8%2526oe%253Dutf-8%2526channel%253Dsuggest%26sourceid%3Dopera%26ie%3Dutf-8%26oe%3Dutf-8%26channel%3Dsuggest&source=web&cd=1&ved=0CCIQFjAA&url=http%3A%2F%2Fcarl.cs.indiana.edu%2Ffil%2Fcgi-bin%2FWebSec%2Fmarilyn.cgi&ei=RVhUT__hG4TX0QXzlb3yCw&usg=AFQjCNHRtbr4ftk_4PyVzN3HuHPJV6LZow
Mon Mar  5 00:51:33 2012 from http://www.google.com/url?sa=t&rct=j&q=http%3A%2F%2Fhome.myplaycity.com%2Fresults.php%3Fcategory%3Dweb%26s%3Dxxx&source=web&cd=1&ved=0CCIQFjAA&url=http%3A%2F%2Fcarl.cs.indiana.edu%2Ffil%2Fcgi-bin%2FWebSec%2Fmarilyn.cgi&ei=X1RUT73pAYa4rAebm5zHDQ&usg=AFQjCNHRtbr4ftk_4PyVzN3HuHPJV6LZow
Mon Mar  5 00:50:50 2012 from http://www.google.com/url?sa=t&rct=j&q=http%3A%2F%2Fwww.google.com%2Fsearch%3Fq%3Dhttp%253a%252f%252fwww.google.com%252fsearch%253fq%253dhttp%25253a%25252f%25252fwww.facebook.com%25252f%2526sourceid%253dopera%2526ie%253dutf-8%2526oe%253dutf-8%2526channel%253dsuggest%26sourceid%3Dopera%26ie%3Dutf-8%26oe%3Dutf-8%26channel%3Dsuggest&source=web&cd=1&ved=0CC8QFjAA&url=http%3A%2F%2Fcarl.cs.indiana.edu%2Ffil%2Fcgi-bin%2FWebSec%2Fmarilyn.cgi&ei=I1RUT73PE8PyrQfk57TvBw&usg=AFQjCNHRtbr4ftk_4PyVzN3HuHPJV6LZow
Mon Mar  5 00:49:52 2012 from http://www.google.com/search?client=opera&rls=en&q=http%3A%2F%2Fwww.google.com%2Fsearch%3Fq%3Dhttp%253A%252F%252Fwww.google.com%252Fsearch%253Fq%253Dhttp%25253A%25252F%25252Fwww.facebook.com%25252F%2526sourceid%253Dopera%2526ie%253Dutf-8%2526oe%253Dutf-8%2526channel%253Dsuggest%26sourceid%3Dopera%26ie%3Dutf-8%26oe%3Dutf-8%26channel%3Dsuggest&sourceid=opera&ie=utf-8&oe=utf-8&channel=suggest
Sun Mar  4 22:59:58 2012 from http://www.google.com/url?sa=t&rct=j&q=http%3A%2F%2Fwww.google.com%2Fsearch%3Fq%3Dhttp%253a%252f%252fwww.google.com%252fsearch%253fq%253dhttp%25253a%25252f%25252fwww.facebook.com%25252f%2526sourceid%253dopera%2526ie%253dutf-8%2526oe%253dutf-8%2526channel%253dsuggest%26sourceid%3Dopera%26ie%3Dutf-8%26oe%3Dutf-8%26channel%3Dsuggest&source=web&cd=1&ved=0CCMQFjAA&url=http%3A%2F%2Fcarl.cs.indiana.edu%2Ffil%2Fcgi-bin%2FWebSec%2Fmarilyn.cgi&ei=5jJUT83tCYPgsQLBrKjwBQ&usg=AFQjCNHRtbr4ftk_4PyVzN3HuHPJV6LZow
Sun Mar  4 22:58:09 2012 from http://www.google.com/url?sa=t&rct=j&q=http%3A%2F%2Fwww.google.com%2Fsearch%3Fq%3Dhttp%253a%252f%252fwww.google.com%252fsearch%253fq%253dhttps%25253a%25252f%25252fo.facebook.com%25252f%2526sourceid%253dopera%2526ie%253dutf-8%2526oe%253dutf-8%2526channel%253dsuggest%26sourceid%3Dopera%26ie%3Dutf-8%26oe%3Dutf-8%26channel%3Dsuggest&source=web&cd=1&ved=0CCMQFjAA&url=http%3A%2F%2Fcarl.cs.indiana.edu%2Ffil%2Fcgi-bin%2FWebSec%2Fmarilyn.cgi&ei=sTlUT62yGMWGsgLgr5TwBQ&usg=AFQjCNHRtbr4ftk_4PyVzN3HuHPJV6LZow
Sun Mar  4 21:53:07 2012 from (empty referer)
Sun Mar  4 21:48:54 2012 from http://www.google.com/url?sa=t&rct=j&q=&esrc=s&source=web&cd=1&cts=1330915734782&ved=0CCMQFjAA&url=http%3A%2F%2Fcarl.cs.indiana.edu%2Ffil%2Fcgi-bin%2FWebSec%2Fmarilyn.cgi&ei=jilUT8SKNoHpsQKykeXvBQ&usg=AFQjCNHRtbr4ftk_4PyVzN3HuHPJV6LZow&sig2=ju3jNHHk7F5V_XsL8zhxjg
Sun Mar  4 21:03:37 2012 from (empty referer)
Sun Mar  4 21:03:17 2012 from http://www.seomarketingservicesonline.com
Sun Mar  4 20:39:09 2012 from http://home.allgameshome.com/results.php?category=web&s=http://assist.babylon.com/babylonassista/dnsassist/main?domain=home%20allgameshome%20results%2
Sun Mar  4 20:11:50 2012 from http://truaudio.com.pl
Sun Mar  4 18:18:28 2012 from (empty referer)
Sun Mar  4 17:52:04 2012 from (empty referer)
Sun Mar  4 17:06:26 2012 from http://home.allgameshome.com/results.php?category=web&s=http://click.infospace.com/ClickHandler.ashx?du=http%3a%2f%2fwww.windows7vistahub.com%2f&ru=http%3a%2f%2fwww.google.com%2faclk%3fsa%3dL%26ai%3dCd7bANuZTT87MNIm5gwf47MAzqfuYpQKhhvvGIqXQkQgIABACILDb2xAoA1DDk6OT-v____8BYMsEyAEBqgQaT9DeEefGn_DyUGJVUV8mVyymH4DksSNb4pw%26sig%3dAOD64_1OtXnRwNlusy5mNd8LdLGf4yWDng%26adurl%3dhttp%3a%2f%2fwww.Windows7VistaHub.com&ld=20120304&ap=2&app=1&c=imesh.meta.4&s=imeshmeta4&coi=245874&cop=topnav&euip=116.71.179.223&npp=0&p=1&pp=2&pvaid=4ee510e5d368441bb964886011217513&rt=gp&ep=2&mid=9&hash=945EC0229CF2459A7E5F923E7AFA77E
Sun Mar  4 16:39:27 2012 from http://www.google.com/m?q=www.google.com%2Fm%3Fq%3Dwww.sex.%26client%3Dms-opera-mobile%26channel%3Dnew&client=ms-opera-mobile&channel=new
Sun Mar  4 16:14:57 2012 from (empty referer)
Sun Mar  4 15:54:26 2012 from (empty referer)
Sun Mar  4 15:22:36 2012 from (empty referer)
Sun Mar  4 15:22:08 2012 from http://www.google.com/m?q=www.google.com%2Fm%3Fq%3Dwww.sexy%2Bvideo%26client%3Dms-opera-mini%26channel%3Dnew&client=ms-opera-mini&channel=new
Sun Mar  4 14:58:39 2012 from http://home.allgameshome.com/results.php?category=web&s=http://assist.babylon.com/babylonassista/dnsassist/main?domain=home%20allgameshome%20results%2
Sun Mar  4 14:37:55 2012 from http://www.searchplusnetwork.com/?sp=chv&q=google.co.in%2Fsearch%3Fcomplete%2Fsearch%3Fclient
Sun Mar  4 14:16:28 2012 from http://www.google.com/m?safe=on&client=ms-google-mmkt&channel=mf-x-gtj-all-gtj-x-1&q=http%3A%2F%2Ftubidy.mobi%2Fsearch.php%3Fa%3D18%26q%3Dsexe
Sun Mar  4 13:18:41 2012 from http://home.allgameshome.com/results.php?s=http%3A%2F%2Fhome.allgameshome.com%2Fresults.php%3Fcategory%3Dweb&category=web&start=7
Sun Mar  4 12:11:58 2012 from http://www.google.com/m?client=ms-nokia&cof=nsp&channel=s60&q=www.google.com%2fm%3fclient%3dms-nokia%26cof%3dnsp%26channel%3dl
Sun Mar  4 10:46:53 2012 from http://www.google.com/url?sa=t&rct=j&q=http%3A%2F%2Fwww.google.com%2Fsearch%3Fq%3Dhttp%253a%252f%252fwww.google.com%252fsearch%253fq%253dhttp%25253a%25252f%25252fwww.google.com.pk%25252f%2526sourceid%253dopera%2526ie%253dutf-8%2526oe%253dutf-8%2526channel%253dsuggest%26sourceid%3Dopera%26ie%3Dutf-8%26oe%3Dutf-8%26channel%3Dsuggest&source=web&cd=1&ved=0CCIQFjAA&url=http%3A%2F%2Fcarl.cs.indiana.edu%2Ffil%2Fcgi-bin%2FWebSec%2Fmarilyn.cgi&ei=ZI5TT7jfHoek4AT5ppDHDQ&usg=AFQjCNHRtbr4ftk_4PyVzN3HuHPJV6LZow
Sun Mar  4 09:36:40 2012 from http://www.google.co.in/m?client=ms-opera-mini&channel=new&q=http%253a%252f%252f+girl%2520sex&spell=1&ei=Yn1TT4DSOMec8gP6iwE&ved=0CAYQBSgA
Sun Mar  4 08:57:16 2012 from (empty referer)
Sun Mar  4 07:56:46 2012 from http://www.google.com.ph/url?sa=t&rct=j&q=click%20infospace%20clickhandler&source=web&cd=8&ved=0CGMQFjAH&url=http%3A%2F%2Fcarl.cs.indiana.edu%2Ffil%2Fcgi-bin%2FWebSec%2Fmarilyn.cgi&ei=B2RTT6DoK8LqmAX2pZGXCg&usg=AFQjCNHRtbr4ftk_4PyVzN3HuHPJV6LZow
Sun Mar  4 06:32:08 2012 from http://home.myplaycity.com/results.php?category=web&s=http://assist.babylon.com/babylonassista/dnsassist/main?domain=guydefloration%20start%2
Sun Mar  4 06:24:15 2012 from (empty referer)
Sun Mar  4 06:24:08 2012 from http://carl.cs.indiana.edu/fil/cgi-bin/WebSec/marilyn.cgi?test=1
Sun Mar  4 06:00:14 2012 from http://search.yahoo.com/search?ei=utf-8&fr=vmn&type=zg-startsearcher.com-1_0-zg-rp-rp&p=http%253A%252F%252Fwww.pinkworld.com
Sun Mar  4 03:43:46 2012 from http://www.google.com/url?sa=t&rct=j&q=http%3A%2F%2Fwww.google.com%2Fsearch%3Fq%3Dhttp%253a%252f%252fwww.google.com%252fsearch%253fq%253dhttp%25253a%25252f%25252fwww.facebook.com%25252f%2526sourceid%253dopera%2526ie%253dutf-8%2526oe%253dutf-8%2526channel%253dsuggest%26sourceid%3Dopera%26ie%3Dutf-8%26oe%3Dutf-8%26channel%3Dsuggest&source=web&cd=4&ved=0CD8QFjAD&url=http%3A%2F%2Fcarl.cs.indiana.edu%2Ffil%2Fcgi-bin%2FWebSec%2Fmarilyn.cgi&ei=LCtTT5uNO4zrrQffldXWDQ&usg=AFQjCNHRtbr4ftk_4PyVzN3HuHPJV6LZow
Sun Mar  4 02:42:22 2012 from http://www.google.co.in/m?q=www.google.co.in%2Fm%3Fq%3Dwww.download%2Bfree%2B%2Bmobile%2Bgames%2B.com%26client%3Dms-opera-mini%26channel%3Dnew&client=ms-opera-mini&channel=new
Sun Mar  4 02:24:27 2012 from http://www.google.co.uk/m?client=ms-opera-mini&q=www%252etubidy%2520&channel=new
Sun Mar  4 01:21:00 2012 from http://www.google.co.in/m?q=%2520m%252etubidy%252ecom&client=ms-opera-mini&channel=new
Sun Mar  4 01:01:50 2012 from http://www.google.com/m/search?safe=off&cx=partner-mb-pub-6630117049886772%3A7877061873&q=sexfelm+18
Sun Mar  4 01:01:24 2012 from http://www.google.com/m/search?safe=off&cx=partner-mb-pub-6630117049886772%3A7877061873&q=sexfelm+18
Sun Mar  4 01:01:01 2012 from http://www.google.com/m/search?safe=off&cx=partner-mb-pub-6630117049886772%3A7877061873&q=sexfelm+18
Sun Mar  4 01:00:19 2012 from http://www.google.com/m/search?safe=off&cx=partner-mb-pub-6630117049886772%3A7877061873&q=sexfelm+18
Sun Mar  4 00:59:14 2012 from http://www.google.com/m?q=www.google.com%2Fm%3Fq%3Dwww.video%2Bsex%26client%3Dms-opera-mini%26channel%3Dnew&client=ms-opera-mini&channel=new
Sun Mar  4 00:58:39 2012 from http://www.google.com/m?q=www.google.com%2Fm%3Fq%3Dwww.video%2Bsex%26client%3Dms-opera-mini%26channel%3Dnew&client=ms-opera-mini&channel=new
Sun Mar  4 00:05:03 2012 from http://www.google.com/m?client=ms-opera-mini&channel=new&q=www.google.com%2Fm%3Fq%3Dwww.fa%26client%3Dms-opera-mini%26channel%3Dnew
Sun Mar  4 00:04:56 2012 from http://www.google.com/m?client=ms-opera-mini&channel=new&q=www.google.com%2Fm%3Fq%3Dwww.fa%26client%3Dms-opera-mini%26channel%3Dnew
Sun Mar  4 00:04:41 2012 from http://www.google.com/m?client=ms-opera-mini&channel=new&q=www.google.com%2Fm%3Fq%3Dwww.fa%26client%3Dms-opera-mini%26channel%3Dnew
Sun Mar  4 00:04:30 2012 from http://www.google.com/m?client=ms-opera-mini&channel=new&q=www.google.com%2Fm%3Fq%3Dwww.fa%26client%3Dms-opera-mini%26channel%3Dnew
Sun Mar  4 00:04:13 2012 from http://www.google.com/m?client=ms-opera-mini&channel=new&q=www.google.com%2Fm%3Fq%3Dwww.fa%26client%3Dms-opera-mini%26channel%3Dnew
Sat Mar  3 22:19:45 2012 from (empty referer)
Sat Mar  3 19:33:11 2012 from http://isearch.babylon.com/?babsrc=tcp&affID=19318&q=facebook.com/ajax/pagelet/generic.php/PhotoViewerInitPagelet?__a=17&ajaxpipe=1&ajaxpipe_token=AXhSQ1tyDIvBdPCy&data=%7B%22fbid%22%3A%22245870632168165%22%2C%22set%22%3A%22a.224581190963776.56551.100002356918943%22%2C%22type%22%3A%221%22%2C%22firstLoad%22%3Atrue%7D&__user=10000302276003
Sat Mar  3 17:38:45 2012 from (empty referer)
Sat Mar  3 15:15:54 2012 from (empty referer)
Sat Mar  3 14:37:41 2012 from http://us.yhs.search.yahoo.com/if?partnerid=yhs-if-w3i&fr=yhs-if-w3i&ei=UTF-8&p=search.sweetim.com search.asp?q=google
Sat Mar  3 13:15:21 2012 from (empty referer)
Sat Mar  3 12:59:05 2012 from (empty referer)
Sat Mar  3 11:58:05 2012 from http://www.searchplusnetwork.com/?sp=chv&q=facebook.com%2Fajax%2Fpagelet%2Fgeneric.php%2FPhotoViewerInitPagelet%3F__a
Sat Mar  3 11:12:16 2012 from (empty referer)
Sat Mar  3 10:37:00 2012 from http://www.google.com/m?client=ms-nokia&cof=nsp&channel=s60&q=www.google.com%2fm%2fsearch%3fclient%3dms-nokia%26cof%3dnsp%26ch&safe=active
Sat Mar  3 10:35:08 2012 from (empty referer)
Sat Mar  3 10:33:40 2012 from http://www.google.com/m?client=ms-nokia&cof=nsp&channel=s60&q=www.google.com%2fm%3fclient%3dms-nokia%26cof%3dnsp%26channel%3ds
Sat Mar  3 10:29:09 2012 from http://www.google.com/m?client=ms-nokia&cof=nsp&channel=s60&q=www.google.com%2fm%3fclient%3dms-nokia%26cof%3dnsp%26channel%3ds
Sat Mar  3 10:13:45 2012 from http://www.google.com/url?sa=t&rct=j&q=http%3A%2F%2Fwww.google.com%2Fsearch%3Fq%3Dhttp%253a%252f%252fwww.google.com%252fsearch%253fq%253dhttp%25253a%25252f%25252fwww.facebook.com%25252f%2526sourceid%253dopera%2526ie%253dutf-8%2526oe%253dutf-8%2526channel%253dsuggest%26sourceid%3Dopera%26ie%3Dutf-8%26oe%3Dutf-8%26channel%3Dsuggest&source=web&cd=1&ved=0CCMQFjAA&url=http%3A%2F%2Fcarl.cs.indiana.edu%2Ffil%2Fcgi-bin%2FWebSec%2Fmarilyn.cgi&ei=sSlST7uiI5Ph0wGGv-zXDQ&usg=AFQjCNHRtbr4ftk_4PyVzN3HuHPJV6LZow
Sat Mar  3 08:25:38 2012 from http://www.google.com/url?sa=t&rct=j&q=http%3A%2F%2Fwww.google.com%2Fsearch%3Fq%3Dhttp%253a%252f%252fwww.google.com%252fsearch%253fq%253dhttp%25253a%25252f%25252fwww.yahoo.com%25252f%2526sourceid%253dopera%2526ie%253dutf-8%2526oe%253dutf-8%2526channel%253dsuggest%26sourceid%3Dopera%26ie%3Dutf-8%26oe%3Dutf-8%26channel%3Dsuggest&source=web&cd=1&ved=0CCIQFjAA&url=http%3A%2F%2Fcarl.cs.indiana.edu%2Ffil%2Fcgi-bin%2FWebSec%2Fmarilyn.cgi&ei=zBtST5_iA6q50QXX4cXkCw&usg=AFQjCNHRtbr4ftk_4PyVzN3HuHPJV6LZow
Sat Mar  3 06:05:43 2012 from http://us.yhs.search.yahoo.com/if?p=Eu.ask.com%2Fweb%3Fl%3Ddis%26o%3Dapn10020%26gct%3Dhp%26apn_dtid%3D%5Eyyyyyy%5Eyy%5Epk%26ap&partnerid=yhs-if-vendio&fr=yhs-if-vendio
Sat Mar  3 05:04:05 2012 from http://carl.cs.indiana.edu/fil/cgi-bin/WebSec/marilyn.cgi
Sat Mar  3 03:55:51 2012 from (empty referer)
Sat Mar  3 01:48:21 2012 from (empty referer)
Sat Mar  3 01:41:49 2012 from http://www.google.com/m?client=ms-aff-ucweb&output=xhtml&hl=en&q=http%3a%2f%2ftubidy.mobi%2fsearch.php%3fa%3d18%26q%3d%25d8%25b1%25d9%2582%25d8%25b5%2b%25
Sat Mar  3 01:08:57 2012 from (empty referer)
Sat Mar  3 00:33:05 2012 from http://home.allgameshome.com/results.php?category=web&s=http://click.infospace.com/ClickHandler.ashx?du=http%3a%2f%2fwww.facebook.com%2f&ru=http%3a%2f%2fwww.facebook.com%2f&ld=20120303&ap=1&app=1&c=aghstart&s=aghstart&coi=239138&cop=main-title&euip=112.215.66.48&npp=1&p=0&pp=0&pvaid=6618d92d2909419da6805306b63f63d0&ep=1&mid=9&hash=3AEABF84BCE2B5ED74A1937CF0FF687
Fri Mar  2 23:58:50 2012 from http://carl.cs.indiana.edu/fil/cgi-bin/WebSec/marilyn.cgi
Fri Mar  2 23:48:40 2012 from http://www.searchplusnetwork.com/?sp=chv&q=facebook.com%2Fajax%2Fpagelet%2Fgeneric.php%2FPhotoViewerInitPagelet%3F__a
Fri Mar  2 22:53:27 2012 from (empty referer)
Fri Mar  2 22:53:26 2012 from (empty referer)
Fri Mar  2 22:41:13 2012 from http://www.google.com/m?client=ms-nokia&cof=nsp&channel=s60&q=www.google.com%2fm%3fclient%3dms-nokia%26cof%3dnsp%26channel%3ds
Fri Mar  2 22:35:59 2012 from http://www.google.com/m?client=ms-nokia&cof=nsp&channel=s60&q=www.google.com%2fm%3fclient%3dms-nokia%26cof%3dnsp%26channel%3ds
Fri Mar  2 21:42:09 2012 from http://www.google.com/url?sa=t&rct=j&q=http%3A%2F%2Fwww.google.com%2Fsearch%3Fq%3Dhttp%253A%252F%252Fwww.google.com%252Fsearch%253Fq%253Dhttp%25253A%25252F%25252Fwww.google.com%25252F%2526sourceid%253Dopera%2526ie%253Dutf-8%2526oe%253Dutf-8%26sourceid%3Dopera%26ie%3Dutf-8%26oe%3Dutf-8&source=web&cd=1&ved=0CCwQFjAA&url=http%3A%2F%2Fcarl.cs.indiana.edu%2Ffil%2Fcgi-bin%2FWebSec%2Fmarilyn.cgi&ei=94RRT-nMOqXm0QHYntCNCw&usg=AFQjCNHRtbr4ftk_4PyVzN3HuHPJV6LZow
Fri Mar  2 21:21:44 2012 from http://www.google.com/m?q=www.google.com%2Fm%3Fq%3Dwww.youjizz.com%26client%3Dms-opera-mini%26channel%3Dnew&client=ms-opera-mini&channel=new
Fri Mar  2 20:40:54 2012 from (empty referer)
Fri Mar  2 20:39:16 2012 from (empty referer)
Fri Mar  2 19:35:57 2012 from http://www.google.co.uk/m/url?channel=new&client=ms-opera-mini&ei=YWFRT_GwKcOG8gO3Hg&q=http://carl.cs.indiana.edu/fil/cgi-bin/WebSec/marilyn.cgi?test%3D1&safe=active&ved=0CA0QFjAC&usg=AFQjCNEvjxa_if2M-OC8VrLaT8TrRHXnkw
Fri Mar  2 19:11:27 2012 from http://www.google.co.uk/m/url?channel=new&client=ms-opera-mini&ei=YWFRT_GwKcOG8gO3Hg&q=http://carl.cs.indiana.edu/fil/cgi-bin/WebSec/marilyn.cgi?test%3D1&safe=active&ved=0CA0QFjAC&usg=AFQjCNEvjxa_if2M-OC8VrLaT8TrRHXnkw
Fri Mar  2 19:04:25 2012 from http://www.searchcanvas.com/web?ot=2&q=click.infospace.comClickHandler.ashx?du=http%3a%2f%2fmail.yahoo.com%2f&ru=http%3a%2f%2fmail.yahoo.com%2f&ld=20120303&ap=1&app=1&c=blingee.intl.es.ietbar&s=blingeeintl&coi=239138&cop=main-title&euip=173.228.198.16&npp=1&p=0&pp=0&pvaid=c0a4a4def2774caab5fabb32671b0cee&ep=2&mid=9&hash=0E3656FE529FDE61335AE87406CF18F2
Fri Mar  2 16:14:41 2012 from http://www.google.com.br/url?sa=t&rct=j&q=http%253a%252f%252fbr.mg4.mail.yahoo.com%252fneo%252flaunch%253ffull%253d1&source=web&cd=8&ved=0CEYQFjAH&url=http%3A%2F%2Fcarl.cs.indiana.edu%2Ffil%2Fcgi-bin%2FWebSec%2Fmarilyn.cgi%3Fiframe%3Dtrue%26width%3D90%25%26height%3D90%25&ei=LjhRT6MK4djRAc-llL4N&usg=AFQjCNF1YRHwwX8j7f5VE5Zthzm_YadtXg
Fri Mar  2 16:14:39 2012 from http://www.google.com.br/url?sa=t&rct=j&q=http%253a%252f%252fbr.mg4.mail.yahoo.com%252fneo%252flaunch%253ffull%253d1&source=web&cd=8&ved=0CEYQFjAH&url=http%3A%2F%2Fcarl.cs.indiana.edu%2Ffil%2Fcgi-bin%2FWebSec%2Fmarilyn.cgi%3Fiframe%3Dtrue%26width%3D90%25%26height%3D90%25&ei=LjhRT6MK4djRAc-llL4N&usg=AFQjCNF1YRHwwX8j7f5VE5Zthzm_YadtXg
Fri Mar  2 16:07:24 2012 from http://www.google.com.eg/url?sa=t&rct=j&q=click%20infospace%20clickhandler&source=web&cd=6&ved=0CEkQFjAF&url=http%3A%2F%2Fcarl.cs.indiana.edu%2Ffil%2Fcgi-bin%2FWebSec%2Fmarilyn.cgi&ei=UDZRT7KnHcydOqvBoZUK&usg=AFQjCNHRtbr4ftk_4PyVzN3HuHPJV6LZow
Fri Mar  2 14:59:35 2012 from (empty referer)
Fri Mar  2 14:56:51 2012 from http://carl.cs.indiana.edu/fil/cgi-bin/WebSec/marilyn.cgi?test=1
Fri Mar  2 14:45:24 2012 from http://isearch.babylon.com/?mntrId=fa441a45000000000000001e101f8ed0&babsrc=SP_ss&tt=250112_aln_iq&AF=109993&q=Http%3B%2F%2Fclick.infospace.com
Fri Mar  2 14:40:13 2012 from http://www.google.com/m?client=ms-nokia&cof=nsp&q=tubidy.mobi/search.php?a%3D18%26q%3Dxxx%2Bvideo&channel=s60&start=60&sa=N
Fri Mar  2 14:31:07 2012 from http://assist.babylon.com/babylonassista/dnsassist/main?domain=mystart%20incredibar%20mb113%20
Fri Mar  2 13:05:03 2012 from http://www.google.com/url?sa=t&rct=j&q=http%3A%2F%2Fhome.allgameshome.com%2F&source=web&cd=12&ved=0CGsQFjAL&url=http%3A%2F%2Fcarl.cs.indiana.edu%2Ffil%2Fcgi-bin%2FWebSec%2Fmarilyn.cgi&ei=vQtRT9bsCcmrrAee7oHYDQ&usg=AFQjCNHRtbr4ftk_4PyVzN3HuHPJV6LZow
Fri Mar  2 12:00:45 2012 from http://www.google.com/url?sa=t&rct=j&q=http%3A%2F%2Fwww.google.com%2Fsearch%3Fq%3Dhttp%253a%252f%252fwww.google.com%252fsearch%253fq%253dhttp%25253a%25252f%25252fwww.facebook.com%25252f%2526sourceid%253dopera%2526ie%253dutf-8%2526oe%253dutf-8%2526channel%253dsuggest%26sourceid%3Dopera%26ie%3Dutf-8%26oe%3Dutf-8%26channel%3Dsuggest&source=web&cd=4&ved=0CDMQFjAD&url=http%3A%2F%2Fcarl.cs.indiana.edu%2Ffil%2Fcgi-bin%2FWebSec%2Fmarilyn.cgi&ei=r_xQT6CJK6mj4gTZ6sDJDQ&usg=AFQjCNHRtbr4ftk_4PyVzN3HuHPJV6LZow
Fri Mar  2 11:29:12 2012 from http://www.google.com/url?sa=t&rct=j&q=http%3A%2F%2Fwww.google.com%2Fsearch%3Fq%3Dhttp%253a%252f%252fwww.google.com%252fsearch%253fq%253dgoogle%2526sourceid%253dopera%2526ie%253dutf-8%2526oe%253dutf-8%2526channel%253dsuggest%26sourceid%3Dopera%26ie%3Dutf-8%26oe%3Dutf-8%26channel%3Dsuggest&source=web&cd=1&ved=0CCIQFjAA&url=http%3A%2F%2Fcarl.cs.indiana.edu%2Ffil%2Fcgi-bin%2FWebSec%2Fmarilyn.cgi&ei=ypdLT9a_HoOEOqXjsbQO&usg=AFQjCNHRtbr4ftk_4PyVzN3HuHPJV6LZow
Fri Mar  2 10:51:44 2012 from (empty referer)
Fri Mar  2 09:57:13 2012 from http://www.google.com/xhtml?client=ms-opera_mb_no&q=http://www.google.com/xhtml?q%3D%26client%3Dms-opera_mb_no%26channel%3Dbh&channel=bh&start=20&sa=N
Fri Mar  2 09:48:15 2012 from http://www.google.com/url?sa=t&rct=j&q=http%3A%2F%2Fwww.google.com%2Fsearch%3Fq%3Dhttp%253a%252f%252fwww.google.com%252fsearch%253fq%253dhttp%25253a%25252f%25252fwww.google.com.ar%25252f%2526sourceid%253dopera%2526ie%253dutf-8%2526oe%253dutf-8%2526channel%253dsuggest%26sourceid%3Dopera%26ie%3Dutf-8%26oe%3Dutf-8%26channel%3Dsuggest&source=web&cd=1&ved=0CCMQFjAA&url=http%3A%2F%2Fcarl.cs.indiana.edu%2Ffil%2Fcgi-bin%2FWebSec%2Fmarilyn.cgi&ei=ZtpQT_WyB4WWtweEm8SlDQ&usg=AFQjCNHRtbr4ftk_4PyVzN3HuHPJV6LZow
Fri Mar  2 09:34:59 2012 from (empty referer)
Fri Mar  2 07:25:07 2012 from http://isearch.babylon.com/?babsrc=tcp&affID=19318&q=http://click.infospace.com/ClickHandler.ashx?du=www.pornhub.com&ru=http%3a%2f%2fwww.pornhub.com%2f&ld=20120302&ap=1&app=1&c=babylon2.hp.row&s=babylon2&coi=374914&cop=main-title&euip=175.157.197.202&npp=1&p=0&pp=0&pvaid=e9ff16ef0dd64b359a3cc5924a0bd157&ep=1&mid=9&hash=08DB9E27EFC2326A4D6ED9288B8540F
Fri Mar  2 07:22:36 2012 from http://assist.babylon.com/babylonassista/dnsassist/main?domain=mystart%20incredibar%20mb113%20
Fri Mar  2 03:54:12 2012 from http://search.iminent.com/SearchTheWeb/v4/1036/urlsearch/Result.aspx
Fri Mar  2 03:54:03 2012 from http://www.google.com.hk/search?q=click.infospace.com&client=aff-360errorpage
Fri Mar  2 03:17:04 2012 from (empty referer)
Fri Mar  2 02:09:12 2012 from (empty referer)
Thu Mar  1 21:31:13 2012 from http://www.google.com/url?sa=t&rct=j&q=http%3A%2F%2Fwww.google.com%2Fsearch%3Fq%3Dhttp%253A%252F%252Fwww.google.com%252Fsearch%253Fq%253Dhttp%25253A%25252F%25252Fwww.youtube.com%25252F%2526sourceid%253Dopera%2526ie%253Dutf-8%2526oe%253Dutf-8%2526channel%253Dsuggest%26sourceid%3Dopera%26ie%3Dutf-8%26oe%3Dutf-8%26channel%3Dsuggest&source=web&cd=1&ved=0CCwQFjAA&url=http%3A%2F%2Fcarl.cs.indiana.edu%2Ffil%2Fcgi-bin%2FWebSec%2Fmarilyn.cgi&ei=xTBQT4WcIcTg0QGo-Lj3DQ&usg=AFQjCNHRtbr4ftk_4PyVzN3HuHPJV6LZow
Thu Mar  1 20:55:57 2012 from http://carl.cs.indiana.edu/fil/cgi-bin/WebSec/marilyn.cgi
Thu Mar  1 18:49:49 2012 from (empty referer)
Thu Mar  1 18:29:43 2012 from http://www.google.com/imgres?hl=uk&biw=1366&bih=650&tbm=isch&tbnid=ynUan-_9FQYrEM:&imgrefurl=http://carl.cs.indiana.edu/fil/cgi-bin/WebSec/marilyn.cgi&docid=hMMAQwJMLA2rwM&itg=1&imgurl=http://carl.cs.indiana.edu/fil/WebSec/marilyn.jpg&w=500&h=333&ei=QAZQT5WGBIOK4gTtsdyrDQ&zoom=1&iact=hc&vpx=1048&vpy=320&dur=1053&hovh=183&hovw=275&tx=162&ty=67&sig=107025503337649294518&page=2&tbnh=134&tbnw=163&start=18&ndsp=25&ved=1t:429,r:12,s:18
Thu Mar  1 18:29:13 2012 from http://www.google.com/imgres?hl=uk&biw=1366&bih=650&tbm=isch&tbnid=ynUan-_9FQYrEM:&imgrefurl=http://carl.cs.indiana.edu/fil/cgi-bin/WebSec/marilyn.cgi&docid=hMMAQwJMLA2rwM&itg=1&imgurl=http://carl.cs.indiana.edu/fil/WebSec/marilyn.jpg&w=500&h=333&ei=QAZQT5WGBIOK4gTtsdyrDQ&zoom=1&iact=hc&vpx=1048&vpy=320&dur=1053&hovh=183&hovw=275&tx=162&ty=67&sig=107025503337649294518&page=2&tbnh=134&tbnw=163&start=18&ndsp=25&ved=1t:429,r:12,s:18
Thu Mar  1 18:20:44 2012 from http://carl.cs.indiana.edu/fil/cgi-bin/WebSec/marilyn.cgi
Thu Mar  1 17:51:15 2012 from http://carl.cs.indiana.edu/fil/cgi-bin/WebSec/marilyn.cgi
Thu Mar  1 16:44:09 2012 from (empty referer)
Thu Mar  1 15:37:38 2012 from (empty referer)
Thu Mar  1 14:36:31 2012 from (empty referer)
Thu Mar  1 13:22:59 2012 from (empty referer)
Thu Mar  1 13:14:08 2012 from http://www.google.com/url?sa=t&rct=j&q=http%3A%2F%2Fwww.google.com%2Fsearch%3Fq%3Dhttp%253A%252F%252Fwww.google.com%252Fsearch%253Fq%253Dhttp%25253A%25252F%25252Ffacebook.com%25252F%2526sourceid%253Dopera%2526ie%253Dutf-8%2526oe%253Dutf-8%2526channel%253Dsuggest%26sourceid%3Dopera%26ie%3Dutf-8%26oe%3Dutf-8%26channel%3Dsuggest&source=web&cd=1&ved=0CC8QFjAA&url=http%3A%2F%2Fcarl.cs.indiana.edu%2Ffil%2Fcgi-bin%2FWebSec%2Fmarilyn.cgi&ei=X7xPT-LDLovMrQfKpuHMDQ&usg=AFQjCNHRtbr4ftk_4PyVzN3HuHPJV6LZow
Thu Mar  1 11:41:42 2012 from http://yandex.ru/yandsearch?text=pornolowe&clid=9403&lr=54
Thu Mar  1 11:19:37 2012 from http://carl.cs.indiana.edu/fil/cgi-bin/WebSec/marilyn.cgi
Thu Mar  1 10:23:21 2012 from http://www.searchplusnetwork.com/?sp=chv&q=facebook.com%2Fajax%2Fpagelet%2Fgeneric.php%2FPhotoViewerInitPagelet%3F__a
Thu Mar  1 10:14:03 2012 from http://www.google.co.in/search?hl=en&gl=gb&client=ms-android-sonyericsson&source=android-launcher-search&q=+sax.fellm&sky=mrdr
Thu Mar  1 09:32:35 2012 from http://carl.cs.indiana.edu/fil/cgi-bin/WebSec/marilyn.cgi
Thu Mar  1 07:09:39 2012 from http://isearch.babylon.com/?babsrc=tcp&affID=19318&q=http://click.infospace.com/ClickHandler.ashx?du=www.pornhub.com&ru=http%3a%2f%2fwww.pornhub.com%2f&ld=20120301&ap=1&app=1&c=babylon2.hp.row&s=babylon2&coi=374914&cop=main-title&euip=116.197.0.2&npp=1&p=0&pp=0&pvaid=31eeb692e575469d9b631391c5e896c9&ep=1&mid=9&hash=92923D2A4A499E2F2A765D7FEB3EAF5
Thu Mar  1 06:42:50 2012 from http://www.google.com.hk/url?sa=t&rct=j&q=click.infospace.com&source=web&cd=2&ved=0CDsQFjAB&url=http%3A%2F%2Fcarl.cs.indiana.edu%2Ffil%2Fcgi-bin%2FWebSec%2Fmarilyn.cgi&ei=s2BPT_aANcGziQfmhZjBCw&usg=AFQjCNHRtbr4ftk_4PyVzN3HuHPJV6LZow
Thu Mar  1 04:28:01 2012 from http://www.google.com/url?sa=t&rct=j&q=click%20infospace%20clickhandler&source=web&cd=10&ved=0CGUQFjAJ&url=http%3A%2F%2Fcarl.cs.indiana.edu%2Ffil%2Fcgi-bin%2FWebSec%2Fmarilyn.cgi&ei=C0FPT96yM-jCmQXTz_WYCg&usg=AFQjCNHRtbr4ftk_4PyVzN3HuHPJV6LZow
Thu Mar  1 04:03:36 2012 from (empty referer)
Thu Mar  1 03:05:51 2012 from http://www.searchplusnetwork.com/?sp=chv&q=facebook.com%2Fajax%2Fpagelet%2Fgeneric.php%2FPhotoViewerInitPagelet%3F__a
Thu Mar  1 02:01:43 2012 from http://www.google.co.uk/m?client=ms-opera-mini&channel=new&q=www%252etubidy%2520%252ecom%2520%2520%2520%2520%2520%2520%2520%2520%2520%2520%2520
Thu Mar  1 01:46:47 2012 from http://www.google.com/url?sa=t&rct=j&q=http%3A%2F%2Fwww.google.com%2Fsearch%3Fq%3Dhttp%253a%252f%252fwww.google.com%252fsearch%253fq%253dgoogle%2526sourceid%253dopera%2526ie%253dutf-8%2526oe%253dutf-8%2526channel%253dsuggest%26sourceid%3Dopera%26ie%3Dutf-8%26oe%3Dutf-8%26channel%3Dsuggest&source=web&cd=1&ved=0CCIQFjAA&url=http%3A%2F%2Fcarl.cs.indiana.edu%2Ffil%2Fcgi-bin%2FWebSec%2Fmarilyn.cgi&ei=iBpPT7iIK_HzmAWMxMGJCg&usg=AFQjCNHRtbr4ftk_4PyVzN3HuHPJV6LZow
Thu Mar  1 01:39:10 2012 from http://assist.babylon.com/babylonassista/dnsassist/main?domain=mystart%20incredibar%20mb113%20
Wed Feb 29 21:04:22 2012 from (empty referer)
Wed Feb 29 20:44:58 2012 from http://www.google.com/url?sa=t&rct=j&q=http%3A%2F%2Fwww.google.com%2Fsearch%3Fq%3Dhttp%253a%252f%252fwww.google.com%252fsearch%253fq%253dhttp%25253a%25252f%25252fyoutube.com%25252f%2526sourceid%253dopera%2526ie%253dutf-8%2526oe%253dutf-8%2526channel%253dsuggest%26sourceid%3Dopera%26ie%3Dutf-8%26oe%3Dutf-8%26channel%3Dsuggest&source=web&cd=1&ved=0CCIQFjAA&url=http%3A%2F%2Fcarl.cs.indiana.edu%2Ffil%2Fcgi-bin%2FWebSec%2Fmarilyn.cgi&ei=lNROT5G-AqLD0QXe0vHRCw&usg=AFQjCNHRtbr4ftk_4PyVzN3HuHPJV6LZow
Wed Feb 29 20:40:30 2012 from http://assist.babylon.com/babylonassista/dnsassist/main?domain=mystart%20incredibar%20mb113%20
Wed Feb 29 20:36:46 2012 from (empty referer)
Wed Feb 29 20:34:10 2012 from (empty referer)
Wed Feb 29 20:25:16 2012 from (empty referer)
Wed Feb 29 19:29:41 2012 from http://www.google.co.uk/m?client=ms-opera-mini&channel=new&q=www%252ehot%2520sex%2520movie%252ecom
Wed Feb 29 19:23:23 2012 from (empty referer)
Wed Feb 29 19:15:05 2012 from (empty referer)
Wed Feb 29 18:55:55 2012 from (empty referer)
Wed Feb 29 17:44:51 2012 from (empty referer)
Wed Feb 29 17:43:02 2012 from (empty referer)
Wed Feb 29 17:26:49 2012 from http://www.google.sn/url?sa=t&rct=j&q=click%20infospace%20clickhandler&source=web&cd=12&ved=0CCgQFjABOAo&url=http%3A%2F%2Fcarl.cs.indiana.edu%2Ffil%2Fcgi-bin%2FWebSec%2Fmarilyn.cgi&ei=-qVOT86UJejX0QW78smeBQ&usg=AFQjCNHRtbr4ftk_4PyVzN3HuHPJV6LZow
Wed Feb 29 17:10:33 2012 from http://www.bing.com/search?q=http%3A%2F%2Fisearch.babylon.com%2F%3Fq%3Dhttp%253A%252F%252Fsearch.conduit.com%252FResultsExt.aspx%253Fq%253Dhttp%25253A%25252F%25252Fwww.google.com%25252Fsearch%25253Fq%25253Dhttp%2525253A%2525252F%2525252Fwww.plusnetwork.com%2525252F%2525253Fsp%2525253Dctbar%25252526q%2525253Dhttp%252525253A%252525252F%252525252Fwww.bing.com%252525252Fsearch%252525253Fq%252525253D%252525252B%252525252Bant.video%2525252526src%252525253DIE-SearchBox%2525252526FORM%252525253DIE8SRC%25252526dp%2525253DMessengerPlus%252526rls%25253Dcom.microsoft%25253Afr%25253AIE-SearchBox%252526ie%25253DUTF-8%252526oe%25253DUTF-8%252526sourceid%25253Die7%252526rlz%25253D1I7ADFA_frDZ458%2526SearchSource%253D4%2526ctid%253DCT2849852%26AF%3D100789%26babsrc%3DSP_ss%26mntrId%3D6c26942a000000000000000000000000&src=IE-SearchBox&FORM=IE8SRC
Wed Feb 29 16:53:00 2012 from (empty referer)
Wed Feb 29 16:32:49 2012 from (empty referer)
Wed Feb 29 14:03:39 2012 from (empty referer)
Wed Feb 29 13:47:41 2012 from http://www.searchplusnetwork.com/?q=facebook.com%2Fajax%2Fpagelet%2Fgeneric.php%2FPhotoViewerInitPagelet%3F__a&x=0&y=0
Wed Feb 29 12:34:34 2012 from (empty referer)
Wed Feb 29 11:10:52 2012 from http://home.allgameshome.com/results.php?category=web&s=http://click.infospace.com/ClickHandler.ashx?du=http%3a%2f%2fwww.worldsex.com%2fmovies.html&ru=http%3a%2f%2fwww.worldsex.com%2fmovies.html&ld=20120229&ap=2&app=1&c=imesh.meta.4&s=imeshmeta4&coi=239137&cop=main-title&euip=113.199.146.204&npp=2&p=0&pp=0&pvaid=9fb8411e8b7b4be58f48d05d53caf23f&ep=2&mid=9&hash=A12D85DFC0943DD61061F2ECD1335E2
Wed Feb 29 10:24:29 2012 from (empty referer)
Wed Feb 29 10:20:47 2012 from (empty referer)
Wed Feb 29 10:20:34 2012 from (empty referer)
Wed Feb 29 09:57:52 2012 from http://www.searchplusnetwork.com/?sp=chv&q=facebook.com%2Fajax%2Fpagelet%2Fgeneric.php%2FPhotoViewerInitPagelet%3F__a
Wed Feb 29 09:54:45 2012 from http://www.google.com/m/search?client=ms-opera-mini&q=www.google.com/m?q%3Dwww.facebook.com%26client%3Dms-opera-mini%26channel%3Dnew&channel=new&site=images&tab=wi&ei=1TtOT-jcN8XXiALNtAE&sa=N&ei=1TtOT-jcN8XXiALNtAE&ved=0CAQQ1wY
Wed Feb 29 09:37:21 2012 from (empty referer)
Wed Feb 29 09:36:44 2012 from http://www.google.com/m?q=www.google.com%2Fm%3Fq%3Dwww.Flem%2Bblue.Com.%26client%3Dms-opera-mini%26channel%3Dnew&client=ms-opera-mini&channel=new
Wed Feb 29 09:36:16 2012 from (empty referer)
Wed Feb 29 09:35:45 2012 from http://www.google.com/m?q=www.google.com%2Fm%3Fq%3Dwww.xnxx.com%26client%3Dms-opera-mini%26channel%3Dnew&client=ms-opera-mini&channel=new
Wed Feb 29 09:35:43 2012 from http://www.google.com/m?q=www.google.com%2Fm%3Fq%3Dwww.xnxx.com%26client%3Dms-opera-mini%26channel%3Dnew&client=ms-opera-mini&channel=new
Wed Feb 29 09:33:32 2012 from (empty referer)
Wed Feb 29 09:12:58 2012 from http://www.google.com/m?q=www.google.com%2Fm%3Fq%3Dwww.%26client%3Dms-opera-mini%26channel%3Dnew&client=ms-opera-mini&channel=new
Wed Feb 29 09:12:20 2012 from http://www.google.co.in/search?sky=ee1&hl=en&q=www.google.co.in%2Fm%3F%3Dsex
Wed Feb 29 08:46:48 2012 from http://www.google.com/xhtml?q=http%3a%2f%2fwww%2egoogle%2ecom%2fxhtml%3fq%3dhttp%3a%2f%2fwww%2eoperamin%2efacebook%2eco%2euk%2f%26client%3dms%2dopera_mb_no%26channel%3dbh&client=ms-opera_mb_no&channel=bh
Wed Feb 29 08:28:31 2012 from (empty referer)
Wed Feb 29 07:18:48 2012 from http://home.allgameshome.com/results.php?category=web&s=http://assist.babylon.com/babylonassista/dnsassist/main?domain=home%20allgameshome%20results%2
Wed Feb 29 07:00:42 2012 from http://www.google.com/xhtml?q=WWWgoole%2cco%2cin%2fm%3f%3dsex&client=ms-opera_mb_no&channel=bh
Wed Feb 29 06:47:12 2012 from http://www.google.com/m?q=www.google.com%2Fm%3Fclient%3Dms-opera-mini%26channel%3Dnew%26q%3Dsex%2Bgil&client=ms-opera-mini&channel=new
Wed Feb 29 05:52:24 2012 from http://www.google.com/m?client=ms-opera-mini&q=www.google.com/m?q%3Dwww.porn%2Bxxx.com%26client%3Dms-opera-mini%26channel%3Dew&channel=new&start=0&sa=N
Wed Feb 29 05:50:24 2012 from http://www.google.com/m/search?client=ms-opera-mini&channel=new&sa=2&q=http%3A%2F%2Fwww.google.com%2Fm%3Fq%3DSex+porn+new%26client%3Dms-opera-mini%26channel%3Dnew&site=universal
Wed Feb 29 05:40:02 2012 from http://www.google.com/url?sa=t&rct=j&q=&esrc=s&source=web&cd=9&ved=0CGkQFjAI&url=http%3A%2F%2Fcarl.cs.indiana.edu%2Ffil%2Fcgi-bin%2FWebSec%2Fmarilyn.cgi&ei=XgBOT_bfItHTsgaIvISPDw&usg=AFQjCNHRtbr4ftk_4PyVzN3HuHPJV6LZow&sig2=kq7dHTxg_fcbixpFGTHjUQ
Wed Feb 29 05:34:16 2012 from (empty referer)
Wed Feb 29 04:58:14 2012 from (empty referer)
Wed Feb 29 03:49:42 2012 from http://www.google.com/m/search?client=ms-nokia&channel=proxy&q=www.google.com/m/search?client=ms-nokia&channel=proxy&q=rapexxxvideo.net/streamrotator/out.php?l=0.1.4.282.870&u=out.php?fc=1&url=~aHR0cDovL2dhbGxlcmllcy5yb2FkYml0Y2hlcy5jb20vdXBob2gzcGFpdy8/aWQ9Y3J1ZWxyYXBlcw==~
Wed Feb 29 03:07:03 2012 from http://www.google.com/url?sa=t&rct=j&q=hotsptshld%20results&source=web&cd=102&ved=0CCYQFjABOGQ&url=http%3A%2F%2Fcarl.cs.indiana.edu%2Ffil%2Fcgi-bin%2FWebSec%2Fmarilyn.cgi&ei=mNxNT9vrHOG90QXOg4SeBQ&usg=AFQjCNHRtbr4ftk_4PyVzN3HuHPJV6LZow
Wed Feb 29 01:36:23 2012 from (empty referer)
Wed Feb 29 01:03:33 2012 from (empty referer)
Wed Feb 29 01:00:51 2012 from http://www.google.com/xhtml?q=www%2egoogle%2eco%2ein%2fm%3fq%3dSex%20move&client=ms-opera_mb_no&channel=bh
Wed Feb 29 00:50:06 2012 from http://www.google.co.in/search?sky=ee1&hl=en&q=WWW+google%2Cco%2Cin%2Fm%3F%3Dsex
Wed Feb 29 00:13:24 2012 from (empty referer)
Tue Feb 28 22:17:29 2012 from (empty referer)
Tue Feb 28 21:49:04 2012 from (empty referer)
Tue Feb 28 21:29:30 2012 from (empty referer)
Tue Feb 28 19:49:21 2012 from http://www.google.com/m?client=ms-opera-mini&channel=new&q=carl.cs.indiana.edu%2Ffil%2Fcgi-bin%2FWebSec%2Fmarilyn.cgi
Tue Feb 28 19:49:12 2012 from http://www.google.com/m?client=ms-opera-mini&channel=new&q=carl.cs.indiana.edu%2Ffil%2Fcgi-bin%2FWebSec%2Fmarilyn.cgi
Tue Feb 28 19:49:10 2012 from http://www.google.com/m?client=ms-opera-mini&channel=new&q=carl.cs.indiana.edu%2Ffil%2Fcgi-bin%2FWebSec%2Fmarilyn.cgi
Tue Feb 28 19:13:32 2012 from (empty referer)
Tue Feb 28 16:27:07 2012 from http://www.google.com/url?sa=t&rct=j&q=http%3A%2F%2Fwww.google.com%2Fsearch%3Fq%3Dhttp%253a%252f%252fwww.google.com%252fsearch%253fq%253dhttp%25253a%25252f%25252fwww.facebook.com%25252f%2526sourceid%253dopera%2526ie%253dutf-8%2526oe%253dutf-8%2526channel%253dsuggest%26sourceid%3Dopera%26ie%3Dutf-8%26oe%3Dutf-8%26channel%3Dsuggest&source=web&cd=3&ved=0CC4QFjAC&url=http%3A%2F%2Fcarl.cs.indiana.edu%2Ffil%2Fcgi-bin%2FWebSec%2Fmarilyn.cgi&ei=n0ZNT6S5Cuer0QXjh5meBQ&usg=AFQjCNHRtbr4ftk_4PyVzN3HuHPJV6LZow
Tue Feb 28 15:55:58 2012 from http://search.chatzum.com/?q=http%3A%2F%2Fsearch.chatzum.com
Tue Feb 28 14:29:59 2012 from (empty referer)
Tue Feb 28 14:06:31 2012 from (empty referer)
Tue Feb 28 13:50:12 2012 from (empty referer)
Tue Feb 28 13:27:49 2012 from http://www.google.com/m?q=www%2egoogle%2ecom%2fm%3fq%3dwww%2e%26client%3dms%2dopera%2dmini%26channel%3dnew&client=ms-opera-mini&channel=new
Tue Feb 28 12:26:22 2012 from (empty referer)
Tue Feb 28 09:22:51 2012 from (empty referer)
Tue Feb 28 09:18:26 2012 from http://www.google.com.pk/url?sa=t&rct=j&q=www.sx-http%3A%2F%2Fhome.allgameshome.com%2Fmedia.com%2Fmain.html&source=web&cd=2&ved=0CCQQFjAB&url=http%3A%2F%2Fcarl.cs.indiana.edu%2Ffil%2Fcgi-bin%2FWebSec%2Fmarilyn.cgi&ei=-uFMT86VIq3U4QTxpfXnAg&usg=AFQjCNHRtbr4ftk_4PyVzN3HuHPJV6LZow
Tue Feb 28 08:44:14 2012 from http://www.google.com/m?q=http%3a%2f%2fwww%2egoogle%2ecom%2fm%3fq%3dwww%2e%26client%3dms%2dopera%2dmini%26channel%3dnew&client=ms-opera-mini&channel=new
Tue Feb 28 08:33:02 2012 from http://www.google.com/m?q=www.google.com%2Fm%3Fq%3Dwww.sex%2Bphilim.com%26client%3Dms-opera-mini%26channel%3Dnew&client=ms-opera-mini&channel=new
Tue Feb 28 07:48:12 2012 from (empty referer)
Tue Feb 28 07:40:19 2012 from http://www.google.com/m?client=ms-nokia&cof=nsp&channel=s60&q=www.google.com%2fm%2fsearch%3fclient%3dms-nokia%26cof%3dnsp%26ch
Tue Feb 28 07:33:55 2012 from http://www.google.com/m?q=www%2egoogle%2ecom%2fm%3fclient%3dms%2dopera%2dmini%26channel%3dnew%26q%3dBr&client=ms-opera-mini&channel=new
Tue Feb 28 07:04:39 2012 from http://www.google.co.in/m?q=www%252egoogle%252ecom&client=ms-opera-mini&channel=new
Tue Feb 28 06:41:33 2012 from (empty referer)
Tue Feb 28 06:06:34 2012 from http://www.google.com/m?q=www%2egoogle%2ecom%2fm%3fclient%3dms%2dopera%2dmini%26channel%3dnew%26q%3dPornhub&client=ms-opera-mini&channel=new
Tue Feb 28 05:46:45 2012 from http://www.google.iq/url?sa=t&rct=j&q=click+infospace+ClickHandler&source=web&cd=19&ved=0CGEQFjAIOAo&url=http%3A%2F%2Fcarl.cs.indiana.edu%2Ffil%2Fcgi-bin%2FWebSec%2Fmarilyn.cgi&ei=VbBMT-KEKZLU4QTtpInOAg&usg=AFQjCNHRtbr4ftk_4PyVzN3HuHPJV6LZow
Tue Feb 28 05:12:51 2012 from http://www.google.com/url?sa=t&rct=j&q=http%3A%2F%2Fwww.google.com%2Fsearch%3Fq%3Dhttp%253a%252f%252fwww.google.com%252fsearch%253fq%253dhttp%25253a%25252f%25252fwww.facebook.com%25252f%2526sourceid%253dopera%2526ie%253dutf-8%2526oe%253dutf-8%2526channel%253dsuggest%26sourceid%3Dopera%26ie%3Dutf-8%26oe%3Dutf-8%26channel%3Dsuggest&source=web&cd=1&ved=0CCIQFjAA&url=http%3A%2F%2Fcarl.cs.indiana.edu%2Ffil%2Fcgi-bin%2FWebSec%2Fmarilyn.cgi&ei=cd0iT8DSPOHl4QSjsbSpCA&usg=AFQjCNHRtbr4ftk_4PyVzN3HuHPJV6LZow
Tue Feb 28 05:07:58 2012 from (empty referer)
Tue Feb 28 05:07:55 2012 from http://www.ferommok.com/search.php?search=Www+youtube+com+results+search+query+xxx+oq+xxx+aq+f+aqi+aql+g&action=search
Tue Feb 28 05:00:46 2012 from (empty referer)
Tue Feb 28 04:30:06 2012 from http://www.ferommok.com/search.php?search=Www+youtube+com+results+search+query+xxx+oq+xxx+aq+f+aqi+aql+g&action=search
Tue Feb 28 03:23:17 2012 from (empty referer)
Tue Feb 28 03:22:07 2012 from http://www.google.com/search?client=opera&rls=en&q=http%3A%2F%2Fwww.google.com%2Fsearch%3Fq%3Dhttp%253A%252F%252Fwww.google.com%252Fsearch%253Fq%253Dhttp%25253A%25252F%25252Fwww.ideacellular.com%25252F%2526sourceid%253Dopera%2526ie%253Dutf-8%2526oe%253Dutf-8%2526channel%253Dsuggest%26sourceid%3Dopera%26ie%3Dutf-8%26oe%3Dutf-8%26channel%3Dsuggest&sourceid=opera&ie=utf-8&oe=utf-8&channel=suggest
Tue Feb 28 02:42:07 2012 from (empty referer)
Tue Feb 28 02:38:17 2012 from http://tps.ccit.arizona.edu/wiki/User_talk:Ullannestty1983
Tue Feb 28 02:11:51 2012 from http://www.google.co.uk/m?q=googles%252ecom%252f&client=ms-opera-mini&channel=new&q=googles%252ecom%252f&client=ms-opera-mini&channel=new
Tue Feb 28 02:01:28 2012 from http://www.google.co.in/m?q=www%252egoogle%252ecom&client=ms-opera-mini&channel=new
Tue Feb 28 01:11:08 2012 from http://www.google.co.in/m?q=www%252egoogle%252ecom&client=ms-opera-mini&channel=new
Tue Feb 28 01:02:36 2012 from http://www.google.co.uk/m?q=www%252egoogle%252ecom&client=ms-opera-mini&channel=new&q=www%252egoogle%252ecom&client=ms-opera-mini&channel=new
Tue Feb 28 00:36:40 2012 from http://www.google.co.in/url?sa=t&rct=j&q=click%20infospace%20clickhandler&source=web&cd=9&ved=0CGMQFjAI&url=http%3A%2F%2Fcarl.cs.indiana.edu%2Ffil%2Fcgi-bin%2FWebSec%2Fmarilyn.cgi&ei=zmdMT4CpCsymrAfixsn_Dg&usg=AFQjCNHRtbr4ftk_4PyVzN3HuHPJV6LZow
Mon Feb 27 23:52:19 2012 from http://www.google.co.in/m?q=sex%2520%2532%2530%2535%2530%252ecom&client=ms-opera-mini&channel=new
Mon Feb 27 22:55:18 2012 from (empty referer)
Mon Feb 27 22:38:40 2012 from (empty referer)
Mon Feb 27 22:38:39 2012 from (empty referer)
Mon Feb 27 22:38:37 2012 from http://carl.cs.indiana.edu/fil/cgi-bin/WebSec/marilyn.cgi?iframe=true&width=80%&height=80%
Mon Feb 27 22:36:52 2012 from http://www.google.com/url?sa=t&rct=j&q=http%3A%2F%2Fwww.google.com%2Fsearch%3Fq%3Dhttp%253a%252f%252fwww.google.com%252fsearch%253fq%253dhttp%25253a%25252f%25252fwww.yahoomail.com%25252f%2526sourceid%253dopera%2526ie%253dutf-8%2526oe%253dutf-8%2526channel%253dsuggest%26sourceid%3Dopera%26ie%3Dutf-8%26oe%3Dutf-8%26channel%3Dsuggest&source=web&cd=1&ved=0CC8QFjAA&url=http%3A%2F%2Fcarl.cs.indiana.edu%2Ffil%2Fcgi-bin%2FWebSec%2Fmarilyn.cgi&ei=C0RMT9CfE4HRrQeP-NSZDw&usg=AFQjCNHRtbr4ftk_4PyVzN3HuHPJV6LZow
Mon Feb 27 22:11:59 2012 from http://www.google.com.my/url?sa=t&rct=j&q=click%20infospace%20clickhandler&source=web&cd=9&ved=0CGIQFjAI&url=http%3A%2F%2Fcarl.cs.indiana.edu%2Ffil%2Fcgi-bin%2FWebSec%2Fmarilyn.cgi&ei=xUVMT5ipDsqzrAfO0dSmDw&usg=AFQjCNHRtbr4ftk_4PyVzN3HuHPJV6LZow
Mon Feb 27 18:25:39 2012 from http://cazino-romania.blogspot.com/
Mon Feb 27 18:06:30 2012 from http://unlockblackberryworld.com/
Mon Feb 27 17:43:51 2012 from http://www.google.ae/url?sa=t&rct=j&q=pornhub.wapzan.com+lp&source=web&cd=16&ved=0CD4QFjAFOAo&url=http%3A%2F%2Fcarl.cs.indiana.edu%2Ffil%2Fcgi-bin%2FWebSec%2Fmarilyn.cgi%3Fiframe%3Dtrue%26width%3D90%25%26height%3D90%25&ei=pwZMT5XULsO4hAfH_fQL&usg=AFQjCNF1YRHwwX8j7f5VE5Zthzm_YadtXg
Mon Feb 27 17:36:09 2012 from http://www.google.com/xhtml?client=ms-opera_mb_no&q=http://www.google.com/xhtml?q%3Dhttp://www.google.comsex
Mon Feb 27 16:49:44 2012 from http://www.google.co.uk/m?q=www%252egoogle%252ecom&client=ms-opera-mini&channel=new
Mon Feb 27 15:25:26 2012 from http://www.searchplusnetwork.com/?sp=chv&q=facebook.com%2Fajax%2Fpagelet%2Fgeneric.php%2FPhotoViewerInitPagelet%3F__a
Mon Feb 27 15:13:53 2012 from (empty referer)
Mon Feb 27 14:21:20 2012 from (empty referer)
Mon Feb 27 12:28:45 2012 from (empty referer)
Mon Feb 27 12:02:44 2012 from http://www.searchplusnetwork.com/?q=facebook.com%2Fajax%2Fpagelet%2Fgeneric.php%2FPhotoViewerInitPagelet%3F__a&x=0&y=0
Mon Feb 27 12:02:08 2012 from (empty referer)
Mon Feb 27 11:03:54 2012 from (empty referer)
Mon Feb 27 10:59:42 2012 from (empty referer)
Mon Feb 27 10:44:46 2012 from http://www.google.co.in/m?q=www%252ehot%2520video%2520%252ecom&client=ms-opera-mini&channel=new
Mon Feb 27 10:19:38 2012 from (empty referer)
Mon Feb 27 09:50:41 2012 from http://www.google.com/url?sa=t&rct=j&q=http%3A%2F%2Fwww.google.com%2Fsearch%3Fq%3Dhttp%253a%252f%252fwww.google.com%252fsearch%253fq%253dhttp%25253a%25252f%25252fwww.bing.com%25252f%2526sourceid%253dopera%2526ie%253dutf-8%2526oe%253dutf-8%2526channel%253dsuggest%26sourceid%3Dopera%26ie%3Dutf-8%26oe%3Dutf-8%26channel%3Dsuggest&source=web&cd=1&ved=0CCIQFjAA&url=http%3A%2F%2Fcarl.cs.indiana.edu%2Ffil%2Fcgi-bin%2FWebSec%2Fmarilyn.cgi&ei=LphLT4OFI8jqrAetp_DFDw&usg=AFQjCNHRtbr4ftk_4PyVzN3HuHPJV6LZow
Mon Feb 27 09:20:19 2012 from http://www.google.co.in/m?q=googel%252ecom&client=ms-opera-mini&channel=new
Mon Feb 27 09:03:22 2012 from (empty referer)
Mon Feb 27 08:45:10 2012 from http://www.google.com.sa/search?hl=ar&safe=active&client=ms-android-samsung&gl=ae&source=android-browser-type&sky=mrdr&sa=X&ei=8YdLT6CHKNGdOvHC7YUO&ved=0CBIQBSgA&q=http%3A//tubidy.mobi/search.php%3Fa%3D18%26q%3Dsexe&spell=1&biw=320&bih=508
Mon Feb 27 08:37:45 2012 from http://www.ask.com/web?gct=serp&qsrc=2417&o=10149&l=dis&q=click.infospace.com
Mon Feb 27 08:34:27 2012 from http://www.google.co.in/url?sa=t&rct=j&q=click+infospace+ClickHandler&source=web&cd=9&ved=0CGMQFjAI&url=http%3A%2F%2Fcarl.cs.indiana.edu%2Ffil%2Fcgi-bin%2FWebSec%2Fmarilyn.cgi&ei=VoZLT874HJCyrAed3ZXXDw&usg=AFQjCNHRtbr4ftk_4PyVzN3HuHPJV6LZow
Mon Feb 27 07:59:32 2012 from (empty referer)
Mon Feb 27 07:58:18 2012 from (empty referer)
Mon Feb 27 06:15:51 2012 from (empty referer)
Mon Feb 27 05:46:54 2012 from http://www.google.com/search?client=opera&rls=en&q=http%3A%2F%2Fwww.google.com%2Fsearch%3Fq%3Dhttp%253A%252F%252Fwww.google.com%252Fsearch%253Fq%253Dhttp%25253A%25252F%25252Fwww.gmail.com%25252F%2526sourceid%253Dopera%2526ie%253Dutf-8%2526oe%253Dutf-8%2526channel%253Dsuggest%26sourceid%3Dopera%26ie%3Dutf-8%26oe%3Dutf-8%26channel%3Dsuggest&sourceid=opera&ie=utf-8&oe=utf-8&channel=suggest
Mon Feb 27 05:31:33 2012 from http://www.google.co.in/url?sa=t&rct=j&q=http%3A%2F%2Fisearch.babylon.com%2F%3Fbabsrc%3Dtcp%26affid%3D19318%26&source=web&cd=4&ved=0CDkQFjAD&url=http%3A%2F%2Fcarl.cs.indiana.edu%2Ffil%2Fcgi-bin%2FWebSec%2Fmarilyn.cgi&ei=eFtLT4abHMisrAfvzvi4Dw&usg=AFQjCNHRtbr4ftk_4PyVzN3HuHPJV6LZow
Mon Feb 27 04:23:17 2012 from http://www.google.com/url?sa=t&rct=j&q=http%3A%2F%2Fhome.allgameshome.com%2Fresults.php%3Fcategory%3Dweb%26s%3Dxnxx&source=web&cd=1&ved=0CCIQFjAA&url=http%3A%2F%2Fcarl.cs.indiana.edu%2Ffil%2Fcgi-bin%2FWebSec%2Fmarilyn.cgi&ei=cUtLT6GsGsq3rAfLg7i2Dw&usg=AFQjCNHRtbr4ftk_4PyVzN3HuHPJV6LZow
Mon Feb 27 04:15:23 2012 from http://www.google.co.uk/m?client=ms-opera-mini&q=google%252ecom&channel=new&start=10&sa=N
Mon Feb 27 03:39:37 2012 from (empty referer)
Mon Feb 27 02:44:23 2012 from (empty referer)
Mon Feb 27 02:38:41 2012 from http://www.mrbookmark.tk/entertainment/toronto-local-seo-services/
Mon Feb 27 02:23:32 2012 from (empty referer)
Mon Feb 27 02:13:11 2012 from http://www.searchplusnetwork.com/?sp=chv&q=facebook.com%2Fajax%2Fpagelet%2Fgeneric.php%2FPhotoViewerInitPagelet%3F__a
Mon Feb 27 01:34:29 2012 from http://www.google.co.in/m?q=www%252egoogle%252ecom&client=ms-opera-mini&channel=new
Mon Feb 27 00:29:39 2012 from (empty referer)
Mon Feb 27 00:17:46 2012 from http://www.google.com/m?client=ms-nokia&cof=nsp&channel=s60&q=www.google.com%2fm%2fimgres%3fsite%3dimages%26client%3dms-noki
Mon Feb 27 00:17:45 2012 from http://www.google.com/m?client=ms-nokia&cof=nsp&channel=s60&q=www.google.com%2fm%2fimgres%3fsite%3dimages%26client%3dms-noki
Sun Feb 26 23:48:38 2012 from http://www.searchplusnetwork.com/?sp=chv&q=facebook.com%2Fajax%2Fpagelet%2Fgeneric.php%2FPhotoViewerInitPagelet%3F__a
Sun Feb 26 22:38:06 2012 from (empty referer)
Sun Feb 26 22:28:30 2012 from (empty referer)
Sun Feb 26 22:13:55 2012 from (empty referer)
Sun Feb 26 20:51:56 2012 from http://carl.cs.indiana.edu/fil/cgi-bin/WebSec/marilyn.cgi
Sun Feb 26 19:02:02 2012 from http://www.searchplusnetwork.com/?sp=chv&q=searchplusnetwork.com%2F%3Fsp
Sun Feb 26 18:53:05 2012 from http://www.google.co.uk/m?q=xnxx%252ecom&client=ms-opera-mini&channel=new&q=xnxx%252ecom&client=ms-opera-mini&channel=new
Sun Feb 26 14:12:45 2012 from http://carl.cs.indiana.edu/fil/cgi-bin/WebSec/marilyn.cgi
Sun Feb 26 14:08:53 2012 from http://www.google.com/url?sa=t&rct=j&q=home%20allgameshome%20results&source=web&cd=55&ved=0CEAQFjAEODI&url=http%3A%2F%2Fcarl.cs.indiana.edu%2Ffil%2Fcgi-bin%2FWebSec%2Fmarilyn.cgi&ei=OINKT_GuJ8Gj0QWOwr2BDg&usg=AFQjCNHRtbr4ftk_4PyVzN3HuHPJV6LZow
Sun Feb 26 14:07:25 2012 from (empty referer)
Sun Feb 26 13:40:57 2012 from (empty referer)
Sun Feb 26 12:28:28 2012 from http://isearch.babylon.com/?babsrc=tcp&affID=19318&q=http://click.infospace.com/ClickHandler.ashx?du=www.tube8.com&ru=http%3a%2f%2fwww.tube8.com%2f&ld=20120226&ap=1&app=1&c=babylon2.hp.row&s=babylon2&coi=374914&cop=main-title&euip=175.157.107.215&npp=1&p=0&pp=0&pvaid=a96b2f1bd8034246afd7518d9b151cb3&ep=1&mid=9&hash=62FCF92FB96D89549C0A283A81ABF0B
Sun Feb 26 12:05:14 2012 from http://www.google.co.uk/m?client=ms-opera-mini&channel=new&q=Search%252egoogle%252ecom&spell=1&ei=dmVKT-DXAsOy8QPj9QE&ved=0CAcQBSgA
Sun Feb 26 12:02:49 2012 from http://www.google.co.uk/m?client=ms-opera-mini&channel=new&q=Search%252egoogle%252ecom&spell=1&ei=dmVKT-DXAsOy8QPj9QE&ved=0CAcQBSgA
Sun Feb 26 11:11:29 2012 from (empty referer)
Sun Feb 26 09:47:18 2012 from http://www.google.co.uk/m?q=www%252etubidy%252eco&client=ms-opera-mini&channel=new
Sun Feb 26 09:39:40 2012 from (empty referer)
Sun Feb 26 09:34:25 2012 from http://carl.cs.indiana.edu/fil/cgi-bin/WebSec/marilyn.cgi
Sun Feb 26 09:21:24 2012 from (empty referer)
Sun Feb 26 07:48:46 2012 from http://search.yahoo.com/search?p=%3F+start.speedbit.com%2Fsearch.aspx%3Fsite%3Dweb%26prevsite%3Dweb%26q%3Dindion%2Bxxx%2Bmovis%26sa%3D%2B%2BSearch%2B%2B&fr=greentree_ie1&ei=utf-8&ilc=12&type=937811
Sun Feb 26 07:48:44 2012 from http://search.yahoo.com/search?p=%3F+start.speedbit.com%2Fsearch.aspx%3Fsite%3Dweb%26prevsite%3Dweb%26q%3Dindion%2Bxxx%2Bmovis%26sa%3D%2B%2BSearch%2B%2B&fr=greentree_ie1&ei=utf-8&ilc=12&type=937811
Sun Feb 26 07:26:46 2012 from (empty referer)
Sun Feb 26 07:02:22 2012 from http://home.allgameshome.com/results.php?category=web&s=http%3A%2F%2Fclick.infospace.com%2FClickHandler.ashx%3Fdu%3Dhttp%253a%252f%252fwww.youporn.com%252f
Sun Feb 26 06:33:17 2012 from (empty referer)
Sun Feb 26 03:38:55 2012 from http://search.searchcompletion.com/?cl=0&q=search.mywebsearch%20mywebsearch%20redirect.jhtmlsearchfor&bi=34545969&si=28188&cc=NP
Sun Feb 26 03:13:39 2012 from http://assist.babylon.com/babylonassista/dnsassist/main?domain=mystart%20incredibar%20mb113%20
Sun Feb 26 02:51:42 2012 from http://www.google.co.in/m?q=www%252egoogle%252ecom&client=ms-opera-mini&channel=new
Sun Feb 26 02:28:16 2012 from (empty referer)
Sun Feb 26 02:21:21 2012 from (empty referer)
Sun Feb 26 02:11:17 2012 from http://www.google.com/m/search?site=video&client=ms-nokia&cof=nsp&channel=s60&q=carl.cs.indiana.edu%2Ffil%2Fcgi-bin%2FWebSec%2Fmarilyn.cgi
Sun Feb 26 01:50:57 2012 from (empty referer)
Sun Feb 26 01:49:24 2012 from http://www.google.com/url?sa=t&rct=j&q=http%3A%2F%2Fwww.google.com%2Fsearch%3Fq%3Dhttp%253a%252f%252fwww.google.com%252fsearch%253fq%253dhttp%25253a%25252f%25252fmail.yahoo.com%25252f%2526sourceid%253dopera%2526ie%253dutf-8%2526oe%253dutf-8%2526channel%253dsuggest%26sourceid%3Dopera%26ie%3Dutf-8%26oe%3Dutf-8%26channel%3Dsuggest&source=web&cd=1&ved=0CCsQFjAA&url=http%3A%2F%2Fcarl.cs.indiana.edu%2Ffil%2Fcgi-bin%2FWebSec%2Fmarilyn.cgi&ei=6tVJT5fdDsXGmQX2nqCkDg&usg=AFQjCNHRtbr4ftk_4PyVzN3HuHPJV6LZow
Sat Feb 25 22:25:37 2012 from (empty referer)
Sat Feb 25 21:33:31 2012 from http://www.google.com/m?q=www.tubidy+mobi/search.php?a%3D18%26q%3Dhot&cx=partner-mb-pub-6630117049886772:7963048852&hl=en&start=80&sa=N
Sat Feb 25 21:33:08 2012 from http://www.google.com/m?q=www.tubidy+mobi/search.php?a%3D18%26q%3Dhot&cx=partner-mb-pub-6630117049886772:7963048852&hl=en&start=80&sa=N
Sat Feb 25 21:33:05 2012 from http://www.google.com/m?q=www.tubidy+mobi/search.php?a%3D18%26q%3Dhot&cx=partner-mb-pub-6630117049886772:7963048852&hl=en&start=80&sa=N
Sat Feb 25 21:25:00 2012 from http://dokterspesialis.info/ds-info/kerangbulu+login.html
Sat Feb 25 21:04:59 2012 from (empty referer)
Sat Feb 25 19:44:42 2012 from http://www.google.ae/m?q=tubidy.mob%2Fsearch.php%3Fa%3D18%26q%3Ahot%2Bsex
Sat Feb 25 18:40:00 2012 from http://www.google.co.uk/m/url?channel=new&client=ms-opera-mini&ei=JXFJT5C-L5Go8QOgoAE&q=http://carl.cs.indiana.edu/fil/cgi-bin/WebSec/marilyn.cgi?test%3D1&safe=inactive&ved=0CAkQFjAA&usg=AFQjCNEYuPx9zf0fBIAGweS5tBrYo3rm4A
Sat Feb 25 16:43:46 2012 from http://www.google.com/url?sa=t&rct=j&q=http%3A%2F%2Fwww.google.com%2Fsearch%3Fq%3Dhttp%253a%252f%252fwww.google.com%252fsearch%253fq%253dhttp%25253a%25252f%25252fwww.facebook.com%25252f%2526sourceid%253dopera%2526ie%253dutf-8%2526oe%253dutf-8%2526channel%253dsuggest%26sourceid%3Dopera%26ie%3Dutf-8%26oe%3Dutf-8%26channel%3Dsuggest&source=web&cd=1&ved=0CCIQFjAA&url=http%3A%2F%2Fcarl.cs.indiana.edu%2Ffil%2Fcgi-bin%2FWebSec%2Fmarilyn.cgi&ei=B1ZJT4-YHoLOrQeFzrCeDw&usg=AFQjCNHRtbr4ftk_4PyVzN3HuHPJV6LZow
Sat Feb 25 16:22:48 2012 from http://carl.cs.indiana.edu/fil/cgi-bin/WebSec/marilyn.cgi
Sat Feb 25 15:40:59 2012 from http://www.google.co.uk/m?q=www%252egoogle%2520sex%252ecom&client=ms-opera-mini&channel=new
Sat Feb 25 14:15:54 2012 from (empty referer)
Sat Feb 25 14:14:09 2012 from http://www.google.co.uk/m?q=operamini%252ecom&client=ms-opera-mini&channel=new
Sat Feb 25 12:52:19 2012 from http://www.google.com.br/url?sa=t&rct=j&q=xvideo%20plusnetwork&source=web&cd=1&ved=0CCMQFjAA&url=http%3A%2F%2Fcarl.cs.indiana.edu%2Ffil%2Fcgi-bin%2FWebSec%2Fmarilyn.cgi&ei=xh9JT9aRFojs0gGu3LTSBA&usg=AFQjCNHRtbr4ftk_4PyVzN3HuHPJV6LZow
Sat Feb 25 12:44:44 2012 from http://www.google.com/url?sa=t&rct=j&q=http%3A%2F%2Fwww.google.com%2Fsearch%3Fq%3Dhttp%253a%252f%252fwww.google.com%252fsearch%253fq%253dhttp%25253a%25252f%25252fwww.google.ro%25252f%2526sourceid%253dopera%2526ie%253dutf-8%2526oe%253dutf-8%2526channel%253dsuggest%26sourceid%3Dopera%26ie%3Dutf-8%26oe%3Dutf-8%26channel%3Dsuggest&source=web&cd=1&ved=0CCIQFjAA&url=http%3A%2F%2Fcarl.cs.indiana.edu%2Ffil%2Fcgi-bin%2FWebSec%2Fmarilyn.cgi&ei=-B1JT_K1JtHgggfrx72KDg&usg=AFQjCNHRtbr4ftk_4PyVzN3HuHPJV6LZow
Sat Feb 25 12:37:52 2012 from (empty referer)
Sat Feb 25 12:37:51 2012 from (empty referer)
Sat Feb 25 11:33:17 2012 from http://www.google.com/url?sa=t&rct=j&q=&esrc=s&source=web&cd=1&ved=0CDAQFjAA&url=http%3A%2F%2Fcarl.cs.indiana.edu%2Ffil%2Fcgi-bin%2FWebSec%2Fmarilyn.cgi&ei=9gxJT72bKYzSrQeaiJjGDw&usg=AFQjCNHRtbr4ftk_4PyVzN3HuHPJV6LZow&sig2=uUeJjN4FtiMKxXoNBKcbUw
Sat Feb 25 10:58:01 2012 from http://www.google.com/m?client=ms-nokia&cof=nsp&channel=s60&q=www.google.com%2fm%2fsearch%3fclient%3dms-nokia%26q%3dnokia.mobi%2fe
Sat Feb 25 10:54:43 2012 from http://assist.babylon.com/babylonassista/dnsassist/main?domain=mystart%20incredibar%20mb113%20
Sat Feb 25 09:35:06 2012 from (empty referer)
Sat Feb 25 08:57:52 2012 from http://carl.cs.indiana.edu/fil/cgi-bin/WebSec/marilyn.cgi
Sat Feb 25 08:54:54 2012 from http://home.allgameshome.com/results.php?category=web&s=http%3A%2F%2Fclick.infospace.com%2FClickHandler.ashx%3Fdu%3Dhttp%253a%252f%252fwww.facebook.com%252f
Sat Feb 25 08:19:33 2012 from http://www.google.co.in/m?q=www%252egoogle%252ecom&client=ms-opera-mini&channel=new
Sat Feb 25 07:01:52 2012 from http://www.google.com/search?client=opera&rls=fr&q=http%3A%2F%2Fwww.google.frsearch%3Fq%3Dxvideos.com%26sourceid%3Dopera%26ie%3Dutf-8%26oe%3Dutf-8%26channel%3Dsuggest&sourceid=opera&ie=utf-8&oe=utf-8&channel=suggest
Sat Feb 25 06:48:33 2012 from http://www.google.com/search?client=opera&rls=fr&q=http%3A%2F%2Fwww.google.frsearch%3Fq%3Dxvideos.com%26sourceid%3Dopera%26ie%3Dutf-8%26oe%3Dutf-8%26channel%3Dsuggest&sourceid=opera&ie=utf-8&oe=utf-8&channel=suggest
Sat Feb 25 06:47:30 2012 from http://carl.cs.indiana.edu/fil/cgi-bin/WebSec/marilyn.cgi
Sat Feb 25 06:33:49 2012 from http://www.google.com/search?client=opera&rls=en&q=http%3A%2F%2Fwww.google.com%2Fsearch%3Fq%3Dhttp%253A%252F%252Fwww.google.com%252Fsearch%253Fq%253Dbing%2526sourceid%253Dopera%2526ie%253Dutf-8%2526oe%253Dutf-8%2526channel%253Dsuggest%26sourceid%3Dopera%26ie%3Dutf-8%26oe%3Dutf-8%26channel%3Dsuggest&sourceid=opera&ie=utf-8&oe=utf-8&channel=suggest
Sat Feb 25 06:27:24 2012 from (empty referer)
Sat Feb 25 06:20:19 2012 from http://www.google.com/xhtml?q=http%3a%2f%2fwww%2egoogle%2ecom%2fxhtml%3fq%3dWWW%2eDJMAZA%2eCOM%26client%3dms%2dopera_mb_no%26channel%3dbh&client=ms-opera_mb_no&channel=bh
Sat Feb 25 05:40:25 2012 from http://carl.cs.indiana.edu/fil/cgi-bin/WebSec/marilyn.cgi
Sat Feb 25 05:09:08 2012 from http://www.google.com/url?sa=t&rct=j&q=http%3A%2F%2Fwww.google.com%2Fsearch%3Fq%3Dhttp%253a%252f%252fwww.google.com%252fsearch%253fq%253dhttp%25253a%25252f%25252fwww.youtube.com%25252f%2526sourceid%253dopera%2526ie%253dutf-8%2526oe%253dutf-8%2526channel%253dsuggest%26sourceid%3Dopera%26ie%3Dutf-8%26oe%3Dutf-8%26channel%3Dsuggest&source=web&cd=1&ved=0CCIQFjAA&url=http%3A%2F%2Fcarl.cs.indiana.edu%2Ffil%2Fcgi-bin%2FWebSec%2Fmarilyn.cgi&ei=H7NIT_KAFcanhAfbp4SEDg&usg=AFQjCNHRtbr4ftk_4PyVzN3HuHPJV6LZow
Sat Feb 25 04:48:24 2012 from http://www.google.com/url?sa=t&rct=j&q=http%3A%2F%2Fwww.google.com%2Fsearch%3Fq%3Dhttp%253a%252f%252fwww.google.com%252fsearch%253fq%253dgoogle%2526sourceid%253dopera%2526ie%253dutf-8%2526oe%253dutf-8%2526channel%253dsuggest%26sourceid%3Dopera%26ie%3Dutf-8%26oe%3Dutf-8%26channel%3Dsuggest&source=web&cd=1&ved=0CCsQFjAA&url=http%3A%2F%2Fcarl.cs.indiana.edu%2Ffil%2Fcgi-bin%2FWebSec%2Fmarilyn.cgi&ei=Yq5IT8LQCIfsrAfVmOy6Dw&usg=AFQjCNHRtbr4ftk_4PyVzN3HuHPJV6LZow
Sat Feb 25 04:12:58 2012 from http://www.google.co.tz/m?q=www%252egoogle%252ecom&client=ms-opera-mini&channel=new
Sat Feb 25 03:38:26 2012 from http://www.google.com/url?sa=t&rct=j&q=http%3A%2F%2Fisearch.babylon.com%2F%3Fbabsrc%3Dhome&source=web&cd=4&ved=0CDkQFjAD&url=http%3A%2F%2Fcarl.cs.indiana.edu%2Ffil%2Fcgi-bin%2FWebSec%2Fmarilyn.cgi&ei=yZ1IT-PMFOmx0AXMnYjmCw&usg=AFQjCNHRtbr4ftk_4PyVzN3HuHPJV6LZow
Sat Feb 25 03:24:40 2012 from http://www.google.com/url?sa=t&rct=j&q=click+infospace+ClickHandler&source=web&cd=9&ved=0CGwQFjAI&url=http%3A%2F%2Fcarl.cs.indiana.edu%2Ffil%2Fcgi-bin%2FWebSec%2Fmarilyn.cgi&ei=t5pIT5O4A4qK0AXj6aCUDg&usg=AFQjCNHRtbr4ftk_4PyVzN3HuHPJV6LZow
Sat Feb 25 02:40:35 2012 from http://www.google.com/m/search?client=ms-nokia-meego&q=http%253A%252F%252Fwww.tube8.com%252F
Sat Feb 25 02:14:09 2012 from http://carl.cs.indiana.edu/fil/cgi-bin/WebSec/marilyn.cgi?test=1
Sat Feb 25 02:13:34 2012 from http://carl.cs.indiana.edu/fil/cgi-bin/WebSec/marilyn.cgi?test=1
Sat Feb 25 01:32:35 2012 from (empty referer)
Fri Feb 24 23:29:21 2012 from http://www.bing.com/search?FORM=WLETDF&PC=WLEM&q=http%3A%2F%2Fint.search-results.com%2Fweb%3Fqsrc%3D2417%26o%3D100000049%26l%3Ddis%26q%3Dfree%2Bporn%2Bmovies&src=IE-SearchBox
Fri Feb 24 23:19:49 2012 from http://www.google.co.in/m?q=Sex%2532%2530%2535%2530%252ecom&client=ms-opera-mini&channel=new
Fri Feb 24 20:51:47 2012 from (empty referer)
Fri Feb 24 20:47:03 2012 from http://www.google.com/m?q=URL%3ahttp%3a%2f%2ftubidy.mobi%2fsearch.&client=ms-nokia&cof=nsp&channel=s40&hl=ar
Fri Feb 24 18:21:01 2012 from http://www.google.com/url?sa=t&rct=j&q=http%3A%2F%2Fwww.google.com%2Fsearch%3Fq%3Dhttp%253a%252f%252fwww.google.com%252fsearch%253fq%253dsearch%2526sourceid%253dopera%2526ie%253dutf-8%2526oe%253dutf-8%2526channel%253dsuggest%26sourceid%3Dopera%26ie%3Dutf-8%26oe%3Dutf-8%26channel%3Dsuggest&source=web&cd=1&ved=0CCIQFjAA&url=http%3A%2F%2Fcarl.cs.indiana.edu%2Ffil%2Fcgi-bin%2FWebSec%2Fmarilyn.cgi&ei=2BpIT5PUJoy5hAfI6aywDg&usg=AFQjCNHRtbr4ftk_4PyVzN3HuHPJV6LZow
Fri Feb 24 18:20:30 2012 from http://www.google.com/url?sa=t&rct=j&q=http%3A%2F%2Fwww.google.com%2Fsearch%3Fq%3Dhttp%253a%252f%252fwww.google.com%252fsearch%253fq%253dsearch%2526sourceid%253dopera%2526ie%253dutf-8%2526oe%253dutf-8%2526channel%253dsuggest%26sourceid%3Dopera%26ie%3Dutf-8%26oe%3Dutf-8%26channel%3Dsuggest&source=web&cd=1&ved=0CCIQFjAA&url=http%3A%2F%2Fcarl.cs.indiana.edu%2Ffil%2Fcgi-bin%2FWebSec%2Fmarilyn.cgi&ei=2BpIT5PUJoy5hAfI6aywDg&usg=AFQjCNHRtbr4ftk_4PyVzN3HuHPJV6LZow
Fri Feb 24 18:19:03 2012 from http://www.google.com/url?sa=t&rct=j&q=http%3A%2F%2Fwww.google.com%2Fsearch%3Fq%3Dhttp%253a%252f%252fwww.google.com%252fsearch%253fq%253dsearch%2526sourceid%253dopera%2526ie%253dutf-8%2526oe%253dutf-8%2526channel%253dsuggest%26sourceid%3Dopera%26ie%3Dutf-8%26oe%3Dutf-8%26channel%3Dsuggest&source=web&cd=1&ved=0CCIQFjAA&url=http%3A%2F%2Fcarl.cs.indiana.edu%2Ffil%2Fcgi-bin%2FWebSec%2Fmarilyn.cgi&ei=2BpIT5PUJoy5hAfI6aywDg&usg=AFQjCNHRtbr4ftk_4PyVzN3HuHPJV6LZow
Fri Feb 24 16:57:11 2012 from (empty referer)
Fri Feb 24 16:19:57 2012 from (empty referer)
Fri Feb 24 16:06:37 2012 from http://search.searchcompletion.com/WebSearchResults.aspx?q=24.02.2012%2021:56:08%09http://www.youtube.com/watch?NR=1&%c2%adfeature=endscreen&v=TahhRYpJY7Q24.02.2012%2021:56:08%09http:%20%20www.youtube.com%20watchNR%201&%c2%adfeature%20endscreen&v%20TahhRYpJY7Q
Fri Feb 24 15:59:02 2012 from http://www.google.com/m?client=ms-nokia&cof=nsp&channel=s60&q=www.google.com%2fm%3fclient%3dms-nokia%26q%3dmobile.etisalat.com
Fri Feb 24 15:56:56 2012 from http://www.google.com/url?sa=t&rct=j&q=http%2F%2Ftubidy.mobi%2Fsearch.php%3Fa%3D18%26q%3Dsex%252b18&source=web&cd=1&sqi=2&ved=0CCAQFjAA&url=http%3A%2F%2Fcarl.cs.indiana.edu%2Ffil%2Fcgi-bin%2FWebSec%2Fmarilyn.cgi&ei=aflHT4WBHZHrOamftYwO&usg=AFQjCNHRtbr4ftk_4PyVzN3HuHPJV6LZow
Fri Feb 24 15:53:34 2012 from http://www.google.com.sa/url?sa=t&rct=j&q=http%3B%2F%2Ftubidy.mobi%2Fsearch.php%3Fa%3D18%26q%3Das&source=web&cd=4&ved=0CEwQFjAD&url=http%3A%2F%2Fcarl.cs.indiana.edu%2Ffil%2Fcgi-bin%2FWebSec%2Fmarilyn.cgi&ei=jfhHT8u1I8TsOcHP6fkN&usg=AFQjCNHRtbr4ftk_4PyVzN3HuHPJV6LZow
Fri Feb 24 15:44:10 2012 from (empty referer)
Fri Feb 24 15:43:20 2012 from http://www.google.com/m?client=ms-nokia&cof=nsp&channel=s60&q=www.google.com%2fm%3fclient%3dms-nokia%26cof%3dnsp%26channel%3ds60
Fri Feb 24 15:26:04 2012 from (empty referer)
Fri Feb 24 15:21:36 2012 from http://www.google.com/m?safe=on&client=ms-nokia&cof=nsp&channel=s60&q=http%3A%2F%2Ftubidy.mobi%2Fsearch.php%3Fa%3D18%26q%3Dhot
Fri Feb 24 14:51:07 2012 from http://www.google.com/url?sa=t&rct=j&q=click%20infospace%20clickhandler&source=web&cd=7&ved=0CFMQFjAG&url=http%3A%2F%2Fcarl.cs.indiana.edu%2Ffil%2Fcgi-bin%2FWebSec%2Fmarilyn.cgi&ei=HOpHT9XgI-Px0gGD6OmUDg&usg=AFQjCNHRtbr4ftk_4PyVzN3HuHPJV6LZow
Fri Feb 24 14:50:51 2012 from http://www.google.com.do/url?sa=t&rct=j&q=click%20infospace%20clickhandler&source=web&cd=10&ved=0CHkQFjAJ&url=http%3A%2F%2Fcarl.cs.indiana.edu%2Ffil%2Fcgi-bin%2FWebSec%2Fmarilyn.cgi&ei=-OlHT_qNIOjj0gHDlumjDg&usg=AFQjCNHRtbr4ftk_4PyVzN3HuHPJV6LZow
Fri Feb 24 14:40:12 2012 from (empty referer)
Fri Feb 24 14:09:07 2012 from http://www.google.com/m?client=ms-nokia&cof=nsp&channel=s60&q=tubidy.mobi%2faearch.php%3fa%3d18%26q%3dhot
Fri Feb 24 12:50:14 2012 from http://www.google.co.in/m?q=www.google.co.in%2Fm%3Fq%3Dwww.%26client%3Dms-opera-mini%26channel%3Dnew&client=ms-opera-mini&channel=new
Fri Feb 24 12:25:26 2012 from http://www.google.me/url?sa=t&rct=j&q=home+allgameshome+results&source=web&cd=71&ved=0CB4QFjAAOEY&url=http%3A%2F%2Fcarl.cs.indiana.edu%2Ffil%2Fcgi-bin%2FWebSec%2Fmarilyn.cgi&ei=-8dHT5KCBYyLswaIzsCUBQ&usg=AFQjCNHRtbr4ftk_4PyVzN3HuHPJV6LZow
Fri Feb 24 12:08:03 2012 from http://www.google.com/m?q=Tubidy.mobi%2fsarch.php%3fa%2218%26q%22hot&client=ms-nokia&cof=nsp&channel=s40&hl=en
Fri Feb 24 11:52:16 2012 from http://us.yhs.search.yahoo.com/if?p=Http%3A%2F%2Fwww.searchplusnetwork.com%2F%3Fsp%3Dchv%26q%3Dbangla%20Cow&partnerid=yhs-if-vendio&fr=yhs-if-vendio
Fri Feb 24 10:47:45 2012 from http://www.searchplusnetwork.com/?sp=chv&q=searchplusnetwork.com%2F%3Fsp
Fri Feb 24 10:21:23 2012 from http://www.google.com/xhtml?client=ms-opera_mb_no&q=http://www.google.com/xhtml?q%3Dwww.%26client%3Dms-opera_mb_no%26channel%3Dbh&channel=bh&start=10&sa=N
Fri Feb 24 09:39:13 2012 from http://www.google.com/m?devlocsession=off&gl=ae&client=ms-android-htc-rev&source=android-unknown&q=http://tubidy.mobi/search.php?a%2218%26q%22sex&hl=ar&start=40&sa=N
Fri Feb 24 09:17:22 2012 from (empty referer)
Fri Feb 24 09:14:51 2012 from (empty referer)
Fri Feb 24 08:47:55 2012 from http://www.google.co.in/url?sa=t&rct=j&q=click%20infospace%20clickhandler&source=web&cd=8&ved=0CF4QFjAH&url=http%3A%2F%2Fcarl.cs.indiana.edu%2Ffil%2Fcgi-bin%2FWebSec%2Fmarilyn.cgi&ei=95RHT9XpOMasrAfT_ezWDw&usg=AFQjCNHRtbr4ftk_4PyVzN3HuHPJV6LZow
Fri Feb 24 08:35:03 2012 from http://www.searchplusnetwork.com/?sp=chv&q=click.infospace.comClickHandler.ashx%3Fdu
Fri Feb 24 08:14:22 2012 from http://www.google.com/url?sa=t&rct=j&q=http%3A%2F%2Fwww.google.com%2Fsearch%3Fq%3Dhttp%253A%252F%252Fwww.google.com%252Fsearch%253Fq%253Dwww.google.com%2526sourceid%253Dopera%2526ie%253Dutf-8%2526oe%253Dutf-8%2526channel%253Dsuggest%26sourceid%3Dopera%26ie%3Dutf-8%26oe%3Dutf-8%26channel%3Dsuggest&source=web&cd=1&ved=0CCIQFjAA&url=http%3A%2F%2Fcarl.cs.indiana.edu%2Ffil%2Fcgi-bin%2FWebSec%2Fmarilyn.cgi&ei=9IxHT5GmFMXKrAeq_KDTDw&usg=AFQjCNHRtbr4ftk_4PyVzN3HuHPJV6LZow
Fri Feb 24 07:54:45 2012 from (empty referer)
Fri Feb 24 07:44:24 2012 from http://www.google.com/url?sa=t&rct=j&q=http%3A%2F%2Fwww.google.com%2Fsearch%3Fq%3Dhttp%253a%252f%252fwww.google.com%252fsearch%253fq%253dhttp%25253a%25252f%25252fwww.google.com%25252fsearch%25253fq%25253dhttp%2525253a%2525252f%2525252fwww.facebook.com%2525252f%252526sourceid%25253dopera%252526ie%25253dutf-8%252526oe%25253dutf-8%252526channel%25253dsuggest%2526sourceid%253dopera%2526ie%253dutf-8%2526oe%253dutf-8%2526channel%253dsuggest%26sourceid%3Dopera%26ie%3Dutf-8%26oe%3Dutf-8%26channel%3Dsuggest&source=web&cd=1&ved=0CCIQFjAA&url=http%3A%2F%2Fcarl.cs.indiana.edu%2Ffil%2Fcgi-bin%2FWebSec%2Fmarilyn.cgi&ei=GoZHT4qrOoP5rQf7s6G7Dw&usg=AFQjCNHRtbr4ftk_4PyVzN3HuHPJV6LZow
Fri Feb 24 07:41:19 2012 from (empty referer)
Fri Feb 24 07:06:11 2012 from http://www.google.com/url?sa=t&rct=j&q=http%3A%2F%2Fwww.google.com%2Fsearch%3Fq%3Dhttp%253A%252F%252Fwww.google.com%252Fsearch%253Fq%253Dhttp%25253A%25252F%25252Fwww.facebook.com%25252F%2526sourceid%253Dopera%2526ie%253Dutf-8%2526oe%253Dutf-8%2526channel%253Dsuggest%26sourceid%3Dopera%26ie%3Dutf-8%26oe%3Dutf-8%26channel%3Dsuggest&source=web&cd=1&ved=0CCMQFjAA&url=http%3A%2F%2Fcarl.cs.indiana.edu%2Ffil%2Fcgi-bin%2FWebSec%2Fmarilyn.cgi&ei=HH1HT--fIMH34QSGypDKDg&usg=AFQjCNHRtbr4ftk_4PyVzN3HuHPJV6LZow
Fri Feb 24 06:44:39 2012 from http://www.google.com/url?sa=t&rct=j&q=isearch.babylon.com&source=web&cd=15&ved=0CD0QFjAEOAo&url=http%3A%2F%2Fcarl.cs.indiana.edu%2Ffil%2Fcgi-bin%2FWebSec%2Fmarilyn.cgi&ei=F3hHT-XbLoyhOvydiIIO&usg=AFQjCNHRtbr4ftk_4PyVzN3HuHPJV6LZow
Fri Feb 24 06:37:14 2012 from http://www.google.com.sa/url?sa=t&rct=j&q=http%3A%2F%2Ftubidy.mobi%2Fsearch.php%3Fa%3D18%26q%3Dsex%2Bt&source=web&cd=4&ved=0CDoQFjAD&url=http%3A%2F%2Fcarl.cs.indiana.edu%2Ffil%2Fcgi-bin%2FWebSec%2Fmarilyn.cgi&ei=D3ZHT7_-Aq3c4QTb9fTEBg&usg=AFQjCNHRtbr4ftk_4PyVzN3HuHPJV6LZow
Fri Feb 24 05:37:07 2012 from http://www.google.com/m?q=bit.ly.xxx+pornhub.com&client=ms-opera-mini&channel=new
Fri Feb 24 04:39:24 2012 from http://www.google.com/search?q=http%3A%2F%2Ftubidy.mobi%2Fsearch.php%3Fa%3D18%26q%3DSex%2Bt&sourceid=ie7&rls=com.microsoft%3Aen-US&oe=utf8&safe=active&oq=http%3A%2F%2Ftubidy.mobi%2Fsearch.php%3Fa%3D18%26q%3DSex%2Bt&aq=f&aqi=&aql=&gs_sm=12&gs_upl=17766l27391l0l29844l4l4l0l1l0l0l359l515l0.1.0.1l2l0
Fri Feb 24 04:25:25 2012 from http://www.google.com/url?sa=t&rct=j&q=http%3A%2F%2Fwww.google.com%2Fsearch%3Fq%3Dhttp%253a%252f%252fwww.google.com%252fsearch%253fq%253dhttp%25253a%25252f%25252fwww.youtube.com%25252f%2526sourceid%253dopera%2526ie%253dutf-8%2526oe%253dutf-8%2526channel%253dsuggest%26sourceid%3Dopera%26ie%3Dutf-8%26oe%3Dutf-8%26channel%3Dsuggest&source=web&cd=1&ved=0CC8QFjAA&url=http%3A%2F%2Fcarl.cs.indiana.edu%2Ffil%2Fcgi-bin%2FWebSec%2Fmarilyn.cgi&ei=cVdHT_X9J8esrAfzt_SaDw&usg=AFQjCNHRtbr4ftk_4PyVzN3HuHPJV6LZow
Fri Feb 24 03:45:39 2012 from (empty referer)
Fri Feb 24 03:19:40 2012 from http://www.google.co.in/url?sa=t&rct=j&q=click%20infospace%20clickhandler&source=web&cd=8&ved=0CF4QFjAH&url=http%3A%2F%2Fcarl.cs.indiana.edu%2Ffil%2Fcgi-bin%2FWebSec%2Fmarilyn.cgi&ei=BEhHT4nmGsnjrAeezticDw&usg=AFQjCNHRtbr4ftk_4PyVzN3HuHPJV6LZow
Fri Feb 24 03:14:06 2012 from http://www.google.com/m?client=ms-nokia&cof=nsp&channel=s60&q=carl.cs.indiana.edu%2ffil%2fcgi-bin%2fWebSec%2fmarilyn.cgi
Fri Feb 24 03:10:11 2012 from http://www.google.com/search?q=http%3A%2F%2Ftubidy.mobi%2Fsearch.php%3Fa%3D18%26q%3DSex*t&sourceid=ie7&rls=com.microsoft:en-US&ie=utf8&oe=utf8
Fri Feb 24 02:37:59 2012 from (empty referer)
Fri Feb 24 02:36:09 2012 from (empty referer)
Fri Feb 24 01:05:51 2012 from http://www.google.co.in/m?q=sax%2532%2530%2535%2530%252ecom&client=ms-opera-mini&channel=new
Fri Feb 24 00:36:24 2012 from http://www.google.com/xhtml?q=http%3a%2f%2fwww%2egoogle%2ecom%2fxhtml%3fq%3dhttp%3a%2f%2fwww%2egoogle%2ecom%2fm%2fsearch%3fclient%3dms%2dopera_mb_no%26q%3dhttp%3a%2f%2fwww%2egoogle%2ecom%2fm%2fsearch%3fclient%3dms%2dopera_mb_no%26q%3dhttp%3a%2f%2fwww%2egoogle%2ecom%2fxhtml%3fq%3dhttp%3a%2f%2fservices%2ewapday%2ecom%2fp%2fref%3fid%3d%34%39%26movie%3dSex%26client%3dms%2dopera_mb_no%26channel%3dbh%26channel%3dbh%26site%3dimages%26tab%3dwi%26ei%3dviBHT_D%31EqqhiALtGw%26sa%3dN%26ei%3dviBHT_D%31EqqhiALtGw%26ved%3d%30CAMQ%31wY%26channel%3dbh%26site%3dimages%26tab%3dwi%26ei%3d_CBHT%36jaI%34zliwLM%39gE%26sa%3dN%26ei%3d_CBHT%36jaI%34zliwLM%39gE%26ved%3d%30CAMQ%31wY%26client%3dms%2dopera_mb_no%26channel%3dbh&client=ms-opera_mb_no&channel=bh
Thu Feb 23 22:22:05 2012 from http://home.allgameshome.com/results.php?category=web&s=http%3A%2F%2Fclick.infospace.com%2FClickHandler.ashx%3Fdu%3Dhttp%253a%252f%252fwww.tube8.com%252f
Thu Feb 23 19:08:57 2012 from http://isearch.babylon.com/?q=http%3A%2F%2Fclick.infospace.com&s=web&as=0&babsrc=HP_ss
Thu Feb 23 19:06:16 2012 from http://isearch.babylon.com/?q=http%3A%2F%2Fclick.infospace.com&s=web&as=0&babsrc=HP_ss
Thu Feb 23 18:30:49 2012 from http://www.google.com/m?hl=en&q=www.google.laef.com.sex.felm
Thu Feb 23 17:53:30 2012 from (empty referer)
Thu Feb 23 17:42:30 2012 from (empty referer)
Thu Feb 23 17:42:10 2012 from (empty referer)
Thu Feb 23 17:22:05 2012 from (empty referer)
Thu Feb 23 17:19:14 2012 from (empty referer)
Thu Feb 23 17:17:33 2012 from (empty referer)
Thu Feb 23 17:16:03 2012 from (empty referer)
Thu Feb 23 17:13:24 2012 from (empty referer)
Thu Feb 23 16:44:34 2012 from (empty referer)
Thu Feb 23 16:43:52 2012 from (empty referer)
Thu Feb 23 16:42:32 2012 from (empty referer)
Thu Feb 23 16:37:49 2012 from (empty referer)
Thu Feb 23 16:27:13 2012 from (empty referer)
Thu Feb 23 16:14:00 2012 from (empty referer)
Thu Feb 23 15:57:09 2012 from (empty referer)
Thu Feb 23 15:53:56 2012 from (empty referer)
Thu Feb 23 15:53:39 2012 from (empty referer)
Thu Feb 23 15:53:36 2012 from (empty referer)
Thu Feb 23 15:51:17 2012 from (empty referer)
Thu Feb 23 15:49:50 2012 from (empty referer)
Thu Feb 23 15:16:59 2012 from http://www.google.com/url?sa=t&rct=j&q=http%3A%2F%2Fwww.google.com%2Fsearch%3Fq%3Dhttp%253a%252f%252fwww.google.com%252fsearch%253fq%253dhttp%25253a%25252f%25252fwww.facebook.com%25252f%2526sourceid%253dopera%2526ie%253dutf-8%2526oe%253dutf-8%2526channel%253dsuggest%26sourceid%3Dopera%26ie%3Dutf-8%26oe%3Dutf-8%26channel%3Dsuggest&source=web&cd=1&ved=0CCIQFjAA&url=http%3A%2F%2Fcarl.cs.indiana.edu%2Ffil%2Fcgi-bin%2FWebSec%2Fmarilyn.cgi&ei=Vp5GT9eEMIbJrAfakLT4Cg&usg=AFQjCNHRtbr4ftk_4PyVzN3HuHPJV6LZow
Thu Feb 23 15:16:56 2012 from http://www.google.com/url?sa=t&rct=j&q=http%3A%2F%2Fwww.google.com%2Fsearch%3Fq%3Dhttp%253a%252f%252fwww.google.com%252fsearch%253fq%253dhttp%25253a%25252f%25252fwww.facebook.com%25252f%2526sourceid%253dopera%2526ie%253dutf-8%2526oe%253dutf-8%2526channel%253dsuggest%26sourceid%3Dopera%26ie%3Dutf-8%26oe%3Dutf-8%26channel%3Dsuggest&source=web&cd=1&ved=0CCIQFjAA&url=http%3A%2F%2Fcarl.cs.indiana.edu%2Ffil%2Fcgi-bin%2FWebSec%2Fmarilyn.cgi&ei=Vp5GT9eEMIbJrAfakLT4Cg&usg=AFQjCNHRtbr4ftk_4PyVzN3HuHPJV6LZow
Thu Feb 23 13:14:54 2012 from http://www.google.com/m?client=ms-nokia&cof=nsp&channel=s60&q=e.com%2fm%3fclient%3dms-nokia%26cof%3dnsp%26channel%3ds60%26q%3dww.googl
Thu Feb 23 13:02:54 2012 from (empty referer)
Thu Feb 23 12:41:59 2012 from http://www.google.co.in/url?sa=t&rct=j&q=click%20infospace%20clickhandler&source=web&cd=8&ved=0CFwQFjAH&url=http%3A%2F%2Fcarl.cs.indiana.edu%2Ffil%2Fcgi-bin%2FWebSec%2Fmarilyn.cgi&ei=RXpGT_OZD8HsrAfX1tj_Cg&usg=AFQjCNHRtbr4ftk_4PyVzN3HuHPJV6LZow
Thu Feb 23 12:33:23 2012 from (empty referer)
Thu Feb 23 12:32:23 2012 from (empty referer)
Thu Feb 23 12:19:08 2012 from (empty referer)
Thu Feb 23 11:20:22 2012 from http://home.allgameshome.com/results.php?category=web&s=http://click.infospace.com/ClickHandler.ashx?du=http%3a%2f%2fwww.allgameshome.com%2f&ru=http%3a%2f%2fwww.allgameshome.com%2f&ld=20120223&ap=1&app=1&c=imesh.meta.4&s=imeshmeta4&coi=239137&cop=main-title&euip=182.4.53.16&npp=1&p=0&pp=0&pvaid=1ef187ed303b4aad8721f7106b61edf5&ep=1&mid=9&hash=20892FB5792C5ED6E360FF978A8E2E4
Thu Feb 23 10:41:27 2012 from (empty referer)
Thu Feb 23 10:25:50 2012 from http://www.google.co.id/url?sa=t&rct=j&q=sat%20feb%2011%2019%3A51%3A00%202012%20from%20http%3A%2F%2Fwww.searchplusnetwork.com%2F%3Fsp%3Dchv%26q%3Dwww.searchplusnetwork.com%253fsp&source=web&cd=1&ved=0CCAQFjAA&url=http%3A%2F%2Fcarl.cs.indiana.edu%2Ffil%2Fcgi-bin%2FWebSec%2Fmarilyn.cgi&ei=eFpGT4WrKqe4iQeKwZy5Dg&usg=AFQjCNHRtbr4ftk_4PyVzN3HuHPJV6LZow
Thu Feb 23 09:58:28 2012 from http://www.google.com/url?sa=t&rct=j&q=googal%20tuba%208%20indiana&source=web&cd=8&ved=0CGAQFjAH&url=http%3A%2F%2Fcarl.cs.indiana.edu%2Ffil%2Fcgi-bin%2FWebSec%2Fmarilyn.cgi&ei=61NGT6rfHYKTtwe19aSdDg&usg=AFQjCNHRtbr4ftk_4PyVzN3HuHPJV6LZow
Thu Feb 23 09:49:57 2012 from (empty referer)
Thu Feb 23 08:25:47 2012 from http://www.google.com/url?sa=t&rct=j&q=http%3A%2F%2Fwww.google.com%2Fsearch%3Fq%3Dhttp%253a%252f%252fwww.google.com%252fsearch%253fq%253dww%2526sourceid%253dopera%2526ie%253dutf-8%2526oe%253dutf-8%2526channel%253dsuggest%26sourceid%3Dopera%26ie%3Dutf-8%26oe%3Dutf-8%26channel%3Dsuggest&source=web&cd=1&ved=0CCIQFjAA&url=http%3A%2F%2Fcarl.cs.indiana.edu%2Ffil%2Fcgi-bin%2FWebSec%2Fmarilyn.cgi&ei=VD5GT_aUIZCfOpy17OsN&usg=AFQjCNHRtbr4ftk_4PyVzN3HuHPJV6LZow
Thu Feb 23 08:08:21 2012 from http://www.google.com/url?sa=t&rct=j&q=http%3A%2F%2Fwww.google.com%2Fsearch%3Fq%3Dhttp%253A%252F%252Fwww.google.com%252Fsearch%253Fq%253Dwww.facebook.com%2526sourceid%253Dopera%2526ie%253Dutf-8%2526oe%253Dutf-8%2526channel%253Dsuggest%26sourceid%3Dopera%26ie%3Dutf-8%26oe%3Dutf-8%26channel%3Dsuggest&source=web&cd=1&ved=0CC8QFjAA&url=http%3A%2F%2Fcarl.cs.indiana.edu%2Ffil%2Fcgi-bin%2FWebSec%2Fmarilyn.cgi&ei=zTlGT8jvF-XymAXkk5CZDg&usg=AFQjCNHRtbr4ftk_4PyVzN3HuHPJV6LZow
Thu Feb 23 07:20:33 2012 from (empty referer)
Thu Feb 23 06:11:41 2012 from (empty referer)
Thu Feb 23 05:45:22 2012 from http://us.yhs.search.yahoo.com/if?p=Eu.ask.com%2Fweb%3Fl%3Ddis%26o%3Dapn10089%26qsrc%3D2870%26apn_dtid%3D%5Eyyyyyy%5Eyy%5Eeg&partnerid=yhs-if-vendio&fr=yhs-if-vendio
Thu Feb 23 04:55:30 2012 from http://www.google.com/url?sa=t&rct=j&q=&esrc=s&source=web&cd=1&ved=0CC8QFjAA&url=http%3A%2F%2Fcarl.cs.indiana.edu%2Ffil%2Fcgi-bin%2FWebSec%2Fmarilyn.cgi&ei=CQ1GT57kEI2srAeVw6CRCw&usg=AFQjCNHRtbr4ftk_4PyVzN3HuHPJV6LZow
Thu Feb 23 04:34:16 2012 from http://www.google.co.in/m?q=www%252exxx%2520fucking%2520%2520videos&client=ms-opera-mini&channel=new
Thu Feb 23 04:32:02 2012 from http://www.searchplusnetwork.com/?sp=chv&q=hotsptshld.comgresults.php%3Fc
Thu Feb 23 03:15:40 2012 from (empty referer)
Thu Feb 23 02:43:38 2012 from http://www.google.com/m?client=ms-nokia&cof=nsp&channel=s60&q=http%3a%2f.%2fwww.google.com%2fm%3fclient%3dms-nokia%26q%3dhttp%3a%2fl
Thu Feb 23 01:53:09 2012 from (empty referer)
Wed Feb 22 23:41:40 2012 from http://www.google.com/url?sa=t&rct=j&q=http%3A%2F%2Fwww.google.com%2Fsearch%3Fq%3Dhttp%253A%252F%252Fwww.google.com%252Fsearch%253Fq%253D%2526sourceid%253Dopera%2526ie%253Dutf-8%2526oe%253Dutf-8%2526channel%253Dsuggest%26sourceid%3Dopera%26ie%3Dutf-8%26oe%3Dutf-8%26channel%3Dsuggest&source=web&cd=1&ved=0CCIQFjAA&url=http%3A%2F%2Fcarl.cs.indiana.edu%2Ffil%2Fcgi-bin%2FWebSec%2Fmarilyn.cgi&ei=L8NFT_SZI4_asga3w-GKCw&usg=AFQjCNHRtbr4ftk_4PyVzN3HuHPJV6LZow
Wed Feb 22 23:15:36 2012 from http://home.myplaycity.com/results.php?category=web&s=http://click.infospace.com/ClickHandler.ashx?du=http%3a%2f%2fusscouts.org%2f&ru=http%3a%2f%2fusscouts.org%2f&ld=20120223&ap=1&app=1&c=imesh.meta.4&s=imeshmeta4&coi=239137&cop=main-title&euip=182.185.89.9&npp=1&p=0&pp=0&pvaid=b3e7d2f6bbf94b37bc1e2c2e5d3d7fb7&ep=1&mid=9&hash=3688D716B4EA595DF906FFB86F978E3
Wed Feb 22 22:51:53 2012 from http://home.myplaycity.com/results.php?category=web&s=http://click.infospace.com/ClickHandler.ashx?du=http%3a%2f%2fwww.yandalo.com%2f&ru=http%3a%2f%2fwww.yandalo.com%2f&ld=20120223&ap=1&app=1&c=imesh.meta.4&s=imeshmeta4&coi=239137&cop=main-title&euip=182.185.89.9&npp=1&p=0&pp=0&pvaid=95cd1edb444a4080853b0ac80a8b6b87&ep=1&mid=9&hash=0A1A5B4C9C67D0F724BEADA5B4D5988
Wed Feb 22 22:49:41 2012 from http://www.google.co.id/url?sa=t&rct=j&q=http%3A%2F%2Fhome.allgameshome.com%2F&source=web&cd=9&ved=0CFcQFjAI&url=http%3A%2F%2Fcarl.cs.indiana.edu%2Ffil%2Fcgi-bin%2FWebSec%2Fmarilyn.cgi&ei=CrVFT-HNItDMrQeysZSZCw&usg=AFQjCNHRtbr4ftk_4PyVzN3HuHPJV6LZow
Wed Feb 22 22:01:54 2012 from http://www.google.co.in/url?sa=t&rct=j&q=www.xxx%20sex%20film&source=web&cd=8&ved=0CFsQFjAH&url=http%3A%2F%2Fcarl.cs.indiana.edu%2Ffil%2Fcgi-bin%2FWebSec%2Fmarilyn.cgi&ei=0qtFT-jYCYaurAfS8_muDw&usg=AFQjCNHRtbr4ftk_4PyVzN3HuHPJV6LZow
Wed Feb 22 20:01:34 2012 from http://www.google.com/url?sa=t&rct=j&q=http%3A%2F%2Fwww.google.com%2Fsearch%3Fq%3Dhttp%253a%252f%252fwww.google.com%252fsearch%253fq%253dhttp%25253a%25252f%25252fwww.facebook.com%25252f%2526sourceid%253dopera%2526ie%253dutf-8%2526oe%253dutf-8%2526channel%253dsuggest%26sourceid%3Dopera%26ie%3Dutf-8%26oe%3Dutf-8%26channel%3Dsuggest&source=web&cd=4&ved=0CDQQFjAD&url=http%3A%2F%2Fcarl.cs.indiana.edu%2Ffil%2Fcgi-bin%2FWebSec%2Fmarilyn.cgi&ei=3o9FT9zhKOHH0QW03JT6Aw&usg=AFQjCNHRtbr4ftk_4PyVzN3HuHPJV6LZow
Wed Feb 22 18:49:20 2012 from http://indiaexampapers.com
Wed Feb 22 18:29:31 2012 from (empty referer)
Wed Feb 22 17:13:50 2012 from http://www.ask.com/web?l=dis&o=101796&qsrc=2870&gct=dns&gc=1&q=home.allgameshome.com/results.php?category=web
Wed Feb 22 17:04:31 2012 from (empty referer)
Wed Feb 22 16:55:40 2012 from http://www.google.com/url?sa=t&rct=j&q=http%3A%2F%2Fwww.google.com%2Fsearch%3Fq%3Dhttp%253a%252f%252fwww.google.com%252fsearch%253fq%253dhttp%25253a%25252f%25252fwww.youtube.com%25252f%2526sourceid%253dopera%2526ie%253dutf-8%2526oe%253dutf-8%2526channel%253dsuggest%26sourceid%3Dopera%26ie%3Dutf-8%26oe%3Dutf-8%26channel%3Dsuggest&source=web&cd=1&ved=0CCkQFjAA&url=http%3A%2F%2Fcarl.cs.indiana.edu%2Ffil%2Fcgi-bin%2FWebSec%2Fmarilyn.cgi&ei=WGRFT_eTBMmp4gTWloD8Ag&usg=AFQjCNHRtbr4ftk_4PyVzN3HuHPJV6LZow
Wed Feb 22 16:29:13 2012 from (empty referer)
Wed Feb 22 16:15:27 2012 from (empty referer)
Wed Feb 22 16:15:26 2012 from (empty referer)
Wed Feb 22 16:05:36 2012 from (empty referer)
Wed Feb 22 16:04:16 2012 from (empty referer)
Wed Feb 22 15:55:12 2012 from http://isearch.babylon.com/?q=www.searchplusnetwork.com%2F%3Fsp%3Dchv%26q%3Dfacebook&AF=100490&babsrc=SP_ss&mntrId=fc925b30000000000000001a737f718c
Wed Feb 22 15:41:31 2012 from http://www.google.com/url?sa=t&rct=j&q=http%3A%2F%2Fwww.google.com%2Fsearch%3Fq%3Dhttp%253a%252f%252fwww.google.com%252fsearch%253fq%253dhttp%25253a%25252f%25252fwww.google.de%25252f%2526sourceid%253dopera%2526ie%253dutf-8%2526oe%253dutf-8%2526channel%253dsuggest%26sourceid%3Dopera%26ie%3Dutf-8%26oe%3Dutf-8%26channel%3Dsuggest&source=web&cd=1&ved=0CDAQFjAA&url=http%3A%2F%2Fcarl.cs.indiana.edu%2Ffil%2Fcgi-bin%2FWebSec%2Fmarilyn.cgi&ei=AlJFT_J8hZz7BpTa9LIC&usg=AFQjCNHRtbr4ftk_4PyVzN3HuHPJV6LZow
Wed Feb 22 15:07:03 2012 from (empty referer)
Wed Feb 22 14:53:55 2012 from http://www.google.com/url?sa=t&rct=j&q=www.tubidy.mobi+sex+sxe&source=web&cd=2&ved=0CCsQFjAB&url=http%3A%2F%2Fcarl.cs.indiana.edu%2Ffil%2Fcgi-bin%2FWebSec%2Fmarilyn.cgi&ei=wkdFT7P2EIal4gSsrrCFAw&usg=AFQjCNHRtbr4ftk_4PyVzN3HuHPJV6LZow
Wed Feb 22 14:31:26 2012 from http://www.google.com/m?client=ms-nokia&q=http://tubidy.mobi/search.ph?a/18%26q%3Dsexe&cof=nsp&channel=s60&start=50&sa=N
Wed Feb 22 13:17:25 2012 from http://www.bing.com/search?q=posted+sex+films&PC=MAAR&QS=n&first=31&FORM=PERE2
Wed Feb 22 12:04:18 2012 from http://www.google.com/url?sa=t&rct=j&q=http%3A%2F%2Fwww.google.com%2Fsearch%3Fq%3Dhttp%253a%252f%252fwww.google.com%252fsearch%253fq%253dhttp%25253a%25252f%25252fwww.google.com%25252fsearch%25253fq%25253dhttp%2525253a%2525252f%2525252fgoogle.de%2525252f%252526sourceid%25253dopera%252526ie%25253dutf-8%252526oe%25253dutf-8%252526channel%25253dsuggest%2526sourceid%253dopera%2526ie%253dutf-8%2526oe%253dutf-8%2526channel%253dsuggest%26sourceid%3Dopera%26ie%3Dutf-8%26oe%3Dutf-8%26channel%3Dsuggest&source=web&cd=1&ved=0CCMQFjAA&url=http%3A%2F%2Fcarl.cs.indiana.edu%2Ffil%2Fcgi-bin%2FWebSec%2Fmarilyn.cgi&ei=BiBFT-7eNIntsgaGlN2vDw&usg=AFQjCNHRtbr4ftk_4PyVzN3HuHPJV6LZow
Wed Feb 22 11:19:09 2012 from http://www.google.com/url?sa=t&rct=j&q=http%3A%2F%2Fwww.google.com%2Fsearch%3Fq%3Dhttp%253a%252f%252fwww.google.com%252fsearch%253fq%253dhttp%25253a%25252f%25252fwww.facebook.com%25252f%2526sourceid%253dopera%2526ie%253dutf-8%2526oe%253dutf-8%2526channel%253dsuggest%26sourceid%3Dopera%26ie%3Dutf-8%26oe%3Dutf-8%26channel%3Dsuggest&source=web&cd=1&ved=0CCIQFjAA&url=http%3A%2F%2Fcarl.cs.indiana.edu%2Ffil%2Fcgi-bin%2FWebSec%2Fmarilyn.cgi&ei=Pm1DT4ORD-SwiQfywKyLCg&usg=AFQjCNHRtbr4ftk_4PyVzN3HuHPJV6LZow
Wed Feb 22 10:43:44 2012 from http://home.allgameshome.com/results.php?s=http%3A%2F%2Fhome.allgameshome.com%2Fresults.php%3Fcategory%3Dweb&category=web&start=7
Wed Feb 22 09:37:53 2012 from (empty referer)
Wed Feb 22 09:20:07 2012 from (empty referer)
Wed Feb 22 08:39:55 2012 from http://int.search-results.com/web?qsrc=2&o=16535&l=dis&atb=sysid%3D3%3Auid%3Df1a73d48a679946e%3Auc%3D1329917950%3Asrc%3Dhmp%3Ao%3D16535%3Aq%3Dwww.google.com%252C&q=www.google.com%2Csexe
Wed Feb 22 07:41:37 2012 from http://search.bearshare.com/web?src=derr&appid=163&systemid=2&q=http%3A%2F%2Fwww.searchplusnetwork.com%2F%3Fsp%3Dchv%26q%3Dsexyhumorgames.com%252Fcgi-bin%252Fte%252Fo.cgi%253Fl
Wed Feb 22 07:09:01 2012 from (empty referer)
Wed Feb 22 06:57:29 2012 from (empty referer)
Wed Feb 22 06:27:51 2012 from (empty referer)
Wed Feb 22 05:57:50 2012 from (empty referer)
Wed Feb 22 05:25:05 2012 from (empty referer)
Wed Feb 22 05:01:55 2012 from http://www.google.com/url?sa=t&rct=j&q=http%3A%2F%2Fwww.google.com%2Fsearch%3Fq%3Dhttp%253a%252f%252fwww.google.ro%252fsearch%253fq%253dgoogle%2526sourceid%253dopera%2526ie%253dutf-8%2526oe%253dutf-8%2526channel%253dsuggest%26sourceid%3Dopera%26ie%3Dutf-8%26oe%3Dutf-8%26channel%3Dsuggest&source=web&cd=1&ved=0CCIQFjAA&url=http%3A%2F%2Fcarl.cs.indiana.edu%2Ffil%2Fcgi-bin%2FWebSec%2Fmarilyn.cgi&ei=A71ET-ueFc_EtAbKja2iDw&usg=AFQjCNHRtbr4ftk_4PyVzN3HuHPJV6LZow
Wed Feb 22 04:32:43 2012 from http://www.google.com/url?sa=t&rct=j&q=http%3A%2F%2Fwww.google.com%2Fsearch%3Fq%3Dhttp%253a%252f%252fwww.google.com.pk%252fsearch%253fq%253dt%2526sourceid%253dopera%2526ie%253dutf-8%2526oe%253dutf-8%2526channel%253dsuggest%26sourceid%3Dopera%26ie%3Dutf-8%26oe%3Dutf-8%26channel%3Dsuggest&source=web&cd=1&ved=0CCIQFjAA&url=http%3A%2F%2Fcarl.cs.indiana.edu%2Ffil%2Fcgi-bin%2FWebSec%2Fmarilyn.cgi&ei=HLZET6yyFIqWhQeloKn4AQ&usg=AFQjCNHRtbr4ftk_4PyVzN3HuHPJV6LZow
Wed Feb 22 04:32:40 2012 from http://www.google.co.id/url?sa=t&rct=j&q=http%3A%2F%2Fhome.allgameshome.com%2Fresults.php%3Fcategory%3Dweb%26s%3Dyahoo%2Bmail&source=web&cd=1&ved=0CB8QFjAA&url=http%3A%2F%2Fcarl.cs.indiana.edu%2Ffil%2Fcgi-bin%2FWebSec%2Fmarilyn.cgi&ei=U7VET83UJsmqrAftjvnIDw&usg=AFQjCNHRtbr4ftk_4PyVzN3HuHPJV6LZow
Wed Feb 22 04:32:39 2012 from http://www.google.co.id/url?sa=t&rct=j&q=http%3A%2F%2Fhome.allgameshome.com%2Fresults.php%3Fcategory%3Dweb%26s%3Dyahoo%2Bmail&source=web&cd=1&ved=0CB8QFjAA&url=http%3A%2F%2Fcarl.cs.indiana.edu%2Ffil%2Fcgi-bin%2FWebSec%2Fmarilyn.cgi&ei=U7VET83UJsmqrAftjvnIDw&usg=AFQjCNHRtbr4ftk_4PyVzN3HuHPJV6LZow
Wed Feb 22 04:28:54 2012 from http://www.google.co.id/url?sa=t&rct=j&q=http%3A%2F%2Fhome.allgameshome.com%2Fresults.php%3Fcategory%3Dweb%26s%3Dyahoo%2Bmail&source=web&cd=1&ved=0CB8QFjAA&url=http%3A%2F%2Fcarl.cs.indiana.edu%2Ffil%2Fcgi-bin%2FWebSec%2Fmarilyn.cgi&ei=U7VET83UJsmqrAftjvnIDw&usg=AFQjCNHRtbr4ftk_4PyVzN3HuHPJV6LZow
Wed Feb 22 04:12:28 2012 from http://www.google.com/m?q=Htt.%2f%2fphp%3d18%26q%3dsexe&client=ms-nokia&cof=nsp&channel=s40&hl=ar
Wed Feb 22 04:11:15 2012 from http://www.google.com/m?q=Htt.%2f%2fphp%3d18%26q%3dsexe&client=ms-nokia&cof=nsp&channel=s40&hl=ar
Wed Feb 22 03:47:47 2012 from http://www.google.com/url?sa=t&rct=j&q=http%3A%2F%2Fwww.google.com%2Fsearch%3Fq%3Dhttp%253a%252f%252fwww.google.com%252fsearch%253fq%253df%2526sourceid%253dopera%2526ie%253dutf-8%2526oe%253dutf-8%2526channel%253dsuggest%26sourceid%3Dopera%26ie%3Dutf-8%26oe%3Dutf-8%26channel%3Dsuggest&source=web&cd=1&ved=0CCIQFjAA&url=http%3A%2F%2Fcarl.cs.indiana.edu%2Ffil%2Fcgi-bin%2FWebSec%2Fmarilyn.cgi&ei=dqtET9C9NI-U0QW-3cmEBA&usg=AFQjCNHRtbr4ftk_4PyVzN3HuHPJV6LZow
Wed Feb 22 03:45:42 2012 from http://carl.cs.indiana.edu/fil/cgi-bin/WebSec/marilyn.cgi
Wed Feb 22 00:47:52 2012 from http://assist.babylon.com/babylonassista/dnsassist/main?domain=mystart%20incredibar%20mb113%20
Wed Feb 22 00:38:35 2012 from http://carl.cs.indiana.edu/fil/cgi-bin/WebSec/marilyn.cgi
Wed Feb 22 00:33:54 2012 from http://assist.babylon.com/babylonassista/dnsassist/main?domain=start%20allgameshome%20results%20
Wed Feb 22 00:32:46 2012 from http://assist.babylon.com/babylonassista/dnsassist/main?domain=start%20allgameshome%20results%20
Tue Feb 21 23:49:05 2012 from http://us.yhs.search.yahoo.com/if?partnerid=yhs-if-w3i&fr=yhs-if-w3i&ei=UTF-8&p=hotsptshld.com g results.php?c=e,search.yahoo.com r _ylt=A0oG7pxjckRPQRMAyE8PxQt.;_ylu=X3oDMTByYWkyZ2EwBHNlYwNzcgRwb3MDNwRjb2xvA2FjMgR2dGlkAw-- SIG=117gt22nd EXP=1329914595 **http:  www.sax.net
Tue Feb 21 22:09:53 2012 from (empty referer)
Tue Feb 21 22:00:36 2012 from http://www.google.com/search?client=opera&rls=en&q=http%3A%2F%2Fwww.google.com%2Fsearch%3Fq%3Dhttp%253A%252F%252Fwww.google.com%252Fsearch%253Fq%253Dhttp%25253A%25252F%25252Fyoutube.com%25252F%2526sourceid%253Dopera%2526ie%253Dutf-8%2526oe%253Dutf-8%2526channel%253Dsuggest%26sourceid%3Dopera%26ie%3Dutf-8%26oe%3Dutf-8%26channel%3Dsuggest&sourceid=opera&ie=utf-8&oe=utf-8&channel=suggest
Tue Feb 21 20:12:07 2012 from (empty referer)
Tue Feb 21 19:04:36 2012 from http://images.google.com/imgres?imgurl=http://carl.cs.indiana.edu/fil/WebSec/marilyn.jpg&imgrefurl=http://carl.cs.indiana.edu/fil/cgi-bin/WebSec/marilyn.cgi&usg=__PgVUbSSWU7f5jfsjEcVsJgAPNig=&h=333&w=500&sz=54&hl=en&start=1&zoom=1&tbnid=ynUan-_9FQYrEM:&tbnh=87&tbnw=130&ei=BDFET5-fMcT44QSMqODGCA&prev=/images%3Fq%3Dsearch.chatzum.com/%253Fq%253Dsearch.chatzum.com%25252F%25253Fq%25253Dsearch.sweetim.com%2525252Fsearch.%26hl%3Den%26gl%3Dly%26tbm%3Disch&itbs=1
Tue Feb 21 17:08:18 2012 from http://www.google.com/search?q=http://www.google.com.my/url?q%3Dhttp://www.tube8.com/&nomo=1&client=ms-sonyericsson
Tue Feb 21 16:42:34 2012 from http://assist.babylon.com/babylonassista/dnsassist/main?domain=start%20allgameshome%20results%20
Tue Feb 21 16:14:19 2012 from (empty referer)
Tue Feb 21 15:35:01 2012 from http://carl.cs.indiana.edu/fil/cgi-bin/WebSec/marilyn.cgi
Tue Feb 21 13:59:54 2012 from (empty referer)
Tue Feb 21 13:52:36 2012 from http://www.google.co.in/search?q=click+infospace+ClickHandler&channel=linkdoctor
Tue Feb 21 12:42:08 2012 from (empty referer)
Tue Feb 21 12:21:57 2012 from http://www.google.com/url?sa=t&rct=j&q=click%20infospace%20clickhandler&source=web&cd=7&ved=0CFEQFjAG&url=http%3A%2F%2Fcarl.cs.indiana.edu%2Ffil%2Fcgi-bin%2FWebSec%2Fmarilyn.cgi&ei=k9JDT4S5LMvyrQeMsYngBw&usg=AFQjCNHRtbr4ftk_4PyVzN3HuHPJV6LZow
Tue Feb 21 12:20:02 2012 from (empty referer)
Tue Feb 21 12:18:05 2012 from http://carl.cs.indiana.edu/fil/cgi-bin/WebSec/marilyn.cgi?test=1++Result:+page+too+large,+not+fully+downloaded;+chosen+nickname+%22Epica%22;+sent;
Tue Feb 21 12:08:57 2012 from (empty referer)
Tue Feb 21 12:04:05 2012 from (empty referer)
Tue Feb 21 12:03:14 2012 from http://www.google.com/m?client=ms-nokia&cof=nsp&channel=s60&q=carl.cs.indiana.edu%2ffil%2fcgi-bin%2fWebSec%2fmarilyn.c
Tue Feb 21 12:02:25 2012 from http://www.google.com/m?client=ms-nokia&cof=nsp&channel=s60&q=carl.cs.indiana.edu%2ffil%2fcgi-bin%2fWebSec%2fmarilyn.c
Tue Feb 21 12:02:20 2012 from http://www.google.com/m?client=ms-nokia&cof=nsp&channel=s60&q=carl.cs.indiana.edu%2ffil%2fcgi-bin%2fWebSec%2fmarilyn.c
Tue Feb 21 11:56:57 2012 from (empty referer)
Tue Feb 21 11:56:54 2012 from (empty referer)
Tue Feb 21 11:48:14 2012 from http://www.google.com/url?sa=t&rct=j&q=&esrc=s&source=web&cd=1&ved=0CCIQFjAA&url=http%3A%2F%2Fcarl.cs.indiana.edu%2Ffil%2Fcgi-bin%2FWebSec%2Fmarilyn.cgi&ei=wMpDT_fmA8SD4gTNwsWnDg&usg=AFQjCNHRtbr4ftk_4PyVzN3HuHPJV6LZow&sig2=HMCFua14LJb6zZJdqN6sIQ
Tue Feb 21 11:41:19 2012 from (empty referer)
Tue Feb 21 11:41:18 2012 from (empty referer)
Tue Feb 21 11:35:50 2012 from (empty referer)
Tue Feb 21 11:24:22 2012 from http://www.searchcanvas.com/web?ot=2&q=click.infospace.comClickHandler.ashx?du=http%3a%2f%2fwww.xnxx.com%2f&ru=http%3a%2f%2fwww.xnxx.com%2f&ld=20120221&ap=1&app=1&c=blingee.intl.en.ieredir&s=blingeeintl&coi=239138&cop=main-title&euip=110.139.166.161&npp=1&p=0&pp=0&pvaid=eaec1c4f813349c1be45f41c2e89ba57&ep=1&mid=9&hash=3809226914B88CCA0BC6B9ECE77835A8
Tue Feb 21 11:16:01 2012 from (empty referer)
Tue Feb 21 10:44:44 2012 from http://www.google.com/url?sa=t&rct=j&q=&esrc=s&source=web&cd=1&ved=0CCIQFjAA&url=http%3A%2F%2Fcarl.cs.indiana.edu%2Ffil%2Fcgi-bin%2FWebSec%2Fmarilyn.cgi&ei=17tDT74pxMy2B6i8jd0F&usg=AFQjCNHRtbr4ftk_4PyVzN3HuHPJV6LZow&sig2=RkogHJ3E1fMbKTfX3l8P1Q
Tue Feb 21 10:29:14 2012 from (empty referer)
Tue Feb 21 09:58:36 2012 from (empty referer)
Tue Feb 21 09:47:52 2012 from http://www.google.com/url?sa=t&rct=j&q=http%3A%2F%2Fwww.google.com%2Fsearch%3Fq%3Dhttp%253a%252f%252fwww.google.com%252fsearch%253fq%253dhttp%25253a%25252f%25252fwww.youtube.com%25252f%2526sourceid%253dopera%2526ie%253dutf-8%2526oe%253dutf-8%2526channel%253dsuggest%26sourceid%3Dopera%26ie%3Dutf-8%26oe%3Dutf-8%26channel%3Dsuggest&source=web&cd=1&ved=0CCIQFjAA&url=http%3A%2F%2Fcarl.cs.indiana.edu%2Ffil%2Fcgi-bin%2FWebSec%2Fmarilyn.cgi&ei=j65DT6jrBY68-Qaoz_HbBQ&usg=AFQjCNHRtbr4ftk_4PyVzN3HuHPJV6LZow
Tue Feb 21 09:45:19 2012 from http://assist.babylon.com/babylonassista/dnsassist/main?domain=mystart%20incredibar%20mb113%20
Tue Feb 21 09:44:16 2012 from http://www.searchplusnetwork.com/?sp=chv&q=hotsptshld.comgresults.php%3Fc
Tue Feb 21 09:38:12 2012 from http://www.google.com/url?sa=t&rct=j&q=http%3A%2F%2Fhome.allgameshome.com%2Fresults.php%3Fcategory%3Dweb%26s%3D&source=web&cd=2&ved=0CCgQFjAB&url=http%3A%2F%2Fcarl.cs.indiana.edu%2Ffil%2Fcgi-bin%2FWebSec%2Fmarilyn.cgi&ei=KqxDT6uTLIrtrAeD5vznBw&usg=AFQjCNHRtbr4ftk_4PyVzN3HuHPJV6LZow
Tue Feb 21 08:53:36 2012 from http://search.imesh.com/web?src=derr&appid=393&systemid=1&q=http%3A%2F%2Fwww.searchplusnetwork.com%2F%3Fsp%3Dchv%26q%3Dhttp%253A%252F%252Fsearch.imesh.com%252Fweb%253Fsrc
Tue Feb 21 08:52:21 2012 from http://www.google.com/url?sa=t&rct=j&q=http%3A%2F%2Fwww.google.com%2Fsearch%3Fq%3Dhttp%253a%252f%252fwww.google.com%252fsearch%253fq%253dhttp%25253a%25252f%25252fwww.google.com%25252fsearch%25253fq%25253dhttp%2525253a%2525252f%2525252fwww.facebook.com%2525252f%252526sourceid%25253dopera%252526ie%25253dutf-8%252526oe%25253dutf-8%252526channel%25253dsuggest%2526sourceid%253dopera%2526ie%253dutf-8%2526oe%253dutf-8%2526channel%253dsuggest%26sourceid%3Dopera%26ie%3Dutf-8%26oe%3Dutf-8%26channel%3Dsuggest&source=web&cd=1&ved=0CCIQFjAA&url=http%3A%2F%2Fcarl.cs.indiana.edu%2Ffil%2Fcgi-bin%2FWebSec%2Fmarilyn.cgi&ei=f6FDT4zOLemF4gTkvOydCA&usg=AFQjCNHRtbr4ftk_4PyVzN3HuHPJV6LZow
Tue Feb 21 08:44:43 2012 from http://www.google.com/search?client=opera&rls=id&q=http%3A%2F%2Fwww.google.com%2Fsearch%3Fq%3Dhttp%253A%252F%252Fwww.google.com%252Fsearch%253Fq%253Dhttp%25253A%25252F%25252Fwww.facebook.com%25252F%2526sourceid%253Dopera%2526ie%253Dutf-8%2526oe%253Dutf-8%2526channel%253Dsuggest%26sourceid%3Dopera%26ie%3Dutf-8%26oe%3Dutf-8%26channel%3Dsuggest&sourceid=opera&ie=utf-8&oe=utf-8&channel=suggest
Tue Feb 21 08:28:58 2012 from (empty referer)
Tue Feb 21 06:59:41 2012 from http://love-porn.ru/
Tue Feb 21 06:56:04 2012 from http://www.google.com.sa/url?sa=t&rct=j&q=http%3A%2F%2Ftubidy.mobi%2Fsearch.php%3Fa%3D18%26q%3Dsexe&source=web&cd=8&ved=0CG4QFjAH&url=http%3A%2F%2Fcarl.cs.indiana.edu%2Ffil%2Fcgi-bin%2FWebSec%2Fmarilyn.cgi&ei=jYVDT-jnDsai-ga1g7nnBQ&usg=AFQjCNHRtbr4ftk_4PyVzN3HuHPJV6LZow
Tue Feb 21 06:47:57 2012 from http://www.google.com/m?hl=en&q=http.//tubidy.mobi/search.php?a%3D18%26amp;q%3Dsexe&spell=1&ei=O4RDT9DHF9OajAf-Rw&ved=0CAgQvwUoAA
Tue Feb 21 06:43:31 2012 from (empty referer)
Tue Feb 21 06:42:59 2012 from http://www.google.com.sa/m?safe=on&q=+http%3A%2F%2Ftubidy.mobi%2Fsearch.php%3Fg%3DTop
Tue Feb 21 06:18:33 2012 from http://assist.babylon.com/babylonassista/dnsassist/main?domain=mystart%20incredibar%20mb113%20
Tue Feb 21 06:04:38 2012 from (empty referer)
Tue Feb 21 05:52:39 2012 from http://www.google.com/url?sa=t&rct=j&q=&esrc=s&source=web&cd=1&ved=0CDAQFjAA&url=http%3A%2F%2Fcarl.cs.indiana.edu%2Ffil%2Fcgi-bin%2FWebSec%2Fmarilyn.cgi&ei=OXdDT5KEKMbHrQfZj-C_Bw&usg=AFQjCNHRtbr4ftk_4PyVzN3HuHPJV6LZow&sig2=dK4ntwEk_ap7bm_WWW80NA
Tue Feb 21 05:14:01 2012 from (empty referer)
Tue Feb 21 04:18:33 2012 from http://home.allgameshome.com/results.php?category=web&s=http://click.infospace.com/ClickHandler.ashx?du=http%3a%2f%2fwww.xnxx.com%2f&ru=http%3a%2f%2fwww.xnxx.com%2f&ld=20120221&ap=1&app=1&c=imesh.meta.4&s=imeshmeta4&coi=239137&cop=main-title&euip=124.13.37.202&npp=1&p=0&pp=0&pvaid=c0d1e8a19ce948b89f72519e38d492cf&ep=1&mid=9&hash=06367E977C26C1D70703CD83A484598
Tue Feb 21 04:07:09 2012 from (empty referer)
Tue Feb 21 04:06:09 2012 from http://home.allgameshome.com/results.php?category=web&s=http://click.infospace.com/ClickHandler.ashx?du=http%3a%2f%2fwww.metacafe.com%2fwatch%2f1317869%2fvideo_miyabi%2f&ru=http%3a%2f%2fwww.metacafe.com%2fwatch%2f1317869%2fvideo_miyabi%2f&ld=20120221&ap=5&app=1&c=aghstart&s=aghstart&coi=239137&cop=main-title&euip=180.253.65.37&npp=5&p=0&pp=0&pvaid=78873a0011554d65a664c60c3d764009&ep=2&mid=9&hash=74925C14D46C6AED8A46557FBA6FFF5
Tue Feb 21 03:05:39 2012 from http://carl.cs.indiana.edu/fil/cgi-bin/WebSec/marilyn.cgi?test=1++Result:+page+too+large,+not+fully+downloaded;+chosen+nickname+%22Epica%22;+sent;
Tue Feb 21 02:54:59 2012 from http://www.google.com/url?sa=t&rct=j&q=http%3A%2F%2Fwww.google.com%2Fsearch%3Fq%3Dhttp%253a%252f%252fwww.google.com%252fsearch%253fq%253dhttp%25253a%25252f%25252fwww.facebook.com%25252f%2526sourceid%253dopera%2526ie%253dutf-8%2526oe%253dutf-8%2526channel%253dsuggest%26sourceid%3Dopera%26ie%3Dutf-8%26oe%3Dutf-8%26channel%3Dsuggest&source=web&cd=4&ved=0CDQQFjAD&url=http%3A%2F%2Fcarl.cs.indiana.edu%2Ffil%2Fcgi-bin%2FWebSec%2Fmarilyn.cgi&ei=vk1DT4ykFMiohAe3uanMBQ&usg=AFQjCNHRtbr4ftk_4PyVzN3HuHPJV6LZow
Tue Feb 21 02:51:27 2012 from http://www.google.co.in/url?sa=t&rct=j&q=click%20infospace%20clickhandler&source=web&cd=9&ved=0CGUQFjAI&url=http%3A%2F%2Fcarl.cs.indiana.edu%2Ffil%2Fcgi-bin%2FWebSec%2Fmarilyn.cgi&ei=0kxDT-DdAcOJrAfDrfXGBw&usg=AFQjCNHRtbr4ftk_4PyVzN3HuHPJV6LZow
Tue Feb 21 02:36:52 2012 from http://www.google.com/url?sa=t&rct=j&q=http%3A%2F%2Fwww.google.com%2Fsearch%3Fq%3Dhttp%253A%252F%252Fwww.google.com%252Fsearch%253Fq%253Dhttp%25253A%25252F%25252Fwww.facebook.com%25252Flogout.php%2526sourceid%253Dopera%2526ie%253Dutf-8%2526oe%253Dutf-8%2526channel%253Dsuggest%26sourceid%3Dopera%26ie%3Dutf-8%26oe%3Dutf-8%26channel%3Dsuggest&source=web&cd=1&ved=0CCIQFjAA&url=http%3A%2F%2Fcarl.cs.indiana.edu%2Ffil%2Fcgi-bin%2FWebSec%2Fmarilyn.cgi&ei=lUhDT6CKO8r4rQe-p5XPBw&usg=AFQjCNHRtbr4ftk_4PyVzN3HuHPJV6LZow
Tue Feb 21 01:49:24 2012 from http://www.google.com/url?sa=t&rct=j&q=http%3A%2F%2Fwww.google.com%2Fsearch%3Fq%3Dhttp%253a%252f%252fwww.google.com%252fsearch%253fq%253dhttp%25253a%25252f%25252fwww.facebook.com%25252f%2526sourceid%253dopera%2526ie%253dutf-8%2526oe%253dutf-8%2526channel%253dsuggest%26sourceid%3Dopera%26ie%3Dutf-8%26oe%3Dutf-8%26channel%3Dsuggest&source=web&cd=4&ved=0CEcQFjAD&url=http%3A%2F%2Fcarl.cs.indiana.edu%2Ffil%2Fcgi-bin%2FWebSec%2Fmarilyn.cgi&ei=ND5DT4zNNI75mAWripmnBw&usg=AFQjCNHRtbr4ftk_4PyVzN3HuHPJV6LZow
Tue Feb 21 01:37:21 2012 from (empty referer)
Tue Feb 21 01:34:06 2012 from http://www.google.com/url?sa=t&rct=j&q=http%3A%2F%2Fwww.google.com%2Fsearch%3Fq%3Dhttp%253a%252f%252fwww.google.com%252fsearch%253fq%253dgogle%2526sourceid%253dopera%2526ie%253dutf-8%2526oe%253dutf-8%2526channel%253dsuggest%26sourceid%3Dopera%26ie%3Dutf-8%26oe%3Dutf-8%26channel%3Dsuggest&source=web&cd=1&ved=0CCIQFjAA&url=http%3A%2F%2Fcarl.cs.indiana.edu%2Ffil%2Fcgi-bin%2FWebSec%2Fmarilyn.cgi&ei=xjpDT-7FHIib-gbV5-HPBQ&usg=AFQjCNHRtbr4ftk_4PyVzN3HuHPJV6LZow
Tue Feb 21 01:30:47 2012 from http://carl.cs.indiana.edu/fil/cgi-bin/WebSec/marilyn.cgi
Tue Feb 21 01:29:42 2012 from http://www.bing.com/search?q=www.+sex+xxx+com%2FSearchTheWeb%2Fv4%2F1033%2Fhomepage%2FDefault.aspx&src={referrer:source?}
Mon Feb 20 23:38:54 2012 from (empty referer)
Mon Feb 20 23:38:52 2012 from (empty referer)
Mon Feb 20 23:38:50 2012 from http://carl.cs.indiana.edu/fil/cgi-bin/WebSec/marilyn.cgi
Mon Feb 20 23:23:14 2012 from (empty referer)
Mon Feb 20 22:38:42 2012 from (empty referer)
Mon Feb 20 22:06:03 2012 from http://us.yhs.search.yahoo.com/if?p=Www.google.com.hk%2Fsearch%3Fhl%3Den%26safe%3Dstrict%26q%3Dsex%20Videos%26oq%3Dsex%20V&partnerid=yhs-if-vendio&fr=yhs-if-vendio
Mon Feb 20 20:50:11 2012 from http://www.google.com/url?sa=t&rct=j&q=http%3A%2F%2Fwww.google.com%2Fsearch%3Fq%3Dhttp%253A%252F%252Fwww.google.com%252Fsearch%253Fq%253Dhttp%25253A%25252F%25252Fwww.facebook.com%25252F%2526sourceid%253Dopera%2526ie%253Dutf-8%2526oe%253Dutf-8%2526channel%253Dsuggest%26sourceid%3Dopera%26ie%3Dutf-8%26oe%3Dutf-8%26channel%3Dsuggest&source=web&cd=1&ved=0CCIQFjAA&url=http%3A%2F%2Fcarl.cs.indiana.edu%2Ffil%2Fcgi-bin%2FWebSec%2Fmarilyn.cgi&ei=SvhCT7KFMtCViAef17jvBA&usg=AFQjCNHRtbr4ftk_4PyVzN3HuHPJV6LZow
Mon Feb 20 20:14:27 2012 from http://www.google.com.sa/url?sa=t&rct=j&q=http%3A%2F%2Ftubidy.mobi%2Fsearch.php%3Fa%3D18%26q%3Dsexe&source=web&cd=5&ved=0CDwQFjAE&url=http%3A%2F%2Fcarl.cs.indiana.edu%2Ffil%2Fcgi-bin%2FWebSec%2Fmarilyn.cgi&ei=ze9CT8f2Huek4ASb1sC6CA&usg=AFQjCNHRtbr4ftk_4PyVzN3HuHPJV6LZow
Mon Feb 20 18:31:35 2012 from http://www.google.com/url?sa=t&rct=j&q=http://tubidy.mobi/search.php%3Fa%3D18%26q%3D%25D8%25B3%25D9%2583%25D8%25B3&source=web&cd=27&ved=0CFsQFjAGOBQ&url=http%3A%2F%2Fcarl.cs.indiana.edu%2Ffil%2Fcgi-bin%2FWebSec%2Fmarilyn.cgi%2F&ei=yNdCT9LmPKeJ0QGWkMG3Bw&usg=AFQjCNF9tNGa2iM3aGYKAk6Ix4Wx3InCNQ
Mon Feb 20 18:02:31 2012 from (empty referer)
Mon Feb 20 16:36:11 2012 from http://carl.cs.indiana.edu/fil/cgi-bin/WebSec/marilyn.cgi
Mon Feb 20 16:26:26 2012 from http://carl.cs.indiana.edu/fil/cgi-bin/WebSec/marilyn.cgi
Mon Feb 20 14:34:01 2012 from http://maps.google.com/m/search?site=universal&q=%252Fm%252Fsearch%253Fsite%253d+Universal&start=30&sa=N
Mon Feb 20 14:31:28 2012 from http://maps.google.com/m/search?site=universal&q=%252Fm%252Fsearch%253Fsite%253d+Universal&start=30&sa=N
Mon Feb 20 11:15:05 2012 from http://yandex.ru/yandsearch?p=1&text=lolitacams.blogspot.com&lr=102915&msid=228791329749870148623
Mon Feb 20 10:53:58 2012 from (empty referer)
Mon Feb 20 10:22:11 2012 from (empty referer)
Mon Feb 20 10:16:47 2012 from http://yandex.ru/yandsearch?p=1&text=lolitacams.blogspot.com&lr=102915&msid=228791329749870148623
Mon Feb 20 10:10:18 2012 from (empty referer)
Mon Feb 20 10:09:32 2012 from http://www.google.com/url?sa=t&rct=j&q=http%3A%2F%2Fwww.google.com%2Fsearch%3Fq%3Dhttp%253a%252f%252fwww.google.fr%252fsearch%253fq%253dgoogle%2526sourceid%253dopera%2526ie%253dutf-8%2526oe%253dutf-8%2526channel%253dsuggest%26sourceid%3Dopera%26ie%3Dutf-8%26oe%3Dutf-8%26channel%3Dsuggest&source=web&cd=1&ved=0CCwQFjAA&url=http%3A%2F%2Fcarl.cs.indiana.edu%2Ffil%2Fcgi-bin%2FWebSec%2Fmarilyn.cgi&ei=FmJCT5iaN8nLhAfzyujWBQ&usg=AFQjCNHRtbr4ftk_4PyVzN3HuHPJV6LZow
Mon Feb 20 09:41:18 2012 from http://www.google.com/search?q=http://tubidy.mobi/search.php%3Fa%3D18%26q%3Dhot&hl=en&safe=active&gbv=2&prmd=ivns&ei=f1pCT5_MNoLN4QSSm9CRCA&start=20&sa=N
Mon Feb 20 09:41:12 2012 from (empty referer)
Mon Feb 20 09:34:13 2012 from (empty referer)
Mon Feb 20 08:18:16 2012 from (empty referer)
Mon Feb 20 07:50:46 2012 from http://assist.babylon.com/babylonassista/dnsassist/main?domain=mystart%20incredibar%20mb113%20
Mon Feb 20 07:36:05 2012 from http://www.google.com/m?q=www.google.com%2Fm%3Fq%3Dwww.free%2Bsex%26client%3Dms-opera-mini%26channel%3Dnew&client=ms-opera-mini&channel=new
Mon Feb 20 07:00:06 2012 from http://www.google.com/url?sa=t&rct=j&q=http%3A%2F%2Fwww.google.com%2Fsearch%3Fq%3Dhttp%253a%252f%252fwww.google.com%252fsearch%253fq%253dhttps%25253a%25252f%25252fmail.opera.com%25252fm%25252f%2526sourceid%253dopera%2526ie%253dutf-8%2526oe%253dutf-8%2526channel%253dsuggest%26sourceid%3Dopera%26ie%3Dutf-8%26oe%3Dutf-8%26channel%3Dsuggest&source=web&cd=4&ved=0CEAQFjAD&url=http%3A%2F%2Fcarl.cs.indiana.edu%2Ffil%2Fcgi-bin%2FWebSec%2Fmarilyn.cgi%2F&ei=qzVCT-HtOorxrQff05i1Bw&usg=AFQjCNF9tNGa2iM3aGYKAk6Ix4Wx3InCNQ
Mon Feb 20 06:34:35 2012 from http://www.google.com/m?client=ms-nokia&cof=nsp&channel=s60&q=www.google.com%2fm%3fclient%3dms-nokia%26cof%3dnsp%26channel%3ds60%26q%3d
Mon Feb 20 06:22:58 2012 from http://www.google.com/url?sa=t&rct=j&q=http%3A%2F%2Fwww.google.com%2Fsearch%3Fq%3Dhttp%253a%252f%252fwww.google.com%252fsearch%253fq%253dhttp%25253a%25252f%25252fwww.google.com%25252fsearch%25253fq%25253dhttp%2525253a%2525252f%2525252fgoogle.fr%2525252f%252526sourceid%25253dopera%252526ie%25253dutf-8%252526oe%25253dutf-8%252526channel%25253dsuggest%2526sourceid%253dopera%2526ie%253dutf-8%2526oe%253dutf-8%2526channel%253dsuggest%26sourceid%3Dopera%26ie%3Dutf-8%26oe%3Dutf-8%26channel%3Dsuggest&source=web&cd=1&ved=0CCwQFjAA&url=http%3A%2F%2Fcarl.cs.indiana.edu%2Ffil%2Fcgi-bin%2FWebSec%2Fmarilyn.cgi&ei=Ay1CT_7wNIql0QXvs6yPDw&usg=AFQjCNHRtbr4ftk_4PyVzN3HuHPJV6LZow
Mon Feb 20 06:02:10 2012 from http://www.google.com/url?sa=t&rct=j&q=http%3A%2F%2Fwww.google.com%2Fsearch%3Fq%3Dhttp%253a%252f%252fwww.google.com%252fsearch%253fq%253dwww.%2526sourceid%253dopera%2526ie%253dutf-8%2526oe%253dutf-8%2526channel%253dsuggest%26sourceid%3Dopera%26ie%3Dutf-8%26oe%3Dutf-8%26channel%3Dsuggest&source=web&cd=1&ved=0CC8QFjAA&url=http%3A%2F%2Fcarl.cs.indiana.edu%2Ffil%2Fcgi-bin%2FWebSec%2Fmarilyn.cgi&ei=KihCT4-gOs7QrQepu5nmBw&usg=AFQjCNHRtbr4ftk_4PyVzN3HuHPJV6LZow
Mon Feb 20 06:01:23 2012 from (empty referer)
Mon Feb 20 05:46:30 2012 from (empty referer)
Mon Feb 20 05:41:18 2012 from http://www.google.com/m?client=ms-nokia&cof=nsp&channel=s60&q=free+sex+download-nokia%26amp;cof%3Dnsp%26amp;channel%3Ds60%26amp;q%3Dwww&spell=1&ei=GSNCT6iWEKm0iQe4xwE&ved=0CAUQvwUoAA
Mon Feb 20 05:24:57 2012 from http://www.searchplusnetwork.com/?sp=chv&q=facebook.com%2Fajax%2Fpagelet%2Fgeneric.php%2FPhotoViewerInitPagelet%3F__a
Mon Feb 20 05:02:41 2012 from http://www.google.com/url?sa=t&rct=j&q=http%3A%2F%2Fwww.google.com%2Fsearch%3Fq%3Dhttp%253A%252F%252Fwww.google.com%252Fsearch%253Fq%253Dhttp%25253A%25252F%25252Fwww.google.com%25252Fsearch%25253Fq%25253Dhttp%2525253A%2525252F%2525252Fwww.ideacellular.com%2525252F%252526sourceid%25253Dopera%252526ie%25253Dutf-8%252526oe%25253Dutf-8%252526channel%25253Dsuggest%2526sourceid%253Dopera%2526ie%253Dutf-8%2526oe%253Dutf-8%2526channel%253Dsuggest%26sourceid%3Dopera%26ie%3Dutf-8%26oe%3Dutf-8%26channel%3Dsuggest&source=web&cd=1&ved=0CCIQFjAA&url=http%3A%2F%2Fcarl.cs.indiana.edu%2Ffil%2Fcgi-bin%2FWebSec%2Fmarilyn.cgi&ei=Q_hBT_7NCczMrQfo5pXSBw&usg=AFQjCNHRtbr4ftk_4PyVzN3HuHPJV6LZow
Mon Feb 20 05:02:33 2012 from http://www.google.com/url?sa=t&rct=j&q=http%3A%2F%2Fwww.google.com%2Fsearch%3Fq%3Dhttp%253A%252F%252Fwww.google.com%252Fsearch%253Fq%253Dhttp%25253A%25252F%25252Fwww.google.com%25252Fsearch%25253Fq%25253Dhttp%2525253A%2525252F%2525252Fwww.ideacellular.com%2525252F%252526sourceid%25253Dopera%252526ie%25253Dutf-8%252526oe%25253Dutf-8%252526channel%25253Dsuggest%2526sourceid%253Dopera%2526ie%253Dutf-8%2526oe%253Dutf-8%2526channel%253Dsuggest%26sourceid%3Dopera%26ie%3Dutf-8%26oe%3Dutf-8%26channel%3Dsuggest&source=web&cd=1&ved=0CCIQFjAA&url=http%3A%2F%2Fcarl.cs.indiana.edu%2Ffil%2Fcgi-bin%2FWebSec%2Fmarilyn.cgi&ei=Q_hBT_7NCczMrQfo5pXSBw&usg=AFQjCNHRtbr4ftk_4PyVzN3HuHPJV6LZow
Mon Feb 20 05:00:39 2012 from http://www.google.com/m?client=ms-nokia&cof=nsp&channel=s60&q=www.google.com%2fm%3fclient%3dms-nokia%26cof%3dnsp%26channel%3ds60%26q%3d
Mon Feb 20 04:16:31 2012 from http://www.google.com/url?sa=t&rct=j&q=http%3A%2F%2Fwww.google.com%2Fsearch%3Fq%3Dhttp%253A%252F%252Fwww.google.com%252Fsearch%253Fq%253Dhttp%25253A%25252F%25252Fwww.google.com%25252Fsearch%25253Fq%25253Dhttp%2525253A%2525252F%2525252Fwww.reliancenetconnect.co.in%2525252Fsearch.php%2525253Fq%2525253Dwww.xxx.com%25252526channel%2525253Dui_new%25252526sa%2525253DWeb%2525252BSearch%252526sourceid%25253Dopera%252526ie%25253Dutf-8%252526oe%25253Dutf-8%252526channel%25253Dsuggest%2526sourceid%253Dopera%2526ie%253Dutf-8%2526oe%253Dutf-8%2526channel%253Dsuggest%26sourceid%3Dopera%26ie%3Dutf-8%26oe%3Dutf-8%26channel%3Dsuggest&source=web&cd=1&ved=0CC8QFjAA&url=http%3A%2F%2Fcarl.cs.indiana.edu%2Ffil%2Fcgi-bin%2FWebSec%2Fmarilyn.cgi&ei=qdU_T-aGGM6zrAfO3fHlBw&usg=AFQjCNHRtbr4ftk_4PyVzN3HuHPJV6LZow
Mon Feb 20 03:42:09 2012 from http://www.searchplusnetwork.com/?sp=chv&q=facebook.com%2Fajax%2Fpagelet%2Fgeneric.php%2FPhotoViewerInitPagelet%3F__a
Mon Feb 20 03:36:12 2012 from (empty referer)
Mon Feb 20 03:29:45 2012 from http://www.bing.com/search?q=http%3a%2f%2fhome.allgameshome.com%2f&src=IE-SearchBox&first=91&FORM=PERE7
Mon Feb 20 03:25:50 2012 from http://www.google.com/url?sa=t&rct=j&q=http%3A%2F%2Fwww.google.com%2Fsearch%3Fq%3Dhttp%253a%252f%252fwww.google.com%252fsearch%253fq%253dhttp%25253a%25252f%25252fwww.google.com%25252fsearch%25253fq%25253dhttp%2525253a%2525252f%2525252fwww.google.com.pk%2525252fsearch%2525253fq%2525253dyoutube%25252526sourceid%2525253dopera%25252526ie%2525253dutf-8%25252526oe%2525253dutf-8%25252526channel%2525253dsuggest%252526sourceid%25253dopera%252526ie%25253dutf-8%252526oe%25253dutf-8%252526channel%25253dsuggest%2526sourceid%253dopera%2526ie%253dutf-8%2526oe%253dutf-8%2526channel%253dsuggest%26sourceid%3Dopera%26ie%3Dutf-8%26oe%3Dutf-8%26channel%3Dsuggest&source=web&cd=1&ved=0CCIQFjAA&url=http%3A%2F%2Fcarl.cs.indiana.edu%2Ffil%2Fcgi-bin%2FWebSec%2Fmarilyn.cgi&ei=gwNCT5CKDoHkrAfw5qTGBw&usg=AFQjCNHRtbr4ftk_4PyVzN3HuHPJV6LZow
Mon Feb 20 03:22:00 2012 from http://www.google.com/m?client=ms-nokia&cof=nsp&channel=s60&q=www.xxx.com%2fm%3fclient%3dms-nokia%26q%3dm.googel.com%2f%3fclie
Mon Feb 20 02:55:27 2012 from (empty referer)
Mon Feb 20 02:08:19 2012 from (empty referer)
Mon Feb 20 02:07:48 2012 from (empty referer)
Mon Feb 20 01:41:30 2012 from (empty referer)
Mon Feb 20 00:57:10 2012 from http://www.google.com/m?client=ms-nokia&cof=nsp&channel=s60&q=ww%2fm%3fclient%3dms-nokia%26cof%3dnsp%26channel%3ds60%26q%3d-
Mon Feb 20 00:46:32 2012 from (empty referer)
Sun Feb 19 22:44:36 2012 from (empty referer)
Sun Feb 19 22:17:04 2012 from http://carl.cs.indiana.edu/fil/cgi-bin/WebSec/marilyn.cgi
Sun Feb 19 22:03:13 2012 from http://isearch.babylon.com/?babsrc=tcp&affID=19318&q=http://click.infospace.com/ClickHandler.ashx?du=www.pornhub.com&ru=http%3a%2f%2fwww.pornhub.com%2f&ld=20120220&ap=1&app=1&c=babylon2.hp.row&s=babylon2&coi=374914&cop=main-title&euip=180.251.152.16&npp=1&p=0&pp=0&pvaid=923109e57b1b4e499fd01a5e007bb972&ep=1&mid=9&hash=E77B66404DDB20C287B426C8D52CA64
Sun Feb 19 21:52:24 2012 from http://www.google.com/m?client=ms-nokia&cof=nsp&channel=s60&q=www.google.com%2fm%3fclient%3dms-nokia%26cof%3dnsp%26channel%3ds60%26q%3d
Sun Feb 19 21:44:43 2012 from http://isearch.babylon.com/?babsrc=tcp&affID=19318&q=http://click.infospace.com/ClickHandler.ashx?du=www.pornhub.com&ru=http%3a%2f%2fwww.pornhub.com%2f&ld=20120220&ap=1&app=1&c=babylon2.hp.row&s=babylon2&coi=374914&cop=main-title&euip=180.251.152.16&npp=1&p=0&pp=0&pvaid=e6c62d35788744b699e9cd938b9654da&ep=1&mid=9&hash=9FBA2E117359D5804DE8FBB475D88A9
Sun Feb 19 21:41:47 2012 from http://isearch.babylon.com/?babsrc=tcp&affID=19318&q=http://click.infospace.com/ClickHandler.ashx?du=www.pornhub.com&ru=http%3a%2f%2fwww.pornhub.com%2f&ld=20120220&ap=1&app=1&c=babylon2.hp.row&s=babylon2&coi=374914&cop=main-title&euip=180.251.152.16&npp=1&p=0&pp=0&pvaid=411da08d170c499cb1940a972bcd94a5&ep=1&mid=9&hash=BCD49774C6D54672F8B74A030177EAB
Sun Feb 19 21:02:49 2012 from http://isearch.babylon.com/?babsrc=tcp&affID=19318&q=http://click.infospace.com/ClickHandler.ashx?du=www.pornhub.com&ru=http%3a%2f%2fwww.pornhub.com%2f&ld=20120220&ap=1&app=1&c=babylon2.hp.row&s=babylon2&coi=374914&cop=main-title&euip=180.251.152.16&npp=1&p=0&pp=0&pvaid=301122a330d147429451f87f2ca66a2e&ep=1&mid=9&hash=DB1A087D982B004C806CC4E302C0CB6
Sun Feb 19 19:30:12 2012 from http://isearch.babylon.com/?babsrc=tcp&affID=19318&q=http://click.infospace.com/ClickHandler.ashx?du=www.pornhub.com&ru=http%3a%2f%2fwww.pornhub.com%2f&ld=20120220&ap=1&app=1&c=babylon2.hp.row&s=babylon2&coi=374914&cop=main-title&euip=180.251.152.16&npp=1&p=0&pp=0&pvaid=77b236aef8e747cb97725e4f581ff31c&ep=1&mid=9&hash=4D2E81AC202D9266DD72D7DE6BEC071
Sun Feb 19 16:00:13 2012 from http://www.google.com.br/url?sa=t&rct=j&q=xvideso%20.plusnetwork.com%2F%3Fsp%3Dhp&source=web&cd=1&ved=0CCwQFjAA&url=http%3A%2F%2Fcarl.cs.indiana.edu%2Ffil%2Fcgi-bin%2FWebSec%2Fmarilyn.cgi&ei=zWJBT7jACsna0QGtn6muBw&usg=AFQjCNHRtbr4ftk_4PyVzN3HuHPJV6LZow
Sun Feb 19 15:48:34 2012 from http://www.google.com/url?sa=t&rct=j&q=http%3A%2F%2Fhome.myplaycity.com%2Fresults.php%3Fcategory%3Dweb%26s%3Dgoogle&source=web&cd=1&ved=0CCMQFjAA&url=http%3A%2F%2Fcarl.cs.indiana.edu%2Ffil%2Fcgi-bin%2FWebSec%2Fmarilyn.cgi&ei=9F9BT6usHIGs-gbk2vXNBQ&usg=AFQjCNHRtbr4ftk_4PyVzN3HuHPJV6LZow
Sun Feb 19 15:29:22 2012 from http://www.google.com/url?sa=t&rct=j&q=http%3A%2F%2Fwww.google.com%2Fsearch%3Fhl%3Den%26q%3Dhttp%253a%252f%252fwww.google.com%252fsearch%253fhl%253den%2526q%253dhttp%25253a%25252f%25252fwww.google.com%25252fsearch%25253fhl%25253den%252526q%25253dhttp%2525253a%2525252f%2525252fwww.google.com.tr%2525252f%2523pq%253dhttp%25253a%25252f%25252fwww.google.com%25252fsearch%25253fhl%25253den%252526q%25253dhttp%2525253a%2525252f%2525252fwww.google.com.tr%2525252f%2526hl%253den%2526gs_nf%253d1%2526cp%253d0%2526gs_id%253d1p%2526xhr%253dt%2526q%253de.com.tr%2525252f%2526pf%253dp%2526sclient%253dpsy-ab%2526pbx%253d1%2526oq%253de.com.tr%2525252f%2526aq%253df%2526aqi%253d%2526aql%253d%2526gs_sm%253d%2526gs_upl%253d%2526bav%253don.2%252cor.r_gc.r_pw.r_qf.%252ccf.osb%2526fp%253d6144dfdb3b8a557a%2526biw%253d1920%2526bih%253d954%2526bs%253d1&source=web&cd=1&ved=0CCIQFjAA&url=http%3A%2F%2Fcarl.cs.indiana.edu%2Ffil%2Fcgi-bin%2FWebSec%2Fmarilyn.cgi&ei=dVtBT5zdJ5Tf8QOX0sStCA&usg=AFQjCNHRtbr4ftk_4PyVzN3HuHPJV6LZow
Sun Feb 19 15:11:41 2012 from http://www.google.com/m?client=ms-nokia&cof=nsp&channel=s60&q=www.google.com%2fm%3fcli.ent%3dms-nokia%26cof%3dnsp%26channel%3d
Sun Feb 19 13:56:43 2012 from http://www.google.com/url?sa=t&rct=j&q=http%3A%2F%2Fwww.google.com%2Fsearch%3Fq%3Dhttp%253a%252f%252fwww.google.com%252fsearch%253fq%253dhttp%25253a%25252f%25252fwww.youtube.com%25252f%2526sourceid%253dopera%2526ie%253dutf-8%2526oe%253dutf-8%2526channel%253dsuggest%26sourceid%3Dopera%26ie%3Dutf-8%26oe%3Dutf-8%26channel%3Dsuggest&source=web&cd=1&ved=0CCIQFjAA&url=http%3A%2F%2Fcarl.cs.indiana.edu%2Ffil%2Fcgi-bin%2FWebSec%2Fmarilyn.cgi&ei=ykVBT4m-CqHN4QTjlYiLCA&usg=AFQjCNHRtbr4ftk_4PyVzN3HuHPJV6LZow
Sun Feb 19 13:02:36 2012 from http://www.searchplusnetwork.com/?q=click.infospace.comClickHandler.ashx%3Fdu&sp=chv&p=2
Sun Feb 19 12:16:37 2012 from (empty referer)
Sun Feb 19 12:09:58 2012 from (empty referer)
Sun Feb 19 12:06:24 2012 from http://www.google.com/m?client=ms-nokia&cof=nsp&channel=s60&q=carl.cs.indiana.edu%2ffil%2fcgi-bin%2fWebSec%2fmarilyn.cgi
Sun Feb 19 12:01:54 2012 from http://www.searchplusnetwork.com/?sp=chv&q=facebook.com%2Fajax%2Fpagelet%2Fgeneric.php%2FPhotoViewerInitPagelet%3F__a
Sun Feb 19 11:51:02 2012 from (empty referer)
Sun Feb 19 11:47:36 2012 from http://www.google.com/xhtml?client=ms-opera_mb_no&q=http://www.google.com/xhtml?client%3Dms-opera_mb_no%26channel%3Dbh%26q%3Dwww.facebook.com/+&channel=bh&start=10&sa=N
Sun Feb 19 11:40:24 2012 from (empty referer)
Sun Feb 19 11:34:57 2012 from http://www.google.com.pk/url?sa=t&rct=j&q=click%20infospace%20clickhandler&source=web&cd=10&ved=0CGcQFjAJ&url=http%3A%2F%2Fcarl.cs.indiana.edu%2Ffil%2Fcgi-bin%2FWebSec%2Fmarilyn.cgi&ei=iSRBT9qaOJGg-wbyv4XmBQ&usg=AFQjCNHRtbr4ftk_4PyVzN3HuHPJV6LZow
Sun Feb 19 11:34:55 2012 from http://www.google.com.pk/url?sa=t&rct=j&q=click%20infospace%20clickhandler&source=web&cd=10&ved=0CGcQFjAJ&url=http%3A%2F%2Fcarl.cs.indiana.edu%2Ffil%2Fcgi-bin%2FWebSec%2Fmarilyn.cgi&ei=iSRBT9qaOJGg-wbyv4XmBQ&usg=AFQjCNHRtbr4ftk_4PyVzN3HuHPJV6LZow
Sun Feb 19 11:31:51 2012 from (empty referer)
Sun Feb 19 11:30:23 2012 from http://www.google.com/m/search?client=ms-opera-mini&q=www.google.com/m?q%3Dsex%26client%3Dms-opera-mini%26channel%3Dnew&channel=new&site=images&tab=wi&ei=fCNBT7jbE4iL8gPVWA&sa=N&ei=fCNBT7jbE4iL8gPVWA&ved=0CAMQ1wY
Sun Feb 19 10:32:37 2012 from http://www.google.com/url?sa=t&rct=j&q=http%3A%2F%2Fwww.google.com%2Fsearch%3Fq%3Dhttp%253a%252f%252fwww.google.com%252fsearch%253fq%253dhttp%25253a%25252f%25252fwww.google.com%25252fsearch%25253fq%25253dhttp%2525253a%2525252f%2525252fwww.google.ro%2525252f%252526sourceid%25253dopera%252526ie%25253dutf-8%252526oe%25253dutf-8%252526channel%25253dsuggest%2526sourceid%253dopera%2526ie%253dutf-8%2526oe%253dutf-8%2526channel%253dsuggest%26sourceid%3Dopera%26ie%3Dutf-8%26oe%3Dutf-8%26channel%3Dsuggest&source=web&cd=1&ved=0CCIQFjAA&url=http%3A%2F%2Fcarl.cs.indiana.edu%2Ffil%2Fcgi-bin%2FWebSec%2Fmarilyn.cgi&ei=CxZBT_h3ws2zBqSHzdAE&usg=AFQjCNHRtbr4ftk_4PyVzN3HuHPJV6LZow
Sun Feb 19 10:02:54 2012 from (empty referer)
Sun Feb 19 09:54:42 2012 from (empty referer)
Sun Feb 19 09:25:11 2012 from (empty referer)
Sun Feb 19 09:19:25 2012 from (empty referer)
Sun Feb 19 09:18:01 2012 from http://www.google.com/url?sa=t&rct=j&q=http%3A%2F%2Fwww.google.com%2Fsearch%3Fq%3Dhttp%253A%252F%252Fwww.google.com%252Fsearch%253Fq%253Dhttp%25253A%25252F%25252Fwww.google.com.pk%25252Fsearch%25253Fq%25253Dg%252526sourceid%25253Dopera%252526ie%25253Dutf-8%252526oe%25253Dutf-8%252526channel%25253Dsuggest%2526sourceid%253Dopera%2526ie%253Dutf-8%2526oe%253Dutf-8%2526channel%253Dsuggest%26sourceid%3Dopera%26ie%3Dutf-8%26oe%3Dutf-8%26channel%3Dsuggest&source=web&cd=1&ved=0CCIQFjAA&url=http%3A%2F%2Fcarl.cs.indiana.edu%2Ffil%2Fcgi-bin%2FWebSec%2Fmarilyn.cgi&ei=hQRBT-2KG8GGhQfvqJzQBQ&usg=AFQjCNHRtbr4ftk_4PyVzN3HuHPJV6LZow
Sun Feb 19 07:57:02 2012 from http://www.google.com/imgres?q=http://home.allgameshome.com/results.php%3Fcategory%3Dweb%26s%3Dm&um=1&hl=en&client=opera&sa=N&rls=en&channel=suggest&biw=770&bih=438&tbm=isch&tbnid=ynUan-_9FQYrEM:&imgrefurl=http://carl.cs.indiana.edu/fil/cgi-bin/WebSec/marilyn.cgi&docid=hMMAQwJMLA2rwM&imgurl=http://carl.cs.indiana.edu/fil/WebSec/marilyn.jpg&w=500&h=333&ei=XvFAT5GJEYyIrAfmpL25Bw&zoom=1
Sun Feb 19 07:53:32 2012 from http://www.searchplusnetwork.com/?sp=chv&q=facebook.com%2Fajax%2Fpagelet%2Fgeneric.php%2FPhotoViewerInitPagelet%3F__a
Sun Feb 19 07:21:24 2012 from http://home.allgameshome.com/results.php?category=web&s=searchplusnetwork.com/?sp=chv&q=mamali%20mishra%20boobs%20photh
Sun Feb 19 07:06:01 2012 from http://www.google.com/m?client=ms-nokia&cof=nsp&channel=s60&q=www.google.com%2fm%3fclient%3dms-nokia%26cof%3dnsp%26channel%3ds
Sun Feb 19 07:00:36 2012 from http://www.google.com.tr/url?sa=t&rct=j&q=http%3A%2F%2Fhome.speedbit.com%2Fr.aspx%3Fu%3Dhttp%253a%252f%252fclick.infospace.com%252fclickhandler.ashx%253fdu%253dhttp%253&source=web&cd=1&sqi=2&ved=0CCAQFjAA&url=http%3A%2F%2Fcarl.cs.indiana.edu%2Ffil%2Fcgi-bin%2FWebSec%2Fmarilyn.cgi&ei=X-RAT-DCJ9KP4gSh17m2CA&usg=AFQjCNHRtbr4ftk_4PyVzN3HuHPJV6LZow
Sun Feb 19 06:50:42 2012 from http://www.google.com/m?client=ms-nokia&cof=nsp&channel=s60&q=wwwsex.com%2Fm%3Fclient%3Dms-nokia%26cof%3Dnsp%26channel%3Ds
Sun Feb 19 06:50:35 2012 from (empty referer)
Sun Feb 19 06:49:12 2012 from http://www.google.com/m?client=ms-nokia&cof=nsp&channel=s60&q=wwwsex.com%2Fm%3Fclient%3Dms-nokia%26cof%3Dnsp%26channel%3Ds
Sun Feb 19 06:36:04 2012 from http://www.google.com/search?sourceid=navclient&aq=f&oq=http%3a%2f%2fwww.plusnetwork.com%2f%3fsp%3dhp&ie=UTF-8&rlz=1T4RNTN_enSA358SA360&q=http%3a%2f%2fwww.plusnetwork.com%2f%3fsp%3dhp&gs_upl=0l0l11l4lllllllllll0
Sun Feb 19 06:36:03 2012 from http://www.google.com/search?sourceid=navclient&aq=f&oq=http%3a%2f%2fwww.plusnetwork.com%2f%3fsp%3dhp&ie=UTF-8&rlz=1T4RNTN_enSA358SA360&q=http%3a%2f%2fwww.plusnetwork.com%2f%3fsp%3dhp&gs_upl=0l0l11l4lllllllllll0
Sun Feb 19 06:31:26 2012 from http://translate.googleusercontent.com/translate_c?client=opera&hl=ar&ie=UTF8&oe=UTF8&rurl=translate.google.com&u=http://www.google.com/search%3Fq%3Dhttp%253A%252F%252Fwww.google.com%252Fsearch%253Fq%253Dhttp%25253A%25252F%25252Fwww.google.com%25252Fsearch%25253Fq%25253Dhttp%2525253A%2525252F%2525252Fwww.google.com%2525252Fsearch%2525253Fq%2525253Dfacebook%25252526sourceid%2525253Dopera%25252526ie%2525253Dutf-8%25252526oe%2525253Dutf-8%25252526channel%2525253Dsuggest%252526sourceid%25253Dopera%252526ie%25253Dutf-8%252526oe%25253Dutf-8%252526channel%25253Dsuggest%2526sourceid%253Dopera%2526ie%253Dutf-8%2526oe%253Dutf-8%2526channel%253Dsuggest%26sourceid%3Dopera%26ie%3Dutf-8%26oe%3Dutf-8%26channel%3Dsuggest&usg=ALkJrhghm26w6t7STsFeC2Y49Aup4jkGyw
Sun Feb 19 05:34:53 2012 from http://www.google.com/search?client=opera&rls=en&q=http%3A%2F%2Fwww.google.com%2Fsearch%3Fq%3Dhttp%253A%252F%252Fwww.google.com%252Fsearch%253Fq%253Dhttp%25253A%25252F%25252Fwww.google.com%25252Fsearch%25253Fq%25253Dhttp%2525253A%2525252F%2525252Fwww.google.com%2525252Fsearch%2525253Fq%2525253Dwww.yahoo.com%25252526sourceid%2525253Dopera%25252526ie%2525253Dutf-8%25252526oe%2525253Dutf-8%25252526channel%2525253Dsuggest%252526sourceid%25253Dopera%252526ie%25253Dutf-8%252526oe%25253Dutf-8%252526channel%25253Dsuggest%2526sourceid%253Dopera%2526ie%253Dutf-8%2526oe%253Dutf-8%2526channel%253Dsuggest%26sourceid%3Dopera%26ie%3Dutf-8%26oe%3Dutf-8%26channel%3Dsuggest&sourceid=opera&ie=utf-8&oe=utf-8&channel=suggest
Sun Feb 19 05:20:44 2012 from http://www.google.com/url?sa=t&rct=j&q=http%3A%2F%2Fwww.google.com%2Fsearch%3Fq%3Dhttp%253a%252f%252fwww.google.com%252fsearch%253fq%253dgoogle%2526sourceid%253dopera%2526ie%253dutf-8%2526oe%253dutf-8%2526channel%253dsuggest%26sourceid%3Dopera%26ie%3Dutf-8%26oe%3Dutf-8%26channel%3Dsuggest&source=web&cd=1&ved=0CCIQFjAA&url=http%3A%2F%2Fcarl.cs.indiana.edu%2Ffil%2Fcgi-bin%2FWebSec%2Fmarilyn.cgi&ei=5cxAT8ejL6nP4QTf7qWMCA&usg=AFQjCNHRtbr4ftk_4PyVzN3HuHPJV6LZow
Sun Feb 19 04:08:14 2012 from http://www.google.com/url?sa=t&rct=j&q=&esrc=s&source=web&cd=1&ved=0CCMQFjAA&url=http%3A%2F%2Fcarl.cs.indiana.edu%2Ffil%2Fcgi-bin%2FWebSec%2Fmarilyn.cgi&ei=xrtAT6HOAoOk-gaIh9nRBQ&usg=AFQjCNHRtbr4ftk_4PyVzN3HuHPJV6LZow&sig2=nkhZHyT6qNyn7PWR-yDGrQ
Sun Feb 19 04:08:01 2012 from http://www.google.com/m?client=ms-nokia&cof=nsp&channel=s60&q=www.google.com%2fm%3fclient%3dms%20www%20sxs%20vidio-nokia%26cof
Sun Feb 19 03:49:12 2012 from http://www.plusnetwork.com/?q=http%3A%2F%2Fwww.plusnetwork.com%2F%3Fsp%3Dctbar%26dp%3Dchv%26q%3D&x=0&y=0
Sun Feb 19 03:30:49 2012 from http://www.google.com/url?sa=t&rct=j&q=&esrc=s&source=web&cd=1&ved=0CCMQFjAA&url=http%3A%2F%2Fcarl.cs.indiana.edu%2Ffil%2Fcgi-bin%2FWebSec%2Fmarilyn.cgi&ei=JLNAT-iRMcPHswbwq4jgBA&usg=AFQjCNHRtbr4ftk_4PyVzN3HuHPJV6LZow
Sun Feb 19 02:55:34 2012 from http://www.google.com/xhtml?q=www%2egoogle%2ecom%2fxhtml%3fclient%3dms%2dopera_mb_no%26channel%3dbh%26q%3dYoutube&client=ms-opera_mb_no&channel=bh
Sun Feb 19 02:37:23 2012 from http://www.google.com/search?client=opera&rls=en&q=http%3A%2F%2Fhome.allgameshome.com%2Fresults.php%3Fcategory%3Dweb%26s%3Dwww.facebook.com&sourceid=opera&ie=utf-8&oe=utf-8&channel=suggest
Sun Feb 19 02:36:40 2012 from http://www.google.com/xhtml?q=http%3a%2f%2fwww%2egoogle%2ecom%2fm%3fclient%3dms%2dopera_mb_no%26channel%3dbh%26q%3d&client=ms-opera_mb_no&channel=bh
Sun Feb 19 02:14:21 2012 from http://www.google.com/url?sa=t&rct=j&q=http%3A%2F%2Fwww.google.com%2Fsearch%3Fq%3Dhttp%253a%252f%252fwww.google.com%252fsearch%253fq%253dwww.sex%2526sourceid%253dopera%2526ie%253dutf-8%2526oe%253dutf-8%2526channel%253dsuggest%26sourceid%3Dopera%26ie%3Dutf-8%26oe%3Dutf-8%26channel%3Dsuggest&source=web&cd=1&ved=0CCIQFjAA&url=http%3A%2F%2Fcarl.cs.indiana.edu%2Ffil%2Fcgi-bin%2FWebSec%2Fmarilyn.cgi&ei=Q6FAT736DpHirAfZmYnjBw&usg=AFQjCNHRtbr4ftk_4PyVzN3HuHPJV6LZow
Sun Feb 19 02:07:06 2012 from (empty referer)
Sun Feb 19 01:43:27 2012 from http://carl.cs.indiana.edu/fil/cgi-bin/WebSec/marilyn.cgi
Sun Feb 19 01:34:16 2012 from http://www.google.com/url?sa=t&rct=j&q=http%3A%2F%2Fwww.google.com%2Fsearch%3Fq%3Dhttp%253A%252F%252Fwww.google.com%252Fsearch%253Fq%253Dhttp%25253A%25252F%25252Fwww.google.com%25252Fsearch%25253Fq%25253D%25252B%252526rls%25253Dcom.microsoft%25253Aen-us%25253AIE-SearchBox%252526ie%25253DUTF-8%252526oe%25253DUTF-8%252526sourceid%25253Die7%2526rls%253Dcom.microsoft%253Aen-us%253AIE-SearchBox%2526ie%253DUTF-8%2526oe%253DUTF-8%2526sourceid%253Die7%26rls%3Dcom.microsoft%3Aen-us%3AIE-SearchBox%26ie%3DUTF-8%26oe%3DUTF-8%26sourceid%3Die7&source=web&cd=1&ved=0CCwQFjAA&url=http%3A%2F%2Fcarl.cs.indiana.edu%2Ffil%2Fcgi-bin%2FWebSec%2Fmarilyn.cgi&ei=5ZdAT8KlDaKLiALM7eSzAQ&usg=AFQjCNHRtbr4ftk_4PyVzN3HuHPJV6LZow
Sun Feb 19 01:23:08 2012 from http://www.google.co.id/url?sa=t&rct=j&q=http//bit.ly/p7zHOT&source=web&cd=1&ved=0CCAQFjAA&url=http%3A%2F%2Fcarl.cs.indiana.edu%2Ffil%2Fcgi-bin%2FWebSec%2Fmarilyn.cgi&ei=M5VAT7CsBc7IrQe1lYm8Bw&usg=AFQjCNHRtbr4ftk_4PyVzN3HuHPJV6LZow
Sun Feb 19 01:07:59 2012 from http://www.google.com/m?client=ms-nokia&cof=nsp&channel=s60&q=www.google.com%2fm%3fclient%3dms-nokia%26cof%3dnsp%26channel%3ds60%26q%3d
Sun Feb 19 00:25:00 2012 from http://isearch.babylon.com/?babsrc=tcp&affID=19318&q=http://click.infospace.com/ClickHandler.ashx?du=www.tube8.com&ru=http%3a%2f%2fwww.tube8.com%2f&ld=20120219&ap=4&app=1&c=babylon2.hp.row&s=babylon2&coi=374914&cop=main-title&euip=112.135.165.32&npp=4&p=0&pp=0&pvaid=f102412f629640989072a9e3ff80e07f&ep=4&mid=9&hash=CDE0F57F8D1A30041A75A36AB14337A
Sat Feb 18 23:24:57 2012 from http://www.google.com/url?sa=t&rct=j&q=http%3A%2F%2Fwww.google.com%2Fsearch%3Fq%3Dhttp%253A%252F%252Fwww.google.com%252Fsearch%253Fq%253Dhttp%25253A%25252F%25252Fwww.yahoo.com%25252F%2526sourceid%253Dopera%2526ie%253Dutf-8%2526oe%253Dutf-8%2526channel%253Dsuggest%26sourceid%3Dopera%26ie%3Dutf-8%26oe%3Dutf-8%26channel%3Dsuggest&source=web&cd=1&ved=0CCAQFjAA&url=http%3A%2F%2Fcarl.cs.indiana.edu%2Ffil%2Fcgi-bin%2FWebSec%2Fmarilyn.cgi&ei=hXlAT52OHsfJswbP47zEBA&usg=AFQjCNHRtbr4ftk_4PyVzN3HuHPJV6LZow
Sat Feb 18 23:24:01 2012 from http://www.google.co.in/m?client=ms-opera-mini&channel=new&q=ww.google.co.in%2Fm%3Fclient%3Dms-opera-mini%26channel%3Dnew%26q%3Ddownload%2Byout
Sat Feb 18 22:59:27 2012 from http://www.google.com/url?sa=t&rct=j&q=http%3A%2F%2Fwww.google.com%2Fsearch%3Fq%3Dhttp%253a%252f%252fwww.google.com%252fsearch%253fq%253dhttp%25253a%25252f%25252fwww.facebook.com%25252f%2526sourceid%253dopera%2526ie%253dutf-8%2526oe%253dutf-8%2526channel%253dsuggest%26sourceid%3Dopera%26ie%3Dutf-8%26oe%3Dutf-8%26channel%3Dsuggest&source=web&cd=1&ved=0CCMQFjAA&url=http%3A%2F%2Fcarl.cs.indiana.edu%2Ffil%2Fcgi-bin%2FWebSec%2Fmarilyn.cgi&ei=-1ZAT_SXIqPO2wX--ozNDQ&usg=AFQjCNHRtbr4ftk_4PyVzN3HuHPJV6LZow
Sat Feb 18 22:46:28 2012 from (empty referer)
Sat Feb 18 22:28:52 2012 from http://www.google.com/m?client=ms-nokia&cof=nsp&channel=s60&q=%2F%2Fwww.google.com%2Fm%3Fclient%3Dms-nokia%26cof%3Dnsp%26channel
Sat Feb 18 22:23:30 2012 from http://www.google.com/m?q=carl.cs.indiana.edu%2Ffil%2Fcgi-bin%2FWebSec%2Fmarilyn.cgi&client=ms-opera-mini&channel=new
Sat Feb 18 22:21:25 2012 from http://www.google.com/m?q=www.google.com.ng%2Fnews%2Fi%3Fclient%3Dhp-opera-mini&client=ms-opera-mini&channel=new
Sat Feb 18 22:19:13 2012 from (empty referer)
Sat Feb 18 21:03:31 2012 from (empty referer)
Sat Feb 18 21:03:08 2012 from (empty referer)
Sat Feb 18 21:02:20 2012 from (empty referer)
Sat Feb 18 19:46:43 2012 from (empty referer)
Sat Feb 18 19:46:33 2012 from http://www.google.com/m?client=ms-nokia&cof=nsp&channel=s60&q=Htttubidy.mobi%2fsearch-php%3fa%3d%2018,%26q%3dsexe
Sat Feb 18 19:39:09 2012 from (empty referer)
Sat Feb 18 19:09:50 2012 from http://www.google.com.sa/search?hl=ar&gl=ae&client=ms-android-samsung&source=android-unknown&q=httptubidy...isearch.txt&sky=mrdr
Sat Feb 18 18:03:13 2012 from http://www.google.com/search?client=opera&rls=en&q=http%3A%2F%2Fwww.google.com%2Fsearch%3Fq%3Dhttp%253A%252F%252Fwww.google.com%252Fsearch%253Fq%253Dhttp%25253A%25252F%25252Fwww.google.com%25252Fsearch%25253Fq%25253Dhttp%2525253A%2525252F%2525252Ffacebook%2525252F%252526sourceid%25253Dopera%252526num%25253D0%252526ie%25253Dutf-8%252526oe%25253Dutf-8%252526channel%25253Dsuggest%2526sourceid%253Dopera%2526num%253D0%2526ie%253Dutf-8%2526oe%253Dutf-8%2526channel%253Dsuggest%26sourceid%3Dopera%26num%3D0%26ie%3Dutf-8%26oe%3Dutf-8%26channel%3Dsuggest&sourceid=opera&ie=utf-8&oe=utf-8&channel=suggest
Sat Feb 18 17:22:57 2012 from http://www.google.com/url?sa=t&rct=j&q=http%3A%2F%2Fwww.google.com%2Fsearch%3Fq%3Dhttp%253a%252f%252fwww.google.com%252fsearch%253fq%253dgoogle%2526sourceid%253dopera%2526ie%253dutf-8%2526oe%253dutf-8%2526channel%253dsuggest%26sourceid%3Dopera%26ie%3Dutf-8%26oe%3Dutf-8%26channel%3Dsuggest&source=web&cd=1&ved=0CCMQFjAA&url=http%3A%2F%2Fcarl.cs.indiana.edu%2Ffil%2Fcgi-bin%2FWebSec%2Fmarilyn.cgi&ei=tiRAT6X8LeWu0QXpu-GPDw&usg=AFQjCNHRtbr4ftk_4PyVzN3HuHPJV6LZow
Sat Feb 18 17:22:56 2012 from http://www.google.com/url?sa=t&rct=j&q=http%3A%2F%2Fwww.google.com%2Fsearch%3Fq%3Dhttp%253a%252f%252fwww.google.com%252fsearch%253fq%253dgoogle%2526sourceid%253dopera%2526ie%253dutf-8%2526oe%253dutf-8%2526channel%253dsuggest%26sourceid%3Dopera%26ie%3Dutf-8%26oe%3Dutf-8%26channel%3Dsuggest&source=web&cd=1&ved=0CCMQFjAA&url=http%3A%2F%2Fcarl.cs.indiana.edu%2Ffil%2Fcgi-bin%2FWebSec%2Fmarilyn.cgi&ei=tiRAT6X8LeWu0QXpu-GPDw&usg=AFQjCNHRtbr4ftk_4PyVzN3HuHPJV6LZow
Sat Feb 18 15:59:17 2012 from http://www.google.com.om/url?sa=t&rct=j&q=search+ultrasurf+us+ClickHandler&source=web&cd=6&ved=0CFAQFjAF&url=http%3A%2F%2Fcarl.cs.indiana.edu%2Ffil%2Fcgi-bin%2FWebSec%2Fmarilyn.cgi&ei=-hBAT6jMN4GhiQfCnYXGDQ&usg=AFQjCNHRtbr4ftk_4PyVzN3HuHPJV6LZow
Sat Feb 18 15:50:32 2012 from http://www.google.com/url?sa=t&rct=j&q=http%3A%2F%2Fwww.ask.com%2F%3Fl%3Ddis%26o%3D101916&source=web&cd=4&ved=0CDcQFjAD&url=http%3A%2F%2Fcarl.cs.indiana.edu%2Ffil%2Fcgi-bin%2FWebSec%2Fmarilyn.cgi&ei=4Q5AT8HPN5Lm8QO12YW6CA&usg=AFQjCNHRtbr4ftk_4PyVzN3HuHPJV6LZow
Sat Feb 18 15:35:39 2012 from (empty referer)
Sat Feb 18 15:32:34 2012 from http://www.google.com/m/search?client=mobile-samsung-bada&channel=mm&q=www.gpogle.com%2fm%2fimgres
Sat Feb 18 15:27:52 2012 from (empty referer)
Sat Feb 18 15:17:54 2012 from http://www.google.com/url?sa=t&rct=j&q=&esrc=s&source=web&cd=2&ved=0CDEQFjAB&url=http%3A%2F%2Fcarl.cs.indiana.edu%2Ffil%2Fcgi-bin%2FWebSec%2Fmarilyn.cgi%3Fiframe%3Dtrue%26width%3D80%25%26height%3D80%25&ei=WAdAT66kPM_44QSYupmdCA&usg=AFQjCNE7JD9xSrOi5_c4GAQObQquXyuwVQ
Sat Feb 18 14:43:19 2012 from (empty referer)
Sat Feb 18 14:19:13 2012 from http://carl.cs.indiana.edu/fil/cgi-bin/WebSec/marilyn.cgi
Sat Feb 18 14:16:09 2012 from (empty referer)
Sat Feb 18 14:15:37 2012 from (empty referer)
Sat Feb 18 13:38:43 2012 from http://raptr.com/zewakold
Sat Feb 18 13:37:11 2012 from (empty referer)
Sat Feb 18 13:27:36 2012 from (empty referer)
Sat Feb 18 13:27:24 2012 from http://www.google.com/url?sa=t&rct=j&q=http%3A%2F%2Fwww.google.com%2Fsearch%3Fq%3Dhttp%253A%252F%252Fwww.google.com%252Fsearch%253Fq%253Dhttp%25253A%25252F%25252Fwww.google.ro%25252F%2526sourceid%253Dopera%2526ie%253Dutf-8%2526oe%253Dutf-8%2526channel%253Dsuggest%26sourceid%3Dopera%26ie%3Dutf-8%26oe%3Dutf-8%26channel%3Dsuggest&source=web&cd=1&ved=0CCIQFjAA&url=http%3A%2F%2Fcarl.cs.indiana.edu%2Ffil%2Fcgi-bin%2FWebSec%2Fmarilyn.cgi&ei=stk_T6eGAcHf4QS1v8CeCA&usg=AFQjCNHRtbr4ftk_4PyVzN3HuHPJV6LZow
Sat Feb 18 13:06:52 2012 from http://www.plusnetwork.com/?q=www.plusnetwork.com%2F%3Fsp%3Dchv%26q%3Dhttp%253A%252F%252Fdsclick.infospace.com%252FClickHandler.ashx%253Fru&x=0&y=0
Sat Feb 18 12:19:21 2012 from http://www.searchcompletion.com/?si=30866&q=facebook.com/ajax/pagelet/generic.php/PhotoViewerInitPagelet?__a=29&ajaxpipe=1&ajaxpipe_token=AXj1jgIkHN6RmIBE&data=%7B%22fbid%22%3A%22363765056974646%22%2C%22set%22%3A%22t.578289438%22%2C%22type%22%3A%221%22%2C%22theater%22%3Anull%2C%22size%22%3A%22725%2C960%22%7D&__user=57828943
Sat Feb 18 12:13:47 2012 from http://home.allgameshome.com/results.php?category=web&s=google.co.in/search?complete/search?client=hp&hl=te&gs_nf=1&cp=13&gs_id=2w&xhr=t&q=sex%20katalu%20te&ech=11&psi=N9o_T8OfFJC2rAfh1q3VBg.1329585141848.3&emsg=NCSR&noj=1&ei=N9o_T8OfFJC2rAfh1q3VB
Sat Feb 18 11:50:48 2012 from http://www.google.com/url?sa=t&rct=j&q=http%3A%2F%2Fwww.google.com%2Fsearch%3Fq%3Dhttp%253a%252f%252fwww.google.com%252fsearch%253fq%253dhttp%25253a%25252f%25252fwww.google.com%25252fsearch%25253fq%25253dhttp%2525253a%2525252f%2525252fwww.seznam.cz%2525252f%252526sourceid%25253dopera%252526ie%25253dutf-8%252526oe%25253dutf-8%252526channel%25253dsuggest%2526sourceid%253dopera%2526ie%253dutf-8%2526oe%253dutf-8%2526channel%253dsuggest%26sourceid%3Dopera%26ie%3Dutf-8%26oe%3Dutf-8%26channel%3Dsuggest&source=web&cd=1&ved=0CCMQFjAA&url=http%3A%2F%2Fcarl.cs.indiana.edu%2Ffil%2Fcgi-bin%2FWebSec%2Fmarilyn.cgi&ei=5dY_T76rBY7_-gbJwozEBQ&usg=AFQjCNHRtbr4ftk_4PyVzN3HuHPJV6LZow
Sat Feb 18 11:05:40 2012 from (empty referer)
Sat Feb 18 10:49:07 2012 from (empty referer)
Sat Feb 18 10:41:35 2012 from http://www.google.com/search?client=opera&rls=en&q=http%3A%2F%2Fwww.google.com%2Fsearch%3Fq%3Dhttp%253A%252F%252Fwww.google.com%252Fsearch%253Fq%253Dwww.yahoo.com%2526sourceid%253Dopera%2526ie%253Dutf-8%2526oe%253Dutf-8%2526channel%253Dsuggest%26sourceid%3Dopera%26ie%3Dutf-8%26oe%3Dutf-8%26channel%3Dsuggest&sourceid=opera&ie=utf-8&oe=utf-8&channel=suggest
Sat Feb 18 10:30:45 2012 from http://www.searchplusnetwork.com/?sp=chv&q=click.infospace.comClickHandler.ashx%3Fdu
Sat Feb 18 10:00:54 2012 from http://www.google.co.in/m?q=www%252ebf%2520xx%2520girl&client=ms-opera-mini&channel=new
Sat Feb 18 09:56:38 2012 from http://www.google.com/m?client=ms-nokia&cof=nsp&channel=s60&q=www.google.c%20om%2fm%3fclient%3dms-nokia%26cof%3dnsp%26channel%3d
Sat Feb 18 09:48:38 2012 from http://www.google.com/url?sa=t&rct=j&q=http%3A%2F%2Fwww.google.com%2Fsearch%3Fq%3Dhttp%253A%252F%252Fwww.google.com%252Fsearch%253Fq%253Dm.facebook.com%2526sourceid%253Dopera%2526ie%253Dutf-8%2526oe%253Dutf-8%2526channel%253Dsuggest%26sourceid%3Dopera%26ie%3Dutf-8%26oe%3Dutf-8%26channel%3Dsuggest&source=web&cd=1&ved=0CCMQFjAA&url=http%3A%2F%2Fcarl.cs.indiana.edu%2Ffil%2Fcgi-bin%2FWebSec%2Fmarilyn.cgi&ei=Qbg_T7ncIIrM0QX0ipyPDw&usg=AFQjCNHRtbr4ftk_4PyVzN3HuHPJV6LZow
Sat Feb 18 09:24:09 2012 from http://www.google.com/url?sa=t&rct=j&q=http%3A%2F%2Fwww.google.com%2Fsearch%3Fq%3Dhttp%253a%252f%252fwww.google.com%252fsearch%253fq%253dhttp%25253a%25252f%25252fwww.google.co.in%25252fsearch%25253fq%25253dwww.gmail.com%252526sourceid%25253dopera%252526ie%25253dutf-8%252526oe%25253dutf-8%252526channel%25253dsuggest%2526sourceid%253dopera%2526ie%253dutf-8%2526oe%253dutf-8%2526channel%253dsuggest%26sourceid%3Dopera%26ie%3Dutf-8%26oe%3Dutf-8%26channel%3Dsuggest&source=web&cd=1&ved=0CC8QFjAA&url=http%3A%2F%2Fcarl.cs.indiana.edu%2Ffil%2Fcgi-bin%2FWebSec%2Fmarilyn.cgi&ei=fLQ_T4uINc7yrQf_8OjqBw&usg=AFQjCNHRtbr4ftk_4PyVzN3HuHPJV6LZow
Sat Feb 18 09:23:31 2012 from (empty referer)
Sat Feb 18 09:22:44 2012 from http://www.google.com/url?sa=t&rct=j&q=http%3A%2F%2Fwww.google.com%2Fsearch%3Fq%3Dhttp%253A%252F%252Fwww.google.com%252Fsearch%253Fq%253Dwww.xnnx.com%2526sourceid%253Dopera%2526ie%253Dutf-8%2526oe%253Dutf-8%2526channel%253Dsuggest%26sourceid%3Dopera%26ie%3Dutf-8%26oe%3Dutf-8%26channel%3Dsuggest&source=web&cd=2&ved=0CC4QFjAB&url=http%3A%2F%2Fcarl.cs.indiana.edu%2Ffil%2Fcgi-bin%2FWebSec%2Fmarilyn.cgi%3Fiframe%3Dtrue%26width%3D80%25%26height%3D80%25&ei=IbQ_T6PYEMmohAf05anhBQ&usg=AFQjCNE7JD9xSrOi5_c4GAQObQquXyuwVQ
Sat Feb 18 09:15:11 2012 from http://www.google.com/url?sa=t&rct=j&q=http%3A%2F%2Fwww.google.com%2Fsearch%3Fq%3Dhttp%253a%252f%252fwww.google.com%252fsearch%253fq%253dhttp%25253a%25252f%25252fwww.google.com%25252fsearch%25253fq%25253dhttp%2525253a%2525252f%2525252fwww.google.nl%2525252f%252526sourceid%25253dopera%252526ie%25253dutf-8%252526oe%25253dutf-8%252526channel%25253dsuggest%2526sourceid%253dopera%2526ie%253dutf-8%2526oe%253dutf-8%2526channel%253dsuggest%26sourceid%3Dopera%26ie%3Dutf-8%26oe%3Dutf-8%26channel%3Dsuggest&source=web&cd=1&ved=0CC8QFjAA&url=http%3A%2F%2Fcarl.cs.indiana.edu%2Ffil%2Fcgi-bin%2FWebSec%2Fmarilyn.cgi&ei=arI_T8yrFdDo-gbnuOi6BQ&usg=AFQjCNHRtbr4ftk_4PyVzN3HuHPJV6LZow
Sat Feb 18 09:09:28 2012 from (empty referer)
Sat Feb 18 09:06:54 2012 from http://www.google.com/url?sa=t&rct=j&q=&esrc=s&source=web&cd=1&ved=0CDAQFjAA&url=http%3A%2F%2Fcarl.cs.indiana.edu%2Ffil%2Fcgi-bin%2FWebSec%2Fmarilyn.cgi&ei=Na0_T7CSBYiZiAf5odniBA&usg=AFQjCNHRtbr4ftk_4PyVzN3HuHPJV6LZow
Sat Feb 18 08:01:24 2012 from http://www.google.com/url?sa=t&rct=j&q=http%3A%2F%2Fwww.google.com%2Fsearch%3Fq%3Dhttp%253a%252f%252fwww.google.com%252fsearch%253fq%253dhttp%25253a%25252f%25252fwww.google.com.br%25252f%2526sourceid%253dopera%2526ie%253dutf-8%2526oe%253dutf-8%2526channel%253dsuggest%26sourceid%3Dopera%26ie%3Dutf-8%26oe%3Dutf-8%26channel%3Dsuggest&source=web&cd=1&ved=0CCMQFjAA&url=http%3A%2F%2Fcarl.cs.indiana.edu%2Ffil%2Fcgi-bin%2FWebSec%2Fmarilyn.cgi&ei=6p4_T9m7O46NigLC0qGtAQ&usg=AFQjCNHRtbr4ftk_4PyVzN3HuHPJV6LZow
Sat Feb 18 06:47:05 2012 from (empty referer)
Sat Feb 18 06:45:37 2012 from http://search.chatzum.com/?q=http%3A%2F%2Fsearch.chatzum.com
Sat Feb 18 06:37:59 2012 from http://www.google.com/url?sa=t&rct=j&q=http%3A%2F%2Fwww.google.com%2Fsearch%3Fq%3Dhttp%253a%252f%252fwww.google.com%252fsearch%253fq%253dhttp%25253a%25252f%25252fwww.facebook.com%25252f%2526sourceid%253dopera%2526ie%253dutf-8%2526oe%253dutf-8%2526channel%253dsuggest%26sourceid%3Dopera%26ie%3Dutf-8%26oe%3Dutf-8%26channel%3Dsuggest&source=web&cd=1&ved=0CC8QFjAA&url=http%3A%2F%2Fcarl.cs.indiana.edu%2Ffil%2Fcgi-bin%2FWebSec%2Fmarilyn.cgi&ei=i40_T9LoCM7PrQfh8fTRBw&usg=AFQjCNHRtbr4ftk_4PyVzN3HuHPJV6LZow
Sat Feb 18 06:33:49 2012 from http://www.google.com/url?sa=t&rct=j&q=http%3A%2F%2Fwww.google.com%2Fsearch%3Fq%3Dhttp%253a%252f%252fwww.google.com%252fsearch%253fq%253dhttp%25253a%25252f%25252fwww.google.it%25252fsearch%25253fq%25253dyoutube%252526sourceid%25253dopera%252526ie%25253dutf-8%252526oe%25253dutf-8%252526channel%25253dsuggest%2526sourceid%253dopera%2526ie%253dutf-8%2526oe%253dutf-8%2526channel%253dsuggest%26sourceid%3Dopera%26ie%3Dutf-8%26oe%3Dutf-8%26channel%3Dsuggest&source=web&cd=1&ved=0CCwQFjAA&url=http%3A%2F%2Fcarl.cs.indiana.edu%2Ffil%2Fcgi-bin%2FWebSec%2Fmarilyn.cgi%3Fiframe%3Dtrue%26width%3D80%25%26height%3D80%25&ei=iIw_T-u2OMzN4QTRv_mpCA&usg=AFQjCNE7JD9xSrOi5_c4GAQObQquXyuwVQ
Sat Feb 18 06:24:44 2012 from http://www.thegatefirm.com/metal-gates
Sat Feb 18 06:00:40 2012 from http://www.google.com/m?client=ms-nokia&cof=nsp&channel=s60&q=google.com%2fm%3fclient%3dms-nokia%26cof%3dnsp%26channel%3ds60%26q
Sat Feb 18 05:49:03 2012 from (empty referer)
Sat Feb 18 05:03:23 2012 from http://www.google.com/m?q=http+%2F%2Fbit+.sex&client=ms-opera-mobile&channel=new
Sat Feb 18 04:55:07 2012 from http://www.google.com/url?sa=t&rct=j&q=http%3A%2F%2Fwww.google.com%2Fsearch%3Fq%3Dhttp%253a%252f%252fwww.google.com%252fsearch%253fq%253dhttp%25253a%25252f%25252fwww.google.pl%2526sourceid%253dopera%2526ie%253dutf-8%2526oe%253dutf-8%2526channel%253dsuggest%26sourceid%3Dopera%26ie%3Dutf-8%26oe%3Dutf-8%26channel%3Dsuggest&source=web&cd=1&ved=0CCYQFjAA&url=http%3A%2F%2Fcarl.cs.indiana.edu%2Ffil%2Fcgi-bin%2FWebSec%2Fmarilyn.cgi&ei=cXU_T-aDJMjJtAb01ajxBA&usg=AFQjCNHRtbr4ftk_4PyVzN3HuHPJV6LZow
Sat Feb 18 04:51:24 2012 from http://search.chatzum.com/?q=http%3A%2F%2Fsearch.chatzum.com
Sat Feb 18 04:43:23 2012 from http://www.google.com/url?sa=t&rct=j&q=http%3A%2F%2Fwww.google.com%2Fsearch%3Fq%3Dhttp%253a%252f%252fwww.google.com%252fsearch%253fq%253dhttp%25253a%25252f%25252fwww.google.com%25252fsearch%25253fq%25253dhttp%2525253a%2525252f%2525252fwww.google.com.pk%2525252f%252526sourceid%25253dopera%252526ie%25253dutf-8%252526oe%25253dutf-8%252526channel%25253dsuggest%2526sourceid%253dopera%2526ie%253dutf-8%2526oe%253dutf-8%2526channel%253dsuggest%26sourceid%3Dopera%26ie%3Dutf-8%26oe%3Dutf-8%26channel%3Dsuggest&source=web&cd=1&ved=0CCIQFjAA&url=http%3A%2F%2Fcarl.cs.indiana.edu%2Ffil%2Fcgi-bin%2FWebSec%2Fmarilyn.cgi&ei=nXI_T4GfEsyxhAfj94XnBQ&usg=AFQjCNHRtbr4ftk_4PyVzN3HuHPJV6LZow
Sat Feb 18 04:20:38 2012 from http://www.searchplusnetwork.com/?q=click.infospace.comClickHandler.ashx%3Fdu&sp=chv&p=2
Sat Feb 18 03:27:12 2012 from http://www.google.com/m?client=ms-nokia&cof=nsp&channel=s60&q=http%3am%2fm%3fclient%3dms-nokia%26cof%3dnsp%26channel%3ds60%26q%3dwww
Sat Feb 18 02:32:26 2012 from (empty referer)
Sat Feb 18 02:21:31 2012 from http://us.yhs.search.yahoo.com/if?partnerid=yhs-if-w3i&fr=yhs-if-w3i&ei=UTF-8&p=search.ultrasurf.us ClickHandler.ashx?du=www.djmaza.com
Sat Feb 18 01:37:48 2012 from http://www.google.com/url?sa=t&rct=j&q=http%3A%2F%2Fwww.google.com%2Fsearch%3Fq%3Dhttp%253a%252f%252fwww.google.com%252fsearch%253fq%253dhttp%25253a%25252f%25252fwww.google.com%25252fsearch%25253fq%25253dhttp%2525253a%2525252f%2525252fwww.google.com.ph%2525252f%252526sourceid%25253dopera%252526ie%25253dutf-8%252526oe%25253dutf-8%252526channel%25253dsuggest%2526sourceid%253dopera%2526ie%253dutf-8%2526oe%253dutf-8%2526channel%253dsuggest%26sourceid%3Dopera%26ie%3Dutf-8%26oe%3Dutf-8%26channel%3Dsuggest&source=web&cd=1&ved=0CCIQFjAA&url=http%3A%2F%2Fcarl.cs.indiana.edu%2Ffil%2Fcgi-bin%2FWebSec%2Fmarilyn.cgi&ei=iUU_T-WaDuuViQfujtHTBA&usg=AFQjCNHRtbr4ftk_4PyVzN3HuHPJV6LZow
Sat Feb 18 01:32:58 2012 from (empty referer)
Sat Feb 18 01:23:38 2012 from http://www.google.co.in/m?q=www%252ehot%2520sex%2520com&client=ms-opera-mini&channel=new
Sat Feb 18 01:13:25 2012 from http://www.google.co.uk/m?q=www%252esexy%2520film%2520girl%252ecom&client=ms-opera-mini&channel=new&q=www%252esexy%2520film%2520girl%252ecom&client=ms-opera-mini&channel=new
Sat Feb 18 00:35:52 2012 from http://www.facebook.com/l.php?u=http%3A%2F%2Fbit.ly%2Fp7zHOT&h=VAQCcSKeS
Sat Feb 18 00:34:36 2012 from (empty referer)
Sat Feb 18 00:12:39 2012 from (empty referer)
Sat Feb 18 00:04:07 2012 from http://www.google.com/url?sa=t&rct=j&q=&esrc=s&frm=1&source=web&cd=2&ved=0CCsQFjAB&url=http%3A%2F%2Fcarl.cs.indiana.edu%2Ffil%2Fcgi-bin%2FWebSec%2Fmarilyn.cgi&ei=KjE_T4PaJI7rrQf8mdzABw&usg=AFQjCNHRtbr4ftk_4PyVzN3HuHPJV6LZow
Fri Feb 17 23:36:57 2012 from http://www.google.com/url?sa=t&rct=j&q=http%3A%2F%2Fwww.google.com%2Fsearch%3Fq%3Dhttp%253a%252f%252fwww.google.com%252fsearch%253fq%253dhttp%25253a%25252f%25252fwww.pinkworld.com%25252f%2526sourceid%253dopera%2526ie%253dutf-8%2526oe%253dutf-8%2526channel%253dsuggest%26sourceid%3Dopera%26ie%3Dutf-8%26oe%3Dutf-8%26channel%3Dsuggest&source=web&cd=1&ved=0CCIQFjAA&url=http%3A%2F%2Fcarl.cs.indiana.edu%2Ffil%2Fcgi-bin%2FWebSec%2Fmarilyn.cgi&ei=0Co_T4brFMuq-gbl2-XCBQ&usg=AFQjCNHRtbr4ftk_4PyVzN3HuHPJV6LZow
Fri Feb 17 23:34:14 2012 from http://www.google.com/url?sa=t&rct=j&q=http%3A%2F%2Fwww.google.com%2Fsearch%3Fq%3Dhttp%253a%252f%252fwww.google.com%252fsearch%253fq%253dwww.facebook.com%2526sourceid%253dopera%2526ie%253dutf-8%2526oe%253dutf-8%2526channel%253dsuggest%26sourceid%3Dopera%26ie%3Dutf-8%26oe%3Dutf-8%26channel%3Dsuggest&source=web&cd=1&ved=0CC8QFjAA&url=http%3A%2F%2Fcarl.cs.indiana.edu%2Ffil%2Fcgi-bin%2FWebSec%2Fmarilyn.cgi&ei=NCo_T6TgN8nZrQfzu4mwBw&usg=AFQjCNHRtbr4ftk_4PyVzN3HuHPJV6LZow
Fri Feb 17 23:16:21 2012 from (empty referer)
Fri Feb 17 23:15:43 2012 from (empty referer)
Fri Feb 17 22:32:15 2012 from http://www.google.com/search?sclient=psy-ab&hl=pt-BR&client=opera&hs=7mw&rls=pt-BR&channel=suggest&source=hp&q=http%3A%2F%2Fwww.google.com%2Fsearch%3Fq%3Dhttp%253A%252F%252Fwww.google.com%252Fsearch%253Fq%253Dhttp%25253A%25252F%25252Fwww.google.com%25252Fsearch%25253Fq%25253Dhttp%2525253A%2525252F%2525252Fwww.facebook.com%2525252F%252526sourceid%25253Dopera%252526ie%25253Dutf-8%252526oe%25253Dutf-8%252526channel%25253Dsuggest%2526sourceid%253Dopera%2526ie%253Dutf-8%2526oe%253Dutf-8%2526channel%253Dsuggest%26sourceid%3Dopera%26ie%3Dutf-8%26oe%3Dutf-8%26channel%3Dsuggest&btnG=Pesquisar
Fri Feb 17 22:19:20 2012 from http://home.allgameshome.com/results.php?category=web&s=http://click.infospace.com/ClickHandler.ashx?du=www.xxx.com&ru=http%3a%2f%2fwww.xxx.com%2f&ld=20120218&ap=4&app=1&c=imesh.meta.4&s=imeshmeta4&coi=374914&cop=main-title&euip=49.244.153.185&npp=4&p=0&pp=0&pvaid=cdc65c950de94ce190d9202181a34104&ep=2&mid=9&hash=98D49C133448A3FE397B03D60A48583
Fri Feb 17 22:16:20 2012 from (empty referer)
Fri Feb 17 22:13:45 2012 from (empty referer)
Fri Feb 17 21:51:36 2012 from http://www.google.com/url?sa=t&rct=j&q=http%3A%2F%2Fwww.google.com%2Fsearch%3Fq%3Dhttp%253a%252f%252fwww.google.com%252fsearch%253fq%253dhttp%25253a%25252f%25252fwww.google.com.mx%25252f%2526sourceid%253dopera%2526ie%253dutf-8%2526oe%253dutf-8%2526channel%253dsuggest%26sourceid%3Dopera%26ie%3Dutf-8%26oe%3Dutf-8%26channel%3Dsuggest&source=web&cd=1&ved=0CCMQFjAA&url=http%3A%2F%2Fcarl.cs.indiana.edu%2Ffil%2Fcgi-bin%2FWebSec%2Fmarilyn.cgi&ei=MBI_T6fOEsTSgQeZn6ShCA&usg=AFQjCNHRtbr4ftk_4PyVzN3HuHPJV6LZow
Fri Feb 17 16:35:20 2012 from (empty referer)
Fri Feb 17 15:49:31 2012 from http://www.google.com/url?sa=t&rct=j&q=http%3A%2F%2Fwww.google.com%2Fsearch%3Fq%3Dhttp%253A%252F%252Fwww.google.com%252Fsearch%253Fq%253Dhttp%25253A%25252F%25252Fwww.facebook.com%25252F%2526sourceid%253Dopera%2526ie%253Dutf-8%2526oe%253Dutf-8%2526channel%253Dsuggest%26sourceid%3Dopera%26ie%3Dutf-8%26oe%3Dutf-8%26channel%3Dsuggest&source=web&cd=1&ved=0CCMQFjAA&url=http%3A%2F%2Fcarl.cs.indiana.edu%2Ffil%2Fcgi-bin%2FWebSec%2Fmarilyn.cgi&ei=UL0-T_GOI4XMswaB8MXSBA&usg=AFQjCNHRtbr4ftk_4PyVzN3HuHPJV6LZow
Fri Feb 17 15:38:09 2012 from (empty referer)
Fri Feb 17 15:33:24 2012 from http://home.allgameshome.com/results.php?category=web&s=http%3A%2F%2Fdsclick.infospace.com%2FClickHandler.ashx%3Fru%3Dhttp%253a%252f%252fwww.youporn.com%252f
Fri Feb 17 15:29:39 2012 from (empty referer)
Fri Feb 17 15:15:07 2012 from (empty referer)
Fri Feb 17 14:54:15 2012 from http://www.google.com/url?sa=t&rct=j&q=&esrc=s&source=web&cd=1&ved=0CCIQFjAA&url=http%3A%2F%2Fcarl.cs.indiana.edu%2Ffil%2Fcgi-bin%2FWebSec%2Fmarilyn.cgi&ei=V7A-T7mQMITY4QTFv_z9Bw&usg=AFQjCNHRtbr4ftk_4PyVzN3HuHPJV6LZow&sig2=xnVWussMv51WXUeqK3goFQ
Fri Feb 17 14:49:54 2012 from http://www.google.com/url?sa=t&rct=j&q=http%3A%2F%2Fwww.google.com%2Fsearch%3Fq%3Dhttp%253a%252f%252fwww.google.com%252fsearch%253fq%253dhttp%25253a%25252f%25252ffacebook.com%25252f%2526sourceid%253dopera%2526ie%253dutf-8%2526oe%253dutf-8%2526channel%253dsuggest%26sourceid%3Dopera%26ie%3Dutf-8%26oe%3Dutf-8%26channel%3Dsuggest&source=web&cd=1&ved=0CCIQFjAA&url=http%3A%2F%2Fcarl.cs.indiana.edu%2Ffil%2Fcgi-bin%2FWebSec%2Fmarilyn.cgi&ei=Nq8-T6KsN8fNrQedgMnpBw&usg=AFQjCNHRtbr4ftk_4PyVzN3HuHPJV6LZow
Fri Feb 17 14:41:15 2012 from http://www.google.com/url?sa=t&rct=j&q=http%3A%2F%2Fwww.plusnetwork.com%2F%3Fsp%3Dhp&source=web&cd=3&ved=0CD4QFjAC&url=http%3A%2F%2Fcarl.cs.indiana.edu%2Ffil%2Fcgi-bin%2FWebSec%2Fmarilyn.cgi&ei=L60-T6StAYSJrAfwu6jNBw&usg=AFQjCNHRtbr4ftk_4PyVzN3HuHPJV6LZow&safe=active
Fri Feb 17 14:30:32 2012 from http://assist.babylon.com/babylonassista/dnsassist/main?domain=free%20thesocialsexnetwork%20go%20page%20landing_page_ffadult_21%20
Fri Feb 17 14:29:26 2012 from http://www.google.com/url?sa=t&rct=j&q=http%3A%2F%2Fwww.google.com%2Fsearch%3Fq%3Dhttp%253a%252f%252fwww.google.com%252fsearch%253fq%253dgoogle%2526sourceid%253dopera%2526ie%253dutf-8%2526oe%253dutf-8%2526channel%253dsuggest%26sourceid%3Dopera%26ie%3Dutf-8%26oe%3Dutf-8%26channel%3Dsuggest&source=web&cd=1&ved=0CCMQFjAA&url=http%3A%2F%2Fcarl.cs.indiana.edu%2Ffil%2Fcgi-bin%2FWebSec%2Fmarilyn.cgi&ei=f6o-T6WpLISP-wbUn_HlBQ&usg=AFQjCNHRtbr4ftk_4PyVzN3HuHPJV6LZow
Fri Feb 17 14:18:54 2012 from http://www.google.com/url?sa=t&rct=j&q=http%3A%2F%2Fwww.google.com%2Fsearch%3Fq%3Dhttp%253a%252f%252fwww.google.com%252fsearch%253fq%253dhttp%25253a%25252f%25252fwww.facebook.com%25252f%2526sourceid%253dopera%2526ie%253dutf-8%2526oe%253dutf-8%2526channel%253dsuggest%26sourceid%3Dopera%26ie%3Dutf-8%26oe%3Dutf-8%26channel%3Dsuggest&source=web&cd=1&ved=0CCIQFjAA&url=http%3A%2F%2Fcarl.cs.indiana.edu%2Ffil%2Fcgi-bin%2FWebSec%2Fmarilyn.cgi&ei=CKg-T8z5J-uN4gSow9y_CA&usg=AFQjCNHRtbr4ftk_4PyVzN3HuHPJV6LZow
Fri Feb 17 13:50:53 2012 from http://www.search-results.com/web?q=http://www.plusnetwork.com/?q=&o=15896&search=&l=dis&qsrc=119&o=15896&l=dis
Fri Feb 17 13:45:16 2012 from http://www.google.com/url?sa=t&rct=j&q=&esrc=s&source=web&cd=1&ved=0CCMQFjAA&url=http%3A%2F%2Fcarl.cs.indiana.edu%2Ffil%2Fcgi-bin%2FWebSec%2Fmarilyn.cgi&ei=K6A-T6zYAYb64QSD46SwCA&usg=AFQjCNHRtbr4ftk_4PyVzN3HuHPJV6LZow&sig2=6z4Y0rm9p9HbawploSLXGQ
Fri Feb 17 13:44:09 2012 from http://www.searchplusnetwork.com/?sp=chv&q=click.infospace.comClickHandler.ashx%3Fdu
Fri Feb 17 13:41:56 2012 from (empty referer)
Fri Feb 17 13:36:58 2012 from http://www.google.co.in/m?q=www%252ehot%2520girl%2520fuck%252ecom&client=ms-opera-mini&channel=new
Fri Feb 17 12:49:46 2012 from http://www.google.com/url?sa=t&rct=j&q=http%3A%2F%2Fwww.google.com%2Fsearch%3Fq%3Dhttp%253a%252f%252fwww.google.com%252fsearch%253fq%253dhttp%25253a%25252f%25252fwww.google.com%25252fsearch%25253fq%25253dhttp%2525253a%2525252f%2525252fwww.facebook.com%2525252f%252526sourceid%25253dopera%252526ie%25253dutf-8%252526oe%25253dutf-8%252526channel%25253dsuggest%2526sourceid%253dopera%2526ie%253dutf-8%2526oe%253dutf-8%2526channel%253dsuggest%26sourceid%3Dopera%26ie%3Dutf-8%26oe%3Dutf-8%26channel%3Dsuggest&source=web&cd=1&ved=0CCIQFjAA&url=http%3A%2F%2Fcarl.cs.indiana.edu%2Ffil%2Fcgi-bin%2FWebSec%2Fmarilyn.cgi&ei=dH89T5y3KMqk-gaBwsDSBQ&usg=AFQjCNHRtbr4ftk_4PyVzN3HuHPJV6LZow
Fri Feb 17 11:18:44 2012 from http://www.google.com/url?sa=t&rct=j&q=http%3A%2F%2Fwww.google.com%2Fsearch%3Fq%3Dhttp%253a%252f%252fwww.google.com%252fsearch%253fq%253dhttp%25253a%25252f%25252fwww.google.com%25252fsearch%25253fq%25253dhttp%2525253a%2525252f%2525252fwww.google.com%2525252fsearch%2525253fq%2525253d.youtube.com%252525252f%25252526sourceid%2525253dopera%25252526ie%2525253dutf-8%25252526oe%2525253dutf-8%25252526channel%2525253dsuggest%252526sourceid%25253dopera%252526ie%25253dutf-8%252526oe%25253dutf-8%252526channel%25253dsuggest%2526sourceid%253dopera%2526ie%253dutf-8%2526oe%253dutf-8%2526channel%253dsuggest%26sourceid%3Dopera%26ie%3Dutf-8%26oe%3Dutf-8%26channel%3Dsuggest&source=web&cd=1&ved=0CCMQFjAA&url=http%3A%2F%2Fcarl.cs.indiana.edu%2Ffil%2Fcgi-bin%2FWebSec%2Fmarilyn.cgi&ei=130-T8DEIoaR0AWLh-yrDw&usg=AFQjCNHRtbr4ftk_4PyVzN3HuHPJV6LZow
Fri Feb 17 11:18:38 2012 from http://www.google.com/url?sa=t&rct=j&q=http%3A%2F%2Fwww.google.com%2Fsearch%3Fq%3Dhttp%253a%252f%252fwww.google.com%252fsearch%253fq%253dhttp%25253a%25252f%25252fwww.google.com%25252fsearch%25253fq%25253dhttp%2525253a%2525252f%2525252fwww.google.com%2525252fsearch%2525253fq%2525253d.youtube.com%252525252f%25252526sourceid%2525253dopera%25252526ie%2525253dutf-8%25252526oe%2525253dutf-8%25252526channel%2525253dsuggest%252526sourceid%25253dopera%252526ie%25253dutf-8%252526oe%25253dutf-8%252526channel%25253dsuggest%2526sourceid%253dopera%2526ie%253dutf-8%2526oe%253dutf-8%2526channel%253dsuggest%26sourceid%3Dopera%26ie%3Dutf-8%26oe%3Dutf-8%26channel%3Dsuggest&source=web&cd=1&ved=0CCMQFjAA&url=http%3A%2F%2Fcarl.cs.indiana.edu%2Ffil%2Fcgi-bin%2FWebSec%2Fmarilyn.cgi&ei=130-T8DEIoaR0AWLh-yrDw&usg=AFQjCNHRtbr4ftk_4PyVzN3HuHPJV6LZow
Fri Feb 17 11:17:13 2012 from http://www.google.com/url?sa=t&rct=j&q=http%3A%2F%2Fwww.google.com%2Fsearch%3Fq%3Dhttp%253a%252f%252fwww.google.com%252fsearch%253fq%253dhttp%25253a%25252f%25252fwww.google.com%25252fsearch%25253fq%25253dhttp%2525253a%2525252f%2525252fwww.google.it%2525252f%252526sourceid%25253dopera%252526ie%25253dutf-8%252526oe%25253dutf-8%252526channel%25253dsuggest%2526sourceid%253dopera%2526ie%253dutf-8%2526oe%253dutf-8%2526channel%253dsuggest%26sourceid%3Dopera%26ie%3Dutf-8%26oe%3Dutf-8%26channel%3Dsuggest&source=web&cd=1&ved=0CCwQFjAA&url=http%3A%2F%2Fcarl.cs.indiana.edu%2Ffil%2Fcgi-bin%2FWebSec%2Fmarilyn.cgi&ei=cn0-T-6bMsSY-waP2oXZBQ&usg=AFQjCNHRtbr4ftk_4PyVzN3HuHPJV6LZow
Fri Feb 17 11:04:47 2012 from http://www.facebook.com/l.php?u=http%3A%2F%2Fbit.ly%2Fp7zHOT&h=VAQCcSKeS
Fri Feb 17 11:02:12 2012 from http://www.google.com/url?sa=t&rct=j&q=&esrc=s&source=web&cd=1&ved=0CCMQFjAA&url=http%3A%2F%2Fcarl.cs.indiana.edu%2Ffil%2Fcgi-bin%2FWebSec%2Fmarilyn.cgi&ei=xHk-T5vHGsvEtAbo7fH5BA&usg=AFQjCNHRtbr4ftk_4PyVzN3HuHPJV6LZow
Fri Feb 17 10:19:21 2012 from http://www.google.com/url?sa=t&rct=j&q=http%3A%2F%2Fwww.google.com%2Fsearch%3Fq%3Dhttp%253a%252f%252fwww.google.com%252fsearch%253fq%253dhttp%25253a%25252f%25252fwww.youtube.com%25252f%2526sourceid%253dopera%2526ie%253dutf-8%2526oe%253dutf-8%2526channel%253dsuggest%26sourceid%3Dopera%26ie%3Dutf-8%26oe%3Dutf-8%26channel%3Dsuggest&source=web&cd=1&ved=0CCIQFjAA&url=http%3A%2F%2Fcarl.cs.indiana.edu%2Ffil%2Fcgi-bin%2FWebSec%2Fmarilyn.cgi&ei=4G8-T52HCMOE-wbjt53NBQ&usg=AFQjCNHRtbr4ftk_4PyVzN3HuHPJV6LZow
Fri Feb 17 10:12:28 2012 from http://www.google.com/search?client=opera&rls=en&q=http%3A%2F%2Fwww.google.com%2Fsearch%3Fq%3Dhttp%253A%252F%252Fwww.google.com%252Fsearch%253Fq%253Dhttp%25253B%25252F%25252Fwww.google.com%2526sourceid%253Dopera%2526ie%253Dutf-8%2526oe%253Dutf-8%2526channel%253Dsuggest%26sourceid%3Dopera%26ie%3Dutf-8%26oe%3Dutf-8%26channel%3Dsuggest&sourceid=opera&ie=utf-8&oe=utf-8&channel=suggest
Fri Feb 17 09:38:13 2012 from (empty referer)
Fri Feb 17 09:14:55 2012 from http://www.searchplusnetwork.com/?sp=chv&q=www.searchplusnetwork.com%3Fsp
Fri Feb 17 08:41:02 2012 from http://www.google.com.om/url?sa=t&rct=j&q=www.tubidy%2Fsearch.php%3Fa%2B18%26q%2Bsex&source=web&cd=5&ved=0CEAQFjAE&url=http%3A%2F%2Fcarl.cs.indiana.edu%2Ffil%2Fcgi-bin%2FWebSec%2Fmarilyn.cgi&ei=0Vg-T6-QNY_IrQeen-ziBw&usg=AFQjCNHRtbr4ftk_4PyVzN3HuHPJV6LZow
Fri Feb 17 08:18:06 2012 from (empty referer)
Fri Feb 17 08:13:43 2012 from http://home.allgameshome.com/results.php?category=web&s=http://click.infospace.com/ClickHandler.ashx?du=http%3a%2f%2fwww.hoes.com%2ffetish-femdom.html&ru=http%3a%2f%2fwww.hoes.com%2ffetish-femdom.html&ld=20120217&ap=4&app=1&c=imesh.meta.4&s=imeshmeta4&coi=239137&cop=main-title&euip=125.161.33.9&npp=4&p=0&pp=0&pvaid=19015fd2e7ae4a70b7622036e989b277&ep=4&mid=9&hash=FD566BB04FAD725948509D770372DBB
Fri Feb 17 08:05:42 2012 from http://www.google.com.ph/url?sa=t&rct=j&q=mystart%20incredibar%20mb%20113&source=web&cd=2&ved=0CCoQFjAB&url=http%3A%2F%2Fcarl.cs.indiana.edu%2Ffil%2Fcgi-bin%2FWebSec%2Fmarilyn.cgi&ei=oVA-T9_FE8jjmAWkuKW3Bw&usg=AFQjCNHRtbr4ftk_4PyVzN3HuHPJV6LZow
Fri Feb 17 07:58:36 2012 from http://www.google.com/url?sa=t&rct=j&q=http%3A%2F%2Fhome.allgameshome.com%2Fresults.php%3Fcategory%3Dweb%26s%3Ddog&source=web&cd=1&ved=0CCIQFjAA&url=http%3A%2F%2Fcarl.cs.indiana.edu%2Ffil%2Fcgi-bin%2FWebSec%2Fmarilyn.cgi&ei=wE4-T7eyGYLZrQfcnfmsBw&usg=AFQjCNHRtbr4ftk_4PyVzN3HuHPJV6LZow
Fri Feb 17 07:57:48 2012 from http://www.google.com/url?sa=t&rct=j&q=http%3A%2F%2Fhome.allgameshome.com%2Fresults.php%3Fcategory%3Dweb%26s%3Ddog&source=web&cd=1&ved=0CCIQFjAA&url=http%3A%2F%2Fcarl.cs.indiana.edu%2Ffil%2Fcgi-bin%2FWebSec%2Fmarilyn.cgi&ei=wE4-T7eyGYLZrQfcnfmsBw&usg=AFQjCNHRtbr4ftk_4PyVzN3HuHPJV6LZow
Fri Feb 17 07:30:27 2012 from (empty referer)
Fri Feb 17 07:27:44 2012 from http://www.google.com/url?sa=t&rct=j&q=&esrc=s&source=web&cd=1&ved=0CCIQFjAA&url=http%3A%2F%2Fcarl.cs.indiana.edu%2Ffil%2Fcgi-bin%2FWebSec%2Fmarilyn.cgi&ei=sUc-T66gHsO78gOAkp2YCA&usg=AFQjCNHRtbr4ftk_4PyVzN3HuHPJV6LZow&sig2=CN9lBKO7KI1cffXR4CYxbw
Fri Feb 17 06:28:52 2012 from http://www.google.com/url?sa=t&rct=j&q=http%3A%2F%2Fwww.google.com%2Fsearch%3Fq%3Dhttp%253a%252f%252fwww.google.com%252fsearch%253fq%253dhttp%25253a%25252f%25252fwww.google.com%25252fsearch%25253fq%25253dhttp%2525253a%2525252f%2525252fwww.seznam.cz%2525252f%252526sourceid%25253dopera%252526ie%25253dutf-8%252526oe%25253dutf-8%252526channel%25253dsuggest%2526sourceid%253dopera%2526ie%253dutf-8%2526oe%253dutf-8%2526channel%253dsuggest%26sourceid%3Dopera%26ie%3Dutf-8%26oe%3Dutf-8%26channel%3Dsuggest&source=web&cd=1&ved=0CCMQFjAA&url=http%3A%2F%2Fcarl.cs.indiana.edu%2Ffil%2Fcgi-bin%2FWebSec%2Fmarilyn.cgi&ei=TXk9T_vzO7LZ4QTajpG1CA&usg=AFQjCNHRtbr4ftk_4PyVzN3HuHPJV6LZow
Fri Feb 17 06:28:19 2012 from http://www.google.com/url?sa=t&rct=j&q=http%3A%2F%2Fwww.google.com%2Fsearch%3Fq%3Dhttp%253a%252f%252fwww.google.com%252fsearch%253fq%253dhttps%25253a%25252f%25252fwww.google.com.pk%25252f%2526sourceid%253dopera%2526ie%253dutf-8%2526oe%253dutf-8%2526channel%253dsuggest%26sourceid%3Dopera%26ie%3Dutf-8%26oe%3Dutf-8%26channel%3Dsuggest&source=web&cd=1&ved=0CC4QFjAA&url=http%3A%2F%2Fcarl.cs.indiana.edu%2Ffil%2Fcgi-bin%2FWebSec%2Fmarilyn.cgi&ei=hi4-T_X5GYSMigKCzJGwAQ&usg=AFQjCNHRtbr4ftk_4PyVzN3HuHPJV6LZow
Fri Feb 17 06:24:44 2012 from http://www.searchplusnetwork.com/?sp=chv&q=click.infospace.comClickHandler.ashx%3Fdu
Fri Feb 17 06:06:36 2012 from http://www.searchplusnetwork.com/?sp=chv&q=click.infospace.comClickHandler.ashx%3Fdu
Fri Feb 17 05:59:32 2012 from (empty referer)
Fri Feb 17 05:40:57 2012 from http://www.google.com/m/search?client=ms-sonyericsson&channel=lp&q=http://tubidy.mobi/search.php?9=18&q=hot
Fri Feb 17 05:27:15 2012 from http://www.google.com/url?sa=t&rct=j&q=http%3A%2F%2Fwww.google.com%2Fsearch%3Fq%3Dhttp%253a%252f%252fwww.google.com%252fsearch%253fq%253dhttp%25253a%25252f%25252fwww.google.pl%25252f%2526sourceid%253dopera%2526ie%253dutf-8%2526oe%253dutf-8%2526channel%253dsuggest%26sourceid%3Dopera%26ie%3Dutf-8%26oe%3Dutf-8%26channel%3Dsuggest&source=web&cd=1&ved=0CCYQFjAA&url=http%3A%2F%2Fcarl.cs.indiana.edu%2Ffil%2Fcgi-bin%2FWebSec%2Fmarilyn.cgi&ei=fCs-T8PCGsTUsga7x_2_BA&usg=AFQjCNHRtbr4ftk_4PyVzN3HuHPJV6LZow
Fri Feb 17 05:03:29 2012 from http://www.google.com/xhtml?q=http%3a%2f%2fwww%2egoogle%2ecom%2fxhtml%3fq%3dhttp%3a%2f%2fwww%2evideo%20sex%2ecom%2f%26client%3dms%2dopera_mb_no%26channel%3dbh&client=ms-opera_mb_no&channel=bh
Fri Feb 17 04:01:03 2012 from http://www.searchplusnetwork.com/?sp=chv&q=facebook.com%2Fajax%2Fpagelet%2Fgeneric.php%2FPhotoViewerInitPagelet%3F__a
Fri Feb 17 02:46:55 2012 from http://isearch.babylon.com/?babsrc=tcp&affID=19318&q=http://click.infospace.com/ClickHandler.ashx?du=www.pornhub.com&ru=http%3a%2f%2fwww.pornhub.com%2f&ld=20120217&ap=1&app=1&c=babylon2.hp.row&s=babylon2&coi=374914&cop=main-title&euip=180.251.153.21&npp=1&p=0&pp=0&pvaid=e848e3f5ff0a4a498cfb297d6697426d&ep=1&mid=9&hash=35B9AD4C36F82B30855AD54575B5A02
Fri Feb 17 02:21:04 2012 from http://www.searchplusnetwork.com/?sp=chv&q=click.infospace.comClickHandler.ashx%3Fdu
Fri Feb 17 02:06:01 2012 from (empty referer)
Fri Feb 17 02:01:11 2012 from http://www.google.com/url?sa=t&rct=j&q=http%3A%2F%2Fwww.google.com%2Fsearch%3Fq%3Dhttp%253a%252f%252fwww.google.com%252fsearch%253fq%253dyahoomail%2526sourceid%253dopera%2526ie%253dutf-8%2526oe%253dutf-8%2526channel%253dsuggest%26sourceid%3Dopera%26ie%3Dutf-8%26oe%3Dutf-8%26channel%3Dsuggest&source=web&cd=1&ved=0CCIQFjAA&url=http%3A%2F%2Fcarl.cs.indiana.edu%2Ffil%2Fcgi-bin%2FWebSec%2Fmarilyn.cgi&ei=-fo9T9bxI8Oh-QaD2P3vBQ&usg=AFQjCNHRtbr4ftk_4PyVzN3HuHPJV6LZow
Fri Feb 17 01:32:12 2012 from (empty referer)
Fri Feb 17 01:29:39 2012 from http://carl.cs.indiana.edu/fil/cgi-bin/WebSec/marilyn.cgi
Fri Feb 17 01:13:33 2012 from http://www.google.com/url?sa=t&rct=j&q=http%3A%2F%2Fwww.google.com%2Fsearch%3Fq%3Dhttp%253A%252F%252Fwww.google.com%252Fsearch%253Fq%253Dhttp%25253A%25252F%25252Fwww.facebook.com%2526sourceid%253Dopera%2526ie%253Dutf-8%2526oe%253Dutf-8%2526channel%253Dsuggest%26sourceid%3Dopera%26ie%3Dutf-8%26oe%3Dutf-8%26channel%3Dsuggest&source=web&cd=1&ved=0CCMQFjAA&url=http%3A%2F%2Fcarl.cs.indiana.edu%2Ffil%2Fcgi-bin%2FWebSec%2Fmarilyn.cgi&ei=uu89T5_7EYLQhAehsNzXBQ&usg=AFQjCNHRtbr4ftk_4PyVzN3HuHPJV6LZow
Fri Feb 17 01:12:37 2012 from http://www.google.com/url?sa=t&rct=j&q=http%3A%2F%2Fwww.google.com%2Fsearch%3Fq%3Dhttp%253A%252F%252Fwww.google.com%252Fsearch%253Fq%253Dhttp%25253A%25252F%25252Fwww.facebook.com%2526sourceid%253Dopera%2526ie%253Dutf-8%2526oe%253Dutf-8%2526channel%253Dsuggest%26sourceid%3Dopera%26ie%3Dutf-8%26oe%3Dutf-8%26channel%3Dsuggest&source=web&cd=1&ved=0CCMQFjAA&url=http%3A%2F%2Fcarl.cs.indiana.edu%2Ffil%2Fcgi-bin%2FWebSec%2Fmarilyn.cgi&ei=uu89T5_7EYLQhAehsNzXBQ&usg=AFQjCNHRtbr4ftk_4PyVzN3HuHPJV6LZow
Fri Feb 17 01:11:27 2012 from http://www.searchplusnetwork.com/?sp=chv&q=click.infospace.comClickHandler.ashx%3Fdu
Fri Feb 17 00:48:15 2012 from http://www.google.com/m?client=ms-nokia&cof=nsp&channel=s60&q=www.sex%2520http%3a%2f%2fwww.sex%2520xxx.com%2fxxx.com%2f
Fri Feb 17 00:24:24 2012 from (empty referer)
Fri Feb 17 00:17:13 2012 from (empty referer)
Thu Feb 16 23:16:59 2012 from http://www.google.com/url?sa=t&rct=j&q=http%3A%2F%2Fwww.google.com%2Fsearch%3Fq%3Dhttp%253a%252f%252fwww.google.com%252fsearch%253fq%253dhttp%25253a%25252f%25252fwww.facebook.com%25252flogin.php%2526sourceid%253dopera%2526ie%253dutf-8%2526oe%253dutf-8%2526channel%253dsuggest%26sourceid%3Dopera%26ie%3Dutf-8%26oe%3Dutf-8%26channel%3Dsuggest&source=web&cd=1&ved=0CCIQFjAA&url=http%3A%2F%2Fcarl.cs.indiana.edu%2Ffil%2Fcgi-bin%2FWebSec%2Fmarilyn.cgi&ei=stQ9T9anCIOViQetjM3DBA&usg=AFQjCNHRtbr4ftk_4PyVzN3HuHPJV6LZow
Thu Feb 16 22:00:29 2012 from http://carl.cs.indiana.edu/fil/cgi-bin/WebSec/marilyn.cgi
Thu Feb 16 21:32:28 2012 from http://www.google.com/url?sa=t&rct=j&q=http%3A%2F%2Fwww.google.com%2Fsearch%3Fclient%3Dopera%26rls%3Den%26q%3Dhttp%253A%252F%252Fwww.google.com%252Fsearch%253Fq%253Dhttp%25253A%25252F%25252Fwww.google%25252F%2526sourceid%253Dopera%2526ie%253Dutf-8%2526oe%253Dutf-8%2526channel%253Dsuggest%26sourceid%3Dopera%26ie%3Dutf-8%26oe%3Dutf-8%26channel%3Dsuggest&source=web&cd=1&ved=0CCIQFjAA&url=http%3A%2F%2Fcarl.cs.indiana.edu%2Ffil%2Fcgi-bin%2FWebSec%2Fmarilyn.cgi&ei=F7w9T5SZJImUiAed7qjyBA&usg=AFQjCNHRtbr4ftk_4PyVzN3HuHPJV6LZow
Thu Feb 16 20:39:35 2012 from http://assist.babylon.com/babylonassista/dnsassist/main?domain=start%20allgameshome%20results%20
Thu Feb 16 20:20:36 2012 from http://websearch.4shared.com/results?q=http%2525253A%2525252F%2525252Fwww.youtube.com%2525252Fwatch%2525253Fv%2525253DCzN0s8mu9Cg%25252526feature%2525253Drelated
Thu Feb 16 20:20:25 2012 from http://www.google.com/m?safe=on&client=ms-nokia&cof=nsp&channel=s60&q=www.google.com%2Fm%3Fsafe%3Don%26q%3Dm.youtube.com%252Fresults
Thu Feb 16 20:20:13 2012 from http://www.google.com/m?client=ms-nokia&cof=nsp&channel=s60&q=www.google.com%2fm%3fsafe%3don%26q%3dm.youtube.com%252Fresults
Thu Feb 16 19:36:44 2012 from http://www.google.com.sa/search?hl=ar&safe=active&client=ms-android-samsung&gl=ae&source=android-launcher-widget&sky=mrdr&sa=X&ei=vKA9T-_TAc3jrAfJ45m_Bw&ved=0CBoQBSgA&q=http%3A//tubidy.mobi/search.php%3Fa%3D18%26q%3Dxxx%2Bvideo&spell=1
Thu Feb 16 19:11:09 2012 from http://www.google.com/url?sa=t&rct=j&q=http%3A%2F%2Fwww.google.com%2Fsearch%3Fq%3Dhttp%253A%252F%252Fwww.google.com%252Fsearch%253Fq%253Dsex%2526sourceid%253Dopera%2526ie%253Dutf-8%2526oe%253Dutf-8%2526channel%253Dsuggest%26sourceid%3Dopera%26ie%3Dutf-8%26oe%3Dutf-8%26channel%3Dsuggest&source=web&cd=1&ved=0CCMQFjAA&url=http%3A%2F%2Fcarl.cs.indiana.edu%2Ffil%2Fcgi-bin%2FWebSec%2Fmarilyn.cgi&ei=CZs9T4OvNIu4hAf_k_m9BQ&usg=AFQjCNHRtbr4ftk_4PyVzN3HuHPJV6LZow
Thu Feb 16 17:45:31 2012 from http://home.allgameshome.com/results.php?category=web&s=http://click.infospace.com/ClickHandler.ashx?du=http%3a%2f%2fcreatives.livejasmin.com%2f&ru=http%3a%2f%2fcreatives.livejasmin.com%2f&ld=20120216&ap=1&app=1&c=imesh.meta.4&s=imeshmeta4&coi=239137&cop=main-title&euip=125.162.49.134&npp=1&p=0&pp=0&pvaid=f53471aae87543e79aabbbc55ffce04b&ep=1&mid=9&hash=05D27F05B9502DAD0F2B9504CC1524C
Thu Feb 16 17:42:52 2012 from http://www.google.com/url?sa=t&rct=j&q=http%3A%2F%2Fwww.google.com%2Fsearch%3Fq%3Dhttp%253a%252f%252fwww.google.com.pk%252fsearch%253fq%253dgoogle%2526sourceid%253dopera%2526ie%253dutf-8%2526oe%253dutf-8%2526channel%253dsuggest%26sourceid%3Dopera%26ie%3Dutf-8%26oe%3Dutf-8%26channel%3Dsuggest&source=web&cd=1&ved=0CCIQFjAA&url=http%3A%2F%2Fcarl.cs.indiana.edu%2Ffil%2Fcgi-bin%2FWebSec%2Fmarilyn.cgi&ei=VoY9T4-uO4fR4QSI9YmNCA&usg=AFQjCNHRtbr4ftk_4PyVzN3HuHPJV6LZow
Thu Feb 16 17:39:53 2012 from http://www.google.com/search?client=opera&rls=en&q=http%3A%2F%2Fwww.google.com%2Fsearch%3Fq%3Dhttp%253A%252F%252Fwww.google.com%252Fsearch%253Fq%253Dhttp%25253A%25252F%25252Fwww.google.com.eg%25252F%2526sourceid%253Dopera%2526ie%253Dutf-8%2526oe%253Dutf-8%2526channel%253Dsuggest%26sourceid%3Dopera%26ie%3Dutf-8%26oe%3Dutf-8%26channel%3Dsuggest&sourceid=opera&ie=utf-8&oe=utf-8&channel=suggest
Thu Feb 16 17:39:43 2012 from http://www.google.com/m?q=www.tubidy.mobi/search.php?a%3D18%26q%3Dsex&hl=en&start=30&sa=N
Thu Feb 16 16:52:04 2012 from (empty referer)
Thu Feb 16 16:49:04 2012 from (empty referer)
Thu Feb 16 16:47:00 2012 from http://www.google.com/url?sa=t&rct=j&q=http%3A%2F%2Fwww.google.com%2Fsearch%3Fq%3Dhttp%253a%252f%252fwww.google.com%252fsearch%253fq%253dhttp%25253a%25252f%25252fwww.google.com%25252fsearch%25253fq%25253dhttp%2525253a%2525252f%2525252fwww.seznam.cz%2525252f%252526sourceid%25253dopera%252526ie%25253dutf-8%252526oe%25253dutf-8%252526channel%25253dsuggest%2526sourceid%253dopera%2526ie%253dutf-8%2526oe%253dutf-8%2526channel%253dsuggest%26sourceid%3Dopera%26ie%3Dutf-8%26oe%3Dutf-8%26channel%3Dsuggest&source=web&cd=1&ved=0CCMQFjAA&url=http%3A%2F%2Fcarl.cs.indiana.edu%2Ffil%2Fcgi-bin%2FWebSec%2Fmarilyn.cgi&ei=TXk9T_vzO7LZ4QTajpG1CA&usg=AFQjCNHRtbr4ftk_4PyVzN3HuHPJV6LZow
Thu Feb 16 16:35:53 2012 from http://www.google.com/m?client=ms-nokia&cof=nsp&channel=s60&q=www.youporn.com%2fm%3fclient%3dms-nokia%26cof%3dnsp%26channel%3d
Thu Feb 16 16:20:21 2012 from http://carl.cs.indiana.edu/fil/cgi-bin/WebSec/marilyn.cgi
Thu Feb 16 16:15:22 2012 from (empty referer)
Thu Feb 16 15:48:58 2012 from http://www.google.com/url?sa=t&rct=j&q=http://www.google.com/search%3Fq%3Dhttp%253A%252F%252Fwww.google.com%252Fsearch%253Fq%253Dhttp%25253A%25252F%25252Fwww.google.com%25252F%2526sourceid%253Dopera%2526num%253D0%2526ie%253Dutf-8%2526oe%253Dutf-8%2526channel%253Dsuggest%26sourceid%3Dopera%26num%3D0%26ie%3Dutf-8%26oe%3Dutf-8%26channel%3Dsuggest&source=web&cd=1&ved=0CCkQFjAA&url=http%3A%2F%2Fcarl.cs.indiana.edu%2Ffil%2Fcgi-bin%2FWebSec%2Fmarilyn.cgi&ei=m2s9T-m_LcPOhAeOl_njBQ&usg=AFQjCNHRtbr4ftk_4PyVzN3HuHPJV6LZow
Thu Feb 16 15:34:08 2012 from (empty referer)
Thu Feb 16 15:26:35 2012 from http://www.google.com/search?client=opera&rls=it&q=http%3A%2F%2Fwww.google.com%2Fsearch%3Fq%3Dhttp%253A%252F%252Fwww.google.com%252Fsearch%253Fq%253Dhttp%25253A%25252F%25252Fwww.youtube.it%25252F%2526sourceid%253Dopera%2526ie%253Dutf-8%2526oe%253Dutf-8%2526channel%253Dsuggest%26sourceid%3Dopera%26ie%3Dutf-8%26oe%3Dutf-8%26channel%3Dsuggest&sourceid=opera&ie=utf-8&oe=utf-8&channel=suggest
Thu Feb 16 15:25:51 2012 from http://www.google.com/search?client=opera&rls=it&q=http%3A%2F%2Fwww.google.com%2Fsearch%3Fq%3Dhttp%253A%252F%252Fwww.google.com%252Fsearch%253Fq%253Dhttp%25253A%25252F%25252Fwww.youtube.it%25252F%2526sourceid%253Dopera%2526ie%253Dutf-8%2526oe%253Dutf-8%2526channel%253Dsuggest%26sourceid%3Dopera%26ie%3Dutf-8%26oe%3Dutf-8%26channel%3Dsuggest&sourceid=opera&ie=utf-8&oe=utf-8&channel=suggest
Thu Feb 16 15:18:23 2012 from http://www.google.com/url?sa=t&rct=j&q=http%3A%2F%2Fwww.google.com%2Fsearch%3Fq%3Dhttp%253A%252F%252Fwww.google.com%252Fsearch%253Fq%253Dhttp%25253A%25252F%25252Fwww.facebook.com%25252F%2526sourceid%253Dopera%2526ie%253Dutf-8%2526oe%253Dutf-8%2526channel%253Dsuggest%26sourceid%3Dopera%26ie%3Dutf-8%26oe%3Dutf-8%26channel%3Dsuggest&source=web&cd=1&ved=0CCAQFjAA&url=http%3A%2F%2Fcarl.cs.indiana.edu%2Ffil%2Fcgi-bin%2FWebSec%2Fmarilyn.cgi&ei=gmQ9T4uMAYi2twfP1pGwBQ&usg=AFQjCNHRtbr4ftk_4PyVzN3HuHPJV6LZow
Thu Feb 16 15:11:53 2012 from (empty referer)
Thu Feb 16 15:01:55 2012 from http://www.google.com.sa/search?hl=en&gl=gb&client=ms-android-samsung&source=android-unknown&action=devloc&q=httptubidymobiindexptxt&safe=on&sky=mrdr
Thu Feb 16 14:48:45 2012 from http://search.chatzum.com/?q=http%3A%2F%2Fsearch.chatzum.com%2F&s=web&as=0
Thu Feb 16 14:45:07 2012 from http://www.searchplusnetwork.com/?sp=chv&q=facebook.com%2Fajax%2Fpagelet%2Fgeneric.php%2FPhotoViewerInitPagelet%3F__a
Thu Feb 16 14:28:36 2012 from http://www.google.com.eg/url?sa=t&rct=j&q=http%3A%2F%2Fwww.google.com.eg%2Fsearch%3Fq%3Dhttp%253A%252F%252Fwww.google.com.eg%252Fsearch%253Fq%253Dhttp%25253A%25252F%25252Fsearch.imesh.com%25252F%2526rls%253Dcom.microsoft%253Aar-eg%253AIE-SearchBox%2526ie%253DUTF-8%2526oe%253DUTF-8%2526sourceid%253Die7%2526redir_esc%253D%2526ei%253Dq1g9T-zDL8bY4QTShrCjCA%26rls%3Dcom.microsoft%3Aar-eg%3AIE-SearchBox%26ie%3DUTF-8%26oe%3DUTF-8%26sourceid%3Die7%26redir_esc%3D%26ei%3DsFg9T9DPMY704QTH1aGiCA&source=web&cd=1&ved=0CCIQFjAA&url=http%3A%2F%2Fcarl.cs.indiana.edu%2Ffil%2Fcgi-bin%2FWebSec%2Fmarilyn.cgi&ei=tVg9T_-XOYzY4QSypszJCA&usg=AFQjCNHRtbr4ftk_4PyVzN3HuHPJV6LZow
Thu Feb 16 14:19:44 2012 from (empty referer)
Thu Feb 16 14:16:39 2012 from http://www.google.com/url?sa=t&rct=j&q=http%3A%2F%2Fwww.google.com%2Fsearch%3Fq%3Dhttp%253a%252f%252fwww.google.com%252fsearch%253fq%253dgoogal%2526sourceid%253dopera%2526ie%253dutf-8%2526oe%253dutf-8%2526channel%253dsuggest%26sourceid%3Dopera%26ie%3Dutf-8%26oe%3Dutf-8%26channel%3Dsuggest&source=web&cd=1&ved=0CCIQFjAA&url=http%3A%2F%2Fcarl.cs.indiana.edu%2Ffil%2Fcgi-bin%2FWebSec%2Fmarilyn.cgi&ei=1lQ9T4nVOMqP4gTdhZGBCA&usg=AFQjCNHRtbr4ftk_4PyVzN3HuHPJV6LZow
Thu Feb 16 14:04:00 2012 from http://www.google.com/m?client=ms-nokia&cof=nsp&channel=s60&q=www.google.com%2fm%3fclient%3dms-nokia%26cof%3dnsp%26channel%3ds60%26q%3d&safe=active
Thu Feb 16 13:53:41 2012 from http://www.google.com/m?client=ms-nokia&cof=nsp&channel=s60&q=%3fclient%3dms-nokia%26cof%3dnsp%26channel%3ds60%26q%3dwww.google.com
Thu Feb 16 13:48:28 2012 from http://www.google.com/m?client=ms-nokia&cof=nsp&channel=s60&q=%3fclient%3dms-nokia%26cof%3dnsp%26channel%3ds60%26q%3dwww.google.com
Thu Feb 16 13:29:02 2012 from http://www.google.com/gwt/x?client=ms-sonyericsson&q=http://www.google.com/m/search?client%3Dms-sonyericsson&channel=bh&ei=n0o9T5jfMdCEjAeacw&ved=0CAwQFjAC&hl=de&source=m&rd=1&u=http://carl.cs.indiana.edu/fil/cgi-bin/WebSec/marilyn.cgi
Thu Feb 16 13:28:43 2012 from (empty referer)
Thu Feb 16 13:11:03 2012 from http://www.google.com/url?sa=t&rct=j&q=http%3A%2F%2Fwww.google.com%2Fsearch%3Fq%3Dhttp%253a%252f%252fwww.google.pl%252fsearch%253fq%253dgoogle%2526sourceid%253dopera%2526ie%253dutf-8%2526oe%253dutf-8%2526channel%253dsuggest%26sourceid%3Dopera%26ie%3Dutf-8%26oe%3Dutf-8%26channel%3Dsuggest&source=web&cd=1&ved=0CCMQFjAA&url=http%3A%2F%2Fcarl.cs.indiana.edu%2Ffil%2Fcgi-bin%2FWebSec%2Fmarilyn.cgi&ei=skY9T-TqIc7MsgaH5oXoBA&usg=AFQjCNHRtbr4ftk_4PyVzN3HuHPJV6LZow
Thu Feb 16 12:50:42 2012 from http://www.google.com/m?client=ms-nokia&cof=nsp&channel=s60&q=wwww.google.com%2fm%3fclient%3dms-nokia%26cof%3dnsp%26channel%3d
Thu Feb 16 12:50:39 2012 from http://www.google.com/m?client=ms-nokia&cof=nsp&channel=s60&q=wwww.google.com%2fm%3fclient%3dms-nokia%26cof%3dnsp%26channel%3d
Thu Feb 16 12:19:18 2012 from http://search.incredibar.com/?q=click.infospace.comClickHandler.ashx%3fdu&lang=french&source=368422365&cid=1&uloc=mb113
Thu Feb 16 12:03:07 2012 from http://www.google.com/url?sa=t&rct=j&q=http%3A%2F%2Fwww.google.com%2Fsearch%3Fq%3Dhttp%253a%252f%252fwww.google.com%252fsearch%253fq%253dhttp%25253a%25252f%25252fwww.ideacellular.com%25252f%2526sourceid%253dopera%2526ie%253dutf-8%2526oe%253dutf-8%2526channel%253dsuggest%26sourceid%3Dopera%26ie%3Dutf-8%26oe%3Dutf-8%26channel%3Dsuggest&source=web&cd=1&ved=0CC8QFjAA&url=http%3A%2F%2Fcarl.cs.indiana.edu%2Ffil%2Fcgi-bin%2FWebSec%2Fmarilyn.cgi&ei=wzY9T6jVIMHwrQfFttCtBw&usg=AFQjCNHRtbr4ftk_4PyVzN3HuHPJV6LZow
Thu Feb 16 12:02:23 2012 from http://www.google.com/url?sa=t&rct=j&q=http%3A%2F%2Fwww.google.com%2Fsearch%3Fq%3Dhttp%253a%252f%252fwww.google.pl%252fsearch%253fq%253dpornhub%2526sourceid%253dopera%2526ie%253dutf-8%2526oe%253dutf-8%2526channel%253dsuggest%26sourceid%3Dopera%26ie%3Dutf-8%26oe%3Dutf-8%26channel%3Dsuggest&source=web&cd=1&ved=0CCMQFjAA&url=http%3A%2F%2Fcarl.cs.indiana.edu%2Ffil%2Fcgi-bin%2FWebSec%2Fmarilyn.cgi&ei=kDY9T-CnH8PFswbk1LzJBA&usg=AFQjCNHRtbr4ftk_4PyVzN3HuHPJV6LZow
Thu Feb 16 11:58:25 2012 from (empty referer)
Thu Feb 16 11:51:10 2012 from (empty referer)
Thu Feb 16 11:48:20 2012 from http://www.google.co.uk/m/imgres?site=images&client=ms-opera-mini&q=www%252exxx%2520%2520video%2520com&channel=new&start=2&sa=N
Thu Feb 16 11:36:41 2012 from http://plus.url.google.com/url?sa=z&n=1329410196239&url=http%3A%2F%2Fbit.ly%2Fp7zHOT&usg=aaCq-aMcFQYkeOu8UGeRNvWkiZs.
Thu Feb 16 11:26:10 2012 from http://www.google.com/m?client=ms-nokia&cof=nsp&channel=s60&q=http%3a%2f%2fwww.google.com%2fm%3fclient%3dms-nokia%26cof%3dnsp%26channel%3ds60%26q%3dgmaiL.comg
Thu Feb 16 11:25:26 2012 from http://www.google.tn/url?sa=t&rct=j&q=http%3A%2F%2Fhome.myplaycity.com%2F&source=web&cd=4&sqi=2&ved=0CD8QFjAD&url=http%3A%2F%2Fcarl.cs.indiana.edu%2Ffil%2Fcgi-bin%2FWebSec%2Fmarilyn.cgi&ei=5i09T83FEYjl0QHXmpioBw&usg=AFQjCNHRtbr4ftk_4PyVzN3HuHPJV6LZow
Thu Feb 16 11:18:45 2012 from http://int.search-results.com/web?l=dis&locale=en_EN&o=1942&q=google.com.eg+%D8%B3%D9%83%D8%B3&atb=sysid%3D406%3Aappid%3D101%3Auid%3Df473abd8ae8d5f74%3Auc%3D1325357598%3Aq%3Dgoogle.com.eg+%D8%B3%D9%83%D8%B3%3Asrc%3Dieb%3Ao%3D1942
Thu Feb 16 11:15:57 2012 from http://assist.babylon.com/babylonassista/dnsassist/main?domain=mystart%20incredibar%20mb113%20
Thu Feb 16 10:47:43 2012 from http://www.google.com/m?client=ms-nokia&cof=nsp&channel=s60&q=t%3dms-nokia%26cof%3dnsp%26channel%3ds60%26q%3dcrazysexylife.com
Thu Feb 16 10:31:30 2012 from http://assist.babylon.com/babylonassista/dnsassist/main?domain=mystart%20incredibar%20mb113%20
Thu Feb 16 10:20:07 2012 from http://www.google.com/m?client=ms-nokia&cof=nsp&channel=s60&q=t%3dms-nokia%26cof%3dnsp%26channel%3ds60%26q%3dcrazysexylife.com
Thu Feb 16 10:14:57 2012 from http://search.incredibar.com/?q=%d0%9f%d0%be%d0%b8%d1%81%d0%ba+xnxx.com&lang=russian&source=368422365&cid=1&uloc=mb113
Thu Feb 16 09:41:33 2012 from http://www.searchplusnetwork.com/?sp=chv&q=click.infospace.comClickHandler.ashx%3Fdu
Thu Feb 16 09:25:31 2012 from http://www.searchplusnetwork.com/?sp=chv&q=click.infospace.comClickHandler.ashx%3Fdu
Thu Feb 16 09:25:13 2012 from http://www.searchplusnetwork.com/?sp=chv&q=click.infospace.comClickHandler.ashx%3Fdu
Thu Feb 16 09:23:46 2012 from http://www.google.com/url?sa=t&rct=j&q=http%3A%2F%2Fwww.google.com%2Fsearch%3Fq%3Dhttp%253a%252f%252fwww.google.com%252fsearch%253fq%253dhttp%25253a%25252f%25252fwww.google.pl%25252f%2526sourceid%253dopera%2526ie%253dutf-8%2526oe%253dutf-8%2526channel%253dsuggest%26sourceid%3Dopera%26ie%3Dutf-8%26oe%3Dutf-8%26channel%3Dsuggest&source=web&cd=1&ved=0CCYQFjAA&url=http%3A%2F%2Fcarl.cs.indiana.edu%2Ffil%2Fcgi-bin%2FWebSec%2Fmarilyn.cgi&ei=ahE9T56xFcvTsgbliZWABQ&usg=AFQjCNHRtbr4ftk_4PyVzN3HuHPJV6LZow
Thu Feb 16 09:19:00 2012 from http://www.google.com/m?client=ms-nokia&cof=nsp&channel=s60&q=www.google.com%2fm%3fclient%3dms-nokia%26cof%3dnsp%26channel%3d
Thu Feb 16 09:16:37 2012 from http://www.google.com/m?client=ms-nokia&cof=nsp&channel=s60&q=www.google.com%2fm%3fclient%3dms-nokia%26cof%3dnsp%26channel%3d
Thu Feb 16 09:10:53 2012 from http://www.google.com/m?client=ms-nokia&cof=nsp&channel=s60&q=m.facebook.om%2fl.php%3fu%3dhttp%253A%252F%252Fm.ideacellular.
Thu Feb 16 08:54:21 2012 from http://carl.cs.indiana.edu/fil/cgi-bin/WebSec/marilyn.cgi
Thu Feb 16 08:53:39 2012 from http://www.google.com/url?sa=t&rct=j&q=http%3A%2F%2Fwww.google.com%2Fsearch%3Fq%3Dhttp%253a%252f%252fwww.google.com%252fsearch%253fq%253dhttp%25253a%25252f%25252fwww.google.com%25252fsearch%25253fq%25253dhttp%2525253a%2525252f%2525252fwww.google.pl%2525252fsearch%2525253fq%2525253d%25252526sourceid%2525253dopera%25252526ie%2525253dutf-8%25252526oe%2525253dutf-8%25252526channel%2525253dsuggest%252526sourceid%25253dopera%252526ie%25253dutf-8%252526oe%25253dutf-8%252526channel%25253dsuggest%2526sourceid%253dopera%2526ie%253dutf-8%2526oe%253dutf-8%2526channel%253dsuggest%26sourceid%3Dopera%26ie%3Dutf-8%26oe%3Dutf-8%26channel%3Dsuggest&source=web&cd=1&ved=0CCMQFjAA&url=http%3A%2F%2Fcarl.cs.indiana.edu%2Ffil%2Fcgi-bin%2FWebSec%2Fmarilyn.cgi&ei=Ego9T8XQMozHswb85dn9BA&usg=AFQjCNHRtbr4ftk_4PyVzN3HuHPJV6LZow
Thu Feb 16 08:53:38 2012 from http://www.google.com/url?sa=t&rct=j&q=http%3A%2F%2Fwww.google.com%2Fsearch%3Fq%3Dhttp%253a%252f%252fwww.google.com%252fsearch%253fq%253dhttp%25253a%25252f%25252fwww.google.com%25252fsearch%25253fq%25253dhttp%2525253a%2525252f%2525252fwww.google.pl%2525252fsearch%2525253fq%2525253d%25252526sourceid%2525253dopera%25252526ie%2525253dutf-8%25252526oe%2525253dutf-8%25252526channel%2525253dsuggest%252526sourceid%25253dopera%252526ie%25253dutf-8%252526oe%25253dutf-8%252526channel%25253dsuggest%2526sourceid%253dopera%2526ie%253dutf-8%2526oe%253dutf-8%2526channel%253dsuggest%26sourceid%3Dopera%26ie%3Dutf-8%26oe%3Dutf-8%26channel%3Dsuggest&source=web&cd=1&ved=0CCMQFjAA&url=http%3A%2F%2Fcarl.cs.indiana.edu%2Ffil%2Fcgi-bin%2FWebSec%2Fmarilyn.cgi&ei=Ego9T8XQMozHswb85dn9BA&usg=AFQjCNHRtbr4ftk_4PyVzN3HuHPJV6LZow
Thu Feb 16 08:40:16 2012 from http://www.google.com/url?sa=t&rct=j&q=http%3A%2F%2Fwww.google.com%2Fsearch%3Fq%3Dhttp%253A%252F%252Fwww.google.com%252Fsearch%253Fq%253Dhttp%25253A%25252F%25252Fwww.google.com%25252Fsearch%25253Fq%25253Dhttp%2525253A%2525252F%2525252Fwww.facebook.com%2525252F%252526sourceid%25253Dopera%252526ie%25253Dutf-8%252526oe%25253Dutf-8%252526channel%25253Dsuggest%2526sourceid%253Dopera%2526ie%253Dutf-8%2526oe%253Dutf-8%2526channel%253Dsuggest%26sourceid%3Dopera%26ie%3Dutf-8%26oe%3Dutf-8%26channel%3Dsuggest&source=web&cd=1&ved=0CCkQFjAA&url=http%3A%2F%2Fcarl.cs.indiana.edu%2Ffil%2Fcgi-bin%2FWebSec%2Fmarilyn.cgi&ei=9wY9T4iYKMmChQe3j4m0BQ&usg=AFQjCNHRtbr4ftk_4PyVzN3HuHPJV6LZow
Thu Feb 16 08:26:55 2012 from (empty referer)
Thu Feb 16 08:26:54 2012 from http://www.google.com/url?sa=t&rct=j&q=http%3A%2F%2Fwww.google.com%2Fsearch%3Fq%3Dhttp%253A%252F%252Fwww.google.com%252Fsearch%253Fq%253Dhttp%25253A%25252F%25252Fwww.google.com%25252Fsearch%25253Fq%25253Dhttp%2525253A%2525252F%2525252Fwww.google.com%2525252Fsearch%2525253Fq%2525253Dhttp%252525253A%252525252F%252525252Fhelp.opera.com%252525252Ferrorpage%252525252F%25252526sourceid%2525253Dopera%25252526ie%2525253Dutf-8%25252526oe%2525253Dutf-8%25252526channel%2525253Dsuggest%252526sourceid%25253Dopera%252526ie%25253Dutf-8%252526oe%25253Dutf-8%252526channel%25253Dsuggest%2526sourceid%253Dopera%2526ie%253Dutf-8%2526oe%253Dutf-8%2526channel%253Dsuggest%26sourceid%3Dopera%26ie%3Dutf-8%26oe%3Dutf-8%26channel%3Dsuggest&source=web&cd=1&ved=0CBwQFjAA&url=http%3A%2F%2Fcarl.cs.indiana.edu%2Ffil%2Fcgi-bin%2FWebSec%2Fmarilyn.cgi&ei=cwM9T_6GG4n5rQfj-cSyBw&usg=AFQjCNHRtbr4ftk_4PyVzN3HuHPJV6LZow
Thu Feb 16 08:12:36 2012 from (empty referer)
Thu Feb 16 08:05:54 2012 from http://www.google.com/m/search?client=ms-sonyericsson&channel=lp&q=http://tubidy.mobi/search.php?a=18&q=hot
Thu Feb 16 08:05:50 2012 from http://www.google.com/m?client=ms-nokia&cof=nsp&channel=s60&q=www.googlecom%2fm%3fclient%3dms-nokia%26cof%3dnsp%26channel%3ds60%26q%3d
Thu Feb 16 07:59:59 2012 from (empty referer)
Thu Feb 16 07:54:41 2012 from http://www.google.com/m?client=ms-nokia&cof=nsp&channel=s60&q=www.web.com%2fm%3fclient%3dms-nokia%26cof%3dnsp%26channel%3ds60%26q%3dweb
Thu Feb 16 05:17:32 2012 from http://search.incredibar.com/?q=www.xxx+hot+movies.com&lang=english&source=368422365&cid=1&uloc=mb113
Thu Feb 16 04:48:27 2012 from http://www.google.com/m?client=ms-nokia&cof=nsp&channel=s60&q=www.google.come%2fm%3fclient%3dms-nokia%26cof%3dnsp%26channel%3ds
Thu Feb 16 04:48:24 2012 from http://www.google.com/m?client=ms-nokia&cof=nsp&channel=s60&q=www.google.come%2fm%3fclient%3dms-nokia%26cof%3dnsp%26channel%3ds
Thu Feb 16 04:35:26 2012 from http://www.google.com/url?sa=t&rct=j&q=http%3A%2F%2Fwww.google.com%2Fsearch%3Fq%3Dhttp%253a%252f%252fwww.google.com%252fsearch%253fq%253dhttp%25253a%25252f%25252fwww.xxx.com%25252f%2526sourceid%253dopera%2526ie%253dutf-8%2526oe%253dutf-8%2526channel%253dsuggest%26sourceid%3Dopera%26ie%3Dutf-8%26oe%3Dutf-8%26channel%3Dsuggest&source=web&cd=1&ved=0CC8QFjAA&url=http%3A%2F%2Fcarl.cs.indiana.edu%2Ffil%2Fcgi-bin%2FWebSec%2Fmarilyn.cgi&ei=F808T6-eKYHXrQfdzf3JBw&usg=AFQjCNHRtbr4ftk_4PyVzN3HuHPJV6LZow
Thu Feb 16 04:17:23 2012 from http://www.google.com/url?sa=t&rct=j&q=http%3A%2F%2Fwww.google.com%2Fsearch%3Fq%3Dhttp%253a%252f%252fwww.google.com%252fsearch%253fq%253dsearch%2526sourceid%253dopera%2526ie%253dutf-8%2526oe%253dutf-8%2526channel%253dsuggest%26sourceid%3Dopera%26ie%3Dutf-8%26oe%3Dutf-8%26channel%3Dsuggest&source=web&cd=1&ved=0CCIQFjAA&url=http%3A%2F%2Fcarl.cs.indiana.edu%2Ffil%2Fcgi-bin%2FWebSec%2Fmarilyn.cgi&ei=hMk8T9SSBM70sgayt82DBQ&usg=AFQjCNHRtbr4ftk_4PyVzN3HuHPJV6LZow
Thu Feb 16 04:13:53 2012 from (empty referer)
Thu Feb 16 03:53:47 2012 from http://www.google.com/url?sa=t&rct=j&q=http%3A%2F%2Fwww.google.com%2Fsearch%3Fq%3Dhttp%253A%252F%252Fwww.google.com%252Fsearch%253Fq%253Dhttp%25253A%25252F%25252Fwww.yahoo.com%25252F%2526sourceid%253Dopera%2526ie%253Dutf-8%2526oe%253Dutf-8%2526channel%253Dsuggest%26sourceid%3Dopera%26ie%3Dutf-8%26oe%3Dutf-8%26channel%3Dsuggest&source=web&cd=1&ved=0CCAQFjAA&url=http%3A%2F%2Fcarl.cs.indiana.edu%2Ffil%2Fcgi-bin%2FWebSec%2Fmarilyn.cgi&ei=Fr48T4-1KojK0AGf9szPBw&usg=AFQjCNHRtbr4ftk_4PyVzN3HuHPJV6LZow
Thu Feb 16 03:43:16 2012 from http://www.google.com/url?sa=t&rct=j&q=http%3A%2F%2Fwww.google.com%2Fsearch%3Fq%3Dhttp%253a%252f%252fwww.google.com%252fsearch%253fq%253dhttp%25253a%25252f%25252fwww.google.com%25252fsearch%25253fq%25253dyoutube%252526sourceid%25253dopera%252526ie%25253dutf-8%252526oe%25253dutf-8%252526channel%25253dsuggest%2526sourceid%253dopera%2526ie%253dutf-8%2526oe%253dutf-8%2526channel%253dsuggest%26sourceid%3Dopera%26ie%3Dutf-8%26oe%3Dutf-8%26channel%3Dsuggest&source=web&cd=1&ved=0CCIQFjAA&url=http%3A%2F%2Fcarl.cs.indiana.edu%2Ffil%2Fcgi-bin%2FWebSec%2Fmarilyn.cgi%3Fiframe%3Dtrue%26width%3D80%25%26height%3D80%25&ei=k8E8T96dKMy2hAfauMS3BQ&usg=AFQjCNE7JD9xSrOi5_c4GAQObQquXyuwVQ
Thu Feb 16 03:43:14 2012 from http://www.google.com/url?sa=t&rct=j&q=http%3A%2F%2Fwww.google.com%2Fsearch%3Fq%3Dhttp%253a%252f%252fwww.google.com%252fsearch%253fq%253dhttp%25253a%25252f%25252fwww.google.com%25252fsearch%25253fq%25253dyoutube%252526sourceid%25253dopera%252526ie%25253dutf-8%252526oe%25253dutf-8%252526channel%25253dsuggest%2526sourceid%253dopera%2526ie%253dutf-8%2526oe%253dutf-8%2526channel%253dsuggest%26sourceid%3Dopera%26ie%3Dutf-8%26oe%3Dutf-8%26channel%3Dsuggest&source=web&cd=1&ved=0CCIQFjAA&url=http%3A%2F%2Fcarl.cs.indiana.edu%2Ffil%2Fcgi-bin%2FWebSec%2Fmarilyn.cgi%3Fiframe%3Dtrue%26width%3D80%25%26height%3D80%25&ei=k8E8T96dKMy2hAfauMS3BQ&usg=AFQjCNE7JD9xSrOi5_c4GAQObQquXyuwVQ
Thu Feb 16 03:43:12 2012 from http://www.google.com/url?sa=t&rct=j&q=http%3A%2F%2Fwww.google.com%2Fsearch%3Fq%3Dhttp%253a%252f%252fwww.google.com%252fsearch%253fq%253dhttp%25253a%25252f%25252fwww.google.com%25252fsearch%25253fq%25253dyoutube%252526sourceid%25253dopera%252526ie%25253dutf-8%252526oe%25253dutf-8%252526channel%25253dsuggest%2526sourceid%253dopera%2526ie%253dutf-8%2526oe%253dutf-8%2526channel%253dsuggest%26sourceid%3Dopera%26ie%3Dutf-8%26oe%3Dutf-8%26channel%3Dsuggest&source=web&cd=1&ved=0CCIQFjAA&url=http%3A%2F%2Fcarl.cs.indiana.edu%2Ffil%2Fcgi-bin%2FWebSec%2Fmarilyn.cgi%3Fiframe%3Dtrue%26width%3D80%25%26height%3D80%25&ei=k8E8T96dKMy2hAfauMS3BQ&usg=AFQjCNE7JD9xSrOi5_c4GAQObQquXyuwVQ
Thu Feb 16 03:30:17 2012 from http://www.google.com/search?q=http%3A%2F%2Fwww.searchplusnetwork.com%2F%3Fsp%3Dchv
Thu Feb 16 03:11:19 2012 from http://www.google.com/url?sa=t&rct=j&q=http%3A%2F%2Fwww.google.com%2Fsearch%3Fq%3Dhttp%253a%252f%252fwww.google.com%252fsearch%253fq%253dhttp%25253a%25252f%25252fyahoomail.com%25252f%2526sourceid%253dopera%2526ie%253dutf-8%2526oe%253dutf-8%2526channel%253dsuggest%26sourceid%3Dopera%26ie%3Dutf-8%26oe%3Dutf-8%26channel%3Dsuggest&source=web&cd=1&ved=0CCsQFjAA&url=http%3A%2F%2Fcarl.cs.indiana.edu%2Ffil%2Fcgi-bin%2FWebSec%2Fmarilyn.cgi&ei=vbg8T9vyDInsrAfN38nWBw&usg=AFQjCNHRtbr4ftk_4PyVzN3HuHPJV6LZow
Thu Feb 16 03:05:02 2012 from http://www.ask.com/web?o=10169&l=dis&gct=dns&gc=1&q=www.facebook.com/ajax/home/generic.php?__a=18&qsrc=2870
Thu Feb 16 03:00:59 2012 from http://www.google.com/url?sa=t&rct=j&q=http%3A%2F%2Fwww.google.com%2Fsearch%3Fq%3Dhttp%253a%252f%252fwww.google.com%252fsearch%253fq%253dgoogl%2526sourceid%253dopera%2526ie%253dutf-8%2526oe%253dutf-8%2526channel%253dsuggest%26sourceid%3Dopera%26ie%3Dutf-8%26oe%3Dutf-8%26channel%3Dsuggest&source=web&cd=1&ved=0CCsQFjAA&url=http%3A%2F%2Fcarl.cs.indiana.edu%2Ffil%2Fcgi-bin%2FWebSec%2Fmarilyn.cgi&ei=src8T6PoG8a8rAeF5_XeBw&usg=AFQjCNHRtbr4ftk_4PyVzN3HuHPJV6LZow
Thu Feb 16 02:59:19 2012 from http://isearch.babylon.com/?as=5&s=web&babsrc=HP_ss&q=isearch.babylon.com+2fhome
Thu Feb 16 02:33:15 2012 from http://www.searchplusnetwork.com/?sp=chv&q=facebook.com%2Fajax%2Fpagelet%2Fgeneric.php%2FPhotoViewerInitPagelet%3F__a
Thu Feb 16 02:00:09 2012 from http://www.google.com/url?sa=t&rct=j&q=+++%25253A%25252F%25252Fwww.google.com%25252Fsearch%25253Fq%25253Dhttp%2525253A%2525252F%2525252Fwww.google.com%2525252Fsearch%2525253Fq%2525253Dhttp%252525253A%252525252F%252525252Fwww.facebook.com%252525252F%25252526sourceid%2525253Dopera%25252526ie%2525253Dutf-8%25252526oe%2525253Dutf-8%25252526channel%2525253Dsuggest%252526sourceid%25253Dopera%252526ie%25253Dutf-8%252526oe%25253Dutf-8%252526channel%25253Dsuggest%2526sourceid%253Dopera%2526ie%253Dutf-8%2526oe%253Dutf-8%2526channel%253Dsuggest%26sourceid%3Dopera%26ie%3Dutf-8%26oe%3Dutf-8%26channel%3Dsuggest&source=web&cd=1&ved=0CCUQFjAA&url=http%3A%2F%2Fcarl.cs.indiana.edu%2Ffil%2Fcgi-bin%2FWebSec%2Fmarilyn.cgi&ei=b6k8T7KUF4mGhQei6s3FBQ&usg=AFQjCNHRtbr4ftk_4PyVzN3HuHPJV6LZow
Thu Feb 16 01:52:33 2012 from http://www.google.com/url?sa=t&rct=j&q=http%3A%2F%2Fwww.google.com%2Fsearch%3Fq%3Dhttp%253a%252f%252fwww.google.com%252fsearch%253fq%253dhttp%25253a%25252f%25252fwww.google.com%25252fsearch%25253fq%25253dhttp%2525253a%2525252f%2525252fwww.google.com%2525252f%252526sourceid%25253dopera%252526ie%25253dutf-8%252526oe%25253dutf-8%252526channel%25253dsuggest%2526sourceid%253dopera%2526ie%253dutf-8%2526oe%253dutf-8%2526channel%253dsuggest%26sourceid%3Dopera%26ie%3Dutf-8%26oe%3Dutf-8%26channel%3Dsuggest&source=web&cd=1&ved=0CCIQFjAA&url=http%3A%2F%2Fcarl.cs.indiana.edu%2Ffil%2Fcgi-bin%2FWebSec%2Fmarilyn.cgi&ei=e6c8T6nOBInX0QXevd2pBw&usg=AFQjCNHRtbr4ftk_4PyVzN3HuHPJV6LZow
Thu Feb 16 01:51:56 2012 from http://www.google.com/url?sa=t&rct=j&q=http%3A%2F%2Fhome.myplaycity.com%2F&source=web&cd=3&ved=0CC8QFjAC&url=http%3A%2F%2Fcarl.cs.indiana.edu%2Ffil%2Fcgi-bin%2FWebSec%2Fmarilyn.cgi&ei=U6c8T8uTHqq50QX4l5nCBw&usg=AFQjCNHRtbr4ftk_4PyVzN3HuHPJV6LZow
Thu Feb 16 01:29:41 2012 from http://www.google.com/url?sa=t&rct=j&q=&esrc=s&source=web&cd=1&ved=0CCEQFjAA&url=http%3A%2F%2Fcarl.cs.indiana.edu%2Ffil%2Fcgi-bin%2FWebSec%2Fmarilyn.cgi&ei=T6I8T4OTBcOw2wWz6qikCA&usg=AFQjCNHRtbr4ftk_4PyVzN3HuHPJV6LZow
Thu Feb 16 01:26:07 2012 from (empty referer)
Thu Feb 16 01:21:30 2012 from http://www.google.co.in/m?q=https%252f%252fmail%252egoogle%252ecom&client=ms-opera-mini&channel=new
Thu Feb 16 01:16:49 2012 from (empty referer)
Thu Feb 16 00:54:23 2012 from http://www.google.com/url?sa=t&rct=j&q=http%3A%2F%2Fwww.google.com%2Fsearch%3Fq%3Dhttp%253A%252F%252Fwww.google.com%252Fsearch%253Fq%253Dhttp%25253A%25252F%25252Fgoogle.com%25252F%2526sourceid%253Dopera%2526ie%253Dutf-8%2526oe%253Dutf-8%2526channel%253Dsuggest%26sourceid%3Dopera%26ie%3Dutf-8%26oe%3Dutf-8%26channel%3Dsuggest&source=web&cd=2&ved=0CDUQFjAB&url=http%3A%2F%2Fcarl.cs.indiana.edu%2Ffil%2Fcgi-bin%2FWebSec%2Fmarilyn.cgi&ei=dpk8T5n3CtDKrAe37LzhBw&usg=AFQjCNHRtbr4ftk_4PyVzN3HuHPJV6LZow
Thu Feb 16 00:47:39 2012 from http://search.chatzum.com/?q=http%3A%2F%2Fsearch.chatzum.com
Thu Feb 16 00:46:38 2012 from (empty referer)
Thu Feb 16 00:18:03 2012 from (empty referer)
Thu Feb 16 00:05:06 2012 from (empty referer)
Wed Feb 15 23:46:32 2012 from http://www.google.com/m?client=ms-nokia&cof=nsp&channel=s60&q=stills%2526client%253Dms-nokia%2526cof%253Dnsp%2526q%253Dgoogl
Wed Feb 15 23:29:09 2012 from http://www.google.com.br/url?sa=t&rct=j&q=http%3A%2F%2Fhome.myplaycity.com%2F&source=web&cd=6&ved=0CE0QFjAF&url=http%3A%2F%2Fcarl.cs.indiana.edu%2Ffil%2Fcgi-bin%2FWebSec%2Fmarilyn.cgi&ei=-oU8T62POsnEtwfy2cm9BQ&usg=AFQjCNHRtbr4ftk_4PyVzN3HuHPJV6LZow
Wed Feb 15 23:22:45 2012 from (empty referer)
Wed Feb 15 23:21:00 2012 from http://search.chatzum.com/?q=searchplusnetwork.com%2F%3Fsp%3Dchv
Wed Feb 15 23:11:19 2012 from (empty referer)
Wed Feb 15 22:23:58 2012 from http://www.google.com/url?sa=t&rct=j&q=http%3A%2F%2Fwww.google.com%2Fsearch%3Fq%3Dhttp%253a%252f%252fwww.google.com%252fsearch%253fq%253dhttp%25253a%25252f%25252fwww.google.com%25252fsearch%25253fq%25253dhttp%2525253a%2525252f%2525252fwww.google.com%2525252f%252526sourceid%25253dopera%252526ie%25253dutf-8%252526oe%25253dutf-8%252526channel%25253dsuggest%2526sourceid%253dopera%2526ie%253dutf-8%2526oe%253dutf-8%2526channel%253dsuggest%26sourceid%3Dopera%26ie%3Dutf-8%26oe%3Dutf-8%26channel%3Dsuggest&source=web&cd=1&ved=0CC8QFjAA&url=http%3A%2F%2Fcarl.cs.indiana.edu%2Ffil%2Fcgi-bin%2FWebSec%2Fmarilyn.cgi&ei=xXY8T-n-Cqm42wXa6czzBg&usg=AFQjCNHRtbr4ftk_4PyVzN3HuHPJV6LZow
Wed Feb 15 22:03:28 2012 from http://www.searchplusnetwork.com/?sp=chv&q=click.infospace.comClickHandler.ashx%3Fdu
Wed Feb 15 22:02:37 2012 from http://www.google.com/url?sa=t&rct=j&q=http%3A%2F%2Fwww.google.com%2Fsearch%3Fq%3Dhttp%253A%252F%252Fwww.google.com%252Fsearch%253Fq%253Dhttp%25253A%25252F%25252Fwww.etisalat.com.eg%25252F%2526sourceid%253Dopera%2526ie%253Dutf-8%2526oe%253Dutf-8%2526channel%253Dsuggest%26sourceid%3Dopera%26ie%3Dutf-8%26oe%3Dutf-8%26channel%3Dsuggest&source=web&cd=1&ved=0CCkQFjAA&url=http%3A%2F%2Fcarl.cs.indiana.edu%2Ffil%2Fcgi-bin%2FWebSec%2Fmarilyn.cgi%3Fiframe%3Dtrue%26width%3D90%25%26height%3D90%25&ei=1HA8T-SdE6Wg0QW-v7lt&usg=AFQjCNF1YRHwwX8j7f5VE5Zthzm_YadtXg
Wed Feb 15 21:28:04 2012 from (empty referer)
Wed Feb 15 21:12:47 2012 from (empty referer)
Wed Feb 15 20:36:14 2012 from http://www.google.com/url?sa=t&rct=j&q=http%3A%2F%2Fwww.google.com%2Fsearch%3Fq%3Dhttp%253a%252f%252fwww.google.com.do%252fsearch%253fq%253dgoogle%2526sourceid%253dopera%2526ie%253dutf-8%2526oe%253dutf-8%2526channel%253dsuggest%26sourceid%3Dopera%26ie%3Dutf-8%26oe%3Dutf-8%26channel%3Dsuggest&source=web&cd=1&ved=0CCMQFjAA&url=http%3A%2F%2Fcarl.cs.indiana.edu%2Ffil%2Fcgi-bin%2FWebSec%2Fmarilyn.cgi&ei=4c46T72kFdLuggeWupSZCw&usg=AFQjCNHRtbr4ftk_4PyVzN3HuHPJV6LZow
Wed Feb 15 19:45:08 2012 from (empty referer)
Wed Feb 15 18:55:02 2012 from (empty referer)
Wed Feb 15 17:56:10 2012 from (empty referer)
Wed Feb 15 17:45:41 2012 from (empty referer)
Wed Feb 15 17:44:52 2012 from (empty referer)
Wed Feb 15 17:44:11 2012 from http://www.bing.com/search?q=hotsptshld.com%2Fg%2Fresults.php%3Fc%3Ds%26q%3Dhotsptshld.com%252Fg%252Fresults.php%253Fc%253De%2526err%253D408%2526h%253DA%2526q%253Dwww.world-lake.com%252Ft13565-topic%2526h%253DA%26h%3DA&pc=conduit&ptag=A16C261F681EE412B81F&form=CONWEB&conlogo=CT3022520&ShowAppsUI=1
Wed Feb 15 17:11:43 2012 from (empty referer)
Wed Feb 15 17:02:40 2012 from http://www.google.com/m?q=tubidy.mobi/searh.php&hl=en&start=50&sa=N
Wed Feb 15 16:57:09 2012 from http://www.google.com/m?hl=en&q=www.tubidy.mobi%2Fsearch.php%3Fa%3D18%C2%A7
Wed Feb 15 16:05:52 2012 from http://www.google.com/m?q=www.google.com%2Fm%3Fq%3Dwww.xxx%2Bhot.com%26client%3Dms-opera-mini%26channel%3Dnew&client=ms-opera-mini&channel=new
Wed Feb 15 16:04:21 2012 from http://www.google.com/url?sa=t&rct=j&q=http%3A%2F%2Fwww.google.com%2Fsearch%3Fq%3Dhttp%253a%252f%252fwww.google.com%252fsearch%253fq%253dhttp%25253a%25252f%25252fwww.google.com%25252fsearch%25253fq%25253dfacebook%252526sourceid%25253dopera%252526ie%25253dutf-8%252526oe%25253dutf-8%252526channel%25253dsuggest%2526sourceid%253dopera%2526ie%253dutf-8%2526oe%253dutf-8%2526channel%253dsuggest%26sourceid%3Dopera%26ie%3Dutf-8%26oe%3Dutf-8%26channel%3Dsuggest&source=web&cd=2&ved=0CCcQFjAB&url=http%3A%2F%2Fcarl.cs.indiana.edu%2Ffil%2Fcgi-bin%2FWebSec%2Fmarilyn.cgi%3Fiframe%3Dtrue%26width%3D80%25%26height%3D80%25&ei=ux08T8fyPMLRhAeEzKTpCQ&usg=AFQjCNE7JD9xSrOi5_c4GAQObQquXyuwVQ
Wed Feb 15 16:01:29 2012 from http://www.google.com/m?client=ms-nokia&cof=nsp&channel=s60&q=http://tubidy.mobi/search.php?a=18&q=sexe/
Wed Feb 15 15:56:40 2012 from http://www.google.com/url?sa=t&rct=j&q=http%3A%2F%2Fwww.google.com%2Fsearch%3Fq%3Dhttp%253a%252f%252fwww.google.com%252fsearch%253fq%253dhttp%25253a%25252f%25252fwww.google.com%25252fsearch%25253fq%25253dhttp%2525253a%2525252f%2525252fwww.google.com%2525252f%252526sourceid%25253dopera%252526ie%25253dutf-8%252526oe%25253dutf-8%252526channel%25253dsuggest%2526sourceid%253dopera%2526ie%253dutf-8%2526oe%253dutf-8%2526channel%253dsuggest%26sourceid%3Dopera%26ie%3Dutf-8%26oe%3Dutf-8%26channel%3Dsuggest&source=web&cd=1&ved=0CCsQFjAA&url=http%3A%2F%2Fcarl.cs.indiana.edu%2Ffil%2Fcgi-bin%2FWebSec%2Fmarilyn.cgi&ei=pxQ8T4yUIMaTiAfr0Y3zCQ&usg=AFQjCNHRtbr4ftk_4PyVzN3HuHPJV6LZow
Wed Feb 15 15:41:14 2012 from http://www.google.com/url?sa=t&rct=j&q=http%3A%2F%2Fwww.google.com%2Fsearch%3Fq%3Dhttp%253a%252f%252fwww.google.com%252fsearch%253fq%253dhttp%25253a%25252f%25252fwww.facebook.com%25252f%2526sourceid%253dopera%2526ie%253dutf-8%2526oe%253dutf-8%2526channel%253dsuggest%26sourceid%3Dopera%26ie%3Dutf-8%26oe%3Dutf-8%26channel%3Dsuggest&source=web&cd=1&ved=0CCwQFjAA&url=http%3A%2F%2Fcarl.cs.indiana.edu%2Ffil%2Fcgi-bin%2FWebSec%2Fmarilyn.cgi&ei=Phg8T4jJJIqXgweu1PGYCw&usg=AFQjCNHRtbr4ftk_4PyVzN3HuHPJV6LZow
Wed Feb 15 15:28:03 2012 from (empty referer)
Wed Feb 15 15:17:34 2012 from (empty referer)
Wed Feb 15 14:11:19 2012 from http://www.google.com/url?sa=t&rct=j&q=http%3A%2F%2Fwww.google.com%2Fsearch%3Fq%3Dhttp%253a%252f%252fwww.google.com%252fsearch%253fq%253dhttp%25253a%25252f%25252fwww.google.com%25252fsearch%25253fq%25253dhttp%2525253a%2525252f%2525252fwww.google.com%2525252f%252526sourceid%25253dopera%252526ie%25253dutf-8%252526oe%25253dutf-8%252526channel%25253dsuggest%2526sourceid%253dopera%2526ie%253dutf-8%2526oe%253dutf-8%2526channel%253dsuggest%26sourceid%3Dopera%26ie%3Dutf-8%26oe%3Dutf-8%26channel%3Dsuggest&source=web&cd=1&ved=0CCIQFjAA&url=http%3A%2F%2Fcarl.cs.indiana.edu%2Ffil%2Fcgi-bin%2FWebSec%2Fmarilyn.cgi&ei=CgM8T769BOih4gSN3JWlBg&usg=AFQjCNHRtbr4ftk_4PyVzN3HuHPJV6LZow
Wed Feb 15 14:09:17 2012 from http://www.google.com.sa/search?hl=ar&gl=ae&client=ms-android-samsung&source=android-browser-type&q=www.tubidy.mobi.%2Fsearch.php.18&sky=mrdr
Wed Feb 15 14:08:57 2012 from http://www.google.com.sa/search?hl=ar&gl=ae&client=ms-android-samsung&source=android-browser-type&q=www.tubidy.mobi.%2Fsearch.php.18&sky=mrdr
Wed Feb 15 13:41:33 2012 from http://carl.cs.indiana.edu/fil/cgi-bin/WebSec/marilyn.cgi
Wed Feb 15 13:35:10 2012 from http://www.ask.com/web?l=dis&o=101796&qsrc=2870&gct=dns&gc=1&q=home.myplaycity.com/results.php?category=web
Wed Feb 15 13:26:51 2012 from http://www.google.com/url?sa=t&rct=j&q=http%3A%2F%2Fwww.google.com%2Fsearch%3Fq%3Dhttp%253a%252f%252fwww.google.com%252fsearch%253fq%253dhttp%25253a%25252f%25252fwww.google.com%25252fsearch%25253fq%25253dhttp%2525253a%2525252f%2525252fwww.google.com%2525252f%252526sourceid%25253dopera%252526ie%25253dutf-8%252526oe%25253dutf-8%252526channel%25253dsuggest%2526sourceid%253dopera%2526ie%253dutf-8%2526oe%253dutf-8%2526channel%253dsuggest%26sourceid%3Dopera%26ie%3Dutf-8%26oe%3Dutf-8%26channel%3Dsuggest&source=web&cd=1&ved=0CCIQFjAA&url=http%3A%2F%2Fcarl.cs.indiana.edu%2Ffil%2Fcgi-bin%2FWebSec%2Fmarilyn.cgi&ei=Pfg7T_6fGvDvmAWDpeS0Cw&usg=AFQjCNHRtbr4ftk_4PyVzN3HuHPJV6LZow
Wed Feb 15 12:47:08 2012 from http://carl.cs.indiana.edu/fil/cgi-bin/WebSec/marilyn.cgi
Wed Feb 15 12:17:53 2012 from (empty referer)
Wed Feb 15 12:17:26 2012 from http://www.google.com/m?client=ms-nokia&cof=nsp&channel=s60&q=m%2fm%3fclient%3dms-nokia%26cof%3dnsp%26channel%3ds60%26q%3dwww.goog
Wed Feb 15 12:17:08 2012 from http://www.bing.com/search?q=http%3A%2F%2Fwww.ask.com%2Fweb%3Fqsrc%3D168%26o%3D101916%26l%3Ddis%26q%3Dmmtub&pc=conduit&ptag=A1D276F3158AD404D83F&form=CONBDF&conlogo=CT2233703&ShowAppsUI=1
Wed Feb 15 12:17:06 2012 from http://www.google.com/m?client=ms-nokia&cof=nsp&channel=s60&q=m%2fm%3fclient%3dms-nokia%26cof%3dnsp%26channel%3ds60%26q%3dwww.goog
Wed Feb 15 12:03:58 2012 from http://search.sweetim.com/search.asp?q=Htt%3A//tubidy.mobi/search.php%3F18%26q%3A&ln=en&src=1010&lcr=0
Wed Feb 15 12:00:40 2012 from http://search.sweetim.com/search.asp?q=Htt%3A//tubidy.mobi/search.php%3F18%26q%3A&ln=en&src=1010&lcr=0
Wed Feb 15 12:00:24 2012 from http://www.searchplusnetwork.com/?sp=chv&q=click.infospace.comClickHandler.ashx%3Fdu
Wed Feb 15 11:37:56 2012 from http://www.google.com/m/search?cx=partner-mb-pub-6630117049886772%3a7963048852&hl=en&sa=2&q=http%3a%2f%2ftubidy.mobi%2fsearch.php%3f%3d18%26q%3dhot&site=universal
Wed Feb 15 11:37:25 2012 from http://www.google.com/m/search?cx=partner-mb-pub-6630117049886772%3a7963048852&hl=en&sa=2&q=http%3a%2f%2ftubidy.mobi%2fsearch.php%3f%3d18%26q%3dhot&site=universal
Wed Feb 15 11:37:11 2012 from http://www.google.com/m/search?cx=partner-mb-pub-6630117049886772%3a7963048852&hl=en&sa=2&q=http%3a%2f%2ftubidy.mobi%2fsearch.php%3f%3d18%26q%3dhot&site=universal
Wed Feb 15 11:36:43 2012 from http://www.google.com/m/search?cx=partner-mb-pub-6630117049886772%3a7963048852&hl=en&sa=2&q=http%3a%2f%2ftubidy.mobi%2fsearch.php%3f%3d18%26q%3dhot&site=universal
Wed Feb 15 11:35:30 2012 from (empty referer)
Wed Feb 15 11:09:15 2012 from http://www.google.com/search?client=opera&rls=en&q=http%3A%2F%2Fwww.google.com%2Fsearch%3Fq%3Dhttp%253A%252F%252Fwww.google.com%252Fsearch%253Fq%253Dhttp%25253A%25252F%25252Fwww.facebook.com%25252F%2526sourceid%253Dopera%2526ie%253Dutf-8%2526oe%253Dutf-8%2526channel%253Dsuggest%26sourceid%3Dopera%26ie%3Dutf-8%26oe%3Dutf-8%26channel%3Dsuggest&sourceid=opera&ie=utf-8&oe=utf-8&channel=suggest
Wed Feb 15 10:47:59 2012 from http://int.ask.com/web?q=http://tubidy.mobi/serch.php?a=18&q=%D8%B1%D9%8%D8%B5+%D9%D8%B5%D8%B1%D9%8A&sid&siteid=10001096&qsrc=999&l=dis
Wed Feb 15 10:25:07 2012 from (empty referer)
Wed Feb 15 10:25:06 2012 from http://www.google.com/url?sa=t&rct=j&q=http%3A%2F%2Fwww.google.com%2Fsearch%3Fq%3Dhttp%253a%252f%252fwww.google.com%252fsearch%253fq%253dhttp%25253a%25252f%25252fwww.google.ro%25252f%2526sourceid%253dopera%2526ie%253dutf-8%2526oe%253dutf-8%2526channel%253dsuggest%26sourceid%3Dopera%26ie%3Dutf-8%26oe%3Dutf-8%26channel%3Dsuggest&source=web&cd=1&ved=0CCIQFjAA&url=http%3A%2F%2Fcarl.cs.indiana.edu%2Ffil%2Fcgi-bin%2FWebSec%2Fmarilyn.cgi&ei=S847T9DND9CVswbixOGGBw&usg=AFQjCNHRtbr4ftk_4PyVzN3HuHPJV6LZow
Wed Feb 15 10:01:06 2012 from http://www.google.com.sa/search?hl=ar&redir_esc=&client=ms-android-samsung&source=android-com.gau.go.launcherex&v=133247963&qsubts=1329317959428&q=hhtp%3A%2F%2Ftubidy.mobi%2Fsearch.php%3Fa%3D18%26q%3Dhot%2Bsex&v=133247963
Wed Feb 15 10:00:23 2012 from http://www.google.com.sa/search?hl=ar&redir_esc=&client=ms-android-samsung&source=android-com.gau.go.launcherex&v=133247963&qsubts=1329317959428&q=hhtp%3A%2F%2Ftubidy.mobi%2Fsearch.php%3Fa%3D18%26q%3Dhot%2Bsex&v=133247963
Wed Feb 15 10:00:02 2012 from (empty referer)
Wed Feb 15 09:44:05 2012 from http://carl.cs.indiana.edu/fil/cgi-bin/WebSec/marilyn.cgi
Wed Feb 15 08:52:08 2012 from (empty referer)
Wed Feb 15 08:20:26 2012 from http://www.google.com/url?sa=t&rct=j&q=http%3A%2F%2Fwww.google.com%2Fsearch%3Fq%3Dhttp%253a%252f%252fwww.google.com%252fsearch%253fq%253dhttp%25253a%25252f%25252fgoogle%25252f%2526sourceid%253dopera%2526ie%253dutf-8%2526oe%253dutf-8%2526channel%253dsuggest%26sourceid%3Dopera%26ie%3Dutf-8%26oe%3Dutf-8%26channel%3Dsuggest&source=web&cd=1&ved=0CCIQFjAA&url=http%3A%2F%2Fcarl.cs.indiana.edu%2Ffil%2Fcgi-bin%2FWebSec%2Fmarilyn.cgi&ei=maE7T8SAG4ifOrDYzeAC&usg=AFQjCNHRtbr4ftk_4PyVzN3HuHPJV6LZow
Wed Feb 15 07:55:54 2012 from (empty referer)
Wed Feb 15 07:53:16 2012 from (empty referer)
Wed Feb 15 07:44:19 2012 from http://www.google.com/url?sa=t&rct=j&q=&esrc=s&source=web&cd=1&ved=0CCsQFjAA&url=http%3A%2F%2Fcarl.cs.indiana.edu%2Ffil%2Fcgi-bin%2FWebSec%2Fmarilyn.cgi&ei=jqg7T-CQHMLyrQfQ7YGHAQ&usg=AFQjCNHRtbr4ftk_4PyVzN3HuHPJV6LZow&sig2=261cdS9xOZewsjKYcAtSZg
Wed Feb 15 07:44:18 2012 from http://www.google.com/m?client=ms-nokia&cof=nsp&channel=s60&q=www.google.com%2fm%3fclient%3dms-nokia%26cof%3dnsp%26channel
Wed Feb 15 07:22:15 2012 from http://isearch.babylon.com/?babsrc=tcp&affID=19318&q=http://click.infospace.com/ClickHandler.ashx?du=www.pornhub.com&ru=http%3a%2f%2fwww.pornhub.com%2f&ld=20120215&ap=2&app=1&c=babylon2.hp.row&s=babylon2&coi=374914&cop=main-title&euip=175.139.174.13&npp=2&p=0&pp=0&pvaid=71e5e63f8f564f9287a9dc51778c971c&ep=2&mid=9&hash=6911D72476A5216DA231710B0F1C104
Wed Feb 15 07:18:21 2012 from http://assist.babylon.com/babylonassista/dnsassist/main?domain=mystart%20incredibar%20mb113%20
Wed Feb 15 07:15:39 2012 from http://www.google.com/m?client=ms-nokia&cof=nsp&channel=s60&q=www.google.mcom%2fm%3fclient%3dms-nokia%26cof%3dnsp%26channel%3d
Wed Feb 15 07:15:11 2012 from http://assist.babylon.com/babylonassista/dnsassist/main?domain=mystart%20incredibar%20mb113%20
Wed Feb 15 06:59:46 2012 from http://www.google.com/url?sa=t&rct=j&q=http%3A%2F%2Fwww.google.com%2Fsearch%3Fq%3Dhttp%253A%252F%252Fwww.google.com%252Fsearch%253Fq%253Dhttp%25253A%25252F%25252Fwww.facebook.com%25252F%2526sourceid%253Dopera%2526ie%253Dutf-8%2526oe%253Dutf-8%2526channel%253Dsuggest%26sourceid%3Dopera%26ie%3Dutf-8%26oe%3Dutf-8%26channel%3Dsuggest&source=web&cd=1&ved=0CCIQFjAA&url=http%3A%2F%2Fcarl.cs.indiana.edu%2Ffil%2Fcgi-bin%2FWebSec%2Fmarilyn.cgi&ei=_507T4T-DsSq0QX9mpht&usg=AFQjCNHRtbr4ftk_4PyVzN3HuHPJV6LZow
Wed Feb 15 06:40:40 2012 from (empty referer)
Wed Feb 15 06:31:16 2012 from http://www.google.com/url?sa=t&rct=j&q=http%3A%2F%2Fwww.google.com%2Fsearch%3Fq%3Dhttp%253A%252F%252Fwww.google.com%252Fsearch%253Fq%253Dhttp%25253A%25252F%25252Fwww.facebook.com%25252F%2526sourceid%253Dopera%2526ie%253Dutf-8%2526oe%253Dutf-8%2526channel%253Dsuggest%26sourceid%3Dopera%26ie%3Dutf-8%26oe%3Dutf-8%26channel%3Dsuggest&source=web&cd=1&ved=0CCwQFjAA&url=http%3A%2F%2Fcarl.cs.indiana.edu%2Ffil%2Fcgi-bin%2FWebSec%2Fmarilyn.cgi&ei=dZc7T52DK7Do2gXsrKHzBg&usg=AFQjCNHRtbr4ftk_4PyVzN3HuHPJV6LZow
Wed Feb 15 06:25:15 2012 from http://www.google.com/m?client=ms-nokia&cof=nsp&channel=s60&q=tubidy.mobi%2fsearch.php%3fa%3d18%26q%3dsexe
Wed Feb 15 06:21:19 2012 from (empty referer)
Wed Feb 15 06:15:57 2012 from http://www.google.com/m?client=ms-aff-ucweb&q=www.google.com/m?client%3Dms-aff-ucweb%26output%3Dxhtml%26hl%3Den%26q%3Dwww.facebook.com&output=xhtml&hl=en&start=10&sa=N
Wed Feb 15 06:15:38 2012 from http://www.google.com/m?client=ms-aff-ucweb&q=www.google.com/m?client%3Dms-aff-ucweb%26output%3Dxhtml%26hl%3Den%26q%3Dwww.facebook.com&output=xhtml&hl=en&start=10&sa=N
Wed Feb 15 06:15:31 2012 from http://www.google.com/m?client=ms-aff-ucweb&q=www.google.com/m?client%3Dms-aff-ucweb%26output%3Dxhtml%26hl%3Den%26q%3Dwww.facebook.com&output=xhtml&hl=en&start=10&sa=N
Wed Feb 15 05:47:16 2012 from (empty referer)
Wed Feb 15 05:25:41 2012 from http://www.google.com/url?sa=t&rct=j&q=http%3A%2F%2Ftubidy.mobi%2Fsea%20rch.php%3Fa%20%3D18%26q%3Dhotsex&source=web&cd=1&ved=0CCAQFjAA&url=http%3A%2F%2Fcarl.cs.indiana.edu%2Ffil%2Fcgi-bin%2FWebSec%2Fmarilyn.cgi&ei=wYc7T9bINMPsObuU1eAC&usg=AFQjCNHRtbr4ftk_4PyVzN3HuHPJV6LZow
Wed Feb 15 05:24:57 2012 from http://www.google.com/url?sa=t&rct=j&q=http%3A%2F%2Ftubidy.mobi%2Fsea%20rch.php%3Fa%20%3D18%26q%3Dhotsex&source=web&cd=1&ved=0CCAQFjAA&url=http%3A%2F%2Fcarl.cs.indiana.edu%2Ffil%2Fcgi-bin%2FWebSec%2Fmarilyn.cgi&ei=wYc7T9bINMPsObuU1eAC&usg=AFQjCNHRtbr4ftk_4PyVzN3HuHPJV6LZow
Wed Feb 15 05:15:33 2012 from http://www.google.com/m?client=ms-nokia&cof=nsp&channel=s60&q=Http%3a%2f%2ftubidy.mobi%2fsearch.php%3fa%3d18%26q%3dhot
Wed Feb 15 05:06:45 2012 from http://www.google.com/url?sa=t&rct=j&q=http%3A%2F%2Fwww.google.com%2Fsearch%3Fq%3Dhttp%253a%252f%252fwww.google.com%252fsearch%253fq%253dhttp%25253a%25252f%25252fwww.yahoo.com%2526sourceid%253dopera%2526ie%253dutf-8%2526oe%253dutf-8%2526channel%253dsuggest%26sourceid%3Dopera%26ie%3Dutf-8%26oe%3Dutf-8%26channel%3Dsuggest&source=web&cd=1&ved=0CCIQFjAA&url=http%3A%2F%2Fcarl.cs.indiana.edu%2Ffil%2Fcgi-bin%2FWebSec%2Fmarilyn.cgi&ei=3oA7T43mKc_tOceojN8C&usg=AFQjCNHRtbr4ftk_4PyVzN3HuHPJV6LZow
Wed Feb 15 04:52:49 2012 from http://www.google.com/url?sa=t&rct=j&q=http%3A%2F%2Fwww.google.com%2Fsearch%3Fq%3Dhttp%253a%252f%252fwww.google.com%252fsearch%253fq%253dhttp%25253a%25252f%25252fwww.facebook.com%25252f%2526sourceid%253dopera%2526ie%253dutf-8%2526oe%253dutf-8%2526channel%253dsuggest%26sourceid%3Dopera%26ie%3Dutf-8%26oe%3Dutf-8%26channel%3Dsuggest&source=web&cd=1&ved=0CCIQFjAA&url=http%3A%2F%2Fcarl.cs.indiana.edu%2Ffil%2Fcgi-bin%2FWebSec%2Fmarilyn.cgi&ei=9387T9OrLsif8gO-__GWCw&usg=AFQjCNHRtbr4ftk_4PyVzN3HuHPJV6LZow
Wed Feb 15 04:49:59 2012 from http://www.google.com/m?client=ms-nokia&cof=nsp&channel=s60&q=tubidy.mobi%2fsearch.php%3fa%3d18%26q%3dsexe
Wed Feb 15 04:44:01 2012 from http://www.google.com.sa/url?sa=t&rct=j&q=http%3a%2f%2ftubidy.mobi%2fsearch.php%3fa%3d18%26q%3dsexe&source=web&cd=8&ved=0CHEQFjAH&url=http%3A%2F%2Fcarl.cs.indiana.edu%2Ffil%2Fcgi-bin%2FWebSec%2Fmarilyn.cgi&ei=6307T43fNoqr-QbEk4WtBw&usg=AFQjCNHRtbr4ftk_4PyVzN3HuHPJV6LZow
Wed Feb 15 04:37:43 2012 from http://www.google.com/xhtml?q=www%2egoogle%2eco%2ein%2fm%3fclient%3dms&client=ms-opera_mb_no&channel=bh
Wed Feb 15 04:36:24 2012 from (empty referer)
Wed Feb 15 03:47:33 2012 from http://www.google.com/url?sa=t&rct=j&q=et%2526sourceid%253dopera%2526ie%253dutf-8%2526oe%253dutf-8%2526channel%253dsuggest%26sourceid%3Dopera%26ie%3Dutf-8%26oe%3Dutf-8%26channel%3Dsuggest&source=web&cd=1&ved=0CCIQFjAA&url=http%3A%2F%2Fcarl.cs.indiana.edu%2Ffil%2Fcgi-bin%2FWebSec%2Fmarilyn.cgi&ei=D3E7T6rNMM3hrAeU_tCGAQ&usg=AFQjCNHRtbr4ftk_4PyVzN3HuHPJV6LZow
Wed Feb 15 03:35:40 2012 from http://www.google.com.sa/search?hl=ar&safe=active&client=ms-android-samsung&gl=ae&source=android-launcher-widget&sky=mrdr&sa=X&ei=c2w7T_lgwYQ6l__k3wI&ved=0CBIQBSgA&q=http%3Atubidy%60mobi+search+php%3Fa%3D18%26q%3D+sex%2Bhot&spell=1&biw=320&bih=508
Wed Feb 15 03:25:33 2012 from http://www.google.com.sa/search?hl=ar&safe=active&client=ms-android-samsung&gl=ae&source=android-launcher-widget&sky=mrdr&sa=X&ei=kGs7T5D_BougOrLn2d4C&ved=0CBIQBSgA&q=http%3Atubidy%60mobi+search+php%3Fa%3D18%26q%3D+sex%2Bhot&spell=1&biw=320&bih=508
Wed Feb 15 00:47:02 2012 from http://www.google.com/m?client=ms-nokia&cof=nsp&channel=s60&q=Http%3b%2f%2ftubidy.mobi%2fsearch.php%3fa%3d18%26q%3dhot
Tue Feb 14 23:38:31 2012 from http://carl.cs.indiana.edu/fil/cgi-bin/WebSec/marilyn.cgi
Tue Feb 14 23:11:00 2012 from (empty referer)
Tue Feb 14 22:57:15 2012 from http://www.google.com/search?client=opera&rls=en&q=http%3A%2F%2Fwww.google.com%2Fsearch%3Fq%3Dhttp%253A%252F%252Fwww.google.com%252Fsearch%253Fq%253Dhttp%25253A%25252F%25252Fwww.facebook.com%25252Fprofile.php%2526sourceid%253Dopera%2526ie%253Dutf-8%2526oe%253Dutf-8%2526channel%253Dsuggest%26sourceid%3Dopera%26ie%3Dutf-8%26oe%3Dutf-8%26channel%3Dsuggest&sourceid=opera&ie=utf-8&oe=utf-8&channel=suggest
Tue Feb 14 22:06:53 2012 from (empty referer)
Tue Feb 14 21:29:28 2012 from http://carl.cs.indiana.edu/fil/cgi-bin/WebSec/marilyn.cgi
Tue Feb 14 21:26:54 2012 from (empty referer)
Tue Feb 14 21:25:49 2012 from http://atlantaseoconsulting.com
Tue Feb 14 21:01:51 2012 from http://www.google.com/m?client=ms-nokia&cof=nsp&channel=s60&q=www.google.com%2fm%3fclient%3dms-nokia%26cof%3dnsp%26channel%3ds60%26q%3d
Tue Feb 14 20:53:03 2012 from (empty referer)
Tue Feb 14 20:45:29 2012 from (empty referer)
Tue Feb 14 20:39:41 2012 from http://carl.cs.indiana.edu/fil/cgi-bin/WebSec/marilyn.cgi
Tue Feb 14 20:34:34 2012 from (empty referer)
Tue Feb 14 20:26:21 2012 from (empty referer)
Tue Feb 14 20:25:25 2012 from http://www.google.com/m?client=ms-nokia&cof=nsp&channel=s60&q=http%3a%2f%2fwww.goole.com%2fm%3fclient%3dms-nokia%26cof%3dnsp%26channel%3ds60%26q%3dgmail.com
Tue Feb 14 20:22:15 2012 from (empty referer)
Tue Feb 14 18:05:29 2012 from http://www.google.com/m/search?client=ms-nokia&cof=nsp&q=Anonymous+hacked+into+auction+site+and+posted+sex+film+of+Marilyn+Monroe+here%3A+http%3A%2F%2Fbit.ly%2Fp7zHOT+Wow%21&channel=s60&site=universal&tbs=cdr%3A1&cd_min=&cd_max=
Tue Feb 14 17:12:46 2012 from http://assist.babylon.com/babylonassista/dnsassist/main?domain=mystart%20incredibar%20mb113%20
Tue Feb 14 17:09:10 2012 from http://www.google.com/m?client=ms-nokia&cof=nsp&channel=s60&q=Http%3b%2f%2ftubidy.mobi%2fsearch.php%3fa%3d18%26q%3dhot
Tue Feb 14 16:47:48 2012 from http://www.google.com/m?client=ms-nokia&cof=nsp&channel=s60&q=www.googlge.com%2fm%2fsearch%3fclient%3dms-nokia%26cof%3dnsp%26chann
Tue Feb 14 16:23:03 2012 from (empty referer)
Tue Feb 14 16:16:45 2012 from http://www.google.com/m?client=ms-nokia&cof=nsp&channel=s60&q=http%3a%2f%2ftubidy.mobi%2fsearch.php%3fa%3d18%26q%3dhot
Tue Feb 14 16:16:36 2012 from (empty referer)
Tue Feb 14 16:16:25 2012 from (empty referer)
Tue Feb 14 16:15:59 2012 from http://www.google.com/m?client=ms-nokia&cof=nsp&channel=s60&q=www.google.com%2fm%3fclient%3dms-nokia%26q%3dwww.sexfilm.com
Tue Feb 14 16:10:04 2012 from http://www.google.com/m?client=ms-nokia&cof=nsp&channel=s60&q=tubidy.mobi%2fsearch.php%3fa%3d18%26q%3dsexe
Tue Feb 14 16:01:44 2012 from http://www.google.com/m?client=ms-nokia&cof=nsp&channel=s60&q=www.google.comk%2fm%3fclient%3dms-nokia%26cof%3dnsp%26channel%3d
Tue Feb 14 15:12:26 2012 from http://www.google.com/m?client=ms-nokia&cof=nsp&channel=s60&q=www.google.fr%2Fm%2Fnews%3Fq%3Dwww.google.com%2Fm%3Foe%253DUTF-8
Tue Feb 14 15:07:07 2012 from http://www.google.com/m/search?client=ms-nokia&channel=proxy&q=http//tubidy_mobi/search.foto?@=18&=hot
Tue Feb 14 14:42:53 2012 from http://www.google.com/m?client=ms-nokia&cof=nsp&channel=s60&q=www.google.com%2fm%2fsearch%3fclient%3dms-nokia%26q%3dwww.goog%25D8%25
Tue Feb 14 14:12:36 2012 from http://www.youtube.com/watch?v=nDuGLWGP3dM
Tue Feb 14 14:10:14 2012 from http://www.google.com/url?sa=t&rct=j&q=http%3A%2F%2Fwww.google.com%2Fsearch%3Fq%3Dhttp%253a%252f%252fwww.google.com%252fsearch%253fq%253dhttp%25253a%25252f%25252fwww.google.com%25252fsearch%25253fq%25253dhttp%2525253a%2525252f%2525252fwww.gmail.com%2525252f%252526sourceid%25253dopera%252526ie%25253dutf-8%252526oe%25253dutf-8%2526sourceid%253dopera%2526ie%253dutf-8%2526oe%253dutf-8%26sourceid%3Dopera%26ie%3Dutf-8%26oe%3Dutf-8&source=web&cd=1&ved=0CCIQFjAA&url=http%3A%2F%2Fcarl.cs.indiana.edu%2Ffil%2Fcgi-bin%2FWebSec%2Fmarilyn.cgi&ei=grE6T5T6IYKy8QOM1oGWCw&usg=AFQjCNHRtbr4ftk_4PyVzN3HuHPJV6LZow
Tue Feb 14 13:54:23 2012 from http://www.google.co.in/m?q=www%252exxx%2520sex%2520vids%252ecom&client=ms-opera-mini&channel=new
Tue Feb 14 13:41:42 2012 from http://www.google.com/m?client=ms-nokia&cof=nsp&channel=s60&q=www.facebook.com%2Fm%3Fclient%3Dms-nokia%26cof%3Dnsp%26channel
Tue Feb 14 13:37:06 2012 from http://carl.cs.indiana.edu/fil/cgi-bin/WebSec/marilyn.cgi
Tue Feb 14 13:29:33 2012 from http://www.google.com/m?client=ms-nokia&cof=nsp&channel=s60&q=tubidy.mobi%2fsearch.php%3fa%3d18%26q%3dsexe
Tue Feb 14 13:12:44 2012 from (empty referer)
Tue Feb 14 13:03:25 2012 from http://www.searchplusnetwork.com/?sp=chv&q=www.searchplusnetwork.com%3Fsp
Tue Feb 14 13:02:14 2012 from http://www.furniturefile.co.uk
Tue Feb 14 12:55:34 2012 from http://www.google.com/m/search?client=ms-nokia&q=www.google.co+m/m?client%3Dms-nokia%26cof%3Dnsp%26channel%3D&cof=nsp&channel=s60&site=universal&tab=iw&ei=x586T4CjHoPBiQfmwQE&sa=N&ei=x586T4CjHoPBiQfmwQE&ved=0CAMQ1wY
Tue Feb 14 12:46:12 2012 from (empty referer)
Tue Feb 14 12:44:03 2012 from http://www.google.com/url?sa=t&rct=j&q=http%3A%2F%2Fwww.google.com%2Fsearch%3Fq%3Dhttp%253a%252f%252fwww.google.com%252fsearch%253fq%253dhttp%25253a%25252f%25252fwww.youtube.com%25252f%2526sourceid%253dopera%2526ie%253dutf-8%2526oe%253dutf-8%2526channel%253dsuggest%26sourceid%3Dopera%26ie%3Dutf-8%26oe%3Dutf-8%26channel%3Dsuggest&source=web&cd=1&ved=0CCIQFjAA&url=http%3A%2F%2Fcarl.cs.indiana.edu%2Ffil%2Fcgi-bin%2FWebSec%2Fmarilyn.cgi&ei=UZ06T6GXGZHb4QT2lPTdCg&usg=AFQjCNHRtbr4ftk_4PyVzN3HuHPJV6LZow
Tue Feb 14 12:35:24 2012 from http://www.yandex.ru/
Tue Feb 14 12:31:23 2012 from http://carl.cs.indiana.edu/fil/cgi-bin/WebSec/marilyn.cgi
Tue Feb 14 11:51:12 2012 from (empty referer)
Tue Feb 14 11:50:19 2012 from (empty referer)
Tue Feb 14 11:50:05 2012 from (empty referer)
Tue Feb 14 11:49:59 2012 from (empty referer)
Tue Feb 14 11:44:55 2012 from (empty referer)
Tue Feb 14 11:37:16 2012 from http://www.google.com/url?sa=t&rct=j&q=http++%25253A%25252F%25252Fwww.google.com%25252Fsearch%25253Fq%25253Dhttp%2525253A%2525252F%2525252Fwww.google.com%2525252F%252526sourceid%25253Dopera%252526ie%25253Dutf-8%252526oe%25253Dutf-8%252526channel%25253Dsuggest%2526sourceid%253Dopera%2526ie%253Dutf-8%2526oe%253Dutf-8%2526channel%253Dsuggest%26sourceid%3Dopera%26ie%3Dutf-8%26oe%3Dutf-8%26channel%3Dsuggest&source=web&cd=1&ved=0CCMQFjAA&url=http%3A%2F%2Fcarl.cs.indiana.edu%2Ffil%2Fcgi-bin%2FWebSec%2Fmarilyn.cgi&ei=uo06T9bzHouO4gTQ5qTdCg&usg=AFQjCNHRtbr4ftk_4PyVzN3HuHPJV6LZow
Tue Feb 14 10:56:26 2012 from (empty referer)
Tue Feb 14 10:40:55 2012 from (empty referer)
Tue Feb 14 10:38:52 2012 from http://www.google.com/url?sa=t&rct=j&q=http%3A%2F%2Fwww.google.com%2Fsearch%3Fq%3Dhttp%253a%252f%252fwww.google.com%252fsearch%253fq%253dhttp%25253a%25252f%25252fwww.yahoo.com%2526sourceid%253dopera%2526ie%253dutf-8%2526oe%253dutf-8%2526channel%253dsuggest%26sourceid%3Dopera%26ie%3Dutf-8%26oe%3Dutf-8%26channel%3Dsuggest&source=web&cd=1&ved=0CCIQFjAA&url=http%3A%2F%2Fcarl.cs.indiana.edu%2Ffil%2Fcgi-bin%2FWebSec%2Fmarilyn.cgi&ei=AoA6T8eHKIuu8QP45fSNCw&usg=AFQjCNHRtbr4ftk_4PyVzN3HuHPJV6LZow
Tue Feb 14 10:36:28 2012 from http://carl.cs.indiana.edu/fil/cgi-bin/WebSec/marilyn.cgi
Tue Feb 14 10:35:58 2012 from http://www.google.com/search?client=opera&rls=en&q=http%3A%2F%2Fwww.google.com%2Fsearch%3Fq%3Dhttp%253A%252F%252Fwww.google.com%252Fsearch%253Fq%253Dhttp%25253A%25252F%25252Fwww.google.com%25252Fsearch%25253Fq%25253Dhttp%2525253A%2525252F%2525252Fgoogle%2525252F%252526sourceid%25253Dopera%252526ie%25253Dutf-8%252526oe%25253Dutf-8%252526channel%25253Dsuggest%2526sourceid%253Dopera%2526ie%253Dutf-8%2526oe%253Dutf-8%2526channel%253Dsuggest%26sourceid%3Dopera%26ie%3Dutf-8%26oe%3Dutf-8%26channel%3Dsuggest&sourceid=opera&ie=utf-8&oe=utf-8&channel=suggest
Tue Feb 14 10:22:56 2012 from (empty referer)
Tue Feb 14 10:10:01 2012 from (empty referer)
Tue Feb 14 10:09:44 2012 from (empty referer)
Tue Feb 14 09:47:31 2012 from http://www.furniturefile.co.uk/
Tue Feb 14 07:42:21 2012 from http://www.google.com/url?sa=t&rct=j&q=http%3A%2F%2Fwww.google.com%2Fsearch%3Fq%3Dhttp%253a%252f%252fwww.google.com%252fsearch%253fq%253dhttp%25253a%25252f%25252fwww.google.com%25252fsearch%25253fq%25253dhttp%2525253a%2525252f%2525252fwww.google.com%2525252f%252526sourceid%25253dopera%252526ie%25253dutf-8%252526oe%25253dutf-8%252526channel%25253dsuggest%2526sourceid%253dopera%2526ie%253dutf-8%2526oe%253dutf-8%2526channel%253dsuggest%26sourceid%3Dopera%26ie%3Dutf-8%26oe%3Dutf-8%26channel%3Dsuggest&source=web&cd=1&ved=0CCIQFjAA&url=http%3A%2F%2Fcarl.cs.indiana.edu%2Ffil%2Fcgi-bin%2FWebSec%2Fmarilyn.cgi&ei=n1Y6T_GNMaaP4gTk0fGKAg&usg=AFQjCNHRtbr4ftk_4PyVzN3HuHPJV6LZow
Tue Feb 14 06:43:51 2012 from http://www.google.com/url?sa=t&rct=j&q=http%3A%2F%2Fwww.google.com%2Fsearch%3Fq%3Dhttp%253A%252F%252Fwww.google.com%252Fsearch%253Fq%253Dwww%2526sourceid%253Dopera%2526ie%253Dutf-8%2526oe%253Dutf-8%2526channel%253Dsuggest%26sourceid%3Dopera%26ie%3Dutf-8%26oe%3Dutf-8%26channel%3Dsuggest&source=web&cd=1&ved=0CCAQFjAA&url=http%3A%2F%2Fcarl.cs.indiana.edu%2Ffil%2Fcgi-bin%2FWebSec%2Fmarilyn.cgi&ei=40g6T4WoK8qCOuGj0Z8C&usg=AFQjCNHRtbr4ftk_4PyVzN3HuHPJV6LZow
Tue Feb 14 05:53:16 2012 from http://assist.babylon.com/babylonassista/dnsassist/main?domain=mystart%20incredibar%20mb113%20
Tue Feb 14 05:08:44 2012 from http://www.google.com/url?sa=t&rct=j&q=http%3A%2F%2Fwww.google.com%2Fsearch%3Fq%3Dhttp%253a%252f%252fwww.google.com%252fsearch%253fq%253dhttp%25253a%25252f%25252fwww.facebook.com%25252f%2526sourceid%253dopera%2526ie%253dutf-8%2526oe%253dutf-8%2526channel%253dsuggest%26sourceid%3Dopera%26ie%3Dutf-8%26oe%3Dutf-8%26channel%3Dsuggest&source=web&cd=1&ved=0CCIQFjAA&url=http%3A%2F%2Fcarl.cs.indiana.edu%2Ffil%2Fcgi-bin%2FWebSec%2Fmarilyn.cgi&ei=UDI6T6vTFI-SiAeOuZGOCg&usg=AFQjCNHRtbr4ftk_4PyVzN3HuHPJV6LZow
Tue Feb 14 03:23:38 2012 from (empty referer)
Tue Feb 14 03:16:02 2012 from http://www.google.com/url?sa=t&rct=j&q=http%3A%2F%2Fwww.google.com%2Fsearch%3Fq%3Dhttp%253a%252f%252fwww.google.com%252fsearch%253fq%253dhttp%25253a%25252f%25252fwww.google.com%25252fsearch%25253fq%25253dhttp%2525253a%2525252f%2525252fwww.google.com%2525252f%252526sourceid%25253dopera%252526ie%25253dutf-8%252526oe%25253dutf-8%252526channel%25253dsuggest%2526sourceid%253dopera%2526ie%253dutf-8%2526oe%253dutf-8%2526channel%253dsuggest%26sourceid%3Dopera%26ie%3Dutf-8%26oe%3Dutf-8%26channel%3Dsuggest&source=web&cd=1&ved=0CC4QFjAA&url=http%3A%2F%2Fcarl.cs.indiana.edu%2Ffil%2Fcgi-bin%2FWebSec%2Fmarilyn.cgi&ei=Ihg6T5bDPIWeiQKz0aSSDA&usg=AFQjCNHRtbr4ftk_4PyVzN3HuHPJV6LZow
Tue Feb 14 02:18:19 2012 from http://websearch.4shared.com/results?q=attp%253B%252F%252Fsearch.4shared.com
Tue Feb 14 01:58:52 2012 from http://carl.cs.indiana.edu/fil/cgi-bin/WebSec/marilyn.cgi
Tue Feb 14 01:48:29 2012 from http://www.google.com/url?sa=t&rct=j&q=&esrc=s&source=web&cd=1&ved=0CCIQFjAA&url=http%3A%2F%2Fcarl.cs.indiana.edu%2Ffil%2Fcgi-bin%2FWebSec%2Fmarilyn.cgi&ei=sgM6T6uJNeTb4QTcy_nOCg&usg=AFQjCNHRtbr4ftk_4PyVzN3HuHPJV6LZow&sig2=pTdn-SRdcPj3g13_ap7FFA
Tue Feb 14 00:57:48 2012 from (empty referer)
Mon Feb 13 23:59:50 2012 from http://www.google.com/search?client=opera&rls=en&q=http%3A%2F%2Fwww.google.com%2Fsearch%3Fq%3Dhttp%253A%252F%252Fwww.google.com%252Fsearch%253Fq%253Dwww.facebook.com%2526sourceid%253Dopera%2526ie%253Dutf-8%2526oe%253Dutf-8%2526channel%253Dsuggest%26sourceid%3Dopera%26ie%3Dutf-8%26oe%3Dutf-8%26channel%3Dsuggest&sourceid=opera&ie=utf-8&oe=utf-8&channel=suggest
Mon Feb 13 23:51:07 2012 from (empty referer)
Mon Feb 13 23:38:16 2012 from (empty referer)
Mon Feb 13 23:19:07 2012 from (empty referer)
Mon Feb 13 23:15:32 2012 from (empty referer)
Mon Feb 13 22:36:53 2012 from http://search.sweetim.com/search.asp?src=1&crg=4.0002002&q=http%3A%2F%2Fstart.allgameshome.com%2Fresults.php%3Fcategory%3Dweb
Mon Feb 13 22:35:22 2012 from http://search.sweetim.com/search.asp?src=1&crg=4.0002002&q=http%3A%2F%2Fstart.allgameshome.com%2Fresults.php%3Fcategory%3Dweb
Mon Feb 13 20:34:28 2012 from (empty referer)
Mon Feb 13 20:30:27 2012 from http://www.google.com/url?sa=t&rct=j&q=http%3A%2F%2Fwww.google.com%2Fsearch%3Fq%3Dhttp%253A%252F%252Fwww.google.com%252Fsearch%253Fq%253Dhttp%25253A%25252F%25252Fwww.google.com%25252Fsearch%25253Fq%25253Dhttp%2525253A%2525252F%2525252Fwww.facebook.com%252526sourceid%25253Dopera%252526ie%25253Dutf-8%252526oe%25253Dutf-8%252526channel%25253Dsuggest%2526sourceid%253Dopera%2526ie%253Dutf-8%2526oe%253Dutf-8%2526channel%253Dsuggest%26sourceid%3Dopera%26ie%3Dutf-8%26oe%3Dutf-8%26channel%3Dsuggest&source=web&cd=1&ved=0CC8QFjAA&url=http%3A%2F%2Fcarl.cs.indiana.edu%2Ffil%2Fcgi-bin%2FWebSec%2Fmarilyn.cgi&ei=8bU5T72OOZHrrQetpdXICA&usg=AFQjCNHRtbr4ftk_4PyVzN3HuHPJV6LZow
Mon Feb 13 20:30:22 2012 from http://www.google.com/url?sa=t&rct=j&q=http%3A%2F%2Fwww.google.com%2Fsearch%3Fq%3Dhttp%253A%252F%252Fwww.google.com%252Fsearch%253Fq%253Dhttp%25253A%25252F%25252Fwww.google.com%25252Fsearch%25253Fq%25253Dhttp%2525253A%2525252F%2525252Fwww.facebook.com%252526sourceid%25253Dopera%252526ie%25253Dutf-8%252526oe%25253Dutf-8%252526channel%25253Dsuggest%2526sourceid%253Dopera%2526ie%253Dutf-8%2526oe%253Dutf-8%2526channel%253Dsuggest%26sourceid%3Dopera%26ie%3Dutf-8%26oe%3Dutf-8%26channel%3Dsuggest&source=web&cd=1&ved=0CC8QFjAA&url=http%3A%2F%2Fcarl.cs.indiana.edu%2Ffil%2Fcgi-bin%2FWebSec%2Fmarilyn.cgi&ei=8bU5T72OOZHrrQetpdXICA&usg=AFQjCNHRtbr4ftk_4PyVzN3HuHPJV6LZow
Mon Feb 13 20:07:37 2012 from http://search.bearshare.com/web?hl=en&q=click+infospace&src=derr&ref=1&page=7
Mon Feb 13 18:59:11 2012 from (empty referer)
Mon Feb 13 18:20:55 2012 from http://www.google.com/url?sa=t&rct=j&q=&esrc=s&source=web&cd=1&ved=0CCMQFjAA&url=http%3A%2F%2Fcarl.cs.indiana.edu%2Ffil%2Fcgi-bin%2FWebSec%2Fmarilyn.cgi&ei=yJo5T9WKJMKN4gS9-qyhCw&usg=AFQjCNHRtbr4ftk_4PyVzN3HuHPJV6LZow&sig2=Gc-T-uZuZiHUHWutByRcuw
Mon Feb 13 17:57:30 2012 from (empty referer)
Mon Feb 13 17:57:29 2012 from (empty referer)
Mon Feb 13 17:49:28 2012 from http://www.google.com/url?sa=t&rct=j&q=http%3A%2F%2Fwww.google.com%2Fsearch%3Fq%3Dhttp%253a%252f%252fwww.google.com.ng%252fsearch%253fq%253dwww%2526sourceid%253dopera%2526ie%253dutf-8%2526oe%253dutf-8%2526channel%253dsuggest%26sourceid%3Dopera%26ie%3Dutf-8%26oe%3Dutf-8%26channel%3Dsuggest&source=web&cd=1&ved=0CCIQFjAA&url=http%3A%2F%2Fcarl.cs.indiana.edu%2Ffil%2Fcgi-bin%2FWebSec%2Fmarilyn.cgi&ei=VJM5T_SGOdSEhQeQuYSOAg&usg=AFQjCNHRtbr4ftk_4PyVzN3HuHPJV6LZow
Mon Feb 13 17:27:03 2012 from http://www.google.tn/url?url=http://carl.cs.indiana.edu/fil/cgi-bin/WebSec/marilyn.cgi&rct=j&sa=X&ctbs=clir%3A1%2Cclirsl%3Afr%2Cclirtl%3Aen%2Cclira%3Az&ei=C445T4DlB4LH0QXz_PS2Ag&ved=0CIQBEJQK&q=film+sex+2012&usg=AFQjCNHj9qgt1RYZoXQN4HDLXx8OnGgfPw
Mon Feb 13 16:47:04 2012 from http://www.google.com.sa/search?hl=en&site=&q=httptubidy...isearch.txt&oq=&aq=0&aqi=s3&aql=&gs_sm=1&gs_upl=0l0l0l9500l2l2l0l2l2l0l0l0ll0l0
Mon Feb 13 16:44:31 2012 from http://www.google.com.sa/search?hl=en&site=&q=httptubidy...isearch.txt&oq=&aq=0&aqi=s3&aql=&gs_sm=1&gs_upl=0l0l0l9500l2l2l0l2l2l0l0l0ll0l0
Mon Feb 13 16:40:10 2012 from http://www.google.com.sa/search?hl=ar&safe=active&client=ms-android-samsung&gl=ae&source=android-unknown&sky=mrdr&q=httptubidy...isearch.txt&oq=httptubidy...isearch.txt&aq=f&aqi=&aql=&gs_sm=12&gs_upl=0l0l0l16126l0l0l0l0l0l0l0l0ll0l0
Mon Feb 13 16:30:57 2012 from (empty referer)
Mon Feb 13 16:28:02 2012 from http://www.google.com.sa/search?hl=ar&gl=ae&client=ms-android-samsung&source=android-unknown&action=devloc&q=httptubidy...isearch.txt&sky=mrdr
Mon Feb 13 16:26:44 2012 from http://www.google.com/url?sa=t&rct=j&q=http%3A%2F%2Fwww.google.com%2Fsearch%3Fq%3Dhttp%253a%252f%252fwww.google.com%252fsearch%253fq%253dww.facebook.com%25252525252f%2525252526sourceid%252525253dopera%2525252526ie%252525253dutf-8%2525252526oe%252525253dutf-8%2525252526channel%252525253dsuggest%25252526sourceid%2525253dopera%25252526ie%2525253dutf-8%25252526oe%2525253dutf-8%25252526channel%2525253dsuggest%252526sourceid%25253dopera%252526ie%25253dutf-8%252526oe%25253dutf-8%252526channel%25253dsuggest%2526sourceid%253dopera%2526ie%253dutf-8%2526oe%253dutf-8%2526channel%253dsuggest%26sourceid%3Dopera%26ie%3Dutf-8%26oe%3Dutf-8%26channel%3Dsuggest&source=web&cd=1&ved=0CCMQFjAA&url=http%3A%2F%2Fcarl.cs.indiana.edu%2Ffil%2Fcgi-bin%2FWebSec%2Fmarilyn.cgi&ei=A4A5T-mUG4jDtAb_y8iDBw&usg=AFQjCNHRtbr4ftk_4PyVzN3HuHPJV6LZow
Mon Feb 13 16:05:38 2012 from (empty referer)
Mon Feb 13 16:00:47 2012 from (empty referer)
Mon Feb 13 15:58:54 2012 from (empty referer)
Mon Feb 13 15:55:01 2012 from http://www.google.com/url?sa=t&rct=j&q=http%3A%2F%2Fwww.google.com%2Fsearch%3Fq%3Dhttp%253a%252f%252fwww.google.co.id%252fsearch%253fq%253dg%2526sourceid%253dopera%2526ie%253dutf-8%2526oe%253dutf-8%2526channel%253dsuggest%26sourceid%3Dopera%26ie%3Dutf-8%26oe%3Dutf-8%26channel%3Dsuggest&source=web&cd=1&ved=0CCsQFjAA&url=http%3A%2F%2Fcarl.cs.indiana.edu%2Ffil%2Fcgi-bin%2FWebSec%2Fmarilyn.cgi&ei=bng5T9aqJcnhrAf4n5XWBQ&usg=AFQjCNHRtbr4ftk_4PyVzN3HuHPJV6LZow
Mon Feb 13 15:43:13 2012 from http://int.search-results.com/web?l=dis&o=16712&qsrc=2873&q=http://www.plusnetwork.com/?sp=hp
Mon Feb 13 15:42:39 2012 from http://int.search-results.com/web?l=dis&o=16712&qsrc=2873&q=http://www.plusnetwork.com/?sp=hp
Mon Feb 13 15:37:39 2012 from (empty referer)
Mon Feb 13 15:37:15 2012 from (empty referer)
Mon Feb 13 15:36:56 2012 from (empty referer)
Mon Feb 13 15:06:00 2012 from http://carl.cs.indiana.edu/fil/cgi-bin/WebSec/marilyn.cgi
Mon Feb 13 14:29:37 2012 from http://www.google.com/m?client=ms-nokia&cof=nsp&channel=s60&q=www.googgle.com%2fm%2fsearch%3fclient%3dms-nokia%26q%3dnokia.m
Mon Feb 13 13:40:07 2012 from (empty referer)
Mon Feb 13 13:27:51 2012 from http://rss2search.com/novus/?from=interstitial&afcid=1249
Mon Feb 13 13:26:32 2012 from http://us.yhs.search.yahoo.com/if?p=Hotsptshld.com%2Fg%2Fresults.php%3Fc%3De%26err%3D404%26h%3Df%26q%3Dhttp%3A%2F%2Fbit.ly%2Fx1t&partnerid=yhs-if-vendio&fr=yhs-if-vendio
Mon Feb 13 13:24:59 2012 from http://www.google.com/url?sa=t&rct=j&q=http%3A%2F%2Fwww.google.com%2Fsearch%3Fq%3Dhttp%253a%252f%252fwww.google.com%252fsearch%253fq%253dhttp%25253a%25252f%25252fwww.google.com%25252fsearch%25253fq%25253dhttp%2525253a%2525252f%2525252fwww.t-online.de%2525252f%252526sourceid%25253dopera%252526ie%25253dutf-8%252526oe%25253dutf-8%252526channel%25253dsuggest%2526sourceid%253dopera%2526ie%253dutf-8%2526oe%253dutf-8%2526channel%253dsuggest%26sourceid%3Dopera%26ie%3Dutf-8%26oe%3Dutf-8%26channel%3Dsuggest&source=web&cd=1&ved=0CCYQFjAA&url=http%3A%2F%2Fcarl.cs.indiana.edu%2Ffil%2Fcgi-bin%2FWebSec%2Fmarilyn.cgi&ei=OVU5T4uFEIr0-gb5xZnsAQ&usg=AFQjCNHRtbr4ftk_4PyVzN3HuHPJV6LZow
Mon Feb 13 13:09:34 2012 from http://www.qword.com/search.php?s=404&q=search.mywebsearch mywebsearch redirect.jhtml searchfor  d8 af d8 a7 d9 86 d9 84 d9 88 d8 af  d9 81 db 8c d9 84 d8 aa d8 b1  d8 b4 da a9 d9 86 cb zj n 77ecd9f8 ptnrs zjxdm891yyde qid b5f9ef773c3a6fe42e158f5fa6e0a6c6 action pick ss sub pn 1 st bar ptb bsxpddvk32moebu9yjkwcg pg ggmain ord 4 redirect mpwsrdz9heamc8ihehldeewx7sdmdomc92khqpkfr8melf50cgnvv5yzt8dc 2bpwtbl2ijucezjje5theu5f2lcndzkdaidrjg56itnknuybdhstahymh2u4urozb1rffka3vshnd2jshe0klmwvviwk 2byhefulxvbyubmwcjrrsgmhftbswje8dvr99uviv 2byzb6k 2bnjurf4hqlxijlj2peca3njhlbhr7lnwq8mqdm 3d ct ar tpr sbt
Mon Feb 13 12:50:40 2012 from http://www.google.com.sa/m?q=http%3B%2F%2Ftubidy.movi%2Fsearch.php%3Fa%3D18%26q%3Dxxx%2Bvideo
Mon Feb 13 12:05:15 2012 from http://www.google.com/url?sa=t&rct=j&q=&esrc=s&source=web&cd=1&ved=0CCMQFjAA&url=http%3A%2F%2Fcarl.cs.indiana.edu%2Ffil%2Fcgi-bin%2FWebSec%2Fmarilyn.cgi&ei=v0I5T7XSKOrQ4QSr-rmhCw&usg=AFQjCNHRtbr4ftk_4PyVzN3HuHPJV6LZow&sig2=CNeq8ReXYgRrRx4QIusTsA
Mon Feb 13 11:58:34 2012 from (empty referer)
Mon Feb 13 11:35:40 2012 from (empty referer)
Mon Feb 13 11:32:25 2012 from (empty referer)
Mon Feb 13 11:25:23 2012 from http://www.google.com/url?sa=t&rct=j&q=&esrc=s&source=web&cd=1&ved=0CC4QFjAA&url=http%3A%2F%2Fcarl.cs.indiana.edu%2Ffil%2Fcgi-bin%2FWebSec%2Fmarilyn.cgi&ei=ajk5T4z7OcTL0QWpzayNAg&usg=AFQjCNHRtbr4ftk_4PyVzN3HuHPJV6LZow
Mon Feb 13 11:22:53 2012 from (empty referer)
Mon Feb 13 11:12:05 2012 from (empty referer)
Mon Feb 13 10:33:50 2012 from http://www.google.com/url?sa=t&rct=j&q=http%3A%2F%2Fwww.google.com%2Fsearch%3Fq%3Dhttp%253a%252f%252fwww.google.com%252fsearch%253fq%253dhttp%25253a%25252f%25252fwww.google.com%25252fsearch%25253fq%25253dhttp%2525253a%2525252f%2525252fwww.google.com%2525252fsearch%2525253fq%2525253dhttp%252525253a%252525252f%252525252fhelp.opera.com%252525252ferrorpage%252525252f%25252526sourceid%2525253dopera%25252526ie%2525253dutf-8%25252526oe%2525253dutf-8%25252526channel%2525253dsuggest%252526sourceid%25253dopera%252526ie%25253dutf-8%252526oe%25253dutf-8%252526channel%25253dsuggest%2526sourceid%253dopera%2526ie%253dutf-8%2526oe%253dutf-8%2526channel%253dsuggest%26sourceid%3Dopera%26ie%3Dutf-8%26oe%3Dutf-8%26channel%3Dsuggest&source=web&cd=1&ved=0CCsQFjAA&url=http%3A%2F%2Fcarl.cs.indiana.edu%2Ffil%2Fcgi-bin%2FWebSec%2Fmarilyn.cgi&ei=Gi05T9TJD8KqrAfeu9zVBQ&usg=AFQjCNHRtbr4ftk_4PyVzN3HuHPJV6LZow
Mon Feb 13 10:30:03 2012 from http://www.google.com/search?client=opera&rls=en&q=http%3A%2F%2Fwww.google.com%2Fsearch%3Fq%3Dhttp%253A%252F%252Fwww.google.com%252Fsearch%253Fq%253Dhttp%25253A%25252F%25252Fwww.google.com.ng%25252F%2526sourceid%253Dopera%2526num%253D0%2526ie%253Dutf-8%2526oe%253Dutf-8%2526channel%253Dsuggest%26sourceid%3Dopera%26num%3D0%26ie%3Dutf-8%26oe%3Dutf-8%26channel%3Dsuggest&sourceid=opera&ie=utf-8&oe=utf-8&channel=suggest
Mon Feb 13 10:19:18 2012 from http://www.facebook.com/l.php?u=http%3A%2F%2Fbit.ly%2Fp7zHOT&h=YAQB69aB3
Mon Feb 13 10:19:07 2012 from (empty referer)
Mon Feb 13 10:07:24 2012 from http://us.yhs.search.yahoo.com/if?p=Www.ask.com%2Fweb%3Fqsrc%3D2417%26o%3D15185%26l%3Ddis%26q%3Dindiasexvideo%26search%3D&partnerid=yhs-if-vendio&fr=yhs-if-vendio
Mon Feb 13 10:07:07 2012 from (empty referer)
Mon Feb 13 09:59:27 2012 from http://start.allgameshome.com/results.php?s=aghstart&category=web&start=25
Mon Feb 13 09:48:33 2012 from http://www.google.com/url?sa=t&rct=j&q=&esrc=s&source=web&cd=1&ved=0CDAQFjAA&url=http%3A%2F%2Fcarl.cs.indiana.edu%2Ffil%2Fcgi-bin%2FWebSec%2Fmarilyn.cgi&ei=oiI5T4faN4SurAfh-dnVBQ&usg=AFQjCNHRtbr4ftk_4PyVzN3HuHPJV6LZow&sig2=3iJnggYLlCL3HUmcocx45Q
Mon Feb 13 09:40:03 2012 from (empty referer)
Mon Feb 13 09:12:40 2012 from (empty referer)
Mon Feb 13 08:53:57 2012 from http://www.google.com/m/imgres?client=ms-opera-mini&q=http://www.google.com/m?q%3Dwww.%26client%3Dms-opera-mini%26channel%3Dnew&channel=new&start=54&site=images&imgid=ANd9GcSKhTTP3xdm2D45mFYPuSSyWvr5WR-nLtKNbPdi0QuZXJ36YWJkxeHs3SmT&imgsz=54326&imgurl=http://carl.cs.indiana.edu/fil/WebSec/marilyn.jpg&imgrefurl=http://carl.cs.indiana.edu/fil/cgi-bin/WebSec/marilyn.cgi&ht=333&wd=500&tbnh=87&tbnw=130&ei=uBU5T5ieHaLziwLn2wE&ved=0CCAQ9QEwDDgq
Mon Feb 13 08:53:53 2012 from http://www.google.com/url?sa=t&rct=j&q=http%3A%2F%2Fwww.google.com%2Fsearch%3Fq%3Dhttp%253a%252f%252fwww.google.com%252fsearch%253fq%253dhttp%25253a%25252f%25252fwww.google.com%25252fsearch%25253fq%25253dhttp%2525253a%2525252f%2525252fgoogle.pl%2525252f%252526sourceid%25253dopera%252526ie%25253dutf-8%252526oe%25253dutf-8%252526channel%25253dsuggest%2526sourceid%253dopera%2526ie%253dutf-8%2526oe%253dutf-8%2526channel%253dsuggest%26sourceid%3Dopera%26ie%3Dutf-8%26oe%3Dutf-8%26channel%3Dsuggest&source=web&cd=1&ved=0CCMQFjAA&url=http%3A%2F%2Fcarl.cs.indiana.edu%2Ffil%2Fcgi-bin%2FWebSec%2Fmarilyn.cgi&ei=1RU5T4iML8HltQas85zcDA&usg=AFQjCNHRtbr4ftk_4PyVzN3HuHPJV6LZow
Mon Feb 13 08:44:26 2012 from (empty referer)
Mon Feb 13 08:33:57 2012 from http://www.google.com/url?sa=t&rct=j&q=http%3A%2F%2Fwww.google.com%2Fsearch%3Fq%3Dhttp%253a%252f%252fwww.google.com%252fsearch%253fq%253dhttp%25253a%25252f%25252fwww.google.com%25252fsearch%25253fq%25253dhttp%2525253a%2525252f%2525252fwww.facebook.com%252526sourceid%25253dopera%252526ie%25253dutf-8%252526oe%25253dutf-8%252526channel%25253dsuggest%2526sourceid%253dopera%2526ie%253dutf-8%2526oe%253dutf-8%2526channel%253dsuggest%26sourceid%3Dopera%26ie%3Dutf-8%26oe%3Dutf-8%26channel%3Dsuggest&source=web&cd=1&ved=0CCIQFjAA&url=http%3A%2F%2Fcarl.cs.indiana.edu%2Ffil%2Fcgi-bin%2FWebSec%2Fmarilyn.cgi&ei=6oMzT4O-JpCGhQfThZGMAg&usg=AFQjCNHRtbr4ftk_4PyVzN3HuHPJV6LZow
Mon Feb 13 08:31:54 2012 from http://www.google.com/m?client=ms-nokia&cof=nsp&channel=s60&q=www.google.com%2fm%3fclient%3dms-nokia%26cof%3dnsp%26channel%3ds
Mon Feb 13 08:28:39 2012 from (empty referer)
Mon Feb 13 08:21:18 2012 from http://www.google.com/m?client=ms-nokia&cof=nsp&channel=s60&q=www.google.com%2fm%3fclient%3dms-nokia%26cof%3dnsp%26channel%3ds60%26q%3d
Mon Feb 13 08:16:13 2012 from http://www.google.com/search?client=opera&rls=en&q=http%3A%2F%2Fwww.google.com%2Fsearch%3Fq%3Dhttp%253A%252F%252Fwww.google.com%252Fsearch%253Fq%253Dhttp%25253A%25252F%25252Fwww.google.com%25252Fsearch%25253Fq%25253Dhttp%2525253A%2525252F%2525252Fwww.google.com%2525252F%252526sourceid%25253Dopera%252526ie%25253Dutf-8%252526oe%25253Dutf-8%252526channel%25253Dsuggest%2526sourceid%253Dopera%2526ie%253Dutf-8%2526oe%253Dutf-8%2526channel%253Dsuggest%26sourceid%3Dopera%26ie%3Dutf-8%26oe%3Dutf-8%26channel%3Dsuggest&sourceid=opera&ie=utf-8&oe=utf-8&channel=suggest
Mon Feb 13 08:00:43 2012 from http://www.google.com/url?sa=t&rct=j&q=http%3A%2F%2Fwww.google.com%2Fsearch%3Fq%3Dhttp%253a%252f%252fwww.google.com%252fsearch%253fq%253dhttp%25253a%25252f%25252fwww.google.com%25252fsearch%25253fq%25253dhttp%2525253a%2525252f%2525252fwww.google.com%2525252fsearch%2525253fq%2525253dhttps%252525253a%252525252f%252525252fmail.google.com%252525252fmail%252525252fh%252525252f1a2u16e7h8krd%252525252f%252525253f%2525252526at%252525253daf6bupotfte2akq1gch4amv8ejkptv8q-w%25252526sourceid%2525253dopera%25252526ie%2525253dutf-8%25252526oe%2525253dutf-8%25252526channel%2525253dsuggest%252526sourceid%25253dopera%252526ie%25253dutf-8%252526oe%25253dutf-8%252526channel%25253dsuggest%2526sourceid%253dopera%2526ie%253dutf-8%2526oe%253dutf-8%2526channel%253dsuggest%26sourceid%3Dopera%26ie%3Dutf-8%26oe%3Dutf-8%26channel%3Dsuggest&source=web&cd=1&ved=0CCIQFjAA&url=http%3A%2F%2Fcarl.cs.indiana.edu%2Ffil%2Fcgi-bin%2FWebSec%2Fmarilyn.cgi&ei=lgg5T-a7KYPnrAeFzfDVBQ&usg=AFQjCNHRtbr4ftk_4PyVzN3HuHPJV6LZow
Mon Feb 13 07:52:32 2012 from (empty referer)
Mon Feb 13 07:49:54 2012 from http://www.google.com/url?sa=t&rct=j&q=&esrc=s&source=web&cd=1&ved=0CCIQFjAA&url=http%3A%2F%2Fcarl.cs.indiana.edu%2Ffil%2Fcgi-bin%2FWebSec%2Fmarilyn.cgi&ei=0gY5T_6fEoiIrAeb64TWBQ&usg=AFQjCNHRtbr4ftk_4PyVzN3HuHPJV6LZow&sig2=zwOQw_Tf59LVU9mXpRx9vQ
Mon Feb 13 07:40:02 2012 from http://carl.cs.indiana.edu/fil/cgi-bin/WebSec/marilyn.cgi
Mon Feb 13 07:34:07 2012 from http://www.google.com/m?client=ms-nokia&cof=nsp&channel=s60&q=www.google.com%2fm%3fclient%3dms-nokia%26cof%3dnsp%26channel%3ds
Mon Feb 13 07:24:39 2012 from http://www.google.com/search?client=opera&rls=en&q=http%3A%2F%2Fwww.google.com%2Fsearch%3Fq%3Dhttp%253A%252F%252Fwww.google.com%252Fsearch%253Fq%253Dhttp%25253A%25252F%25252Fgoogle.com%25252F%2526sourceid%253Dopera%2526ie%253Dutf-8%2526oe%253Dutf-8%2526channel%253Dsuggest%26sourceid%3Dopera%26ie%3Dutf-8%26oe%3Dutf-8%26channel%3Dsuggest&sourceid=opera&ie=utf-8&oe=utf-8&channel=suggest
Mon Feb 13 07:23:00 2012 from http://www.google.com/search?client=opera&rls=en&q=http%3A%2F%2Fwww.google.com%2Fsearch%3Fq%3Dhttp%253A%252F%252Fwww.google.com%252Fsearch%253Fq%253Dhttp%25253A%25252F%25252Fgoogle.com%25252F%2526sourceid%253Dopera%2526ie%253Dutf-8%2526oe%253Dutf-8%2526channel%253Dsuggest%26sourceid%3Dopera%26ie%3Dutf-8%26oe%3Dutf-8%26channel%3Dsuggest&sourceid=opera&ie=utf-8&oe=utf-8&channel=suggest
Mon Feb 13 07:10:17 2012 from http://www.google.com/url?url=http://carl.cs.indiana.edu/fil/cgi-bin/WebSec/marilyn.cgi&rct=j&sa=U&ei=Ff04T4uwJoTOrQfYsYXWBQ&ved=0CDMQFjAA&q=http://www.google.com/search%3Fq%3Dhttp%253A%252F%252Fwww.google.com%252Fsearch%253Fq%253Dhttp%25253A%25252F%25252Fwww.ideacellular.com%25252F%2526sourceid%253Dopera%2526ie%253Dutf-8%2526oe%253Dutf-8%2526channel%253Dsuggest%26sourceid%3Dopera%26ie%3Dutf-8%26oe%3Dutf-8%26channel%3Dsuggest&usg=AFQjCNFUzknxKg9Srb7XSdJqZRSR9skIJQ
Mon Feb 13 07:07:14 2012 from http://www.google.com/url?sa=t&rct=j&q=http%3A%2F%2Fwww.google.com%2Fsearch%3Fq%3Dhttp%253a%252f%252fwww.google.com%252fsearch%253fq%253dhttp%25253a%25252f%25252fwww.google.com%25252fsearch%25253fq%25253dhttp%2525253a%2525252f%2525252fwww.google.com%2525252fsearch%2525253fq%2525253dhttp%252525253a%252525252f%252525252fwww.facebook.com%252525252fprofile.php%252525253fid%252525253d100002011343843%2525252526sk%252525253dwall%25252526sourceid%2525253dopera%25252526ie%2525253dutf-8%25252526oe%2525253dutf-8%25252526channel%2525253dsuggest%252526sourceid%25253dopera%252526ie%25253dutf-8%252526oe%25253dutf-8%252526channel%25253dsuggest%2526sourceid%253dopera%2526ie%253dutf-8%2526oe%253dutf-8%2526channel%253dsuggest%26sourceid%3Dopera%26ie%3Dutf-8%26oe%3Dutf-8%26channel%3Dsuggest&source=web&cd=1&ved=0CCsQFjAA&url=http%3A%2F%2Fcarl.cs.indiana.edu%2Ffil%2Fcgi-bin%2FWebSec%2Fmarilyn.cgi&ei=rvw4T_XKE8TUrQfA2_zVBQ&usg=AFQjCNHRtbr4ftk_4PyVzN3HuHPJV6LZow
Mon Feb 13 07:05:09 2012 from http://www.searchplusnetwork.com/?sp=chv&q=video%20sex%20%252Ftarzan%20x
Mon Feb 13 06:39:55 2012 from (empty referer)
Mon Feb 13 06:36:18 2012 from http://www.google.com/url?sa=t&rct=j&q=http%3A%2F%2Fwww.google.com%2Fsearch%3Fq%3Dhttp%253a%252f%252fwww.google.com%252fsearch%253fq%253dhttp%25253a%25252f%25252fwww.google.com%25252fsearch%25253fq%25253dhttp%2525253a%2525252f%2525252fwww.google.com%2525252fsearch%2525253fq%2525253dhttp%252525253a%252525252f%252525252fredir.opera.com%252525252fspeeddials%252525252fibibo%25252526sourceid%2525253dopera%25252526ie%2525253dutf-8%25252526oe%2525253dutf-8%25252526channel%2525253dsuggest%252526sourceid%25253dopera%252526ie%25253dutf-8%252526oe%25253dutf-8%252526channel%25253dsuggest%2526sourceid%253dopera%2526ie%253dutf-8%2526oe%253dutf-8%2526channel%253dsuggest%26sourceid%3Dopera%26ie%3Dutf-8%26oe%3Dutf-8%26channel%3Dsuggest&source=web&cd=1&ved=0CC8QFjAA&url=http%3A%2F%2Fcarl.cs.indiana.edu%2Ffil%2Fcgi-bin%2FWebSec%2Fmarilyn.cgi&ei=dfQ4T4nwIIXprAfmwPjVBQ&usg=AFQjCNHRtbr4ftk_4PyVzN3HuHPJV6LZow
Mon Feb 13 06:34:11 2012 from http://www.google.com/url?sa=t&rct=j&q=&esrc=s&source=web&cd=1&ved=0CCMQFjAA&url=http%3A%2F%2Fcarl.cs.indiana.edu%2Ffil%2Fcgi-bin%2FWebSec%2Fmarilyn.cgi&ei=-PQ4T43uN8WqrAeR4fXVBQ&usg=AFQjCNHRtbr4ftk_4PyVzN3HuHPJV6LZow&sig2=84sM-472jxXbPb-Vg6a5ag
Mon Feb 13 06:31:02 2012 from (empty referer)
Mon Feb 13 06:23:33 2012 from http://www.google.com/url?sa=t&rct=j&q=&esrc=s&source=web&cd=1&ved=0CBwQFjAA&url=http%3A%2F%2Fcarl.cs.indiana.edu%2Ffil%2Fcgi-bin%2FWebSec%2Fmarilyn.cgi&ei=jPI4T7SGDInRtAbVl4H4DQ&usg=AFQjCNHRtbr4ftk_4PyVzN3HuHPJV6LZow
Mon Feb 13 06:23:18 2012 from http://www.google.co.uk/m?q=sex%2538%2539%252ecom&client=ms-opera-mini&channel=new&q=sex%2538%2539%252ecom&client=ms-opera-mini&channel=new
Mon Feb 13 06:09:16 2012 from (empty referer)
Mon Feb 13 06:06:29 2012 from http://www.google.com/xhtml?client=ms-opera_mb_no&channel=bh&q=http%3A%2F%2Fwww.google.com%2Fxhtml%3Fclient%3Dms-opera_mb_no%26channel%3Dbh%26q%3D
Mon Feb 13 06:04:01 2012 from http://www.google.com/gwt/x?client=ms-sonyericsson&q=http://www.google.com/m?client%3Dms-sonyericsson&channel=bh&ei=4O04T8jiAam0iQe1Kg&ved=0CAsQFjAD&output=wml&hl=en-GB&source=m&rd=1&u=http://carl.cs.indiana.edu/fil/cgi-bin/WebSec/marilyn.cgi
Mon Feb 13 06:03:25 2012 from (empty referer)
Mon Feb 13 05:56:01 2012 from http://www.google.com/url?sa=t&rct=j&q=http%3A%2F%2Fwww.google.com%2Fsearch%3Fq%3Dhttp%253A%252F%252Fwww.google.com%252Fsearch%253Fq%253Dhttp%25253A%25252F%25252Fwww.youtube.com%25252F%2526sourceid%253Dopera%2526num%253D0%2526ie%253Dutf-8%2526oe%253Dutf-8%2526channel%253Dsuggest%26sourceid%3Dopera%26num%3D0%26ie%3Dutf-8%26oe%3Dutf-8%26channel%3Dsuggest&source=web&cd=1&ved=0CCMQFjAA&url=http%3A%2F%2Fcarl.cs.indiana.edu%2Ffil%2Fcgi-bin%2FWebSec%2Fmarilyn.cgi&ei=EOw4T5DNI4To-gac_azmAQ&usg=AFQjCNHRtbr4ftk_4PyVzN3HuHPJV6LZow
Mon Feb 13 05:41:35 2012 from http://us.yhs.search.yahoo.com/if?p=Search.speedbit.com%2Fr.aspx%3Faff%3Dsvd_0%26p%3D0%26u%3Dhttp%3A%2F%2Fwzuy1.ask.com%2F&partnerid=yhs-if-vendio&fr=yhs-if-vendio
Mon Feb 13 05:33:26 2012 from http://www.google.com/cse?q=google.com%2Furl%3Fq%3Dyouporn.com%2F&cx=014714114577817547783%3Abdyelwlrqeo&ie=UTF-8&hl=en-US
Mon Feb 13 05:14:00 2012 from http://www.google.com/url?sa=t&rct=j&q=http%3A%2F%2Fwww.google.com%2Fsearch%3Fq%3Dhttp%253a%252f%252fwww.google.com%252fsearch%253fq%253dhttp%25253a%25252f%25252fwww.facebook.com%25252f%2526sourceid%253dopera%2526ie%253dutf-8%2526oe%253dutf-8%2526channel%253dsuggest%26sourceid%3Dopera%26ie%3Dutf-8%26oe%3Dutf-8%26channel%3Dsuggest&source=web&cd=1&ved=0CCIQFjAA&url=http%3A%2F%2Fcarl.cs.indiana.edu%2Ffil%2Fcgi-bin%2FWebSec%2Fmarilyn.cgi&ei=xN04T4H4K4yh-QapmsWfAg&usg=AFQjCNHRtbr4ftk_4PyVzN3HuHPJV6LZow
Mon Feb 13 05:13:30 2012 from http://www.google.com/url?sa=t&rct=j&q=http%3A%2F%2Fwww.google.com%2Fsearch%3Fq%3Dhttp%253a%252f%252fwww.google.com%252fsearch%253fq%253dhttp%25253a%25252f%25252fwww.facebook.com%25252f%2526sourceid%253dopera%2526ie%253dutf-8%2526oe%253dutf-8%2526channel%253dsuggest%26sourceid%3Dopera%26ie%3Dutf-8%26oe%3Dutf-8%26channel%3Dsuggest&source=web&cd=1&ved=0CCIQFjAA&url=http%3A%2F%2Fcarl.cs.indiana.edu%2Ffil%2Fcgi-bin%2FWebSec%2Fmarilyn.cgi&ei=P-I4T5_cMsfLmAX3lNjpAQ&usg=AFQjCNHRtbr4ftk_4PyVzN3HuHPJV6LZow
Mon Feb 13 04:55:39 2012 from (empty referer)
Mon Feb 13 04:54:59 2012 from http://www.google.com/url?sa=t&rct=j&q=http%3A%2F%2Fwww.google.com%2Fsearch%3Fq%3Dhttp%253a%252f%252fwww.google.com%252fsearch%253fq%253dhttp%25253a%25252f%25252fwww.facebook.com%25252f%2526sourceid%253dopera%2526ie%253dutf-8%2526oe%253dutf-8%2526channel%253dsuggest%26sourceid%3Dopera%26ie%3Dutf-8%26oe%3Dutf-8%26channel%3Dsuggest&source=web&cd=1&ved=0CCIQFjAA&url=http%3A%2F%2Fcarl.cs.indiana.edu%2Ffil%2Fcgi-bin%2FWebSec%2Fmarilyn.cgi&ei=xN04T4H4K4yh-QapmsWfAg&usg=AFQjCNHRtbr4ftk_4PyVzN3HuHPJV6LZow
Mon Feb 13 04:53:14 2012 from http://www.google.co.in/url?sa=t&rct=j&q=http:%2F%2Fhome.allgameshome.com%2F&source=web&cd=9&ved=0CFgQFjAI&url=http%3A%2F%2Fcarl.cs.indiana.edu%2Ffil%2Fcgi-bin%2FWebSec%2Fmarilyn.cgi&ei=VN04T4bPKoTSrQfJopHWBQ&usg=AFQjCNHRtbr4ftk_4PyVzN3HuHPJV6LZow
Mon Feb 13 04:45:30 2012 from (empty referer)
Mon Feb 13 04:40:33 2012 from http://www.google.com/url?sa=t&rct=j&q=http%3A%2F%2Fwww.google.com%2Fsearch%3Fq%3Dhttp%253a%252f%252fwww.google.com%252fsearch%253fq%253dhttp%25253a%25252f%25252fwww.google.com%25252fsearch%25253fq%25253dhttp%2525253a%2525252f%2525252fwww.google.com%2525252fsearch%2525253fq%2525253dhttp%252525253a%252525252f%252525252fhighered.mcgraw-hill.com%252525252fsites%252525252f0073050369%252525252fsitemap.html%252525253fqui%25252526sourceid%2525253dopera%25252526ie%2525253dutf-8%25252526oe%2525253dutf-8%25252526channel%2525253dsuggest%252526sourceid%25253dopera%252526ie%25253dutf-8%252526oe%25253dutf-8%252526channel%25253dsuggest%2526sourceid%253dopera%2526ie%253dutf-8%2526oe%253dutf-8%2526channel%253dsuggest%26sourceid%3Dopera%26ie%3Dutf-8%26oe%3Dutf-8%26channel%3Dsuggest&source=web&cd=1&ved=0CCIQFjAA&url=http%3A%2F%2Fcarl.cs.indiana.edu%2Ffil%2Fcgi-bin%2FWebSec%2Fmarilyn.cgi&ei=eNo4T7nGG8fnrAecpPzVBQ&usg=AFQjCNHRtbr4ftk_4PyVzN3HuHPJV6LZow
Mon Feb 13 04:25:09 2012 from (empty referer)
Mon Feb 13 04:23:11 2012 from http://www.google.com/url?sa=t&rct=j&q=&esrc=s&source=web&cd=1&ved=0CCIQFjAA&url=http%3A%2F%2Fcarl.cs.indiana.edu%2Ffil%2Fcgi-bin%2FWebSec%2Fmarilyn.cgi&ei=bdY4T42OBMjYrQeM__XVBQ&usg=AFQjCNHRtbr4ftk_4PyVzN3HuHPJV6LZow&sig2=INXCK3wpa6JOyn3bVRc4iw
Mon Feb 13 04:02:43 2012 from http://www.google.com/url?sa=t&rct=j&q=http%3A%2F%2Fwww.google.com%2Fsearch%3Fq%3Dhttp%253a%252f%252fwww.google.com%252fsearch%253fq%253dhttp%25253a%25252f%25252fwww.google.com%25252fsearch%25253fq%25253dhttp%2525253a%2525252f%2525252fwww.google.pl%2525252fsearch%2525253fq%2525253dwww%25252526sourceid%2525253dopera%25252526ie%2525253dutf-8%25252526oe%2525253dutf-8%25252526channel%2525253dsuggest%252526sourceid%25253dopera%252526ie%25253dutf-8%252526oe%25253dutf-8%252526channel%25253dsuggest%2526sourceid%253dopera%2526ie%253dutf-8%2526oe%253dutf-8%2526channel%253dsuggest%26sourceid%3Dopera%26ie%3Dutf-8%26oe%3Dutf-8%26channel%3Dsuggest&source=web&cd=1&ved=0CCMQFjAA&url=http%3A%2F%2Fcarl.cs.indiana.edu%2Ffil%2Fcgi-bin%2FWebSec%2Fmarilyn.cgi&ei=ptE4T73pJ83ltQbX-IWyDA&usg=AFQjCNHRtbr4ftk_4PyVzN3HuHPJV6LZow
Mon Feb 13 03:44:30 2012 from (empty referer)
Mon Feb 13 02:53:42 2012 from http://www.google.com/url?sa=t&rct=j&q=http%3A%2F%2Fwww.google.com%2Fsearch%3Fq%3Dhttp%253A%252F%252Fwww.google.com%252Fsearch%253Fq%253D%2526sourceid%253Dopera%2526ie%253Dutf-8%2526oe%253Dutf-8%2526channel%253Dsuggest%26sourceid%3Dopera%26ie%3Dutf-8%26oe%3Dutf-8%26channel%3Dsuggest&source=web&cd=1&ved=0CCIQFjAA&url=http%3A%2F%2Fcarl.cs.indiana.edu%2Ffil%2Fcgi-bin%2FWebSec%2Fmarilyn.cgi&ei=ZsE4T8yHNYnLrQfUloXWBQ&usg=AFQjCNHRtbr4ftk_4PyVzN3HuHPJV6LZow
Mon Feb 13 02:52:56 2012 from http://www.google.com/xhtml?q=http%3a%2f%2fwww%2egoogle%2ecom%2fxhtml%3fclient%3dms%2dopera_mb_no%26channel%3dbh%26q%3d&client=ms-opera_mb_no&channel=bh
Mon Feb 13 02:27:54 2012 from http://www.google.com/url?sa=t&rct=j&q=http%3A%2F%2Fwww.google.com%2Fsearch%3Fq%3Dhttp%253a%252f%252fwww.google.com%252fsearch%253fq%253dhttp%25253a%25252f%25252fwww.gmail.com%25252f%2526sourceid%253dopera%2526ie%253dutf-8%2526oe%253dutf-8%2526channel%253dsuggest%26sourceid%3Dopera%26ie%3Dutf-8%26oe%3Dutf-8%26channel%3Dsuggest&source=web&cd=1&ved=0CC8QFjAA&url=http%3A%2F%2Fcarl.cs.indiana.edu%2Ffil%2Fcgi-bin%2FWebSec%2Fmarilyn.cgi&ei=aJw4T9HYBITtrQe7paHWBQ&usg=AFQjCNHRtbr4ftk_4PyVzN3HuHPJV6LZow
Mon Feb 13 02:25:33 2012 from http://www.google.com/m?client=ms-nokia&cof=nsp&channel=s60&q=http%3a%3dms-nokia%26cof%3dnsp%26channel%3ds60%26q%3d.in
Mon Feb 13 01:56:44 2012 from http://search.conduit.com/ResultsExt.aspx?q=http%3A%2F%2Fhome.allgameshome.com%2F&SearchSource=4&ctid=CT1060933
Mon Feb 13 01:52:32 2012 from http://search.conduit.com/ResultsExt.aspx?q=http%3A%2F%2Fhome.allgameshome.com%2F&SearchSource=4&ctid=CT1060933
Mon Feb 13 01:49:36 2012 from http://www.google.com/url?sa=t&rct=j&q=http%3A%2F%2Fwww.google.com%2Fsearch%3Fq%3Dhttp%253a%252f%252fwww.google.com%252fsearch%253fq%253dhttp%25253a%25252f%25252fwww.yahoo.com%25252f%2526sourceid%253dopera%2526ie%253dutf-8%2526oe%253dutf-8%2526channel%253dsuggest%26sourceid%3Dopera%26ie%3Dutf-8%26oe%3Dutf-8%26channel%3Dsuggest&source=web&cd=1&ved=0CCIQFjAA&url=http%3A%2F%2Fcarl.cs.indiana.edu%2Ffil%2Fcgi-bin%2FWebSec%2Fmarilyn.cgi&ei=aLI4T-mPN8XR-gbVg_z9AQ&usg=AFQjCNHRtbr4ftk_4PyVzN3HuHPJV6LZow
Mon Feb 13 01:43:53 2012 from (empty referer)
Mon Feb 13 01:31:17 2012 from http://www.google.com/m?client=ms-nokia&cof=nsp&channel=s60&q=www.google.com-nokia%26cof%3dnsp%26channel%3ds60%26q%3dhttp%253a
Mon Feb 13 01:27:01 2012 from http://www.google.com/search?client=opera&rls=en&q=http%3A%2F%2Fwww.google.com%2Fsearch%3Fq%3Dhttp%253A%252F%252Fwww.google.com%252Fsearch%253Fq%253DSearch%2526sourceid%253Dopera%2526ie%253Dutf-8%2526oe%253Dutf-8%2526channel%253Dsuggest%26sourceid%3Dopera%26ie%3Dutf-8%26oe%3Dutf-8%26channel%3Dsuggest&sourceid=opera&ie=utf-8&oe=utf-8&channel=suggest
Mon Feb 13 01:18:34 2012 from http://www.reliancenetconnect.co.in/search.php?q=sexmouvi&channel=ui_old&sa=Web+Search
Mon Feb 13 00:56:47 2012 from http://www.google.com/url?sa=t&rct=j&q=http%3A%2F%2Fwww.google.com%2Fsearch%3Fq%3Dhttp%253a%252f%252fwww.google.com%252fsearch%253fq%253dhttp%25253a%25252f%25252fwww.google.com%25252fsearch%25253fq%25253dhttp%2525253a%2525252f%2525252fwww.facebook.com%2525252f%252526sourceid%25253dopera%252526ie%25253dutf-8%252526oe%25253dutf-8%252526channel%25253dsuggest%2526sourceid%253dopera%2526ie%253dutf-8%2526oe%253dutf-8%2526channel%253dsuggest%26sourceid%3Dopera%26ie%3Dutf-8%26oe%3Dutf-8%26channel%3Dsuggest&source=web&cd=1&ved=0CCwQFjAA&url=http%3A%2F%2Fcarl.cs.indiana.edu%2Ffil%2Fcgi-bin%2FWebSec%2Fmarilyn.cgi&ei=XKM4T7SWB5KdgQfGwNXoBQ&usg=AFQjCNHRtbr4ftk_4PyVzN3HuHPJV6LZow
Mon Feb 13 00:34:56 2012 from http://carl.cs.indiana.edu/fil/cgi-bin/WebSec/marilyn.cgi
Sun Feb 12 23:26:04 2012 from http://www.google.com/search?client=opera&rls=en&q=http%3A%2F%2Fwww.google.com%2Fsearch%3Fq%3Dhttp%253A%252F%252Fwww.google.com%252Fsearch%253Fq%253Dhttp%25253A%25252F%25252Fwww.google.com%25252Fsearch%25253Fq%25253Dhttp%2525253A%2525252F%2525252Fwww.google.com%2525252F%252526sourceid%25253Dopera%252526ie%25253Dutf-8%252526oe%25253Dutf-8%252526channel%25253Dsuggest%2526sourceid%253Dopera%2526ie%253Dutf-8%2526oe%253Dutf-8%2526channel%253Dsuggest%26sourceid%3Dopera%26ie%3Dutf-8%26oe%3Dutf-8%26channel%3Dsuggest&sourceid=opera&ie=utf-8&oe=utf-8&channel=suggest
Sun Feb 12 21:57:41 2012 from (empty referer)
Sun Feb 12 21:56:18 2012 from (empty referer)
Sun Feb 12 21:52:39 2012 from http://www.google.com/url?sa=t&rct=j&q=http%3A%2F%2Fwww.google.com%2Fsearch%3Fq%3Dhttp%253A%252F%252Fwww.google.com%252Fsearch%253Fq%253Dwww.%2526sourceid%253Dopera%2526ie%253Dutf-8%2526oe%253Dutf-8%2526channel%253Dsuggest%26sourceid%3Dopera%26ie%3Dutf-8%26oe%3Dutf-8%26channel%3Dsuggest&source=web&cd=1&ved=0CC8QFjAA&url=http%3A%2F%2Fcarl.cs.indiana.edu%2Ffil%2Fcgi-bin%2FWebSec%2Fmarilyn.cgi&ei=2no4T7C7IpCIrAefs43WBQ&usg=AFQjCNHRtbr4ftk_4PyVzN3HuHPJV6LZow
Sun Feb 12 21:39:13 2012 from http://www.google.com/url?sa=t&rct=j&q=http%3A%2F%2Fwww.google.com%2Fsearch%3Fq%3Dhttp%253a%252f%252fwww.google.com%252fsearch%253fq%253dhttp%25253a%25252f%25252fwww.youtube.com%25252f%2526sourceid%253dopera%2526ie%253dutf-8%2526oe%253dutf-8%2526channel%253dsuggest%26sourceid%3Dopera%26ie%3Dutf-8%26oe%3Dutf-8%26channel%3Dsuggest&source=web&cd=1&ved=0CCIQFjAA&url=http%3A%2F%2Fcarl.cs.indiana.edu%2Ffil%2Fcgi-bin%2FWebSec%2Fmarilyn.cgi&ei=xXc4T6qfHIfS0QXYi-GZAg&usg=AFQjCNHRtbr4ftk_4PyVzN3HuHPJV6LZow
Sun Feb 12 21:33:21 2012 from http://www.search-results.com/web?l=dis&o=1935&q=home.allgameshome.comg&atb=sysid%3D406%3Aappid%3D102%3Auid%3D3486aa3e7a8058fb%3Auc%3D1324019671%3Aq%3Dhome.allgameshome.comg%3Asrc%3Dcrb%3Ao%3D1935
Sun Feb 12 21:00:51 2012 from http://www.google.com/m/search?client=ms-opera-mini&channel=new&sa=2&q=www.google.com%2Fm%3Fclient%3Dms-opera-mini%26q%3Dwww.%26channel%3Dnew%26start%3D10%26sa%3DN&site=universal
Sun Feb 12 20:28:01 2012 from http://www.google.com/url?sa=t&rct=j&q=http%3A%2F%2Fwww.google.com%2Fsearch%3Fq%3Dhttp%253A%252F%252Fwww.google.com%252Fsearch%253Fq%253Dhttp%25253A%25252F%25252Fwww.google.com%25252F&source=web&cd=1&ved=0CCwQFjAA&url=http%3A%2F%2Fcarl.cs.indiana.edu%2Ffil%2Fcgi-bin%2FWebSec%2Fmarilyn.cgi&ei=92Y4T9rbHOO-2AWQjN3vAQ&usg=AFQjCNHRtbr4ftk_4PyVzN3HuHPJV6LZow
Sun Feb 12 20:27:44 2012 from http://www.google.com/url?sa=t&rct=j&q=http%3A%2F%2Fwww.google.com%2Fsearch%3Fq%3Dhttp%253A%252F%252Fwww.google.com%252Fsearch%253Fq%253Dhttp%25253A%25252F%25252Fwww.google.com%25252F&source=web&cd=1&ved=0CCwQFjAA&url=http%3A%2F%2Fcarl.cs.indiana.edu%2Ffil%2Fcgi-bin%2FWebSec%2Fmarilyn.cgi&ei=92Y4T9rbHOO-2AWQjN3vAQ&usg=AFQjCNHRtbr4ftk_4PyVzN3HuHPJV6LZow
Sun Feb 12 19:18:08 2012 from http://www.google.com/url?sa=t&rct=j&q=http%3A%2F%2Fwww.google.com%2Fsearch%3Fq%3Dhttp%253a%252f%252fwww.google.com%252fsearch%253fq%253dhttp%25253a%25252f%25252fwww.google.com%25252fsearch%25253fq%25253dhttp%2525253a%2525252f%2525252fyoutube.com%2525252f%252526sourceid%25253dopera%252526ie%25253dutf-8%252526oe%25253dutf-8%252526channel%25253dsuggest%2526sourceid%253dopera%2526ie%253dutf-8%2526oe%253dutf-8%2526channel%253dsuggest%26sourceid%3Dopera%26ie%3Dutf-8%26oe%3Dutf-8%26channel%3Dsuggest&source=web&cd=1&ved=0CCMQFjAA&url=http%3A%2F%2Fcarl.cs.indiana.edu%2Ffil%2Fcgi-bin%2FWebSec%2Fmarilyn.cgi&ei=ulY4T5v_JJC_gAfe95XoBQ&usg=AFQjCNHRtbr4ftk_4PyVzN3HuHPJV6LZow
Sun Feb 12 19:16:20 2012 from http://www.google.com/m/imgres?client=ms-opera_mb_no&q=http://www.google.com/xhtml?client%3Dms-opera_mb_no%26channel%3Dbh%26q%3Dwww.foto.sex.com+&channel=bh&start=2&site=images&imgid=ANd9GcSKhTTP3xdm2D45mFYPuSSyWvr5WR-nLtKNbPdi0QuZXJ36YWJkxeHs3SmT&imgsz=54326&imgurl=http://carl.cs.indiana.edu/fil/WebSec/marilyn.jpg&imgrefurl=http://carl.cs.indiana.edu/fil/cgi-bin/WebSec/marilyn.cgi&ht=333&wd=500&tbnh=87&tbnw=130&ei=HlY4T-DaAYiWiALv9QE&ved=0CAwQ9QEwAg
Sun Feb 12 18:48:21 2012 from http://search.incredibar.com/?q=click.infospace.comClickHandler.ashx%3fdu&lang=turkish&source=422365&cid=1&uloc=mb113
Sun Feb 12 17:26:56 2012 from http://www.google.com/url?sa=t&rct=j&q=http%3A%2F%2Fwww.google.com%2Fsearch%3Fq%3Dhttp%253a%252f%252fwww.google.com%252fsearch%253fq%253dhttp%25253a%25252f%25252fwww.google.pl%25252f%2526sourceid%253dopera%2526ie%253dutf-8%2526oe%253dutf-8%2526channel%253dsuggest%26sourceid%3Dopera%26ie%3Dutf-8%26oe%3Dutf-8%26channel%3Dsuggest&source=web&cd=1&ved=0CCYQFjAA&url=http%3A%2F%2Fcarl.cs.indiana.edu%2Ffil%2Fcgi-bin%2FWebSec%2Fmarilyn.cgi&ei=qDw4T_rYMsnJswaH3NmjDA&usg=AFQjCNHRtbr4ftk_4PyVzN3HuHPJV6LZow
Sun Feb 12 17:09:20 2012 from http://www.google.com/url?sa=t&rct=j&q=http%3A%2F%2Fwww.google.com.sa%2Fsearch%3Fq%3Dgoogle%2Bvideo%26sourceid%3Dopera%26ie%3Dutf-8%26oe%3Dutf-8%26channel%3Dsuggest&source=web&cd=1&ved=0CCkQFjAA&url=http%3A%2F%2Fcarl.cs.indiana.edu%2Ffil%2Fcgi-bin%2FWebSec%2Fmarilyn.cgi&ei=hjg4T8GUI4jB0QWBouiHCQ&usg=AFQjCNHRtbr4ftk_4PyVzN3HuHPJV6LZow
Sun Feb 12 16:57:04 2012 from http://search.incredibar.com/?q=click.infospace.comClickHandler.ashx%3fdu&lang=arabic&source=368422365&cid=1&uloc=mb113
Sun Feb 12 16:23:30 2012 from http://www.inyourendo.com/forums/viewtopic.php?f=6&t=405996
Sun Feb 12 16:06:04 2012 from http://search.sweetim.com/search.asp?src=8&pdp=1003&barid={39B1A39A-5FFF-453A-81BD-E3E7BCF06327}&q=http://search.sweetim.com/search.asp?src=8&pdp=1003&barid={39B1A39A-5FFF-453A-81BD-E3E7BCF06327}&q=http://au.news.yahoo.com/entertainment/a/-/entertainment/12884690/whitney-houston-happy-in-days-before-death/
Sun Feb 12 15:58:12 2012 from (empty referer)
Sun Feb 12 15:46:23 2012 from http://carl.cs.indiana.edu/fil/cgi-bin/WebSec/marilyn.cgi
Sun Feb 12 15:37:12 2012 from http://search.incredibar.com/?q=click.infospace.comClickHandler.ashx%3fdu&lang=english&source=368422365&cid=1&uloc=mb113
Sun Feb 12 15:33:40 2012 from http://www.google.com/m?q=www.google.com%2Fm%3Fq%3Dwww.google.com%252Fm%253Fq%253Dwww.%2526client%253Dms-opera-mini%2526channel%253Dnew%26client%3Dms-opera-mini%26channel%3Dnew&client=ms-opera-mini&channel=new
Sun Feb 12 15:13:45 2012 from http://www.google.com/url?sa=t&rct=j&q=www.google.com%2Fsearch%3Fq%3Dwww.google.com%252fsearch%253fq%253dwww.google.com%25252fsearch%25253fq%25253dwww.google.com%2525252f%252526sourceid%25253die7%252526rls%25253dcom.microsoft%25253aen-us%252526ie%25253dutf8%252526oe%25253dutf8%2526sourceid%253die7%2526rls%253dcom.microsoft%253aen-us%2526ie%253dutf8%2526oe%253dutf8%26sourceid%3Die7%26rls%3Dcom.microsoft%3Aen-us%26ie%3Dutf8%26oe%3Dutf8&source=web&cd=1&ved=0CCsQFjAA&url=http%3A%2F%2Fcarl.cs.indiana.edu%2Ffil%2Fcgi-bin%2FWebSec%2Fmarilyn.cgi&ei=aR04T_bEGcu6hAfc5-j6BQ&usg=AFQjCNHRtbr4ftk_4PyVzN3HuHPJV6LZow
Sun Feb 12 15:04:36 2012 from http://www.google.com/url?sa=t&rct=j&q=http%3A%2F%2Fhome.myplaycity.com%2Fresults.php%3Fcategory%3Dweb%26s%3Dyahoomail.com&source=web&cd=1&ved=0CCIQFjAA&url=http%3A%2F%2Fcarl.cs.indiana.edu%2Ffil%2Fcgi-bin%2FWebSec%2Fmarilyn.cgi&ei=GRs4T4zhNcme-wbknvT2AQ&usg=AFQjCNHRtbr4ftk_4PyVzN3HuHPJV6LZow
Sun Feb 12 15:04:33 2012 from http://www.google.com/url?sa=t&rct=j&q=http%3A%2F%2Fhome.myplaycity.com%2Fresults.php%3Fcategory%3Dweb%26s%3Dyahoomail.com&source=web&cd=1&ved=0CCIQFjAA&url=http%3A%2F%2Fcarl.cs.indiana.edu%2Ffil%2Fcgi-bin%2FWebSec%2Fmarilyn.cgi&ei=GRs4T4zhNcme-wbknvT2AQ&usg=AFQjCNHRtbr4ftk_4PyVzN3HuHPJV6LZow
Sun Feb 12 14:57:24 2012 from http://www.google.com/m?q=http%3a%2f%2fwww%2egoogle%2ecom%2fm%3fq%3dwww%2e%26client%3dms%2dopera%2dmini%26channel%3dnew&client=ms-opera-mini&channel=new
Sun Feb 12 14:52:44 2012 from (empty referer)
Sun Feb 12 14:24:14 2012 from http://www.search-results.com/web?l=dis&o=15914&q=www%20google%20sex%20xxnx&atb=sysid%3D2%3Auid%3Ddc9f950d3c19124d%3Auc%3D1321197397%3Asrc%3Dhmp%3Ao%3D15914%3Aq%3Dwww%2520google%2520sex%2520xxnx
Sun Feb 12 14:24:01 2012 from http://www.google.com/url?sa=t&rct=j&q=http%3A%2F%2Fwww.google.com%2Fsearch%3Fq%3Dhttp%253a%252f%252fwww.google.com%252fsearch%253fq%253dhttp%25253a%25252f%25252fwww.google.com%25252fsearch%25253fq%25253dhttp%2525253a%2525252f%2525252fwww.google.com%2525252f%252526sourceid%25253dopera%252526ie%25253dutf-8%252526oe%25253dutf-8%252526channel%25253dsuggest%2526sourceid%253dopera%2526ie%253dutf-8%2526oe%253dutf-8%2526channel%253dsuggest%26sourceid%3Dopera%26ie%3Dutf-8%26oe%3Dutf-8%26channel%3Dsuggest&source=web&cd=1&ved=0CCIQFjAA&url=http%3A%2F%2Fcarl.cs.indiana.edu%2Ffil%2Fcgi-bin%2FWebSec%2Fmarilyn.cgi&ei=wBE4T5_ECYbJrAextJTWBQ&usg=AFQjCNHRtbr4ftk_4PyVzN3HuHPJV6LZow
Sun Feb 12 14:20:59 2012 from http://www.google.com/m?client=ms-opera-mini&channel=new&q=www.google.com.pk%2Fm%3Fq%3DSex
Sun Feb 12 14:20:30 2012 from http://www.google.com/m?client=ms-opera-mini&channel=new&q=www.google.com.pk%2Fm%3Fq%3DSex
Sun Feb 12 14:03:52 2012 from http://www.google.com/m?q=www.google.com%2Fm%3Fq%3Dwww.facebook.com%26client%3Dms-opera-mini%26channel%3Dnew&client=ms-opera-mini&channel=new
Sun Feb 12 14:03:16 2012 from http://www.google.com/m?q=www.google.com%2Fm%3Fq%3Dwww.facebook.com%26client%3Dms-opera-mini%26channel%3Dnew&client=ms-opera-mini&channel=new
Sun Feb 12 13:43:01 2012 from (empty referer)
Sun Feb 12 13:27:25 2012 from (empty referer)
Sun Feb 12 13:18:38 2012 from http://www.google.com/url?sa=t&rct=j&q=http:%2F%2Fwww.google.com%2Fsearch%3Fq%3Dhttp%253A%252F%252Fwww.google.com%252Fsearch%253Fq%253Dhttp%25253A%25252F%25252Fwww.facebook.com%25252Flogout.php%2526sourceid%253Dopera%2526ie%253Dutf-8%2526oe%253Dutf-8%2526channel%253Dsuggest%26sourceid%3Dopera%26ie%3Dutf-8%26oe%3Dutf-8%26channel%3Dsuggest&source=web&cd=1&ved=0CC0QFjAA&url=http%3A%2F%2Fcarl.cs.indiana.edu%2Ffil%2Fcgi-bin%2FWebSec%2Fmarilyn.cgi&ei=dwI4T5j9AcmsrAe835nWBQ&usg=AFQjCNHRtbr4ftk_4PyVzN3HuHPJV6LZow
Sun Feb 12 12:24:25 2012 from http://search.sweetim.com/search.asp?src=1&q=http%3A%2F%2Fsearch.sweetim.com%2Fsearch.asp%3Fsrc%3D8
Sun Feb 12 12:16:30 2012 from (empty referer)
Sun Feb 12 11:52:54 2012 from http://assist.babylon.com/babylonassista/dnsassist/main?domain=mystart%20incredibar%20mb113%20
Sun Feb 12 11:17:11 2012 from (empty referer)
Sun Feb 12 11:10:57 2012 from http://www.google.com/search?client=opera&rls=en&q=http%3A%2F%2Fwww.google.com%2Fsearch%3Fq%3Dhttp%253A%252F%252Fwww.google.com%252Fsearch%253Fq%253Dhttps%25253A%25252F%25252Fwww.facebook.com%25252F%2526sourceid%253Dopera%2526ie%253Dutf-8%2526oe%253Dutf-8%2526channel%253Dsuggest%26sourceid%3Dopera%26ie%3Dutf-8%26oe%3Dutf-8%26channel%3Dsuggest&sourceid=opera&ie=utf-8&oe=utf-8&channel=suggest
Sun Feb 12 10:37:57 2012 from http://www.google.com/m/search?client=ms-sonyericsson&channel=lp&q=Http://tubidy.mobi/search.php?9=18&q=hot
Sun Feb 12 10:01:31 2012 from http://www.google.com/cse?q=http%3A%2F%2Fclick.infospace.com%2FClickHandler.ashx%3Fdu&cx=010490914195359831763%3A9cn-r03v9js&ie=UTF-8&hl=en-US
Sun Feb 12 09:26:28 2012 from http://search.sweetim.com/search.asp?q=https%3A%2F%2Fwww.facebook.com%2Fajax%2Fpagelet%2Fgeneric.php%2FPhotoViewerInitPagelet%3F__a%3D59&ln=en&src=1008&sf=0
Sun Feb 12 09:19:13 2012 from http://www.google.co.in/m?q=www%252egoogle%252ecom&client=ms-opera-mini&channel=new
Sun Feb 12 08:53:30 2012 from http://www.google.co.in/m?client=ms-opera-mini&q=www%252egoogle&channel=new&start=10&sa=N
Sun Feb 12 08:39:40 2012 from http://www.google.com/url?sa=t&rct=j&q=http%3A%2F%2Fwww.google.com%2Fsearch%3Fq%3Dhttp%253A%252F%252Fwww.google.com%252Fsearch%253Fq%253D.%2526sourceid%253Dopera%2526ie%253Dutf-8%2526oe%253Dutf-8%2526channel%253Dsuggest%26sourceid%3Dopera%26ie%3Dutf-8%26oe%3Dutf-8%26channel%3Dsuggest&source=web&cd=1&ved=0CCsQFjAA&url=http%3A%2F%2Fcarl.cs.indiana.edu%2Ffil%2Fcgi-bin%2FWebSec%2Fmarilyn.cgi&ei=2sA3T-_xC8agiQLukL2tCg&usg=AFQjCNHRtbr4ftk_4PyVzN3HuHPJV6LZow
Sun Feb 12 08:37:38 2012 from (empty referer)
Sun Feb 12 08:24:41 2012 from (empty referer)
Sun Feb 12 08:17:14 2012 from (empty referer)
Sun Feb 12 08:05:25 2012 from http://search.incredibar.com/?q=click.infospace.comClickHandler.ashx%3fdu&lang=turkish&source=422365&cid=1&uloc=mb113
Sun Feb 12 07:58:52 2012 from http://www.google.com/search?client=opera&rls=en&q=http%3A%2F%2Fwww.google.com%2Fsearch%3Fq%3Dhttp%253A%252F%252Fwww.google.com%252Fsearch%253Fq%253Dhttp%25253A%25252F%25252Fwww.facebook.com%25252Flogout.php%2526sourceid%253Dopera%2526ie%253Dutf-8%2526oe%253Dutf-8%2526channel%253Dsuggest%26sourceid%3Dopera%26ie%3Dutf-8%26oe%3Dutf-8%26channel%3Dsuggest&sourceid=opera&ie=utf-8&oe=utf-8&channel=suggest
Sun Feb 12 07:58:06 2012 from http://www.google.com/url?sa=t&rct=j&q=http%3A%2F%2Fwww.google.com%2Fsearch%3Fq%3Dhttp%253A%252F%252Fwww.google.com%252Fsearch%253Fq%253Dfacebook%2526sourceid%253Dopera%2526ie%253Dutf-8%2526oe%253Dutf-8%2526channel%253Dsuggest%26sourceid%3Dopera%26ie%3Dutf-8%26oe%3Dutf-8%26channel%3Dsuggest&source=web&cd=1&ved=0CCAQFjAA&url=http%3A%2F%2Fcarl.cs.indiana.edu%2Ffil%2Fcgi-bin%2FWebSec%2Fmarilyn.cgi&ei=ULc3T62KPMLxsgbG7s2lDA&usg=AFQjCNHRtbr4ftk_4PyVzN3HuHPJV6LZow
Sun Feb 12 07:53:17 2012 from (empty referer)
Sun Feb 12 07:07:20 2012 from http://www.google.com.sa/search?hl=ar&source=hp&ie=windows-1256&q=https%3A%2F%2Ftubidy.mobi%2Fsearch.php%3Fg%3Dsex&meta=&gbv=1&oq=https%3A%2F%2Ftubidy.mobi%2Fsearch.php%3Fg%3Dsex&aq=f&aqi=&aql=&gs_sm=12&gs_upl=3954l12965l0l16610l37l16l0l0l0l4l454l4109l1.6.3.3.3l16l0
Sun Feb 12 06:08:44 2012 from http://www.google.com/imgres?q=www.sexxnxx.com&hl=fa&sa=X&gbv=2&biw=1003&bih=9938&tbm=isch&tbnid=ynUan-_9FQYrEM:&imgrefurl=http://carl.cs.indiana.edu/fil/cgi-bin/WebSec/marilyn.cgi&docid=hMMAQwJMLA2rwM&imgurl=http://carl.cs.indiana.edu/fil/WebSec/marilyn.jpg&w=500&h=333&ei=sJ03T6XhK9HNswaXtpzfDA&zoom=1&iact=rc&dur=938&sig=113879974261725313567&page=1&tbnh=143&tbnw=191&start=0&ndsp=33&ved=1t:429,r:30,s:0&tx=115&ty=78
Sun Feb 12 05:52:11 2012 from http://search.incredibar.com/?q=click.infospace.comClickHandler.ashx%3fdu&lang=french&source=368422365&cid=1&uloc=mb113
Sun Feb 12 05:47:20 2012 from http://www.searchplusnetwork.com/?sp=chv&q=http%3A%2F%2Fclick.infospace.com%2FClickHandler.ashx%3Fdu
Sun Feb 12 05:21:44 2012 from http://www.searchplusnetwork.com/?sp=chv&q=www.searchplusnetwork.com%3Fsp
Sun Feb 12 05:20:14 2012 from http://www.google.co.in/m?q=www%252egoogle%252ecom&client=ms-opera-mini&channel=new
Sun Feb 12 05:02:30 2012 from http://www.searchplusnetwork.com/?sp=chv&q=http%3A%2F%2Fclick.infospace.com%2FClickHandler.ashx%3Fdu
Sun Feb 12 05:00:53 2012 from http://www.searchplusnetwork.com/?sp=chv&q=searchplusnetwork.com%2F%3Fsp
Sun Feb 12 04:33:19 2012 from http://www.google.co.uk/m?q=www%252egoogle%2520&client=ms-opera-mini&channel=new
Sun Feb 12 04:13:13 2012 from http://www.google.com/m/imgres?client=ms-opera_mb_no&q=http://www.google.com/xhtml?client%3Dms-opera_mb_no%26channel%3Dbh%26q%3DGoogle.com&channel=bh&start=7&site=images&imgid=ANd9GcSKhTTP3xdm2D45mFYPuSSyWvr5WR-nLtKNbPdi0QuZXJ36YWJkxeHs3SmT&imgsz=54326&imgurl=http://carl.cs.indiana.edu/fil/WebSec/marilyn.jpg&imgrefurl=http://carl.cs.indiana.edu/fil/cgi-bin/WebSec/marilyn.cgi&ht=333&wd=500&tbnh=87&tbnw=130&ei=TYI3T9ihB5m3jAf38QE&ved=0CBcQ9QEwBw
Sun Feb 12 04:00:48 2012 from http://www.searchplusnetwork.com/?sp=chv&q=http%3A%2F%2Fclick.infospace.com%2FClickHandler.ashx%3Fdu
Sun Feb 12 03:59:09 2012 from http://www.google.co.in/m?q=www%252egoogle%252ecom&client=ms-opera-mini&channel=new
Sun Feb 12 03:54:30 2012 from http://www.google.com/url?sa=t&rct=j&q=http%3A%2F%2Fwww.google.com%2Fsearch%3Fq%3Dhttp%253a%252f%252fwww.google.com%252fsearch%253fq%253dwww.google.com%2526sourceid%253dopera%2526ie%253dutf-8%2526oe%253dutf-8%2526channel%253dsuggest%26sourceid%3Dopera%26ie%3Dutf-8%26oe%3Dutf-8%26channel%3Dsuggest&source=web&cd=1&ved=0CC8QFjAA&url=http%3A%2F%2Fcarl.cs.indiana.edu%2Ffil%2Fcgi-bin%2FWebSec%2Fmarilyn.cgi&ei=8X03T463FIPYrQektvzVBQ&usg=AFQjCNHRtbr4ftk_4PyVzN3HuHPJV6LZow
Sun Feb 12 03:43:17 2012 from http://www.searchplusnetwork.com/?sp=chv&q=http%3A%2F%2Fclick.infospace.com%2FClickHandler.ashx%3Fdu
Sun Feb 12 03:37:57 2012 from http://www.searchplusnetwork.com/?q=http%3A%2F%2Fclick.infospace.com%2FClickHandler.ashx%3Fdu&x=0&y=0
Sun Feb 12 03:37:55 2012 from http://www.searchplusnetwork.com/?q=http%3A%2F%2Fclick.infospace.com%2FClickHandler.ashx%3Fdu&x=0&y=0
Sun Feb 12 03:30:39 2012 from http://www.searchplusnetwork.com/?sp=chv&q=http%3A%2F%2Fclick.infospace.com%2FClickHandler.ashx%3Fdu
Sun Feb 12 03:26:23 2012 from http://www.google.com/url?sa=t&rct=j&q=http%3A%2F%2Fwww.google.com%2Fsearch%3Fq%3Dhttp%253a%252f%252fwww.google.com%252fsearch%253fq%253dc%2526sourceid%253dopera%2526ie%253dutf-8%2526oe%253dutf-8%2526channel%253dsuggest%26sourceid%3Dopera%26ie%3Dutf-8%26oe%3Dutf-8%26channel%3Dsuggest&source=web&cd=1&ved=0CCMQFjAA&url=http%3A%2F%2Fcarl.cs.indiana.edu%2Ffil%2Fcgi-bin%2FWebSec%2Fmarilyn.cgi&ei=n3c3T5yvMcTYsgbHtpmfDA&usg=AFQjCNHRtbr4ftk_4PyVzN3HuHPJV6LZow
Sun Feb 12 03:26:17 2012 from http://www.google.com/url?sa=t&rct=j&q=http%3A%2F%2Fwww.google.com%2Fsearch%3Fq%3Dhttp%253a%252f%252fwww.google.com%252fsearch%253fq%253dc%2526sourceid%253dopera%2526ie%253dutf-8%2526oe%253dutf-8%2526channel%253dsuggest%26sourceid%3Dopera%26ie%3Dutf-8%26oe%3Dutf-8%26channel%3Dsuggest&source=web&cd=1&ved=0CCMQFjAA&url=http%3A%2F%2Fcarl.cs.indiana.edu%2Ffil%2Fcgi-bin%2FWebSec%2Fmarilyn.cgi&ei=n3c3T5yvMcTYsgbHtpmfDA&usg=AFQjCNHRtbr4ftk_4PyVzN3HuHPJV6LZow
Sun Feb 12 03:23:56 2012 from http://www.searchplusnetwork.com/?sp=chv&q=http%3A%2F%2Fclick.infospace.com%2FClickHandler.ashx%3Fdu
Sun Feb 12 03:15:26 2012 from http://www.searchplusnetwork.com/?sp=chv&q=http%3A%2F%2Fclick.infospace.com%2FClickHandler.ashx%3Fdu
Sun Feb 12 03:15:23 2012 from http://www.searchplusnetwork.com/?sp=chv&q=http%3A%2F%2Fclick.infospace.com%2FClickHandler.ashx%3Fdu
Sun Feb 12 03:14:56 2012 from (empty referer)
Sun Feb 12 03:02:38 2012 from http://www.searchplusnetwork.com/?sp=chv&q=http%3A%2F%2Fclick.infospace.com%2FClickHandler.ashx%3Fdu
Sun Feb 12 02:37:32 2012 from http://www.searchplusnetwork.com/?sp=chv&q=http%3A%2F%2Fclick.infospace.com%2FClickHandler.ashx%3Fdu
Sun Feb 12 02:10:44 2012 from http://www.google.com/search?client=opera&rls=en&q=http%3A%2F%2Fwww.google.com%2Fsearch%3Fq%3Dhttp%253A%252F%252Fwww.google.com%252Fsearch%253Fq%253Dhttp%25253A%25252F%25252Fwww.yahoo.com%25252F%2526sourceid%253Dopera%2526num%253D0%2526ie%253Dutf-8%2526oe%253Dutf-8%2526channel%253Dsuggest%26sourceid%3Dopera%26num%3D0%26ie%3Dutf-8%26oe%3Dutf-8%26channel%3Dsuggest&sourceid=opera&ie=utf-8&oe=utf-8&channel=suggest
Sun Feb 12 02:05:27 2012 from http://www.searchplusnetwork.com/?sp=chv&q=http%3A%2F%2Fclick.infospace.com%2FClickHandler.ashx%3Fdu
Sun Feb 12 02:01:11 2012 from http://www.searchplusnetwork.com/?q=http%3A%2F%2Fclick.infospace.com%2FClickHandler.ashx%3Fdu&x=0&y=0
Sun Feb 12 02:01:02 2012 from http://www.searchplusnetwork.com/?q=http%3A%2F%2Fclick.infospace.com%2FClickHandler.ashx%3Fdu&x=0&y=0
Sun Feb 12 01:56:31 2012 from http://www.searchplusnetwork.com/?sp=chv&q=http%3A%2F%2Fclick.infospace.com%2FClickHandler.ashx%3Fdu
Sun Feb 12 01:51:26 2012 from http://www.searchplusnetwork.com/?sp=chv&q=searchplusnetwork.com%2F%3Fsp
Sun Feb 12 01:47:49 2012 from (empty referer)
Sun Feb 12 01:47:03 2012 from http://www.searchplusnetwork.com/?sp=chv&q=http%3A%2F%2Fclick.infospace.com%2FClickHandler.ashx%3Fdu
Sun Feb 12 01:31:40 2012 from http://www.google.com/url?sa=t&rct=j&q=http%3A%2F%2Fwww.google.com%2Fsearch%3Fq%3Dhttp%253A%252F%252Fwww.google.com%252Fsearch%253Fq%253Dhttp%25253A%25252F%25252Fwww.google.com%25252Fsearch%25253Fq%25253Dhttp%2525253A%2525252F%2525252Fwww.google.com.pk%2525252F%252526sourceid%25253Dopera%252526ie%25253Dutf-8%252526oe%25253Dutf-8%252526channel%25253Dsuggest%2526sourceid%253Dopera%2526ie%253Dutf-8%2526oe%253Dutf-8%2526channel%253Dsuggest%26sourceid%3Dopera%26ie%3Dutf-8%26oe%3Dutf-8%26channel%3Dsuggest&source=web&cd=1&ved=0CCIQFjAA&url=http%3A%2F%2Fcarl.cs.indiana.edu%2Ffil%2Fcgi-bin%2FWebSec%2Fmarilyn.cgi&ei=a1w3T9acJMue-wbc7cGOAg&usg=AFQjCNHRtbr4ftk_4PyVzN3HuHPJV6LZow
Sun Feb 12 01:30:37 2012 from http://www.searchplusnetwork.com/?sp=chv&q=http%3A%2F%2Fclick.infospace.com%2FClickHandler.ashx%3Fdu
Sun Feb 12 01:22:10 2012 from http://www.searchplusnetwork.com/?sp=chv&q=searchplusnetwork.com%2F%3Fsp
Sun Feb 12 01:08:23 2012 from http://search.incredibar.com/?q=click.infospace.comClickHandler.ashx%3fdu&lang=arabic&source=368422365&cid=1&uloc=mb113
Sun Feb 12 01:00:23 2012 from http://www.searchplusnetwork.com/?sp=chv&q=http%3A%2F%2Fclick.infospace.com%2FClickHandler.ashx%3Fdu
Sun Feb 12 01:00:09 2012 from http://www.searchplusnetwork.com/?sp=chv&q=http%3A%2F%2Fclick.infospace.com%2FClickHandler.ashx%3Fdu
Sun Feb 12 00:58:54 2012 from http://www.google.com/url?sa=t&rct=j&q=http%3A%2F%2Fwww.google.com%2Fsearch%3Fq%3Dhttp%253a%252f%252fwww.google.com%252fsearch%253fq%253dhttp%25253a%25252f%25252fwww.google.com%25252fsearch%25253fq%25253dhttp%2525253a%2525252f%2525252fwww.facebook.com%2525252f%252526sourceid%25253dopera%252526ie%25253dutf-8%252526oe%25253dutf-8%252526channel%25253dsuggest%2526sourceid%253dopera%2526ie%253dutf-8%2526oe%253dutf-8%2526channel%253dsuggest%26sourceid%3Dopera%26ie%3Dutf-8%26oe%3Dutf-8%26channel%3Dsuggest&source=web&cd=1&ved=0CCIQFjAA&url=http%3A%2F%2Fcarl.cs.indiana.edu%2Ffil%2Fcgi-bin%2FWebSec%2Fmarilyn.cgi&ei=51Q3T5OeC-mhmQX2-cjvAQ&usg=AFQjCNHRtbr4ftk_4PyVzN3HuHPJV6LZow
Sun Feb 12 00:47:33 2012 from http://www.searchplusnetwork.com/?sp=chv&q=http%3A%2F%2Fclick.infospace.com%2FClickHandler.ashx%3Fdu
Sun Feb 12 00:47:23 2012 from http://www.searchplusnetwork.com/?sp=chv&q=searchplusnetwork.com%2F%3Fsp
Sun Feb 12 00:45:58 2012 from http://www.searchplusnetwork.com/?sp=chv&q=http%3A%2F%2Fclick.infospace.com%2FClickHandler.ashx%3Fdu
Sun Feb 12 00:16:55 2012 from http://www.searchplusnetwork.com/?sp=chv&q=http%3A%2F%2Fclick.infospace.com%2FClickHandler.ashx%3Fdu
Sat Feb 11 23:43:43 2012 from http://www.searchplusnetwork.com/?sp=chv&q=http%3A%2F%2Fclick.infospace.com%2FClickHandler.ashx%3Fdu
Sat Feb 11 23:35:59 2012 from http://www.google.co.id/url?sa=t&rct=j&q=http%3B%2F%2Fbit.ly%2Fp7zhot%20wow&source=web&cd=1&ved=0CCAQFjAA&url=http%3A%2F%2Fcarl.cs.indiana.edu%2Ffil%2Fcgi-bin%2FWebSec%2Fmarilyn.cgi&ei=IkE3T7vBNaSWiQexlJChAg&usg=AFQjCNHRtbr4ftk_4PyVzN3HuHPJV6LZow
Sat Feb 11 23:35:51 2012 from http://www.google.co.id/url?sa=t&rct=j&q=http%3B%2F%2Fbit.ly%2Fp7zhot%20wow&source=web&cd=1&ved=0CCAQFjAA&url=http%3A%2F%2Fcarl.cs.indiana.edu%2Ffil%2Fcgi-bin%2FWebSec%2Fmarilyn.cgi&ei=IkE3T7vBNaSWiQexlJChAg&usg=AFQjCNHRtbr4ftk_4PyVzN3HuHPJV6LZow
Sat Feb 11 23:35:47 2012 from http://www.google.co.id/url?sa=t&rct=j&q=http%3B%2F%2Fbit.ly%2Fp7zhot%20wow&source=web&cd=1&ved=0CCAQFjAA&url=http%3A%2F%2Fcarl.cs.indiana.edu%2Ffil%2Fcgi-bin%2FWebSec%2Fmarilyn.cgi&ei=IkE3T7vBNaSWiQexlJChAg&usg=AFQjCNHRtbr4ftk_4PyVzN3HuHPJV6LZow
Sat Feb 11 23:35:45 2012 from http://www.google.co.id/url?sa=t&rct=j&q=http%3B%2F%2Fbit.ly%2Fp7zhot%20wow&source=web&cd=1&ved=0CCAQFjAA&url=http%3A%2F%2Fcarl.cs.indiana.edu%2Ffil%2Fcgi-bin%2FWebSec%2Fmarilyn.cgi&ei=IkE3T7vBNaSWiQexlJChAg&usg=AFQjCNHRtbr4ftk_4PyVzN3HuHPJV6LZow
Sat Feb 11 23:35:28 2012 from (empty referer)
Sat Feb 11 23:34:20 2012 from http://www.google.co.id/url?sa=t&rct=j&q=http%3B%2F%2Fbit.ly%2Fp7zhot%20wow&source=web&cd=1&ved=0CCAQFjAA&url=http%3A%2F%2Fcarl.cs.indiana.edu%2Ffil%2Fcgi-bin%2FWebSec%2Fmarilyn.cgi&ei=IkE3T7vBNaSWiQexlJChAg&usg=AFQjCNHRtbr4ftk_4PyVzN3HuHPJV6LZow
Sat Feb 11 23:31:44 2012 from http://www.searchplusnetwork.com/?sp=chv&q=http%3A%2F%2Fclick.infospace.com%2FClickHandler.ashx%3Fdu
Sat Feb 11 23:29:16 2012 from http://www.searchplusnetwork.com/?sp=chv&q=http%3A%2F%2Fclick.infospace.com%2FClickHandler.ashx%3Fdu
Sat Feb 11 23:24:12 2012 from (empty referer)
Sat Feb 11 23:12:11 2012 from http://www.searchplusnetwork.com/?sp=chv&q=http%3A%2F%2Fclick.infospace.com%2FClickHandler.ashx%3Fdu
Sat Feb 11 22:50:54 2012 from http://www.searchplusnetwork.com/?sp=chv&q=www.searchplusnetwork.com%3Fsp
Sat Feb 11 22:50:13 2012 from http://www.searchplusnetwork.com/?sp=chv&q=www.searchplusnetwork.com%3Fsp
Sat Feb 11 22:41:46 2012 from http://www.searchplusnetwork.com/?sp=chv&q=http%3A%2F%2Fclick.infospace.com%2FClickHandler.ashx%3Fdu
Sat Feb 11 22:33:41 2012 from http://www.searchplusnetwork.com/?sp=chv&q=http%3A%2F%2Fclick.infospace.com%2FClickHandler.ashx%3Fdu
Sat Feb 11 22:32:50 2012 from http://www.searchplusnetwork.com/?sp=chv&q=www.searchplusnetwork.com%3Fsp
Sat Feb 11 22:21:02 2012 from http://www.searchplusnetwork.com/?sp=chv&q=http%3A%2F%2Fclick.infospace.com%2FClickHandler.ashx%3Fdu
Sat Feb 11 22:19:48 2012 from http://search.chatzum.com/?q=http%3A%2F%2Fclick.infospace.com%2FClickHandler.ashx%3Fdu%3Dhttp%3A%2F%2Fmail.yahoo.com%2F
Sat Feb 11 21:47:29 2012 from http://www.google.co.in/m?q=www%252egoogle%252ecom&client=ms-opera-mini&channel=new
Sat Feb 11 21:47:06 2012 from http://www.searchplusnetwork.com/?sp=chv&q=click.infospace.comClickHandler.ashx%3Fdu
Sat Feb 11 21:35:03 2012 from http://www.searchplusnetwork.com/?sp=chv&q=http%3A%2F%2Fclick.infospace.com%2FClickHandler.ashx%3Fdu
Sat Feb 11 21:15:57 2012 from (empty referer)
Sat Feb 11 21:12:52 2012 from http://www.searchplusnetwork.com/?sp=chv&q=www.searchplusnetwork.com%3Fsp
Sat Feb 11 21:09:06 2012 from http://www.searchplusnetwork.com/?sp=chv&q=click.infospace.comClickHandler.ashx%3Fdu
Sat Feb 11 21:03:50 2012 from http://www.searchplusnetwork.com/?sp=chv&q=http%3A%2F%2Fclick.infospace.com%2FClickHandler.ashx%3Fdu
Sat Feb 11 20:56:12 2012 from http://www.searchplusnetwork.com/?sp=chv&q=www.searchplusnetwork.com%3Fsp
Sat Feb 11 20:05:27 2012 from http://www.searchplusnetwork.com/?sp=chv&q=click.infospace.comClickHandler.ashx%3Fdu
Sat Feb 11 19:51:00 2012 from http://www.searchplusnetwork.com/?sp=chv&q=www.searchplusnetwork.com%3Fsp
Sat Feb 11 19:44:53 2012 from http://search.incredibar.com/?q=click.infospace.comClickHandler.ashx%3fdu&lang=english&source=368422365&cid=1&uloc=mb113
Sat Feb 11 19:37:55 2012 from http://www.searchplusnetwork.com/?sp=chv&q=http%3A%2F%2Fclick.infospace.com%2FClickHandler.ashx%3Fdu
Sat Feb 11 19:07:06 2012 from http://www.searchplusnetwork.com/?sp=chv&q=www.searchplusnetwork.com%3Fsp
Sat Feb 11 18:59:34 2012 from http://search.incredibar.com/?q=click.infospace.comClickHandler.ashx%3fdu&lang=spanish&source=368422365&cid=1&uloc=mb113
Sat Feb 11 18:51:33 2012 from http://www.searchplusnetwork.com/?sp=chv&q=searchplusnetwork.com%2F%3Fsp
Sat Feb 11 18:50:20 2012 from http://www.searchplusnetwork.com/?sp=chv&q=facebook.com%2Fajax%2Fpagelet%2Fgeneric.php%2FPhotoViewerInitPagelet%3F__a
Sat Feb 11 18:47:54 2012 from http://www.searchplusnetwork.com/?sp=chv&q=http%3A%2F%2Fclick.infospace.com%2FClickHandler.ashx%3Fdu
Sat Feb 11 18:47:52 2012 from http://www.searchplusnetwork.com/?sp=chv&q=http%3A%2F%2Fclick.infospace.com%2FClickHandler.ashx%3Fdu
Sat Feb 11 18:15:12 2012 from http://www.searchplusnetwork.com/?sp=chv&q=searchplusnetwork.com%2F%3Fsp
Sat Feb 11 18:08:52 2012 from http://www.searchplusnetwork.com/?sp=chv&q=http%3A%2F%2Fclick.infospace.com%2FClickHandler.ashx%3Fdu
Sat Feb 11 17:55:44 2012 from http://www.searchplusnetwork.com/?sp=chv&q=http%3A%2F%2Fclick.infospace.com%2FClickHandler.ashx%3Fdu
Sat Feb 11 17:54:29 2012 from http://www.searchplusnetwork.com/?sp=chv&q=http%3A%2F%2Fclick.infospace.com%2FClickHandler.ashx%3Fdu
Sat Feb 11 17:46:34 2012 from http://www.google.com/url?sa=t&rct=j&q=http%3A%2F%2Fwww.google.com%2Fsearch%3Fq%3Dhttp%253a%252f%252fwww.google.fr%252fsearch%253fclient%253dopera%2526rls%253dfr%2526q%253dwww%2526sourceid%253dopera%2526ie%253dutf-8%2526oe%253dutf-8%2526channel%253dsuggest%26sourceid%3Dopera%26ie%3Dutf-8%26oe%3Dutf-8%26channel%3Dsuggest&source=web&cd=1&ved=0CCwQFjAA&url=http%3A%2F%2Fcarl.cs.indiana.edu%2Ffil%2Fcgi-bin%2FWebSec%2Fmarilyn.cgi&ei=xO82T7O4E6qg0QXkqK3CAg&usg=AFQjCNHRtbr4ftk_4PyVzN3HuHPJV6LZow
Sat Feb 11 17:43:18 2012 from http://www.searchplusnetwork.com/?sp=chv&q=www.searchplusnetwork.com%3Fsp
Sat Feb 11 17:41:16 2012 from http://www.searchplusnetwork.com/?q=facebook.com%2Fajax%2Fpagelet%2Fgeneric.php%2FPhotoViewerInitPagelet%3F__a&x=0&y=0
Sat Feb 11 17:35:03 2012 from http://www.searchplusnetwork.com/?sp=chv&q=www.searchplusnetwork.com%3Fsp
Sat Feb 11 17:26:52 2012 from http://www.google.com/search?client=opera&rls=fr&q=http%3A%2F%2Fwww.google.com%2Fsearch%3Fq%3Dhttp%253A%252F%252Fwww.google.com%252Fsearch%253Fq%253Dhttp%25253A%25252F%25252Fwww.google.com%25252Fsearch%25253Fq%25253Dhttp%2525253A%2525252F%2525252Fwww.xnxx.com%2525252F%252526sourceid%25253Dopera%252526ie%25253Dutf-8%252526oe%25253Dutf-8%252526channel%25253Dsuggest%2526sourceid%253Dopera%2526ie%253Dutf-8%2526oe%253Dutf-8%2526channel%253Dsuggest%26sourceid%3Dopera%26ie%3Dutf-8%26oe%3Dutf-8%26channel%3Dsuggest&sourceid=opera&ie=utf-8&oe=utf-8&channel=suggest
Sat Feb 11 17:25:18 2012 from http://www.searchplusnetwork.com/?q=www.searchplusnetwork.com%3Fsp&sp=chv&p=2
Sat Feb 11 17:20:55 2012 from (empty referer)
Sat Feb 11 17:17:28 2012 from http://www.moga.com/login?dst=http%3A%2F%2Fcarl.cs.indiana.edu%2Ffil%2Fcgi-bin%2FWebSec%2Fmarilyn.cgi
Sat Feb 11 17:14:41 2012 from http://www.google.com/m?q=www.google.com%2Fm%3Fq%3Dwww.yahoomail.com%26client%3Dms-opera-mini%26channel%3Dnew&client=ms-opera-mini&channel=new
Sat Feb 11 17:10:59 2012 from http://www.searchplusnetwork.com/?sp=chv&q=http%3A%2F%2Fclick.infospace.com%2FClickHandler.ashx%3Fdu
Sat Feb 11 17:10:56 2012 from http://www.searchplusnetwork.com/?sp=chv&q=http%3A%2F%2Fclick.infospace.com%2FClickHandler.ashx%3Fdu
Sat Feb 11 17:10:22 2012 from http://www.searchplusnetwork.com/?sp=chv&q=http%3A%2F%2Fclick.infospace.com%2FClickHandler.ashx%3Fdu
Sat Feb 11 17:05:38 2012 from http://www.searchplusnetwork.com/?sp=chv&q=http%3A%2F%2Fclick.infospace.com%2FClickHandler.ashx%3Fdu
Sat Feb 11 16:58:30 2012 from http://www.searchplusnetwork.com/?sp=chv&q=www.searchplusnetwork.com%3Fsp
Sat Feb 11 16:54:52 2012 from http://www.searchplusnetwork.com/?sp=chv&q=searchplusnetwork.com%2F%3Fsp
Sat Feb 11 16:42:34 2012 from http://search.incredibar.com/?q=click.infospace.comClickHandler.ashx%3fdu&lang=arabic&source=368422365&cid=1&uloc=mb113
Sat Feb 11 16:41:15 2012 from (empty referer)
Sat Feb 11 16:31:49 2012 from http://www.searchplusnetwork.com/?sp=chv&q=www.searchplusnetwork.com%3Fsp
Sat Feb 11 16:31:10 2012 from (empty referer)
Sat Feb 11 16:15:17 2012 from http://www.google.com/url?sa=t&rct=j&q=http%3A%2F%2Fwww.google.com%2Fsearch%3Fq%3Dhttp%253A%252F%252Fwww.google.com%252Fsearch%253Fq%253Dhttp%25253A%25252F%25252Fwww.google.com.eg%25252F%2526sourceid%253Dopera%2526ie%253Dutf-8%2526oe%253Dutf-8%2526channel%253Dsuggest%26sourceid%3Dopera%26ie%3Dutf-8%26oe%3Dutf-8%26channel%3Dsuggest&source=web&cd=1&ved=0CCkQFjAA&url=http%3A%2F%2Fcarl.cs.indiana.edu%2Ffil%2Fcgi-bin%2FWebSec%2Fmarilyn.cgi&ei=VNo2T4iCLYyD-wb8oNycAg&usg=AFQjCNHRtbr4ftk_4PyVzN3HuHPJV6LZow
Sat Feb 11 16:09:31 2012 from http://www.google.com/m?q=www.google.com%2Fm%3Fq%3Dwww.girls%2Bsex%2Bcom%26client%3Dms-opera-mini%26channel%3Dnew&client=ms-opera-mini&channel=new
Sat Feb 11 16:09:01 2012 from http://www.google.com/m?q=www.google.com%2Fm%3Fq%3Dwww.girls%2Bsex%2Bcom%26client%3Dms-opera-mini%26channel%3Dnew&client=ms-opera-mini&channel=new
Sat Feb 11 15:57:26 2012 from http://www.searchplusnetwork.com/?sp=chv&q=www.searchplusnetwork.com%3Fsp
Sat Feb 11 15:56:44 2012 from http://www.searchplusnetwork.com/?sp=chv&q=searchplusnetwork.com%2F%3Fsp
Sat Feb 11 15:35:15 2012 from http://www.google.co.uk/m?q=Www%252egoogale%252ecam&client=ms-opera-mini&channel=new&q=Www%252egoogale%252ecam&client=ms-opera-mini&channel=new
Sat Feb 11 15:35:04 2012 from (empty referer)
Sat Feb 11 15:29:54 2012 from http://search.incredibar.com/?q=click.infospace.comClickHandler.ashx%3fdu&lang=arabic&source=368422365&cid=1&uloc=mb113
Sat Feb 11 15:29:35 2012 from http://www.searchplusnetwork.com/?sp=chv&q=click.infospace.comClickHandler.ashx%3Fdu
Sat Feb 11 15:28:21 2012 from http://www.searchplusnetwork.com/?sp=chv&q=http%3A%2F%2Fclick.infospace.com%2FClickHandler.ashx%3Fdu
Sat Feb 11 15:27:47 2012 from http://www.google.co.uk/m?q=Www%252egoogale%252ecam&client=ms-opera-mini&channel=new&q=Www%252egoogale%252ecam&client=ms-opera-mini&channel=new
Sat Feb 11 15:26:59 2012 from http://www.google.co.uk/m?q=Www%252egoogale%252ecam&client=ms-opera-mini&channel=new&q=Www%252egoogale%252ecam&client=ms-opera-mini&channel=new
Sat Feb 11 15:20:24 2012 from (empty referer)
Sat Feb 11 15:19:27 2012 from http://www.google.com/m?q=www.google.com%2Fm%3Fq%3Dwww.nokia%2Bgame.com%26client%3Dms-opera-mini%26channel%3Dnew&client=ms-opera-mini&channel=new
Sat Feb 11 15:19:20 2012 from http://www.google.com/m?q=www.google.com%2Fm%3Fq%3Dwww.nokia%2Bgame.com%26client%3Dms-opera-mini%26channel%3Dnew&client=ms-opera-mini&channel=new
Sat Feb 11 15:19:03 2012 from http://www.google.com/m?q=www.google.com%2Fm%3Fq%3Dwww.nokia%2Bgame.com%26client%3Dms-opera-mini%26channel%3Dnew&client=ms-opera-mini&channel=new
Sat Feb 11 15:08:58 2012 from http://www.searchplusnetwork.com/?sp=chv&q=searchplusnetwork.com%2F%3Fsp
Sat Feb 11 14:42:33 2012 from http://www.google.com/cse?q=facebook.com%2Fajax%2Fpagelet%2Fgeneric.php%2FPhotoViewerInitPagelet%3F__a%3D24&cx=014714114577817547783%3Abdyelwlrqeo&ie=UTF-8&hl=en-US
Sat Feb 11 14:31:22 2012 from http://carl.cs.indiana.edu/fil/cgi-bin/WebSec/marilyn.cgi
Sat Feb 11 14:29:58 2012 from http://start.allgameshome.com/results.php?s=http%3A%2F%2Fstart.allgameshome.com&category=web&start=1&x=53&y=21
Sat Feb 11 14:28:28 2012 from http://www.searchplusnetwork.com/?sp=chv&q=facebook.com%2Fajax%2Fpagelet%2Fgeneric.php%2FPhotoViewerInitPagelet%3F__a
Sat Feb 11 14:20:26 2012 from http://www.searchplusnetwork.com/?sp=chv&q=www.searchplusnetwork.com%3Fsp
Sat Feb 11 14:17:59 2012 from http://www.searchplusnetwork.com/?sp=chv&q=http%3A%2F%2Fclick.infospace.com%2FClickHandler.ashx%3Fdu
Sat Feb 11 14:16:33 2012 from http://www.searchplusnetwork.com/?sp=chv&q=searchplusnetwork.com%2F%3Fsp
Sat Feb 11 14:07:46 2012 from http://www.google.co.uk/m?q=www%252egoogle%252ecom&client=ms-opera-mini&channel=new&q=www%252egoogle%252ecom&client=ms-opera-mini&channel=new
Sat Feb 11 13:56:19 2012 from http://www.google.com/search?client=opera&rls=en&q=www.facebook.com%25253A%25252F%25252Fwww.facebook.com%25252F%2526sourceid%253Dopera%2526ie%253Dutf-8%2526oe%253Dutf-8%2526channel%253Dsuggest%26sourceid%3Dopera%26ie%3Dutf-8%26oe%3Dutf-8%26channel%3Dsuggest&sourceid=opera&ie=utf-8&oe=utf-8&channel=suggest
Sat Feb 11 13:55:11 2012 from http://www.searchplusnetwork.com/?q=click.infospace.comClickHandler.ashx%3Fru
Sat Feb 11 13:46:44 2012 from http://www.google.com/xhtml?q=www%2egoogle%2ecom%2fxhtml%3fq%3dwww%2e%20m%20xxx%20ru%2e%26&client=ms-opera_mb_no&channel=bh
Sat Feb 11 13:46:15 2012 from http://www.searchplusnetwork.com/?sp=chv&q=www.searchplusnetwork.com%3Fsp
Sat Feb 11 13:31:25 2012 from http://www.searchplusnetwork.com/?q=www.searchplusnetwork.com%3Fsp&x=0&y=0
Sat Feb 11 13:27:31 2012 from http://www.google.com/m?client=ms-nokia&cof=nsp&channel=s60&q=tubidy,mobi,search,php,188,sexst%20
Sat Feb 11 13:14:17 2012 from http://www.google.com/url?sa=t&rct=j&q=http%3A%2F%2Fwww.google.com%2Fsearch%3Fq%3Dhttp%253A%252F%252Fwww.google.com%252Fsearch%253Fq%253Dhttp%25253A%25252F%25252Fwww.google.com%25252Fsearch%25253Fq%25253D%252526sourceid%25253Dopera%252526num%25253D0%252526ie%25253Dutf-8%252526oe%25253Dutf-8%252526channel%25253Dsuggest%2526sourceid%253Dopera%2526num%253D0%2526ie%253Dutf-8%2526oe%253Dutf-8%2526channel%253Dsuggest%26sourceid%3Dopera%26num%3D0%26ie%3Dutf-8%26oe%3Dutf-8%26channel%3Dsuggest&source=web&cd=1&ved=0CCsQFjAA&url=http%3A%2F%2Fcarl.cs.indiana.edu%2Ffil%2Fcgi-bin%2FWebSec%2Fmarilyn.cgi&ei=2a82T63MAYSUiQfNvImKAg&usg=AFQjCNHRtbr4ftk_4PyVzN3HuHPJV6LZow
Sat Feb 11 13:06:03 2012 from http://www.google.com/url?sa=t&rct=j&q=&esrc=s&source=web&cd=3&ved=0CD0QFjAC&url=http%3A%2F%2Fcarl.cs.indiana.edu%2Ffil%2Fcgi-bin%2FWebSec%2Fmarilyn.cgi&ei=eK02T8PSJY-ziQfbu5mGAg&usg=AFQjCNHRtbr4ftk_4PyVzN3HuHPJV6LZow&sig2=v0pepjyZCp2IwO_aQW6Hnw
Sat Feb 11 12:57:13 2012 from http://search.chatzum.com/?q=http%3A%2F%2Futils.chatzum.com%2F%3Furl%3Dhttp%3A%2F%2Futils.chatzum.com%2F%3Furl%3Dhttp%3A%2F%2Futils.chatzum.com%2F%3Furl%3Dhttp%3A%2F%2Futils.chatzum.com%2F%3Furl%3Dhttp%3A%2F%2Futils.chatzum.com%2F%3Furl%3Dhttp%3A%2F%2Futils.chatzum.com%2F%3Furl%3Dhttp%3A%2F%2Futils.chatzum.com%2F%3Furl%3Dhttp%3A%2F%2Futils.chatzum.com%2F%3Furl%3Dhttp%3A%2F%2Futils.chatzum.com%2F%3Furl%3Dhttp%3A%2F%2Futils.chatzum.com%2F%3Furl%3Dhttp%3A%2F%2Futils.chatzum.com%2F%3Furl%3Dhttp%3A%2F%2Futils.chatzum.com%2F%3Furl%3Dhttp%3A%2F%2Futils.chatzum.com%2F%3Furl%3Dhttp%3A%2F%2Futils.chatzum.com%2F%3Furl%3Dhttp%3A%2F%2Fapps.facebook.com%2Faagabneii%2Findex.php%3Fid%3D540
Sat Feb 11 12:53:32 2012 from http://www.google.com/url?sa=t&rct=j&q=http%3A%2F%2Fisearch.babylon.com%2F%3Fbabsrc%3Dhome%26af%3D100581&source=web&cd=3&ved=0CCoQFjAC&url=http%3A%2F%2Fcarl.cs.indiana.edu%2Ffil%2Fcgi-bin%2FWebSec%2Fmarilyn.cgi%3Fiframe%3Dtrue%26width%3D80%25%26height%3D80%25&ei=Eqs2T4_WFoO2-waj0JGkAg&usg=AFQjCNE7JD9xSrOi5_c4GAQObQquXyuwVQ
Sat Feb 11 12:53:31 2012 from http://www.google.com/search?q=http%3A%2F%2Fisearch.babylon.com%2F%3Fbabsrc%3Dhome%26AF%3D100581&rls=com.microsoft:en-us:IE-SearchBox&ie=UTF-8&oe=UTF-8&sourceid=ie7&rlz=1I7ADFA_enLY458
Sat Feb 11 12:49:43 2012 from http://search.chatzum.com/?q=search.chatzum.com%2F
Sat Feb 11 12:47:05 2012 from http://www.google.com/url?sa=t&rct=j&q=http%3A%2F%2Fsearch.chatzum.com%2F&source=web&cd=1&ved=0CCIQFjAA&url=http%3A%2F%2Fcarl.cs.indiana.edu%2Ffil%2Fcgi-bin%2FWebSec%2Fmarilyn.cgi&ei=lak2T7vrOaKq0QXGvqyPAg&usg=AFQjCNHRtbr4ftk_4PyVzN3HuHPJV6LZow
Sat Feb 11 12:41:16 2012 from http://www.searchplusnetwork.com/?sp=chv&q=searchplusnetwork.com%2F%3Fsp
Sat Feb 11 12:37:53 2012 from http://www.google.com/m?safe=on&q=http..tubidy.mobi.search.php.a%3D18%D8%8Cq%3Dsexe&hl=en&start=30&sa=N
Sat Feb 11 12:04:20 2012 from http://www.searchplusnetwork.com/?sp=chv&q=www.searchplusnetwork.com%3Fsp
Sat Feb 11 12:00:10 2012 from http://carl.cs.indiana.edu/fil/cgi-bin/WebSec/marilyn.cgi
Sat Feb 11 11:53:50 2012 from http://www.google.com/url?sa=t&rct=j&q=http%3A%2F%2Fwww.google.com%2Fsearch%3Fq%3Dhttp%253a%252f%252fwww.google.com%252fsearch%253fq%253dhttp%25253a%25252f%25252fwww.google.com%25252f%2526sourceid%253dopera%2526num%253d0%2526ie%253dutf-8%2526oe%253dutf-8%2526channel%253dsuggest%26sourceid%3Dopera%26num%3D0%26ie%3Dutf-8%26oe%3Dutf-8%26channel%3Dsuggest&source=web&cd=1&ved=0CCIQFjAA&url=http%3A%2F%2Fcarl.cs.indiana.edu%2Ffil%2Fcgi-bin%2FWebSec%2Fmarilyn.cgi&ei=Ep02T5-jIMaN-wb6qtmVAg&usg=AFQjCNHRtbr4ftk_4PyVzN3HuHPJV6LZow
Sat Feb 11 11:47:00 2012 from http://www.searchplusnetwork.com/?sp=chv&q=www.searchplusnetwork.com%3Fsp
Sat Feb 11 11:46:52 2012 from http://www.google.com/m?q=www%2egoogle%2ecom%2fm%2fsearch%3fsite%3dimages%26client%3dms%2dopera%2dmini%26q%3dwww%2e%26channel%3dnew%26start%3d%36%30%26sa%3dN&client=ms-opera-mini&channel=new
Sat Feb 11 11:41:17 2012 from http://www.searchplusnetwork.com/?sp=chv&q=www.searchplusnetwork.com%3Fsp
Sat Feb 11 11:38:45 2012 from http://www.searchplusnetwork.com/?sp=chv&q=www.searchplusnetwork.com%3Fsp
Sat Feb 11 11:38:43 2012 from http://www.searchplusnetwork.com/?sp=chv&q=www.searchplusnetwork.com%3Fsp
Sat Feb 11 11:31:06 2012 from http://www.searchplusnetwork.com/?q=www.searchplusnetwork.com%3Fsp&x=0&y=0
Sat Feb 11 11:20:35 2012 from http://www.google.com/url?sa=t&rct=j&q=http%3A%2F%2Fwww.google.com%2Fsearch%3Fq%3Dhttp%253a%252f%252fwww.google.com%252fsearch%253fq%253dhttp%25253a%25252f%25252fwww.youtube.com%25252f%2526sourceid%253dopera%2526ie%253dutf-8%2526oe%253dutf-8%2526channel%253dsuggest%26sourceid%3Dopera%26ie%3Dutf-8%26oe%3Dutf-8%26channel%3Dsuggest&source=web&cd=1&ved=0CCIQFjAA&url=http%3A%2F%2Fcarl.cs.indiana.edu%2Ffil%2Fcgi-bin%2FWebSec%2Fmarilyn.cgi&ei=pZQ2T5a9E82N-waM66CFAg&usg=AFQjCNHRtbr4ftk_4PyVzN3HuHPJV6LZow
Sat Feb 11 11:12:32 2012 from (empty referer)
Sat Feb 11 11:09:34 2012 from (empty referer)
Sat Feb 11 11:02:36 2012 from http://www.searchplusnetwork.com/?sp=chv&q=facebook.com%2Fajax%2Fpagelet%2Fgeneric.php%2FPhotoViewerInitPagelet%3F__a
Sat Feb 11 11:02:03 2012 from http://home.myplaycity.com/results.php?category=web&s=facebook.com/ajax/home/generic.php?__a=58&ajaxpipe=1&ajaxpipe_token=AXiEvhfjGfTOqZPe&sidecol=true&path=%2Fgroups%2F276056862419830%2F&sk=group_276056862419830&key=group_276056862419830&endpoint=%2Fajax%2Fhome%2Fgeneric.php&__user=10000092373854
Sat Feb 11 10:57:36 2012 from (empty referer)
Sat Feb 11 10:49:59 2012 from http://www.searchplusnetwork.com/?sp=chv&q=searchplusnetwork.com%2F%3Fsp
Sat Feb 11 10:44:54 2012 from http://www.searchplusnetwork.com/?sp=chv&q=www.searchplusnetwork.com%3Fq
Sat Feb 11 10:28:34 2012 from http://www.google.com/cse?q=google.com%2Furl%3Fq%3Dpornhub.com%2F&cx=014714114577817547783%3Abdyelwlrqeo&ie=UTF-8&hl=en-GB
Sat Feb 11 10:19:03 2012 from http://www.searchplusnetwork.com/?sp=chv&q=searchplusnetwork.com%2F%3Fsp
Sat Feb 11 10:13:57 2012 from (empty referer)
Sat Feb 11 10:13:42 2012 from http://www.google.com/xhtml?q=http%3a%2f%2fwww%2egoogle%2ecom%2fxhtml%3fclient%3dms%2dopera_mb_no%26channel%3dbh%26q%3d%d8%b3%d9%83%d8%b3&client=ms-opera_mb_no&channel=bh
Sat Feb 11 09:47:07 2012 from http://www.google.com/url?sa=t&rct=j&q=&esrc=s&source=web&cd=1&ved=0CCIQFjAA&url=http%3A%2F%2Fcarl.cs.indiana.edu%2Ffil%2Fcgi-bin%2FWebSec%2Fmarilyn.cgi&ei=YH82T9iQA47_-gbx3MX3AQ&usg=AFQjCNHRtbr4ftk_4PyVzN3HuHPJV6LZow&sig2=DqsGrX5eVGnXi5d0UOfsBw
Sat Feb 11 09:37:39 2012 from http://www.google.com/m?client=ms-nokia&cof=nsp&channel=s60&q=%2Fm%2Fnews%3Fclient%3Dms-nokia%26cof%3Dnsp%26channel%3Ds60%26q%3Dgoog
Sat Feb 11 09:17:37 2012 from (empty referer)
Sat Feb 11 09:16:07 2012 from (empty referer)
Sat Feb 11 09:14:57 2012 from http://www.searchplusnetwork.com/?sp=chv&q=searchplusnetwork.com%2F%3Fq
Sat Feb 11 09:14:29 2012 from http://www.google.com/search?client=opera&rls=en&q=http%3A%2F%2Fwww.google.com%2Fsearch%3Fq%3Dhttp%253A%252F%252Fwww.google.com%252Fsearch%253Fq%253Dhttp%25253A%25252F%25252Fwww.google.com%25252Fsearch%25253Fq%25253Dhttp%2525253A%2525252F%2525252Fwww.facebook.com%2525252F%252526sourceid%25253Dopera%252526ie%25253Dutf-8%252526oe%25253Dutf-8%252526channel%25253Dsuggest%2526sourceid%253Dopera%2526ie%253Dutf-8%2526oe%253Dutf-8%2526channel%253Dsuggest%26sourceid%3Dopera%26ie%3Dutf-8%26oe%3Dutf-8%26channel%3Dsuggest&sourceid=opera&ie=utf-8&oe=utf-8&channel=suggest
Sat Feb 11 09:06:01 2012 from http://www.google.com/xhtml?q=http%3a%2f%2fwww%2egoogle%2ecom%2fxhtml%3fq%3dFacebook%2ecom%26client%3dms%2dopera_mb_no%26channel%3dbh&client=ms-opera_mb_no&channel=bh
Sat Feb 11 09:04:37 2012 from (empty referer)
Sat Feb 11 09:04:36 2012 from http://www.searchplusnetwork.com/?sp=chv&q=www.searchplusnetwork.com%3Fsp
Sat Feb 11 08:56:37 2012 from http://search.sweetim.com/search.asp?src=8&q=facebook.com/ajax/home/generic.php?__a=41&ajaxpipe=1&ajaxpipe_token=AXiLH6pUIOBCm-nh&sidecol=true&path=%2F&sk=nf&key=nf&ref=tn_tnmn&endpoint=%2Fajax%2Fhome%2Fgeneric.php&__user=1714978019
Sat Feb 11 08:55:45 2012 from http://www.searchplusnetwork.com/?sp=chv&q=www.searchplusnetwork.com%3Fsp
Sat Feb 11 08:44:23 2012 from http://www.google.com/xhtml?q=http%3a%2f%2fwww%2egoogle%2ecom%2fxhtml%3fclient%3dms%2dopera_mb_no%26channel%3dbh%26q%3d&client=ms-opera_mb_no&channel=bh
Sat Feb 11 08:39:08 2012 from http://www.searchplusnetwork.com/?sp=chv&q=www.searchplusnetwork.com%3Fsp
Sat Feb 11 08:34:23 2012 from http://carl.cs.indiana.edu/fil/cgi-bin/WebSec/marilyn.cgi
Sat Feb 11 08:29:46 2012 from http://www.searchplusnetwork.com/?sp=chv&q=www.searchplusnetwork.com%3Fsp
Sat Feb 11 08:26:16 2012 from http://www.google.co.uk/m?q=www%252egoogle%252ecom&client=ms-opera-mini&channel=new&q=www%252egoogle%252ecom&client=ms-opera-mini&channel=new
Sat Feb 11 08:22:22 2012 from http://search.chatzum.com/?q=http%3A%2F%2Futils.chatzum.com%2F%3Furl%3Dhttp%3A%2F%2Futils.chatzum.com%2F%3Furl%3Dhttp%3A%2F%2Futils.chatzum.com%2F%3Furl%3Dhttp%3A%2F%2Futils.chatzum.com%2F%3Furl%3Dhttp%3A%2F%2Futils.chatzum.com%2F%3Furl%3Dhttp%3A%2F%2Futils.chatzum.com%2F%3Furl%3Dhttp%3A%2F%2Futils.chatzum.com%2F%3Furl%3Dhttp%3A%2F%2Futils.chatzum.com%2F%3Furl%3Dhttp%3A%2F%2Futils.chatzum.com%2F%3Furl%3Dhttp%3A%2F%2Futils.chatzum.com%2F%3Furl%3Dhttp%3A%2F%2Futils.chatzum.com%2F%3Furl%3Dhttp%3A%2F%2Futils.chatzum.com%2F%3Furl%3Dhttp%3A%2F%2Futils.chatzum.com%2F%3Furl%3Dhttp%3A%2F%2Futils.chatzum.com%2F%3Furl%3Dhttp%3A%2F%2Futils.chatzum.com%2F%3Furl%3Dhttp%3A%2F%2Futils.babylon.com%2Fabt%2Findex.php%3Furl%3Dut
Sat Feb 11 08:10:53 2012 from http://www.searchplusnetwork.com/?sp=chv&q=searchplusnetwork.com%2F%3Fsp
Sat Feb 11 08:06:50 2012 from http://search.sweetim.com/search.asp?src=8&crg=4.0004002&q=http://carl.cs.indiana.edu/fil/cgi-bin/WebSec/marilyn.cgi
Sat Feb 11 08:04:04 2012 from http://www.searchplusnetwork.com/?sp=chv&q=www.searchplusnetwork.com%3Fsp
Sat Feb 11 08:00:34 2012 from http://www.searchplusnetwork.com/?sp=chv&q=www.searchplusnetwork.com%3Fsp
Sat Feb 11 07:57:28 2012 from http://search.chatzum.com/?q=search.chatzum.com%2F
Sat Feb 11 07:57:27 2012 from (empty referer)
Sat Feb 11 07:57:06 2012 from http://www.google.com/url?sa=t&rct=j&q=http%3A%2F%2Fwww.google.com%2Fsearch%3Fhl%3Den%26q%3Dhttp%253a%252f%252fwww.google.com%252fsearch%253fhl%253den%2526q%253dhttp%25253a%25252f%25252fsearch.bearshare.com%25252f&source=web&cd=1&ved=0CCIQFjAA&url=http%3A%2F%2Fcarl.cs.indiana.edu%2Ffil%2Fcgi-bin%2FWebSec%2Fmarilyn.cgi&ei=n2U2T8T0IoiL8gPz59HJAg&usg=AFQjCNHRtbr4ftk_4PyVzN3HuHPJV6LZow
Sat Feb 11 07:54:00 2012 from http://www.google.com/url?sa=t&rct=j&q=&esrc=s&source=web&cd=1&ved=0CCMQFjAA&url=http%3A%2F%2Fcarl.cs.indiana.edu%2Ffil%2Fcgi-bin%2FWebSec%2Fmarilyn.cgi&ei=4mQ2T8emLujK0QXM08nCAg&usg=AFQjCNHRtbr4ftk_4PyVzN3HuHPJV6LZow
Sat Feb 11 07:43:52 2012 from http://www.searchplusnetwork.com/?sp=chv&q=www.searchplusnetwork.com%3Fsp
Sat Feb 11 07:06:46 2012 from http://www.google.co.in/m?q=www%252egoogle%252ecom&client=ms-opera-mini&channel=new
Sat Feb 11 07:00:02 2012 from http://www.searchplusnetwork.com/?sp=chv&q=searchplusnetwork.com%2F%3Fsp
Sat Feb 11 06:59:07 2012 from http://www.searchplusnetwork.com/?sp=chv&q=facebook.com%2Fajax%2Fpagelet%2Fgeneric.php%2FPhotoViewerInitPagelet%3F__a
Sat Feb 11 06:50:05 2012 from http://www.google.com/xhtml?q=http%3a%2f%2fwww%2egoogle%2ecom%2fxhtml%3fq%3dwww%2exxx%20movies%26client%3dms%2dopera_mb_no%26channel%3dbh&client=ms-opera_mb_no&channel=bh
Sat Feb 11 06:47:31 2012 from http://www.searchplusnetwork.com/?sp=chv&q=www.searchplusnetwork.com%3Fsp
Sat Feb 11 06:44:30 2012 from http://www.google.com/url?sa=t&rct=j&q=http%3A%2F%2Fwww.google.com%2Fsearch%3Fq%3Dhttp%253a%252f%252fwww.google.com%252fsearch%253fq%253dhttp%25253a%25252f%25252fwww.facebook.com%25252f%2526sourceid%253dopera%2526ie%253dutf-8%2526oe%253dutf-8%2526channel%253dsuggest%26sourceid%3Dopera%26ie%3Dutf-8%26oe%3Dutf-8%26channel%3Dsuggest&source=web&cd=1&ved=0CCsQFjAA&url=http%3A%2F%2Fcarl.cs.indiana.edu%2Ffil%2Fcgi-bin%2FWebSec%2Fmarilyn.cgi&ei=jFQ2T7qlGKKviQeNqOD7AQ&usg=AFQjCNHRtbr4ftk_4PyVzN3HuHPJV6LZow
Sat Feb 11 06:43:28 2012 from http://search.sweetim.com/search.asp?src=8&crg=4.0004002&q=facebook.com/ajax/pagelet/generic.php/PhotoViewerInitPagelet?__a=17&ajaxpipe=1&ajaxpipe_token=AXjGpKuHEHLrcLpy&data=%7B%22fbid%22%3A%22293557744038727%22%2C%22set%22%3A%22a.121148647946305.16903.100001535106784%22%2C%22type%22%3A%221%22%2C%22ref%22%3A%22notif%22%2C%22notif_t%22%3A%22photo_reply%22%2C%22theater%22%3Anull%2C%22size%22%3A%22960%2C458%22%7D&__user=1682337280
Sat Feb 11 06:41:48 2012 from (empty referer)
Sat Feb 11 06:27:03 2012 from http://www.google.com/url?sa=t&rct=j&q=http%3A%2F%2Fwww.google.com%2Fsearch%3Fq%3Dhttp%253a%252f%252fwww.google.com%252fsearch%253fq%253dodnoklassniki.ru%2526sourceid%253dopera%2526ie%253dutf-8%2526oe%253dutf-8%2526channel%253dsuggest%26sourceid%3Dopera%26ie%3Dutf-8%26oe%3Dutf-8%26channel%3Dsuggest&source=web&cd=1&ved=0CC4QFjAA&url=http%3A%2F%2Fcarl.cs.indiana.edu%2Ffil%2Fcgi-bin%2FWebSec%2Fmarilyn.cgi&ei=g1A2T4q1HIfesga094yuDA&usg=AFQjCNHRtbr4ftk_4PyVzN3HuHPJV6LZow
Sat Feb 11 06:19:57 2012 from http://www.searchplusnetwork.com/?sp=chv&q=www.searchplusnetwork.com%3Fsp
Sat Feb 11 06:17:34 2012 from (empty referer)
Sat Feb 11 06:17:02 2012 from http://www.google.com/m?q=www.google.com%2Fm%3Fq%3Dwww.google.com%26client%3Dms-opera-mini%26channel%3Dnew&client=ms-opera-mini&channel=new
Sat Feb 11 06:04:47 2012 from http://www.searchplusnetwork.com/?sp=chv&q=www.searchplusnetwork.com%3Fsp
Sat Feb 11 06:04:03 2012 from http://www.google.com/url?sa=t&rct=j&q=http%3A%2F%2Fwww.google.com%2Fsearch%3Fq%3Dhttp%253A%252F%252Fwww.google.com%252Fsearch%253Fq%253Dhttp%25253A%25252F%25252Fwww.google.com%25252Fsearch%25253Fq%25253Dhttp%2525253A%2525252F%2525252Fwww.youtube.com%2525252F%252526sourceid%25253Dopera%252526ie%25253Dutf-8%252526oe%25253Dutf-8%252526channel%25253Dsuggest%2526sourceid%253Dopera%2526ie%253Dutf-8%2526oe%253Dutf-8%2526channel%253Dsuggest%26sourceid%3Dopera%26ie%3Dutf-8%26oe%3Dutf-8%26channel%3Dsuggest&source=web&cd=1&ved=0CCkQFjAA&url=http%3A%2F%2Fcarl.cs.indiana.edu%2Ffil%2Fcgi-bin%2FWebSec%2Fmarilyn.cgi&ei=sYM1T7_KIpLJ8gOYn7yeAg&usg=AFQjCNHRtbr4ftk_4PyVzN3HuHPJV6LZow
Sat Feb 11 05:54:52 2012 from http://www.searchplusnetwork.com/?sp=chv&q=www.searchplusnetwork.com%3Fsp
Sat Feb 11 05:54:29 2012 from http://www.searchplusnetwork.com/?q=www.searchplusnetwork.com%3Fsp&x=0&y=0
Sat Feb 11 05:53:37 2012 from http://www.searchplusnetwork.com/?q=www.searchplusnetwork.com%3Fsp&x=0&y=0
Sat Feb 11 05:46:39 2012 from http://www.searchplusnetwork.com/?sp=chv&q=www.searchplusnetwork.com%3Fsp
Sat Feb 11 05:37:14 2012 from (empty referer)
Sat Feb 11 05:20:33 2012 from http://www.google.com/url?sa=t&rct=j&q=http%3A%2F%2Fwww.google.com%2Fsearch%3Fq%3Dhttp%253a%252f%252fwww.google.com%252fsearch%253fq%253dhttp%25253a%25252f%25252fwww.google.iq%25252f%2526sourceid%253dopera%2526ie%253dutf-8%2526oe%253dutf-8%2526channel%253dsuggest%26sourceid%3Dopera%26ie%3Dutf-8%26oe%3Dutf-8%26channel%3Dsuggest&source=web&cd=1&ved=0CCIQFjAA&url=http%3A%2F%2Fcarl.cs.indiana.edu%2Ffil%2Fcgi-bin%2FWebSec%2Fmarilyn.cgi&ei=jUA2T-m5KOKy0QX-yKSeAg&usg=AFQjCNHRtbr4ftk_4PyVzN3HuHPJV6LZow
Sat Feb 11 05:09:56 2012 from (empty referer)
Sat Feb 11 05:05:20 2012 from http://www.searchplusnetwork.com/?sp=chv&q=www.searchplusnetwork.com%3Fsp
Sat Feb 11 04:57:19 2012 from http://www.searchplusnetwork.com/?sp=chv&q=facebook.com%2Fajax%2Fpagelet%2Fgeneric.php%2FPhotoViewerInitPagelet%3F__a
Sat Feb 11 04:53:53 2012 from http://www.google.com/url?sa=t&rct=j&q=http%3A%2F%2Fwww.google.com%2Fsearch%3Fq%3Dhttp%253a%252f%252fwww.google.com%252fsearch%253fq%253dhttp%25253a%25252f%25252fgoogle.pl%25252f%2526sourceid%253dopera%2526ie%253dutf-8%2526oe%253dutf-8%2526channel%253dsuggest%26sourceid%3Dopera%26ie%3Dutf-8%26oe%3Dutf-8%26channel%3Dsuggest&source=web&cd=1&ved=0CCsQFjAA&url=http%3A%2F%2Fcarl.cs.indiana.edu%2Ffil%2Fcgi-bin%2FWebSec%2Fmarilyn.cgi&ei=pzo2T_ajKYer0QW8romZAg&usg=AFQjCNHRtbr4ftk_4PyVzN3HuHPJV6LZow
Sat Feb 11 04:25:25 2012 from http://www.searchplusnetwork.com/?sp=chv&q=www.searchplusnetwork.com%3Fsp
Sat Feb 11 04:22:58 2012 from http://www.searchplusnetwork.com/?sp=chv&q=http%3A%2F%2Fclick.infospace.com%2FClickHandler.ashx%3Fdu
Sat Feb 11 04:15:21 2012 from http://search.chatzum.com/?q=search.chatzum.com%2F
Sat Feb 11 04:14:35 2012 from http://search.sweetim.com/search.asp?src=6&q=http%3A%2F%2Fwww.Results+43-48+for''xxx''&barid={54F1DB2C-03AD-11E1-BAA1-00C0CA26C35E}
Sat Feb 11 04:12:09 2012 from http://www.google.com/url?sa=t&rct=j&q=http%3A%2F%2Fwww.google.com%2Fsearch%3Fq%3Dhttp%253a%252f%252fwww.google.com%252fsearch%253fq%253dhttp%25253a%25252f%25252fwww.facebook.com%25252f%2526sourceid%253dopera%2526ie%253dutf-8%2526oe%253dutf-8%2526channel%253dsuggest%26sourceid%3Dopera%26ie%3Dutf-8%26oe%3Dutf-8%26channel%3Dsuggest&source=web&cd=1&ved=0CCMQFjAA&url=http%3A%2F%2Fcarl.cs.indiana.edu%2Ffil%2Fcgi-bin%2FWebSec%2Fmarilyn.cgi&ei=zC82T5evB6qI0QH-0LzJAg&usg=AFQjCNHRtbr4ftk_4PyVzN3HuHPJV6LZow
Sat Feb 11 04:08:45 2012 from http://www.searchplusnetwork.com/?q=www.searchplusnetwork.com%3Fsp&x=0&y=0
Sat Feb 11 04:08:41 2012 from http://www.searchplusnetwork.com/?sp=chv&q=http%3A%2F%2Fcs.infospace.com%2FClickHandler.ashx%3Fru
Sat Feb 11 03:59:34 2012 from http://www.searchplusnetwork.com/?sp=chv&q=www.searchplusnetwork.com%3Fsp
Sat Feb 11 03:55:31 2012 from (empty referer)
Sat Feb 11 03:48:15 2012 from http://www.google.com/m/search?site=universal&client=ms-opera_mb_no&q=http://www.google.com/xhtml?q%3Dwww.&channel=bh
Sat Feb 11 03:44:51 2012 from http://www.searchplusnetwork.com/?sp=chv&q=http%3A%2F%2Fclick.infospace.com%2FClickHandler.ashx%3Fdu
Sat Feb 11 03:31:03 2012 from http://www.google.com/url?sa=t&rct=j&q=http%3A%2F%2Fwww.google.com%2Fsearch%3Fq%3Dhttp%253a%252f%252fwww.google.com%252fsearch%253fq%253dhttp%25253a%25252f%25252fwww.google.com%25252fsearch%25253fq%25253dhttp%2525253a%2525252f%2525252fwww.facebook.com%2525252f%252526sourceid%25253dopera%252526ie%25253dutf-8%252526oe%25253dutf-8%252526channel%25253dsuggest%2526sourceid%253dopera%2526ie%253dutf-8%2526oe%253dutf-8%2526channel%253dsuggest%26sourceid%3Dopera%26ie%3Dutf-8%26oe%3Dutf-8%26channel%3Dsuggest&source=web&cd=1&ved=0CCIQFjAA&url=http%3A%2F%2Fcarl.cs.indiana.edu%2Ffil%2Fcgi-bin%2FWebSec%2Fmarilyn.cgi&ei=E_E1T7znIemf0QXN3JC7Ag&usg=AFQjCNHRtbr4ftk_4PyVzN3HuHPJV6LZow
Sat Feb 11 03:29:58 2012 from http://www.searchplusnetwork.com/?sp=chv&q=www.searchplusnetwork.com%3Fsp
Sat Feb 11 03:27:33 2012 from http://www.searchplusnetwork.com/?sp=chv&q=http%3A%2F%2Fclick.infospace.com%2FClickHandler.ashx%3Fdu
Sat Feb 11 03:27:00 2012 from http://www.searchplusnetwork.com/?sp=chv&q=http%3A%2F%2Fclick.infospace.com%2FClickHandler.ashx%3Fdu
Sat Feb 11 03:23:52 2012 from (empty referer)
Sat Feb 11 03:11:56 2012 from http://www.google.com/url?sa=t&rct=j&q=&esrc=s&source=web&cd=1&ved=0CCIQFjAA&url=http%3A%2F%2Fcarl.cs.indiana.edu%2Ffil%2Fcgi-bin%2FWebSec%2Fmarilyn.cgi&ei=riI2T_mEI46iiAeKk8X5AQ&usg=AFQjCNHRtbr4ftk_4PyVzN3HuHPJV6LZow&sig2=PYLwM1mocJ4loNNjdw0cbg
Sat Feb 11 03:09:38 2012 from http://www.google.com/url?sa=t&rct=j&q=http%3A%2F%2Fwww.google.com%2Fsearch%3Fq%3Dhttp%253a%252f%252fwww.google.com%252fsearch%253fq%253dhttp%25253a%25252f%25252fwww.facebook.com%25252flogout.php%2526sourceid%253dopera%2526ie%253dutf-8%2526oe%253dutf-8%2526channel%253dsuggest%26sourceid%3Dopera%26ie%3Dutf-8%26oe%3Dutf-8%26channel%3Dsuggest&source=web&cd=1&ved=0CCIQFjAA&url=http%3A%2F%2Fcarl.cs.indiana.edu%2Ffil%2Fcgi-bin%2FWebSec%2Fmarilyn.cgi&ei=-yA2T5W1AcLjmAWM7aHTAw&usg=AFQjCNHRtbr4ftk_4PyVzN3HuHPJV6LZow
Sat Feb 11 02:54:48 2012 from http://www.searchplusnetwork.com/?sp=chv&q=www.searchplusnetwork.com%3Fsp
Sat Feb 11 02:53:30 2012 from (empty referer)
Sat Feb 11 02:52:49 2012 from (empty referer)
Sat Feb 11 02:49:19 2012 from http://www.searchplusnetwork.com/?sp=chv&q=www.searchplusnetwork.com%3Fsp
Sat Feb 11 02:47:55 2012 from http://www.google.com/url?sa=t&rct=j&q=http%3A%2F%2Fwww.google.com%2Fsearch%3Fq%3Dhttp%253A%252F%252Fwww.google.com%252Fsearch%253Fq%253Dwww%2526sourceid%253Dopera%2526ie%253Dutf-8%2526oe%253Dutf-8%2526channel%253Dsuggest%26sourceid%3Dopera%26ie%3Dutf-8%26oe%3Dutf-8%26channel%3Dsuggest&source=web&cd=1&ved=0CCAQFjAA&url=http%3A%2F%2Fcarl.cs.indiana.edu%2Ffil%2Fcgi-bin%2FWebSec%2Fmarilyn.cgi&ei=HB02T7vpName0QXHuNWSAg&usg=AFQjCNHRtbr4ftk_4PyVzN3HuHPJV6LZow
Sat Feb 11 02:42:41 2012 from http://www.searchplusnetwork.com/?sp=chv&q=www.searchplusnetwork.com%3Fsp
Sat Feb 11 02:36:47 2012 from http://search.chatzum.com/?q=http%3A%2F%2Fclick.infospace.com%2FClickHandler.ashx%3Fdu%3Dhttp%3A%2F%2Fwww.facebook.com%2F&s=web&as=0
Sat Feb 11 02:34:24 2012 from http://www.searchplusnetwork.com/?sp=chv&q=www.searchplusnetwork.com%3Fsp
Sat Feb 11 02:25:31 2012 from http://www.searchplusnetwork.com/?sp=chv&q=http%3A%2F%2Fclick.infospace.com%2FClickHandler.ashx%3Fdu
Sat Feb 11 02:25:24 2012 from http://www.searchplusnetwork.com/?sp=chv&q=http%3A%2F%2Fclick.infospace.com%2FClickHandler.ashx%3Fdu
Sat Feb 11 02:17:43 2012 from http://search.chatzum.com/?q=http%3A%2F%2Fsearch.chatzum.com%2F&s=web&as=0
Sat Feb 11 02:00:07 2012 from http://www.google.com/url?sa=t&rct=j&q=http%3A%2F%2Fcarl.cs.indiana.edu%2Ffil%2Fcgi-bin%2Fwebsec%2Fmarilyn.cgi&source=web&cd=1&ved=0CCIQFjAA&url=http%3A%2F%2Fcarl.cs.indiana.edu%2Ffil%2Fcgi-bin%2FWebSec%2Fmarilyn.cgi&ei=3BE2T4H4HubN0QWkytmYAg&usg=AFQjCNHRtbr4ftk_4PyVzN3HuHPJV6LZow
Sat Feb 11 01:47:57 2012 from http://www.searchplusnetwork.com/?sp=chv&q=www.searchplusnetwork.com%3Fsp
Sat Feb 11 01:47:32 2012 from http://www.searchplusnetwork.com/?sp=chv&q=http%3A%2F%2Fclick.infospace.com%2FClickHandler.ashx%3Fdu
Sat Feb 11 01:46:54 2012 from http://www.searchplusnetwork.com/?sp=chv&q=http%3A%2F%2Fclick.infospace.com%2FClickHandler.ashx%3Fdu
Sat Feb 11 01:43:58 2012 from http://www.searchplusnetwork.com/?sp=chv&q=http%3A%2F%2Fclick.infospace.com%2FClickHandler.ashx%3Fdu
Sat Feb 11 01:40:19 2012 from http://www.searchplusnetwork.com/?sp=chv&q=www.searchplusnetwork.com%3Fsp
Sat Feb 11 01:20:01 2012 from http://www.searchplusnetwork.com/?sp=chv&q=http%3A%2F%2Fclick.infospace.com%2FClickHandler.ashx%3Fdu
Sat Feb 11 01:01:51 2012 from http://www.searchplusnetwork.com/?sp=chv&q=http%3A%2F%2Fclick.infospace.com%2FClickHandler.ashx%3Fdu
Sat Feb 11 00:49:45 2012 from http://www.searchplusnetwork.com/?sp=chv&q=http%3A%2F%2Fclick.infospace.com%2FClickHandler.ashx%3Fdu
Sat Feb 11 00:46:42 2012 from http://www.searchplusnetwork.com/?sp=chv&q=http%3A%2F%2Fclick.infospace.com%2FClickHandler.ashx%3Fdu
Sat Feb 11 00:14:13 2012 from http://www.searchplusnetwork.com/?sp=chv&q=http%3A%2F%2Fclick.infospace.com%2FClickHandler.ashx%3Fdu
Sat Feb 11 00:14:03 2012 from http://www.searchplusnetwork.com/?sp=chv&q=http%3A%2F%2Fclick.infospace.com%2FClickHandler.ashx%3Fdu
Fri Feb 10 23:57:02 2012 from http://www.google.com/url?sa=t&rct=j&q=http%3A%2F%2Fwww.google.com%2Fsearch%3Fq%3Dhttp%253a%252f%252fwww.google.com%252fsearch%253fq%253dhttp%25253a%25252f%25252fwww.google.com%25252fsearch%25253fq%25253dhttp%2525253a%2525252f%2525252fwww.google.com%2525252f%252526sourceid%25253dopera%252526ie%25253dutf-8%252526oe%25253dutf-8%252526channel%25253dsuggest%2526sourceid%253dopera%2526ie%253dutf-8%2526oe%253dutf-8%2526channel%253dsuggest%26sourceid%3Dopera%26ie%3Dutf-8%26oe%3Dutf-8%26channel%3Dsuggest&source=web&cd=1&ved=0CCAQFjAA&url=http%3A%2F%2Fcarl.cs.indiana.edu%2Ffil%2Fcgi-bin%2FWebSec%2Fmarilyn.cgi&ei=GvU1T93JDaXW0QWl85iVAg&usg=AFQjCNHRtbr4ftk_4PyVzN3HuHPJV6LZow
Fri Feb 10 23:43:47 2012 from http://search.chatzum.com/?q=http%3A%2F%2Futils.chatzum.com%2F%3Furl%3Dhttp%3A%2F%2Futils.chatzum.com%2F%3Furl%3Dhttp%3A%2F%2Futils.chatzum.com%2F%3Furl%3Dhttp%3A%2F%2Futils.chatzum.com%2F%3Furl%3Dhttp%3A%2F%2Futils.chatzum.com%2F%3Furl%3Dhttp%3A%2F%2Futils.chatzum.com%2F%3Furl%3Dhttp%3A%2F%2Futils.chatzum.com%2F%3Furl%3Dhttp%3A%2F%2Futils.chatzum.com%2F%3Furl%3Dhttp%3A%2F%2Futils.chatzum.com%2F%3Furl%3Dhttp%3A%2F%2Futils.chatzum.com%2F%3Furl%3Dhttp%3A%2F%2Futils.chatzum.com%2F%3Furl%3Dhttp%3A%2F%2Futils.chatzum.com%2F%3Furl%3Dhttp%3A%2F%2Futils.chatzum.com%2F%3Furl%3Dhttp%3A%2F%2Futils.chatzum.com%2F%3Furl%3Dhttp%3A%2F%2Futils.chatzum.com%2F%3Furl%3Dhttp%3A%2F%2Futils.chatzum.com%2F%3Furl%3Dhttp%3A%2F%2Futils.chatzum.com%2F%3Furl%3Dhttp%3A%2F%2Futils.chatzum.com%2F%3Furl%3Dhttp%3A%2F%2Futils.chatzum.com%2F%3Furl%3Dhttp%3A%2F%2Futils.chatzum.com%2F%3Furl%3Dhttp%3A%2F%2Futils.chatzum.com%2F%3Furl%3Dhttp%3A%2F%2Futils.chatzum.com%2F%3Furl%3Dhttp%3A%2F%2Futils.chat
Fri Feb 10 23:36:46 2012 from http://www.searchplusnetwork.com/?sp=chv&q=searchplusnetwork.com%2F%3Fsp
Fri Feb 10 23:30:52 2012 from http://www.searchplusnetwork.com/?sp=chv&q=http%3A%2F%2Fclick.infospace.com%2FClickHandler.ashx%3Fdu
Fri Feb 10 23:08:31 2012 from http://www.google.com.my/url?sa=t&rct=j&q=click%20infospace%20clickhandler&source=web&cd=7&ved=0CFQQFjAG&url=http%3A%2F%2Fcarl.cs.indiana.edu%2Ffil%2Fcgi-bin%2FWebSec%2Fmarilyn.cgi&ei=o-k1T5upCaGtiAfS-bCXAg&usg=AFQjCNHRtbr4ftk_4PyVzN3HuHPJV6LZow
Fri Feb 10 22:51:56 2012 from http://www.searchplusnetwork.com/?sp=chv&q=http%3A%2F%2Fclick.infospace.com%2FClickHandler.ashx%3Fdu
Fri Feb 10 22:45:35 2012 from http://search.chatzum.com/?q=http%3A%2F%2Fclick.infospace.com%2FClickHandler.ashx%3Fdu%3Dhttp%3A%2F%2Fwww.facebook.com%2F&s=web&as=0
Fri Feb 10 22:42:02 2012 from http://www.searchplusnetwork.com/?sp=chv&q=http%3A%2F%2Fclick.infospace.com%2FClickHandler.ashx%3Fdu
Fri Feb 10 22:41:59 2012 from http://www.searchplusnetwork.com/?sp=chv&q=http%3A%2F%2Fclick.infospace.com%2FClickHandler.ashx%3Fdu
Fri Feb 10 22:32:51 2012 from http://www.google.com/search?client=opera&rls=en&q=http%3A%2F%2Fwww.google.com%2Fsearch%3Fq%3Dhttp%253A%252F%252Fwww.google.com%252Fsearch%253Fq%253Dgoogle%2526sourceid%253Dopera%2526ie%253Dutf-8%2526oe%253Dutf-8%2526channel%253Dsuggest%26sourceid%3Dopera%26ie%3Dutf-8%26oe%3Dutf-8%26channel%3Dsuggest&sourceid=opera&ie=utf-8&oe=utf-8&channel=suggest
Fri Feb 10 22:20:05 2012 from http://www.google.com/url?sa=t&rct=j&q=&esrc=s&source=web&cd=1&ved=0CCEQFjAA&url=http%3A%2F%2Fcarl.cs.indiana.edu%2Ffil%2Fcgi-bin%2FWebSec%2Fmarilyn.cgi&ei=YN41T4adFJS4twfZ-qnNDg&usg=AFQjCNHRtbr4ftk_4PyVzN3HuHPJV6LZow
Fri Feb 10 22:18:02 2012 from http://www.searchplusnetwork.com/?sp=chv&q=http%3A%2F%2Fclick.infospace.com%2FClickHandler.ashx%3Fdu
Fri Feb 10 22:06:20 2012 from http://ru.ask.com/?l=dis&o=101916
Fri Feb 10 21:50:11 2012 from http://www.searchplusnetwork.com/?sp=chv&q=http%3A%2F%2Fclick.infospace.com%2FClickHandler.ashx%3Fdu
Fri Feb 10 21:42:12 2012 from http://www.google.com/search?hl=en&q=sex+odnoklassniki+indiana&oq=sex+odnoklassniki+indiana&aq=f&aqi=&aql=&gs_sm=12&gs_upl=17104l32344l0l37447l8l8l0l0l0l0l1604l3466l0.2.4-1.2.8-1l6l0&mvs=0
Fri Feb 10 21:42:05 2012 from http://www.searchplusnetwork.com/?sp=chv&q=http%3A%2F%2Fclick.infospace.com%2FClickHandler.ashx%3Fdu
Fri Feb 10 21:15:54 2012 from http://www.google.com/url?sa=t&rct=j&q=http%3A%2F%2Fwww.google.com%2Fsearch%3Fq%3Dhttp%253a%252f%252fwww.google.com%252fsearch%253fq%253dhttp%25253a%25252f%25252fwww.facebook.com%2526sourceid%253dopera%2526ie%253dutf-8%2526oe%253dutf-8%2526channel%253dsuggest%26sourceid%3Dopera%26ie%3Dutf-8%26oe%3Dutf-8%26channel%3Dsuggest&source=web&cd=1&ved=0CCIQFjAA&url=http%3A%2F%2Fcarl.cs.indiana.edu%2Ffil%2Fcgi-bin%2FWebSec%2Fmarilyn.cgi&ei=VM81T_zaKMrH0QWfqLmgAg&usg=AFQjCNHRtbr4ftk_4PyVzN3HuHPJV6LZow
Fri Feb 10 21:15:01 2012 from (empty referer)
Fri Feb 10 20:57:43 2012 from http://www.searchplusnetwork.com/?sp=chv&q=http%3A%2F%2Fclick.infospace.com%2FClickHandler.ashx%3Fdu
Fri Feb 10 20:49:23 2012 from http://www.searchplusnetwork.com/?sp=chv&q=click.infospace.comClickHandler.ashx%3Fdu
Fri Feb 10 20:36:58 2012 from (empty referer)
Fri Feb 10 19:58:05 2012 from http://www.google.com/url?sa=t&rct=j&q=http%3A%2F%2Fwww.google.com%2Fsearch%3Fq%3Dhttp%253a%252f%252fwww.google.com%252fsearch%253fq%253dhttp%25253a%25252f%25252fwww.google.com%25252fsearch%25253fq%25253dhttp%2525253a%2525252f%2525252fwww.google.pl%2525252f%252526sourceid%25253dopera%252526ie%25253dutf-8%252526oe%25253dutf-8%252526channel%25253dsuggest%2526sourceid%253dopera%2526ie%253dutf-8%2526oe%253dutf-8%2526channel%253dsuggest%26sourceid%3Dopera%26ie%3Dutf-8%26oe%3Dutf-8%26channel%3Dsuggest&source=web&cd=1&ved=0CCMQFjAA&url=http%3A%2F%2Fcarl.cs.indiana.edu%2Ffil%2Fcgi-bin%2FWebSec%2Fmarilyn.cgi&ei=9rw1T4zxG8nH0QWAi_iUAg&usg=AFQjCNHRtbr4ftk_4PyVzN3HuHPJV6LZow
Fri Feb 10 19:40:19 2012 from http://www.searchplusnetwork.com/?sp=chv&q=http%3A%2F%2Fclick.infospace.com%2FClickHandler.ashx%3Fdu
Fri Feb 10 19:36:17 2012 from http://www.searchplusnetwork.com/?sp=chv&q=http%3A%2F%2Fclick.infospace.com%2FClickHandler.ashx%3Fdu
Fri Feb 10 18:56:39 2012 from http://www.searchplusnetwork.com/?sp=chv&q=http%3A%2F%2Fclick.infospace.com%2FClickHandler.ashx%3Fdu
Fri Feb 10 18:49:56 2012 from http://www.ask.com/web?qsrc=2417&o=13837&l=dis&q=www.google.com.gh%2Furl%3Fq%3Dhttp%3A%2F%2Fwww.pornhub.com%2F
Fri Feb 10 18:46:12 2012 from http://www.searchplusnetwork.com/?sp=chv&q=http%3A%2F%2Fclick.infospace.com%2FClickHandler.ashx%3Fdu
Fri Feb 10 18:40:36 2012 from http://www.google.com/url?sa=t&rct=j&q=http%3A%2F%2Fwww.google.com%2Fsearch%3Fq%3Dhttp%253a%252f%252fwww.google.com%252fsearch%253fq%253dhttp%25253a%25252f%25252fgoogle.com%25252f%2526sourceid%253dopera%2526ie%253dutf-8%2526oe%253dutf-8%2526channel%253dsuggest%26sourceid%3Dopera%26ie%3Dutf-8%26oe%3Dutf-8%26channel%3Dsuggest&source=web&cd=1&ved=0CCIQFjAA&url=http%3A%2F%2Fcarl.cs.indiana.edu%2Ffil%2Fcgi-bin%2FWebSec%2Fmarilyn.cgi&ei=p6o1T-WQJ8a9gAfQnZXoBQ&usg=AFQjCNHRtbr4ftk_4PyVzN3HuHPJV6LZow&kb=1
Fri Feb 10 18:39:24 2012 from http://www.google.com/url?sa=t&rct=j&q=http%3A%2F%2Fwww.google.com%2Fsearch%3Fq%3Dhttp%253a%252f%252fwww.google.com%252fsearch%253fq%253dhttp%25253a%25252f%25252fgoogle.com%25252f%2526sourceid%253dopera%2526ie%253dutf-8%2526oe%253dutf-8%2526channel%253dsuggest%26sourceid%3Dopera%26ie%3Dutf-8%26oe%3Dutf-8%26channel%3Dsuggest&source=web&cd=1&ved=0CCIQFjAA&url=http%3A%2F%2Fcarl.cs.indiana.edu%2Ffil%2Fcgi-bin%2FWebSec%2Fmarilyn.cgi&ei=p6o1T-WQJ8a9gAfQnZXoBQ&usg=AFQjCNHRtbr4ftk_4PyVzN3HuHPJV6LZow
Fri Feb 10 18:38:09 2012 from http://www.google.co.uk/url?sa=t&rct=j&q=click%20infospace%20clickhandler&source=web&cd=6&ved=0CE8QFjAF&url=http%3A%2F%2Fcarl.cs.indiana.edu%2Ffil%2Fcgi-bin%2FWebSec%2Fmarilyn.cgi&ei=QKo1T5XXC8TPhAeM6oWTAg&usg=AFQjCNHRtbr4ftk_4PyVzN3HuHPJV6LZow
Fri Feb 10 18:32:10 2012 from http://www.searchplusnetwork.com/?sp=chv&q=http%3A%2F%2Fclick.infospace.com%2FClickHandler.ashx%3Fdu
Fri Feb 10 18:28:07 2012 from http://www.searchplusnetwork.com/?sp=chv&q=http%3A%2F%2Fclick.infospace.com%2FClickHandler.ashx%3Fdu
Fri Feb 10 18:14:32 2012 from http://www.google.com/url?sa=t&rct=j&q=http%3A%2F%2Fwww.google.com%2Fsearch%3Fq%3Dhttp%253a%252f%252fwww.google.com%252fsearch%253fq%253dhttp%25253a%25252f%25252fwww.google.com%25252fsearch%25253fq%25253dhttp%2525253a%2525252f%2525252fwww.google.it%2525252f%252526sourceid%25253dopera%252526ie%25253dutf-8%252526oe%25253dutf-8%252526channel%25253dsuggest%2526sourceid%253dopera%2526ie%253dutf-8%2526oe%253dutf-8%2526channel%253dsuggest%26sourceid%3Dopera%26ie%3Dutf-8%26oe%3Dutf-8%26channel%3Dsuggest&source=web&cd=1&ved=0CC4QFjAA&url=http%3A%2F%2Fcarl.cs.indiana.edu%2Ffil%2Fcgi-bin%2FWebSec%2Fmarilyn.cgi&ei=0qQ1T_eINMaM-wbdk_XtAQ&usg=AFQjCNHRtbr4ftk_4PyVzN3HuHPJV6LZow
Fri Feb 10 18:12:37 2012 from http://www.searchplusnetwork.com/?sp=chv&q=click.infospace.comClickHandler.ashx%3Fdu
Fri Feb 10 16:56:22 2012 from http://search.incredibar.com/?q=click.infospace.com+Click+Handler.ashx%3Fdu&lang=arabic&source=368422365&uloc=mb113&cid=1&gc=
Fri Feb 10 16:51:05 2012 from http://search.incredibar.com/?q=click.infospace.com+Click+Handler.ashx%3Fdu&lang=arabic&source=368422365&uloc=mb113&cid=1&gc=
Fri Feb 10 16:50:55 2012 from http://www.google.com/url?sa=t&rct=j&q=http%3A%2F%2Fwww.google.com%2Fsearch%3Fq%3Dhttp%253A%252F%252Fwww.google.com%252Fsearch%253Fq%253D%2525D8%2525A7%2526sourceid%253Dopera%2526ie%253Dutf-8%2526oe%253Dutf-8%2526channel%253Dsuggest%26sourceid%3Dopera%26ie%3Dutf-8%26oe%3Dutf-8%26channel%3Dsuggest&source=web&cd=1&ved=0CCMQFjAA&url=http%3A%2F%2Fcarl.cs.indiana.edu%2Ffil%2Fcgi-bin%2FWebSec%2Fmarilyn.cgi&ei=0JA1T8RzpebRAaaduKAC&usg=AFQjCNHRtbr4ftk_4PyVzN3HuHPJV6LZow
Fri Feb 10 16:50:52 2012 from http://www.google.com/url?sa=t&rct=j&q=http%3A%2F%2Fwww.google.com%2Fsearch%3Fq%3Dhttp%253A%252F%252Fwww.google.com%252Fsearch%253Fq%253D%2525D8%2525A7%2526sourceid%253Dopera%2526ie%253Dutf-8%2526oe%253Dutf-8%2526channel%253Dsuggest%26sourceid%3Dopera%26ie%3Dutf-8%26oe%3Dutf-8%26channel%3Dsuggest&source=web&cd=1&ved=0CCMQFjAA&url=http%3A%2F%2Fcarl.cs.indiana.edu%2Ffil%2Fcgi-bin%2FWebSec%2Fmarilyn.cgi&ei=0JA1T8RzpebRAaaduKAC&usg=AFQjCNHRtbr4ftk_4PyVzN3HuHPJV6LZow
Fri Feb 10 16:49:26 2012 from http://www.google.com/url?sa=t&rct=j&q=http%3A%2F%2Fwww.google.com%2Fsearch%3Fq%3Dhttp%253A%252F%252Fwww.google.com%252Fsearch%253Fq%253D%2525D8%2525A7%2526sourceid%253Dopera%2526ie%253Dutf-8%2526oe%253Dutf-8%2526channel%253Dsuggest%26sourceid%3Dopera%26ie%3Dutf-8%26oe%3Dutf-8%26channel%3Dsuggest&source=web&cd=1&ved=0CCMQFjAA&url=http%3A%2F%2Fcarl.cs.indiana.edu%2Ffil%2Fcgi-bin%2FWebSec%2Fmarilyn.cgi&ei=0JA1T8RzpebRAaaduKAC&usg=AFQjCNHRtbr4ftk_4PyVzN3HuHPJV6LZow
Fri Feb 10 16:38:09 2012 from http://www.searchplusnetwork.com/?sp=chv&q=http%3A%2F%2Fclick.infospace.com%2FClickHandler.ashx%3Fdu
Fri Feb 10 16:30:03 2012 from http://www.searchplusnetwork.com/?sp=chv&q=http%3A%2F%2Fclick.infospace.com%2FClickHandler.ashx%3Fdu
Fri Feb 10 16:29:31 2012 from http://www.searchplusnetwork.com/?sp=chv&q=http%3A%2F%2Fclick.infospace.com%2FClickHandler.ashx%3Fdu
Fri Feb 10 16:26:05 2012 from http://www.searchplusnetwork.com/?sp=chv&q=http%3A%2F%2Fclick.infospace.com%2FClickHandler.ashx%3Fdu
Fri Feb 10 16:24:44 2012 from http://www.searchplusnetwork.com/?sp=chv&q=http%3A%2F%2Fclick.infospace.com%2FClickHandler.ashx%3Fdu
Fri Feb 10 16:24:43 2012 from http://www.searchplusnetwork.com/?sp=chv&q=http%3A%2F%2Fclick.infospace.com%2FClickHandler.ashx%3Fdu
Fri Feb 10 16:20:37 2012 from http://search.incredibar.com/?q=click.infospace.comClickHandler.ashx%3fdu&lang=english&source=368422365&cid=1&uloc=mb113
Fri Feb 10 16:11:58 2012 from http://www.searchplusnetwork.com/?sp=chv&q=http%3A%2F%2Fclick.infospace.com%2FClickHandler.ashx%3Fdu
Fri Feb 10 16:07:53 2012 from http://www.google.com/url?sa=t&rct=j&q=http%3A%2F%2Fwww.google.com%2Fsearch%3Fq%3Dhttp%253a%252f%252fwww.google.com%252fsearch%253fq%253dhttp%25253a%25252f%25252fwww.google.com.mx%25252f%2526sourceid%253dopera%2526ie%253dutf-8%2526oe%253dutf-8%2526channel%253dsuggest%26sourceid%3Dopera%26ie%3Dutf-8%26oe%3Dutf-8%26channel%3Dsuggest&source=web&cd=1&ved=0CCMQFjAA&url=http%3A%2F%2Fcarl.cs.indiana.edu%2Ffil%2Fcgi-bin%2FWebSec%2Fmarilyn.cgi&ei=H4c1T_XOIMmA2wWXtJn8AQ&usg=AFQjCNHRtbr4ftk_4PyVzN3HuHPJV6LZow
Fri Feb 10 16:06:41 2012 from http://www.google.co.in/url?sa=t&rct=j&q=click+infospace+ClickHandler&source=web&cd=7&ved=0CFMQFjAG&url=http%3A%2F%2Fcarl.cs.indiana.edu%2Ffil%2Fcgi-bin%2FWebSec%2Fmarilyn.cgi&ei=0YY1T_HpHqGQiAe3renpAQ&usg=AFQjCNHRtbr4ftk_4PyVzN3HuHPJV6LZow
Fri Feb 10 16:04:06 2012 from http://www.searchplusnetwork.com/?q=click.infospace.comClickHandler.ashx%3Fru
Fri Feb 10 15:58:07 2012 from http://www.searchplusnetwork.com/?sp=chv&q=http%3A%2F%2Fclick.infospace.com%2FClickHandler.ashx%3Fdu
Fri Feb 10 15:57:58 2012 from http://www.google.com/url?sa=t&rct=j&q=http%3A%2F%2Fwww.google.com%2Fsearch%3Fq%3Dhttp%253A%252F%252Fwww.google.com%252Fsearch%253Fq%253Dhttp%25253A%25252F%25252Fwww.google.com%25252Fsearch%25253Fq%25253Dhttp%2525253A%2525252F%2525252Fwww.youtube.com%2525252F%252526sourceid%25253Dopera%252526ie%25253Dutf-8%252526oe%25253Dutf-8%252526channel%25253Dsuggest%2526sourceid%253Dopera%2526ie%253Dutf-8%2526oe%253Dutf-8%2526channel%253Dsuggest%26sourceid%3Dopera%26ie%3Dutf-8%26oe%3Dutf-8%26channel%3Dsuggest&source=web&cd=1&ved=0CCIQFjAA&url=http%3A%2F%2Fcarl.cs.indiana.edu%2Ffil%2Fcgi-bin%2FWebSec%2Fmarilyn.cgi&ei=34A1T-C9Esfoggex2p3oBQ&usg=AFQjCNHRtbr4ftk_4PyVzN3HuHPJV6LZow
Fri Feb 10 15:50:08 2012 from http://www.google.com/url?sa=t&rct=j&q=http%3A%2F%2Fwww.plusnetwork.com%2F%3Fsp%3Dhp&source=web&cd=5&ved=0CEkQFjAE&url=http%3A%2F%2Fcarl.cs.indiana.edu%2Ffil%2Fcgi-bin%2FWebSec%2Fmarilyn.cgi&ei=74I1T6aTJIPV0QWu_OmvAg&usg=AFQjCNHRtbr4ftk_4PyVzN3HuHPJV6LZow
Fri Feb 10 15:44:43 2012 from http://www.searchplusnetwork.com/?sp=chv&q=http%3A%2F%2Fclick.infospace.com%2FClickHandler.ashx%3Fdu
Fri Feb 10 15:32:55 2012 from http://www.searchplusnetwork.com/?sp=chv&q=http%3A%2F%2Fclick.infospace.com%2FClickHandler.ashx%3Fdu
Fri Feb 10 15:30:53 2012 from http://www.searchplusnetwork.com/?sp=chv&q=http%3A%2F%2Fclick.infospace.com%2FClickHandler.ashx%3Fdu
Fri Feb 10 14:55:39 2012 from http://www.searchplusnetwork.com/?sp=chv&q=http%3A%2F%2Fclick.infospace.com%2FClickHandler.ashx%3Fdu
Fri Feb 10 14:48:49 2012 from http://search.sweetim.com/search.asp?src=8&q=http://isearch.babylon.com/?s=web&babsrc=NT_bb&q=valentine-+demy&rs=461
Fri Feb 10 14:46:50 2012 from http://www.searchplusnetwork.com/?sp=chv&q=facebook.com%2Fajax%2Fpagelet%2Fgeneric.php%2FPhotoViewerInitPagelet%3F__a
Fri Feb 10 14:41:29 2012 from http://www.searchplusnetwork.com/?sp=chv&q=http%3A%2F%2Fclick.infospace.com%2FClickHandler.ashx%3Fdu
Fri Feb 10 14:35:02 2012 from (empty referer)
Fri Feb 10 14:27:27 2012 from http://www.google.com/m?gl=SA&hl=en&q=http%3A%2F%2Ftubidy%2Cmobi%2Fsearch%2Cphp%3Fa%3D188d%3Dhot
Fri Feb 10 14:14:43 2012 from http://www.searchplusnetwork.com/?sp=chv&q=http%3A%2F%2Fclick.infospace.com%2FClickHandler.ashx%3Fdu
Fri Feb 10 14:14:04 2012 from http://www.searchplusnetwork.com/?sp=chv&q=http%3A%2F%2Fclick.infospace.com%2FClickHandler.ashx%3Fdu
Fri Feb 10 14:13:11 2012 from http://www.searchplusnetwork.com/?sp=chv&q=http%3A%2F%2Fclick.infospace.com%2FClickHandler.ashx%3Fdu
Fri Feb 10 14:12:38 2012 from http://www.ask.com/web?l=dis&o=15186&qsrc=2870&gct=dns&gc=1&q=click.infospace.com/ClickHandler.ashx?du=http://www.pornhub.com/
Fri Feb 10 14:10:17 2012 from http://www.searchplusnetwork.com/?sp=chv&q=http%3A%2F%2Fclick.infospace.com%2FClickHandler.ashx%3Fdu
Fri Feb 10 14:10:16 2012 from http://www.searchplusnetwork.com/?sp=chv&q=http%3A%2F%2Fclick.infospace.com%2FClickHandler.ashx%3Fdu
Fri Feb 10 14:10:09 2012 from http://search.chatzum.com/?q=http%3A%2F%2Fclick.infospace.com%2FClickHandler.ashx%3Fdu%3Dhttp%3A%2F%2Fwww.facebook.com%2F
Fri Feb 10 13:59:08 2012 from http://www.google.com/url?sa=t&rct=j&q=http%3A%2F%2Fhome.allgameshome.com%2Fresults.php%3Fcategory%3Dweb%26s%3D&source=web&cd=2&ved=0CCgQFjAB&url=http%3A%2F%2Fcarl.cs.indiana.edu%2Ffil%2Fcgi-bin%2FWebSec%2Fmarilyn.cgi&ei=6Wg1T4raHuTb4QSfqqHDBg&usg=AFQjCNHRtbr4ftk_4PyVzN3HuHPJV6LZow
Fri Feb 10 13:51:02 2012 from http://www.google.com/url?sa=t&rct=j&q=http%3A%2F%2Fwww.google.com%2Fsearch%3Fq%3Dhttp%253a%252f%252fwww.google.com%252fsearch%253fq%253dhttp%25253a%25252f%25252fwww.google.com%25252fsearch%25253fq%25253dhttp%2525253a%2525252f%2525252fwww.facebook.com%2525252f%252526sourceid%25253dopera%252526ie%25253dutf-8%252526oe%25253dutf-8%252526channel%25253dsuggest%2526sourceid%253dopera%2526ie%253dutf-8%2526oe%253dutf-8%2526channel%253dsuggest%26sourceid%3Dopera%26ie%3Dutf-8%26oe%3Dutf-8%26channel%3Dsuggest&source=web&cd=1&ved=0CCMQFjAA&url=http%3A%2F%2Fcarl.cs.indiana.edu%2Ffil%2Fcgi-bin%2FWebSec%2Fmarilyn.cgi&ei=tmY1T9liwdOBB-vCsegF&usg=AFQjCNHRtbr4ftk_4PyVzN3HuHPJV6LZow
Fri Feb 10 13:37:53 2012 from http://www.searchplusnetwork.com/?sp=chv&q=http%3A%2F%2Fclick.infospace.com%2FClickHandler.ashx%3Fdu
Fri Feb 10 13:37:51 2012 from http://www.google.com.tr/url?sa=t&rct=j&q=facebook.com+a%C3%A7%C4%B1k+film&source=web&cd=26&ved=0CEEQFjAFOBQ&url=http%3A%2F%2Fcarl.cs.indiana.edu%2Ffil%2Fcgi-bin%2FWebSec%2Fmarilyn.cgi&ei=o2M1T6zaEKbB0QXZwbSxAg&usg=AFQjCNHRtbr4ftk_4PyVzN3HuHPJV6LZow
Fri Feb 10 13:36:36 2012 from http://www.google.com.tr/url?sa=t&rct=j&q=facebook.com+a%C3%A7%C4%B1k+film&source=web&cd=26&ved=0CEEQFjAFOBQ&url=http%3A%2F%2Fcarl.cs.indiana.edu%2Ffil%2Fcgi-bin%2FWebSec%2Fmarilyn.cgi&ei=o2M1T6zaEKbB0QXZwbSxAg&usg=AFQjCNHRtbr4ftk_4PyVzN3HuHPJV6LZow
Fri Feb 10 13:33:28 2012 from http://www.searchplusnetwork.com/?sp=chv&q=http%3A%2F%2Fclick.infospace.com%2FClickHandler.ashx%3Fdu
Fri Feb 10 13:28:11 2012 from http://www.searchplusnetwork.com/?sp=chv&q=http%3A%2F%2Fclick.infospace.com%2FClickHandler.ashx%3Fdu
Fri Feb 10 13:16:24 2012 from http://www.google.com/url?sa=t&rct=j&q=http%3A%2F%2Fwww.google.com%2Fsearch%3Fq%3Dhttp%253a%252f%252fwww.google.com%252fsearch%253fq%253dhttp%25253a%25252f%25252fwww.google.com%25252fsearch%25253fq%25253dhttp%2525253a%2525252f%2525252fwww.google.com%2525252f%252526sourceid%25253dopera%252526ie%25253dutf-8%252526oe%25253dutf-8%252526channel%25253dsuggest%2526sourceid%253dopera%2526ie%253dutf-8%2526oe%253dutf-8%2526channel%253dsuggest%26sourceid%3Dopera%26ie%3Dutf-8%26oe%3Dutf-8%26channel%3Dsuggest&source=web&cd=1&ved=0CDMQFjAA&url=http%3A%2F%2Fcarl.cs.indiana.edu%2Ffil%2Fcgi-bin%2FWebSec%2Fmarilyn.cgi&ei=3141T-iGA6vRiAKD-YyZCg&usg=AFQjCNHRtbr4ftk_4PyVzN3HuHPJV6LZow
Fri Feb 10 13:15:20 2012 from http://www.searchplusnetwork.com/?sp=chv&q=http%3A%2F%2Fclick.infospace.com%2FClickHandler.ashx%3Fdu
Fri Feb 10 13:12:58 2012 from http://www.google.com/cse?q=http%3A%2F%2Fclick.infospace.com%2FClickHandler.ashx%3Fdu%3Dwww.facebook.com&cx=014714114577817547783%3Abdyelwlrqeo&ie=UTF-8&hl=en-US
Fri Feb 10 13:12:41 2012 from http://www.searchplusnetwork.com/?sp=chv&q=http%3A%2F%2Fclick.infospace.com%2FClickHandler.ashx%3Fdu
Fri Feb 10 13:10:35 2012 from http://www.searchplusnetwork.com/?sp=chv&q=http%3A%2F%2Fclick.infospace.com%2FClickHandler.ashx%3Fdu
Fri Feb 10 13:04:11 2012 from http://search.incredibar.com/?q=click.infospace.comClickHandler.ashx%3fdu&lang=english&source=368422365&cid=1&uloc=mb113
Fri Feb 10 12:59:41 2012 from http://www.searchplusnetwork.com/?sp=chv&q=click.infospace.comClickHandler.ashx%3Fdu
Fri Feb 10 12:52:40 2012 from http://www.searchplusnetwork.com/?sp=chv&q=http%3A%2F%2Fclick.infospace.com%2FClickHandler.ashx%3Fdu
Fri Feb 10 12:51:05 2012 from http://www.searchplusnetwork.com/?sp=chv&q=http%3A%2F%2Fclick.infospace.com%2FClickHandler.ashx%3Fdu
Fri Feb 10 12:43:58 2012 from http://www.searchplusnetwork.com/?sp=chv&q=http%3A%2F%2Fclick.infospace.com%2FClickHandler.ashx%3Fdu
Fri Feb 10 12:43:28 2012 from http://www.searchplusnetwork.com/?sp=chv&q=http%3A%2F%2Fclick.infospace.com%2FClickHandler.ashx%3Fdu
Fri Feb 10 12:42:54 2012 from http://www.google.fr/search?q=click+infospace+ClickHandler&channel=linkdoctor
Fri Feb 10 12:41:47 2012 from http://www.searchplusnetwork.com/?sp=chv&q=http%3A%2F%2Fclick.infospace.com%2FClickHandler.ashx%3Fdu
Fri Feb 10 12:39:00 2012 from http://www.searchplusnetwork.com/?sp=chv&q=http%3A%2F%2Fclick.infospace.com%2FClickHandler.ashx%3Fdu
Fri Feb 10 12:32:50 2012 from http://www.searchplusnetwork.com/?sp=chv&q=http%3A%2F%2Fclick.infospace.com%2FClickHandler.ashx%3Fdu
Fri Feb 10 12:30:30 2012 from http://www.searchplusnetwork.com/?sp=chv&q=http%3A%2F%2Fclick.infospace.com%2FClickHandler.ashx%3Fdu
Fri Feb 10 12:27:28 2012 from http://www.searchplusnetwork.com/?sp=chv&q=http%3A%2F%2Fclick.infospace.com%2FClickHandler.ashx%3Fdu
Fri Feb 10 12:26:03 2012 from http://www.google.com.br/url?sa=t&rct=j&q=click%20infospace%20clickhandler&source=web&cd=10&ved=0CHoQFjAJ&url=http%3A%2F%2Fcarl.cs.indiana.edu%2Ffil%2Fcgi-bin%2FWebSec%2Fmarilyn.cgi&ei=8FI1T4yFAYm3twfCndXDAg&usg=AFQjCNHRtbr4ftk_4PyVzN3HuHPJV6LZow
Fri Feb 10 12:17:56 2012 from http://www.google.co.in/url?sa=t&rct=j&q=click+infospace+ClickHandler&source=web&cd=7&ved=0CFMQFjAG&url=http%3A%2F%2Fcarl.cs.indiana.edu%2Ffil%2Fcgi-bin%2FWebSec%2Fmarilyn.cgi&ei=L1E1T4-iB4XOrQedkuG6Dw&usg=AFQjCNHRtbr4ftk_4PyVzN3HuHPJV6LZow
Fri Feb 10 12:08:57 2012 from http://www.google.it/url?sa=t&rct=j&q=click%20infospace%20clickhandler&source=web&cd=10&ved=0CHgQFjAJ&url=http%3A%2F%2Fcarl.cs.indiana.edu%2Ffil%2Fcgi-bin%2FWebSec%2Fmarilyn.cgi&ei=EU81T5fdF8PE4gSt-fTqAQ&usg=AFQjCNHRtbr4ftk_4PyVzN3HuHPJV6LZow
Fri Feb 10 12:08:04 2012 from http://www.searchplusnetwork.com/?sp=chv&q=http%3A%2F%2Fclick.infospace.com%2FClickHandler.ashx%3Fdu
Fri Feb 10 11:57:18 2012 from http://www.google.com/m?client=ms-nokia&cof=nsp&channel=s60&q=http%3a%2f%2fwww.google.com%2fm%3fclient%3dms-nokia%26cof%3dnsp%26channel%3ds60%26q%3dwww.future%2btv.co
Fri Feb 10 11:52:42 2012 from http://www.searchplusnetwork.com/?sp=chv&q=http%3A%2F%2Fclick.infospace.com%2FClickHandler.ashx%3Fdu
Fri Feb 10 11:52:25 2012 from http://www.searchplusnetwork.com/?sp=chv&q=http%3A%2F%2Fclick.infospace.com%2FClickHandler.ashx%3Fdu
Fri Feb 10 11:52:08 2012 from http://www.searchplusnetwork.com/?sp=chv&q=http%3A%2F%2Fclick.infospace.com%2FClickHandler.ashx%3Fdu
Fri Feb 10 11:51:32 2012 from http://www.google.com/url?sa=t&rct=j&q=http%3A%2F%2Fwww.google.com%2Fsearch%3Fq%3Dhttp%253a%252f%252fwww.google.com%252fsearch%253fq%253dhttp%25253a%25252f%25252fwww.google.com%25252fsearch%25253fq%25253dhttp%2525253a%2525252f%2525252fwww.google.ro%2525252f%252526sourceid%25253dopera%252526ie%25253dutf-8%252526oe%25253dutf-8%252526channel%25253dsuggest%2526sourceid%253dopera%2526ie%253dutf-8%2526oe%253dutf-8%2526channel%253dsuggest%26sourceid%3Dopera%26ie%3Dutf-8%26oe%3Dutf-8%26channel%3Dsuggest&source=web&cd=1&ved=0CCEQFjAA&url=http%3A%2F%2Fcarl.cs.indiana.edu%2Ffil%2Fcgi-bin%2FWebSec%2Fmarilyn.cgi&ei=7ko1T66XAdDcsga2ssTODA&usg=AFQjCNHRtbr4ftk_4PyVzN3HuHPJV6LZow
Fri Feb 10 11:49:19 2012 from (empty referer)
Fri Feb 10 11:46:58 2012 from http://www.searchplusnetwork.com/?sp=chv&q=http%3A%2F%2Fclick.infospace.com%2FClickHandler.ashx%3Fdu
Fri Feb 10 11:45:18 2012 from http://www.searchplusnetwork.com/?sp=chv&q=http%3A%2F%2Fclick.infospace.com%2FClickHandler.ashx%3Fdu
Fri Feb 10 11:44:47 2012 from http://www.searchplusnetwork.com/?sp=chv&q=http%3A%2F%2Fclick.infospace.com%2FClickHandler.ashx%3Fdu
Fri Feb 10 11:44:46 2012 from http://www.searchplusnetwork.com/?sp=chv&q=http%3A%2F%2Fclick.infospace.com%2FClickHandler.ashx%3Fdu
Fri Feb 10 11:44:44 2012 from http://www.searchplusnetwork.com/?sp=chv&q=http%3A%2F%2Fclick.infospace.com%2FClickHandler.ashx%3Fdu
Fri Feb 10 11:44:41 2012 from http://www.searchplusnetwork.com/?sp=chv&q=http%3A%2F%2Fclick.infospace.com%2FClickHandler.ashx%3Fdu
Fri Feb 10 11:44:09 2012 from http://www.searchplusnetwork.com/?sp=chv&q=http%3A%2F%2Fclick.infospace.com%2FClickHandler.ashx%3Fdu
Fri Feb 10 11:42:13 2012 from http://www.google.com/m?client=ms-nokia&cof=nsp&channel=s60&q=wwwww.google.com%2fm%3fclient%3dms-nokia%26cof%3dnsp%26channel
Fri Feb 10 11:36:01 2012 from http://www.searchplusnetwork.com/?sp=chv&q=http%3A%2F%2Fclick.infospace.com%2FClickHandler.ashx%3Fdu
Fri Feb 10 11:27:51 2012 from http://www.google.co.uk/url?sa=t&rct=j&q=click%20infospace%20clickhandler&source=web&cd=6&ved=0CE0QFjAF&url=http%3A%2F%2Fcarl.cs.indiana.edu%2Ffil%2Fcgi-bin%2FWebSec%2Fmarilyn.cgi&ei=bEU1T5CWFMaK0AXW9fifAg&usg=AFQjCNHRtbr4ftk_4PyVzN3HuHPJV6LZow
Fri Feb 10 11:26:54 2012 from http://www.google.co.uk/url?sa=t&rct=j&q=click%20infospace%20clickhandler&source=web&cd=6&ved=0CE0QFjAF&url=http%3A%2F%2Fcarl.cs.indiana.edu%2Ffil%2Fcgi-bin%2FWebSec%2Fmarilyn.cgi&ei=NkU1T8nHF8jS0QX_peyPAg&usg=AFQjCNHRtbr4ftk_4PyVzN3HuHPJV6LZow
Fri Feb 10 11:26:24 2012 from (empty referer)
Fri Feb 10 11:23:53 2012 from http://www.google.com/m?q=http%3a%2f%2fwww%2egoogle%2ecom%2fm%3fq%3dwww%2e%26client%3dms%2dopera%2dmini%26channel%3dnew&client=ms-opera-mini&channel=new
Fri Feb 10 11:17:23 2012 from http://start.allgameshome.com/results.php?category=web&s=http%3A%2F%2Fstart.allgameshome.com%2Fresults.php%3Fcategory%3Dweb
Fri Feb 10 11:10:31 2012 from http://www.searchplusnetwork.com/?sp=chv&q=http%3A%2F%2Fclick.infospace.com%2FClickHandler.ashx%3Fdu
Fri Feb 10 11:07:10 2012 from http://www.searchplusnetwork.com/?sp=chv&q=http%3A%2F%2Fclick.infospace.com%2FClickHandler.ashx%3Fdu
Fri Feb 10 11:03:13 2012 from http://www.searchplusnetwork.com/?sp=chv&q=http%3A%2F%2Fclick.infospace.com%2FClickHandler.ashx%3Fdu
Fri Feb 10 11:02:09 2012 from (empty referer)
Fri Feb 10 11:01:04 2012 from http://www.searchplusnetwork.com/?sp=chv&q=http%3A%2F%2Fclick.infospace.com%2FClickHandler.ashx%3Fdu
Fri Feb 10 11:00:39 2012 from http://www.searchplusnetwork.com/?sp=chv&q=http%3A%2F%2Fclick.infospace.com%2FClickHandler.ashx%3Fdu
Fri Feb 10 10:59:41 2012 from http://www.searchplusnetwork.com/?sp=chv&q=http%3A%2F%2Fclick.infospace.com%2FClickHandler.ashx%3Fdu
Fri Feb 10 10:52:34 2012 from (empty referer)
Fri Feb 10 10:52:14 2012 from http://www.google.com/xhtml?client=ms-opera_mb_no&channel=bh&q=http%3A%2F%2Fwww.SAX.com%2Fm%2Fsearch%3Fsite%3Dimages%26client%3Dms-opera_mb_no%26channel%3Dbh%26q%3Dhttp%3A%2F%2Fwww.sax+com
Fri Feb 10 10:48:55 2012 from (empty referer)
Fri Feb 10 10:45:35 2012 from (empty referer)
Fri Feb 10 10:45:26 2012 from (empty referer)
Fri Feb 10 10:45:01 2012 from http://www.google.com/url?sa=t&rct=j&q=http%3A%2F%2Fwww.google.com%2Fsearch%3Fq%3Dhttp%253A%252F%252Fwww.google.com%252Fsearch%253Fq%253Dhttp%25253A%25252F%25252Fwww.google.com%25252Fsearch%25253Fq%25253Dhttp%2525253A%2525252F%2525252Fwww.facebook.com%2525252F%252526sourceid%25253Dopera%252526ie%25253Dutf-8%252526oe%25253Dutf-8%252526channel%25253Dsuggest%2526sourceid%253Dopera%2526ie%253Dutf-8%2526oe%253Dutf-8%2526channel%253Dsuggest%26sourceid%3Dopera%26ie%3Dutf-8%26oe%3Dutf-8%26channel%3Dsuggest&source=web&cd=1&ved=0CCIQFjAA&url=http%3A%2F%2Fcarl.cs.indiana.edu%2Ffil%2Fcgi-bin%2FWebSec%2Fmarilyn.cgi&ei=bTs1T-X5KMfP0QWL6bC4Ag&usg=AFQjCNHRtbr4ftk_4PyVzN3HuHPJV6LZow
Fri Feb 10 10:38:22 2012 from (empty referer)
Fri Feb 10 10:30:14 2012 from http://www.google.com/url?sa=t&rct=j&q=http%3A%2F%2Fwww.google.com%2Fsearch%3Fq%3Dhttp%253A%252F%252Fwww.google.com%252Fsearch%253Fq%253Dhttp%25253A%25252F%25252Fwww.google.com%25252Fsearch%25253Fq%25253Dhttp%2525253A%2525252F%2525252Fwww.google.com%2525252F%252526sourceid%25253Dopera%252526ie%25253Dutf-8%252526oe%25253Dutf-8%252526channel%25253Dsuggest%2526sourceid%253Dopera%2526ie%253Dutf-8%2526oe%253Dutf-8%2526channel%253Dsuggest%26sourceid%3Dopera%26ie%3Dutf-8%26oe%3Dutf-8%26channel%3Dsuggest&source=web&cd=1&ved=0CCMQFjAA&url=http%3A%2F%2Fcarl.cs.indiana.edu%2Ffil%2Fcgi-bin%2FWebSec%2Fmarilyn.cgi&ei=9Tc1T_LQJ47DtAaEnLHJDA&usg=AFQjCNHRtbr4ftk_4PyVzN3HuHPJV6LZow
Fri Feb 10 10:21:39 2012 from http://www.searchplusnetwork.com/?sp=chv&q=http%3A%2F%2Fclick.infospace.com%2FClickHandler.ashx%3Fdu
Fri Feb 10 10:18:24 2012 from http://www.searchplusnetwork.com/?sp=chv&q=http%3A%2F%2Fclick.infospace.com%2FClickHandler.ashx%3Fdu
Fri Feb 10 10:11:43 2012 from http://www.searchplusnetwork.com/?sp=chv&q=http%3A%2F%2Fclick.infospace.com%2FClickHandler.ashx%3Fdu
Fri Feb 10 09:59:45 2012 from (empty referer)
Fri Feb 10 09:59:30 2012 from http://www.searchplusnetwork.com/?sp=chv&q=http%3A%2F%2Fclick.infospace.com%2FClickHandler.ashx%3Fdu
Fri Feb 10 09:55:36 2012 from http://www.searchplusnetwork.com/?sp=chv&q=http%3A%2F%2Fclick.infospace.com%2FClickHandler.ashx%3Fdu
Fri Feb 10 09:48:52 2012 from http://www.searchplusnetwork.com/?sp=chv&q=http%3A%2F%2Fclick.infospace.com%2FClickHandler.ashx%3Fdu
Fri Feb 10 09:40:47 2012 from http://www.searchplusnetwork.com/?sp=chv&q=http%3A%2F%2Fclick.infospace.com%2FClickHandler.ashx%3Fdu
Fri Feb 10 09:29:43 2012 from http://www.searchplusnetwork.com/?sp=chv&q=http%3A%2F%2Fclick.infospace.com%2FClickHandler.ashx%3Fdu
Fri Feb 10 09:27:38 2012 from http://search.sweetim.com/search.asp?src=8&crg=4.0004002&q=http://home.allgameshome.com/results.php?category=web&s=http://home.allgameshome.com/results.php?category=web&s=http://home.allgameshome.com/results.php?category=web&s=http://home.allgameshome.com/results.php?category=web&s=http://home.allgameshome.com/results.php?category=web&s=http://home.allgameshome.com/results.php?category=web&s=http://click.infospace.com/ClickHandler.ashx?du=http%3a%2f%2fwww.zylom.com%2fus%2fen%2fdownload-games%2fzuma-deluxe%2f%3fdsgid%3d212&ru=http%3a%2f%2fwww.zylom.com%2fus%2fen%2fdownload-games%2fzuma-deluxe%2f%3fdsgid%3d212&ld=20120210&ap=1&app=1&c=playcity&s=playcity&coi=239137&cop=main-title&euip=180.244.161.74&npp=1&p=0&pp=0&pvaid=cd1a7005471b43fcbf60c48f6e497d96&ep=1&mid=9&hash=EF56A7017D18DC9896154EC52D
Fri Feb 10 09:26:19 2012 from http://www.searchplusnetwork.com/?sp=chv&q=click.infospace.comClickHandler.ashx%3Fdu
Fri Feb 10 09:23:11 2012 from http://www.searchplusnetwork.com/?sp=chv&q=http%3A%2F%2Fclick.infospace.com%2FClickHandler.ashx%3Fdu
Fri Feb 10 09:17:37 2012 from http://search.chatzum.com/?q=click.infospace.com/ClickHandler.ashx?du=http%3a%2f%2fwww.facebook.com%2f&ru=http%3a%2f%2fwww.facebook.com%2f&ld=20120210&ap=1&app=1&c=chatzum&s=chatzum&coi=239138&cop=main-title&euip=119.154.73.132&npp=1&p=0&pp=0&pvaid=138591621f95405eafc51fa24441ce17&ep=1&mid=9&hash=8F511E8D3C7F81C67E61745EF861D523&s=web
Fri Feb 10 09:14:32 2012 from http://www.searchplusnetwork.com/?sp=chv&q=http%3A%2F%2Fclick.infospace.com%2FClickHandler.ashx%3Fdu
Fri Feb 10 09:10:13 2012 from http://www.google.com/m?q=www.google.com%2Fm%3Fq%3Dwww.sxe%2Bgirl.%26client%3Dms-opera-mini%26channel%3Dnew&client=ms-opera-mini&channel=new
Fri Feb 10 09:03:35 2012 from http://www.google.com.kw/imgres?q=4shared.sex.xnxx.com&hl=en&sa=X&biw=1024&bih=677&tbm=isch&prmd=imvns&tbnid=ynUan-_9FQYrEM:&imgrefurl=http://carl.cs.indiana.edu/fil/cgi-bin/WebSec/marilyn.cgi&docid=hMMAQwJMLA2rwM&itg=1&imgurl=http://carl.cs.indiana.edu/fil/WebSec/marilyn.jpg&w=500&h=333&ei=riM1T--KIuuRiQfUh9T6AQ&zoom=1&iact=hc&vpx=99&vpy=319&dur=763&hovh=183&hovw=275&tx=124&ty=70&sig=113422040911846269908&page=1&tbnh=144&tbnw=192&start=0&ndsp=13&ved=1t:429,r:4,s:0
Fri Feb 10 08:45:20 2012 from http://www.google.com/m?q=www.google.com%2Fm%3Fq%3Dwww.%26client%3Dms-opera-mini%26channel%3Dnew&client=ms-opera-mini&channel=new
Fri Feb 10 08:34:19 2012 from http://plus.google.com/url?sa=z&n=1311815196740&url=http%3A%2F%2Fbit.ly%2Fp7zHOT&usg=8QNghl4sxHUWC6x6TS8GCAWKkIs.
Fri Feb 10 08:27:07 2012 from http://www.searchplusnetwork.com/?sp=chv&q=http%3A%2F%2Fclick.infospace.com%2FClickHandler.ashx%3Fdu
Fri Feb 10 08:20:42 2012 from http://www.searchplusnetwork.com/?sp=chv&q=http%3A%2F%2Fclick.infospace.com%2FClickHandler.ashx%3Fdu
Fri Feb 10 08:20:03 2012 from http://www.google.com/url?sa=t&rct=j&q=&esrc=s&source=web&cd=1&ved=0CC0QFjAA&url=http%3A%2F%2Fcarl.cs.indiana.edu%2Ffil%2Fcgi-bin%2FWebSec%2Fmarilyn.cgi&ei=cRk1T9qeOYHprQeKt6y6Dw&usg=AFQjCNHRtbr4ftk_4PyVzN3HuHPJV6LZow&sig2=TIj5_mMN3hKAaJEbP0Ezzw
Fri Feb 10 08:08:32 2012 from http://www.google.com/url?sa=t&rct=j&q=http%3A%2F%2Fwww.google.com%2Fsearch%3Fq%3Dhttp%253a%252f%252fwww.google.com%252fsearch%253fq%253dhttp%25253a%25252f%25252fwww.google.com%25252fsearch%25253fq%25253dm.facebook.com%252526sourceid%25253dopera%252526ie%25253dutf-8%252526oe%25253dutf-8%252526channel%25253dsuggest%2526sourceid%253dopera%2526ie%253dutf-8%2526oe%253dutf-8%2526channel%253dsuggest%26sourceid%3Dopera%26ie%3Dutf-8%26oe%3Dutf-8%26channel%3Dsuggest&source=web&cd=1&ved=0CCIQFjAA&url=http%3A%2F%2Fcarl.cs.indiana.edu%2Ffil%2Fcgi-bin%2FWebSec%2Fmarilyn.cgi&ei=vRY1T5LTGsL28QOi7MjVAg&usg=AFQjCNHRtbr4ftk_4PyVzN3HuHPJV6LZow
Fri Feb 10 08:02:18 2012 from http://www.searchplusnetwork.com/?sp=chv&q=http%3A%2F%2Fclick.infospace.com%2FClickHandler.ashx%3Fdu
Fri Feb 10 08:01:21 2012 from (empty referer)
Fri Feb 10 07:55:41 2012 from http://www.bing.com/search?q=http%3A%2F%2Fwww.hot%2520imege.com%2F&src=IE-SearchBox
Fri Feb 10 07:42:55 2012 from http://www.google.com/url?sa=t&rct=j&q=http%3A%2F%2Fwww.google.com%2Fsearch%3Fq%3Dhttp%253a%252f%252fwww.google.com%252fsearch%253fq%253dhttp%25253a%25252f%25252fwww.google.com.pk%25252fsearch%25253fq%25253dyoutube%252526sourceid%25253dopera%252526ie%25253dutf-8%252526oe%25253dutf-8%252526channel%25253dsuggest%2526sourceid%253dopera%2526ie%253dutf-8%2526oe%253dutf-8%2526channel%253dsuggest%26sourceid%3Dopera%26ie%3Dutf-8%26oe%3Dutf-8%26channel%3Dsuggest&source=web&cd=1&ved=0CCIQFjAA&url=http%3A%2F%2Fcarl.cs.indiana.edu%2Ffil%2Fcgi-bin%2FWebSec%2Fmarilyn.cgi&ei=uhA1T6yuH-vKiAKHm9zBCg&usg=AFQjCNHRtbr4ftk_4PyVzN3HuHPJV6LZow
Fri Feb 10 07:39:26 2012 from http://www.searchplusnetwork.com/?sp=chv&q=click.infospace.comClickHandler.ashx%3Fdu
Fri Feb 10 07:27:00 2012 from http://www.google.com.br/url?sa=t&rct=j&q=click%20infospace%20clickhandler&source=web&cd=10&ved=0CHoQFjAJ&url=http%3A%2F%2Fcarl.cs.indiana.edu%2Ffil%2Fcgi-bin%2FWebSec%2Fmarilyn.cgi&ei=-Aw1T_rFHMi_tgf-o4mhAg&usg=AFQjCNHRtbr4ftk_4PyVzN3HuHPJV6LZow
Fri Feb 10 07:23:54 2012 from http://www.searchplusnetwork.com/?sp=chv&q=http%3A%2F%2Fclick.infospace.com%2FClickHandler.ashx%3Fdu
Fri Feb 10 07:21:47 2012 from http://www.google.com/m?client=ms-nokia&cof=nsp&channel=s60&q=www.google.com%2fm%2fsearch%3fclient%3dms-nokia%26q%3dwww.noki
Fri Feb 10 07:21:14 2012 from http://www.google.co.in/url?sa=t&rct=j&q=click%20infospace%20clickhandler&source=web&cd=7&ved=0CFQQFjAG&url=http%3A%2F%2Fcarl.cs.indiana.edu%2Ffil%2Fcgi-bin%2FWebSec%2Fmarilyn.cgi&ei=rQs1T5LRKszrrQe12Ki6Dw&usg=AFQjCNHRtbr4ftk_4PyVzN3HuHPJV6LZow&sig2=ylpvRBSfshodxtwG52t2rQ
Fri Feb 10 07:08:48 2012 from (empty referer)
Fri Feb 10 06:58:21 2012 from http://www.google.com/url?sa=t&rct=j&q=http%3A%2F%2Fwww.google.com%2Fsearch%3Fq%3Dhttp%253a%252f%252fwww.google.com%252fsearch%253fq%253dimages%2526sourceid%253dopera%2526ie%253dutf-8%2526oe%253dutf-8%2526channel%253dsuggest%26sourceid%3Dopera%26ie%3Dutf-8%26oe%3Dutf-8%26channel%3Dsuggest&source=web&cd=1&ved=0CC8QFjAA&url=http%3A%2F%2Fcarl.cs.indiana.edu%2Ffil%2Fcgi-bin%2FWebSec%2Fmarilyn.cgi&ei=fQU1T5uUBofprAfH4IW6Dw&usg=AFQjCNHRtbr4ftk_4PyVzN3HuHPJV6LZow
Fri Feb 10 06:36:12 2012 from http://www.searchplusnetwork.com/?sp=chv&q=click.infospace.comClickHandler.ashx%3Fdu
Fri Feb 10 06:22:26 2012 from (empty referer)
Fri Feb 10 06:08:50 2012 from http://www.google.com/url?sa=t&rct=j&q=annel%203dsuggest%26sourceid%3Dopera%26ie%3Dutf-8%26oe%3Dutf-8%26channel%3Dsuggest&source=web&cd=1&sqi=2&ved=0CCAQFjAA&url=http%3A%2F%2Fcarl.cs.indiana.edu%2Ffil%2Fcgi-bin%2FWebSec%2Fmarilyn.cgi&ei=vfo0T4vlEcuJrAfPtqm6Dw&usg=AFQjCNHRtbr4ftk_4PyVzN3HuHPJV6LZow
Fri Feb 10 06:08:43 2012 from http://www.google.com/url?sa=t&rct=j&q=&esrc=s&source=web&cd=1&ved=0CCEQFjAA&url=http%3A%2F%2Fcarl.cs.indiana.edu%2Ffil%2Fcgi-bin%2FWebSec%2Fmarilyn.cgi&ei=sfo0T-WvB-j50gGFyJyoAg&usg=AFQjCNHRtbr4ftk_4PyVzN3HuHPJV6LZow
Fri Feb 10 06:05:53 2012 from http://www.searchplusnetwork.com/?sp=chv&q=http%3A%2F%2Fclick.infospace.com%2FClickHandler.ashx%3Fdu
Fri Feb 10 05:58:36 2012 from http://www.searchplusnetwork.com/?sp=chv&q=http%3A%2F%2Fclick.infospace.com%2FClickHandler.ashx%3Fdu
Fri Feb 10 05:52:16 2012 from http://www.google.com/url?sa=t&rct=j&q=http%3A%2F%2Fwww.google.com%2Fsearch%3Fq%3Dhttp%253A%252F%252Fwww.google.com%252Fsearch%253Fq%253Dhttp%25253A%25252F%25252Fwww.google.com%25252Fsearch%25253Fq%25253Dhttp%2525253A%2525252F%2525252Fwww.google.com%2525252Fsearch%2525253Fq%2525253Dhttp%252525253A%252525252F%252525252Fhelp.opera.com%252525252Ferrorpage%252525252F%25252526sourceid%2525253Dopera%25252526ie%2525253Dutf-8%25252526oe%2525253Dutf-8%25252526channel%2525253Dsuggest%252526sourceid%25253Dopera%252526ie%25253Dutf-8%252526oe%25253Dutf-8%252526channel%25253Dsuggest%2526sourceid%253Dopera%2526ie%253Dutf-8%2526oe%253Dutf-8%2526channel%253Dsuggest%26sourceid%3Dopera%26ie%3Dutf-8%26oe%3Dutf-8%26channel%3Dsuggest&source=web&cd=1&ved=0CCAQFjAA&url=http%3A%2F%2Fcarl.cs.indiana.edu%2Ffil%2Fcgi-bin%2FWebSec%2Fmarilyn.cgi&ei=2fY0T_vnI-r30gH2n9nUAg&usg=AFQjCNHRtbr4ftk_4PyVzN3HuHPJV6LZow
Fri Feb 10 05:48:10 2012 from http://www.searchplusnetwork.com/?sp=chv&q=http%3A%2F%2Fclick.infospace.com%2FClickHandler.ashx%3Fdu
Fri Feb 10 05:47:40 2012 from (empty referer)
Fri Feb 10 05:40:21 2012 from http://www.searchplusnetwork.com/?sp=chv&q=http%3A%2F%2Fclick.infospace.com%2FClickHandler.ashx%3Fdu
Fri Feb 10 05:32:38 2012 from http://www.google.com/url?sa=t&rct=j&q=http%3A%2F%2Fwww.google.com%2Fsearch%3Fq%3Dhttp%253a%252f%252fwww.google.lk%252fsearch%253fq%253dsearch%2526sourceid%253dopera%2526ie%253dutf-8%2526oe%253dutf-8%2526channel%253dsuggest%26sourceid%3Dopera%26ie%3Dutf-8%26oe%3Dutf-8%26channel%3Dsuggest&source=web&cd=1&ved=0CCsQFjAA&url=http%3A%2F%2Fcarl.cs.indiana.edu%2Ffil%2Fcgi-bin%2FWebSec%2Fmarilyn.cgi&ei=LfI0T90zirKsB6CEqLoP&usg=AFQjCNHRtbr4ftk_4PyVzN3HuHPJV6LZow
Fri Feb 10 05:31:06 2012 from http://start.allgameshome.com/results.php?s=aghstart&category=web&start=25
Fri Feb 10 05:03:46 2012 from http://go.mail.ru/search?q=sex%20film&rch=e&num=10&sf=40
Fri Feb 10 05:03:26 2012 from http://www.searchplusnetwork.com/?sp=chv&q=click.infospace.comClickHandler.ashx%3Fdu
Fri Feb 10 05:02:16 2012 from http://www.google.com/m?client=ms-nokia&cof=nsp&channel=s60&q=www.google.com%2fm%2fnews%3fclient%3dms-nokia%26cof%3dnsp%26q%3d%2bw
Fri Feb 10 04:59:11 2012 from http://www.google.com/search?client=opera&rls=en&q=http%3A%2F%2Fwww.google.com%2Fsearch%3Fq%3Dhttp%253A%252F%252Fwww.google.com%252Fsearch%253Fq%253Dhttp%25253A%25252F%25252Fyoutube.com%25252F%2526sourceid%253Dopera%2526ie%253Dutf-8%2526oe%253Dutf-8%2526channel%253Dsuggest%26sourceid%3Dopera%26ie%3Dutf-8%26oe%3Dutf-8%26channel%3Dsuggest&sourceid=opera&ie=utf-8&oe=utf-8&channel=suggest
Fri Feb 10 04:56:52 2012 from http://www.searchplusnetwork.com/?sp=chv&q=http%3A%2F%2Fclick.infospace.com%2FClickHandler.ashx%3Fdu
Fri Feb 10 04:55:43 2012 from http://search.chatzum.com/?q=http%3A%2F%2Fclick.infospace.com%2FClickHandler.ashx%3Fdu%3Dhttp%3A%2F%2Fwww.facebook.com%2F
Fri Feb 10 04:53:01 2012 from http://www.google.com/url?sa=t&rct=j&q=http%3A%2F%2Fwww.google.com%2Fsearch%3Fq%3Dhttp%253A%252F%252Fwww.google.com%252Fsearch%253Fq%253Dwww.google.com%2526sourceid%253Dopera%2526ie%253Dutf-8%2526oe%253Dutf-8%2526channel%253Dsuggest%26sourceid%3Dopera%26ie%3Dutf-8%26oe%3Dutf-8%26channel%3Dsuggest&source=web&cd=1&ved=0CC8QFjAA&url=http%3A%2F%2Fcarl.cs.indiana.edu%2Ffil%2Fcgi-bin%2FWebSec%2Fmarilyn.cgi&ei=5Og0T-LSJ4yN4gSrp_GQAg&usg=AFQjCNHRtbr4ftk_4PyVzN3HuHPJV6LZow
Fri Feb 10 04:50:31 2012 from http://www.searchplusnetwork.com/?sp=chv&q=http%3A%2F%2Fclick.infospace.com%2FClickHandler.ashx%3Fdu
Fri Feb 10 04:47:33 2012 from http://www.google.com/url?sa=t&rct=j&q=http%3A%2F%2Fwww.google.com%2Fsearch%3Fq%3Dhttp%253a%252f%252fwww.google.com%252fsearch%253fq%253dhttp%25253a%25252f%25252fwww.google.com%25252fsearch%25253fq%25253dhttps%2525253a%2525252f%2525252fwww.facebook.com%2525252f%252526sourceid%25253dopera%252526ie%25253dutf-8%252526oe%25253dutf-8%252526channel%25253dsuggest%2526sourceid%253dopera%2526ie%253dutf-8%2526oe%253dutf-8%2526channel%253dsuggest%26sourceid%3Dopera%26ie%3Dutf-8%26oe%3Dutf-8%26channel%3Dsuggest&source=web&cd=1&ved=0CCIQFjAA&url=http%3A%2F%2Fcarl.cs.indiana.edu%2Ffil%2Fcgi-bin%2FWebSec%2Fmarilyn.cgi&ei=quc0T_ewF8n_-gb4nKWUAg&usg=AFQjCNHRtbr4ftk_4PyVzN3HuHPJV6LZow
Fri Feb 10 04:45:36 2012 from http://www.searchplusnetwork.com/?sp=chv&q=click.infospace.comClickHandler.ashx%3Fdu
Fri Feb 10 04:42:28 2012 from (empty referer)
Fri Feb 10 04:38:37 2012 from http://www.google.com/url?sa=t&rct=j&q=http%3A%2F%2Fwww.google.com%2Fsearch%3Fq%3Dhttp%253A%252F%252Fwww.google.com%252Fsearch%253Fq%253Dhttp%25253A%25252F%25252Fwww.facebook.com%25252F%2526sourceid%253Dopera%2526ie%253Dutf-8%2526oe%253Dutf-8%2526channel%253Dsuggest%26sourceid%3Dopera%26ie%3Dutf-8%26oe%3Dutf-8%26channel%3Dsuggest&source=web&cd=1&ved=0CC8QFjAA&url=http%3A%2F%2Fcarl.cs.indiana.edu%2Ffil%2Fcgi-bin%2FWebSec%2Fmarilyn.cgi&ei=neQ0T7iPGIfqrAeB4KSZDQ&usg=AFQjCNHRtbr4ftk_4PyVzN3HuHPJV6LZow
Fri Feb 10 04:37:53 2012 from http://www.google.com/url?sa=t&rct=j&q=http%3A%2F%2Fwww.google.com%2Fsearch%3Fclient%3Dopera%26rls%3Den%26q%3Dhttp%253a%252f%252fwww.google.com%252fsearch%253fclient%253dopera%2526rls%253den%2526q%253dhttp%25253a%25252f%25252fwww.google.com%25252fsearch%25253fq%25253dhttp%2525253a%2525252f%2525252fwww.tamilvix.com%2525252fvettai-mannan-movie-trailer.html%252526sourceid%25253dopera%252526ie%25253dutf-8%252526oe%25253dutf-8%252526channel%25253dsuggest%2526sourceid%253dopera%2526ie%253dutf-8%2526oe%253dutf-8%2526channel%253dsuggest%26sourceid%3Dopera%26ie%3Dutf-8%26oe%3Dutf-8%26channel%3Dsuggest&source=web&cd=1&ved=0CCsQFjAA&url=http%3A%2F%2Fcarl.cs.indiana.edu%2Ffil%2Fcgi-bin%2FWebSec%2Fmarilyn.cgi&ei=W-U0T9iKNoGyrAeXtvChDA&usg=AFQjCNHRtbr4ftk_4PyVzN3HuHPJV6LZow
Fri Feb 10 04:37:29 2012 from (empty referer)
Fri Feb 10 04:28:59 2012 from http://www.searchplusnetwork.com/?sp=chv&q=http%3A%2F%2Fclick.infospace.com%2FClickHandler.ashx%3Fdu
Fri Feb 10 04:26:52 2012 from http://www.google.com/url?sa=t&rct=j&q=http%3A%2F%2Fwww.google.com%2Fsearch%3Fq%3Dhttp%253a%252f%252fwww.google.com%252fsearch%253fq%253dhttp%25253a%25252f%25252fwww.facebook.com%25252f%2526sourceid%253dopera%2526num%253d0%2526ie%253dutf-8%2526oe%253dutf-8%2526channel%253dsuggest%26sourceid%3Dopera%26num%3D0%26ie%3Dutf-8%26oe%3Dutf-8%26channel%3Dsuggest&source=web&cd=1&ved=0CC8QFjAA&url=http%3A%2F%2Fcarl.cs.indiana.edu%2Ffil%2Fcgi-bin%2FWebSec%2Fmarilyn.cgi&ei=xuI0T-0BhtOtB8-YnLoP&usg=AFQjCNHRtbr4ftk_4PyVzN3HuHPJV6LZow
Fri Feb 10 04:18:18 2012 from http://www.searchplusnetwork.com/?sp=chv&q=http%3A%2F%2Fclick.infospace.com%2FClickHandler.ashx%3Fdu
Fri Feb 10 04:18:12 2012 from http://www.searchplusnetwork.com/?sp=chv&q=http%3A%2F%2Fclick.infospace.com%2FClickHandler.ashx%3Fdu
Fri Feb 10 04:10:42 2012 from http://www.searchplusnetwork.com/?sp=chv&q=http%3A%2F%2Fclick.infospace.com%2FClickHandler.ashx%3Fdu
Fri Feb 10 04:10:16 2012 from http://www.searchplusnetwork.com/?sp=chv&q=http%3A%2F%2Fclick.infospace.com%2FClickHandler.ashx%3Fdu
Fri Feb 10 04:10:10 2012 from http://www.searchplusnetwork.com/?sp=chv&q=http%3A%2F%2Fclick.infospace.com%2FClickHandler.ashx%3Fdu
Fri Feb 10 04:01:15 2012 from http://www.searchplusnetwork.com/?sp=chv&q=http%3A%2F%2Fclick.infospace.com%2FClickHandler.ashx%3Fdu
Fri Feb 10 03:59:10 2012 from http://www.searchplusnetwork.com/?sp=chv&q=http%3A%2F%2Fclick.infospace.com%2FClickHandler.ashx%3Fdu
Fri Feb 10 03:56:26 2012 from http://www.searchplusnetwork.com/?sp=chv&q=click.infospace.comClickHandler.ashx%3Fdu
Fri Feb 10 03:51:15 2012 from http://www.google.com/url?sa=t&rct=j&q=&esrc=s&frm=1&source=video&cd=1&ved=0CDEQFjAA&url=http%3A%2F%2Fcarl.cs.indiana.edu%2Ffil%2Fcgi-bin%2FWebSec%2Fmarilyn.cgi&ctbs=vid%3A1&ei=dto0T5K1EILJrAfq1ciWDA&usg=AFQjCNHRtbr4ftk_4PyVzN3HuHPJV6LZow
Fri Feb 10 03:45:28 2012 from http://www.searchplusnetwork.com/?sp=chv&q=http%3A%2F%2Fclick.infospace.com%2FClickHandler.ashx%3Fdu
Fri Feb 10 03:35:01 2012 from http://www.searchplusnetwork.com/?sp=chv&q=http%3A%2F%2Fclick.infospace.com%2FClickHandler.ashx%3Fdu
Fri Feb 10 03:21:01 2012 from http://isearch.babylon.com/?q=http:/isearch.babylon.com/%3fbabsrc=home&babsrc=browsersearch
Fri Feb 10 03:15:24 2012 from http://www.google.com/url?sa=t&rct=j&q=http%3A%2F%2Fwww.google.com%2Fsearch%3Fq%3Dhttp%253A%252F%252Fwww.google.com.pk%252Fsearch%253Fq%253Dxxx%2526sourceid%253Dopera%2526num%253D0%2526ie%253Dutf-8%2526oe%253Dutf-8%2526channel%253Dsuggest%26sourceid%3Dopera%26num%3D0%26ie%3Dutf-8%26oe%3Dutf-8%26channel%3Dsuggest&source=web&cd=1&ved=0CCIQFjAA&url=http%3A%2F%2Fcarl.cs.indiana.edu%2Ffil%2Fcgi-bin%2FWebSec%2Fmarilyn.cgi&ei=DdI0T9ynF4n98gP278CkAg&usg=AFQjCNHRtbr4ftk_4PyVzN3HuHPJV6LZow
Fri Feb 10 03:15:23 2012 from http://www.google.com/url?sa=t&rct=j&q=http%3A%2F%2Fwww.google.com%2Fsearch%3Fq%3Dhttp%253A%252F%252Fwww.google.com.pk%252Fsearch%253Fq%253Dxxx%2526sourceid%253Dopera%2526num%253D0%2526ie%253Dutf-8%2526oe%253Dutf-8%2526channel%253Dsuggest%26sourceid%3Dopera%26num%3D0%26ie%3Dutf-8%26oe%3Dutf-8%26channel%3Dsuggest&source=web&cd=1&ved=0CCIQFjAA&url=http%3A%2F%2Fcarl.cs.indiana.edu%2Ffil%2Fcgi-bin%2FWebSec%2Fmarilyn.cgi&ei=DdI0T9ynF4n98gP278CkAg&usg=AFQjCNHRtbr4ftk_4PyVzN3HuHPJV6LZow
Fri Feb 10 03:08:53 2012 from http://www.searchplusnetwork.com/?sp=chv&q=http%3A%2F%2Fclick.infospace.com%2FClickHandler.ashx%3Fdu
Fri Feb 10 02:51:30 2012 from http://search.incredibar.com/?q=click.infospace.comClickHandler.ashx%3fdu&lang=english&source=368422365&cid=1&uloc=mb113
Fri Feb 10 02:39:45 2012 from http://www.google.com/url?sa=t&rct=j&q=http%3A%2F%2Fwww.google.com%2Fsearch%3Fq%3Dhttp%253a%252f%252fwww.google.com%252fsearch%253fq%253dhttp%25253a%25252f%25252fwww.gmail.com%25252f%2526sourceid%253dopera%2526ie%253dutf-8%2526oe%253dutf-8%2526channel%253dsuggest%26sourceid%3Dopera%26ie%3Dutf-8%26oe%3Dutf-8%26channel%3Dsuggest&source=web&cd=1&ved=0CCsQFjAA&url=http%3A%2F%2Fcarl.cs.indiana.edu%2Ffil%2Fcgi-bin%2FWebSec%2Fmarilyn.cgi&ei=uck0T_2PAsHwrQfg4Yy6Dw&usg=AFQjCNHRtbr4ftk_4PyVzN3HuHPJV6LZow
Fri Feb 10 02:37:36 2012 from http://www.searchplusnetwork.com/?sp=chv&q=http%3A%2F%2Fclick.infospace.com%2FClickHandler.ashx%3Fdu
Fri Feb 10 02:34:36 2012 from http://www.searchplusnetwork.com/?sp=chv&q=http%3A%2F%2Fclick.infospace.com%2FClickHandler.ashx%3Fdu
Fri Feb 10 02:34:05 2012 from http://carl.cs.indiana.edu/fil/cgi-bin/WebSec/marilyn.cgi
Fri Feb 10 02:30:36 2012 from http://www.searchplusnetwork.com/?sp=chv&q=http%3A%2F%2Fclick.infospace.com%2FClickHandler.ashx%3Fdu
Fri Feb 10 02:11:25 2012 from http://www.google.com/url?sa=t&rct=j&q=http%3A%2F%2Fisearch.babylon.com%2F%3Fbabsrc%3Dhome&source=web&cd=3&ved=0CCgQFjAC&url=http%3A%2F%2Fcarl.cs.indiana.edu%2Ffil%2Fcgi-bin%2FWebSec%2Fmarilyn.cgi&ei=8sI0T-DlO-eaiQfDs42eAg&usg=AFQjCNHRtbr4ftk_4PyVzN3HuHPJV6LZow
Fri Feb 10 01:57:54 2012 from http://www.searchplusnetwork.com/?sp=chv&q=http%3A%2F%2Fclick.infospace.com%2FClickHandler.ashx%3Fdu
Fri Feb 10 01:54:48 2012 from http://www.google.com/url?sa=t&rct=j&q=http%3A%2F%2Fwww.google.com%2Fsearch%3Fq%3Dhttp%253a%252f%252fwww.google.com.pk%252fsearch%253fq%253dwww%2526sourceid%253dopera%2526ie%253dutf-8%2526oe%253dutf-8%2526channel%253dsuggest%26sourceid%3Dopera%26ie%3Dutf-8%26oe%3Dutf-8%26channel%3Dsuggest&source=web&cd=1&ved=0CCIQFjAA&url=http%3A%2F%2Fcarl.cs.indiana.edu%2Ffil%2Fcgi-bin%2FWebSec%2Fmarilyn.cgi&ei=Jr80T-2iL9DhrAeQvfG5Dw&usg=AFQjCNHRtbr4ftk_4PyVzN3HuHPJV6LZow
Fri Feb 10 01:53:52 2012 from (empty referer)
Fri Feb 10 01:38:13 2012 from http://www.searchplusnetwork.com/?sp=chv&q=click.infospace.comClickHandler.ashx%3Fdu
Fri Feb 10 01:19:21 2012 from (empty referer)
Fri Feb 10 01:06:59 2012 from http://www.searchplusnetwork.com/?sp=chv&q=http%3A%2F%2Fclick.infospace.com%2FClickHandler.ashx%3Fdu
Fri Feb 10 01:02:55 2012 from http://www.searchplusnetwork.com/?sp=chv&q=http%3A%2F%2Fclick.infospace.com%2FClickHandler.ashx%3Fdu
Fri Feb 10 01:02:00 2012 from http://www.searchplusnetwork.com/?sp=chv&q=http%3A%2F%2Fclick.infospace.com%2FClickHandler.ashx%3Fdu
Fri Feb 10 01:00:27 2012 from http://www.searchplusnetwork.com/?sp=chv&q=http%3A%2F%2Fclick.infospace.com%2FClickHandler.ashx%3Fdu
Fri Feb 10 00:59:51 2012 from http://www.google.com/m?q=www.google.com%2Fm%3Fq%3Dwww.photo%2Bpakistani%2Bgirl.%26client%3Dms-opera-mini%26channel%3Dnew&client=ms-opera-mini&channel=new
Fri Feb 10 00:59:34 2012 from (empty referer)
Fri Feb 10 00:58:39 2012 from http://www.google.com/m?q=www.google.com%2Fm%3Fq%3Dwww.photo%2Bpakistani%2Bgirl.%26client%3Dms-opera-mini%26channel%3Dnew&client=ms-opera-mini&channel=new
Fri Feb 10 00:58:18 2012 from http://www.crawler.com/search/results1.aspx?w=web&pts=1&tbid=60002&q=home.allgameshome.com%2Fresults.php%3Fcategory%3Dweb
Fri Feb 10 00:58:03 2012 from http://www.google.com/m?q=www.google.com%2Fm%3Fq%3Dwww.photo%2Bpakistani%2Bgirl.%26client%3Dms-opera-mini%26channel%3Dnew&client=ms-opera-mini&channel=new
Fri Feb 10 00:47:27 2012 from http://www.searchplusnetwork.com/?sp=chv&q=click.infospace.comClickHandler.ashx%3Fdu
Fri Feb 10 00:45:59 2012 from http://www.searchplusnetwork.com/?sp=chv&q=http%3A%2F%2Fclick.infospace.com%2FClickHandler.ashx%3Fdu
Fri Feb 10 00:41:55 2012 from http://www.searchplusnetwork.com/?sp=chv&q=http%3A%2F%2Fclick.infospace.com%2FClickHandler.ashx%3Fdu
Fri Feb 10 00:30:00 2012 from (empty referer)
Fri Feb 10 00:29:06 2012 from http://www.google.com/url?sa=t&rct=j&q=http%3A%2F%2Fwww.google.com%2Fsearch%3Fq%3Dhttp%253a%252f%252fwww.google.com%252fsearch%253fq%253dhttp%25253a%25252f%25252fwww.facebook.com%25252f%2526sourceid%253dopera%2526ie%253dutf-8%2526oe%253dutf-8%2526channel%253dsuggest%26sourceid%3Dopera%26ie%3Dutf-8%26oe%3Dutf-8%26channel%3Dsuggest&source=web&cd=1&ved=0CCwQFjAA&url=http%3A%2F%2Fcarl.cs.indiana.edu%2Ffil%2Fcgi-bin%2FWebSec%2Fmarilyn.cgi&ei=HKs0T9bgAojv0gGGmdjcAg&usg=AFQjCNHRtbr4ftk_4PyVzN3HuHPJV6LZow
Fri Feb 10 00:27:38 2012 from http://search.incredibar.com/?q=click.infospace.comClickHandler.ashx%3fdu&lang=english&source=368422365&cid=1&uloc=mb113
Fri Feb 10 00:19:44 2012 from http://www.searchplusnetwork.com/?sp=chv&q=http%3A%2F%2Fclick.infospace.com%2FClickHandler.ashx%3Fdu
Fri Feb 10 00:15:44 2012 from (empty referer)
Fri Feb 10 00:10:38 2012 from http://www.google.com/url?sa=t&rct=j&q=http%3A%2F%2Fwww.google.com%2Fsearch%3Fq%3Dhttp%253a%252f%252fwww.google.com.pk%252fsearch%253fq%253dgoogle%2526sourceid%253dopera%2526ie%253dutf-8%2526oe%253dutf-8%2526channel%253dsuggest%26sourceid%3Dopera%26ie%3Dutf-8%26oe%3Dutf-8%26channel%3Dsuggest&source=web&cd=1&ved=0CCIQFjAA&url=http%3A%2F%2Fcarl.cs.indiana.edu%2Ffil%2Fcgi-bin%2FWebSec%2Fmarilyn.cgi&ei=r6Y0T-3fIYa-0QX7p5y1Ag&usg=AFQjCNHRtbr4ftk_4PyVzN3HuHPJV6LZow
Thu Feb  9 23:25:34 2012 from http://www.searchplusnetwork.com/?sp=chv&q=http%3A%2F%2Fclick.infospace.com%2FClickHandler.ashx%3Fdu
Thu Feb  9 23:21:10 2012 from http://www.searchplusnetwork.com/?sp=chv&q=http%3A%2F%2Fclick.infospace.com%2FClickHandler.ashx%3Fdu
Thu Feb  9 23:19:59 2012 from http://search.incredibar.com/?q=click.infospace.comClickHandler.ashx%3fdu&lang=english&source=368422365&cid=1&uloc=mb113
Thu Feb  9 23:16:54 2012 from http://www.google.com/url?sa=t&rct=j&q=http%3A%2F%2Fwww.google.com%2Fsearch%3Fq%3Dhttp%253a%252f%252fwww.google.com%252fsearch%253fq%253dhttp%25253a%25252f%25252fwww.google.com%25252fsearch%25253fq%25253dhttp%2525253a%2525252f%2525252fwww.facebook.com%2525252f%252526sourceid%25253dopera%252526ie%25253dutf-8%252526oe%25253dutf-8%252526channel%25253dsuggest%2526sourceid%253dopera%2526ie%253dutf-8%2526oe%253dutf-8%2526channel%253dsuggest%26sourceid%3Dopera%26ie%3Dutf-8%26oe%3Dutf-8%26channel%3Dsuggest&source=web&cd=1&ved=0CCIQFjAA&url=http%3A%2F%2Fcarl.cs.indiana.edu%2Ffil%2Fcgi-bin%2FWebSec%2Fmarilyn.cgi&ei=6eYzT5bdK-2iiAenl4CfAg&usg=AFQjCNHRtbr4ftk_4PyVzN3HuHPJV6LZow
Thu Feb  9 23:05:07 2012 from http://www.searchplusnetwork.com/?sp=chv&q=http%3A%2F%2Fclick.infospace.com%2FClickHandler.ashx%3Fdu
Thu Feb  9 23:00:08 2012 from http://www.searchplusnetwork.com/?sp=chv&q=http%3A%2F%2Fclick.infospace.com%2FClickHandler.ashx%3Fdu
Thu Feb  9 22:58:57 2012 from (empty referer)
Thu Feb  9 22:48:21 2012 from http://www.searchplusnetwork.com/?sp=chv&q=http%3A%2F%2Fclick.infospace.com%2FClickHandler.ashx%3Fdu
Thu Feb  9 22:47:41 2012 from http://www.searchplusnetwork.com/?sp=chv&q=http%3A%2F%2Fclick.infospace.com%2FClickHandler.ashx%3Fdu
Thu Feb  9 22:47:33 2012 from http://www.google.com/m?q=www%2egoogle%2ecom%2fm%3fq%3dwww%2e%26client%3dms%2dopera%2dmini%26channel%3dnew&client=ms-opera-mini&channel=new
Thu Feb  9 22:33:03 2012 from http://www.searchplusnetwork.com/?sp=chv&q=click.infospace.comClickHandler.ashx%3Fdu
Thu Feb  9 22:25:30 2012 from http://www.searchplusnetwork.com/?sp=chv&q=http%3A%2F%2Fclick.infospace.com%2FClickHandler.ashx%3Fdu
Thu Feb  9 22:04:10 2012 from http://www.searchplusnetwork.com/?sp=chv&q=http%3A%2F%2Fclick.infospace.com%2FClickHandler.ashx%3Fdu
Thu Feb  9 21:53:48 2012 from http://www.searchplusnetwork.com/?sp=chv&q=http%3A%2F%2Fclick.infospace.com%2FClickHandler.ashx%3Fdu
Thu Feb  9 21:08:08 2012 from http://www.google.com/url?sa=t&rct=j&q=http%3A%2F%2Fwww.hot+meil.com%2F%3Fl%3Ddis%26o%3D102842%26gct%3Dhp&source=web&cd=2&ved=0CCgQFjAB&url=http%3A%2F%2Fcarl.cs.indiana.edu%2Ffil%2Fcgi-bin%2FWebSec%2Fmarilyn.cgi%3Fiframe%3Dtrue%26width%3D80%25%26height%3D80%25&ei=3Hs0T4GnDcTE0QWJoJSLAg&usg=AFQjCNE7JD9xSrOi5_c4GAQObQquXyuwVQ&cad=rja
Thu Feb  9 20:44:04 2012 from http://www.google.com/url?sa=t&rct=j&q=&esrc=s&source=web&cd=1&ved=0CDAQFjAA&url=http%3A%2F%2Fcarl.cs.indiana.edu%2Ffil%2Fcgi-bin%2FWebSec%2Fmarilyn.cgi%3Fiframe%3Dtrue%26width%3D80%25%26height%3D80%25&ei=gXQ0T539PNHRrQfhwqy6Dw&usg=AFQjCNE7JD9xSrOi5_c4GAQObQquXyuwVQ
Thu Feb  9 20:21:55 2012 from http://websearch.4shared.com/results?q=%2525252Fwww.facebook.com%2525252Flogin.php%2525253Flogin_attempt%2525253D
Thu Feb  9 19:47:51 2012 from http://www.searchplusnetwork.com/?sp=chv&q=http%3A%2F%2Fclick.infospace.com%2FClickHandler.ashx%3Fdu
Thu Feb  9 19:41:09 2012 from http://www.searchplusnetwork.com/?sp=chv&q=click.infospace.comClickHandler.ashx%3Fdu
Thu Feb  9 19:28:04 2012 from http://www.searchplusnetwork.com/?sp=chv&q=http%3A%2F%2Fclick.infospace.com%2FClickHandler.ashx%3Fdu
Thu Feb  9 19:28:01 2012 from http://www.searchplusnetwork.com/?sp=chv&q=http%3A%2F%2Fclick.infospace.com%2FClickHandler.ashx%3Fdu
Thu Feb  9 19:06:50 2012 from http://www.searchplusnetwork.com/?sp=chv&q=http%3A%2F%2Fclick.infospace.com%2FClickHandler.ashx%3Fdu
Thu Feb  9 18:49:58 2012 from http://www.searchplusnetwork.com/?q=http%3A%2F%2Fclick.infospace.com%2FClickHandler.ashx%3Fdu&x=0&y=0
Thu Feb  9 18:37:19 2012 from http://www.google.cl/url?sa=t&rct=j&q=click%20infospace%20clickhandler&source=web&cd=10&ved=0CHsQFjAJ&url=http%3A%2F%2Fcarl.cs.indiana.edu%2Ffil%2Fcgi-bin%2FWebSec%2Fmarilyn.cgi&ei=fFg0T4yGBIHAtgfkye3IAg&usg=AFQjCNHRtbr4ftk_4PyVzN3HuHPJV6LZow
Thu Feb  9 18:13:44 2012 from http://www.google.com/url?sa=t&rct=j&q=http%3A%2F%2Fwww.google.com%2Fsearch%3Fq%3Dhttp%253a%252f%252fwww.google.fr%252fsearch%253fq%253dgoogle.fr%2526sourceid%253dopera%2526ie%253dutf-8%2526oe%253dutf-8%2526channel%253dsuggest%26sourceid%3Dopera%26ie%3Dutf-8%26oe%3Dutf-8%26channel%3Dsuggest&source=web&cd=1&ved=0CCwQFjAA&url=http%3A%2F%2Fcarl.cs.indiana.edu%2Ffil%2Fcgi-bin%2FWebSec%2Fmarilyn.cgi&ei=plI0T_f6HKq40QXBx6meAg&usg=AFQjCNHRtbr4ftk_4PyVzN3HuHPJV6LZow
Thu Feb  9 18:01:23 2012 from http://www.searchplusnetwork.com/?sp=chv&q=http%3A%2F%2Fclick.infospace.com%2FClickHandler.ashx%3Fdu
Thu Feb  9 17:54:27 2012 from http://www.searchplusnetwork.com/?sp=chv&q=click.infospace.comClickHandler.ashx%3Fdu
Thu Feb  9 17:47:09 2012 from http://www.searchplusnetwork.com/?sp=chv&q=facebook.com%2Fajax%2Fpagelet%2Fgeneric.php%2FPhotoViewerInitPagelet%3F__a
Thu Feb  9 17:39:00 2012 from http://www.searchplusnetwork.com/?sp=chv&q=click.infospace.comClickHandler.ashx%3Fdu
Thu Feb  9 17:33:41 2012 from http://www.searchplusnetwork.com/?sp=chv&q=click.infospace.comClickHandler.ashx%3Fdu
Thu Feb  9 17:30:22 2012 from http://www.google.com/url?sa=t&rct=j&q=http%3A%2F%2Fwww.google.com%2Fsearch%3Fq%3Dhttp%253a%252f%252fwww.google.com%252fsearch%253fq%253dhttp%25253a%25252f%25252fwww.web.de%25252f%2526sourceid%253dopera%2526ie%253dutf-8%2526oe%253dutf-8%2526channel%253dsuggest%26sourceid%3Dopera%26ie%3Dutf-8%26oe%3Dutf-8%26channel%3Dsuggest&source=web&cd=1&ved=0CCMQFjAA&url=http%3A%2F%2Fcarl.cs.indiana.edu%2Ffil%2Fcgi-bin%2FWebSec%2Fmarilyn.cgi&ei=80g0T5PkAen74QSNiPmlAg&usg=AFQjCNHRtbr4ftk_4PyVzN3HuHPJV6LZow
Thu Feb  9 17:25:16 2012 from http://www.searchplusnetwork.com/?sp=chv&q=http%3A%2F%2Fclick.infospace.com%2FClickHandler.ashx%3Fdu
Thu Feb  9 17:24:53 2012 from (empty referer)
Thu Feb  9 17:09:59 2012 from http://www.searchplusnetwork.com/?q=http%3A%2F%2Fclick.infospace.com%2FClickHandler.ashx%3Fdu&x=0&y=0
Thu Feb  9 17:07:03 2012 from http://www.searchplusnetwork.com/?sp=chv&q=facebook.com%2Fajax%2Fpagelet%2Fgeneric.php%2FPhotoViewerInitPagelet%3F__a
Thu Feb  9 17:06:48 2012 from http://search.chatzum.com/?q=http%3A%2F%2Fclick.infospace.com%2FClickHandler.ashx%3Fdu%3Dhttp%3A%2F%2Fwww.facebook.com%2F
Thu Feb  9 16:47:41 2012 from http://www.google.com/url?sa=t&rct=j&q=http%3A%2F%2Fwww.google.com%2Fsearch%3Fq%3Dhttp%253A%252F%252Fwww.google.com%252Fsearch%253Fq%253Dgoogl%2526sourceid%253Dopera%2526ie%253Dutf-8%2526oe%253Dutf-8%2526channel%253Dsuggest%26sourceid%3Dopera%26ie%3Dutf-8%26oe%3Dutf-8%26channel%3Dsuggest&source=web&cd=1&ved=0CCkQFjAA&url=http%3A%2F%2Fcarl.cs.indiana.edu%2Ffil%2Fcgi-bin%2FWebSec%2Fmarilyn.cgi&ei=7z40T52MOLLY4QTuyrWLAg&usg=AFQjCNHRtbr4ftk_4PyVzN3HuHPJV6LZow
Thu Feb  9 16:34:39 2012 from http://www.searchcompletion.com/?si=30866&q=facebook.com/ajax/pagelet/generic.php/PhotoViewerInitPagelet?__a=21&ajaxpipe=1&ajaxpipe_token=AXiipWVM4lZu3zOF&data=%7B%22fbid%22%3A%22300012310055259%22%2C%22set%22%3A%22a.153318261391332.30957.117649558291536%22%2C%22type%22%3A%221%22%2C%22ref%22%3A%22nf%22%2C%22theater%22%3Anull%2C%22size%22%3A%22720%2C576%22%2C%22firstLoad%22%3Atrue%7D&__user=10000172464527
Thu Feb  9 16:21:41 2012 from (empty referer)
Thu Feb  9 16:17:47 2012 from http://www.google.com/m?q=www%2egoogle%2ecom%2fm%3fq%3dwww%2e%26client%3dms%2dopera%2dmini%26channel%3dnew&client=ms-opera-mini&channel=new
Thu Feb  9 16:06:13 2012 from (empty referer)
Thu Feb  9 16:05:20 2012 from (empty referer)
Thu Feb  9 16:03:16 2012 from http://www.google.com/xhtml?client=ms-opera_mb_no&channel=bh&q=Http%3AWWW-googlecomxht.
Thu Feb  9 15:58:33 2012 from (empty referer)
Thu Feb  9 15:30:20 2012 from http://www.google.com/url?sa=t&rct=j&q=http%3A%2F%2Fwww.google.com%2Fsearch%3Fq%3Dhttp%253a%252f%252fwww.google.com%252fsearch%253fq%253dhttp%25253a%25252f%25252fwww.google.com%25252fsearch%25253fq%25253dhttp%2525253a%2525252f%2525252fwww.google.com%2525252f%252526sourceid%25253dopera%252526ie%25253dutf-8%252526oe%25253dutf-8%252526channel%25253dsuggest%2526sourceid%253dopera%2526ie%253dutf-8%2526oe%253dutf-8%2526channel%253dsuggest%26sourceid%3Dopera%26ie%3Dutf-8%26oe%3Dutf-8%26channel%3Dsuggest&source=web&cd=1&ved=0CCIQFjAA&url=http%3A%2F%2Fcarl.cs.indiana.edu%2Ffil%2Fcgi-bin%2FWebSec%2Fmarilyn.cgi&ei=1Sw0T-GIK5TX8QOo2a2xBg&usg=AFQjCNHRtbr4ftk_4PyVzN3HuHPJV6LZow
Thu Feb  9 15:19:22 2012 from http://www.google.com/url?sa=t&rct=j&q=http%3A%2F%2Fwww.google.com%2Fsearch%3Fq%3Dhttp%253A%252F%252Fwww.google.com%252Fsearch%253Fq%253Dhttp%25253A%25252F%25252Fwww.google.com%25252Fsearch%25253Fq%25253Dhttp%2525253A%2525252F%2525252Fwww.google.com%2525252Fsearch%2525253Fq%2525253Dhttp%252525253A%252525252F%252525252Fredir.opera.com%252525252Fwww.opera.com%252525252Ffirstrun%252525252F%25252526sourceid%2525253Dopera%25252526ie%2525253Dutf-8%25252526oe%2525253Dutf-8%25252526channel%2525253Dsuggest%252526sourceid%25253Dopera%252526ie%25253Dutf-8%252526oe%25253Dutf-8%252526channel%25253Dsuggest%2526sourceid%253Dopera%2526ie%253Dutf-8%2526oe%253Dutf-8%2526channel%253Dsuggest%26sourceid%3Dopera%26ie%3Dutf-8%26oe%3Dutf-8%26channel%3Dsuggest&source=web&cd=1&ved=0CCAQFjAA&url=http%3A%2F%2Fcarl.cs.indiana.edu%2Ffil%2Fcgi-bin%2FWebSec%2Fmarilyn.cgi&ei=DCo0T__lL8X64QTln7jpAQ&usg=AFQjCNHRtbr4ftk_4PyVzN3HuHPJV6LZow
Thu Feb  9 15:17:41 2012 from http://www.searchplusnetwork.com/?sp=chv&q=http%3A%2F%2Fclick.infospace.com%2FClickHandler.ashx%3Fdu
Thu Feb  9 14:59:15 2012 from http://www.searchplusnetwork.com/?sp=chv&q=http%3A%2F%2Fclick.infospace.com%2FClickHandler.ashx%3Fdu
Thu Feb  9 14:55:27 2012 from http://www.searchplusnetwork.com/?sp=chv&q=http%3A%2F%2Fclick.infospace.com%2FClickHandler.ashx%3Fdu
Thu Feb  9 14:52:43 2012 from http://www.searchplusnetwork.com/?sp=chv&q=click.infospace.comClickHandler.ashx%3Fdu
Thu Feb  9 14:47:40 2012 from http://search.incredibar.com/?q=click.infospace.comClickHandler.ashx%3fdu&lang=arabic&source=368422365&cid=1&uloc=mb113
Thu Feb  9 14:25:10 2012 from (empty referer)
Thu Feb  9 14:23:25 2012 from http://www.searchplusnetwork.com/?sp=chv&q=http%3A%2F%2Fclick.infospace.com%2FClickHandler.ashx%3Fdu
Thu Feb  9 14:22:15 2012 from http://www.google.com.sa/search?hl=en&site=&q=http%3A%2F%2Fbit.ly%2Fp7zHOT+Wow%21&oq=http%3A%2F%2Fbit.ly%2Fp7zHOT+Wow%21&aq=f&aqi=&aql=&gs_sm=3&gs_upl=6629l6629l0l9212l1l1l0l0l0l0l464l464l4-1l1l0
Thu Feb  9 14:05:09 2012 from http://www.searchplusnetwork.com/?q=http%3A%2F%2Fclick.infospace.com%2FClickHandler.ashx%3Fdu&x=0&y=0
Thu Feb  9 13:57:25 2012 from http://www.google.com/xhtml?q=http%3a%2f%2fwww%2egoogle%2ecom%2fm%2fsearch%3fsite%3dimages%26client%3dms%2dopera_mb_no%26q%3dReal%20fucking%20men%20women%20%26channel%3dbh%26start%3d%33%30%26sa%3dN&client=ms-opera_mb_no&channel=bh
Thu Feb  9 13:04:06 2012 from http://search.incredibar.com/?q=click.infospace.comClickHandler.ashx%3fdu&lang=english&source=368422365&cid=1&uloc=mb113
Thu Feb  9 13:01:27 2012 from http://www.searchplusnetwork.com/?sp=chv&q=click.infospace.comClickHandler.ashx%3Fdu
Thu Feb  9 12:59:40 2012 from (empty referer)
Thu Feb  9 12:56:48 2012 from http://www.google.com/url?sa=t&rct=j&q=http%3A%2F%2Fwww.google.com%2Fsearch%3Fq%3Dhttp%253a%252f%252fwww.google.com%252fsearch%253fq%253dhttp%25253a%25252f%25252fwww.yahoo.com%25252f%2526sourceid%253dopera%2526ie%253dutf-8%2526oe%253dutf-8%2526channel%253dsuggest%26sourceid%3Dopera%26ie%3Dutf-8%26oe%3Dutf-8%26channel%3Dsuggest&source=web&cd=1&ved=0CCIQFjAA&url=http%3A%2F%2Fcarl.cs.indiana.edu%2Ffil%2Fcgi-bin%2FWebSec%2Fmarilyn.cgi&ei=tQc0T_7FC6WPiAfMhKiSAg&usg=AFQjCNHRtbr4ftk_4PyVzN3HuHPJV6LZow
Thu Feb  9 12:55:43 2012 from http://www.google.com/url?sa=t&rct=j&q=http%3A%2F%2Fwww.google.com%2Fsearch%3Fq%3Dhttp%253a%252f%252fwww.google.com%252fsearch%253fq%253dhttp%25253a%25252f%25252fwww.yahoo.com%25252f%2526sourceid%253dopera%2526ie%253dutf-8%2526oe%253dutf-8%2526channel%253dsuggest%26sourceid%3Dopera%26ie%3Dutf-8%26oe%3Dutf-8%26channel%3Dsuggest&source=web&cd=1&ved=0CCIQFjAA&url=http%3A%2F%2Fcarl.cs.indiana.edu%2Ffil%2Fcgi-bin%2FWebSec%2Fmarilyn.cgi&ei=tQc0T_7FC6WPiAfMhKiSAg&usg=AFQjCNHRtbr4ftk_4PyVzN3HuHPJV6LZow
Thu Feb  9 12:52:50 2012 from http://www.google.com/url?sa=t&rct=j&q=http%3A%2F%2Fwww.google.com%2Fsearch%3Fq%3Dhttp%253a%252f%252fwww.google.com%252fsearch%253fq%253dhttp%25253a%25252f%25252fwww.yahoo.com%25252f%2526sourceid%253dopera%2526ie%253dutf-8%2526oe%253dutf-8%2526channel%253dsuggest%26sourceid%3Dopera%26ie%3Dutf-8%26oe%3Dutf-8%26channel%3Dsuggest&source=web&cd=1&ved=0CCIQFjAA&url=http%3A%2F%2Fcarl.cs.indiana.edu%2Ffil%2Fcgi-bin%2FWebSec%2Fmarilyn.cgi&ei=tQc0T_7FC6WPiAfMhKiSAg&usg=AFQjCNHRtbr4ftk_4PyVzN3HuHPJV6LZow
Thu Feb  9 12:37:59 2012 from (empty referer)
Thu Feb  9 12:26:50 2012 from http://www.searchplusnetwork.com/?sp=chv&q=click.infospace.comClickHandler.ashx%3Fdu
Thu Feb  9 12:22:44 2012 from http://www.google.com/xhtml?q=http%3a%2f%2fwww%2egoogle%2ecom%2fxhtml%3fq%3dWww%2ePHOTO%20COM%26client%3dms%2dopera_mb_no%26channel%3d&client=ms-opera_mb_no&channel=bh
Thu Feb  9 11:59:36 2012 from http://www.searchplusnetwork.com/?sp=chv&q=http%3A%2F%2Fclick.infospace.com%2FClickHandler.ashx%3Fdu
Thu Feb  9 11:57:17 2012 from http://www.searchplusnetwork.com/?sp=chv&q=http%3A%2F%2Fclick.infospace.com%2FClickHandler.ashx%3Fdu
Thu Feb  9 11:56:53 2012 from http://carl.cs.indiana.edu/fil/cgi-bin/WebSec/marilyn.cgi
Thu Feb  9 11:55:46 2012 from http://www.searchplusnetwork.com/?sp=chv&q=click.infospace.comClickHandler.ashx%3Fdu
Thu Feb  9 11:50:56 2012 from (empty referer)
Thu Feb  9 11:50:21 2012 from (empty referer)
Thu Feb  9 11:46:26 2012 from http://www.searchplusnetwork.com/?sp=chv&q=click.infospace.comClickHandler.ashx%3Fdu
Thu Feb  9 11:45:20 2012 from http://www.searchplusnetwork.com/?sp=chv&q=http%3A%2F%2Fclick.infospace.com%2FClickHandler.ashx%3Fdu
Thu Feb  9 11:43:44 2012 from http://www.searchplusnetwork.com/?sp=chv&q=http%3A%2F%2Fclick.infospace.com%2FClickHandler.ashx%3Fdu
Thu Feb  9 11:34:56 2012 from http://www.google.com/url?sa=t&rct=j&q=http%3A%2F%2Fwww.google.com%2Fsearch%3Fq%3Dhttp%253a%252f%252fwww.google.com%252fsearch%253fq%253dhttp%25253a%25252f%25252fwww.google.com.mx%25252f%2526sourceid%253dopera%2526ie%253dutf-8%2526oe%253dutf-8%2526channel%253dsuggest%26sourceid%3Dopera%26ie%3Dutf-8%26oe%3Dutf-8%26channel%3Dsuggest&source=web&cd=1&ved=0CCMQFjAA&url=http%3A%2F%2Fcarl.cs.indiana.edu%2Ffil%2Fcgi-bin%2FWebSec%2Fmarilyn.cgi&ei=k_UzT5qXFsfe2AXDl_31AQ&usg=AFQjCNHRtbr4ftk_4PyVzN3HuHPJV6LZow
Thu Feb  9 11:27:12 2012 from http://www.google.com/xhtml?client=ms-opera_mb_no&channel=bh&q=Http%3AWWW-googlecomxht.
Thu Feb  9 11:23:19 2012 from http://www.google.com/url?sa=t&rct=j&q=http%3A%2F%2Fwww.google.com%2Fsearch%3Fq%3Dhttp%253a%252f%252fwww.google.com%252fsearch%253fq%253dwwww.youtube.com%2526sourceid%253dopera%2526ie%253dutf-8%2526oe%253dutf-8%2526channel%253dsuggest%26sourceid%3Dopera%26ie%3Dutf-8%26oe%3Dutf-8%26channel%3Dsuggest&source=web&cd=1&ved=0CCIQFjAA&url=http%3A%2F%2Fcarl.cs.indiana.edu%2Ffil%2Fcgi-bin%2FWebSec%2Fmarilyn.cgi&ei=yvIzT5bCEYW9iAfB_ZSSAg&usg=AFQjCNHRtbr4ftk_4PyVzN3HuHPJV6LZow
Thu Feb  9 11:08:32 2012 from http://www.searchplusnetwork.com/?sp=chv&q=http%3A%2F%2Fclick.infospace.com%2FClickHandler.ashx%3Fdu
Thu Feb  9 11:06:49 2012 from (empty referer)
Thu Feb  9 11:06:15 2012 from http://www.searchplusnetwork.com/?sp=chv&q=http%3A%2F%2Fclick.infospace.com%2FClickHandler.ashx%3Fdu
Thu Feb  9 11:04:35 2012 from http://www.searchplusnetwork.com/?sp=chv&q=http%3A%2F%2Fclick.infospace.com%2FClickHandler.ashx%3Fdu
Thu Feb  9 11:00:37 2012 from http://www.searchplusnetwork.com/?sp=chv&q=http%3A%2F%2Fclick.infospace.com%2FClickHandler.ashx%3Fdu
Thu Feb  9 10:57:53 2012 from http://www.searchplusnetwork.com/?sp=chv&q=http%3A%2F%2Fclick.infospace.com%2FClickHandler.ashx%3Fdu
Thu Feb  9 10:55:49 2012 from http://www.searchplusnetwork.com/?sp=chv&q=http%3A%2F%2Fclick.infospace.com%2FClickHandler.ashx%3Fdu
Thu Feb  9 10:53:33 2012 from http://www.searchplusnetwork.com/?sp=chv&q=http%3A%2F%2Fclick.infospace.com%2FClickHandler.ashx%3Fdu
Thu Feb  9 10:44:36 2012 from http://www.searchplusnetwork.com/?sp=chv&q=http%3A%2F%2Fclick.infospace.com%2FClickHandler.ashx%3Fdu
Thu Feb  9 10:40:18 2012 from http://www.searchplusnetwork.com/?sp=chv&q=http%3A%2F%2Fclick.infospace.com%2FClickHandler.ashx%3Fdu
Thu Feb  9 10:38:09 2012 from http://www.searchplusnetwork.com/?sp=chv&q=click.infospace.comClickHandler.ashx%3Fdu
Thu Feb  9 10:35:52 2012 from http://www.searchplusnetwork.com/?sp=chv&q=http%3A%2F%2Fclick.infospace.com%2FClickHandler.ashx%3Fdu
Thu Feb  9 10:35:20 2012 from http://www.google.com.ar/url?sa=t&rct=j&q=click%20infospace%20clickhandler&source=web&cd=10&ved=0CHkQFjAJ&url=http%3A%2F%2Fcarl.cs.indiana.edu%2Ffil%2Fcgi-bin%2FWebSec%2Fmarilyn.cgi&ei=Z-czT8mLHM2ltwfVr4ydAg&usg=AFQjCNHRtbr4ftk_4PyVzN3HuHPJV6LZow
Thu Feb  9 10:31:24 2012 from http://www.google.com/url?sa=t&rct=j&q=&esrc=s&source=web&cd=1&ved=0CCQQFjAA&url=http%3A%2F%2Fcarl.cs.indiana.edu%2Ffil%2Fcgi-bin%2FWebSec%2Fmarilyn.cgi&ei=veYzT_CaIJGLhQetk_iVAg&usg=AFQjCNHRtbr4ftk_4PyVzN3HuHPJV6LZow
Thu Feb  9 10:23:39 2012 from http://www.searchplusnetwork.com/?sp=chv&q=http%3A%2F%2Fclick.infospace.com%2FClickHandler.ashx%3Fdu
Thu Feb  9 10:12:50 2012 from http://www.searchplusnetwork.com/?sp=chv&q=http%3A%2F%2Fclick.infospace.com%2FClickHandler.ashx%3Fdu
Thu Feb  9 10:10:19 2012 from http://search.mywebsearch.com/mywebsearch/GGmain.jhtml?searchfor=htt%5C%5Ctubidy.mobi%5Csearch.php%3D18q+hot&st=hp&ptb=4DF03513-5277-4D72-98FB-BE9EBD782C61&id=YUxdm009YYsa&ptnrS=YUxdm009YYsa&n=77DE8857&tpr=hpsb
Thu Feb  9 10:04:52 2012 from http://www.searchplusnetwork.com/?sp=chv&q=click.infospace.comClickHandler.ashx%3Fdu
Thu Feb  9 10:03:43 2012 from http://www.searchplusnetwork.com/?sp=chv&q=http%3A%2F%2Fclick.infospace.com%2FClickHandler.ashx%3Fdu
Thu Feb  9 10:00:36 2012 from http://www.searchplusnetwork.com/?sp=chv&q=click.infospace.comClickHandler.ashx%3Fdu
Thu Feb  9 09:58:36 2012 from http://www.searchplusnetwork.com/?sp=chv&q=http%3A%2F%2Fclick.infospace.com%2FClickHandler.ashx%3Fdu
Thu Feb  9 09:55:16 2012 from (empty referer)
Thu Feb  9 09:52:36 2012 from http://www.searchplusnetwork.com/?sp=chv&q=http%3A%2F%2Fclick.infospace.com%2FClickHandler.ashx%3Fdu
Thu Feb  9 09:52:02 2012 from http://www.searchplusnetwork.com/?sp=chv&q=http%3A%2F%2Fclick.infospace.com%2FClickHandler.ashx%3Fdu
Thu Feb  9 09:45:20 2012 from http://www.searchplusnetwork.com/?sp=chv&q=http%3A%2F%2Fclick.infospace.com%2FClickHandler.ashx%3Fdu
Thu Feb  9 09:40:07 2012 from http://www.google.com/url?sa=t&rct=j&q=http%3A%2F%2Fwww.google.com%2Fsearch%3Fq%3Dhttp%253a%252f%252fwww.google.com%252fsearch%253fq%253dhttp%25253a%25252f%25252fgoogle.com%25252f%2526sourceid%253dopera%2526ie%253dutf-8%2526oe%253dutf-8%2526channel%253dsuggest%26sourceid%3Dopera%26ie%3Dutf-8%26oe%3Dutf-8%26channel%3Dsuggest&source=web&cd=1&ved=0CCIQFjAA&url=http%3A%2F%2Fcarl.cs.indiana.edu%2Ffil%2Fcgi-bin%2FWebSec%2Fmarilyn.cgi&ei=t9ozT9ulGY2zrAfX2_G1DA&usg=AFQjCNHRtbr4ftk_4PyVzN3HuHPJV6LZow
Thu Feb  9 09:31:14 2012 from http://www.searchplusnetwork.com/?q=http%3A%2F%2Fclick.infospace.com%2FClickHandler.ashx%3Fdu&x=0&y=0
Thu Feb  9 09:19:42 2012 from (empty referer)
Thu Feb  9 09:19:26 2012 from http://search.chatzum.com/?q=http%3A%2F%2Fclick.infospace.com%2FClickHandler.ashx%3Fdu%3Dhttp%3A%2F%2Fwww.facebook.com%2F
Thu Feb  9 09:18:54 2012 from http://www.google.co.uk/m?client=ms-opera-mini&q=www%252egoogle%2520com&channel=new&start=10&sa=N
Thu Feb  9 09:16:20 2012 from http://start.allgameshome.com/results.php?category=web&s=http%3A%2F%2Fstart.allgameshome.com%2Fresults.php%3Fcategory%3Dweb
Thu Feb  9 09:13:03 2012 from http://search.incredibar.com/?q=click.infospace.comClickHandler.ashx%3fdu&lang=spanish&source=368422365&cid=1&uloc=mb113
Thu Feb  9 09:09:16 2012 from http://www.facebook.com/l.php?u=http%3A%2F%2Fbit.ly%2Fp7zHOT&h=VAQCcSKeS
Thu Feb  9 09:08:45 2012 from (empty referer)
Thu Feb  9 09:04:13 2012 from http://www.google.com/url?sa=t&rct=j&q=http%3A%2F%2Fhome.allgameshome.com%2Fresults.php%3Fcategory%3Dweb%26s%3Dfezbuk&source=web&cd=1&ved=0CCMQFjAA&url=http%3A%2F%2Fcarl.cs.indiana.edu%2Ffil%2Fcgi-bin%2FWebSec%2Fmarilyn.cgi&ei=TtIzT6fdJ4SR-waE_ejwAQ&usg=AFQjCNHRtbr4ftk_4PyVzN3HuHPJV6LZow
Thu Feb  9 08:55:09 2012 from http://www.google.co.in/m?q=www%252ehot%2520sex%2520vedios%252ecom&client=ms-opera-mini&channel=new
Thu Feb  9 08:51:17 2012 from http://www.google.com/url?sa=t&rct=j&q=http%3A%2F%2Fwww.google.com%2Fsearch%3Fq%3Dhttp%253a%252f%252fwww.google.com%252fsearch%253fq%253dhttp%25253a%25252f%25252fwww.google.com%25252fsearch%25253fq%25253dhttp%2525253a%2525252f%2525252fwww.youtube.com%2525252f%252526sourceid%25253dopera%252526ie%25253dutf-8%252526oe%25253dutf-8%252526channel%25253dsuggest%2526sourceid%253dopera%2526ie%253dutf-8%2526oe%253dutf-8%2526channel%253dsuggest%26sourceid%3Dopera%26ie%3Dutf-8%26oe%3Dutf-8%26channel%3Dsuggest&source=web&cd=1&ved=0CCwQFjAA&url=http%3A%2F%2Fcarl.cs.indiana.edu%2Ffil%2Fcgi-bin%2FWebSec%2Fmarilyn.cgi&ei=UM8zT4PNEoP40gGd6KHcAg&usg=AFQjCNHRtbr4ftk_4PyVzN3HuHPJV6LZow
Thu Feb  9 08:48:39 2012 from http://www.google.com/url?sa=t&rct=j&q=%20%253fclient%253dopera%2526rls%253den%2526q%253dhttp%25253a%25252f%25252fwww.google.com%25252fsearch%25253fq%25253dgoogle%252526sourceid%25253dopera%252526ie%25253dutf-8%252526oe%25253dutf-8%252526channel%25253dsuggest%2526sourceid%253dopera%2526ie%253dutf-8%2526oe%253dutf-8%2526channel%253dsuggest%26sourceid%3Dopera%26ie%3Dutf-8%26oe%3Dutf-8%26channel%3Dsuggest&source=web&cd=1&ved=0CCIQFjAA&url=http%3A%2F%2Fcarl.cs.indiana.edu%2Ffil%2Fcgi-bin%2FWebSec%2Fmarilyn.cgi&ei=Is0zT9v1NY_irAe09tWkDA&usg=AFQjCNHRtbr4ftk_4PyVzN3HuHPJV6LZow
Thu Feb  9 08:43:40 2012 from http://www.google.com/url?sa=t&rct=j&q=%20%253fclient%253dopera%2526rls%253den%2526q%253dhttp%25253a%25252f%25252fwww.google.com%25252fsearch%25253fq%25253dgoogle%252526sourceid%25253dopera%252526ie%25253dutf-8%252526oe%25253dutf-8%252526channel%25253dsuggest%2526sourceid%253dopera%2526ie%253dutf-8%2526oe%253dutf-8%2526channel%253dsuggest%26sourceid%3Dopera%26ie%3Dutf-8%26oe%3Dutf-8%26channel%3Dsuggest&source=web&cd=1&ved=0CCIQFjAA&url=http%3A%2F%2Fcarl.cs.indiana.edu%2Ffil%2Fcgi-bin%2FWebSec%2Fmarilyn.cgi&ei=Is0zT9v1NY_irAe09tWkDA&usg=AFQjCNHRtbr4ftk_4PyVzN3HuHPJV6LZow
Thu Feb  9 08:26:05 2012 from http://start.allgameshome.com/results.php?s=http%3A%2F%2Fstart.allgameshome.com%2Fresults.php%3Fcategory%3Dweb&category=web&start=7
Thu Feb  9 08:17:41 2012 from http://www.google.co.in/url?sa=t&rct=j&q=http%3A%2F%2Fstart.gametop.com%20sex&source=web&cd=3&ved=0CDQQFjAC&url=http%3A%2F%2Fcarl.cs.indiana.edu%2Ffil%2Fcgi-bin%2FWebSec%2Fmarilyn.cgi&ei=acczT9PPG8XrrQeux-G3DA&usg=AFQjCNHRtbr4ftk_4PyVzN3HuHPJV6LZow
Thu Feb  9 08:03:11 2012 from http://www.google.com/url?sa=t&rct=j&q=http%3A%2F%2Fwww.google.com%2Fsearch%3Fq%3Dhttp%253A%252F%252Fwww.google.com%252Fsearch%253Fq%253Dhttp%25253A%25252F%25252Fwww.google.com%25252Fsearch%25253Fq%25253Dhttp%2525253A%2525252F%2525252Fwww.google.co.id%2525252Fsearch%2525253Fq%2525253Dgoogle%25252526sourceid%2525253Dopera%25252526ie%2525253Dutf-8%25252526oe%2525253Dutf-8%25252526channel%2525253Dsuggest%252526sourceid%25253Dopera%252526ie%25253Dutf-8%252526oe%25253Dutf-8%252526channel%25253Dsuggest%2526sourceid%253Dopera%2526ie%253Dutf-8%2526oe%253Dutf-8%2526channel%253Dsuggest%26sourceid%3Dopera%26ie%3Dutf-8%26oe%3Dutf-8%26channel%3Dsuggest&source=web&cd=1&ved=0CBwQFjAA&url=http%3A%2F%2Fcarl.cs.indiana.edu%2Ffil%2Fcgi-bin%2FWebSec%2Fmarilyn.cgi&ei=dMMzT_rhFJHRrQfEkczKDA&usg=AFQjCNHRtbr4ftk_4PyVzN3HuHPJV6LZow
Thu Feb  9 07:58:58 2012 from http://www.google.com/url?sa=t&rct=j&q=http%3A%2F%2Fwww.google.com%2Fsearch%3Fq%3Dhttp%253a%252f%252fwww.google.com%252fsearch%253fq%253dhttp%25253a%25252f%25252fwww.youtube.com%25252f%2526sourceid%253dopera%2526ie%253dutf-8%2526oe%253dutf-8%2526channel%253dsuggest%26sourceid%3Dopera%26ie%3Dutf-8%26oe%3Dutf-8%26channel%3Dsuggest&source=web&cd=1&ved=0CCwQFjAA&url=http%3A%2F%2Fcarl.cs.indiana.edu%2Ffil%2Fcgi-bin%2FWebSec%2Fmarilyn.cgi&ei=BcMzT_KNFMqAOtLHsfgB&usg=AFQjCNHRtbr4ftk_4PyVzN3HuHPJV6LZow
Thu Feb  9 07:58:55 2012 from http://www.google.com/url?sa=t&rct=j&q=http%3A%2F%2Fwww.google.com%2Fsearch%3Fq%3Dhttp%253a%252f%252fwww.google.com%252fsearch%253fq%253dhttp%25253a%25252f%25252fwww.youtube.com%25252f%2526sourceid%253dopera%2526ie%253dutf-8%2526oe%253dutf-8%2526channel%253dsuggest%26sourceid%3Dopera%26ie%3Dutf-8%26oe%3Dutf-8%26channel%3Dsuggest&source=web&cd=1&ved=0CCwQFjAA&url=http%3A%2F%2Fcarl.cs.indiana.edu%2Ffil%2Fcgi-bin%2FWebSec%2Fmarilyn.cgi&ei=BcMzT_KNFMqAOtLHsfgB&usg=AFQjCNHRtbr4ftk_4PyVzN3HuHPJV6LZow
Thu Feb  9 07:33:03 2012 from http://www.google.com/url?sa=t&rct=j&q=&esrc=s&source=web&cd=1&ved=0CCMQFjAA&url=http%3A%2F%2Fcarl.cs.indiana.edu%2Ffil%2Fcgi-bin%2FWebSec%2Fmarilyn.cgi&ei=y4kzT-X5IdGd-wbIps34AQ&usg=AFQjCNHRtbr4ftk_4PyVzN3HuHPJV6LZow&sig2=NImdRzAWTU1JkUzjVNyFxQ
Thu Feb  9 07:21:20 2012 from (empty referer)
Thu Feb  9 07:18:32 2012 from (empty referer)
Thu Feb  9 07:07:59 2012 from (empty referer)
Thu Feb  9 07:06:12 2012 from http://search.incredibar.com/?q=click.infospace.comClickHandler.ashx%3fdu&lang=arabic&source=368422365&cid=1&uloc=mb113
Thu Feb  9 06:54:46 2012 from http://www.google.com/search?client=opera&rls=fr&q=http%3A%2F%2Fwww.google.com%2Fsearch%3Fq%3Dhttp%253A%252F%252Fwww.google.com%252Fsearch%253Fq%253Dgoogle%2526sourceid%253Dopera%2526ie%253Dutf-8%2526oe%253Dutf-8%2526channel%253Dsuggest%26sourceid%3Dopera%26ie%3Dutf-8%26oe%3Dutf-8%26channel%3Dsuggest&sourceid=opera&ie=utf-8&oe=utf-8&channel=suggest
Thu Feb  9 06:54:43 2012 from http://www.google.com/url?sa=t&rct=j&q=http%3A%2F%2Fwww.google.com%2Fsearch%3Fq%3Dhttp%253A%252F%252Fwww.google.com%252Fsearch%253Fq%253Dhttp%25253A%25252F%25252Fwww.google.com%25252Fsearch%25253Fq%25253Dhttp%2525253A%2525252F%2525252Fwww.facebook.com%2525252F%252526sourceid%25253Dopera%252526ie%25253Dutf-8%252526oe%25253Dutf-8%252526channel%25253Dsuggest%2526sourceid%253Dopera%2526ie%253Dutf-8%2526oe%253Dutf-8%2526channel%253Dsuggest%26sourceid%3Dopera%26ie%3Dutf-8%26oe%3Dutf-8%26channel%3Dsuggest&source=web&cd=1&ved=0CCwQFjAA&url=http%3A%2F%2Fcarl.cs.indiana.edu%2Ffil%2Fcgi-bin%2FWebSec%2Fmarilyn.cgi&ei=_LMzT5PGB86L4gTDz-GTAg&usg=AFQjCNHRtbr4ftk_4PyVzN3HuHPJV6LZow
Thu Feb  9 06:36:25 2012 from http://www.bing.com/search?sp=chv&q=hotsptshld.comgresults.phpc
Thu Feb  9 06:29:30 2012 from (empty referer)
Thu Feb  9 06:27:03 2012 from http://search.chatzum.com/?q=http%3A%2F%2Futils.chatzum.com%2F%3Furl%3Dhttp%3A%2F%2Fsearch.chatzum.co
Thu Feb  9 05:58:47 2012 from (empty referer)
Thu Feb  9 05:55:48 2012 from (empty referer)
Thu Feb  9 05:50:49 2012 from http://fr.search-results.com/web?qsrc=2417&o=100000047&l=dis&atb=sysid%3D406%3Auid%3D9f3790e6bd77861f%3Auc%3D1324403912%3Asrc%3Dhmp%3Ao%3D100000047%3Aq%3Dmarilyn%2520monroe%3Alr%3D0&q=marilyn+monroe+sexe&dm=all
Thu Feb  9 05:39:30 2012 from http://www.google.com/url?sa=t&rct=j&q=click%20infospace%20clickhandler&source=web&cd=10&ved=0CHYQFjAJ&url=http%3A%2F%2Fcarl.cs.indiana.edu%2Ffil%2Fcgi-bin%2FWebSec%2Fmarilyn.cgi&ei=Q6IzT-ndCMOxhAeKwI2WAg&usg=AFQjCNHRtbr4ftk_4PyVzN3HuHPJV6LZow
Thu Feb  9 05:08:56 2012 from http://search.incredibar.com/?q=click.infospace.comClickHandler.ashx%3fdu&lang=english&source=368422365&cid=1&uloc=mb113
Thu Feb  9 05:08:11 2012 from http://www.google.com/url?sa=t&rct=j&q=http%3A%2F%2Fwww.google.com%2Fsearch%3Fq%3Dhttp%253a%252f%252fwww.google.com%252fsearch%253fq%253dhttp%25253a%25252f%25252fwww.google.com%25252fsearch%25253fq%25253dhttp%2525253a%2525252f%2525252fwww.google.com%2525252fsearch%2525253fq%2525253dhttps%252525253a%252525252f%252525252fwww.facebook.com%252525252fmessages%252525252f%25252526sourceid%2525253dopera%25252526ie%2525253dutf-8%25252526oe%2525253dutf-8%25252526channel%2525253dsuggest%252526sourceid%25253dopera%252526ie%25253dutf-8%252526oe%25253dutf-8%252526channel%25253dsuggest%2526sourceid%253dopera%2526ie%253dutf-8%2526oe%253dutf-8%2526channel%253dsuggest%26sourceid%3Dopera%26ie%3Dutf-8%26oe%3Dutf-8%26channel%3Dsuggest&source=web&cd=1&ved=0CC8QFjAA&url=http%3A%2F%2Fcarl.cs.indiana.edu%2Ffil%2Fcgi-bin%2FWebSec%2Fmarilyn.cgi&ei=mtcfT7mmGoXirAeR7KXBDA&usg=AFQjCNHRtbr4ftk_4PyVzN3HuHPJV6LZow
Thu Feb  9 04:25:58 2012 from (empty referer)
Thu Feb  9 04:25:35 2012 from http://www.google.com/url?sa=t&rct=j&q=http%3A%2F%2Fwww.google.com%2Fsearch%3Fq%3Dhttp%253A%252F%252Fwww.google.pl%252Fsearch%253Fq%253Dporno%2526sourceid%253Dopera%2526ie%253Dutf-8%2526oe%253Dutf-8%2526channel%253Dsuggest%26sourceid%3Dopera%26ie%3Dutf-8%26oe%3Dutf-8%26channel%3Dsuggest&source=web&cd=1&ved=0CCMQFjAA&url=http%3A%2F%2Fcarl.cs.indiana.edu%2Ffil%2Fcgi-bin%2FWebSec%2Fmarilyn.cgi&ei=55AzT5TgMYLasgbn3vTXDA&usg=AFQjCNHRtbr4ftk_4PyVzN3HuHPJV6LZow
Thu Feb  9 04:23:11 2012 from http://search.certified-toolbar.com/?si=36647&q=http%3A%2F%2Fclick.infospace.com%2FClickHandler.ashx%3Fdu
Thu Feb  9 04:19:32 2012 from http://search.certified-toolbar.com/?si=36647&q=http%3A%2F%2Fclick.infospace.com%2FClickHandler.ashx%3Fdu
Thu Feb  9 04:13:57 2012 from http://search.certified-toolbar.com/?si=36647&q=http%3A%2F%2Fclick.infospace.com%2FClickHandler.ashx%3Fdu
Thu Feb  9 04:11:15 2012 from http://search.certified-toolbar.com/?si=36647&q=http%3A%2F%2Fclick.infospace.com%2FClickHandler.ashx%3Fdu
Thu Feb  9 04:11:10 2012 from http://www.google.com/url?sa=t&rct=j&q=http%3A%2F%2Fwww.google.com%2Fsearch%3Fq%3Dhttp%253A%252F%252Fwww.google.com%252Fsearch%253Fq%253Dhttp%25253A%25252F%25252Fwww.google.com%25252Fsearch%25253Fq%25253Dhttp%2525253A%2525252F%2525252Fwww.ideacellular.com%2525252F%252526sourceid%25253Dopera%252526ie%25253Dutf-8%252526oe%25253Dutf-8%252526channel%25253Dsuggest%2526sourceid%253Dopera%2526ie%253Dutf-8%2526oe%253Dutf-8%2526channel%253Dsuggest%26sourceid%3Dopera%26ie%3Dutf-8%26oe%3Dutf-8%26channel%3Dsuggest&source=web&cd=1&ved=0CC8QFjAA&url=http%3A%2F%2Fcarl.cs.indiana.edu%2Ffil%2Fcgi-bin%2FWebSec%2Fmarilyn.cgi&ei=i40zT43OIsTprAeP8K26DA&usg=AFQjCNHRtbr4ftk_4PyVzN3HuHPJV6LZow
Thu Feb  9 04:10:41 2012 from http://carl.cs.indiana.edu/fil/cgi-bin/WebSec/marilyn.cgi
Thu Feb  9 04:01:38 2012 from http://search.certified-toolbar.com/?si=36647&q=click.infospace.comClickHandler.ashx%3Fdu
Thu Feb  9 03:43:48 2012 from http://search.certified-toolbar.com/?si=36647&q=click.infospace.comClickHandler.ashx%3Fdu
Thu Feb  9 03:36:43 2012 from http://search.certified-toolbar.com/?si=36647&q=http%3A%2F%2Fclick.infospace.com%2FClickHandler.ashx%3Fdu
Thu Feb  9 03:36:27 2012 from (empty referer)
Thu Feb  9 03:35:57 2012 from http://www.google.com/url?sa=t&rct=j&q=http%3A%2F%2Fwww.google.com%2Fsearch%3Fq%3Dhttp%253a%252f%252fwww.google.com%252fsearch%253fq%253dgoogle%2526sourceid%253dopera%2526ie%253dutf-8%2526oe%253dutf-8%2526channel%253dsuggest%26sourceid%3Dopera%26ie%3Dutf-8%26oe%3Dutf-8%26channel%3Dsuggest&source=web&cd=1&ved=0CCIQFjAA&url=http%3A%2F%2Fcarl.cs.indiana.edu%2Ffil%2Fcgi-bin%2FWebSec%2Fmarilyn.cgi&ei=XYUzT8ucCIfprQfpvOm_DA&usg=AFQjCNHRtbr4ftk_4PyVzN3HuHPJV6LZow
Thu Feb  9 03:32:42 2012 from http://www.google.com.hk/search?q=click.infospace.com&client=aff-360errorpage
Thu Feb  9 03:31:28 2012 from http://www.google.com/m?client=ms-nokia&cof=nsp&channel=s60&q=http%3a%2f%2ftubidy.mobi%2fsearch.php%3fa%3d18%26q%3dhot%2bsex
Thu Feb  9 03:18:37 2012 from http://www.google.com/url?sa=t&rct=j&q=http%3A%2F%2Fwww.google.com%2Fsearch%3Fq%3Dhttp%253A%252F%252Fwww.google.com.sa%252Fsearch%253Fq%253Dxxx%2526sourceid%253Dopera%2526ie%253Dutf-8%2526oe%253Dutf-8%2526channel%253Dsuggest%26sourceid%3Dopera%26ie%3Dutf-8%26oe%3Dutf-8%26channel%3Dsuggest&source=web&cd=1&ved=0CCkQFjAA&url=http%3A%2F%2Fcarl.cs.indiana.edu%2Ffil%2Fcgi-bin%2FWebSec%2Fmarilyn.cgi&ei=VoEzT4aWGs6fOoysjIYC&usg=AFQjCNHRtbr4ftk_4PyVzN3HuHPJV6LZow
Thu Feb  9 03:14:55 2012 from http://www.google.com/xhtml?client=ms-opera_mb_no&q=http://www.google.com/xhtml?q%3D%26client%3Dms-opera_mb_no%26channel%3D+hot+xxx+video&channel=bh&start=10&sa=N
Thu Feb  9 03:09:43 2012 from http://search.certified-toolbar.com/?si=36647&q=http%3A%2F%2Fclick.infospace.com%2FClickHandler.ashx%3Fdu
Thu Feb  9 02:59:01 2012 from http://search.certified-toolbar.com/?si=36647&q=http%3A%2F%2Fclick.infospace.com%2FClickHandler.ashx%3Fdu
Thu Feb  9 02:47:20 2012 from http://www.google.com/search?sourceid=navclient&ie=UTF-8&rlz=1T4RNQN_enSA454SA455&q=Anonymous+hacked+into+auction+site+and+posted+sex+film+of+Marilyn+Monroe+here%3a+http%3a%2f%2fbit.ly%2fp7zHOT+Wow%21
Thu Feb  9 02:42:19 2012 from http://search.certified-toolbar.com/?si=36647&q=http%3A%2F%2Fclick.infospace.com%2FClickHandler.ashx%3Fdu
Thu Feb  9 02:31:07 2012 from http://www.google.com/url?url=http://carl.cs.indiana.edu/fil/cgi-bin/WebSec/marilyn.cgi&rct=j&sa=U&ei=HnYzT5LGF4m58gPy9qGvAg&ved=0CBYQFjAA&q=http://www.google.com/search%3Fq%3Dhttp%253A%252F%252Fwww.google.com.ng%252Fsearch%253Fq%253Dwww.yahoomail.com%2526sourceid%253Dopera%2526ie%253Dutf-8%2526oe%253Dutf-8%2526channel%253Dsuggest%26sourceid%3Dopera%26ie%3Dutf-8%26oe%3Dutf-8%26channel%3Dsuggest&usg=AFQjCNEAIMIK53YosCPpsDjyhHJUQv912A
Thu Feb  9 02:29:51 2012 from http://search.certified-toolbar.com/?si=36647&q=http%3A%2F%2Fclick.infospace.com%2FClickHandler.ashx%3Fdu
Thu Feb  9 02:21:57 2012 from (empty referer)
Thu Feb  9 01:56:16 2012 from http://www.google.com/m?hl=en&q=hote+sex+tubidy+mobi
Thu Feb  9 01:50:11 2012 from http://search.certified-toolbar.com/?si=36647&q=http%3A%2F%2Fclick.infospace.com%2FClickHandler.ashx%3Fdu
Thu Feb  9 01:42:03 2012 from http://search.certified-toolbar.com/?si=36647&q=http%3A%2F%2Fclick.infospace.com%2FClickHandler.ashx%3Fdu
Thu Feb  9 01:26:19 2012 from http://search.certified-toolbar.com/?si=36647&q=http%3A%2F%2Fclick.infospace.com%2FClickHandler.ashx%3Fdu
Thu Feb  9 01:18:24 2012 from http://search.certified-toolbar.com/?si=36647&q=http%3A%2F%2Fclick.infospace.com%2FClickHandler.ashx%3Fdu
Thu Feb  9 01:12:07 2012 from http://search.certified-toolbar.com/?si=36647&q=http%3A%2F%2Fclick.infospace.com%2FClickHandler.ashx%3Fdu
Thu Feb  9 01:09:19 2012 from http://search.certified-toolbar.com/?si=36647&q=http%3A%2F%2Fclick.infospace.com%2FClickHandler.ashx%3Fdu
Thu Feb  9 01:02:42 2012 from http://search.certified-toolbar.com/?si=36647&q=http%3A%2F%2Fclick.infospace.com%2FClickHandler.ashx%3Fdu
Thu Feb  9 00:59:00 2012 from http://search.certified-toolbar.com/?si=36647&q=http%3A%2F%2Fclick.infospace.com%2FClickHandler.ashx%3Fdu
Thu Feb  9 00:46:57 2012 from http://www.google.com.sa/url?sa=t&rct=j&q=sex+tubidy+mobi+index&source=web&cd=12&ved=0CDIQFjABOAo&url=http%3A%2F%2Fcarl.cs.indiana.edu%2Ffil%2Fcgi-bin%2FWebSec%2Fmarilyn.cgi&ei=UF0zT5fEKYKr0QXCtIitAg&usg=AFQjCNHRtbr4ftk_4PyVzN3HuHPJV6LZow
Thu Feb  9 00:16:50 2012 from http://www.google.com/cse?q=google.com%2Fcse%3Fq%3Dgoogle.com%2Fcse%3Fq%3Dgoogle.com%2Fcse%3Fq%3Dgoogle.com%2Fcse%3Fq%3Dgoogle.com%2Fcse%3Fq%3Dgoogle.co.id%2Fsearch%3Fcomplete%2Fsearch%3Fclient%3Dhp&cx=014714114577817547783%3Abdyelwlrqeo&ie=UTF-8&hl=id
Wed Feb  8 23:57:06 2012 from http://www.google.com.au/url?sa=t&rct=j&q=click%20infospace%20clickhandler&source=web&cd=6&ved=0CFAQFjAF&url=http%3A%2F%2Fcarl.cs.indiana.edu%2Ffil%2Fcgi-bin%2FWebSec%2Fmarilyn.cgi&ei=-FEzT_26JKOYiAf79KSnAg&usg=AFQjCNHRtbr4ftk_4PyVzN3HuHPJV6LZow&sig2=LN-m4RZ5AYDwmtKYENWiqw
Wed Feb  8 23:49:40 2012 from http://search.certified-toolbar.com/?si=36647&q=http%3A%2F%2Fclick.infospace.com%2FClickHandler.ashx%3Fdu
Wed Feb  8 23:48:50 2012 from http://www.google.com.eg/url?sa=t&rct=j&q=http:%2F%2Fhome.allgameshome.com%2F&source=web&cd=8&ved=0CFYQFjAH&url=http%3A%2F%2Fcarl.cs.indiana.edu%2Ffil%2Fcgi-bin%2FWebSec%2Fmarilyn.cgi&ei=EVAzT4mgBaXb0QW3qKWrAg&usg=AFQjCNHRtbr4ftk_4PyVzN3HuHPJV6LZow
Wed Feb  8 23:37:24 2012 from http://www.google.com/url?sa=t&rct=j&q=http%3A%2F%2Fwww.google.co.in%2Fsearch%3Fq%3Dwww.youporn.com%26sourceid%3Dopera%26ie%3Dutf-8%26oe%3Dutf-8%26channel%3Dsuggest&source=web&cd=1&ved=0CC4QFjAA&url=http%3A%2F%2Fcarl.cs.indiana.edu%2Ffil%2Fcgi-bin%2FWebSec%2Fmarilyn.cgi&ei=Z00zT5-ROM_82gWN9uSfAg&usg=AFQjCNHRtbr4ftk_4PyVzN3HuHPJV6LZow
Wed Feb  8 23:31:51 2012 from http://search.certified-toolbar.com/?si=36647&q=http%3A%2F%2Fclick.infospace.com%2FClickHandler.ashx%3Fdu
Wed Feb  8 23:27:15 2012 from (empty referer)
Wed Feb  8 23:06:12 2012 from http://search.certified-toolbar.com/?si=36647&q=click.infospace.comClickHandler.ashx%3Fdu
Wed Feb  8 23:03:41 2012 from http://search.certified-toolbar.com/?si=36647&q=http%3A%2F%2Fclick.infospace.com%2FClickHandler.ashx%3Fdu
Wed Feb  8 22:51:15 2012 from http://search.certified-toolbar.com/?si=36647&q=click.infospace.comClickHandler.ashx%3Fdu
Wed Feb  8 22:46:36 2012 from http://search.certified-toolbar.com/?si=36647&q=http%3A%2F%2Fclick.infospace.com%2FClickHandler.ashx%3Fdu
Wed Feb  8 22:39:05 2012 from http://www.google.com/url?sa=t&rct=j&q=click%20infospace%20clickhandler&source=web&cd=7&ved=0CFIQFjAG&url=http%3A%2F%2Fcarl.cs.indiana.edu%2Ffil%2Fcgi-bin%2FWebSec%2Fmarilyn.cgi&ei=uT8zT_L3A7DLsQLS7OiCAg&usg=AFQjCNHRtbr4ftk_4PyVzN3HuHPJV6LZow
Wed Feb  8 22:38:45 2012 from http://search.certified-toolbar.com/?si=36647&q=http%3A%2F%2Fclick.infospace.com%2FClickHandler.ashx%3Fdu
Wed Feb  8 22:37:08 2012 from http://search.certified-toolbar.com/?si=36647&q=http%3A%2F%2Fclick.infospace.com%2FClickHandler.ashx%3Fdu
Wed Feb  8 22:22:15 2012 from http://search.certified-toolbar.com/?si=36647&q=http%3A%2F%2Fclick.infospace.com%2FClickHandler.ashx%3Fdu
Wed Feb  8 22:00:23 2012 from http://www.google.com.sa/url?sa=t&rct=j&q=http%3A%2F%2Ftubidy.mobi%2Fsearch.php%3Fa%3D18%26q%3Dsexe&source=web&cd=10&ved=0CH8QFjAJ&url=http%3A%2F%2Fcarl.cs.indiana.edu%2Ffil%2Fcgi-bin%2FWebSec%2Fmarilyn.cgi&ei=cDUzT9-mGMOq0QW4r92jAg&usg=AFQjCNHRtbr4ftk_4PyVzN3HuHPJV6LZow
Wed Feb  8 21:42:08 2012 from http://search.certified-toolbar.com/?si=36647&q=http%3A%2F%2Fclick.infospace.com%2FClickHandler.ashx%3Fdu
Wed Feb  8 21:21:12 2012 from (empty referer)
Wed Feb  8 21:17:34 2012 from http://search.certified-toolbar.com/?si=36647&q=http%3A%2F%2Fclick.infospace.com%2FClickHandler.ashx%3Fdu
Wed Feb  8 21:14:56 2012 from http://www.google.com/xhtml?q=http%3a%2f%2fwww%2egoogle%2ecom%2fxhtml%3fq%3dwww%2eemail%20com%26client%3dms%2dopera_mb_no%26channel%3dbh&client=ms-opera_mb_no&channel=bh
Wed Feb  8 21:00:14 2012 from (empty referer)
Wed Feb  8 20:45:08 2012 from http://search.certified-toolbar.com/?si=36647&q=http%3A%2F%2Fclick.infospace.com%2FClickHandler.ashx%3Fdu
Wed Feb  8 20:34:20 2012 from http://www.google.com/url?sa=t&rct=j&q=&esrc=s&source=web&cd=1&ved=0CCMQFjAA&url=http%3A%2F%2Fcarl.cs.indiana.edu%2Ffil%2Fcgi-bin%2FWebSec%2Fmarilyn.cgi&ei=jyIzT8qOForpgQfU_uHJBQ&usg=AFQjCNHRtbr4ftk_4PyVzN3HuHPJV6LZow&sig2=IzSXPJRZipQeRHjPRZ_Ycg
Wed Feb  8 20:34:15 2012 from http://search.certified-toolbar.com/?si=36647&q=http%3A%2F%2Fclick.infospace.com%2FClickHandler.ashx%3Fdu
Wed Feb  8 20:32:51 2012 from http://search.certified-toolbar.com/?si=36647&q=http%3A%2F%2Fclick.infospace.com%2FClickHandler.ashx%3Fdu
Wed Feb  8 20:28:20 2012 from http://search.certified-toolbar.com/?si=36647&q=http%3A%2F%2Fclick.infospace.com%2FClickHandler.ashx%3Fdu
Wed Feb  8 20:28:06 2012 from http://search.certified-toolbar.com/?si=36647&q=http%3A%2F%2Fclick.infospace.com%2FClickHandler.ashx%3Fdu
Wed Feb  8 19:29:34 2012 from http://www.google.com.sa/search?q=http%3B%2F%2Ftubidy.mobi%2Fsearch.php%3Fa%3D18%26q%3Dhot%2Bsex&btnG=%D8%A8%D8%AD%D8%AB&rlz=1C1_____enSA461SA461&sourceid=chrome&safe=active&gs_sm=s&gs_upl=17145l117796l0l121658l25l25l1l23l0l0l640l640l5-1l1l0
Wed Feb  8 19:28:28 2012 from (empty referer)
Wed Feb  8 19:17:43 2012 from (empty referer)
Wed Feb  8 19:16:49 2012 from http://search.certified-toolbar.com/?si=36647&q=http%3A%2F%2Fclick.infospace.com%2FClickHandler.ashx%3Fdu
Wed Feb  8 19:15:28 2012 from (empty referer)
Wed Feb  8 19:10:33 2012 from http://www.google.com/search?client=opera&rls=es-ES&q=http%3A%2F%2Fwww.google.com%2Fsearch%3Fq%3Dhttp%253A%252F%252Fwww.google.com%252Fsearch%253Fq%253Dhttp%25253A%25252F%25252Fwww.xvideos.com%25252F%2526sourceid%253Dopera%2526ie%253Dutf-8%2526oe%253Dutf-8%2526channel%253Dsuggest%26sourceid%3Dopera%26ie%3Dutf-8%26oe%3Dutf-8%26channel%3Dsuggest&sourceid=opera&ie=utf-8&oe=utf-8&channel=suggest
Wed Feb  8 18:16:26 2012 from (empty referer)
Wed Feb  8 18:15:31 2012 from (empty referer)
Wed Feb  8 18:15:30 2012 from http://search.certified-toolbar.com/?si=36647&q=http%3A%2F%2Fclick.infospace.com%2FClickHandler.ashx%3Fdu
Wed Feb  8 18:15:17 2012 from http://search.chatzum.com/?q=http%3A%2F%2Futils.chatzum.com%2F%3Furl%3Dhttp%3A%2F%2Futils.chatzum.com%2F%3Furl%3Dhttp%3A%2F%2Futils.chatzum.com%2F%3Furl%3Dhttp%3A%2F%2Futils.chatzum.com%2F%3Furl%3Dhttp%3A%2F%2Futils.chatzum.com%2F%3Furl%3Dhttp%3A%2F%2Futils.chatzum.com%2F%3Furl%3Dhttp%3A%2F%2Futils.chatzum.com%2F%3Furl%3Dhttp%3A%2F%2Fus.mg4.mail.yahoo.com%2Fneo%2Fdarla%2Fphp%2Ffc.php%3Ftrace%3Dmsgread_tabview
Wed Feb  8 18:08:11 2012 from http://search.certified-toolbar.com/?si=36647&q=http%3A%2F%2Fclick.infospace.com%2FClickHandler.ashx%3Fdu
Wed Feb  8 17:28:22 2012 from http://carl.cs.indiana.edu/fil/cgi-bin/WebSec/marilyn.cgi
Wed Feb  8 17:00:25 2012 from http://www.yasni.com/ext.php?url=http%3A%2F%2Fcarl.cs.indiana.edu%2Ffil%2Fcgi-bin%2FWebSec%2Fmarilyn.cgi&name=Malibog+Tv&cat=other&showads=1
Wed Feb  8 16:55:06 2012 from (empty referer)
Wed Feb  8 16:36:19 2012 from http://www.google.com/search?client=opera&rls=en&q=http%3A%2F%2Fwww.google.com%2Fsearch%3Fq%3Dhttp%253A%252F%252Fwww.google.com%252Fsearch%253Fq%253Dhttp%25253A%25252F%25252Fwww.google.co.in%25252Fsearch%25253Fq%25253Dwww.gmail.com%252526sourceid%25253Dopera%252526ie%25253Dutf-8%252526oe%25253Dutf-8%252526channel%25253Dsuggest%2526sourceid%253Dopera%2526ie%253Dutf-8%2526oe%253Dutf-8%2526channel%253Dsuggest%26sourceid%3Dopera%26ie%3Dutf-8%26oe%3Dutf-8%26channel%3Dsuggest&sourceid=opera&ie=utf-8&oe=utf-8&channel=suggest
Wed Feb  8 16:10:47 2012 from http://int.search-results.com/web?qsrc=2&o=100000049&l=dis&atb=sysid%3D406%3Auid%3Db7f13724c03befc8%3Auc%3D1325769832%3Asrc%3Dhmp%3Ao%3D100000049%3Aq%3Dwww.google.com%252C&q=www.google.com%2C+sexe
Wed Feb  8 16:01:34 2012 from http://search.certified-toolbar.com/?si=36647&q=http%3A%2F%2Fclick.infospace.com%2FClickHandler.ashx%3Fdu
Wed Feb  8 15:59:10 2012 from http://search.certified-toolbar.com/?si=36647&q=http%3A%2F%2Fclick.infospace.com%2FClickHandler.ashx%3Fdu
Wed Feb  8 15:39:25 2012 from http://www.google.com/url?sa=t&rct=j&q=http%3A%2F%2Fwww.google.com%2Fsearch%3Fq%3Dhttp%253A%252F%252Fwww.google.com%252Fsearch%253Fq%253Dhttp%25253A%25252F%25252Fwww.youtube.com%25252F%2526sourceid%253Dopera%2526num%253D0%2526ie%253Dutf-8%2526oe%253Dutf-8%2526channel%253Dsuggest%26sourceid%3Dopera%26num%3D0%26ie%3Dutf-8%26oe%3Dutf-8%26channel%3Dsuggest&source=web&cd=1&ved=0CCMQFjAA&url=http%3A%2F%2Fcarl.cs.indiana.edu%2Ffil%2Fcgi-bin%2FWebSec%2Fmarilyn.cgi&ei=oNYyT6P1Ds-hOvK_negG&usg=AFQjCNHRtbr4ftk_4PyVzN3HuHPJV6LZow
Wed Feb  8 15:38:44 2012 from (empty referer)
Wed Feb  8 15:37:26 2012 from (empty referer)
Wed Feb  8 15:29:44 2012 from (empty referer)
Wed Feb  8 15:28:12 2012 from http://www.google.com/m?client=ms-nokia&cof=nsp&channel=s60&q=Http%3atubidy.mobi%3a%2fsearch.php%3fa%3d18q%3dhot%2bsex
Wed Feb  8 15:21:21 2012 from http://www.google.com/m?hl=en&q=hote+sex+tubidy+mobi
Wed Feb  8 15:12:06 2012 from http://www.google.com/m?safe=on&hl=en&q=hote+sex+tubidy+mobi
Wed Feb  8 15:10:36 2012 from http://www.google.com.sa/url?sa=t&rct=j&q=http%3Atubidy.mobi%2Fsearch.php%3Fa%3D18%26&source=web&cd=2&ved=0CDMQFjAB&url=http%3A%2F%2Fcarl.cs.indiana.edu%2Ffil%2Fcgi-bin%2FWebSec%2Fmarilyn.cgi&ei=stYyT-mANtS1hAfDhqHmBA&usg=AFQjCNHRtbr4ftk_4PyVzN3HuHPJV6LZow
Wed Feb  8 15:10:08 2012 from http://search.certified-toolbar.com/?si=36647&q=http%3A%2F%2Fclick.infospace.com%2FClickHandler.ashx%3Fdu
Wed Feb  8 14:52:23 2012 from http://search.certified-toolbar.com/?si=36647&q=http%3A%2F%2Fclick.infospace.com%2FClickHandler.ashx%3Fdu
Wed Feb  8 14:37:55 2012 from http://search.certified-toolbar.com/?si=36647&q=http%3A%2F%2Fclick.infospace.com%2FClickHandler.ashx%3Fdu
Wed Feb  8 14:37:49 2012 from http://us.yhs.search.yahoo.com/if?p=Click.infospace.com%2Fclickhandler.ashx%3Fdu%3Dhttp%3A%2F%2Fwww.perret&fr=yhs-if-vendio&partnerid=yhs-if-vendio&YST_b=43
Wed Feb  8 14:30:42 2012 from http://www.google.com/m?q=%E2%80%8F%E2%80%8Bhttp%3A%2F%2Ftubidy.mobi%2Fsearch.php%3Fa%3D18%26q%3Dvideo%2Bsex&client=ms-opera-mini&channel=new
Wed Feb  8 14:26:46 2012 from http://search.chatzum.com/?q=search.chatzum.com%2F
Wed Feb  8 14:22:06 2012 from http://search.certified-toolbar.com/?si=36647&q=http%3A%2F%2Fclick.infospace.com%2FClickHandler.ashx%3Fdu
Wed Feb  8 14:21:19 2012 from http://www.google.com/url?sa=t&rct=j&q=http%3A%2F%2Fwww.google.com%2Fsearch%3Fq%3Dhttp%253a%252f%252fwww.google.com%252fsearch%253fq%253dhttps%25253a%25252f%25252fwww.facebook.com%25252f%2526sourceid%253dopera%2526ie%253dutf-8%2526oe%253dutf-8%2526channel%253dsuggest%26sourceid%3Dopera%26ie%3Dutf-8%26oe%3Dutf-8%26channel%3Dsuggest&source=web&cd=1&ved=0CCIQFjAA&url=http%3A%2F%2Fcarl.cs.indiana.edu%2Ffil%2Fcgi-bin%2FWebSec%2Fmarilyn.cgi&ei=CcsyT-KLIYfptQaviLm9DA&usg=AFQjCNHRtbr4ftk_4PyVzN3HuHPJV6LZow
Wed Feb  8 14:05:35 2012 from (empty referer)
Wed Feb  8 13:57:50 2012 from (empty referer)
Wed Feb  8 13:57:29 2012 from http://www.searchcanvas.com/web?ot=2&q=http://click.infospace.com/ClickHandler.ashx?du=http%3a%2f%2fwww.facebook.com%2f&ru=http%3a%2f%2fwww.facebook.com%2f&ld=20120208&ap=1&app=1&c=blingee.fr.ffredir&s=blingee&coi=211&cop=SiteMatch&euip=82.240.26.167&npp=1&p=0&pp=0&pvaid=1dec98a538b44691bdabb7cc4dc0ff45&ep=0&mid=5&hash=0290BC1D7CD154AA91FFDE133E1D148
Wed Feb  8 13:44:51 2012 from http://search.certified-toolbar.com/?si=36647&q=http%3A%2F%2Fclick.infospace.com%2FClickHandler.ashx%3Fdu
Wed Feb  8 13:31:15 2012 from http://search.certified-toolbar.com/?si=36647&q=http%3A%2F%2Fclick.infospace.com%2FClickHandler.ashx%3Fdu
Wed Feb  8 13:19:13 2012 from http://www.google.com.mx/url?sa=t&rct=j&q=click%20infospace%20clickhandler&source=web&cd=10&ved=0CHcQFjAJ&url=http%3A%2F%2Fcarl.cs.indiana.edu%2Ffil%2Fcgi-bin%2FWebSec%2Fmarilyn.cgi&ei=erwyT57mLsXs2AXn9oDnBw&usg=AFQjCNHRtbr4ftk_4PyVzN3HuHPJV6LZow
Wed Feb  8 13:17:57 2012 from http://www.google.com/m?safe=on&client=ms-nokia&cof=nsp&q=www.google.com/m/search?client%3Dms-nokia%26cof%3Dnsp%26ch&channel=s60&start=40&sa=N
Wed Feb  8 13:04:21 2012 from http://carl.cs.indiana.edu/fil/cgi-bin/WebSec/marilyn.cgi
Wed Feb  8 13:03:42 2012 from http://www.google.com/search?client=opera&rls=en&q=http%3A%2F%2Fwww.google.com%2Fsearch%3Fq%3Dhttp%253A%252F%252Fwww.google.com%252Fsearch%253Fq%253Dhttp%25253A%25252F%25252Fwww.yahoo.com%25252F%2526sourceid%253Dopera%2526ie%253Dutf-8%2526oe%253Dutf-8%2526channel%253Dsuggest%26sourceid%3Dopera%26ie%3Dutf-8%26oe%3Dutf-8%26channel%3Dsuggest&sourceid=opera&ie=utf-8&oe=utf-8&channel=suggest
Wed Feb  8 13:02:10 2012 from http://www.google.com/xhtml?q=www%2egoogle%2ecom%2fxhtml%3fq%3dWww%2esexy%2ecom%26client%3dms%2dopera_mb_no%26channel%3dbh&client=ms-opera_mb_no&channel=bh
Wed Feb  8 12:55:45 2012 from (empty referer)
Wed Feb  8 12:54:54 2012 from http://search.certified-toolbar.com/?si=36647&q=http%3A%2F%2Fclick.infospace.com%2FClickHandler.ashx%3Fdu
Wed Feb  8 12:48:05 2012 from (empty referer)
Wed Feb  8 12:44:39 2012 from http://www.google.com/url?sa=t&rct=j&q=http%3A%2F%2Fwww.google.com%2Fsearch%3Fq%3Dhttp%253a%252f%252fwww.google.com%252fsearch%253fq%253dwww.google.com%2526sourceid%253dopera%2526ie%253dutf-8%2526oe%253dutf-8%2526channel%253dsuggest%26sourceid%3Dopera%26ie%3Dutf-8%26oe%3Dutf-8%26channel%3Dsuggest&source=web&cd=1&ved=0CC8QFjAA&url=http%3A%2F%2Fcarl.cs.indiana.edu%2Ffil%2Fcgi-bin%2FWebSec%2Fmarilyn.cgi&ei=HrQyT5rACcXtrQePvKWzBA&usg=AFQjCNHRtbr4ftk_4PyVzN3HuHPJV6LZow
Wed Feb  8 12:41:04 2012 from http://www.google.com.sa/url?sa=t&rct=j&q=http%2F%2Ftubidy.mobi%2Fsearch.php%3Fa%3D18%26q%3Dhot%2Bsex&source=web&cd=4&ved=0CD8QFjAD&url=http%3A%2F%2Fcarl.cs.indiana.edu%2Ffil%2Fcgi-bin%2FWebSec%2Fmarilyn.cgi&ei=arMyT_DKFMnfsgb1puHbAQ&usg=AFQjCNHRtbr4ftk_4PyVzN3HuHPJV6LZow
Wed Feb  8 12:37:19 2012 from http://search.incredibar.com/?q=click.infospace.comClickHandler.ashx%3fdu&lang=english&source=368422365&cid=1&uloc=mb113
Wed Feb  8 12:32:33 2012 from http://www.google.com/url?sa=t&rct=j&q=http%3A%2F%2Fwww.google.com%2Fsearch%3Fq%3Dhttp%253a%252f%252fwww.google.com%252fsearch%253fq%253dhttp%25253a%25252f%25252fwww.google.com%25252fsearch%25253fq%25253dhttp%2525253a%2525252f%2525252fwww.youtube.com%2525252f%252526sourceid%25253dopera%252526ie%25253dutf-8%252526oe%25253dutf-8%252526channel%25253dsuggest%2526sourceid%253dopera%2526ie%253dutf-8%2526oe%253dutf-8%2526channel%253dsuggest%26sourceid%3Dopera%26ie%3Dutf-8%26oe%3Dutf-8%26channel%3Dsuggest&source=web&cd=1&ved=0CCIQFjAA&url=http%3A%2F%2Fcarl.cs.indiana.edu%2Ffil%2Fcgi-bin%2FWebSec%2Fmarilyn.cgi&ei=pbEyT83UNMnUrQflot2pBA&usg=AFQjCNHRtbr4ftk_4PyVzN3HuHPJV6LZow
Wed Feb  8 12:17:50 2012 from http://search.certified-toolbar.com/?si=36647&q=http%3A%2F%2Fclick.infospace.com%2FClickHandler.ashx%3Fdu
Wed Feb  8 12:05:58 2012 from http://playsushi.infospace.com/playsushi.tbard/search/web?q=cs.infospace.com
Wed Feb  8 11:51:32 2012 from (empty referer)
Wed Feb  8 11:51:20 2012 from http://www.google.com/url?sa=t&rct=j&q=&esrc=s&source=web&cd=1&ved=0CCMQFjAA&url=http%3A%2F%2Fcarl.cs.indiana.edu%2Ffil%2Fcgi-bin%2FWebSec%2Fmarilyn.cgi&ei=5acyT_qcF8vssgbJrKX0Aw&usg=AFQjCNHRtbr4ftk_4PyVzN3HuHPJV6LZow&sig2=4CjFLlqdhPBDaorOoY2yIA
Wed Feb  8 11:39:44 2012 from http://search.yahoo.com/search;_ylt=A0oGdd9kfzJPnCsA7m1XNyoA?p=http%3B%5C%5Ctubidy.mobi%2Findex.php%3Fsid%3Dc732fe51b8fdfb3afoac6ca392c525fo&vm=r&fr=yfp-t-742&fr2=sb-bot&xargs=0&pstart=1&b=81&xa=3y5tpCnWKrQtCzDnJLOp8g--,1328795876
Wed Feb  8 11:31:06 2012 from http://search.chatzum.com/?q=http%3A%2F%2Futils.chatzum.com%2F%3Furl%3Dhttp%3A%2F%2Futils.chatzum.com%2F%3Furl%3Dhttp%3A%2F%2Fclick.infospace.com%2FClickHandler.ashx%3Fdu%3Dhttp%3A%2F%2Fwww.facebook.com%2F
Wed Feb  8 11:27:54 2012 from http://search.certified-toolbar.com/?si=36647&q=http%3A%2F%2Fclick.infospace.com%2FClickHandler.ashx%3Fdu
Wed Feb  8 11:25:28 2012 from http://www.google.com.eg/url?sa=t&rct=j&q=click+infospace+ClickHandler&source=web&cd=10&ved=0CHQQFjAJ&url=http%3A%2F%2Fcarl.cs.indiana.edu%2Ffil%2Fcgi-bin%2FWebSec%2Fmarilyn.cgi&ei=4KEyT4iqIObY4QSFqfXnBA&usg=AFQjCNHRtbr4ftk_4PyVzN3HuHPJV6LZow
Wed Feb  8 11:18:46 2012 from http://search.certified-toolbar.com/?si=36647&q=http%3A%2F%2Fclick.infospace.com%2FClickHandler.ashx%3Fdu
Wed Feb  8 11:17:20 2012 from http://search.certified-toolbar.com/?si=36647&q=http%3A%2F%2Fclick.infospace.com%2FClickHandler.ashx%3Fdu
Wed Feb  8 11:12:26 2012 from http://search.certified-toolbar.com/?si=36647&q=http%3A%2F%2Fclick.infospace.com%2FClickHandler.ashx%3Fdu
Wed Feb  8 11:05:12 2012 from http://search.certified-toolbar.com/?si=36647&q=http%3A%2F%2Fclick.infospace.com%2FClickHandler.ashx%3Fdu
Wed Feb  8 11:03:03 2012 from http://search.certified-toolbar.com/?si=36647&q=http%3A%2F%2Fclick.infospace.com%2FClickHandler.ashx%3Fdu
Wed Feb  8 10:59:13 2012 from http://search.certified-toolbar.com/?si=36647&q=http%3A%2F%2Fclick.infospace.com%2FClickHandler.ashx%3Fdu
Wed Feb  8 10:49:33 2012 from http://search.certified-toolbar.com/?si=36647&q=http%3A%2F%2Fclick.infospace.com%2FClickHandler.ashx%3Fdu
Wed Feb  8 10:48:08 2012 from http://search.certified-toolbar.com/?si=36647&q=http%3A%2F%2Fclick.infospace.com%2FClickHandler.ashx%3Fdu
Wed Feb  8 10:46:10 2012 from http://search.chatzum.com/?q=http%3A%2F%2Fclick.infospace.com%2FClickHandler.ashx%3Fdu%3Dhttp%3A%2F%2Fwww.facebook.com%2F
Wed Feb  8 10:31:59 2012 from http://www.google.co.in/gwt/x?q=http://http//www.20google.20com&ei=D5UyT-C5DI-z8AOCKg&ved=0CAsQFjAD&hl=en-GB&source=m&rd=1&u=http://carl.cs.indiana.edu/fil/cgi-bin/WebSec/marilyn.cgi
Wed Feb  8 10:31:34 2012 from (empty referer)
Wed Feb  8 10:31:15 2012 from http://search.certified-toolbar.com/?si=36647&q=http%3A%2F%2Fclick.infospace.com%2FClickHandler.ashx%3Fdu
Wed Feb  8 10:23:02 2012 from http://www.google.com/url?sa=t&rct=j&q=http%3A%2F%2Fwww.google.com%2Fsearch%3Fq%3Dhttp%253A%252F%252Fwww.google.com%252Fsearch%253Fq%253Dhttp%25253A%25252F%25252Fwww.xxxindianxxx.com%25252F%2526sourceid%253Dopera%2526ie%253Dutf-8%2526oe%253Dutf-8%2526channel%253Dsuggest%26sourceid%3Dopera%26ie%3Dutf-8%26oe%3Dutf-8%26channel%3Dsuggest&source=web&cd=1&ved=0CCIQFjAA&url=http%3A%2F%2Fcarl.cs.indiana.edu%2Ffil%2Fcgi-bin%2FWebSec%2Fmarilyn.cgi%3Fiframe%3Dtrue%26width%3D80%25%26height%3D80%25&ei=PJIyT8z-A9DnrAeol6C6BA&usg=AFQjCNE7JD9xSrOi5_c4GAQObQquXyuwVQ
Wed Feb  8 10:18:42 2012 from http://search.chatzum.com/?q=http%3A%2F%2Fsearch.chatzum.com
Wed Feb  8 10:13:43 2012 from http://search.certified-toolbar.com/?si=36647&q=http%3A%2F%2Fclick.infospace.com%2FClickHandler.ashx%3Fdu
Wed Feb  8 09:39:58 2012 from http://search.certified-toolbar.com/?si=36647&q=http%3A%2F%2Fclick.infospace.com%2FClickHandler.ashx%3Fdu
Wed Feb  8 09:26:46 2012 from http://www.google.com/url?sa=t&rct=j&q=http%3A%2F%2Fwww.google.com%2Fsearch%3Fq%3Dhttp%253a%252f%252fwww.google.com%252fsearch%253fq%253dc%2526sourceid%253dopera%2526ie%253dutf-8%2526oe%253dutf-8%2526channel%253dsuggest%26sourceid%3Dopera%26ie%3Dutf-8%26oe%3Dutf-8%26channel%3Dsuggest&source=web&cd=1&ved=0CC8QFjAA&url=http%3A%2F%2Fcarl.cs.indiana.edu%2Ffil%2Fcgi-bin%2FWebSec%2Fmarilyn.cgi&ei=IoUyT6SAOYTOrQfn5KW6BA&usg=AFQjCNHRtbr4ftk_4PyVzN3HuHPJV6LZow
Wed Feb  8 09:19:35 2012 from (empty referer)
Wed Feb  8 09:14:32 2012 from (empty referer)
Wed Feb  8 09:09:29 2012 from http://search.certified-toolbar.com/?si=36647&q=http%3A%2F%2Fclick.infospace.com%2FClickHandler.ashx%3Fdu
Wed Feb  8 09:06:47 2012 from http://search.incredibar.com/?q=click.infospace.comClickHandler.ashx%3fdu&lang=french&source=368422365&cid=1&uloc=mb113
Wed Feb  8 09:06:35 2012 from http://search.certified-toolbar.com/?si=36647&q=http%3A%2F%2Fclick.infospace.com%2FClickHandler.ashx%3Fdu
Wed Feb  8 09:04:28 2012 from http://search.certified-toolbar.com/?si=36647&q=http%3A%2F%2Fclick.infospace.com%2FClickHandler.ashx%3Fdu
Wed Feb  8 09:02:19 2012 from http://www.google.com.tr/search?q=mystart+incredibar+mb+113&channel=linkdoctor
Wed Feb  8 08:50:53 2012 from http://search.chatzum.com/?q=http%3A%2F%2Fclick.infospace.com%2FClickHandler.ashx%3Fdu%3Dhttp%3A%2F%2Fwww.facebook.com%2F
Wed Feb  8 08:46:07 2012 from http://search.certified-toolbar.com/?si=36647&q=http%3A%2F%2Fclick.infospace.com%2FClickHandler.ashx%3Fdu
Wed Feb  8 08:44:53 2012 from (empty referer)
Wed Feb  8 08:37:48 2012 from http://search.certified-toolbar.com/?si=36647&q=http%3A%2F%2Fclick.infospace.com%2FClickHandler.ashx%3Fdu
Wed Feb  8 08:34:22 2012 from http://www.google.com/search?client=opera&rls=en&q=http%3A%2F%2Fwww.google.com%2Fsearch%3Fq%3Dhttp%253A%252F%252Fwww.google.com%252Fsearch%253Fq%253Dhttp%25253A%25252F%25252Fwww.google.com%25252Fsearch%25253Fq%25253Dhttp%2525253A%2525252F%2525252Fgoogle.ge%2525252F%252526sourceid%25253Dopera%252526ie%25253Dutf-8%252526oe%25253Dutf-8%252526channel%25253Dsuggest%2526sourceid%253Dopera%2526ie%253Dutf-8%2526oe%253Dutf-8%2526channel%253Dsuggest%26sourceid%3Dopera%26ie%3Dutf-8%26oe%3Dutf-8%26channel%3Dsuggest&sourceid=opera&ie=utf-8&oe=utf-8&channel=suggest
Wed Feb  8 08:27:34 2012 from http://search.certified-toolbar.com/?si=36647&q=http%3A%2F%2Fclick.infospace.com%2FClickHandler.ashx%3Fdu
Wed Feb  8 08:27:05 2012 from http://search.certified-toolbar.com/?si=36647&q=http%3A%2F%2Fclick.infospace.com%2FClickHandler.ashx%3Fdu
Wed Feb  8 08:26:53 2012 from http://search.certified-toolbar.com/?si=36647&q=http%3A%2F%2Fclick.infospace.com%2FClickHandler.ashx%3Fdu
Wed Feb  8 08:19:23 2012 from http://search.certified-toolbar.com/?si=36647&q=http%3A%2F%2Fclick.infospace.com%2FClickHandler.ashx%3Fdu
Wed Feb  8 08:16:24 2012 from http://www.google.com/url?sa=t&rct=j&q=http%3A%2F%2Fwww.google.com%2Fsearch%3Fq%3Dhttp%253a%252f%252fwww.google.com%252fsearch%253fq%253dhttp%25253a%25252f%25252fwww.google.com%25252fsearch%25253fq%25253dhttp%2525253a%2525252f%2525252fwww.yahoomail.com%2525252f%252526sourceid%25253dopera%252526ie%25253dutf-8%252526oe%25253dutf-8%252526channel%25253dsuggest%2526sourceid%253dopera%2526ie%253dutf-8%2526oe%253dutf-8%2526channel%253dsuggest%26sourceid%3Dopera%26ie%3Dutf-8%26oe%3Dutf-8%26channel%3Dsuggest&source=web&cd=1&ved=0CCsQFjAA&url=http%3A%2F%2Fcarl.cs.indiana.edu%2Ffil%2Fcgi-bin%2FWebSec%2Fmarilyn.cgi&ei=F24yT_LdA86zrAeam9C4BA&usg=AFQjCNHRtbr4ftk_4PyVzN3HuHPJV6LZow
Wed Feb  8 08:08:28 2012 from http://search.certified-toolbar.com/?si=28210&q=http%3A%2F%2Fclick.infospace.com%2FClickHandler.ashx%3Fdu
Wed Feb  8 08:04:48 2012 from http://search.certified-toolbar.com/?si=36647&q=facebook.com%2Fajax%2Fpagelet%2Fgeneric.php%2FPhotoViewerInitPagelet%3F__a
Wed Feb  8 07:53:57 2012 from http://www.google.com/url?sa=t&rct=j&q=http%3A%2F%2Fwww.google.com%2Fsearch%3Fq%3Dhttp%253A%252F%252Fwww.google.com%252Fsearch%253Fq%253Dhttp%25253A%25252F%25252Fwww.facebook.com%25252F%2526sourceid%253Dopera%2526ie%253Dutf-8%2526oe%253Dutf-8%2526channel%253Dsuggest%26sourceid%3Dopera%26ie%3Dutf-8%26oe%3Dutf-8%26channel%3Dsuggest&source=web&cd=1&ved=0CCkQFjAA&url=http%3A%2F%2Fcarl.cs.indiana.edu%2Ffil%2Fcgi-bin%2FWebSec%2Fmarilyn.cgi&ei=XXAyT9KeKMz14QSNndmPBQ&usg=AFQjCNHRtbr4ftk_4PyVzN3HuHPJV6LZow
Wed Feb  8 07:46:35 2012 from http://search.certified-toolbar.com/?si=28210&q=http%3A%2F%2Fclick.infospace.com%2FClickHandler.ashx%3Fdu
Wed Feb  8 07:43:34 2012 from http://www.google.com/url?sa=t&rct=j&q=http%3A%2F%2Fwww.google.com%2Fsearch%3Fq%3Dhttp%253a%252f%252fwww.google.com%252fsearch%253fq%253dhttp%25253a%25252f%25252fwww.google.com%25252fsearch%25253fq%25253dhttp%2525253a%2525252f%2525252fwww.tube8.com%2525252f%252526sourceid%25253dopera%252526ie%25253dutf-8%252526oe%25253dutf-8%252526channel%25253dsuggest%2526sourceid%253dopera%2526ie%253dutf-8%2526oe%253dutf-8%2526channel%253dsuggest%26sourceid%3Dopera%26ie%3Dutf-8%26oe%3Dutf-8%26channel%3Dsuggest&source=web&cd=1&ved=0CCIQFjAA&url=http%3A%2F%2Fcarl.cs.indiana.edu%2Ffil%2Fcgi-bin%2FWebSec%2Fmarilyn.cgi&ei=5m0yT6z4IYTlrAeiz6GDBA&usg=AFQjCNHRtbr4ftk_4PyVzN3HuHPJV6LZow
Wed Feb  8 07:43:22 2012 from http://www.google.com.tr/url?sa=t&rct=j&q=click+infospace+ClickHandler&source=web&cd=12&ved=0CCcQFjABOAo&url=http%3A%2F%2Fcarl.cs.indiana.edu%2Ffil%2Fcgi-bin%2FWebSec%2Fmarilyn.cgi&ei=120yT7WZJcyd8gOpsZ38Bg&usg=AFQjCNHRtbr4ftk_4PyVzN3HuHPJV6LZow
Wed Feb  8 07:23:52 2012 from http://int.search-results.com/web?l=dis&locale=en_EN&o=1939&q=htt%2F%2F%3Axnxx&atb=sysid%3D2%3Aappid%3D119%3Auid%3D4ab221993a12a722%3Auc%3D1328702907%3Aq%3Dhtt%2F%2F%3Axnxx%3Asrc%3Dffb%3Ao%3D1939
Wed Feb  8 07:22:01 2012 from http://search.certified-toolbar.com/?si=28210&q=http%3A%2F%2Fclick.infospace.com%2FClickHandler.ashx%3Fdu
Wed Feb  8 07:21:39 2012 from http://search.certified-toolbar.com/?si=28210&q=http%3A%2F%2Fclick.infospace.com%2FClickHandler.ashx%3Fdu
Wed Feb  8 07:14:36 2012 from http://search.certified-toolbar.com/?si=28210&q=click.infospace.comClickHandler.ashx%3Fdu
Wed Feb  8 07:11:58 2012 from http://www.google.com/url?sa=t&rct=j&q=http%3A%2F%2Fwww.google.com%2Fsearch%3Fq%3Dhttp%253a%252f%252fwww.google.com%252fsearch%253fq%253dsearch%2526sourceid%253dopera%2526ie%253dutf-8%2526oe%253dutf-8%2526channel%253dsuggest%26sourceid%3Dopera%26ie%3Dutf-8%26oe%3Dutf-8%26channel%3Dsuggest&source=web&cd=1&ved=0CCsQFjAA&url=http%3A%2F%2Fcarl.cs.indiana.edu%2Ffil%2Fcgi-bin%2FWebSec%2Fmarilyn.cgi&ei=SWUyT-7MBtHtObbdqPAG&usg=AFQjCNHRtbr4ftk_4PyVzN3HuHPJV6LZow
Wed Feb  8 07:10:24 2012 from http://search.certified-toolbar.com/?si=28210&q=http%3A%2F%2Fclick.infospace.com%2FClickHandler.ashx%3Fdu
Wed Feb  8 06:58:55 2012 from http://search.certified-toolbar.com/?si=28210&q=http%3A%2F%2Fclick.infospace.com%2FClickHandler.ashx%3Fdu
Wed Feb  8 06:52:12 2012 from http://search.incredibar.com/?q=click.infospace.comClickHandler.ashx%3fdu&lang=spanish&source=368422365&cid=1&uloc=mb113
Wed Feb  8 06:06:58 2012 from http://search.certified-toolbar.com/?si=28210&q=http%3A%2F%2Fclick.infospace.com%2FClickHandler.ashx%3Fdu
Wed Feb  8 06:05:20 2012 from http://alnaddy.com/search/?q=hotsptshld+results+porn&t=web
Wed Feb  8 05:43:55 2012 from http://www.google.com/url?sa=t&rct=j&q=http%3A%2F%2Fwww.google.com%2Fsearch%3Fq%3Dhttp%253a%252f%252fwww.google.com%252fsearch%253fq%253dhttp%25253a%25252f%25252ffacebook.com%25252f%2526sourceid%253dopera%2526ie%253dutf-8%2526oe%253dutf-8%2526channel%253dsuggest%26sourceid%3Dopera%26ie%3Dutf-8%26oe%3Dutf-8%26channel%3Dsuggest&source=web&cd=1&ved=0CCIQFjAA&url=http%3A%2F%2Fcarl.cs.indiana.edu%2Ffil%2Fcgi-bin%2FWebSec%2Fmarilyn.cgi&ei=MjkyT5jALsLpOdaWjOwG&usg=AFQjCNHRtbr4ftk_4PyVzN3HuHPJV6LZow
Wed Feb  8 05:04:35 2012 from http://www.plusnetwork.com/?sp=addr&q=http%3A%2F%2Fwww.plusnetwork.com%2F%3Fsp%3Dhp
Wed Feb  8 04:29:02 2012 from http://search.incredibar.com/?q=click.infospace.comClickHandler.ashx%3fdu&lang=english&source=368422365&cid=1&uloc=mb113
Wed Feb  8 04:01:01 2012 from (empty referer)
Wed Feb  8 03:57:09 2012 from http://www.google.com/m?q=http%3a%2f%2fwww%2egoogle%2ecom%2fm%3fq%3dwww%2eyahoo%2ecom%20%26client%3dms%2dopera%2dmini%26channel%3dnew&client=ms-opera-mini&channel=new
Wed Feb  8 03:51:39 2012 from http://www.google.com/url?sa=t&rct=j&q=http%3A%2F%2Fwww.google.com%2Fsearch%3Fq%3Dhttp%253a%252f%252fwww.google.com%252fsearch%253fq%253dhttp%25253a%25252f%25252fmail.yahoo.com%25252f%2526sourceid%253dopera%2526num%253d0%2526ie%253dutf-8%2526oe%253dutf-8%2526channel%253dsuggest%26sourceid%3Dopera%26num%3D0%26ie%3Dutf-8%26oe%3Dutf-8%26channel%3Dsuggest&source=web&cd=4&ved=0CEAQFjAD&url=http%3A%2F%2Fcarl.cs.indiana.edu%2Ffil%2Fcgi-bin%2FWebSec%2Fmarilyn.cgi&ei=dzcyT-KfEcnSrQetmeiRBA&usg=AFQjCNHRtbr4ftk_4PyVzN3HuHPJV6LZow
Wed Feb  8 03:39:19 2012 from http://www.google.com/url?sa=t&rct=j&q=http%3A%2F%2Fwww.google.com%2Fsearch%3Fq%3Dhttp%253a%252f%252fwww.google.com%252fsearch%253fq%253dhttp%25253a%25252f%25252fwww.facebook.com%25252f%2526sourceid%253dopera%2526ie%253dutf-8%2526oe%253dutf-8%2526channel%253dsuggest%26sourceid%3Dopera%26ie%3Dutf-8%26oe%3Dutf-8%26channel%3Dsuggest&source=web&cd=1&ved=0CCIQFjAA&url=http%3A%2F%2Fcarl.cs.indiana.edu%2Ffil%2Fcgi-bin%2FWebSec%2Fmarilyn.cgi&ei=yIgxT7uwL8aSswb7oP2KBA&usg=AFQjCNHRtbr4ftk_4PyVzN3HuHPJV6LZow
Wed Feb  8 03:25:01 2012 from (empty referer)
Wed Feb  8 03:24:07 2012 from http://search.chatzum.com/?q=http%3A%2F%2Fclick.infospace.com%2FClickHandler.ashx%3Fdu%3Dhttp%3A%2F%2Fwww.facebook.com%2Ffacebook
Wed Feb  8 02:32:28 2012 from (empty referer)
Wed Feb  8 02:18:35 2012 from http://search.chatzum.com/?q=http%3A%2F%2Fclick.infospace.com%2FClickHandler.ashx%3Fdu%3Dhttp%3A%2F%2Fwww.facebook.com%2F
Wed Feb  8 02:07:16 2012 from http://search.chatzum.com/?q=http%3A%2F%2Fclick.infospace.com%2FClickHandler.ashx%3Fdu%3Dhttp%3A%2F%2Fwww.facebook.com%2F
Wed Feb  8 02:01:08 2012 from http://home.allgameshome.com/results.php?category=web&s=http://home.allgameshome.com/results.php?category=web&s=http://home.allgameshome.com/results.php?category=web&s=http://home.allgameshome.com/results.php?category=web&s=http://search.speedbit.com/search.aspx?site=web&prevsite=web&aff=svd_0&q=face&sa=++Sear
Wed Feb  8 01:40:16 2012 from (empty referer)
Wed Feb  8 01:10:21 2012 from http://site411.wordpress.com/2012/01/18/j-joshua-beistle/
Wed Feb  8 00:27:57 2012 from http://www.google.com/url?sa=t&rct=j&q=http%3A%2F%2Fwww.google.com%2Fsearch%3Fq%3Dhttp%253a%252f%252fwww.google.com%252fsearch%253fq%253dhttp%25253a%25252f%25252fwww.facebook.com%25252f%2526sourceid%253dopera%2526ie%253dutf-8%2526oe%253dutf-8%2526channel%253dsuggest%26sourceid%3Dopera%26ie%3Dutf-8%26oe%3Dutf-8%26channel%3Dsuggest&source=web&cd=4&ved=0CDQQFjAD&url=http%3A%2F%2Fcarl.cs.indiana.edu%2Ffil%2Fcgi-bin%2FWebSec%2Fmarilyn.cgi&ei=CQAyT8iUOcvp8QOLyPSNBw&usg=AFQjCNHRtbr4ftk_4PyVzN3HuHPJV6LZow&kb=1
Wed Feb  8 00:05:38 2012 from http://assist.babylon.com/babylonassista/dnsassist/main?domain=mystart%20incredibar%20mb113%20
Tue Feb  7 22:56:27 2012 from http://www.google.com/url?sa=t&rct=j&q=http%3A%2F%2Fwww.google.com%2Fsearch%3Fq%3Dhttp%253A%252F%252Fwww.google.com%252Fsearch%253Fq%253Dhttp%25253A%25252F%25252Fwww.google.com%25252Fsearch%25253Fq%25253Dhttp%2525253A%2525252F%2525252Fwww.google.com%2525252F%252526sourceid%25253Dopera%252526ie%25253Dutf-8%252526oe%25253Dutf-8%252526channel%25253Dsuggest%2526sourceid%253Dopera%2526ie%253Dutf-8%2526oe%253Dutf-8%2526channel%253Dsuggest%26sourceid%3Dopera%26ie%3Dutf-8%26oe%3Dutf-8%26channel%3Dsuggest&source=web&cd=1&ved=0CCAQFjAA&url=http%3A%2F%2Fcarl.cs.indiana.edu%2Ffil%2Fcgi-bin%2FWebSec%2Fmarilyn.cgi&ei=YPIxT-3qBsjU4QSD3o37BA&usg=AFQjCNHRtbr4ftk_4PyVzN3HuHPJV6LZow
Tue Feb  7 22:54:37 2012 from http://www.google.co.in/url?sa=t&rct=j&q=click+infospace+ClickHandler&source=web&cd=8&ved=0CFkQFjAH&url=http%3A%2F%2Fcarl.cs.indiana.edu%2Ffil%2Fcgi-bin%2FWebSec%2Fmarilyn.cgi&ei=yPExT5iLJ8fprQfd_Y2QBA&usg=AFQjCNHRtbr4ftk_4PyVzN3HuHPJV6LZow
Tue Feb  7 22:22:51 2012 from (empty referer)
Tue Feb  7 22:22:29 2012 from http://www.google.com/m?client=ms-nokia&cof=nsp&channel=s60&q=www.tubidy.com%2Fm%3Fclient%3Dms-nokia%26cof%3Dnsp%26channel%3Ds
Tue Feb  7 22:17:20 2012 from http://www.google.com/m?q=http%3a%2f%2fwww%2egoogle%2ecom%2fm%2fsearch%3fclient%3dms%2dopera%2dmini%26q%3dhttp%3a%2f%2fwww%2egoogle%2ecom%2fm%2fsearch%3fclient%3dms%2dopera%2dmini%26channel%3dnew%26sa%3d%32%26q%3dhttp%3a%2f%2fwww%2egoogle%2ecom%2fm%2fsearch%3fclient%3dms%2dopera%2dmini%26q%3dhttp%3a%2f%2fwww%2eopera%2ecom%2fportal%2fmini%2frecommend%2f%3fresponse%3derror%26errorcode%3d%32%26link%3d%26channel%3dnew%26site%3dimages%26tab%3dwi%26ei%3dw%2dcxT%2dDIB%38mVjAK%33xQE%26sa%3dN%26ei%3dw%2dcxT%2dDIB%38mVjAK%33xQE%26ved%3d%30CAQQ%31wY%26site%3dimages%26channel%3dnew%26tbs%3dimg%3a%31&client=ms-opera-mini&channel=new
Tue Feb  7 21:59:19 2012 from http://www.google.com/url?sa=t&rct=j&q=http%3A%2F%2Fwww.google.com%2Fsearch%3Fq%3Dhttp%253A%252F%252Fwww.google.com%252Fsearch%253Fq%253Dhttp%25253A%25252F%25252Fwww.google.com%25252Fsearch%25253Fq%25253Dhttp%2525253A%2525252F%2525252Fwww.google.com%2525252F%252526sourceid%25253Dopera%252526ie%25253Dutf-8%252526oe%25253Dutf-8%252526channel%25253Dsuggest%2526sourceid%253Dopera%2526ie%253Dutf-8%2526oe%253Dutf-8%2526channel%253Dsuggest%26sourceid%3Dopera%26ie%3Dutf-8%26oe%3Dutf-8%26channel%3Dsuggest&source=web&cd=1&ved=0CCsQFjAA&url=http%3A%2F%2Fcarl.cs.indiana.edu%2Ffil%2Fcgi-bin%2FWebSec%2Fmarilyn.cgi&ei=NuAxT7vLC8PWiALk3aSZCg&usg=AFQjCNHRtbr4ftk_4PyVzN3HuHPJV6LZow
Tue Feb  7 21:57:21 2012 from http://www.google.com/url?sa=t&rct=j&q=http%3A%2F%2Fwww.google.com%2Fsearch%3Fq%3Dhttp%253A%252F%252Fwww.google.com%252Fsearch%253Fq%253Dhttp%25253A%25252F%25252Fwww.google.com%25252Fsearch%25253Fq%25253Dhttp%2525253A%2525252F%2525252Fwww.google.com%2525252F%252526sourceid%25253Dopera%252526ie%25253Dutf-8%252526oe%25253Dutf-8%252526channel%25253Dsuggest%2526sourceid%253Dopera%2526ie%253Dutf-8%2526oe%253Dutf-8%2526channel%253Dsuggest%26sourceid%3Dopera%26ie%3Dutf-8%26oe%3Dutf-8%26channel%3Dsuggest&source=web&cd=1&ved=0CCsQFjAA&url=http%3A%2F%2Fcarl.cs.indiana.edu%2Ffil%2Fcgi-bin%2FWebSec%2Fmarilyn.cgi&ei=NuAxT7vLC8PWiALk3aSZCg&usg=AFQjCNHRtbr4ftk_4PyVzN3HuHPJV6LZow
Tue Feb  7 18:52:30 2012 from http://www.google.com/url?sa=t&rct=j&q=http%3A%2F%2Fwww.google.com%2Fsearch%3Fq%3Dhttp%253a%252f%252fwww.google.com%252fsearch%253fq%253dhttp%25253a%25252f%25252fwww.google.com%25252fsearch%25253fq%25253dhttp%2525253a%2525252f%2525252fwww.google.com.tr%2525252f%252526sourceid%25253dopera%252526ie%25253dutf-8%252526oe%25253dutf-8%252526channel%25253dsuggest%2526sourceid%253dopera%2526ie%253dutf-8%2526oe%253dutf-8%2526channel%253dsuggest%26sourceid%3Dopera%26ie%3Dutf-8%26oe%3Dutf-8%26channel%3Dsuggest&source=web&cd=1&ved=0CCMQFjAA&url=http%3A%2F%2Fcarl.cs.indiana.edu%2Ffil%2Fcgi-bin%2FWebSec%2Fmarilyn.cgi&ei=LacxT5O0Esu98gPDxcGPBw&usg=AFQjCNHRtbr4ftk_4PyVzN3HuHPJV6LZow
Tue Feb  7 18:27:03 2012 from http://www.google.com/url?sa=t&rct=j&q=http%3A%2F%2Fwww.google.com%2Fsearch%3Fq%3Dhttp%253a%252f%252fwww.google.com%252fsearch%253fq%253dhttp%25253a%25252f%25252fwww.google.com%25252fsearch%25253fq%25253dgoogle%252526sourceid%25253dopera%252526ie%25253dutf-8%252526oe%25253dutf-8%252526channel%25253dsuggest%2526sourceid%253dopera%2526ie%253dutf-8%2526oe%253dutf-8%2526channel%253dsuggest%26sourceid%3Dopera%26ie%3Dutf-8%26oe%3Dutf-8%26channel%3Dsuggest&source=web&cd=1&ved=0CCMQFjAA&url=http%3A%2F%2Fcarl.cs.indiana.edu%2Ffil%2Fcgi-bin%2FWebSec%2Fmarilyn.cgi&ei=KrMxT5yzCcrqgge68_iPBQ&usg=AFQjCNHRtbr4ftk_4PyVzN3HuHPJV6LZow
Tue Feb  7 18:26:39 2012 from http://www.google.com/search?client=opera&rls=en&q=http%3A%2F%2Fwww.google.com%2Fsearch%3Fq%3Dhttp%253A%252F%252Fwww.google.com%252Fsearch%253Fq%253Dhttp%25253A%25252F%25252Fwww.yahoomail.com%25252F%2526sourceid%253Dopera%2526ie%253Dutf-8%2526oe%253Dutf-8%2526channel%253Dsuggest%26sourceid%3Dopera%26ie%3Dutf-8%26oe%3Dutf-8%26channel%3Dsuggest&sourceid=opera&ie=utf-8&oe=utf-8&channel=suggest
Tue Feb  7 18:00:52 2012 from (empty referer)
Tue Feb  7 17:15:43 2012 from http://www.google.com/m?client=ms-nokia&cof=nsp&channel=s60&q=www.google.com%2fm%3fclient%3dms-%20nokia%26cof%3dnsp%26channel%3ds6
Tue Feb  7 16:40:22 2012 from http://carl.cs.indiana.edu/fil/cgi-bin/WebSec/marilyn.cgi
Tue Feb  7 16:30:18 2012 from http://www.bing.com/search?sp=chv&q=click.infospace.comClickHandler.ashx%3Fdu
Tue Feb  7 16:17:23 2012 from (empty referer)
Tue Feb  7 15:46:22 2012 from http://search.incredibar.com/?q=click.infospace.comClickHandler.ashx%3fdu&lang=arabic&source=368422365&cid=1&uloc=mb113
Tue Feb  7 15:37:43 2012 from http://www.google.ae/url?sa=t&rct=j&q=click%20infospace%20clickhandler&source=web&cd=8&ved=0CFgQFjAH&url=http%3A%2F%2Fcarl.cs.indiana.edu%2Ffil%2Fcgi-bin%2FWebSec%2Fmarilyn.cgi&ei=iIsxT825MYjs8QP2pOSRBw&usg=AFQjCNHRtbr4ftk_4PyVzN3HuHPJV6LZow
Tue Feb  7 15:28:29 2012 from http://search.incredibar.com/?q=click.infospace.comClickHandler.ashx%3fdu&lang=italian&source=368422365&cid=1&uloc=mb113
Tue Feb  7 15:27:50 2012 from http://search.incredibar.com/?q=click.infospace.comClickHandler.ashx%3fdu&lang=english&source=368422365&cid=1&uloc=mb113
Tue Feb  7 15:27:22 2012 from (empty referer)
Tue Feb  7 15:11:14 2012 from http://www.google.com/url?sa=t&rct=j&q=http%3A%2F%2Fwww.google.com%2Fsearch%3Fq%3Dhttp%253a%252f%252fwww.google.com%252fsearch%253fq%253dhttp%25253a%25252f%25252fwww.google.com%25252fsearch%25253fq%25253dhttp%2525253a%2525252f%2525252fwww.google.com%2525252f%252526sourceid%25253dopera%252526ie%25253dutf-8%252526oe%25253dutf-8%252526channel%25253dsuggest%2526sourceid%253dopera%2526ie%253dutf-8%2526oe%253dutf-8%2526channel%253dsuggest%26sourceid%3Dopera%26ie%3Dutf-8%26oe%3Dutf-8%26channel%3Dsuggest&source=web&cd=1&ved=0CCIQFjAA&url=http%3A%2F%2Fcarl.cs.indiana.edu%2Ffil%2Fcgi-bin%2FWebSec%2Fmarilyn.cgi&ei=WIUxT87IGeXc4QTH-tGeBQ&usg=AFQjCNHRtbr4ftk_4PyVzN3HuHPJV6LZow
Tue Feb  7 14:17:39 2012 from http://sharedmoviez.com/review/2etubidy-2ecom
Tue Feb  7 14:07:29 2012 from http://www.google.com.ng/url?sa=t&rct=j&q=mamma%20emp%205%20result&source=web&cd=5&ved=0CEEQFjAE&url=http%3A%2F%2Fcarl.cs.indiana.edu%2Ffil%2Fcgi-bin%2FWebSec%2Fmarilyn.cgi&ei=SHYxT_6_GcKohAf50KDjBA&usg=AFQjCNHRtbr4ftk_4PyVzN3HuHPJV6LZow
Tue Feb  7 14:00:22 2012 from http://www.google.com/search?client=opera&rls=en&q=http%3A%2F%2Fwww.google.com%2Fsearch%3Fq%3Dhttp%253A%252F%252Fwww.google.com%252Fsearch%253Fq%253Dhttp%25253A%25252F%25252Fwww.facebook.com%25252F%2526sourceid%253Dopera%2526ie%253Dutf-8%2526oe%253Dutf-8%2526channel%253Dsuggest%26sourceid%3Dopera%26ie%3Dutf-8%26oe%3Dutf-8%26channel%3Dsuggest&sourceid=opera&ie=utf-8&oe=utf-8&channel=suggest
Tue Feb  7 13:46:44 2012 from http://www.google.com/m?q=www.google.com%2Fm%3Fclient%3Dms-opera-mini%26q%3Dwww.%26channel%3Dnew%26start%3D10%26sa%3DN&client=ms-opera-mini&channel=new
Tue Feb  7 13:19:30 2012 from http://search.incredimail.com/?q=fr+youporn+.com&lang=french&source=012052021235&u=963987044624121914&a=19d4ovrfj6y&cid=1
Tue Feb  7 13:13:19 2012 from http://start.allgameshome.com/results.php?category=web&s=http%3A%2F%2Fstart.allgameshome.com%2Fresults.php%3Fcategory%3Dweb
Tue Feb  7 13:01:04 2012 from http://rss2search.com/novus/?from=interstitial&afcid=1249
Tue Feb  7 12:57:32 2012 from http://rss2search.com/novus/?from=interstitial&afcid=1249
Tue Feb  7 12:56:50 2012 from http://www.bing.com/search?q=hotsptshld+results&pc=conduit&ptag=A48AD53B66B344737A6F&conlogo=CT2883808&ShowAppsUI=1&first=71&FORM=PERE6
Tue Feb  7 12:56:49 2012 from http://www.bing.com/search?q=hotsptshld+results&pc=conduit&ptag=A48AD53B66B344737A6F&conlogo=CT2883808&ShowAppsUI=1&first=71&FORM=PERE6
Tue Feb  7 12:49:55 2012 from http://www.google.com/m?client=ms-nokia&cof=nsp&channel=s60&q=www.google.com%2fm%2fsearch%3fclient%3dms-nokia%26cof%3dnsp%26q%3d
Tue Feb  7 12:46:06 2012 from http://www.google.com/search?client=opera&rls=en&q=http%3A%2F%2Fwww.google.com%2Fsearch%3Fq%3Dhttp%253A%252F%252Fwww.google.com%252Fsearch%253Fq%253Dhttp%25253A%25252F%25252Fwww.google.com%25252Fsearch%25253Fq%25253Dhttp%2525253A%2525252F%2525252Fwww.youtube.com%2525252F%252526sourceid%25253Dopera%252526ie%25253Dutf-8%252526oe%25253Dutf-8%252526channel%25253Dsuggest%2526sourceid%253Dopera%2526ie%253Dutf-8%2526oe%253Dutf-8%2526channel%253Dsuggest%26sourceid%3Dopera%26ie%3Dutf-8%26oe%3Dutf-8%26channel%3Dsuggest&sourceid=opera&ie=utf-8&oe=utf-8&channel=suggest
Tue Feb  7 12:27:42 2012 from http://www.google.com/search?client=opera&rls=en&q=http%3A%2F%2Fcarl.cs.indiana.edu%2Ffil%2Fcgi-bin%2FWebSec%2Fmarilyn.cgi%3Ftest%3D1&sourceid=opera&ie=utf-8&oe=utf-8&channel=suggest
Tue Feb  7 12:22:13 2012 from http://search.chatzum.com/?q=http%3A%2F%2Fclick.infospace.com%2FClickHandler.ashx%3Fdu%3Dhttp%3A%2F%2Fwww.facebook.com%2F
Tue Feb  7 12:16:04 2012 from http://www.google.com/m?q=http%3a%2f%2fwww%2egoogle%2ecom%2fm%3fq%3dwww%2e%26client%3dms%2dopera%2dmini%26channel%3dnew&client=ms-opera-mini&channel=new
Tue Feb  7 11:59:53 2012 from (empty referer)
Tue Feb  7 11:11:51 2012 from (empty referer)
Tue Feb  7 11:11:26 2012 from http://www.google.com/search?hl=en&sky=ee&q=htt%3A%2F%2Ftubidy.mobi%2Fsearch.php%3Fa%3D18%26q%3Dsex+free
Tue Feb  7 10:52:10 2012 from (empty referer)
Tue Feb  7 10:38:53 2012 from http://search.chatzum.com/?q=http%3A%2F%2Fclick.infospace.com%2FClickHandler.ashx%3Fdu%3Dhttp%3A%2F%2Fwww.facebook.com%2F
Tue Feb  7 09:59:21 2012 from http://start.allgameshome.com/results.php?s=aghstart&category=web&start=13
Tue Feb  7 09:52:51 2012 from http://search.incredibar.com/?q=click.infospace.comClickHandler.ashx%3fdu&lang=greek&source=368422365&cid=1&uloc=mb113
Tue Feb  7 09:47:45 2012 from http://www.google.com/xhtml?q=Http%2f%2fwww%2egoogle%2ecom%2fgwt%2fx%3fclient%3d&client=ms-opera_mb_no&channel=bh
Tue Feb  7 09:38:09 2012 from http://www.google.com/url?sa=t&rct=j&q=http%3A%2F%2Fwww.google.com%2Fsearch%3Fq%3Dhttp%253A%252F%252Fwww.google.com%252Fsearch%253Fq%253Dhttp%25253A%25252F%25252Fwww.google.com%25252Fsearch%25253Fq%25253Dhttp%2525253A%2525252F%2525252Fwww.facebook..com%2525252F%252526sourceid%25253Dopera%252526ie%25253Dutf-8%252526oe%25253Dutf-8%252526channel%25253Dsuggest%2526sourceid%253Dopera%2526ie%253Dutf-8%2526oe%253Dutf-8%2526channel%253Dsuggest%26sourceid%3Dopera%26ie%3Dutf-8%26oe%3Dutf-8%26channel%3Dsuggest&source=web&cd=1&ved=0CCIQFjAA&url=http%3A%2F%2Fcarl.cs.indiana.edu%2Ffil%2Fcgi-bin%2FWebSec%2Fmarilyn.cgi&ei=UDYxT9inGYW80QXRwJ2rBw&usg=AFQjCNHRtbr4ftk_4PyVzN3HuHPJV6LZow
Tue Feb  7 09:17:51 2012 from (empty referer)
Tue Feb  7 08:48:20 2012 from http://search.incredibar.com/?q=click.infospace.comClickHandler.ashx%3fdu&lang=arabic&source=368422365&cid=1&uloc=mb113
Tue Feb  7 08:43:19 2012 from http://home.allgameshome.com/results.php?category=web&s=http://click.infospace.com/ClickHandler.ashx?du=http%3a%2f%2ffancystreems.com%2f&ru=http%3a%2f%2ffancystreems.com%2f&ld=20120207&ap=1&app=1&c=imesh.meta.4&s=imeshmeta4&coi=239137&cop=main-title&ep=1&euip=119.159.7.171&npp=1&p=0&pp=0&pvaid=b34aebc1f8aa461794ef6097231763dd&hash=B5FAB0378266B9E97593F9BB656D938
Tue Feb  7 08:33:12 2012 from http://www.google.com/url?sa=t&rct=j&q=http%3A%2F%2Fwww.google.com%2Fsearch%3Fq%3Dhttp%253a%252f%252fwww.google.com%252fsearch%253fq%253dhttp%25253a%25252f%25252fwww.google.ro%25252f%2526sourceid%253dopera%2526num%253d0%2526ie%253dutf-8%2526oe%253dutf-8%2526channel%253dsuggest%26sourceid%3Dopera%26num%3D0%26ie%3Dutf-8%26oe%3Dutf-8%26channel%3Dsuggest&source=web&cd=1&ved=0CCEQFjAA&url=http%3A%2F%2Fcarl.cs.indiana.edu%2Ffil%2Fcgi-bin%2FWebSec%2Fmarilyn.cgi&ei=EigxT__OMcvRsgbs44SUBA&usg=AFQjCNHRtbr4ftk_4PyVzN3HuHPJV6LZow
Tue Feb  7 08:18:40 2012 from (empty referer)
Tue Feb  7 06:26:13 2012 from http://search.incredibar.com/?q=click.infospace.comClickHandler.ashx%3fdu&lang=portuguesebr&source=368422365&cid=1&uloc=mb113
Tue Feb  7 06:23:44 2012 from (empty referer)
Tue Feb  7 06:16:20 2012 from http://www.google.com/url?sa=t&rct=j&q=http%3A%2F%2Fwww.google.com%2Fsearch%3Fq%3Dhttp%253A%252F%252Fwww.google.com%252Fsearch%253Fq%253Dhttp%25253A%25252F%25252Fwww.google.com%25252Fsearch%25253Fq%25253Dhttp%2525253A%2525252F%2525252Fwww.facebook.com%2525252F%252526sourceid%25253Dopera%252526ie%25253Dutf-8%252526oe%25253Dutf-8%252526channel%25253Dsuggest%2526sourceid%253Dopera%2526ie%253Dutf-8%2526oe%253Dutf-8%2526channel%253Dsuggest%26sourceid%3Dopera%26ie%3Dutf-8%26oe%3Dutf-8%26channel%3Dsuggest&source=web&cd=1&ved=0CCMQFjAA&url=http%3A%2F%2Fcarl.cs.indiana.edu%2Ffil%2Fcgi-bin%2FWebSec%2Fmarilyn.cgi&ei=1wcxT__-B4acOszyifkG&usg=AFQjCNHRtbr4ftk_4PyVzN3HuHPJV6LZow
Tue Feb  7 06:15:41 2012 from http://www.google.com/gwt/x?client=ms-sonyericsson&q=http://www.google.com/gwt/x?site%3Dimages&channel=sk&hl=ru&ei=kwYxT8iCIcfTjgeDtwE&ved=0CBIQFjAGOAI&start=2&source=m&rd=1&u=http://carl.cs.indiana.edu/fil/cgi-bin/WebSec/marilyn.cgi
Tue Feb  7 06:11:33 2012 from http://www.google.com/gwt/x?client=ms-sonyericsson&q=http://www.google.com/gwt/x?site%3Dimages&channel=sk&hl=ru&ei=kwYxT8iCIcfTjgeDtwE&ved=0CBIQFjAGOAI&start=2&source=m&rd=1&u=http://carl.cs.indiana.edu/fil/cgi-bin/WebSec/marilyn.cgi
Tue Feb  7 06:10:43 2012 from (empty referer)
Tue Feb  7 05:13:33 2012 from http://www.google.com/m?client=ms-nokia&cof=nsp&channel=s60&q=www.google.com%2fm%3fclient%3dms-nokia%26cof%3dnsp%26channel%3ds
Tue Feb  7 04:46:19 2012 from http://www.ybuzzers.com/search/images?search=http%3A%2F%2Fassist.babylon.com%2Fbabylonassista%2Fdnsassist%2Fmain%3F&type=Images&fl=0
Tue Feb  7 03:42:24 2012 from http://search.chatzum.com/?q=http%3A%2F%2Fclick.infospace.com%2FClickHandler.ashx%3Fdu%3Dhttp%3A%2F%2Fwww.facebook.com%2F
Tue Feb  7 03:40:38 2012 from (empty referer)
Tue Feb  7 03:12:11 2012 from (empty referer)
Tue Feb  7 03:02:34 2012 from http://www.google.com/m?client=ms-nokia&cof=nsp&channel=s60&q=www.google.copm%2fm%3fclient%3dms-nokia%26cof%3dnsp%26channel%3ds6
Tue Feb  7 02:31:04 2012 from http://www.qword.com/search.php?s=404&q=youtube results search_query hot sex videos oq hot sex videos aq f aqi  aql  gs_sm s gs_upl 7047l13250l0l15281l14l14l0l6l0l0l375l1656l2-1.4l5l0
Tue Feb  7 00:36:03 2012 from (empty referer)
Mon Feb  6 22:28:11 2012 from http://www.google.com/m?q=http%3a%2f%2fwww%2egoogle%2ecom%2fm%3fq%3dhttp%3a%2f%2fwww%2egoogle%2f%26client%3dms%2dopera%2dmini%26channel%3dnew&client=ms-opera-mini&channel=new
Mon Feb  6 22:12:30 2012 from http://www.google.pl/search?hl=tr&client=ms-android-sonyericsson&channel=bm&sky=mrdr&site=webhp&q=bit+sex+film&oq=bit+sex+film&aq=f&aqi=&aql=1&gs_sm=s&gs_upl=15060l43139l0l46172l14l14l2l6l6l0l1494l4008l2-1.1.2.0.1.1l6l0&mvs=0
Mon Feb  6 22:07:52 2012 from http://home.allgameshome.com/results.php?category=web&s=search.chatzum
Mon Feb  6 21:32:04 2012 from (empty referer)
Mon Feb  6 19:27:58 2012 from http://search.yahoo.com/search?fr=yhs-avg-chrome&type=yahoo_avg_hs2-tb-web_chrome_us&p=http%3A%2F%2Feu.ask.com%2F%3Fo%3D41647960%26l%3Ddisjyutube
Mon Feb  6 18:30:24 2012 from (empty referer)
Mon Feb  6 18:30:19 2012 from http://www.google.com/m?client=ms-nokia&cof=nsp&channel=s60&q=www.google.com%2fm%3fclient%3dms-nokia%26cof%3dnsp%26channel%3ds60
Mon Feb  6 18:27:06 2012 from (empty referer)
Mon Feb  6 17:06:14 2012 from (empty referer)
Mon Feb  6 15:22:49 2012 from (empty referer)
Mon Feb  6 13:43:26 2012 from http://carl.cs.indiana.edu/fil/cgi-bin/WebSec/marilyn.cgi
Mon Feb  6 13:41:45 2012 from http://www.google.com/url?sa=t&rct=j&q=http%3A%2F%2Fwww.google.com%2Fsearch%3Fq%3Dhttp%253a%252f%252fwww.google.com%252fsearch%253fq%253dhttp%25253a%25252f%25252fwww.google.com%25252fsearch%25253fq%25253dhttp%2525253a%2525252f%2525252fwww.facebook.com%2525252f%252526sourceid%25253dopera%252526ie%25253dutf-8%252526oe%25253dutf-8%252526channel%25253dsuggest%2526sourceid%253dopera%2526ie%253dutf-8%2526oe%253dutf-8%2526channel%253dsuggest%26sourceid%3Dopera%26ie%3Dutf-8%26oe%3Dutf-8%26channel%3Dsuggest&source=web&cd=1&ved=0CCsQFjAA&url=http%3A%2F%2Fcarl.cs.indiana.edu%2Ffil%2Fcgi-bin%2FWebSec%2Fmarilyn.cgi&ei=3VIlT_jXHeGLiALv8KT0Bw&usg=AFQjCNHRtbr4ftk_4PyVzN3HuHPJV6LZow
Mon Feb  6 13:39:29 2012 from http://search.incredibar.com/?q=carl.cs.indiana.edufilcgi-binWebSecmarilyn.cgi%3ftest&lang=arabic&source=368422365&cid=1&uloc=mb113
Mon Feb  6 12:17:52 2012 from (empty referer)
Mon Feb  6 11:18:38 2012 from http://comprarvimaxnobrasil.com
Mon Feb  6 11:13:44 2012 from http://carl.cs.indiana.edu/fil/cgi-bin/WebSec/marilyn.cgi
Mon Feb  6 11:01:43 2012 from http://www.google.com/url?sa=t&rct=j&q=http%3A%2F%2Fwww.google.com%2Fsearch%3Fq%3Dhttp%253a%252f%252fwww.google.com%252fsearch%253fq%253dwww.google.com%2526sourceid%253dopera%2526ie%253dutf-8%2526oe%253dutf-8%2526channel%253dsuggest%26sourceid%3Dopera%26ie%3Dutf-8%26oe%3Dutf-8%26channel%3Dsuggest&source=web&cd=1&ved=0CCsQFjAA&url=http%3A%2F%2Fcarl.cs.indiana.edu%2Ffil%2Fcgi-bin%2FWebSec%2Fmarilyn.cgi&ei=bcYvT92xPI7JrAeaspjBDA&usg=AFQjCNHRtbr4ftk_4PyVzN3HuHPJV6LZow
Mon Feb  6 10:47:41 2012 from (empty referer)
Mon Feb  6 10:36:57 2012 from http://home.allgameshome.com/results.php?category=web&s=http://click.infospace.com/ClickHandler.ashx?du=http%3a%2f%2fwww.youporn.com%2fsearch%3fquery%3dhairy%26type%3dstraight&ru=http%3a%2f%2fwww.youporn.com%2fsearch%3fquery%3dhairy%26type%3dstraight&ld=20120206&ap=1&app=1&c=imesh.meta.4&s=imeshmeta4&coi=239137&cop=main-title&ep=5&euip=114.79.17.20&npp=1&p=0&pp=0&pvaid=d6b1bb8b197547fa805c64c01ff49c86&hash=52FEAF8D4EAEEAF7379AB88AB972D83
Mon Feb  6 10:14:39 2012 from (empty referer)
Mon Feb  6 09:38:57 2012 from http://www.google.com/search?client=opera&rls=pl&q=http%3A%2F%2Fwww.google.com%2Fsearch%3Fq%3Dhttp%253A%252F%252Fwww.google.com%252Fsearch%253Fq%253Dhttp%25253A%25252F%25252Fwww.xnxx.com%25252F%2526sourceid%253Dopera%2526ie%253Dutf-8%2526oe%253Dutf-8%2526channel%253Dsuggest%26sourceid%3Dopera%26ie%3Dutf-8%26oe%3Dutf-8%26channel%3Dsuggest&sourceid=opera&ie=utf-8&oe=utf-8&channel=suggest
Mon Feb  6 09:14:43 2012 from http://www.google.com/url?sa=t&rct=j&q=http%3A%2F%2Fwww.google.com%2Fsearch%3Fq%3Dhttp%253a%252f%252fwww.google.com%252fsearch%253fq%253dhttp%25253a%25252f%25252fwww.youtube.com%25252f%2526sourceid%253dopera%2526ie%253dutf-8%2526oe%253dutf-8%2526channel%253dsuggest%26sourceid%3Dopera%26ie%3Dutf-8%26oe%3Dutf-8%26channel%3Dsuggest&source=web&cd=1&ved=0CCIQFjAA&url=http%3A%2F%2Fcarl.cs.indiana.edu%2Ffil%2Fcgi-bin%2FWebSec%2Fmarilyn.cgi&ei=TOAvT8bRDMbrrQed0eHmDA&usg=AFQjCNHRtbr4ftk_4PyVzN3HuHPJV6LZow
Mon Feb  6 08:52:27 2012 from http://assist.babylon.com/babylonassista/dnsassist/main?domain=540%20xg4ken%20media%20redir%20
Mon Feb  6 08:49:58 2012 from http://isearch.babylon.com/?q=click.infospace.comClickHandler.ashx%3Fdu%3Dwww.youtube.com&s=web&as=0&babsrc=tcp
Mon Feb  6 08:45:45 2012 from (empty referer)
Mon Feb  6 08:29:58 2012 from http://www.google.com/m?client=ms-nokia&cof=nsp&channel=s60&q=www.google.com%2fm%3fclient%3dms-nokia%26cof%3dnsp%26channel%3ds60
Mon Feb  6 08:17:47 2012 from http://search.seznam.cz/?sourceid=Opera_1&q=http%3A%2F%2Fcarl.cs.indiana.edu%2Ffil%2Fcgi-bin%2FWebSec%2Fmarilyn.cgi%3Ftest
Mon Feb  6 08:17:04 2012 from http://search.seznam.cz/?sourceid=Opera_1&q=http%3A%2F%2Fcarl.cs.indiana.edu%2Ffil%2Fcgi-bin%2FWebSec%2Fmarilyn.cgi%3Ftest
Mon Feb  6 07:25:36 2012 from http://carl.cs.indiana.edu/fil/cgi-bin/WebSec/marilyn.cgi
Mon Feb  6 07:04:03 2012 from http://www.google.com/url?sa=t&rct=j&q=http%3A%2F%2Fwww.google.com%2Fsearch%3Fq%3Dhttp%253a%252f%252fwww.google.com%252fsearch%253fq%253dhttp%25253a%25252f%25252fwww.google.pl%25252f%2526sourceid%253dopera%2526ie%253dutf-8%2526oe%253dutf-8%2526channel%253dsuggest%26sourceid%3Dopera%26ie%3Dutf-8%26oe%3Dutf-8%26channel%3Dsuggest&source=web&cd=1&ved=0CCMQFjAA&url=http%3A%2F%2Fcarl.cs.indiana.edu%2Ffil%2Fcgi-bin%2FWebSec%2Fmarilyn.cgi&ei=msEvT6m2OZHNswbY7ZiSDQ&usg=AFQjCNHRtbr4ftk_4PyVzN3HuHPJV6LZow
Mon Feb  6 06:26:02 2012 from (empty referer)
Mon Feb  6 06:17:34 2012 from http://dealbd.mystart.com/search.php?type=dealbd1_3mshp_04&q=cs.infospace.comClickHandler.ashx%3Fru
Mon Feb  6 04:19:04 2012 from (empty referer)
Mon Feb  6 04:16:33 2012 from (empty referer)
Mon Feb  6 04:03:51 2012 from (empty referer)
Mon Feb  6 03:59:52 2012 from (empty referer)
Mon Feb  6 03:54:18 2012 from http://www.google.com/m?client=ms-nokia&cof=nsp&channel=s60&q=Tubidy.mobi%2fsearch.php%3f%3a188p%25d8
Mon Feb  6 03:46:31 2012 from http://www.google.com/url?sa=t&rct=j&q=http%3A%2F%2Fwww.google.com%2Fsearch%3Fq%3Dhttp%253A%252F%252Fwww.google.com%252Fsearch%253Fq%253Dgoogle%2526sourceid%253Dopera%2526num%253D0%2526ie%253Dutf-8%2526oe%253Dutf-8%2526channel%253Dsuggest%26sourceid%3Dopera%26num%3D0%26ie%3Dutf-8%26oe%3Dutf-8%26channel%3Dsuggest&source=web&cd=4&ved=0CDMQFjAD&url=http%3A%2F%2Fcarl.cs.indiana.edu%2Ffil%2Fcgi-bin%2FWebSec%2Fmarilyn.cgi&ei=0dwTT5nhBcqGhQeD2M2EAg&usg=AFQjCNHRtbr4ftk_4PyVzN3HuHPJV6LZow
Mon Feb  6 03:00:04 2012 from http://www.google.com/m?client=ms-nokia&cof=nsp&channel=s60&q=www.google.comm%2fimgres%3fsite%3dimages%26client%3dms-nokia
Mon Feb  6 02:13:46 2012 from (empty referer)
Mon Feb  6 00:16:19 2012 from http://www.google.com/url?sa=t&rct=j&q=http%3A%2F%2Fwww.google.com%2Fsearch%3Fq%3Dhttp%253a%252f%252fwww.google.com%252fsearch%253fq%253dhttp%25253a%25252f%25252fwww.sex.com%25252f%2526sourceid%253dopera%2526ie%253dutf-8%2526oe%253dutf-8%2526channel%253dsuggest%26sourceid%3Dopera%26ie%3Dutf-8%26oe%3Dutf-8%26channel%3Dsuggest&source=web&cd=1&ved=0CCsQFjAA&url=http%3A%2F%2Fcarl.cs.indiana.edu%2Ffil%2Fcgi-bin%2FWebSec%2Fmarilyn.cgi&ei=GWIvT8z9ComJrAeTycXBDA&usg=AFQjCNHRtbr4ftk_4PyVzN3HuHPJV6LZow
Sun Feb  5 22:01:17 2012 from (empty referer)
Sun Feb  5 22:01:16 2012 from (empty referer)
Sun Feb  5 22:01:14 2012 from http://carl.cs.indiana.edu/fil/cgi-bin/WebSec/marilyn.cgi
Sun Feb  5 20:10:20 2012 from http://www.google.com/url?sa=t&rct=j&q=http%3A%2F%2Fwww.google.com%2Fsearch%3Fq%3Dhttp%253A%252F%252Fwww.google.com%252Fsearch%253Fq%253Dhttp%25253A%25252F%25252Fwww.google.nl%25252F%2526sourceid%253Dopera%2526ie%253Dutf-8%2526oe%253Dutf-8%2526channel%253Dsuggest%26sourceid%3Dopera%26ie%3Dutf-8%26oe%3Dutf-8%26channel%3Dsuggest&source=web&cd=1&sqi=2&ved=0CCwQFjAA&url=http%3A%2F%2Fcarl.cs.indiana.edu%2Ffil%2Fcgi-bin%2FWebSec%2Fmarilyn.cgi&ei=TigvT9K6C4Tb8gP4uKz-Dg&usg=AFQjCNHRtbr4ftk_4PyVzN3HuHPJV6LZow
Sun Feb  5 20:05:15 2012 from http://www.google.com/search?client=opera&rls=en&q=http%3A%2F%2Fwww.google.com%2Fsearch%3Fq%3Dhttp%253A%252F%252Fwww.google.com%252Fsearch%253Fq%253Dwww.google.com%2526sourceid%253Dopera%2526ie%253Dutf-8%2526oe%253Dutf-8%2526channel%253Dsuggest%26sourceid%3Dopera%26ie%3Dutf-8%26oe%3Dutf-8%26channel%3Dsuggest&sourceid=opera&ie=utf-8&oe=utf-8&channel=suggest
Sun Feb  5 18:03:10 2012 from (empty referer)
Sun Feb  5 17:34:00 2012 from (empty referer)
Sun Feb  5 15:16:52 2012 from http://www.google.com/m?client=ms-nokia&cof=nsp&channel=s60&q=carl.cs.indiana.edu%2ffil%2f.cgi-bin%2fWebSec%2fmarilyn.cgi%3ftes
Sun Feb  5 15:08:28 2012 from (empty referer)
Sun Feb  5 13:34:16 2012 from http://www.google.com/url?sa=t&rct=j&q=http%3A%2F%2Fwww.google.com%2Fsearch%3Fq%3Dhttp%253A%252F%252Fwww.google.com%252Fsearch%253Fq%253Dhttp%25253A%25252F%25252Fwww.google.com.eg%25252F%2526sourceid%253Dopera%2526ie%253Dutf-8%2526oe%253Dutf-8%2526channel%253Dsuggest%26sourceid%3Dopera%26ie%3Dutf-8%26oe%3Dutf-8%26channel%3Dsuggest&source=web&cd=1&ved=0CCkQFjAA&url=http%3A%2F%2Fcarl.cs.indiana.edu%2Ffil%2Fcgi-bin%2FWebSec%2Fmarilyn.cgi&ei=i8suT-2rEMe1-wbOmpmsAw&usg=AFQjCNHRtbr4ftk_4PyVzN3HuHPJV6LZow
Sun Feb  5 13:27:21 2012 from (empty referer)
Sun Feb  5 13:24:07 2012 from http://www.google.com/url?sa=t&rct=j&q=http%3A%2F%2Fwww.google.com%2Fsearch%3Fq%3Dhttp%253a%252f%252fwww.google.com%252fsearch%253fq%253dhttp%25253a%25252f%25252fwww.facebook.com%25252f%2526sourceid%253dopera%2526ie%253dutf-8%2526oe%253dutf-8%2526channel%253dsuggest%26sourceid%3Dopera%26ie%3Dutf-8%26oe%3Dutf-8%26channel%3Dsuggest&source=web&cd=3&ved=0CDUQFjAC&url=http%3A%2F%2Fcarl.cs.indiana.edu%2Ffil%2Fcgi-bin%2FWebSec%2Fmarilyn.cgi&ei=ZcguT6SqK4OIiAKvypHDAg&usg=AFQjCNHRtbr4ftk_4PyVzN3HuHPJV6LZow
Sun Feb  5 13:16:33 2012 from (empty referer)
Sun Feb  5 13:07:43 2012 from (empty referer)
Sun Feb  5 12:56:37 2012 from http://home.allgameshome.com/results.php?category=web&s=http://click.infospace.com/ClickHandler.ashx?du=http%3a%2f%2fwww.tube8.com%2f&ru=http%3a%2f%2fwww.tube8.com%2f&ld=20120205&ap=4&app=1&c=iminentxml2.id&s=iminentxml2&coi=239138&cop=main-title&ep=7&euip=222.124.116.215&npp=4&p=0&pp=0&pvaid=c1818583b8fc470ea0dce6e389ce04ea&hash=56BDFAB8E1026C8C116B99C3DEDD584
Sun Feb  5 12:16:12 2012 from http://carl.cs.indiana.edu/fil/cgi-bin/WebSec/marilyn.cgi?test=1
Sun Feb  5 11:56:21 2012 from http://t.co/vraFUdH?type=js
Sun Feb  5 11:52:22 2012 from (empty referer)
Sun Feb  5 11:46:36 2012 from http://carl.cs.indiana.edu/fil/cgi-bin/WebSec/marilyn.cgi?test=1
Sun Feb  5 11:32:40 2012 from (empty referer)
Sun Feb  5 11:31:18 2012 from http://assist.babylon.com/babylonassista/dnsassist/main?domain=540%20xg4ken%20media%20redir%20
Sun Feb  5 11:21:13 2012 from (empty referer)
Sun Feb  5 11:16:45 2012 from http://www.google.com/url?sa=t&rct=j&q=http%3A%2F%2Fwww.google.com%2Fsearch%3Fq%3Dhttp%253A%252F%252Fwww.google.com%252Fsearch%253Fq%253Dhttp%25253A%25252F%25252Fwww.gonzoxxxmovies.com%25252F%2526sourceid%253Dopera%2526ie%253Dutf-8%2526oe%253Dutf-8%2526channel%253Dsuggest%26sourceid%3Dopera%26ie%3Dutf-8%26oe%3Dutf-8%26channel%3Dsuggest&source=web&cd=1&ved=0CCIQFjAA&url=http%3A%2F%2Fcarl.cs.indiana.edu%2Ffil%2Fcgi-bin%2FWebSec%2Fmarilyn.cgi&ei=SqsuT_KWMIeM-wbI8eGOCQ&usg=AFQjCNHRtbr4ftk_4PyVzN3HuHPJV6LZow
Sun Feb  5 11:07:54 2012 from http://www.google.com/m?client=ms-nokia&cof=nsp&channel=s60&q=ww.google.com%2fm%2fimgres%3fclient%3dms-nokia%26q%3d%2bwww.12%2by
Sun Feb  5 10:45:49 2012 from (empty referer)
Sun Feb  5 10:29:23 2012 from http://carl.cs.indiana.edu/fil/cgi-bin/WebSec/marilyn.cgi
Sun Feb  5 09:48:12 2012 from (empty referer)
Sun Feb  5 09:36:00 2012 from (empty referer)
Sun Feb  5 09:13:18 2012 from http://www.google.com/m?client=ms-nokia&cof=nsp&channel=s60&q=www.goog.com%2fm%3fclient%3dms-nokia%26cof%3dnsp%26channel%3ds60
Sun Feb  5 09:12:18 2012 from (empty referer)
Sun Feb  5 09:01:26 2012 from (empty referer)
Sun Feb  5 08:59:48 2012 from http://start.allgameshome.com/results.php?s=aghstart&category=web&start=13
Sun Feb  5 08:34:10 2012 from http://www.bing.com/search?sp=chv&q=www%252Eplusnetwork%252Ecom%252F%253Fsp%253Dchv
Sun Feb  5 08:25:37 2012 from http://www.google.com/url?sa=t&rct=j&q=http%3A%2F%2Fcarl.cs.indiana.edu%2Ffil%2Fcgi-bin%2Fwebsec%2Fmarilyn.cgi%3Ftest%3D1&source=web&cd=2&ved=0CCcQFjAB&url=http%3A%2F%2Fcarl.cs.indiana.edu%2Ffil%2Fcgi-bin%2FWebSec%2Fmarilyn.cgi&ei=SIMuT_KbE8nn-gb8mbiGDg&usg=AFQjCNHRtbr4ftk_4PyVzN3HuHPJV6LZow
Sun Feb  5 07:53:57 2012 from (empty referer)
Sun Feb  5 07:49:15 2012 from (empty referer)
Sun Feb  5 07:45:46 2012 from (empty referer)
Sun Feb  5 07:40:20 2012 from (empty referer)
Sun Feb  5 07:32:44 2012 from (empty referer)
Sun Feb  5 07:27:38 2012 from http://www.google.com/url?sa=t&rct=j&q=http%3A%2F%2Fwww.google.com%2Fsearch%3Fq%3Dhttp%253a%252f%252fwww.google.com%252fsearch%253fq%253dhttp%25253a%25252f%25252fwww.google.com.pk%25252f%2526sourceid%253dopera%2526ie%253dutf-8%2526oe%253dutf-8%2526channel%253dsuggest%26sourceid%3Dopera%26ie%3Dutf-8%26oe%3Dutf-8%26channel%3Dsuggest&source=web&cd=1&ved=0CCIQFjAA&url=http%3A%2F%2Fcarl.cs.indiana.edu%2Ffil%2Fcgi-bin%2FWebSec%2Fmarilyn.cgi&ei=yXMuT-7xCsnQ-gan6aT8DQ&usg=AFQjCNHRtbr4ftk_4PyVzN3HuHPJV6LZow
Sun Feb  5 06:55:23 2012 from http://www.google.com/search?hl=fa&source=hp&q=sex+film+2012&btnG=%D8%AC%D8%B3%D8%AA%D8%AC%D9%88%DB%8C+Google&gbv=2
Sun Feb  5 05:40:06 2012 from http://www.google.com/url?sa=t&rct=j&q=http%3A%2F%2Fwww.google.com%2Fsearch%3Fq%3Dhttp%253a%252f%252fwww.google.com%252fsearch%253fq%253dhttp%25253a%25252f%25252fwww.youtube.com%25252f%2526sourceid%253dopera%2526ie%253dutf-8%2526oe%253dutf-8%2526channel%253dsuggest%26sourceid%3Dopera%26ie%3Dutf-8%26oe%3Dutf-8%26channel%3Dsuggest&source=web&cd=1&ved=0CCwQFjAA&url=http%3A%2F%2Fcarl.cs.indiana.edu%2Ffil%2Fcgi-bin%2FWebSec%2Fmarilyn.cgi&ei=dlwuT_3QOtCj-gbUqIyFDg&usg=AFQjCNHRtbr4ftk_4PyVzN3HuHPJV6LZow
Sun Feb  5 04:58:18 2012 from http://isearch.babylon.com/?babsrc=tcp&affID=19318&q=carl.cs.indiana.edufilcgi-binWebSecmarilyn.cgi
Sun Feb  5 04:57:30 2012 from http://isearch.babylon.com/?babsrc=tcp&affID=19318&q=isearch.babylon.com?babsrc=tcp&affID=19318&
Sun Feb  5 04:55:04 2012 from http://isearch.babylon.com/?babsrc=tcp&affID=19318&q=isearch.babylon.com?babsrc=tcp&affID=19318&
Sun Feb  5 03:16:24 2012 from (empty referer)
Sun Feb  5 02:57:17 2012 from (empty referer)
Sun Feb  5 02:31:38 2012 from http://www.google.com/m/search?site=universal&client=ms-opera-mini&q=www.google.com/m?q%3Dwww.%26client%3Dms-opera-mini%26channel%3Dnew&channel=new&start=10&sa=N
Sun Feb  5 02:17:50 2012 from http://www.google.com.sa/m/search?safe=active&sa=2&q=http%3A%2F%2Ftubidy.mobi%2Fsearch.php%3Fa%2F18%26q%3Dsexe&site=images
Sun Feb  5 02:10:46 2012 from http://www.google.com/m?client=ms-nokia&cof=nsp&channel=s60&q=www.google.comearch%3fclient%3dms-nokia%26q%3dmobile.nokia
Sun Feb  5 01:47:03 2012 from http://carl.cs.indiana.edu/fil/cgi-bin/WebSec/marilyn.cgi
Sun Feb  5 01:44:16 2012 from http://www.vladimirputin2012.com
Sat Feb  4 23:26:45 2012 from (empty referer)
Sat Feb  4 21:56:42 2012 from http://www.ask.com/web?qsrc=1&o=102250&l=dir&q=search+goggle+sexmouvi
Sat Feb  4 20:16:56 2012 from http://kr.search.yahoo.com/search;_ylt=A29D6v472C1PWCEAg82o2MUA?p=m+alphaporno&ei=UTF-8&mp=1&_tsrc=yahoo&_lang=ko&_sep=fp&_intl=KR&xargs=0&pstart=1&b=231
Sat Feb  4 18:58:34 2012 from (empty referer)
Sat Feb  4 18:32:54 2012 from http://www.google.com/gwt/x?client=ms-sonyericsson&q=http://www.google.com/gwt/x?oe%3DUTF-8&output=wml&channel=bm?cmd%253Dbm&hl=en-GB&ei=VL8tT8CRD8K4rAetZA&ved=0CBgQFjAJ&source=m&rd=1&u=http://carl.cs.indiana.edu/fil/cgi-bin/WebSec/marilyn.cgi
Sat Feb  4 18:32:24 2012 from (empty referer)
Sat Feb  4 16:36:16 2012 from http://www.bing.com/search?sp=chv&q=www%252Eplusnetwork%252Ecom%252F%253Fsp%253Dchv%2526q%253DPORNON
Sat Feb  4 16:34:03 2012 from http://www.google.com/url?sa=t&rct=j&q=http%3A%2F%2Fwww.google.com%2Fsearch%3Fq%3Dhttp%253a%252f%252fwww.google.com%252fsearch%253fq%253dhttp%25253a%25252f%25252fwww.google.com.tr%25252f%2526sourceid%253dopera%2526ie%253dutf-8%2526oe%253dutf-8%2526channel%253dsuggest%26sourceid%3Dopera%26ie%3Dutf-8%26oe%3Dutf-8%26channel%3Dsuggest&source=web&cd=1&ved=0CCMQFjAA&url=http%3A%2F%2Fcarl.cs.indiana.edu%2Ffil%2Fcgi-bin%2FWebSec%2Fmarilyn.cgi&ei=QKQtT_GhGcKk0AWdpbSuCA&usg=AFQjCNHRtbr4ftk_4PyVzN3HuHPJV6LZow
Sat Feb  4 15:55:47 2012 from http://www.easybib.com/cite/form/website
Sat Feb  4 15:32:10 2012 from http://www.bing.com/url?source=search&rch=rtItqM_FTsP2xGfpSlUX32kQjx8VFDx&url=http%3A%2F%2Fcarl.cs.indiana.edu%2Ffil%2Fcgi-bin%2FWebSec%2Fmarilyn.cgi&urltarget=_top&q=http%3A%2F%2Fwww.search-results.com%2Fweb%3Fq%3Dporn%2520sex.com%26o%3D15896%26l%3Ddis&form=IE8SRC&src=IE-SearchBox&ssIG=45e64e75ec35431c8aa4ba75744b5afc
Sat Feb  4 15:30:53 2012 from (empty referer)
Sat Feb  4 15:28:21 2012 from http://www.google.com/url?sa=t&rct=j&q=http%3A%2F%2Fwww.google.com%2Fsearch%3Fq%3Dhttp%253a%252f%252fwww.google.com.pk%252fsearch%253fq%253dsex%2526sourceid%253dopera%2526ie%253dutf-8%2526oe%253dutf-8%2526channel%253dsuggest%26sourceid%3Dopera%26ie%3Dutf-8%26oe%3Dutf-8%26channel%3Dsuggest&source=web&cd=1&ved=0CCIQFjAA&url=http%3A%2F%2Fcarl.cs.indiana.edu%2Ffil%2Fcgi-bin%2FWebSec%2Fmarilyn.cgi&ei=ChItT-KMFMfprAf_hYzWDA&usg=AFQjCNHRtbr4ftk_4PyVzN3HuHPJV6LZow
Sat Feb  4 14:36:38 2012 from http://www.google.com/search?client=opera&rls=en&q=http%3A%2F%2Fwww.google.com%2Fsearch%3Fq%3Dhttp%253A%252F%252Fwww.google.com%252Fsearch%253Fq%253Dhttp%25253A%25252F%25252Fwww.google.com.pk%25252F%2526sourceid%253Dopera%2526ie%253Dutf-8%2526oe%253Dutf-8%2526channel%253Dsuggest%26sourceid%3Dopera%26ie%3Dutf-8%26oe%3Dutf-8%26channel%3Dsuggest&sourceid=opera&ie=utf-8&oe=utf-8&channel=suggest
Sat Feb  4 14:33:30 2012 from (empty referer)
Sat Feb  4 14:22:55 2012 from (empty referer)
Sat Feb  4 13:19:43 2012 from http://www.google.com/m?q=www.google.com%2Fm%3Fq%3Dwww.tube%2B8%2B%26client%3Dms-opera-mini%26channel%3Dnew&client=ms-opera-mini&channel=new
Sat Feb  4 13:02:52 2012 from http://www.google.com/gwt/x?client=ms-sonyericsson&q=http://www.google.com/gwt/x?oe%3DUTF-8&channel=bh&hl=en-GB&ei=i3ItT4DGPImziQfi4QE&ved=0CBsQFjAJ&source=m&rd=1&u=http://carl.cs.indiana.edu/fil/cgi-bin/WebSec/marilyn.cgi
Sat Feb  4 13:02:18 2012 from (empty referer)
Sat Feb  4 12:55:32 2012 from http://home.allgameshome.com/results.php?category=web&s=http://click.infospace.com/ClickHandler.ashx?du=http%3a%2f%2fwww.onlinewatchmovies.net%2f&ru=http%3a%2f%2fwww.onlinewatchmovies.net%2f&ld=20120204&ap=1&app=1&c=imesh.meta.4&s=imeshmeta4&coi=239137&cop=main-title&ep=1&euip=101.63.193.135&npp=1&p=0&pp=0&pvaid=d6ebd95f9f9f4234bbc79fcdd2bc1ef0&hash=4C690EE690D3ADB400E5679263E75F9
Sat Feb  4 12:33:50 2012 from http://www.google.com/m?q=http%3a%2f%2fwww%2egoogle%2ecom%2fm%3fclient%3dms%2dopera%2dmini%26channel%3dnew%26q%3d&client=ms-opera-mini&channel=new
Sat Feb  4 12:21:20 2012 from (empty referer)
Sat Feb  4 11:26:35 2012 from http://www.google.com/url?sa=t&rct=j&q=http%3A%2F%2Fwww.google.com%2Fsearch%3Fq%3Dhttp%253a%252f%252fwww.google.com%252fsearch%253fq%253dhttp%25253a%25252f%25252fwww.google.jo%25252f%2526sourceid%253dopera%2526ie%253dutf-8%2526oe%253dutf-8%2526channel%253dsuggest%26sourceid%3Dopera%26ie%3Dutf-8%26oe%3Dutf-8%26channel%3Dsuggest&source=web&cd=1&ved=0CCIQFjAA&url=http%3A%2F%2Fcarl.cs.indiana.edu%2Ffil%2Fcgi-bin%2FWebSec%2Fmarilyn.cgi&ei=NVwtT7vYFsXK0QXAqoytCA&usg=AFQjCNHRtbr4ftk_4PyVzN3HuHPJV6LZow
Sat Feb  4 10:58:13 2012 from http://www.google.com/url?sa=t&rct=j&q=http%3A%2F%2Fwww.google.com%2Fsearch%3Fq%3Dhttp%253a%252f%252fwww.google.com%252fsearch%253fq%253dhttp%25253a%25252f%25252fwww.google.ro%25252f%2526sourceid%253dopera%2526ie%253dutf-8%2526oe%253dutf-8%2526channel%253dsuggest%26sourceid%3Dopera%26ie%3Dutf-8%26oe%3Dutf-8%26channel%3Dsuggest&source=web&cd=1&ved=0CCEQFjAA&url=http%3A%2F%2Fcarl.cs.indiana.edu%2Ffil%2Fcgi-bin%2FWebSec%2Fmarilyn.cgi&ei=jVUtT_v_IJDzsgah8tiBDQ&usg=AFQjCNHRtbr4ftk_4PyVzN3HuHPJV6LZow
Sat Feb  4 10:46:40 2012 from http://assist.babylon.com/babylonassista/dnsassist/main?domain=free%20thesocialsexnetwork%20go%20page%20landing_page_ffadult_21%20
Sat Feb  4 10:10:28 2012 from (empty referer)
Sat Feb  4 09:57:24 2012 from http://www.google.com.eg/m?q=http%2F%2Ftubidy%2C+mobi%2Fsearch%2Cphp%3F%3D18%26%3Dxxx%2Bvideo
Sat Feb  4 09:38:45 2012 from http://www.google.com/url?sa=t&rct=j&q=https%3A%2F%2Fwww.facebook.com%2Fajax%2Fpagelet%2Fgeneric.php%2Fphotoviewerinitpagelet%3F__a%3D10&source=web&cd=1&ved=0CCMQFjAA&url=http%3A%2F%2Fcarl.cs.indiana.edu%2Ffil%2Fcgi-bin%2FWebSec%2Fmarilyn.cgi&ei=40ItT5SnLceEsgL5-eCjDg&usg=AFQjCNHRtbr4ftk_4PyVzN3HuHPJV6LZow
Sat Feb  4 08:21:09 2012 from http://www.google.com/m?q=http%3a%2f%2fwww%2egoogle%2ecom%2fm%3fclient%3dms%2dopera%2dmini%26channel%3dnew%26q%3dhttp%3a%2f%2fwww%2egoogle%2ecom%2fm%3fq%3dwww%2e%26client%3dms%2dopera%2dmini%26channel%3dnew&client=ms-opera-mini&channel=new
Sat Feb  4 08:15:06 2012 from http://www.google.com/m?client=ms-nokia&cof=nsp&channel=s60&q=www.google.com%2fm%2fsearch%3fclient%3dms-nokia%26q%3dnokia.mobi%2fen
Sat Feb  4 07:53:05 2012 from http://www.google.com/url?sa=t&rct=j&q=http://bit.ly/p7zHOT+Wow!&source=web&cd=1&ved=0CCAQFjAA&url=http%3A%2F%2Fcarl.cs.indiana.edu%2Ffil%2Fcgi-bin%2FWebSec%2Fmarilyn.cgi&ei=KSotT8q1O4_bsgbc6dDfDA&usg=AFQjCNHRtbr4ftk_4PyVzN3HuHPJV6LZow
Sat Feb  4 07:52:56 2012 from (empty referer)
Sat Feb  4 07:15:38 2012 from http://www.google.com.sa/m/search?uaction=k&safe=images&client=mobilesearchapp&q=http%3A%2F%2Ftubidy.mobi%2Fsearch.php%3Fa%3D18%26q%3Dsex%252b&hl=ar&v=0.8.2.6553&ie=UTF-8&source=mobilesearchapp&channel=iss&vse=0&rlz=1MDAPLA_ar-SA__440
Sat Feb  4 07:07:42 2012 from http://www.google.com/url?sa=t&rct=j&q=http%3B%2F%2Ftubidy.mobi%2Fsearch.php+%2Fa%3D18+q%3Dsex&source=web&cd=3&ved=0CEAQFjAC&url=http%3A%2F%2Fcarl.cs.indiana.edu%2Ffil%2Fcgi-bin%2FWebSec%2Fmarilyn.cgi&ei=hh8tT6jrJcWxhAedtJmCCw&usg=AFQjCNHRtbr4ftk_4PyVzN3HuHPJV6LZow
Sat Feb  4 06:49:01 2012 from http://www.google.com/cse?q=http%3B%2F%2Ftubidy%2Cmobi%2Fsearch%2Ephp%2Fa%3D188q%3Dsexe&x=33&y=11&storeid=42929135-aa1e-4639-a514-8e443373cf58&cx=partner-pub-0530873870145564%3Agm2kwxvjm5k&cof=FORID%3A10%3BDIV%3AF4F4F4&ie=ISO-8859-1&ad=n9&num=10&rurl=http%3A%2F%2Fwww.bookmarkcentral.com%2Fsearch%3Fq%3Dhttp%253B%252F%252Ftubidy%252Cmobi%252Fsearch%252Ephp%252Fa%253D188q%253Dsexe%26x%3D33%26y%3D11%26storeid%3D42929135-aa1e-4639-a514-8e443373cf58%26cx%3Dpartner-pub-0530873870145564%253Agm2kwxvjm5k%26cof%3DFORID%253A10%253BDIV%253AF4F4F4%26ie%3DISO-8859-1
Sat Feb  4 06:36:30 2012 from http://www.google.com/cse?q=http%3B%2F%2Ftubidy%2Cmobi%2Fsearch%2Ephp%2Fa%3D188q%3Dsexe&x=33&y=11&storeid=42929135-aa1e-4639-a514-8e443373cf58&cx=partner-pub-0530873870145564%3Agm2kwxvjm5k&cof=FORID%3A10%3BDIV%3AF4F4F4&ie=ISO-8859-1&ad=n9&num=10&rurl=http%3A%2F%2Fwww.bookmarkcentral.com%2Fsearch%3Fq%3Dhttp%253B%252F%252Ftubidy%252Cmobi%252Fsearch%252Ephp%252Fa%253D188q%253Dsexe%26x%3D33%26y%3D11%26storeid%3D42929135-aa1e-4639-a514-8e443373cf58%26cx%3Dpartner-pub-0530873870145564%253Agm2kwxvjm5k%26cof%3DFORID%253A10%253BDIV%253AF4F4F4%26ie%3DISO-8859-1
Sat Feb  4 06:36:04 2012 from http://www.google.com.sa/url?sa=t&rct=j&q=home.allgameshome.com%2Fresults.php%3Fcategory%3Dweb%26s%3D%252C%252C%252C%252C%252C%252C%252C%252C%252C%252C%252C%252C%252C%252C%252C%252Cnnnnnnnnnnnnnnnnnnnnnnnnnnnnnnnnnnnnnnnnnnnnnnnnnnnnnnnnnnnnnnnnnnnnnnnnnnnnnnnnnnnnnnnnnnnnnnnnnnnnnnnnnnnnnnnnnnnnnnnnnnnnnnnnnnnnnnnnnnnnnnnnnnnnnnnnnnnnnnnnnnnnnnnnnnnnnnnnnnnnnnnnnnnnnn&source=web&cd=1&ved=0CCIQFjAA&url=http%3A%2F%2Fcarl.cs.indiana.edu%2Ffil%2Fcgi-bin%2FWebSec%2Fmarilyn.cgi&ei=HBgtT7KoK8OWOpOvgJcO&usg=AFQjCNHRtbr4ftk_4PyVzN3HuHPJV6LZow
Sat Feb  4 06:04:30 2012 from http://www.google.com/url?sa=t&rct=j&q=http%3A%2F%2Fwww.google.com%2Fsearch%3Fq%3Dhttp%253a%252f%252fwww.google.com%252fsearch%253fq%253dhttp%25253a%25252f%25252fwww.google.com%25252fsearch%25253fq%25253dhttp%2525253a%2525252f%2525252fwww.google.com%2525252fsearch%2525253fq%2525253dhttps%252525253a%252525252f%252525252fwww.facebook.com%252525252fmessages%252525252f%25252526sourceid%2525253dopera%25252526ie%2525253dutf-8%25252526oe%2525253dutf-8%25252526channel%2525253dsuggest%252526sourceid%25253dopera%252526ie%25253dutf-8%252526oe%25253dutf-8%252526channel%25253dsuggest%2526sourceid%253dopera%2526ie%253dutf-8%2526oe%253dutf-8%2526channel%253dsuggest%26sourceid%3Dopera%26ie%3Dutf-8%26oe%3Dutf-8%26channel%3Dsuggest&source=web&cd=1&ved=0CC8QFjAA&url=http%3A%2F%2Fcarl.cs.indiana.edu%2Ffil%2Fcgi-bin%2FWebSec%2Fmarilyn.cgi&ei=mtcfT7mmGoXirAeR7KXBDA&usg=AFQjCNHRtbr4ftk_4PyVzN3HuHPJV6LZow
Sat Feb  4 06:04:07 2012 from http://www.google.com/url?sa=t&rct=j&q=http%3A%2F%2Fwww.google.com%2Fsearch%3Fq%3Dhttp%253a%252f%252fwww.google.com%252fsearch%253fq%253dhttp%25253a%25252f%25252fwww.google.com%25252fsearch%25253fq%25253dhttp%2525253a%2525252f%2525252fwww.google.com%2525252fsearch%2525253fq%2525253dhttps%252525253a%252525252f%252525252fwww.facebook.com%252525252fmessages%252525252f%25252526sourceid%2525253dopera%25252526ie%2525253dutf-8%25252526oe%2525253dutf-8%25252526channel%2525253dsuggest%252526sourceid%25253dopera%252526ie%25253dutf-8%252526oe%25253dutf-8%252526channel%25253dsuggest%2526sourceid%253dopera%2526ie%253dutf-8%2526oe%253dutf-8%2526channel%253dsuggest%26sourceid%3Dopera%26ie%3Dutf-8%26oe%3Dutf-8%26channel%3Dsuggest&source=web&cd=1&ved=0CC8QFjAA&url=http%3A%2F%2Fcarl.cs.indiana.edu%2Ffil%2Fcgi-bin%2FWebSec%2Fmarilyn.cgi&ei=mtcfT7mmGoXirAeR7KXBDA&usg=AFQjCNHRtbr4ftk_4PyVzN3HuHPJV6LZow
Sat Feb  4 05:41:15 2012 from http://www.google.com/url?sa=t&rct=j&q=http%3A%2F%2Fwww.google.com%2Fsearch%3Fq%3Dhttp%253a%252f%252fwww.google.com%252fsearch%253fq%253dhttp%25253a%25252f%25252fwww.google.com%25252fsearch%25253fq%25253dhttp%2525253a%2525252f%2525252fwww.google.com%2525252fsearch%2525253fq%2525253dhttps%252525253a%252525252f%252525252fwww.facebook.com%252525252fmessages%252525252f%25252526sourceid%2525253dopera%25252526ie%2525253dutf-8%25252526oe%2525253dutf-8%25252526channel%2525253dsuggest%252526sourceid%25253dopera%252526ie%25253dutf-8%252526oe%25253dutf-8%252526channel%25253dsuggest%2526sourceid%253dopera%2526ie%253dutf-8%2526oe%253dutf-8%2526channel%253dsuggest%26sourceid%3Dopera%26ie%3Dutf-8%26oe%3Dutf-8%26channel%3Dsuggest&source=web&cd=1&ved=0CC8QFjAA&url=http%3A%2F%2Fcarl.cs.indiana.edu%2Ffil%2Fcgi-bin%2FWebSec%2Fmarilyn.cgi&ei=mtcfT7mmGoXirAeR7KXBDA&usg=AFQjCNHRtbr4ftk_4PyVzN3HuHPJV6LZow
Sat Feb  4 05:41:14 2012 from http://www.google.com/url?sa=t&rct=j&q=http%3A%2F%2Fwww.google.com%2Fsearch%3Fq%3Dhttp%253a%252f%252fwww.google.com%252fsearch%253fq%253dhttp%25253a%25252f%25252fwww.google.com%25252fsearch%25253fq%25253dhttp%2525253a%2525252f%2525252fwww.google.com%2525252fsearch%2525253fq%2525253dhttps%252525253a%252525252f%252525252fwww.facebook.com%252525252fmessages%252525252f%25252526sourceid%2525253dopera%25252526ie%2525253dutf-8%25252526oe%2525253dutf-8%25252526channel%2525253dsuggest%252526sourceid%25253dopera%252526ie%25253dutf-8%252526oe%25253dutf-8%252526channel%25253dsuggest%2526sourceid%253dopera%2526ie%253dutf-8%2526oe%253dutf-8%2526channel%253dsuggest%26sourceid%3Dopera%26ie%3Dutf-8%26oe%3Dutf-8%26channel%3Dsuggest&source=web&cd=1&ved=0CC8QFjAA&url=http%3A%2F%2Fcarl.cs.indiana.edu%2Ffil%2Fcgi-bin%2FWebSec%2Fmarilyn.cgi&ei=mtcfT7mmGoXirAeR7KXBDA&usg=AFQjCNHRtbr4ftk_4PyVzN3HuHPJV6LZow
Sat Feb  4 03:51:30 2012 from http://carl.cs.indiana.edu/fil/cgi-bin/WebSec/marilyn.cgi
Sat Feb  4 03:43:07 2012 from (empty referer)
Sat Feb  4 03:30:26 2012 from http://www.bing.com/search?q=http%3A%2F%2Fsearch.speedbit.com%2Fsearch.aspx%3Fq%3Dporno%2Bsex%2Bwoman%26site%3Dweb%26prevsite%3Dweb%26aff%3Dpredict%26btn%3DSearch&src=IE-SearchBox&FORM=IE8SRC
Sat Feb  4 03:03:25 2012 from (empty referer)
Sat Feb  4 02:58:27 2012 from (empty referer)
Sat Feb  4 00:41:58 2012 from http://www.goinurl.com/topic-tubidy-mobi-search-p_2-txt.html
Sat Feb  4 00:41:36 2012 from http://www.goinurl.com/topic-tubidy-mobi-search-p_2-txt.html
Sat Feb  4 00:26:57 2012 from (empty referer)
Sat Feb  4 00:03:29 2012 from http://www.google.com/m?hl=en&q=http%3A%2F%2Ftubiddy.mobil+serach.php%3Fa%3D8q%3Dsex
Fri Feb  3 23:58:24 2012 from http://www.google.com/m/search?client=ms-opera-mini&channel=new&sa=2&q=http%3A%2F%2Fwww.google.com%2Fm%3Fclient%3Dms-opera-mini%26channel%3Dnew%26q%3Dwww.&site=universal
Fri Feb  3 23:51:06 2012 from http://www.google.com/m?hl=en&q=http%3A%2F%2Ftubiddy.mobil+serach.php%3Fa%3D8q%3Dsex
Fri Feb  3 23:46:45 2012 from http://www.google.com/url?sa=t&rct=j&q=http%3A%2F%2Fwww.google.com%2Fsearch%3Fq%3Dhttp%253a%252f%252fwww.google.com%252fsearch%253fq%253dhttp%25253a%25252f%25252fwww.yahoo.com.mx%25252f%2526sourceid%253dopera%2526ie%253dutf-8%2526oe%253dutf-8%2526channel%253dsuggest%26sourceid%3Dopera%26ie%3Dutf-8%26oe%3Dutf-8%26channel%3Dsuggest&source=web&cd=1&ved=0CCMQFjAA&url=http%3A%2F%2Fcarl.cs.indiana.edu%2Ffil%2Fcgi-bin%2FWebSec%2Fmarilyn.cgi&ei=BbgsT7zxFMW62gXLraSMDw&usg=AFQjCNHRtbr4ftk_4PyVzN3HuHPJV6LZow
Fri Feb  3 22:40:11 2012 from (empty referer)
Fri Feb  3 21:02:41 2012 from (empty referer)
Fri Feb  3 19:32:52 2012 from http://www.google.com/url?sa=t&rct=j&q=http://www.google.com/search%3Fq%3Dhttp://www.xnxx.com/%26sourceid%3Dopera%26ie%3Dutf-8%26oe%3Dutf-8%26channel%3Dsuggest&source=web&cd=39&ved=0CGkQFjAIOB4&url=http%3A%2F%2Fcarl.cs.indiana.edu%2Ffil%2Fcgi-bin%2FWebSec%2Fmarilyn.cgi%3Fiframe%3Dtrue%26width%3D90%25%26height%3D90%25&ei=pHwsT-WhDsS5hAezmNiDCw&usg=AFQjCNF1YRHwwX8j7f5VE5Zthzm_YadtXg
Fri Feb  3 19:30:23 2012 from http://www.google.com/url?sa=t&rct=j&q=http%3A%2F%2Fwww.google.com%2Fsearch%3Fq%3Dhttp%3A%2F%2Fwww.xnxx.com%2F%26sourceid%3Dopera%26ie%3Dutf-8%26oe%3Dutf-8%26channel%3Dsuggest&source=web&cd=3&ved=0CDsQFjAC&url=http%3A%2F%2Fcarl.cs.indiana.edu%2Ffil%2Fcgi-bin%2FWebSec%2Fmarilyn.cgi&ei=HHssT8q8DoeHhQe9loTmCg&usg=AFQjCNHRtbr4ftk_4PyVzN3HuHPJV6LZow
Fri Feb  3 17:28:16 2012 from http://www.mamma.com/emp5/result.php?q=Http+Www.facebook.com+Profile.php%3Fid%3D100000877025044&type=web
Fri Feb  3 17:16:18 2012 from (empty referer)
Fri Feb  3 17:05:59 2012 from http://www.google.com/m?client=ms-nokia&cof=nsp&q=htt://tubidy.mobi/search.php?A%3D18+years+girls&channel=s60&start=40&spell=1&sa=N
Fri Feb  3 16:50:19 2012 from http://www.google.com/m?client=ms-nokia&cof=nsp&channel=s60&q=www.google.com%2Fm%3Fclient%3Dms-nokia%26cof%3Dnsp%26channel%3Ds
Fri Feb  3 16:39:31 2012 from http://www.google.com/search
Fri Feb  3 15:59:12 2012 from (empty referer)
Fri Feb  3 15:32:54 2012 from http://www.bing.com/search?sp=chv&q=click.infospace.comClickHandler.ashx%3Fdu\
Fri Feb  3 14:49:30 2012 from (empty referer)
Fri Feb  3 14:40:40 2012 from http://www.google.com/url?sa=t&rct=j&q=http%3A%2F%2Fwww.google.com%2Fsearch%3Fq%3Dhttp%253A%252F%252Fwww.google.com%252Fsearch%253Fq%253Dhttp%25253A%25252F%25252Fwww.google.com%25252Fsearch%25253Fq%25253Dhttp%2525253A%2525252F%2525252Fwww.facebook.com%2525252F%252526sourceid%25253Dopera%252526num%25253D0%252526ie%25253Dutf-8%252526oe%25253Dutf-8%252526channel%25253Dsuggest%2526sourceid%253Dopera%2526num%253D0%2526ie%253Dutf-8%2526oe%253Dutf-8%2526channel%253Dsuggest%26sourceid%3Dopera%26num%3D0%26ie%3Dutf-8%26oe%3Dutf-8%26channel%3Dsuggest&source=web&cd=1&ved=0CCIQFjAA&url=http%3A%2F%2Fcarl.cs.indiana.edu%2Ffil%2Fcgi-bin%2FWebSec%2Fmarilyn.cgi&ei=3zQsT9HAHYPtrAe27PT0DA&usg=AFQjCNHRtbr4ftk_4PyVzN3HuHPJV6LZow
Fri Feb  3 14:34:01 2012 from http://search.yahoo.com/search?p=isearch.babylon.com%2F%3Fs%3Dweb%26babsrc%3DNT_FFUP%26q%3Dchatroulette%26rs%3D181&fr=greentree_ff1&ei=utf-8&ilc=12&type=827316
Fri Feb  3 14:32:13 2012 from http://www.google.com/url?sa=t&rct=j&q=http%3A%2F%2Fwww.google.com%2Fsearch%3Fq%3Dhttp%253A%252F%252Fwww.google.com%252Fsearch%253Fq%253Dhttp%25253A%25252F%25252Fwww.google.com%25252Fsearch%25253Fq%25253Dhttp%2525253A%2525252F%2525252Fwww.facebook.com%2525252F%252526sourceid%25253Dopera%252526num%25253D0%252526ie%25253Dutf-8%252526oe%25253Dutf-8%252526channel%25253Dsuggest%2526sourceid%253Dopera%2526num%253D0%2526ie%253Dutf-8%2526oe%253Dutf-8%2526channel%253Dsuggest%26sourceid%3Dopera%26num%3D0%26ie%3Dutf-8%26oe%3Dutf-8%26channel%3Dsuggest&source=web&cd=1&ved=0CCIQFjAA&url=http%3A%2F%2Fcarl.cs.indiana.edu%2Ffil%2Fcgi-bin%2FWebSec%2Fmarilyn.cgi&ei=3zQsT9HAHYPtrAe27PT0DA&usg=AFQjCNHRtbr4ftk_4PyVzN3HuHPJV6LZow
Fri Feb  3 14:24:41 2012 from http://assist.babylon.com/babylonassista/dnsassist/main?domain=540%20xg4ken%20media%20redir%20
Fri Feb  3 14:16:45 2012 from http://www.google.co.in/search?sky=ee&hl=en&q=tubidy.mobi%2Fsearch.php%3Fa%3D18%26.q
Fri Feb  3 14:16:43 2012 from http://www.google.co.in/search?sky=ee&hl=en&q=tubidy.mobi%2Fsearch.php%3Fa%3D18%26.q
Fri Feb  3 13:51:00 2012 from http://www.google.com/url?sa=t&rct=j&q=http%3A%2F%2Fwww.google.com%2Fsearch%3Fq%3Dhttp%253A%252F%252Fwww.google.com%252Fsearch%253Fq%253Dhttp%25253A%25252F%25252Fwww.google.com%25252Fsearch%25253Fq%25253Dgogle%252526sourceid%25253Dopera%252526ie%25253Dutf-8%252526oe%25253Dutf-8%252526channel%25253Dsuggest%2526sourceid%253Dopera%2526ie%253Dutf-8%2526oe%253Dutf-8%2526channel%253Dsuggest%26sourceid%3Dopera%26ie%3Dutf-8%26oe%3Dutf-8%26channel%3Dsuggest&source=web&cd=1&ved=0CCwQFjAA&url=http%3A%2F%2Fcarl.cs.indiana.edu%2Ffil%2Fcgi-bin%2FWebSec%2Fmarilyn.cgi&ei=kaIrT-N7zMO0BsqqleoM&usg=AFQjCNHRtbr4ftk_4PyVzN3HuHPJV6LZow
Fri Feb  3 13:50:01 2012 from (empty referer)
Fri Feb  3 13:49:25 2012 from http://www.google.com/m?client=ms-nokia&cof=nsp&channel=s60&q=www.google.com%2fm%3fclient%3dms-nokia%26cof%3dnsp%26channel%3ds
Fri Feb  3 13:25:07 2012 from http://www.google.com/m?client=ms-nokia&cof=nsp&channel=s60&q=www.google.com%2fm%3fclient%3dms-nokia%26cof%3dnsp%26channel%3ds
Fri Feb  3 13:20:08 2012 from http://www.google.com/m?client=ms-nokia&cof=nsp&channel=s60&q=www.ggle.com%2fm%3fclient%3dms-nokia%26cof%3dnsp%26channel%3ds60
Fri Feb  3 13:14:01 2012 from http://www.google.com/url?sa=t&rct=j&q=http://www.google.co.id/search?q=xnxx&source=web&cd=10&ved=0CGgQFjAJ&url=http%3A%2F%2Fcarl.cs.indiana.edu%2Ffil%2Fcgi-bin%2FWebSec%2Fmarilyn.cgi&ei=3CMsT5a3IYrOrQfc7vnkDA&usg=AFQjCNHRtbr4ftk_4PyVzN3HuHPJV6LZow
Fri Feb  3 12:59:09 2012 from http://www.google.com/search?client=opera&rls=en&q=http%3A%2F%2Fwww.google.com%2Fsearch%3Fq%3Dhttp%253A%252F%252Fwww.google.com%252Fsearch%253Fclient%253Dopera%2526rls%253Den%2526q%253Dhttp%25253A%25252F%25252Fwww.google.com%25252F%2526sourceid%253Dopera%2526ie%253Dutf-8%2526oe%253Dutf-8%2526channel%253Dsuggest%26sourceid%3Dopera%26ie%3Dutf-8%26oe%3Dutf-8%26channel%3Dsuggest&sourceid=opera&ie=utf-8&oe=utf-8&channel=suggest
Fri Feb  3 12:57:08 2012 from http://www.google.com/m?client=ms-nokia&cof=nsp&channel=s60&q=www.google.com%2fm%3fclient%3dms-nokia%26cof%3dnsp%26channel%3ds
Fri Feb  3 12:56:43 2012 from http://www.google.com/m?client=ms-nokia&cof=nsp&channel=s60&q=www.google.com%2Fm%3Fclient%3Dms-nokia%26cof%3Dnsp%26channel%3Ds
Fri Feb  3 12:54:09 2012 from (empty referer)
Fri Feb  3 12:47:23 2012 from http://www.google.com/m?client=ms-nokia&cof=nsp&channel=s60&q=www.google.com%2fm%3fclient%3dms-nokia%26cof%3dnsp%26channel%3ds
Fri Feb  3 12:39:56 2012 from http://www.google.com/m?client=ms-nokia&cof=nsp&channel=s60&q=www.google.com%2fm%3fclient%3dms-nokia%26cof%3dnsp%26channel%3ds
Fri Feb  3 12:34:12 2012 from (empty referer)
Fri Feb  3 12:32:15 2012 from (empty referer)
Fri Feb  3 12:14:30 2012 from http://www.bing.com/search?sp=chv&q=click.infospace.comClickHandler.ashx%3Fdu
Fri Feb  3 12:12:17 2012 from http://www.google.com/m?client=ms-nokia&cof=nsp&channel=s60&q=www.google.com%2fm%3fclient%3dms-nokia%26cof%3dnsp%26channel%3ds
Fri Feb  3 12:07:12 2012 from (empty referer)
Fri Feb  3 12:02:23 2012 from http://www.google.com/m?client=ms-nokia&cof=nsp&channel=s60&q=www.google.com%2fm%3fclient%3dms-nokia%26cof%3dnsp%26channel%3ds
Fri Feb  3 12:00:25 2012 from http://www.google.com/m?client=ms-nokia&cof=nsp&channel=s60&q=www.google.com%2fm%3fclient%3dms-nokia%26cof%3dnsp%26channel%3ds
Fri Feb  3 11:55:53 2012 from http://www.google.com/m?client=ms-nokia&cof=nsp&channel=s60&q=google.com%2Fm%3Fclient%3Dms-nokia%26cof%3Dnsp%26channe
Fri Feb  3 11:51:23 2012 from http://www.google.com/url?sa=t&rct=j&q=http%3A%2F%2Fwww.google.com%2Fsearch%3Fq%3Dhttp%253a%252f%252fwww.google.com%252fsearch%253fq%253dhttp%25253a%25252f%25252fwww.youtube.com%25252f%2526sourceid%253dopera%2526ie%253dutf-8%2526oe%253dutf-8%2526channel%253dsuggest%26sourceid%3Dopera%26ie%3Dutf-8%26oe%3Dutf-8%26channel%3Dsuggest&source=web&cd=1&ved=0CCIQFjAA&url=http%3A%2F%2Fcarl.cs.indiana.edu%2Ffil%2Fcgi-bin%2FWebSec%2Fmarilyn.cgi&ei=fxAsT7LAFsGxrAfRyrDRDA&usg=AFQjCNHRtbr4ftk_4PyVzN3HuHPJV6LZow
Fri Feb  3 11:48:29 2012 from (empty referer)
Fri Feb  3 11:46:23 2012 from http://www.google.com/m?client=ms-nokia&cof=nsp&channel=s60&q=www.google.com%2fm%3fclient%3dms-nokia%26cof%3dnsp%26channel%3ds
Fri Feb  3 11:45:51 2012 from http://www.google.com/m?client=ms-nokia&cof=nsp&channel=s60&q=www.google.com%2fm%3fclient%3dms-nokia%26cof%3dnsp%26channel%3ds60%26q%3d
Fri Feb  3 11:44:48 2012 from http://www.google.com/m?client=ms-nokia&cof=nsp&channel=s60&q=www.google.com%2fm%3fclient%3dms-nokia%26cof%3dnsp%26channel%3ds60%26q%3d
Fri Feb  3 11:35:15 2012 from http://www.google.com/m?client=ms-nokia&cof=nsp&channel=s60&q=www.google.com%2fm%3fclient%3dms-nokia%26cof%3dnsp%26channel%3ds
Fri Feb  3 11:33:02 2012 from http://www.google.com/m?client=ms-nokia&cof=nsp&channel=s60&q=www.google.com%2fm%3fclient%3dms-nokia%26cof%3dnsp%26channel%3ds
Fri Feb  3 11:29:31 2012 from http://www.google.com/m?client=ms-nokia&cof=nsp&channel=s60&q=www.ghoogle.com%2fm%3fclient%3dms-nokia%26cof%3dnsp%26channel%3d
Fri Feb  3 11:27:07 2012 from http://www.google.com/m?client=ms-nokia&cof=nsp&channel=s60&q=www.google.com%2fm%3fclient%3dms-nokia%26cof%3dnsp%26channel%3ds
Fri Feb  3 11:27:06 2012 from http://www.google.com/m?client=ms-nokia&cof=nsp&channel=s60&q=www.google.com%2fm%3fclient%3dms-nokia%26cof%3dnsp%26channel%3ds
Fri Feb  3 11:24:21 2012 from http://www.google.com/m?client=ms-nokia&cof=nsp&channel=s60&q=wwwom%2fm%3fclient%3dms-nokia%26cof%3dnsp%26channel%3ds60%26q%3dww.w
Fri Feb  3 11:21:07 2012 from http://www.google.com/m?client=ms-nokia&cof=nsp&channel=s60&q=www.google.com%2fm%3fclient%3dms-nokia%26cof%3dnsp%26channel%3ds60%26q%3d
Fri Feb  3 11:08:02 2012 from http://www.google.com/url?sa=t&rct=j&q=http%3A%2F%2Fwww.google.com%2Fsearch%3Fq%3Dhttp%253a%252f%252fwww.google.com%252fsearch%253fq%253dhttp%25253a%25252f%25252fwww.google.com.pk%25252f%2526sourceid%253dopera%2526ie%253dutf-8%2526oe%253dutf-8%2526channel%253dsuggest%26sourceid%3Dopera%26ie%3Dutf-8%26oe%3Dutf-8%26channel%3Dsuggest&source=web&cd=1&ved=0CCIQFjAA&url=http%3A%2F%2Fcarl.cs.indiana.edu%2Ffil%2Fcgi-bin%2FWebSec%2Fmarilyn.cgi&ei=VAYsT73OBIXirAfq_NnpDA&usg=AFQjCNHRtbr4ftk_4PyVzN3HuHPJV6LZow
Fri Feb  3 11:05:24 2012 from http://www.google.com/m?client=ms-nokia&cof=nsp&channel=s60&q=www.google.com%2fm%3fclient%3dms-nokia%26cof%3dnsp%26channel%3ds
Fri Feb  3 11:00:27 2012 from http://www.google.com/m?client=ms-nokia&cof=nsp&channel=s60&q=www.google.com%2fm%3fclient%3dms-nokia%26cof%3dnsp%26channel%3ds
Fri Feb  3 11:00:19 2012 from http://www.google.com/m?client=ms-nokia&cof=nsp&channel=s60&q=www.google.com%2fm%3fclient%3dms-nokia%26cof%3dnsp%26channel%3ds
Fri Feb  3 10:51:04 2012 from http://www.google.com/url?sa=t&rct=j&q=http%3A%2F%2Fwww.google.com%2Fsearch%3Fq%3Dhttp%253a%252f%252fwww.google.com%252fsearch%253fq%253dhttp%25253a%25252f%25252fwww.google.com%25252fsearch%25253fq%25253dhttp%2525253a%2525252f%2525252fwww.google.com%2525252f%252526sourceid%25253dopera%252526ie%25253dutf-8%252526oe%25253dutf-8%252526channel%25253dsuggest%2526sourceid%253dopera%2526ie%253dutf-8%2526oe%253dutf-8%2526channel%253dsuggest%26sourceid%3Dopera%26ie%3Dutf-8%26oe%3Dutf-8%26channel%3Dsuggest&source=web&cd=1&ved=0CC8QFjAA&url=http%3A%2F%2Fcarl.cs.indiana.edu%2Ffil%2Fcgi-bin%2FWebSec%2Fmarilyn.cgi&ei=SQIsT_3fHMfqrQeywqTtDA&usg=AFQjCNHRtbr4ftk_4PyVzN3HuHPJV6LZow
Fri Feb  3 10:50:12 2012 from http://www.google.com/m?client=ms-nokia&cof=nsp&channel=s60&q=www.google.com%2fm%3fclient%3dms-nokia%26cof%3dnsp%26channel%3ds60%26q%3d
Fri Feb  3 10:49:21 2012 from http://www.google.com/m?client=ms-nokia&cof=nsp&channel=s60&q=www.google.com%2fm%3fclient%3dms-nokia%26cof%3dnsp%26channel%3ds
Fri Feb  3 10:43:05 2012 from http://www.google.com/m?client=ms-nokia&cof=nsp&channel=s60&q=www.google.com%2Fm%3Fclient%3Dms-nokia%26cof%3Dnsp%26channel%3Ds
Fri Feb  3 10:28:54 2012 from http://www.google.com/m?client=ms-nokia&cof=nsp&channel=s60&q=www.google.com%2fm%3fclient%3dms-nokia%26cof%3dnsp%26channel%3ds
Fri Feb  3 10:27:35 2012 from http://www.google.com/m?client=ms-nokia&cof=nsp&channel=s60&q=www.google.com%2fm%3fclient%3dms-nokia%26cof%3dnsp%26channel%3ds
Fri Feb  3 10:11:21 2012 from http://www.google.com/m?client=ms-nokia&cof=nsp&channel=s60&q=%2f%2fwww.google.com%2fm%3fclient%3dms-nokia%26cof%3dnsp%26channel
Fri Feb  3 10:07:56 2012 from (empty referer)
Fri Feb  3 09:57:30 2012 from http://www.google.com/m?client=ms-nokia&cof=nsp&channel=s60&q=www.google.com%2fm%3fclient%3dms-nokia%26cof%3dnsp%26channel%3ds
Fri Feb  3 09:50:55 2012 from http://www.google.com/url?sa=t&rct=j&q=http%3A%2F%2Fwww.google.com%2Fsearch%3Fq%3Dhttp%253a%252f%252fwww.google.com%252fsearch%253fq%253dwww.yahoo.fr%2526sourceid%253dopera%2526ie%253dutf-8%2526oe%253dutf-8%2526channel%253dsuggest%26sourceid%3Dopera%26ie%3Dutf-8%26oe%3Dutf-8%26channel%3Dsuggest&source=web&cd=1&ved=0CCMQFjAA&url=http%3A%2F%2Fcarl.cs.indiana.edu%2Ffil%2Fcgi-bin%2FWebSec%2Fmarilyn.cgi&ei=D_QrT_CUNcqeOpL_sI4O&usg=AFQjCNHRtbr4ftk_4PyVzN3HuHPJV6LZow
Fri Feb  3 09:45:03 2012 from (empty referer)
Fri Feb  3 09:38:16 2012 from http://www.google.com/m?client=ms-nokia&cof=nsp&channel=s60&q=www.google.com%2fm%3fclient%3dms-nokia%26cof%3dnsp%26channel%3ds
Fri Feb  3 09:37:31 2012 from http://www.google.com/m?client=ms-nokia&cof=nsp&channel=s60&q=www.google.com%2fm%3fclient%3dms-nokia%26cof%3dnsp%26channel%3ds
Fri Feb  3 09:36:32 2012 from http://www.google.com/m?client=ms-nokia&cof=nsp&channel=s60&q=www.google.com%2fm%3fcklient%3dms-nokia%26cof%3dnsp%26channel%3d
Fri Feb  3 09:35:43 2012 from http://www.google.com/m?client=ms-nokia&cof=nsp&channel=s60&q=oogle.com%2fm%3fclient%3dms-nokia%26cof%3dnsp%26channel%3ds60%26q%3d
Fri Feb  3 09:35:29 2012 from http://www.google.com/m?client=ms-nokia&cof=nsp&channel=s60&q=www.google.com%2fm%3fclient%3dms-nokia%26cof%3dnsp%26channel%3ds
Fri Feb  3 09:35:27 2012 from http://www.google.com/m?client=ms-nokia&cof=nsp&channel=s60&q=www.google.com%2fm%3fcklient%3dms-nokia%26cof%3dnsp%26channel%3d
Fri Feb  3 09:33:45 2012 from http://www.google.com/m?client=ms-nokia&cof=nsp&channel=s60&q=www.google.com%2fm%3fclient%3dms-nokia%26cof%3dnsp%26channel%3ds
Fri Feb  3 09:33:12 2012 from http://www.google.com/m?client=ms-nokia&cof=nsp&channel=s60&q=www.google.com%2fm%3fclient%3dms-nokia%26cof%3dnsp%26channel%3ds
Fri Feb  3 09:17:16 2012 from http://www.google.com/m?client=ms-nokia&cof=nsp&channel=s60&q=www.google.com%2fm%3fclient%3dms-nokia%26cof%3dnsp%26channel%3ds
Fri Feb  3 09:15:08 2012 from (empty referer)
Fri Feb  3 09:03:45 2012 from http://www.google.com/m?client=ms-nokia&cof=nsp&channel=s60&q=www.google.com%2fm%3fclient%3dms-nokia%26cof%3dnsp%26channel%3ds
Fri Feb  3 08:47:27 2012 from http://www.google.com/url?sa=t&rct=j&q=http%3A%2F%2Fwww.google.com%2Fsearch%3Fq%3Dhttp%253A%252F%252Fwww.google.com%252Fsearch%253Fq%253Dhttp%25253A%25252F%25252Fwww.facebook.com%25252F%2526sourceid%253Dopera%2526ie%253Dutf-8%2526oe%253Dutf-8%2526channel%253Dsuggest%26sourceid%3Dopera%26ie%3Dutf-8%26oe%3Dutf-8%26channel%3Dsuggest&source=web&cd=1&ved=0CCkQFjAA&url=http%3A%2F%2Fcarl.cs.indiana.edu%2Ffil%2Fcgi-bin%2FWebSec%2Fmarilyn.cgi&ei=-eQrT42-OsWL4gSvtL2CDg&usg=AFQjCNHRtbr4ftk_4PyVzN3HuHPJV6LZow
Fri Feb  3 08:38:01 2012 from http://www.google.com/m?client=ms-nokia&cof=nsp&channel=s60&q=www.google.com%2fm%3fclient%3dms-nokia%26cof%3dnsp%26channel%3ds
Fri Feb  3 08:14:10 2012 from http://www.google.com/m?client=ms-nokia&cof=nsp&channel=s60&q=www.gogogle.com%2fm%3fclient%3dms-nokia%26cof%3dnsp%26channel%3d
Fri Feb  3 08:08:34 2012 from http://www.google.com/m?client=ms-nokia&cof=nsp&channel=s60&q=www.google.com%2fm%3fclient%3dms-nokia%26cof%3dnsp%26channel%3ds60%26q%3d
Fri Feb  3 07:55:38 2012 from http://www.google.com/m?q=http%3a%2f%2fwww%2egoogle%2ecom%2fm%2fsearch%3fsite%3dimages%26client%3dms%2dopera%2dmini%26channel%3dnew%26q%3d&client=ms-opera-mini&channel=new
Fri Feb  3 07:48:27 2012 from (empty referer)
Fri Feb  3 07:37:31 2012 from http://www.google.com/url?sa=t&rct=j&q=http%3A%2F%2Fwww.google.com%2Fsearch%3Fq%3Dhttp%253a%252f%252fwww.google.com%252fsearch%253fq%253dhttp%25253a%25252f%25252fwww.facebook.com%25252f%2526sourceid%253dopera%2526ie%253dutf-8%2526oe%253dutf-8%2526channel%253dsuggest%26sourceid%3Dopera%26ie%3Dutf-8%26oe%3Dutf-8%26channel%3Dsuggest&source=web&cd=1&ved=0CCIQFjAA&url=http%3A%2F%2Fcarl.cs.indiana.edu%2Ffil%2Fcgi-bin%2FWebSec%2Fmarilyn.cgi&ei=AdUrT-6BL8Hf4QT3uPn8DQ&usg=AFQjCNHRtbr4ftk_4PyVzN3HuHPJV6LZow
Fri Feb  3 07:26:39 2012 from (empty referer)
Fri Feb  3 07:17:27 2012 from http://www.google.com/m?client=ms-nokia&cof=nsp&channel=s60&q=www.google.com%2fm%2fsearch%3fclient%3dms-nokia%26cof%3dnsp%26ch
Fri Feb  3 07:14:07 2012 from http://www.google.com/m?client=ms-nokia&cof=nsp&channel=s60&q=www.google.com%2fm%2fsearch%3fclient%3dms-nokia%26cof%3dnsp%26ch
Fri Feb  3 07:01:45 2012 from (empty referer)
Fri Feb  3 07:00:39 2012 from http://www.google.com/m?client=ms-nokia&cof=nsp&channel=s60&q=www.google.com%2fm%3fclient%3dms-nokia%26cof%3dnsp%26channel%3ds
Fri Feb  3 06:40:07 2012 from http://www.google.com/m?client=ms-nokia&cof=nsp&channel=s60&q=www.google.com%2fm%3fclient%3dms-nokia%26cof%3dnsp%26channel%3ds60%26q%3d
Fri Feb  3 06:31:26 2012 from http://www.google.com/url?sa=t&rct=j&q=http%3A%2F%2Fwww.google.com%2Fsearch%3Fq%3Dhttp%253A%252F%252Fwww.google.com%252Fsearch%253Fq%253Dhttp%25253A%25252F%25252Fwww.facebook.com%25252F%2526sourceid%253Dopera%2526ie%253Dutf-8%2526oe%253Dutf-8%2526channel%253Dsuggest%26sourceid%3Dopera%26ie%3Dutf-8%26oe%3Dutf-8%26channel%3Dsuggest&source=web&cd=1&ved=0CCMQFjAA&url=http%3A%2F%2Fcarl.cs.indiana.edu%2Ffil%2Fcgi-bin%2FWebSec%2Fmarilyn.cgi&ei=fsUrT6ahA4Gg4gTXtJTBDg&usg=AFQjCNHRtbr4ftk_4PyVzN3HuHPJV6LZow
Fri Feb  3 06:21:04 2012 from http://www.google.com/m?client=ms-nokia&cof=nsp&channel=s60&q=www.google.com%2fm%3fclient%3dms-nokia%26cof%3dnsp%26channel%3ds
Fri Feb  3 06:19:42 2012 from http://www.google.com/m?client=ms-nokia&cof=nsp&channel=s60&q=www.+++google.com%2Fm%3Fclient%3Dms-nokia%26cof%3Dnsp%26channe
Fri Feb  3 06:19:19 2012 from http://www.google.com/m?client=ms-nokia&cof=nsp&channel=s60&q=www.+++google.com%2Fm%3Fclient%3Dms-nokia%26cof%3Dnsp%26channe
Fri Feb  3 06:19:18 2012 from http://www.google.com/m?client=ms-nokia&cof=nsp&channel=s60&q=www.+++google.com%2Fm%3Fclient%3Dms-nokia%26cof%3Dnsp%26channe
Fri Feb  3 06:03:09 2012 from http://www.google.com/m?q=www.google.com%2Fm%3Fq%3Dwww.%26client%3Dms-opera-mini%26channel%3Dnew&client=ms-opera-mini&channel=new
Fri Feb  3 06:01:49 2012 from http://www.google.com/url?sa=t&rct=j&q=http%3A%2F%2Fwww.google.com%2Fsearch%3Fq%3Dhttp%253a%252f%252fwww.google.com%252fsearch%253fq%253dhttp%25253a%25252f%25252fwww.google.ro%25252f%2526sourceid%253dopera%2526ie%253dutf-8%2526oe%253dutf-8%2526channel%253dsuggest%26sourceid%3Dopera%26ie%3Dutf-8%26oe%3Dutf-8%26channel%3Dsuggest&source=web&cd=1&ved=0CCIQFjAA&url=http%3A%2F%2Fcarl.cs.indiana.edu%2Ffil%2Fcgi-bin%2FWebSec%2Fmarilyn.cgi&ei=k74rT7aiJ4qZOvmCgZgO&usg=AFQjCNHRtbr4ftk_4PyVzN3HuHPJV6LZow
Fri Feb  3 05:59:46 2012 from http://www.google.com/m?client=ms-nokia&cof=nsp&channel=s60&q=www.google.com%2fm%3fclient%3dms-nokia%26cof%3dnsp%26channel%3ds
Fri Feb  3 05:57:53 2012 from http://www.google.com/url?sa=t&rct=j&q=http%3A%2F%2Fwww.google.com%2Fsearch%3Fq%3Dhttp%253a%252f%252fwww.google.com%252fsearch%253fq%253dhttp%25253a%25252f%25252fwww.google.de%25252f%2526sourceid%253dopera%2526ie%253dutf-8%2526oe%253dutf-8%2526channel%253dsuggest%26sourceid%3Dopera%26ie%3Dutf-8%26oe%3Dutf-8%26channel%3Dsuggest&source=web&cd=1&ved=0CCMQFjAA&url=http%3A%2F%2Fcarl.cs.indiana.edu%2Ffil%2Fcgi-bin%2FWebSec%2Fmarilyn.cgi&ei=pb0rT4akCs_ntQaA8cHxDA&usg=AFQjCNHRtbr4ftk_4PyVzN3HuHPJV6LZow
Fri Feb  3 05:47:44 2012 from http://www.google.com/url?sa=t&rct=j&q=click%20infospace%20clickhandler&source=web&cd=9&ved=0CGcQFjAI&url=http%3A%2F%2Fcarl.cs.indiana.edu%2Ffil%2Fcgi-bin%2FWebSec%2Fmarilyn.cgi&ei=erkrT7XxFYnprQeh783pDA&usg=AFQjCNHRtbr4ftk_4PyVzN3HuHPJV6LZow
Fri Feb  3 05:44:56 2012 from http://www.google.com/url?sa=t&rct=j&q=click%20infospace%20clickhandler&source=web&cd=9&ved=0CGcQFjAI&url=http%3A%2F%2Fcarl.cs.indiana.edu%2Ffil%2Fcgi-bin%2FWebSec%2Fmarilyn.cgi&ei=erkrT7XxFYnprQeh783pDA&usg=AFQjCNHRtbr4ftk_4PyVzN3HuHPJV6LZow
Fri Feb  3 05:40:51 2012 from http://www.google.com/url?sa=t&rct=j&q=click%20infospace%20clickhandler&source=web&cd=9&ved=0CGcQFjAI&url=http%3A%2F%2Fcarl.cs.indiana.edu%2Ffil%2Fcgi-bin%2FWebSec%2Fmarilyn.cgi&ei=erkrT7XxFYnprQeh783pDA&usg=AFQjCNHRtbr4ftk_4PyVzN3HuHPJV6LZow
Fri Feb  3 05:38:07 2012 from http://www.google.com/m?client=ms-nokia&cof=nsp&channel=s60&q=www.,google.com%2fm%3fclient%3dms-nokia%26cof%3dnsp%26channel%3ds60%26q
Fri Feb  3 05:37:52 2012 from http://www.google.com/m?client=ms-nokia&cof=nsp&channel=s60&q=htt%2Fsokia%26cof%3Dnsp%26channel%3Ds60%26q%3Dww
Fri Feb  3 05:28:57 2012 from http://www.google.com/url?sa=t&rct=j&q=http%3A%2F%2Fwww.google.com%2Fsearch%3Fq%3Dhttp%253a%252f%252fwww.google.com%252fsearch%253fq%253dhttp%25253a%25252f%25252fwww.google.pl%25252f%2526sourceid%253dopera%2526ie%253dutf-8%2526oe%253dutf-8%2526channel%253dsuggest%26sourceid%3Dopera%26ie%3Dutf-8%26oe%3Dutf-8%26channel%3Dsuggest&source=web&cd=1&ved=0CCMQFjAA&url=http%3A%2F%2Fcarl.cs.indiana.edu%2Ffil%2Fcgi-bin%2FWebSec%2Fmarilyn.cgi&ei=37YrT4i5IInLsgac8eyeDQ&usg=AFQjCNHRtbr4ftk_4PyVzN3HuHPJV6LZow
Fri Feb  3 05:25:43 2012 from http://www.google.com/m?client=ms-nokia&cof=nsp&channel=s60&q=htt/nokia%26amp;cof%3Dnsp%26amp;channel%3Ds60%26amp;q%3Dwww&spell=1&ei=F64rT9D_Lo37rAfPIQ&ved=0CAYQvwUoAA
Fri Feb  3 05:09:04 2012 from http://www.google.com.ng/url?sa=t&rct=j&q=wwwww.gmail.com%25252f%2526sourceid%253dopera%2526ie%253dutf-8%2526oe%253dutf-8%2526channel%253dsuggest%26sourceid%3Dopera%26ie%3Dutf-8%26oe%3Dutf-8%26channel%3Dsuggest&source=web&cd=1&ved=0CCwQFjAA&url=http%3A%2F%2Fcarl.cs.indiana.edu%2Ffil%2Fcgi-bin%2FWebSec%2Fmarilyn.cgi&ei=KrIrT_S0KMyXOpaspPgN&usg=AFQjCNHRtbr4ftk_4PyVzN3HuHPJV6LZow
Fri Feb  3 05:02:24 2012 from http://www.google.com/m?client=ms-nokia&cof=nsp&channel=s60&q=www.google.com%2fm%3fclient%3dms-nokia%26cof%3dnsp%26channel%3ds
Fri Feb  3 04:54:20 2012 from http://www.google.com/url?sa=t&rct=j&q=http%3A%2F%2Fwww.google.com%2Fsearch%3Fq%3Dhttp%253A%252F%252Fwww.google.com%252Fsearch%253Fq%253Dhttp%25253A%25252F%25252Fgoogle.com%25252F%2526sourceid%253Dopera%2526ie%253Dutf-8%2526oe%253Dutf-8%2526channel%253Dsuggest%26sourceid%3Dopera%26ie%3Dutf-8%26oe%3Dutf-8%26channel%3Dsuggest&source=web&cd=1&ved=0CC8QFjAA&url=http%3A%2F%2Fcarl.cs.indiana.edu%2Ffil%2Fcgi-bin%2FWebSec%2Fmarilyn.cgi&ei=d64rT_T5GI_RrQeW2cXXDA&usg=AFQjCNHRtbr4ftk_4PyVzN3HuHPJV6LZow
Fri Feb  3 04:52:16 2012 from http://home.allgameshome.com/results.php?category=web&s=http://click.infospace.com/ClickHandler.ashx?du=http%3a%2f%2fwww.pinkworld.com%2f&ru=http%3a%2f%2fwww.pinkworld.com%2f&ld=20120203&ap=1&app=1&c=imesh.meta.4&s=imeshmeta4&coi=239137&cop=main-title&ep=1&euip=49.244.177.190&npp=1&p=0&pp=0&pvaid=2d30e533a88a4174b1bf7579e0646fef&hash=A7E6970461A945BA44076306F1CD300
Fri Feb  3 04:50:50 2012 from http://www.google.com/m?client=ms-nokia&cof=nsp&channel=s60&q=www.google.com%2fm%3fclient%3dms-nokia%26cof%3dnsp%26channel%3ds
Fri Feb  3 04:27:25 2012 from http://www.google.com/m?client=ms-nokia&cof=nsp&channel=s60&q=htt/nokia%26amp;cof%3Dnsp%26amp;channel%3Ds60%26amp;q%3Dwww&spell=1&ei=bKgrT9igMY37rAfPIQ&ved=0CAYQvwUoAA
Fri Feb  3 04:21:38 2012 from http://www.bing.com/search?sp=chv&q=facebook.com%2Fajax%2Fpagelet%2Fgeneric.php%2FPhotoViewerInitPagelet%3F__a
Fri Feb  3 04:13:31 2012 from http://www.google.com/m?client=ms-nokia&cof=nsp&q=www.google.com/m?client%3Dms-nokia%26cof%3Dnsp%26channel%3Ds&channel=s60&start=0&sa=N
Fri Feb  3 04:12:02 2012 from (empty referer)
Fri Feb  3 04:09:57 2012 from http://www.google.com/m?client=ms-nokia&cof=nsp&channel=s60&q=.home%2fm%3fclient%3dms-nokia%26cof%3dnsp%26channel%3ds60%26q%3dwww.
Fri Feb  3 04:09:56 2012 from http://www.google.com/m?client=ms-nokia&cof=nsp&channel=s60&q=.home%2fm%3fclient%3dms-nokia%26cof%3dnsp%26channel%3ds60%26q%3dwww.
Fri Feb  3 03:55:09 2012 from http://www.google.com/url?sa=t&rct=j&q=http%3A%2F%2Fwww.google.com%2Fsearch%3Fq%3Dhttp%253a%252f%252fwww.google.com%252fsearch%253fq%253dhttp%25253a%25252f%25252fwww.google.com%25252fsearch%25253fq%25253dhttp%2525253a%2525252f%2525252fwww.google.ro%2525252f%252526sourceid%25253dopera%252526ie%25253dutf-8%252526oe%25253dutf-8%252526channel%25253dsuggest%2526sourceid%253dopera%2526ie%253dutf-8%2526oe%253dutf-8%2526channel%253dsuggest%26sourceid%3Dopera%26ie%3Dutf-8%26oe%3Dutf-8%26channel%3Dsuggest&source=web&cd=1&ved=0CCEQFjAA&url=http%3A%2F%2Fcarl.cs.indiana.edu%2Ffil%2Fcgi-bin%2FWebSec%2Fmarilyn.cgi&ei=06ArT6XsKo3CtAb16sGODQ&usg=AFQjCNHRtbr4ftk_4PyVzN3HuHPJV6LZow
Fri Feb  3 03:48:29 2012 from (empty referer)
Fri Feb  3 03:48:03 2012 from http://www.google.com/url?sa=t&rct=j&q=http%3A%2F%2Fwww.google.com%2Fsearch%3Fq%3Dhttp%253A%252F%252Fwww.google.com%252Fsearch%253Fq%253Dhttp%25253A%25252F%25252Fwww.facebook.com%25252F%2526sourceid%253Dopera%2526ie%253Dutf-8%2526oe%253Dutf-8%2526channel%253Dsuggest%26sourceid%3Dopera%26ie%3Dutf-8%26oe%3Dutf-8%26channel%3Dsuggest&source=web&cd=1&ved=0CCAQFjAA&url=http%3A%2F%2Fcarl.cs.indiana.edu%2Ffil%2Fcgi-bin%2FWebSec%2Fmarilyn.cgi&ei=KZ8rT8nDF8msiQKNwJi2Cg&usg=AFQjCNHRtbr4ftk_4PyVzN3HuHPJV6LZow
Fri Feb  3 03:44:44 2012 from http://www.google.com/m?client=ms-nokia&cof=nsp&channel=s60&q=www.google.com%2fm%3fclient%3dms-nokia%26cof%3dnsp%26channel%3ds
Fri Feb  3 03:26:20 2012 from (empty referer)
Fri Feb  3 03:17:40 2012 from http://www.google.com/m?client=ms-nokia&cof=nsp&channel=s60&q=e.com%2Fm%3Fclient%3Dms-nokia%26cof%3Dnsp%26channel%3Ds60%26q%3D.ad
Fri Feb  3 03:17:39 2012 from http://www.google.com/m?client=ms-nokia&cof=nsp&channel=s60&q=e.com%2Fm%3Fclient%3Dms-nokia%26cof%3Dnsp%26channel%3Ds60%26q%3D.ad
Fri Feb  3 03:17:35 2012 from http://www.google.com/m?client=ms-nokia&cof=nsp&channel=s60&q=e.com%2Fm%3Fclient%3Dms-nokia%26cof%3Dnsp%26channel%3Ds60%26q%3D.ad
Fri Feb  3 03:02:48 2012 from http://www.google.com/m?client=ms-nokia&cof=nsp&channel=s60&q=wwwyutub.google.com%2fm%2fsearch%3fclient%3dms-nokia%26q%3dwww
Fri Feb  3 03:00:22 2012 from http://www.google.com/m?client=ms-nokia&cof=nsp&channel=s60&q=wwwyutub.google.com%2fm%2fsearch%3fclient%3dms-nokia%26q%3dwww
Fri Feb  3 03:00:20 2012 from (empty referer)
Fri Feb  3 02:59:31 2012 from http://www.google.ru/url?sa=t&rct=j&q=http%3A%2F%2Fwww.ask.com%2F%3Fl%3Ddis%26o%3D101916&source=web&cd=1&ved=0CCcQFjAA&url=http%3A%2F%2Fcarl.cs.indiana.edu%2Ffil%2Fcgi-bin%2FWebSec%2Fmarilyn.cgi&ei=3JMrT-O4B8_ntQaA8cHxDA&usg=AFQjCNHRtbr4ftk_4PyVzN3HuHPJV6LZow&cad=rjt
Fri Feb  3 02:51:38 2012 from http://www.google.com/m?client=ms-nokia&cof=nsp&channel=s60&q=www.google.com%2Fm%3Fclient%3Dms-nokia%26cof%3Dnsp%26channel%3Ds
Fri Feb  3 02:50:12 2012 from http://www.google.com/m?client=ms-nokia&cof=nsp&channel=s60&q=www.google.com%2Fm%3Fclient%3Dms-nokia%26cof%3Dnsp%26channel%3Ds
Fri Feb  3 02:50:10 2012 from http://isearch.avg.com/search?q=http%3A%2F%2Ftubidy.mobi%2Fsearch.php%3Fa%3D18%26q%3Dsexe&sap=dsp&lang=en&mid=a47640a269a647d1a81ed15696851927-a1e699b4520611a7489c6359574b97bb1b15ae6e&cid=%7BCAABB417-5122-47BF-B0A5-E7AB60EF09CD%7D&v=10.0.0.7&ds=AVG&d=1%2F19%2F2012+9%3A06%3A13+AM&pr=pr&snd=hdr
Fri Feb  3 02:49:24 2012 from http://www.google.com/m?client=ms-nokia&cof=nsp&channel=s60&q=www.google.com%2Fm%3Fclient%3Dms-nokia%26cof%3Dnsp%26channel%3Ds
Fri Feb  3 02:49:06 2012 from http://isearch.avg.com/search?q=http%3A%2F%2Ftubidy.mobi%2Fsearch.php%3Fa%3D18%26q%3Dsexe&sap=dsp&lang=en&mid=a47640a269a647d1a81ed15696851927-a1e699b4520611a7489c6359574b97bb1b15ae6e&cid=%7BCAABB417-5122-47BF-B0A5-E7AB60EF09CD%7D&v=10.0.0.7&ds=AVG&d=1%2F19%2F2012+9%3A06%3A13+AM&pr=pr&snd=hdr
Fri Feb  3 02:46:40 2012 from (empty referer)
Fri Feb  3 02:44:41 2012 from http://search.sweetim.com/search.asp?src=8&barid={30E9E2BE-0417-11E1-8EBB-001E68391309}&q=hotsptshld.comgresults.php?c=e&err=404&h=B&q=www.3zofcam.com:2010IMCInst.exe&h=B
Fri Feb  3 02:44:36 2012 from http://www.google.com/m?client=ms-nokia&cof=nsp&channel=s60&q=www.googl.com%2fm%3fclient%3dms-nokia%26cof%3dnsp%26channel%3ds60%26q%3dm
Fri Feb  3 02:44:35 2012 from http://www.google.com/m?client=ms-nokia&cof=nsp&channel=s60&q=www.google.com%2fm%3fclient%3dms-nokia%26cof%3dnsp%26channel%3ds
Fri Feb  3 02:43:25 2012 from http://www.google.com/m?client=ms-nokia&cof=nsp&channel=s60&q=www.google.com%2fm%3fclient%3dms-nokia%26cof%3dnsp%26channel%3ds
Fri Feb  3 02:29:44 2012 from http://www.google.com/search?client=opera&rls=en&q=http%3A%2F%2Fwww.google.com%2Fsearch%3Fq%3Dhttp%253A%252F%252Fwww.google.com%252Fsearch%253Fq%253Dhttp%25253A%25252F%25252Fwww.googlesearch.com%25252F%2526sourceid%253Dopera%2526ie%253Dutf-8%2526oe%253Dutf-8%2526channel%253Dsuggest%26sourceid%3Dopera%26ie%3Dutf-8%26oe%3Dutf-8%26channel%3Dsuggest&sourceid=opera&ie=utf-8&oe=utf-8&channel=suggest
Fri Feb  3 02:20:59 2012 from http://www.google.com/m?client=ms-nokia&cof=nsp&channel=s60&q=www.google.com%2Fm%3Fclient%3Dms-nokia%26cof%3Dnsp%26channel%3Ds60%26q%3D
Fri Feb  3 02:19:12 2012 from http://www.google.com/m?client=ms-nokia&cof=nsp&channel=s60&q=www.google.com%2fm%3fclient%3dms-nokia%26cof%3dnsp%26channel%3ds60%26q%3d
Fri Feb  3 02:14:55 2012 from (empty referer)
Fri Feb  3 02:00:43 2012 from http://vidvain.com/hyip
Fri Feb  3 01:58:09 2012 from (empty referer)
Fri Feb  3 01:57:43 2012 from http://www.google.com/m/search?client=ms-nokia&channel=proxy&q=TUBIDY.MOBI/SEARCH.PHP?
Fri Feb  3 01:27:37 2012 from (empty referer)
Fri Feb  3 01:23:49 2012 from http://www.google.com/search?client=opera&rls=en&q=http%3A%2F%2Fwww.google.com%2Fsearch%3Fq%3Dhttp%253A%252F%252Fwww.google.com%252Fsearch%253Fq%253Dhttp%25253A%25252F%25252Fwww.facebook.com%25252F%2526sourceid%253Dopera%2526num%253D0%2526ie%253Dutf-8%2526oe%253Dutf-8%2526channel%253Dsuggest%26sourceid%3Dopera%26num%3D0%26ie%3Dutf-8%26oe%3Dutf-8%26channel%3Dsuggest&sourceid=opera&ie=utf-8&oe=utf-8&channel=suggest
Fri Feb  3 01:22:20 2012 from http://www.google.com/m?client=ms-nokia&cof=nsp&channel=s60&q=www.google.com%2fm%3fclient%3dms-nokia%26cof%3dnsp%26channel%3ds
Fri Feb  3 01:08:56 2012 from http://www.google.com/m?client=ms-nokia&cof=nsp&channel=s60&q=www.google.com%2fm%3fclient%3dms-nokia%26cof%3dnsp%26channel%3ds
Fri Feb  3 00:56:09 2012 from http://www.google.com/m?client=ms-nokia&cof=nsp&channel=s60&q=wwww.google.com%2fm%3fclient%3dms-nokia%26cof%3dnsp%26channel%3ds60%26q
Fri Feb  3 00:56:05 2012 from http://www.google.com/m?client=ms-nokia&cof=nsp&channel=s60&q=wwww.google.com%2fm%3fclient%3dms-nokia%26cof%3dnsp%26channel%3ds60%26q
Fri Feb  3 00:37:19 2012 from http://www.google.com/m?q=www%2egoogle%2ecom%2fm%3fq%3dXxx%20video%20%26client%3dms%2dopera%2dmini%26channel%3dnew&client=ms-opera-mini&channel=new
Fri Feb  3 00:36:12 2012 from http://www.google.com/m/search?client=ms-nokia&cof=nsp&channel=s60&sa=2&q=www.google.com%2Fm%3Fclient%3Dms-nokia%26cof%3Dnsp%26channel%3Ds&site=universal
Fri Feb  3 00:35:07 2012 from http://www.google.com/m?q=www%2egoogle%2ecom%2fm%3fq%3dXxx%20video%20%26client%3dms%2dopera%2dmini%26channel%3dnew&client=ms-opera-mini&channel=new
Fri Feb  3 00:31:40 2012 from http://www.google.com/url?sa=t&rct=j&q=http%3A%2F%2Fwww.google.com%2Fsearch%3Fq%3Dhttp%253A%252F%252Fwww.google.com.sa%252Fsearch%253Fq%253Dwww.facebook.com%2526sourceid%253Dopera%2526ie%253Dutf-8%2526oe%253Dutf-8%2526channel%253Dsuggest%26sourceid%3Dopera%26ie%3Dutf-8%26oe%3Dutf-8%26channel%3Dsuggest&source=web&cd=1&ved=0CCkQFjAA&url=http%3A%2F%2Fcarl.cs.indiana.edu%2Ffil%2Fcgi-bin%2FWebSec%2Fmarilyn.cgi&ei=LnErT_OnIYmCOs7QtYgO&usg=AFQjCNHRtbr4ftk_4PyVzN3HuHPJV6LZow
Fri Feb  3 00:27:52 2012 from http://www.google.com/m?client=ms-nokia&cof=nsp&channel=s60&q=www.google.com%2fm%3fclient%3dms-nokia%26cof%3dnsp%26channel%3ds60%26q%3d
Fri Feb  3 00:18:35 2012 from http://www.google.com/m?q=http%3a%2f%2fwww%2egoogle%2ecom%2fm%2fsearch%3fsite%3dimages%26client%3dms%2dopera%2dmini%26channel%3dnew%26q%3d&client=ms-opera-mini&channel=new
Fri Feb  3 00:14:08 2012 from http://www.google.com/m?client=ms-nokia&cof=nsp&channel=s60&q=www.google.com/m/search?client%3Dms-nokia+cof%3Dnsp&spell=1&ei=2mwrT4DWDYzvjAfmWg&ved=0CAcQBSgA
Thu Feb  2 23:53:46 2012 from http://vidvain.com/hyip-investment
Thu Feb  2 23:24:03 2012 from http://www.google.com.sa/search?q=http%3A%2F%2Ftubidy.mobi%2Fsearch.php%3Fa%3D18%26q%3D18%2Bsex&client=mobilesearchapp&safe=images&rlz=1MDAPLA_ar-SASA449&hl=ar&v=1.0.1.8464&channel=iss&source=mobilesearchapp&qscrl=1
Thu Feb  2 23:20:04 2012 from http://search.speedbit.com/Search.aspx?q=http%3A%2F%2Ftubidy.mobi%2Fsearch.php%3Fa%3D18%26q%3Dxxx%2Bvideo&site=web&aff=svd_AD&btn=Search
Thu Feb  2 23:16:00 2012 from http://search.speedbit.com/search.aspx?site=web&prevsite=web&aff=svd_AD&q=http%3A%2F%2Ftubidy.mobi%2Fsearch.php%3Fa%3D18%26q%3Dxxx%2Bvideo&sa=++Search++
Thu Feb  2 23:15:08 2012 from http://www.google.com.sa/search?q=http%3A%2F%2Ftubidy.mobi%2Fsearch.php%3Fa%3D18%26q%3D18%2Bsex&client=mobilesearchapp&safe=images&rlz=1MDAPLA_ar-SASA449&hl=ar&v=1.0.1.8464&channel=iss&source=mobilesearchapp&qscrl=1
Thu Feb  2 23:14:28 2012 from http://search.speedbit.com/search.aspx?site=web&prevsite=web&aff=svd_AD&q=http%3A%2F%2Ftubidy.mobi%2Fsearch.php%3Fa%3D18%26q%3Dxxx%2Bvideo&sa=++Search++
Thu Feb  2 22:56:50 2012 from http://www.google.com/search?client=opera&rls=sk&q=http%3A%2F%2Fwww.google.com%2Fsearch%3Fq%3Dhttp%253A%252F%252Fwww.google.com%252Fsearch%253Fq%253Dhttp%25253A%25252F%25252Fwww.google.com%25252Fsearch%25253Fq%25253Dhttp%2525253A%2525252F%2525252Fwww.facebook.com%2525252F%252526sourceid%25253Dopera%252526ie%25253Dutf-8%252526oe%25253Dutf-8%252526channel%25253Dsuggest%2526sourceid%253Dopera%2526ie%253Dutf-8%2526oe%253Dutf-8%2526channel%253Dsuggest%26sourceid%3Dopera%26ie%3Dutf-8%26oe%3Dutf-8%26channel%3Dsuggest&sourceid=opera&ie=utf-8&oe=utf-8&channel=suggest
Thu Feb  2 22:56:10 2012 from http://www.google.com/gwt/x?client=ms-sonyericsson&q=http://www.google.com/gwt/x?oe%3DUTF-8&output=wml&channel=sk&hl=es&ei=ZVorT-CPGo-psAeHeQ&ved=0CAsQFjADOAo&start=10&source=m&rd=1&u=http://carl.cs.indiana.edu/fil/cgi-bin/WebSec/marilyn.cgi
Thu Feb  2 22:55:26 2012 from (empty referer)
Thu Feb  2 22:08:47 2012 from (empty referer)
Thu Feb  2 22:06:48 2012 from (empty referer)
Thu Feb  2 22:05:13 2012 from http://www.google.dk/url?sa=t&rct=j&q=http%20%2F%2Fbit.ly%20%20sex&source=web&cd=3&ved=0CEAQFjAC&url=http%3A%2F%2Fcarl.cs.indiana.edu%2Ffil%2Fcgi-bin%2FWebSec%2Fmarilyn.cgi&ei=104rT477IIihOqmzmYQO&usg=AFQjCNHRtbr4ftk_4PyVzN3HuHPJV6LZow
Thu Feb  2 22:05:07 2012 from http://www.google.dk/url?sa=t&rct=j&q=http%20%2F%2Fbit.ly%20%20sex&source=web&cd=3&ved=0CEAQFjAC&url=http%3A%2F%2Fcarl.cs.indiana.edu%2Ffil%2Fcgi-bin%2FWebSec%2Fmarilyn.cgi&ei=104rT477IIihOqmzmYQO&usg=AFQjCNHRtbr4ftk_4PyVzN3HuHPJV6LZow
Thu Feb  2 22:05:05 2012 from http://www.google.dk/url?sa=t&rct=j&q=http%20%2F%2Fbit.ly%20%20sex&source=web&cd=3&ved=0CEAQFjAC&url=http%3A%2F%2Fcarl.cs.indiana.edu%2Ffil%2Fcgi-bin%2FWebSec%2Fmarilyn.cgi&ei=104rT477IIihOqmzmYQO&usg=AFQjCNHRtbr4ftk_4PyVzN3HuHPJV6LZow
Thu Feb  2 22:05:02 2012 from http://www.google.dk/url?sa=t&rct=j&q=http%20%2F%2Fbit.ly%20%20sex&source=web&cd=3&ved=0CEAQFjAC&url=http%3A%2F%2Fcarl.cs.indiana.edu%2Ffil%2Fcgi-bin%2FWebSec%2Fmarilyn.cgi&ei=104rT477IIihOqmzmYQO&usg=AFQjCNHRtbr4ftk_4PyVzN3HuHPJV6LZow
Thu Feb  2 21:43:17 2012 from (empty referer)
Thu Feb  2 21:35:34 2012 from http://www.google.co.in/m?q=tubidy%2520mobi&client=ms-opera-mini&channel=new
Thu Feb  2 21:30:49 2012 from (empty referer)
Thu Feb  2 21:19:36 2012 from http://www.google.com/m?q=www.google.com%2Fm%3Fq%3Dwww.%26client%3Dms-opera-mini%26channel%3Dnewww.you+tuba.cow&client=ms-opera-mini&channel=new
Thu Feb  2 20:44:13 2012 from http://www.google.com/url?sa=t&rct=j&q=http%3A%2F%2Fwww.google.com%2Fsearch%3Fq%3Dhttp%253a%252f%252fwww.google.com%252fsearch%253fq%253dhttp%25253a%25252f%25252fwww.google.com%25252fsearch%25253fq%25253dhttp%2525253a%2525252f%2525252fwww.facebook.com%2525252fmessages%2525252f%252526sourceid%25253dopera%252526ie%25253dutf-8%252526oe%25253dutf-8%252526channel%25253dsuggest%2526sourceid%253dopera%2526ie%253dutf-8%2526oe%253dutf-8%2526channel%253dsuggest%26sourceid%3Dopera%26ie%3Dutf-8%26oe%3Dutf-8%26channel%3Dsuggest&source=web&cd=1&ved=0CCwQFjAA&url=http%3A%2F%2Fcarl.cs.indiana.edu%2Ffil%2Fcgi-bin%2FWebSec%2Fmarilyn.cgi&ei=XTsrT9eRF62r2AX2zq3qDg&usg=AFQjCNHRtbr4ftk_4PyVzN3HuHPJV6LZow
Thu Feb  2 20:43:36 2012 from (empty referer)
Thu Feb  2 20:22:23 2012 from http://www.bing.com/search?q=search.mywebsearch.commywebsearchredirect.jhtml%3Fsearchfor%3Dwww.nude+girls.com&pc=ZUGO&form=ZGAIDF
Thu Feb  2 20:18:19 2012 from (empty referer)
Thu Feb  2 19:53:07 2012 from http://www.google.com/m?q=www.google.com/m?q=gamezer.com/billiards/
Thu Feb  2 19:47:45 2012 from (empty referer)
Thu Feb  2 19:24:47 2012 from http://carl.cs.indiana.edu/fil/cgi-bin/WebSec/marilyn.cgi
Thu Feb  2 17:52:15 2012 from http://www.google.com/m?hl=en&q=xxx+.tubidy+%2520com
Thu Feb  2 17:32:15 2012 from http://www.plusnetwork.com/?sp=ctbar&q=www.plusnetwork.com%2F%3Fsp%3Dhp&dp=MessengerPlus
Thu Feb  2 17:03:26 2012 from http://go.mail.ru/search?q=http%3A%2F%2Fwww.google.com.ua%2Fsearch%3Fq%3Dex%2Bvideo%26sourceid%3Dopera%26ie%3Dutf-8%26oe%3Dutf-8%26channel%3Dsuggest&fr=opr11
Thu Feb  2 16:53:08 2012 from http://www.google.com/m/search?site=universal&q=Www%40shahvani%2Fgoogle.com
Thu Feb  2 16:43:47 2012 from http://www.google.com/m?q=www.google.com%2Fm%3Fclient%3Dms-opera-mini%26channel%3Dnew%26q%3D%2Byoutube&client=ms-opera-mini&channel=new
Thu Feb  2 16:08:33 2012 from http://www.google.com/url?sa=t&rct=j&q=http%3A%2F%2Fwww.google.com%2Fsearch%3Fq%3Dhttp%253A%252F%252Fwww.google.com.ng%252Fsearch%253Fq%253Dfacebook%2526sourceid%253Dopera%2526ie%253Dutf-8%2526oe%253Dutf-8%2526channel%253Dsuggest%26sourceid%3Dopera%26ie%3Dutf-8%26oe%3Dutf-8%26channel%3Dsuggest&source=web&cd=1&ved=0CCIQFjAA&url=http%3A%2F%2Fcarl.cs.indiana.edu%2Ffil%2Fcgi-bin%2FWebSec%2Fmarilyn.cgi&ei=OvsqT7buEcvitQamgsmDDQ&usg=AFQjCNHRtbr4ftk_4PyVzN3HuHPJV6LZow
Thu Feb  2 16:03:36 2012 from http://www.google.com/m?q=Tubidy.mobi%2fsearch.php%3fa%3d18%26%3dvideo%2bsex&client=ms-nokia&cof=nsp&channel=s40&hl=en&safe=active
Thu Feb  2 15:56:33 2012 from (empty referer)
Thu Feb  2 15:49:57 2012 from http://www.google.com/m?client=ms-nokia&q=tubidy.mobi/search.php?%3D18%26q&cof=nsp&channel=s60&start=10&sa=N
Thu Feb  2 15:31:42 2012 from (empty referer)
Thu Feb  2 15:16:42 2012 from (empty referer)
Thu Feb  2 15:15:01 2012 from http://www.google.ae/url?sa=t&rct=j&q=http%3B%5C%5Ctubidy.mobi%5Csearch.php&source=web&cd=4&ved=0CDUQFjAD&url=http%3A%2F%2Fcarl.cs.indiana.edu%2Ffil%2Fcgi-bin%2FWebSec%2Fmarilyn.cgi&ei=uO4qT6SMDPL24QTzsbD5DQ&usg=AFQjCNHRtbr4ftk_4PyVzN3HuHPJV6LZow
Thu Feb  2 15:07:31 2012 from http://www.google.co.uk/search?sourceid=navclient&aq=hts0&oq=h&ie=UTF-8&rlz=1T4FTSF_en___SA459&q=www.tubidy.mobi%2fseach.php%3fa%3d18&gs_upl=0l0l5l35103lllllllllll0&aqi=s83
Thu Feb  2 14:55:32 2012 from http://www.google.com/m/search?safe=active&q=http://tubidy.mobi/search.php?a%3D18&hl=en&site=universal&tab=iw&ei=BOoqT6itMoLcjgeW9gE&sa=N&ei=BOoqT6itMoLcjgeW9gE&ved=0CAMQ1wY
Thu Feb  2 14:50:29 2012 from http://www.google.com/url?sa=t&rct=j&q=http%3A%2F%2Fwww.google.com%2Fsearch%3Fq%3Dhttp%253a%252f%252fwww.google.com%252fsearch%253fq%253dhttp%25253a%25252f%25252fwww.youtube.com%25252f%2526sourceid%253dopera%2526ie%253dutf-8%2526oe%253dutf-8%2526channel%253dsuggest%26sourceid%3Dopera%26ie%3Dutf-8%26oe%3Dutf-8%26channel%3Dsuggest&source=web&cd=1&ved=0CCIQFjAA&url=http%3A%2F%2Fcarl.cs.indiana.edu%2Ffil%2Fcgi-bin%2FWebSec%2Fmarilyn.cgi&ei=8OgqT9LgMMap4gTE8Zm2CA&usg=AFQjCNHRtbr4ftk_4PyVzN3HuHPJV6LZow
Thu Feb  2 14:47:31 2012 from http://search.chatzum.com/?q=http%3A%2F%2Futils.chatzum.com%2F%3Furl%3Dhttp%3A%2F%2Futils.chatzum.com%2F%3Furl%3Dfacebook.c
Thu Feb  2 14:42:08 2012 from http://www.google.com/m?client=ms-nokia&cof=nsp&channel=s60&q=http%3a%2f%2ftubidy.%20%20%20%20%20%20%20%20%20%20%20%20%20%20%20%20%20%20%20%20%20%20mobi%2fsearch.php%3fa%3d18%c2%a7%20%3dxxx%2bvideo
Thu Feb  2 14:40:34 2012 from (empty referer)
Thu Feb  2 14:39:53 2012 from http://www.google.com/m?client=ms-nokia&cof=nsp&channel=s60&q=http%3a%2f%2ftubidy.%20%20%20%20%20%20%20%20%20%20%20%20%20%20%20%20%20%20%20%20%20%20mobi%2fsearch.php%3fa%3d18%c2%a7%20%3dxxx%2bvideo
Thu Feb  2 14:29:30 2012 from http://www.google.com/m?client=ms-nokia&cof=nsp&channel=s60&q=www.facebook.com%2fm%3fclient%3dms-nokia%26cof%3dnsp%26channel
Thu Feb  2 14:24:41 2012 from http://search.bearshare.com/web?src=derr&appid=281&systemid=2&v=1&q=http%3A%2F%2F540.xg4ken.com%2Fmedia%2Fredir.php%3Fprof%3D6%26camp%3D176%26affcode%3Dcr65876%26cid%3D16745495018%7C14574%7C%26mType%3D%26networkType%3Dcontent%26url%5B%5D%3Dhttp%253A%252F%252Fwww.facebook.com%252Fcampaign%252Flanding.php%253Fcampaign_id%253D232141786856503%2526creative%253D16745495018%2526extra_1%253D_kenshoo_clickid_
Thu Feb  2 14:07:56 2012 from (empty referer)
Thu Feb  2 14:06:44 2012 from http://www.google.com.om/search?hl=ar&gl=ae&client=ms-android-samsung&source=android-browser-type&q=httptubidymobisearch.txt+-&sky=mrdr
Thu Feb  2 13:56:56 2012 from http://search.chatzum.com/?q=http%3A%2F%2Fclick.infospace.com%2FClickHandler.ashx%3Fdu%3Dhttp%3A%2F%2Fwww.facebook.com%2F
Thu Feb  2 13:52:19 2012 from http://www.google.com/m?q=www.google.com%2Fm%3Fq%3Dwww.%26client%3Dms-opera-mini%26channel%3Dnew&client=ms-opera-mini&channel=new
Thu Feb  2 13:12:39 2012 from http://home.allgameshome.com/results.php?category=web&s=http://click.infospace.com/ClickHandler.ashx?du=http%3a%2f%2fwww.youjizz.com%2fvideos%2ftarzan-xxx-185097.html&ru=http%3a%2f%2fwww.youjizz.com%2fvideos%2ftarzan-xxx-185097.html&ld=20120202&ap=6&app=1&c=iminentxml2.id&s=iminentxml2&coi=372376&cop=main-title&ep=6&euip=125.161.30.101&npp=6&p=0&pp=0&pvaid=40ec017be46f4f0cb6beb5aba9c04e94&hash=3B4A85F706D46B526A71369EE7FCC07
Thu Feb  2 13:09:45 2012 from (empty referer)
Thu Feb  2 12:52:14 2012 from (empty referer)
Thu Feb  2 12:49:35 2012 from http://www.google.com/m?client=ms-opera-mini&channel=new&q=www.google.com%2Fm%3Fclient%3Dms-opera-mini%26channel%3Dnew%26q%3Dpermainan
Thu Feb  2 12:33:56 2012 from http://www.google.com/m?client=ms-nokia&cof=nsp&channel=s60&q=www.google.com%2fm%2fsearch%3fclient%3dms-nokia%26q%3d0%2526q%253Dwww.%2bc
Thu Feb  2 12:32:32 2012 from (empty referer)
Thu Feb  2 12:31:08 2012 from (empty referer)
Thu Feb  2 12:07:31 2012 from http://www.google.com/cse?q=google.com%2Furl%3Fq%3Dhttp%3A%2F%2Fgamezer.com%2Fbilliards%2F&cx=014714114577817547783%3Abdyelwlrqeo&ie=UTF-8&hl=ar
Thu Feb  2 12:04:43 2012 from http://www.google.com/url?sa=t&rct=j&q=&esrc=s&source=web&cd=1&ved=0CCIQFjAA&url=http%3A%2F%2Fcarl.cs.indiana.edu%2Ffil%2Fcgi-bin%2FWebSec%2Fmarilyn.cgi&ei=FcIqT7qKE6aKmQXn5s3NDw&usg=AFQjCNHRtbr4ftk_4PyVzN3HuHPJV6LZow&sig2=GaFl-wnjJ5RN7e9XKCSgIA
Thu Feb  2 12:00:59 2012 from http://www.google.com/url?sa=t&rct=j&q=http%3A%2F%2Fwww.google.com%2Fsearch%3Fq%3Dhttp%253a%252f%252fwww.google.com%252fsearch%253fq%253dhttp%25253a%25252f%25252fwww.youporn.com%25252f%2526sourceid%253dopera%2526ie%253dutf-8%2526oe%253dutf-8%2526channel%253dsuggest%26sourceid%3Dopera%26ie%3Dutf-8%26oe%3Dutf-8%26channel%3Dsuggest&source=web&cd=1&ved=0CCwQFjAA&url=http%3A%2F%2Fcarl.cs.indiana.edu%2Ffil%2Fcgi-bin%2FWebSec%2Fmarilyn.cgi&ei=PcEqT-vDOJGZ8gOHiLyLDw&usg=AFQjCNHRtbr4ftk_4PyVzN3HuHPJV6LZow
Thu Feb  2 11:53:22 2012 from http://www.google.com.om/url?sa=t&rct=j&q=http:%2F%2Ftubidy.mobi%2Fsearch.php&source=web&cd=6&ved=0CEUQFjAF&url=http%3A%2F%2Fcarl.cs.indiana.edu%2Ffil%2Fcgi-bin%2FWebSec%2Fmarilyn.cgi&ei=9b4qT7zTMo7SrQfr4u3tDA&usg=AFQjCNHRtbr4ftk_4PyVzN3HuHPJV6LZow&sig2=bvlgsAp1pcpLiJhdXHtbBA
Thu Feb  2 11:52:35 2012 from (empty referer)
Thu Feb  2 11:49:04 2012 from (empty referer)
Thu Feb  2 11:48:27 2012 from http://www.google.co.uk/m?q=www%252etubidy%252ecom&client=ms-opera-mini&channel=new&q=www%252etubidy%252ecom&client=ms-opera-mini&channel=new
Thu Feb  2 11:48:20 2012 from http://www.google.com/m?client=ms-nokia&cof=nsp&channel=s60&q=google.com%2fm%2fsearch%3fclient%3dms-nokia%26q%3dwww.gmail.co
Thu Feb  2 11:44:16 2012 from (empty referer)
Thu Feb  2 11:42:49 2012 from http://www.google.com/search?client=opera&rls=en&q=http%3A%2F%2Fwww.google.com%2Fsearch%3Fq%3Dhttp%253A%252F%252Fwww.google.com%252Fsearch%253Fq%253Dhttp%25253A%25252F%25252Fwww.google.com%25252Fsearch%25253Fq%25253Dhttp%2525253A%2525252F%2525252Fwww.google.com%2525252Fsearch%2525253Fq%2525253Dhttp%252525253A%252525252F%252525252Fwww.google.com%252525252Fsearch%252525253Fq%252525253Dhttp%25252525253A%25252525252F%25252525252Fwww.facebook.com%25252525252F%2525252526sourceid%252525253Dopera%2525252526ie%252525253Dutf-8%2525252526oe%252525253Dutf-8%2525252526channel%252525253Dsuggest%25252526sourceid%2525253Dopera%25252526ie%2525253Dutf-8%25252526oe%2525253Dutf-8%25252526channel%2525253Dsuggest%252526sourceid%25253Dopera%252526ie%25253Dutf-8%252526oe%25253Dutf-8%252526channel%25253Dsuggest%2526sourceid%253Dopera%2526ie%253Dutf-8%2526oe%253Dutf-8%2526channel%253Dsuggest%26sourceid%3Dopera%26ie%3Dutf-8%26oe%3Dutf-8%26channel%3Dsuggest&sourceid=opera&ie=utf-8&oe=utf-8&channel=suggest
Thu Feb  2 11:39:03 2012 from http://search.chatzum.com/?q=http%3A%2F%2Fclick.infospace.com%2FClickHandler.ashx%3Fdu%3Dhttp%3A%2F%2Ffr-fr.facebook.com%2F
Thu Feb  2 11:35:14 2012 from http://www.google.com/search?client=opera&rls=en&q=http%3A%2F%2Fwww.google.com%2Fsearch%3Fq%3Dhttp%253A%252F%252Fwww.google.com%252Fsearch%253Fq%253Dhttp%25253A%25252F%25252Fwww.google.com%25252F%2526sourceid%253Dopera%2526num%253D0%2526ie%253Dutf-8%2526oe%253Dutf-8%2526channel%253Dsuggest%26sourceid%3Dopera%26num%3D0%26ie%3Dutf-8%26oe%3Dutf-8%26channel%3Dsuggest&sourceid=opera&ie=utf-8&oe=utf-8&channel=suggest
Thu Feb  2 11:31:15 2012 from http://www.ask.com/web?l=dis&o=15186&qsrc=2870&gct=dns&gc=1&q=www.google.com/url?q=http://gamezer.com/billiards/
Thu Feb  2 11:26:34 2012 from http://www.google.com/xhtml?q=http%3a%2f%2fwww%2egoogle%2ecom%2fxhtml%3fclient%3dms%2dopera_mb_no%26channel%3dbh%26q%3d%d0%9e%d0%b4%d0%bd%d0%be%d0%ba%d0%bb%d0%b0%d1%81%d1%81%d0%bd%d0%b8%d0%ba%d0%b8&client=ms-opera_mb_no&channel=bh
Thu Feb  2 11:11:24 2012 from http://search.conduit.com/results.aspx?q=googl.com%2Fsear&Suggest=&stype=Results&FollowOn=True&SelfSearch=1&SearchType=SearchWeb&SearchSource=1&ctid=CT1561552&octid=CT1561552
Thu Feb  2 11:08:04 2012 from http://www.google.com/m/search?client=ms-nokia&cof=nsp&channel=s60&sa=2&q=Http%3A%2F%2Ftubidy+mobi%2Fsearch.php%3Fa%3D18%26%3Dsexe.&site=universal
Thu Feb  2 10:56:44 2012 from http://search.conduit.com/results.aspx?q=googl.com%2Fsear&Suggest=&stype=Results&FollowOn=True&SelfSearch=1&SearchType=SearchWeb&SearchSource=1&ctid=CT1561552&octid=CT1561552
Thu Feb  2 10:47:37 2012 from http://home.allgameshome.com/results.php?category=web&s=http://click.infospace.com/ClickHandler.ashx?du=http%3a%2f%2fskylancers.com%2f&ru=http%3a%2f%2fskylancers.com%2f&ld=20120202&ap=1&app=1&c=imesh.meta.4&s=imeshmeta4&coi=239137&cop=main-title&ep=1&euip=58.97.179.139&npp=1&p=0&pp=0&pvaid=85912913ceb14e6c8b9e6ce53105f6a5&hash=26283C283F2F83B9F16EAE5F7E2AD21
Thu Feb  2 10:46:29 2012 from (empty referer)
Thu Feb  2 10:45:06 2012 from http://www.ask.com/web?l=dis&o=14301&qsrc=2870&gct=dns&gc=1&q=www.google.com.sa/url?q=http://gamezer.com/billiards/
Thu Feb  2 10:23:49 2012 from (empty referer)
Thu Feb  2 10:14:51 2012 from http://search.chatzum.com/?q=http%3A%2F%2Futils.chatzum.com%2F%3Furl%3Dhttp%3A%2F%2Futils.chatzum.com%2F%3Furl%3Dhttp%3A%2F%2Futils.chatzum.com%2F%3Furl%3Dhttp%3A%2F%2Futils.chatzum.com%2F%3Furl%3Dhttp%3A%2F%2Futils.chatzum.com%2F%3Furl%3Dfacebook.com%2Fsearch%2Fresults.php%3Fq%3Dgaril
Thu Feb  2 10:13:43 2012 from (empty referer)
Thu Feb  2 10:12:42 2012 from (empty referer)
Thu Feb  2 10:11:45 2012 from http://www.google.com/m?q=http://www.google.com/m/search?client=ms-opera-mini&channel=new&sa=2&q=http%3A%2F%2Fwww.mana.com%2F&site=univer&client=ms-opera-mini&channel=new
Thu Feb  2 10:05:15 2012 from http://www.google.co.in/url?sa=t&rct=j&q=www.google.co.wwwsex&source=web&cd=6&ved=0CEsQFjAF&url=http%3A%2F%2Fcarl.cs.indiana.edu%2Ffil%2Fcgi-bin%2FWebSec%2Fmarilyn.cgi&ei=jaEqT_qQBMjHrQeZ-qjmDA&usg=AFQjCNHRtbr4ftk_4PyVzN3HuHPJV6LZow
Thu Feb  2 09:51:16 2012 from http://www.google.com/url?sa=t&rct=j&q=http%3A%2F%2Fwww.google.com%2Fsearch%3Fq%3Dhttp%253a%252f%252fwww.google.com%252fsearch%253fq%253dhttp%25253a%25252f%25252fwww.facebook.com%25252f%2526sourceid%253dopera%2526ie%253dutf-8%2526oe%253dutf-8%2526channel%253dsuggest%26sourceid%3Dopera%26ie%3Dutf-8%26oe%3Dutf-8%26channel%3Dsuggest&source=web&cd=1&ved=0CCIQFjAA&url=http%3A%2F%2Fcarl.cs.indiana.edu%2Ffil%2Fcgi-bin%2FWebSec%2Fmarilyn.cgi&ei=caIqT461O-vP4QTqpLSODg&usg=AFQjCNHRtbr4ftk_4PyVzN3HuHPJV6LZow
Thu Feb  2 09:34:55 2012 from (empty referer)
Thu Feb  2 09:21:51 2012 from http://www.google.com/url?sa=t&rct=j&q=http%3A//tubidy.mobi/search.php%3Fa%3D18%26q%3Dindian%2Bsex&source=web&cd=7&ved=0CEcQFjAG&url=http%3A%2F%2Fcarl.cs.indiana.edu%2Ffil%2Fcgi-bin%2FWebSec%2Fmarilyn.cgi&ei=6psqT7D6EM744QSFy_2ZDg&usg=AFQjCNHRtbr4ftk_4PyVzN3HuHPJV6LZow
Thu Feb  2 09:19:11 2012 from http://home.allgameshome.com/results.php?category=web&s=http://click.infospace.com/ClickHandler.ashx?du=www.pornhub.com&ru=http%3a%2f%2fwww.pornhub.com%2f&ld=20120202&ap=6&app=1&c=iminentxml2.id&s=iminentxml2&coi=374914&cop=main-title&ep=1&euip=180.253.2.172&npp=6&p=0&pp=0&pvaid=b95fe87169b84a768c9c2ae6b15e8060&hash=7D9FD080729D50E9F3D299ED20E7B9E
Thu Feb  2 09:03:32 2012 from http://www.google.com/url?sa=t&rct=j&q=tubidy%20mobi%2Fsearch.php%3F%3D8&source=web&cd=2&ved=0CCcQFjAB&url=http%3A%2F%2Fcarl.cs.indiana.edu%2Ffil%2Fcgi-bin%2FWebSec%2Fmarilyn.cgi&ei=OZYqT9HbI6ii4gT03cmaDg&usg=AFQjCNHRtbr4ftk_4PyVzN3HuHPJV6LZow
Thu Feb  2 08:57:03 2012 from http://www.google.com/url?sa=t&rct=j&q=http%3A%2F%2Fwww.google.com%2Fsearch%3Fq%3Dhttp%253a%252f%252fwww.google.com%252fsearch%253fq%253dhttp%25253a%25252f%25252fwww.google.com%25252fsearch%25253fq%25253dhttp%2525253a%2525252f%2525252fwww.google.com%2525252f%252526sourceid%25253dopera%252526ie%25253dutf-8%252526oe%25253dutf-8%252526channel%25253dsuggest%2526sourceid%253dopera%2526ie%253dutf-8%2526oe%253dutf-8%2526channel%253dsuggest%26sourceid%3Dopera%26ie%3Dutf-8%26oe%3Dutf-8%26channel%3Dsuggest&source=web&cd=1&ved=0CCIQFjAA&url=http%3A%2F%2Fcarl.cs.indiana.edu%2Ffil%2Fcgi-bin%2FWebSec%2Fmarilyn.cgi&ei=GpYqT-2qBcPyrQevpOj1DA&usg=AFQjCNHRtbr4ftk_4PyVzN3HuHPJV6LZow
Thu Feb  2 08:51:38 2012 from http://www.google.com/url?sa=t&rct=j&q=http%3A%2F%2Fwww.google.com%2Fsearch%3Fq%3Dhttp%253a%252f%252fwww.google.com%252fsearch%253fq%253dhttp%25253a%25252f%25252fwww.facebook.com%25252f%2526sourceid%253dopera%2526ie%253dutf-8%2526oe%253dutf-8%2526channel%253dsuggest%26sourceid%3Dopera%26ie%3Dutf-8%26oe%3Dutf-8%26channel%3Dsuggest&source=web&cd=1&ved=0CCIQFjAA&url=http%3A%2F%2Fcarl.cs.indiana.edu%2Ffil%2Fcgi-bin%2FWebSec%2Fmarilyn.cgi&ei=iqcpT7fzNOTP4QSnm53LAw&usg=AFQjCNHRtbr4ftk_4PyVzN3HuHPJV6LZow
Thu Feb  2 08:44:26 2012 from http://www.google.com/url?sa=t&rct=j&q=http%3A%2F%2Fwww.google.com%2Fsearch%3Fq%3Dhttp%253A%252F%252Fwww.google.com%252Fsearch%253Fq%253Dhttp%25253A%25252F%25252Fwww.google.com%25252Fsearch%25253Fq%25253Dhttp%2525253A%2525252F%2525252Fwww.faceboo.com%2525252F%252526sourceid%25253Dopera%252526ie%25253Dutf-8%252526oe%25253Dutf-8%252526channel%25253Dsuggest%2526sourceid%253Dopera%2526ie%253Dutf-8%2526oe%253Dutf-8%2526channel%253Dsuggest%26sourceid%3Dopera%26ie%3Dutf-8%26oe%3Dutf-8%26channel%3Dsuggest&source=web&cd=1&ved=0CCMQFjAA&url=http%3A%2F%2Fcarl.cs.indiana.edu%2Ffil%2Fcgi-bin%2FWebSec%2Fmarilyn.cgi&ei=RbojT5bCIMXg8gOz5bjKBw&usg=AFQjCNHRtbr4ftk_4PyVzN3HuHPJV6LZow
Thu Feb  2 08:43:20 2012 from http://www.google.com/url?sa=t&rct=j&q=http%3A%2F%2Fwww.google.com%2Fsearch%3Fq%3Dhttp%253a%252f%252fwww.google.com%252fsearch%253fq%253dhttp%25253a%25252f%25252fwww.youtube.com%25252f%2526sourceid%253dopera%2526ie%253dutf-8%2526oe%253dutf-8%2526channel%253dsuggest%26sourceid%3Dopera%26ie%3Dutf-8%26oe%3Dutf-8%26channel%3Dsuggest&source=web&cd=1&ved=0CCIQFjAA&url=http%3A%2F%2Fcarl.cs.indiana.edu%2Ffil%2Fcgi-bin%2FWebSec%2Fmarilyn.cgi&ei=6ZIqT9evDIbJswaB28XsDA&usg=AFQjCNHRtbr4ftk_4PyVzN3HuHPJV6LZow
Thu Feb  2 08:43:10 2012 from http://www.google.com/url?sa=t&rct=j&q=http%3A%2F%2Fwww.google.com%2Fsearch%3Fq%3Dhttp%253a%252f%252fwww.google.com%252fsearch%253fq%253dhttp%25253a%25252f%25252fwww.youtube.com%25252f%2526sourceid%253dopera%2526ie%253dutf-8%2526oe%253dutf-8%2526channel%253dsuggest%26sourceid%3Dopera%26ie%3Dutf-8%26oe%3Dutf-8%26channel%3Dsuggest&source=web&cd=1&ved=0CCIQFjAA&url=http%3A%2F%2Fcarl.cs.indiana.edu%2Ffil%2Fcgi-bin%2FWebSec%2Fmarilyn.cgi&ei=6ZIqT9evDIbJswaB28XsDA&usg=AFQjCNHRtbr4ftk_4PyVzN3HuHPJV6LZow
Thu Feb  2 08:34:12 2012 from (empty referer)
Thu Feb  2 08:29:47 2012 from http://www.google.co.id/url?sa=t&rct=j&q=http%3A%2F%2Fhome.allgameshome.com%2Fresults.php%3Fcategory%3Dweb%26s%3Dsinema%2B31&source=web&cd=1&ved=0CCAQFjAA&url=http%3A%2F%2Fcarl.cs.indiana.edu%2Ffil%2Fcgi-bin%2FWebSec%2Fmarilyn.cgi&ei=uY8qT9W2EYfsrAfxhvnaDA&usg=AFQjCNHRtbr4ftk_4PyVzN3HuHPJV6LZow
Thu Feb  2 08:27:01 2012 from http://www.google.com/m/search?client=ms-nokia&channel=proxy&q=tubidy.mobi/search%20%20php
Thu Feb  2 08:14:23 2012 from http://www.bing.com/search?q=mntrId%3Du tube&src=IE-SearchBox&FORM=IE8SRC
Thu Feb  2 08:12:51 2012 from http://home.allgameshome.com/results.php?category=web&s=http://click.infospace.com/ClickHandler.ashx?du=http%3a%2f%2findo.kerangbulu.com%2f&ru=http%3a%2f%2findo.kerangbulu.com%2f&ld=20120202&ap=3&app=1&c=imesh.meta.4&s=imeshmeta4&coi=239137&cop=main-title&ep=3&euip=112.215.66.63&npp=3&p=0&pp=0&pvaid=62d953e1c51348cebef9c78f50ba3d46&hash=ED7CCFAFC44D3569976E552032457DB
Thu Feb  2 07:41:15 2012 from (empty referer)
Thu Feb  2 07:30:29 2012 from http://search.incredibar.com/?q=click.infospace.comClickHandler.ashx%3fdu&lang=english&source=368422365&cid=1&uloc=mb113
Thu Feb  2 07:27:36 2012 from http://www.google.com/url?sa=t&rct=j&q=http%3A%2F%2Fwww.google.com%2Fsearch%3Fq%3Dhttp%253a%252f%252fwww.google.com%252fsearch%253fq%253dhttp%25253a%25252f%25252fwww.youtube.com%25252f%2526sourceid%253dopera%2526ie%253dutf-8%2526oe%253dutf-8%2526channel%253dsuggest%26sourceid%3Dopera%26ie%3Dutf-8%26oe%3Dutf-8%26channel%3Dsuggest&source=web&cd=1&ved=0CCMQFjAA&url=http%3A%2F%2Fcarl.cs.indiana.edu%2Ffil%2Fcgi-bin%2FWebSec%2Fmarilyn.cgi&ei=M4EqT56JL6b-4QTcvvitDg&usg=AFQjCNHRtbr4ftk_4PyVzN3HuHPJV6LZow
Thu Feb  2 07:27:22 2012 from http://www.google.com/m/search?client=ms-opera_mb_no&q=http://tubidy.mobi/serch.php?a%3D18%26q%3Dsexe&channel=bh&site=images&tab=wi&ei=DYEqT-DLBoL18QPZ8wE&sa=N&ei=DYEqT-DLBoL18QPZ8wE&ved=0CAMQ1wY
Thu Feb  2 07:21:54 2012 from http://www.ask.com/web?l=dis&o=14595cr&qsrc=2869&q=ghttp://www.google.com.pk/
Thu Feb  2 07:08:27 2012 from http://www.ask.com/web?o=101701&l=dis&gct=dns&gc=1&q=click.infospace.com/ClickHandler.ashx?du=http://www.gamezer.com/&qsrc=2870
Thu Feb  2 07:06:11 2012 from (empty referer)
Thu Feb  2 06:56:14 2012 from http://www.google.com/m?client=ms-nokia&cof=nsp&channel=s60&q=www.google.com%2fm%3fclient%3dms%3dnsp%26channel%3ds60%26q%3dgoogle.
Thu Feb  2 06:50:04 2012 from (empty referer)
Thu Feb  2 06:49:57 2012 from http://www.google.com.br/url?sa=t&rct=j&q=www.plusnetwork.pornocom&source=web&cd=2&ved=0CCcQFjAB&url=http%3A%2F%2Fcarl.cs.indiana.edu%2Ffil%2Fcgi-bin%2FWebSec%2Fmarilyn.cgi&ei=UHgqT9jcC8iM2gXKxLnrDg&usg=AFQjCNHRtbr4ftk_4PyVzN3HuHPJV6LZow
Thu Feb  2 06:44:03 2012 from (empty referer)
Thu Feb  2 06:31:49 2012 from http://www.google.co.uk/m?q=www%252etubidy%252ecom&client=ms-opera-mini&channel=new
Thu Feb  2 06:31:26 2012 from http://www.google.co.uk/m?q=www%252etubidy%252ecom&client=ms-opera-mini&channel=new
Thu Feb  2 06:30:56 2012 from http://www.google.com/m?q=http%3A%2F%2Ftubidy.mobi%2Fsearch.php%3Fa%3D18&client=ms-opera-mini&channel=new
Thu Feb  2 06:30:10 2012 from http://www.google.co.uk/m?q=www%252etubidy%252ecom&client=ms-opera-mini&channel=new
Thu Feb  2 06:29:40 2012 from http://www.google.co.uk/m?q=www%252etubidy%252ecom&client=ms-opera-mini&channel=new
Thu Feb  2 06:28:03 2012 from (empty referer)
Thu Feb  2 06:18:28 2012 from http://www.google.com/search?q=+http%3A%2F%2Fbit.ly%2Fp7zHOT+Wow%21&rls=com.microsoft:en-us:IE-SearchBox&ie=UTF-8&oe=UTF-8&sourceid=ie7&rlz=1I7SKPB
Thu Feb  2 06:10:18 2012 from (empty referer)
Thu Feb  2 06:00:47 2012 from (empty referer)
Thu Feb  2 05:41:00 2012 from http://www.bing.com/search?sp=chv&q=facebook.com%2Fajax%2Fpagelet%2Fgeneric.php%2FPhotoViewerInitPagelet%3F__a
Thu Feb  2 05:37:31 2012 from (empty referer)
Thu Feb  2 04:38:25 2012 from (empty referer)
Thu Feb  2 04:07:48 2012 from http://www.google.com/url?sa=t&rct=j&q=http%3A%2F%2Fwww.google.com%2Fsearch%3Fq%3Dhttp%253a%252f%252fwww.google.com%252fsearch%253fq%253dwww.%2526sourceid%253dopera%2526ie%253dutf-8%2526oe%253dutf-8%2526channel%253dsuggest%26sourceid%3Dopera%26ie%3Dutf-8%26oe%3Dutf-8%26channel%3Dsuggest&source=web&cd=1&ved=0CCwQFjAA&url=http%3A%2F%2Fcarl.cs.indiana.edu%2Ffil%2Fcgi-bin%2FWebSec%2Fmarilyn.cgi&ei=blEqT4SRFsXJtAb7nNnfDA&usg=AFQjCNHRtbr4ftk_4PyVzN3HuHPJV6LZow
Thu Feb  2 03:42:07 2012 from http://search.chatzum.com/?q=http%3A%2F%2Fclick.infospace.com%2FClickHandler.ashx%3Fdu%3Dhttp%3A%2F%2Fwww.google.com%2F
Thu Feb  2 03:39:23 2012 from http://www.google.com/url?sa=t&rct=j&q=&esrc=s&source=web&cd=1&ved=0CCIQFjAA&url=http%3A%2F%2Fcarl.cs.indiana.edu%2Ffil%2Fcgi-bin%2FWebSec%2Fmarilyn.cgi&ei=qEsqT9H6EMSp4gSEg720Dg&usg=AFQjCNHRtbr4ftk_4PyVzN3HuHPJV6LZow
Thu Feb  2 02:16:25 2012 from http://www.google.com/url?sa=t&rct=j&q=http%3A%2F%2Fwww.google.com%2Fsearch%3Fq%3Dhttp%253a%252f%252fwww.google.com%252fsearch%253fq%253dhttp%25253a%25252f%25252fwww.youtube.com%25252f%2526sourceid%253dopera%2526ie%253dutf-8%2526oe%253dutf-8%2526channel%253dsuggest%26sourceid%3Dopera%26ie%3Dutf-8%26oe%3Dutf-8%26channel%3Dsuggest&source=web&cd=1&ved=0CCIQFjAA&url=http%3A%2F%2Fcarl.cs.indiana.edu%2Ffil%2Fcgi-bin%2FWebSec%2Fmarilyn.cgi&ei=QjgqT5XOGcS2hAe4qfD6Cg&usg=AFQjCNHRtbr4ftk_4PyVzN3HuHPJV6LZow
Thu Feb  2 02:14:54 2012 from http://www.google.com/gwt/x?client=ms-sonyericsson&q=http://www.google.com/gwt/x/e?client%3Dms-sonyericsson&output=wml&channel=bs&ei=8jQqT_CoAoeiiAfqNw&ved=0CBUQFjAI&hl=en-GB&source=m&rd=1&u=http://carl.cs.indiana.edu/fil/cgi-bin/WebSec/marilyn.cgi
Thu Feb  2 02:03:02 2012 from http://www.google.com/gwt/x?client=ms-sonyericsson&q=http://www.google.com/gwt/x/e?client%3Dms-sonyericsson&output=wml&channel=bs&ei=8jQqT_CoAoeiiAfqNw&ved=0CBUQFjAI&hl=en-GB&source=m&rd=1&u=http://carl.cs.indiana.edu/fil/cgi-bin/WebSec/marilyn.cgi
Thu Feb  2 02:02:46 2012 from (empty referer)
Thu Feb  2 02:01:09 2012 from (empty referer)
Thu Feb  2 02:00:26 2012 from http://www.google.com/search?client=opera&rls=en&q=http%3A%2F%2Fwww.google.com%2Fsearch%3Fq%3Dhttp%253A%252F%252Fwww.google.com%252Fsearch%253Fq%253Dhttps%25253A%25252F%25252Fwww.facebook.com%25252F%2526sourceid%253Dopera%2526ie%253Dutf-8%2526oe%253Dutf-8%2526channel%253Dsuggest%26sourceid%3Dopera%26ie%3Dutf-8%26oe%3Dutf-8%26channel%3Dsuggest&sourceid=opera&ie=utf-8&oe=utf-8&channel=suggest
Thu Feb  2 01:30:19 2012 from (empty referer)
Thu Feb  2 01:28:56 2012 from (empty referer)
Thu Feb  2 01:05:18 2012 from http://search.incredibar.com/?q=click.infospace.comClickHandler.ashx%3fdu&lang=french&source=368422365&cid=1&uloc=mb113
Thu Feb  2 00:11:39 2012 from (empty referer)
Thu Feb  2 00:11:34 2012 from (empty referer)
Thu Feb  2 00:11:21 2012 from (empty referer)
Thu Feb  2 00:10:05 2012 from http://www.google.com/m?client=ms-nokia&cof=nsp&channel=s60&q=om%2fm%3fclient%3dms-nokia%26cof%3dnsp%26channel%3ds60%26q%3d.sa%252fm
Thu Feb  2 00:08:35 2012 from http://www.google.com/m?client=ms-nokia&cof=nsp&channel=s60&q=om%2fm%3fclient%3dms-nokia%26cof%3dnsp%26channel%3ds60%26q%3d.sa%252fm
Wed Feb  1 23:38:38 2012 from http://www.searchcompletion.com/?si=30866&q=http://click.infospace.com/ClickHandler.ashx?du=http%3a%2f%2fwww.pornhub.com%2f&ru=http%3a%2f%2fwww.pornhub.com%2f&ld=20120202&ap=2&app=1&c=acpro16.ggl5&s=acpro16&coi=239138&cop=main-title&ep=4&euip=219.95.103.197&npp=2&p=0&pp=0&pvaid=f2a943eba64b4535b638fe0b064aaa7e&hash=F7C9A9D6A146B563DB1749E09C68896
Wed Feb  1 23:30:34 2012 from http://www.google.com/m?q=http%3a%2f%2fwww%2egoogle%2ecom%2fm%3fclient%3dms%2dopera%2dmini%26channel%3dnew%26q%3d&client=ms-opera-mini&channel=new
Wed Feb  1 22:49:03 2012 from http://carl.cs.indiana.edu/fil/cgi-bin/WebSec/marilyn.cgi
Wed Feb  1 22:48:57 2012 from http://www.google.co.uk/m?q=www%252etubidy%252ecom&client=ms-opera-mini&channel=new&q=www%252etubidy%252ecom&client=ms-opera-mini&channel=new
Wed Feb  1 22:39:43 2012 from http://www.answered-questions.com/search?query=Acpro16&partner=mm&subid=radixa&channel=Chitika%20Default&q=10.000&pos=2
Wed Feb  1 22:06:21 2012 from http://www.google.com/url?sa=t&rct=j&q=http%3A%2F%2Fwww.google.com%2Fsearch%3Fq%3Dhttp%253a%252f%252fwww.google.com%252fsearch%253fq%253dhttps%25253a%25252f%25252fwww.facebook.com%25252f%2526sourceid%253dopera%2526ie%253dutf-8%2526oe%253dutf-8%2526channel%253dsuggest%26sourceid%3Dopera%26ie%3Dutf-8%26oe%3Dutf-8%26channel%3Dsuggest&source=web&cd=4&ved=0CDEQFjAD&url=http%3A%2F%2Fcarl.cs.indiana.edu%2Ffil%2Fcgi-bin%2FWebSec%2Fmarilyn.cgi&ei=UP0pT8KiC4z_-gbM75CcDg&usg=AFQjCNHRtbr4ftk_4PyVzN3HuHPJV6LZow
Wed Feb  1 21:54:30 2012 from http://search.incredibar.com/?q=click%252+Infospace%252Ecom+ClickHandler%25Ashx%253Fdu&lang=tchinese&source=368422365&uloc=mb113&cid=1&gc=
Wed Feb  1 21:19:17 2012 from http://oandroidapps.blogspot.com/2012/02/grabatron-future-games-of-london.html
Wed Feb  1 20:29:54 2012 from http://www.plusnetwork.com/?q=http%3A%2F%2Fwww.plusnetwork.com%2F%3Fsp%3Dhp&x=0&y=0
Wed Feb  1 20:17:40 2012 from http://www.bing.com/search?sp=chv&q=click.infospace.comClickHandler.ashx%3Fdu
Wed Feb  1 20:15:32 2012 from http://home.allgameshome.com/results.php?category=web&s=http://click.infospace.com/ClickHandler.ashx?du=http%3a%2f%2fmusic.youtube.com%2f&ru=http%3a%2f%2fmusic.youtube.com%2f&ld=20120202&ap=6&app=1&c=imesh.meta.4&s=imeshmeta4&coi=239137&cop=main-title&ep=6&euip=125.163.120.214&npp=6&p=0&pp=0&pvaid=3b106fbdc2ac4a77818e3424ab8a4619&hash=921CE249FBA3E8D82B70490DA245A51
Wed Feb  1 20:15:31 2012 from http://home.allgameshome.com/results.php?category=web&s=http://click.infospace.com/ClickHandler.ashx?du=http%3a%2f%2fmusic.youtube.com%2f&ru=http%3a%2f%2fmusic.youtube.com%2f&ld=20120202&ap=6&app=1&c=imesh.meta.4&s=imeshmeta4&coi=239137&cop=main-title&ep=6&euip=125.163.120.214&npp=6&p=0&pp=0&pvaid=3b106fbdc2ac4a77818e3424ab8a4619&hash=921CE249FBA3E8D82B70490DA245A51
Wed Feb  1 20:13:57 2012 from http://home.allgameshome.com/results.php?category=web&s=http://click.infospace.com/ClickHandler.ashx?du=http%3a%2f%2fmusic.youtube.com%2f&ru=http%3a%2f%2fmusic.youtube.com%2f&ld=20120202&ap=6&app=1&c=imesh.meta.4&s=imeshmeta4&coi=239137&cop=main-title&ep=6&euip=125.163.120.214&npp=6&p=0&pp=0&pvaid=3b106fbdc2ac4a77818e3424ab8a4619&hash=921CE249FBA3E8D82B70490DA245A51
Wed Feb  1 20:05:17 2012 from http://www.google.com/m?client=ms-opera-mini&q=Sex+flim+photo+ww.+Com&channel=new&start=10&sa=N
Wed Feb  1 19:17:23 2012 from http://search.chatzum.com/?q=http%3A%2F%2Fclick.infospace.com%2FClickHandler.ashx%3Fdu%3Dmusic.youtube.com
Wed Feb  1 19:17:01 2012 from http://search.chatzum.com/?q=http%3A%2F%2Fclick.infospace.com%2FClickHandler.ashx%3Fdu%3Dmusic.youtube.com
Wed Feb  1 19:16:07 2012 from http://search.chatzum.com/?q=http%3A%2F%2Fclick.infospace.com%2FClickHandler.ashx%3Fdu%3Dmusic.youtube.com
Wed Feb  1 18:41:21 2012 from http://www.google.com/search
Wed Feb  1 18:38:33 2012 from http://www.google.com/search
Wed Feb  1 18:35:45 2012 from http://www.google.com/url?sa=t&rct=j&q=http%3A%2F%2Fwww.google.com%2Fsearch%3Fq%3Dhttp%253a%252f%252fwww.google.com%252fsearch%253fq%253dhttp%25253a%25252f%25252fwww.google.ro%25252f%2526sourceid%253dopera%2526ie%253dutf-8%2526oe%253dutf-8%2526channel%253dsuggest%26sourceid%3Dopera%26ie%3Dutf-8%26oe%3Dutf-8%26channel%3Dsuggest&source=web&cd=1&ved=0CCIQFjAA&url=http%3A%2F%2Fcarl.cs.indiana.edu%2Ffil%2Fcgi-bin%2FWebSec%2Fmarilyn.cgi&ei=QcwpT4KxFoPJsgaUje3aDA&usg=AFQjCNHRtbr4ftk_4PyVzN3HuHPJV6LZow
Wed Feb  1 18:30:54 2012 from http://start.allgameshome.com/results.php?category=web&s=http://start.allgameshome.com/results.php?category=web&s=http://start.allgameshome.co
Wed Feb  1 18:26:28 2012 from http://isearch.babylon.com/?babsrc=tcp&affID=19318&q=click.infospace.comClickHandler.ashx?du=fr-fr.facebook.com&ru=http%3a%2f%2ffr-fr.facebook.com%2f&ld=20120201&ap=1&app=1&c=babylon2.hp.row&s=babylon2&coi=374914&cop=main-title&ep=1&euip=78.245.210.87&npp=1&p=0&pp=0&pvaid=4e5bc9c245fc427f9b53cb7110ce0652&hash=1A0F4F07D2CDC76D0F8391898BF6F720
Wed Feb  1 16:48:25 2012 from http://www.bing.com/search?sp=chv&q=hotsptshld%252Ecom%252Fg%252Fresults%252Ephp%253Fc%253De%2526err%253D404%2526h%253DB%2526q%253Dgamezer%252Ecom%2526h%253DB
Wed Feb  1 16:25:11 2012 from http://www.google.com/url?sa=t&rct=j&q=&esrc=s&source=web&cd=1&ved=0CCIQFjAA&url=http%3A%2F%2Fcarl.cs.indiana.edu%2Ffil%2Fcgi-bin%2FWebSec%2Fmarilyn.cgi&ei=qK0pT-m2Go3Z4QTcpcm5Aw&usg=AFQjCNHRtbr4ftk_4PyVzN3HuHPJV6LZow
Wed Feb  1 16:16:39 2012 from http://start.allgameshome.com/results.php?s=aghstart&category=web&start=25
Wed Feb  1 15:53:29 2012 from http://www.google.com/url?sa=t&rct=j&q=click%20infospace%20clickhandler&source=web&cd=11&ved=0CCAQFjAAOAo&url=http%3A%2F%2Fcarl.cs.indiana.edu%2Ffil%2Fcgi-bin%2FWebSec%2Fmarilyn.cgi&ei=RKYpT9KwD6Pc4QTjl83WAw&usg=AFQjCNHRtbr4ftk_4PyVzN3HuHPJV6LZow
Wed Feb  1 15:27:56 2012 from http://search.incredibar.com/?q=click.infospace.comClickHandler.ashx%3fdu&lang=french&source=368422365&cid=1&uloc=mb113
Wed Feb  1 15:18:18 2012 from http://www.google.com/m/search?client=ms-opera-mini&q=www.google.com/m?q%3D%25D8%25B3%25D9%2583%25D8%25B3%26client%3Dms-opera-mini%26channel%3Dnew&channel=new&site=images&tab=wi&ei=850pT7HkA63ciALB2QE&sa=N&ei=850pT7HkA63ciALB2QE&ved=0CAMQ1wY
Wed Feb  1 15:11:00 2012 from http://www.google.com/m?client=ms-nokia&cof=nsp&channel=s60&q=om%2fm%3fclient%3dms-nokia%26cof%3dnsp%26channel%3ds60%26q%3d%253Dms-n
Wed Feb  1 15:07:25 2012 from http://www.google.com/m?client=ms-nokia&cof=nsp&channel=s60&q=http%3a%2fwww.sexy%20imege%2fm%2fsearch%3fsafe%3dimages%26client%3dm
Wed Feb  1 15:06:58 2012 from http://www.google.com/m?q=www.google.com%2Fm%3Fclient%3Dms-opera-mini%26channel%3Dnew%26q%3Dwww.%2BSexy%2Bvideos%2B.com&client=ms-opera-mini&channel=new
Wed Feb  1 15:01:19 2012 from http://www.google.com/m?client=ms-aff-ucweb&output=xhtml&hl=en&q=http%3a%2f%2fwww.google.com%2fm%3fclient%3dms-aff-ucweb%26output%3dxhtml%26hl%3den%26q%3dhttp%253a%252f%252fwww.google.com%252fm%253fclient%253dms-aff-ucweb%2526output%253dxhtml%2526hl%253den%2526q%253dhttp%25253a%25252f%25252fwww.facebook.com%25252fprofile.php%25253fid%25253d1312752915%252526sk%25253dwall
Wed Feb  1 14:48:31 2012 from http://www.google.tn/url?sa=t&rct=j&q=click%20infospace%20clickhandler&source=web&cd=9&ved=0CGwQFjAI&url=http%3A%2F%2Fcarl.cs.indiana.edu%2Ffil%2Fcgi-bin%2FWebSec%2Fmarilyn.cgi&ei=-pYpT8eaPKX00gH12OW0Ag&usg=AFQjCNHRtbr4ftk_4PyVzN3HuHPJV6LZow
Wed Feb  1 14:48:09 2012 from http://start.allgameshome.com/results.php?s=http%3A%2F%2Fstart.allgameshome.com%2Fresults.php%3Fcategory%3D&category=web&start=1&x=42&y=18
Wed Feb  1 14:31:03 2012 from http://assist.babylon.com/babylonassista/dnsassist/main?domain=free%20thesocialsexnetwork%20go%20page%20landing_page_ffadult_21%20
Wed Feb  1 14:13:39 2012 from (empty referer)
Wed Feb  1 14:13:08 2012 from http://www.google.co.uk/m?q=www%252etubidy%252ecom&client=ms-opera-mini&channel=new
Wed Feb  1 13:59:15 2012 from http://www.google.com/m?q=www.google.com.sa%2Fm%3Fq%3Dhotsex&client=ms-opera-mini&channel=new
Wed Feb  1 13:58:05 2012 from http://www.google.com/m?q=www.google.com.sa%2Fm%3Fq%3Dhotsex&client=ms-opera-mini&channel=new
Wed Feb  1 13:54:44 2012 from (empty referer)
Wed Feb  1 13:35:39 2012 from http://search.chatzum.com/?q=http%3A%2F%2Fclick.infospace.com%2FClickHandler.ashx%3Fdu%3Dhttp%3A%2F%2Ffr-fr.facebook.com%2F
Wed Feb  1 13:14:48 2012 from http://www.google.com/url?sa=t&rct=j&q=http%3A%2F%2Fwww.google.com%2Fsearch%3Fq%3Dhttp%253a%252f%252fwww.google.com%252fsearch%253fq%253dhttp%25253a%25252f%25252fwww.facebook.com%25252f%2526sourceid%253dopera%2526ie%253dutf-8%2526oe%253dutf-8%2526channel%253dsuggest%26sourceid%3Dopera%26ie%3Dutf-8%26oe%3Dutf-8%26channel%3Dsuggest&source=web&cd=1&ved=0CCIQFjAA&url=http%3A%2F%2Fcarl.cs.indiana.edu%2Ffil%2Fcgi-bin%2FWebSec%2Fmarilyn.cgi&ei=-IApT7KHKIfHswaIuuWqAQ&usg=AFQjCNHRtbr4ftk_4PyVzN3HuHPJV6LZow
Wed Feb  1 13:05:37 2012 from http://www.google.com/url?sa=t&rct=j&q=http%3A%2F%2Fwww.google.com%2Fsearch%3Fq%3Dhttp%253a%252f%252fwww.google.com%252fsearch%253fq%253dhttp%25253a%25252f%25252fwww.facebook.com%25252f%2526sourceid%253dopera%2526ie%253dutf-8%2526oe%253dutf-8%2526channel%253dsuggest%26sourceid%3Dopera%26ie%3Dutf-8%26oe%3Dutf-8%26channel%3Dsuggest&source=web&cd=1&ved=0CCIQFjAA&url=http%3A%2F%2Fcarl.cs.indiana.edu%2Ffil%2Fcgi-bin%2FWebSec%2Fmarilyn.cgi&ei=2n4pT7yPM4yUOobl4coC&usg=AFQjCNHRtbr4ftk_4PyVzN3HuHPJV6LZow
Wed Feb  1 12:57:38 2012 from http://search.incredibar.com/?q=click.infospace.com+Click+Handler.ashx%3Fdu&lang=arabic&source=368422365&uloc=mb113&cid=1&gc=
Wed Feb  1 12:39:36 2012 from http://search.babylon.com/?q=babsrc%3DHP&s=web&as=0&babsrc=HP_ss
Wed Feb  1 12:26:10 2012 from http://www.google.com/m?q=www.google.com.sa%2Fm%3Fq%3Dhotsex&client=ms-opera-mini&channel=new
Wed Feb  1 12:21:07 2012 from http://www.google.com/cse?q=http%3A%2F%2Fclick.infospace.com%2FClickHandler.ashx%3Fdu&cx=012045586712070679422%3Afkclhffwj_u&ie=UTF-8&hl=en-US
Wed Feb  1 11:51:05 2012 from http://start.allgameshome.com/results.php?category=web&s=http%3A%2F%2Fstart.allgameshome.com%2Fresults.php%3Fs%3Dyouutube
Wed Feb  1 11:35:32 2012 from http://www.google.com/m/search
Wed Feb  1 11:28:36 2012 from http://search.chatzum.com/?q=http%3A%2F%2Fclick.infospace.com%2FClickHandler.ashx%3Fdu%3Dhttp%3A%2F%2Fwww.facebook.com%2F
Wed Feb  1 11:18:48 2012 from http://www.google.com/url?sa=t&rct=j&q=&esrc=s&source=web&cd=1&ved=0CCIQFjAA&url=http%3A%2F%2Fcarl.cs.indiana.edu%2Ffil%2Fcgi-bin%2FWebSec%2Fmarilyn.cgi&ei=4WUpT8bhCI7Q4QSmlejQAw&usg=AFQjCNHRtbr4ftk_4PyVzN3HuHPJV6LZow&sig2=YFrLjHsoEdsvtgDpktw94A
Wed Feb  1 11:02:47 2012 from http://www.google.com/search?client=opera&rls=en&q=http%3A%2F%2Fwww.google.com%2Fsearch%3Fq%3Dhttp%253A%252F%252Fwww.google.com%252Fsearch%253Fq%253D%2526sourceid%253Dopera%2526ie%253Dutf-8%2526oe%253Dutf-8%2526channel%253Dsuggest%26sourceid%3Dopera%26ie%3Dutf-8%26oe%3Dutf-8%26channel%3Dsuggest&sourceid=opera&ie=utf-8&oe=utf-8&channel=suggest
Wed Feb  1 11:01:17 2012 from http://search.incredibar.com/?q=click.infospace.comClickHandler.ashx%3Fru&lang=french&source=368422365&uloc=mb113&cid=1&gc=
Wed Feb  1 10:59:48 2012 from (empty referer)
Wed Feb  1 10:08:20 2012 from http://www.google.com/m?client=ms-nokia&cof=nsp&channel=s60&q=www.googleom%2fm%3fclient%3dms-nokia%26cof%3dnsp%26channel%3ds60
Wed Feb  1 09:59:16 2012 from http://search.chatzum.com/?q=http%3A%2F%2Fclick.infospace.com%2FClickHandler.ashx%3Fdu%3Dhttp%3A%2F%2Fid-id.facebook.com%2F
Wed Feb  1 09:56:41 2012 from http://www.google.com/m?client=ms-opera-mini&q=http://www.google.com/m?q%3Dwww.%26client%3Dms-opera-mini%26channel%3Dnew&channel&start=10&sa=N
Wed Feb  1 09:35:47 2012 from http://www.google.com/m?client=ms-nokia&cof=nsp&channel=s60&q=www.google.com%2fm%3fsafe%3dactive%26client%3dms-nokia%26cof%3dn&safe=active
Wed Feb  1 09:34:55 2012 from http://www.google.com/m?client=ms-nokia&cof=nsp&channel=s60&q=www.google.com%2fm%3fsafe%3dactive%26client%3dms-nokia%26cof%3dn&safe=active
Wed Feb  1 09:27:29 2012 from http://www.google.com/search?client=opera&rls=en&q=http%3A%2F%2Fwww.google.com%2Fsearch%3Fq%3Dhttp%253A%252F%252Fwww.google.com%252Fsearch%253Fq%253Dhttp%25253A%25252F%25252Fwww.facebook.com%25252F%2526sourceid%253Dopera%2526ie%253Dutf-8%2526oe%253Dutf-8%2526channel%253Dsuggest%26sourceid%3Dopera%26ie%3Dutf-8%26oe%3Dutf-8%26channel%3Dsuggest&sourceid=opera&ie=utf-8&oe=utf-8&channel=suggest
Wed Feb  1 09:22:27 2012 from http://www.google.com/search?client=opera&rls=en&q=http%3A%2F%2Fwww.google.com%2Fsearch%3Fq%3Dhttp%253A%252F%252Fwww.google.com%252Fsearch%253Fq%253Dhttp%25253A%25252F%25252Fwww.facebook.com%25252F%2526sourceid%253Dopera%2526ie%253Dutf-8%2526oe%253Dutf-8%2526channel%253Dsuggest%26sourceid%3Dopera%26ie%3Dutf-8%26oe%3Dutf-8%26channel%3Dsuggest&sourceid=opera&ie=utf-8&oe=utf-8&channel=suggest
Wed Feb  1 08:32:20 2012 from http://isearch.babylon.com/?as=5&s=web&babsrc=browsersearch&q=isearch.babylon.com+2fhome
Wed Feb  1 08:14:33 2012 from http://www.google.com/xhtml?client=ms-opera_mb_no&channel=bh&q=http%3A%2F%2Fwww.google.com%2Fxhtml%3Fq%3Dhttp%3A%2F%2Fwww.opera.com%2F%26client%3Dms-opera_mb_no%26channel%3Dbh
Wed Feb  1 07:45:45 2012 from http://home.allgameshome.com/results.php?category=web&s=http://click.infospace.com/ClickHandler.ashx?du=www.tube8.com%2fmature%2fmommy%2f85748&ru=http%3a%2f%2fwww.tube8.com%2fmature%2fmommy%2f85748%2f&ld=20120201&ap=4&app=1&c=acpro16.ggl&s=acpro16&coi=374914&cop=main-title&ep=4&euip=203.189.188.84&npp=4&p=0&pp=0&pvaid=79ea746aca9f4ab587ada6482a718130&hash=1F002656F10083FA2AABF34CCAB8266
Wed Feb  1 07:33:34 2012 from http://www.google.com/m?client=ms-nokia&cof=nsp&channel=s60&q=http%3a%2f%2fwww.google.com%2fm%3fclient%3dms-nokia%26cof%3dnsp%26channel%3ds60%26q%3ddnoklassniki
Wed Feb  1 07:17:54 2012 from http://search.incredibar.com/?q=click.infospace.comClickHandler.ashx%3fdu&lang=french&source=368422365&cid=1&uloc=mb113
Wed Feb  1 06:55:20 2012 from http://www.google.com/m?client=ms-nokia&cof=nsp&channel=s60&q=www.google.com%2fm%3fclient%3dms-nokia%26cof%3dnsp%26channel%3ds60
Wed Feb  1 06:55:19 2012 from http://www.plusnetwork.com/?sp=ctbar&q=www.plusnetwork.com%2F%3Fsp%3Dhp&dp=MessengerPlus
Wed Feb  1 06:55:18 2012 from http://www.plusnetwork.com/?sp=ctbar&q=www.plusnetwork.com%2F%3Fsp%3Dhp&dp=MessengerPlus
Wed Feb  1 06:55:17 2012 from http://www.plusnetwork.com/?sp=ctbar&q=www.plusnetwork.com%2F%3Fsp%3Dhp&dp=MessengerPlus
Wed Feb  1 06:52:02 2012 from http://www.google.com/m?client=ms-nokia&cof=nsp&channel=s60&q=www.googlem%3fclient%3dms-nokia%26q%3dmobile.nokia.mobi%2fmo
Wed Feb  1 06:22:02 2012 from http://carl.cs.indiana.edu/fil/cgi-bin/WebSec/marilyn.cgi?test=1
Wed Feb  1 06:20:42 2012 from http://www.google.com/url?sa=t&rct=j&q=http%3A%2F%2Fwww.google.com%2Fsearch%3Fq%3Dhttp%253a%252f%252fwww.google.com%252fsearch%253fq%253dhttp%25253a%25252f%25252fwww.youtube.com%25252f%2526sourceid%253dopera%2526ie%253dutf-8%2526oe%253dutf-8%2526channel%253dsuggest%26sourceid%3Dopera%26ie%3Dutf-8%26oe%3Dutf-8%26channel%3Dsuggest&source=web&cd=1&ved=0CCIQFjAA&url=http%3A%2F%2Fcarl.cs.indiana.edu%2Ffil%2Fcgi-bin%2FWebSec%2Fmarilyn.cgi&ei=mB8pT9GKEYyD-waY-53JBQ&usg=AFQjCNHRtbr4ftk_4PyVzN3HuHPJV6LZow
Wed Feb  1 06:15:52 2012 from http://carl.cs.indiana.edu/fil/cgi-bin/WebSec/marilyn.cgi
Wed Feb  1 06:02:56 2012 from http://search.mywebsearch.com/mywebsearch/GGmain.jhtml?id=YUxdm009YYae&ptb=BAD32C0D-FE56-4FD0-B771-0AF9A86A5172&ind=2011101602&ptnrS=YUxdm009YYae&si=translateye&n=77def9a2&psa=&st=kwd&searchfor=Search+ghttp%3a%2f%2fstart%2eallgameshome%2ecom%2f
Wed Feb  1 06:02:48 2012 from http://www.google.com.sa/m/search?devlocsession=off&safe=images&source=mobilesearchapp&client=mobilesearchapp&q=htt://tubidy.mobi/search.php?a%3D18%26q%3Dxxx%2Bvideo&channel=iss&hl=en&v=0.8.2.6553&start=20&sa=N
Wed Feb  1 06:02:45 2012 from http://www.google.com.sa/m/search?devlocsession=off&safe=images&source=mobilesearchapp&client=mobilesearchapp&q=htt://tubidy.mobi/search.php?a%3D18%26q%3Dxxx%2Bvideo&channel=iss&hl=en&v=0.8.2.6553&start=20&sa=N
Wed Feb  1 05:58:12 2012 from http://yandex.ru/msearch?clid=132591&lr=10253&p=7&text=erotik%20sevisme%20yukle&s=all
Wed Feb  1 05:54:49 2012 from http://www.google.com.sa/m/search?devlocsession=off&safe=images&source=mobilesearchapp&client=mobilesearchapp&q=htt://tubidy.mobi/search.php?a%3D18%26q%3Dxxx%2Bvideo&channel=iss&hl=en&v=0.8.2.6553&start=20&sa=N
Wed Feb  1 05:34:12 2012 from (empty referer)
Wed Feb  1 05:32:24 2012 from http://www.google.com/url?sa=t&rct=j&q=http%3A%2Fwww.xxx%20com%252fwww.google.com.pk%252fsearch%253fq%253dgoogle%2526sourceid%253dopera%2526ie%253dutf-8%2526oe%253dutf-8%2526channel%253dsuggest%26sourceid%3Dopera%26ie%3Dutf-8%26oe%3Dutf-8%26channel%3Dsuggest&source=web&cd=1&ved=0CCIQFjAA&url=http%3A%2F%2Fcarl.cs.indiana.edu%2Ffil%2Fcgi-bin%2FWebSec%2Fmarilyn.cgi&ei=sxQpT66LM8nc4QT30_DjAw&usg=AFQjCNHRtbr4ftk_4PyVzN3HuHPJV6LZow
Wed Feb  1 05:30:04 2012 from http://www.google.com/m?client=ms-nokia&cof=nsp&channel=s60&q=w.google.com%2fm%2fnews%3fclient%3dms-nokia%26cof%3dnsp%26q%3dadul
Wed Feb  1 05:29:14 2012 from (empty referer)
Wed Feb  1 05:08:58 2012 from http://www.google.com/url?sa=t&rct=j&q=http%3A%2F%2Fwww.google.com%2Fsearch%3Fq%3Dhttp%253A%252F%252Fwww.google.com%252Fsearch%253Fq%253Dhttp%25253A%25252F%25252Fwww.google.com%25252Fsearch%25253Fq%25253Dhttp%2525253A%2525252F%2525252Fwww.facebook.com%2525252F%252526sourceid%25253Dopera%252526num%25253D0%252526ie%25253Dutf-8%252526oe%25253Dutf-8%252526channel%25253Dsuggest%2526sourceid%253Dopera%2526num%253D0%2526ie%253Dutf-8%2526oe%253Dutf-8%2526channel%253Dsuggest%26sourceid%3Dopera%26num%3D0%26ie%3Dutf-8%26oe%3Dutf-8%26channel%3Dsuggest&source=web&cd=1&ved=0CB4QFjAA&url=http%3A%2F%2Fcarl.cs.indiana.edu%2Ffil%2Fcgi-bin%2FWebSec%2Fmarilyn.cgi&ei=KQ8pT9LhLMLXrQeYgNneAQ&usg=AFQjCNHRtbr4ftk_4PyVzN3HuHPJV6LZow
Wed Feb  1 05:07:17 2012 from http://www.google.com/search?client=opera&rls=en&q=http%3A%2F%2Fwww.google.com%2Fsearch%3Fq%3Dhttp%253A%252F%252Fwww.google.com.pk%252Fsearch%253Fq%253Dfacebook%2526sourceid%253Dopera%2526ie%253Dutf-8%2526oe%253Dutf-8%2526channel%253Dsuggest%26sourceid%3Dopera%26ie%3Dutf-8%26oe%3Dutf-8%26channel%3Dsuggest&sourceid=opera&ie=utf-8&oe=utf-8&channel=suggest
Wed Feb  1 05:07:03 2012 from http://www.google.com/search?client=opera&rls=en&q=http%3A%2F%2Fwww.google.com%2Fsearch%3Fq%3Dhttp%253A%252F%252Fwww.google.com.pk%252Fsearch%253Fq%253Dfacebook%2526sourceid%253Dopera%2526ie%253Dutf-8%2526oe%253Dutf-8%2526channel%253Dsuggest%26sourceid%3Dopera%26ie%3Dutf-8%26oe%3Dutf-8%26channel%3Dsuggest&sourceid=opera&ie=utf-8&oe=utf-8&channel=suggest
Wed Feb  1 04:56:44 2012 from http://www.google.com/m?client=ms-nokia&cof=nsp&channel=s60&q=www.google.com%2fm%3fclient%3dms-nokia%26cof%3dnsp%26channel%3ds60
Wed Feb  1 04:55:33 2012 from http://www.google.com/m?client=ms-nokia&cof=nsp&channel=s60&q=www.google.com%2fm%3fclient%3dms-nokia%26cof%3dnsp%26channel%3ds60
Wed Feb  1 04:51:17 2012 from http://www.google.com/url?sa=t&rct=j&q=http%3A%2F%2Fclick.infospace.com%2FClickHandler.ashx&source=web&cd=1&ved=0CCIQFjAA&url=http%3A%2F%2Fcarl.cs.indiana.edu%2Ffil%2Fcgi-bin%2FWebSec%2Fmarilyn.cgi&ei=DwspT5u9BNC42gWK4o3RAg&usg=AFQjCNHRtbr4ftk_4PyVzN3HuHPJV6LZow
Wed Feb  1 04:41:12 2012 from http://androidappsni.blogspot.com/
Wed Feb  1 04:26:11 2012 from http://www.google.com/search?q=http%3A%2F%2Fclick.infospace.com%2FClickHandler.ashx%3Fdu&tbo=p&tbm=vid
Wed Feb  1 04:22:29 2012 from http://www.google.com/url?sa=t&rct=j&q=http%3A%2F%2Fwww.google.com%2Fsearch%3Fq%3Dhttp%253a%252f%252fwww.google.com%252fsearch%253fq%253d%2526sourceid%253dopera%2526ie%253dutf-8%2526oe%253dutf-8%2526channel%253dsuggest%26sourceid%3Dopera%26ie%3Dutf-8%26oe%3Dutf-8%26channel%3Dsuggest&source=web&cd=1&ved=0CCIQFjAA&url=http%3A%2F%2Fcarl.cs.indiana.edu%2Ffil%2Fcgi-bin%2FWebSec%2Fmarilyn.cgi&ei=TgQpT7SPOsbSrQfAsKm3AQ&usg=AFQjCNHRtbr4ftk_4PyVzN3HuHPJV6LZow
Wed Feb  1 04:00:15 2012 from http://www.searchcompletion.com/?si=30866&q=http://click.infospace.com/ClickHandler.ashx?du=http%3a%2f%2fwww.pornhub.com%2f&ru=http%3a%2f%2fwww.pornhub.com%2f&ld=20120201&ap=1&app=1&c=acpro16.ggl5&s=acpro16&coi=239138&cop=main-title&ep=8&euip=175.144.45.223&npp=1&p=0&pp=0&pvaid=ab5bb82eb7364aa7bb46f1262e4f12d6&hash=13496A5BA1470FFCD86AACE5F4E4036
Wed Feb  1 03:53:05 2012 from http://www.google.co.uk/m?q=www%252etubidy%252ecom&client=ms-opera-mini&channel=new&q=www%252etubidy%252ecom&client=ms-opera-mini&channel=new
Wed Feb  1 03:43:32 2012 from (empty referer)
Wed Feb  1 03:15:06 2012 from (empty referer)
Wed Feb  1 03:12:33 2012 from http://www.google.com/xhtml?client=ms-opera_mb_no&q=http://www.google.com/xhtml?q%3Dhttp://%26client%3Dms-opera_mb_no%26channel%3Dbh&channel=bh&start=10&sa=N
Wed Feb  1 03:08:18 2012 from http://www.google.com/url?sa=t&rct=j&q=http%3A%2F%2Fwww.google.com%2Fsearch%3Fq%3Dhttp%253a%252f%252fwww.google.com%252fsearch%253fq%253dhttp%25253a%25252f%25252fwww.youtube.com%25252f%2526sourceid%253dopera%2526ie%253dutf-8%2526oe%253dutf-8%2526channel%253dsuggest%26sourceid%3Dopera%26ie%3Dutf-8%26oe%3Dutf-8%26channel%3Dsuggest&source=web&cd=1&ved=0CCIQFjAA&url=http%3A%2F%2Fcarl.cs.indiana.edu%2Ffil%2Fcgi-bin%2FWebSec%2Fmarilyn.cgi&ei=2PIoT8TiBYKsrAfD_7y4AQ&usg=AFQjCNHRtbr4ftk_4PyVzN3HuHPJV6LZow
Wed Feb  1 03:05:23 2012 from http://www.bing.com/search?sp=chv&q=http%3A%2F%2Fsearch.lphant.com%2Fweb%3Fsrc
Wed Feb  1 02:31:14 2012 from http://search.avg.com/?hp=dns&i=23&l=en&tp=dns&q=http%3a%2f%2fwww.bing.com%2f%3fsp%3dchv%26q%3dfacebook&iy=&ychte=us&al=us&alu=ww&d=4cd4dc44
Wed Feb  1 02:16:21 2012 from http://www.bing.com/search?sp=chv&q=facebook.com%2Fajax%2Fpagelet%2Fgeneric.php%2FPhotoViewerInitPagelet%3F__a
Wed Feb  1 01:59:09 2012 from http://www.google.com/m?client=ms-nokia&cof=nsp&channel=s60&q=www.google.com%2fm%3fclient%3dms-nokia%26cof%3dnsp%26channel%3ds60
Wed Feb  1 01:48:48 2012 from http://www.google.com/url?sa=t&rct=j&q=http%3A%2F%2Fwww.google.com%2Fsearch%3Fclient%3Dopera%26rls%3Den%26q%3Dhttp%253A%252F%252Fwww.google.com%252Fsearch%253Fq%253Dhttp%25253A%25252F%25252Fwww.google.com%25252F%2526sourceid%253Dopera%2526ie%253Dutf-8%2526oe%253Dutf-8%2526channel%253Dsuggest%26sourceid%3Dopera%26ie%3Dutf-8%26oe%3Dutf-8%26channel%3Dsuggest&source=web&cd=1&ved=0CCIQFjAA&url=http%3A%2F%2Fcarl.cs.indiana.edu%2Ffil%2Fcgi-bin%2FWebSec%2Fmarilyn.cgi&ei=598oT5esB8qxrAfY9by0AQ&usg=AFQjCNHRtbr4ftk_4PyVzN3HuHPJV6LZow
Wed Feb  1 01:45:30 2012 from (empty referer)
Wed Feb  1 01:31:16 2012 from http://www.google.com/search?client=opera&rls=en&q=http%3A%2F%2Fwww.google.com%2Fsearch%3Fq%3Dhttp%253A%252F%252Fwww.google.com%252Fsearch%253Fq%253Dhttp%25253A%25252F%25252Fwww.google.com%25252Fsearch%25253Fq%25253Dhttp%2525253A%2525252F%2525252Fwww.google.com%2525252Fsearch%2525253Fq%2525253Dhttp%252525253A%252525252F%252525252Fgo.eset.eu%252525252Fversioninfo%252525253Flng%252525253D1033%2525252526version%252525253D6644%25252526sourceid%2525253Dopera%25252526ie%2525253Dutf-8%25252526oe%2525253Dutf-8%25252526channel%2525253Dsuggest%252526sourceid%25253Dopera%252526ie%25253Dutf-8%252526oe%25253Dutf-8%252526channel%25253Dsuggest%2526sourceid%253Dopera%2526ie%253Dutf-8%2526oe%253Dutf-8%2526channel%253Dsuggest%26sourceid%3Dopera%26ie%3Dutf-8%26oe%3Dutf-8%26channel%3Dsuggest&sourceid=opera&ie=utf-8&oe=utf-8&channel=suggest
Wed Feb  1 01:18:00 2012 from http://www.google.co.in/url?sa=t&rct=j&q=click%20infospace%20clickhandler&source=web&cd=6&ved=0CE8QFjAF&url=http%3A%2F%2Fcarl.cs.indiana.edu%2Ffil%2Fcgi-bin%2FWebSec%2Fmarilyn.cgi&ei=-dgoT-GAGYa8rAev4KHBAQ&usg=AFQjCNHRtbr4ftk_4PyVzN3HuHPJV6LZow
Wed Feb  1 01:15:32 2012 from http://www.google.com/url?sa=t&rct=j&q=http%3A%2F%2Fwww.google.com%2Fsearch%3Fq%3Dhttp%253a%252f%252fwww.google.com%252fsearch%253fq%253dhttp%25253a%25252f%25252fwww.google.com.pk%25252f%2526sourceid%253dopera%2526ie%253dutf-8%2526oe%253dutf-8%2526channel%253dsuggest%26sourceid%3Dopera%26ie%3Dutf-8%26oe%3Dutf-8%26channel%3Dsuggest&source=web&cd=1&ved=0CDAQFjAA&url=http%3A%2F%2Fcarl.cs.indiana.edu%2Ffil%2Fcgi-bin%2FWebSec%2Fmarilyn.cgi&ei=ftgoT8zsAqOPigLW3oy0Cg&usg=AFQjCNHRtbr4ftk_4PyVzN3HuHPJV6LZow
Wed Feb  1 01:12:52 2012 from http://www.google.com/cse?q=search+imesh+com+web+src&cx=partner-pub-4659026835110560%3A5208178965&ie=UTF-8&sa=search
Wed Feb  1 00:13:24 2012 from http://www.google.com/m?client=ms-nokia&cof=nsp&channel=s60&q=www.go%20%20ogle.com%2fm%3fclient%3dms-nokia%26cof%3dnsp%26channel%3ds60
Tue Jan 31 23:54:26 2012 from http://www.google.com/url?sa=t&rct=j&q=click%20infospace%20clickhandler&source=web&cd=8&ved=0CFYQFjAH&url=http%3A%2F%2Fcarl.cs.indiana.edu%2Ffil%2Fcgi-bin%2FWebSec%2Fmarilyn.cgi&ei=W8UoT6H7Bs2YOs29qK0C&usg=AFQjCNHRtbr4ftk_4PyVzN3HuHPJV6LZow
Tue Jan 31 23:49:56 2012 from http://www.ask.com/web?l=dis&o=14596&qsrc=2870&gct=dns&gc=1&q=isearch.babylon.com
Tue Jan 31 23:28:51 2012 from http://www.google.com.au/url?sa=t&rct=j&q=http%3A%2F%2Fwww.ask.com%2F%3Fl%3Ddis%26o%3D15866&source=web&cd=1&ved=0CCQQFjAA&url=http%3A%2F%2Fcarl.cs.indiana.edu%2Ffil%2Fcgi-bin%2FWebSec%2Fmarilyn.cgi&ei=k74oT7hBh5-JB8jlteoC&usg=AFQjCNHRtbr4ftk_4PyVzN3HuHPJV6LZow
Tue Jan 31 23:28:16 2012 from http://www.google.com/url?sa=t&rct=j&q=http%3A%2F%2Fwww.google.com%2Fsearch%3Fq%3Dhttp%253a%252f%252fwww.google.com.pk%252fsearch%253fq%253dgoogle%2526sourceid%253dopera%2526ie%253dutf-8%2526oe%253dutf-8%2526channel%253dsuggest%26sourceid%3Dopera%26ie%3Dutf-8%26oe%3Dutf-8%26channel%3Dsuggest&source=web&cd=1&ved=0CCIQFjAA&url=http%3A%2F%2Fcarl.cs.indiana.edu%2Ffil%2Fcgi-bin%2FWebSec%2Fmarilyn.cgi&ei=Ur8oT5ThFoyZOo6oiL4C&usg=AFQjCNHRtbr4ftk_4PyVzN3HuHPJV6LZow
Tue Jan 31 23:27:22 2012 from http://www.google.com/m?client=ms-nokia&cof=nsp&channel=s60&q=www.google.com%2fwwm%3fclient%3dms-nokia%26cof%3dnsp%26channel%3ds60
Tue Jan 31 23:27:21 2012 from http://www.google.com/m?client=ms-nokia&cof=nsp&channel=s60&q=www.google.com%2fwwm%3fclient%3dms-nokia%26cof%3dnsp%26channel%3ds60
Tue Jan 31 22:36:18 2012 from http://start.allgameshome.com/results.php?category=web&s=http%3A%2F%2Fstart.allgameshome.com%2Fresults.php%3Fcategory%3Dweb
Tue Jan 31 22:35:26 2012 from http://carl.cs.indiana.edu/fil/cgi-bin/WebSec/marilyn.cgi
Tue Jan 31 22:17:19 2012 from http://yandex.ru/yandsearch?text=3dwww.odnoklassnikii%26sourceid%3dopera%26ie%3dutf-8%26oe%3dutf-8%26channel%3dsuggest%26lr%3d213&lr=213
Tue Jan 31 21:52:15 2012 from http://www.google.com/m?client=ms-nokia&cof=nsp&channel=s60&q=wwwoogle.com%2fm%3fclient%3dms-nokia%26cof%3dnsp%26channel%3ds60
Tue Jan 31 21:06:26 2012 from http://www.google.com/url?sa=t&rct=j&q=&esrc=s&source=web&cd=1&ved=0CCMQFjAA&url=http%3A%2F%2Fcarl.cs.indiana.edu%2Ffil%2Fcgi-bin%2FWebSec%2Fmarilyn.cgi&ei=HJ4oT-24L4fb8QOdvPTMAw&usg=AFQjCNHRtbr4ftk_4PyVzN3HuHPJV6LZow
Tue Jan 31 20:21:46 2012 from http://www.google.com.sa/url?sa=t&rct=j&q=http://tubidy+sexy&source=web&cd=11&ved=0CCQQFjAAOAo&url=http%3A%2F%2Fcarl.cs.indiana.edu%2Ffil%2Fcgi-bin%2FWebSec%2Fmarilyn.cgi&ei=fpMoT9vYOoPMsgbQ5JS1AQ&usg=AFQjCNHRtbr4ftk_4PyVzN3HuHPJV6LZow
Tue Jan 31 20:21:08 2012 from http://www.google.com.sa/url?sa=t&rct=j&q=http://tubidy+sexy&source=web&cd=11&ved=0CCQQFjAAOAo&url=http%3A%2F%2Fcarl.cs.indiana.edu%2Ffil%2Fcgi-bin%2FWebSec%2Fmarilyn.cgi&ei=fpMoT9vYOoPMsgbQ5JS1AQ&usg=AFQjCNHRtbr4ftk_4PyVzN3HuHPJV6LZow
Tue Jan 31 19:39:19 2012 from http://www.google.com/search
Tue Jan 31 18:49:16 2012 from http://www.plusnetwork.com/?q=www.bing.com%2Fsearch%3Fsp%3Dchv%26q%3Dwww.xxx.sex&sp=chv
Tue Jan 31 18:48:20 2012 from http://www.plusnetwork.com/?q=www.bing.com%2Fsearch%3Fsp%3Dchv%26q%3Dwww.xxx.sex&sp=chv
Tue Jan 31 18:36:26 2012 from http://www.google.com/url?sa=t&rct=j&q=http%3A%2F%2Fwww.google.com%2Fsearch%3Fq%3Dhttp%253A%252F%252Fwww.google.com%252Fsearch%253Fq%253Dhttp%25253A%25252F%25252F%2525D8%2525B3%2525D9%252583%2525D8%2525B3%25252F%2526sourceid%253Dopera%2526ie%253Dutf-8%2526oe%253Dutf-8%2526channel%253Dsuggest%26sourceid%3Dopera%26ie%3Dutf-8%26oe%3Dutf-8%26channel%3Dsuggest&source=web&cd=1&ved=0CCMQFjAA&url=http%3A%2F%2Fcarl.cs.indiana.edu%2Ffil%2Fcgi-bin%2FWebSec%2Fmarilyn.cgi&ei=UXooT8GDPILpOfOimMkH&usg=AFQjCNHRtbr4ftk_4PyVzN3HuHPJV6LZow
Tue Jan 31 18:26:13 2012 from (empty referer)
Tue Jan 31 18:26:09 2012 from (empty referer)
Tue Jan 31 18:14:14 2012 from http://search.chatzum.com/?q=http%3A%2F%2Fclick.infospace.com%2FClickHandler.ashx%3Fdu%3Dhttp%3A%2F%2Fwww.facebook.com%2F
Tue Jan 31 17:34:10 2012 from http://www.google.com/search
Tue Jan 31 17:28:59 2012 from http://www.google.com.sa/url?sa=t&rct=j&q=http%3B//www.tubidy.mobi/search.php%3Fa%3D+18%26%3Dhot%2Bsex&source=web&cd=6&ved=0CEMQFjAF&url=http%3A%2F%2Fcarl.cs.indiana.edu%2Ffil%2Fcgi-bin%2FWebSec%2Fmarilyn.cgi%3Fiframe%3Dtrue%26width%3D90%25%26height%3D90%25&ei=r2ooT5GFI4iF4gTC06DaAw&usg=AFQjCNF1YRHwwX8j7f5VE5Zthzm_YadtXg
Tue Jan 31 17:27:18 2012 from http://www.google.com/search
Tue Jan 31 17:14:55 2012 from http://search.incredibar.com/?q=click.infospace.comClickHandler.ashx%3fdu&lang=french&source=368422365&cid=1&uloc=mb113
Tue Jan 31 16:39:12 2012 from http://www.google.com/m?q=www.google.com%2Fm%2Fsearch%3Fsite%3Dimages%26client%3Dms-opera-mini%26q%3Dsex%26channel%3Dnew%26start%3D10%26sa%3DN&client=ms-opera-mini&channel=new
Tue Jan 31 15:57:35 2012 from http://www.google.com/m?hl=fa&gl=fa&client=ms-android-samsung&source=android-browser-type&action=devloc&q=www.isearch+babylon.com
Tue Jan 31 15:43:07 2012 from http://www.google.com.sv/url?sa=t&rct=j&q=click+infospace+ClickHandler&source=web&cd=10&ved=0CHcQFjAJ&url=http%3A%2F%2Fcarl.cs.indiana.edu%2Ffil%2Fcgi-bin%2FWebSec%2Fmarilyn.cgi&ei=SFIoT9quMJOJ2AXE7by4Ag&usg=AFQjCNHRtbr4ftk_4PyVzN3HuHPJV6LZow
Tue Jan 31 15:00:55 2012 from http://search.incredibar.com/?q=click.infospace.comClickHandler.ashx%3fdu&lang=french&source=368422365&cid=1&uloc=mb113
Tue Jan 31 13:49:02 2012 from http://www.bing.com/search?q=http%3A%2F%2Fsearch.chatzum.com%2F&src=IE-SearchBox&FORM=IE8SRC
Tue Jan 31 13:23:36 2012 from http://www.google.com/imgres?q=http://www.google.com/search%3Fq%3Dhttp%253A%252F%252Fwww.google.com%252Fsearch%253Fq%253Dhttp%25253A%25252F%25252Fwww.yahoo.com%25252F%2526sourceid%253Dopera%2526num%253D0%2526ie%253Dutf-8%2526oe%253Dutf-8%2526channel%253Dsuggest%26sourceid%3Dopera%26num%3D0%26ie%3Dutf-8%26oe%3Dutf-8%26channel%3Dsuggest&hl=en&client=opera&hs=zmy&sa=X&rls=en&channel=suggest&tbm=isch&prmd=imvns&tbnid=ynUan-_9FQYrEM:&imgrefurl=http://carl.cs.indiana.edu/fil/cgi-bin/WebSec/marilyn.cgi&docid=hMMAQwJMLA2rwM&imgurl=http://carl.cs.indiana.edu/fil/WebSec/marilyn.jpg&w=500&h=333&ei=nDEoT4WQF4ni2QW22aDBAg&zoom=1&iact=hc&vpx=174&vpy=180&dur=95&hovh=183&hovw=275&tx=175&ty=70&sig=113841091289617035929&page=1&tbnh=140&tbnw=187&start=0&ndsp=6&ved=1t:429,r:0,s:0&biw=1280&bih=823
Tue Jan 31 13:07:45 2012 from (empty referer)
Tue Jan 31 12:58:03 2012 from http://www.google.com/m?client=ms-nokia&cof=nsp&channel=s60&q=www.google.com%2Fm%2Fsearch%3Fclient%3Dms-nokia%26q%3Dm.youtube.co
Tue Jan 31 12:58:01 2012 from http://www.google.com/m?client=ms-nokia&cof=nsp&channel=s60&q=www.google.com%2Fm%2Fsearch%3Fclient%3Dms-nokia%26q%3Dm.youtube.co
Tue Jan 31 12:55:08 2012 from http://www.google.com/m?client=ms-aff-ucweb&output=xhtml&hl=en&q=http%3a%2f%2fwww.google.com%2fm%3fclient%3dms-aff-ucweb%26output%3dxhtml%26hl%3den%26q%3dTubidy
Tue Jan 31 12:53:36 2012 from http://www.google.com.ph/url?sa=t&rct=j&q=click%20infospace%20clickhandler&source=web&cd=6&ved=0CEoQFjAF&url=http%3A%2F%2Fcarl.cs.indiana.edu%2Ffil%2Fcgi-bin%2FWebSec%2Fmarilyn.cgi&ei=jSooT-bgHIX-mAXNp8W4Aw&usg=AFQjCNHRtbr4ftk_4PyVzN3HuHPJV6LZow
Tue Jan 31 12:53:14 2012 from http://www.google.com/m?client=ms-aff-ucweb&output=xhtml&hl=en&q=http%3a%2f%2fwww.google.com%2fm%3fclient%3dms-aff-ucweb%26output%3dxhtml%26hl%3den%26q%3dTubidy
Tue Jan 31 12:52:51 2012 from http://www.google.com/m?client=ms-aff-ucweb&output=xhtml&hl=en&q=http%3a%2f%2fwww.google.com%2fm%3fclient%3dms-aff-ucweb%26output%3dxhtml%26hl%3den%26q%3dTubidy
Tue Jan 31 12:51:20 2012 from http://www.google.com/m?client=ms-aff-ucweb&output=xhtml&hl=en&q=http%3a%2f%2fwww.google.com%2fm%3fclient%3dms-aff-ucweb%26output%3dxhtml%26hl%3den%26q%3dTubidy
Tue Jan 31 12:51:06 2012 from http://www.google.com/m?client=ms-aff-ucweb&output=xhtml&hl=en&q=http%3a%2f%2fwww.google.com%2fm%3fclient%3dms-aff-ucweb%26output%3dxhtml%26hl%3den%26q%3dTubidy
Tue Jan 31 12:50:06 2012 from http://www.google.com/m?client=ms-aff-ucweb&output=xhtml&hl=en&q=http%3a%2f%2fwww.google.com%2fm%3fclient%3dms-aff-ucweb%26output%3dxhtml%26hl%3den%26q%3dTubidy
Tue Jan 31 12:50:02 2012 from http://www.google.com/m?client=ms-aff-ucweb&output=xhtml&hl=en&q=http%3a%2f%2fwww.google.com%2fm%3fclient%3dms-aff-ucweb%26output%3dxhtml%26hl%3den%26q%3dTubidy
Tue Jan 31 12:49:47 2012 from http://www.google.com/m?client=ms-aff-ucweb&output=xhtml&hl=en&q=http%3a%2f%2fwww.google.com%2fm%3fclient%3dms-aff-ucweb%26output%3dxhtml%26hl%3den%26q%3dTubidy
Tue Jan 31 12:49:46 2012 from http://www.google.com/m?client=ms-aff-ucweb&output=xhtml&hl=en&q=http%3a%2f%2fwww.google.com%2fm%3fclient%3dms-aff-ucweb%26output%3dxhtml%26hl%3den%26q%3dTubidy
Tue Jan 31 12:49:35 2012 from http://www.google.com/m?client=ms-aff-ucweb&output=xhtml&hl=en&q=http%3a%2f%2fwww.google.com%2fm%3fclient%3dms-aff-ucweb%26output%3dxhtml%26hl%3den%26q%3dTubidy
Tue Jan 31 12:49:30 2012 from http://www.google.com/m?client=ms-aff-ucweb&output=xhtml&hl=en&q=http%3a%2f%2fwww.google.com%2fm%3fclient%3dms-aff-ucweb%26output%3dxhtml%26hl%3den%26q%3dTubidy
Tue Jan 31 12:40:21 2012 from (empty referer)
Tue Jan 31 12:36:27 2012 from http://www.google.com/m?q=www.google.com%2Fm%3Fq%3Dwww.tube%2B8%26client%3Dms-opera-mini%26channel%3Dnew&client=ms-opera-mini&channel=new
Tue Jan 31 12:36:25 2012 from http://www.google.com/m?q=www.google.com%2Fm%3Fq%3Dwww.tube%2B8%26client%3Dms-opera-mini%26channel%3Dnew&client=ms-opera-mini&channel=new
Tue Jan 31 12:27:25 2012 from (empty referer)
Tue Jan 31 12:22:23 2012 from (empty referer)
Tue Jan 31 12:16:11 2012 from http://search.incredibar.com/?q=click.infospace.comClickHandler.ashx%3fdu&lang=french&source=368422365&cid=1&uloc=mb113
Tue Jan 31 12:14:03 2012 from http://www.google.com/url?sa=t&rct=j&q=client=opera%26rls=en%26q=http%253A%252F&source=web&cd=1&ved=0CCIQFjAA&url=http%3A%2F%2Fcarl.cs.indiana.edu%2Ffil%2Fcgi-bin%2FWebSec%2Fmarilyn.cgi&ei=MyEoT6bqNZCWiQew1Pm5Ag&usg=AFQjCNHRtbr4ftk_4PyVzN3HuHPJV6LZow
Tue Jan 31 12:11:51 2012 from http://www.google.com/url?sa=t&rct=j&q=http%3A%2F%2Fwww.ask.com%2F%3Fl%3Ddis%26o%3D15866&source=web&cd=1&ved=0CCMQFjAA&url=http%3A%2F%2Fcarl.cs.indiana.edu%2Ffil%2Fcgi-bin%2FWebSec%2Fmarilyn.cgi&ei=yiAoT5PzJvPoiAK05rm5AQ&usg=AFQjCNHRtbr4ftk_4PyVzN3HuHPJV6LZow
Tue Jan 31 11:57:43 2012 from http://www.bing.com/search?q=http%3A%2F%2Ffr.search.yahoo.com%2F404handler%3Fsrc%3Dtoolbar%26fr%3Dslv502-msgr%26type%3D%26.partner%3Dmsgr%26url%3Dhttp%253A%252F%252Ftraducteur%252F&src=IE-SearchBox&FORM=IE8SRC
Tue Jan 31 11:42:45 2012 from (empty referer)
Tue Jan 31 11:38:23 2012 from http://www.google.com/m?client=ms-nokia&cof=nsp&channel=s60&q=www.google.com%2fm%3fclient%3dms-nokia%26cof%3dnsp%26channel%3ds60
Tue Jan 31 11:31:22 2012 from http://www.plusnetwork.com/?sp=caddr&q=www.plusnetwork.com/?sp=hp/+
Tue Jan 31 11:31:21 2012 from http://www.plusnetwork.com/?sp=caddr&q=www.plusnetwork.com/?sp=hp/+
Tue Jan 31 11:19:20 2012 from (empty referer)
Tue Jan 31 11:17:09 2012 from http://www.google.com/url?sa=t&rct=j&q=http%3A%2F%2Fwww.google.com%2Fsearch%3Fq%3Dhttp%253a%252f%252fwww.google.com%252fsearch%253fq%253dhttp%25253a%25252f%25252fwww.yahoo.com%25252f%2526sourceid%253dopera%2526ie%253dutf-8%2526oe%253dutf-8%2526channel%253dsuggest%26sourceid%3Dopera%26ie%3Dutf-8%26oe%3Dutf-8%26channel%3Dsuggest&source=web&cd=1&ved=0CCIQFjAA&url=http%3A%2F%2Fcarl.cs